Many people believe that creating content is easy.
That might be true if you think content involves only writing sentences and publishing them online.
Unfortunately, it's not that simple. Creating actionable content that influences and drives growth is challenging.
If you're a digital marketer, you know how difficult it is to research and publish unique content. Luckily, there are several resources online that can help you get started with the content creation process.
But there's a catch.
Most tools are expensive and may not offer value for small businesses. There are exceptions, though.
That's why we've taken a fine-toothed brush and combed through the internet looking for useful, free marketing tools.
In this blog post, we have curated a list of 13 free marketing tools that should be a part of every business's marketing stack. Here's a rundown:
Free marketing tools for content: Hemingway Editor, Copysmith AI, Content Snare.
Free marketing tools for design: Canva, PhotoADKing, Pablo.
Free marketing tools for infographics: Venngage, Visme.
Free marketing tools for videos: Lumen5, Wave.video.
Free marketing tools for email marketing: EngageBay, Moosend.
Free marketing tools for designing webpages: Elementor.
Free Marketing Tools for Awesome Content
Any digital content begins with the right text. Content creation can be a painstaking process, but these tools can help.
They are not a substitute for solid content strategy, but the right tools can finetune much of the process.
Hemingway Editor is a free writing tool that checks your copy for tone, voice, grammar, and readability. Hemmingway offers an online editor as well as a desktop application.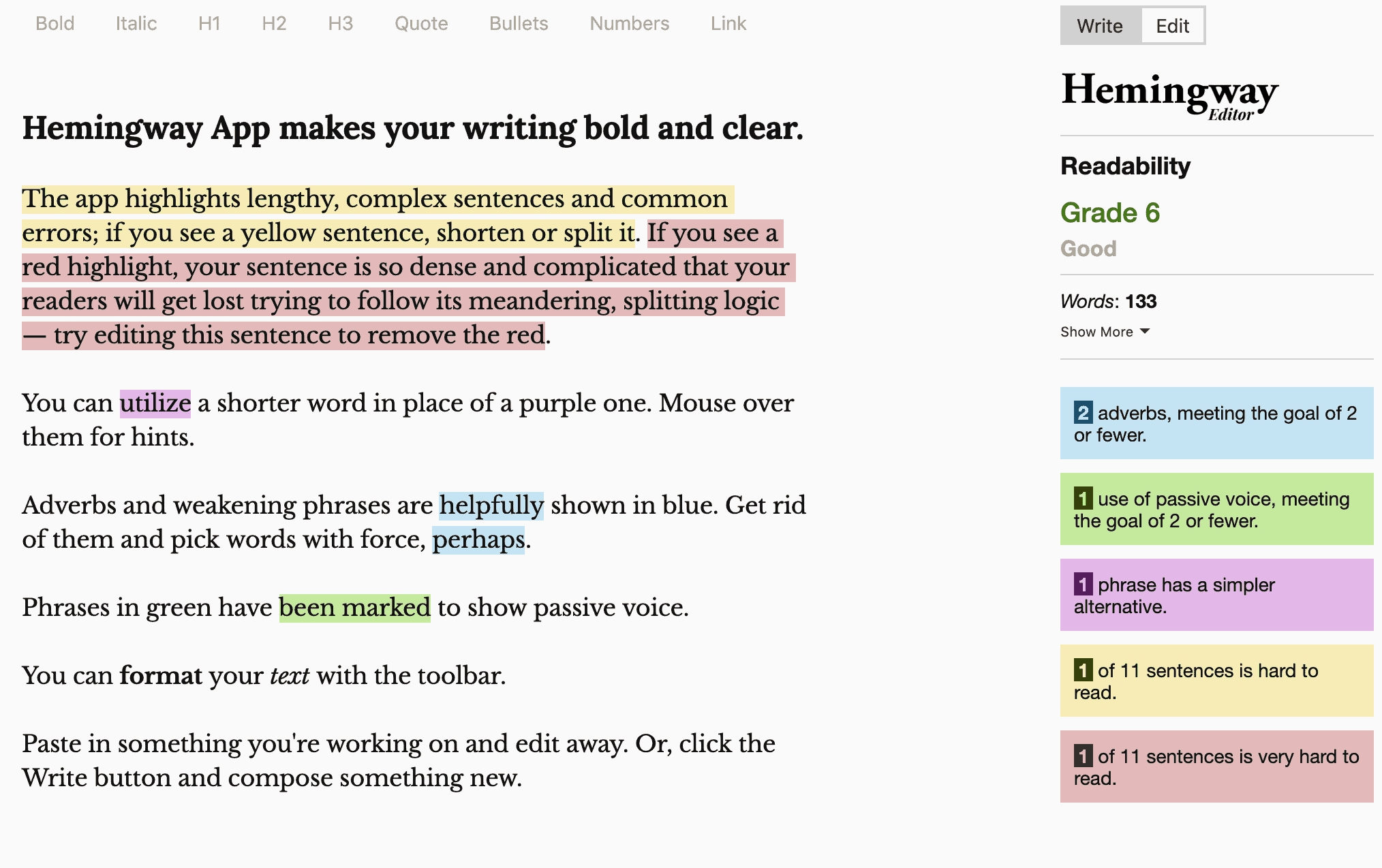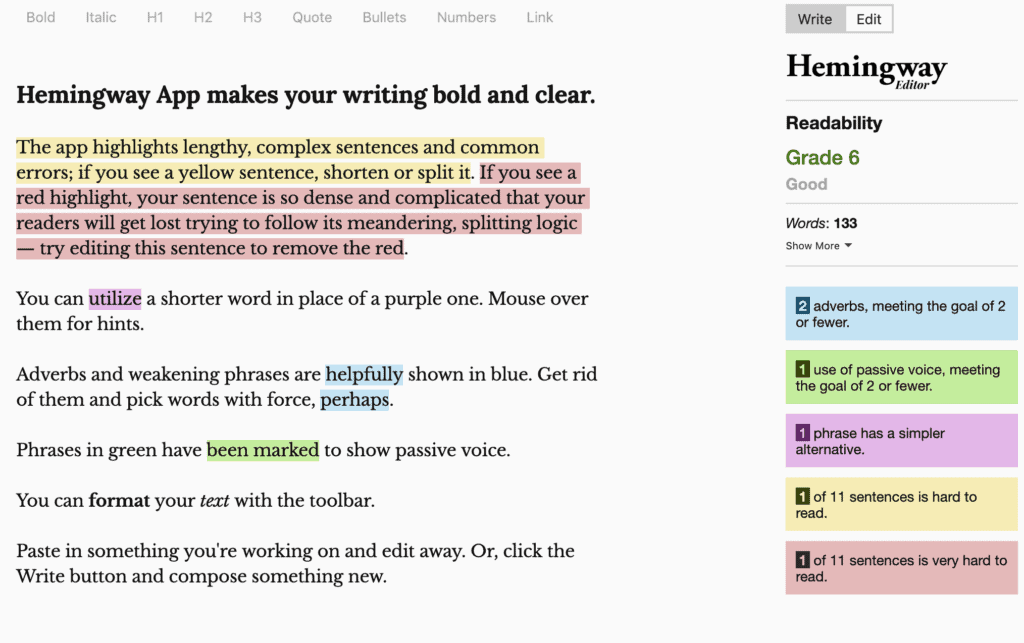 In a market dominated by Grammarly, Hemingway editor offers tons of features other than grammar checking and editing — making it one of the best free marketing tools for content writing.
Features
Color-coded grammar checking
Hemingway has an easy-to-use interface. Writers can either write directly and then edit the copy or upload a ready piece of content and edit it.
The tool highlights areas of text in different colors, depending on what needs changing. The color-coding and highlighting features make it easy to guide novice writers to create a concise and error-free copy.
Hemingway recommends suggestions and replacements when you hover over the highlighted text.
Integration with publishing platforms
Hemingway integrates with Medium and WordPress, so you can directly edit before publishing your content.
Exporting and importing options
The tool also allows users to import and export documents. If you're an editor, you can make annotations and highlights in the text and send it as a PDF.
Pricing
The best part about the tool is that the online version is completely free.
The desktop version does have a one-time purchase cost of $19.99. The desktop version has better functionality in terms of import/export options and updates.
However, amongst the free content marketing tools, Hemingway is leagues ahead of other word processing software.
Read also: 6 Free Marketing Software Marketers Must Try Today
For those who are short on time when it comes to new content, Copysmith is here to help.
Copysmith is a free online marketing tool that generates marketing copy with the use of AI.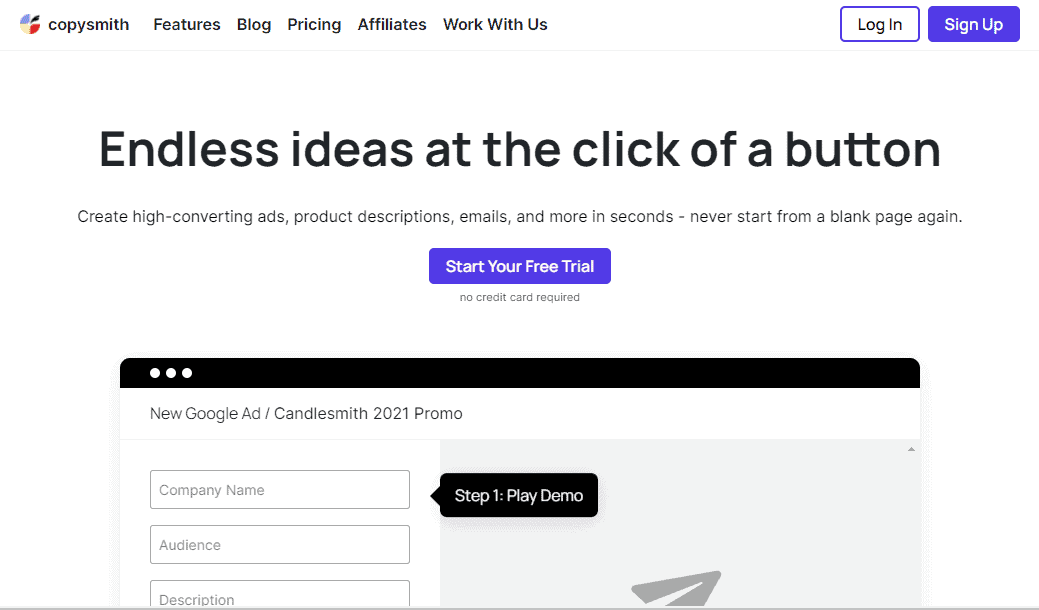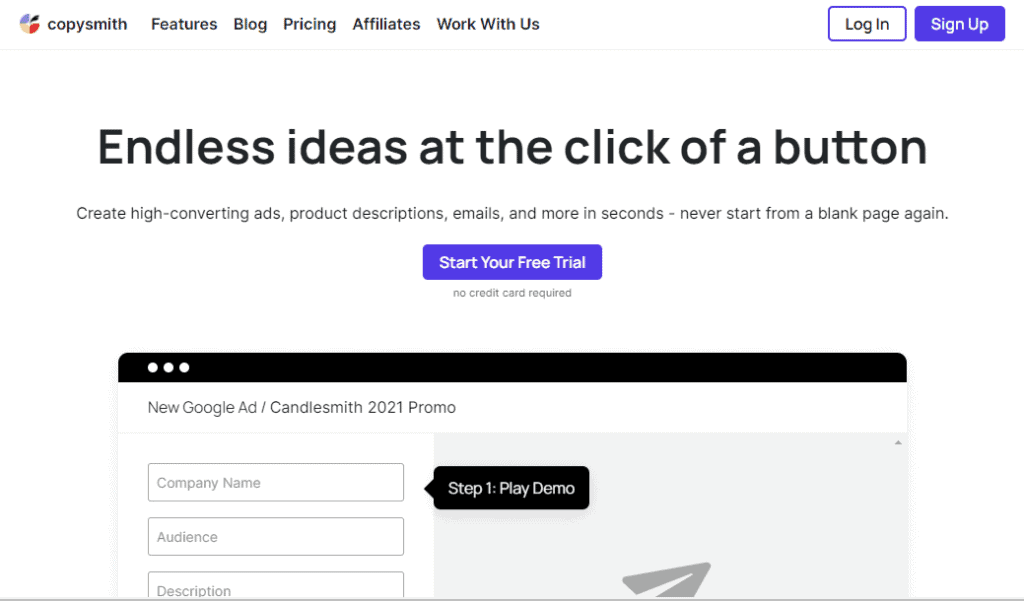 AI content tools are picking up in popularity. They are convenient, easy to use, and save a lot of time.
If you're a marketer who has to write bulk content daily, be it product descriptions or ad copies, free marketing tools for content writing are a must-have.
One such content creation tool is Copysmith AI.
Features
Templates
There are several templates that users can try—these range from short ad copies to long-form blog topics.
Plenty of templates are available for SEO (Search Engine Optimization), brand taglines, meta descriptions, and landing pages. These templates are customizable for keywords too.
Blog post generator
The blog post generator is arguably the most useful feature. You can input a few keywords, write 2-3 lines and let AI do the rest.
Additionally, you can also rephrase parts of the generated text to match a brand voice.
Unique and relevant copy
All content generated by Copysmith AI is SEO optimized and plagiarism-free.
Google chrome extension
This was a new update rolled out. Copysmith has a Google Chrome extension that is accessible from any webpage.
It's a handy tool, especially for busy writers and freelancers who work on the go.
Pricing
Copysmith offers a free seven-day trial with unlimited access to all its features.
There are four pricing plans: Basic, Growth, Pro, and Enterprise.
Each plan offers unlimited content creation and editing. Users can upgrade or cancel anytime.
Content Snare provides a smart way to gather documents from different stakeholders (the client, design team, writers, etc.) in the team so that everyone is on the same page as far as content management is concerned.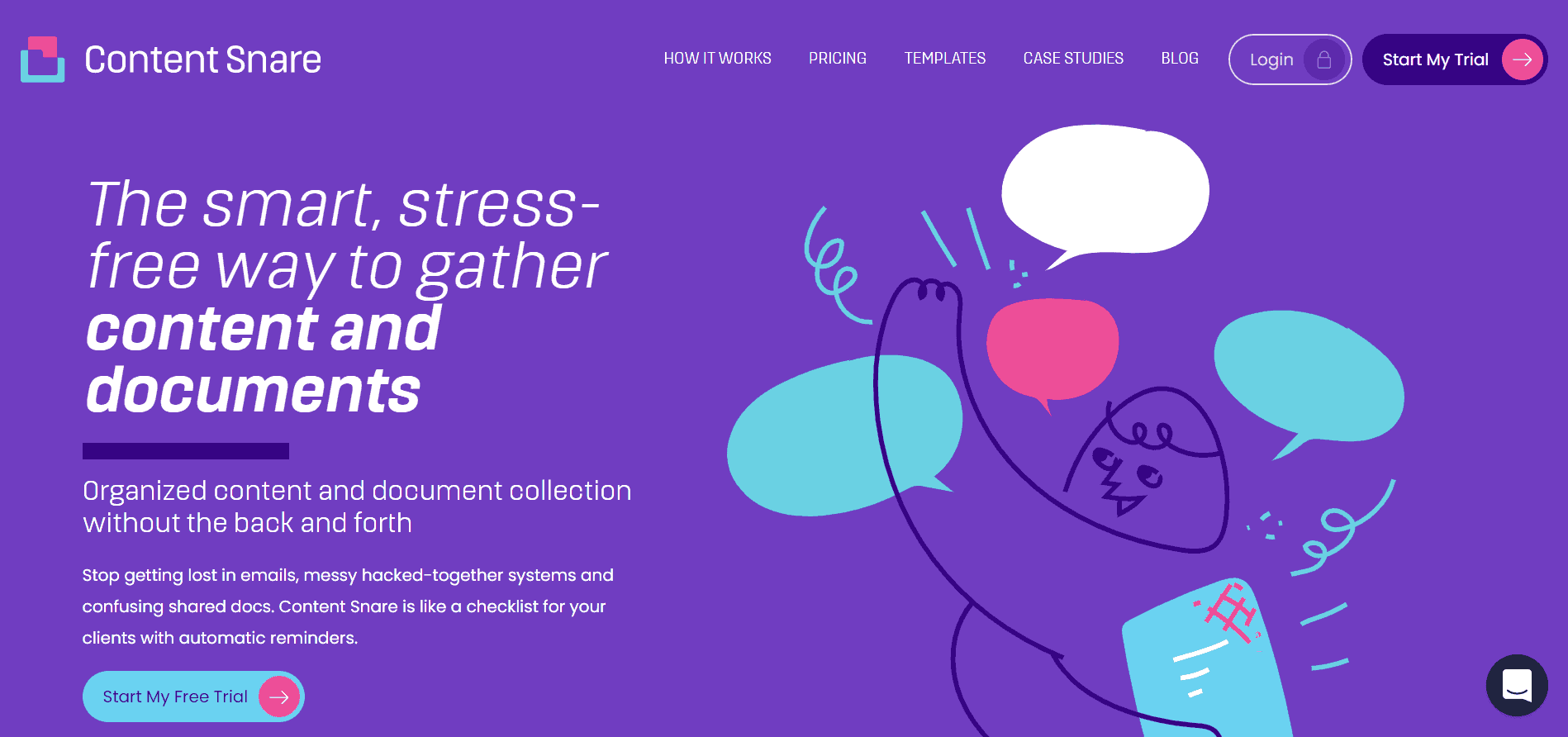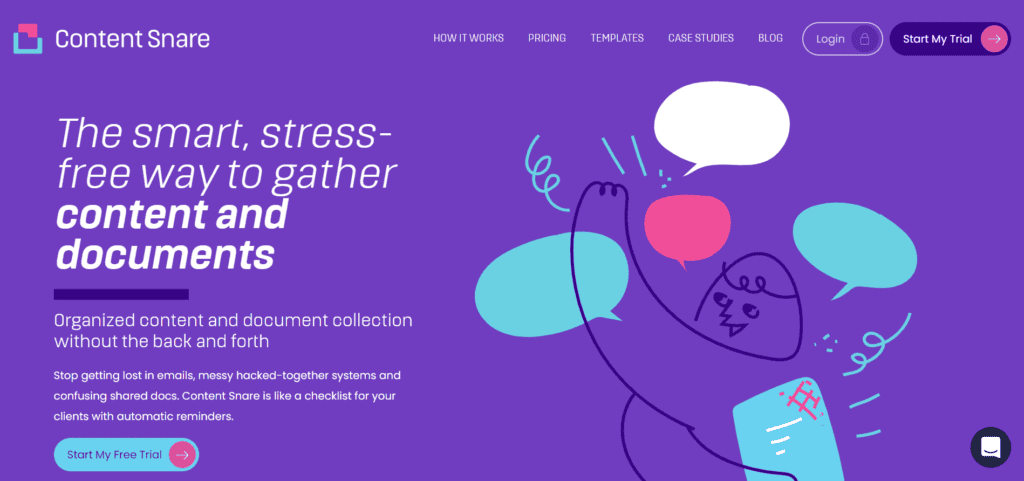 Features
Team management
Add all your clients and team members to your Content Snare dashboard so that everyone is in the know of the content production status.
Drag and Drop request builder
Content Snare offers a simple graphical user interface to set up email remainders for each request. This way, stakeholders responsible for a specific request (like the banner image for a blog post, or the content for a new landing page) are constantly appraised of pending deliverables from their side.
Approval system
Project owners may approve or reject changes directly from within the Content Snare dashboard. Approved items are locked so there are no unexpected edits.
Price
Monthly plans start at $29/month and lets users process as many as 20 active requests. Agencies and enterprise businesses can opt for higher-priced plans that offer additional requests and storage.
No time to read so much? Watch this video instead:
Free Marketing Tools for Awesome Design
Content is only as effective as the images that complement it.
Thankfully, you don't have to be a practicing graphic designer to make designs that get attention.
These free design tools may not be at the level of Photoshop and Illustrator, but they do an excellent job of improving your content with fantastic graphic elements.
Canva is a free online marketing tool that allows individuals and teams to design social media graphics, posts, infographics, newsletters, and other marketing collateral.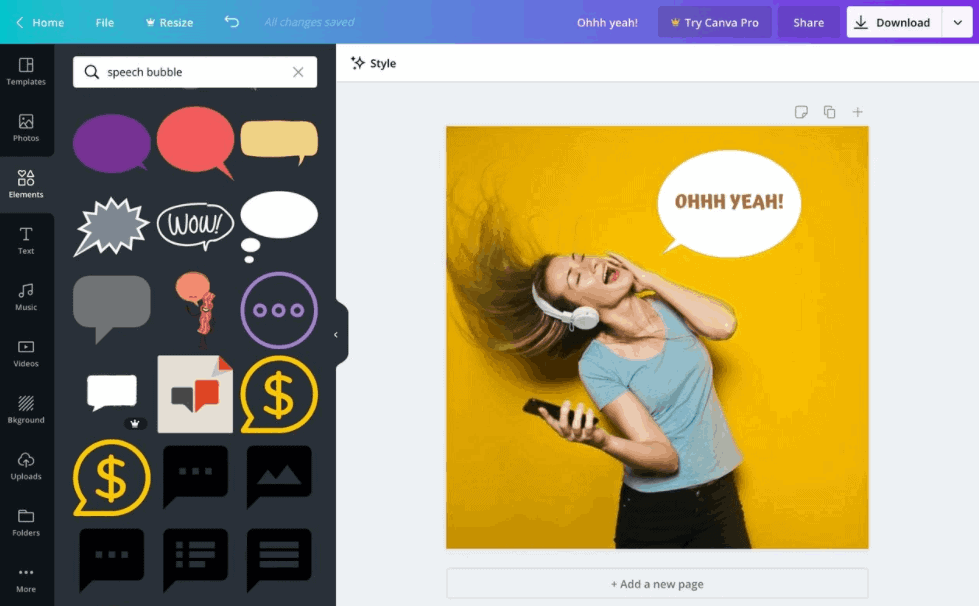 Features
Template library
Canva offers several templates for all kinds of content ranging from social media to presentations.
All templates are customizable. The final designs can be downloaded in different formats or published from Canva directly.
Photo & vector editing
Users can upload their preferred photos and vectors to create a brand kit. Alternatively, Canva offers various vector images that are easily editable.
Social media and collateral
Canva allows users to create designs for all kinds of marketing collateral. These designs can be used on digital and printed materials.
You can create social media images, posts, banners, infographics, resumes, presentations, and flyers. In a nutshell, Canva helps you create high-quality branding content.
Stock images
Canva has a digital library of stock photos and videos. You can use some of them for free, while you have to purchase others.
Collaboration
You can add team members to your account or project and collaborate in real-time. You can also create a shared workspace for your team's projects. This makes Canva one of the best free online marketing tools for designing.
Pricing
Canva works on a freemium model. It has a free version, as well as two paid premium plans.
Users can opt for the free plan that gives complete access to the template library. Users can pay for every individual template or photo they use. For small business owners, this is the best option.
Alternatively, you can opt for premium plans that include Pro and Enterprise.
Canva Pro costs $12.99 per month/user.
Canva Enterprise starts from $30 per month and can cost more depending on the requirement and the number of users.
Read also: 5 Sales Planning Tools For Small Businesses to Grow Revenue Fast
PhotoADKing is an online graphic design tool used by individual marketers, freelancers, creators, and small businesses to design everything from social media posts to printed materials. It offers a huge library of pre-made flyers, posters, brochures, business cards, logos, and YouTube thumbnails, among others.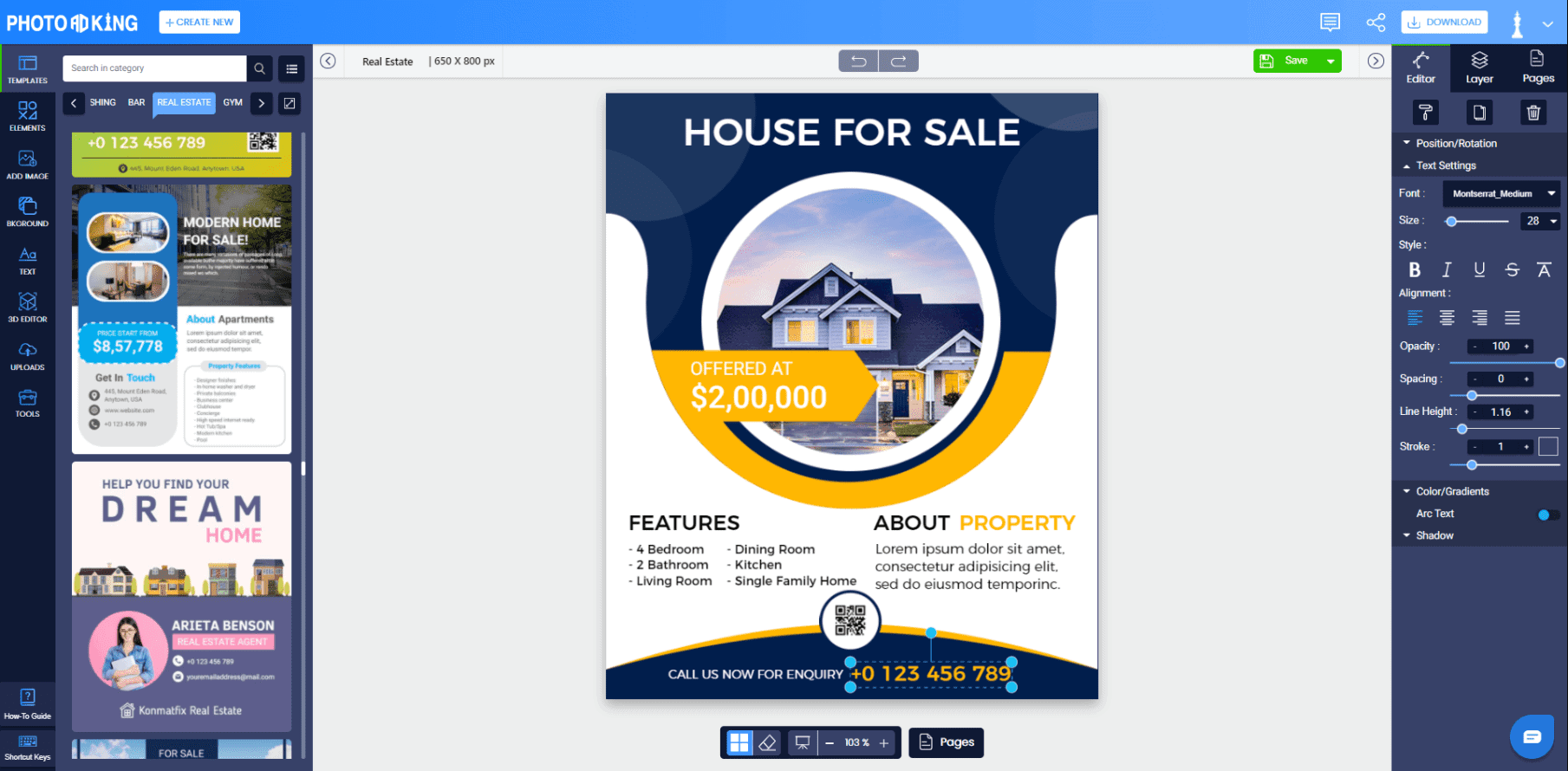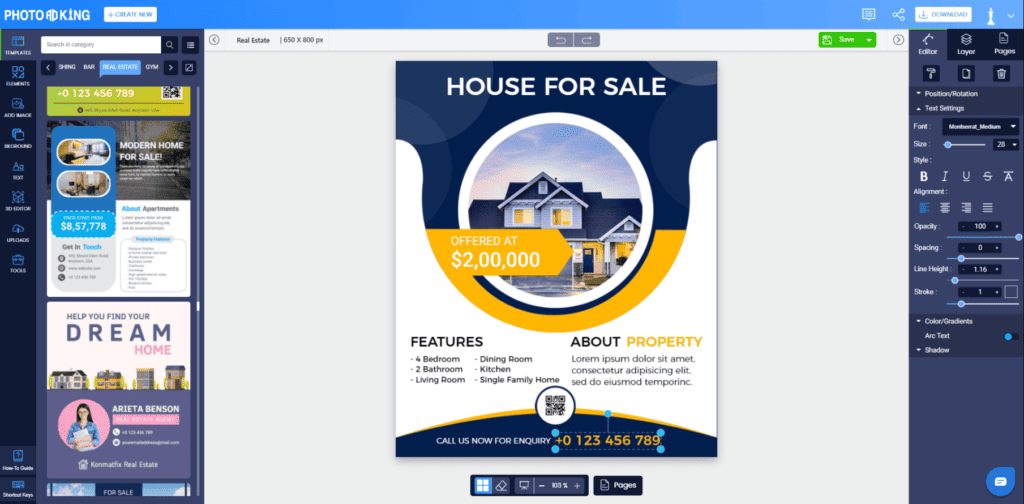 Features
Template library
PhotoADKing offers more than 10000 templates for all kinds of content ranging from social media to presentations. Also, its collection is frequently updated with new and fresh designs.
Easily customizable
Templates are easily customizable. User can easily customize their image, font, stickers, shapes, background color, and almost everything according to their need.
Create objects with 3D editor
PhotoADKing's 3D editor helps users to create designs like a pro. Its 3D graphics give their design a real touch.
Download and share your designs to the world
PhotoADKing provides 3 different formats that users can download their design PNG, JPG and PDF. PhotoADKing gives the power to push the design to social media straight from the editor.
Pricing

PhotoADKing is a freemium tool. It has a free version, as well as two premium plans: Starter and Pro.
PhotoADKing offers 10 free templates to new users after signing up. Upgrading from a free plan allows users to create more than 10 designs and remove the watermark & Ads. Premium users also get unlimited access to stock photo collection, premium templates, organizing features, and an advanced 3D editor as long as their subscription is active.
Read also: 10 Free Marketing Tools Every Freelancer Will Love
Pablo is an online design tool created by Buffer, a scheduling platform. Pablo allows users to create social media posts and designs and post them across platforms.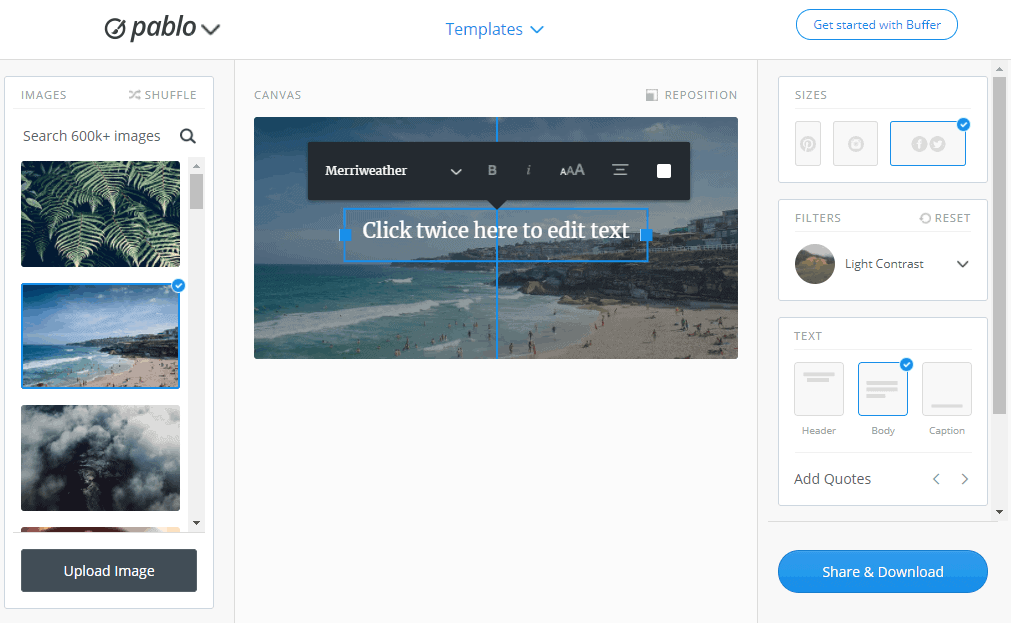 Features
Convenient & quick
Pablo's selling point is that it allows users to create social posts in 30 seconds. The minimalist interface and the drag and drop editor make the task easy.
Photo editing
Pablo has a well-stocked library of font families and stock photos. Additionally, you can upload a photo of your choice and edit it by adding text or finetuning contrast.
Scheduling posts
This option is for existing users of the Buffer platform. Users can schedule posts directly from Buffer for their social media platforms.
Pricing
Pablo is a free online tool, and as such, does not have any paid plans.
Read also: 12 Tools to Boost Small Business Owners' Productivity!
Free Marketing Tools for Awesome Infographics
If you're in the business of creating text and image-heavy content, infographics are the best way to engage your customers.
People prefer graphics over text simply because they're visually appealing and take less time to grasp.
Venngage is an online infographic content creation tool.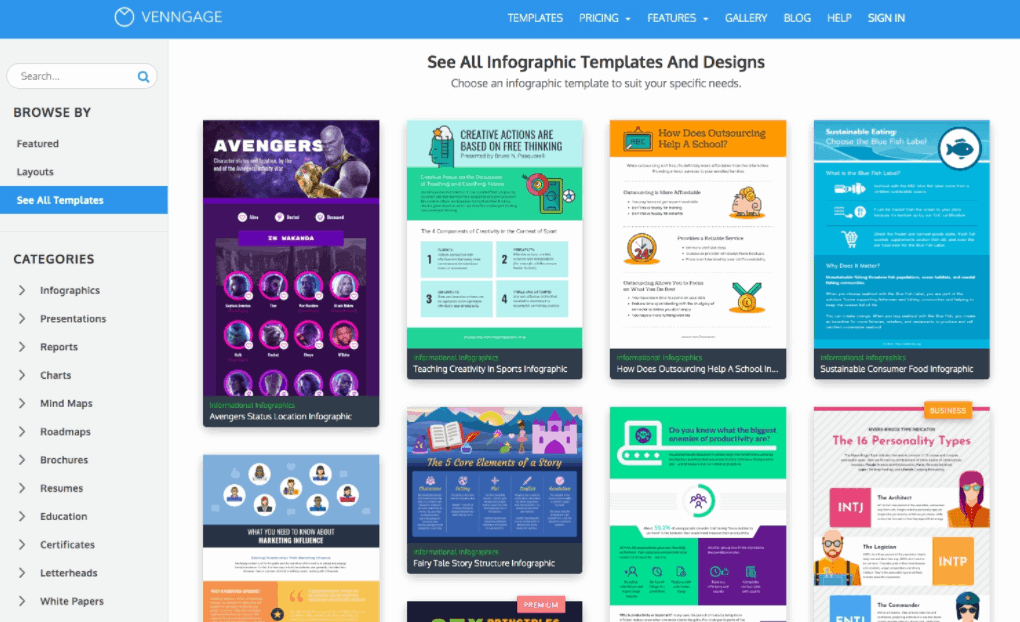 For marketers on a budget, Venngage offers a free template library that can be customized as per requirement.
Features
Image uploads
Users can upload their own designs and images. How cool is that?
Custom templates
All templates can be customized — users can choose their font, design style, infographic layout, and background colors.
Team collaboration
You can invite your colleagues to edit a project with you in real-time. This is great for small business owners with a few team members.
Export options
Users can save all created designs in different formats such as PDF, PNG, and JPG.
Pricing
There's a free plan with access to most of the key features.
If you want more, the Business plan starts at $49/month.
Read also: 25 Top eCommerce Marketing Tools Sure to Boost Sales in 2023
Visme is another online infographic creation software. Visme is a free tool for designing creative visualizations, eye-catching graphics, and stunning diagrams. It has a free version, as well as paid plans.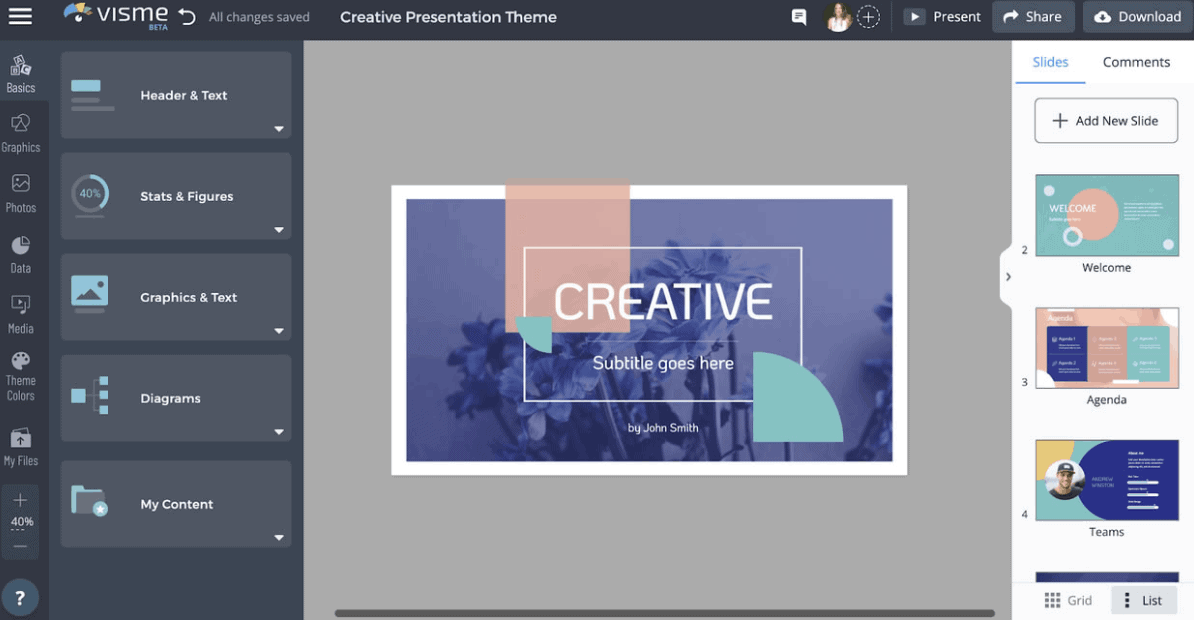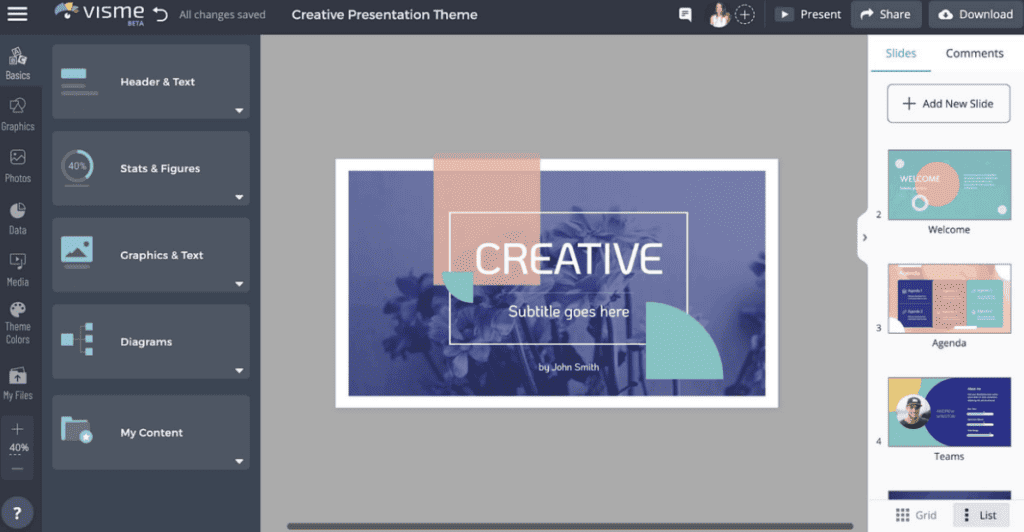 Features
Custom templates
Visme offers a template library of several stock photos and vectors. Users can customize these templates by changing content, font, style, etc.
Export options
Users can download and save the created designs as PDF, PNG, and JPG.
Static and animated infographics
Visme also offers several interactive options: you can create animated or static infographics to share on social media.
Pricing
Visme has four pricing plans: Free, Standard, Business, Enterprise.
The free plan gives access to unlimited templates and a few free tools, including some of the important core features.
The Standard plan starts at $15/month and the Business plan at $29/month. The Enterprise plan has custom pricing.
Read also: 15 Customer Service Tools Your Business Needs to Win People Over
Free Marketing Tools for Awesome Videos
Videos do what content sometimes can't: increase engagement and drive growth.
Although it's always best to rely on professional video editors, here are a few resources you can try to polish your video editing skills.
Lumen5 is a free online video creation tool that creates videos from existing content.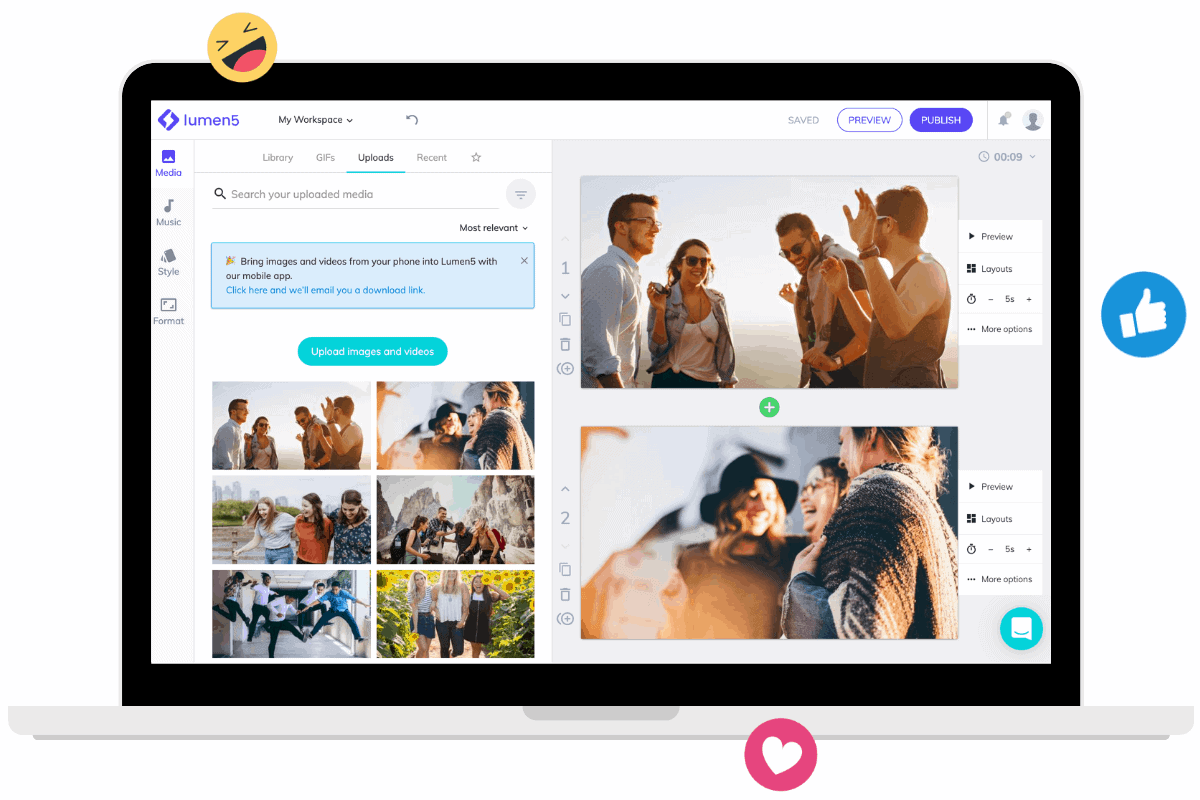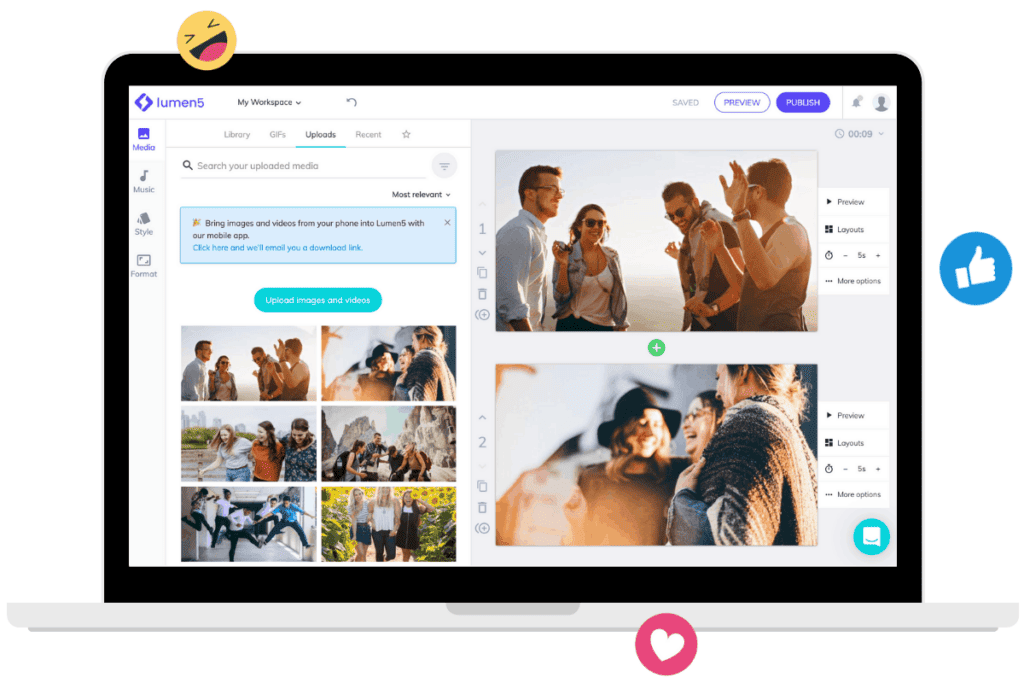 Features
Create videos from content
Lumen5's AI algorithm can help you create a storyboard from your existing content.
All you have to do is type your script, adjust the layout and tone, and edit the created video.
Media library
This free tool lets users browse through the media library of stock photos, stills, and elements to add to a video.
Voiceovers and soundtrack
For those who are looking for a more creative and emotional connect video, Lumen5 allows you to add voiceovers and custom branding.
Pricing
Lumen5 has a free plan that lets you make three videos per month.
Paid plans are:
Creator: $11/month
Premium: $59/month
Business: $149/month
Wave.video is an online video editing tool that helps users create engaging short-form videos for their social media and website.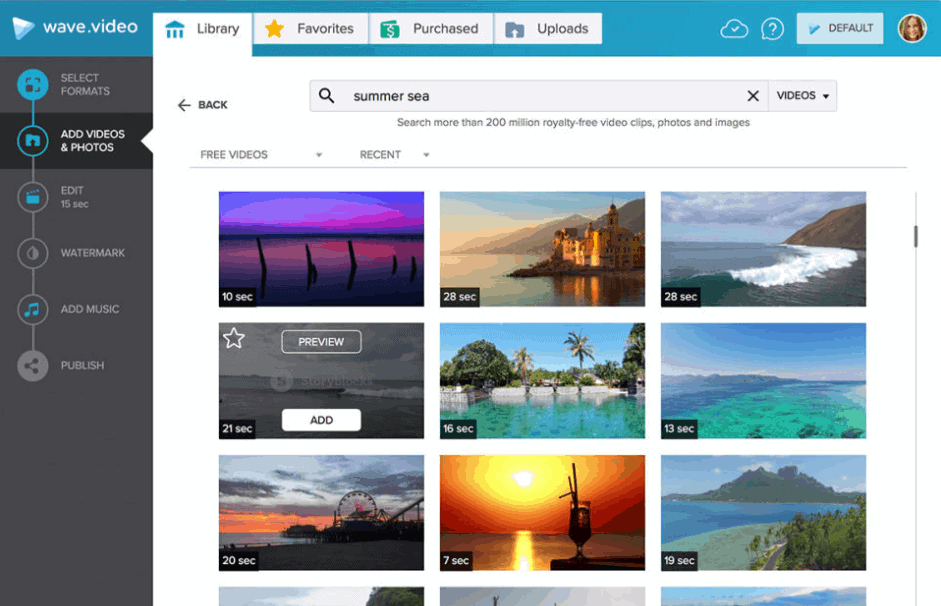 Features
Edit and host videos
This tool offers unlimited video editing and hosting options for social media, websites, emails, and blogs.
Custom templates
There are a few standard templates that users can start from. These videos have custom design options such as captions, stock photos, voiceover, soundtrack, etc.
Creative elements and assets
Get access to a vast library of elements and creative assets that can be used in their videos.
Easy shareability
You can easily create, embed, and share videos on their website or social media.
Pricing
There are three pricing plans: Free, Creator, Business.
The free plan is perfect for beginners and small-scale creators.
The Creator plan bills at $24/month, and the Business plan starts from $48/month.
Read also: EngageBay is a Leading Digital Marketing Software: Ignite 100
Free Marketing Tools for Awesome Emails
Email marketing remains a great marketing strategy because it's super effective and easily scalable.
Use these tools to improve your email marketing campaigns, increase email open-rate, and drive business growth.
EngageBay is a feature-rich all-in-one digital marketing, sales, and customer support software with free integrated CRM, or Customer Relationship Management.
Small businesses don't have the resources (and time) to set up an in-house system — and that's where EngageBay comes in. With EngageBay, solopreneurs, startups, and SMBs can create marketing campaigns, capture leads, convert prospects into customers, answer queries, and do so much more.
It's all in the cloud, which means you can access the tools anywhere, anytime, without having to set them up in your office physically.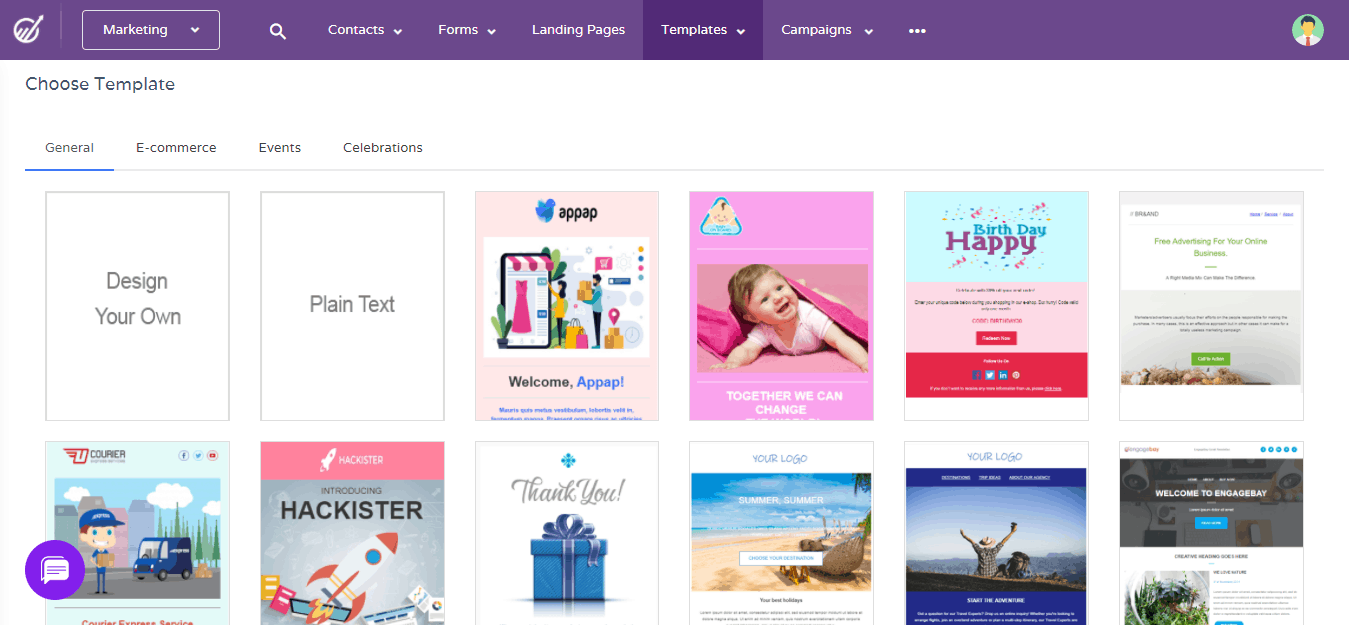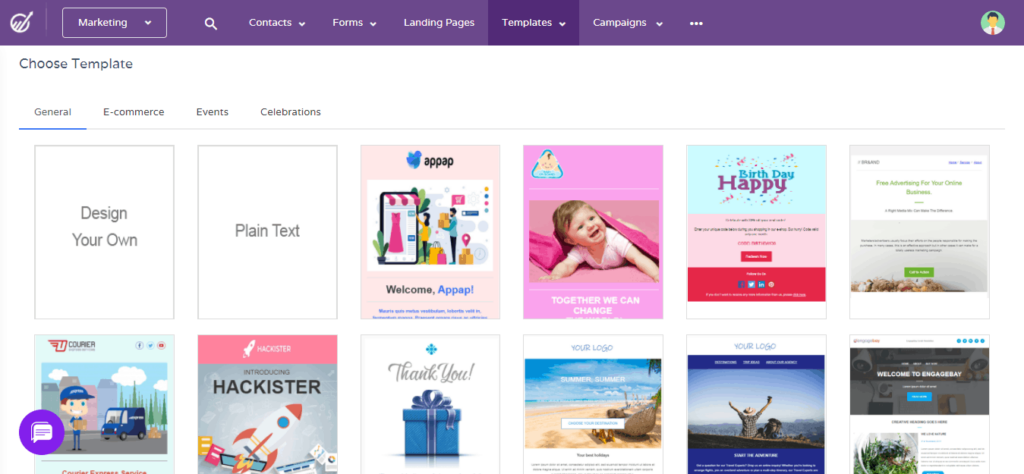 You can use EngageBay's free-forever plan and get access to many email templates, email sequencing and broadcast tools, email drip campaigns, and even a landing page builder.
Features
Drag-and-drop email builder
You can create interactive and highly responsive, mobile-optimized email templates using the platform's drag-and-drop email builder. You can also capture leads, analyze website visitor behavior, analyze traffic, and connect to Google Analytics.
There are tons of customization options for content blocks, background colors and images, fonts, videos, and CTAs.
Personalization
You can personalize all your emails based on user attributes. You can choose tags and segment your contacts to personalize your email outreach.
Automation
You can automate your email marketing campaigns based on user behavior. You can also build targeted drip email campaigns to engage and retain customers. In addition to email marketing automation, EngageBay also acts as a social media management tool. You can manage all your social media channels — Facebook, LinkedIn, Instagram, and Twitter — from a single window.
Tracking & reporting
Users can track, analyze, and optimize their email marketing campaigns with custom metrics.
This can help you finetune your email marketing strategy and maximize your ROI.
Pricing
EngageBay has a forever-free plan that is perfect for small businesses.
You get access to 500 contacts, and you can send 1,000 branded emails per month. Plenty of other features are included in the free plan, like landing pages, video marketing, and automated email sequences.
Paid plans are:
Basic: $7.79 /month per user
Growth: $14.99/month per user
Pro: $29.99/month per user
EngageBay also offers a 20% discount on annual plans and a 40% discount on biennial plans.
Moosend is an affordable and user-friendly email marketing tool for creators who are just getting started with their businesses.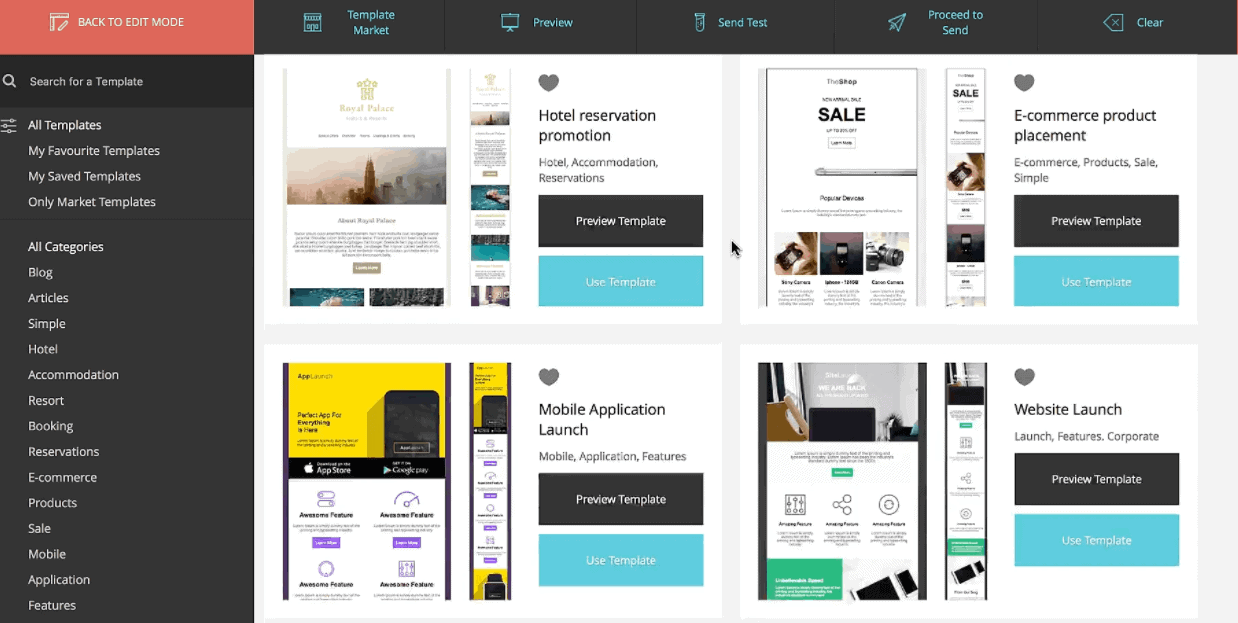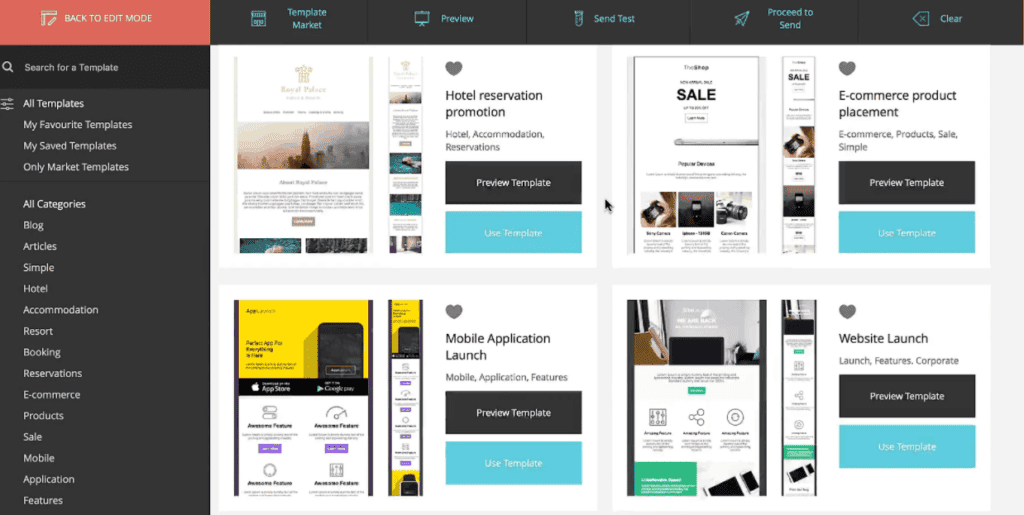 Features
Drag-and-drop email builder
The user-friendly drag and drop email builder allows users to create templates from scratch.
This means you don't have to know HTML or Photoshop to churn out amazing email bodies.
Automation
Users can create a recurring email campaign by automating the process.
Analytics
Users can track and analyze the effectiveness of their marketing campaigns and build future strategies.
Pricing
The free plan is free forever and offers access to all core features of the platform.
The Pro plan starts at $8/month and gives access to landing page tools as well.
Want to find a Moosend alternative that's better suited to your needs? Check out our article on the top Moosend alternatives.
Free Marketing Tools for Awesome Websites
To create an engaging, comprehensive WordPress website, the kind that would compel website visitors to become customers, you used to have to know how to code.
Not anymore.
A free website builder, Elementor enables you to create a stunning WordPress website without writing a single line of code.
All-in-one marketing platforms are invaluable. They help marketers save valuable time by not having to jump from one platform to another.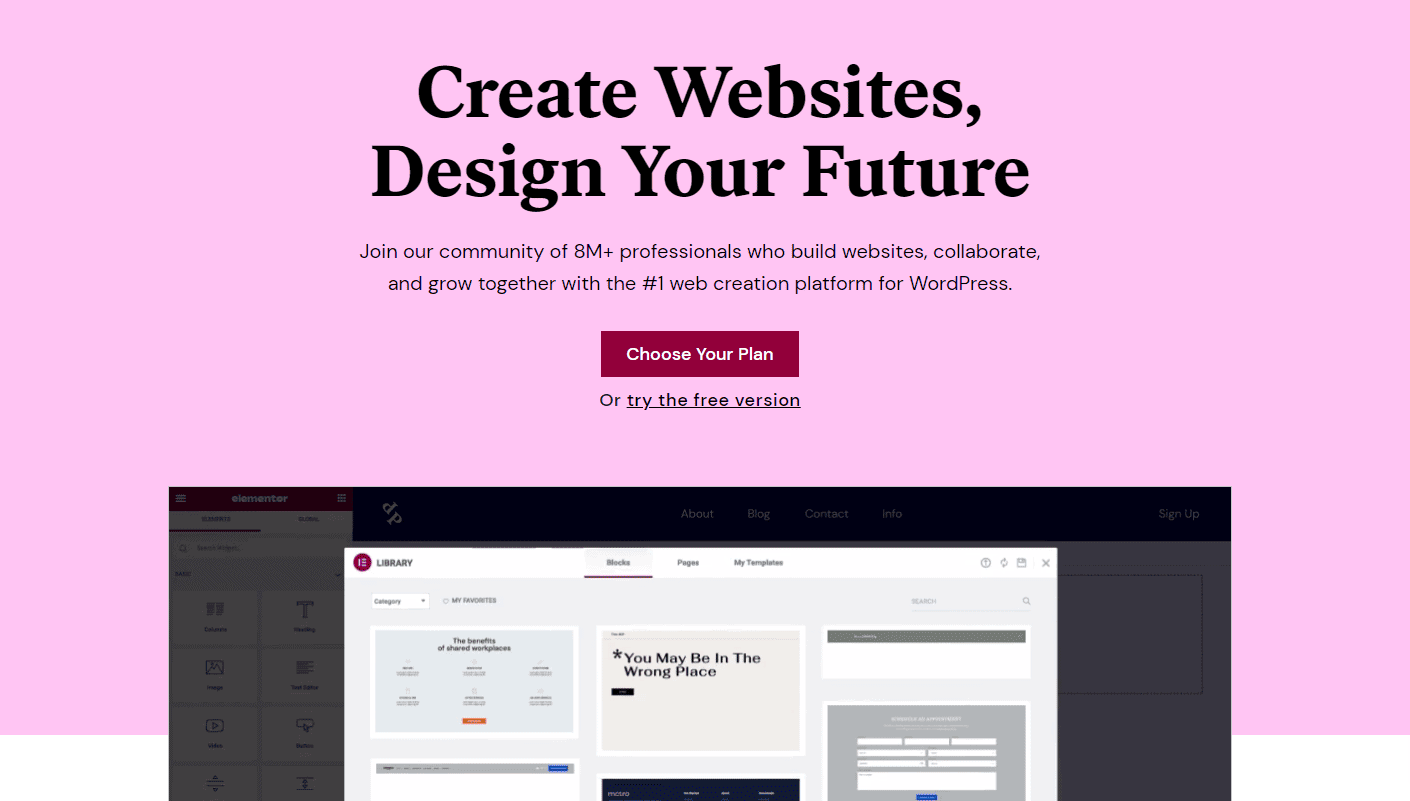 Elementor is an all-in-one marketing platform for website creation. With Elementor, marketers can build, publish, and manage landing pages, forms, popups, and website pages from one platform. You can always integrate other marketing platforms you need with Elementor, as well.
Features
Expert Landing Pages
Elementor's intuitive no-code page builder enables you to create must-click landing pages quickly.
Custom Forms
Elementor's fully customizable forms allow you to collect data directly from your website and quickly send it to your marketing & CRM tools.
Pop-Ups
Grab website visitors' attention with Elementor's smart popups. You can use customizable templates and set triggers to target your visitors at the right moment.
Kits Library
Kits are complete websites you can easily customize to fit your needs. Each kit includes every website component you need: page content, header, footer, archive pages, single pages, popups, site settings, global settings (colors, fonts, etc.).
Pricing
Elementor offers an extensive free plan, along with four subscription-based plans:
Essential – enables you to create one professional website. Price: $49 per year
Advanced – enables you to create three professional websites. Price: $99 per year
Expert – enables you to create 25 professional websites. Price: $199 per year
Studio & Agencies – tailored specifically for your needs. Prices depend on specific customers' needs
Read also: Top 5 Landing Page Optimization Tools for Free (2021)
Conclusion
A well-rounded marketing strategy has many moving pieces.
To get started with marketing, you need some free marketing tools.
Why?
Because using free marketing tools is a great way to improve your marketing content's appearance, usability, and effectiveness — without burning through your company's funds.
This will translate into more sales and an enhanced customer experience across platforms, including your website, emails, and social media pages.
When you're ready or in need of more advanced features, you can upgrade to a paid plan.
Hopefully, this blog post helps you build a smart marketing plan that can get great results.
Explore the most impactful free marketing tools on the market in our extensive guide – elevate your marketing efforts now!