Every product or service, no matter how good, needs an effective sales pitch! A convincing appeal to be made in its favor so that a potential buyer becomes a sure shot buyer!
Selling is a back-breaking process. Did you know that it takes an average of 8 attempts to reach your customer?
Another helpful stat – 80% of all good sales happen after making 5 follow-up calls on an average, after the first meeting.
And most sales reps just give up right after the first follow-up call post their meeting with the prospect!
Effective sales pitches are an essential ingredient in the armory of every sales team, and most of the time, you will find a good sales representative refining this potent weapon to sway customer buying decisions in their favor.
While the quality and the utility of the product or service are key criteria in the purchasing process, whether or not a customer will finally buy the product or service also depends upon the value proposition and structure of your sales pitch.
Of course, it needs to be in line with the interests of your prospects.
Read this article to know more about this sales-related topic with great sales pitch examples and best practices.
If you are a salesperson, you can probably pick a tip or two on making your sales pitch sharper, and more effective.
What is the sales pitch?
While the question may seem very straight forward, experts know this question has various contexts and thus, several answers to it.
So, let us start by putting out the most commonly accepted answers to "What is a sales pitch?"
The Cambridge English Dictionary defines an ideal sales pitch as a way to persuade others into buying your product or service.
The same dictionary's Business English version tells us that a sales pitch is a spoken or verbal description of a product or service by the seller.
This description is fashioned in a way that the target audience should buy the product or service.
According to HubSpot, a sales pitch is an attempt by a salesperson to convince his audience to buy his product or service or believe in what he is offering.
Going by this definition, you need not just try to sell with your script – it can also be tailored to convince the other party to agree with your point of view. For most parts, the modern sales pitches fit under this definition well.
Now let's take a look at what Merriam Webster says. According to this dictionary, a sales pitch is a speech from someone to one or more people to buy his or her products or ideas.
BusinessDictionary, however, says that a sales pitch is an inflexible formula or canned sales presentation delivered in every sales situation without regard to the needs of the prospect.
This is a less charitable description of this part of the sales activity; salespeople are adapting their pitches to their sales environment all the time.
In short, here is the summary of what a good sales pitch stands for –
One, whatever you're pitching has to do with appealing to a person or set of persons to buy goods or services.
Two, it can also be about an idea.
Three, they have to be verbal and persuasive in nature. They can also be used to counter sales objections.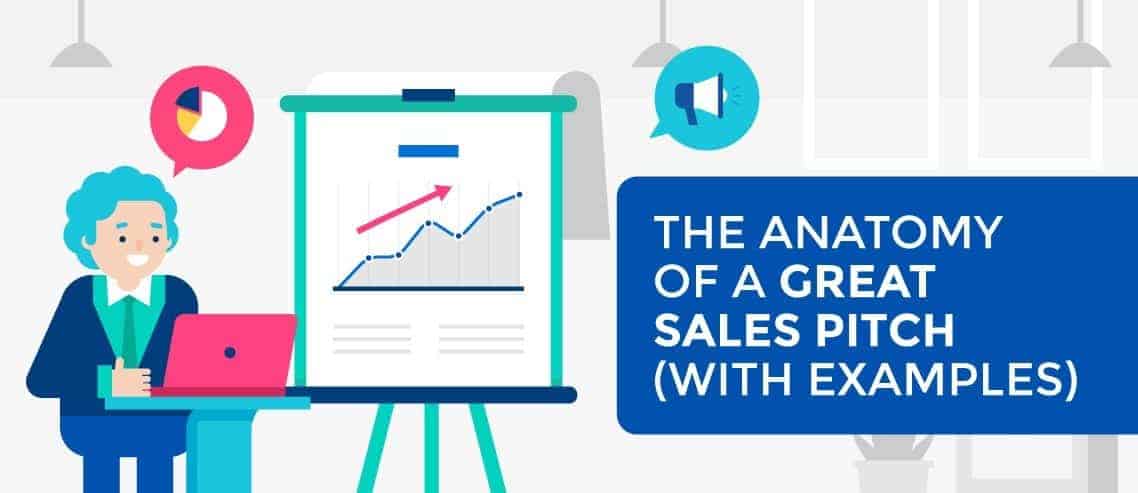 Elements of a powerful sales pitch
1. Get visual
2. Be a storyteller
3. Focus on Solutions
4. Answer the 'How do I believe you?' question with testimonials and social proof
5. Questions, please!
Though sales pitches vary from one seller to another, they are all common in one aspect – their end goal is to pitch sales for a certain idea, product or service.
But it isn't necessary that all of them convert into sales.
Even as you deliver your wonderfully crafted sales talk to your client, he is always wondering whether it is adding to his business or introducing the required value in their life.
So what's the magic formula behind a perfect sales pitch? How can you make yours more effective, more successful?
Here are a few essential elements by which you can make your pitch more compelling.
1. Get visual
Did you know that about 40% of all people respond more to images than just plain text?
The point that we are making here is that if you are delivering a sales presentation to a marketing team, it should be liberally sprinkled with images and/or videos.
You can get your images from Google, Flickr, Fubiz, and Unsplash for your presentations, to name a few image repositories.
2. Be a storyteller
Some of the greatest salesmen have been great storytellers.
To be a storyteller does not mean you have to spin a yarn to your audiences.
Efficient business-related storytelling is about discussing your sales pitch in a simple yet engaging way.
Did you know that 65% of all successful presentations are delivered in the form of stories?
Great storytellers humanize their sales presentations with real-life anecdotes and stories that warm the hearts of their listeners.
One great example of storytelling is telling your audience how you started your company (your Eureka moment).
Another example that you can share could be how you arrived at an idea while you were doing something very inconsequential, e.g. cleaning your teeth or brushing your shoes.
The more relatability or human-ness your story has, the deeper chords it will strike with your targeted mass!
The short point that we are making here is that you should make sure your presentations are interesting and insightful.
This can be done by peppering them with real-life examples about yourself and your company.
Also, structure your sales talk in a way that every person in your audience relates to it.
3. Focus on Solutions
Let's face it, your audience has gathered in that swanky conference room to find solutions to its business problem. Is your sales proposal solution-focused?
While storytelling is important, what's even more significant is how can you solve the problems of your client. What is your ultimate value proposition?
Let's take the example of Airbnb which identified 3 problem areas for travelers – price, accessibility to the city and local culture, and ease of booking.
To solve these problems, this hospitality company came up with a solution that was easy to implement and was a win-win for travelers and accommodation providers alike.
Airbnb encouraged locals to put their houses up for the grabs, thus helping travelers get a real taste of the local life while also finding cheaper accommodation options than hotels.
So what are the best ways of providing a solution to your buyers in your sales presentations?
1. Don't provide too many solutions to confuse your client. Point it down to the real problem, and elaborate on the solution confidently.
2. Propose a solution that is simple and easy to understand.
3. Has your solution helped others too? Show your client your successful examples. Testimonials are great influencers.
4. What are the benefits that your client will most likely get should they buy your product? Can you quantify those benefits?
However, at this point, most people go about decorating their products and services.
While making a pitch, do not present your case as a company trying to make a business. You must make sure you present your case as a consumer-centric service provider, elaborating on "what's in store for the consumer?"!
4. Answer the 'How do I believe you?' question with testimonials
Remember, you may have other sales reps sitting in your sales presentation, representing the client's side.
They too have made similar pitches to their own clients and can sift the chaff from the grain.
Most probably, it is these guys who will likely raise the first objection/question How and why do I believe you?
To get past this bottleneck, you need to make sure to include several testimonials in your slide deck. These testimonials should support your claims.
You may have quotes from industry leaders supporting your product or others who might have used it.
Unless you show that your product has been accepted by a lot of people, you are not likely to make much headway. Allow your earlier work to speak for itself.
Some of the best sales pitches aren't made by the salesperson but by your customers. You should always encourage your customers to leave a review or feedback.
After all, it is much easier for your client to trust someone who was once in their place and wasn't disappointed in trusting you!
In addition to reviews and healthy testimonials, thorough research helps. Most successful sales pitchers have almost all the answers ready when it comes to competition.
Though we aren't saying you should focus on your business rival during your sales talk, it helps to be armed with all the facts and figures in case someone asks about your competition.
Lastly, what happens if your product fails to meet the expectations of your clients?
Is there a money-back scheme in your sales package? Would you substitute your faulty product with something that works perfectly fine?
What are the added advantages of using your product? Leave no questions on "if" and "but" unanswered!
After all, your customers are the final decision makers.
5. Questions, please!
Your great sales pitch shouldn't be about your product alone, it should be centered on your audience and its problems. While delivering your presentation, keep asking questions from your audience.
Ask for feedback regularly so that both you and your client are on the same wavelength. Asking for questions and feedback democratizes your pitch and makes your client feel heard and wanted.
It also helps you keep your product offering laser-sharp.
To sum the essential elements of a good sales pitch, it should structure itself around the 3I's – inspire, involve, and intrigue your audience.
Make your client the hero of your presentation; present him with ideas that can solve his problems.
Now that we have understood the broader elements and structure of your ideal sales pitch, let's discuss how to plan and master the art of sales pitching.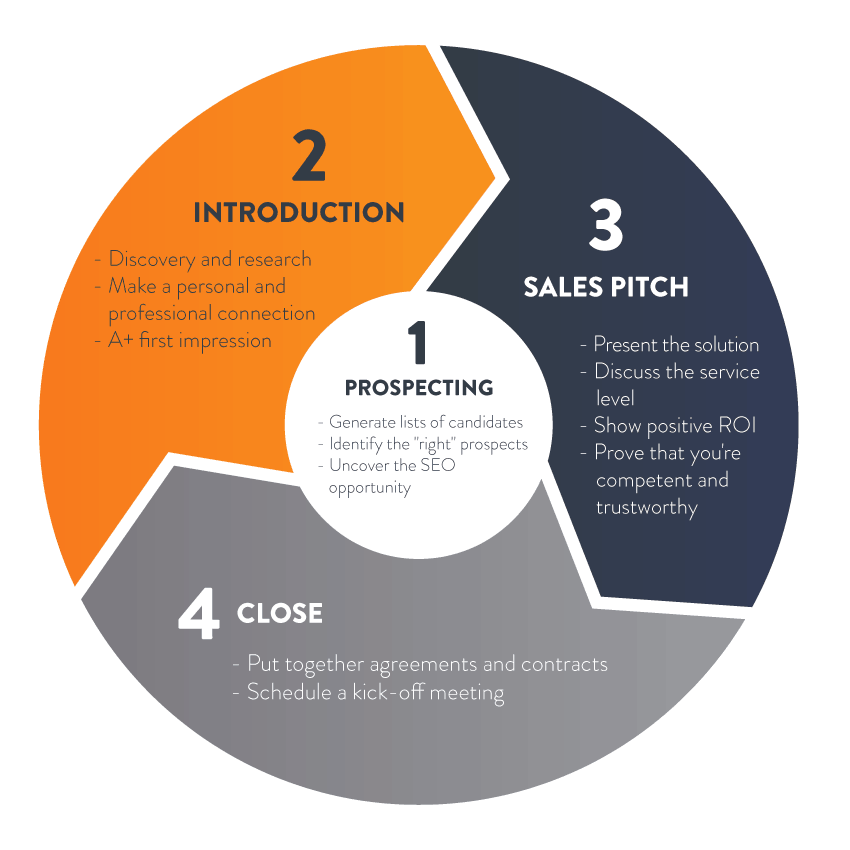 Image Courtesy: UpCity
How to make a good sales pitch?
1. Does your pitch have an objective?
2. Does your customer really care about your solution?
3. Is there a central idea in your pitch?
4. Customize your sales pitches
5. The Power of 3
6. Always be ready for a great verbal pitch
7. Setting the agenda
8. Be specific
9. The next steps
10. It is all about the conversation
11. Identify your target
Use the following ideas to deliver a good sales pitch that drives up your conversion rates.
1. Does your pitch have an objective?
It's amazing that many salespeople don't know about their objective while delivering their sales pitches to their clients.
The single most important objective in your sales pitch should be to move your customer to the next step in your buying process.
Great sales pitches needn't be only about selling; your customer has to be first educated about your company and its offerings, vision, etc.
So, have you made your client aware of your company or product?
In some cases, your customer might not even know that he wants a particular solution to his problem?
It's also possible that he might not even know that there is a problem lurking around the corner.
Your sales proposal has to cross so many hurdles before converting your prospect into a customer.
2. Does your customer really care about your solution?
This is one of the trickiest areas while making your sales pitch.
Your customer might change from one presentation to another. In one meeting, you might be presenting your stuff to the CEO of the company while you might be presenting to a department manager in another.
So your pitch should be accommodating of all the levels involved, customized for the manager just as much as for the CEO.
While the CEO is greatly interested in increasing revenues, the junior guy is looking out for the next promotion.
Your sales talk needs to take care of the aspirations of both these guys.
3. Is there a central idea in your pitch?
Many salespeople veer off the central topic in their presentations quickly. In order to make a great presentation, you should always focus on the core benefit that your product is offering.
Never stray from that.
4. Customize your sales pitches
Don't cut corners while presenting your product or service to your client. Remember that every client is unique and has his own particular set of problems.
Don't cut, copy, and paste your previous presentation onto your next one. Your clients would quickly spot this shoddy work and avoid you in the future.
As mentioned above, you should also note another important thing while making your sales presentations – the kind of information that a CEO needs is very different from what a departmental manager wants.
You would obviously be providing different treatment to every different client. However, internally within the same organization, you may need to customize your deck depending upon whom are you catering to.
Always customize your slide deck so that you can reach out to different people with different messages.
5. The Power of 3
Great salespeople stick to the 3-point rule. They never have more than 3 central ideas in their presentation.
Also, in each one of their slides, they never have more than 3 pieces of information.
6. Always be ready for a great verbal pitch
In certain cases, you might be asked to deliver your sales strategy without any Powerpoint presentations. How would you prepare for this eventuality?
One good way would be to internalize your written presentation. Practice delivering your sales pitch without any slides, animation, etc.
It would also be a good idea to find some commonly asked questions and your answers. In general, no-slide presentations are ice breakers and quite effective in starting conversations.
7. Setting the agenda
Set not more than 3-5 pieces of your agenda to stay focused.
A lot of sales reps are mistaken into believing that the more people you please, the more sales you make.
The sales process is far from people-pleasing. While you may wanna offer a hitting solution to the problem, focusing on solving all the problems may not work.
So instead of catering to every problem, specify the problem you want to address and customize the solution as per the audience.
8. Be specific
Avoid high-sounding words, platitudes, and jargon. Use easy to understand terms, and be specific to the agenda.
Always focus on meeting your goals, and never stray from them.
A good sales pitch is focused, devoid of ego, and personalized.
9. The next steps
Never finish your presentation without listing the next steps. These could be about a free trial, a next meeting, or anything else which leads to a Call To Action (CTA).
A lot goes into the making of a CTA, read more about it here!
It is always a good idea for you and your prospect to agree that there are indeed some next steps after this presentation.
Remember that your sales presentation is all about moving your prospect to the next step in the sales pipeline.
10. It is all about the conversation
Please remember that delivering great sales presentations is not an objective in itself. You need to personalize it by encouraging others to speak as often as possible.
Conversations help in converting a good sales pitch into real sales.
11. Identify your target
Finally, your sales pitch should be directed at the decision-maker. Identify that key person in your meeting whom you would be pitching to.
It makes little sense to pitch to a departmental manager when in the same meeting you also have the CEO of your client company.
While your pitch should have universal relevance, the key target needs to feel the most satisfied among the group.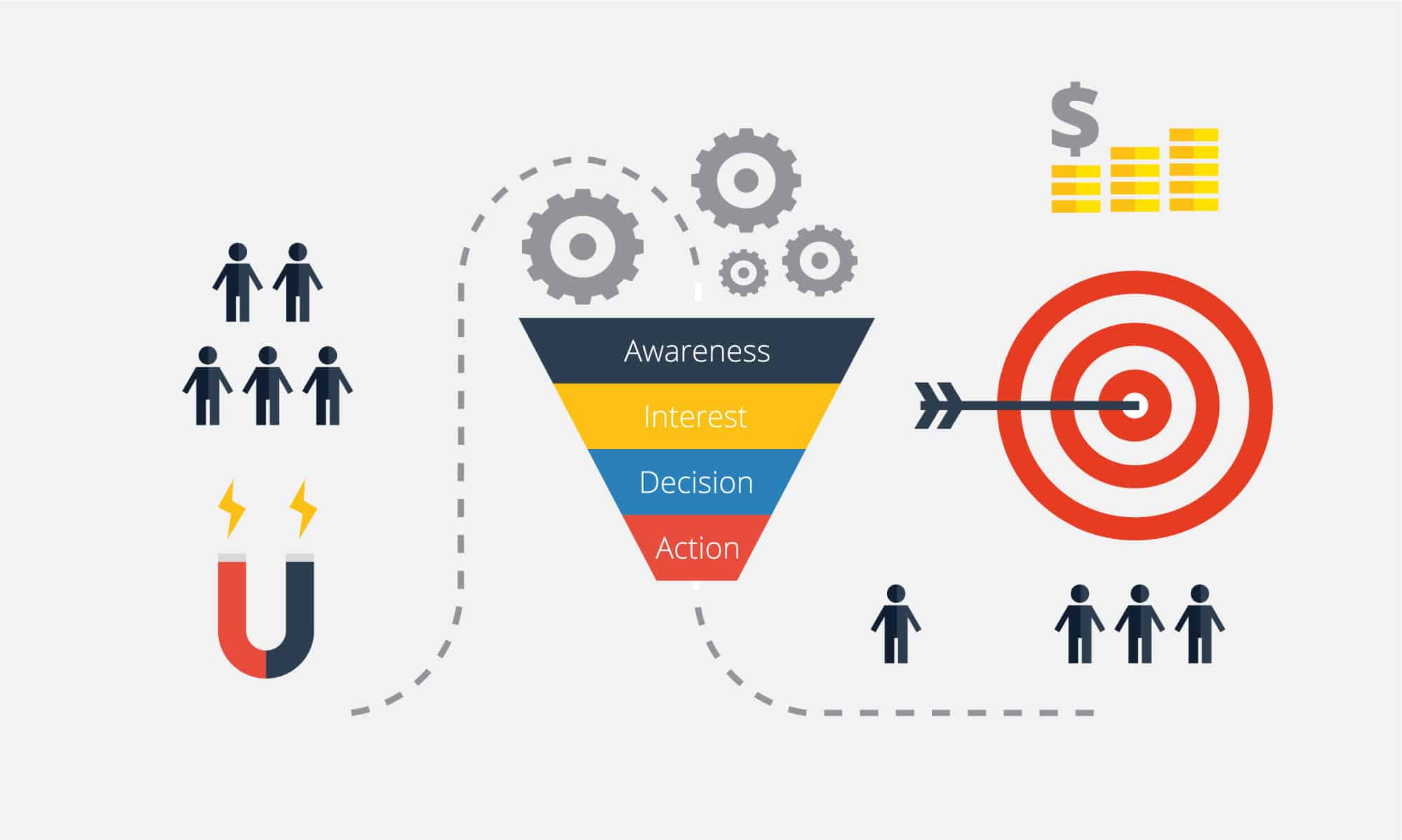 Image Courtesy: Bacchu Scribble
Types of sales pitches
1. One word pitch
2. Social Media Pitch
3. The Elevator Pitch
4. The Cold Call Pitch
5.Pitch Via Email
As a sales-driven organization, you can use different kinds of pitches to sell your products or ideas. Here's a list of ideas that you can look up to.
Please note that this just an indicative pitch list; you can use your own ideas.
1. One word pitch
Perhaps the toughest sales pitch idea to implement is the One Word Pitch. Just, what does it mean?
Simply this, this one word captures your company's value, belief, or goal. By the way, it isn't easy to find your central value or belief.
Great companies like Google excel in this kind of pitch. For the search engine giant, that one word is 'Search'. What's yours?
Once you identify your THAT ONE WORD, adopt it, and use it in your workplace. Let the world know that ONE WORD represents your company.
2. Social Media Pitch
Name a brand and chances are that it will be there on one of the many social media platforms. So how do you devise your sales strategy for social media?
Before you get on with this exercise, you should know that there are more than 3.6 billion users on social media.
This means your sales pitch should stand out from the rest, be creative, and convey your brand promise.
3. The Elevator Pitch
It should not be more than 30 seconds long, precisely the time an elevator takes to come down from the topmost floor.
It should be interesting, short, and have a call for action. And yes, it should be personalized and verbal.
4. The Cold Call Pitch
When you dial a customer's phone number, never start your conversation by saying, 'Hi, I want to tell you about my amazing product….'.
Find out whether the person on the other end is busy or driving at the time of the phone call.
Reschedule your call and double-check whether your prospect is still busy or not.
An essential point in this kind of pitch is you need to secure an appointment. Further wanna improve your cold call skills, just click here!
5. Pitch Via Email
Make it personalized in the subject line, heading as well as in the body copy. Schedule your sales pitch via email according to the time zone of your client.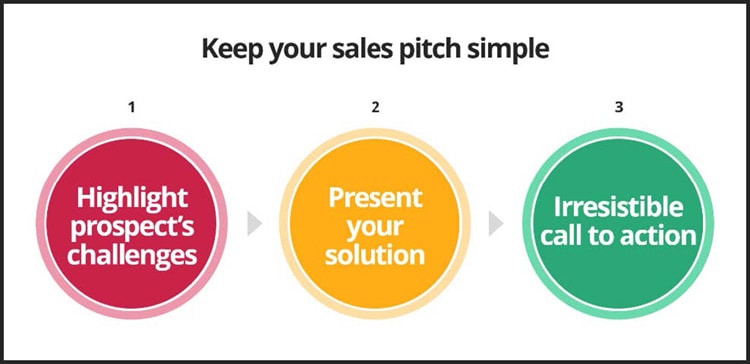 Image Courtesy: Presentation Guru
How to write a sales pitch?
1. Focus on your product or products
2. Who is your target buyer?
3. Identify the pain points of your client
4. Prioritize
5. Ask probing questions
6. What is your final objective?
1. Focus on your product or products
Before you start, identify the product or products in your inventory that you want to sell.
Ideally, you should have just one product as your focus but sometimes you may want to sell multiple products.
2. Who is your target buyer?
One common mistake that most salespeople make is to use the same sales template for all occasions.
So you have B2B sales pitches being used in consumer product settings and vice-versa.
You should avoid such lazy marketing; tailor-make your presentations according to specific settings and create unique pitches based on buyer personas.
3. Identify the pain points of your client
Before writing your sales pitch, find out the problem areas of your customer.
For this, you may have to deep dive into your client's operations, and believe me, it is not a one-day job.
4. Prioritize
While writing your product benefits, prioritize them.
The most important benefit should be on the top and ideally speaking, must occupy 75% of your presentation.
5. Ask probing questions
Michael Halper, CEO, and Founder of SalesScriptor says that the best salespeople ask probing questions while delivering their pitches.
It would be a great idea to ask 2-3 thoughtful questions about each pain point in your presentation.
Such questions make your pitch effective and leave behind a pondering audience with food for thought!
6. What is your final objective?
Halper also says that salespeople should be clear about the objective of their sales pitch.
Whether it is to convert the lead into sales directly or another small step towards furthering the sales pipeline, a salesman should be clear at what the objective of their sales pitch is!
Sales Pitch examples
1. The 'Don't You Agree ' strategy
2. Fixing a contradiction
3. Stitch your pitch to your story
4. Demonstrations
5. By persuading
6. The Pique Technique
7. Using a metaphor
8. Make your customers feel valued
9. Flatter your audience to get that sales order
Here are some sales pitch examples that are too good to ignore.
While you should refer to these examples to learn a few things about how to communicate your idea effectively; make yours fresh, unique, free from information overload, and original to get most results.
1. The 'Don't You Agree ' strategy
Here is how this strategy works;
Make a statement about a fact.
Present a flip side or a side course of the fact, which is obvious but has been over-looked for most parts.
Ask your audience – Do you agree with this fact?
Next, state your solution and get on with this idea.
2. Fixing a contradiction
In this strategy, you first state a fact (Fact A). Next, you present a contradictory fact (Fact B).
Now that you have your audience riveted, ask a question – How can we reconcile both the facts? It is time to state your solution and this is how you move forward with your pitch.
Watch this video to understand this strategy.
3. Stitch your pitch to your story
It is a proven fact that our brains are always ready to hear stories. Use storytelling to pitch your product. Make your product coherent with human value, and watch your audience react actively.
4. Demonstrations
Have you wondered why infomercials are beamed late at night? Because the profit from a demo always outweighs the one from a non-demo sales pitch.
Besides, nothing speaks for a product more than the product itself. Allow your target to interact with the product, even a little teaser would do.
However, the first-hand experience with your product would always make your sales pitch more compelling.
5. By persuading
One way to make your sales pitch persuasive is to educate and inspire others. You could even leverage your product into generating a positive impact on society.
It should reflect the values of benevolence and social contributions, for this technique to work.
6. The Pique Technique
Make your audience stop and think with an unlikely encounter.
This could be done via a tricky yet quirky question like what did they do the first thing upon waking up. Something which seems irrelevant and rather colloquial, but on connecting the dots it builds up the flow for the pitch ahead.
This idea is based on the Pique Principle.
7. Using a metaphor
Metaphors link a thing to another, and this can be aptly used where you link your solution/ offering to a very common event.
In fact, if you are looking for cool ideas on drafting an effective sales pitch, EngageBay has all the solutions to your marketing needs.
Whatever is your requirement – sales, marketing, or CRM, EngageBay is a tree that has all the fruits you need. (Ah! That was a metaphor)
8. Make your customers feel valued
One way of going about this technique is by shifting the focus entirely to the customer. Show your prospects their time is more valuable than yours. Make it about them and how they benefit from the product.
And lastly,
9. Flatter your audience to get that sales order
You gotta admit, nothing works like a dab of sugar.
Especially if you are going to make a sales pitch about your consumers, make sure the result is helping them feel powerful and impressed.
Of course, this can be achieved by great customer service, and a part of that is engaging your customer in a little bit of flattery. However, don't overdo it. Compliment them, please them, but with honesty!
Why do short sales pitches work?
You may be brimming with lots of solutions for your clients but do they really care for your time? Evidently, no.
Like many others, they too are in a rush, have to catch deadlines, meet their vendors, and generally deliver on time.
If your pitch is long-winded, they'd hardly have time to listen to your sales talk. So make it short and to the point.
Conclusion
To sum up, crafting a sales pitch is an art as well as a science.
Did you like this article? We'd like to see your comments in the box below.
>>Track and Manage Your Sales For Maximum Conversions
>>Sales management software to empower your sales team to close more deals and get results
EngageBay is a comprehensive Customer Lifecycle Management (CLM) software for growing companies. CLM covers all aspects of customer management across sales, marketing, and support.
Check out EngageBay's offerings – a powerful CRM, Marketing Automation, and Customer support software to grow your business.