As a small business, it sometimes feels like you're the little fish in the big pond. You want to stand out and make a splash, but you're not sure how.
Branding your small business is one such means. After all, you don't want to be just any company, but the company customers can go to when they need whatever product or service you sell.
With business branding, you position yourself as that company. It really starts with defining your brand.
What Is Branding for Business?
Branding is a marketing practice in which a company creates a comprehensive message — name, logo, and other collateral that is easily identifiable as belonging to the company.
It is creating a perception of your brand in the mind of those who come in contact with your company, product, and service.
Generally, branding consists of three stages:
#1: Brand Strategy
Brand strategy is the foundation for building a successful brand.
The brand strategy is all about developing plans on how to convey your mission and solve problems for people.
It is a long-term process.
It acts as a blueprint for your brand building — mapping out how you are different and trustworthy for your customers.
Before jumping into designing and marketing, you need to have a solid brand strategy in place.
#2: Brand Identity
Brand identity needs to be consistent across all marketing channels.
It is how you convey your message to the public using visuals, copies, and experience.
Logo, colors, website design, content, packaging, and more are essential elements of brand identity.
#3: Brand Marketing
Lastly, brand marketing is the process of building awareness about your product and/or service using strategic communication.
It is about connecting the values of your product or service to the right audience.
Read also: 9 Types Of Branding And What They Really Mean
How to Build a Brand
Are you clueless about where to start?
In the beginning, the process of small business branding can seem overwhelming.
But it doesn't have to be.
Here are a few tips that might come in handy while building an identity for your company.
i. Define the Purpose of Your Brand
The foremost thing to do is to define what your brand will stand for.
If you look at every successful company, they have a strong mission that drives them.
While defining your brand purpose, you need to answer questions like:
What is the problem you are trying to solve?

Why does your company exist?
Why should people trust you?
These will also help you come up with your brand slogans, voice, messaging, and more.
ii. Study Your Competitors
To start your small business branding, you need to first understand what your competitors are doing.
Research and compare your top three to four competitors.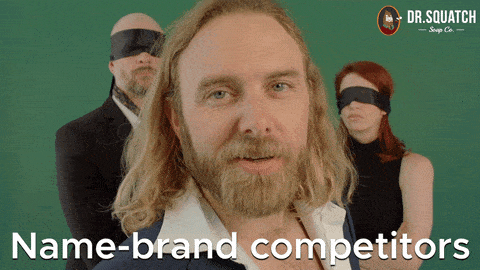 Identify what kind of messages they are sending out and the quality of their products or services.
Read what their customers have to say about those brands.
Comparing your competitors will help you set a benchmark for your business and create an effective brand strategy.
iii. Identify Your Buyer's Persona
Before you start selling your product, you need to determine your target audience.
Who are your audiences, and what they do?
For instance, if you are selling baby products, your target audience would be mainly pregnant moms or new mums.
When brand building, you need to know who you are trying to reach.
This will help you tailor your mission and marketing strategy accordingly.
It will help you figure out the lifestyle and behavior of your consumers.
You will be able to place your product in the market in a much better position.
iv. Tell a Story
Storytelling is an art.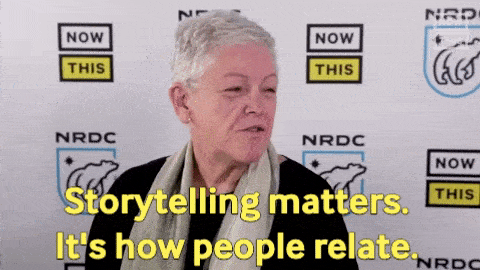 People can easily connect to a brand with a story.
It directly invokes positive feelings in their mind and starts trusting a brand.
The same story will also help you create a brand voice.
It will help determine how you want to communicate with your customers, and how they respond to you.
v. Build a Brand Logo and Tagline
One of the critical steps of brand building is creating a logo and tagline for your company.
This is very important as your logo will appear on everything related to your business — packaging, marketing collaterals, digital business card, and more.
A business logo is the visual recognition of your brand identity.
That's why invest time and money and build something that speaks to your business vision.
Watch this video to learn more about how to build a brand logo:
If you're only beginning to build your own brand, and bring in brand identity, you're in luck.
We'll discuss In this article, we'll go over 14 examples of how small businesses just like yours have successfully created a voice and brand image that customers love.
These small business branding examples are all classics for a reason: they work, and they work well.
Of course, sometimes looking at examples isn't enough to make them happen for your own company.
That's why we're including pointers on how to replicate the success of each example personally.
So let's begin.
Read also: 8 Of The Most Clever Brand Extension Examples
14 Examples of Small Business Branding
#1. AND UNION Redesigns the Average Beer Can
Ah, the humble beer can. It's been done to death, right? From cold-activated cans to seasonally or promotionally decorated ones, it's a tired schtick.
Not according to AND UNION, a German beer brand that takes all the typical rules of what a beer can should look like and throws them out the window.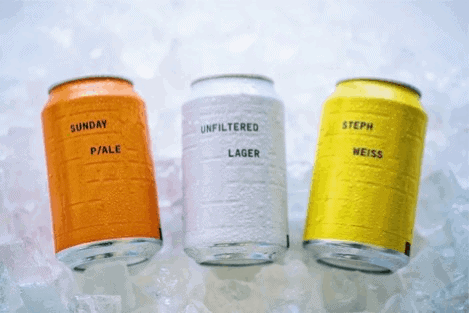 Image courtesy of AND UNION
Resembling soda cans more than beer, this trendy can design is the backbone of their branding.
Just look at their Instagram to see what we mean.
Across all the posts, you see people holding fashionable AND UNION beer interspersed with bright images of the colors of the cans.
This isn't your dad's beer brand, and it shows.
How to Achieve Similar Results for Your Small Business?
Want to take your branding to the next level like AND UNION?
Make sure whatever you do has cohesion. If you brand with brightly colored products ala AND UNION, then make sure those colors appear on your website and especially social media like Facebook and Instagram.
Build responsive landing pages with EngageBay's drag-and-drop tool, and choose colors, fonts, elements, and style that suits your brand look.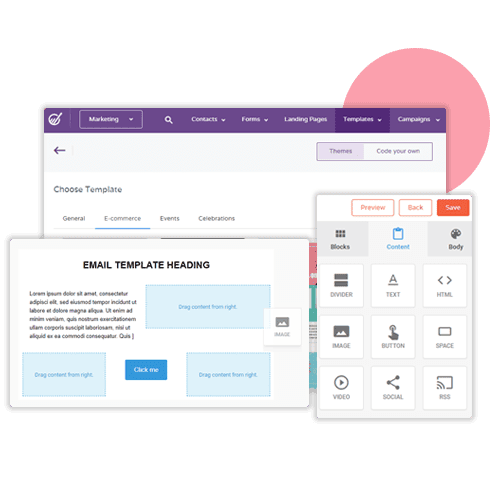 #2. Prodjuice Keeps It Clean
When you think of a cold-pressed juice company, what kind of branding do you think they'd employ?
If you said a clean, fresh design, then you're correct.
That's exactly what Australian juice brand Prodjuice does.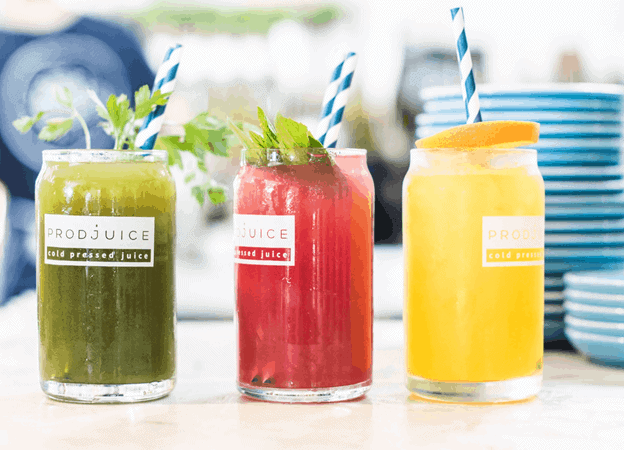 Image courtesy of Prodjuice
The above image comes from their homepage. It's appealing, bright, yet very clean.
There's a mostly white background offset from some pale blue dishware.
Their social media carries the same message, that Prodjuice makes clean, natural products.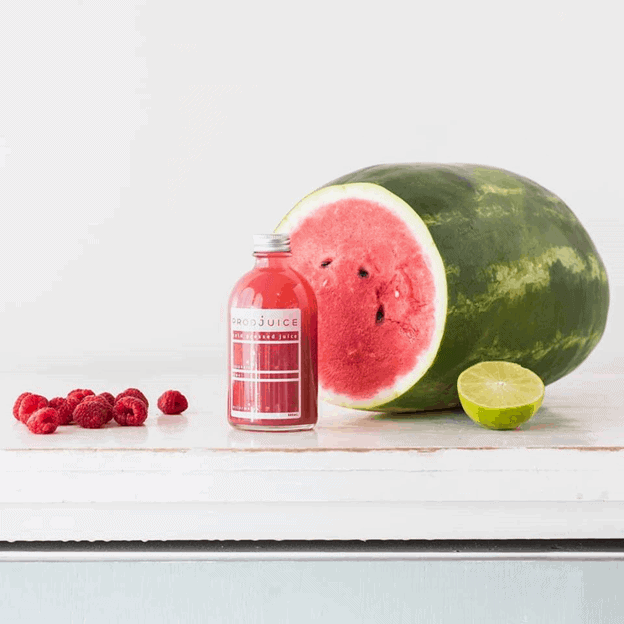 Image courtesy of Prodjuice
The above picture from Facebook again has a white background.
There's also the fruit that goes into the making of a Prodjuice bottle. In this instance, it's watermelon, limes, and raspberries.
How to Achieve Similar Results for Your Small Business?
If your startup sells healthy products, then branding your business should look a lot like Prodjuice.
Keep it clean, use a stark and blank(ish) background, and include natural ingredients whenever possible.
#3. Tenth Muse Makes Their Product Look Like a Million Bucks
Sometimes, to become the big fish in the pond, you have to act like the big fish.
Take a page out of the book of Tenth Muse, a smaller fragrance brand that looks like a much more known name. Why? Because of how they brand themselves.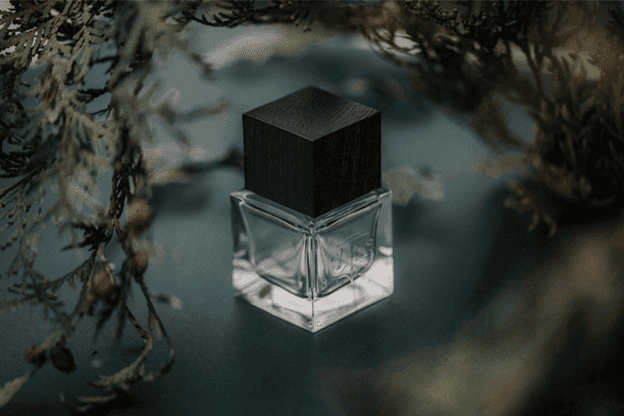 Image courtesy of Tenth Muse
Just take a gander at the image above.
It looks like something you'd see in a big-budget fragrance commercial, but it's a small business doing it.
How to Achieve Similar Results for Your Small Business?
In some cases, you have to fake it until you make it…within your small business' budget, of course.
#4. Tentsile Makes the Great Outdoors Look Even Greater
Thousands upon thousands of companies sell hammocks and tents, right?
That's nothing new.
Every one of these businesses makes their tents look like bundles of fun, too.
That's why Tentsile takes a somewhat different approach. You only have to click on their website and you'll see what we mean.
They're all about showcasing their products amongst the most beautiful backdrop there is Mother Nature.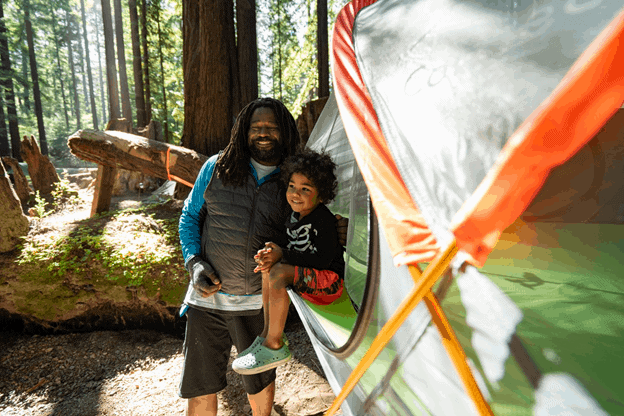 Image courtesy of Tentsile
From their homepage to their blog (where we found the above image) to their social media, Tentsile proves it's not just about the type of tent you use, but where you use it.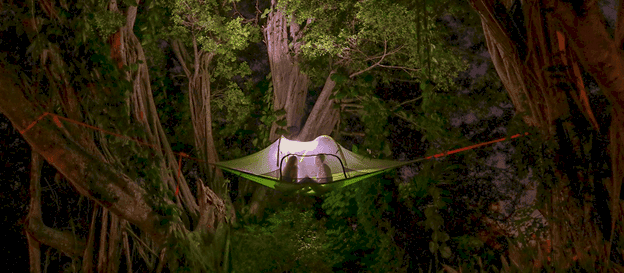 Image courtesy of Tentsile
How to Achieve Similar Results for Your Small Business?
If you're a small business specializing in outdoorsy products like Tentsile, then don't just use your nature to showcase your products.
Use your products to showcase nature.
#5. Sneaky Veg Takes Clean Eating Literally
In the second example, we introduced you to a small business known as Prodjuice.
Sneaky Veg does things in a similar vein. This food blog seeks to introduce more vegetables and fruits into the diets of children via easy, fun recipes.
The site founder, Mandy Mazliah, even has vegetarian and vegan options on her site.
Despite that it's for kids, the Sneaky Veg website has a very adult feel.
Here are a few images to show what we mean.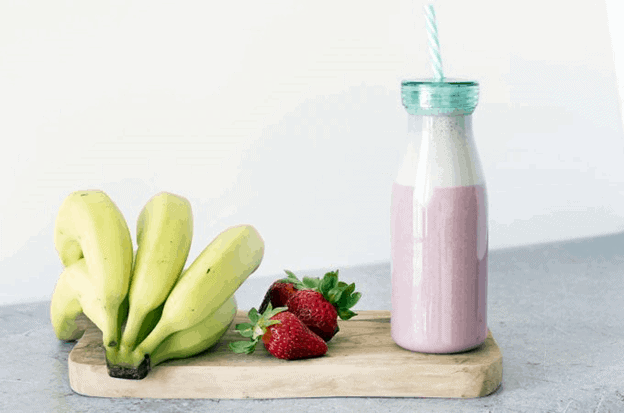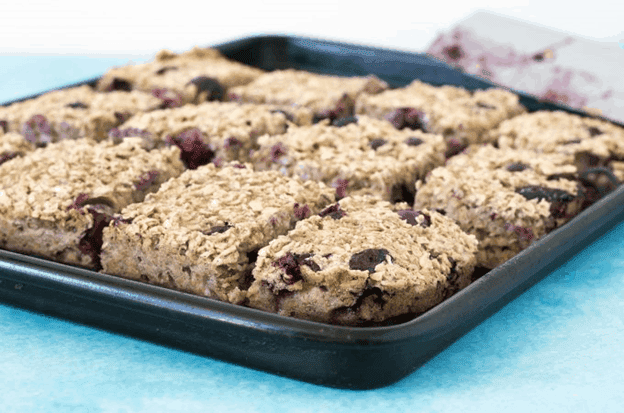 Image courtesy of Sneaky Veg
There are no bright fonts, cutesy kids stuff, or anything like that.
Even the Sneaky Veg logos aren't colorful to the point of being saccharine.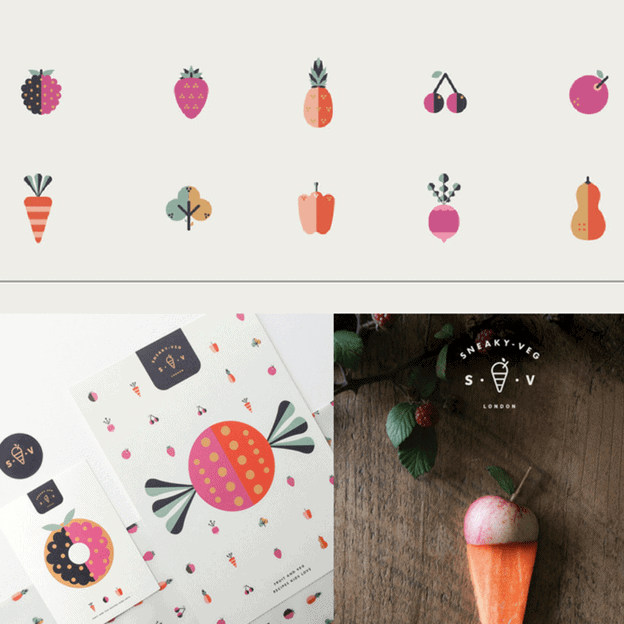 Image courtesy of Sneaky Veg
That's mostly because Mazliah markets more towards the parents of children than the kids themselves.
While the kiddos can certainly help make some of these recipes, it'll mostly be mom and dad doing the cooking.
The site's bright, appealing images capture parents' attention, but the simplicity and deliciousness of the food work for kids.
How to Achieve Similar Results for Your Small Business?
Know your audience. Mandy Mazliah easily could have made her site nauseatingly cartoony to reach out to kids, but since they're not making the food, that doesn't make much sense.
Instead, her clean, neutral color palettes and design are aimed at parents, who will read the blog.
If you have a dichotomous audience yourself, carefully ponder over every element of your branding design.
#6. Notel Puts the No in "Not a Hotel"
It may sound risky to use the word "no" in any of your small business advertising and branding.
Won't you turn away your customers that way? You can, but it all depends on how you do it.
For instance, take Notel, an Australian lodging option that very firmly asserts it's not a hotel.
Sure, they let you sleep somewhere, but not in a hotel room. Instead, you'll stay in an Airstream that's up to 31 feet.
Each Airstream has its own organic bamboo sheets, pillows, premium linens, and a queen-sized bed. You also get a bathroom with a toilet and shower.
To tell the world about its existence, Notel decided to use its name to play up the fact that it's…well, not a hotel.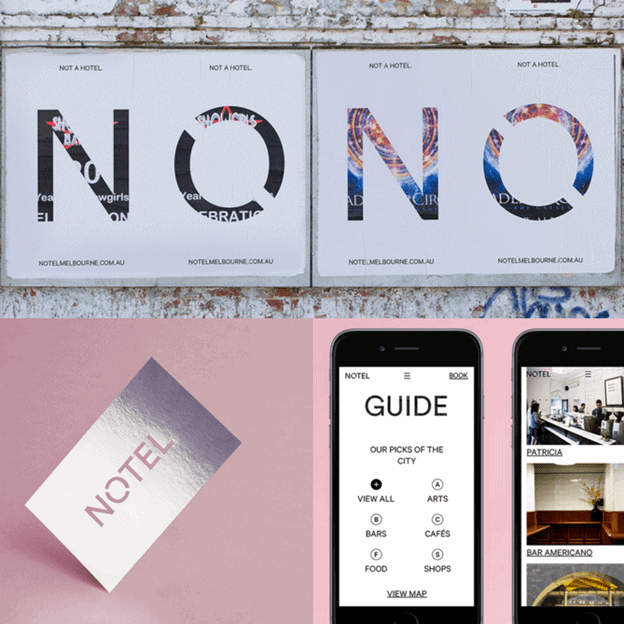 Image courtesy of Notel
The ads Notel used, shown above, would definitely catch your attention.
The name of their lodging features prominently on everything from business cards to their handy app, keeping their branding consistent.
How to Achieve Similar Results for Your Small Business?
If your startup or small business has a name that you can use as part of a pun or advertising slogan, then you'd be foolish not to.
You can certainly make an impact and get your name stuck in people's heads this way.
#7. Elo Soap Promotes with the Gods, Literally
Elo Soap makes soap with olive oil and is already based in Greece, so it makes sense for them to rely on the star power of the gods when it came to their branding.
Mike Karolos, the graphic designer, says he featured Hermes, Poseidon, Demeter, Aphrodite, Athena, Zeus, and several other Greek gods people find almost instantly recognizable.
When combined with what Karolos calls a "geometric pop art style," you get a one-of-a-kind product.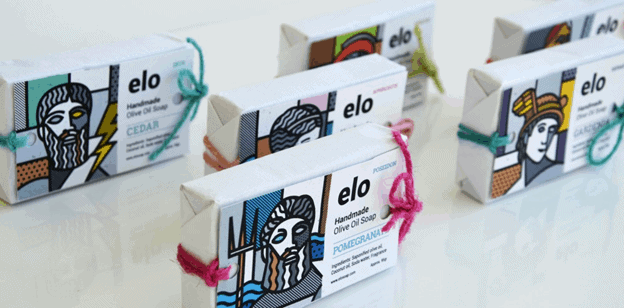 Image courtesy of the Greek Foundation
How to Achieve Similar Results for Your Small Business?
Having a generic product like soap doesn't mean you have to package and brand it generically, too.
Whether you base your branding around an ingredient or even your hometown, know that people care a lot about packaging.
Sometimes it matters to them more than the product inside.
#8. Finfolk Productions Keeps It Appropriately Tropical
If you couldn't guess by the name what Finfolk Productions makes, we'll tell you. Mermaid gear!
That includes mermaid tails, flip-flops, and mermaid scale leggings for children and adults.
Although you'd expect it, they don't go crazy in the design department.
Their website has a delicate pink hue throughout.

Image courtesy of Finfolk Productions
Then their social media mostly showcases their products but maintains a tropical style.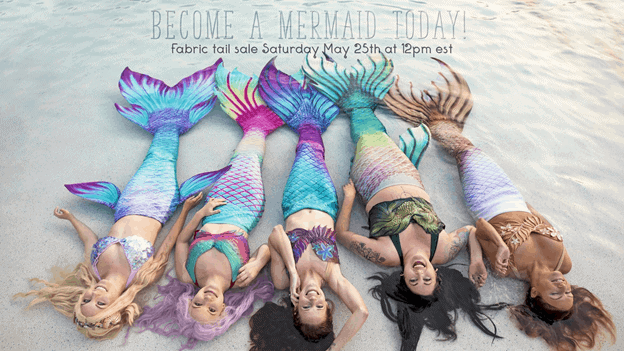 Image courtesy of Finfolk Productions
There's nothing wrong with Finfolk's approach at all.
When you have such an off-kilter product, you don't need a kitted-out website.
How to Achieve Similar Results for Your Small Business?
Do you sell something unique that most other companies don't?
Keep your social media and website branding approach simple and understated.
Your product is the star of the show and it deserves to shine.
#9. Bombay Electric Embraces All Things Eclectic
According to its about page, Bombay Electric "is a distinctly Indian platform for fashion and design known as the pulse point for interchange and dissemination of design ideas."
They're a store that's about a whole lot of things, including music, art, fashion, and design. As such, their branding is a mishmash of all things colorful and eclectic.
Early on, they paired with Michael Thorsby, a designer in Paris, to make a mark on the world. We'd say it worked.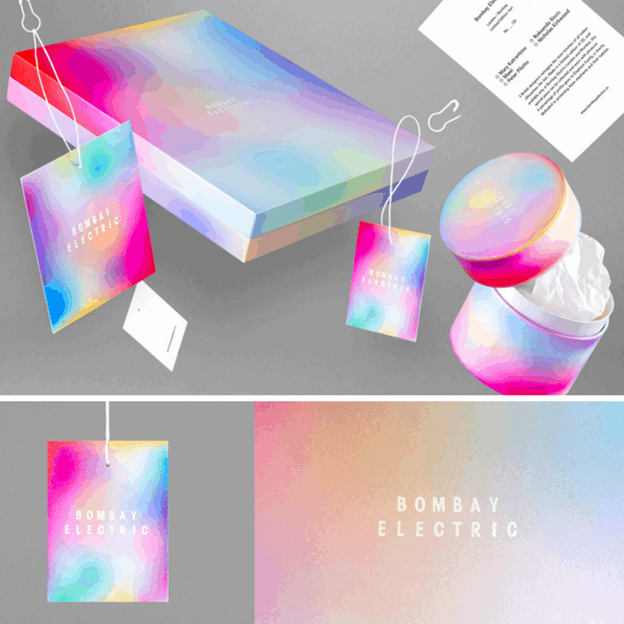 Image courtesy of Bombay Electric
These days, Bombay Electric has carved out its identity more fiercely than ever, even if that identity never remains static. Here's a sampling of some of their most recent Instagram posts.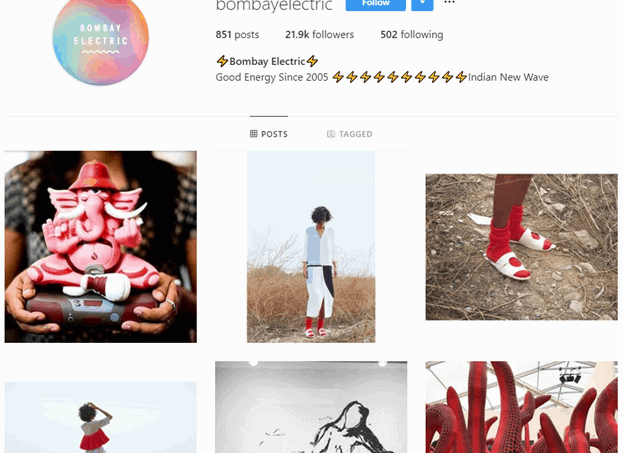 How to Achieve Similar Results for Your Small Business?
If you have a wild identity, especially one that's based in fashion, then have fun! Get quirky, eccentric, and a little weird if it resonates with your audience and matches the products you sell.
#10. Marte Estudio Is Stylish in More Areas Than Just Hair
We have to talk about Mariana Abraham and her salon in Mexico called Marte Estudio. There's a reason this salon has ended up on so many marketer's radars. Abraham worked with design studio Bienal to bring life and color to her salon's branding.
Image courtesy of Marte Estudio
The salon keeps up this bright, fun attitude on their social media. Here's some pictures from their Facebook.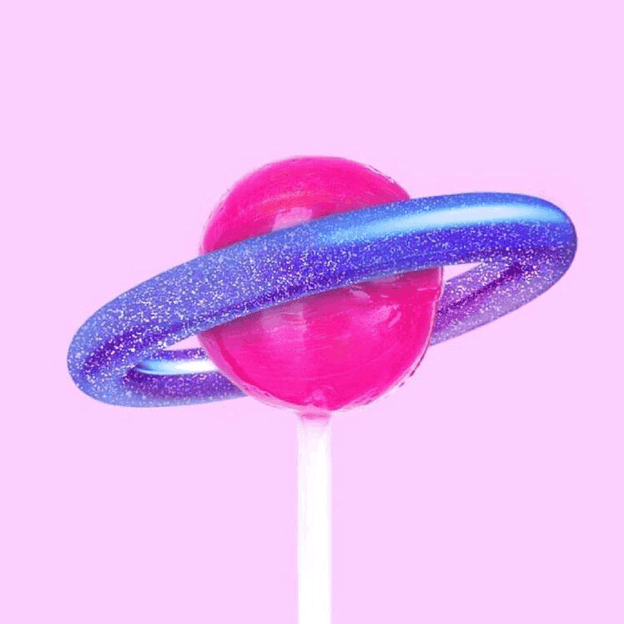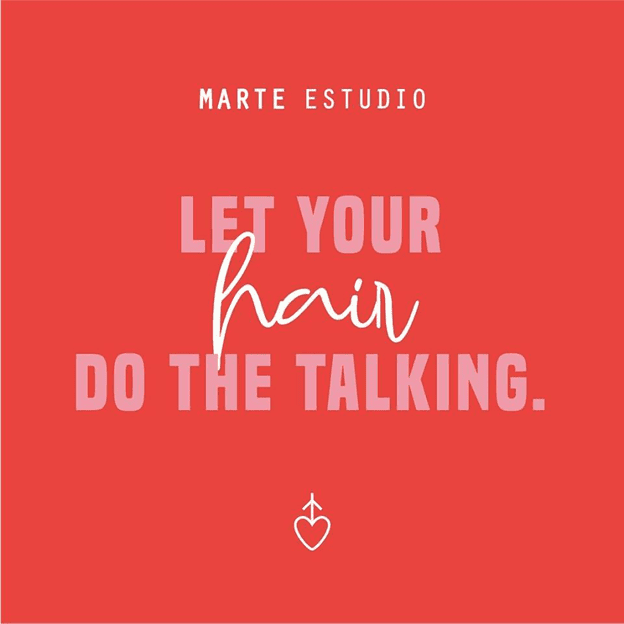 Images courtesy of Marte Estudio
Their Instagram has a separately curated feed, giving you a reason to follow both.
How to Achieve Similar Results for Your Small Business?
You want people to have an enjoyable time when they receive a service from your small business.
Branding yourself in a chic, funky way should reflect all elements of the customer experience.
#11. Qoni's Handmade Products Come Through Loud and Clear
Esteemed company Leo Burnett Design worked on the campaign for Peruvian clothing brand Qoni.
Through their design work, there became no question that Qoni makes its own clothes, including socks, sweaters, and scarves.
With a stark branding in gray tones, the simplicity of Qoni's designs stands right out.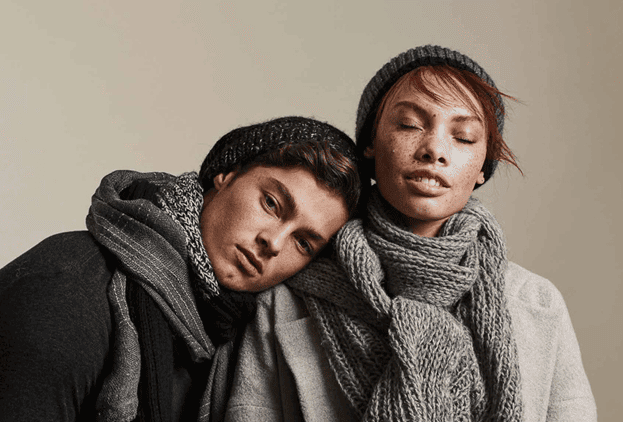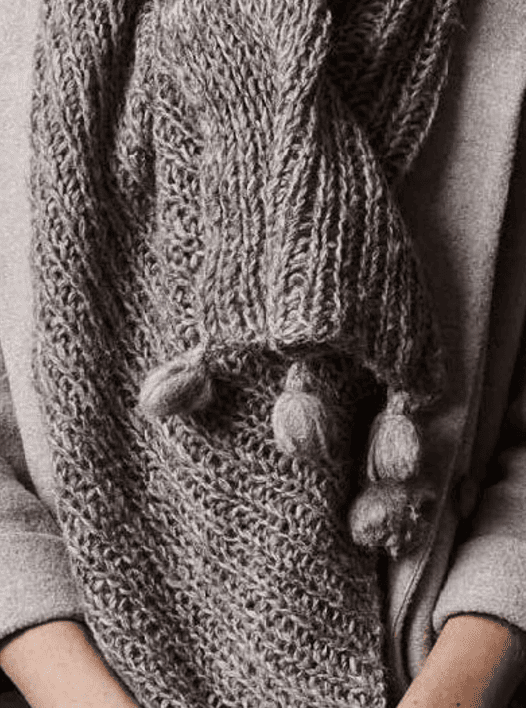 Images courtesy of Handiwork Studio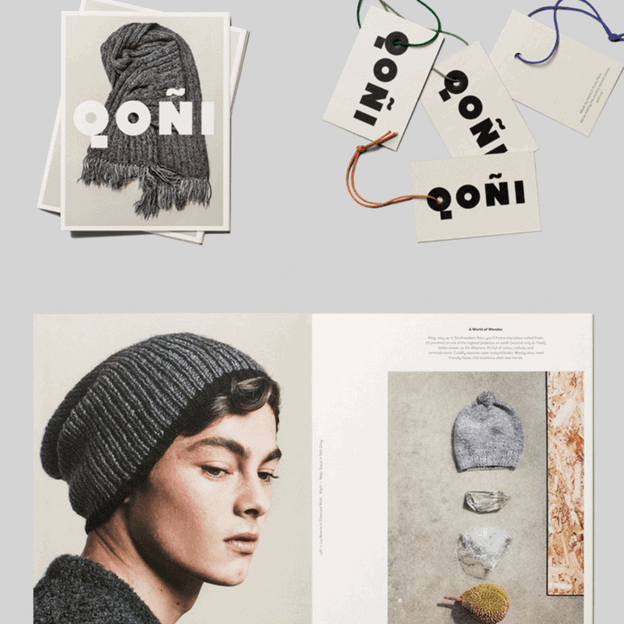 Image courtesy of Leo Burnett Design
How to Achieve Similar Results for Your Small Business?
In some situations, to really showcase your products, it's worth working with a designer.
Maybe not Leo Burnett since you're a small business owner, but a known firm that can make even simple products look like something out of a high fashion magazine.
#12. Marques Brownlee Stands out in a Sea of Competitors
The YouTube market is a cramped one no matter what kind of videos you make.
To stand out, you need quality content, yes, but also great branding. Marques Brownlee gets that.
He doesn't even market himself by his real name, but rather MKBHD.
You'll find this name across all his social media: Facebook, Instagram, and of course, YouTube.
It also appears on his website.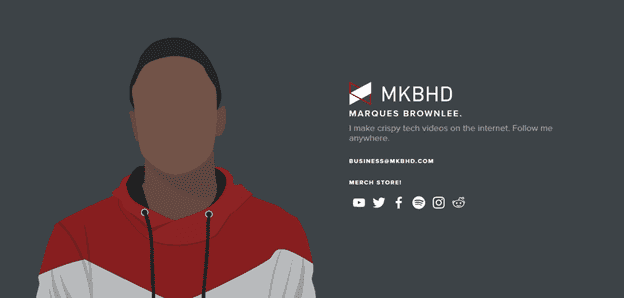 Image courtesy of MKBHD
Here's the banner on his Facebook, which also appears on his YouTube: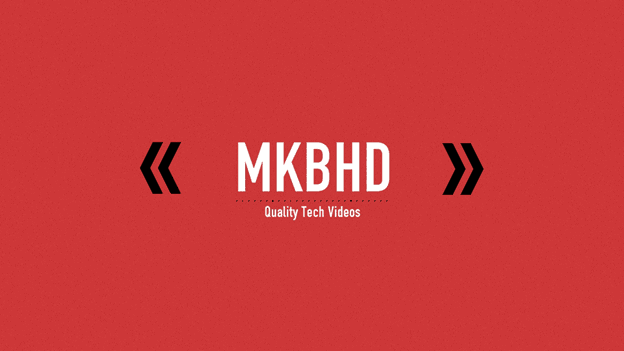 Across some platforms, Brownlee does indeed use profile pictures of his face, but that's okay.
It shows us he's human. Branding is great and all, but at the end of the day, consumers want to know there's a real person behind all that fancy stuff.
With Brownlee, that's very much apparent.
How to Achieve Similar Results for Your Small Business?
If you're the face of your company or you're in business alone, then you need to think of yourself as a brand.
How can you present your name, your face, and your image in a way that catches people's attention?
Once you can answer those questions, you can begin creating your memorable solo branding.
#13. EAT MY SHORTS! Combines Interesting Packaging with an Out-There Design
Malena Bias, the founder of EAT MY SHORTS!, definitely considers herself a Simpsons fan.
Based out of Mexico, Bias seeks to make clothes that look good on men and women alike.
As if the name didn't already grab you, Bias decided to establish a quirky brand with everything from social media posts to product packaging.
If you were to order clothing from EAT MY SHORTS!, just check out the kind of parcel it'd arrive in.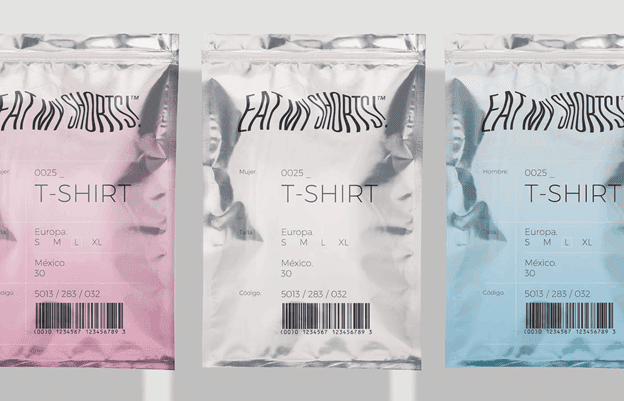 Image courtesy of EAT MY SHORTS!
The wavy pattern of the brand logo even appears in some of their clothing designs: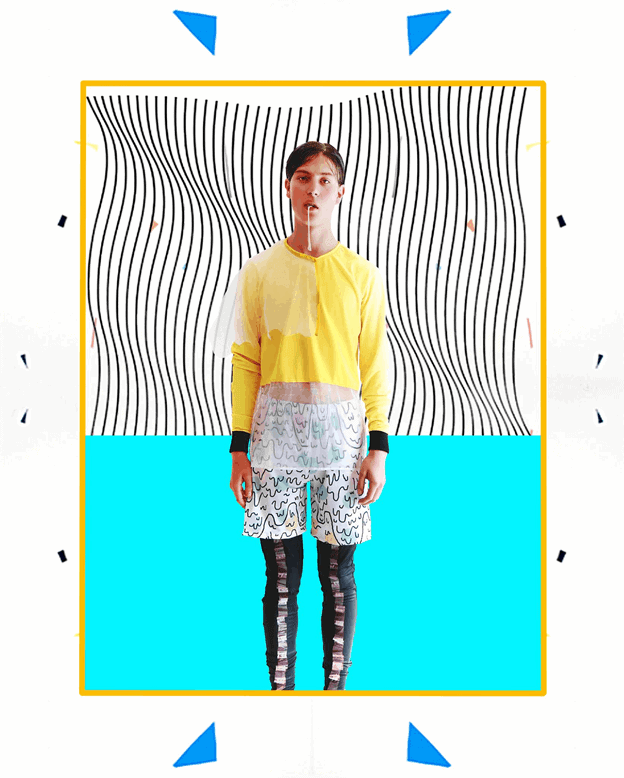 Image courtesy of EAT MY SHORTS!
How can you forget a whole package like this?
How to Achieve Similar Results for Your Small Business?
While forced funny names don't really make consumers bat an eye, the ones that work often just do.
If your company has some sort of pop culture reference as part of its name, you better believe you should do as much off-kilter branding as you see necessary.
#14. College Hunks Moving Junk Knows It Has a Catchy Name
Speaking of catchy names, our last example of small business branding is College Hunks Moving Junk.
Yes, it's a moving company. An original business? Certainly not. An original take on the industry? Oh yes.
Now, Hunks doesn't exclusively stand for handsome men.
According to the business itself, it's an acronym for Honest, Uniformed, Nice, Knowledgeable, Service employees.
College Hunks Moving Junk doesn't do a whole lot of crazy branding or site design.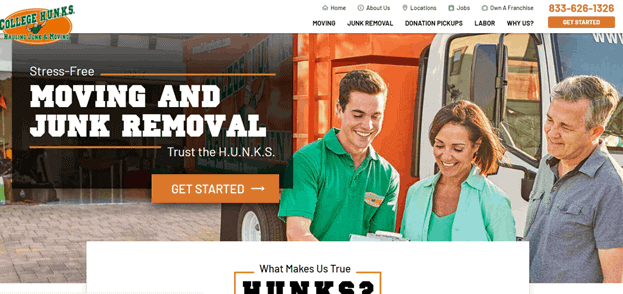 Image courtesy of College Hunks Moving Junk
Why? They don't have to. Their name already makes such an impact that they don't need a kitschy social campaign.
How to Achieve Similar Results for Your Small Business?
Brainstorming a great name or slogan can put you on the map.
That's true even if you sell or work in a common industry like moving and junk removal.
Conclusion
As this article proved, branding is everything.
Whether you're looking for new business branding or a makeover for your startup, it's never too late to refine your approach and your marketing strategy.
Hopefully, the 14 examples of branding we showcased in this article have inspired you.
With both service businesses and product businesses featured, you too can finally become that big fish in the pond.