As marketers, there is always so much to do. Marketers are always on their toes, from reaching out to customers across different channels to identifying qualified leads.
But with the right marketing automation software, companies can automate repetitive marketing workflows, allowing them to focus more on designing strategies that help target prospects effectively.
In simple words, marketing automation is a platform that enables businesses to automate and streamline various marketing activities, including implementing and running a campaign, lead generation and nurturing, audience targeting and segmentation, cross-selling and upselling, A/B testing, etc.
This blog delves deeper into understanding how marketing automation works, tips on how to make the most of marketing automation platforms, and the benefits of using one.
A Guide to the Marketing Automation Process
A study revealed that the average marketing automation ROI is $5.44 per dollar spent. Yet, 28% of surveyed companies plan to use marketing automation in the next two years, and 13% are not using marketing automation at all.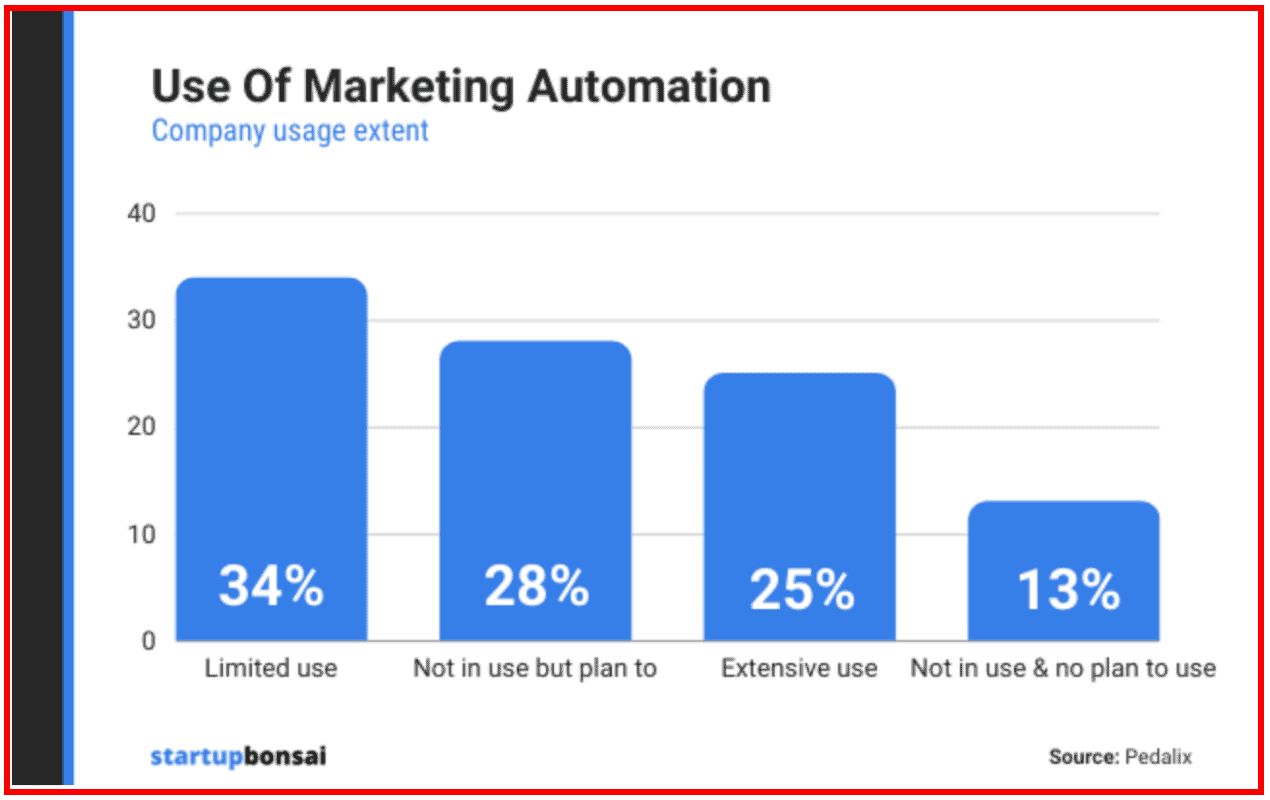 So, where does the challenge lie?
Marketing automation tools help sales and marketing departments automate tasks such as saving contact data, organizing contact databases, sending notifications and reminders, tracking campaign performance, and social media posting.
Using this tool, you can easily target customers with automated messages based on a pre-set of instructions known as workflows. These workflows can be pre-built templates, customized, or modified mid-campaign for faster results.
There's so much a marketing automation platform can do. But only a handful of marketers feel that they are utilizing the most of it.
Some reasons are lack of training, complex process setup, and budget issues.
This guide will help you overcome some of these challenges and enable businesses to maximize revenue and conversions.
What Does the Marketing Automation Process Look Like?
Marketing automation is nothing but involves a series of steps that enables software to streamline the task.
For instance, posting on social media is a routine task. Using a marketing automation tool, you can schedule the posts on the platform and automate the whole process of uploading them.
Let's take an example of how to do it in EngageBay.
Once you have signed up for the EngageBay marketing platform, go to its dashboard.
Here, you will see an option called Social Suite.
You have to choose Scheduler from the drop-down arrow, and under Queues, create your post and select Add to Queue.
You can then select the time when you want to post, and it will automatically get posted at the scheduled date and time.
Imagine you do not have to log in every time you have to upload a post. You can even schedule a month's post beforehand and free your time for other important tasks.
Similarly, if users visit your landing page and sign up to download a free ebook, their contact details are automatically forwarded to your CRM platform. The CRM platform stores their information and sends the user automated follow-up emails or text messages, thanking them for visiting your website and downloading the free ebook.
It can be done by simply setting up a workflow on your automation platform.
You can even send further emails or text messages informing the user about any newly launched products or services, including any special offers or discounts.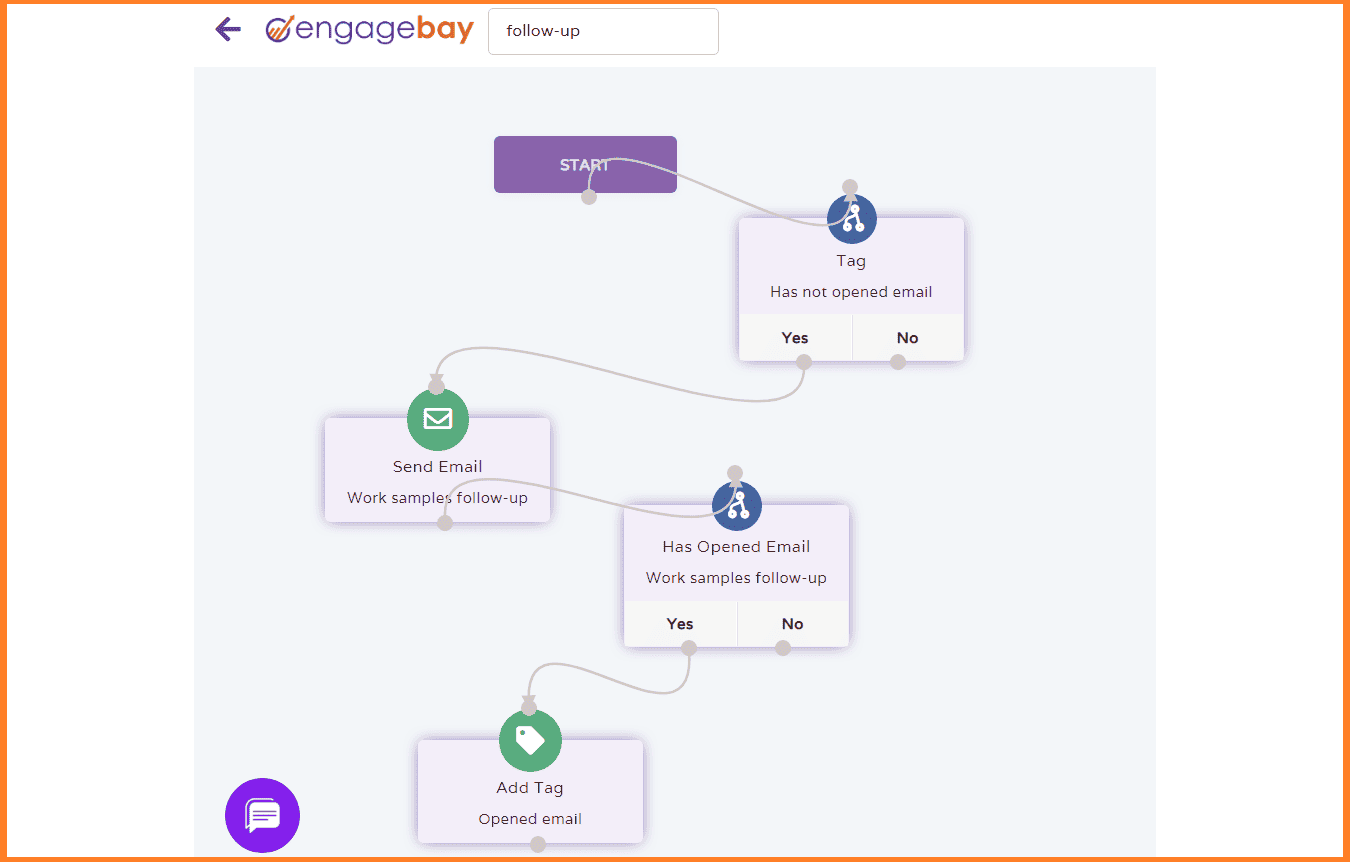 Additionally, marketing automation tools let you personalize messages by tracking users' behavior on your website, such as the number of times they visit your webpage and which products or services interest them.
This enables you to guide your customers to take the desired action at various interaction points.
Read also: The Beginner's Marketing Automation Checklist [101]
6 Types of Marketing Automation Processes
Typically, there are six types of marketing automation processes – email marketing, social media marketing, customer relationship management (CRM), customer segmentation, analytics automation, and advertising automation.
Let us understand what each of these terms means.
#1. Email Marketing Automation
Email marketing campaigns are one of the most common ways companies expand their outreach. 65% of marketers leverage email automation to run email campaigns.
In fact, 71% of B2B marketers say they utilize automation in their email marketing efforts.
Today, email marketing automation is no longer limited to only sending welcome or introductory messages. Businesses are launching drip email campaigns that allow you to set up a series of automated emails that are sent on a pre-planned schedule.
Here's what a simple drip campaign looks like.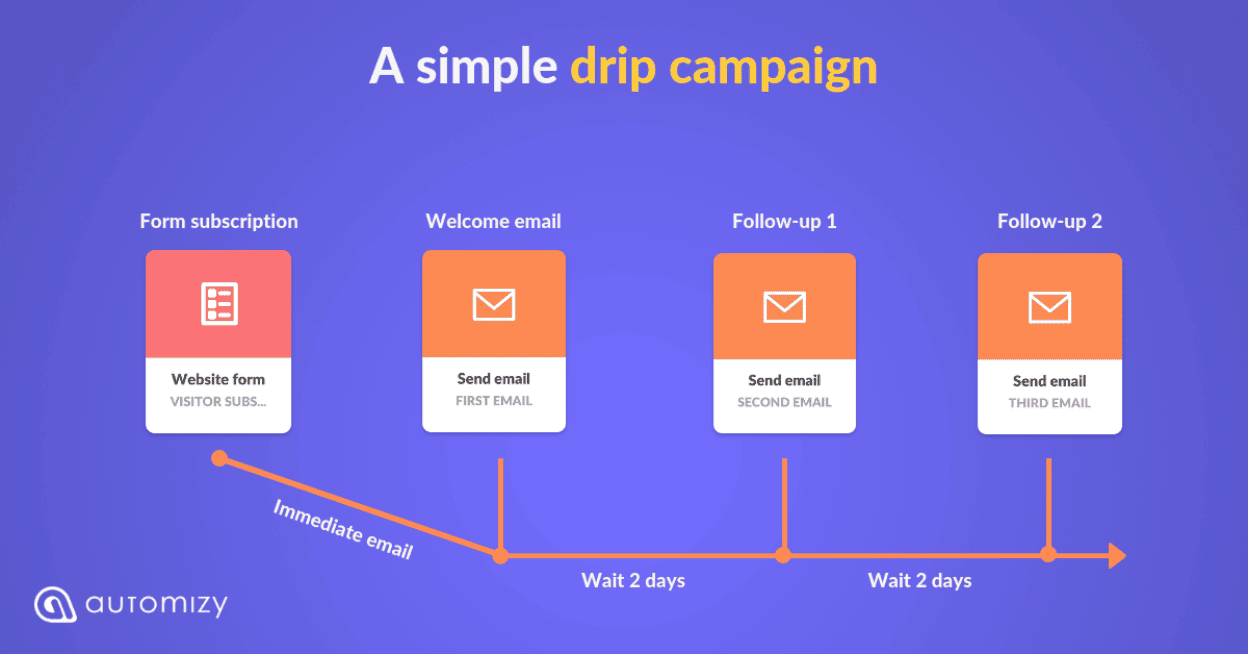 These drip email campaigns can be used in various situations, such as the customer onboarding process, product promotion, abandoning a shopping cart, sending follow-up emails, or signing up for a webinar.
#2. Social Media Marketing Automation
Today, social media marketing is much more than merely creating and uploading posts. It also involves engaging with your followers.
Using social media automation, you can schedule posts and respond to people's messages from your CRM dashboard. You can also send automated messages based on the actions taken by your followers, such as liking or sharing your posts, commenting on them, or following your page.
This allows you to engage with your audience in real-time, which helps build a good rapport with them.
47% of marketers surveyed already use marketing automation in social media management.
Read also: Marketing Automation For Manufacturing: Beginner's Guide
#3. Customer Relationship Management (CRM) Automation
Customer relationship management (CRM) software is a comprehensive set of tools that help brands identify and nurture leads.
As the name suggests, it helps build long-lasting relationships with your prospects by allowing you to automate the process of gathering, storing, organizing, and analyzing customer data to generate insights useful for making important marketing decisions.
It acts as a centralized database of clients, giving you access to all their contact information on a single platform. You can have a complete 360-degree overview of a contact's activities to understand where they stand in their buyer's journey.
Read also: Mastering The Interview: Essential Marketing Automation Questions And How To Answer Them
#4. Customer Segmentation Automation
Segmentation tools help you divide customers into various groups based on certain characteristics such as age, income, buying history, and so on.
You can then use these segments to create personalized marketing campaigns to target customers better.
#5. Analytics Automation
Analytics automation comprises a set of tools that help generate automated reports on your company's marketing campaigns.
These reports can be generated for single or multiple campaigns, depending on the time period you choose. Moreover, analytics can be created for specific metrics as well.
#6. Advertising Automation
Advertising automation can help automate posting ads across different online platforms and tracking their performance over a given time period.
Read also: A B2C Marketing Automation Guide To Reach Buyers With Less Effort
Examples of Marketing Automation in Action
So, what does marketing automation look like? Below is a list of a few examples of marketing automation in action.
#1. Loyalty and Reward Programs

One of the most common ways by which brands improve customer retention is by offering rewards. They are usually given to customers who have shopped for a given amount or placed an 'X' number of orders in a given time period.
Companies can set up marketing automation and credit rewards to their customers based on actions they take on the website. In the above example, the brand is offering reward points to its patrons whenever they sign up for free, refer their friends, or review products on its app.
Depending on the actions undertaken, points would automatically be credited to the clients.
#2. Free Resources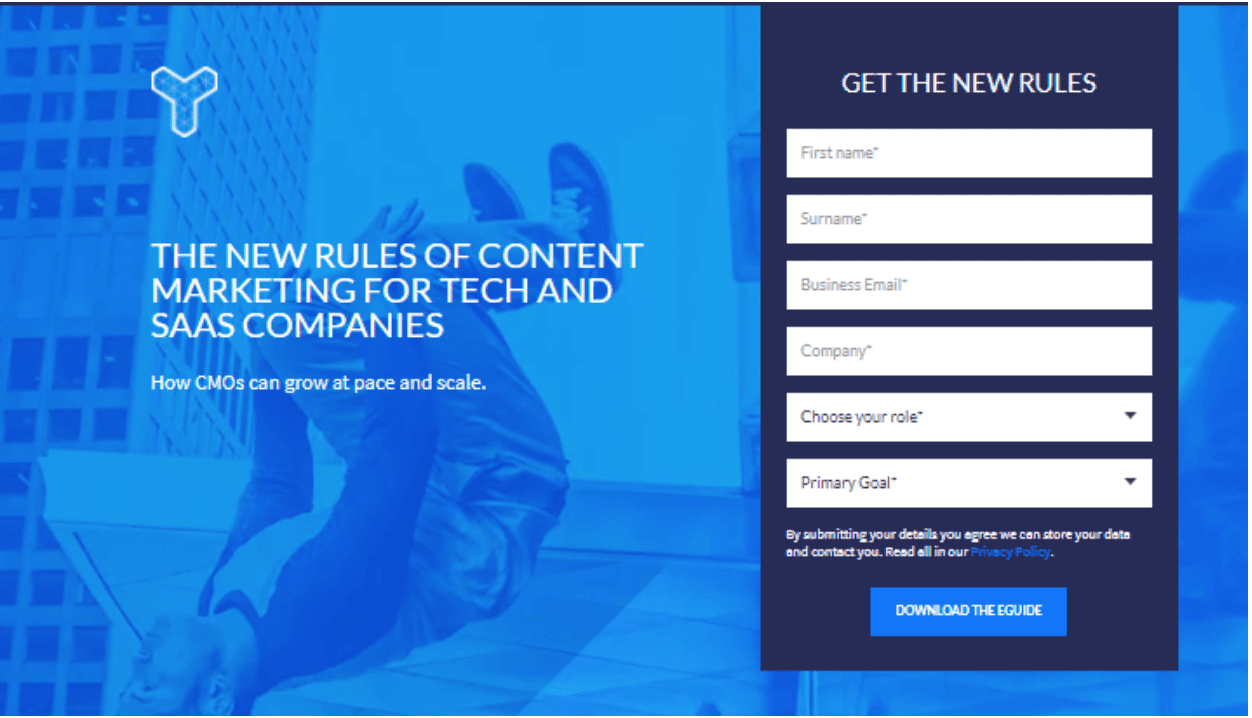 Companies generate leads by offering free resources to download. Interested prospects will share their information in exchange for free resources, and the companies can then use their email ID and relevant information to promote their products or services from time to time.
Here's how marketing automation helps.
You can create a landing page using a marketing automation platform. Once the landing page is alive, visitors can come and download a free resource by signing up for the form.
The information shared automatically gets stored on your database, and the automation platform sends out a thank you email with an attached ebook ready to be downloaded.
#3. Welcome Emails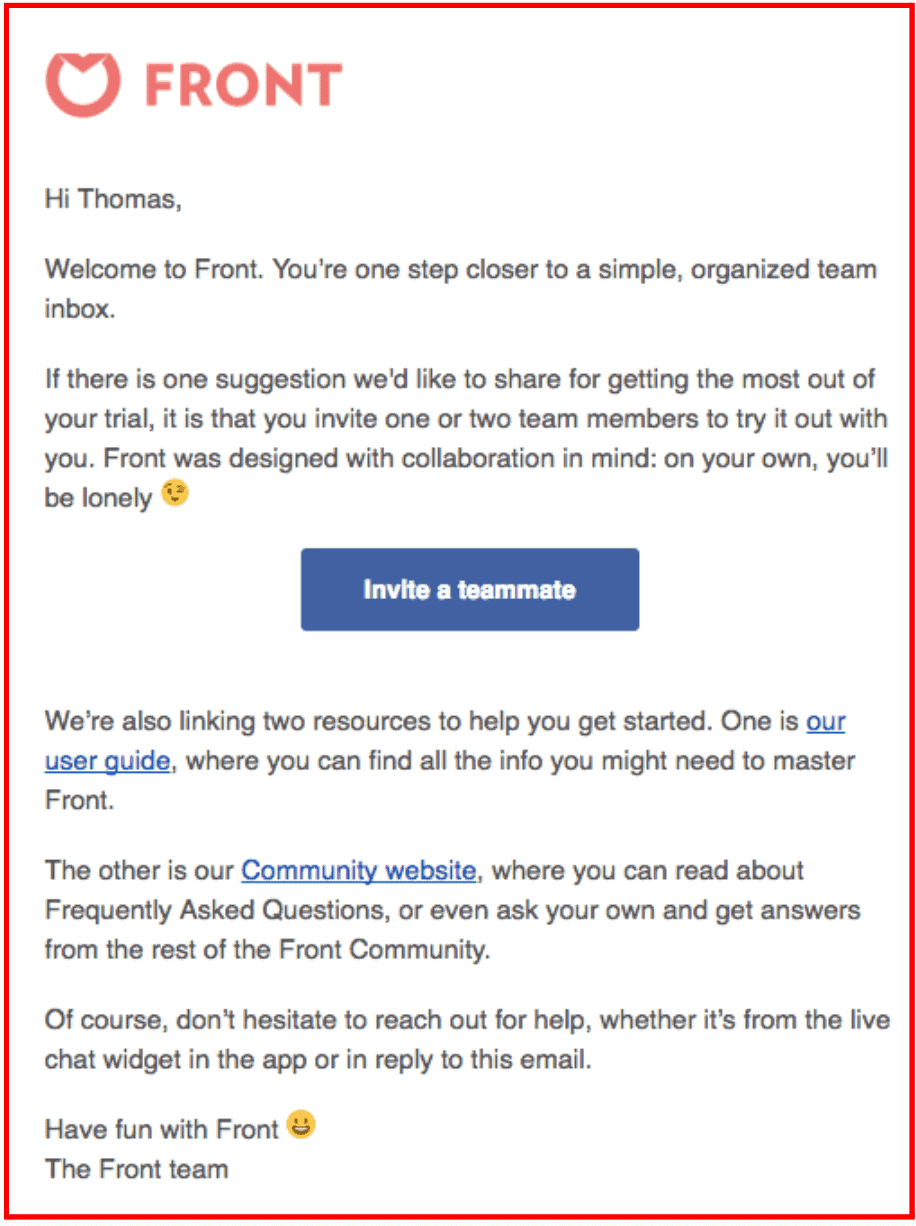 Welcome or introduction emails are the most common examples of marketing automation. These emails are automatically sent whenever someone signs up or subscribes to a brand.
Typically, a welcome email includes a thank you note, along with a few lines that briefly describe the company and its products. Further, to persuade customers to purchase, brands offer discounts or freebies and make them familiar with other aspects of the company.
The automation platform can also customize the emails based on the information shared by the customers.
#4. Newsletters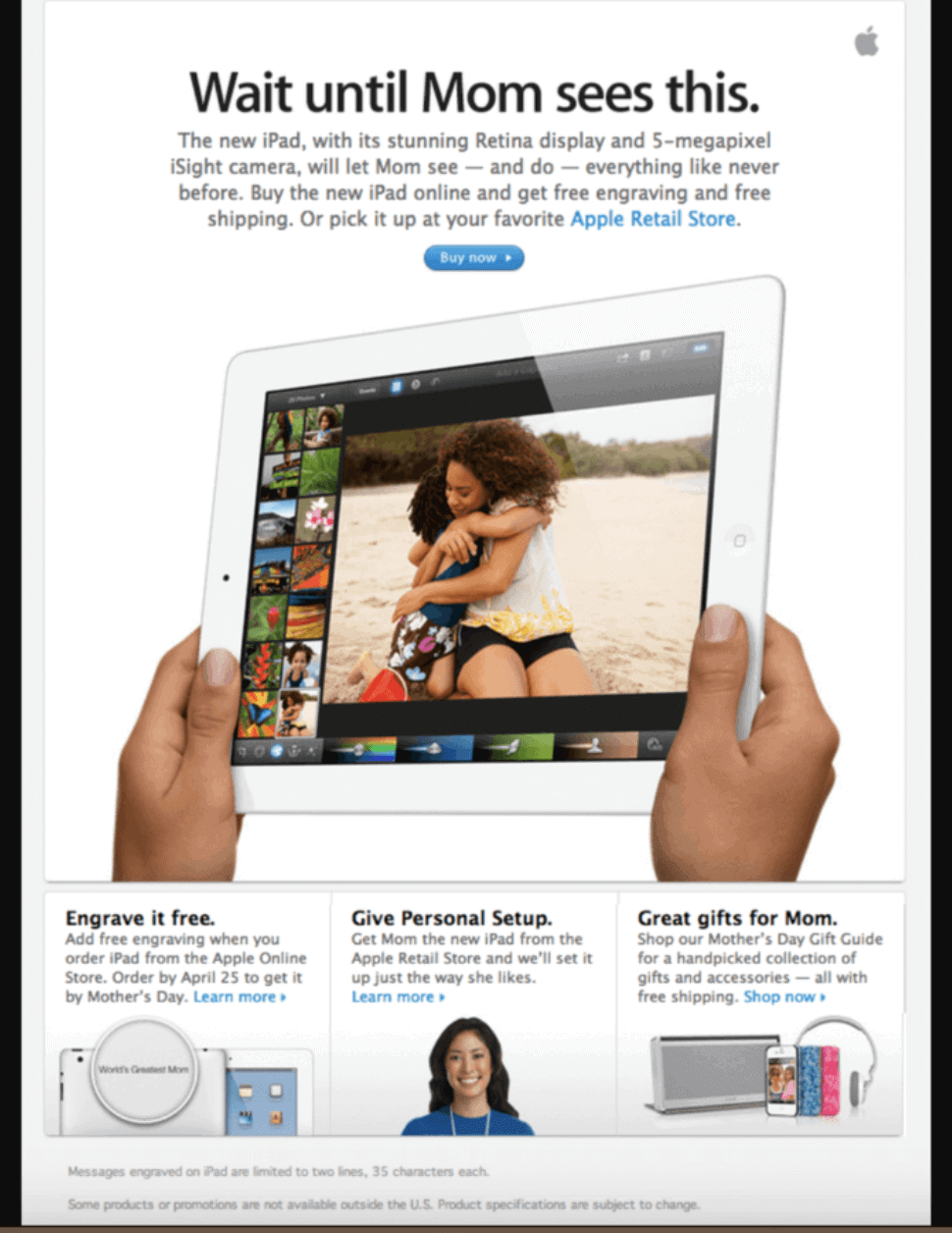 Newsletters are a great way to stay in touch with your customers. They keep buyers updated about the company's newly launched products and services and any changes to the organization and provide knowledge about the latest industry trends.
Typically, newsletters are sent out at regular intervals. There could be weekly, monthly, or quarterly newsletters. They are automatically scheduled and emailed to customers.
While there can be a single newsletter for all subscribers, brands also prefer to send customized newsletters to different customer segments, depending on their needs and preferences.
In the above example, Apple sent a newsletter informing its patrons about its newly launched iPad. The product is catered towards mothers and explains in detail the different features of the iPad, including how mothers would benefit from it.
Read also: 14 Best Marketing Automation Tools For Small Businesses
How To Execute a Marketing Campaign Using an Automation Tool
Various marketing processes can be automated, including sending emails, audience segmentation, lead qualification, etc.
With marketing automation, you can implement a single digital marketing strategy across your company without having to click 'send' every time you need to email a prospect or upload a social media post.
These tasks are scheduled and executed automatically.
Whether you are automating email sending or lead generation, the following steps are involved in the marketing automation process.
#1. Define your goals
While marketing automation software helps execute tasks more efficiently, it is important to define what goals you aim to achieve.
For instance, if your goal is to increase the lead conversion rate, it is best to choose marketing automation software that caters to lead identification, generation, and nurturing.
#2. Identify the target audience
The second step in marketing automation is identifying your target audience.
This is done by collecting data through social media platforms, websites, email clickthrough and open rates, app usage, and other digital marketing interactions.
#3. Design your marketing campaigns
Once you have identified your target audience, it is time to create marketing campaigns. These campaigns are personalized depending on the target audience's characteristics.
Using the right marketing automation tool, you can identify and reach out to the right prospects through email marketing, text messaging, and social media posting.
These messages are scheduled automatically, ensuring that they reach the right people at the right time.
#4. Gather all the necessary creatives
To boost engagement, brands should have the required resources at hand for customers to engage with.
This can include ebooks, documents, or videos, which can help familiarize prospects with the brand and its products and services.
#5. Segment your customer base
Marketing automation software helps you segment your customers based on characteristics such as buying preferences, purchase history, income, location, and so on.
This enables you to create and deliver highly personalized marketing campaigns that are catered to your audience's needs.
#6. Keep everyone informed
To make the most out of the marketing automation software in your company, sales and marketing teams must communicate regularly and receive inputs.
The sales team should communicate the types of leads that convert so that the marketing team can use them in their lead scoring system and qualify leads faster.
#7. Analyze and track results
Once the marketing campaigns have been implemented, it is time to track their performance. You can generate automated reports for different marketing campaigns for various time periods, depending on the metrics you want to focus on.
Based on the results, run A/B testing to understand what is working and what is not, and take steps towards improvement.
This can entail testing email subject lines, text messaging content, images, and sending times to understand what works best for the audience.
Read also: How To Build a Killer Marketing Automation Strategy
Key Steps Towards Effective Implementation of a Marketing Automation Tool
In order to successfully implement marketing automation in your organization, here are a few things you should be prepared for.
#1. Define the end goal
Before adopting marketing automation software, you should define its end goal. Why do you need marketing automation? Which processes do you want to implement and why?
Common goals include increasing conversions, boosting sales, and generating more leads.
#2. Map out the journey
Once you have defined your marketing automation goals, you can further define its workflows. It helps you understand what you aim to achieve through marketing automation and the related tasks that need to be automated.
#3. Get people on board
After you have decided to implement marketing automation tools for your organization, it is time to get everyone on board.
It implies discussing with various departments how automation would benefit them, helping them achieve targets faster, and training them on how to use marketing automation software.
Read also: Ecommerce Automation: How To Automate Your Ecommerce Business
Benefits of Marketing Automation
Research has shown that lead generation increases by 80% for those who use marketing automation software. Further, marketing automation is said to reduce marketing overhead costs by 12.2% and boosts sales productivity by 14.5%.
This is possible because using a marketing automation tool provides the following benefits.
#1. Helps you implement complex marketing strategies
Since marketing automation software automates repetitive tasks, it gives sales and marketing teams more time to focus on important projects.
As a result, they can devote more time to designing and implementing personalized marketing strategies that cater to each target audience's needs.
#2. Helps you understand your clients
Marketing automation tools help you identify your target audience, allowing you to deliver an enhanced customer experience.
Using marketing automation, you can collect customer data across the web and social media, which helps you understand your target audience better.
You can further segment your clients and create personalized marketing campaigns that help drive conversions.
#3. Saves time and resources
By implementing marketing automation software, marketers no longer have to spend long hours sending emails, posting on social media, or identifying leads.
These tasks are automated, saving time and resources for the company. More work can be completed in less time and at lower costs as well.
What's more, with more time on their hands, marketers can focus on more important tasks related to lead nurturing and conversion.
Read also: Marketing Automation Best Practices for the Non-Technical Marketer
Marketing Automation vs Account-Based Marketing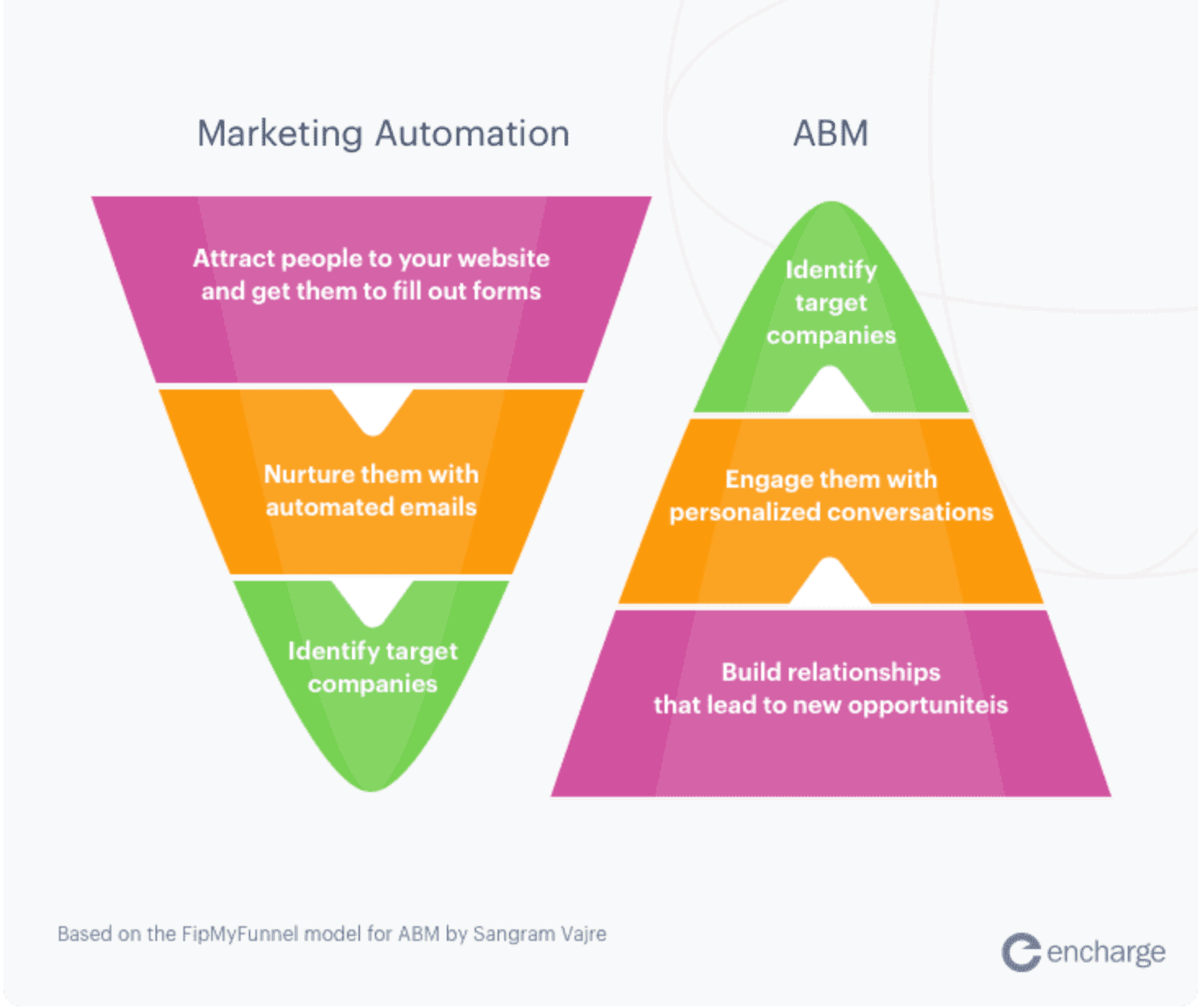 Given that the end goal of marketing automation and account-based marketing is to provide personalized experiences to customers, these terms are often used interchangeably.
However, marketing automation and account-based marketing are quite different from each other. Let us understand what these terms mean.
Marketing Automation
Marketing automation is a set of tools or software that helps streamline the sales and marketing processes in an organization. It encompasses a wide range of tools, including email marketing, lead generation and nurturing, social media marketing, and campaign performance tracking.
Marketing automation starts off by targeting a large number of prospects at a time. The aim is to reach out to as many people as possible through multiple channels, followed by qualifying and segmenting them into different groups.
Account-Based Marketing
Account-based marketing is a type of marketing strategy that treats single organizations as individual clients. Rather than focusing on a large customer base, account-based marketing involves targeting a small group of highly profiled companies.
Once you have identified the right prospects, they are studied thoroughly, and personalized messages are then created to nurture them. This shortens the sales cycle and helps you convert faster.
Read also: The Ultimate Guide To B2B Marketing Automation In The Digital Age
Common Marketing Automation Integrations
Now that we have understood the basics of marketing automation, let us learn about some key marketing automation tools companies use.
#1. Customer Relationship Management (CRM) Software
Integrating CRM with marketing automation allows you to streamline the entire process of identifying prospects, generating and nurturing leads, converting them into customers, and delighting them to increase retention.
Since CRM acts as a centralized database, it helps build long-lasting relationships with your customers.
If you are searching for an affordable CRM platform, look no further than EngageBay. It is an all-in-one sales, marketing, and customer service that caters to all your business needs.
Some of the key tools under EngageBay's CRM platform include email broadcasting and sequencing, free built-in email and web templates, customer segmentation, goal tracking, social media post scheduling, web analytics, and A/B testing.
While there are other well-known CRM platforms in the market, EngageBay is ideal for small businesses and those new to marketing automation.
#2. Enterprise Resource Planning (ERP)
Another popular tool marketers use is enterprise resource planning (ERP) software.
Companies use ERP to manage their day-to-day operations, including project management, risk management, compliance, accounting, and supply chain operations.
In addition, ERP is ideal for businesses that work with data since the software boasts a centralized database that can be accessed across all departments.
#3. Email Marketing
For brands looking to expand their outreach using emails, it is best to look for email marketing automation integrations.
Email marketing platforms primarily focus on generating leads and conversions using emails. These emails can include newsletters, advertisements, and dynamic content personalization.
Further, email marketing platforms boast built-in templates and A/B testing to help you gauge what content works for your customers.
Popular email marketing platforms include EngageBay, Mailchimp, HubSpot, MailerLite, etc.
Read also: The Ultimate Guide To Marketing Automation For Small Businesses
Wrap Up
In this blog post, we have explored the nuances of marketing automation and how it helps businesses target customers more effectively.
Marketing automation enables teams to focus on more essential sales and marketing tasks, helping them create and deliver personalized client experiences. This, in turn, increases revenue and boosts conversions.
It is time to implement marketing automation in your company and reap its benefits.