So what is it about Marketing Automation that makes it a buzzword today?
In today's fast-paced world, marketers do not prefer spending time on repetitive mundane tasks. Automation can streamline marketing processes.
It can take care of the top priorities of marketers today. Therefore, businesses need to leverage it for reducing direct human intervention and save time.
If this is the need of the hour for your business, then you will find all about small business marketing automation right here.
If you enjoy watching a video rather than reading, here's the explainer video for this article:
This article starts by explaining what is marketing automation. It then proceeds to explain why it is important for small businesses. Then it covers the marketing automation process and the elements that help make up the automation strategy of all marketing departments.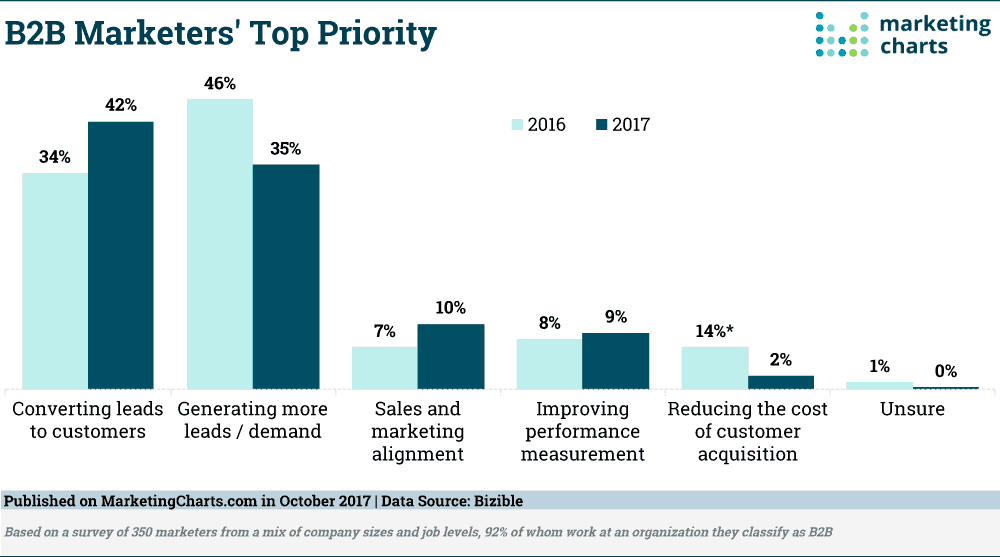 What is Marketing Automation?
We start our quest for the best marketing automation by exploring what it really is.
Marketing automation refers to using software tools to refine the marketing workflow. Simply put, it makes tasks easier for you. It does so by
Automating repetitive tasks like emails, website actions
Scheduling social media posts.
Measuring the effectiveness of marketing processes. This leads to higher operational efficiency. This helps to grow your revenue as well.
Marketing automation has emerged as one of the key trends in B2C businesses. Today, marketers realize the importance of and the need for automation.
Hence, investments in marketing automation strategies have increased over the last few years.
According to statistics, the automation software market will grow at a pace of 8.55%. It is expected to reach a market capitalization of around $5.5 billion by 2019.
Emailmonday found that more than 51% of businesses are using automation strategies. It also found that 58% of B2B companies are planning to use it.
So, you can imagine the rising need for automation for small businesses.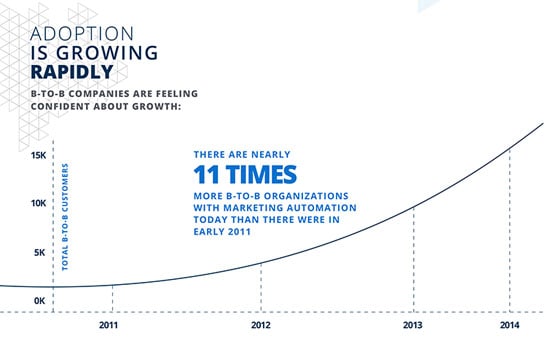 Are you still wondering whether your marketing processes need automation? Here are a few reasons why this should be your top priority right now.
How can Marketing Automation help your business?
Increase in Productivity
Generation of revenue
Customer Retention
Tracking and Measuring
Increase in Productivity
Around 74% of marketers feel that automation saves time. This leads to optimization of productivity.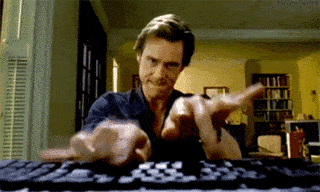 Generation of revenue
Other important benefits of automation include Increase in revenue and conversion of leads.
Around 90% of businesses using these tools feel that it has been beneficial for their business.
Furthermore, B2C marketers using these strategies have seen conversion rates as high as 50%.
Set up email sequences once and let our system send the queued emails automatically as per defined schedule.

Customer Retention

Among B2B marketers, around 69% use this to get new clients. Also, 50% of marketers use it for retaining them.
It can provide important insights into their behavior and predict their needs.
Tracking and Measuring
Data and reports help you to determine the success rate of campaigns.
Based on these insights, you can then take the necessary actions.
Businesses using these tools can track their content marketing strategies 3 times better than those who don't use any tracking or measuring.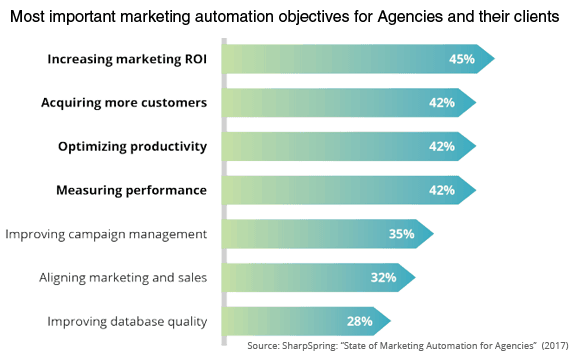 How to implement a Marketing Automation strategy?
Create dynamic content
Plan a drip campaign
Automate teams in real-time
Use Email Automation for Follow-up
Use automation in list segregation
There are many tools for startups, mid-sized companies, and even enterprises. However, an effective strategy is not complete without a solid set of elements.
Just like the ingredients of Lasagna, these elements will help you cook up a strategy to automate your small business. These elements are essential to businesses of all sizes.
1) Create dynamic content
Create adaptive content that changes with the behavior of the recipients. A report by DemandGenReport revealed 47% of customers first read the online content before talking to a sales agent.
Hence, it is very important to create dynamic content according to their needs.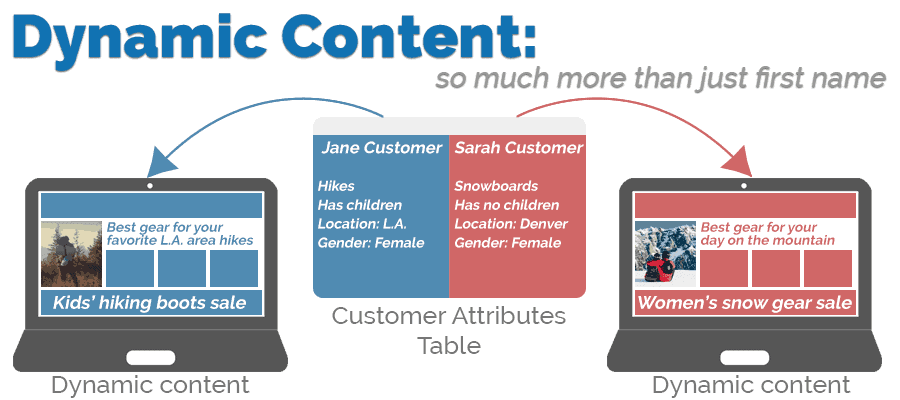 2) Plan a drip campaign
A drip campaign is an automated process that responsively sends emails over a period of time.
These campaigns respond based on what the customer wants rather than sending the same content to all the customers. Drip campaigns have 80% higher open rate and 3 times more click-through rates.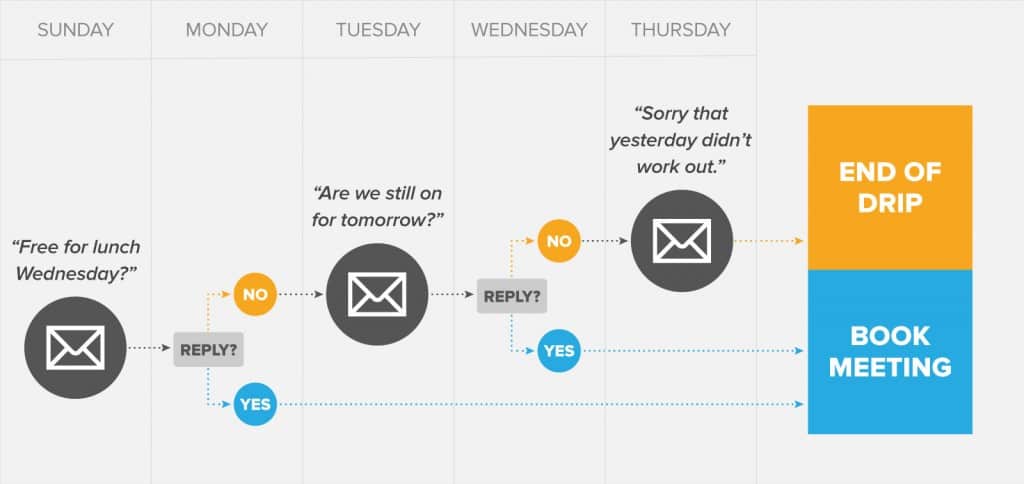 Credits
3) Automate teams in real-time
One of the biggest challenges in any organization is the communication gap between departments.
It results in inefficiency and lack of coordination.
An automated marketing process ensures equal access to all relevant information about customers. As a result, it helps minimize the ill effects of the communication gap.
4) Use Email Automation for Follow-up
Email marketing has been one of the biggest drivers of sales. It does so by sending personalized, and targeted emails to your leads.
Due to these timely emails via email automation, a lead can be moved through different stages of the sales funnel.
Automated follow-ups and responses tracking are other important benefits of email marketing. Studies show that for $1 expense on email, the ROI can be as high as $38.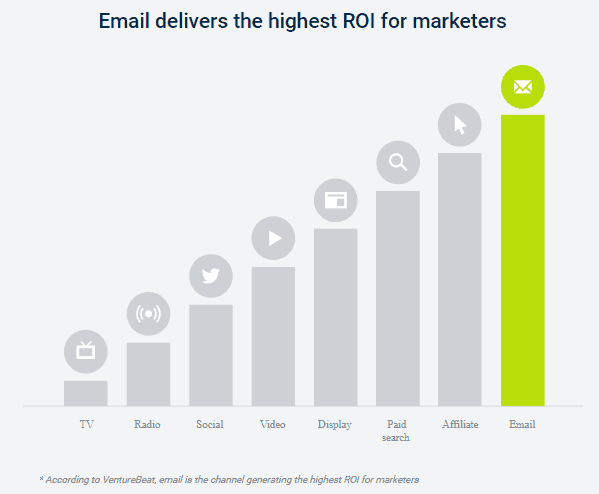 Credits
5) Use automation in list segregation
You can use it to segregate your customers using varied criteria. This helps to manage the lists better and target your strategies based on specific needs.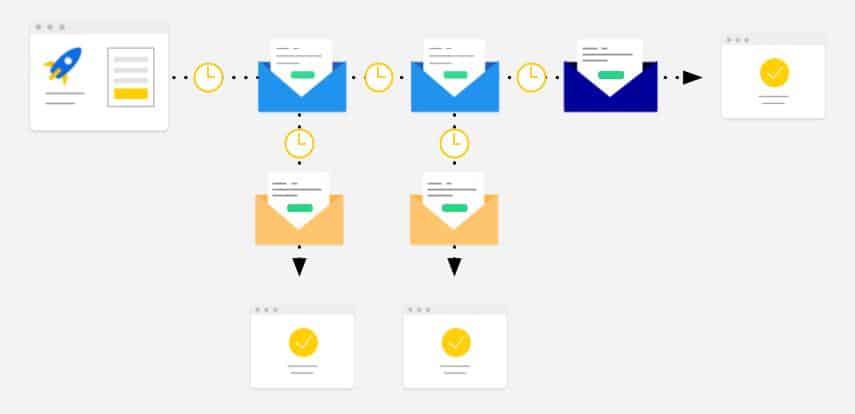 Credits
What is the ROI on Marketing Automation?
When you decide to automate your processes, the next thing that comes to your mind is the budget and the ROI. To help you answer these questions, we will use empirical evidence.
A study was conducted to determine the connection between investment and business performance. 82% of the participants felt that the lack of automation is making them inefficient.
They said that the adoption of automation can deliver a higher ROI. It can even enhance the contribution of marketing to overall business growth.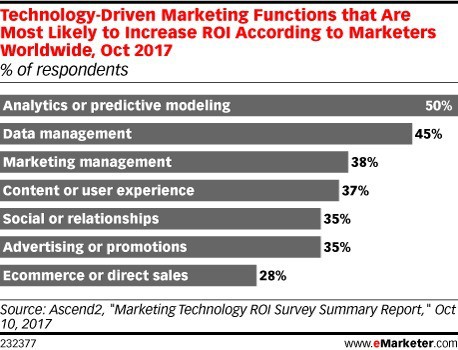 A second study found that around 58% of respondents found the money spent on marketing automation useful. 4 out of 5 users had increased lead generation and around 77% saw greater conversions.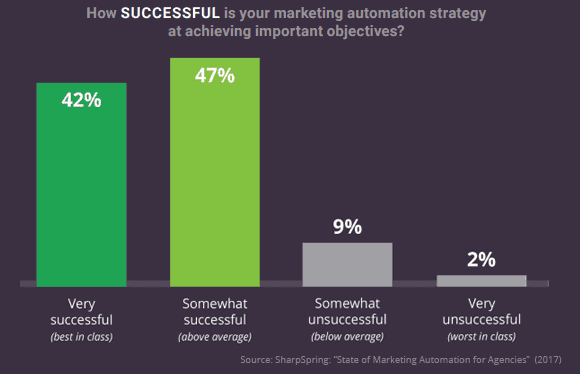 Consequently, we can safely conclude that the marketing automation process is no hoax. It is as real as the sun. It is an inseparable part of your marketing strategy.
>>EngageBay's Bulk SMS Marketing For Personalized Outreach
How much do Marketing Automation vendors charge?
There are different categories of vendors with different software packages. They all cater to different customer requirements.
The difference is in terms of pricing and contacts (leads, contacts, and subscribers).
Low Tier Vendor: The pricing can range from $1200 to around $3000 per year.
Middle Tier vendors: In this category, the prices start at around $12,000 and go as high as $24,000 annually.
Top Tier Vendors: These vendors can charge you around $45,000 per year and more. Many of them do not publish their charges but interact on a one-on-one basis.
Consider the following factors before you choose a system.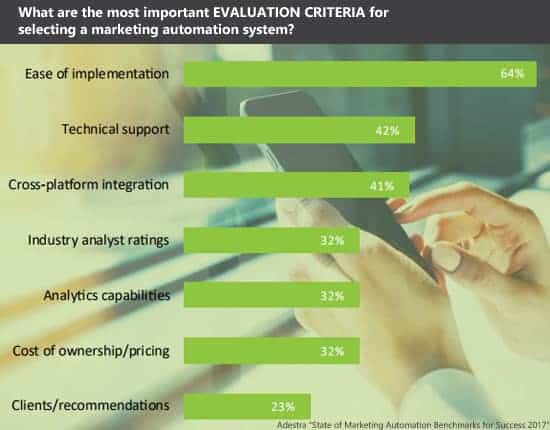 Marketing Automation BEST PRACTICES
Social Media Outreach
Predict Leads
Personalized Content
Behavior-based emails
Chatbots will continue to rise
Virtual and Augmented Reality
Are you already using automated tools or planning to buy? Follow these best practices and trends. They will help you channel your efforts in the right direction and get the best results.
Social Media Outreach
Around 58% of social media users keep an update on brands on social media. So, businesses need to interact with a huge customer base every day.
Automation tools like SocialDrift help to automate these interactions. It uses a machine-learning algorithm to engage users through likes, comments, and follows.
Predict Leads
Automation generates lead scoring. Marketers can identify high performing channels through predictive lead scoring. Infer is one such platform.
It uses probability calculations to determine which prospects are likely to convert into customers.
Send information/offers personalized to their interests based on customers' browsing activities. Convert better!

Personalized Content
Amazon, Netflix, and a few other companies have proved that personalized content can be very powerful. It can engage audiences in the best way.
Automation tools will enhance the ability of marketers to create customized content. As a result, they will be able to create the 'wow' experience for their customers.
Behavior-based emails
Platforms like Ad Espresso or LeadsBridge trigger email ads when a contact enters a specific workflow.
Consequently, a relevant message is sent to the prospect based on his position in the funnel.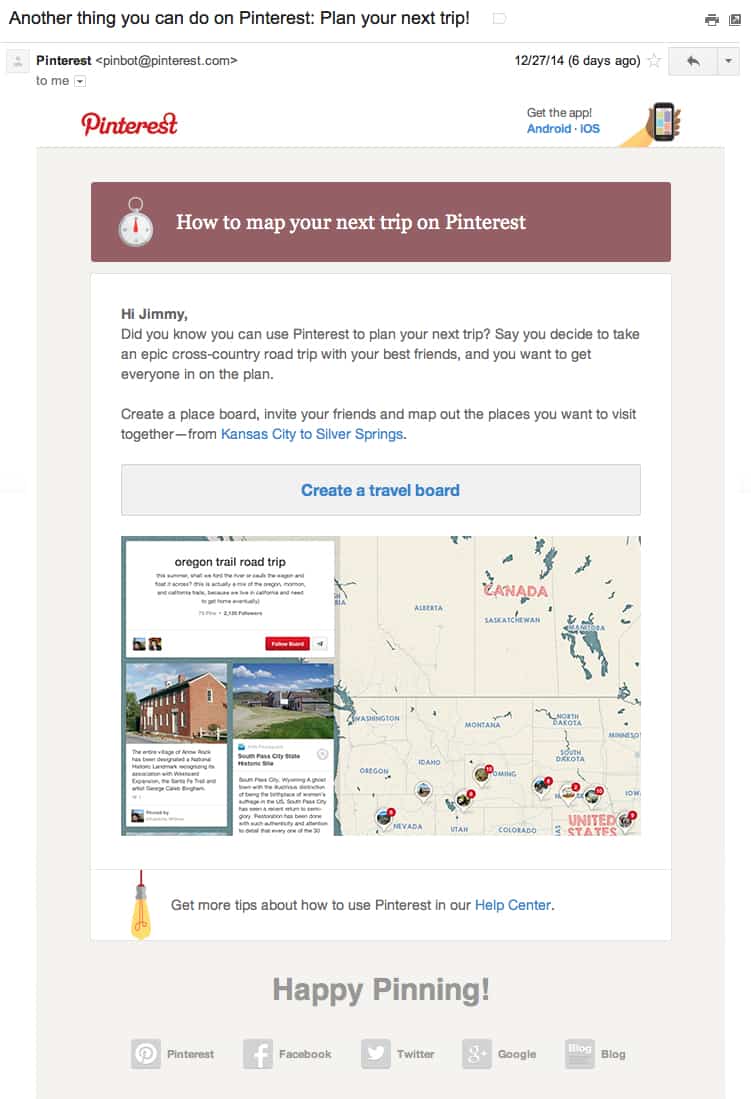 Chatbots will continue to rise
According to study,  70% of respondents prefer to contact a brand via a chatbot rather than an app.
Furthermore, 60% of users who get a message from a chatbot reply to the same. Chatbots will become smarter and will be capable of behavioral responses and recommendations.
The chatbot trend will continue to rise; customer engagement will get more automated.
Virtual and Augmented Reality
VR will open up new possibilities in the field of automation.
Companies will be able to provide customers with enriched experiences ubiquitously. AR will also help marketing to become more interactive.
Sales of AR products are expected to reach around $117.4 billion by 2022. This will create an optimized environment for marketers; they can provide customers with a real-life experience of the products and services.
As a result, they could engage more prospects, generate a higher number of leads, and create more conversions.
Top Marketing Automation Tools in 2020
The entire landscape of marketing tools in 2020 is wide and confusing. There are many redundant services; several overlapping tools are designed for them.
In this section, we will look at a set of the top software for SMB marketing automation.
EngageBay: They provide one of the best end-to-end marketing, sales & support automation software, which encompasses major aspects of lead segmentation, automation email templates, email personalization, and many other tools.
EngageBay's Marketing automation software platform helps small businesses automate marketing and sales tasks and various workflows to generate leads, close deals, and grow revenue faster.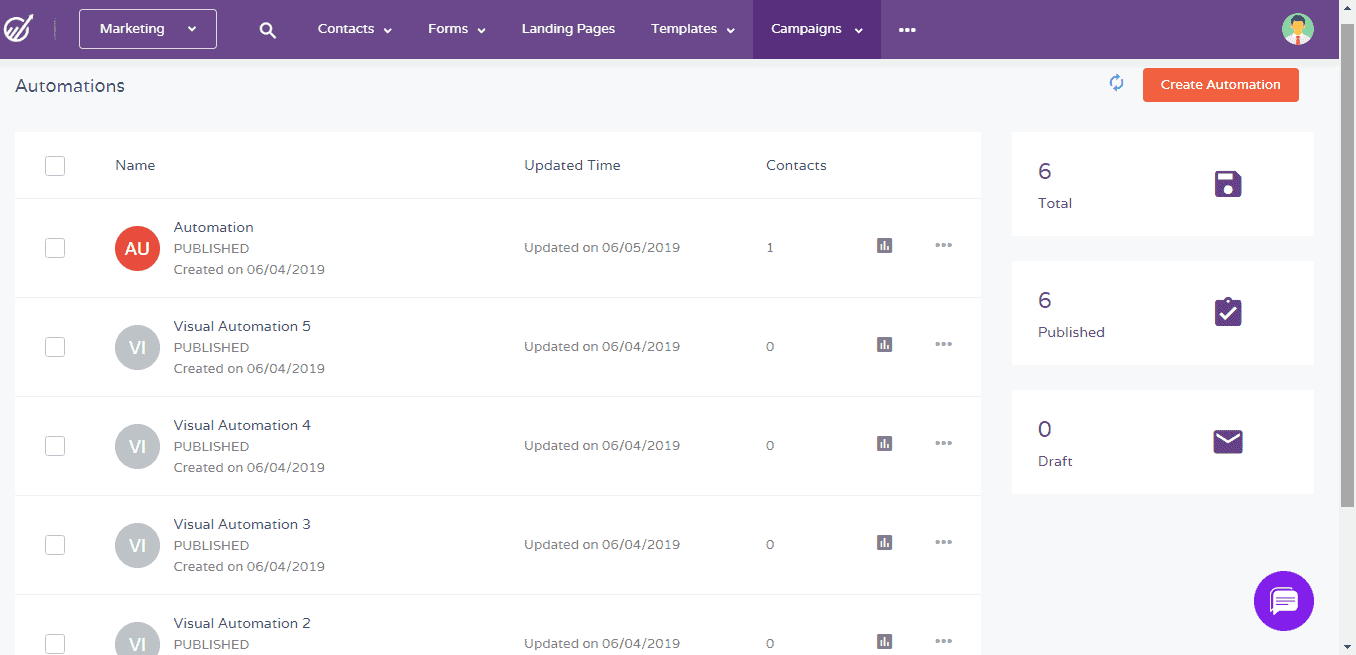 Outfunnel: A revenue marketing automation tool with deep integrations with CRMs to keep your sales and marketing aligned.
HubSpot: It is an inbound marketing software that enables lead generation through email marketing, and provides additional supporting attachments for your sales department
Pardot: It is a B2B software designed to improve the efficiency of the marketing and sales teams.
Marketo: It is a software that is focused heavily on customer engagement
MailChimp: It provides tools to optimize automation through a solid email marketing campaign.
Key Takeaways
The major requisites for a well-planned and seamless automation strategy are:
A goal-oriented marketing strategy can generate leads and convert them into customers
It imparts efficiency and helps to make jobs easier for marketers
This is not a trend; it is a process to be integrated. Read this interesting article about AI and the human connection.
Marketing automation will continue to grow as per current business trends. Direct your marketing strategy to the masses, yet keep it personal.
This will save time, increase efficiency, and ensure a seamless workflow. It will give you potential data management abilities to serve the market better.
An automation strategy also depends on your business goals. It is very important to choose the tools that suit your business the best and reap benefits with time.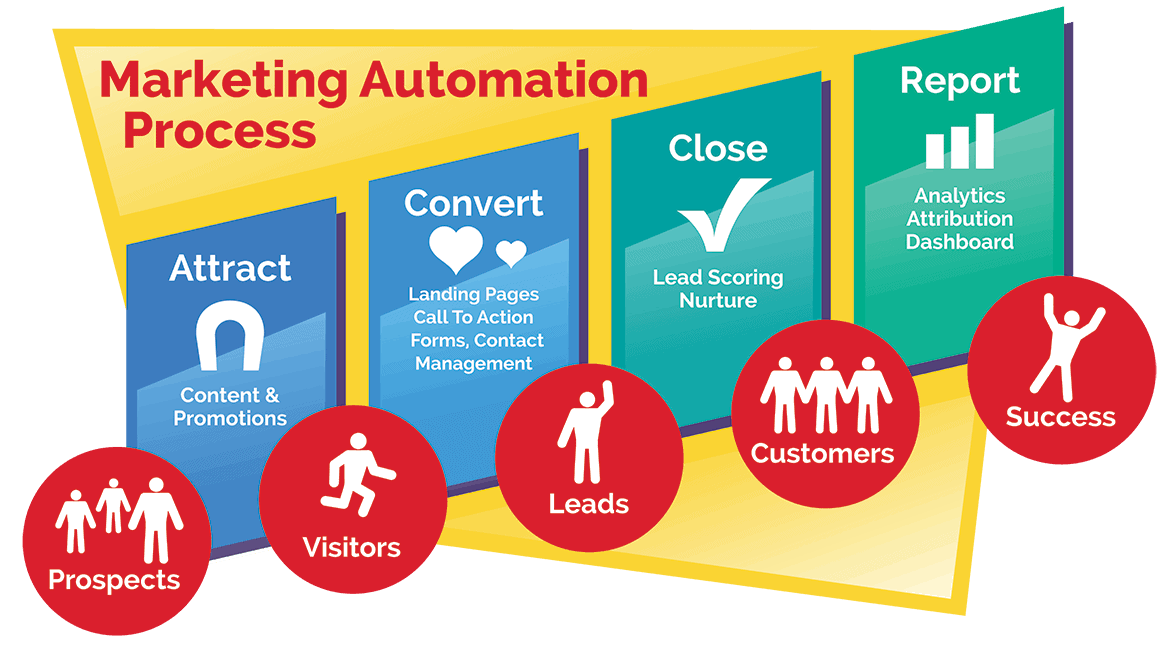 As Jonathan Mildenhall said, "Going forward, real-time marketing is going to be the holy grail of marketing".
You must move with the times and adapt yourself to the changing market conditions.
To check out a tool for selecting the best B2B marketing automation tool, do check out a report by DemandGenReport.
Some important FAQs to help small businesses decide:
1. As a small business owner, do I really need marketing automation?
Small businesses go through a lot of challenges to get established and walk on the path of success.
Due to limited funds and manpower, there can be various tasks that can be automated to bring down the workload and facilitate business growth.
Many feel that only a big organization can implement and get benefits from marketing automation.
But, it is not the case. It can cater to businesses of all sizes.
Just that you need to assess your needs and decide what you want.
2. How will this automation help me grow my business?
Both B2B and B2C marketing automation has manifold benefits, irrespective of the size of an organization. Though we have already discussed in detail the advantages of using automation, we would like to reiterate some points.
Saves time by streamlining lengthy processes like building a campaign, deciding on the best schedule, and comparing split test results, etc.
Better lead nurturing by using existing customer information and analyzing lead patterns
Better customer experience by providing them a personalized experience. Customized content always helps in customer satisfaction, sales, and customer retention.
Helps to optimize your sales and marketing teams. This helps to free resources for important tasks like promotion, new lead generation, etc. This will also enable you to expand without hiring a new workforce.
More efficient and effective workflows to ensure better coordination and flow of relevant information.
Get actionable insights by keeping track of your prospects' online actions. Be notified when someone opens an email or clicks a link in the email.

3. What are the basic features I should look out for?
Some of the basic features to check are:
User-friendly, simple interface
Integration with CRM
Good Landing Page
Social Media Management
Lead Nurturing Capabilities
A/B Testing
Insightful analytics
4. Is the automation software too expensive to set up and manage? 
You need to choose an automation software according to your business requirements and of course your budget.
From the right service provider, it will not be heavy on your pocket, if you have a defined goal.
So, it is important to research, assess, and purchase.
EngageBay is one of the best in the market, known for its optimum solutions at affordable rates.
Their full-feature functionality takes care of all your needs, especially if you are looking for small business automation.
From personalization to segmentation to lead nurturing, they will take care of all.
Also, with their powerful sales & support automation features, they may be the perfect all-in-one solution that your business needs!
5. Can both the sales and marketing teams use it?
Marketing automation can help and boost ROI for both sales and marketing.
Moreover, the information collected can be used by both teams for better lead generation and lead nurturing.
This can also be used to focus on better marketing and promotion.
Check out this helpful guides in our Resource Center: