What is the future of email marketing?
Every year, the biggest marketers in the industry begin propagating trends lists to answer that very question. These trends may act as the guideposts that influence your own marketing tactics and campaigns ahead. In the world of email marketing automation especially, trends tend to run rampant.
What Is Email Automation?
Before we get into these email marketing trends, let's begin by answering a basic question. What is email automation? This means of sending emails gives you the freedom to reach out to your audience at any time. Since you schedule when the emails go out, you don't have to sit in front of your computer and manually hit send. The automation software does it for you.
There are several benefits to this form of automation. For one, it frees up your schedule to work on other tasks or even get away from your job for a while (provided you're off the clock, that is).
Second, you can send the kinds of emails your audience needs to see when they need to see them. If they abandon their cart, you can automate an email to go to them instantly. In that email, you might try to incentivize them to come back with a discount or coupon. When a lead signs up to your newsletter, you can automate your welcome email so it goes out right away. With the best email marketing automation, you can also automate confirmation emails after a customer places an order.
What Will Email Marketing Look Like in the Next Five Years?
We're somehow midway through 2020 already. What should email marketing look like in the next five years? What will we do in 2024? Will we use similar tactics and techniques or completely different ones? What will be the trends in email marketing?
While there's no way to answer this question with complete confidence, we can use trends and stats to predict what may happen. For instance, Jordie van Rijn at Emailmonday tackled this very topic on his blog. He reviewed data from major marketers and came up with several areas of focus through 2024 and beyond:
Automation
General Data Protection Regulation or GDPR
Content marketing
Personalization
Data marketing
Artificial intelligence or AI
We've written about these topics on our blog extensively, so we recommend you dig back and do some reading for more information.
Also, to sate your curiosity, we've compiled this list of the 14 biggest email marketing automation trends for 2020.
1. The Personal Touch Reigns Supreme
Email and marketing automation make our lives as marketers simpler in many regards. As mentioned, we no longer have to be tethered to our computers, waiting for that perfect moment to send an email when receptivity would be highest. Instead, we can let the email automation software schedule our emails for us.
There's also no more need to sit and cherry-pick every lead, studying their demographics to categorize them. The software does that job for us, too.
In all that automating, sometimes it gets easy to forget that we are human beings, not machines. While your company may be primarily run by marketing and email automation, the human touch cannot go away in the process.
Data from Econsultancy that was shared on Marketsource attests to the importance of humanity in automation. The data surveyed over 1,100 marketers in the realms of e-commerce and digital marketing. Of the respondents, most (74 percent) agreed that using personalization was the key to boosting the engagement of their customers.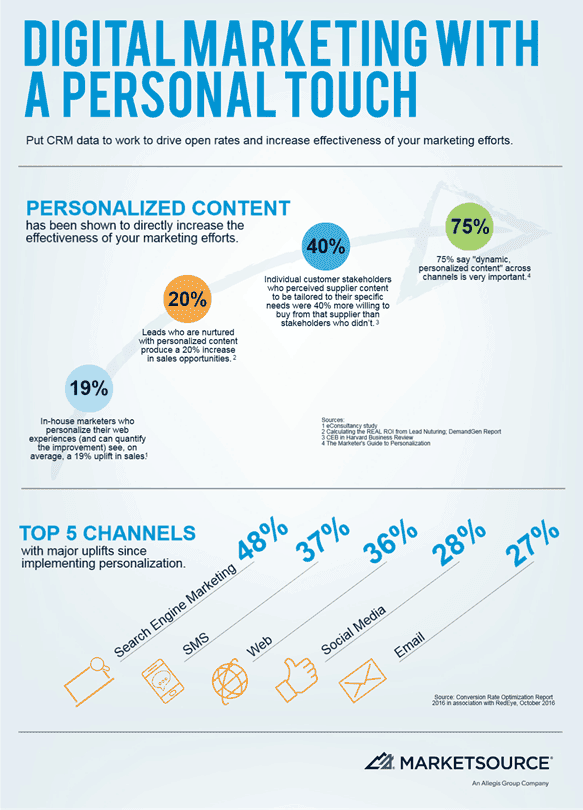 Image via Marketsource
We have some cool technology now, with only more to follow in 2020 and beyond. Don't get too bogged down in all that automation and forget the human touch!
2. CRO Becomes an Important Metric to Follow
No, we don't mean the birds. We're talking about conversion rate optimization. What exactly does CRO mean? This is a means of boosting website visitors who will then buy and/or convert.
You can absolutely use email automation to drive your CRO, as a good email campaign will lead to more conversions.
According to marketing resource MarTech Advisor, CRO is a strategy that should be on every marketer's radar. They coined the CRO 2020 Plan to prepare for the next year of marketing automation, including email marketing automation.
They too attest to the necessity of personalization in emails and other communications. Besides that, to get onboard with CRO 2020, you might keep the following points in mind:
Interactivity matters, as does the overall experience of your website. This is about more than landing pages and sales pages, but the look and feel of your site as a whole. We'll get back to this later.
CRO tools will continue to become more advanced to make it easier to implement effective marketing campaigns.
Virtual reality and augmented reality have a place in CRO as well, especially as the technologies continue to evolve and become more widespread. We'll come back to these technologies later in the article.
3. Automated Email List Pruning Saves Time, Gets Higher-Quality Leads
Every marketer wants qualified leads or those who are readier to buy almost right out of the gate. These qualified leads don't just materialize out of thin air, of course. Through segmentation, you choose candidates who are more likely to be at that point. Then, through nurturing, you boost the relationship until the lead is eager to make a purchase.
Another great trend regarding automation in email marketing is automated email list pruning. If you're doing this pruning yourself (or someone else is in your company), you might want to change that.
Automation will prune through every contact, even those we accidentally miss. You can set your software to hyper-categorize contacts or move them into more general buckets depending on the scope of your automated email campaign.
Pruning your email list with automation means you're only spending time reaching out leads who are actually interested in what you have to sell. Those leads become more qualified, which means higher conversions and often sales as well.
4. The Rise of Visual Automation Workflow Builders
This was a trend that came up last year, but it's popping up again. Visual automation workflow builders are ideal for those who are more visual learners. These builders are also good for those who fear to let tasks—even small ones—slip through the cracks.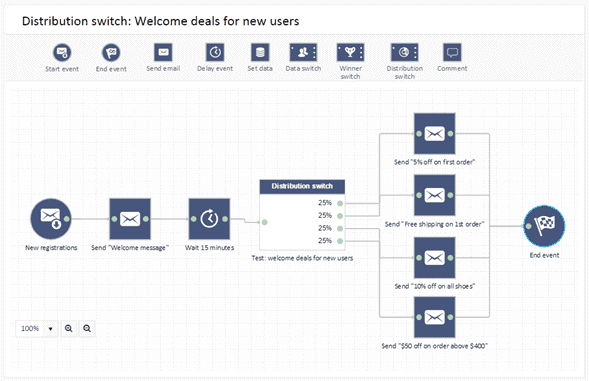 Photo via Email Vendor Selection
As you can see in the above example, this email flow is very apparent. You'd write the message for the new registrations email and then program the email automation to send it. Then the automation would send out the welcome email, which you also wrote.
After waiting 15 minutes, the automation would determine the distribution switch. Depending on how leads behaved, they'd receive various discounts, some as little as five percent off the first order and others as generous as $50 off if the lead spent $400.
Visual automation workflow builders simplify your tasks and save you time. Does it get better than that?
5. Chatbots Are Okay, Trust Us
Chatbots can get kind of a bad rap. Take for instance what happened to Facebook in 2017. They rolled out a chatbot research project that had its own language, says CNBC. That doesn't sound so bad, right? Yet people freaked out, calling the project "creepy."
This encouraged Facebook to pull the plug.
After reading that, we can understand how you may be even more reticent to install your own chatbot to your site.
Chatbots are truly on the rise. As more and more people invite chatbot-like tech such as Google Home and Amazon Alexa into their homes, the opinion of chatbots is changing. Admittedly, a small number of consumers in the United States (15 percent) relied on a company's chatbot in 2017, reports Convince and Convert. That data is not for this year, though. Think of how prevalent Alexa and its tech brethren have become in 2018 alone. We're sure that number would be much higher now.
Here's why people want to use chatbots the most: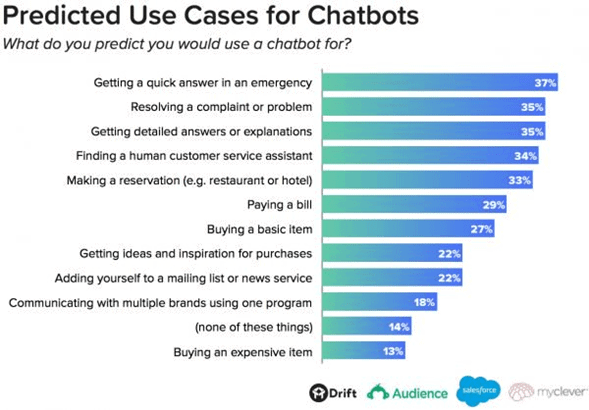 Image via Convince and Convert
If your chatbots can hit even some of the following points, then they're worth having.
Now, what do chatbots have to do with email marketing automation, you ask? Simple. When used as a part of email marketing campaigns, they can encourage leads to subscribe to your email list. That gets the ball rolling.
6. You Still Need Killer Content
Here's a trend that comes up again and again, year after year: writing your own killer content. That's because it's always crucial.
Blogs are still incredibly relevant. 2017 data from Content Marketing Institute reports that 77 percent of people across the Internet read them. When it comes to small businesses that write their own blogs, they'll see a spike in lead growth of 126 percent.
2020 will not the year to stop writing your company's blog. If anything, you will want to continue with the same highly-targeted, engaging, evergreen pieces you've always written.
You can then slot these into your automated emails as a means of providing value to your leads and customers alike.
7. Recommended Blocks Will Become More Relevant and Popular
Never heard of recommender blocks before? This was a passable trend in 2018, but in 2020, we sense they'll be much bigger.
What are recommender blocks? These are product blocks that go into your emails that predict future purchases based on past shopping behavior. Think of them like Amazon's "customers who bought this item also bought" recommendation bar.

Image via O'Reilly Media
They should showcase product images in thumbnail format, as seen above, as well as the price and the name of the product.
8. Find Ways to Keep 'em Coming Back
Leads and customers can become disengaged for a multitude of reasons. While you can never possibly figure out all those reasons, you can focus instead on trying to bring customers back.
Automation makes it easier than ever to reconnect with disengaged customers. You're putting less time and manual effort into the job and letting the software do the bulk of the work. That means that even if these disengaged customers remain disengaged, you don't lose a lot of time or money.
Pertaining to emails, you might send automated cart abandonment emails imploring the customer to come back. Here's an example: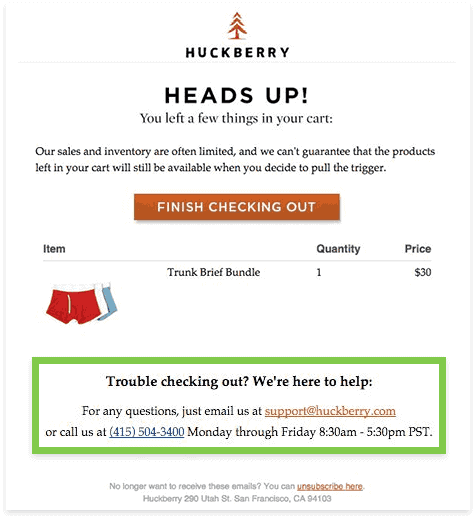 Image via Rejoiner
You can also send what are known as replenishment emails. According to email marketing software Pure360, replenishment emails are "campaigns reminding you to stock up and re-order before you run out." Simple but helpful across a variety of industries.
Say you're a skincare products brand. Your customer has a subscription to an anti-wrinkle serum. Each month, you'd send out an automated replenishment email reminding them that it's time to reorder.
If the customer has disengaged but remembered that they once got something out of your product, then a replenishment email could be what it takes to get them buying again. If not, it's all automated, so it's no harm, no foul.
9. Don't Stop Sending Transactional Emails
We threw a lot of terms at you in this article. Recommender blocks, replenishment emails, and now there's one more. It's the transactional email.
You probably already send these as part of your automated email campaigns. These are password reset emails, digital receipts after a customer purchases a product, purchase confirmations, shipping notices, and delivery confirmations.
Essentially, they're all the emails a customer would expect to feel secure doing repeat business with a company. They want to know that their order went through. They also want to know when it will get here and be able to track the order themselves. If they make changes to their account, they want to get confirmation of that. You know, just in case they themselves didn't do it.
According to Fulcrum Tech, an email marketing agency, transactional emails like those above have a very high open rate. It's about 8x higher than other marketing emails.
If you slip in some sales announcements, a recommender block, and discounts, then you're gearing these emails more towards your marketing goals.
10. Personal Data Usage Will Remain at the Forefront
If you've wondered why you've gotten tons of emails from every company you've ever done business with telling you about changing privacy policies, it's because of the GDPR. The General Data Protection Regulation went into effect on May 25th, 2018. We linked you to our blog post about it earlier in this article.
Basically, any company that does business with those in the European Union (which includes 28 countries) must change its policy about what they do with consumers' personal data. If these consumers do not give permission to share their data, then you might have to remove them from your email list or other lists.
The GDPR will have already been in action for almost a year at this point, so it's not a policy that's going to disappear. If you're not already with compliance, 2020 will definitely be the year to do so. After all, you could be fined and face other legal trouble that could destroy your business if you don't comply.
11. Interactivity Becomes More Important
If you haven't begun sending interactive emails to your leads and customers this year, then you'll want to hop on the bandwagon ASAP.
Interactivity can include unique add-to-cart buttons, video, surveys, quizzes, games, moving banners or other website elements, email searching, GIFs, and animations. Just look at a site like Buzzfeed to understand how successful interactive content can be. Outgrow.co, a marketing resource, says Buzzfeed's quizzes draw users in and keep them there. With nearly eight new quizzes added to the site daily, almost every person who takes them will complete them (96 percent).
Interactivity doesn't have to mean quizzes if that doesn't work for your personal company branding. Whatever elements of interactivity resonate most with you, implement them to your email marketing automation, your website, your blog, and elsewhere.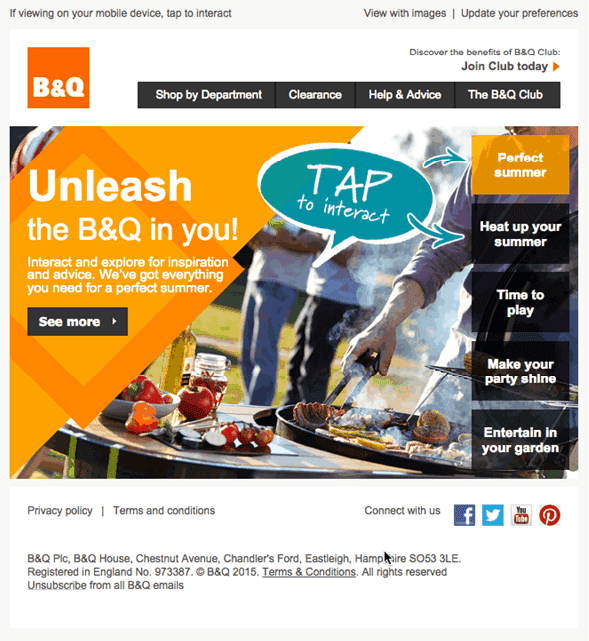 Photo via Litmus
12. Artificial Intelligence Continues to Push the Boundaries
Another noteworthy trend for automation in email marketing is artificial intelligence. Yes, we mentioned chatbots earlier in this article, but AI is about so much more than merely chatbots.
AI took off in 2017 and hasn't lost much steam since. According to MarTech Today, AI can be used for boosting collaborations, extra customer personalization, gaining personal insights, and voice commands.
People called 2018 the year of AI in marketing. That didn't quite happen to the extent predicted. We're going to say then that 2020 will be the year that AI augments automation and becomes a marketer's best friend.
If you look at the chart below, you'll see it's already happening.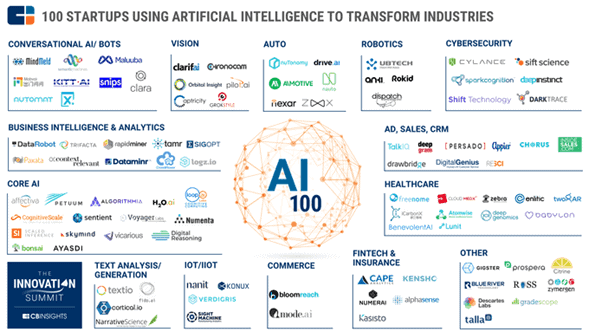 Image via Growth Media
13. Test, Test, and Test Some More
Email A/B testing and other forms of testing your email and marketing automation will never grow old. It doesn't matter what year it is. Make sure testing is a regular part of your routine.
Automation, as amazing as it is and will continue to be for years, is not perfect. It can reflect human errors in the way you set up your software. Always test for mistakes.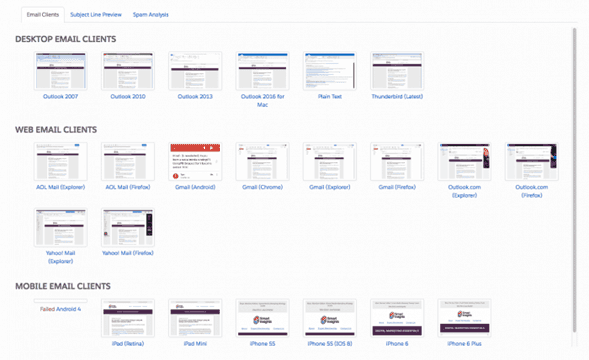 Photo via Smart Insights
Also, test several versions of your emails to see which one(s) get the highest conversions. Sometimes conversions are as easy as rewriting a few lines, omitting a paragraph, or moving an image further up in the email.
14. Keep Changing Things up
In the 2018 Smart Insights email marketing trends list, Art of Emails founder Sapph Li said: "audiences quickly get desensitized." Yes, even to personalized, automated emails with their own name in the subject line.
If you've been trying an email marketing automation tactic for a while, 2020 may be the year to shift gears. This is even if the said technique has worked well for you so far. Customers get sick of the same old', same old'. They'd rather see you try something new and maybe not do as well at it than remain static and afraid to try anything.
Be brave and switch up your email marketing automation strategies. See what happens!
Conclusion
Automation in email marketing continues to evolve, and that won't change in 2020, 2021, and probably even 2024. The above 14 new trends in e-marketing are emerging or emergent tech, tools, and techniques that will help us, marketers, excel this year and into the future.
If you're looking for the best marketing automation platform to get you started on the road to success, we recommend EngageBay. Our all-in-one suite includes marketing automation and other automation tools for much less money than the competition.
To learn more about email marketing automation check out our resource guide: