If you're here, the chances are you already know the importance of B2B email marketing today.
86% of business professionals prefer emails over any other form of communication. And, 64% of B2B marketers said email marketing helped them achieve their business goals.
You see, the effectiveness of your B2B email marketing campaign largely depends on its execution.
I did some digging to find out what kind of email content works for B2B marketing and how top companies in the B2B space are doing it.
In this blog post, I'll share some of the best B2B email marketing examples. To help you execute a successful B2B email marketing campaign, I've also added a key takeaway for each email example.
Enjoy!
12 of the Best B2B Email Marketing Examples
What is the common thread between all the great B2B email marketing examples?
What do billion-dollar companies do best when they send out B2B emails?
The answer: They use the right words and images!
If you want to see what it looks like when a B2B company has nailed the art of sending emails, just check out these examples from well-known brands.
You'll see that they aren't all that different from one another — there are only so many ways you can say "I'm not spamming you!"
But there are a few key differences that make these emails really stand out as valuable and worthwhile:
a) They're short and sweet. They get right to the point, and don't waste time with fluff. This can be hard for some people who have been sending newsletters for years, but if you're new to writing this kind of thing, it shouldn't be too bad! Just remember: the shorter your message is, the more likely your reader is going to read it (and trust me, they will read it).
b) They use images that match their tone. If your company has a fun vibe, then make sure your email images match that tone. If you're a more serious brand, then add images that reflect your professionalism. Use photos that show off the quality of your product or service, not just random shots from around the office!
c) They include links to relevant content on their website. This helps build up their SEO and shows readers that there are other content pieces ready for them if they want to learn more about what you do. This is a great way to keep your subscribers coming back to your website.
Let's look at the email examples from top companies now.
#1. Uber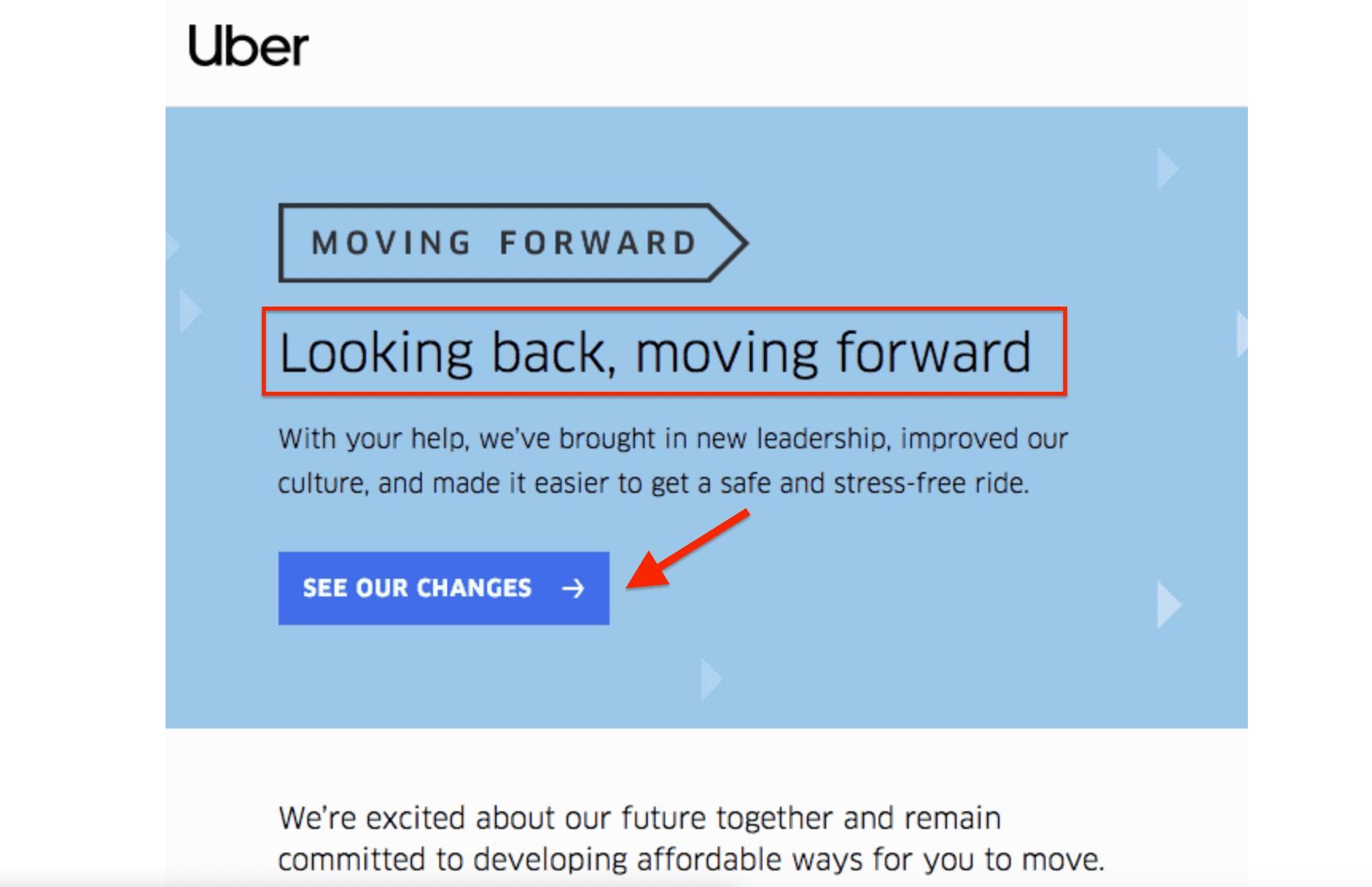 Uber is an American taxi and mobility service provider that was founded in the year 2009.
Based out of San Francisco, the company has a valuation of $91 billion and operates in over 72 countries. Recently, Uber has launched B2B services to make it easy for companies to manage or improve employee commutes.
In the email example above, you will see how Uber manages to convey its message with just a single sentence.
This brand is smartly telling its customers that they have helped it become better. This should make them feel valued.
And, if anyone is interested to learn how, a CTA button at the end directs readers to the webpage where they can better understand how Uber implemented the changes.
Takeaway: Keep your B2B marketing email short and crisp while ensuring that it conveys the message. If you want to provide more information, it is best to add a CTA to your email.
#2. Grammarly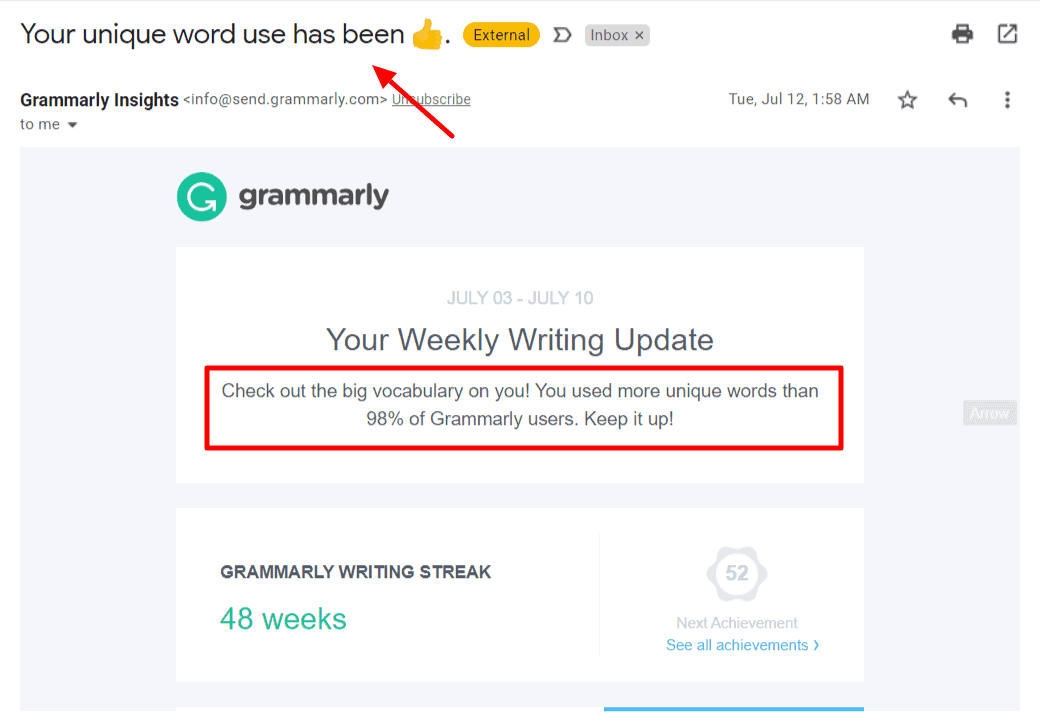 Grammarly is a cloud-based online text editor that uses artificial intelligence to review spellings, grammar, sentence formation, and plagiarism.
Founded in 2009, Grammarly is headquartered in San Francisco, US, and is currently valued at $13 billion.
Here, Grammarly attempts to capture its users' attention with the help of data. Look how cool their subject line is. They keep the language so casual, and they say nice things about the user, like 'Check out the big vocabulary on you!'
Honestly, that got me 🙂
The email goes on to highlight the writer's progress by comparing with other users and providing statistics on many things, including the uniqueness of their vocabulary and any uptick in their productivity.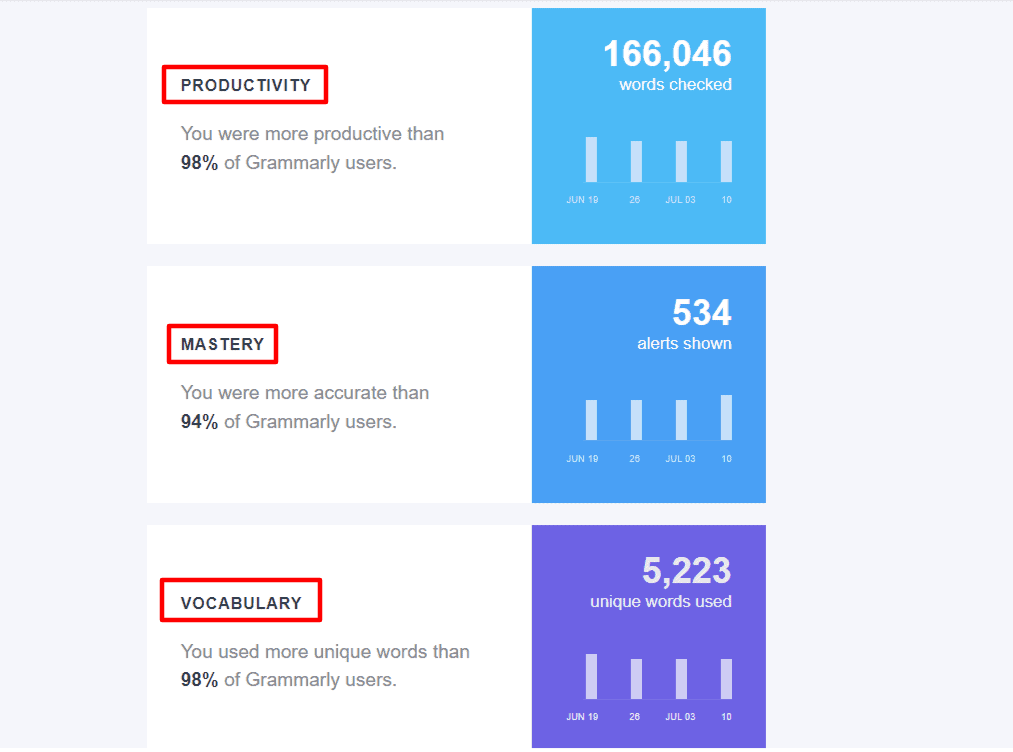 It's a great tactic to keep users engaged – show them numbers and keep them informed about their performance. This can nudge them to stay active in the game.
Takeaway: When using numbers and graphs, reduce your text size and focus more on the numbers. It allows you to provide relevant information while making the whole email interesting to read.
#3. Cognism
Cognism is a B2B sales and marketing company based out of London, England. At present, it has a valuation of $436 million.
From this B2B email example shown here, it is understood that the business has unsubscribed to Cognism.
Cognism beautifully tries to rebuild their relationship by sharing a trending meme that speaks of sadness, but with a dash of humor.
Besides, the email contains social media links just in case they want to stay connected with the company.
They make sure to inform why the user would benefit by following them online.
Takeaway: Even when people refuse to do business with your brand, you can write a really cool email to them!
#4. Sprout Social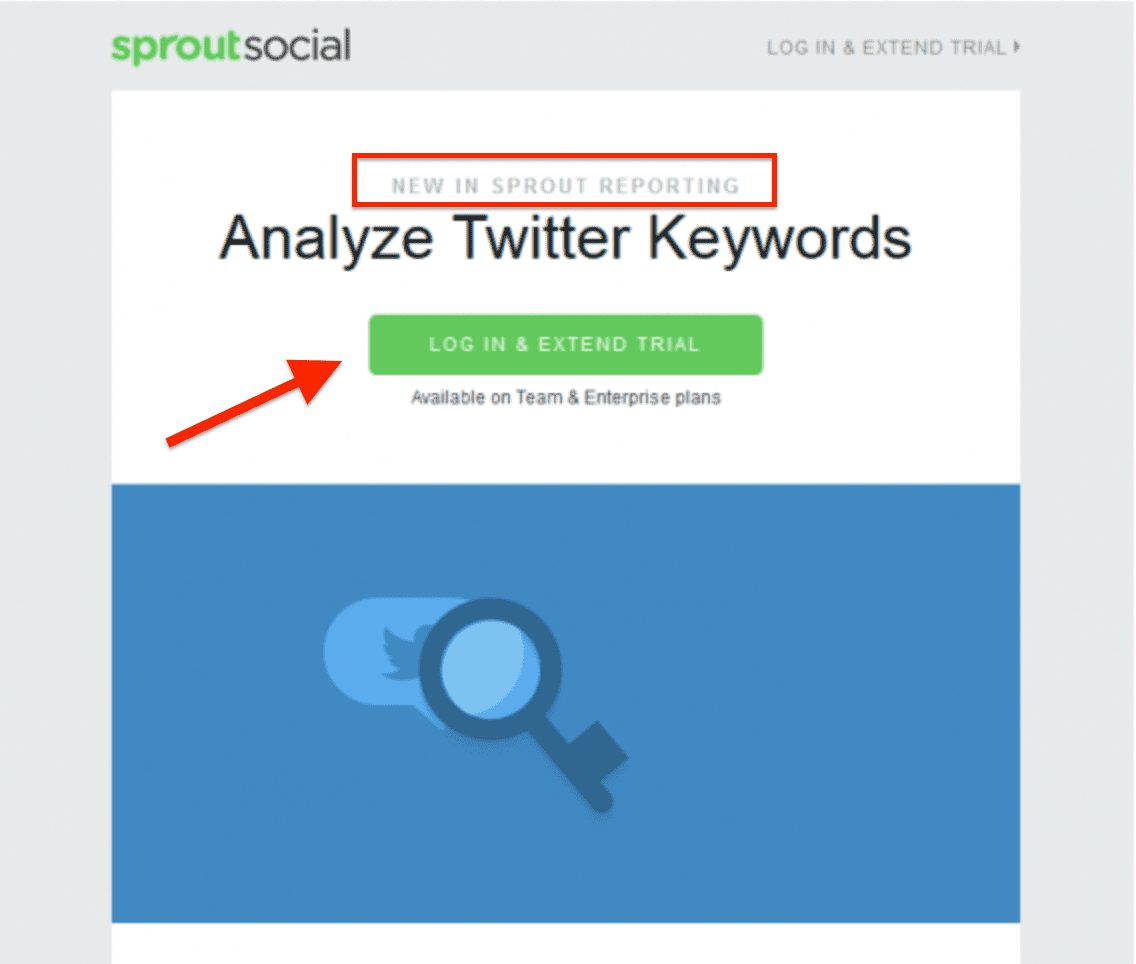 Sprout Social is a social media management solutions firm headquartered in Chicago, United States.
It was founded in 2010 and has a market cap of $2.9 billion.
In this B2B email example, Sprout Social announces the newly launched feature, i.e., Analyze Twitter Keywords. Without scrolling down the entire email, you can immediately know what they are offering – extend your trial and try out the new feature!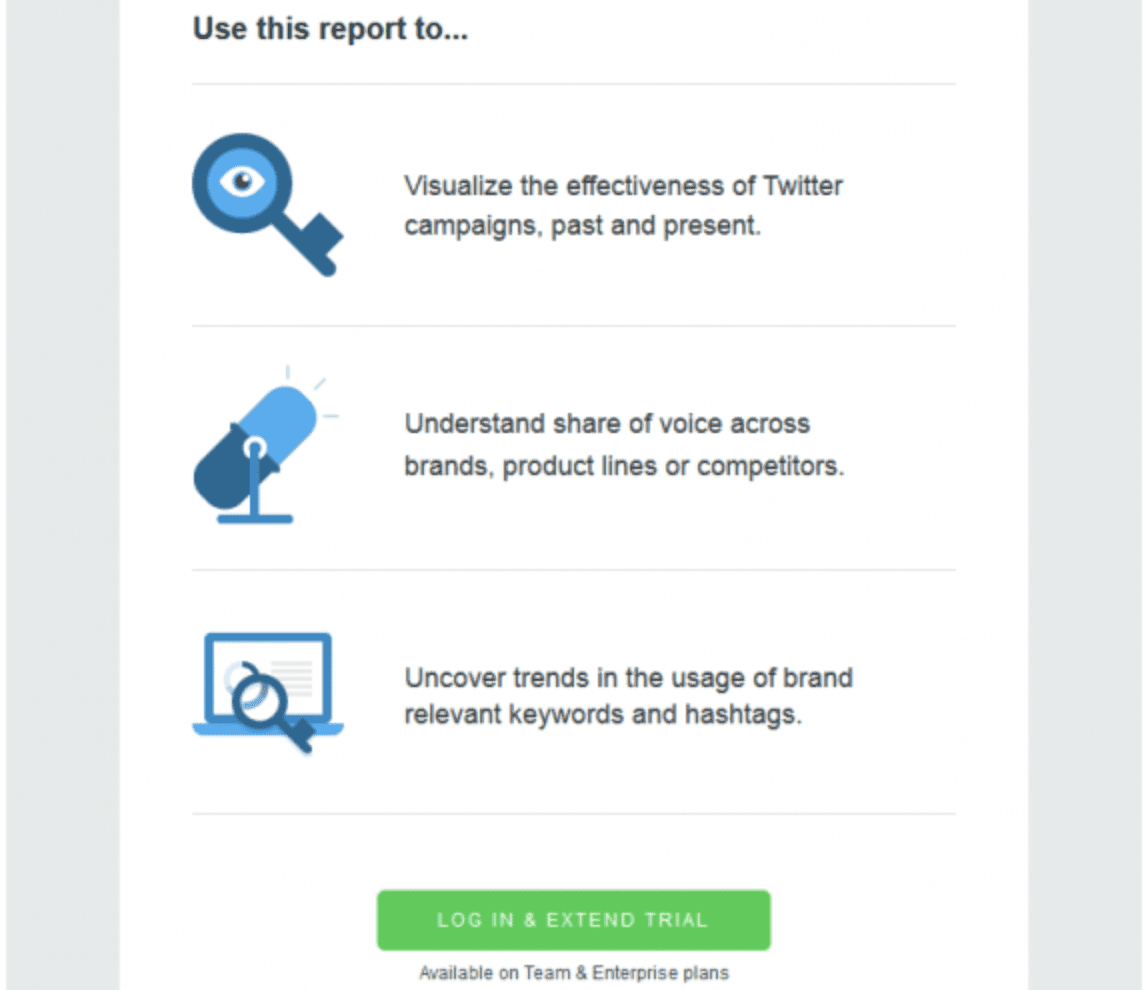 If that feature appeals to any of the readers, they can further scroll down to see what it has to offer. Sprout Social's newly introduced feature is explained briefly in short points, which are followed by a CTA.
Takeaway: Divide your email into two sections – use the first half to convey the 'news' and the second half to drive home the key points about your product or service update.
Read also: Email Blast Examples From Popular Brands to Inspire You
#5. Buffer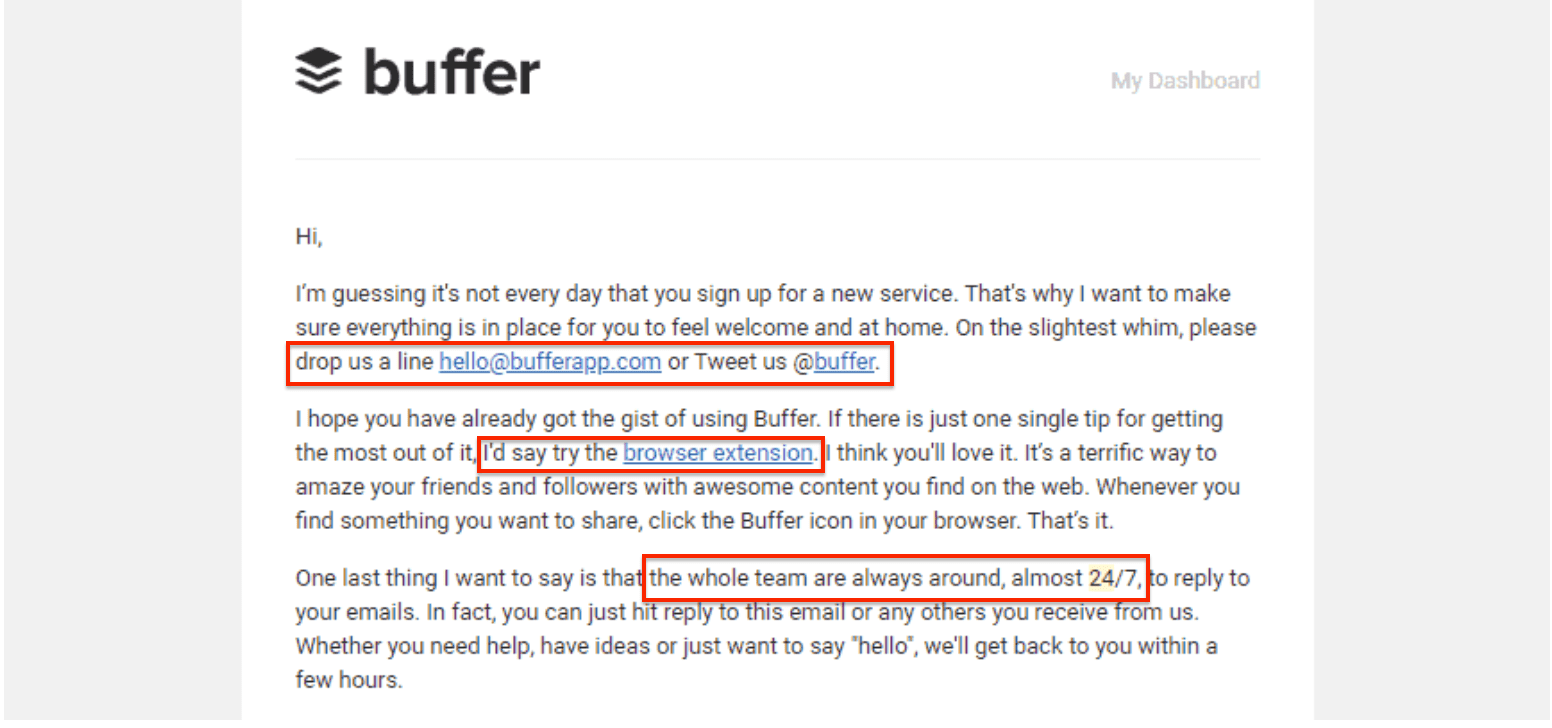 Buffer is a social media management platform that mostly caters to startups and small businesses.
It is based in the United Kingdom and although relatively new, it is already making more than $20 million in annual recurring revenue.
Buffer's welcome email might seem to have a lot of text.
However, it includes a message on how to make the best use of the tool and how to reach out to the team in case of any concerns.
While the first paragraph welcomes the subscriber, the second paragraph describes how a browser extension would work best.
Furthermore, the last paragraph informs subscribers how to contact Buffer and how long they'd take to respond.
Takeaway: If you want to write a lengthy and detailed email, it is best to divide the content into short paragraphs. Make it easier to read. Moreover, you should only focus on a single topic or subject in each paragraph.
#6. Asana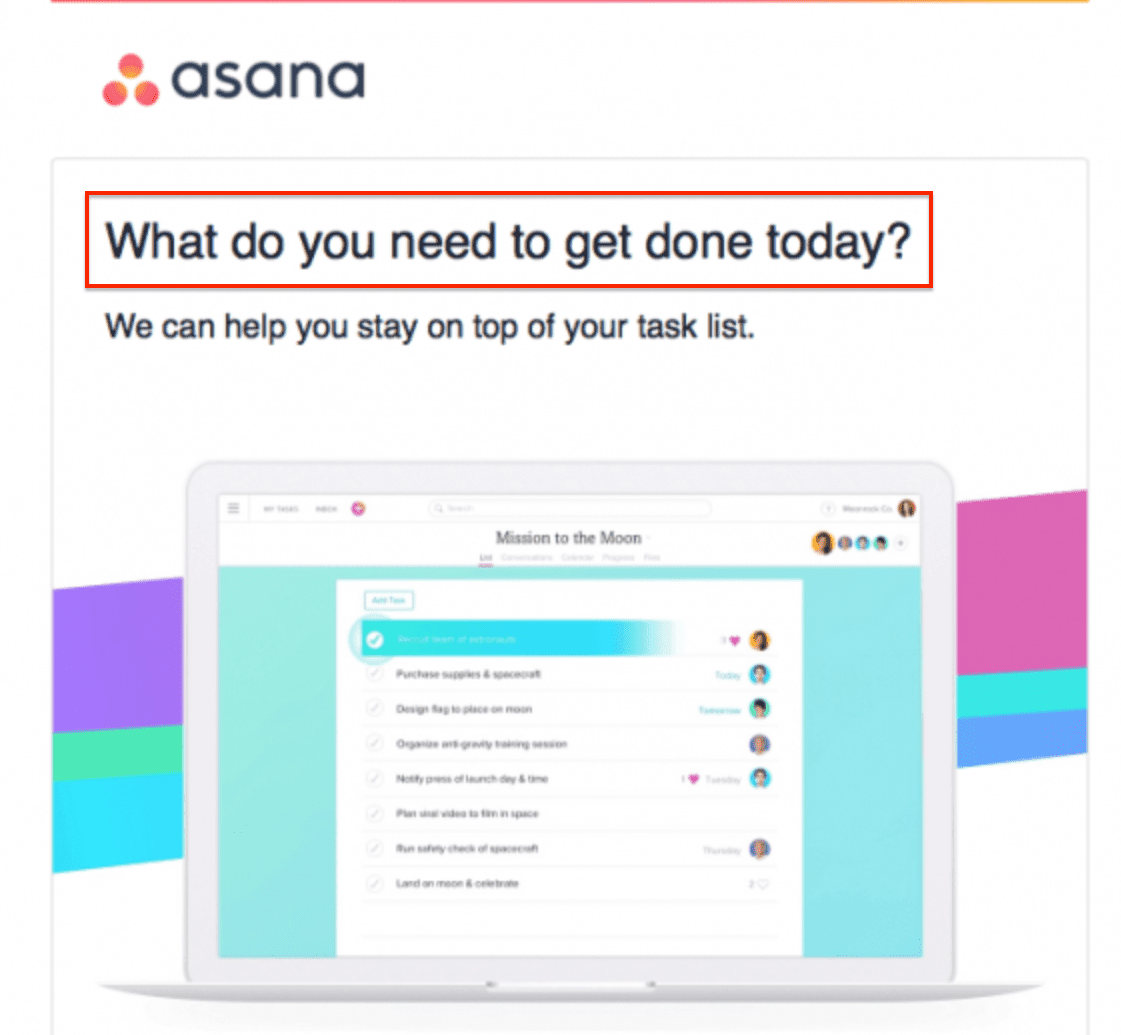 Asana is a project management tool that helps companies streamline and organize their work.
The company was launched in 2012 in the United States and has a market cap worth $3.66 billion.
This B2B email template is a classic example of how you can encourage users to avail themselves of its tools.
While beautifully capturing the essence of what Asana does, this email also acts as a guide on how to get started with Asana.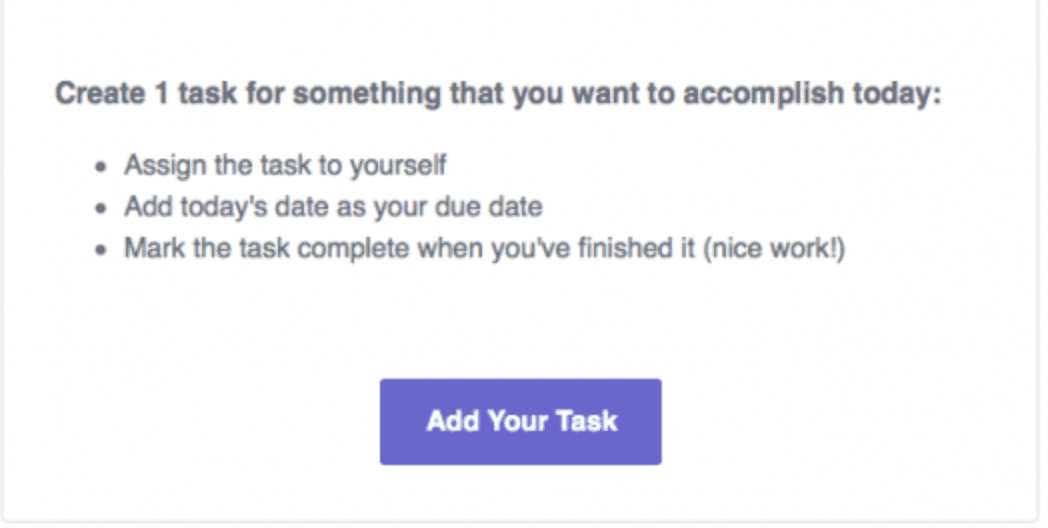 And a CTA button at the bottom directs users to the webpage where they can create their to-do list and start working. Sweet and simple!
Most importantly, it asks its users to become productive today by just creating one task at a time.
Takeaway: Use welcome or an activation email as an opportunity to introduce your company's features and help clients set up their accounts with a CTA button.
Read also: Email Design Best Practices: Do Your Designs Convert?
#7. Campaign Monitor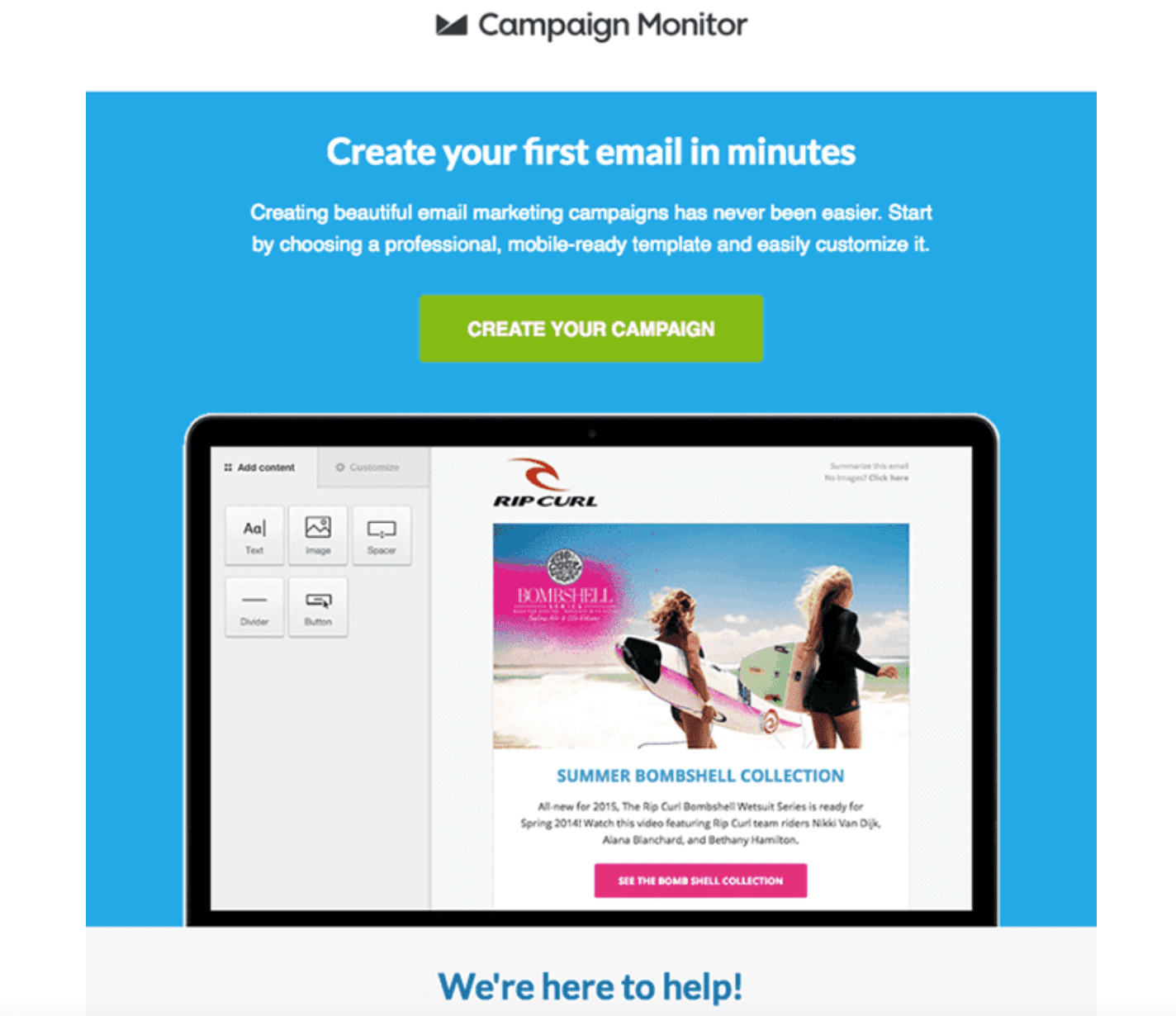 Campaign Monitor is an email marketing service provider with a reported valuation of $500 million.
If you are looking to draft a re-engagement or re-activation email, then here is an example to help you get started.
This B2B email marketing example demonstrates how you can convince inactive customers to buy your products or services by promoting them through email.
Here, Campaign Monitor makes use of visuals as well as a client testimonial showing how they benefited from the company's email marketing services.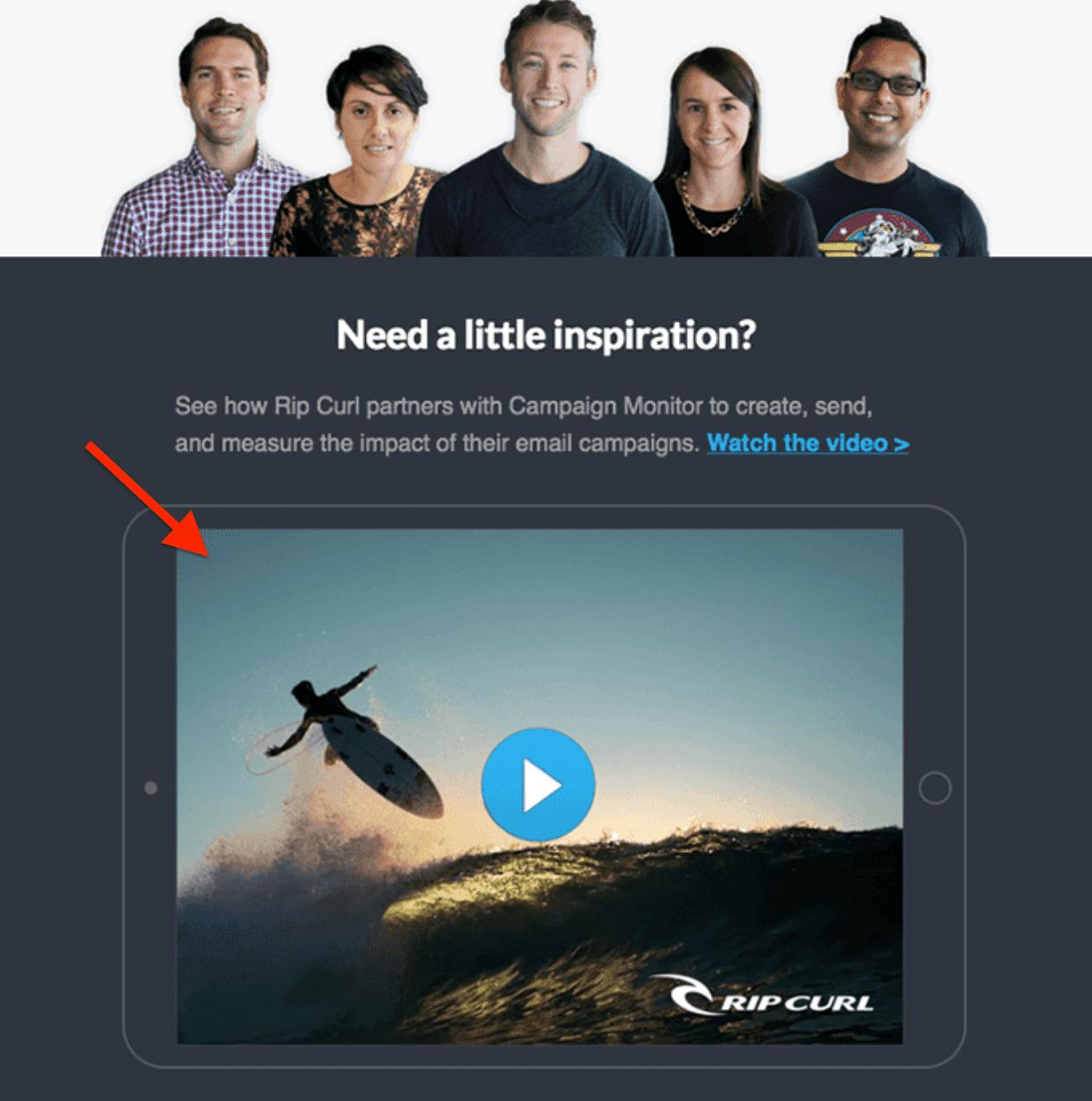 Moreover, a CTA button at the top makes it easier for clients rather than scroll down to the page to visit the website.
Takeaway: Adding client testimonials such as videos and graphics helps persuade clients why they should use your company's products.
eCommerce Email Marketing Simplified: 15 Examples + Tips
#8. DocuSign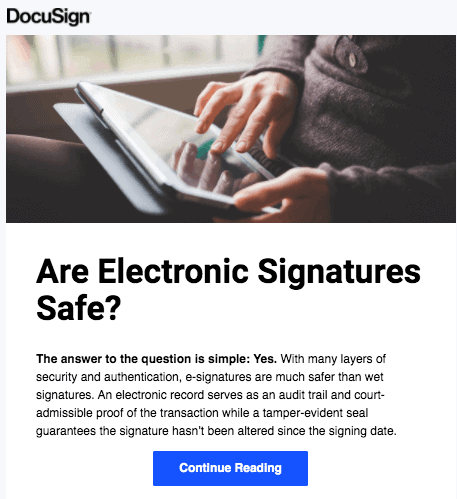 DocuSign is a US-based organization that allows businesses to sign documents electronically. Currently, the company has a market cap of $13.18 billion.
DocuSign is a good example of how to convince your users to use your product.
They send out regular newsletters with CTA links to their blog posts. They include a little snippet of each post to help readers understand what they can expect.
It's a great way to nurture your leads without directly promoting your brand in their face.
Takeaway: To promote your brand, you can use emails to describe how and why your products will benefit people.
#9. Gallup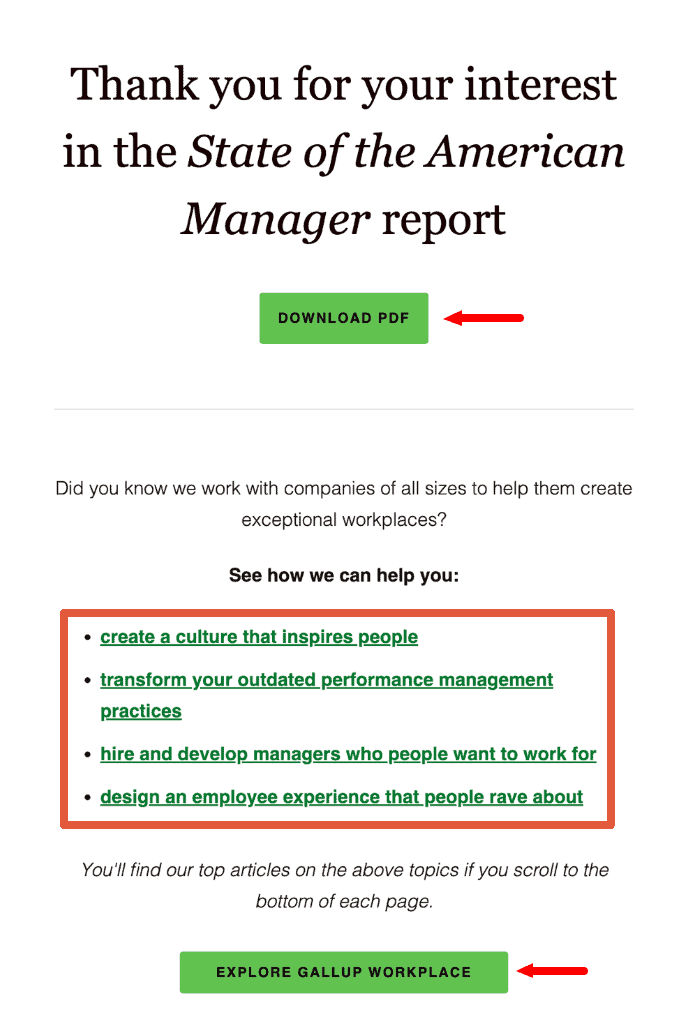 Gallup is an American analytics and consultancy firm that was founded in 1935.
It is headquartered in Washington, D.C., and has a market cap of $1.24 billion.
Clearly, this thank you email by Gallup with a report link is shared after a user signs up on their landing page.
Instead of simply sending them the link to the PDF, they have smartly included links to other essential pages that might be relevant to the user.
The CTA button at the end directs users to the blog page where they can learn more about the Gallup workplace if interested.
Takeaway: Including blog links and annual reports boosts brand credibility among customers, which boosts traffic and conversions to your website.
#10. Smartsheet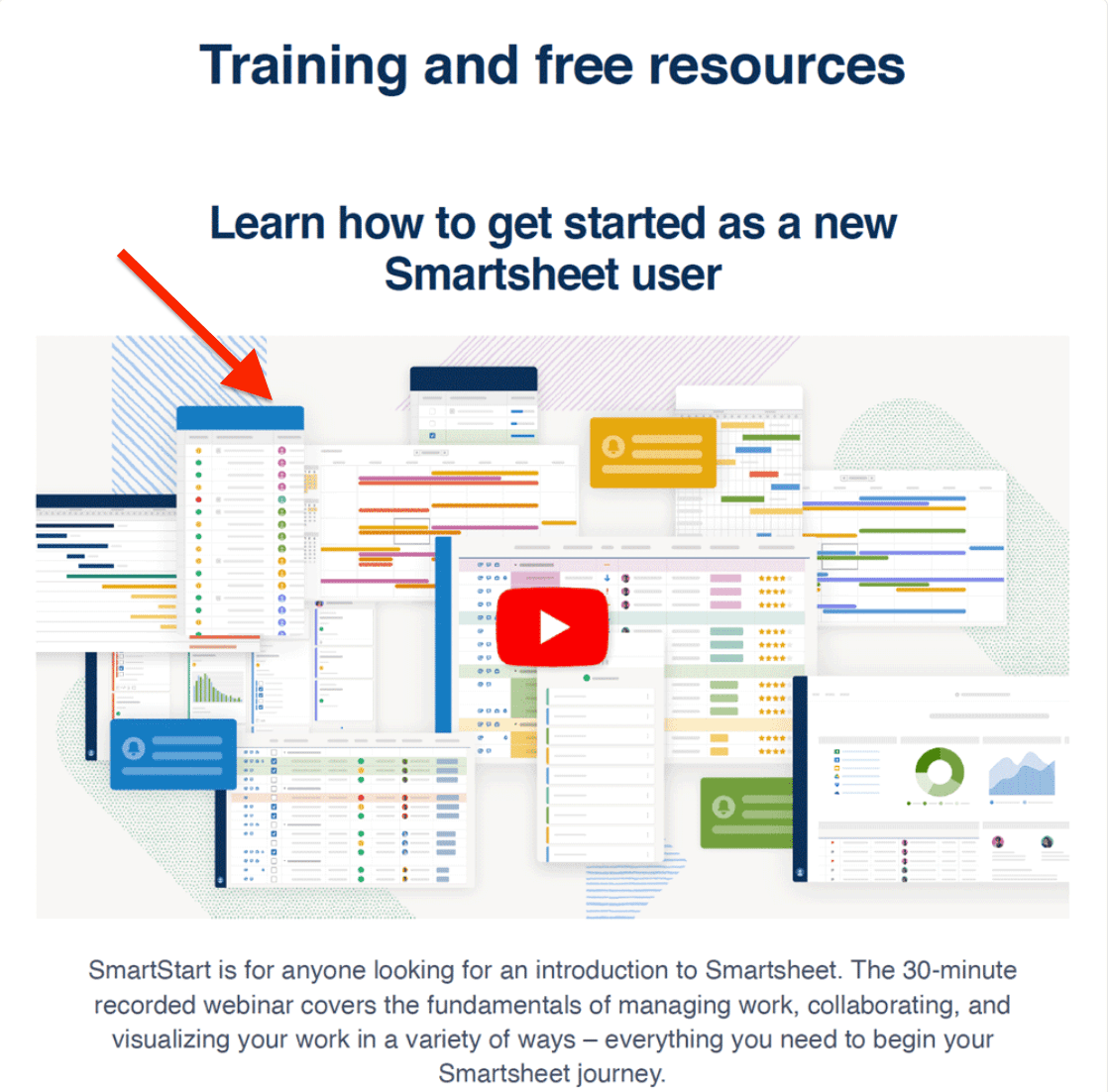 Smartsheet is an American project and workflow management platform that has a current market cap of $4 billion.
In this B2B email example, Smartsheet keeps the email content visually appealing by avoiding texts and simply including videos.
Today, people prefer watching videos to reading text.
To educate users about its products, Smartsheet keeps the text as minimal as possible and includes a video tutorial embedded in the email and a link that directs users to the recorded webinar.
And for those in a hurry, the text clearly explains what the video is about.
Try this, and you might be surprised to see how many users take interest in watching your educational videos.
Takeaway: If you don't want to include text in your email, try and embed videos or pre-recorded webinars that would direct people to your website.
#11. Spotify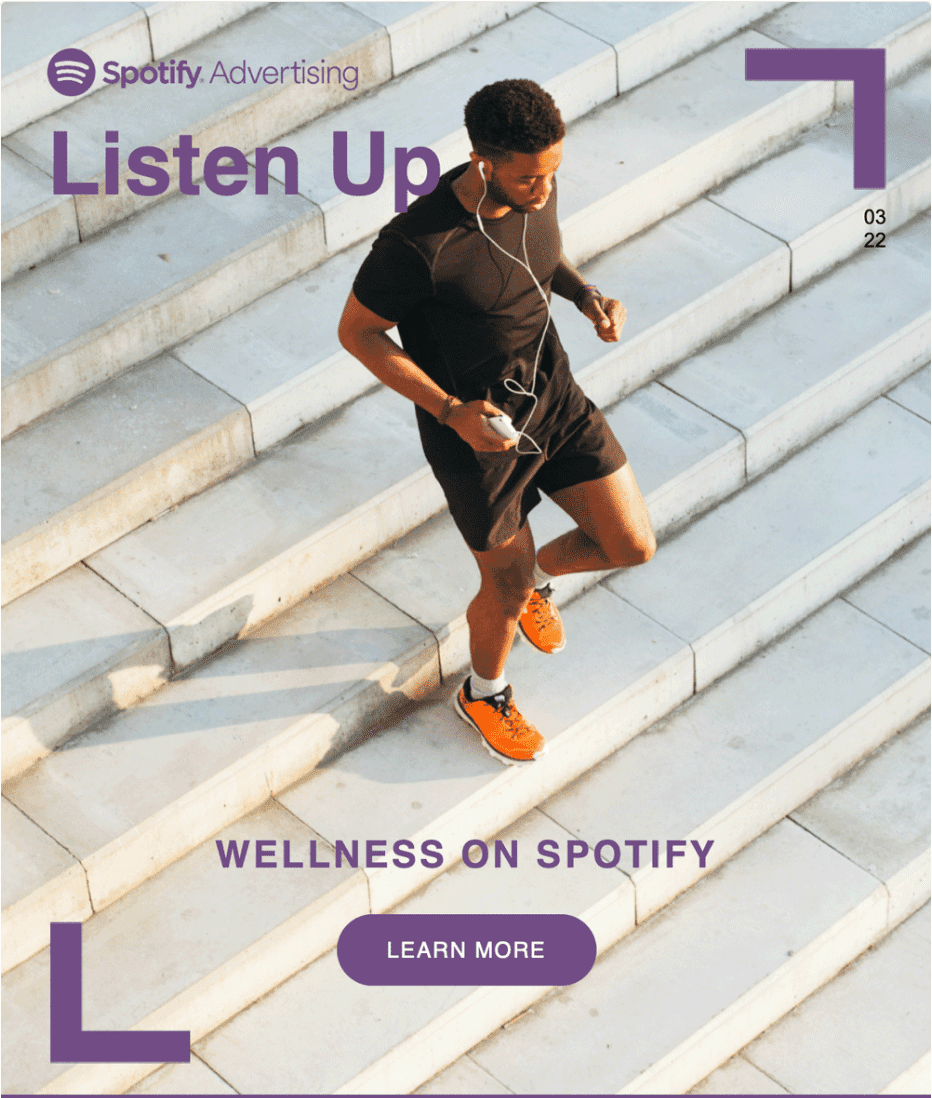 Founded in 2006, Spotify – a Swedish music streaming service – is currently valued at $22.22 billion and has over 433 million monthly active users.
Spotify is popular for creating playlists for its users based on their interests and listening history. While Spotify became popular as a B2C platform, the brand has recently decided to make B2B also its cup of tea.
In this email example, Spotify is asking subscribers to try out its 'Wellness' playlist.
With a CTA button at the beginning of the email accompanied by engaging visuals, the brand ensures that email recipients are getting the right message as soon as they open the email.
If you scroll down in the email, you'll see this: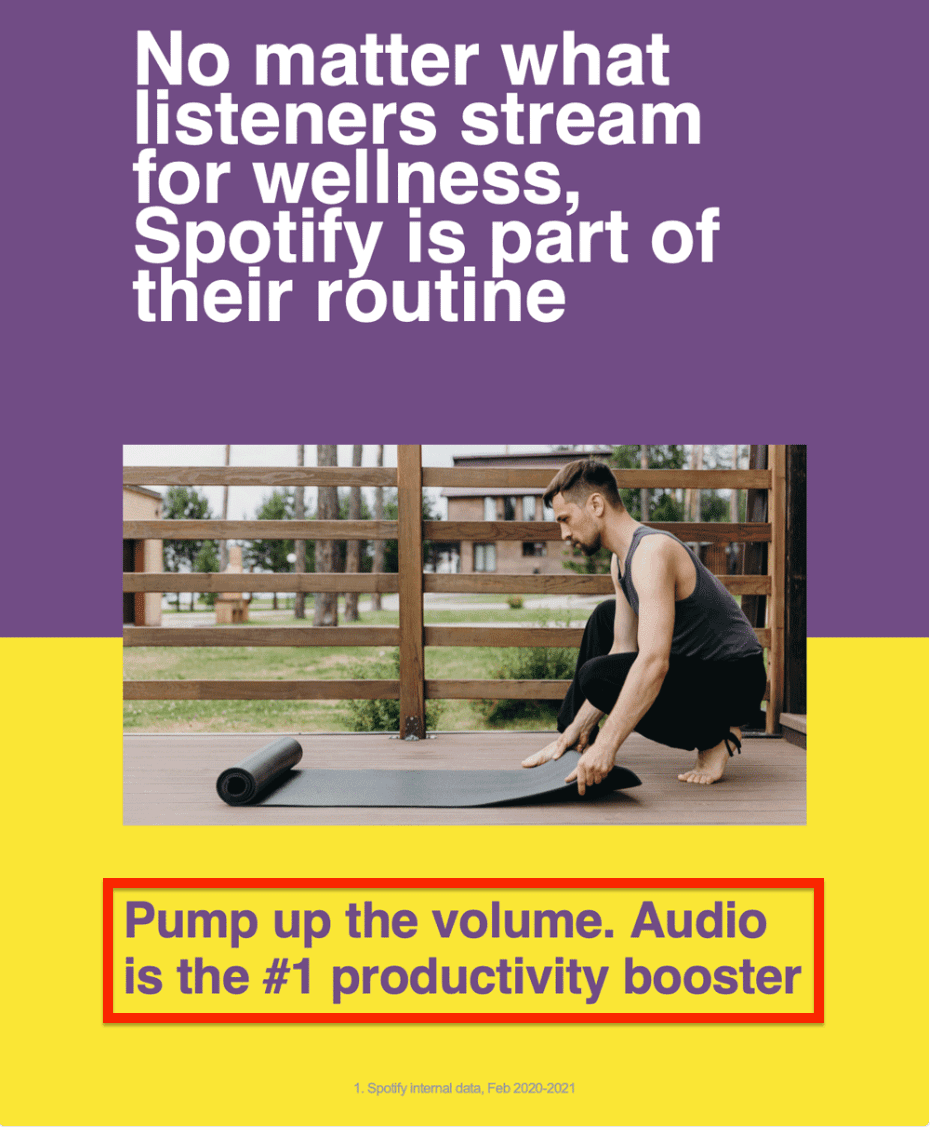 To me, it is an excellent email design: Huge images that show people taking action (psychological tricks in marketing), big bold font and crisp, short sentences, and bringing in the 'productivity' angle for a playlist that's about 'wellness'.
I'd say, that's killing two birds with one stone.
Takeaway: Make your email images and text large once in a while, and keep content minimal. Drive home a point or two and use large, attractive visuals to entice draw clicks.
#12. Netlify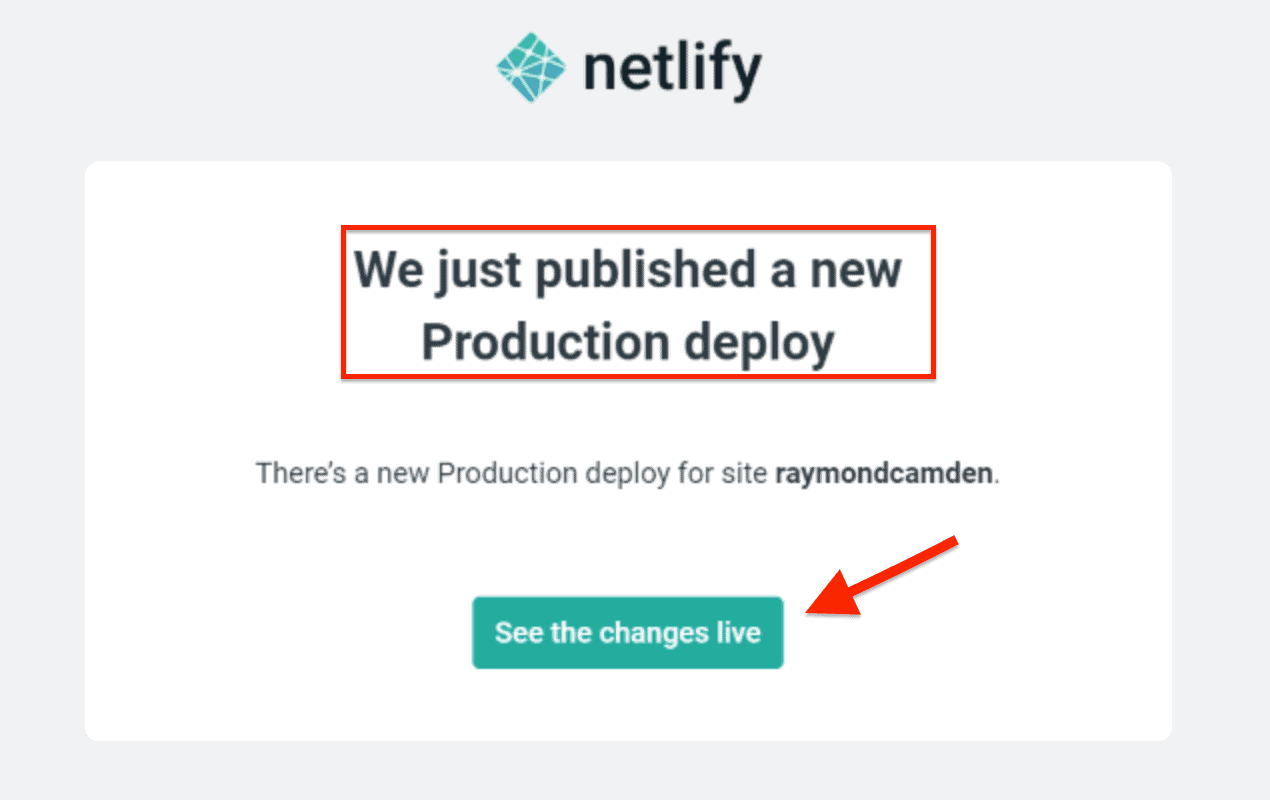 Founded in 2014, Netlify is a cloud-based computing company that provides backend services for web applications and static websites.
Today, it has a market cap of $2 billion.
In the B2B email example above, Netlify is trying to inform its clients about some of its newly launched functions.
The heading tells the recipients directly what they can expect – new Production deploy.
Without getting into the nitty-gritty of it, Netlify added a CTA in the email so users can click through and see the changes live.
If you are interested to know more about the new feature, you can simply click on the CTA button and get more details.
Takeaway: While introducing your new features or products, make sure the messaging is clear from the subject line and headline of the email content.
17 Powerful Techniques to Generate B2B Sales Leads
How to Create Awesome B2B Emails?
So far, we have looked at examples of effective B2B emails. Now, let's look at strategies you can follow while crafting a winning B2B email marketing strategy.
#1. Write a Great Subject Line
In B2C email marketing, open rates are not so bad because online shopping is the 'in' thing.
But when you are at work, and someone sends you a cold email (B2B), you are most likely to ignore it.
That is why subject lines are even more important in B2B than they are in B2C marketing. If you manage to convey your email's value in your subject line, you can get better email open rates.
Typically, the subject line should be 60 characters or less, and it should still be clear enough to convey the whole email's message in one sentence.
Unleash the power of top marketing strategies to skyrocket your business growth – explore our comprehensive guide now!
#2. Maintain a Conversational Tone
Although B2B emails are intended for business purposes, their tone need not be monotonous or impersonal.
The email may be targeting organizations, but we shouldn't forget that there's a person behind the screen reading your email.
Look out for language that can sound robotic, especially when so many new AI-based writing tools are generating content. Instead, capture your reader's attention by keeping the tone super-friendly and conversational.
Think about what kind of emails you generally like to read, what kind of subject lines attract your attention, and whether you prefer long or short emails.
Such questions can also help you run A/B tests and find out what your audiences prefer.
This not only helps you connect with users better but also nurtures better relationships with them.
Read also: Learn Email Acquisition From These 6 Strategies And 5 Examples
#3. Add a Call to Action
The question is, how many CTA buttons should you use in your B2B emails?
Well, that depends on the purpose of your email.
If you are sending out a newsletter, it will have multiple CTAs leading to different web pages.
But if you want the user to land on a specific page, you don't want to distract them by adding multiple CTAs in an email.
The key point here is to create an enticing CTA button that can be hard for the readers to resist when they finish reading your email.
#4. Segment Your Target Audience
When you run a marketing email campaign, you need to tailor your emails to each individual based on various characteristics or factors.
Email segmentation tools can help you segment your audience based on industry, persona, interests, designation, and more filters.
Segmentation of your audience allows you to send emails that are customized to their interests and needs.
This ensures a high clickthrough rate, which, in turn, increases website traffic and drives conversions.
👉Uncover the secrets of successful email list building with our in-depth guide to the best opt-in strategies! 💼
#5. Be Precise
Business professionals are quite busy. If you want to grab their attention, you need to keep the text as short as possible.
That presents a problem: How do you drive home your message if you can't write much text?
The answer: video.
Embed a tailored video that conveys the message you want to convey, and write the text in a way that you entice the reader to watch the video.
For more information, you can add a CTA and direct them to your website landing pages.
9 Proven B2B Email Marketing Best Practices
The Most Affordable Email Marketing Tool
The final step to running an excellent B2B email marketing campaign is selecting the right email marketing tool.
You will find many options in the market, but they might not fit right into your budget and requirements.
Some of the top options in the market include EngageBay, HubSpot, ActiveCampaign, and others.
We believe that if you are a small business or still learning the ropes of email marketing, EngageBay will be the best choice.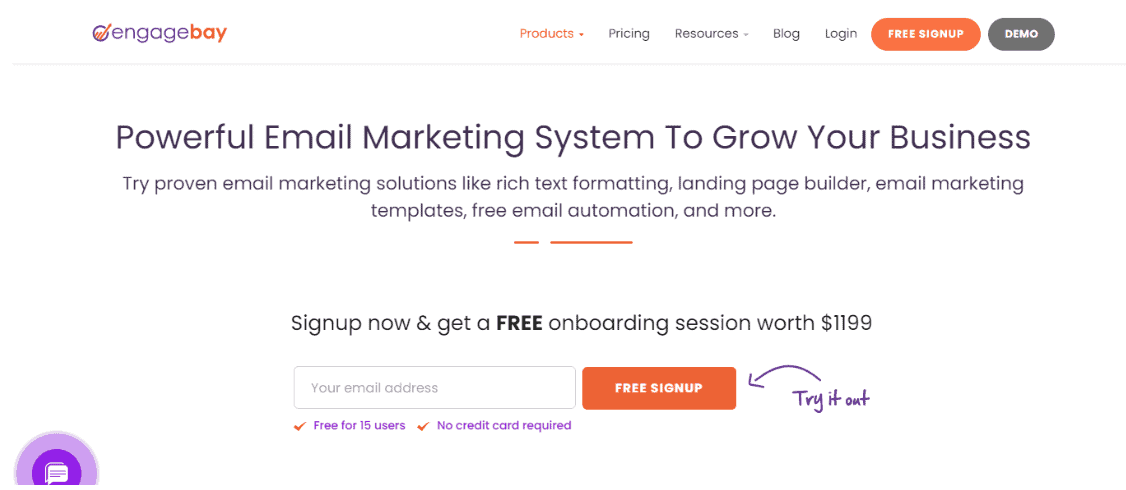 EngageBay offers a feature-rich email marketing tool that enables you to create visually appealing emails in a few clicks.
It offers pre-defined templates for almost all kinds of professions, including fashion designing, education consulting, etc.
Moreover, you can edit those templates using the simple drag-and-drop builder and customize the emails for every component, like headline, footer, signature, font style, and size, etc.
The precision of segmentation in EngageBay is also something worth mentioning — many users love it!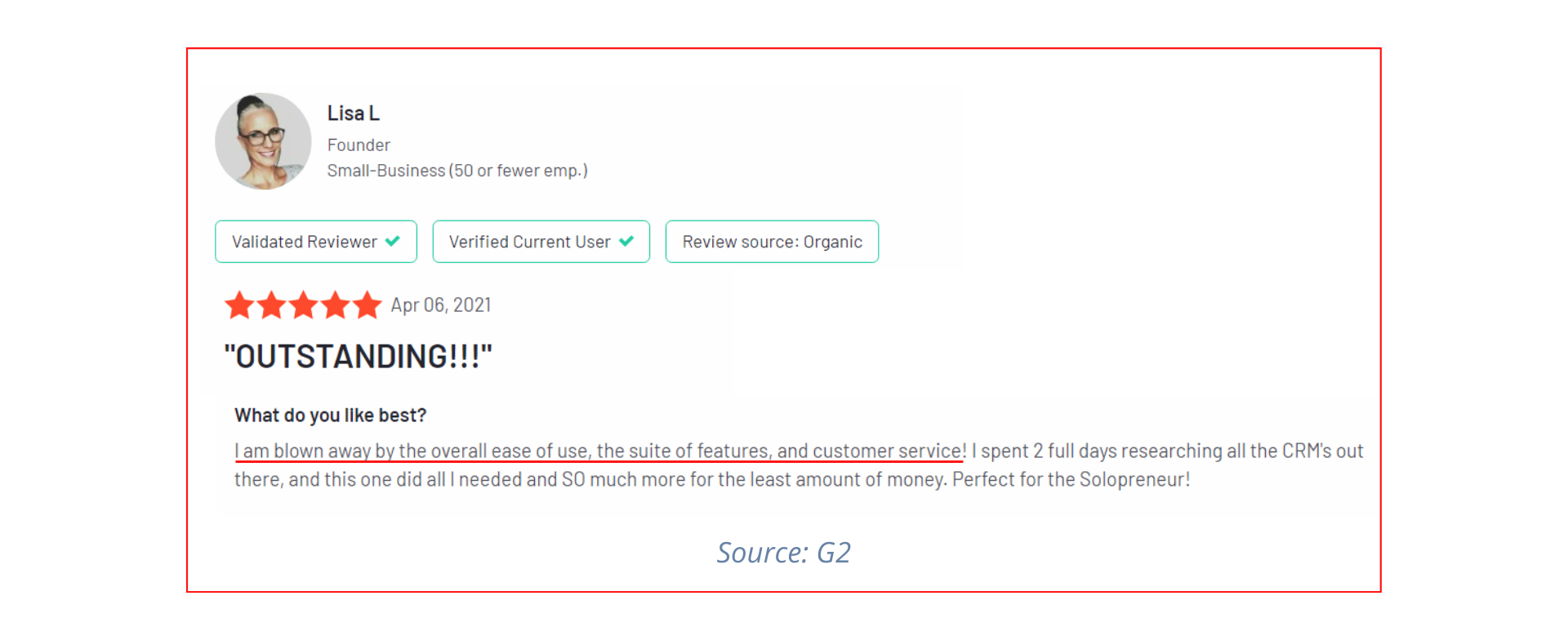 Wrap Up
It may take some time to master the art of B2B email marketing, but it's worth every penny and every minute you spend on it.
According to Litmus – for every dollar spent on email marketing, the average ROI was $36.
I hope these B2B email marketing examples help you understand how to design your emails better and yield the best results possible.
Feel free to share this post on social media with your favorite example of B2B emails.