Let's face it – most people don't respond well to marketing and promotional emails. What's worse, they ignore them and don't bother to open them even once. If you're an email marketer, chances are that unread emails are your worst nightmare.
Fret not! Let's end your email marketing insecurities today (or at least improve your current performance). No, we are not kidding; we have got you the ideas successful email marketers out there don't want you to know.
With these email marketing campaign ideas, you'll capture your target audience's attention and get them reading!
18 Email Marketing Campaign Ideas to Learn From Top Marketers
We've listed the best email marketing tips you can adopt today to skyrocket your email marketing performance.
We promise results if you follow these correctly and try them without hesitating to press the send button.
So, let's learn the email marketing success mantra.
#1. The Ultimate Roundup: Send the most memorable and high-performing content of the year to your subscribers
You might have already talked about the guest post done for other brands via email. But what about your best-performing blog posts? Should you leave them alone in solitude?
No, not at all! They deserve more attention.
You should compile your top-performing content in an email and send them to your subscribers, like Content Marketing Institute does: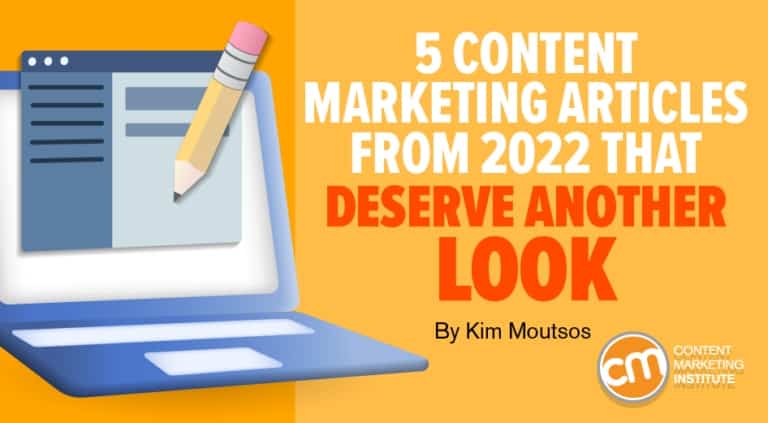 This email will prove highly fruitful to you as it will not only make old subscribers revisit them but also make the new subscribers aware of your knowledge.
This is simply one of the best email marketing campaign ideas, so focus on this one more than anything else!
#2. Freebies galore: Offer downloadable content pieces to keep your readers engaged

Have you prepared free guides and cheat sheets to help your customers? If yes, that's great. You're certainly adding value to the world. However, are your subscribers making use of this free content? Or are they even aware you've prepared something for them?
Well, an email gating all your downloadable content is an excellent way to ensure that people are using it.
Read also: How to Create a Cold Email Strategy That Will Hook Your Readers
#3. Ask away: Launch a weekly Q&A email campaign to answer your subscribers' most pressing questions

Monday.com is the perfect example of how to use weekly questions in emails. This software company's marketers use cartoon visuals and interesting, fact-based questions to grab the reader's attention.
There are two purposes to the cartoon and the question. The first thing you will notice is how approachable it is. Second, the weekly question makes visitors return: In the next week's newsletter, they will find the answer to the question, so they have to open one more email to satisfy their curiosity!
Read also: Drip Campaign Examples To Transform Your Email Strategy
#4. Learn and grow: Start a product education series to help your subscribers master your offerings
In addition to creating awareness about your products on social media channels like Instagram and Facebook, it is important to build a buzz on emails too.
You can do this by getting people pre-registered or creating a countdown for the early bird offers.
Various beauty brands like Sephora use this technique to ensure ample revenue generation in the first week of their product launch. They even use discount coupon techniques sent via email to attract customers.
Read also: eCommerce Email Marketing Simplified: 15 Examples + Tips
#5. Tried and Tested: Share the top product recommendations from your team with your subscribers

No, don't confuse product education with a recommendation; they are different things. A product recommendation tells your customers about your best offerings for their use case, whereas an education informs them about new launches and exciting deals.
Try to be as creative as possible while recommending your already launched products. Never take graphics, copy, and visuals lightly, as they are important to attract customers.
A pro tip: use storytelling to promote your products.
Ready to elevate your marketing game? Uncover the top powerful marketing strategies in our extensive guide!
#6. Festive flair: Brighten your subscribers' day with seasonal designs and themes

Just as you change clothes when the season changes, you can change the feel of your emails by modifying the design. Now, this might depend on what type of business you are in and whether it is feasible.
For example, if you own a gift and souvenir company that sells bookmarks, journals, keychains, etc., you can add autumn leaves to your emails in the autumn season. For instance, you can even sell your diaries to add to the beauty of the autumn theme you'll be following.
Read also: 9 Best Email Marketing Software for eCommerce
#7. Welcome aboard: Send a heartfelt email to greet new subscribers and show them around

Warmth and care go a long way. Welcome emails do the job of conveying these to your new subscribers or clients, as you may call them.
Welcome emails should not be treated as formalities, nor should they be complicated to write. You can greet your subscribers with a "hey"/" how are you doing" and ask them to join the Facebook / Telegram community if there's any.
Moreover, welcome emails are a great platform to introduce your brand and the core team members, even though they're not the most creative of email marketing campaign ideas.
The plus point of welcome emails? They have an incredibly high open rate than any other type of email in the email marketing world. So, no disappointments of low open rates here!
If you're scratching your head over creating a warm and feel-at-home welcome email, look at the example below: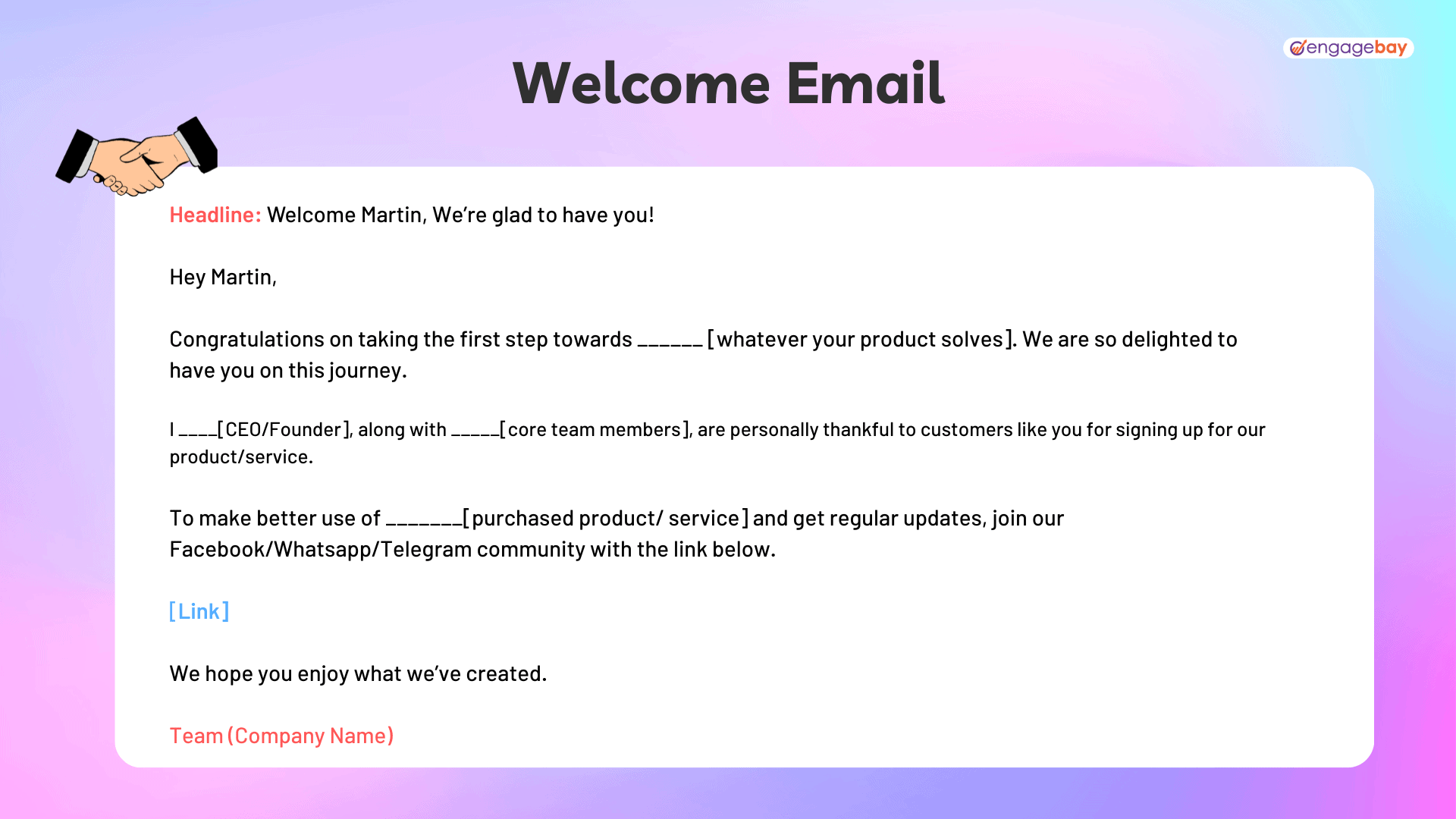 Read also: 45 Business Text Message Templates For Busy Bees
#8. Important updates: Keep your subscribers informed about your latest business changes with email updates

Want your customers to be more invested in your company? Well, what's better than engaging with important business decisions and changes?
Whether changing a subscription model or adding more services, you can involve your customers through a simple poll and suggestions email.
What's even better, you can add a form to your email to gather more information on your customers' views on important changes.
Read also: 9 Automatic Emails You Should Have For Your E-commerce Store
#9. Join our team: Spread the word about exciting hiring opportunities with open-to-hiring emails
If you're hiring, emails certainly perform better. They are much more creative and fun than boring layouts of job boards like LinkedIn and Monster.com. While hiring, you can play around with various templates and add humor, irony, etc., to your emails.
For example, while hiring a graphic designer for your company, you can intentionally make your emails look dull, colorless, and bland, humorously highlighting that you desperately need one.
Read also: Practical Onboarding Email Templates for New Clients, Employees, and Affiliates
#10. Behind the scenes: Share a 'sneak peek' into your company culture with your subscribers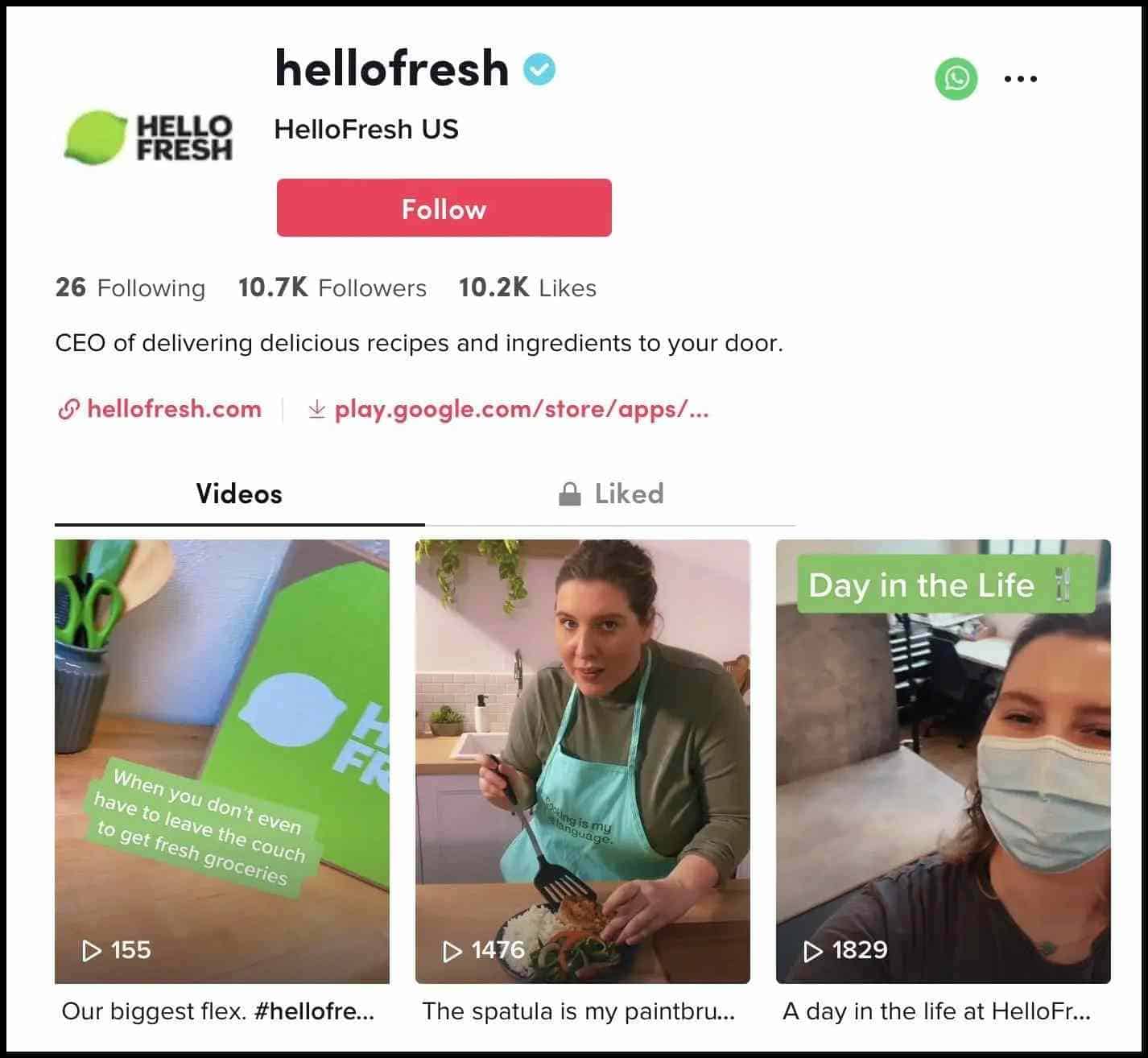 Nowadays, everyone is interested in how people work, how things are made, what goes on 'behind the scenes' of the final results we see. This is why it is imperative to show your customers what goes into bringing your product to life.
To do this, you can shoot a reel or a video, or just photos, and share this content after editing for creativity and class.
Filmmakers and social media influencers shooting for a web series are pros at this kind of marketing. So, to better understand BTS, don't forget to check out your favorite actor's social media handle.
Once you get a handle on how to make BTS videos, start a new 'BTS email' campaign, and send these emails at regular intervals, preferably on a fixed date of the month or a fixed day in the week.
Read also: 10 Fall Newsletter Ideas You'll Love [+Tips, Examples]
#11. See it in action: Show stunning images and videos of your mobile app to your subscribers

Most businesses have one or more mobile apps today. However, not all customers use the mobile applications rolled out by companies; they simply prefer websites over mobile apps.
A major reason for this is the difficulty in understanding the mobile user interface, which is often very different from the website or desktop app interface.
This is where a smart email marketing campaign idea takes form: You can solve this problem by crafting an informative email illustrating all the steps to make the best use of your mobile app.
Read also: Re-Engagement Emails 101: A Guide [With Templates]
#12. Our favorite tools: Offer essential third-party apps and resources your subscribers will love

Your emails should not be about you and you only; they should holistically add value. So, if you know specific tools that can be helpful to your audience, share them with them.
This way, you'll ensure that not everything you do is promoted and your care for them is genuine.
For example, if you sell language learning courses, you can mention apps such as Cake that help people creatively learn English.
However, ensure that you're not giving out your business by mentioning your competitors.
Read also: 12 Cold Email Marketing Tips To Increase Your Conversion Rates
#13. Hear it from our customers: Share inspiring testimonials from satisfied customers to build trust with your subscribers
Testimonials from buyers are game changers for any business. This is especially true for eCommerce businesses that heavily depend on pictures and video tutorials to promote their products. If you can show your leads that you have a huge fan following, they are more likely to become your customers.
It's like a "taste based on reviews" system where people purchase a product with good reviews and restrain from buying the brand with poor testimonials.
So, to leave a positive impression on your lead's mind, you need to have genuine reviews about your products. Ensure you are not buying reviews to fool people, as this can tarnish your brand's image in the long run.
If you're a new company lacking testimonials, try to gain positive reviews by distributing free samples if possible.
Read also: How to Run Targeted Email Marketing Campaigns For High ROI
#14. Boost your industry knowledge: Share valuable insights and tips from your experts to help your subscribers stay ahead

Why talk exclusively about yourself if there's so much knowledge you can offer the world? Well, don't think you're feeding your potential leads with unnecessary information; you can turn this knowledge booster session in your favor!
Yes, it's true, you can do that. First, you need to be updated with all the trends and news in your industry. Secondly, you need to make sure that the email is not lengthy. Even you hate reading long emails, don't you? Third, incorporate subtle and sleek promotions in that email.
Here's an example: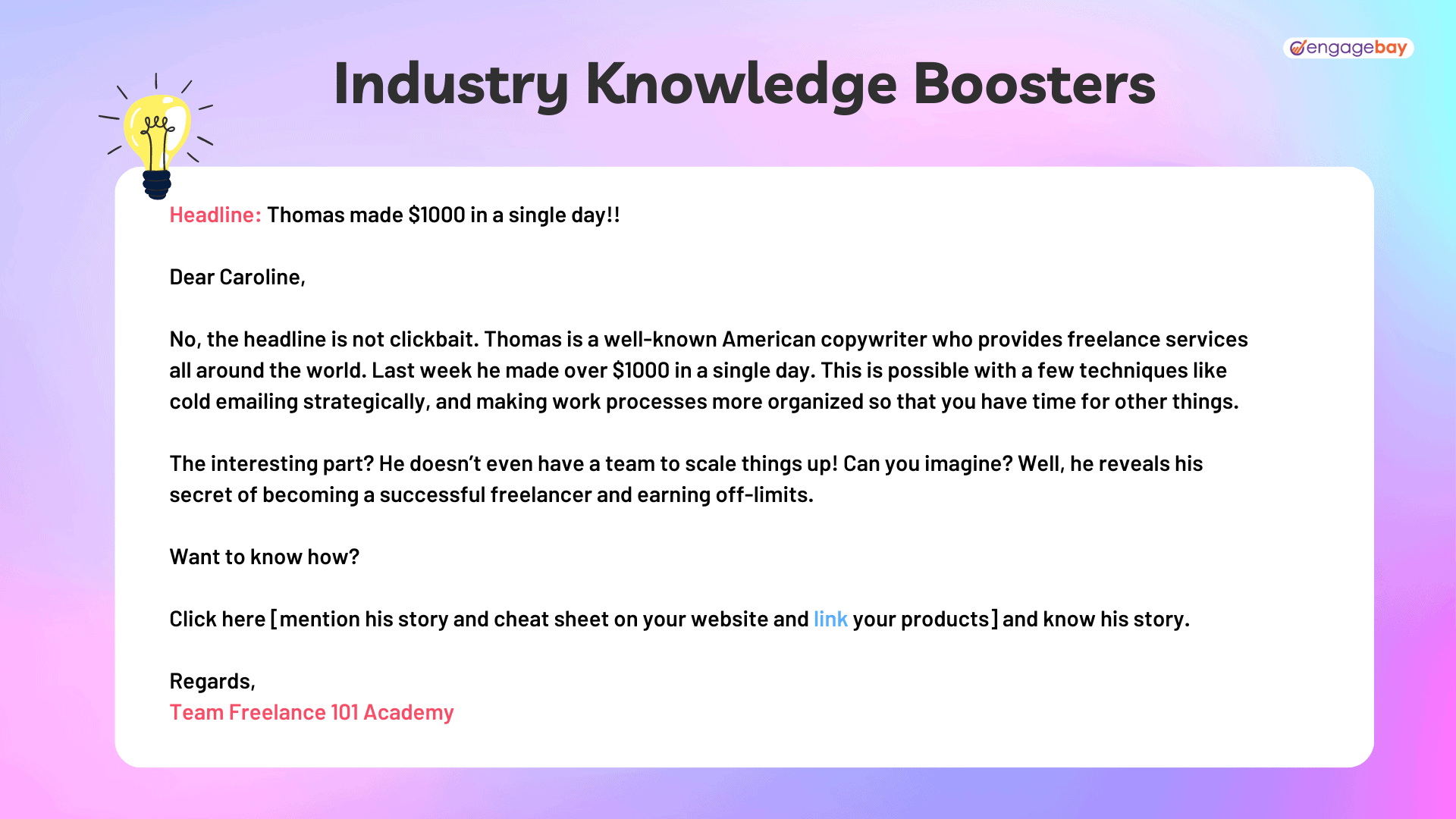 If you read this email carefully, you will see that subtle promotion (link to the company's website) is used while providing value, i.e., a Cheat Sheet for Thomas's success.
Read also: 9 Proven B2B Email Marketing Best Practices for Beginners
#15. Step-by-Step: Send fun and informative video how-to's to help your subscribers master your offerings

Instruction pamphlets are an excellent way to illustrate your product in action. Unfortunately, some people can't understand them properly.
This is where video tutorials sent via email become most helpful. A 'how-to video' email is an in-depth description of what your product is all about and how to use it correctly.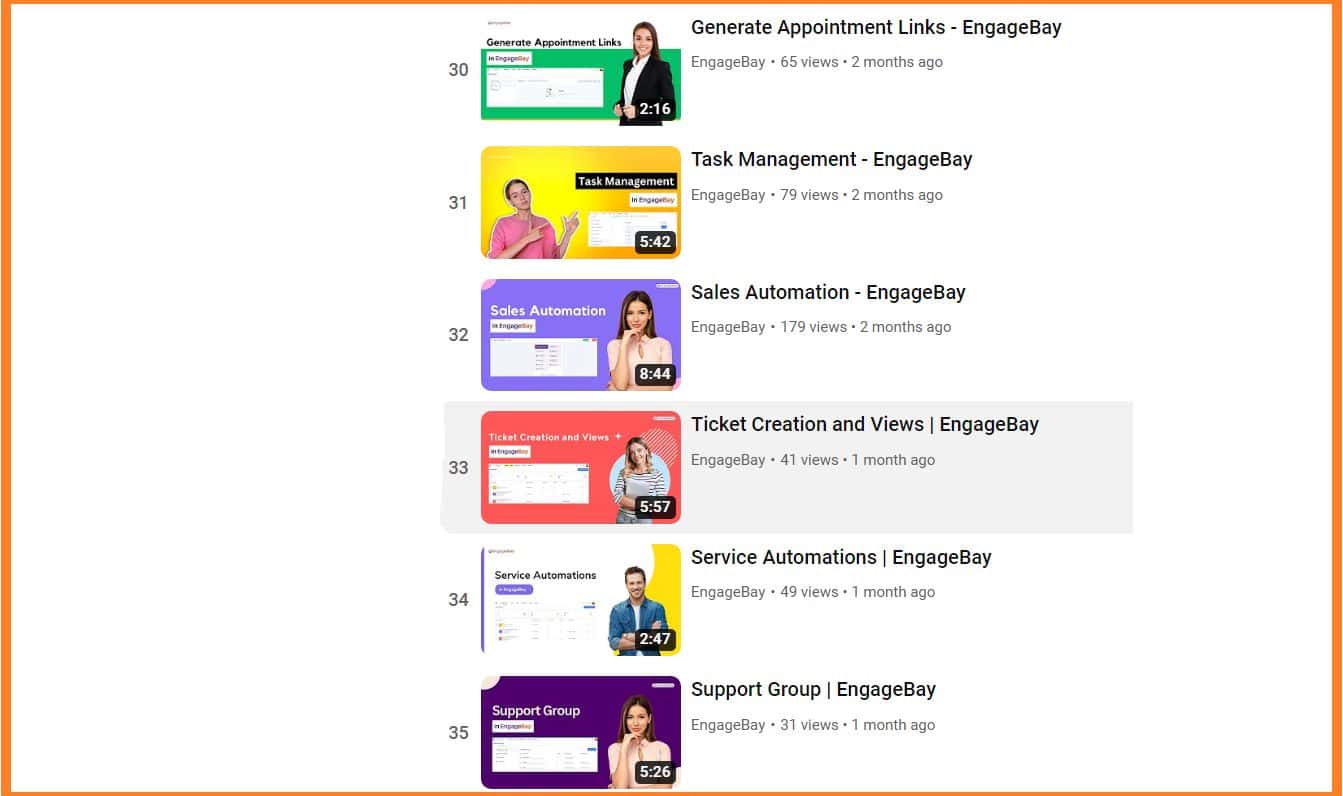 These tutorials come even handier when the product is technically complex. The more you can make it easy for beginners to use your product, the more leads you can convert into paying customers.
Read also: Email Retargeting Blueprint For Your Business [+ Examples]
#16. Daily dose of positivity: Send motivational quotes to keep your subscribers inspired and motivated
In today's world, where people are often overwhelmed by stress and negativity, a little bit of positivity can go a long way. As an email marketer, you have the opportunity to brighten your subscribers' day by sending them motivational quotes that inspire and uplift them.
Motivational quotes can have a powerful impact on people's lives. They can help them shift their mindset, overcome challenges, and achieve their goals. By sending a daily dose of positivity to your subscribers, you can help them feel more energized, motivated, and optimistic.
Here are a few tips to keep in mind when sending motivational quotes to your subscribers:
Keep it short and sweet: People are busy, so it's best to keep your quotes short and to the point. Stick to one or two sentences that capture the essence of the message.
Make it relevant: Make sure your quotes are relevant to your subscribers' interests and needs. Consider segmenting your list and sending different quotes to different groups based on their preferences.
Choose quality over quantity: It's better to send one amazing quote than 10 mediocre ones. Take the time to find quotes that are truly inspiring and meaningful.
Mix it up: Don't send the same type of quote every day. Mix it up by sharing quotes from different sources, such as famous leaders, authors, or thinkers. You can also include images or graphics to make your quotes more visually appealing.
By sending motivational quotes to your subscribers, you can create a more positive and engaging email experience that keeps them coming back for more.
Read also: 20 Actionable Email Marketing Tips That Drive Results
#17. Guest stars: Share exciting updates and features from talented guest writers to keep your subscribers engaged
It's common for businesses to expand their audience using guest posting. This is especially true for flourishing brands that try to leave their mark on the internet. If you, too, are writing blogs for another company, it can be a great idea to mention it in an email.
This will ensure that apart from your new audience, your current audience is also up-to-date with what you have to say on specific topics.
Read also: Thanksgiving Email Marketing Templates To Feast On!
#18. Happy clients, happy us: Send heartwarming photos from your customers to build brand loyalty with your subscribers
This is an extension of the customer testimonial idea we have already discussed. However, this is a visual testimonial that displays the happy faces of your clients.
Simply make a collage or a video of the photos your customers have shared with you, and publish the collage with a nice copy on your website and social media pages.
Using this technique would add much more credibility, as photos hold more power than just written testimonials.
Read also: 10 Best Trigger Email Marketing Campaigns (+ 5 Top Software)
Conclusion
All in all, if you want to up your email marketing game in 2023, make sure you follow some of these tips.
If you need clarity about which email marketing campaign ideas to invest your time in first, consider introductory emails, industry knowledge boosters, weekly questions, and seasonal designs, as these are relatively easier to get started with.
Lastly, comment with your queries about email marketing if you have any.
Happy email marketing!