Marketing has shown incredible progress since the days of print ads and TV commercials! Today, consumer-focused experiential marketing is all the rage and gaining massive traction in the world of business.
Experiential marketing is a unique strategy that offers brands an opportunity to create unique, memorable, and immersive experiences for consumers and engage with them on a deeper level.
Compared to traditional advertising methods like TV commercials and print ads, it's a great way to stand out in this digital age where we're constantly bombarded with ads and messages.
It's proven to be effective too – according to a study, 74% of people are more likely to buy products after attending a brand's live marketing events or experiences.
In this blog post, you can learn a lot more about experiential marketing ideas and some of the best real-life experiential marketing campaigns by top brands.
What Exactly is Experiential Marketing?
Experiential marketing is all about connecting customers with a brand in a memorable, engaging way. It involves creating interactive and sensory experiences that let people truly immerse themselves in the brand's story and values.
From pop-up shops and product launches to Web3 marketing and virtual reality experiences, there are a ton of different types of experiential marketing out there.
Regardless of the form, all experiential marketing campaigns have a common goal – creating a long-lasting impression on the consumer.
By creating a deep and emotional impact on their target audience, brands have a higher chance of building brand loyalty and ultimately boosting their sales.
Read also: What is Experiential Marketing and some of our favorite examples
Important Factors in a Successful Experiential Marketing Event
When creating a successful experiential marketing event, there are plenty of things you have to consider and take care of. Let's have a look at some of the most important factors that make an experiential event a hit.
Audience targeting: It's important to have a good grasp of who you are targeting when you plan an experiential marketing event. Marketers should ensure they design the event to be something that their target audience will truly enjoy. To make the most out of the event, it should be customized to what the target audience likes, believes in, and prefers – this will ensure the best outcomes.
Brand consistency: Make sure to focus on your experiential marketing campaign's design, tone, and messaging. All of this should align with your brand's values and beliefs.
An immersive experience: Your experiential marketing events can be a blast for consumers by including interactive activities, stimulating multi-sensory elements, etc.
Personalization: High-level personalization is another crucial part of creating a memorable experiential marketing event. That is the reason top brands focus on customizing their products or crafting personalized messages. It's a surefire way to make your marketing events stand out.
Social media: Social media is another critical factor of a good experiential marketing event. Brands can work on creating engaging social media-worthy events that their customers would enjoy attending and talking about online.
Be open to follow-up and feedback: Once the event is done, it's a great idea to stay in touch with those who attended. This can be sending them individualized emails and asking for feedback or offering them some special deals and promos to sweeten the deal.
Read also: Get Noticed: 16 Creative Marketing Ideas for Small Businesses
The Best Experiential Marketing Examples from Top Brands
Numerous big and small businesses have been leveraging the power of experimental marketing for a long while.
From M&M to Red Bull, a lot of major brands have created memorable experiential events that are worth checking out. Let's have a look.
1. Red Bull's Stratos campaign
Red Bull's Stratos campaign was one of the most talked-about experiential marketing campaigns ever. It not only took the content marketing of the company to a new height, but it also created an actual world record.
In 2012, Felix Baumgartner (a popular skydiver from Austria) partnered with Red Bull. He jumped from a helium balloon into the stratosphere – which is about 128,000 feet and 24 miles above Earth's surface. This led him to set a new world record.
The company live-streamed the entire event, making another record for the highest viewing traffic on YouTube. It was streamed by 8 million people!
2. Lean Cuisine's #WeighThis campaign

This was one of the most refreshing and powerful experiential marketing campaigns of its time. Lean Cuisine, the popular frozen entrées and dinner brand, launched its #WeighThis campaign to promote body positivity amongst women.
To emphasize the idea that self-worth isn't about physical appearance, the company set up a booth in Grand Central Station with a weighing scale. However, the catch was that the scale didn't display the women's weight. Instead, it enabled women to write how they truly wanted to be "weighed" or "measured."
Powerful messages like "I raised a strong daughter" or "I started my own business" were written by women and were displayed to the public. This inspired women to think beyond their physical appearance and recognize the things they value about themselves.
3. M&M's Flavor Rooms event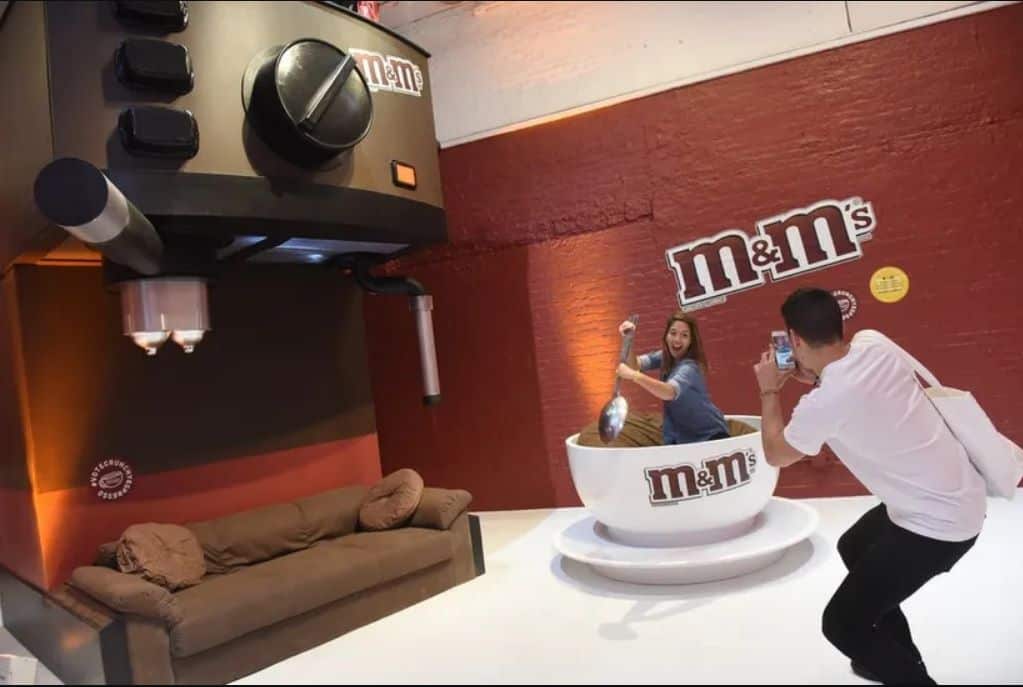 The super popular and highly loved candy company, M&M, created a wildly successful and immersive campaign with their Flavor Rooms in New York City.
They designed each room to showcase a different flavor of their candy. All the rooms had different fragrances and decors that were unique to each M&M candy. The company invited visitors to come and sample the different tastes and enjoy some interactive activities, including M&M-themed cocktails and lounges.
Read also: 50+ March Marketing Ideas To Make Your Brand Unmissable
4. Coca-Cola's VR event for FIFA World Cup
Coca-Cola launched a virtual reality experience to hype up its sponsorship of the 2018 FIFA World Cup. It gave fans the chance to feel like they were actually playing on the field with their favorite players and practicing soccer moves. It was available in retail stores around the world.
This campaign was a hit because it enabled fans to interact with the brand in a fun, exciting way, plus it cemented Coca-Cola's link with sports and entertainment.
5. The Bay Area Impact Challenge by Google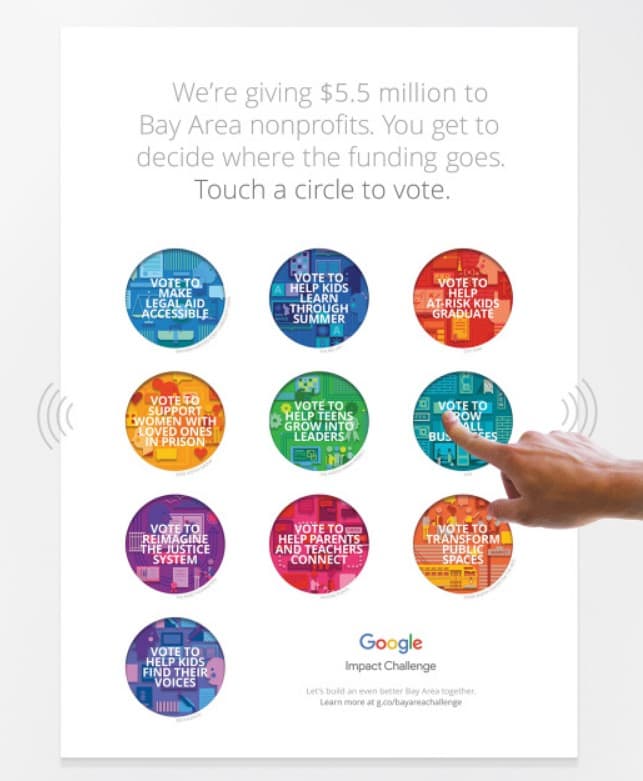 In this campaign, Google encouraged people to donate a total of $5 million to local NGOs in the Bay Area. Google put an interesting spin on this event by asking the local people to vote on a handful of selected NGOs through interactive, illuminated ads placed on restaurants, bus stops, food trucks, etc.
The whole Impact Challenge campaign was a huge success that generated awareness about Google's community outreach program.
Read also: Discover the Top 26 Small Business Ideas for 2023
Experiential Marketing Ideas You Can Count On
Now that we have seen how major brands leveraged experiential marketing to capture the interest of their target audience, let's go through some experiential marketing ideas that you can work on.
1. Events with virtual reality elements
Virtual reality elements can truly improve your experiential event, making it all the more fun, enriching, and interesting. Consumers can truly get a feel for a brand's story and values when they immerse themselves in a virtual reality experience.
For a travel brand, why not try experiential marketing? Offer customers immersive virtual tours of different destinations, and they'll have a memorable experience while being able to make an informed decision on their travel plans.
2. Augmented reality events
Brands can use Augmented Reality to enhance the shopping experience for customers. For instance, a furniture company could create an AR app that lets their customer see how the pieces will look in their space!
This way, the customers can get a better idea of what they are buying and make an informed decision.
Read also: Best Recruitment Marketing Ideas: Attract and Retain Top Talent
3. Interactive pop-up stores
Another excellent experiential marketing idea that modern-day brands can use is interactive pop-up stores. While most companies already use pop-up shops, you make take yours a notch higher by adding a few interactive elements to it. It is a great way to personalize them and capture the attention of your target audience.
Let's take a look at the example of a clothing brand. This brand could benefit from setting up a pop-up store that gives customers a chance to personalize their garments – think extra pockets, different colors, and more. Doing this would be a great way to get the attention of their target audience and encourage them to shop!
By taking inspiration from these ideas, you can create fantastic experiential events that will make your brand the talk of the town!
Read also: 8 Powerful Steps to Skyrocket Your Small Business Growth
The Top Experiential Events to Look Forward To in 2023
As we mentioned at the beginning of this blog post, experiential marketing will become all the more popular in the coming years. Thus, you can see some fantastic experiential marketing events in 2023 too.
We have made a list of the most exciting ones that you check out.
1. Stranger Things: The Experience campaign
If you love watching Netflix, especially Sci-Fi shows, then you'd have probably watched Stranger Things, right? But did you know, the show's production house created an amazing experiential event called Stranger Things: The Experience to create buzz about the show?
The campaign puts the fans of the show in Hawkins, Indiana (the place where the show is based) and experiences the life of the characters. It was truly a unique and incredibly enjoyable event. You should definitely check it out!
Read also: Sunny Strategies: July Marketing Ideas for Bright Results
2. NBA All-Star Game Weekend
NBA All-Star Game Weekend was one of the most happening experiential events of 2023. It offered a variety of immersive experiences to the attendees and was attended by 35 big brands like Google, Under Armour, and more.
Being a sports advertising event, it offered people a chance to participate in many fun activities like Meat Quest, State Farm, etc.
Read also: Spring To Success With These Vibrant May Marketing Ideas
3. A superb Valentine's Day event hosted by White Castle
The popular restaurant chain, White Castle, came back after a two-year hiatus. To make its comeback extraordinary and unforgettable, White Castle launched an interactive Valentine's Day dinner with a special menu, hostess seating, and other luxurious and fun activities.
4. An Exciting 3D Printed Event by Oreo
In 2014, Oreo launched an awesome experiential marketing event that gave customers the chance to make and print their own custom Oreo cookies using 3D printing technology. This event, called "Printed by Oreo," was held in New York City and people could visit for two days.
Folks had the option of picking from different Oreo flavors and designs, and even adding custom messages and images, to design their very own cookies. Afterward, the cookies were 3D printed on-site and given to customers in a special Oreo-branded package.
The event was a smashing success, creating loads of buzz and social media attention. It was a great way for Oreo to connect with its customers uniquely and unforgettably, while also showing off its innovative use of technology.
Read also: Get Noticed: 16 Creative Marketing Ideas for Small Businesses
Wrapping Up
To sum it up, experiential marketing has become one of the top choices of modern-day marketers for promoting their brands and capturing the attention of their target audience. It enables them to let their creativity fly and come up with some truly amazing immersive experiences for their customers.
So, are you looking for a way to make your brand stand out and build a long-term bond with your customers? Experiential marketing is the answer!
Through strategic and personalized experiences reflecting your brand's messaging and values, you can ensure loyalty and generate more sales. So, why wait? Take inspiration from the above-mentioned ideas and examples, and follow the best marketing practices. Get creative and start planning your next experiential marketing event now!