As we march into Spring, the timing couldn't be more perfect to start something fresh and new! Many social themes run throughout this month, such as Women's Day, St.Patrick's Day, Mardi Gras, and more.
March is the ideal time to test new marketing ideas and infuse new initiatives into your marketing plan before the summer hits.
So, in this article, we have more than 50 March marketing ideas that can get your brand the visibility it deserves.
50+ Creative March Marketing Ideas (With Examples!)
The following section(s) have a plethora of themes that your marketing team can use to set a game plan in motion. To make the whole deal easier, we have divided the whole of March into sub-sections according to different concepts.
Here goes.
Women Oriented Themes
March is Women's History Month. With Women's Day celebrated internationally on March 8th, the whole of March is dedicated to celebrating women and the historical impact of women in our society.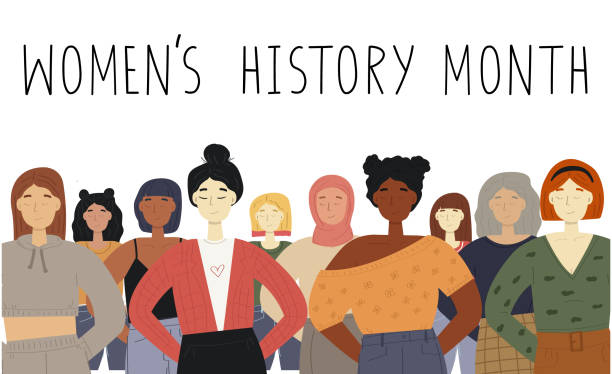 March marketing ideas for Women's Day and Women's History Month:
Take advantage of Women's Day and create social media posts in the week following March 8th featuring various women who have impacted your business.

Invite top female influencers for a live session on your Instagram. This will serve as an inspirational move while also creating a social impact for your brand.

Ask your audience which famous woman inspired them the most, and feature the most popular vote on your social media posts.

Share insights about the women behind your business.

Dedicate your posts to women who have impacted your industry or niche. Also, use the right hashtags to highlight these posts.
By celebrating women, one-half of the demographic is won over. Keep these tips in mind while deliberating a marketing plan for the month of March.
Also, go through some great ideas for fun social media engagement posts.
Read also: Spring To Success With These Vibrant May Marketing Ideas
National Reading Month
The national reading month is followed in March in honor of Dr. Seuss in the United States. This might present the perfect opportunity to tie in reading and marketing.
Most people have lost touch with their reading side for whatever reason it may be. Your company can encourage consumers to pick up their reading habit right where they left it off.
This is especially true for brands in the educational space where reading is an important part of their system.
March marketing ideas for National Reading Month:
Create a 31-day reading challenge and encourage your audience to stay consistent. Ask your audience to dedicate 20 minutes every day for the whole of the month to reading and share their reading habits while you do the same.

Invite a famous author to guest speak at your store locations or Instagram live.

Host a 'What are you reading now' audience poll and create a giveaway for the most voted book or author.

Share your favorite book and encourage the audience to share theirs while tagging your business.

Set up a downloadable list of favorite books/audiobooks on your website and encourage your audience to head over to the website to access the list. These could also be books in your niche.
Capitalizing on a positive habit and encouraging users to do the same can help positively impact your brand and showcase your brand in a completely new light.
Read also: September Marketing Ideas to Boost Your Bottom Line
Get lucky with St. Patrick's Day
Everyone loves it when luck is on their side. Who wouldn't want to get lucky? The luck of the Irish celebrated on March 17th can be lucky for you as a brand too!
St. Patrick's Day marketing ideas for the month of March:
To encourage user participation in the festivity, create a St. Patrick's Day hashtag and invite the audience to post anything related to the event with this hashtag.

Run a 'Who's feeling lucky' pop quiz on your social media and reward the winners with a special discount.

Offer incentives to customers wearing green to your shops and offer extra rewards for tagging your business and sharing pictures on their socials.

Run a special social media contest where users can test their luck. Have them tag others in the comment and choose a winner randomly!

Set up a green-themed pop-up and offer special discounts on all green products.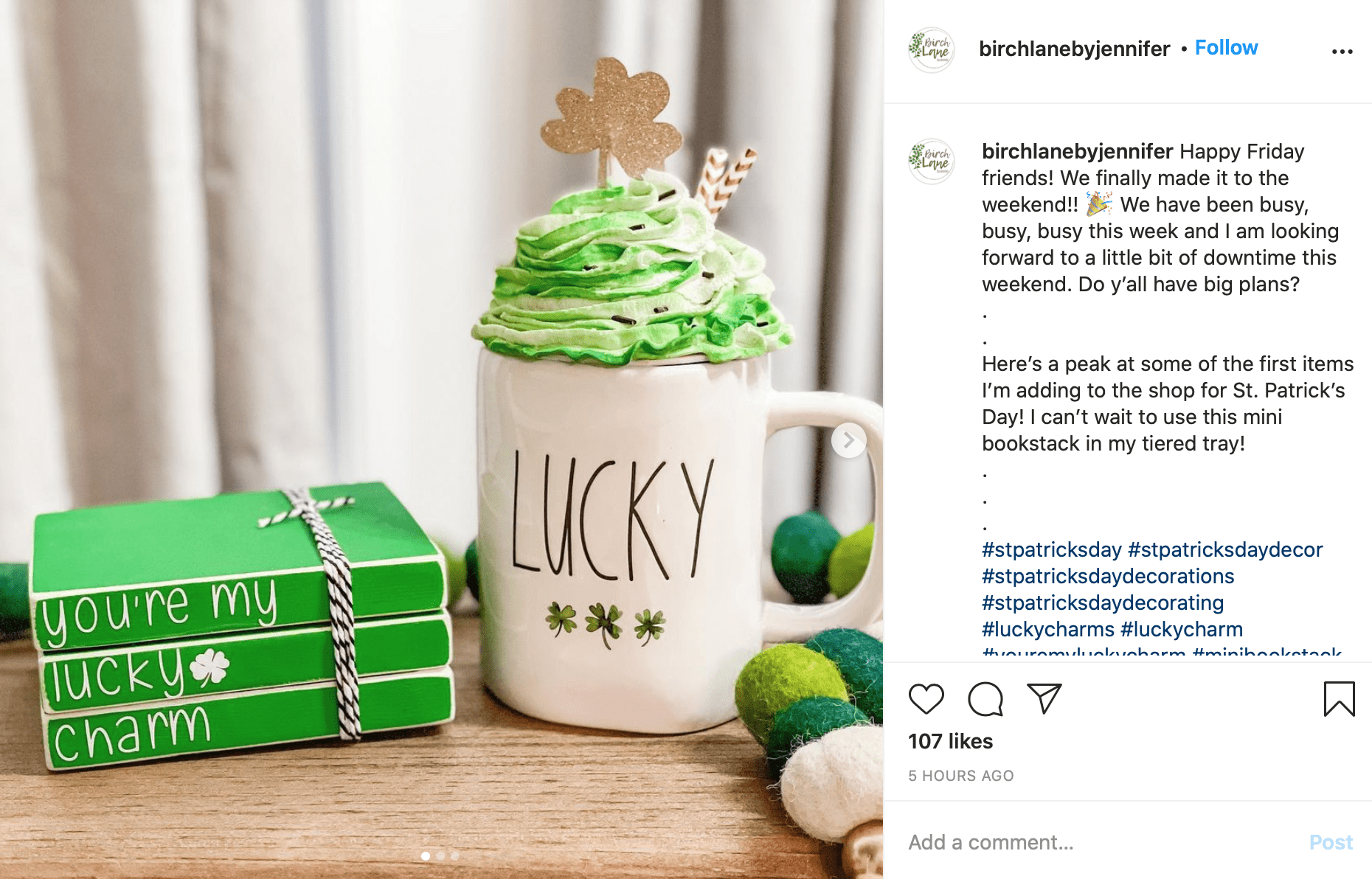 Everyone loves St. Patrick's Day! This super fun and laid-back holiday is nothing short of a celebration. To utilize it to the fullest, use these marketing ideas to make it more amusing and lively!
Read also: 15 April Marketing Ideas to Make Your Business Blossom
Join the March Madness
March Madness is a pretty big deal for basketball fans as it celebrates the NCAA Men's Division 1 College basketball.
Whether your audience (and you!) are sports fanatics or not, it is best to get on the bandwagon and utilize march madness to your fullest marketing advantage.
Also, March Madness is definitely not a one-day event; it can be a campaign for the entire month of March.
Some cool marketing ideas for #MarchMadness:
Start by creating a fun tournament for your products. Create a poll for two of your best-selling products and have the audience vote. The winning product can have a massive blowout sale for the week!

Offer discounts for people walking in wearing the patron team winning colors.

Host a basketball trivia contest on your social media and reward the winners with special discounts.

Create polls on game nights with the competing teams on your social media, and make it more fun by throwing in a discount for supporters of the winning team.

Host game nights at your stores and make it a fun event with offers for those who show up!
People love businesses that have a fun persona and team spirit. March Madness is one event where you can showcase your fun and sporty side while taking full advantage of the festivities.
Here is how this brand has capitalized on the competitive team spirit.
Even if you are a brand that has nothing to do with sports, March Madness is the perfect setup to show your diverse participation and use it to your marketing edge.
Read also: The Most Exciting October Marketing Ideas for Your Business
#HealthConscious – National Nutrition Month
Whether you are in the food industry or fitness industry or not, National Nutrition Month could be great for you.
People have become more health conscious, especially after COVID, and this might be the right time to showcase your healthy initiatives as a brand.
March marketing ideas around nutrition:
If you run a blog, promote healthy eating habits and healthy living in general through the blog.

Create fun, eye-catching posts that educate your followers on the advantages of eating nutritious and healthily.

Run a hashtag contest encouraging users to post their healthy habits and tag your brand. Choose two random winners every week and offer them a discount.

Promote healthy products from your brand and offer a special discount exclusively for the month of March.

Share the latest healthy food trends and encourage your audience to stay consistent with their healthy eating habits.

If you are in the healthcare industry, run a free online health consultation. Tie up with a healthcare provider and provide useful health tips.

Create health awareness with the right hashtags and share research-based health facts.
Educating your audience on healthy eating and lifestyle habits creates credibility for your brand, no matter which niches your brand belongs to. If you are in the healthcare, food, or fitness industry, National Nutritious Month is the right campaign to run for the entire month of March.
Of course, remember to use the right hashtags to help create the connection needed!
Read also: Sunny Strategies: July Marketing Ideas for Bright Results
Off to a fresh Start – First Day of Spring
As we get over the dull, gray winter and move onto a colorful, blossoming spring, it is in human nature to be excited for the summer months to come.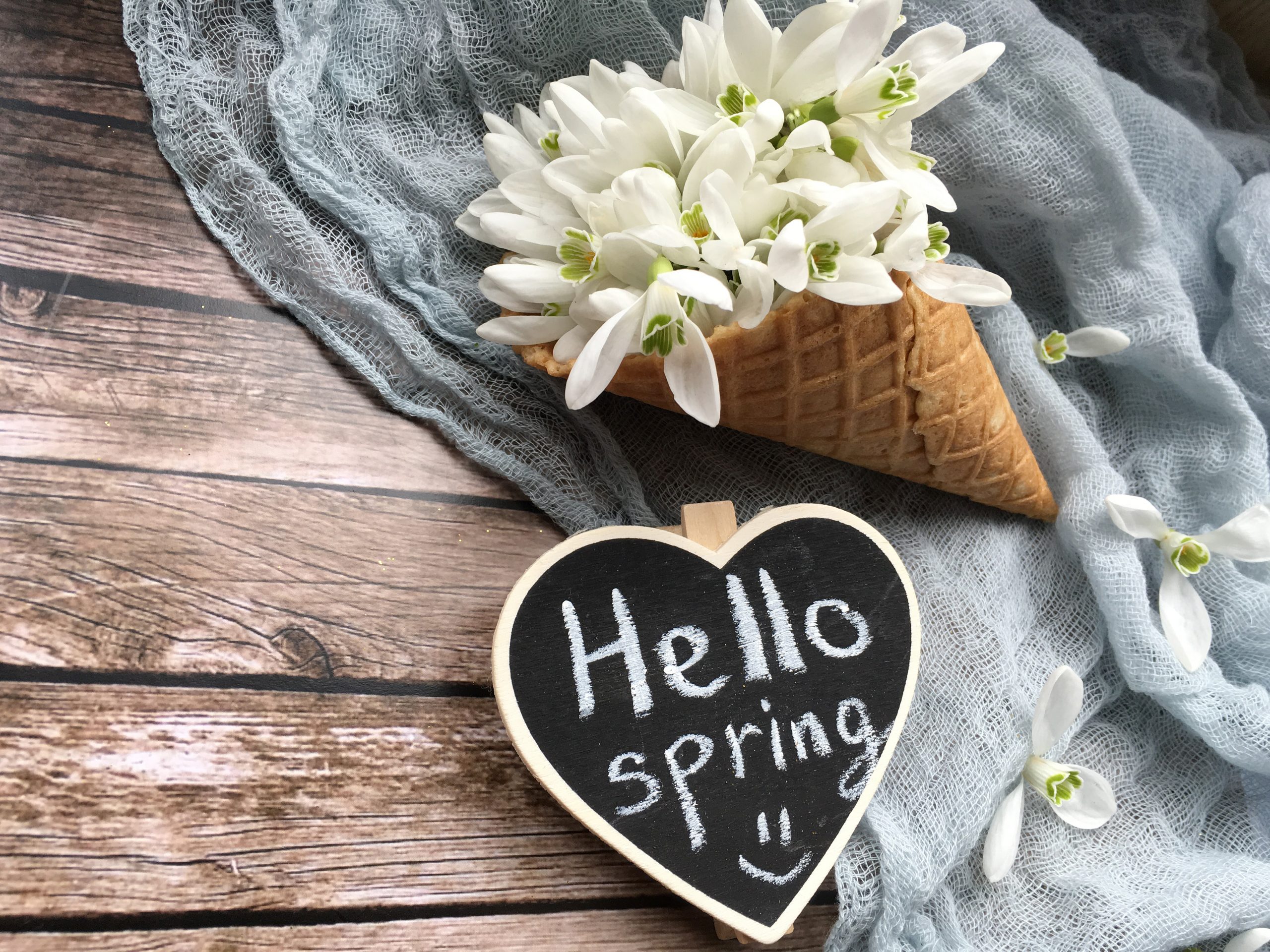 The first day of spring is the perfect time to push this idea and use promotion and sales to get people more excited for the summer months that follow!
Our expert tip – use the change of season to set the tone for the rest of the summer months!
Spring-themed marketing ideas for March:
Start by creating a beautiful Instagram theme with posts that pop and create a feeling of joy.

Create a clearance sale on all winter goods. Create or join a hashtag such as #ByeByeWinter and encourage users to use the hashtag.

Encourage people to do outdoor activities in nature. Ask your users to share photos of them spending time outdoors with a hashtag and promote them on your page.

Start a Spring sale by replacing your old winter goods with fresh Spring/summer products.

Create spring-themed videos or posts and update your socials.
Take a look at this Instagram feed of a popular food and beverage brand.
Spring is an exciting time for everyone. It is the perfect time between the too-cold winter months and the too-hot summer months. Use this exciting time for your marketing gain and promote this period efficiently with the right techniques.
Read also: Holiday Hustle: December Marketing Ideas for Maximizing Sales
Spring cleaning for clean freaks
Now that spring is here, out goes the old; in comes the new!
Spring cleaning might seem mundane, but it can be a powerful marketing idea.
How?
It starts with you. Declutter your feed and start a fresh theme that is clean and appealing.

Push your audience to declutter as well. Create posts encouraging them to declutter, both digitally and physically.

Create a declutter challenge where one item per day is donated or thrown away by your audience.

Make it fun with a spring cleaning challenge. Ask your audience to sign up and give them one cleaning task per day. Encourage your audience to post the completion of the task by tagging your business and the relevant hashtag.

Use 'organize your home office day' on March 14th to your advantage! Have a before and after photo contest and reward the best makeovers with an exclusive coupon. Or let the audience be the judge and have a poll.

Host a home/office makeover contest. Make it more exciting with a giveaway and a hashtag.

Encourage your customers and followers to clean up with a free downloadable checklist on how to declutter.

Create a variety of posts educating the audience on how to declutter mentally and physically.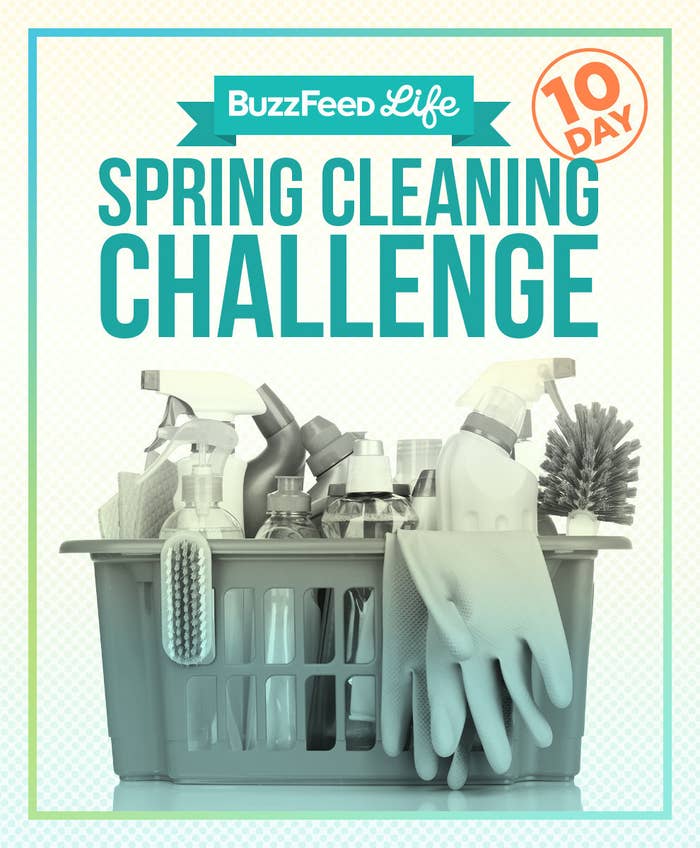 Decluttering is important, and we all know it. Encouraging your audience to declutter during the spring month helps prepare them for summer and portrays that you are a brand that promotes emotional and physical well-being.
Read also: Stepping Into Summer: A Handy June Marketing Ideas Guide
We ❤️ Our Employees – Employee Appreciation Day
Employees are the main components of the business. The audience loves a business that takes the welfare and well-being of its employees seriously. It showcases a culturally, humane, and socially responsible brand,
Are you such a business? Employee appreciation day might be the ideal theme for you to showcase this characteristic.
Here are some ways you can celebrate your employees and run some great marketing campaigns in March:
Showcase some behind-the-scenes action. Introduce the backend of your business and encourage your employees to share their life stories on your social media.

Show the human side of your organization. Encourage each employee to share what makes them unique to your organization only through our social media handle.

Host an employee day out on the Friday of every week with an outing or a fun team activity and promote it on your social media.

Host a fun event such as a pop quiz themed on the organization or employees and ask the audience to guess the answers.

Host a series of team-building activities which are also showcased on your socials.

Gift your employees something small and meaningful to show appreciation for the hard work they do daily. Let the audience choose the gift!
Here is how this tech company has learned to appreciate its employees and created a fantastic post right on the theme for employee appreciation day.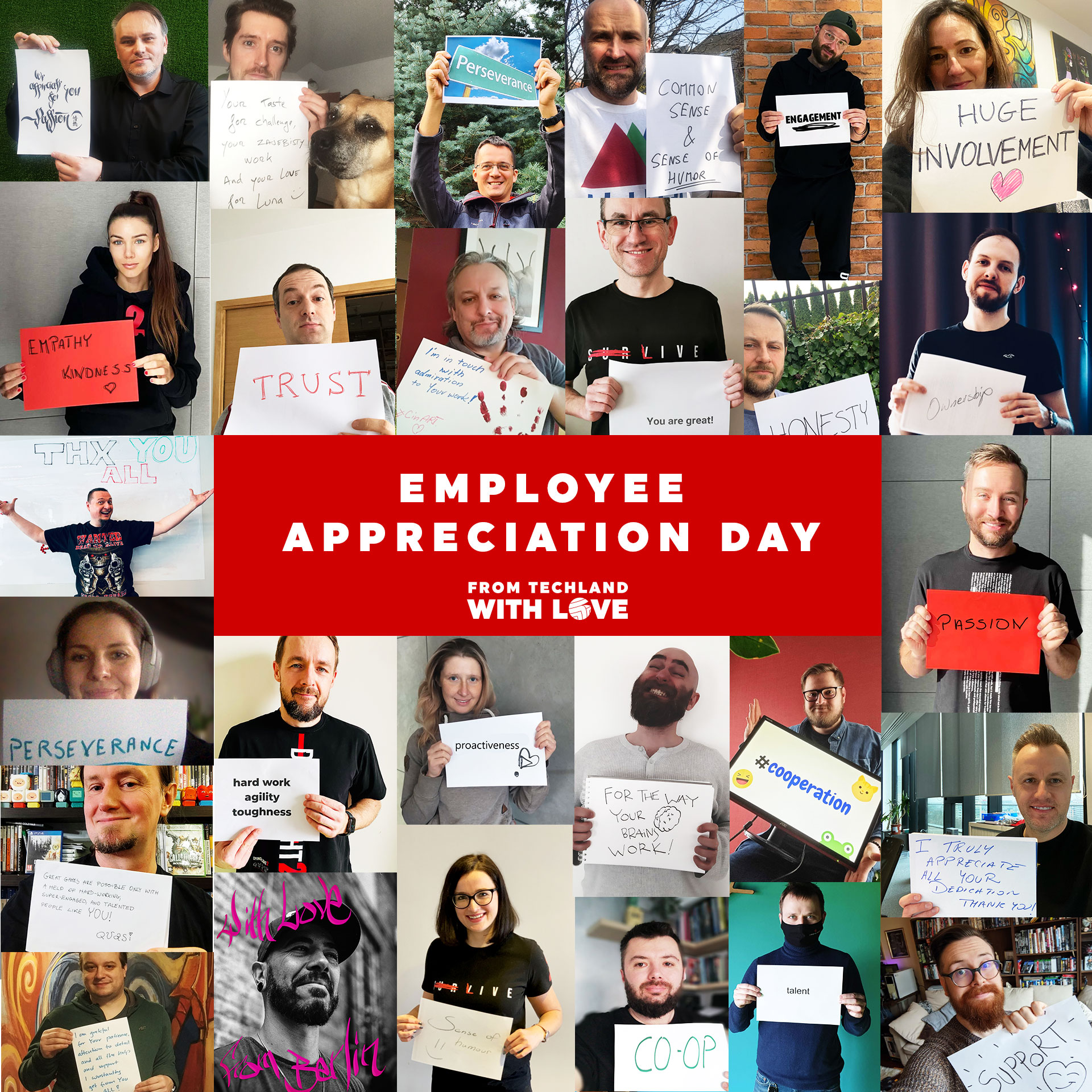 A small gesture can go a long way. An appreciated employee is also a happy employee, which will result in more happy customers. Apart from genuine appreciation, it also showcases our brand as a humane thought leader who cares for and loves its employees!
Read also: Captivate Your Audience with These Fresh February Marketing Ideas
Aww, so cute! – International Puppy Day
Who doesn't love puppies? When it comes to marketing, promotion comes in all shapes, forms, and sizes. The same can be said for puppies!
Here is how these cute furballs can help in your March marketing plan:
If you are a pup-friendly business, encourage your users to drop in with their pups and offer a special incentive for those who do.

Encourage your users to post photos with their fur buddies tagging your business.

Show off your office pup and make special videos centered around the pup.

Host a pup adoption drive at your store to encourage users to own a pup and cultivate relationships.

Share posts on the positive effects of having a pup and how important this relationship can be.
Read also: August Marketing Ideas That Can Boost Your Brand Image
Small Business Shoutouts
March is right between the end of winter and the beginning of summer. Use this prime time to promote local businesses and small outlets.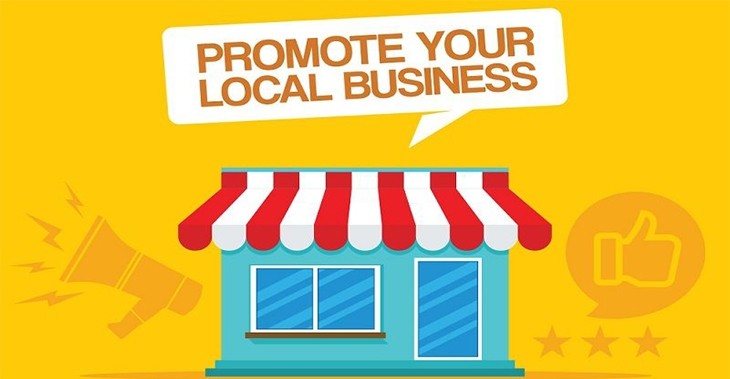 Here is how you can promote local small businesses in March:
Tie up with a small business and cross-promote your products. This cross-promotion can help a small business grow while also promoting yourself as a socially responsible business owner.

Host a giveaway every few weeks with the most loved products from a local store. Help promote these products through your socials.

Encourage your audience to buy locally. Create a contest where your audience purchases locally and encourage them to promote one local business every week or month on their social media while tagging your business too.

Host a poll with popular local and small businesses from your region. Let the audience pick one local business to promote and feature every week.
A gentle nudge to a small business might be the biggest push they need!
It also boosts your brand as a socially responsible company and makes a positive impact on the audience. Keep in mind to use the right hashtags while prompting another business!
Here is how Showwiz has smartly created a post in the form of a challenge to promote local businesses 👇🏻
Read also: 10 Christmas Marketing Ideas For Some Sales Magic✨
Wrap Up
March is a super fun month with lots of exciting holidays to look forward to. It is a great time to connect with the audience and set a solid foundation for your marketing.
With the fresh spirit of spring, everyone is ready as ever for a change. Create a content calendar that caters to new marketing goals and make sure to keep it fresh and lively.
If you liked any of these March marketing ideas, do share this article and tag us! If you have better ideas, let us know in the comments.