As the Spring season rolls in, symbolizing fresh starts and growth, we also notice a burst of energy in business. Let this renewing season lead you to untapped possibilities with some cool May marketing ideas, then?
And here's the proof: Did you know customer engagement tends to surge in May? In fact, according to the National Retail Federation, consumers planned to spend a whopping $35.7 Billion for Mother's Day alone.
Based on the 2020 Adobe Digital Economy Index, online spending of shoppers surpassed the $2 Billion mark each day throughout May.
There's more. Google Trends highlights the increased interest in topics like "fitness" and "mental health" in May. This matches with National Physical Fitness and Sports Month and Mental Health Awareness Month.
This data shows that observance-based marketing strategies aren't just an idea but a proven strategy. Imagine using these May marketing ideas to boost your sales and rapidly increase your customer base. Sounds like a launching pad for success, doesn't it?
Let's grab this opportunity to make your business flourish in all its glory! But first, we'll take a closer look at the power of theme-based marketing.
The Power of Observance-Based Marketing
Jumping into the springboard of observance-based marketing is not just about being part of the tide; it's an intricate dance of aligning your brand values with your audience.
Done with finesse, it doesn't just enhance your brand's relevance – it turbocharges customer engagement, painting your brand in hues that echo the sentiments of your customers.
Delving into the stats, 64% of consumers shared values as the primary reason they have a relationship with a brand (Harvard Business Review). This reveals the transformative potential of observance-based marketing. It's not just about the product or service anymore – it's about standing for causes that resonate with your audience.
Whether it's Women's Health Week or Mental Health Awareness Month, these observances aren't just dates on the calendar. They're opportunities to showcase your brand's commitment to societal issues.
This is where observance-based marketing really shines. It strengthens the emotional bond with your customers, knitting a narrative of shared values and common causes.
More than a fleeting week of observance, this form of marketing opens the door to meaningful conversations and relationships with your audience.
By showing that your business cares beyond profits, you're nurturing trust – the cornerstone of any long-lasting customer relationship.
And trust, as we all know, isn't just built in a day or a week; it's the outcome of consistent, authentic interactions that extend well beyond the observance week itself.
Read also: September Marketing Ideas to Boost Your Bottom Line
May Marketing Ideas To Recalibrate Your Brand Positioning
There are plenty of marketing ideas for May, but that's why it can be overwhelming. Where do you start? How do you go about your May marketing plan?
In the following sections, we'll guide you through some marketing ideas that can help reposition your brand to align with your customer's values.
Read also: November Marketing Ideas: Ignite Your Business Growth This Fall
Marketing For Month-Long Observances in May
May offers a broad canvas for creating value-packed marketing campaigns.
In this section, we will particularly discuss how to nail the themes of primary month-long observances in May, namely National Physical Fitness, Sports Month, and Mental Awareness Month, in your marketing strategy to amplify your brand voice and engage the audience with resonating messages.
Let's first see the list of month-long observances in May and discuss the primary ones.
| | | | |
| --- | --- | --- | --- |
| Food | Health | Lifestyle | Social Awareness |
| American Cheese | Physical Fitness and Sports | American Wetlands | Jewish American Heritage |
| Asparagus | Women's Health Care | Better Speech and Language | Haitian Heritage |
| Barbecue | Better Sleep | Be Kind to Animals | Older Americans |
| Egg | Blood Pressure Education | International Drum Month | Asian American Heritage |
| Hamburger | Bladder Cancer Awareness | Date Your Mate | Pacific Islander Heritage |
| Lettuce | Borderline Personality Disorder Awareness | Deck Safety | Foster Care |
| Mediterranean Diet | Brain Cancer/Tumor | Biking | Military Appreciation |
| Salad | Youth Traffic Safety | Chamber Music | Speech and Hearing Awareness |
| Salsa | Ultraviolet (UV) Awareness | Family Wellness | |
| Strawberry | Correct Posture | Get Caught Reading | |
| | Dental Care | Gardening for Wildlife | |
| | Ehlers-Danlos Syndrome | Inventors | |
| | Employee Health and Fitness | Local and Community History | |
| | Fibromyalgia Education and Awareness | Photography | |
| | Healthy Vision | Pets | |
| | Meditation | Preservation | |
| | Melanoma/Skin Cancer | Recommitment | |
| | Mental Health | Moving | |
| | Lung Health | Share a Story | |
| | Physiotherapy | Show Your Smile | |
| | Maternal Mental Health | | |
National Physical Fitness and Sports Month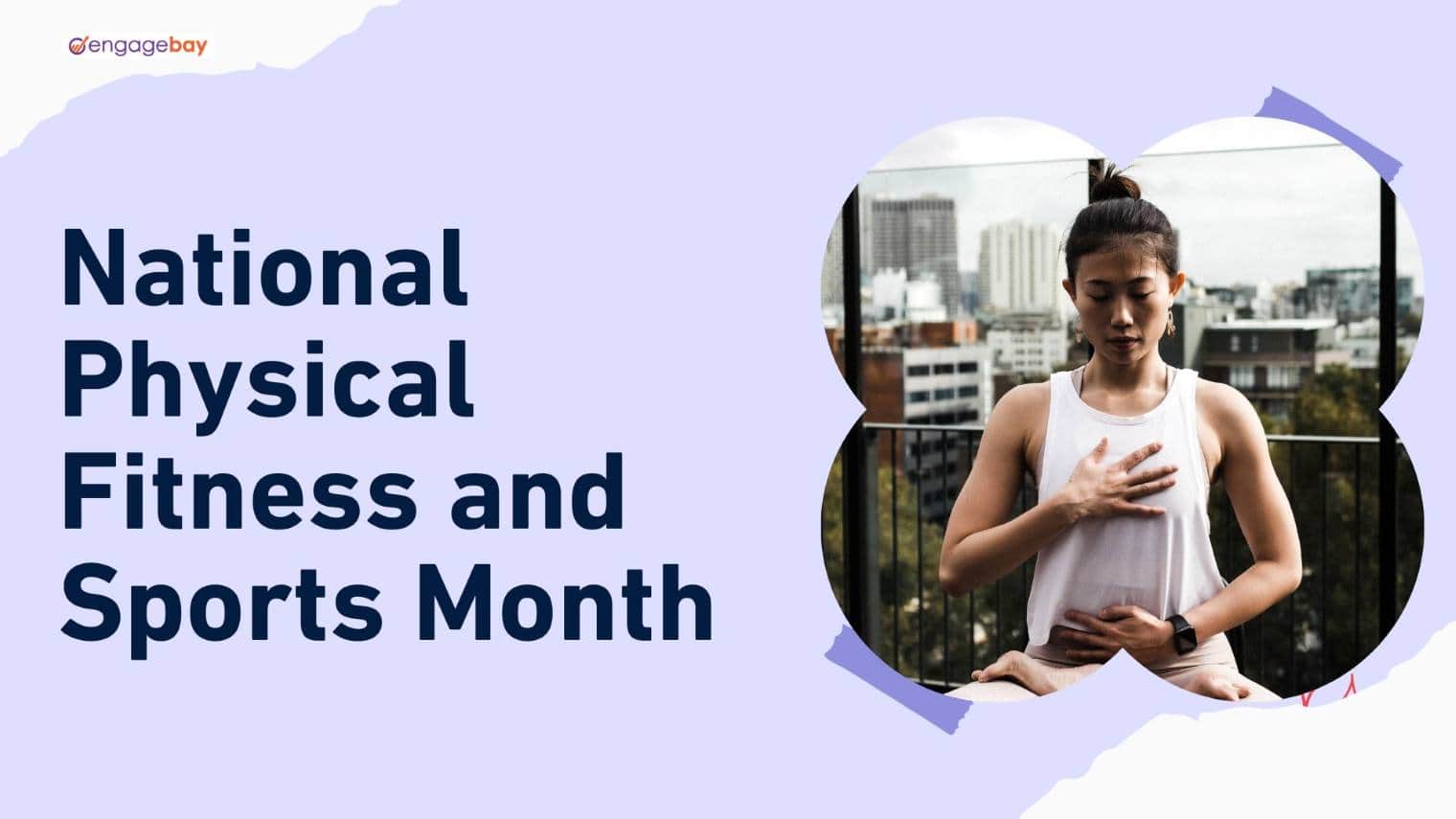 May, designated as National Physical Fitness and Sports Month, serves as an excellent springboard to promote an active and healthy lifestyle. It's your chance to demonstrate how your product or service supports these goals.
For instance, if you're a fitness brand, offer specialized workouts for the month, perhaps partnering with fitness influencers for exclusive sessions to reflect the theme of the month.
If you're in the food or health industry, you could run a 'Fit Food' campaign, offering discounts on healthy products or sharing nutritious recipes and so on.
Mental Health Awareness Month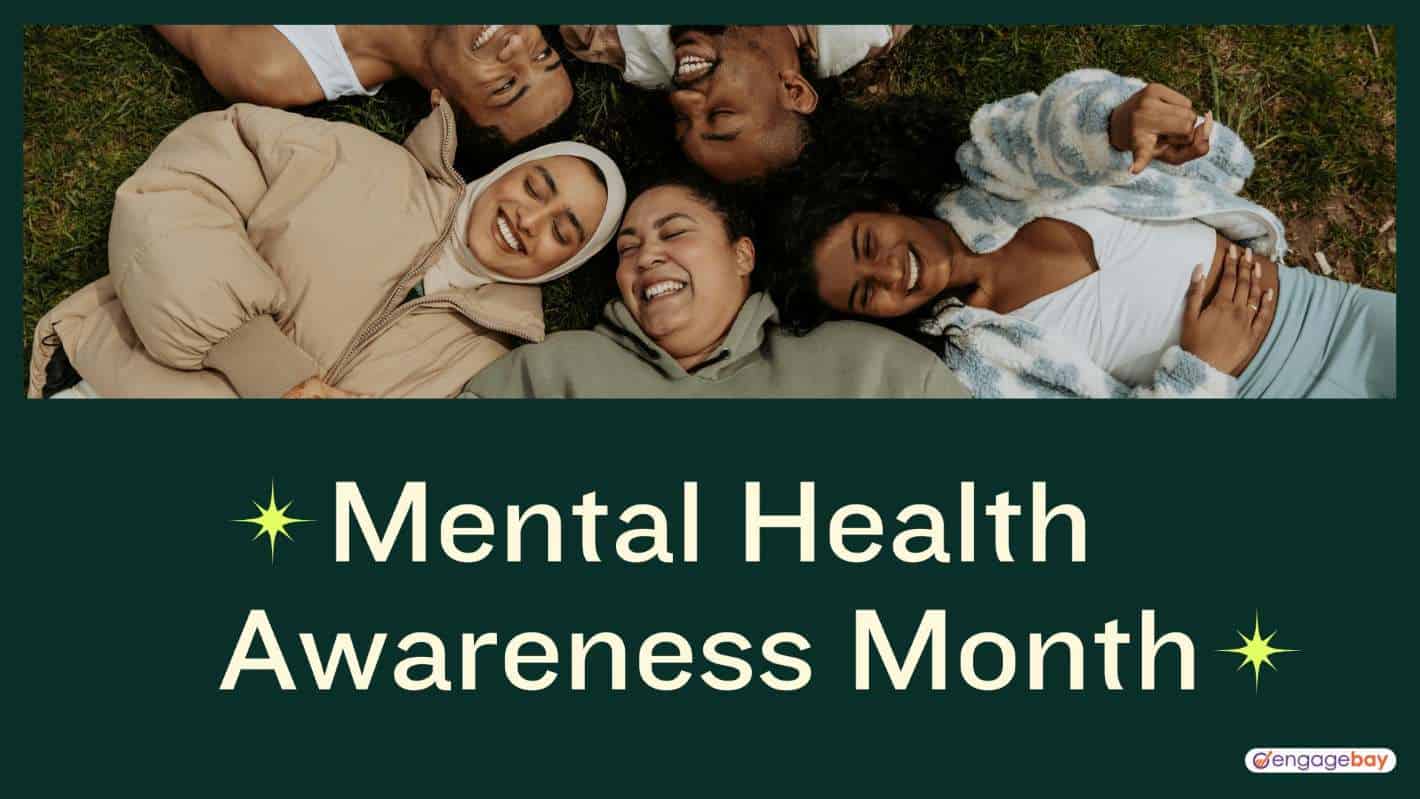 May also marks Mental Health Awareness Month, a critical observance considering the growing emphasis on mental health.
As a brand, you could weave this theme into your May marketing ideas, showing support and raising awareness for this essential cause.
You can also share interesting mental health stats, myths-facts, common issues, and more.
A corporate brand might hold webinars discussing mental health in the workplace, while a lifestyle brand could share self-care tips and techniques. You can even collaborate with mental health organizations or professionals to create a more substantial impact.
Read also: Stepping Into Summer: A Handy June Marketing Ideas Guide
Why it works
Month-long observances work because they appeal to the collective consciousness of the public.
They evoke emotions, create a sense of community and spark discussions.
By aligning your brand with these causes, you resonate with your audience, strengthening your brand image and enhancing customer loyalty.
Marketing ideas to try for month-long observances in May
Host virtual fitness challenges or workshops during National Physical Fitness and Sports Month to engage your audience and promote healthy habits. Collaborate with fitness influencers or trainers to provide added value.

Offer resources or conduct webinars about mental health during Mental Health Awareness Month. This can range from self-care tips to professional insights about managing stress.
Read also: The Most Exciting October Marketing Ideas for Your Business
Marketing For Week-Long Observances in May
In the grand canvas of May, two-week-long observances stand out like vibrant brush strokes – Women's Health Week and National Small Business Week.
Here is the list of week-long May observances:
| | |
| --- | --- |
| Week | Observance |
| First full week of May | Small Business Week – April 30-May 6 |
| | Wildflower Week |
| | Choose Privacy Week |
| | Screen-Free Week |
| | National Hospital Week |
| | National Hurricane Preparedness Week – April 30-May 6 |
| First Sunday through Monday of May | National Pet Week |
| | North American Occupational Safety & Health Week |
| | Public Service Recognition Week |
| First Monday of May | Teacher Appreciation Week – First Monday through Friday in May |
| Second week of May | National Etiquette Week – first Monday of the second full week |
| | National Salvation Army Week – second full week |
| | American Craft Beer Week – a second full week |
| | Nurses Week – May 6th – May 12 |
| Third full week of May | National Emergency Medical Services Week |
| | National Police Week – Week of May 15 |
| | Public Works Week – Week of May 15 |
| | National EMSCULPT Week – Week of May 20 |
| | Bike to Work Week – Week of National Bike to Work Day |
As a savvy marketer, you can turn these observances into engaging narratives, creating May marketing ideas that resonate with your audience and truly set your brand apart.
Read also: Captivate Your Audience with These Fresh February Marketing Ideas
Women's Health Week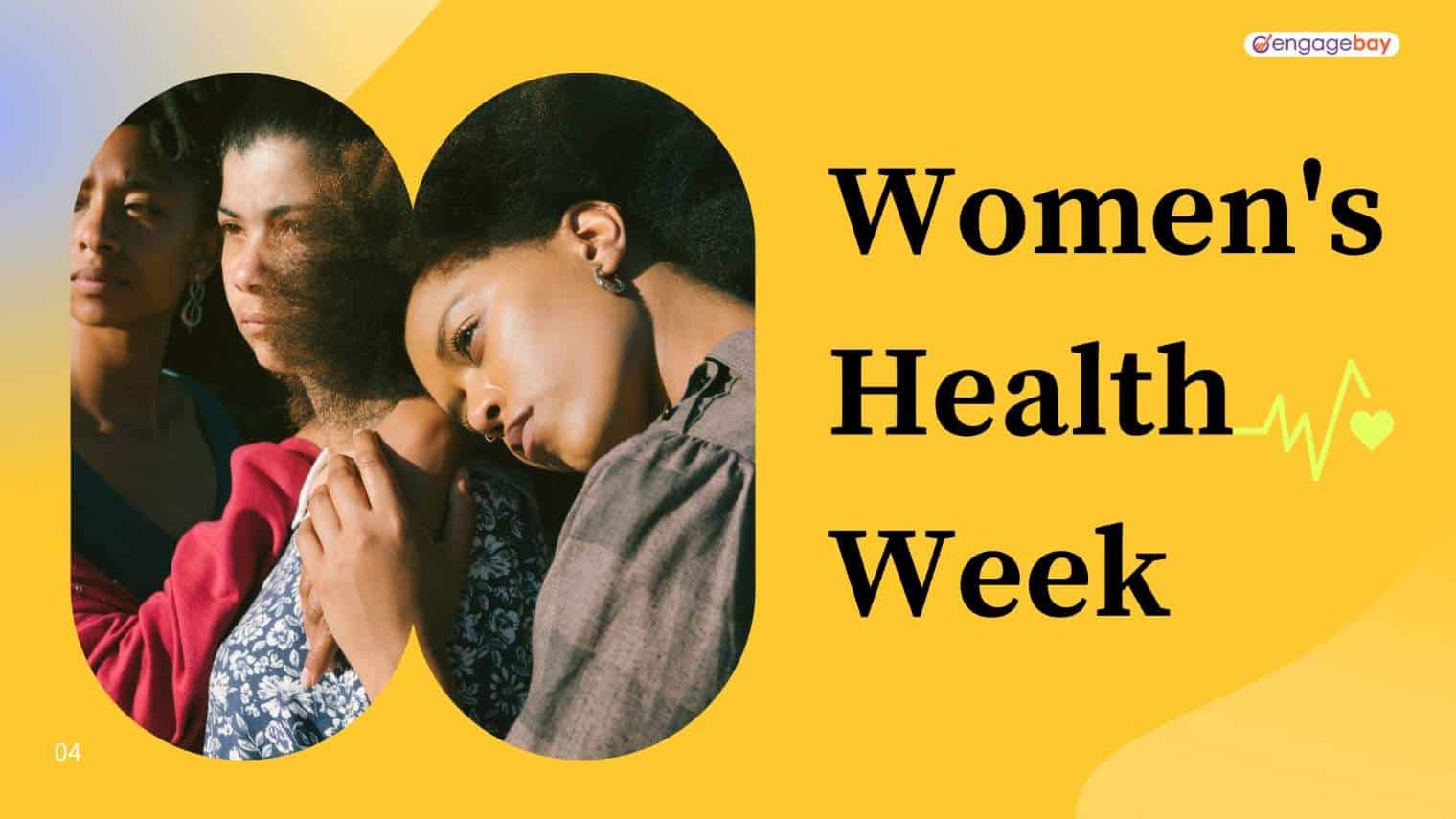 During Women's Health Week, audiences are receptive to messages about health and wellness. Seize this opportunity to cater to this heightened interest.
If you're in the wellness or fitness industry, consider creating content that emphasizes women's health, like a series of workout routines or diet tips. Retailers could offer discounts on women-centric health products, while service industries could run special promotions.
The goal is to create a dialogue about women's health and emphasize your brand's commitment to this crucial issue.
Read also: 15 April Marketing Ideas to Make Your Business Blossom
National Small Business Week
National Small Business Week is an excellent opportunity to spotlight the entrepreneurial spirit.
If you're a small business, share your journey, your dreams, and your aspirations. Show your audience the faces behind the brand.
Consider showcasing local small businesses that align with your brand values if you're a larger business. This not only humanizes your brand but also fosters a sense of community.
Read also: Sunny Strategies: July Marketing Ideas for Bright Results
Why it works
Observance-based marketing boosts your brand's relevance by syncing your marketing messages with the zeitgeist.
It creates a common thread between your brand and your audience, which significantly enhances engagement.
Not only does it make your brand look attuned to societal matters, but it also demonstrates your flexibility and creativity in integrating various themes into your marketing mix.
Read also: January Marketing Ideas – 17 Ways to Connect with Your Audience
Marketing ideas to try for week-long observances in May
During Women's Health Week, you could offer special discounts on women's health products or services. Consider partnering with health professionals to host Q&A sessions or webinars on women's health topics.

For National Small Business Week, spotlight other local small businesses on your social media pages. This promotes community and can help form beneficial relationships with other businesses.
Read also: 50+ March Marketing Ideas To Make Your Brand Unmissable
Marketing for Single-day Observances in May
In this section, we'll tell you what you can do for single-day observances and holidays in May.
Mother's Day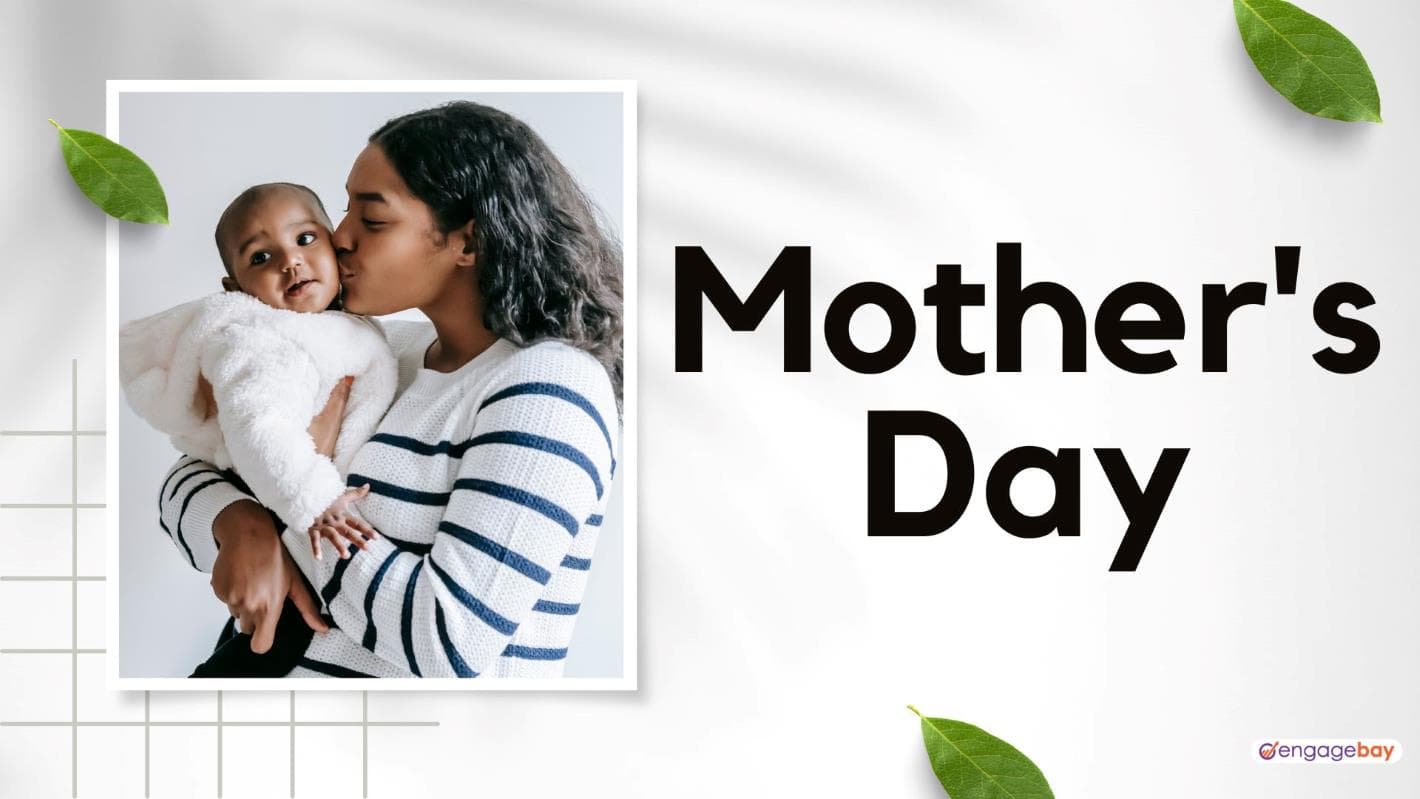 Mother's Day, a cornerstone of May, opens avenues for heartfelt May marketing ideas.
Your campaigns could celebrate motherhood in all its diversity, from simple thank you messages to special discounts or promotions targeted towards mothers.
Sprout Social data reveals that social media engagement tends to peak on Mother's Day, underlining the potential of event-specific marketing campaigns.
For instance, consider a jewelry brand that offers a curated "Mother's Day Collection" – it's a simple yet powerful campaign that aligns perfectly with the occasion, demonstrating a deep understanding of customers' needs during this period.
Cinco de Mayo
This Mexican holiday celebrated widely in the United States, is another fantastic theme for your May Marketing Ideas. The key here is to approach it with sensitivity and authenticity, understanding its cultural significance.
You could create a festive atmosphere, offering traditional Mexican recipes on your blog or launching a limited-time product line inspired by the event.
An example that comes to mind is a restaurant chain that introduced a "Cinco de Mayo Special Menu".
The campaign, rich in authenticity, saw massive customer participation and boosted sales significantly.
Read also: Holiday Hustle: December Marketing Ideas for Maximizing Sales
Memorial Day
Memorial Day marks a day of remembrance for those who have served in the United States armed forces. Marketing on this day should be respectful and honor the spirit of the occasion.
The following short video is how EngageBay did it:
You might consider offering military discounts or perhaps contributing a portion of your profits to veterans' charities.
A clothing retailer's campaign, for instance, offered significant discounts to military families and made contributions to a respected veteran organization.
The initiative was highly appreciated, strengthening the brand's image.
Why it works
Thematic marketing centered around holidays and observances works because it resonates with what's already top-of-mind for consumers.
It creates a sense of relevance, driving engagement and sales.
Moreover, when these campaigns are crafted with sensitivity and respect for the occasion, they enhance brand identity and foster deeper connections with customers.
Read also: August Marketing Ideas That Can Boost Your Brand Image
May marketing ideas for special days
Create a holiday-themed product bundle. For example, for Cinco de Mayo, you bundle all your Mexican-inspired products together for a discounted price.

Develop a marketing campaign specifically for each holiday or observance in May, using unique hashtags to enhance online visibility and engage with your audience.

For Mother's Day, offer exclusive packages or services. For example, if you're in the beauty industry, offer a "Pamper Your Mom" spa package at a special rate.

Leverage these observances to highlight your brand's values. For instance, during Memorial Day, share content that honors veterans and showcases your brand's patriotism.
Read also: Try These Proven Veterinary Practice Marketing Ideas
Marketing With Exclusive Content for May
Finding your May marketing ideas should be akin to revealing a canvas drenched in the vibrant colors of Spring.
Your content, whether it's blogs, social media posts, or emails, should echo the spirit of the season.
For example, why not brighten your email newsletters with spring-inspired designs? A study by Mailchimp found that the open rate for marketing emails tended to increase in May, suggesting enhanced customer engagement during this period.
Or consider curating blogs that delve into themes relevant to May's observances.
Your audience should feel the essence of May coursing through every piece of content.
Why it works
The science behind this strategy is as intriguing as the strategy itself. Our brains are wired to respond to novelty – it piques our interest and makes us want to explore further. Moreover, humans have a strong sense of association.
When your content reflects the themes relevant to May, it creates a connection that makes your audience feel more engaged and understood.
This dynamic duo of novelty and association is what makes your May marketing ideas stick.
How to make May-specific content
While the observances and holidays provide numerous opportunities for brand connection, the real magic lies in the strategic execution of your May marketing ideas.
To maximize the impact of your campaign, it's important to create May-specific content that resonates with the season and events. But how does one go about this?
Here's a step-by-step guide to creating content that not only captures the essence of May but also captivates your audience:
Step 1: Understand May's themes
Research and familiarize yourself with the events and observances that define May. From Mental Health Awareness Month to Mother's Day, understanding these themes will set the foundation for your content.
Step 2: Weave the themes into your narrative
Once you have a solid grasp of May's themes, start incorporating them into your content. Use narratives that resonate with these themes and add value to your audience.
Step 3: Spring-ify your visual appeal
May is synonymous with the beauty of Spring. Reflect this in your content through vibrant colors, floral motifs, and fresh designs. Be sure that your visuals echo the spirit of May.
Step 4: Engage in dialogue
Every piece of content is a chance to engage with your audience. Use language that resonates with them and reflects the themes of the month. Create posts that encourage interaction and spark conversations around these themes.
Step 5: Monitor engagement
Track how your audience interacts with your May-specific content. Use tools like Google Analytics or social media insights to see what works and what doesn't.
Step 6: Use data-driven insights
Leverage the data from step 5 to improve your content. If a certain type of post is getting more engagement, create more of such content. Continually refining your strategy based on data-driven insights will make your May marketing campaign more effective.
Marketing ideas to try for May-specific content
Introduce a "May Trivia" series on your social platforms to engage followers and educate them about the month's history and significance.

Leverage user-generated content. Encourage your customers to share their photos or stories related to your brand and May observances.

Use May-specific content as an opportunity to introduce limited-time offers or discounts. For instance, offer discounts to the first set of customers who engage with your May-specific posts.

Tailor your brand messaging to incorporate the themes of May, which can make your brand appear more relatable and in tune with the season and events.
Read also: 15 Gym Marketing Ideas to Pump Up Your Client Base
Create a Deal-of-the-Month Campaign for May
In the world of marketing, the month of May presents a golden opportunity. A standout strategy is launching a unique deal of the month – a magical concoction that attracts customers, drives sales, and fosters customer loyalty.
As one of the key May marketing ideas, a well-crafted deal serves as a beacon that guides your customers toward your brand, promising them a journey worth their time and money.
Why it works
So, what's the psychology that powers this strategy? The answer is twofold: value perception and urgency. Value perception is all about the perceived gain customers get from a deal.
It's not just about price slashes or bonuses; it's about making customers feel they are getting more than what they're paying for. This boosts their satisfaction and loyalty.
But value perception is just half the story. The other driving force is urgency. Deals are typically time-bound, creating a sense of urgency that prompts customers to act swiftly.
Miss it, and the opportunity is lost.
This combination of high value and urgency makes the deal-of-the-month strategy an irresistible customer lure.
Actionable steps to create a deal-of-the-month campaign for May
Step 1 – Brainstorm:

Begin with brainstorming deal ideas that align with both May's themes and your offerings. The deal must resonate with your customers and offer tangible value that is hard to ignore.

Step 2 – Find a way to induce an urgency element: Use the time-bound nature of your deal to create a sense of urgency. Leverage phrases like "Limited Time Offer" or "Only in May" to push customers toward making a purchase decision.
Step 3 – Plan and execute: Next, chart out a detailed plan covering the deal's duration, conditions, and communication channels. Execute your plan meticulously, ensuring your deal is prominently displayed across all your marketing platforms.
Step 4 – Promote: Now, it's showtime. Promote your deal with compelling language and captivating visuals. Ensure your customers know what's in store for them and why they can't afford to miss it.
Step 5 – Evaluate: Post-campaign, don't forget to evaluate its performance. Review metrics like engagement, sales, and customer feedback to glean insights for future campaigns.
Ideas to try for deal-of-the-month marketing campaigns in May
Try a tiered discount strategy where customers get a bigger discount the more they purchase. This encourages larger orders and can increase sales.

Highlight a specific product or service each week of May as part of your "Deal of the Month" campaign to keep customers engaged and looking forward to the next deal.

Introduce exclusive bundles or packages as part of your deal of the month. For instance, create a "May Fitness Bundle" during National Physical Fitness and Sports Month.

Use your 'Deal of the Month' campaigns to emphasize your brand's commitment to value and customer satisfaction. Use this strategy to showcase best sellers or under-appreciated products to remind customers of your range.
Read also: Experiential Marketing Ideas for 'Next Level' Brand Campaigns
Do's and Don'ts For Your May Marketing Plan
That's where we'd stop with the barrage of ideas 😅
In this section, you can quickly go through some do's and don't if you haven't aced your May marketing game yet.
Do's
Understand your audience: Tailoring your marketing strategies to your target audience's unique interests, needs, and behaviors is paramount.
Be genuine: Ensure your campaigns resonate with your brand image and values. Authenticity can significantly enhance your brand's connection with its audience.
Monitor results: It's essential to keep a close eye on your campaign performance. Utilize key metrics to measure the effectiveness of your campaigns and adjust strategies as necessary.
Diversify your marketing channels: Reach your audience where they are most active. Utilize a variety of channels to broaden your reach and engagement.
Stay relevant: Make sure your marketing messages are timely and relevant, especially leveraging May-themed events and observances to their fullest extent.
Don'ts
Don't neglect your brand's voice: While it's important to align with the themes of May, don't lose your brand's unique voice in the process.
Don't ignore feedback: Customer feedback, whether positive or negative, provides valuable insight. Ignoring it could lead to missed opportunities for improvement.
Don't spam your audience: Overloading your audience with promotional content can be counterproductive. Maintain a healthy balance between informative, engaging content and promotional messages.
Don't forget about your existing customers: While attracting new customers is important, don't forget to retain and nurture relationships with your existing customer base.
Don't plan your marketing at the last minute:

May marketing requires thoughtful planning. Rushed, last-minute campaigns can lack cohesiveness. If you want to win at marketing for May's special themes, you've got to plan this well in advance.
Read also: Best Recruitment Marketing Ideas: Attract and Retain Top Talent
Integrating Offline and Online Campaigns for May Marketing
When crafting your May marketing strategies, it's crucial to create a seamless brand experience that resonates across all channels – both online and offline. This not only enhances your brand's image but also builds customer trust.
To begin, you can leverage offline events for online engagement, promoting such events on your social media platforms to generate buzz and excitement.
Don't let the conversation end with the event – share highlights on your digital platforms post-event to maintain the momentum and engage with your audience further.
But integration goes both ways. Your online channels can act as a powerful tool to drive offline engagement.
For instance, offer exclusive in-store deals or promotional events through your online platforms. This not only drives footfall to your physical store but also makes your audience feel valued and special.
Don't forget the importance of tracking and measuring your efforts.
Employ the use of tools and strategies that allow you to track your customer's journey across online and offline channels.
By doing so, you can measure the effectiveness of your integrated campaigns, providing invaluable insights that can inform and optimize your future marketing strategies. In the dynamic world of marketing, these insights can be the key to staying ahead of the curve and ensuring your May marketing efforts bear fruit.
Read also: 12 Farmers Market Ideas: What to Sell to Stand Out
Wrap Up
As we wind down this explorative journey, it's clear as crystal that May isn't just a month for marketers – it's a treasure chest of opportunities.
Its unique blend of observances and the essence of Spring in the air provides the perfect canvas to paint your creative May marketing ideas.
The five strategies discussed, from marketing around month-long observances to creating May-specific content, are not just ideas but roadmaps to success. By aligning your brand narrative with these themes, you can forge deeper connections with your audience, catapulting your business growth and skyrocketing brand visibility.
However, remember that marketing isn't a set-it-and-forget-it deal. It's an ever-evolving landscape that demands continuous learning, experimentation, and adaptation. What worked today might need tweaking tomorrow, and that's the beauty of it.
Let your May marketing ideas be the song that resonates with your audience this Spring while your brand orchestrates the symphony of growth and success. Because when you understand and leverage the rhythm of May, you don't just create a campaign – you create an experience. And that, dear readers, is the key to truly supercharging your business.