If you aren't using landing pages to help sell your products or services, you could be missing out on countless potential customers. Let's go over how to make a landing page that has a high conversion rate because there's more to it than many people initially realize.
If you enjoy watching a video rather than reading, here's the explainer video for this article:
Wait a Minute — What is a Landing Page?
First, it helps to better understand what a landing page is, what it aims to accomplish, and why you might need one.
A landing page acts as a standalone web page that you design specifically for marketing or advertising something. It's a page you send visitors to when you want them to do something in particular, hence the term "landing page" — they "land" on this page.
This means that a landing page has its own unique call-to-action (CTA). Here's one example. This is a landing page for a free guide. The CTA is to fill out the fields for your first name and email address and click the button.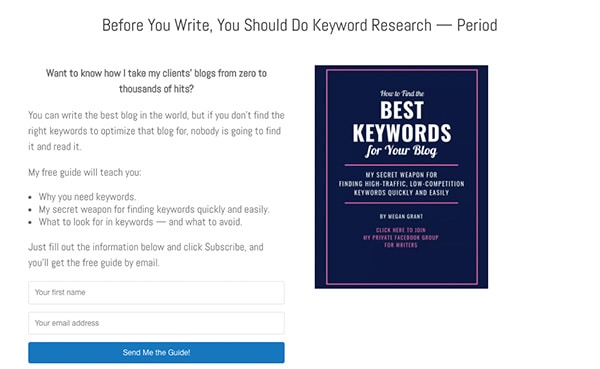 Digital marketers often creating landing pages when they're running some kind of paid promotion or ad campaign. Landing pages are a common destination of Google PPC ads and Facebook ads.
Let's go over an example together to better illustrate this.
Say you're a dentist, and you want to run a Facebook ad for a teeth whitening special you're running for the week. The ad might be promoting a 50%-off sale you're offering. You would want to link that ad to a landing page you create, and on that page, visitors can quickly and easily schedule their appointment and possibly even pay ahead of time.
In this case, the CTA is having them schedule an appointment. That's the action you want them to take, and that's what the landing page is designed to do — get people to schedule a time. Know that your CTA can be whatever you want it to, whether that's getting people to buy something or even just submit their email address to join your mailing list. It's an action that you want them to take, plain and simple.
You Can Use Landing Pages However You'd Like!
To be clear, you don't use landing pages only in paid campaigns. You can create a landing page for just about anything and still send traffic there organically (read: for free). It's just that digital marketers are often eager to spend money on ads because they can work so well.
You now have an idea of what a landing page is and what it's used for, and you might be itching to dive right in with a page of your own — but it's not that simple. Your landing page needs to be constructed so that when people arrive on it, they're not only willing but eager to follow through with your intended CTA. Digital marketers often make landing pages, drive tons of traffic to them with ads, and then end up frustrated, because even though they got the traffic, hardly anyone converted. A landing page that doesn't get you leads or paying customers isn't doing its job.
Let's talk about how you can start crafting a landing page that really drives those conversions through the roof.
How to Make a Landing Page That Actually Works
Here are a few tips to keep in mind as you create your next landing page.
1. Offer Something of Value That Solves a Problem for Your Visitors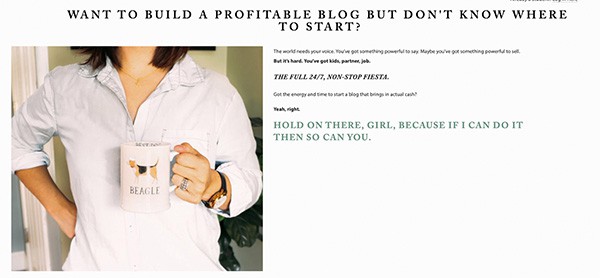 The first step in learning how to make a landing page is to think of something your followers truly care about. You need to pique your visitor's interest. If you're not offering something enticing that they stand to benefit from — like the example from Blogging to Win, above — they have no reason to follow through with your CTA.
Sometimes, this is simple to achieve. If you're the dentist offering the discounted teeth whitening service, you're offering a popular service that a lot of people can't typically afford. The discount is a huge incentive for them since the full price might be a barrier to purchase.
However, let's say you're trying to get people to sign up for your mailing list. A simple, "Hey! Sign up for our mailing list!" isn't going to cut it. Ask yourself this question: "What do they get out of this?" That's exactly what they want to know before handing over their name and email address.
In this case, your landing page needs to give them an idea of what kind of material you send out and what they stand to gain from it. What problems do you solve? Are there going to be freebies, discounts, contests, or giveaways? If they give you their email address, what do you give them?
You can really emphasize this by taking your visitors on a quick journey. They're at Point A right now. They're frustrated. They need help. You can help them! So, you take them on a journey to Point B, which is where they want to be.
This is what your landing page needs to convey. How are you going to help them get from where they are now to where they want to be? Answer that question and give them enough proof (more on this later), and your landing page will convert like crazy.
2. Keep Your Landing Page Simple
Simple converts, but what exactly does this mean?
It means that your landing page shouldn't say any more than it absolutely has to.
Your copy should be concise, and you should require visitors to fill out as little information as possible. For instance, if you don't really need their phone number, don't ask for it.
Now, this doesn't mean that your landing page needs to be short. It can absolutely be on the longer side but remember these things:
Get to the point early on, in case they don't finish reading.
Allow them to opt-in (meaning follow your CTA) near the top of the page, as well as scattered throughout the remainder of the page.
Your copy should still be specific to the landing page and CTA, even if you decide to go with something longer.
People are busy, distracted, and they have short attention spans. Keep things as simple, quick, and straightforward for the visitor as possible.
4. Offer Social Proof
Social proof is everything. People might not trust you right off the bat, but they'll take into high consideration what others say about you. Examples of social proof are customer reviews, testimonials, and even case studies.
Don't underestimate just how powerful customer reviews are. Over and over again, research is proving that they significantly impact people's purchasing decisions. Here's an example of a testimonial from our own website.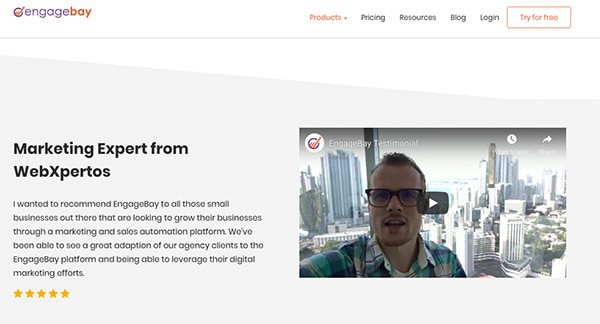 For instance, according to an infographic by business 2 community, 88% of shoppers trust online reviews as much as they trust personal recommendations. 72% says that positive reviews help them trust a local business more. Furthermore, 72% won't take action (read: spend money) if they haven't yet read a positive review of the business.
So, reviews? They can be a serious game-changer for your landing page. Scatter them throughout the page to help keep your visitors engaged and interested.
If you really want to leverage the power of reviews, ask some of your happy customers to record video reviews for you — which brings us to our next point.
5. Utilize Video
A landing page made entirely of text is a huge no-no. Your visitors will drop like flies. A page filled with nothing but words is plain, boring to look at, and hard to read. Expect your bounce rate to skyrocket.
Pictures certainly help — but choose them wisely. You already know that they need to be high-quality, but did you know that pictures with smiling people tend to convert better? Also, consider adding a photo that somehow shows your website visitors how they benefit from your product or service.
For the dentist, for instance, they might show before-and-after photos of a satisfied patient. If you're a gym owner, you might show pictures of your members before and after they participated in your 30-day fitness challenge. This is an excellent way to utilize pictures.
If you want to really grab people's attention and keep it, though, there's one thing you definitely need to try: videos. Neil Patel says that viewers are 64-85% more likely to buy something after watching a product video. Videos bring your page to life, make them more dynamic and engaging, and help you build trust and authority. Tai Lopez does a nice job of this.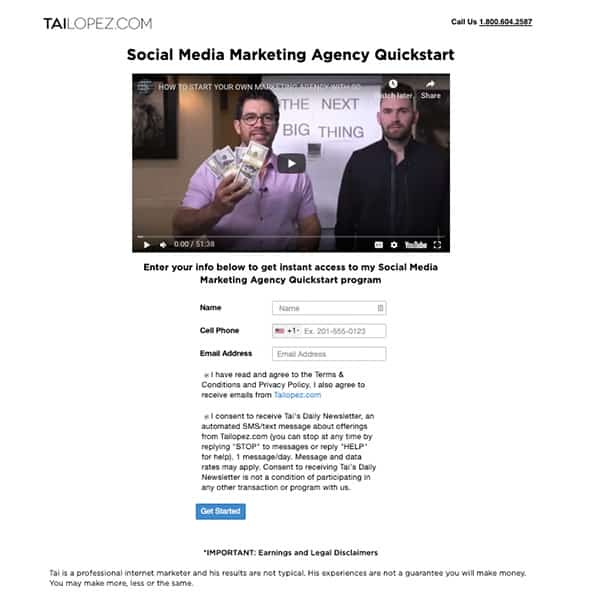 People much prefer watching videos to reading the text, and there's still something to be said for carefully chosen photos, so your best bet is likely to use a combination of videos and images.
6. Write a Killer Headline
Headlines are everything. They're the first thing people will read when they land on your page. You have to convey an important message in such a short amount of space and time. No pressure!
You can write powerful headlines in a number of ways.
They can pique visitors' interest. ("Want to know how you can instantly get whiter teeth?")
Headlines can touch on their struggles or pain points. ("Are you tired of being embarrassed by discolored teeth?")
They can inspire or motivate them. ("Now you can have the bright, white smile that you've always wanted!")
Here's the thing, though: Different kinds of headlines will work for different brands and industries — and that brings us to our last point.
7. A/B Test Various Elements of Your Landing Page
Worried you're not going to get your landing page right on the first attempt? Guess what? That's likely what'll happen — and that's okay.
When it comes to marketing, you hardly ever hit a home run on the first try. Not only do the industry's experts know they need to split test, but they also understand that it's in their best interest to test everything, even if the landing page does perform well in its first iteration.
What exactly should you test? Here are some suggestions:
The headline.
Your call-to-action button colors.
The font.
Your background color.
The length of the page copy.
The images/videos you use.
You get the idea.
Just remember that when it comes to split testing, you want to test only one variable at a time. If you don't, you have no way of knowing which specific variable caused the change in performance. If this means you end up having to make five versions of the same landing page (or even more), then go for it. This is how you find what resonates with your visitors and gets them to convert to paying customers. There isn't really a one-size-fits-all approach when it comes to how to make a landing page.
Bonus Tips: Driving Traffic to Your Landing Page
Once you've got an amazing landing page built out, there's another step after that: driving traffic to it. If you're already getting a ton of organic traffic to your website, you might be good to go. You can also send qualified traffic to your landing page by sharing it across your social media platforms. Your followers are warm leads, meaning they're already familiar with your brand, and they're likelier to be interested in whatever your landing page is promoting.
However, when it comes to learning how to make a landing page, it can help to go the extra mile. Brands will often make the decision to run paid ads that send people to the landing page. You can accomplish this through Google PPC ads, Facebook ads, or through any of the other platforms' paid promotions features (such as Pinterest).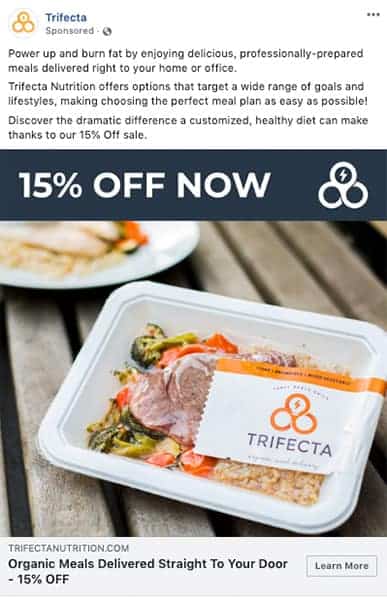 Whichever platform you choose, remember that you want to be specific in who you target. Trying to reach everyone isn't in your best interest. Instead, you want to target the people most like to spend money on your products or services — your own niche down demographics. Both Google and Facebook are amazing in terms of the options they give you for audience targeting. Choose wisely! Reaching the right audience can make all the difference in the success of your ads — and thus, how many qualified prospects you send to your landing page and ultimately convert.
Don't forget that ad copy and creatives are an important part of the equation, too. To really knock this out of the park, you need to have someone create a high-quality landing page and someone who's familiar with how to run successful paid campaigns online.
Now that you know what a landing page is and how to make a landing page that converts, you're ready to build one for your own website to promote your brand! Don't forget that Engagebay can help you along the way. Manage your business and your customers all in one platform. We'll guide you in handling all of your marketing, sales, and customer service needs. Sign up for a free trial today and try it out for yourself.