Before we get to a real estate landing page, let us first understand a landing page.
What is a Landing Page?
As the name suggests quite literally, this is where you want your leads to "land". If they search you up on the internet, this page would be their gateway to you.
So, in a way, a landing page is like the arrival terminal for a website. Passengers from all over the globe make their first interaction with a city at its airport.
This arrival terminal is where your visitors make their first impression of you too.
Have you ever had a flight where your luggage was delayed? Or perhaps, the immigration check took way too long! Does that not kill your first experience with a place?
This first experience is the first impression people make.
A lot of things make or break this first impression. For instance, if you landed in a new place and you needed some information about, say, where to get the cab, food, or anything, but no one there helped you out, that would be a bad experience!
It is all these little factors that shape a tourist's experience of a place.
In a similar fashion, if your website took way too long to load or perhaps, the visitor did not find what they were there for, their first impression of you won't be so great.
Luckily, for a city, the first impression can be mended since no one just takes a flight back home simply because they don't like the landing situation. Unfortunately, for a website, the leads might just fly off your landing page right away.
It costs nothing, and it has become too easy to find what you need on the internet.
This is why your arrival terminal needs to be perfection.
You want to keep your leads hooked and feeling special from the minute they enter your website via your landing page.
The end goal of this connection would be to bring more purchases.
To do that, you have to ensure your landing page does 3 things above all:
Inform them
Hook them
Persuade them
Later in this article, we are going to explore how you can make your real estate landing page do all this and more, but for now, let us touch upon the various types of landing pages you can pick from while making one for your website.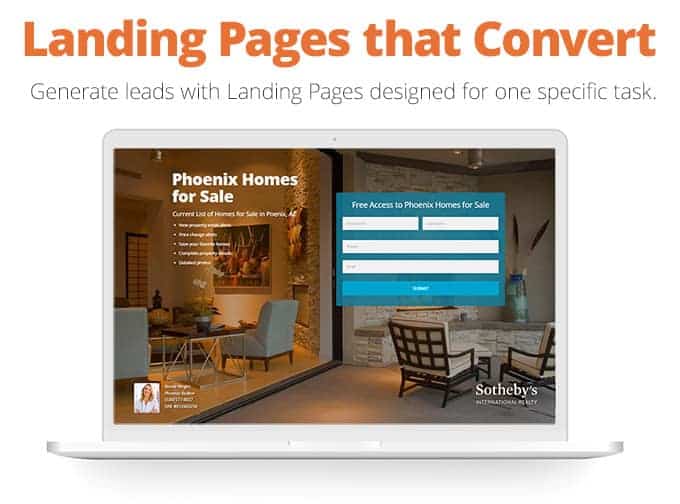 Image Courtesy: iDXcentral
Types of landing pages
Product-oriented landing page
Lead-generation landing page
Redirect landing page
Home page
Product-oriented landing page
These pages will directly introduce the product to the visitor.
Not only will they help your leads understand your offerings but they generally come with a free trial or purchase Call-to-Action (CTA) too.
This means not only will your landing page help your leads understand your offering but it will also help them make a purchase.
Needless to say, these landing pages are best for conversion and revenue generation.
Lead-generation landing page
What if you don't really want to make a direct pitch for your product on the landing page? What if lead collection is your main goal?
In that case, you would leave a form on the landing page. This form is where your leads can send in their queries and details to you.
The sole purpose of this landing page is to help you get more leads.
Redirect landing page
Perhaps, you want to make a sale but don't want to be direct. In that case, you should redirect your visitors from your landing page to your purchase page.
This way you don't have to put the purchase CTA right on your landing page. It looks more subtle and informative.
You would hyperlink the "buy now" page on a redirect landing page using the right anchor text. Since these pages are way more indirect, your copy needs to be that much better.
When the direct push for buying is missing, your conversion rates would naturally take a hit.
Home page
You may think using your home page for your landing page is fine, but is it really?
The home page is where you showcase all your services and products, without being selectively precise on just one. This can lead to a dwindling focus and too much confusion for your leads.
So, it's best to get a landing page made instead of relying on your home page to do the job.
We shall be looking at how to make a landing page shortly. However, now is when I bring the specification of a real estate landing page out.
Read also: What is a CRM in Real Estate? Cheat Sheet for Realtors
What is a real estate landing page?
This would sound fairly simple. A landing page dedicated to real estate offerings is a real estate landing page!
However, there is more to it. This is just a surface level definition.
Depending upon what you want the page to do for you, there can be various types of real estate landing pages.
Let's say, you want your landing page to be dedicated to investors, where they can find you and register for stakes in your new projects. These are your real estate investor landing pages.
If you want your landing page to just capture leads, you are looking at real estate lead capture landing pages.
If yours is an online aggregator business, where you just list various properties, then you are looking for a property management landing page.
So, depending upon what area of real estate are you into, your landing page can vary significantly.
However, when we look at some of the best real estate landing pages, we find some things in common.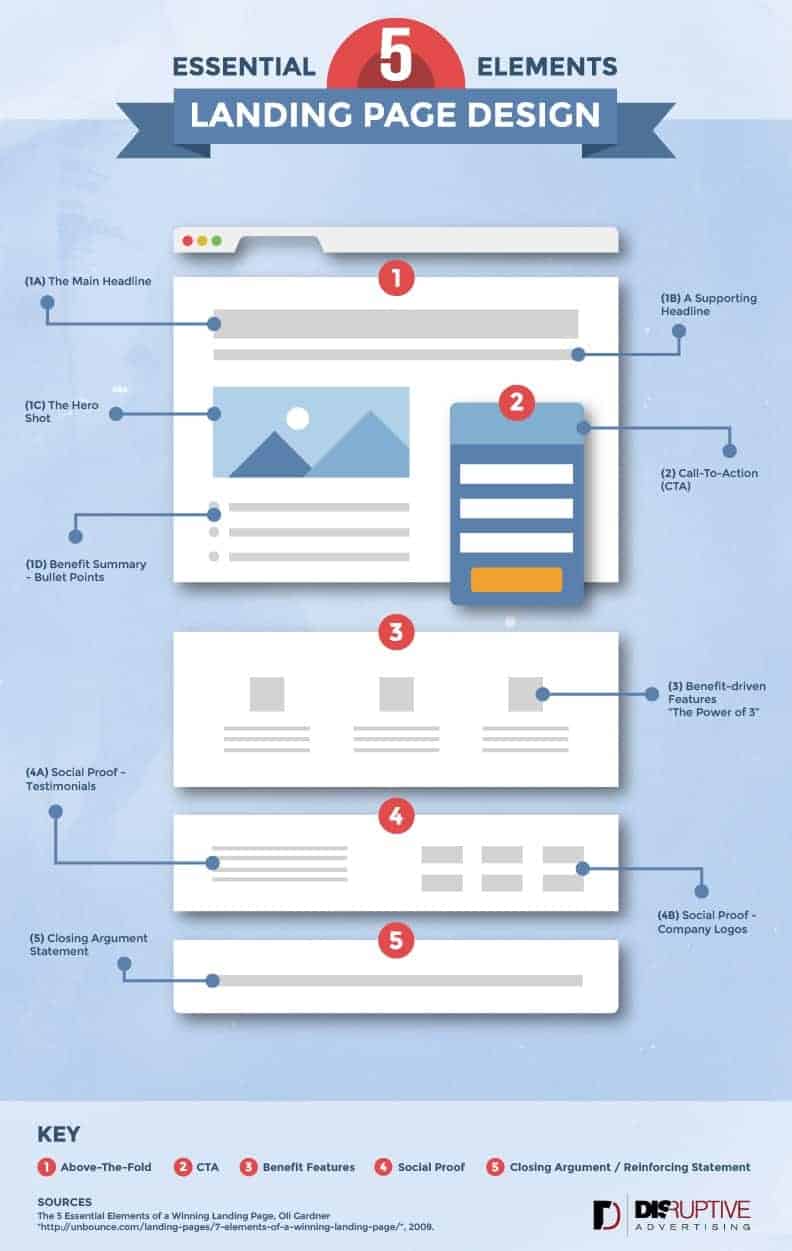 Image Courtesy: Disruptive Advertising
They are:
A compelling pitch
First and foremost, the content your landing page has is the first thing a lead will know about you.
Make sure that your copy doesn't miss the shot! The content should be simple yet compelling. Even if you are not looking to make a sale directly, whatever is your purpose for that landing page should be achieved with the help of the matter present.
However, you do not want to burden your landing page with too many words. Noone's going to read all that. Focus on creating eye-grabbing headlines and relevant descriptions.
Read also: Real Estate Email Marketing Templates [Ready to Send]
Testimonials
Nothing sells like word of mouth. You want to show your customers what other people have to say about you. Get as many testimonials and reviews as possible, and use carousels to show them off.
CTA
Yes, most people think a "buy now" CTA is the most obvious CTA for a landing page. However, your landing page may not be about just sales, what if you want to generate more leads?
In that case, "sign up" or "get in touch" makes more sense. However, irrespective of the nature of your CTA, all landing pages must have some CTA.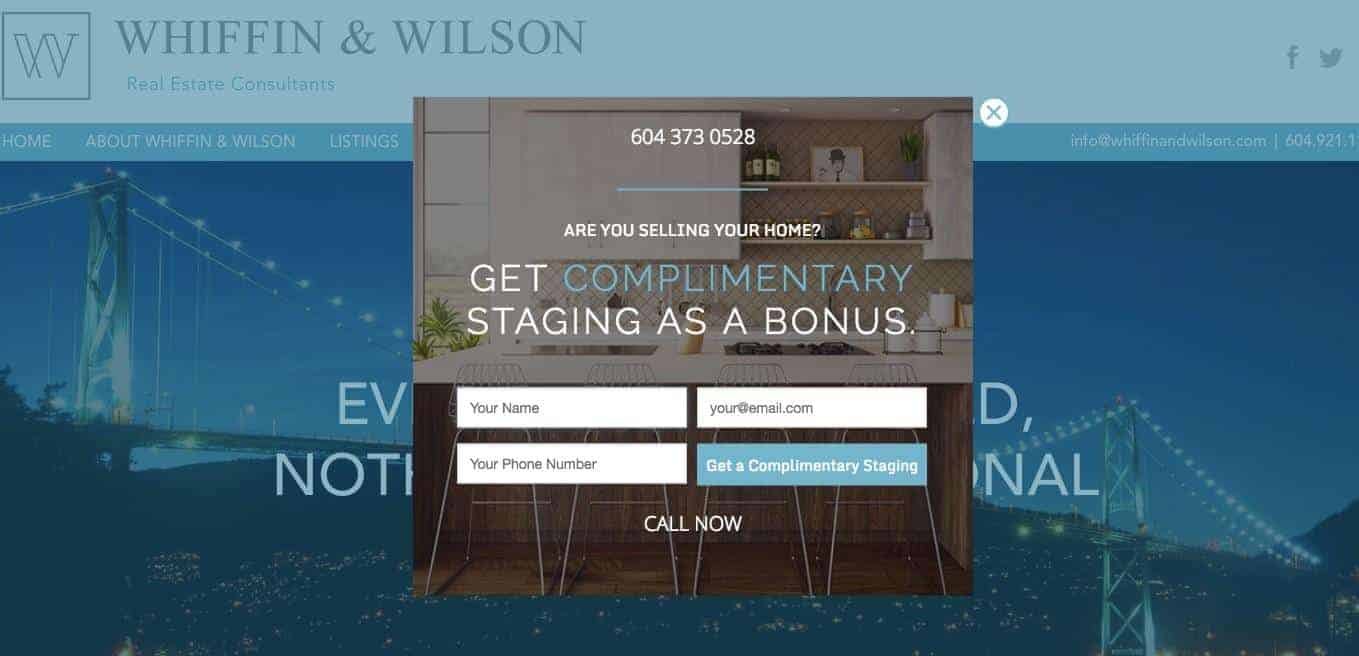 Image Courtesy: WordStream
The key here is knowing what you need your lead to do. Do not put too much or too less, and give ample space for your CTAs to have a proper display.
Annoying design is a sure-shot way of throwing your leads off.
Contact details
Even if you have made a product-oriented landing page aimed to make direct sales or you have made a redirect-landing page that brings your leads on the purchase, you still need to give your leads a way of reaching out to you.
No matter how great your copy and design is, your leads may still have questions. If you do not provide them your contact details right away, they may not proceed further with clarifying doubts to make purchases.
So, to ensure your leads find you approachable, which is needed to make them your loyal customers, you should also put your contact details there.
Don't try hard
Yes, the ultimate goal of a landing page is to make a sale, however, do not sound too pushy.
Experts believe a landing page that converts would not focus on conversion solely.
Thus, if your CTA is only focused on getting a purchase, you are not offering your leads different options. When you give them more flexibility, you increase your conversion rate.
Thus, you want to introduce real estate lead forms to your custom landing page as well. The less revenue-oriented your business looks, the better you do!
Read also: 9 Real Estate Landing Pages Sure to Inspire and Convert (+ Expert Tips)
Be specific to what you deal with
What good is a real estate landing page if the lead doesn't get that impression? Unfortunately, putting info-graphics and silhouettes of a few buildings alone wouldn't convey the point clearly.
You need to be very specific and loud on what you deal with. For instance, if you are a real estate agent, then your page needs to give the "real estate agent landing page" vibe. Do not beat around the bush with your landing pages, crisp sells!
Accessible but not everywhere
Your landing page should ideally not be a part of your website.
Ideally, this is a webpage your lead can only access when they Google you and find its link.
Many people don't get the need for this gap, but using a webpage from your website may not be the best choice.
Having your landing page on your website can throw your users off the product they actually want to buy. Moreover, it can also display bad conversion rates for that landing page.
These are just a few things that make a real estate landing page do good.
We shall discuss this in more detail, but first, let us see if a real estate landing page is something you should be considering.
Related blog: Real Estate Landing Pages: 8 Beautiful Examples
Who Needs a Landing Page for Real Estate?
You may think your answer is fairly simple – anyone who deals with real estate.
However, there is more to it!
To understand that, we must first look at a real estate sales funnel.
There are usually four stages involved:
Generating awareness
Developing interest
Giving details
Making sales
If we had to explain this, we could think of a situation where your lead finds you, and then, perhaps starts a conversation letting you know they are interested.
At this stage, you would send them your material and pitch across to persuade them. This involves sending testimonials, benefits of partnering/associating with you, some of your most accomplished works, your strategy for the particular scheme you are writing about.
You want to make sure that your pitch is psychologically tailored for persuasion.
You could do so by choosing wordplay that helps your customers feel at home when they buy or sell their properties with you.
You should also make it a point to enrich a lead with as much honest and relevant information as you can to help your leads feel guided.
Once they have made up their mind, you would help them smoothen out the purchase.
At each of these stages, you would notice a landing page could be useful.
If you want people to know about your website, make a landing page, and promote it.
If you want people to reach out to you, make a lead-generation landing page.
If you want to help them understand your product, make a product-oriented landing page.
Or better yet, make one page but include the above details with a payment gateway enabled there.
However, the purchase can be different for you depending on your business.
If you are in this business, it's safe to assume you are either a developer or realtor.
So, if you are either, you need a real estate landing page.
Why?
Developers can use one for every sage. Whether it's about lead generation or new projects, you can give your business a launch using the right landing page.
Using real estate lead magnets and proper CTA, you can supplement your conversion process.
Real estate agents say they have a hard time converting their leads into sales, to be specific, a whopping 47% feel the struggle! Yet the market is largely dominated by them since over 92% of sellers conduct the exchange via a real estate agent. So, needless to say, there's a lot to be conquered!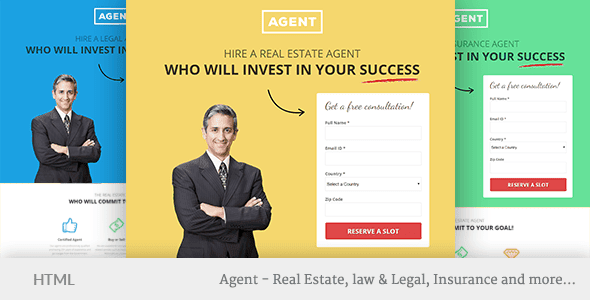 Image Courtesy: EnvantoMarket
Realtor landing pages can help you generate more leads as well as provide them with exactly the content they have been searching.
However, leads too are highly categorized for real estate businesses. An investor is a lead much like a property seller or buyer is, however, they are all leads of very different mindsets, spending capacities, and utilities to you.
Thus, your landing page should also be specific to leads.
Essentially, there are three types of leads:
So, depending on which leads are you aiming to progress with, you can pick from the following landing pages:
Home Value Landing Page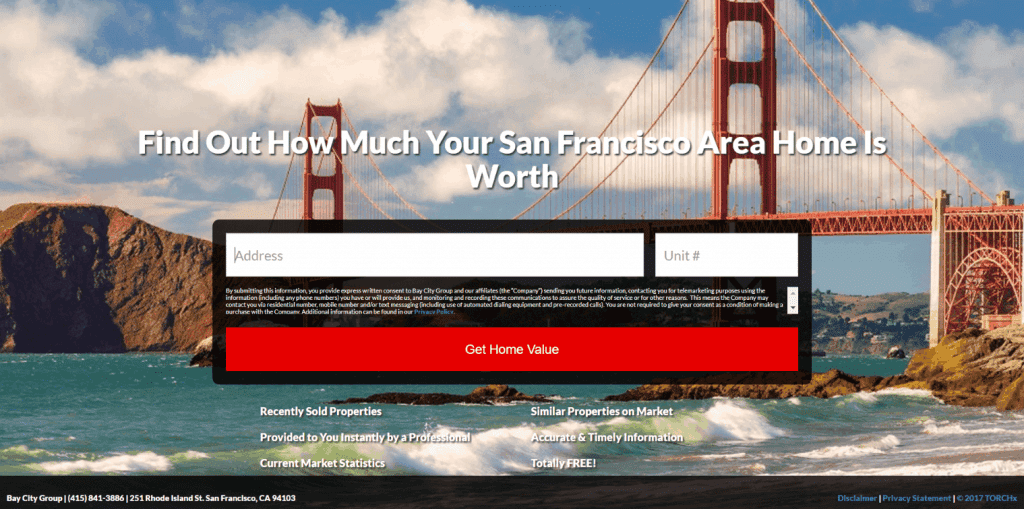 Image Courtesy: FitSmallBusiness
This page is mostly suited for property sellers, who are looking to evaluate the market valuation for their house or flat.
The lead has to fill in their details and they would be mailed a copy of the valuation report. In this process, you also get their valuable contact details.
Not so much of a use case here for property developers, however, these pages are very useful, if you are looking to get more seller leads for realtors.
Home Search Landing Page
These kinds of real estate landing pages are mostly suited for buyers or investors. As the name suggests, this is the page where they can come and check out all the properties listed with your business. They may also leave their contact details or raise a query for you to offer your expert guidance.
For these kinds of landing pages, it becomes very essential that your listings stay neat, clean, and relevant. You will also have to make enough filters such as price range, geographical region, availability, etc. for your leads to be able to find the property suggestion they need.
Some of the best realtor landing pages fall under this category.
Free Content Landing Page
A business is not just about revenue and lead collection. You also want to keep your leas engaged. The best way to do this is to constantly push relevant content their way.
Free content landing pages are just about that.
You require your lead to sign up for your emails. Once they have done that, you can organize your marketing campaigns around content ideas that your leads will find enriching.
You could send out cool real estate newsletters that will help your leads feel more educated on the nitty-gritty of your business. Using these newsletters, you can educate them on various things such as the coolest properties around the block, how to avoid brokerage scams, what are the documents they will need to move in, etc.
So, if you need a real estate landing page, naturally, the next step is:
How to Create Landing Pages for Real Estate
The following ingredients go into the making of perfect real estate landing pages:
Appealing Theme
For any landing page to attract its audience at first glance, it needs to have a visually pleasant theme.
The surface definition of an appealing theme is the format of your webpage, as it involves a lot of multimedia elements.
If you deal with real estate, pics and videos are a must for your business.
Imagery is the absolute key to designing a high- converting real estate landing page because people often act with their eyes.
Naturally, before making a purchase decision, people would like to see a property. If you can offer 360 virtual tours of your top construction sites on the page, it would grab more eyeballs.
Also, research shows that using multimedia elements in landing pages can increase conversions by 80%.
Quality images won't just intrigue your visitors, they will evoke emotions, which often trigger actions.
Read also: 8 Best Email Marketing Software for Real Estate
Easily Comprehensible
When people are looking at buying or selling their property, they rarely want to read a whole book of fine-print text. So, it is better to make sure that your copy and design are simple, relevant, and to the point.
If your page is not providing a user- friendly experience to the visitor, then they might bounce off your real estate landing page and look for something simpler instead.
In order to keep your page easily accessible, you should start with choosing a minimalistic design for your page and keep it hassle-free by asking for as little information from the visitor as possible.
In the end, the more comprehensible your landing page is, the more confidence it will instill in the mind of your prospects.
Reduce text on your landing page
Most of the potential buyers tend to scan the page rather than giving the web text a thorough read, and long texts on a real estate landing page can make them lose interest rather quickly.
As a result of which, landing pages with higher word count have fewer conversion rates.
According to research, 29.5% landing pages have way too much copy and such pages get only 11% conversions. However, pages that are word-count-conscious convert at 14.3% on an average.
So, we recommend you cut down on the word count and only include essential information within your copy.
The right way to do so would be to use your words like you don't have too many! Invest your energy on catchy headings and subheadings, they are like a teaser for your services. Most people would only read the description suffixed to a heading if the heading gets their attention.
Boost your sales success with the ultimate sales page examples – dive into our in-depth guide today!
Honesty is the best REAL ESTATE policy
People usually don't have a lot of trust in someone they're not acquainted with; this is especially relevant when it comes to real estate purchases.
It has a lot to do with all the horror stories one reads or hears about all the real estate frauds and scams too frequently.
The best reassuring act you can do is being honest and transparent with your copy.
You could include detailed and right information about the property. Otherwise, you might end up losing your lead.
Do not make sweeping revelations that you may not be able to live up to when they approach you for deliberations. We understand you need to excite your visitor, but making false promises can be a repellant.
Focus on one Call to Action (CTA)
Remember how we told you at the start of the article that CTAs need to be drafted properly, and you shouldn't just make "buy now" your only CTA.
Especially for real estate landing pages, this won't be practical. No one is going to buy a property just like that!
You should add CTAs that show you are flexible and willing to dwell more on negotiations. "Get the pricing", "Enquire more", "Contact now" would be the more appropriate CTAs for your landing page.
However, too many CTAs create confusion among visitors and limit your conversion in real estate.
Research shows the pages with one Call-to-Action have an average conversion rate of 13.5%. On the other hand, pages with 5 or more links have an average conversion rate of 10.5%.
So, it is better to keep your landing page simple with 2 or 3 CTAs.
You can also try pop-up CTAs. They work well because they do not permanently block the visitor's tab but depending upon how far they have read the page, they pop-up and can be shut too.
High page load speed
The loading speed of a landing page makes a huge difference in the conversion rate.
Reports show that even just a 1-second delay in page load time can result in a 7% reduction in conversions.
There are various factors that may slow down your page loading time. Those oversized property images, for instance!
It was found in an analysis that pages without oversized images led to an average conversion rate of 11.4%, while pages with oversized images have an average conversion rate of 9.8%.
Social Proof
Real estate is full of scams and people invest their hard-earned life savings when they buy a property. So, you want to show them you deserve that faith.
Research reveals that pages that have social proof within the copy have an average conversion of 12.5%, compared to 11.4% for pages that don't contain social proof within the copy.
It is the easiest and most effective way to bring your visitors to trust you and can most certainly turn them into potential buyers.
Personalize the experience
The best way to improve the user experience of your landing page is to ask the right questions in the right order.
If someone is looking to rent and you are just focused on the buyers, then your landing page is not going to convert that user.
To avoid that, you can generate a quick survey just at the beginning of the page, so that you don't end up losing a potential customer.
Provide Valid Contact Information
When it comes to real estate, people might tend to hold back from trusting internet pages and even hold back from sharing their personal information online.
This might lead to fewer conversion rates.
To refrain from this, you can instead share your contact information in the corner of your landing page. However, you constantly have to check that your provided contact information is still active.
You can also provide a feature of real-time messaging on your landing page. Your sales reps can then pick-up from the info the chatbots have gathered. You can also connect your brokers directly with the buyers if you have a real estate agency.
You can even provide a redirect link to connect them directly to your social media handles or just mention the handle username on the page.
This can help your employed realtors gain the much–needed trust of your potential buyers, which will eventually get you more money and business.
How to Promote your Real Estate Landing Page
After creating and publishing your landing page, there are a number of things you can do to drive traffic to your page and make it stand out among potential buyers.
While we are on the topic of promotion, let's discuss a few ways to help you promote your real estate landing page.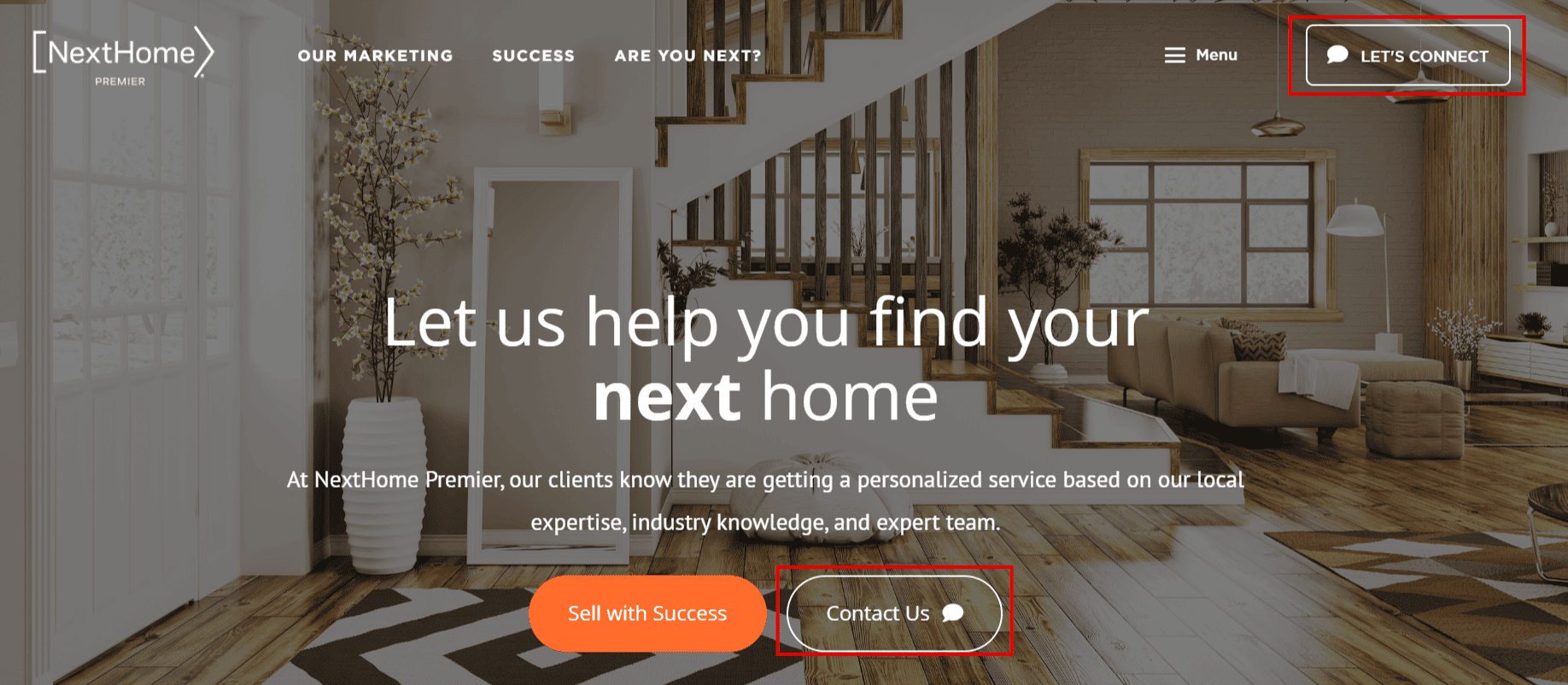 Image Courtesy: Send Pulse
Copy and share your URL
There can not be an easier way to promote anything that has a base online, you just have to share it.
After creating the landing page, copy its URL, and then share it on your different social media platforms like Twitter and Facebook.
You can also add it to your Instagram profile.
Also, you can share the URL through an email campaign. Send newsletters to your email subscribers and get them on your landing page.
Paid advertisements on social media
You should reach out to well- known bloggers and social media influencers too, who already have the attention of your target audience.
You can tell them about your real estate business and pay them to share your landing page by promoting it on their social media handle.
Email Campaign
An email campaign is a sequence of marketing emails that contacts multiple recipients at once.
A survey shows that email marketing is 40 times more helpful for acquiring clients than Facebook or Twitter.
The same survey also suggests that emails have a higher conversion rate (66%) when compared to social media promotions.
All you need is catchy email templates, which look personalized and still have the flexibility of being sent in higher volumes.
Google ads and display
Google ads as well as the ads within its display network are a great way to gain an audience for your landing page.
However, audiences will only see your ad if it has a very good quality score in relation to the keywords and the terms you are advertising on, like "rent", "buy", "property", or "land".
Also, make sure your landing page loads quickly because google considers loading time an important factor in the customer experience.
Apply landing page in SEO
Landing pages are common in internet marketing campaigns.
Other than optimizing them for user experience, landing pages can also be optimized using the right keywords and light images to rank organically using Search Engine Optimization (SEO).
While there are many ways to promote your business, a classy landing page is one of the most effective ones.
How to Create Real Estate Landing Pages on EngageBay
Now that you know what goes into the making of good real estate landing pages, let's put it to use.
You need reliable software that can make the process automated, fast, and simple. Look no further, EngageBay's marketing suite will help you make flawless landing pages.
In the marketing suite, you'll find a tab for landing pages. Once you have selected "create landing page", the journey begins.
EngageBay has a wide plethora of real estate templates for you to choose from. However, you always have the option to freely code your own template or customize our enabled templates.
Making your real estate landing page becomes super easy with us since our drag and drop editor facilitates the whole structure. You just have to pick the element you need on your real estate landing page and drop it where you need it.
Once you are good with the elements on your page, click on the 'Save' button and you should be able to name your landing page.
Since we have already discussed, how no landing page can rank without proper usage of the right keywords and meta content. For this, you will find out the "settings" tab useful, where you can write the relevant meta title, description, and SEO keywords, to get the visibility of your landing page higher.
You could also make the most of your landing page forms using our form settings.
However, we do get that nothing's really great unless you measure its greatness. With our smart reporting and intuitive features, you can track how your lading pages have been doing. How many clicks are you getting on your CTA, how many conversions have you made, where are your rankings lately, and more – everything traceable!
We need you to feel home at your landing page, first because that's how great landing pages are made. So, using CNAME you can even customize the URL of your real estate landing page to go with your domain name.
So, right from the moment, you start this journey of inviting leads on your terminal, you have all your answers right here! Even the leads you capture using your real estate landing pages would naturally be fed in your centralized system due to our robust contact management system.
If you need a step-by-step guide on how to set up your own real estate landing page, click here.
EngageBay has various helpful blogs for you to make the most of the landing pages we provide and help your business.
You would be happy to know that businesses which use EngageBay for their landing pages see 73% higher results.
Conclusion
Whether you are a developer or a real estate agent, your online business needs the push a landing page can provide.
While making a landing page, think of how your customer perceives you and be approachable. Your real estate landing page should cater to your leads, which can be divided into three major groups in the real estate sector – Funders, sellers, and buyers.
You should use simple text, attractive images, proper SEO, and good CTAs to maximize your conversion. You can also use lead magnets and multiple CTAs to incentivize your leads into giving you their relevant contact details.
You should also make use of a good landing page builder such as EngageBay to draft beautiful real estate landing pages.