HubSpot and Insightly are some of the most popular CRM software on the market. They're similar in many ways but they also pack unique features that set them apart.
HubSpot is an all-in-one CRM. Its unified product suite includes CRM, marketing, sales, and customer service software. The products connect seamlessly to align customer data across the support, sales, and marketing teams. Your teams will have a shared understanding of the entire customer journey all in one app.
But is its ease of use and unified system worth the steep price increase between the plans?
Insightly is a CRM with separate marketing and customer service platforms. You can automatically route leads to the best-performing reps, automatically assign tasks when triggers are met, or send bulk emails to your contacts directly on the app.
But its poor customer support and expensive support plans might be a deal breaker.
I signed up for the free trials of both platforms to test the core features and went through hundreds of user reviews of both tools, so you don't have to.
In this detailed HubSpot vs Insightly comparison article, you'll learn about:
HubSpot vs Insightly differences

What makes the two platforms different and similar in various categories

The pricing difference between HubSpot and Insightly

A more affordable and better alternative
What Is the Difference Between HubSpot and Insightly?
HubSpot includes all its products in one package while Insightly is only a CRM with separate marketing and sales software. However, Insightly recently launched its unified platform which includes all three products in one package.
HubSpot – An all-in-one CRM
HubSpot is built for growing teams. With its all-in-one CRM, you get tools that you will gradually use as your business grows.
This suite of products brings together the marketing, sales, and support teams into one platform. It includes:
The Marketing Hub: It helps you attract an audience and convert them into customers. Some features include a landing page builder, marketing automation, email marketing, and social media management.
The Sales Hub:

It helps your sales team engage with customers and prospects and close more deals. Some features in this hub include email tracking, sales automation, document management, live chat, and pipeline management.

The Service Hub:

It helps your service team work efficiently by bringing customer service tools and data from multiple sources into one app. Some features in this hub include a knowledge base, shared inbox, customer feedback surveys, and integration with the CRM.

The CMS Hub:

This hub helps you create web pages directly on HubSpot. It replaces CMS like WordPress and Wix. Some features include website themes and integration with the HubSpot CRM.

The Operations Hub:

This hub connects your apps, syncs your customer data, and automates business processes. It ensures all your data mirrors each other across the different connected tools.
Insightly – A sales-oriented CRM
It has all the essential features you'd expect to find in a CRM. You can use its workflow to automate simple and complex functions like updating records, sending emails when triggers are met, or updating contacts when leads fill in a web form.
One of its most helpful and unique features is its record-linking capabilities. It gives you and your team a shared 360° view of a record's connection. For example, when you view a contact card, you'll see the opportunities, organization, and projects related to that contact.
It also has a project management feature. It lets you manage all other tasks that aren't part of your sales process. You can manage tasks such as onboarding and internal activities and basically any other task outside of sales.
Overall verdict
HubSpot is suitable for you if you are looking for all-in-one software. This will save you money as it bundles a suite of products into one platform. So you don't have to switch between apps and you get to view your marketing, sales, and support data in one place.
Insightly suits you if you only need a CRM for your sales team. Its pipeline management, workflows, and project management are great for sales teams.
Read also: The Best HubSpot Alternative
Comparing HubSpot vs Insightly
I used the two platforms to give you a detailed and first-hand review of their performances. We'll look at how each tool stacks up against the other based on eight key factors.
Ease of use
Your team will be more productive and efficient if they can get started with the software faster and with ease. So when comparing HubSpot vs Insightly:
Evaluate how difficult it is to configure the CRM to your needs

Test their customer support on the free trials to see if they are fast enough to respond to issues

Create automations and play with their features to see if they fit your needs
HubSpot
HubSpot's interface is designed with usability in mind. The navigation makes it easy to access each hub with only a few clicks. Each hub also has a dropdown menu for its main features. For example, when you hover over the marketing hub button, the drop-down menu includes ads, email, landing pages, social, and campaigns.
As John Line, a sales rep at Nutrafarms says:
"Hubspot is very intuitive. It makes things a whole lot easier overall, and I especially like that you can entirely find out all the essential metrics. I am also a big fan of the efficiency/ease of use of everything."
HubSpot offers a comprehensive help center. You'd have access to:
Step-by-step guides to each feature

Live chat with customer support

Tickets

Instant answers from the community page.
Insightly
Its UI is clean and easy to navigate compared to HubSpot mainly because it's only a CRM without the marketing and support functions like HubSpot. The only exception is the workflow which requires some getting used to.
Your leads, opportunities, contacts, emails, calendar, and tasks are only a click away from the navigation bar. Its integration with Google products, for example, Gmail, makes it easy to capture emails from Gmail and track your sent emails.
One feature that most CRMs lack is the recent activity dashboard on the home screen. It shows you in real-time what's happening around the company–the deals reps have been closing, recent projects added or recent opportunities added.
Insightly standard support for all plans includes webinars, a knowledge base, in-product guides, and email support. The support is basically self-serve. It lacks in-app support like most CRMs and when you need technical support you'd have to sign up for their premier success plans which cost 20% of Insightly investment.
Ease of use verdict
HubSpot is slightly easier to use compared to Insightly. It's easier to set up and customer support is much better than Insightly.
Read also: The Perfect Insightly Alternative
Pricing
The pricing of HubSpot and Insightly differ because one provides an all-in-one platform while the other is just a sales CRM. HubSpot has a bundled pricing plan and individual pricing for each hub while Insightly has a tier-based pricing plan.
How much does HubSpot cost?
Here's HubSpot's CRM suite pricing plan:
Starter–$50 per month
This plan includes the marketing, sales, service, CMS, and operations hub starter packages which have the essential marketing, sales, and service features for your team.
Professional–$1,780 per month
This plan includes all the hub's professional packages which you can use to personalize your outreach and optimize campaign conversion.
Enterprise–$5,000 per month (billed at $60,000/year)
This plan includes all the hub's enterprise packages which you can use to create advanced marketing reports and use AI to get insights into your team's sales calls.
Here are a few things that quickly become apparent from their pricing structure:
The steep price jump from the starter plan to the professional plan–$50/month to $1,780/month–makes it hard to upgrade when you only need one feature which isn't in the starter plan

you have a 12-month commitment plan whether you pay monthly or annually. This locks you into paying for the software for the whole year

The starter plan by default starts with 2 users, the professional plan 5 users and the enterprise plan starts with 10 users

If you want to add additional users, the starter plan costs $25/month/user, the pro plan $100/month/user, and the enterprise plan at $120/month/user
HubSpot's pricing gets expensive very fast and lacks some key features on some plans. And it is difficult for some businesses to afford it.
As Kashif Kadri, a consultant puts it:
"For a small business, it is very difficult to afford the pricing of automated email services."
Read also: HubSpot Pricing and Comparison with Affordable Alternatives
How much does Insightly cost?
Insightly has four pricing plans:
Free plan
This plan includes features such as:
Up to 2,500 records

2 custom fields per record

5 email templates

10 mass emails per day

Custom page layouts

10 custom reports

Access to help center
Plus plan–$35/user/month
This plan includes features such as:
Up to 100,000 records

Gmail contact sync

Mailchimp integration

50 custom fields

100 email templates

Support via email

2,500 mass emails per day
Professional plan–$59/user/month
This plan includes features such as:
Workflow automation

Lead assignment rules

Up to 250,000 records

100 custom fields

Email Scheduling

5,000 emails per day

25 custom objects

Custom dashboards

Calendar sync

Support via email
Enterprise plan–$129/user/month
This plan includes features such as:
All pro plan features

Unlimited records

200 custom fields per record type

Unlimited email templates

200 custom objects

Unlimited custom dashboards

Dynamic layout rules

Unlimited data storage

Custom validation rules

Products, price books, and quotes
Pricing verdict
Insightly has a better pricing structure compared to HubSpot. Each plan offers critical features depending on your needs.
Read also: Is HubSpot CRM Free? An Unbiased Guide (with User Reviews)
Customization and pipeline management
Both HubSpot and Insightly have table stake customization capabilities and a simple pipeline management interface.
HubSpot
With reports, HubSpot lets you create customized reports and forecasts. You can also choose a report from the pre-built list of templates and create custom fields in the following elements:
Deals,

Contacts, and

Quotes

Products
If you need to create custom objects specifically related to your business, you'll need to be on the enterprise plan. This plan costs $5,000 per month (billed at $60,000/year).
The Pipeline Management tool could use some improvement in terms of user interface design. For example, it can be difficult to progress a 'deal' to a 'customer' due to its poor UX.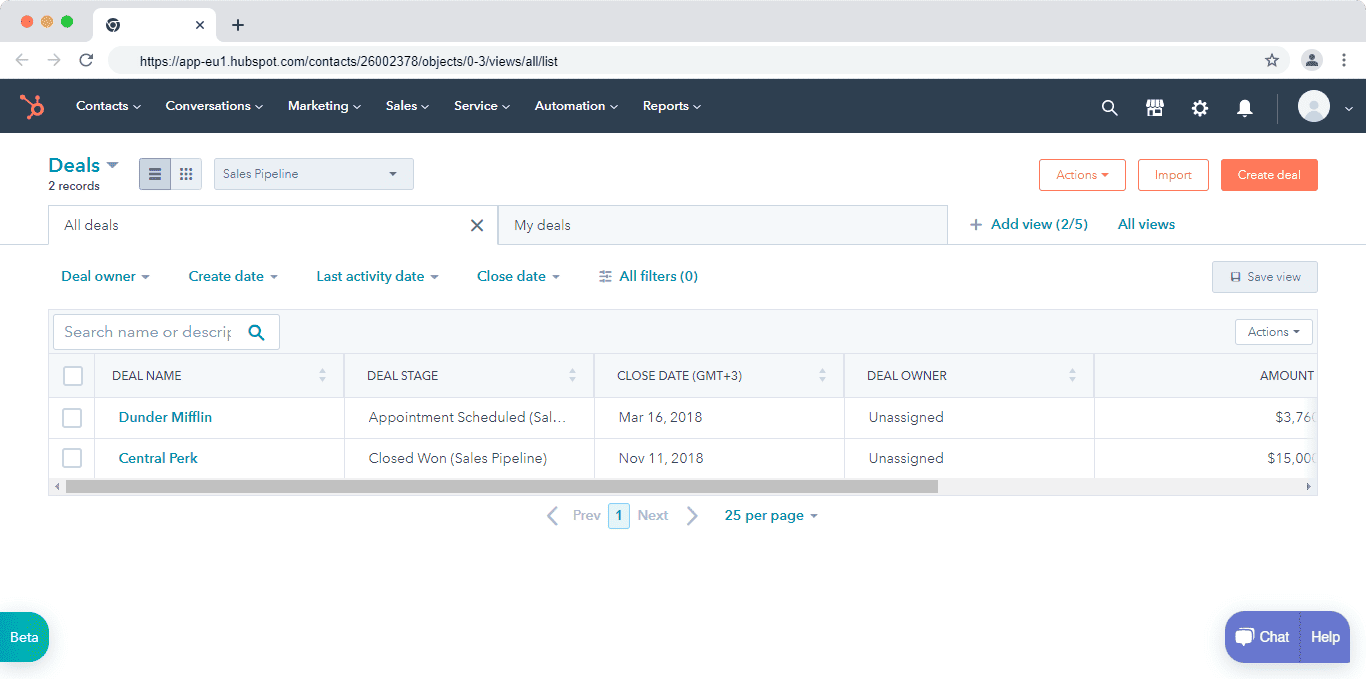 Here's how Damien Frye, an enterprise sales representative at WordRake, sums it up:
"The way deals and pipelines are used don't help the salesperson, they help the manager. It is designed for the marketing side. I feel like we need a revenue management solution where both are considered and it is easy to progress a lead to a customer."
Insightly
Insightly has three options that help you organize your CRM data–custom fields, tags, and categories.
Custom fields help you create a new field that'll hold unique information. You can create fields for contacts, opportunities, events, leads, tasks, projects, and custom objects. The number of fields available depends on your pricing plan.
You can use tags to label leads, contacts, opportunities, projects, and emails. For example, you can use tags to label a contact as both a customer and a vendor. Sales opportunities can also be labeled hot/warm.
A category is a customizable drop-down menu. For example, when you sell products and services you can create categories for both to label your leads. You can use categories to label tasks, projects, and opportunities.
Its pipeline management is simple and designed to help your team close deals faster. You can convert a won opportunity into a project so you can begin working on after-sale activities right from the contact card.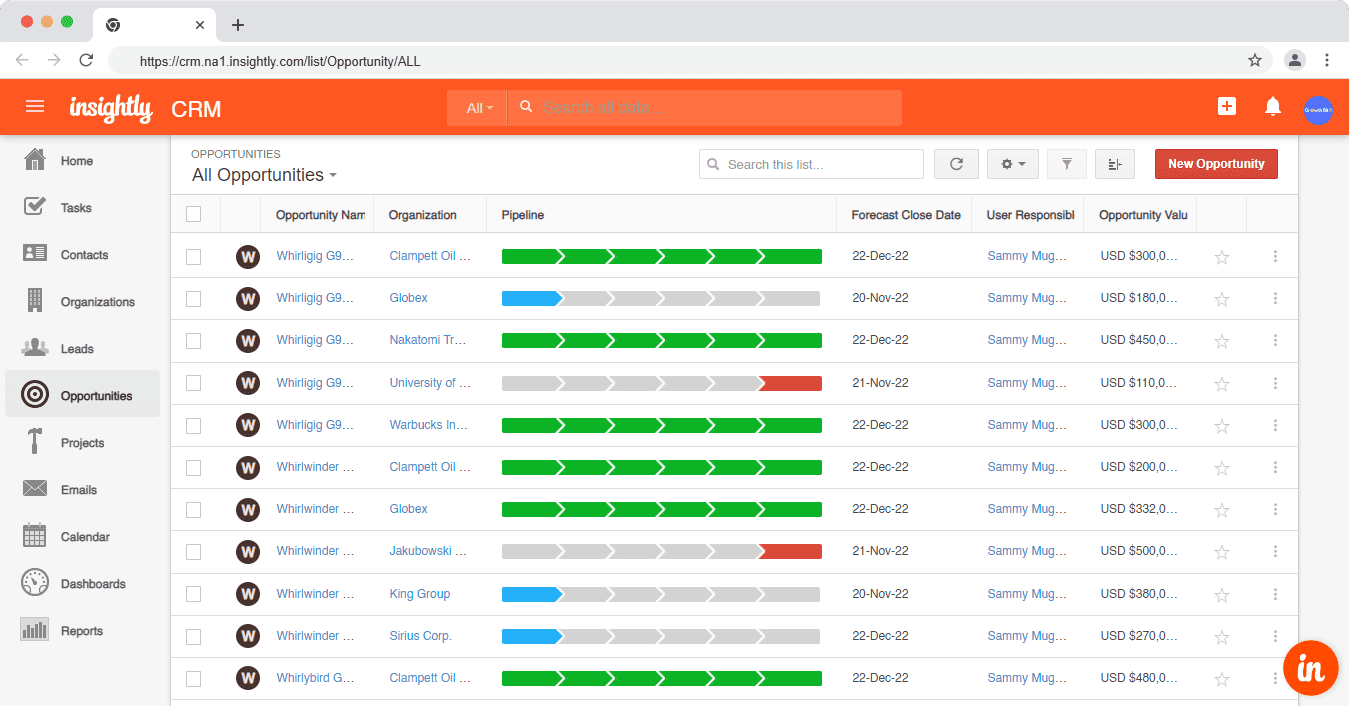 Customization and pipeline management verdict
Insightly is better than HubSpot in both customization and pipeline management functionality.
Looking for a more flexible solution to Insightly? Our article on the top Insightly alternatives will help you find the perfect fit.
Read also: CRM Showdown — HubSpot vs Zoho Review and Comparison
Marketing and campaign management
HubSpot has more of an all-around package therefore better marketing features while Insightly is mainly a sales CRM in which you can only send and track emails.
HubSpot
The marketing hub has the most essential and advanced features you might need to improve your marketing campaigns. Here are some marketing activities you can perform with HubSpot:
Create blog posts

Track your ads

Manage social media accounts

Build landing pages

A/B test emails

Run marketing automation
One powerful feature in the marketing hub is the campaign feature. It lets you allocate one total budget towards a campaign. This campaign includes different individual marketing components like ads, emails, and workflows. You can then track campaign metrics and also individual assets.
If you have a Black Friday campaign you can create blogs, ads, landing pages, and emails to work towards achieving the goals of the Black Friday campaign.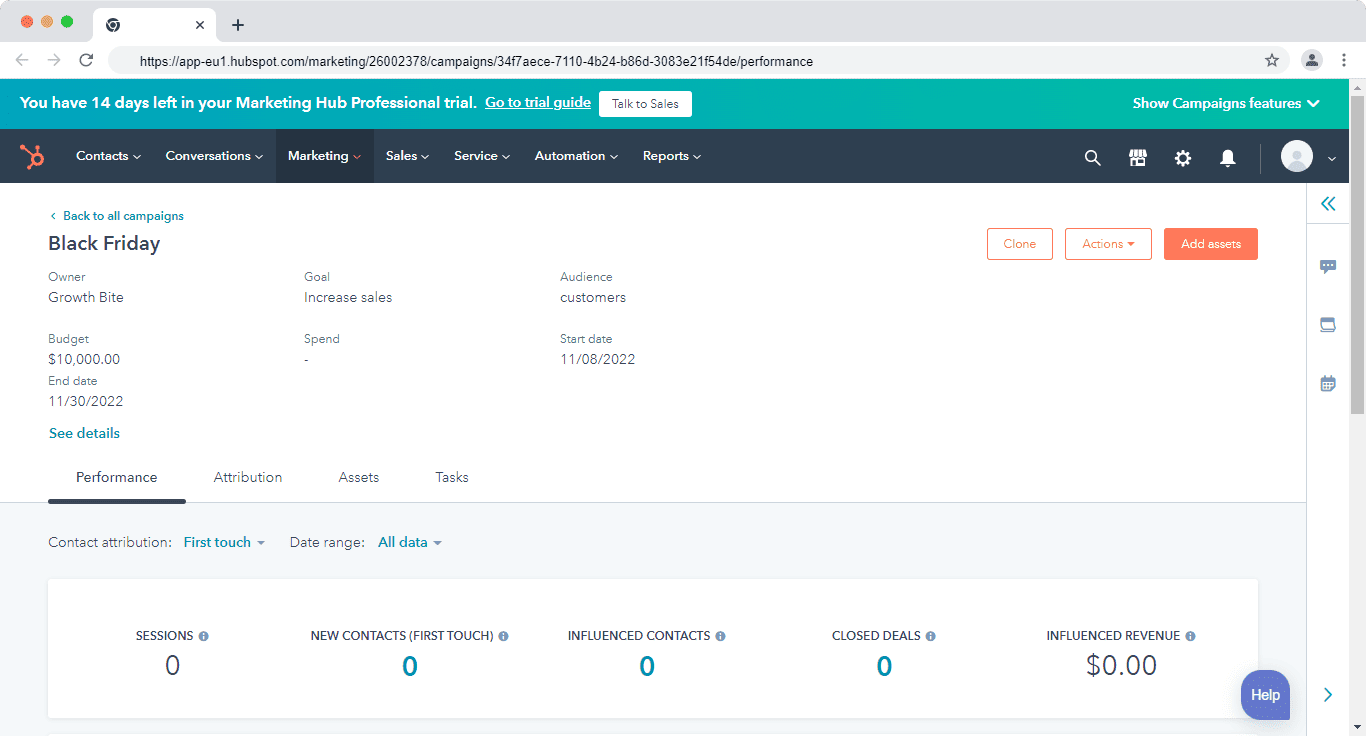 Here's how one of HubSpot's customers summed it up:
"The system is incredibly powerful with some great analytics, particularly with the marketing and website features. We can bring all of our social, paid ads, and forms into one platform and that has allowed our marketing team to become incredibly efficient and agile."
👉HubSpot competitors on your radar? Get all details of the top nine in our blog post.👌
Insightly
Its email feature set only lets you send, schedule, and track emails directly from Insightly.
To create an email broadcast you have to select the leads or contacts, choose an email template and send the email or schedule it for later. To send single emails, you only have to view a contact card and email the lead in one click.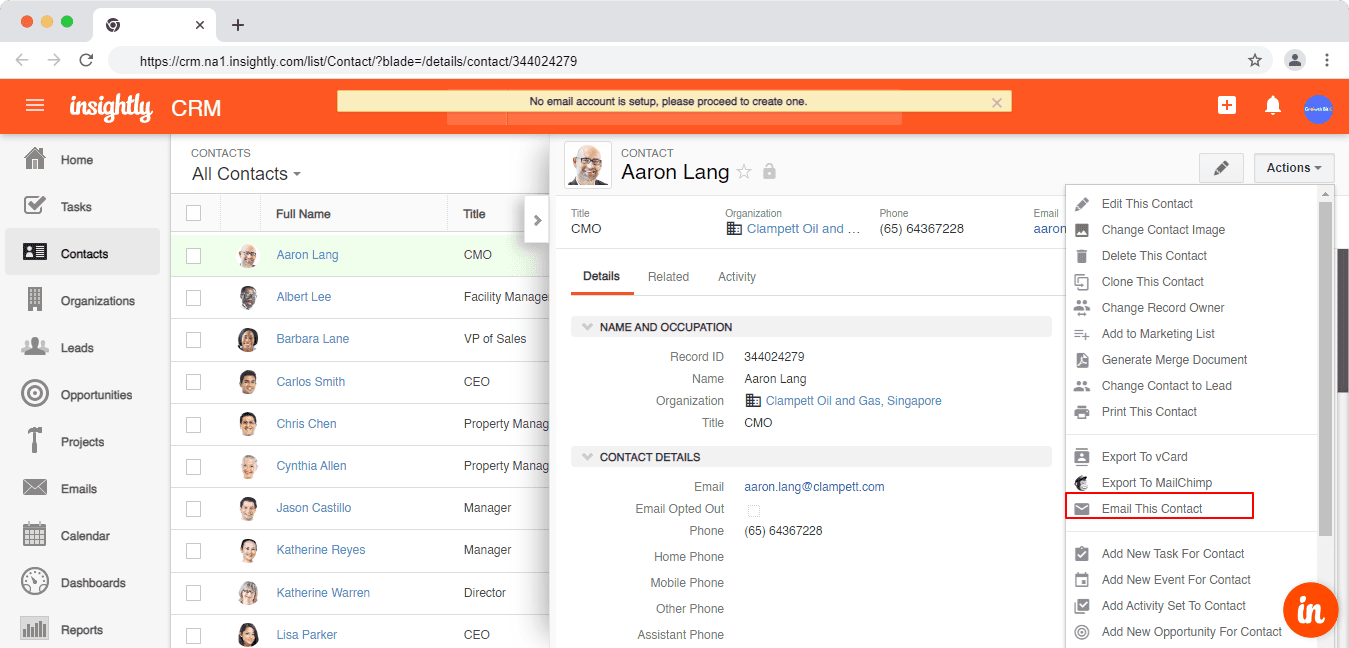 Marketing and campaign management verdict
HubSpot has better marketing and campaign management features compared to Insightly. You can run email marketing campaigns, attract leads with landing pages and web forms, and nurture them with marketing automation.
Read also: EngageBay vs HubSpot — Market Leader or Emerging Powerhouse?
Integrations
Integrating a CRM with your current tech stack gives you a complete picture of your business without working in silos.
HubSpot
HubSpot has over 1,000 integrations in categories like:
Customer service

Sales enablement

Scheduling

Project management
It even offers integration with other CRMs like Pipedrive, Copper, Insightly, and Salesforce.
Insightly
Insightly has over 2,000 integrations in categories like productivity, project management, sales and marketing, HR, Finance, and many more.
Insightly appconnect makes it easy to build integrations and automations between Insightly CRM with other apps. It's like Zapier but built by Insightly for its customers.
Integration verdict
Tie. Both HubSpot and Insightly have a huge selection of integrations with popular apps.
Sales automation
Automations and workflows improve your team's productivity by eliminating manual work and repetitive tasks.
HubSpot
HubSpot automation is built on two key features: sequences and workflows.
Sequences ensure no deal falls through the crack. You could, for example:
Create a series of timed emails to nurture leads and follow up with deals.

Personalize the sequence emails using contact and company data from HubSpot CRM and Salesforce.
Workflows automate manual and time-consuming activities. Some tasks you could automate include:
Nurturing leads

Updating leads' lifecycle stages

Handing leads off to sales
HubSpot also has seven types of triggers that start a workflow–contact-based trigger, company-based, deal-based, ticket-based, quote-based, conversation-based, and feedback-submission based.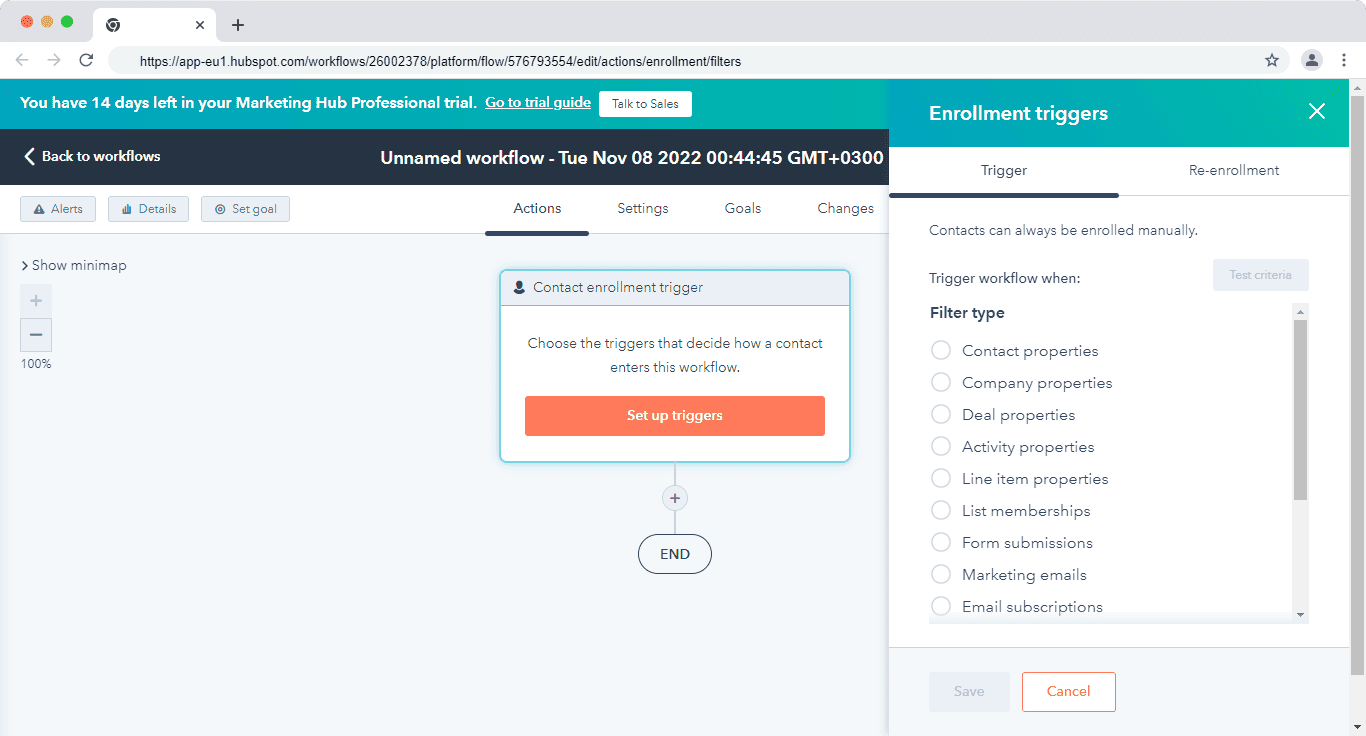 You can also pick automation from the pre-built list. This list has automations for converting leads, sharing meeting details, promoting something, and many more.
Insightly
There are three automation options in Insightly:
Pipelines with activity sets

Workflows

Appconnect automations
Moving leads and deals along the pipeline follows the same process. So, pipelines with activity sets automatically creates tasks and/or events when a deal or lead reaches a specific stage.
Workflows automates more complex activities and includes more automatic actions compared to activity sets. These workflows perform actions when certain triggers are met. This is equivalent to the normal automation functions you'd expect to find in a CRM.
You can, for example, automatically send emails to new leads after 3 days.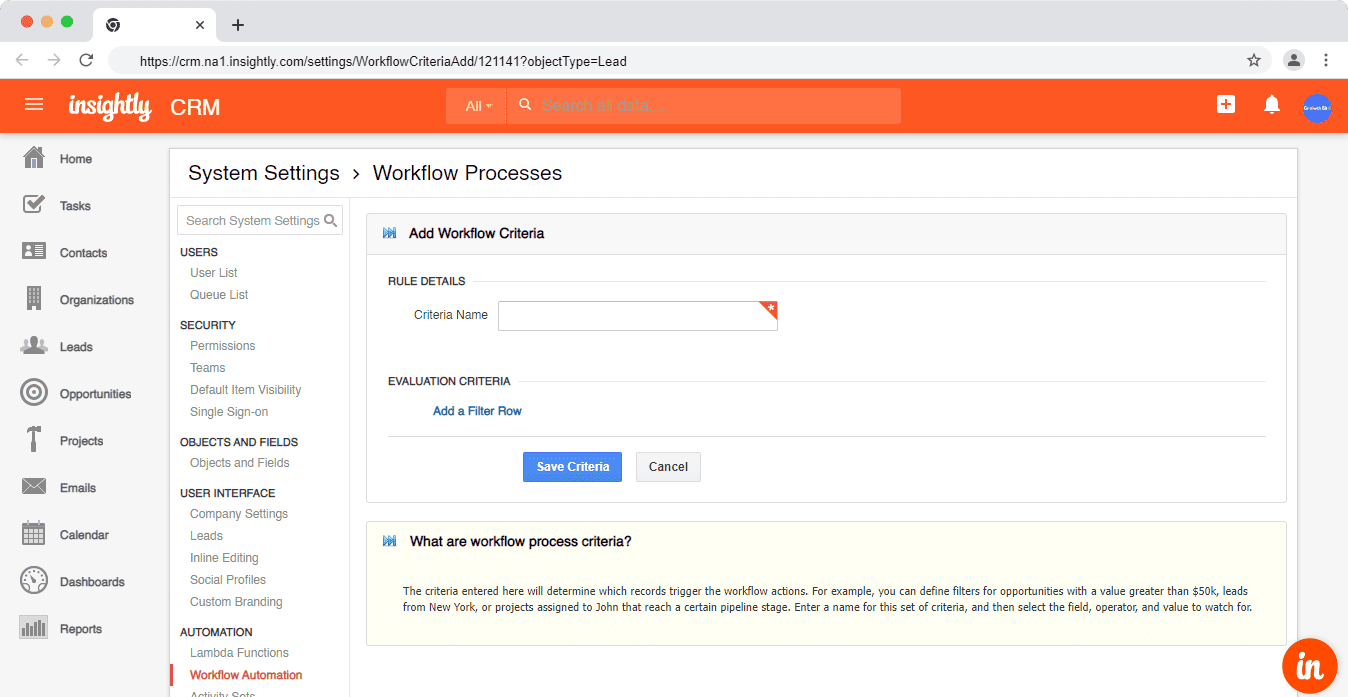 Appconnect helps you build integrations with other apps and create automations for repetitive tasks between those apps and Insightly using Recipes. Recipes are a set of steps Insightly will follow to get your work done.
Sales automation verdict
HubSpot has better sales automation compared to Insightly. Its automations is easier to use and access and you can use its workflow builder to build your own automations with ease.
Read also: An In-Depth Look at HubSpot vs Pipedrive
Reporting
CRM reporting helps you know what's happening across your sales process and how each team member is performing.
Here are some details you can look out for:
How easy it is to create reports and dashboards

The type of reports available

How presentable and easy to understand the reports are
HubSpot
The CRM and marketing hub data provides insights that help you generate comprehensive analysis into your pipeline and forecast revenue. You can also use these insights to coach your team.
HubSpot has a list of 90+ pre-built reports built into dashboards. For example, the sales manager dashboard has 8 pre-built reports. Here are some of the reports:
Deal closed total vs goal

Deal leaderboard – all-time amount closed by rep

Activity leaderboard by rep, with type breakdown

Deals open by close date of this month
Two key dashboards that you might also find useful are:
The sales opportunity review dashboard with 9 reports on the overall performance of your sales for the month

The sales dashboard, which has 5 reports that focus on your deals and sales
The funnel reports provide insights into the progress of deals and contacts in their respective life cycle stages. You can also build custom reports to get insights based on your specific needs and help in presenting them to stakeholders.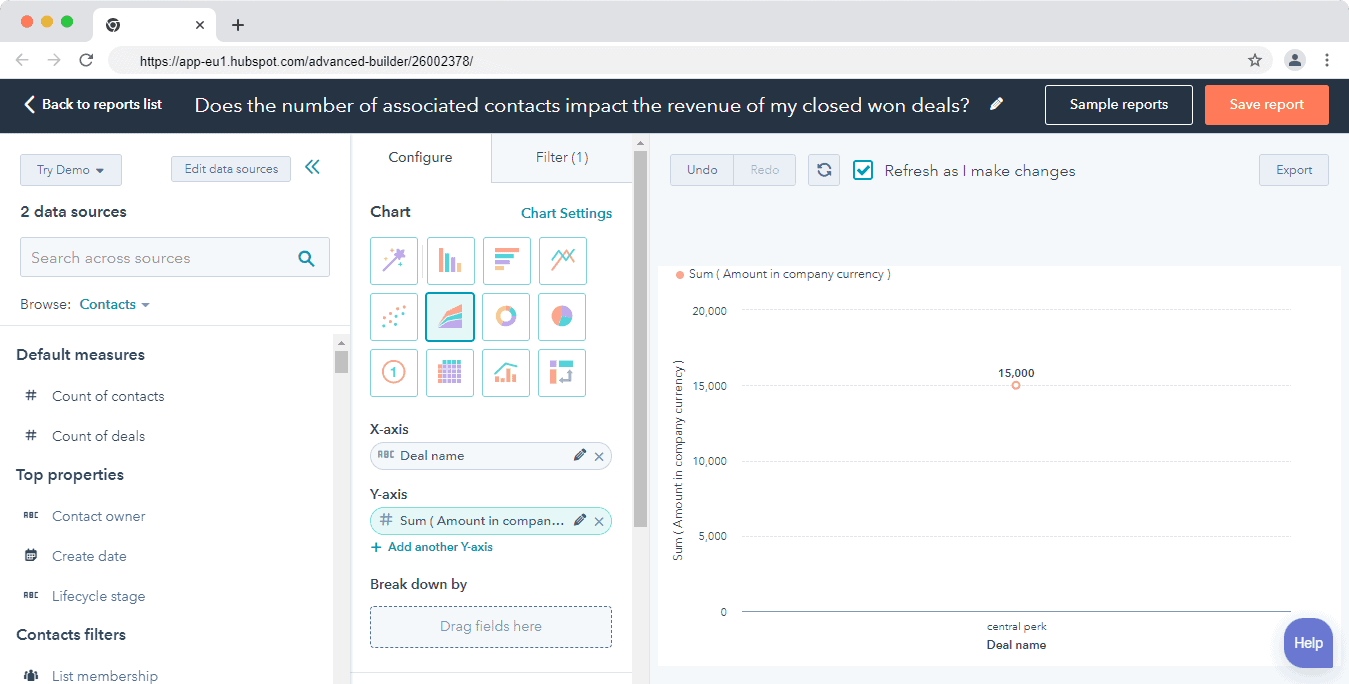 Insightly
Insightly allows you to create reports from a vast number of data sets. For example, you can view reports based on tasks, contacts, organization, lead, opportunity, project, and events.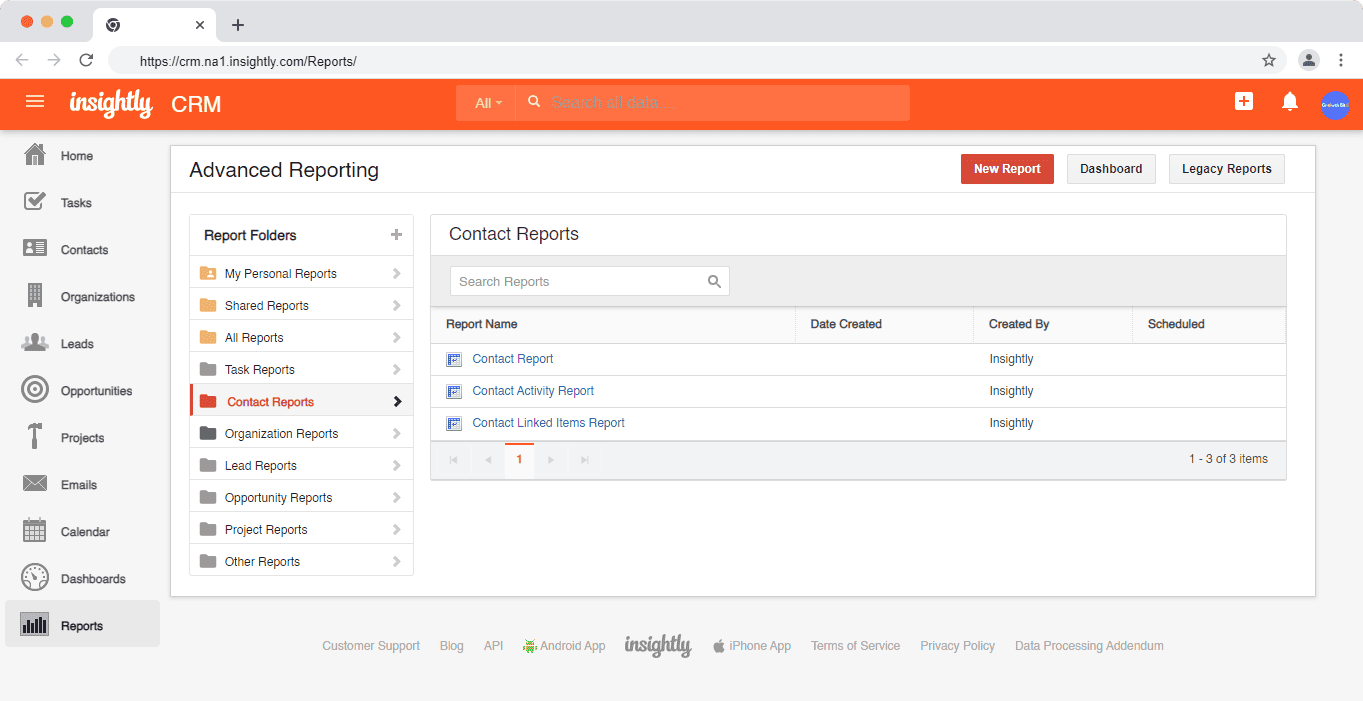 You can build custom reports and schedule them to be sent to key stakeholders at a certain time. Insightly also lets you build charts and graphs using data from your CRM.
You can also use dashboards for more complex visual reporting. Dashboards give you a quick visual of your data and are organized into cards so you can view multiple reports in one dashboard.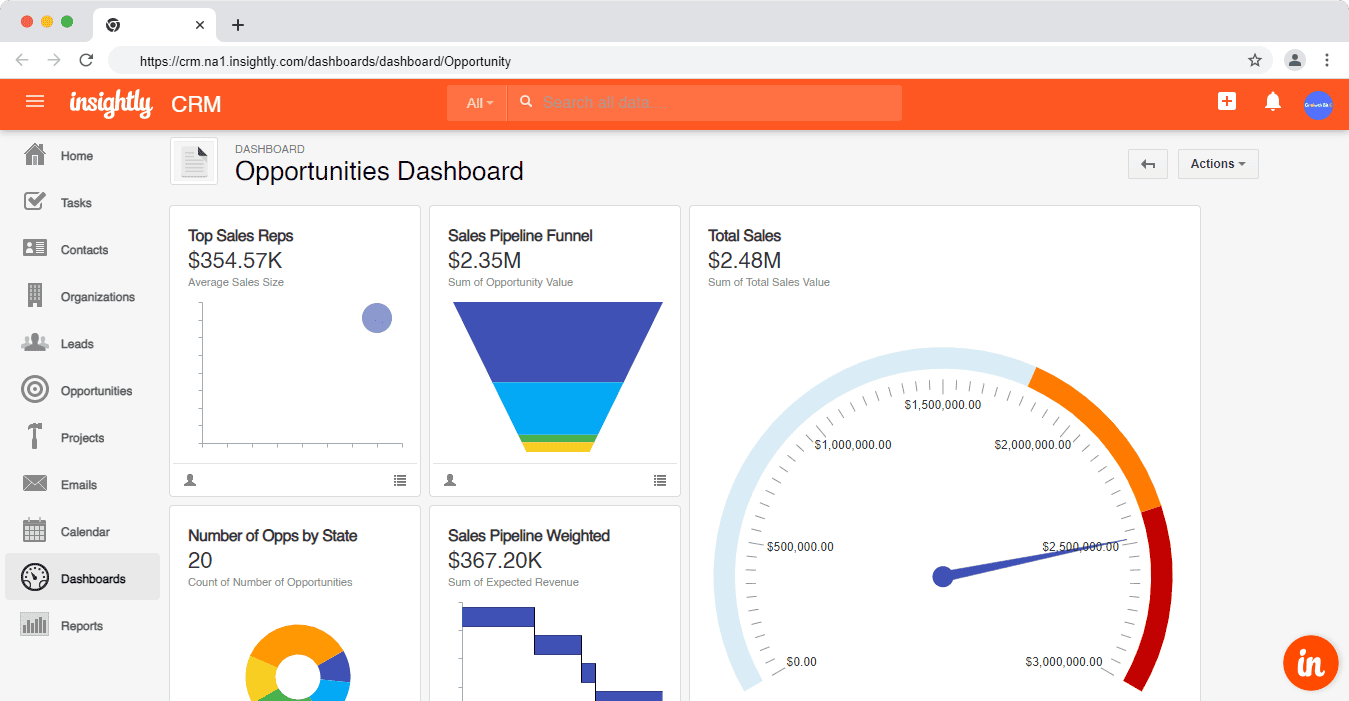 Reporting verdict
HubSpot has better reporting functionality compared to Insightly. Its pre-built templates and custom report builder are easier to use.
Read also: HubSpot Pros And Cons — A Candid Assessment
Lead management
Both HubSpot and Insightly have table stake lead management features. Here's a review of each platform's capabilities.
HubSpot
HubSpot's lead management interface lets you manage all of the following activities in one place:
View communication history

Manage leads

Prioritize your leads

Score leads
Looking to get a deeper understanding of your contacts? HubSpot's smart contact database lets you track everything from conversations to social media posts and email interactions.
The lead management platform lets you attract leads and keep them engaged using forms, live chat, automation and chatbots. The universal conversation inbox ensures that your sales, marketing, and support teams have a place to interact with your leads and customers.
Insightly
When you convert a lead, Insightly automatically creates an opportunity, contact, and organization record, and all these records will be linked to each other. But you can't convert a contact to a lead so your sales process has to start by creating a lead.

Insightly will also check any validation rules for leads you've put in place before a rep converts a lead. For example, the rules will verify if all the required fields required to be filled are filled.
It also has five default lead statuses, which you can use to track leads in your sales process. The statuses include: 'OPEN–NotContacted', 'OPEN–AttemptedContact', 'OPEN–Contacted', 'CLOSED–Disqualified', and 'CLOSED–Converted'.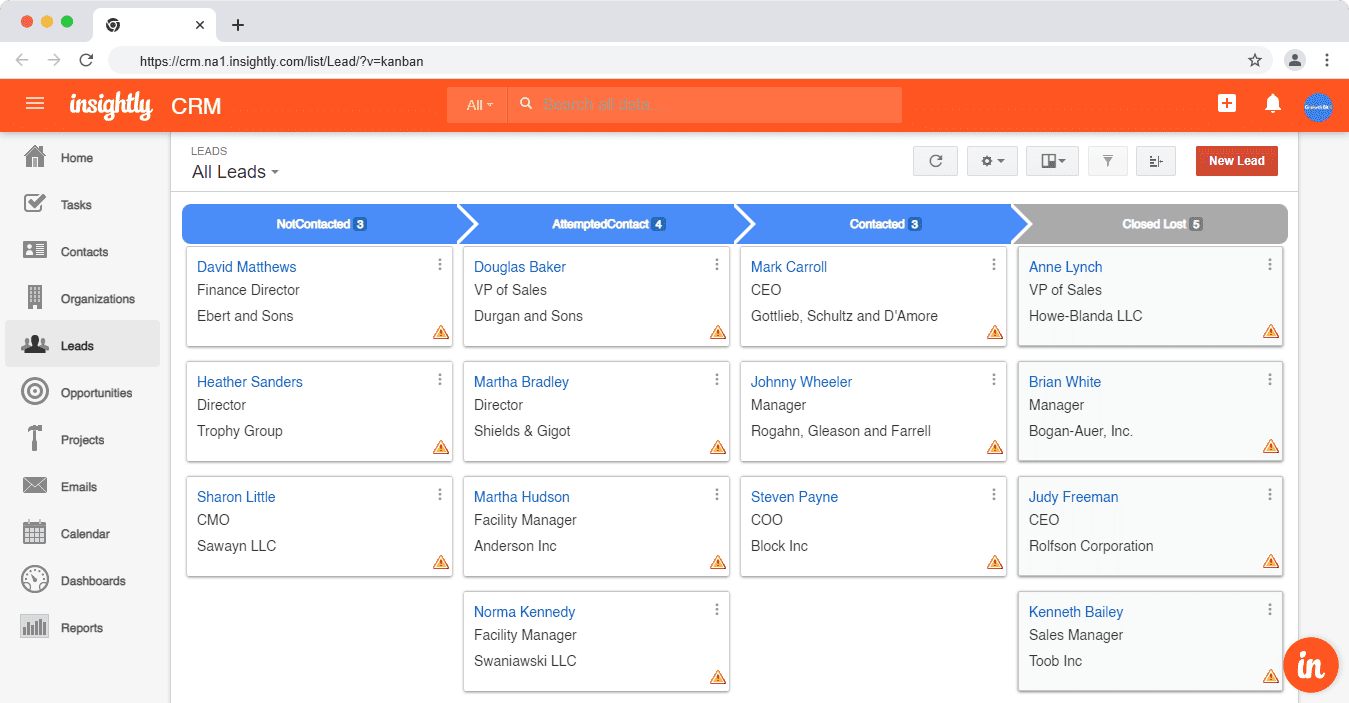 Insightly also has lead assignment rules, which help you automatically assign leads according to certain criteria.
Lead management verdict
HubSpot has better lead management capabilities compared to Insightly. It covers the entire customer journey from attracting leads to closing leads.
EngageBay: A More Affordable and Powerful Alternative
EngageBay is an all-in-one CRM powering sales, marketing, and support teams. It's ideal for small businesses that are starting out or those that are scaling.
HubSpot packs advanced features and replaces standalone apps like marketing automation software, but it's expensive. Insightly CRM lacks marketing features but it's cheaper compared to HubSpot.
EngageBay combines the best of both worlds. It's cheap like Insightly and has advanced marketing, sales, and support features like HubSpot.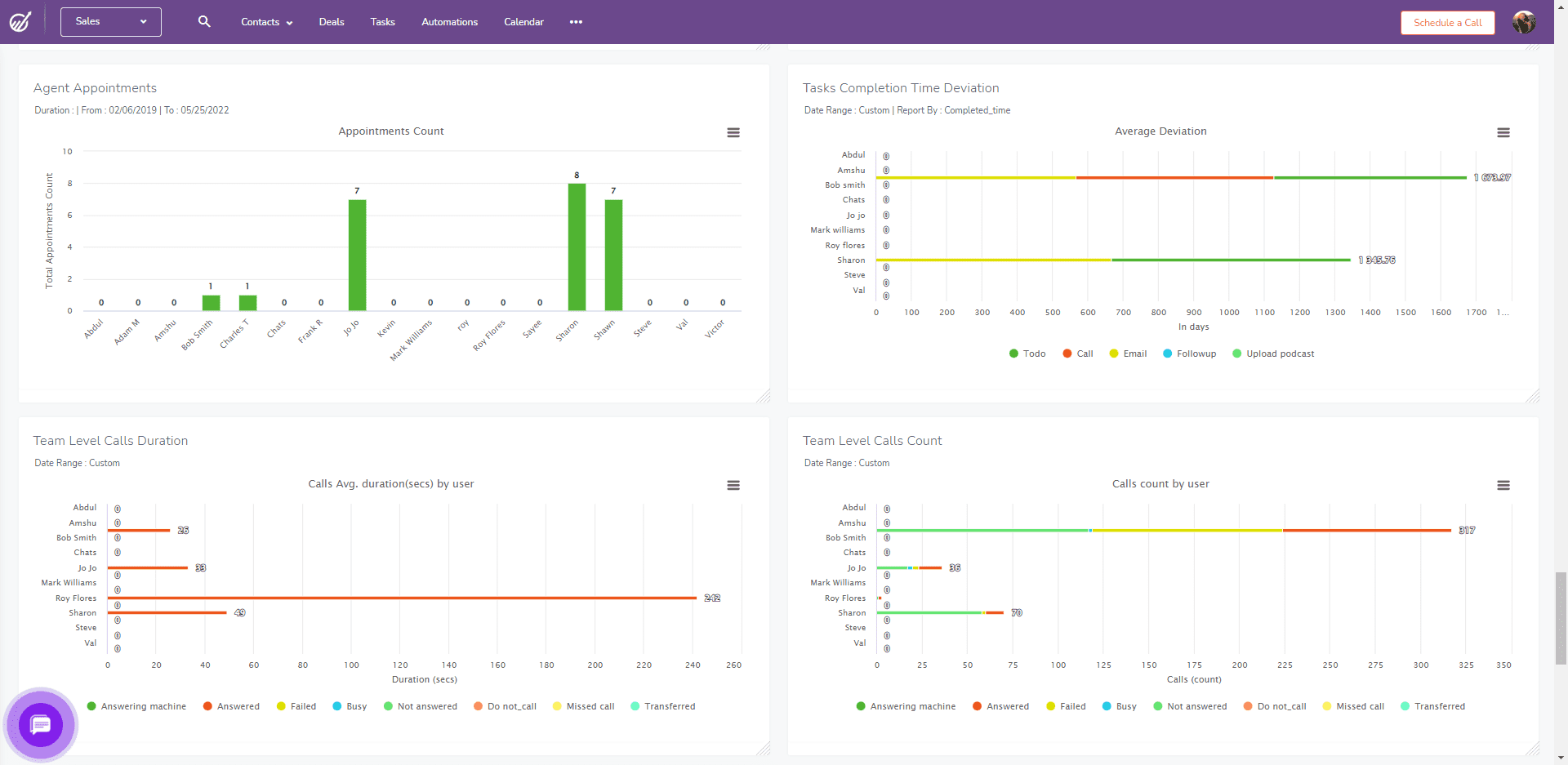 Here's how David Pryor, a marketing consultant summed up EngageBay:
"The customer service is pretty great. They have all of the automations and workflows you need for a small business. It's a great platform for an all-in-one sales, marketing, and support tool, and it's a pretty good option considering the price point. It's not too complex to use once you get into the swing of things. They even implemented a feature in two days in the forms that I thought would be useful and easy to execute after talking to support about it once."
You can create multiple deal pipelines for different products, run automations with multiple triggers, and get deeper customer insights with a bird's-eye view of the entire customer journey touchpoints.
The marketing automation platform lets you run drip campaigns, build forms and landing pages, automate lead scoring, and segment customers based on their activities and behavior.
The free help desk and live chat software lets you engage with customers and provide contextual support. You get to run ticket automations, assign tasks to reps and view customer interactions with the company in one dashboard.
Wrapping Up
As we've seen, Insightly suits you if you're only looking for a CRM to manage your leads and deals. But its workflow automation is not intuitive and easy to use compared to HubSpot or EngageBay.
HubSpot is suitable for you if you need something for your entire organization to use. The marketing, sales, and support teams can use HubSpot and have clear visibility into customers' data. But it gets expensive as you scale.
That's why EngageBay is a better Hubspot alternative. It's cheaper, has the same functionality as HubSpot, and has better customer support.