Using social media apps like Instagram gives your small business the opportunity to establish your brand, generate leads, promote your products and services, engage with your customers, and grow your website traffic through cross-linking.
In this article, I'll share 10 not-so-obvious tips that are proven to work on Instagram for small business owners.
1. Optimize Your Instagram Profile
Anyone can fill out an Instagram profile (and if yours isn't filled out, it really should be), but is your profile optimized?
If it's been a while since you've completed your small business Instagram profile, then the answer is maybe not.
Your Instagram profile must include a profile photo. It's best to use your business logo, as you're tying the logo to your brand and further strengthening your brand with this decision.
Yours should be an Instagram Business Account, which is not the same as a personal account.
Write a brief profile (you're limited to 150 characters), and add one link, as that's all Instagram allows as of this writing.
The link in your Instagram bio can be whatever you want, but it's best if it's a link to your website or to your latest product or service.
Here's a good example of a business profile on Instagram 👇

Read also: One Simple Guide For the Best Time to Post Reels on Instagram
2. Geotag Your Posts
Does your small business have a brick-and-mortar location? Then this next Instagram marketing strategy is right up your alley.
Begin geotagging your posts to your physical location. Instagram gives you the option to go back and edit old posts so you can add your geotag as well.
The geotag simply shows up as a location name at the top of your post. If someone clicks it, they'd be able to see more information about your small business location so they can stop on by and do some shopping.
Read also: Photo Credits for Dummies: A Brief Guide
3. Use Instagram Stories
Instagram Stories are a hugely popular feature of this social media service and one that you should take advantage of as well.
Stories are a great way to float your account to the top of a user's newsfeed, which is something that your Instagram posts alone cannot always achieve.
That doesn't mean you should spam Stories or update yours 20 times per day. That's overkill.
Instead, post an Instagram Story when you have something to talk about or when you want to engage with your audience.
For example, a poll is a really good way to do that!
Keep in mind that Instagram Stories only last for 24 hours unless you save and repost them.
Even if they are as temporary as that, you should still ensure that all Stories you post are in-line with your brand voice and values.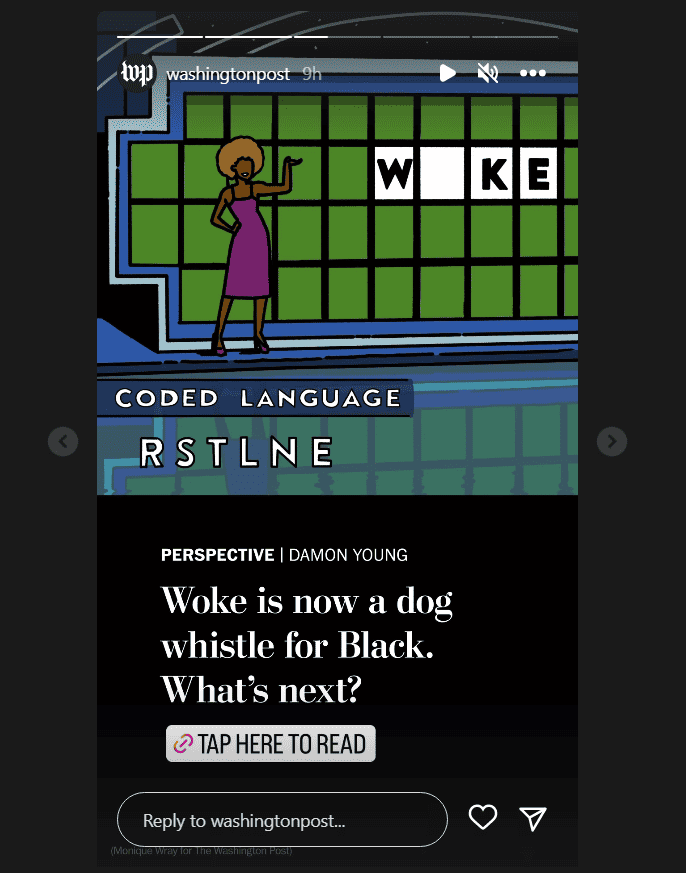 Read also: 2023 Guide To Instagram Features For Marketing Magic
4. Provide Value
Why are you posting on Instagram as a small business?
Is it to convert leads? Make sales? Boost customer retention?
Indirectly, it's about all those things. Directly, it's about providing value.
What is valuable to your audience? That's a question we can't answer for you, as no one knows your audience better than you.
What we can say for certain is that no matter who your audience is comprised of, no one likes being bombarded with constant sales posts.
Even if your products and services are really great, and even if you're reaching out to the right target audience, the constant pushing of your products and services will turn viable customers away.
Valuable content is educational, informative, and entertaining.
When you provide value to your followers, you give them something to stick around for.
Then, when you promote the latest product or service, your followers might be more willing to give it a try.
Here's a good example from Bloomberg: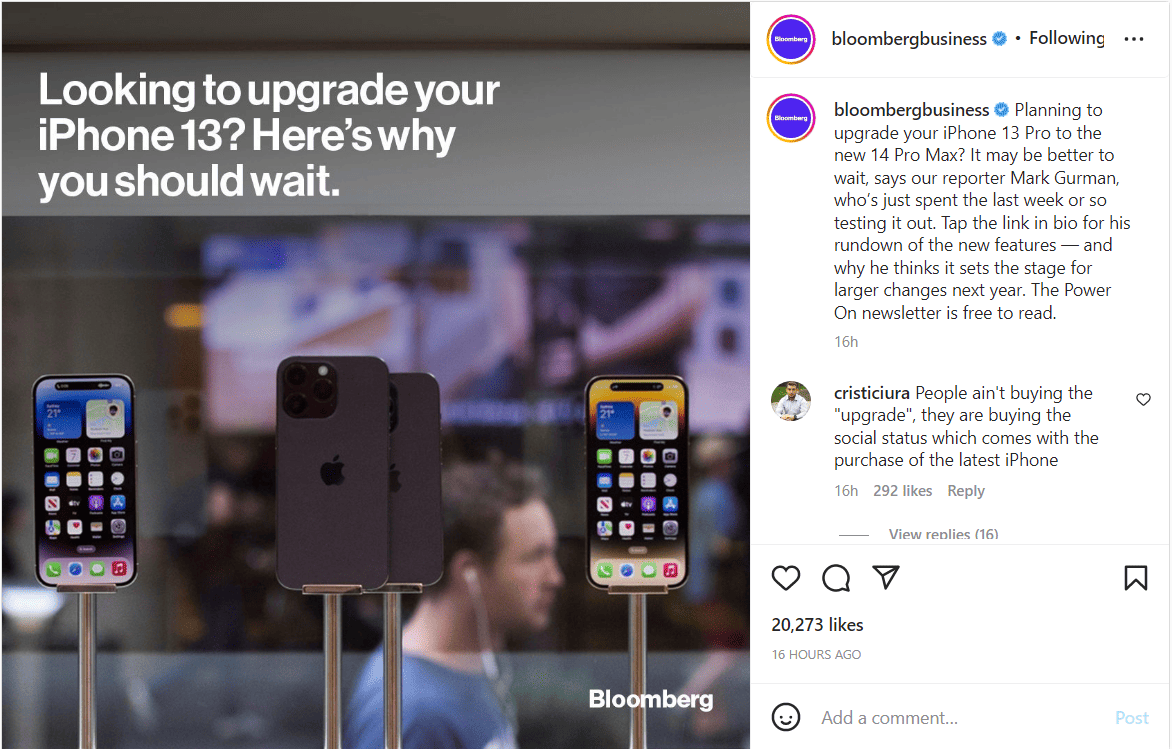 Read also: Get Noticed on Instagram with These Classy, Unique, and Quirky Bio Ideas!
5. Add Highlights to Your Instagram Account
Highlights are a handy feature on Instagram.
Remember how we said you can save Stories? Well, those saved Stories can become the basis of your Highlights.
Highlights are a permanent feature on your account. You can tie together as many Stories as you wish to get a point across.
It's best to categorize Highlights, as Instagram gives you the freedom to name a collection of Highlights whatever you wish. Here's a good example from Plann 👇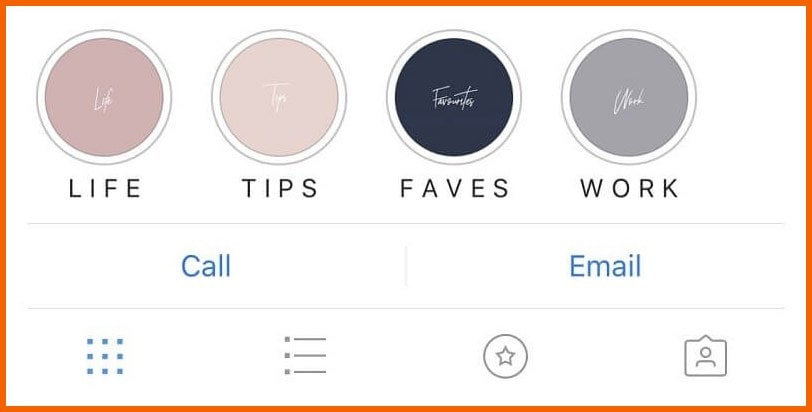 You can also upload your own custom thumbnails so your Highlights have more of your small business flair.
Read also: Instagram Feed Ideas from the Best of Brands
6. Engage with Your Audience
The point of social media is to be well, social. When you get comments on your content, don't ignore them.
At least like or heart the comments, as many as you can. Try to respond to the comments as well; again, as many as you can.
When customers or leads send you direct messages, get back to them in a timely manner (within 24 hours at most, and the sooner, the better!).
This is how you build a rapport with your audience that can translate to more converted leads, stronger customer relationships, and more sales.
Read also: What to Post on Instagram? 21 Creative Ideas For Small Businesses
7. Use Hashtags Wisely
If you're not using hashtags as part of your Instagram strategy, then you're hugely missing out on Instagram's potential.
Tagging your content with hashtags allows more than just your followers to find your content (unless you're a private account, but as an Instagram Business Account, you shouldn't be).
Just make sure you're not getting carried away with the hashtags, yes?
Here are some best practices for you to follow:
Limit your hashtag use to no more than three per post.
If you're running short on characters, feel free to add the hashtags as the first comment in your post.
Create branded hashtags and ask your audience to use them.
Use hashtags on Instagram Stories (yes! You can do that!).
Select relevant hashtags only, not merely hashtags that are trending.
Here's a good example 👇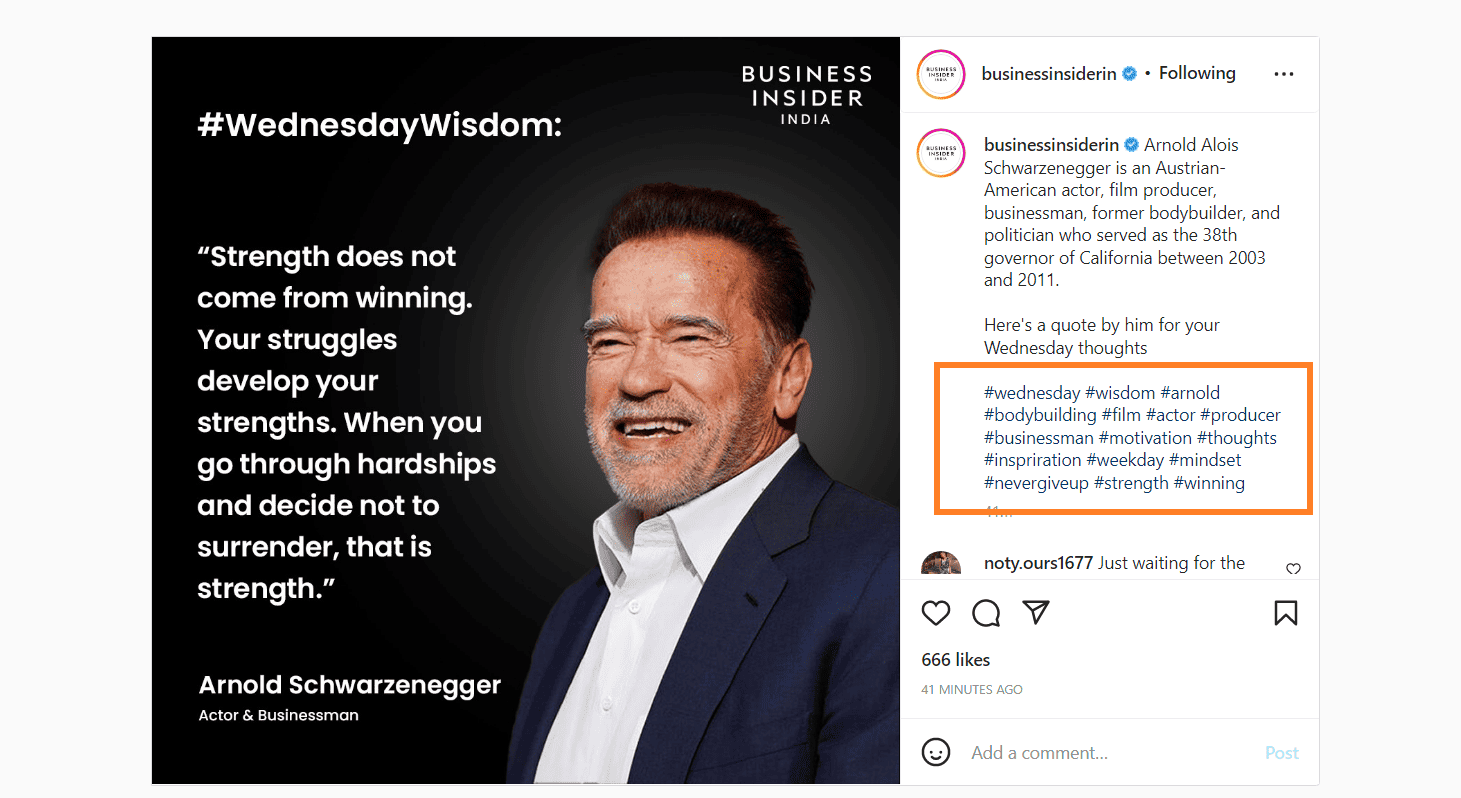 Read also: Top TikTok Challenges of All Time and New Ideas
8. Resist the Urge to Buy Followers
If you wanted, your small business could go from 1,000 to 10,000 followers overnight, but that would require some very deep pockets.
Buying Instagram followers is possible. We're not going to get into the ins and outs here because we're trying to discourage you from doing it.
After all, your Instagram follower count would be nicely padded, but with who? Those followers are not true followers.
These people–if they even are people, as many accounts are bots–will not engage with your content in a meaningful way. They won't drive your brand forward.
If your legit customers catch wind that you bought Instagram followers, they could decide to unfollow you because they're uncomfortable with the practice.
Although these Instagram marketing tips won't help you build a huge following overnight, your Instagram Business Account will grow if you stick with it. You'll get genuine followers who will care about what you post!
Ace Your Instagram Captions — 100+ Examples Here
9. Go Live
Instagram Live is another feature on the platform that you should utilize regularly.
Now, you're probably wondering, what in the world could you host an Instagram Live about?
Maybe you do a live showcase of the latest product or service you're about to release to pique interest. Perhaps you do a live interview with an influencer or major name in your industry.
You can even do a live Q&A session.
Our biggest tip? Have a plan.
You should not go on Instagram Live and just wing it. You could get nervous and have an awkward experience that will be hard to explain away to your viewers.
Read also: 21 Real Estate Instagram Post Ideas for Winners
10. Make an Instagram Guide
Our last tactic for small businesses on Instagram is this. Create your very own Instagram Guide.
Guides are in the same vein as Highlights. You can select a series of posts about one topic and then create an editorial about that topic.
The Guide isn't quite an article, but it's certainly a different format than Stories or Highlights.
You don't even have to include content exclusively from your own Instagram. If you see relevant content on other accounts' feeds that would help you complete your Guide, you can save their content and add it to the Guide.
Read also: 12 Instagram Story Best Practices For Everybody
Conclusion
Instagram can be a wonderful tool for small businesses looking to grow, especially if you follow the marketing tactics we recommended here today.
We want to reiterate that while growth will not be sudden, the growth you experience should be impactful and lasting 🙂
Discover the most creative bio ideas that will captivate your audience in our detailed article!