Getting right into your question – is Salesforce a CRM?
Yes, Salesforce is a CRM.
The Salesforce CRM platform has software solutions for sales, service, marketing, safety, analytics, sustainability, and more that help companies acquire, retain, and grow their customers.
While Salesforce platform provides a wide variety of products for businesses of all sizes and industries, it's also one of the most expensive CRM solutions in the market.
If you're looking for a CRM within budget, there are less expensive options like EngageBay, Insightly, Pipedrive, and ActiveCampaign.
However, if you prefer to grow your business with Salesforce's CRM system, this post will provide all the information you need to know.
Here's what we will cover:
What does Salesforce CRM do?

Is Salesforce CRM platform free to use?

How much does Salesforce cost?

Why is Salesforce CRM software so popular?

Is Salesforce a great choice for startups and SMBs?
Let's dive in.
What does Salesforce CRM do?
Salesforce is a cloud-based customer relationship management software that allows companies to connect with customers, manage their marketing campaigns, and optimize their sales processes.
Salesforce offers these services through its integrated CRM platform known as Customer 360.
Customer 360 contains individual products such as Clouds (the equivalent of Bays in EngageBay), analytics, and integrations. Salesforce cloud includes the Sales, Marketing, Service, and Commerce clouds. Each product and cloud is broken down into plans called "editions."
Is Salesforce CRM platform Free to Use?
Unlike other CRMs like EngageBay, Salesforce doesn't offer a free plan for profit-oriented businesses. Currently, the only way to use Salesforce CRM without paying is through the free trial, which only exists in specific products and lasts for 14 to 30 days.
However, for nonprofits, Salesforce provides a more generous offer in the Nonprofit Cloud. This cloud has features that support donor nurturing, fundraising, and grant-making. Authorized Nonprofit organizations (NPOs) can get their 10 first subscriptions for free and then pay to use the software subsequently.
Because the Nonprofit Cloud is tailored ‌to NPOs, it can't support the business processes of profit-making companies. So, if you're a profit-oriented Small and Medium-sized Business (SMB) looking to start with a free CRM before scaling up, Salesforce isn't a great option.
Read also: Pardot Pricing, Features, Reviews, and Affordable Alternatives
How Much Does Salesforce Cost?
Salesforce's pricing is suited to organizations with a substantial budget to invest in a CRM. To give you an accurate idea of what you'll pay to use Salesforce CRM, we'll focus on pricing for Salesforce's products that are common in other CRMs.
This includes Salesforce's solutions for small businesses, marketing, sales, service, and the Customer 360.
Small Business Solutions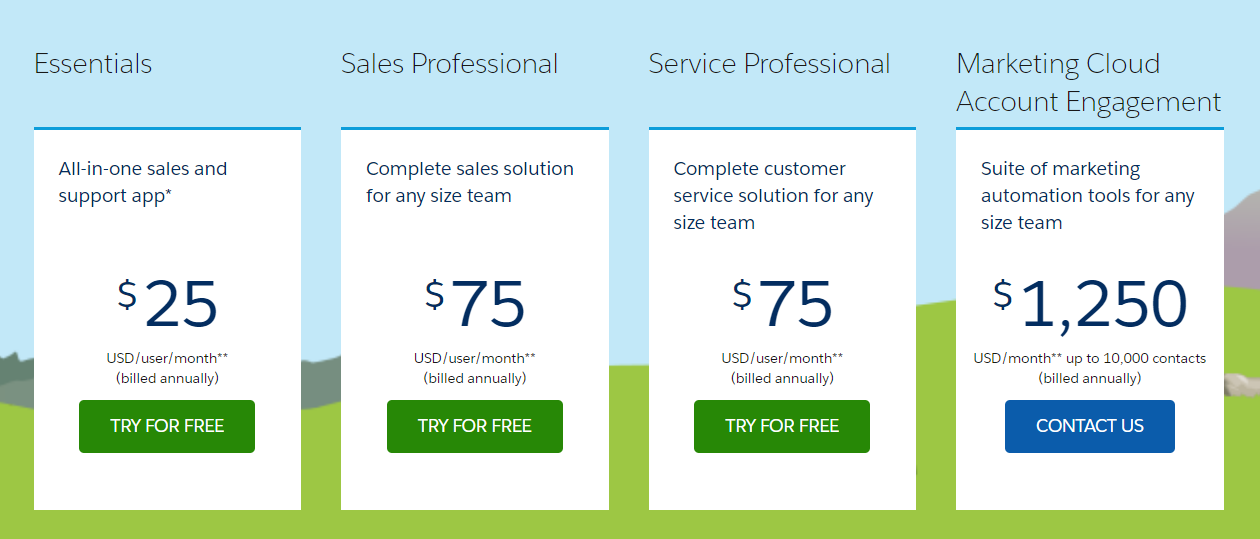 Salesforce's Small Business Solutions is a selection of recommended sales, services, and marketing solutions to help SMBs grow. You can also select your industry to get specific tools that are ideal for your business.
Editions available in the Small Business Solutions are:
Essentials: Contains sales & service features such as email tracking, lead management, contact management, email integration, case management, and Salesforce mobile app for $25/month per user if you commit to an annual contract. Otherwise, you'll have to pay $35/month per user.
Sales Professional: Offers sales management capabilities such as lead management, mass email, limited roles & permissions, collaborative forecasting, quotes, email & Google app integration, and more for $75/month per user billed yearly. This edition and the next two below require you to commit to an annual contract.
Service Professional: Contains features like omnichannel routing, swarming, knowledge base (read-only), incident management, opportunity tracking, and developer sandbox for $75/month per user billed yearly.
Marketing Cloud Account Engagement: Includes basic marketing automation features such as email marketing, lead nurturing, landing pages & forms, email A/B testing, 10,000 contacts, lead scoring, competitor monitoring, and 50 automation rules for $1250/month billed yearly.
Read also: Top 9 Salesforce Competitors And Alternatives [Comparison Tables]
Salesforce Sales Cloud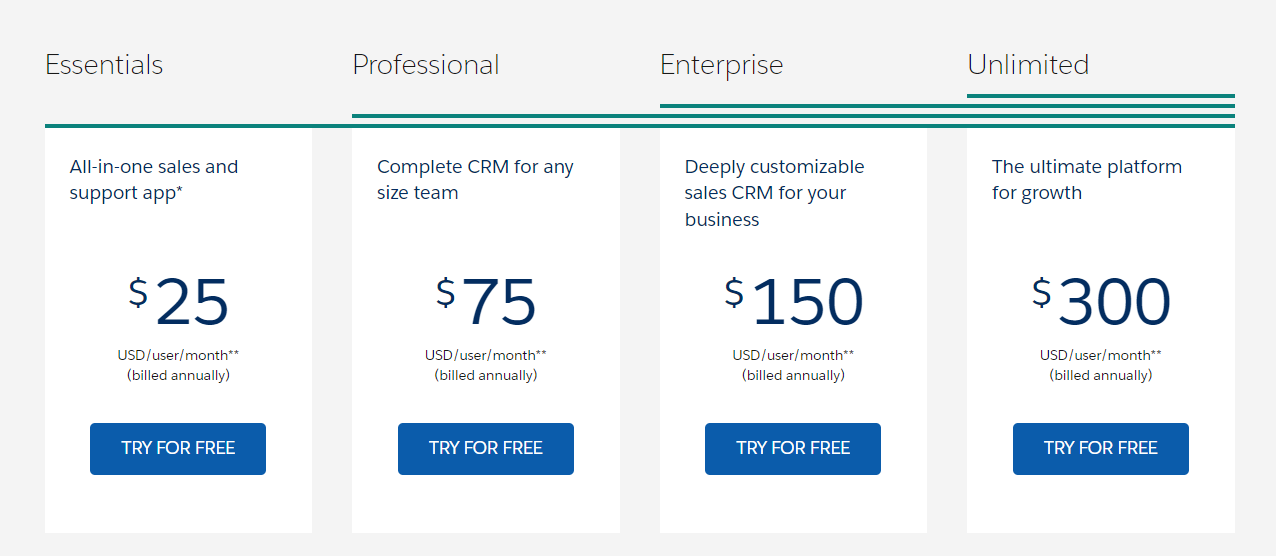 The Sales Cloud provides businesses with the tools to find new customers, track leads & opportunities, and close more deals. Besides the Essentials edition, other editions in the Sales Cloud require a mandatory annual contract. We've listed how much each edition costs and some features they offer below.
Essentials

$25/mo/user (billed annually)$35/mo/user (billed monthly)
Professional

$75/mo/user (billed annually)
Enterprise
$150/mo/user (billed annually)
Unlimited
$300 (billed annually)
Account, Contact, Lead, Campaign, and Opportunity Management
✔
✔
✔
✔
Mass Email & Templates
✔
✔
✔
✔
Customizable Reports & Dashboards
✔
✔
✔
✔
Email Integration (Gmail or Outlook)
✔
✔
✔
✔
Quotes, Contracts, and Orders
x
✔
✔
✔
Pipeline Management
x
✔
✔
✔
Forecast Management
x
✔
✔
✔
Workflow and Approval Automation
x
x
✔
✔
Sales Teams
x
x
✔
✔
Advanced Reporting
x
x
✔
✔
Sales Cadences
x
x
x
✔
24/7 support
x
x
x
✔
*Note: This is a highlight. Additional features exist in each edition.
Salesforce Service Cloud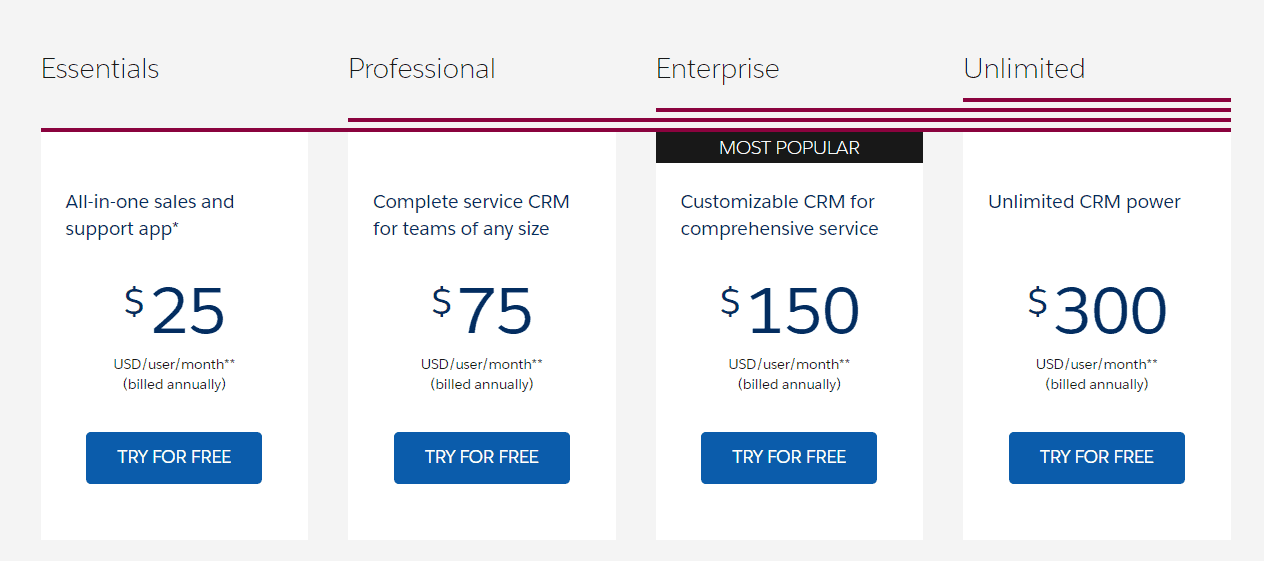 The Service Cloud has a suite of features that strengthen customer relationships and scale your customer service. The four editions available in the Service Cloud are—Essentials, Professional, Enterprise, and Unlimited. Below is what each edition costs:
Essentials

$25/mo/user (billed annually)$35/mo/user (billed monthly)
Professional

$75/mo/user (billed annually)
Enterprise
$150/mo/user (billed annually)
Unlimited
$300 (billed annually)
Incident Management
✔
x
✔
✔
Service Console Apps
✔
✔
✔
✔
Knowledge
✔
✔
✔
✔
Service Contracts & Entitlements
x
✔
✔
✔
Telephony Integration (CTI)
✔
✔
✔
✔
Web Services API
x
x
✔
✔
24/7
x
x
x
✔
Salesforce Flow (Flow + ProcessBuilder)
✔
✔
✔
✔
Knowledge Base (Read-write)
✔
Additional Fees Apply
Additional Fees Apply
✔
Task Management & Activity Feed
✔
✔
✔
✔
*Note: This is a highlight. Additional features exist in each edition.
Salesforce Marketing Cloud
Salesforce Marketing Cloud has eight products for streamlining your marketing operation from personalization and building your customer journey to automation.
All products in the Marketing Cloud require an annual contract. Also, there's no free trial available. Below is what's available in this cloud:
1. Marketing Cloud Customer Data Platform (Formerly Salesforce CDP)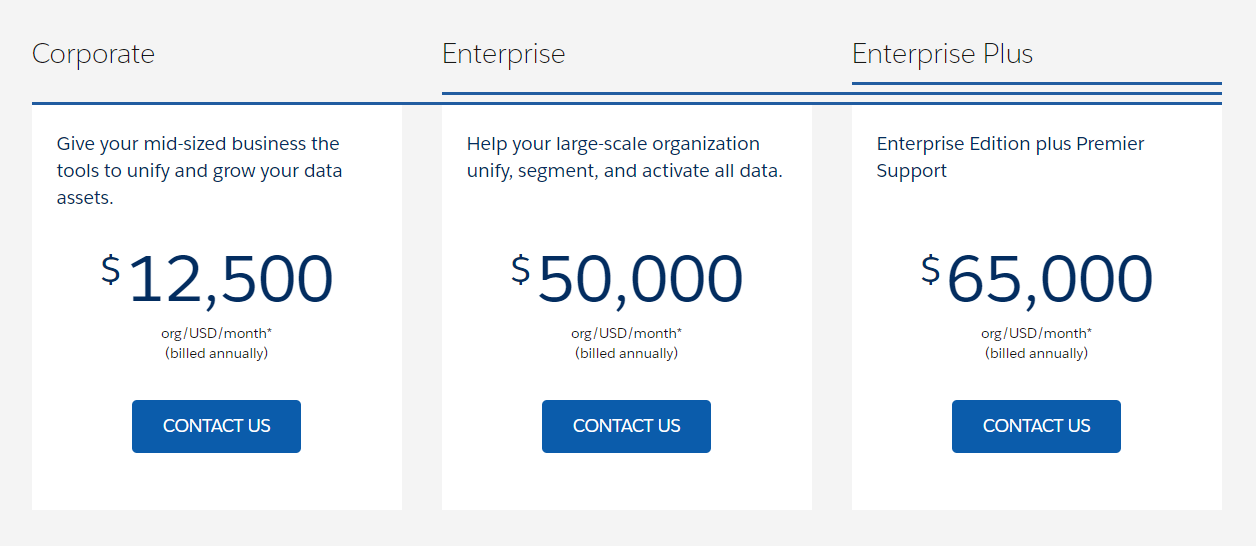 This platform allows businesses to build a single source of truth where they can capture, centralize, and manage all their customer data. Here are editions you'll find on this platform:
Corporate
$12,500/mo (billed monthly)
Enterprise
$50,000/mo (billed annually)
Enterprise Plus
$65,000/mo (billed annually)
Unified Profiles
45K
500K
500K
Super Message
10M
150M
150M
Segment Publish
20K
100K
100K
Engagement Events
70.5B
25B
25B
Premier Support
(Comes with 24/7 support, expert coaching sessions, & Trailhead Academy discounts)
x
x
✔
2. Loyalty Management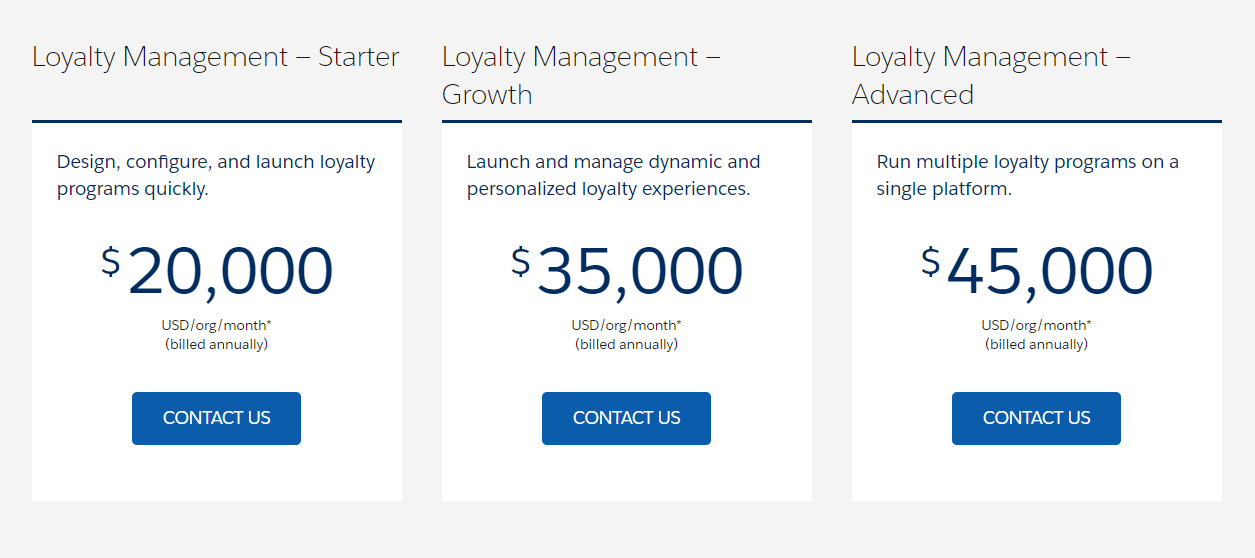 The Loyalty Management platform provides features for creating a customer loyalty program, tracking its performance, and managing the program across teams and organizations. Editions on this platform are the Starter, Growth, and Advanced.
Starter

$20,000/mo/org (billed monthly)
Growth

$30,000/mo/org (billed annually)
Advanced
$45,000/mo/org (billed annually)
Member Administration
✔
✔
✔
Rewards Management
✔
✔
✔
Benefits management
Static
Full
Full
Tableau CRM for Loyalty Management Base App
1 License
3 Licenses
5 Licenses
Dynamic Promotions Management
x
✔
✔
Partner Administration
x
✔
✔
Program Setup
Single Program
Single Program
Multiple Program
Loyalty Users
15
30
50
Loyalty Events
1 million events/year
15 million events/year
50 million events/year
Data Processing Engine
✔
✔
✔
*Note: This is a highlight. Additional features exist in each edition.
3. Marketing Cloud Account Engagement (Formerly Pardot)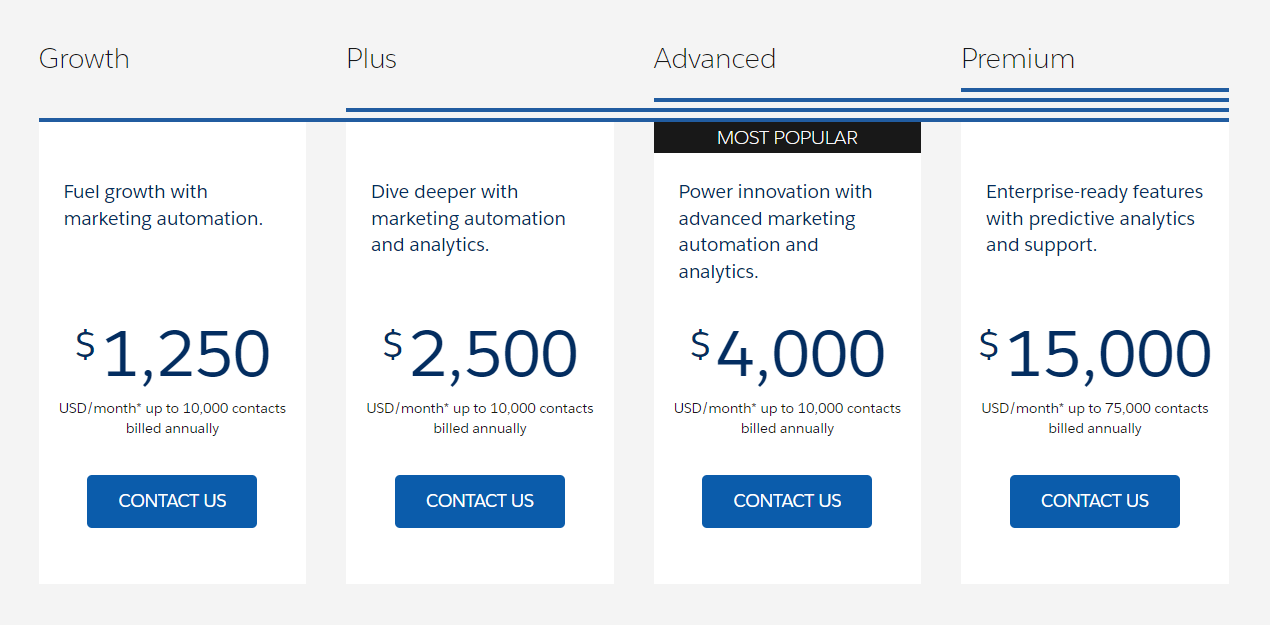 In the Marketing Cloud Account Engagement, you'll find marketing automation and analytics features to grow your business. Editions within this product are Growth, Plus, Advanced, and Premium.
Growth

$1250/mo (billed annually)
Plus

$2,500/mo (billed annually)
Advanced
$4,000/mo (billed annually)
Premium
$15,000/mo (billed annually)
Lead Generation, Qualification, and Management
✔
✔
✔
✔
Email Marketing (Mass & one)
✔
✔
✔
✔
Email A/B Testing
✔
✔
✔
✔
Landing Pages & Forms
50 each
Unlimited
Unlimited
Unlimited
Advanced Automation
x
✔
✔
✔
Advanced Analytics
x
✔
✔
✔
Business Units
x
x
✔
✔
Developer Sandbox
x
x
✔
✔
AI for Sales & Marketing
x
x
✔
✔
User Roles & Permissions
x
x
✔
✔
Einstein Send Time Optimization
x
x
✔
✔
Predictive Analytics
x
x
x
✔
24/7 support
x
x
x
✔
*Note: This is a highlight. Additional features exist in each edition.
4. Marketing Cloud Engagement (Formerly Email, Mobile, Advertising, and Journey Builder)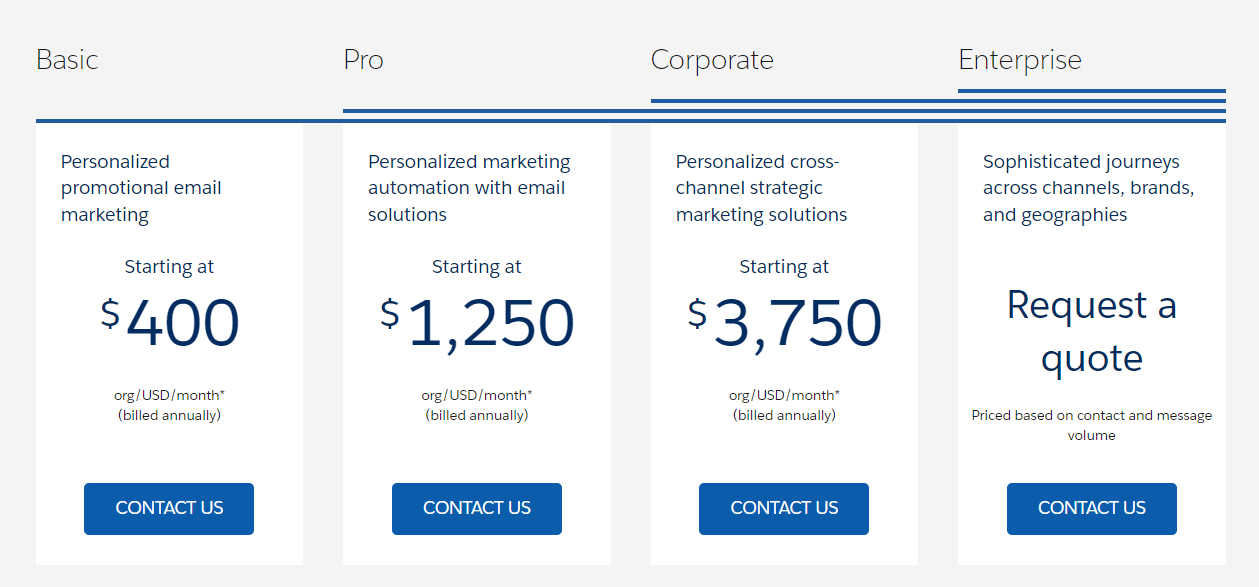 Salesforce's Marketing Cloud Engagement helps you to build customer journeys and build personalized experiences across channels. Here are editions you'll find on this platform:
Basic

$400/mo (billed annually)
Pro

$1,250/mo (billed annually)
Corporate
$3,750/mo (billed annually)
Enterprise
Request a quote
Email Conversion Tracking
x
✔
✔
✔
Content Builder & Approvals
✔
✔
✔
✔
Integration with Salesforce Sales Cloud
✔
✔
✔
✔
Custom Roles & Permissions
✔
✔
✔
✔
Automation Studio
x
✔
✔
✔
Queries, Filters, & Measures
x
✔
✔
✔
Journey Builder
x
x
✔
✔
Powered by Einstein
x
x
✔
✔
SMS/MMS
x
x
1K
1K
Push messaging
x
x
✔
✔
Path Optimizer
x
x
✔
✔
*Note: This is a highlight. Additional features exist in each edition.
5. Marketing Cloud Advertising (Formerly Advertising Studio)
The Marketing Cloud Advertising allows businesses to create and scale their digital advertising across search, display, and social media. The only available edition here is the Professional.
Professional: Provides real-time lead capture, CRM data for advertising, Audience auto-refresh, journey builder advertising, and security & access control starting at $2,000/mo.
6. Marketing Cloud Intelligence (Formerly Datorama)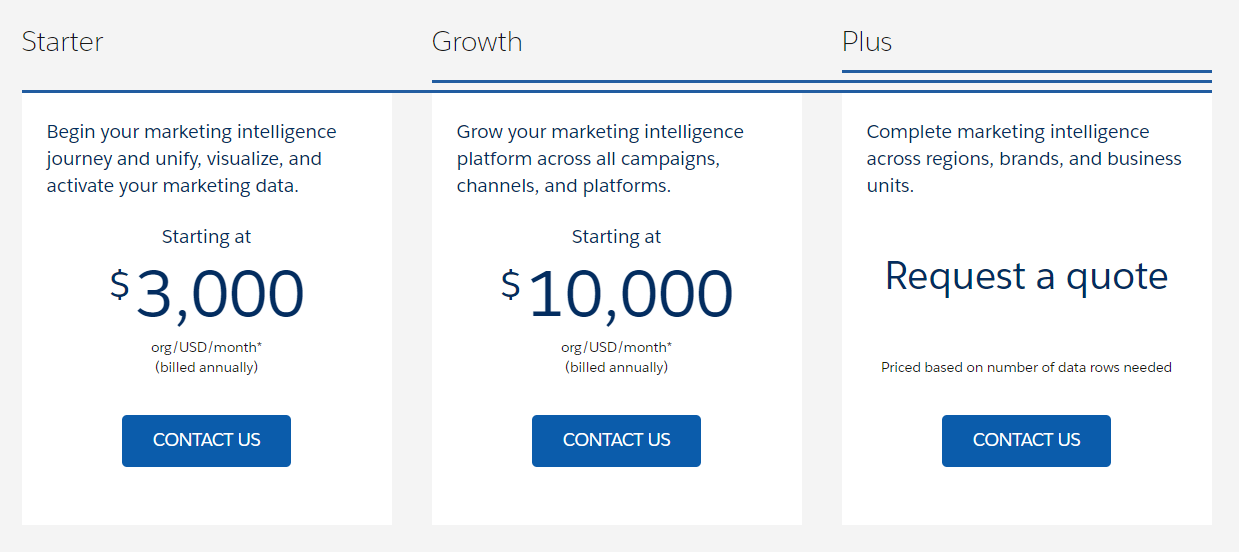 With Salesforce's Marketing Cloud Intelligence, you can connect, measure, and optimize your marketing data, investments, and KPIs. Editions on the Marketing Cloud Intelligence, their features, and pricing are in the table below.
Starter

$3,000/mo/org (billed monthly)
Growth

$10,000/mo/org (billed annually)
Plus

Request a quote
Marketplace
✔
✔
✔
Data Integration Engine
✔
✔
✔
Harmonization Center
✔
✔
✔
Data Visualization & AI Insights
✔
✔
✔
Users
10
20
80
Rows
3M
20M
100M
7. Marketing Cloud Personalization (Formerly Interaction Studio)
The Marketing Cloud Personalization platform has features for delivering real-time personalization.
You can monitor customer insights, carry out cross-channel engagement (online & in-store), use AI to optimize your campaigns (for example, making highly relevant product recommendations), and analyze performance. Salesforce only provides a detailed feature list and pricing for this product if you request a quote.
Boost your business efficiency with the best CRM automation software. Discover your options in our detailed article.
8. Salesforce Content Management System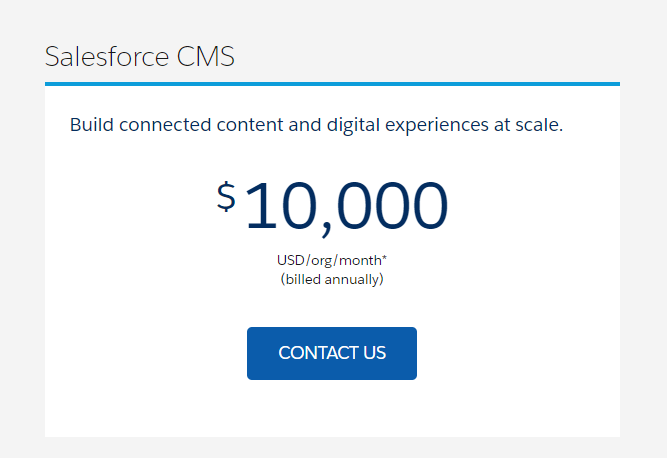 Salesforce CMS allows you to create, syndicate, and manage your content across any channel. It offers headless APIs, content records, content types, unlimited channel support, out-of-the-Box integrations, experience builder, and permission management for $10,000/month per organization.
Customer 360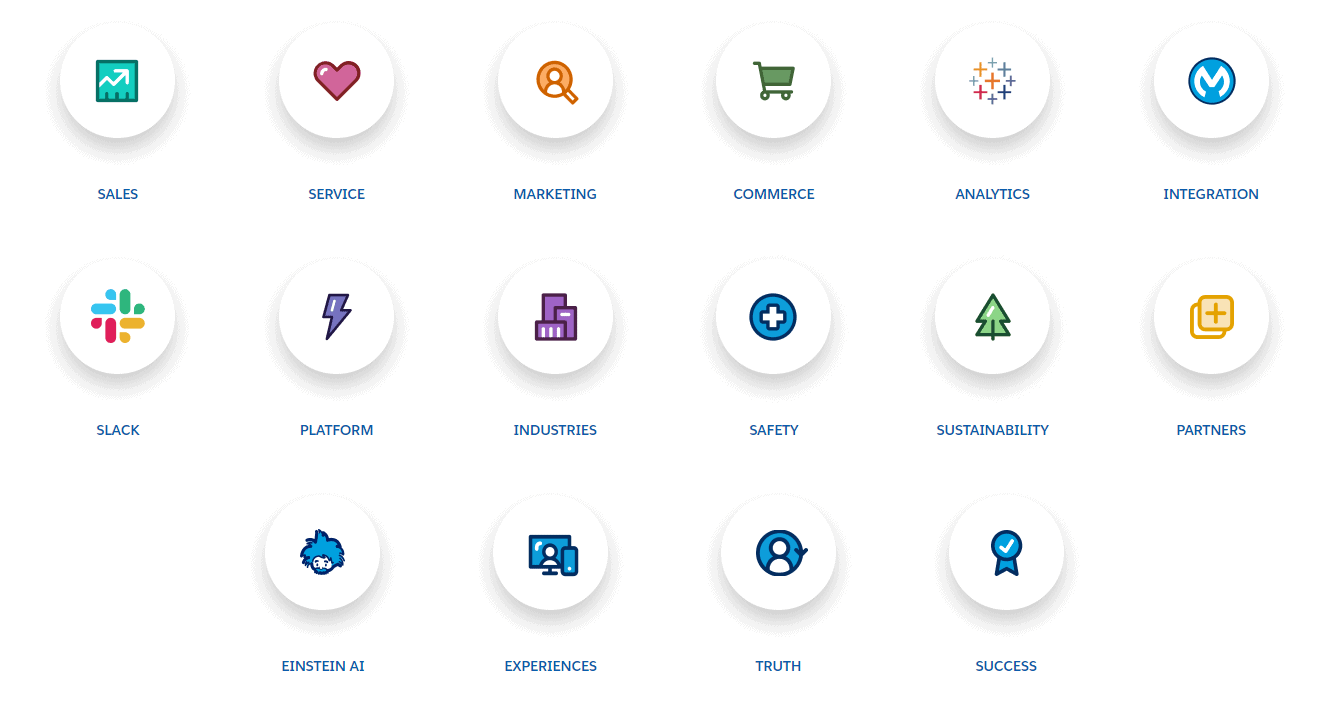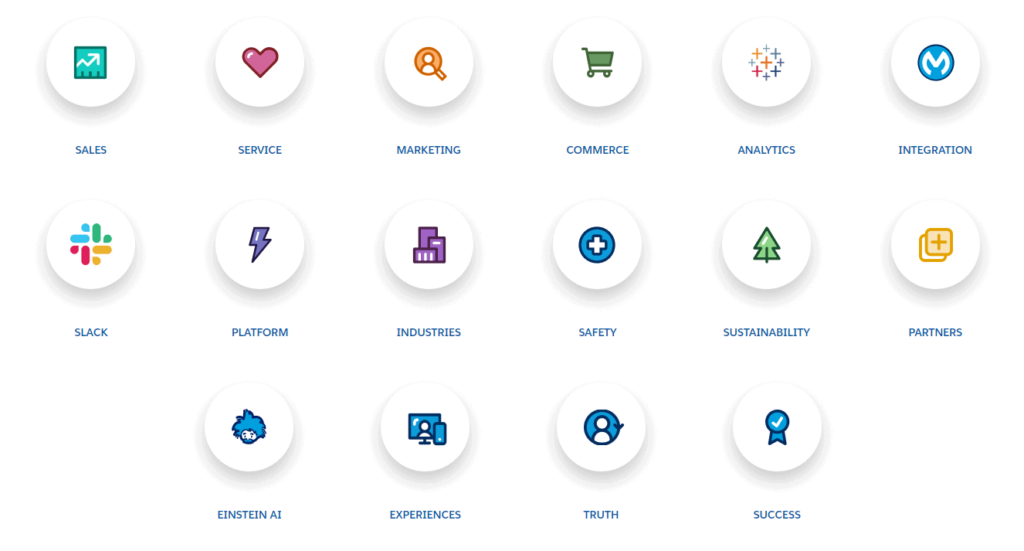 Customer 360 is the complete portfolio of all Salesforce's products. It combines the Sales Cloud, Service Cloud, Marketing Cloud, and other products such as Einstein AI, Slack, Industries Solutions, Safety, and Success on a single platform.
Of course, you may not need all these products. That's why Salesforce allows you to use the Solution Finder to create your own Customer 360 platform, adding specific products that fit your business needs. You'd need to request a quote from Salesforce to uncover the cost.
Read also: The Best CRM tools for Small Business Owners
Why is Salesforce CRM Software Popular?
What makes Salesforce an industry leader are the diverse products and robust features it offers to businesses of all sizes. With over 20 years of experience in the market, Salesforce has amassed considerable resources and expertise to assess the future of businesses and develop innovative CRM solutions to meet the needs of their customers.
Also, like tons of other modern CRMs, Salesforce is a cloud-based CRM. This secure cloud technology ensures that users receive timely product upgrades and new features automatically.
These strengths make Salesforce a leading CRM and a top choice for most businesses—especially large organizations—that have complex needs and a big budget.
Examples of Salesforce's enterprise customers are IBM, NBC, Mercedes-Benz, American Water, PayPal, and Zillow.
Is Salesforce a Great Choice for Startups and SMBs?
While Salesforce is an industry leader, the expensive pricing, non-availability of free plans, paid customer support, and high implementation costs make Salesforce a poor choice for many startups and small & mid-sized businesses. We'll discuss these factors below.
No Free Plans
Unlike most CRMs, Salesforce doesn't have a free plan. You either opt for the free trial (14 – 30 days) available in only a few products like the Sales and Service Clouds or pay for a subscription.
Pricing
For most SMBs, Salesforce's expensive subscription is—perhaps—the biggest factor that makes it a less ideal CRM for small businesses.
For instance, say you choose the Essential edition in the Small Business Solutions. You'll get a fair number of the Sales and Service Clouds features for $25/user/month billed annually.
While this seems like a reasonable offer, the Essentials edition doesn't have marketing automation. You would need to buy an additional Marketing Cloud Engagement Account that costs $1,250/month and requires a mandatory annual contract.
A year's subscription to this Marketing Cloud and the Essentials sums up to $15,300. This is excluding add-ons like MuleSoft Composer Integration and CRM Analytics.
Salesforce Customer Support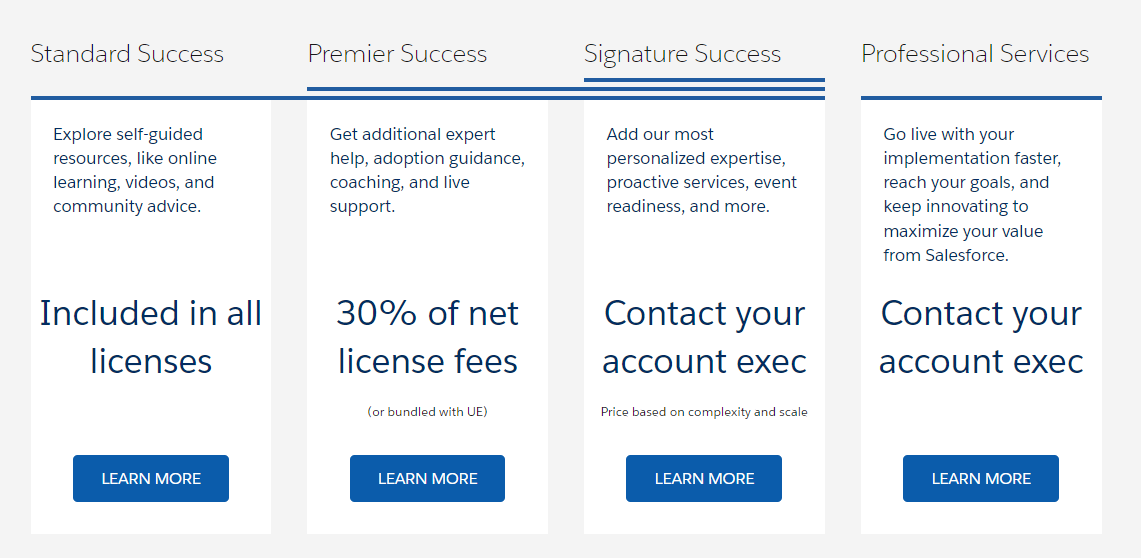 Quality support doesn't come cheap in Salesforce. Getting feedback takes a standard two-day response time in every license. To access 24/7 phone support, 1-hour response time, expert coaching, and other privileges, you'd have to pay at least 30% of your net license fees.
Implementation Costs
Getting the best value from Salesforce's extensive products and features requires proper configuration of the CRM. As most SMBs don't have an in-house expert to set up the software, you'd likely rely on Salesforce's experts and consulting partners.
You might also plan to hire a Salesforce developer to create and prototype CRM solutions on the Salesforce platform for all your customized needs.
Implementation costs vary based on your location and consulting partner.
However, if you choose to implement with Salesforce Jump Start Service, pricing starts from $5,000 for 20 hours of work in the Sales and Service Cloud. For the Marketing Cloud, you'd need to pay $20,000 for 80 hours of work delivered by an expert.
These factors result in hefty budget requirements that are more than what many SMBs can afford. As an SMB owner looking to grow your business without hefty software bills, your best bet is to check out Salesforce CRM alternatives in the market.
Compare Salesforce and EngageBay
What is a Good Salesforce CRM Alternative for SMBs?
If you're a small business owner looking for an affordable CRM, a powerful Salesforce alternative for SMBs is EngageBay. Let's look at qualities that make EngageBay an excellent choice for your business.
Free Plan
EngageBay offers a free plan that gives you access to tons of features that are locked behind a paywall in Salesforce.
These features include predictive lead scoring, appointment scheduling, ticketing management, contact management, email templates, social suite, SSL for landing pages, email sequences, and integrations.
Affordable Pricing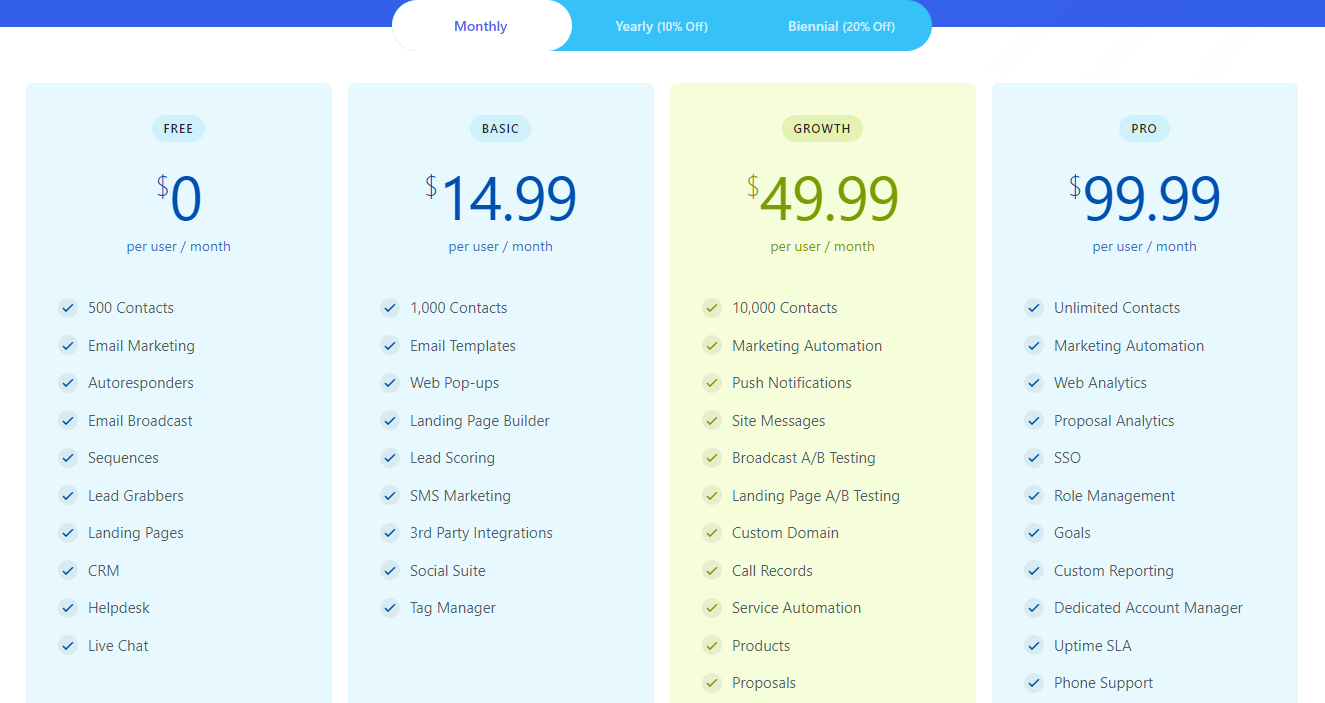 EngageBay has a pricing structure that's small business-friendly. You can access the All-in-one CRM (Marketing, Sales, and Service Bay included) for $14.99 in the Basic plan, $49.99 for the Growth Plan, and $99.99 for the Pro Plan.
Also, the standalone tools (Bays) are far more affordable than Salesforce's Clouds. For example, critical features such as advanced marketing automation and triggers are available in the Plus edition of Salesforce's Marketing Cloud Account Engagement for $2,500/month.
On EngageBay, you'll get a similar feature in the Growth plan of the Marketing Bay for $34.99/month.
Tailored Features for SMBs

Rather than a wide variety of features for both small and enterprise-sized businesses, each feature on EngageBay CRM is carefully designed to fit the current and future needs of SMBs. This ensures you get maximum value and affordable pricing in each plan.
These features include list & segmentation, landing pages, automation & workflows, social media suite, ad management, lead management, time-zone-based delivery, email broadcast & landing page A/B testing, and team hierarchy.
As your business grows, you can advance to higher-paid plans within EngageBay to support your business.
Free Implementation
EngageBay onboards all Growth and Pro plan customers for free. What's more? The CRM is intuitive and easy to use. This ensures that you don't need to pay an external specialist to help you configure the CRM, even if you're on lower plans.
Flexible Billing
Imagine being boxed into an annual contract only to find out the CRM isn't the right fit. With EngageBay, that's not the case. You can subscribe to a monthly subscription and cancel whenever you wish. It's that easy!
Free, Responsive Customer Support

EngageBay offers free quality support to all users, regardless of the subscription plan. From the free plan, you have access to email & chat support where the customer service team quickly responds and resolves your concerns.
Also, you'll get a dedicated account manager on the Growth plan and phone support on the Pro plan with no additional fees. This saves you 100% of all costs you would have spent on Salesforce's paid Customer Success support.
Conclusion
For many large organizations, Salesforce is a leading choice. But keep in mind that it's not the best CRM for SMBs because of its steep pricing.
You'll have to pay for an annual subscription, add-ons, customer service, and implementation costs to access the full potential of each product in the Salesforce ecosystem.
Also, many of its advanced features are not designed for small businesses. This means you're saddled with features you either don't know how to use or simply don't need.
If you're looking for a more comprehensive Salesforce alternative that offers critical features for any growing SMB needs, EngageBay is an excellent choice.
It offers you one of the most affordable pricing for any comparative CRM, rich functionality, free implementation, responsive customer service, and monthly/yearly plans to scale your business.
Ready to scale your business with EngageBay? Sign up for free today.