Every small business owner knows how important it is to have a CRM software that can keep up with their needs. That's why we're here to bring you the latest and best in the world of CRMs, so you can find the one that suits your company best.
We've got Insightly vs Hubspot vs EngageBay: which one should you choose? The answer might surprise you!
Insightly has a lot of features that make it easy to manage projects. But with Insightly's high cost and lack of one package with CRM and marketing both, many people are looking for Insightly alternatives.
HubSpot is a top-notch alternative; it offers great sales and marketing automation tools like lead management, lead scoring, customer segmentation strategies, etc.
EngageBay offers an all-in-one suite with integrated CRM, sales and marketing Bay, Live Chat, full-fledged customer service tools, and even workflow automation.
Choosing the right CRM software can be a daunting task. That's why we've explained the following in detail:
Insightly vs Hubspot vs EngageBay: Pricing
Insightly vs Hubspot vs EngageBay: Features
Insightly vs Hubspot vs EngageBay: Relevance
Let's dive in!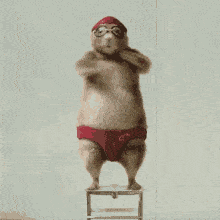 Insightly vs Hubspot vs EngageBay: Pricing
Before we look at the details of Insightly alternatives, let's look at Insightly pricing.
The pain point for many small businesses is having to pay for a dozen different software to get work done. While Insightly does offer both marketing and CRM software, there's no way to buy them in one package and stick to a tight budget.
To be honest, Insightly's CRM doesn't cost all that much — it starts at $29 per user per month if billed annually, and you can get a two-week free trial for two users, but that's still not a great deal considering that HubSpot and EngageBay both offer free CRM, forever.
Budget is an important consideration while choosing a CRM software for your business. That's why we've broken down the pricing of Hubspot, EngageBay, and Insightly.
Insightly Pricing
Insightly CRM: $29 per user per month billed annually for the starter plan called Plus, $49 for the Professional plan, and $99 for the Enterprise plan.
Insightly Marketing: Starts at just $299 per user per month, billed annually. The plans are called the same for the marketing product too: Plus, Professional, and Enterprise. You'll have to pay $599 and $1,299 for them respectively. (That's a lot, we know!)
All three marketing plans come with 10,000 contacts included. If you're a small business and you need a smaller plan for just a thousand contacts or so — no go.
Insightly AppConnect: This product integrates with other business applications and creates workflows between them and your Insightly account. It costs $249 per account per month for 25,000 tasks per month, $799 for 100,000 tasks, and $3,499 for 500,000 tasks. There's an additional onboarding fee of $2,500 for this product.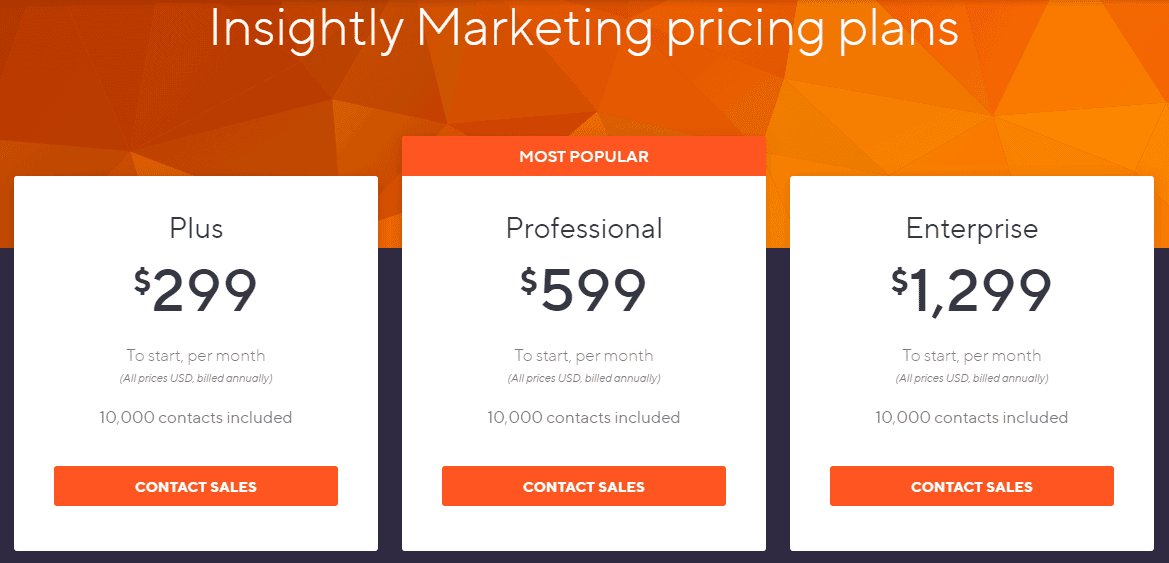 We're sure you can see that Insightly is not really made for small business owners. That said, it is a great software with hundreds of integrations and dozens of advanced automation and retail business intelligence features. More on that later.
Read also: Insightly Alternatives — Better & Trustworthy Tools To Consider
For now, let's look at the pricing of Insightly alternatives. First, HubSpot.
HubSpot Pricing
HubSpot CRM: HubSpot CRM software is free to use, but not when you bundle it with other products or features that you (will) need.
HubSpot Marketing: Starts at just $50 per user per month, for 1,000 contacts. Safe to say, this is more like a trial, with very basic features. For business growth, you'll need at least the Professional plan, which starts at $890 per month for 2,000 contacts, billed annually. The Enterprise plan for 10,000 contacts starts at $3,200 a month.
All three marketing hub plans come with free integrated CRM tools.
HubSpot Bundles: You can create your own bundles, which is great. Another good thing is the Starter plan of a bundle of CRM Suite with basic marketing, sales, service, and operations tools is just $50 per month. Again, this is for 1,000 contacts only. For 2,000 contacts, the Professional plan starts at 1,780 per month. If you have 10,000 contacts and you need all the advanced features, the Enterprise bundle is $4,000 per month.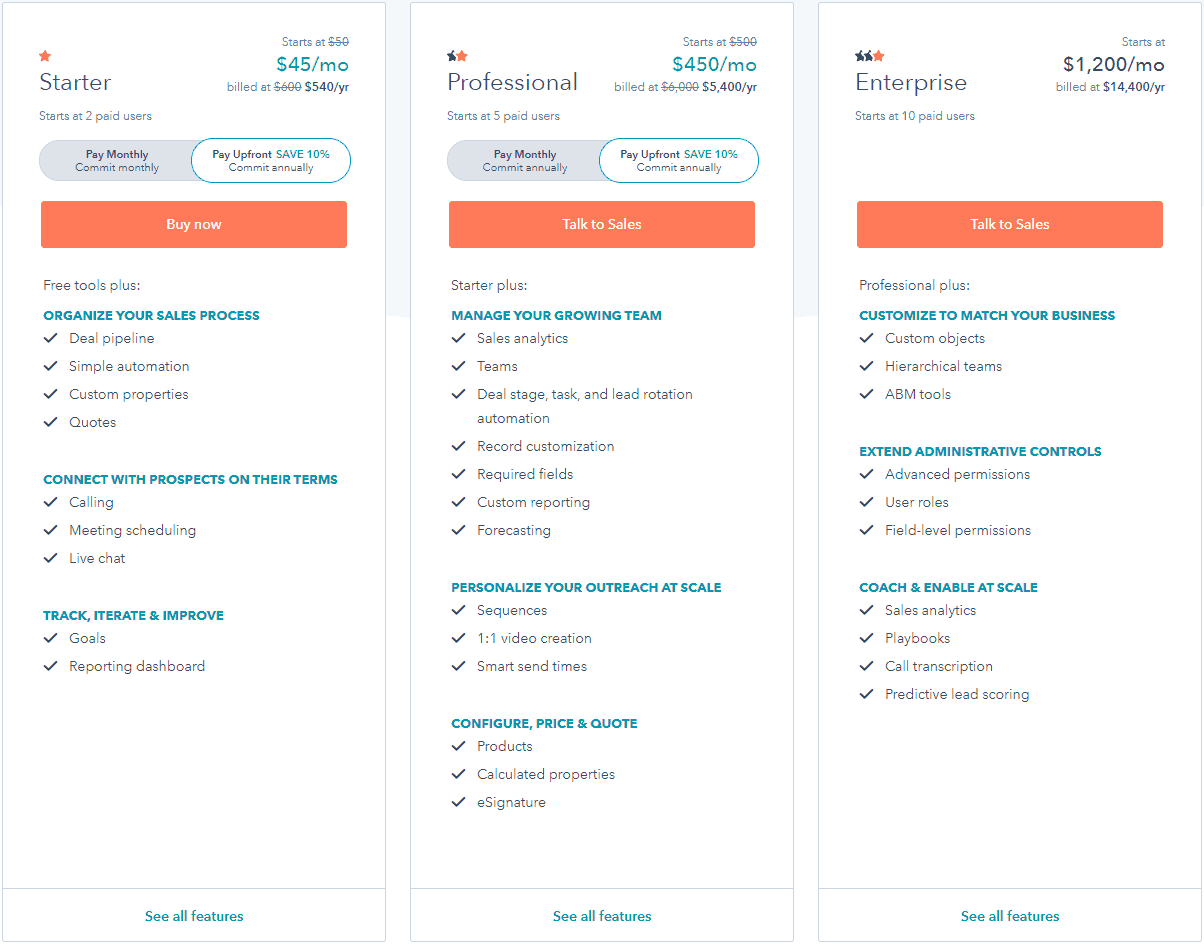 The HubSpot CRM software is great for large enterprises with humungous marketing budgets. Coca-Cola has an annual marketing budget of $2 billion, but most small businesses are not so privileged.
The painfully unaffordable pricing aside, HubSpot CRM also spoils the party in one other way — you can't opt out of an annual commitment. All plans come with annual bills, and you must pay those whether or not you use the software.
Not happy with HubSpot's pricing? See our top picks for the best HubSpot alternatives in our comprehensive article.
Read also: HubSpot vs. Mailchimp vs. EngageBay — Which Tool is Worth Your Money?
That brings us to EngageBay.
No such commitments here. In fact, we don't even need your credit card details for the free trial.
If you have not more than 15 users and you don't need more than 1,000 branded emails a month, you can go on using EngageBay's full package for no cost, forever!
EngageBay Pricing
EngageBay CRM: No cost, forever. The CRM also comes integrated with any other product you buy, and remains free to use. This applies to Live Chat and Help Desk as well.
EngageBay Marketing: Starts at no cost if you want to try it for 500 contacts and send 1,000 branded emails a month. The free forever plan still offers video marketing, Live Chat, email templates, email sequences & broadcasts, and lead grabbers. The Basic plan lets you send 2,500 branded emails per month for $10.39 per user per month, billed annually. It adds lead scoring and SMS marketing. For advanced features, the Growth plan costs $19.99 and the Pro plan costs $39.99.
All four marketing plans come with a free integrated CRM system.
EngageBay All-in-One: This is among the best things about EngageBay — you can buy the full package at very little cost. You can use it free forever for 500 contacts, and for 1,000 contacts you can buy the Basic plan at $11.99 a month. For up to 50,000 contacts, the Growth plan costs 39.99, and for $63.99 a month, you can have unlimited contacts and send 50,000 branded emails every month.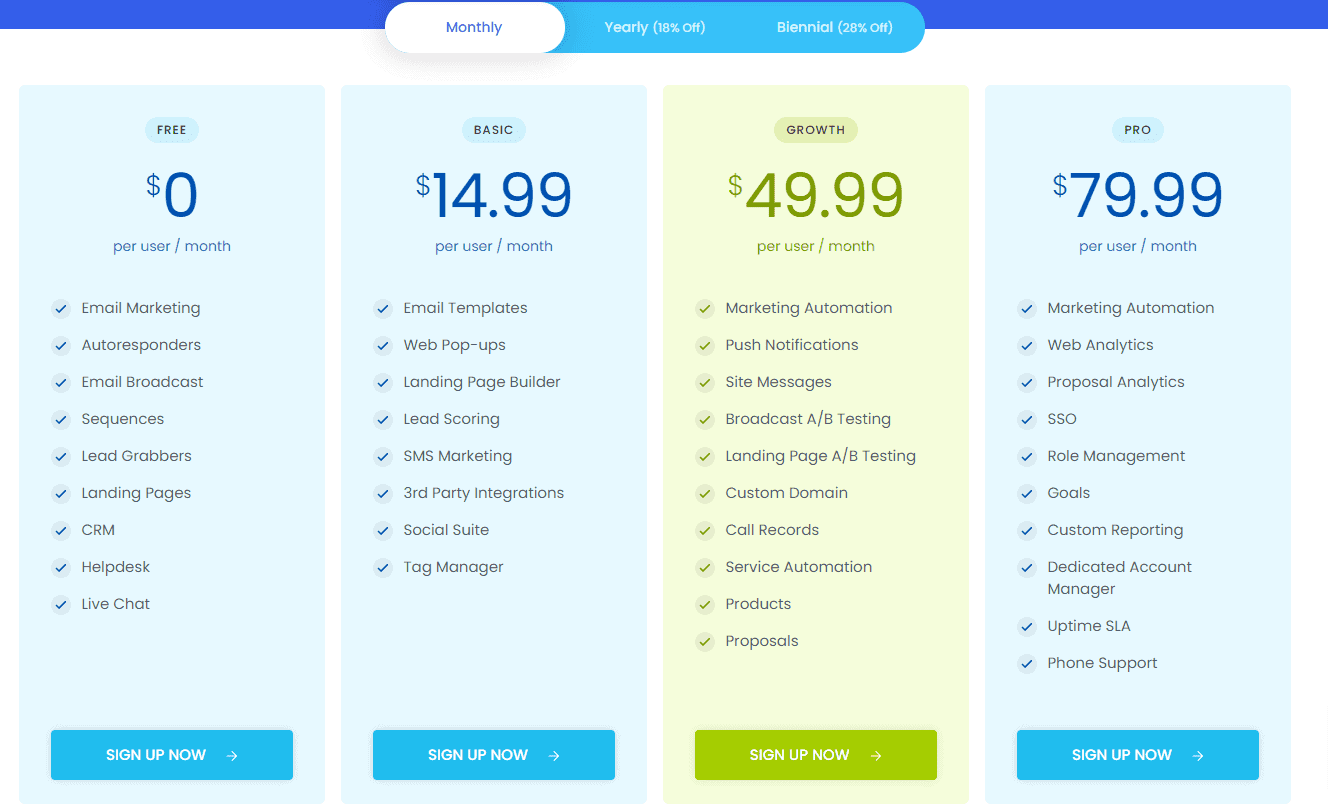 The plans are billed annually but you can pay month by month and opt-out anytime. Biennial plans offer a 40% discount. For any product, the Pro plan gets you a dedicated account manager.
We're sure you can see the value for money option that EngageBay is. The whole idea behind this software is to help small businesses grow quickly, without breaking their bank.
Now, let's look at the features of Insightly and its alternatives.
Read also: HubSpot vs Insightly: Pricing, Functionality, Features & More
Insightly vs Hubspot vs EngageBay: Features
All three of these are marketing automation and CRM software designed to help you grow your business without having to hire more and more people. In that context, the features they offer will be rather similar, although the packaging will differ.
You can expect to get lead generation and management tools, automated email campaigns, landing page builders with drag-and-drop functionality, video marketing and social ads, and so on.
Insightly
Insightly is a project management and CRM software designed to help companies run smoothly.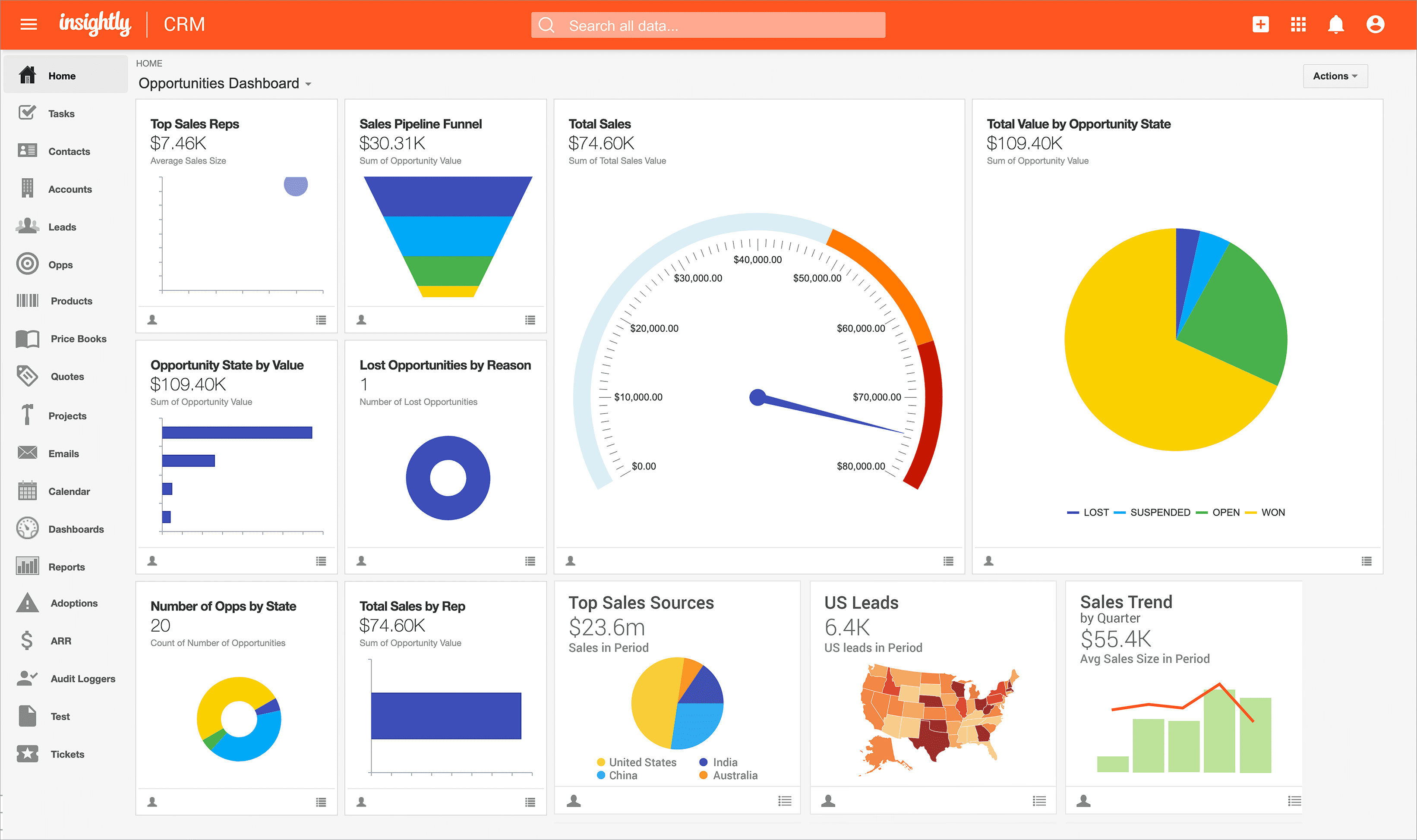 Insightly Features
Real-time sales reports
Workflow automation
Email marketing
Sales pipeline reporting
Detailed contact records
Lead scoring
Marketing automation
Task management through task lists for marketing and sales team members
Project management features with detailed visual reports
Mobile optimization for email content
Dynamic list segmentation
Customer journey builder
Landing pages
Custom event triggers
Prospect tracking
Website traffic analysis
Advanced email analytics
Insightly also integrates with over 850 third-party applications, some of which are really popular and used by companies of all sizes, such as DocuSign.
You can integrate with such apps and other marketing tools, and set automation of workflows between them.
👉 Interested in HubSpot competitors? Understand the pros, cons, and pricing of each in this detailed guide.
No time to read? Watch our video on the best HubSpot alternatives:
HubSpot
HubSpot CRM software is more of a sales CRM boost machine, used by large organizations to help with sales automation and related features. Hubspot offers the following tools, including more advanced features for specific business needs.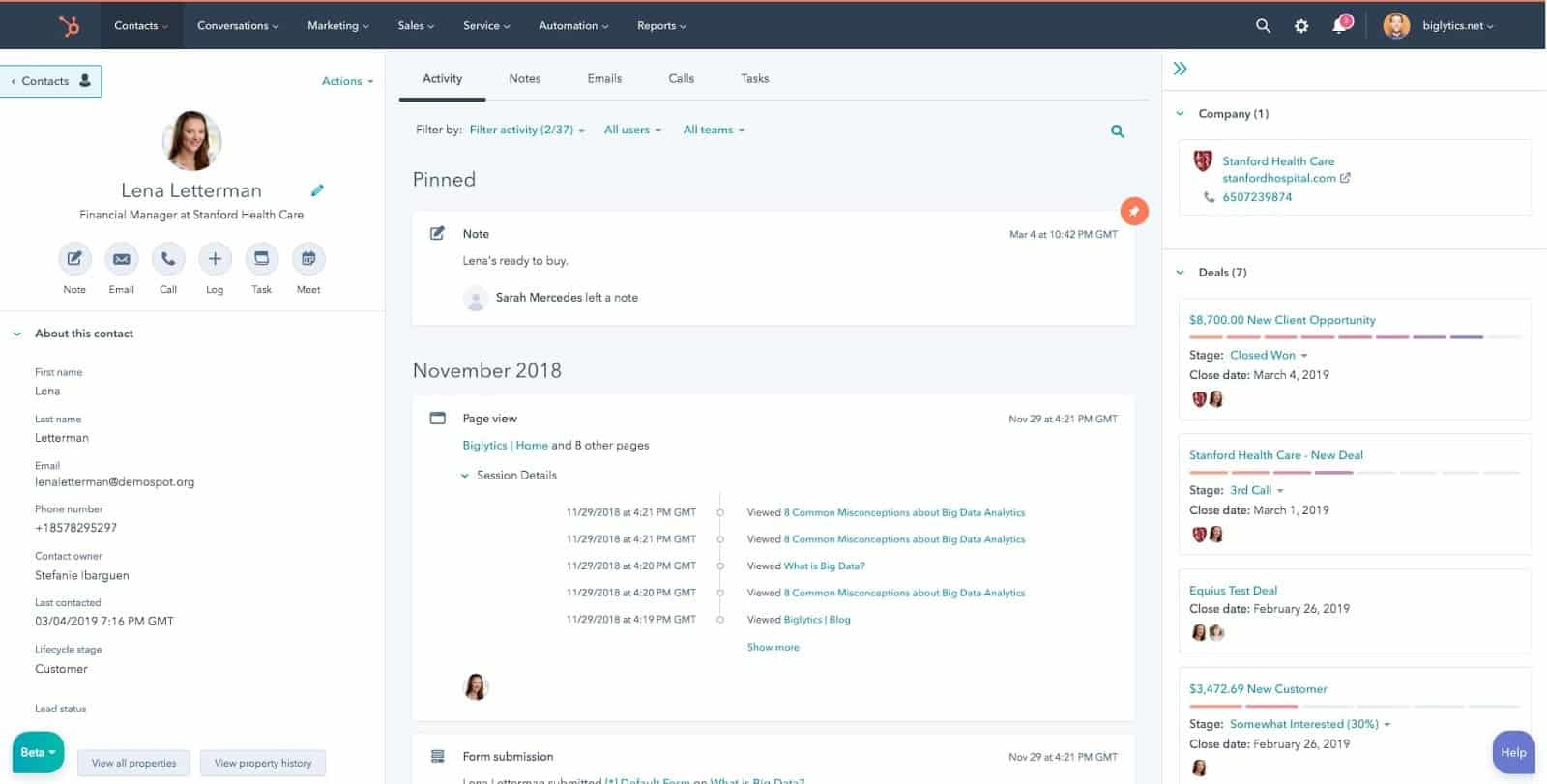 HubSpot Features
Conversational bots
Live Chat
In-app calling
Email open & click notifications
Reporting dashboard
Mobile app
Salesforce integration
Email health reporting
Predictive lead scoring
Automation of workflows
Conversation intelligence
Customer service rep productivity analysis
Video hosting & management
A/B testing
Google Search Console integration
Custom domain
AMP support for blogs
Website themes
SEO recommendations
HubSpot CRM software also has ad management, e-Signature, and a multi-language knowledge base. This is an international and large brand with top-tier clients.
It offers a plethora of features for all things related to sales, marketing, and customer relationship management, but it also demands a scaling cost for each of them.
EngageBay
EngageBay comes to the rescue of small businesses with a unified and easy approach to all things CRM. Our products come integrated with a CRM that is free forever, and our pricing is super flexible, especially for startups and small businesses.
This makes EngageBay an excellent Insightly and Hubspot alternative.
Just pick what features you'd like to use and for how many contacts and company users, and we'll tell you how much you can save.
EngageBay Features
Gmail & Outlook integration
In-app telephony
Live Chat & Help Desk
In-app calendar and appointment scheduling
Social media management
Predictive lead scoring
Automation of email campaigns
Email sequences, broadcasts, drip campaigns
Timezone-based delivery of email
SMS marketing
Video marketing
A/B testing of email templates and landing pages
Web popup forms, in-line forms with a drag-and-drop builder
Multi-currency revenue and project management
Call recordings and scripts
Lead generation and sales management
Canned responses and Autoresponders
360-degree view of customers and deals
Desktop and Push notifications
Service Macros and ticket management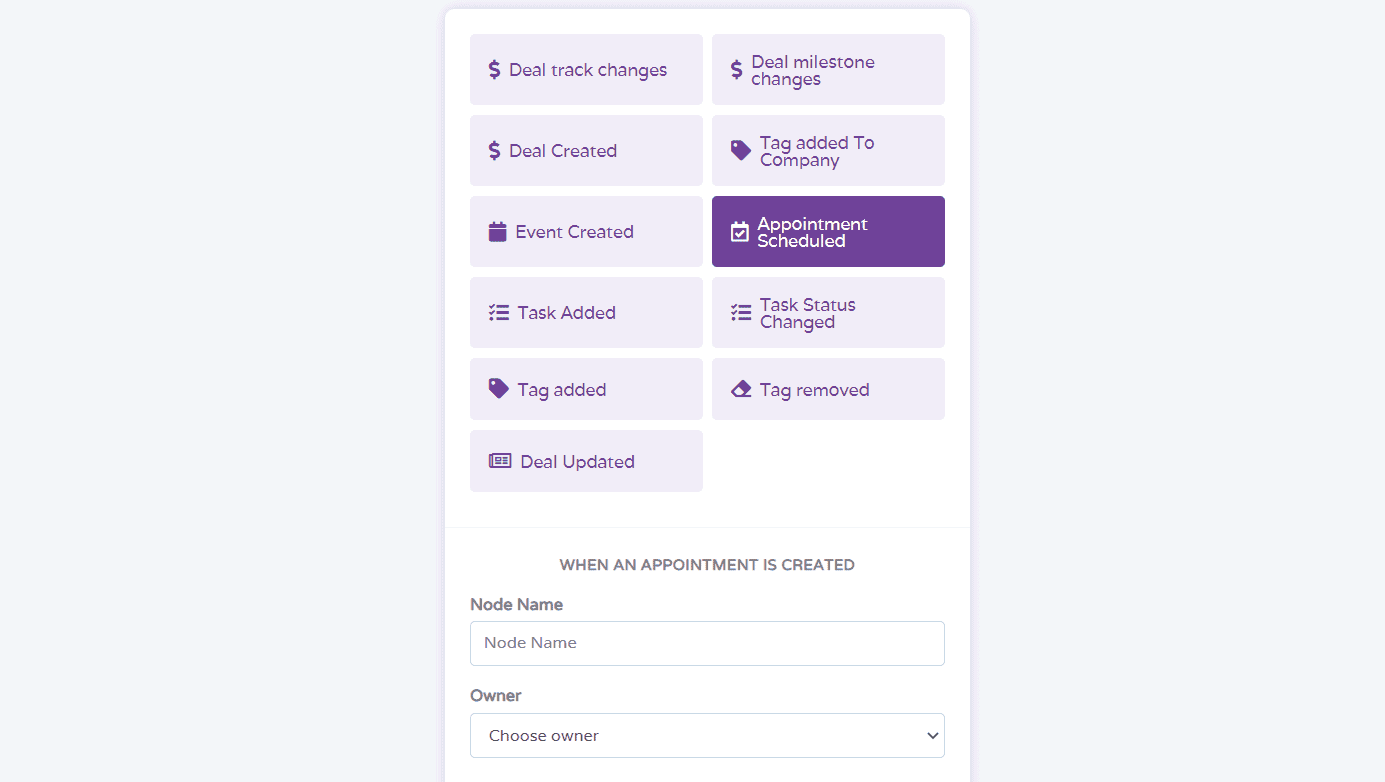 … And a whole lot more!
We don't like to brag but EngageBay does offer a myriad of features for sales, marketing, customer support, and employee management.
In fact, most of our user reviews mention finding way more features than they expected.
This makes EngageBay hands-down the most affordable and power-packed sales and marketing platform with integrated CRM — and a great HubSpot and Insightly alternative. You can try the free version if you don't believe us yet ?
Read also: HubSpot Pros And Cons — A Candid Assessment In 2021
Insightly vs Hubspot vs EngageBay: Relevance
Let us make things easier for you: we'll tell you which of these software (Hubspot vs Insightly vs EngageBay) fits YOUR business best.
Insightly is tailored for companies looking for a really advanced tool that can combine contact management and sales management with project management. The latter is its forte.
You can customize your data fields, dashboard, sales reports, and more. The software costs a lot but works really well if you have a ton of other applications you'd like to integrate with, and automate all that work.
For instance, you can redirect a customer automatically to DocuSign when the customer meets a certain condition in your sales or payment workflow. Large enterprises benefit greatly from these integrations.
Hubspot CRM software is for businesses that need CRM systems with many sales tools and a marketing hub. It excels at integrating with other software like Salesforce, Zendesk, Insightly, and Google Analytics (among others).
You can manage your ads, videos, websites, and social media presence all from within this software. Although it is all but unaffordable for most small businesses, the clients of HubSpot CRM software are happy with its advanced features and strong user support.
Hubspot CRM software also offers some of the best reporting features in this comparison, which makes it easy for managers to get a 360-degree view of marketing, customer support, and sales team performance.
EngageBay is designed with small and mid-sized businesses in mind.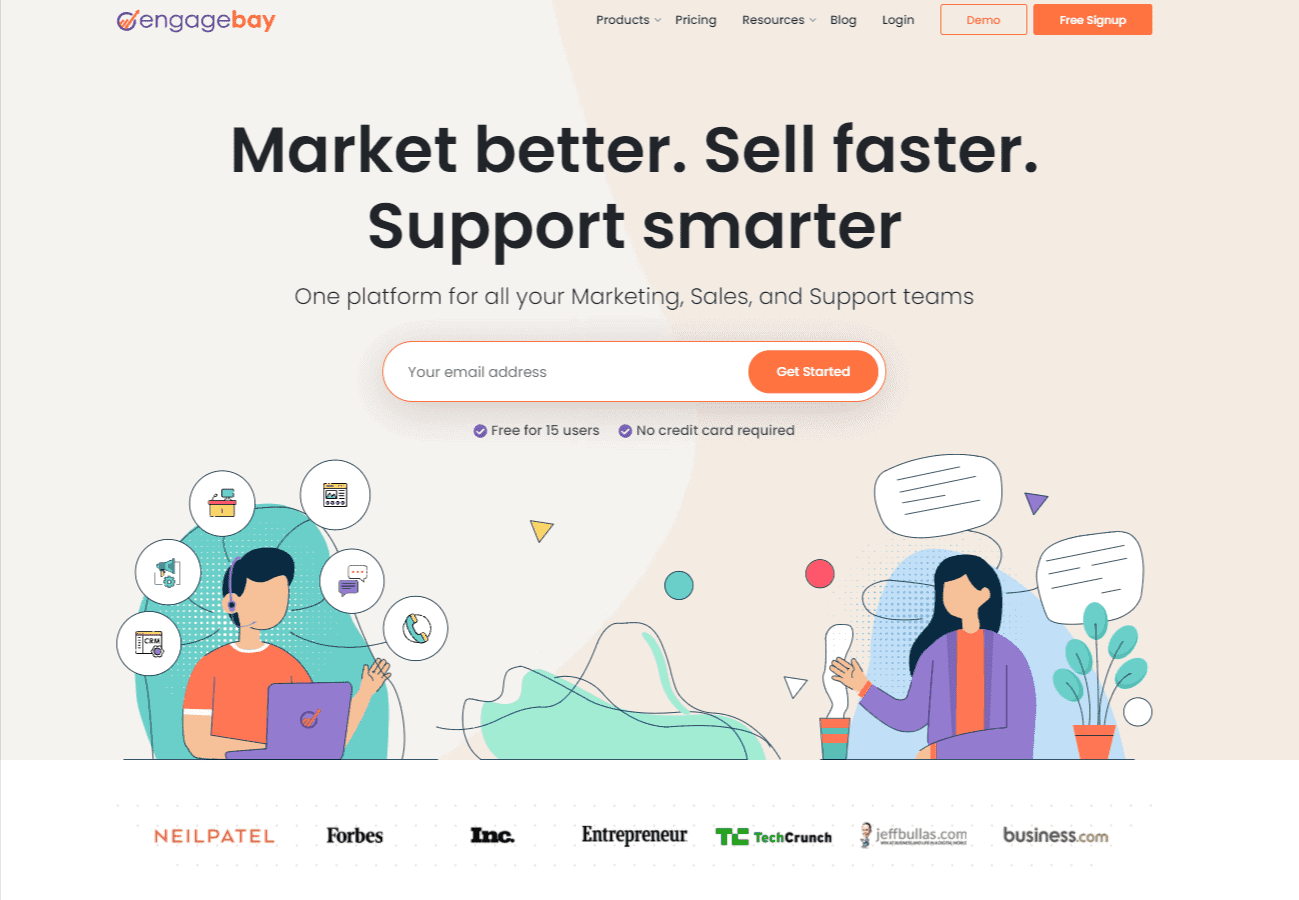 This is an integrated, powerful, and easy-to-use all-in-one marketing & sales software.
You will find a suite of automation tools to help you build workflows across all departments — sales, marketing, and customer support. To be honest, EngageBay offers everything that you can get with HubSpot or Insightly, except their hundreds of integrations.
EngageBay does integrate with a dozen or so popular business tools though, including DocuSign, Mandrill, Plivo, Zapier, and Sendgrid.
Related blog: ActiveCampaign vs. GetResponse vs. EngageBay — Which is the Best CRM?
Conclusion
We've seen the pricing, features, and relevance of HubSpot vs Insightly vs EngageBay.
HubSpot CRM software has been making waves as a marketer's dream come true because it offers everything from SEO optimization to social media management under one roof.
If this sounds too good to be true – well, it kind of is. Remember, you're asked to dish out something like $50,000 a year, and you're not even given the choice to opt out midway.
In Insightly, you'll find robust project management and workflow automation tools. If that's what you're looking for, go for Insightly.
But again, Insightly isn't really priced for small businesses either. Although it costs substantially less than the HubSpot CRM software, it's still 32 times (3,250%) pricier than EngageBay!
Just look at the advanced plans of the two software, and you'll know.
So, we're confident in recommending EngageBay as your all-in-one marketing, sales, and CRM system, so long as you have a small business looking to grow at a rapid pace.
If you're looking for an Insightly alternative for a large enterprise that needs more than what EngageBay can offer, go for the HubSpot CRM software.
Whichever you pick, we wish you Godspeed ?