Every business wants to delight its customers.
However, in today's fast-paced world, traditional marketing tools are not enough. You need robust cloud-based CRM software to build and nurture customer relationships that are rewarding for your business and for the customers over the long term.
Cloud-based CRM software is a type of customer relationship management software that is hosted on the cloud. This means that it is stored and accessed online, rather than on your computer or server.
This can be a great option if you don't have the resources or staff to manage a CRM solution yourself. It can also be a good choice if you want to be able to access your CRM solution from anywhere with an internet connection.
There are a few things to consider before choosing cloud-based CRM software. First, you'll need to make sure that the CRM solution is compatible with your existing systems and data. You'll also want to think about whether you need all of the features that some advanced cloud-based CRM software offer, or if you would be better off with a more basic CRM system.
If you're not sure which cloud-based CRM software is right for you, check out our list of the best cloud-based CRM software options:
EngageBay
HubSpot
Keap
Copper
Freshsales
Zendesk
Zoho
Salesforce
SugarCRM
Pipedrive
Monday
Less Annoying CRM
12 Best Cloud-Based CRM Software For Your Business
Here, we have 12 amazing cloud CRM software that can take care of most business needs for small and medium enterprises.
Do note that we're not ranking software here, only listing them 🙂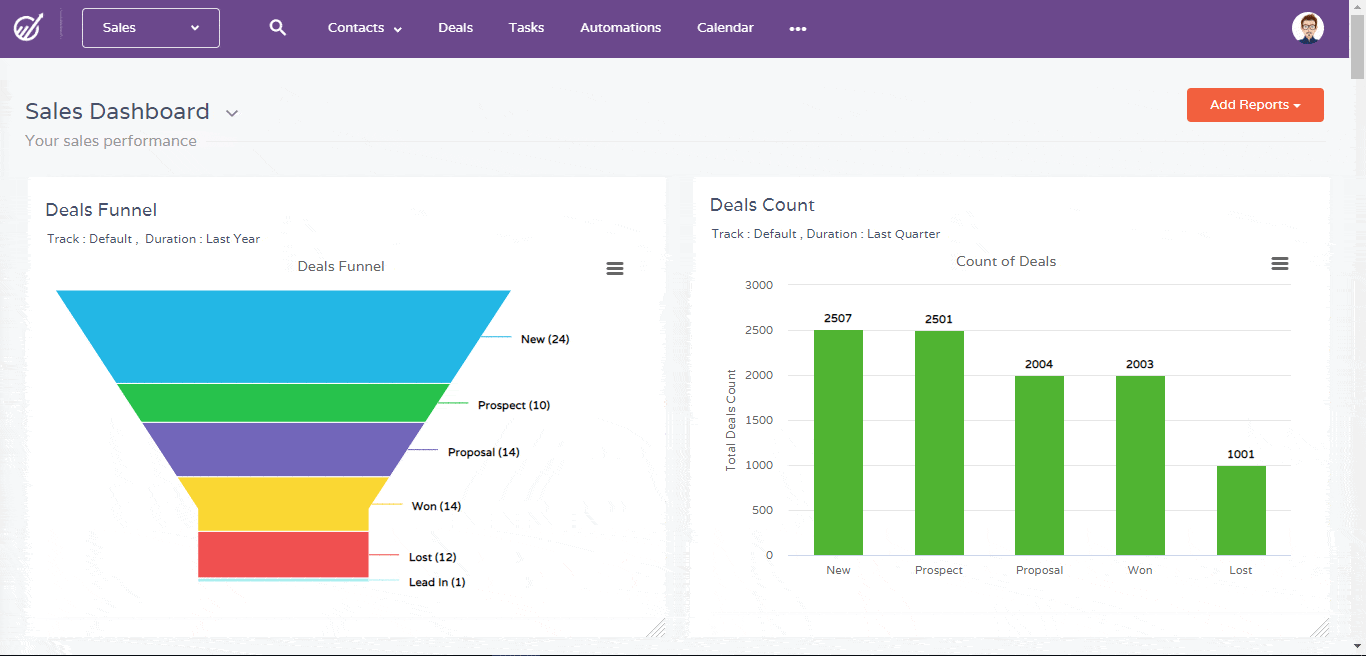 EngageBay is an all-in-one CRM solution for all your marketing, sales, and customer support tasks. Think of it as the HubSpot CRM for small business owners.
With EngageBay, you can store unlimited contacts and keep track of any number of customers throughout their buying journey. You can automate your marketing processes, and provide great customer service with autoresponders, canned responses, Live Chat, helpdesk, and online knowledge base.
Features
Predictive lead scoring

Robust project management

Appointment scheduling software

Contact and task management

Real-time reporting and analytics

360-degree customer view
Customer service tickets
Autoresponder and canned responses
Email automation
Sales pipelines
Custom metrics for reports
Employee management
SMS support
Telecalling from CRM
Push notifications
Leaderboard
Multiple deal tracks
Conversational Inbox
Role management
And a lot more!
Pricing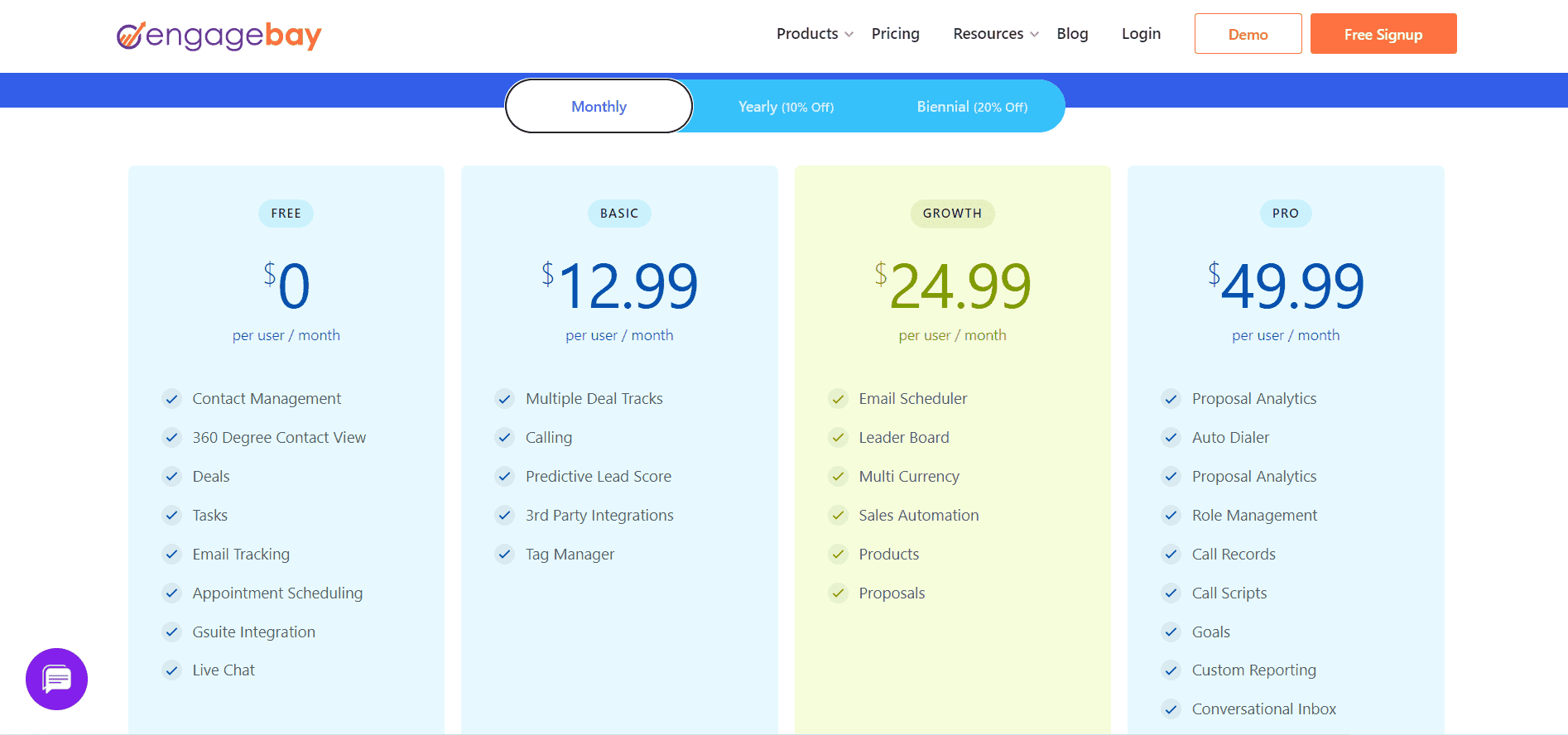 What makes EngageBay the most popular choice for CRM is its Free Plan, which gives access to various tools for up to 15 users. You can avail of services like contact management, 360-degree contact view, email tracking, customer relationship management, Live Chat, and G Suite integration (G Suite is now called Google Workspace).
And if you want to add extra features like multiple deal tracking, predictive lead scoring, and tag management, you can easily subscribe to it for as little as $10.39 per user per month (Basic Plan).
Furthermore, its Growth Plan offers email scheduling, sales automation, and a leaderboard, available at $19.99 per user per month.
For companies looking for more advanced tools, the Pro Plan works best. This plan is priced at $39.99 per user per month. Key additional features in this plan include custom reporting, call recording, call scripts, role management, auto-dialing, and proposal analytics.
Note: Prices mentioned here are for a biennial subscription, with a 20% discount applied. For annual subscription, you get 10% off.
USP
EngageBay offers seamless integration with popular third-party apps, including Zapier, Shopify, Xero Online, Stripe, and more. It makes it easy to expand its CRM functionalities when your business starts to scale. Also, you get a powerful set of CRM features at incredibly affordable pricing.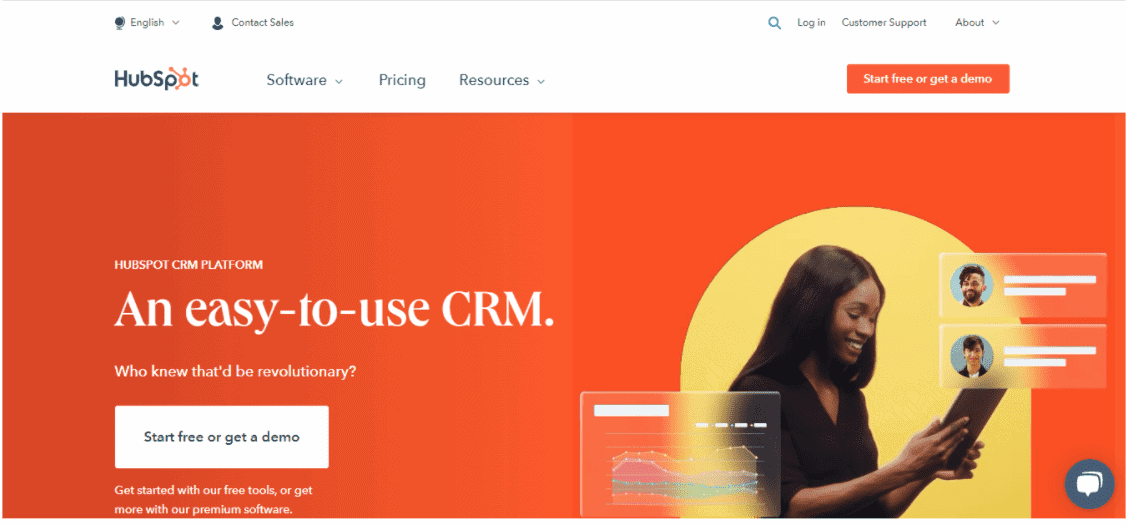 HubSpot is an all-in-one cloud-based CRM software that caters to the different needs of your business.

It enables you to streamline operations across various departments, including marketing, content management, customer service, sales, customer relationship management, and more.

No wonder it has more than 135,000+ customers spread over 120 countries.
Features
Smart lead generation

Scheduling meeting

Data quality automation

SEO recommendations

Drag-and-drop editor
Pricing

HubSpot's CRM solution has three types of plans: Starter, Professional, and Enterprise.
As the name suggests, the Starter Plan is ideal for individuals or businesses that have just begun their journey in customer relationship manageent. This plan comes at a price of $45 per month and includes features like email marketing, landing pages, shared inbox, list segmentation, Live Chat, and access to HubSpot's mobile app.
With the Professional Plan, you can get additional features like team emailing, mobile optimization, reporting dashboard, and custom user permissions at $1,600 per month.
For large and growing organizations, the Enterprise Plan works best. This plan comes with all free tools, field-level permissions, record customization, and scheduled workflow triggers as some of its key features. It starts at $5,000 per month.
USP
What sets HubSpot apart is its comprehensive set of tools for marketers and sales reps. HubSpot is used by large companies, and small business owners can find it too complex and too costly: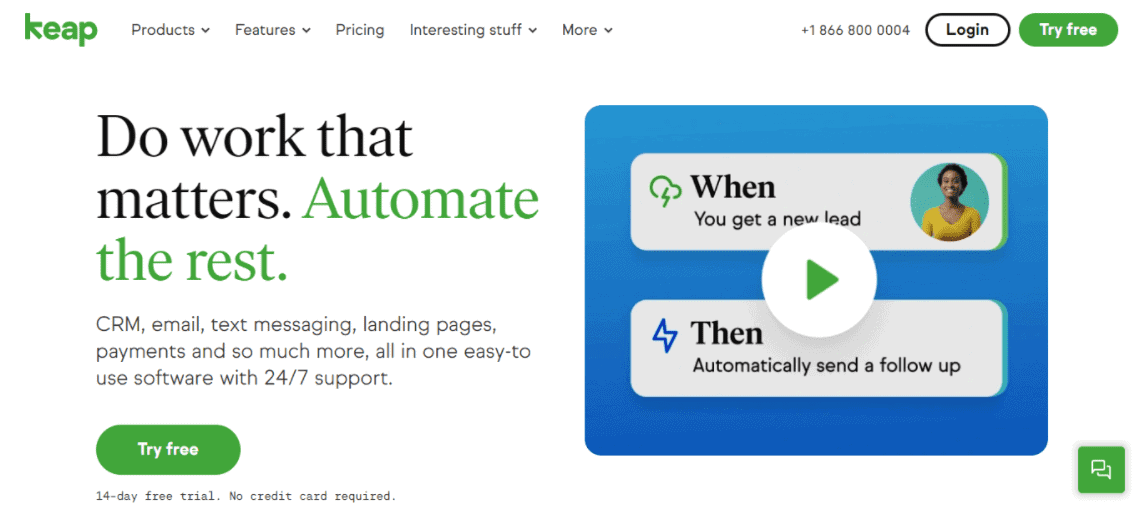 Keap offers a cloud-based CRM software solution specially designed for entrepreneurs and small businesses.
Using Keap, you can deliver better customer service thanks to sales force automation, marketing automation, customer data tracking and analysis, and more.
Besides, you don't have to worry about missing out on leads. Keap CRM solution helps track and identify prospects that can take your business to new heights.
Features
In-built landing pages templates

Customized lead forms

Contact tagging

Lead segmentation

Integration with Shopify, Quickbooks, and HelloSign
Pricing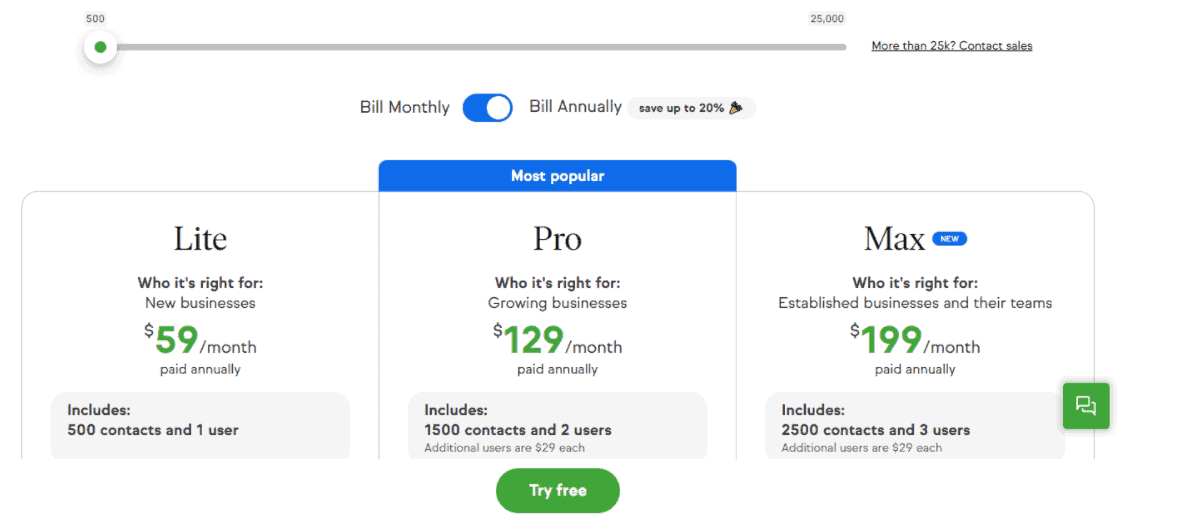 Depending upon the number of contacts you have, Keap has three kinds of plans: Lite, Pro, and Max.
The Lite Plan includes 500 contacts and a single user. It costs $59 per month and comes with email marketing, lead capturing, easy automation, appointment scheduling, and Live Chat support.
For growing businesses, the Pro Plan is most suited. Users can avail of up to 1,500 contacts along with landing pages, advanced automations, sales pipeline, automated text messaging, A/B testing, sales reporting, and pipeline analytics. This plan starts from $129 per month.
With the Max Plan, you can get additional services like lead scoring, sales funnels, customer engagement analytics, and full-service data migration, at $129 per month.
USP
Keap offers easy import of data, including contacts, email templates, and more from popular third-party platforms like Mailchimp, HubSpot, Constant Contact, and ActiveCampaign, at no cost.
Read also: Keap Pricing, Features, and Comparison with Similar Tools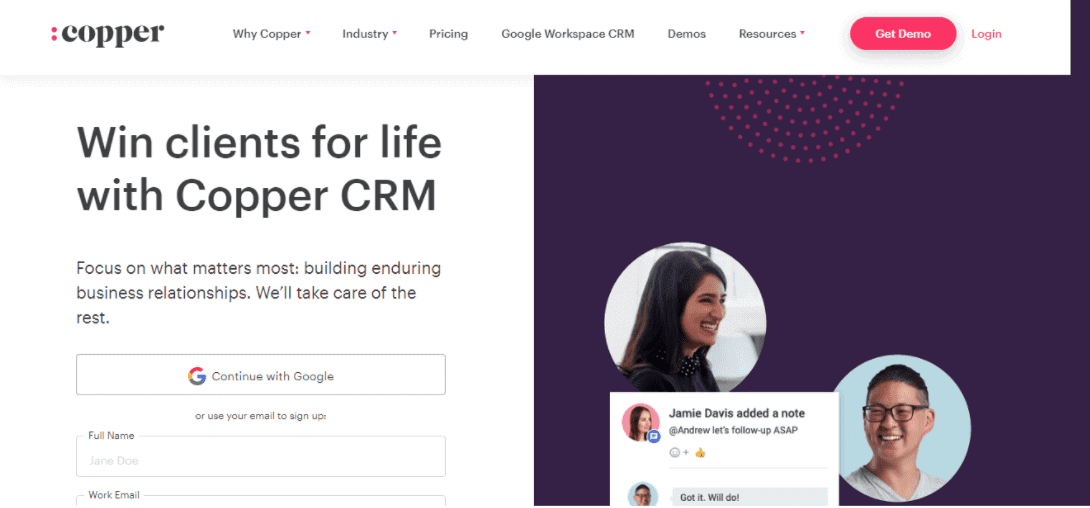 Copper is a cloud-based CRM software that is well-known for its integration with Google Workspace.
With Copper, you can organize all your contacts, notes, and documents in one place. The platform helps you segment and sort contacts using multiple filters and send targeted emails, provides a live activity feed of your clients' profiles, and searches the internet to find all the information you require about your leads.
Features
Workflow automation

Deal tracking

Centralized database

Multiple third-party integrations

Mobile app access
Pricing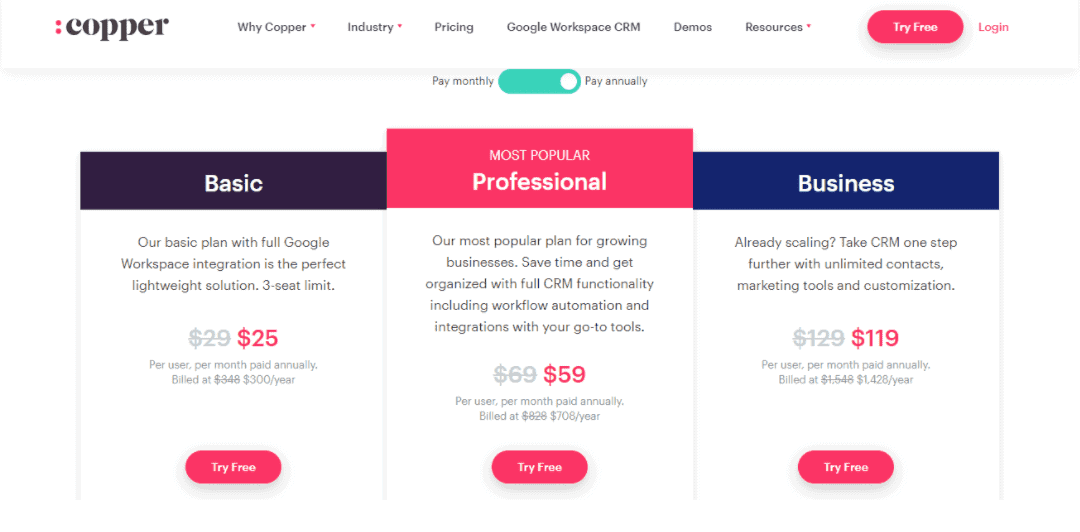 With Copper, you can buy one of its three plans: Basic, Professional, and Business.
The Basic Plan starts at $25 per user per month for up to three users and 2,500 contacts. It offers Google Workspace integration, project management, contact enrichment, multiple pipelines, and legacy reporting.
If you want to go further and want access to workflow automation, bulk emailing, built-in email templates, custom dashboards and reports, activity reporting, and team permissions, you need to choose the Professional Plan ($59 per user per month).
With the Business Plan, you can get insights into your leads and sales, track your goals, get lead scoring, email sequencing, and customized integrations at just $119 per user per month.
USP
Copper offers 'Copper Developer API' to help you access and create your own applications beyond the third-party integrations provided by the platform.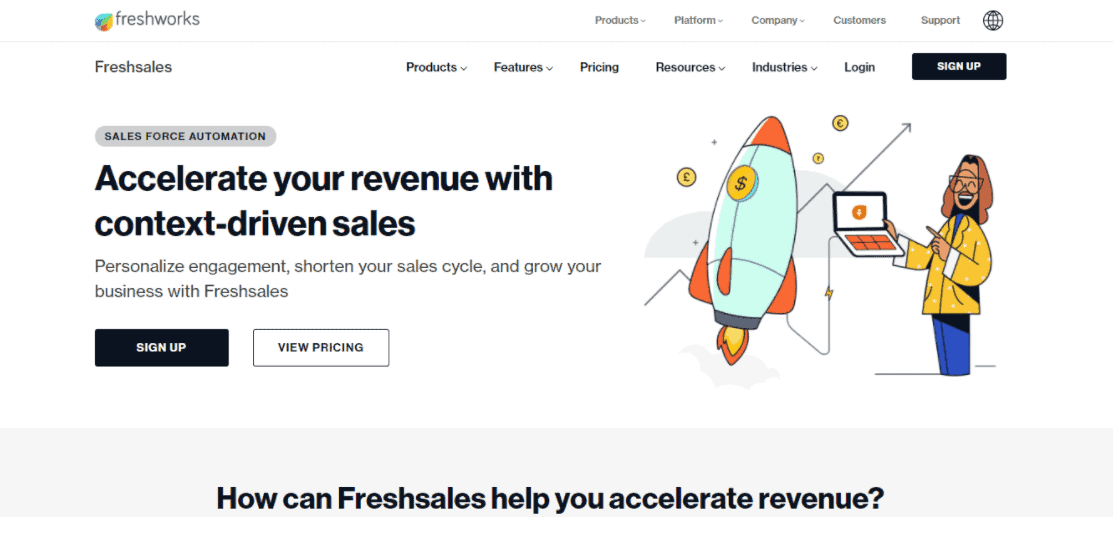 Freshsales's CRM software enables you to accelerate your sales cycle, helping you expand your business faster and enhance customer satisfaction.
The platform provides a 360-degree view of your sales pipeline, streamlines your sales funnel, and helps you seamlessly communicate across multiple channels.
What's more, Freshsales provides you with a unified view of client information. It furnishes important details quickly, with contact interactions across multiple channels in chronological order, and highlights modules, activities, and sales sequences for actionable insights.
Features
Sales campaign automation

Predictive contact scoring

Webform customization

Sales sequencing

AI-powered sales insights
Pricing
Freshsales has four plans for you: Free, Growth, Pro, and Enterprise.
The Free Plan is free forever with features like contact and account management, built-in chat, phone, and email support, mobile app, and 24*5 customer support.
With the Growth Plan, you can avail of additional services like sales pipeline visualization, AI-powered predictive contact scoring, sales sequencing, and WhatsApp Business integration. It costs $13.10 per user per month.
Users can get more features under the Pro Plan, including multiple sales pipelines, time-based workflows, and sales team and territory management, at just $36.70 per user per month.
For advanced customization, account management, and AI-based forecasting insights, go for the Enterprise Plan (available for $65.54 per user per month).
USP
Freddy AI, Freshsales' AI-powered tool, provides businesses with valuable insights into their sales funnel. It also helps you focus on the right deals, collaborate across teams in real-time, and improve revenue forecasting.
Read more: Freshworks Alternatives: 5 Trustworthy Tools to Consider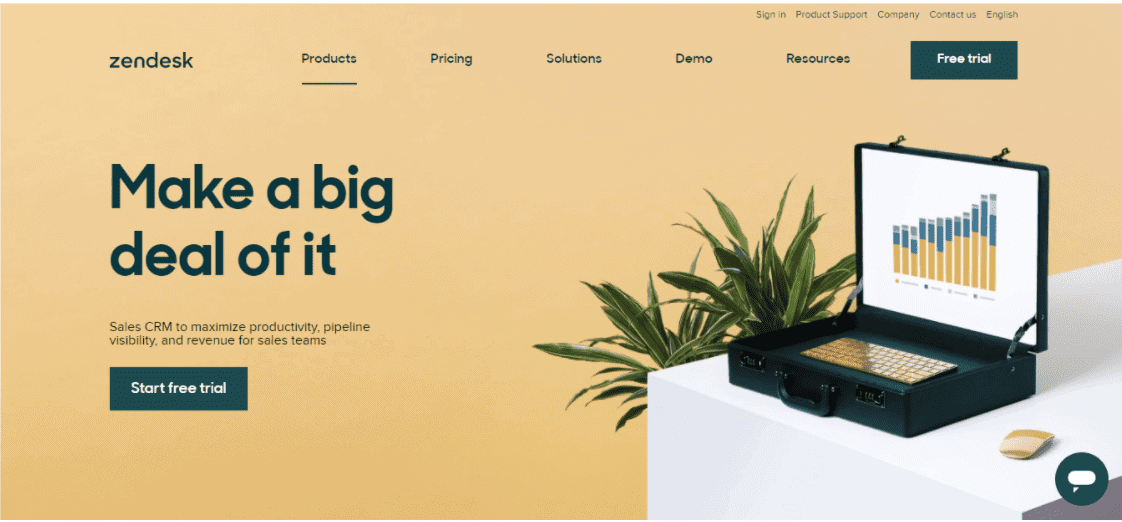 Zendesk is a sales CRM software that helps with greater visibility into your sales pipeline, boosting your sales team productivity and revenue.
Sales teams can access Zendesk's integrated tools that provide all the details of your leads in a centralized location. Thus, businesses can track the journey of their prospects in the sales funnel to capitalize on opportunities and address any bottlenecks.
You can also get real-time insights into your sales team's performance, helping improve customer experience.
Features
Messaging and live chat

Email tracking

Activity reporting

Mobile CRM

Call analytics

Real-time forecasting
Pricing
There are three types of pricing plans by Zendesk: Suite Team, Suite Growth, and Suite Professional.
The Suite Team costs $51.44 per agent per month and includes key features like an industry-led ticketing system, messaging across social media channels, workflow automation, and a unified agent workspace.
With Suite Growth, you can get more services such as multiple help centers, AI-powered automated answers, a self-service customer portal, and multi-language support at $85.73 per agent per month.
For those opting for Suite Professional, this plan accompanies features such as conversation routing, customized dashboards, integrated community forums, and data location options. It costs $104.20 per user per month.
USP
Zendesk allows users to build their own Zendesk app exclusively for their business. With the app, you can display or update external data, display or hide certain fields, and create customized solutions.
Want to find a Zendesk alternative that's better suited to your needs? Check out our article on the top Zendesk alternatives.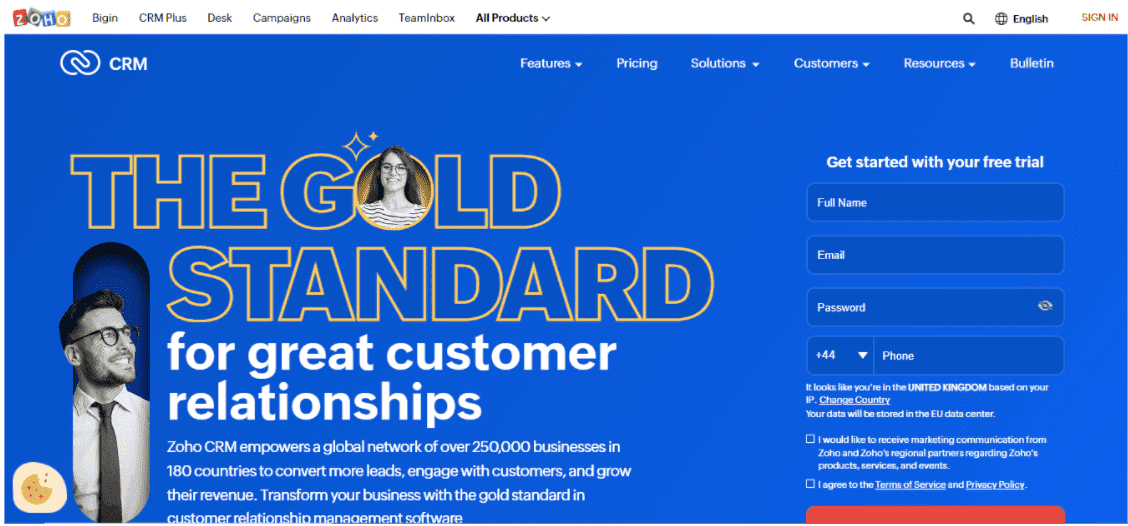 Zoho CRM aims to help your business grow further by delivering a better customer experience.
With Zoho, you can reach out to your clients from anywhere and anytime, thanks to its omnichannel CRM solution.
The omnichannel feature helps you contact your customers via email, phone calls, Live Chat, social media, web conferencing, and self-service portals like an online knowledge base and helpdesk.
You can also automate your marketing tasks and receive real-time notifications based on customer behavior.
Features
Process management

Marketing automation

Team collaboration

Sales reporting and analytics

Workflow automation
Pricing
Zoho has four plan categories: Standard, Professional, Enterprise, and Ultimate.
For features like customized dashboards and multiple sales pipelines, you can just buy the Standard Plan, available at $14 per user per month.
With the Professional Plan, businesses can avail of additional services like web-to-case forms, validation rules, inventory management, and SalesSignals, at $23 per user per month.
The Enterprise Plan, Zoho's most popular plan, costs $40 per user per month. It gives you access to their AI-based assistant Zia along with multi-user portals.
Lastly, its Ultimate Plan offers a bundle of advanced AI capabilities to take your business to the next level. It is priced at $52 per user per month.
USP
Zoho CRM boasts of a feature called Canvas, which may be the industry's first CRM design studio. Using Canvas, you can create multiple design variants for your CRM dashboard or choose from the built-in templates, and hide or display information as you need.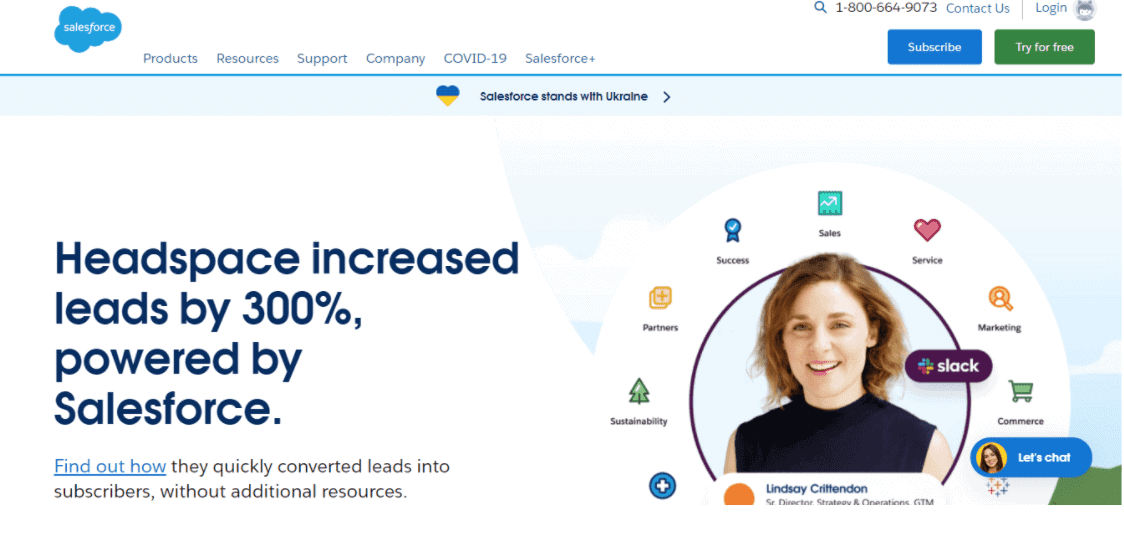 For small businesses that need advanced sales force automation, Salesforce cloud CRM has an extensive set of features.
These CRM features include sales forecasting, opportunity management, and sales process automation.
Moreover, its mobile CRM, called Mobile Publisher, helps you access customer databases from anywhere and can be customized according to your business needs.
Features
Contact management

Lead tracking

Call recording

Sales pipeline management

Real-time dashboards
Pricing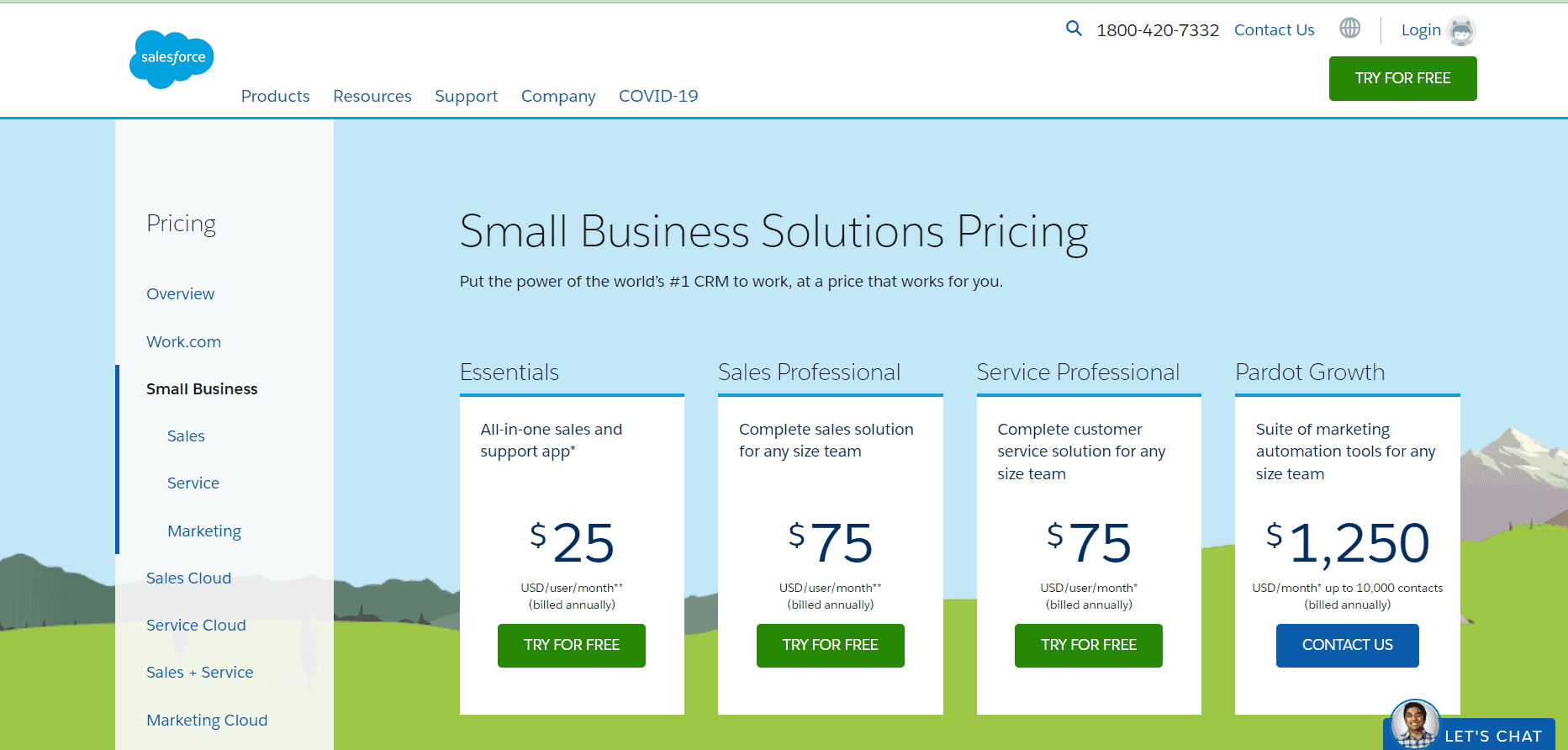 Salesforce has a lot of products, but for small businesses looking for CRM solutions, Salesforce offres four pricing plans to choose from: Essentials, Sales Professional, Service Professional, and Pardot Growth.
The Essentials Plan boasts of an all-in-one sales and support app costing $25 per user per month. It includes account and lead management, case management, lead allocation, sales process customization, and full offline mobile functionality.
For larger teams, the Sales Professional Plan is best. This plan starts from $75 per user per month and has key services like lead scoring, opportunity management, collaborative forecasting, and campaign management.
The Service Professional Plan is priced the same as Sales Professional, and offers features that cater to customer service teams, like web services API, Telephony integration, case management and more.
The Pardot Growth Plan offers marketing automation tools for up to 10,000 contacts. This plan costs $1,250 per user per month and offers lead generation and qualification, email marketing with personalization, dynamic content for targeted messaging, AI tools for marketers and sales reps, and more.
USP
Salesforce's AI-powered tool, known as Einstein AI, helps businesses automate workflows faster, scale customer experiences, and gain deeper insights into customer interactions.
Read more: Pardot Pricing, Features, Reviews, and Affordable Alternatives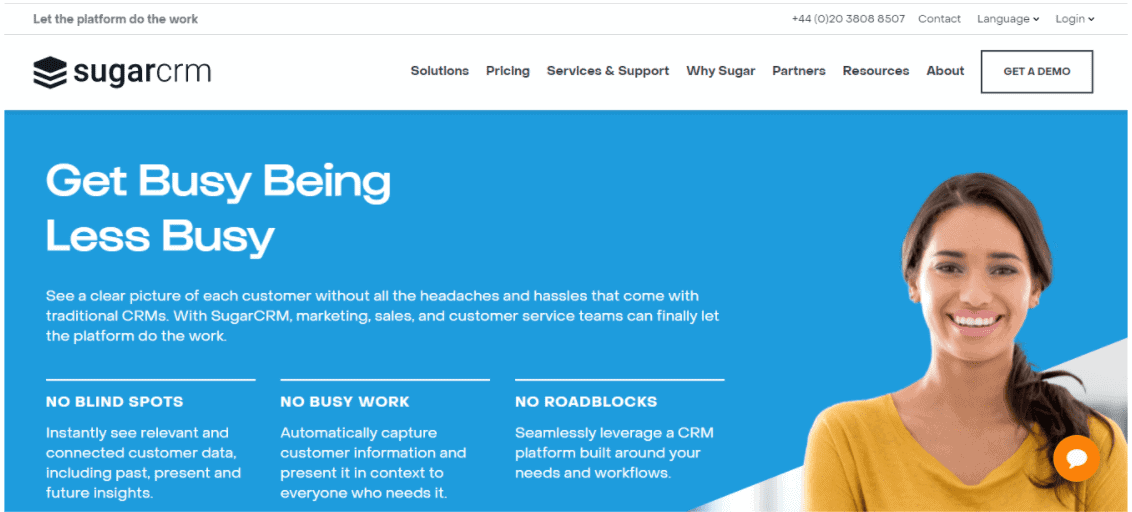 SugarCRM provides all the information you require about your clients so that you know where they are in their sales journey.
With SugarCRM, you can remove any blind spots by getting accurate sales predictions; increase conversions using intuitive customer tools, and use analytics to arrive at better data-driven decisions.
Features
High levels of customization

Drag-and-drop UI

Salesforce automation

Lead and opportunity tracking

Real-time insights
Pricing
SugarCRM has five plans, including Sugar Market, Sugar Sell, Sugar Serve, Sugar Enterprise, and Sugar Professional.
The basic plan, Sugar Professional starts at $52 per user per month and can go up to $1,000 per user per month with its Sugar Market Plan.
Sugar CRM has plans for all sizes of businesses, allowing them to upgrade their plan as they start to scale.
One thing to note is that Sugar Professional provides two support-authorized contacts, whereas Sugar Market gives you four.
USP

High-Definition Customer Experience or HD-CX is SugarCRM's newly-launched feature that helps you view your customers in HD. It aims to provide greater clarity on your customers' sales journey, enabling you to implement better strategies.
Read more: SugarCRM Pricing, Features, and Comparison with Cheaper Alternatives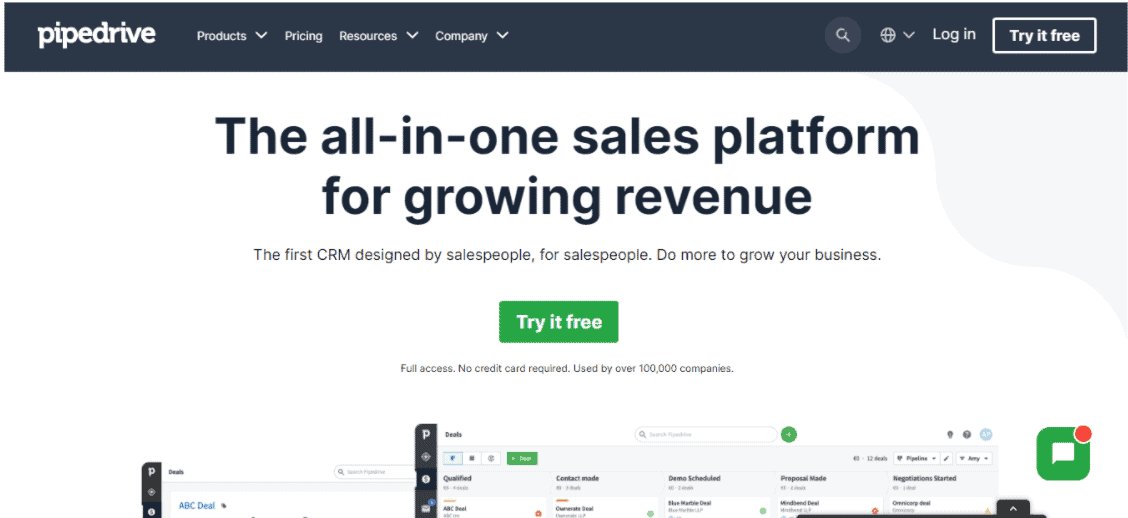 Pipedrive is an all-in-one cloud-based CRM solution that was designed by sales experts for sales teams. It is one of the best cloud-based CRM software thanks to its ease of setup and affordable pricing.
With Pipedrive, you can get operate your CRM software with just a few clicks. It also helps you schedule calls and emails, prioritize tasks, and close deals faster.
Features
Drag-and-drop sales pipeline

Appointment scheduling

Real-time reports

Customizable dashboards
Pricing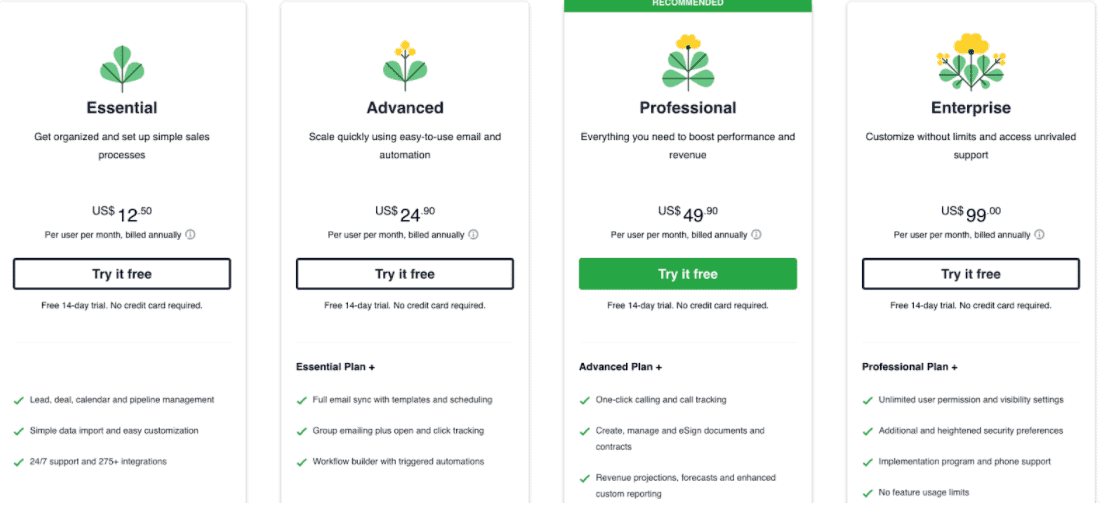 Pipedrive provides four plan categories: Essential, Advanced, Professional, and Enterprise.
The Essential Plan starts at $12.50 per user per month. Here, you can get 275+ third-party integrations, lead and pipeline management, and easy customization.
With the Advanced Plan, users can receive complete email sync with in-built templates, workflow builder with triggered automations, and group emailing at $24.90 per user per month.
Under the Professional Plan, which is Pipedrive's most popular plan, you can avail of enhanced custom reporting, revenue forecasting, and call tracking, at $49.90 per user per month.
And for those looking for advanced customizations, the Enterprise Plan is ideal. The plan starts at $99 pounds per user per month and comes with unlimited user permissions, increased security preferences, and phone support.
USP
Pipedrive is integrated with over 250 apps, including Zapier, Slack, Zoom, Google Meet, DocuSign, QuickBooks, and so on. Some of these apps help you function remotely and sell from anywhere.
Read more: 5 Perfect Pipedrive Alternatives with Better Tools (Features, Pricing)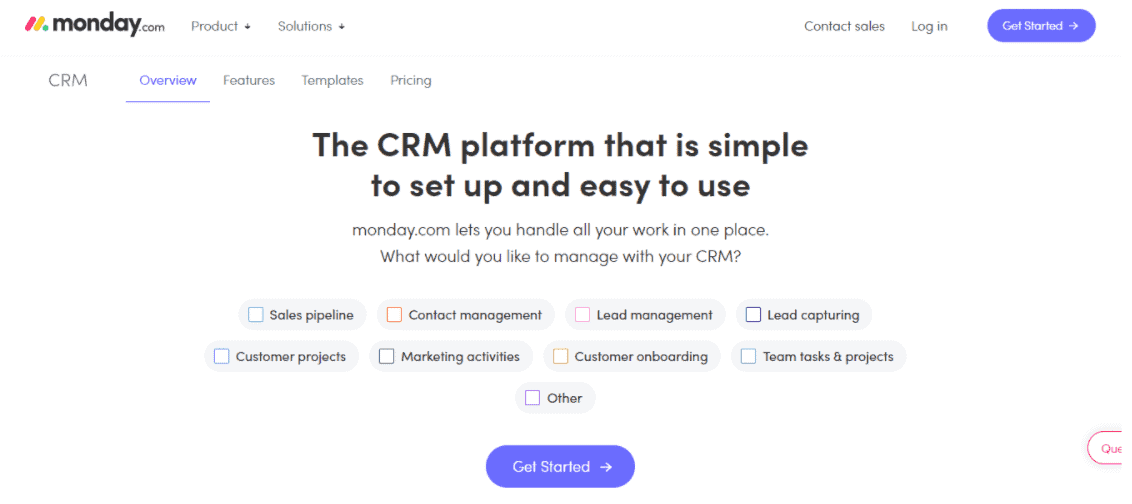 Monday CRM is a web-based customer relationship management system that helps small businesses manage their customer relationships and sales processes.
It includes features such as contact management, task management, opportunity tracking, and invoicing.
Monday is designed to be easy to use and helps businesses keep track of their customer relationships in one central place.
Features
Customer tracking

Workflow automation

Customizable dashboards
Pricing

Monday allows you to choose from over five types of plans: Individual, Basic, Standard, Pro, and Enterprise.
With its free plan – the Individual Plan, you can get 200+ email templates, unlimited docs, over 20 column types, and unlimited boards.
For additional services like lead, contact, and deal management, unlimited sales pipelines, unlimited contacts, and full mobile CRM, you need to pay $8 per seat per month (Basic).
What's more, its Standard Plan allows users to visualize their sales timeline, get sales and goal forecasting, over 250 automations, calendar view, and Mailchimp integration at $10 per seat per month.
For those seeking a complete CRM platform, go for the Pro Plan. The plan starts at $16 per seat per month. It has advanced permissions, workflow approval and automation, customized notifications, and advanced reporting as its main features.
Note: Monday does not allow single users in its paid plans, and you have to start with 3 seats (users) minimum. That brings the pricing to $48 a month in the Pro plan.
To get a customized plan, select the Enterprise Plan. It has multi-level permissions, tailored onboarding, and premium support as its key features.
USP
Monday helps you build your own CRM platform by choosing the services your business needs. You can select from a range of services, including sales pipeline, customer projects, lead management, contact management, customer onboarding, and marketing activities, and customize your CRM tool.
Read more: Sales Management Tools to Build the Perfect Sales Team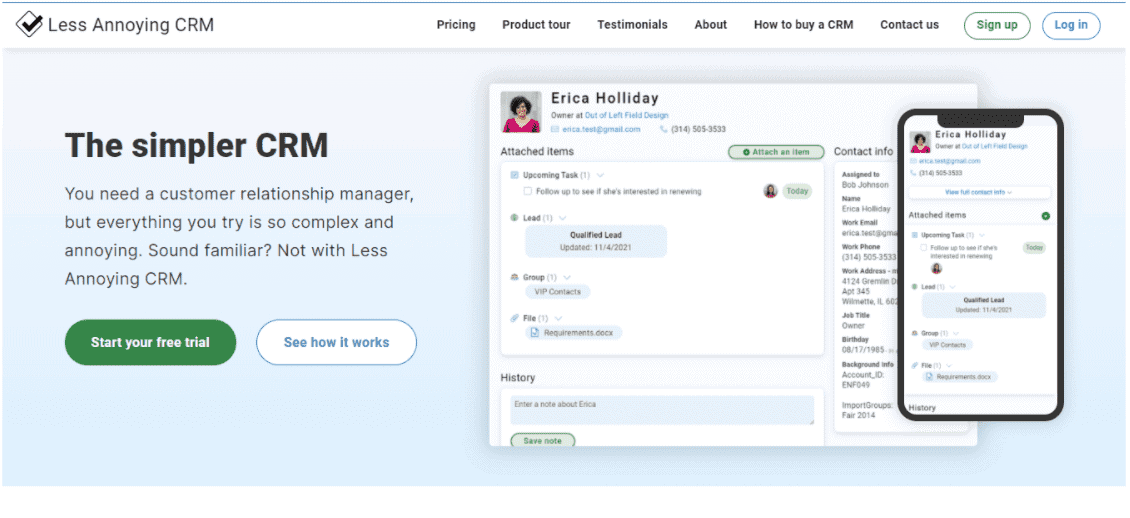 If you are looking for a CRM system that has a variety of tools to streamline your sales process, look no further than Less Annoying CRM.
It has an in-built calendar to organize your schedule in one place, access all your notes, files, tasks, and pipeline details on a single platform.
In addition, the Less Annoying CRM is quite easy to set up. You can create your dashboard with just a few simple clicks.
Features
Contact management

Lead and pipeline tracking

Mobile access

Easy customization

Team collaboration
Pricing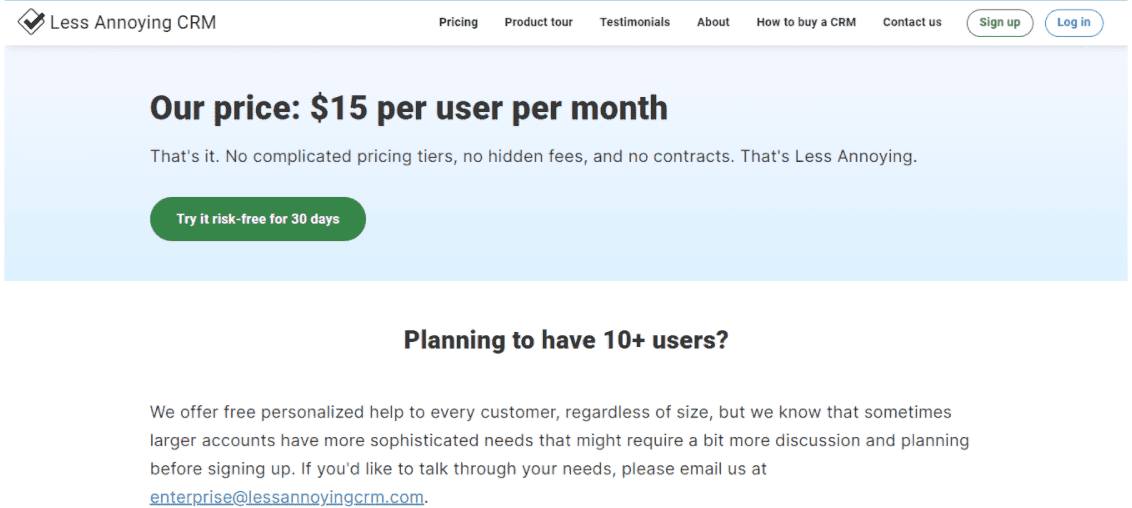 Less Annoying CRM has a simple and straightforward pricing model.
It charges $15 per user per month, irrespective of the size of your business.
However, you can sign up for a 30-day free trial. Businesses that want customized plans can contact the Less Annoying sales team directly.
USP
The best thing about Less Annoying CRM is that it really is simple and easy to use.
Read also: A Comprehensive Guide to Less Annoying CRM Alternatives
Conclusion
Many companies are looking for ways to move away from traditional on-premises CRM software and to the cloud. There are many reasons for this shift, but the most common ones are that cloud-based CRM software is more cost-effective and easier to implement and manage.
On-premises CRM software can be expensive to purchase and maintain. It also requires a certain level of IT expertise to properly install and configure the software.
Cloud-based CRM software, on the other hand, is much less expensive and can be up and running quickly and easily. It also doesn't require nearly as much IT expertise to manage.
If you have a small business or company to run and grow, we recommend EngageBay the most from this list of cloud-based CRM software.
That's because EngageBay is a comprehensive CRM solution for small business owners, while other CRM software can get really expensive with a powerful feature set.
If you'd like to know more, feel free to sign up or book a demo.
Boost your travel agency's success with the ultimate travel CRM software – dive into our comprehensive guide today!