With big data and personalization becoming indispensable to generating leads and engagement for businesses, marketing automation has become an integral part of the landscape.
Marketing automation can be key to ramping up your company's efficiency. It allows you to devote more time to your most valuable asset—your customers.
By implementing an effective marketing automation tool, your company can better target your audience and potential clients across multiple platforms, such as social media, email automation, and text messages.
Karra Hendrix, product marketing manager at Act-On, explains: "Marketing automation is all about understanding your audience so you can adapt the way you communicate to them based on their unique buying journey".
So, what does this mean for your company and why should you use marketing automation software?
Almost all marketers (98%) say that effective marketing automation is a critical component in a company's long-term success.
What Is Marketing Automation?
Marketing automation refers to the use of software to automate various marketing activities.
You can choose to automate right from the process of identifying prospects to nurturing your leads, and converting them into a customer. 
Some of these activities include drip email campaigns, social media posting, ad campaigns, and much more. Besides, these tools can be highly beneficial in providing a personalized experience. 
Marketing automation improves the efficiency of your sales funnel, as it makes sharing of information easy. It helps provides a seamless experience to your customers.
EngageBay's marketing automation software platform helps small businesses automate marketing and sales tasks and various workflows to generate leads, close deals, and grow revenue faster.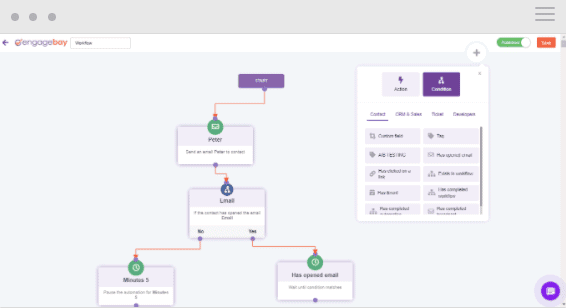 An efficient marketing automation strategy frees employees for other things while having a clear view of their buyer's behavior.
Why Does Marketing Automation Matter?
Marketing automation can help increase efficiency, resulting in higher ROI. 
These stats will make you believe why your business needs  marketing automation tool. 
77% of businesses reported increase in their conversions.
30% of marketers identified saving time as the biggest benefits of marketing automation, followed by lead generation (22%), increase in revenue (17%), and customer retention (11%). 
Clearly, you can't undermine the role of marketing automation in your business growth.
Here are a few benefits of marketing automation.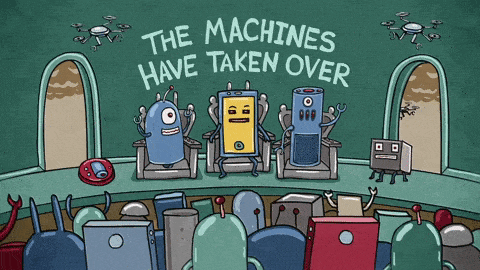 The Benefits of Using Marketing Automation
Recent research shows that 77% of chief marketing officers (CMOs) at top-performing companies use marketing automation to grow revenues.
Here are some of the ways marketing automation can benefit your business:
1. Increase customer lifetime value (CLV) by automating cross-selling, up-selling, and customer follow-ups.
2. Reduce staffing costs by setting up lead nurturing and marketing campaigns triggered by customer actions or behaviors.
3. Allows you to refine marketing processes to better target and nurture your leads.
4. Allows for better accountability of marketing and sales by having clearly defined processes and metrics for measuring campaign effectiveness and activities.
5. Allows you to amplify the effect of your marketing initiatives.
6. Replace manual and repetitive tasks to free up time for creative tasks.
7. Reach potential customers in a personalized way across multiple channels.
Which Tasks Can Be Automated?
Effective marketing automation software is designed to scale alongside your company, without automating all your marketing efforts. But you need to approach marketing automation with caution.
"By over-automating your marketing, you end up managing a customer journey instead of optimizing it," says Chris Davis, director of education at ActiveCampaign.
Marketing automation is best used to build a database of qualified leads and determine which type of communication will be most effective for your lead.
EngageBay's drag and drop visual builder is the simplest way to design intelligent marketing and sales workflows
Over time and via various points of contact, you will have sufficient data to place your buyers and potential clients in groups, determined by common behaviors, demographics, and interests.
Another way to use this strategy for pursuing leads is by implementing sales alerts.
According to Salesforce, marketing automation can track visitors, the websites they visit and generate real-time sales alerts.
These alerts will automatically follow-up with your company's leads at a time determined by your sales department.
In simple terms, marketing automation can streamline the marketing process and aid the creation of personalized content.
This can then be delivered automatically to buyers across websites, text messages, and email marketing.
Studies show that over one billion dollars are wasted annually due to inefficient marketing.
In fact, 67% of marketers say their departments are inefficient.
This is primarily due to one or more of the following:
Lack of tracking performance
Employees working in silos
Not using marketing automation
Placing quantity (of content assets) before quality
Not placing the right focus on particular social media platforms
To avoid such inefficiencies, companies need to align their marketing automation goals with the buyer's journey.
Steps to Align Marketing Automation Strategy with the Buyer's Journey
1. Understand buyers' personas
This step is crucial to align your marketing automation objectives with the buyer's journey. You need to know who your ideal customer is so you can deliver relevant content.
Also, be familiar with your buyers' demographics and where they search for information.
To create and understand your buyers' personas, consider conducting interviews and surveys from sales, marketing, customer service, and the customers themselves.
This step will help you to establish content that aligns with your customers' goals.
Facebook and Twitter analytics can provide insights into what topics and demographic information are most relevant to your business.
Google Analytics can provide information about who visits your website and what terms are being searched.
You can also talk to your sales teams about the types of customers and leads they interact with. Find out what questions and problems the sales team hears consistently.
Interviewing customers and prospective buyers will provide additional insights, as will researching issues facing your industry.
This will help to target the right audience on Facebook and other social media sites.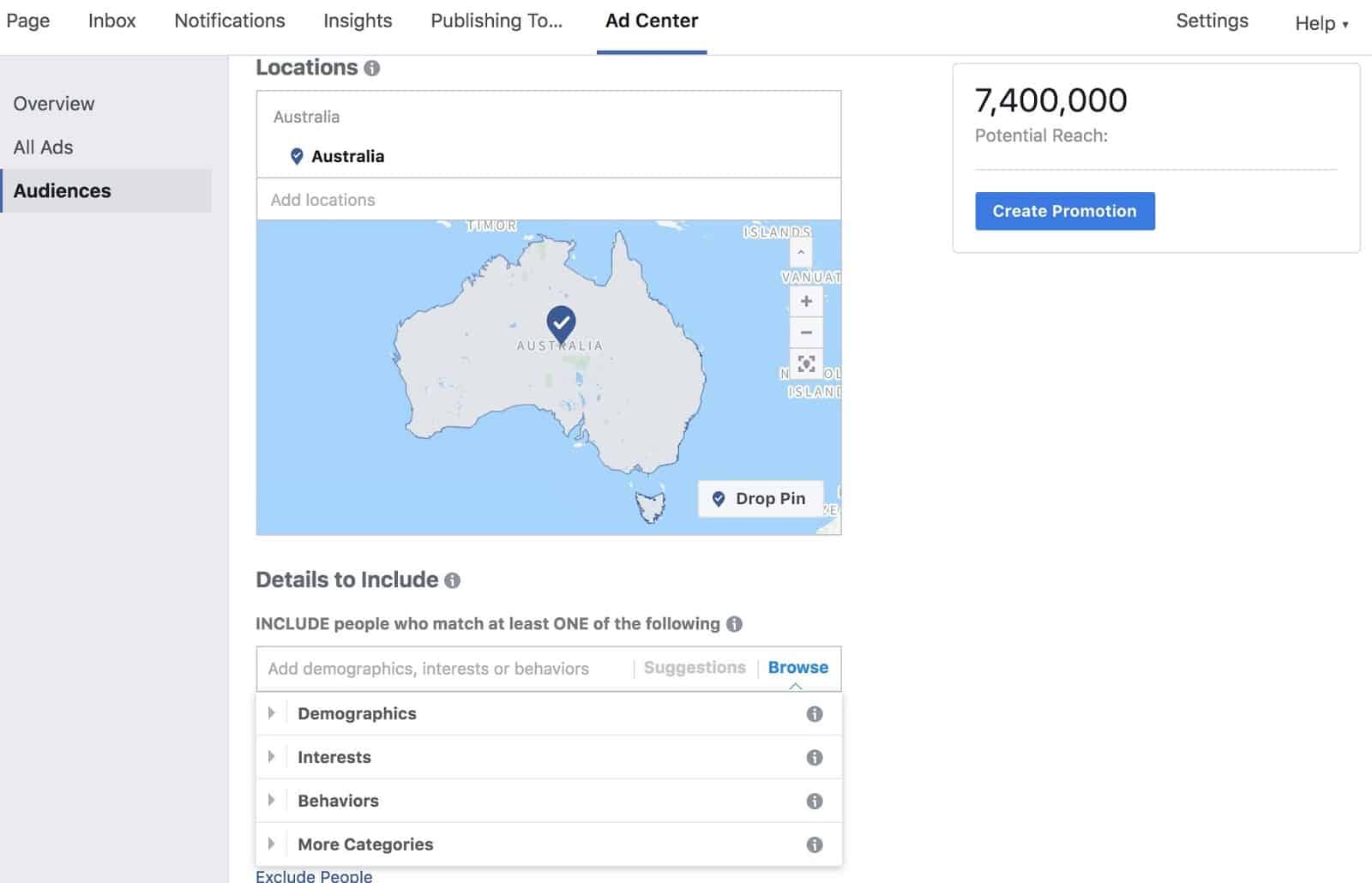 2. Map out the buyer's journey for each persona
You know your potential customer will transition through the phases of awareness, consideration, decision, and purchase phases of the buyer's journey.
To make your marketing efforts pay off, you need to align your marketing automation goals with each phase of the customer's journey.
After all, 95% of B2B buyers conduct more than half of their research online before reaching out to a company. So matching content with their interests and behavior is critical.
You should also have a clear understanding of the buyer's way of thinking and how he or she will contact your company and move forward.
The best way to approach this is to make the next step easy for potential buyers in their journey with your business.
To appeal to the many types of buyers, you should create multiple pathways and opportunities for them to engage in and progress along the journey.
Send out emails, newsletters, and personalized text messages with your marketing automation software.
By creating multiple pathways, you engage all of your buyers by offering one way they might find appealing.
Questions to consider in mapping out the journey:
What are the challenges for the buyer and what do buyers think at each stage of the journey?
What type of information do buyers need at each stage?
What type of questions do buyers ask at each stage?
What content would support them at each stage?
What terms might a prospect search for at each stage?
To put this into action you need to:
Discover the questions buyers are asking
Identify members of the buying team
Choose the right medium and format
Be visible where the buyer is
Optimize your content with keywords and relevant terms
3. Conduct a content audit
How do you know if your content is strategic and effective during the buyer's journey?
Although you can track and measure performance, you can also conduct a content audit to optimize the customer's experience.
This is a great way to become aware of what content works with your buyers.
A content audit will tell you which content is effective, what you should keep, and what can be changed to improve the buyer's journey and appeal to your target audience.
This will save time and money—so that neither is wasted on ineffective marketing.
Check out the video below for an overview
Check out this post on how to conduct a content audit using SEMrush
4. Understand your analytics
A thorough understanding of your analytics is key to mapping your company's game plan and marketing automation.
For example, let's say you know how much time it takes for a potential buyer to progress to an opportunity and how much time it takes for the opportunity to close.
This will inform your marketing automation, which you can then use to decrease the conversion time.
You need to know where potential buyers get stuck or fail progress in the buying journey, so you can create a successful marketing automation plan for your company's success.
Understanding analytics can provide valuable insights.
For example, consider the following:
During the awareness stage, you can track the number of visitors to your site and the sources from which they arrive.
During the consideration stage, you can monitor click-through rates and cost per lead.
During the decision stage, you can track the cost per acquisition.
While the above metrics are quite simple, they form the basis for exploring your analytics at a deeper level and diagnosing any issues.
5. Talk to sales and support
Dan Galante, a business writer and sales and marketing professional says: "Sales teams can provide a lot of information about customers, product concerns or issues and objections they face.
They are frontline soldiers that have a direct line to customer intelligence".
Insights into each stage of the buyer's journey can only help with efficiencies and lead to better outcomes with your marketing automation.
Why?
Because successful companies nurture leads and use them to automate their marketing.
How do you create a better alignment with the buyer's journey?
Spend time with your top sales personnel to get insights into how, when, and who you reach out to, and refine your buyer profiles.
Find out where the sales team find success and where they need assistance.
Encourage dialogue between sales and marketing teams and make sure no overlap exists with sales communications.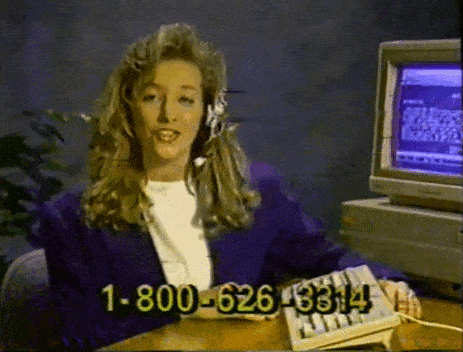 6. Map out programs and activities that will get you in front of buyers at each stage.
To ensure that your marketing automation is put to good use, plan activities, and programs that will put you in front of your buyers throughout the buyer's journey.
One way to do this is by tracking your customer's engagement and identifying which content or means of marketing automation works for the buyer.
For example, one customer might respond to your email marketing efforts and another to social media outlets.
Try to understand what your potential buyers are looking for and maintain a relationship with them even after a purchase.
7. Map out the systems and technologies needed to support the initiatives outlined.
If your goal is to create predictable revenue growth, the secret to success lies in creating scalable processes.
This is particularly critical when deciding on the marketing automation systems and technologies to support your initiatives.
Investing in marketing automation technologies can be one of the most difficult and important decisions a business makes.
Lack of content and an effective strategy will undermine any marketing or lead-generation effort.
However, ensuring that you have the right marketing automation tool can have a multiplier effect on the results of your efforts.
Questions to ask when selecting marketing automation tools:
What are your business needs at your current size?
What are your marketing automation tools capable of?
How easy and intuitive are they to use?
To what level can you customize it to do what you want it to do?
Can you use it to personalize content and the customer experience?
How well does it align with your buyer's journey and with sales?
Can it be scaled—is it flexible enough for your future needs?
Will it integrate with your CRM?
Can it track and measure the performance of several initiatives?
What intelligence can it offer to make your marketing smarter?
What's the support like?
Does it fit the budget?
EngageBay's marketing automation software is tightly integrated with its free CRM

Ensure your marketing automation strategies serve your customers
Whether it is a small business or a major brand, successful marketing automation is key not only to acquiring buyers but also to nurture them throughout the sales journey.
Aligning your content and messaging with the buyer's journey is essential for your marketing automation program's success.
Understanding your buyer's preferences and using effective communication are the key first steps to make sure your marketing automation strategies align with the buyer's journey.
They will help bridge any gaps between lead acquisition and sales development, increase closing rates, strengthen bottom lines, and create enduring relationships with your customers.
Check out this helpful guide on marketing automation in our Resource Center: