Andrew Davis said that "Content builds relationships. Relationships are built on trust. Trust drives revenue."  In business as well, these three are closely related and pivotal for growth and success. In today's digital age, content can be a real differentiator for businesses. Both online and offline content can make or break a brand. That is why businesses heavily invest in content marketing these days.
According to statistics, content marketing gets 3 times more leads per dollar. A survey finds that most of the B2B marketers spend around 40% of their total marketing budget for content marketing. Companies have full-fledged content marketing strategies which involve different types of content. The report says that global content marketing revenue will exceed $300 billion by 2019. A professional blogger is in high demand these days and we will take a look at some of the key skills that differentiate them.

Blogging is one of the major aspects of content marketing. Blogging is one of the best ways to achieve SEO. A blog is not only about content, but it is also a great way to build meaningful relationships. Your followers and readers can become your loyal brand ambassadors.

So, let us first understand what blogging is and how a blog works.
Blogger definition
A blog is a website or a webpage which is updated frequently and maintained either by an individual or a company. It can have content related to a specific niche or general topics. An individual who maintains a blog is known as a blogger. Not just individuals, organizations also have their own blogs, mostly as a part of their website. Blogging is one of the most effective types of content marketing for businesses. According to data, companies who blog receive 97% more links to their website. An individual who maintains his/her own blog or writes blogs for others is known as a blogger.
There can be different types of blogs based on their characteristics. Different businesses have a blog based on their niche and field of operation. There are different ways to write a blog. Here are some popular patterns of blogging that work best.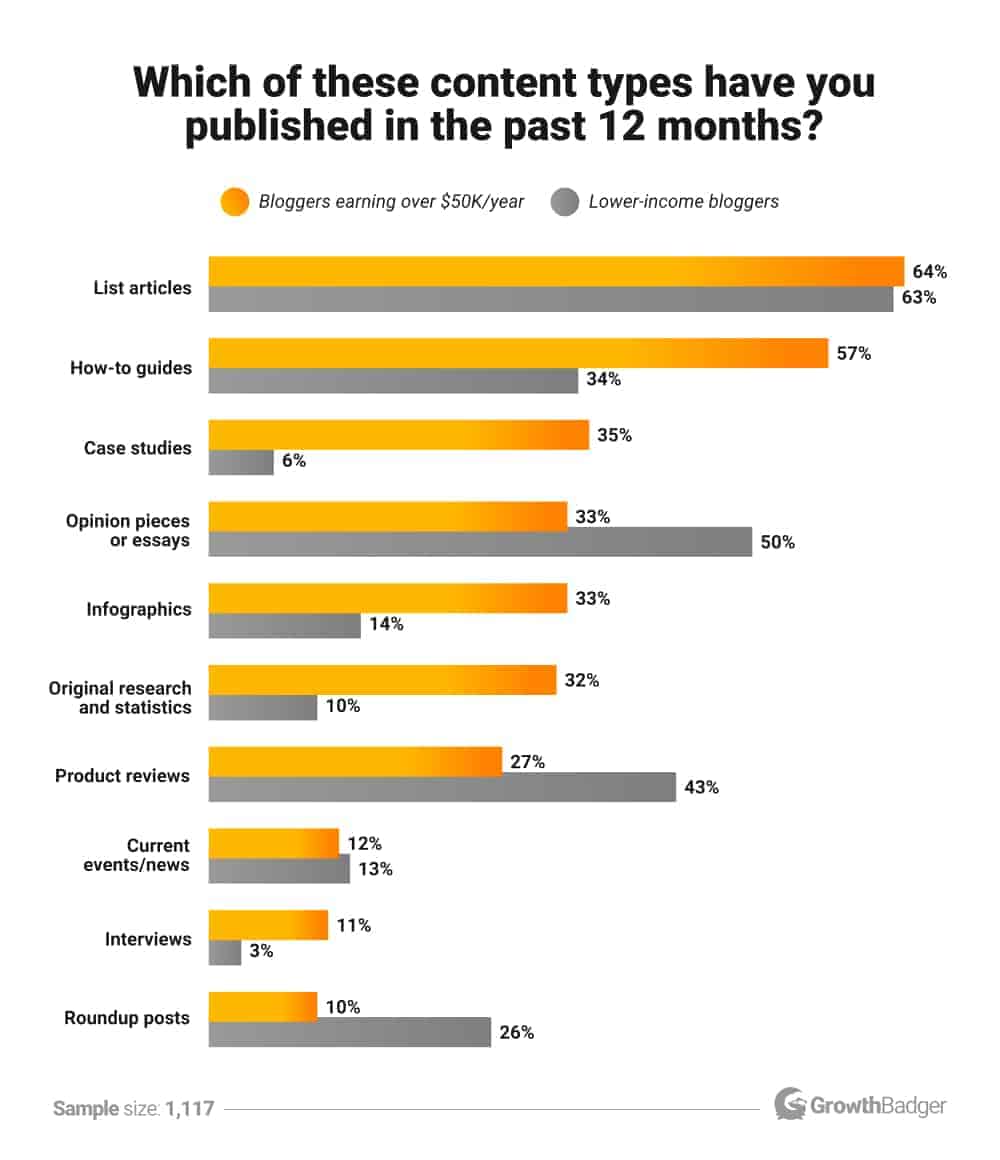 Who is a professional blogger?
A professional blogger is someone who blogs for a living. When bloggers monetize their blog through ads, products, coaching, or some other paid offering, blogging becomes their full-time job.
Types of professional bloggers
There are mostly who types of professional bloggers:
People who make money through their own blog
People who write/blog for a company
People in the first category can monetize their blogs through:
Advertising
Content subscriptions
Membership websites
Affiliate links
Donations
Online courses, Coaching or consulting
On the other hand, people in the second category are more like content marketers, Apart from good writing skills, additional knowledge of the following will always help them have an added advantage.
Copywriting
Email Marketing
SEO Knowledge
Social Media Management
How do bloggers make money?
Before going to the key attributes of a professional blogger, we saw how blogs can benefit a brand or a business. This also explains why businesses invest in blogs as a major content marketing strategy and pay a professional blogger a good price. We will briefly talk about how blogging helps professional bloggers earn.
Harsh Agrawal, the founder of ShoutMeLoud mentioned that "Once a newbie blogger starts making money from blogging, they get more serious. However, when a blogger moves to $20k+ in revenue/month, they realize the higher potential of a blog which is now a dedicated platform in the niche they are in. This is where they start implementing most of those aspects of digital marketing which moves the needle."
Earning a decent amount of money is one of the main incentives for bloggers. The image below gives you a brief idea on the different channels through which bloggers earn.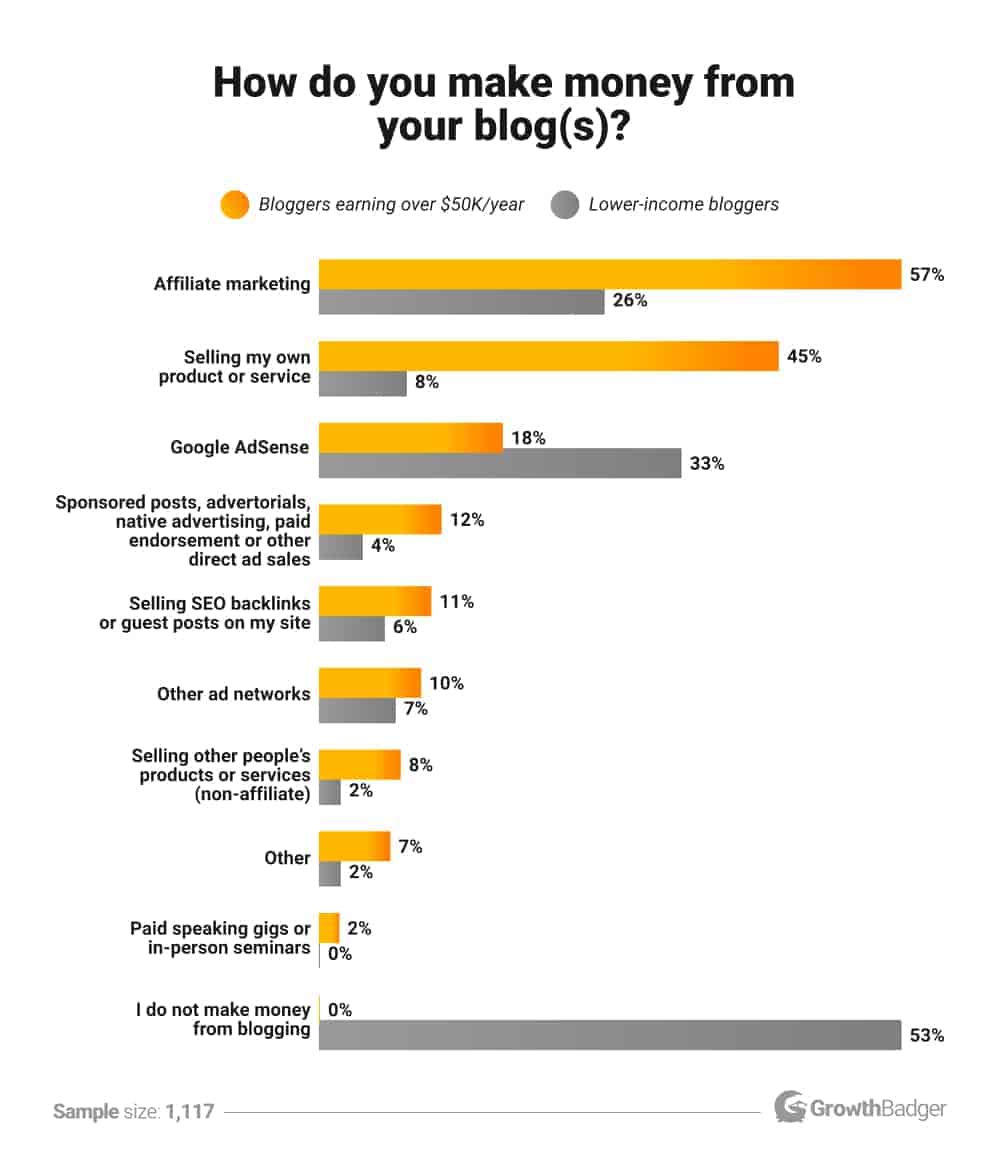 High-income bloggers mostly use Affiliate Marketing, native advertising or other direct ad sales, or writing for an e-commerce site to sell other people's products and services to earn money.
Since blogging is a strategic digital marketing tool, companies tend to hire the best in the industry. A new blog post is published every 0.5 seconds. So, you can imagine the volume and importance of content as a competitive edge for businesses. According to stats, around 64% of B2B marketers outsource their blog writing. A B2B marketer's aim is to generate leads and when good blogs can bring in leads, they are willing to pay the price. Hence, they hire professional bloggers who can deliver quality content. In today's dynamic age, it is very important to leverage your talent as a blogger and possess certain essential skills of a professional blogger.
12 Essential Skills of a Professional Blogger
1. Content Writing
The most important thing in blogging is content. A pro blogger needs to understand the relevance and importance of a topic and what readers would love to read. There is too much content on the internet, so a good blogger needs to write information in the right way so that the article is engaging for the reader. It should be of appropriate length- articles of 2000+ words do well in Google. One should not use too much technical jargon and language should be reader-friendly. One most important thing is proper research. Professionals should know about the right places to look for authentic information and create articles that have a takeaway for the audience.
2. Photo Editing
Blog posts with images get 94% more views than those without. Including proper images is very important to create an impact. Often images from Google cannot be directly used in the blog. They need to be edited and formatted before usage. A professional blogger needs to have a good knowledge of photo editing tools and how to optimize images. Optimized images also help in search engine optimization of a blog and help it rank better. It is also important to know about the right sources to pick up images from, to avoid plagiarism.
3. CSS and HTML
One need not be a technical programmer or developer, but a basic knowledge of HTML, XML, CSS is always an added advantage. This will help you work with different templates and make your blog more presentable. This basic knowledge of technology will also help professional bloggers add different plug-ins and widgets to their blog to increase marketability.
4. Social Networking
96% of bloggers promote their posts on social media because today almost everyone is on social media. 60% of marketers use blog posts in their social media marketing. because that is one of the best channels to dissipate and distribute information. A professional blogger with good social media reach always connects better with followers and are better at monetizing their blog through popularity and networking.

5. Marketing
Marketing is an integral part of a business when you plan to sell your services and earn revenue. It is very important to know the right time and place to market. Marketing helps you get more traffic and also helps you to connect. One must decide on the USP to market and position their blog or expertise according to customer requirements. You can connect with other influencers in your niche, follow other blogs and read as much as possible.
6. SEO and Analytics
In today's competitive world, it is important to get a good Google ranking for a blog to be successful and earning good revenue. This required SEO and also analytical understanding of how your blog is doing and what are the improvements needed is crucial. There are many online tools and analytical resources which aid in this. Platforms like WordPress have their own SEO plugin which helps to assess and rectify your blog. This requires a basic level of understanding of SEO and Analytics, so a professional blogger who understands SEO definitely has an upper hand.
7. Understanding the audience
Understanding what your readers and followers want to read might be one of the biggest challenges in blogging. Yet, if one can master this, it can become one of the critical strengths. Analyzing reader behavior and interacting with them helps a blogger to understand what they like and articulate blog posts according to that.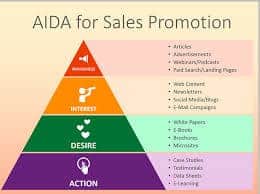 Credits
8. Negotiation
If you are a good blogger and you know your worth, it is important to prove it. This will pave your path to become a professional blogger. Good negotiation skills will help you earn more, connect with influencers, get your guest posts on high-quality sites, get better at affiliate marketing, etc. Negotiation starts with knowing the industry and your niche, showing value-based results and of course pitching in the right way.
9. Creativity
It is important for a professional blogger to offer something which others are not offering and hence have a qualitative edge. You can be creative and innovative in ways to present the information. Engage your readers so that they would love to come back to your blog or become loyal followers. Make them recommend and share your posts to increase your reach.
10. Patience and Consistency
One does not become a professional blogger, right from the start. It takes a lot of iterations to take one step at a time. Give yourself time to hone your blogging skills. It is not just information that you write in a blog, it is the way you urge your audience to read and share it. Have patience and be consistent in what you are doing. Be true to your niche and try not to deviate from it.
11. Planning
Every professional needs proper planning and so does a blogger. As a professional blogger, your schedule needs to be properly planned. Time management will be a big task. Decide on the number of quality blogs that you can deliver and how much time you want to dedicate to each blog. A blogging calendar needs to be put in place for managing things.
12. Motivation
Finally, a professional blogger needs to be motivated to write and learn. Read and learn from other competitor and influencer blogs. You can always learn from the best. Give your best to every blog and create a niche for yourself among your audience.
How is a blog different from a website?
A blog is just a part of a website. A website has specific information about the Company, the business, its products, and services, etc. However, a blog on is a variety of topics, either related or not related to the exact line of business.
A blog is updated frequently, where website information changes whenever necessary. Unlike web pages, blogs are mostly updated on a daily or a weekly basis.
Blogs have a discussion section, unlike webpages. Blogs facilitate conversation because they are meant for discussion, comments, and opinions of the reader(s).
Here are some of the popular blogging platforms based on preference.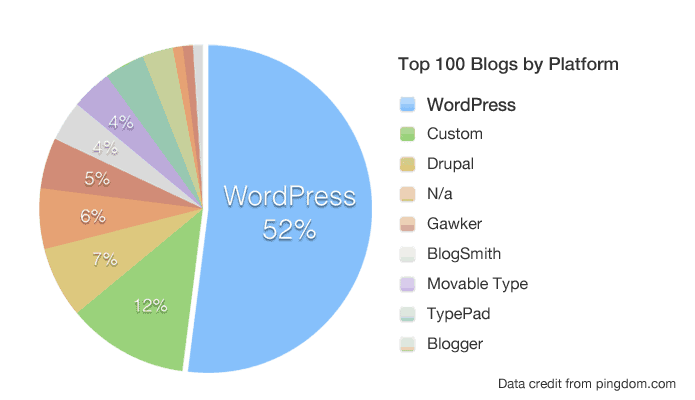 How a blog helps a brand
85% of B2C marketers and 91% of B2B marketers use a blog or use other content marketing. Blogging is s great way for businesses to share information, connect and network with the audience, generate sales and also build goodwill. Statistics indicate that 66% of B2B marketers who use blogs generate more leads than those who don't blog.
1. It helps to drive traffic to your website
Good engaging blogs when shared across different platforms can help drive traffic directly to your website. It has been seen that blogs can increase website traffic by up to 6x. Moreover, businesses which blog experience twice as much email traffic. So, a good combination of blogs and email marketing can be a great marketing strategy. Companies who blog are likely to receive 97% more links to their website. That is why companies rely on a professional blogger to deliver engaging and helpful blog posts.
Compounding blog posts are a great way to drive traffic. These are posts whose traffic grows steadily over time. Compounding blog posts can generate 38% of all blog traffic. According to a study, a single compounding post generates traffic that is almost equal to six other new blog posts.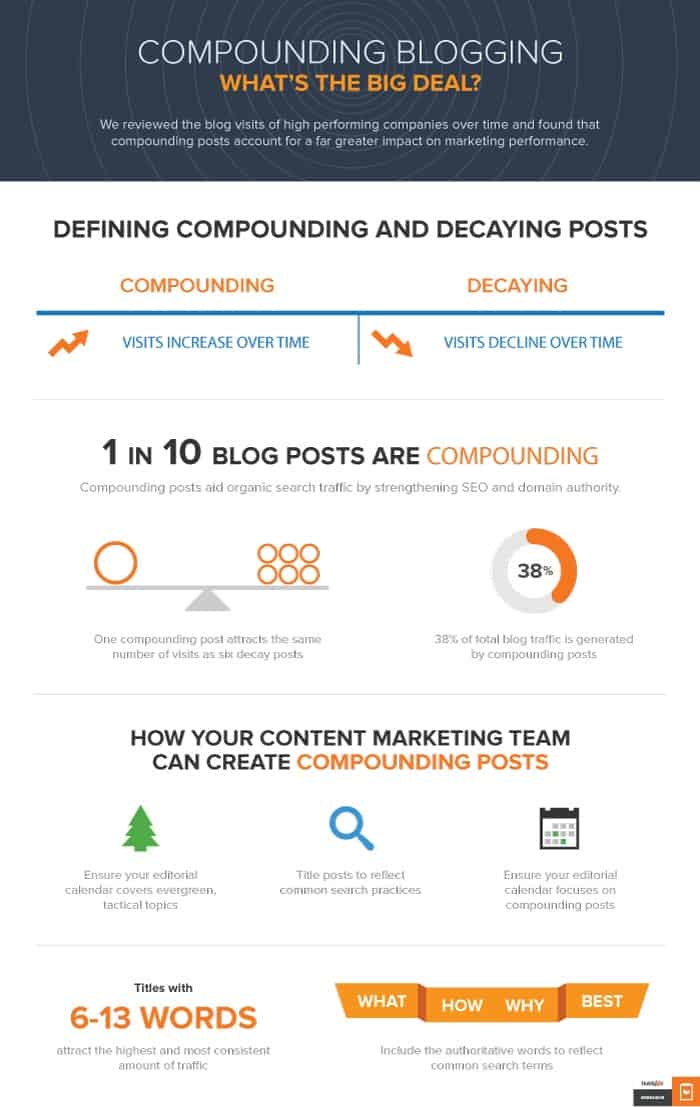 2. It helps generate leads
A blog is a great way to make aware, educate and engage customers, including address customer needs. Especially for small businesses, it is a great way to reach a larger audience and generate leads. It has been seen that small businesses who blog have 126% more lead growth than others. Customized content is one of the best ways to connect with customers which can generate leads as well.
3. It builds trust and connects
Business blogs can help to answer common questions by leads or customers. Since blogs encourage discussion, it is a great way to build trust and connect with your customer. It has been seen that companies that blog have 55% more visitors to their websites. Blogs are considered a trustworthy source of information. 81% of US internet users trust the information and advice they read on blogs. A major percentage of online buyers purchase a product or service that has been recommended or endorsed by influential bloggers. Even many online consumers (around 70%) are likely to know a company through their blog articles rather than ads. Blog content has a good social media presence and acceptance which also helps to build your social media image. Blogs are also used for SEO implementation. B2B marketers use blogs for their social media to improve traffic for business sites.
4. It gives long-term benefits
It has been observed that 36% of Fortune 500 companies have blogs. It is a great way to create a voice for your brand and engage in discussion with different levels of audience. Your blogs can become an important repository of information. It can help you convey your brand value and reposition your brand. This will keep your customers hooked to your brand and insightful information.
How to start a blog
For those who run their blogs or planning to start their own blog, here are some useful tips:
1. Define the objective of your blog.
2. Define your blogging style.
              – personal blogger: One who uses their blog as an online diary
              – professional blogger: One who makes a living through blogging
               – niche blogger: One who writes about a particular topic or niche
              – affiliate blogger: One who writes reviews in their blogs for affiliate products
              – freelance blogger: One who writes for a client with expertise on a particular niche
              – business blogger: One who is hired exclusively or writes for their own business
3. Decide on the topics or niche to write on. Look for trending topics and keywords that will help you to relate to the audience and also monetize blogs.
4. Choose the right platform: You can start with a free platform and then move to a premium hosting service based on your requirements
5. Monetize blog: Evaluate and choose the right channels for monetizing your blog
6. Share and Connect: A blog is successful when you reach the maximum audience and gain followers. This requires connect and relationship building with your readers. So sharing on social media platforms and engaging with your readers is a given.
Here we will quickly talk about some of the effective blogging techniques that will help drive traffic and monetize blogs.
Effective Blogging Techniques
1. Choose the right topics
Choosing the right topic is very important for engaging the audience and increasing followers. You need to research on trending topics and write insightful blogs. Successful blogs also have a longer lifespan. Apart from choosing manually, there are various tools to choose trending topics as well.
2. Quality vs Quantity
After deciding what to write, it is very important to decide how much to write. Facts show that the most successful blogs are almost 2,424 words long. Longer articles are correlated with success, so it is better to write quality stuff in sufficient quantity for a specified niche of audience.
3. Keyword selection and SEO
Mostly blogs are centered around a trending keyword. Study shows that bloggers earning over $50,000 per year from blogging are 4.3 times as likely to use keyword research while writing a blog. There are different keyword and SEO tools that can be used. Around 64% of higher-income professional bloggers do keyword research.
4. Social Media sharing
Blogs need to be shared so that they reach the right audience. Not only social media but bloggers also highly rely on organic reach through Google and email marketing. High-income bloggers rate Google organic traffic as 83% and email marketing 192% more important than lower-income bloggers.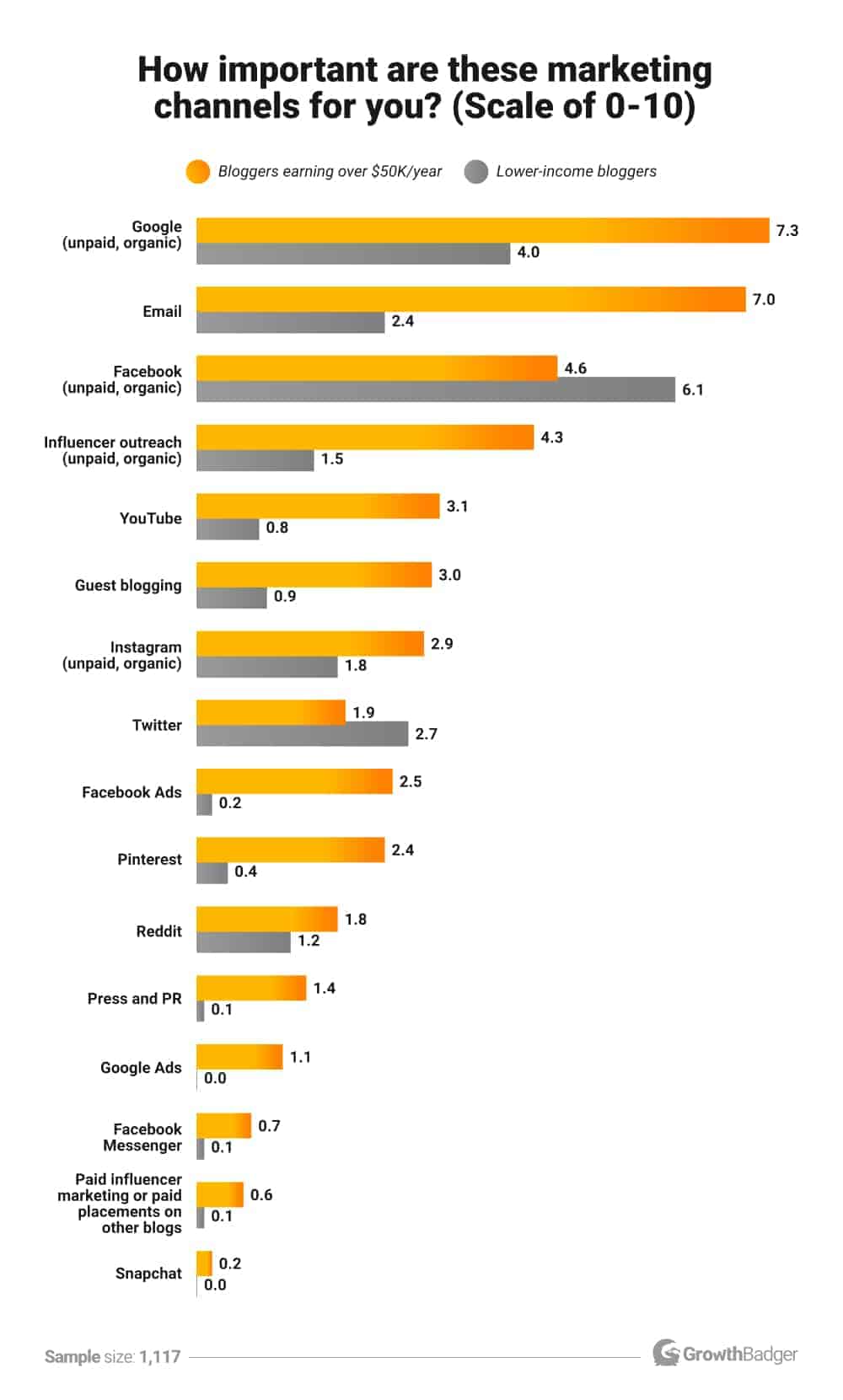 Credit
5. Rewriting old blog posts
Re-articulating old articles and republishing is a good way to get more traffic and engage existing readers. Republishing blog content can be an extremely effective strategy for driving traffic and building awareness.
6. Consistency and engagement
If you want to connect with your readers and use content marketing as a business strategy, then being consistent in blogging is a must. A blog calendar will help you maintain consistency and publish content periodically. Since a blog is more about engagement with the audience, make sure you connect with them through comments, replies, etc.
Now that we understand the different attributes of blogging, we need to understand why it has become a popular content marketing strategy for businesses.
Examples of top bloggers and their earning patterns
1. Michelle Schroeder-Gardner
Michelle Schroeder-Gardner from MakingSenseofCents.com makes around $125,000 approx. as monthly income. His niche is Lifestyle and Personal finance. Affiliate marketing and sponsored partnerships are the monetization techniques he relies on.
2. Harsh Agarwal
Harsh Agarwal of ShoutMeLoud.com with a monthly income of $40,000 relies on Affiliate marketing, advertising, selling products and services for monetization. His niche is blogging tips, online marketing, etc.
3. Matthew Woodward
Matthew Woodward, MathewWoodward.co.uk earns approx. $26,000 monthly. He uses Affiliate marketing, display ads to monetize his blog. He blogs about internet marketing strategies, SEO and related topics.
4. Marc Andre
Marc Andre of VitalDollar.com, who writes about money and finance earns approx. from $5,000 to $25,000 monthly. Affiliate marketing, display ads, Amazon Associates Program are his monetization strategies.
5. Neil Patel
Neil Patel  of Quick Sprout is well-known in the world of blogging and he has been listed among the Top 100 Technorati Bloggers. His business and marketing blog earns over a million dollars a year and is a good source of learning for a professional blogger.
There are many more pro-bloggers who have created a name for themselves. Read their blogs if you want to improve on your blogging skills. Moreover, you can start honing the above mentioned essential skills to become a pro-blogger in your chosen field of expertise. So, start blogging today if you have it in you!
You can read some of the most insightful and engaging blogs on topics like Digital Marketing, Email Marketing, Marketing Automation, Blogging, SEO and other on Engagebay. Their team of professional bloggers brings the best of information with relevance to the current business environment.