The primary focus of most companies when it comes to customer services lies in being reactive. They invest in phone support, email assistance, feedback channels, and other similar resources.
However, these methods demand substantial training, resources, and time, and the inquiries keep pouring in, including even the most basic questions.
Consequently, numerous businesses are now seeking a more efficient approach to provide customer support, which has led them to explore the advantages of using online knowledge base software.
In this article, we will cover the following topics:
An explanation of what an online knowledge base entails.
Guidelines on creating an outstanding knowledge base.
The essential features that make an online knowledge base exceptional.
Eight useful tips on utilizing an online knowledge base to boost sales.
Enjoy your reading!
What Is an Online Knowledge Base?
An online knowledge base software or a self-service portal is an online tool that allows end-users to quickly find the answers to their questions about the product(s) they use, and without involving customer support.
In a nutshell, a knowledge base software helps improve customer experience.
Before we dive into the benefits of having a knowledge base software for your company, let's get a proper understanding about the need for a knowledge base.
Companies have a customer support system, usually through a ticketing system, email support, or phone. Whenever the customer comes across an issue, they place a call or contact through some other means to get their queries resolved. This is a great way to enhance the customer experience.
But this is where it gets problematic.
These types of customer support are reactive in nature. While customer interaction can help you weed out potential issues with your products or services, it can get extremely repetitive and time-consuming.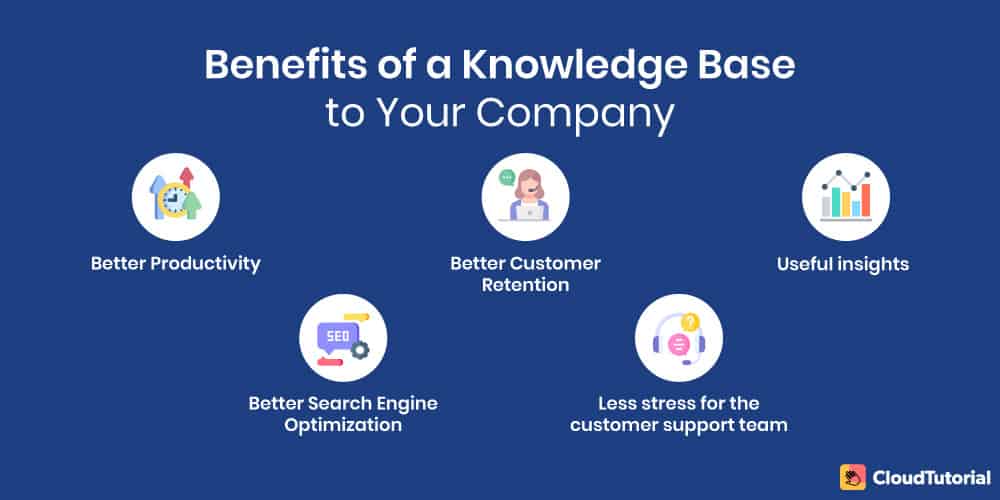 Let's take an example. Your company specializes in domain services, and your customer support gets dozens or even hundreds of calls requesting support to buy a new domain.
Taking the example from above, you can have a detailed guide on how to buy and set up a new domain, as well as troubleshooting articles should your customers run into problems.
Some companies even have a private knowledge base software and help center for their employees.
Now that the importance of having an effective knowledge base is conveyed, let's see how you can build an excellent knowledge base and improve sales.
What Does It Take to Build a Good Online Knowledge Base?
Your online knowledge base software might be good, but you want it to be great. What does it take to achieve that?

Here's what you must do for your readers.
Keep the Information Current: Company products, services, and policies change all the time. When they do, your knowledge base must change as well. Your UI, settings, and button placements may have changed. Having old, dated knowledge bases can ruin the customer experience.
Make It Easy to Use: The whole point of an online knowledge base is to quickly and conveniently provide information to your customers and leads. If it's difficult to navigate your knowledge base, the lead might end up calling your customer service.
Be Thorough: You want to provide as much information on a topic or area as you can. If you have links to blog posts and other documentation, you can share those links for related reading. If your database answers all your customer's questions and even some follow-up questions, you're doing it right.
Read also: Promotional Email — How To Write Emails That Convert
How to Create a Knowledge Base
You want to create a comprehensive online knowledge base for your audience, but how and where do you begin?
Here's everything you need to know.
Determine the Design
The format or design of your online knowledge base should never be an afterthought. Remember, you need an easily navigable database, so what kind of design elements would that require?
Include a search bar so users can look up what they need without sifting through your database. You also want clear content categories for those who don't want to use the search bar.
Write Excellent Knowledge Base Content
With the skeleton of your online knowledge base coming together, the next step is to create the content that will become your database.
This is going to be a time-consuming part of the process. You might want to work with several others within your company for this task.
Your content should be clear, crisp, and to the point.
You can have a casual, free-flowing voice while writing your blog. For your knowledge base though, your articles should have an instructional voice.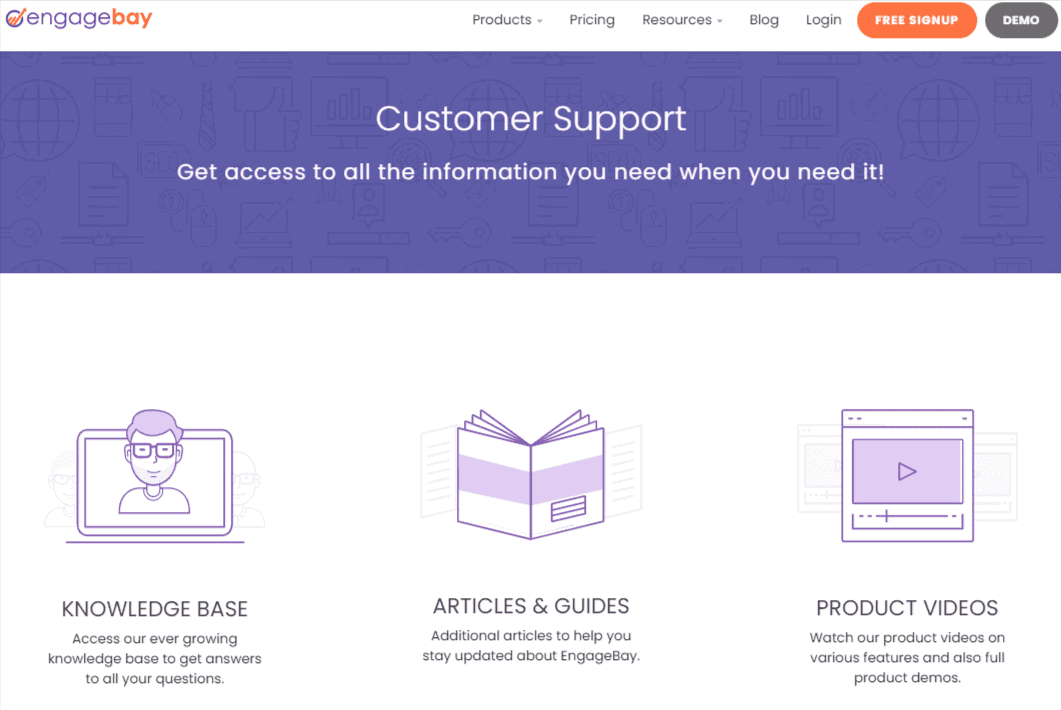 Keep the content digestible with short paragraphs and bullet points.
As we said before, if you have other online resources that can be used in your knowledge base, link to them.
Use Visuals When They Help
Do pictures jazz up written content? Sure! We use images for that purpose here on the EngageBay blog all the time.
Your knowledge base or help center is not a blog, though.
You want to keep all the content strictly informational, and that goes for visual content as well.
If an image like an in-software screenshot enhances your written content, add it! But don't just put in pictures for the sake of it.
If you want a free software to create your own knowledge base and help desk, try EngageBay!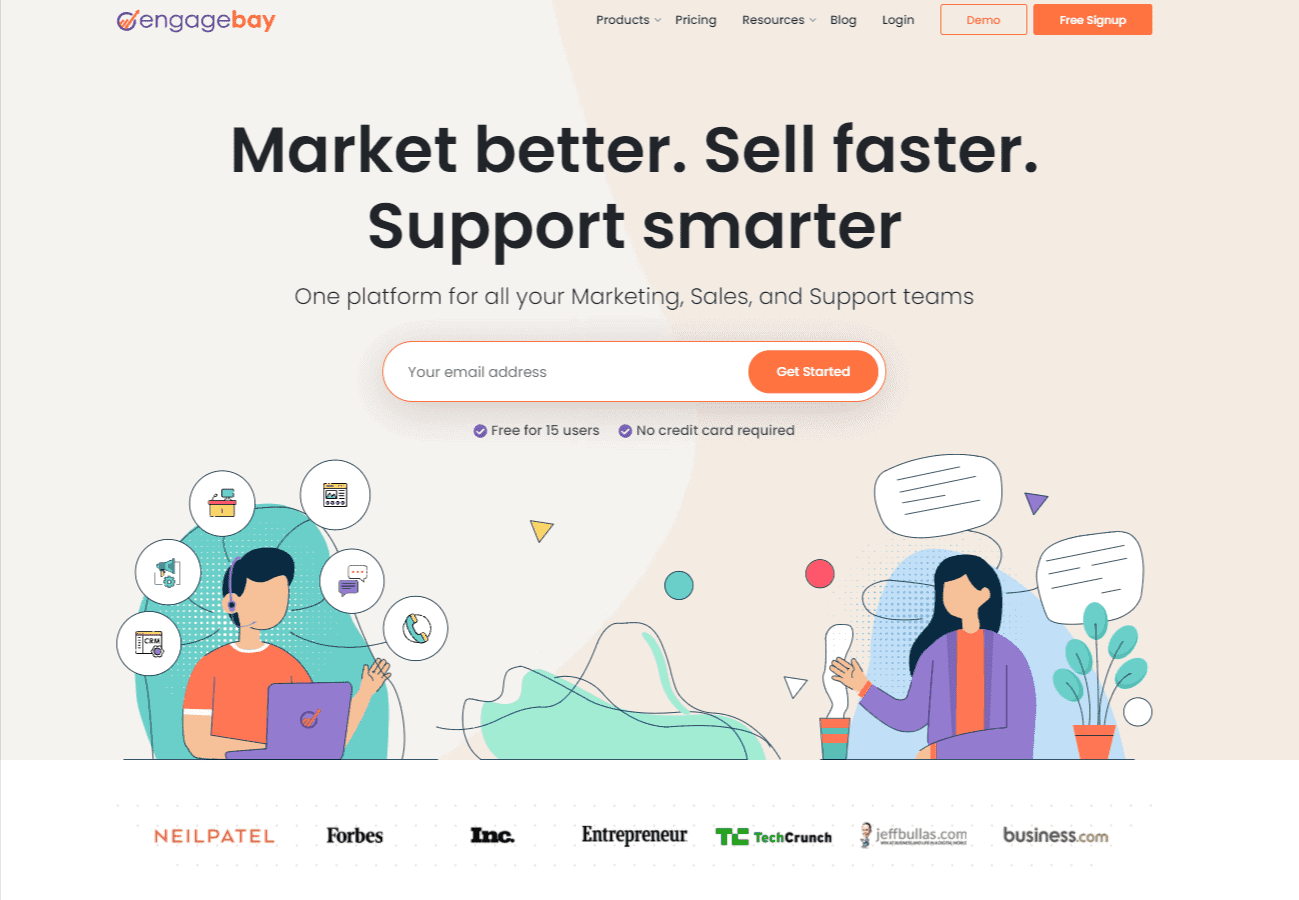 8 Tips for a Great Online Knowledge Base
To help you put together your online knowledge base, we have eight best practices that can get more sales!
1. Educate the Lead in the Early Stages
A lead has just arrived on your website. Perhaps they found you through your social media presence, advertising, or even a guest blog post.
They don't know a lot about you at this stage, so they're just poking through the pages on your site.
If they were interested in learning more, they might opt into your email newsletter.
They could even call you and schedule a consultation to discuss your products/services in more detail, including pricing.
From there, you don't quite know what will happen. The lead might be intrigued enough to try a free trial of your products/services. They might even make a purchase.
But just as likely, they could disappear.
Many customers leave because they believe you don't care about them. An extensive knowledge base library can prove that you care about what the customer needs, and this can help you win back customers.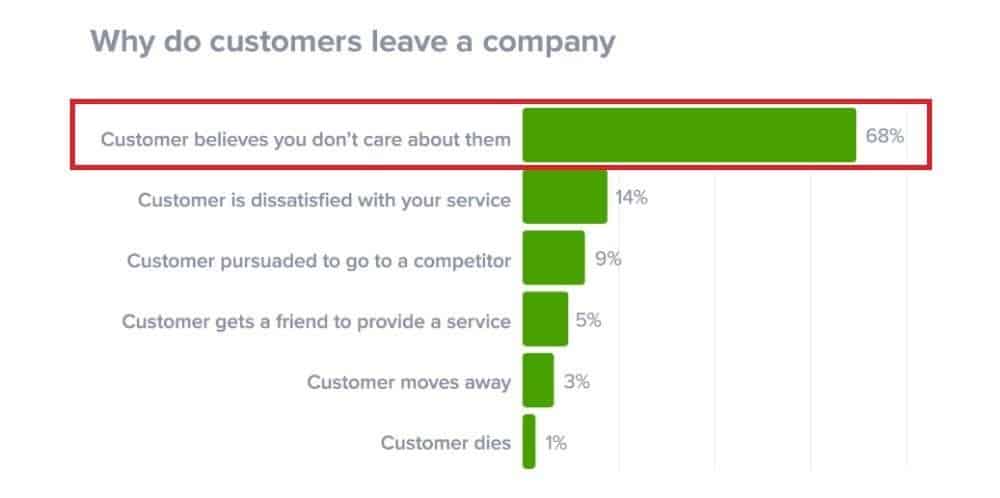 That's why you need to nurture your leads.
Prospects are a step up from your average lead. They enter your sales funnel already educated about your products or services. They're often more likely to buy than an average lead.
Imagine this: now your website has an online knowledge library. The prospect finds this information database.
Remember, they already know more about your company. In this case, a database fills in the gaps.
There's now less resistance to buying from you.
Read also: Small Business Customer Service — A Comprehensive Guide
2. Write Well to Attract Traffic
You must treat your knowledge database the same way you would any other page on your site. It deserves only the most exemplary content.
That means you cannot write in a stuffy, stilted manner. You want to provide information, but you can do so in a friendly, even conversational tone.
Don't get too informal, but don't stuff your knowledge base with jargon, either.
After all, the primary goal of a good knowledge base is to inform your leads, prospects, and customers.
If reading through your information is insufferable, the purpose is defeated.
Writing well doesn't just make reading through your knowledge base or help center a more pleasurable experience, it also boosts traffic to the pages.
This, in turn, can increase sales.
Read more: What is Sales Velocity and How Do You Measure this Metric?
3. Answer Questions That Leads Haven't Even Thought of Yet
Let's continue talking about what needs to go into your knowledge database, shall we?
You've got your tone down, which is great. Now you're beginning to craft exemplary content mined from the collective knowledge of experts in your company.
As you do this, think from the perspective of the lead. They might have a basic understanding of what you do, but it's just that: basic.
When compiling your information for your knowledge base, ask yourself a few questions.
What kind of information would a lead want to know? What about a prospect? Do they need a detailed history of your company's legacy? Would detailed product specs help?
While you don't want FAQs or guides to be too lengthy, you do want to provide the best information that can guide your customers.
In that regard, almost no question is too insignificant. Your knowledge base software should almost predict the questions your leads will have in mind.
Remember, the more detailed information you can provide, the more helpful your knowledge base becomes in growing sales for your company.
Read also: 9 Stats That Prove You Need a Small Business CRM Software
4. Use a Simple, Appealing Design for Your Online Knowledge Base
We've talked about the content that goes into this knowledge base; let's get into the looks of the database itself.
The simpler the look of your database, the better. Most leads and prospects aren't on this page to be wowed by expensive design flourishes. They just want information.
That's why your search bar must be front and center, as mentioned earlier.
If a lead can't find a place to search for something, they'll probably move away from your database and even your website.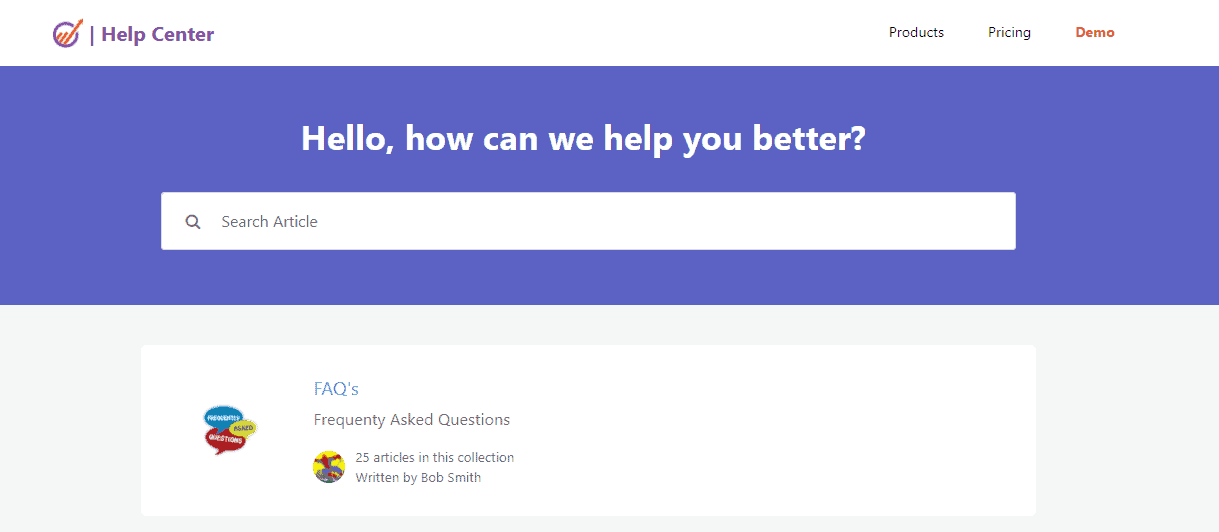 This makes a visible, intuitively placed search bar a critical feature to improve the knowledge base functionality.
You and the rest of your company will have to put a lot of time into the type of search engine results that get generated when a lead types in a query.
While your knowledge database doesn't have to be a perfect replica of Google, it should provide accurate results every time.
For example, if a lead searches for information on your sales software, they shouldn't get results for an unrelated product. They should only see all the articles, documents, posts, pages, and lists about your sales software.
This way, the lead can dive deep into product specs, pricing, and other information to decide if the product is right for them.
Read also: Types of Customer Services & What Suits Your Small Business Best
5. Make It Mobile-Friendly
Another element of your online knowledge database is mobile-friendliness. According to data from Statista, most web traffic from around the world (52.2%) is coming from smartphone users.
That's why having a mobile-friendly website design should be at the forefront of any company's goals.
You should expect that most leads and customers who access your website will do so on their phones. Your website may be optimized for mobile users, but what about your knowledge base?
Will your graphs and images load correctly, or will they look stretched or squished? Will your lists and FAQs appear nice and neat or misaligned due to mobile formatting errors?
Check for any errors with formatting, images, videos, and other elements. If any of these are looking bad, change them.
6. Better Employee Onboarding = More Sales
The time it takes to train new sales reps members to be sales-ready can distract your team from the number of sales they can make, right? Usually, but not with a knowledge base.
The information in this database can serve as a great starting point for new employee onboarding.
You can also have a separate internal knowledge base software for your employees.
While an online knowledge database cannot replace good old-fashioned training, the info here can augment these training sessions.
That allows you to get more employees on the sales floor faster, earning more sales for your company.
Read also: 5 Sales Tools and 6 Sales Techniques That Always Work
7. Implement SEO
We've talked about search engine optimization earlier in this article.
If you're not already using SEO best practices for your knowledge base, it's time you start.
After all, SEO stands for search engine optimization, and your knowledge base is indeed a search engine. That means almost all SEO tactics can and should apply. For instance, you can use canonical links or tags.
A canonical link keeps you from posting the same content on your site twice, especially if you use the same keywords more than once.
You'll also want to use metadata optimization. If your database is large enough, then an XML sitemap doesn't hurt, either.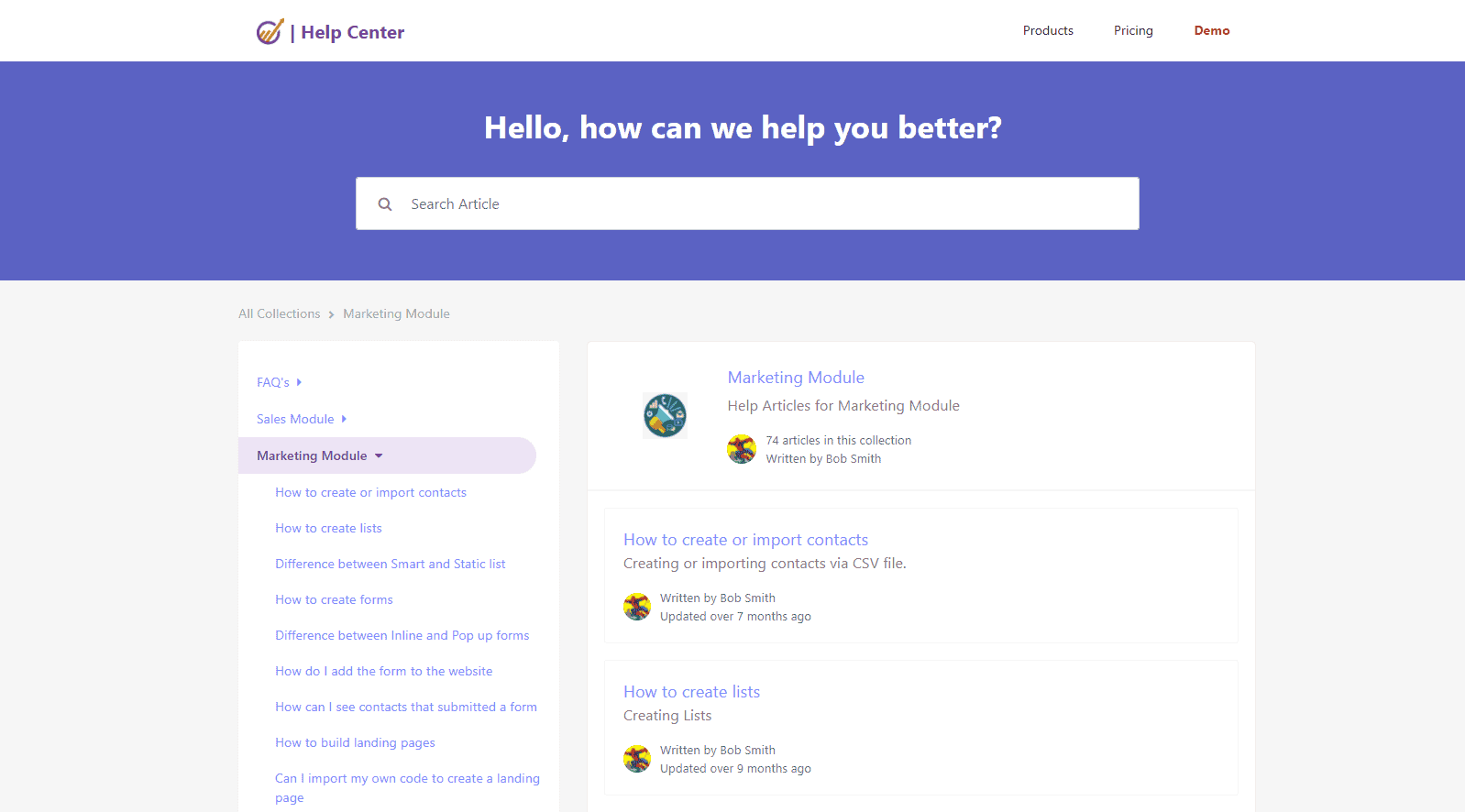 Finally, you'll want to optimize all the keywords that appear in the content within your online database. By targeting and testing keywords, you boost web traffic to your site.
You need a good knowledge base software to pull this off.
Once you capture that traffic, you will have a whole new audience to sell to.
8. Update the Online Knowledge Base Often
Throughout this knowledge base article, we've addressed the looks, content, and functionality of your knowledge management solution. We mentioned that well-written content could increase traffic.
Besides writing well, you also must make sure the content you include is relevant.
In the world of sales and marketing, things can change at a lightning-quick pace.
Google algorithms update, new tech gets introduced, and our audiences prioritize different things.
Does that mean you have to go back and cherry-pick what's relevant in your database every year? Someone should devote the time to that, yes.
If a lead stumbles upon irrelevant content, this will hurt their perception of you.
That's why it is important to have the external knowledge base for your customers separated from your company's knowledge base software.
That's why, if you can, it's better to write about evergreen topics. This content has a timeless quality and will never go out of style.
The name of this concept comes from the humble evergreen tree. Its leaves will never dull, even in the crispness of autumn or the cold of winter.
Populating your online database with evergreen content will improve your SEO. That means more people will see your database, which boosts your chances of getting more sales.
Read also: 15 Sales Prospecting Tools For a Tight Budget
Conclusion
An online knowledge base comprises your most valuable tips, techniques, best practices, and other pertinent information.
Regularly adding and updating the content here is crucial for the benefit of your customers. When implemented effectively, this knowledge base can significantly enhance your company's sales.
To maximize its effectiveness, it is essential to choose a simple database design with a strong emphasis on prioritizing the search bar.
Now that you understand the immense value an online knowledge base brings to increasing sales, we encourage you to integrate one into your website.
Utilizing an excellent knowledge management software can be immensely helpful. It allows you to organize relevant knowledge base articles, optimize them for SEO, and enhance customer engagement.
EngageBay is an excellent knowledge base software — you get the complete customer support package including multiple knowledge bases, canned responses with answers to common issues, a help desk, a dashboard with detailed analytics, a live chat widget, ticketing systems, and automation.
At its core is a powerful, centralized CRM database.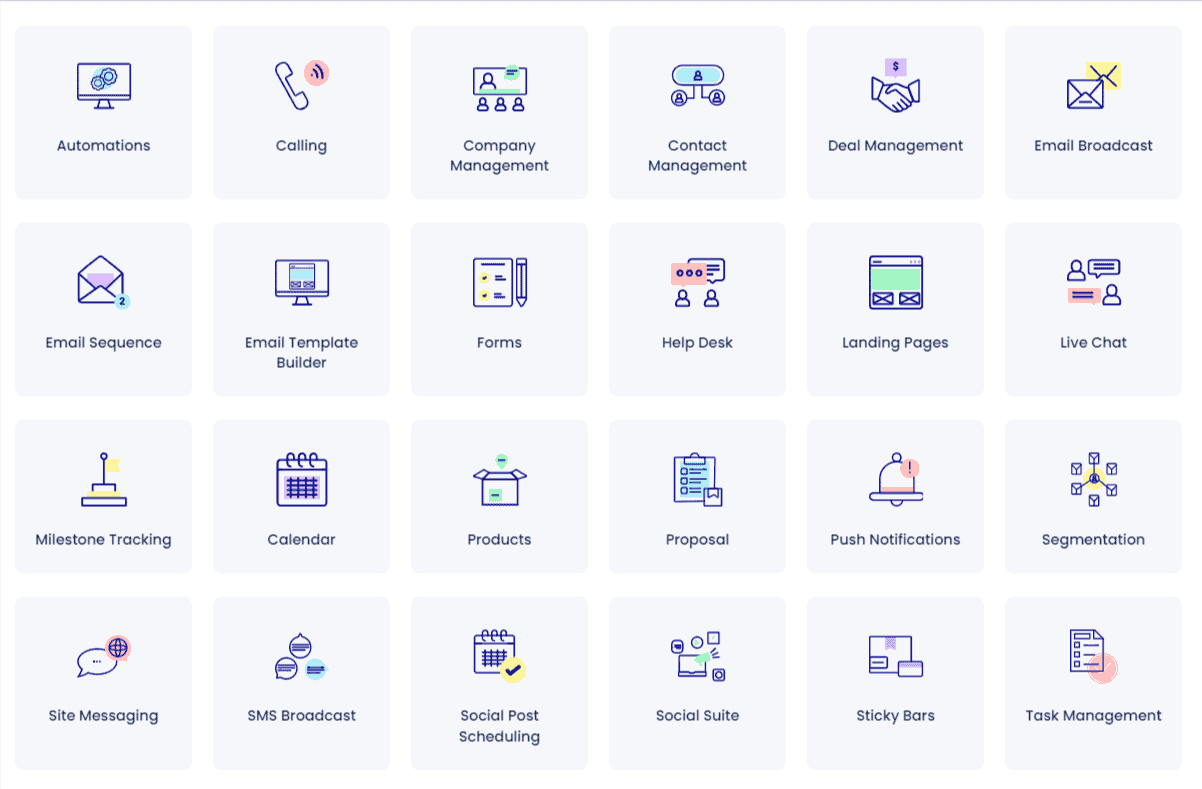 Sign up for EngageBay now — no credit card or commitments needed.