Are you looking for a new sales management software?
Sales managers are always looking for the best way to track and manage their team's KPIs. But, with so many sales tools on the market, it can be difficult to find one that fits your needs.
Well, not anymore! In this blog post, we'll recommend 7 of the top sales management tools, including EngageBay, HubSpot, and more.
You can use these sales tools to manage all aspects of your business in one place without having to switch between multiple platforms or pay for expensive consultants.
Using these sales management tools, you'll be able to do everything important, save time in the process, and even save hundreds of dollars every time you make a sale!
And if this sounds too good to be true, don't worry — most of these sales CRM software come with a free trial so that you can see how they work before making any commitments!
7 of the Best Sales Management Tools to Build Your Sales Team
In this list, we have our own product EngageBay first, but that doesn't mean we have any order or ranking.
The list is simply gleaned from hundreds of reviews to help you out with our own shortlist of the most resourceful sales management software.
Let's get started!
1. EngageBay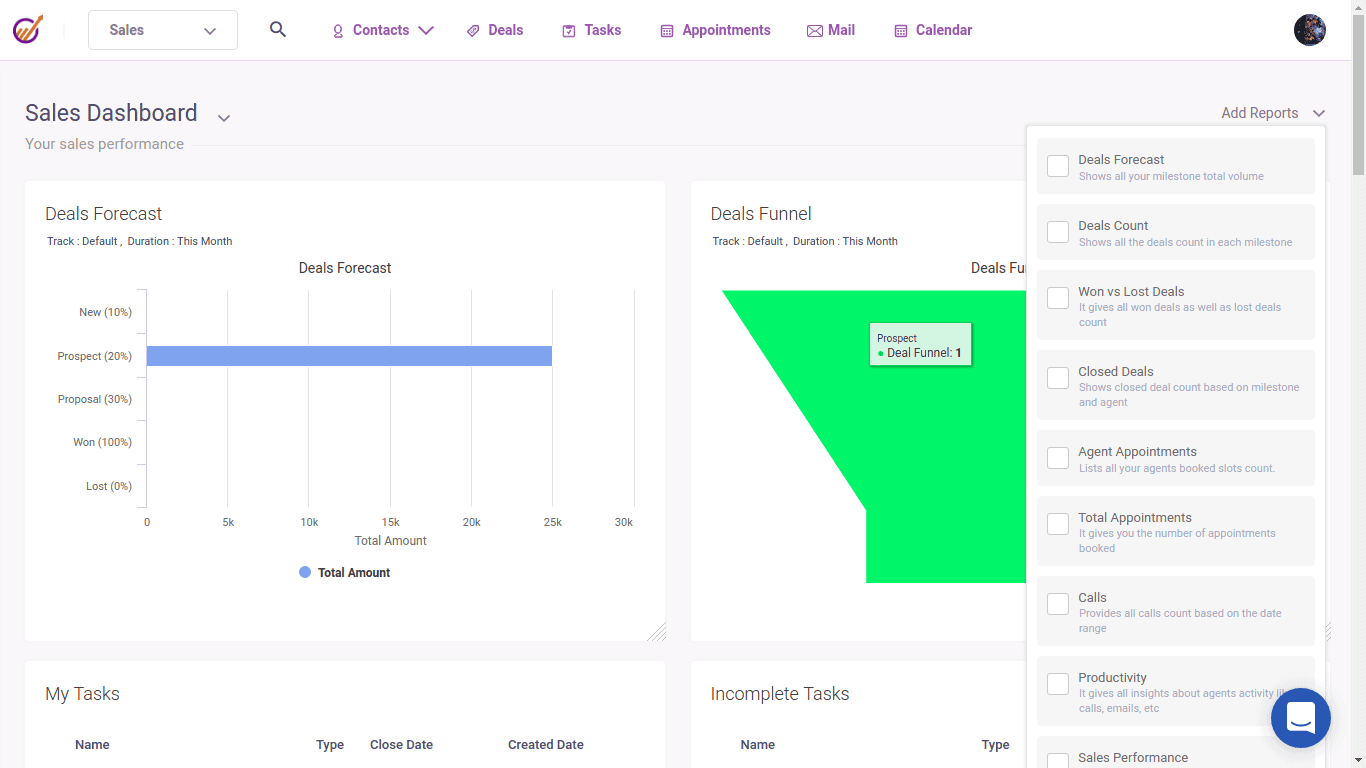 The all-in-one business growth software EngageBay was recently rated a top product by GetApp, so it's safe to add it to a list of the best sales operations tools.
Since 2017, EngageBay has modeled its services to be a more affordable solution tailored towards startups, small businesses, and even SMBs on a razor-thin budget.
Bloggers, solopreneurs, and agency owners have loved the product, which isn't surprising — EngageBay was designed for the small business owner in mind.
Sales Features
EngageBay's CRM & Sales Bay is home to its myriad of exceptional sales features for strengthening your sales pipeline. Let's examine the features in some detail.
CRM calling: If you're using EngageBay's integrated CRM (and why not? It's free!), your sales team can call leads and customers alike right through the CRM. While on the phone, the CRM suite can generate customer information to lend data-rich context to each sales call.
Appointment scheduling: Your sales team should accommodate your customers, not the other way around. With appointment scheduling, customers can access a sales rep's calendar anytime and slot in an appointment when they have the time. EngageBay will send alerts and reminders to the sales rep so they never miss a meeting!
Email tracking: When a sales rep sends an email, where does it go? What is its fate? Answer these questions with EngageBay's email tracking feature. Your sales reps will know exactly when a lead or customer opens an email, visit a landing page, and more.
Sales automation: Automation is the way of the future. It allows your sales team to take a hands-off approach to menial tasks. The time they save can be dedicated to improving the customer experience and of course, improving overall sales productivity.
Pipelines for multiple deals: The best sales reps have several deals in progress. EngageBay allows your sales reps to create sales pipelines for any sales activity across various geographies and categories.
360-degree customer view: Dig deeper into customer data with the holistic insights that EngageBay's sales tracking software provides. This way, your sales reps can plan cross-selling and upselling strategies to stay on top of their sales goals.
Pricing
EngageBay provides four pricing plans for each Bay, including the CRM & Sales Bay.
The first plan is free. Your sales reps can use such tools as live chatting, appointment scheduling, email tracking, 360-degree contact views, and contact management for zero dollars per month forever.
The Basic plan is popular among small businesses; it costs $12.99 per user per month when billed monthly. This plan adds useful sales features such as predictive lead scoring, CRM calling, marketing automation, and tracking multiple deals.
For the small business becoming not so small anymore, the Growth plan for $24.99 per user per month when billed monthly includes advanced features such as multiple currency support, sales leaderboards and gamification, sales automation, and proposals.
Finally, there's the Pro plan for the affordable price of $49.99 per user per month when billed monthly.
The most encompassing of EngageBay's sales plans, all the above features are included in the Pro plan, as are proposal analytics, auto-dialing, proposal analytics, call scripts, call records, and custom reporting.
Read also: 5 Simple Sales Automation Ideas for Remote Sales Teams
2. HubSpot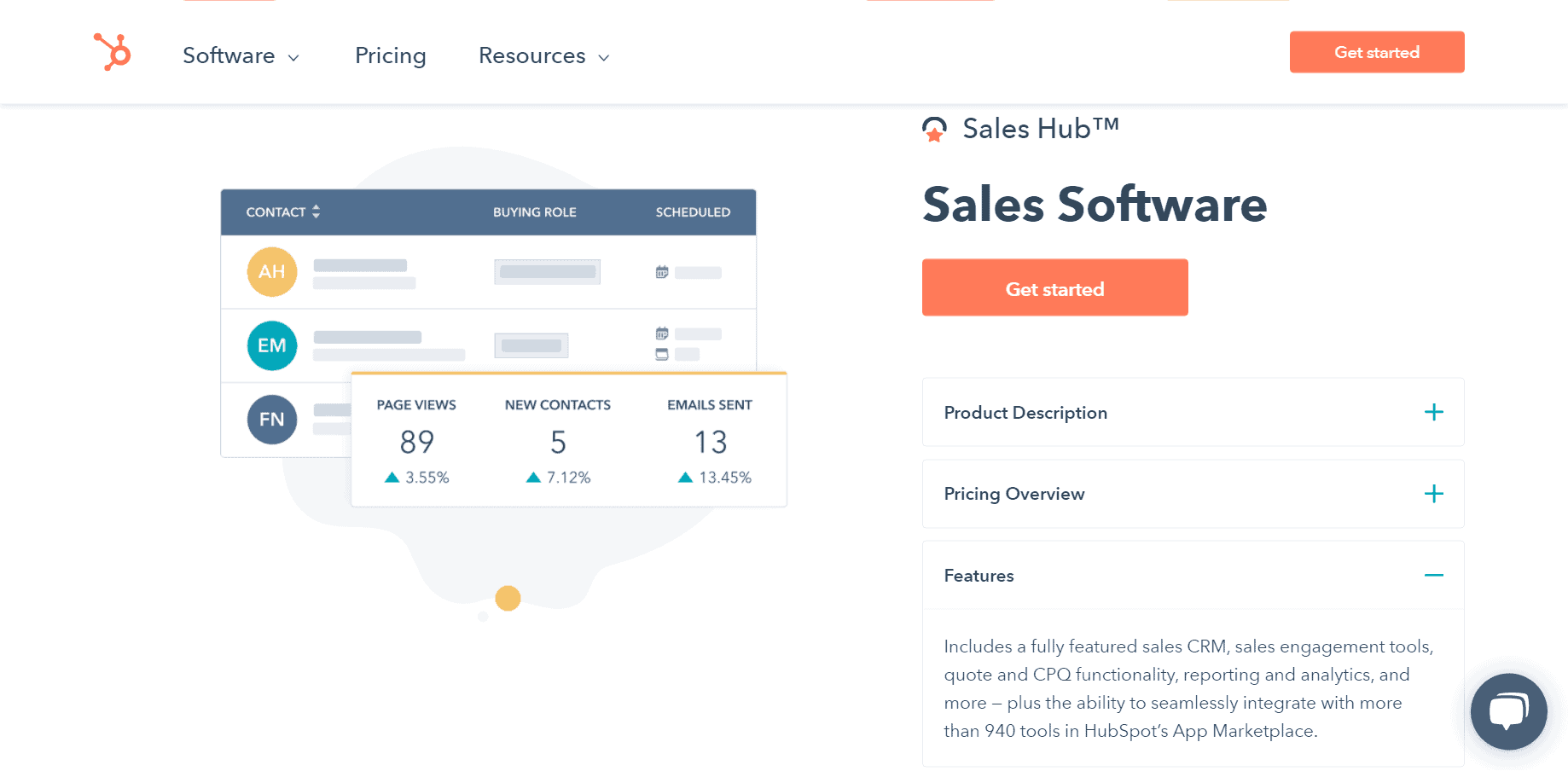 The inbound marketing and sales software HubSpot is a sales automation software that could be what your sales team needs to accelerate all sales activity in 2023.
Although the overall packages are considerably costlier than EngageBay, some HubSpot features are free.
Sales Features
The Sales Hub includes HubSpot's suite of sales software for small and enterprise businesses. Let's shine a spotlight on what HubSpot has to offer in the realm of sales.
Sales automation: Automating everything from sales emails to the sales funnel becomes effortless in HubSpot's software. The time savings that automation delivers are huge!
Call tracking: HubSpot allows you to call leads and customers from your Internet browser. You can then feed that data to the HubSpot CRM.
Conversation intelligence: AI insights will demystify even the most confusing customer conversations so your sales team can better understand the motivations and pain points of these customers.
Email tracking: Like what you'll find in EngageBay, HubSpot's sales services also allow sales reps to track emails from the moment they're opened. Then the sales rep can strike when they know they have the lead or customer's interest.
Pricing
HubSpot's Sales Hub services are available at three pricing tiers.
The Starter plan is $50 per month for two paid users when billed monthly and $25 a month for any extra users. Your sales team will gain access to features such as multiple currency support, conversation routing, meeting scheduling, and live chat.
For $500 per month for five paid users when billed monthly is the Professional plan. Additional users cost $100 each. A step up from the Starter plan, the Professional plan adds desirable features such as sales analytics, forecasting, custom reporting, and record customization.
The third HubSpot Sales Hub pricing plan is the Enterprise plan. This plan costs $1,200 a month for 10 paid users when billed monthly. To add an extra user costs $120 each per month.
Every feature in HubSpot's Sales Hub is available in the Enterprise plan, including hierarchical teams, sales analytics, predictive lead scoring, and custom objects.
Read also: What is Sales Planning? Tips and Downloadable Templates for Beginners
3. Insightly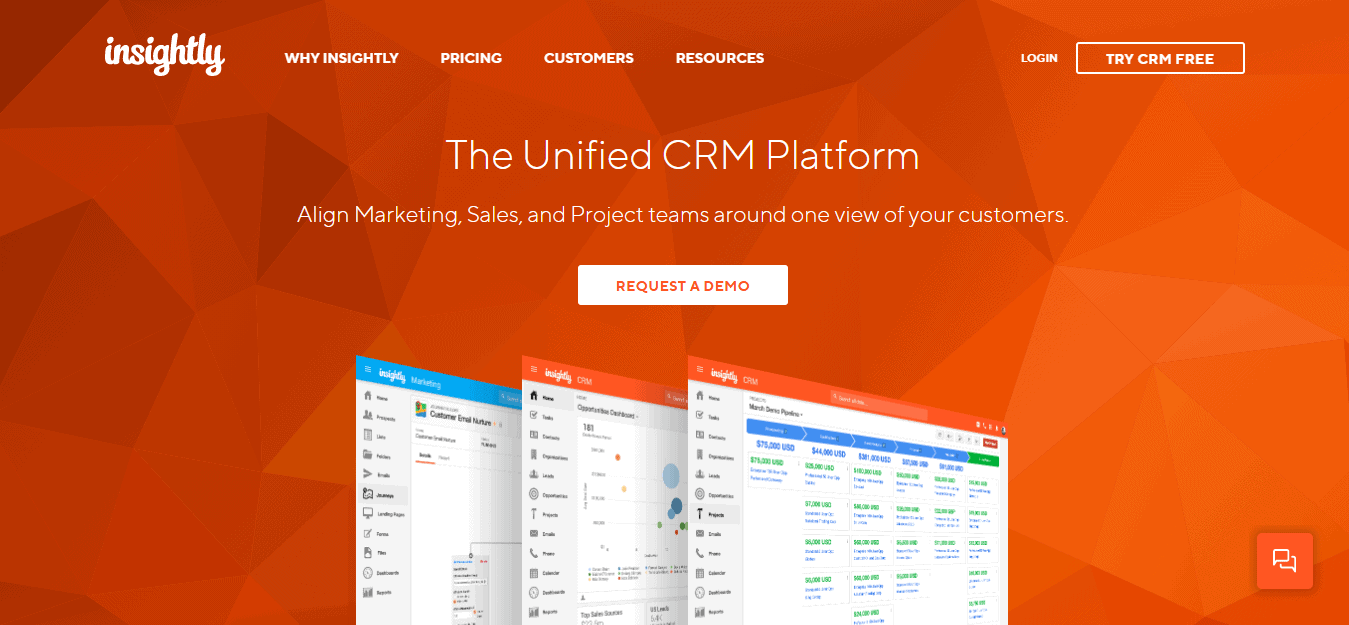 Streamlining your sales operations in 2023? Insightly could be just the CRM and sales tool you've been looking for.
Since 2009, Insightly's sales, service, marketing, and project management solutions have aided business owners everywhere.
Sales Features
Focusing solely on Insightly's bevy of sales features, let's compare what's included with their plan compared to HubSpot or EngageBay.
On-the-go sales: Insightly's app allows sales reps to create and progress sales opportunities and scan business cards even if they're thousands of miles away from the office. Deals don't stop just because half your sales team is traveling, after all! With Insightly's app, it can be business as usual.
Charts and insights: With business intelligence shining like a beacon, Insightly is a valuable tool for deriving insights in an appealing chart and graph format. You can drag and drop the features you wish to add to make reports the whole company can easily read.
Dataset rules: Some information that moves through the sales process remains confidential, at least for the time being. Insightly allows you to set custom rules so only your sales reps can see these datasets.
Email tracking: As has been the case with the other sales management tools we've discussed so far, Insightly allows your sales reps to track emails after they're sent into cyberspace.
Sales automation: Insightly's sales automation makes this more than just any sales tool. The automation processes can be simpler or multi-step. Then your sales reps can sync with Oracle, SAP, and relevant third-party apps.
Lead routing: When a lead contacts your sales team, Insightly allows call transfer so that the leads can be handled by sales reps who engaged with them earlier as well.
Pricing
Insightly's sales tools are part of the company's CRM pricing, of which three paid plans are available.
Let's start with the Plus plan for $29 per user per month when billed annually. This plan offers project collaborations to improve sales performance and is usable from any device.
The most popular of the Insightly plans is the Professional plan for $49 per user per month when billed annually. Use automated reporting through Insightly Voice, integrate with Insightly's collection of third-party tools, and take advantage of standard support.
Of the three plans, the Enterprise plan is the most encompassing. Starting at $99 per user per month when billed annually, Insightly's Enterprise plan includes everything your small business needs to strengthen its sales presence.
That includes lead management, relationship-building tools, opportunity management, sales team assignments, calendar syncing, and custom insights.
4. Freshworks CRM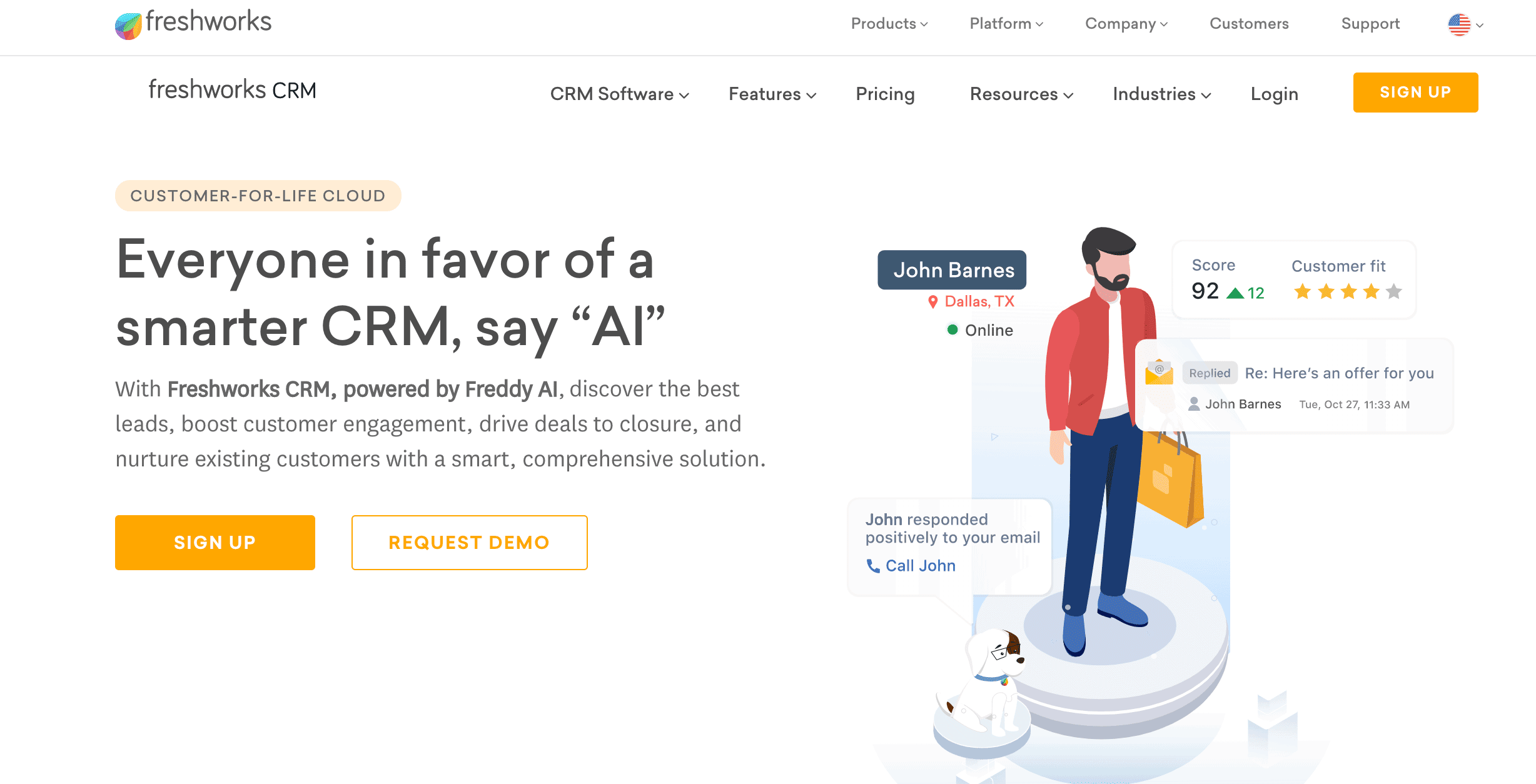 Midway through our list of recommended sales management tools, we've got Freshworks CRM and their sales solution known as Freshsales.
Specializing in context-based sales, Freshworks says its tools are designed to reduce your sales cycles while boosting revenue.
Sales Features
Let's see what's included in Freshworks.
360-degree customer view: Freshworks can help sales professionals with customer or lead insights by providing a detailed customer view, just like EngageBay.
AI-influenced insights: Meet Freddy AI, Freshworks' AI tool. Freddy uses dynamic forecasting to estimate your future revenue. The bot can also predict which deals can be the most fruitful.
Contextual sales: Attesting to their context-driven sales suite, Freshsales includes features like predictive lead scoring and a sales activity timeline to improve lead context and help your sales team close more deals.
Pricing
To use the Freshsales suite of sales tools for your small business, select from one of four pricing plans.
The first Freshworks plan is free. Under this plan, you can access the mobile app, built-in phone and email, and account and contact management services.
Should your small business need more features from Freshworks, the Growth plan costs $15 per user per month when billed annually. Now features such as a visual sales pipeline, Freddy AI, sales sequencing, and custom reports are included.
The Pro plan for $39 per user per month when billed annually is Freshworks' most popular plan. Focused on growing revenue, the Pro plan includes multiple sales pipelines, time-based workflows, and chat campaigns.
For everything Freshworks has to offer, the Enterprise plan with customer relationship management (CRM) is $69 per user per month when billed annually. Every feature above is included with the addition of custom modules, audit logs, and a dedicated account manager.
Want to find a Freshworks alternative that's better suited to your needs? Check out our article on the best Freshworks alternatives.
Read also: 8 Great Sales CRM Tools for Tracking Lots of Leads
5. Pipedrive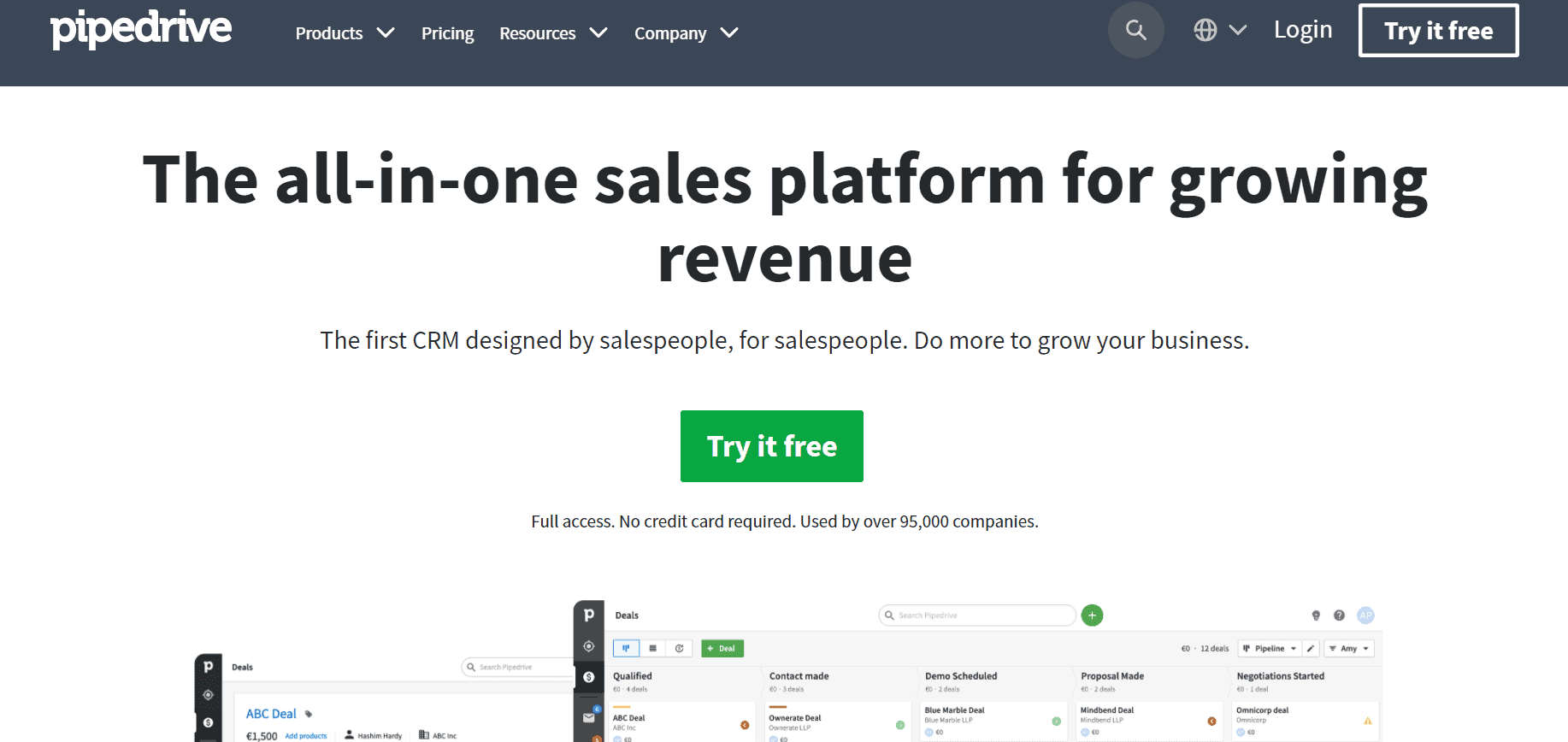 If you'd rather select a sales management software that's not so focused on marketing and customer service, try Pipedrive.
This is exclusively a sales CRM solution that Pipedrive says was created by salespeople.
Sales Features
What's included in this sales management tool? Here is an overview of Pipedrive's features.
Sales automation: Free up more time in your sales team's schedules and they'll be able to close more deals. Pipedrive, like many of the other tools we've discussed, features sales automation in its software.
Lead qualifications: By qualifying leads, your sales professionals can ensure that only the highest-quality and most likely prospective buyers are attended to.
Task management: The life of a sales rep can be a stressful one at times! With Pipedrive's task management feature, your sales team can stay on top of current tasks so nothing slips through the cracks.
Contact management: Tracking leads just became a lot easier with the contact management feature in Pipedrive's software. Your sales reps can glean insights into current and long-time contacts that will inform their sales strategy.
Pipeline reporting: How successful is your sales pipeline? No longer will that be a mystery with Pipedrive's comprehensive pipeline reporting. When combined with their other reports and insights, your sales team can learn more about their current sales process to strengthen it further.
Pricing
Pipedrive also affords its users four pricing plans to select from.
The first of these is the Essential plan for $18 per user per month when billed monthly. With nearly 300 integrations, custom features, and pipeline management, this plan is great for businesses just starting out.
The Advanced plan for $33 per user per month when billed monthly adds features such as email syncing, group emailing, and a sales cycle workflow builder that users triggered automation.
Pipedrive most recommends the Professional plan, which costs $59 per user per month when billed monthly. This plan adds even more features for sales reps, including one-click calling, call tracking, contract creation with eSignatures, and revenue projections.
The fourth Pipedrive pricing plan is the Enterprise plan for $119 per user per month when billed monthly. This plan includes everything above as well as unlimited user permissions, advanced security features, and unlimited feature use.
Read also: Top 8 Product Manager Certifications: Let's Do This
6. Salesforce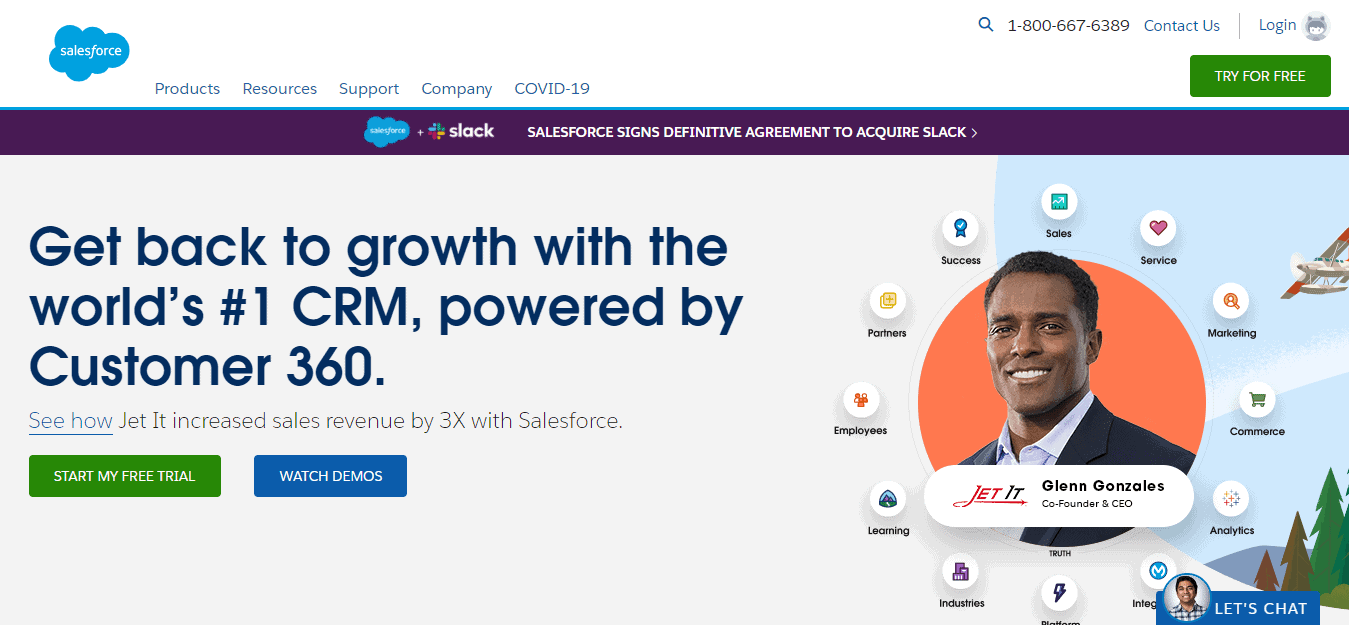 The brand of sales cloud software that Salesforce produces has made it a force to be reckoned with in the sales world since 1999.
If your small business is focused on growing revenue especially over this next quarter, then Salesforce is a sales pipeline management tool to look into.
Sales Features
What kind of features does Salesforce offer its users? There are plenty of them, so let's dive right in.
Sales forecasting: Salesforce takes the guesswork out of revenue predictions with its sales forecasting feature. Using your company's past data to drive future predictions, your sales team can rely on the forecasts and plan accordingly.
Opportunity management: When opportunity knocks, your sales team must be ready to answer the call. Salesforce will identify potentially lucrative sales opportunities so your sales reps can jump right into the action.
Contact management: The insights that Salesforce provides in its contact management tool will make segmenting and retaining leads and customers an easier process for your sales reps.
Mobile CRM: Take CRM insights on the go using Salesforce's mobile CRM. The app allows your sales team to track the CRM in real-time, adding to it, editing data, and updating it.
Process automation: From workflows to email alerts and activity tracking, Salesforce's automation is built for simplified workflows.
Pricing
If you're thinking of exploring Salesforce, you can select from one of four pricing plans.
The Essentials plan with basic sales features costs $25 per user per month, the CRM-heavy Professional plan costs $75 per user per month, the customizable Enterprise plan is $150 per user per month, and the all-encompassing Unlimited plan costs $300 per user per month.
All pricing is for annual billing.
Read also: Ace the Sales Process: 9 Simple Strategies Nobody Ever Follows
7. Zoho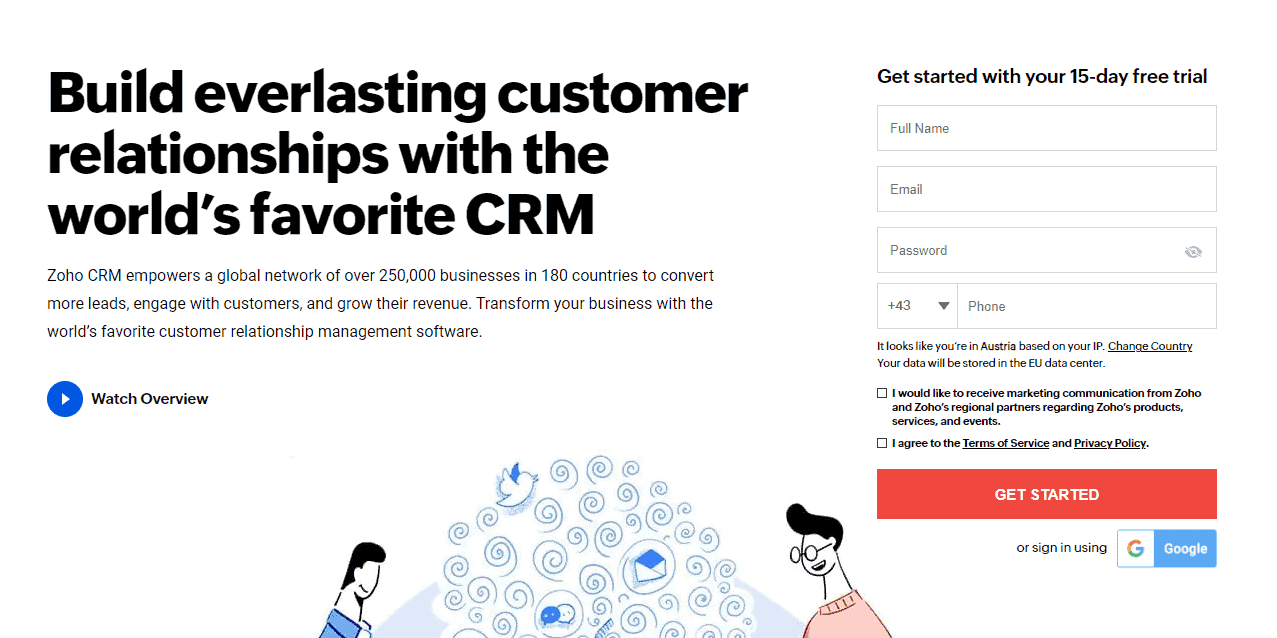 The last sales management software we'll discuss is Zoho, a sales CRM software that has an active customer base of more than 250,000 companies of all sizes.
Sales Features
Are you curious about Zoho's sales features and how they may slot into what you're looking for in a sales management tool? Without further ado then, here's what you need to know.
Sales force automation: Automating the business processes your sales team uses every day becomes simple with Zoho. You can automate accounts, contacts, lead management, and more.
Zoho CRM mobile app: Like Insightly, Zoho offers its own free app for the Google Play Store and the Apple App Store. Within the app, your sales team can log calls, schedule activities, edit deals in progress, track customer interactions, log voice notes, and review sales metrics.
Zia AI: Move over, Freddy. Zoho has Zia, an AI-driven tool within their sales CRM that can take care of such tasks as automation, anomaly detection, sales predictions, note dictation, and data fetching.
Pricing
For those small businesses thinking of trying Zoho, here is the pricing information.
The first of four plans is the Standard plan for $14 per user per month when billed annually. In this plan are custom dashboards, mass emails, multiple pipeline support, workflows, and scoring rules.
The Professional plan is affordable at $23 per user per month when billed annually. This plan adds inventory management, validation rules, and web-to-case forms.
The Enterprise plan is Zoho's most popular. Costing $40 per user per month when billed annually, the Enterprise plan includes Zia AI, multi-user portals, and advanced customization.
The Ultimate plan has everything discussed above plus advanced analytics for $52 per user per month when billed annually.
Read also: 5 Sales Tools and 6 Sales Techniques That Always Work
Conclusion
These sales management tools are all great options for building a productive, revenue-boosting sales team.
If you find yourself struggling to narrow down your options, we recommend EngageBay the most.
With many of the features the competition offers (plus others exclusive to EngageBay) and with greater affordability, EngageBay makes a lot of sense for startups, small businesses, and other companies with light or tight budgets.
You can try a free version of EngageBay today, which is indeed free forever!
Want to improve your sales workflow? Explore 12 incredible sales database tools and their top features!