Email marketing has become one of the most highly used marketing strategies by businesses, and for a good reason.
According to the DMA, for every $1 you spend on email marketing, you get a return of about $32. This gives email marketing an extraordinary ROI. So, how can you go about applying this to your own business?
There are a number of email marketing tools out there, one of which is ConvertKit.
While it does offer some unique features, this blog will go over some of the drawbacks of ConvertKit and what you should be looking for instead.
Comparing your options is crucial these days. Email marketing is a convenient way to interact with your audience while promoting your brand and potentially getting more sales.
With this rise comes a surge of tools and software that offer effective and practical solutions for brands to elevate their email marketing game.
And with the multitude of options available, it's important to weigh the pros and cons to identify which one is suitable for your business.
ConvertKit is becoming a more recognizable name. As the so-called new kid on the block, ConvertKit is a blogger- and creator-focused email marketing tool that's relatively fresh in this highly competitive and already crowded space.
It quickly gained momentum as a very stripped down, simple solution.
It promises to grow your relationships, understand your audience through tags and segments, increase conversions with automated emails, and connect you to the best tools that will help scale your business.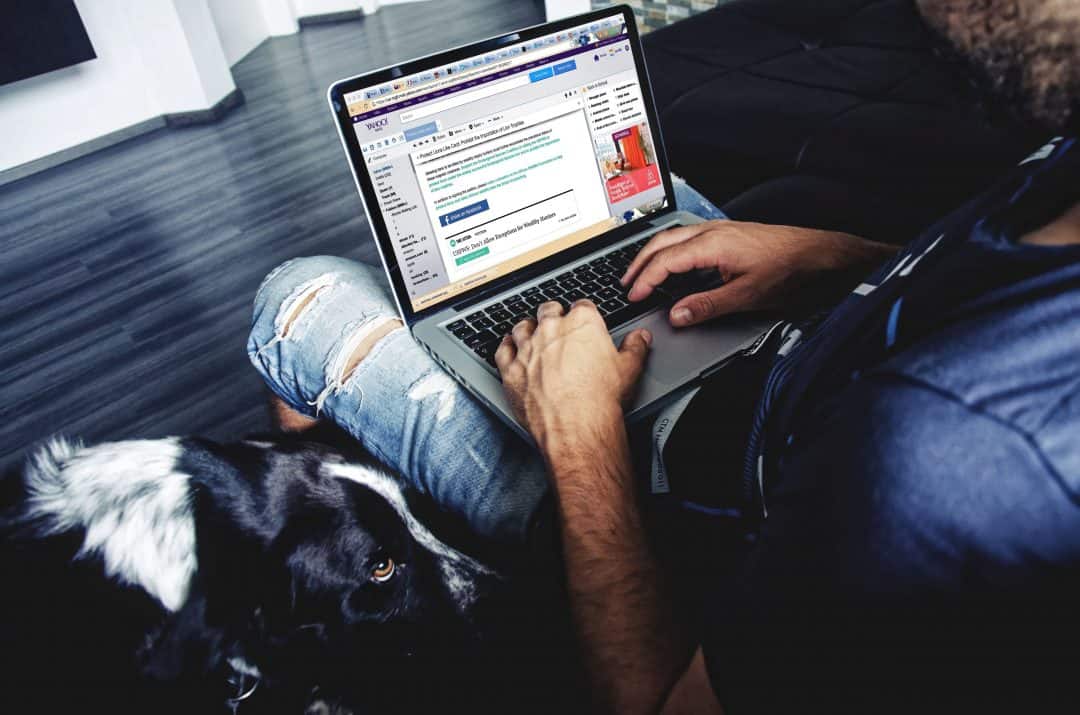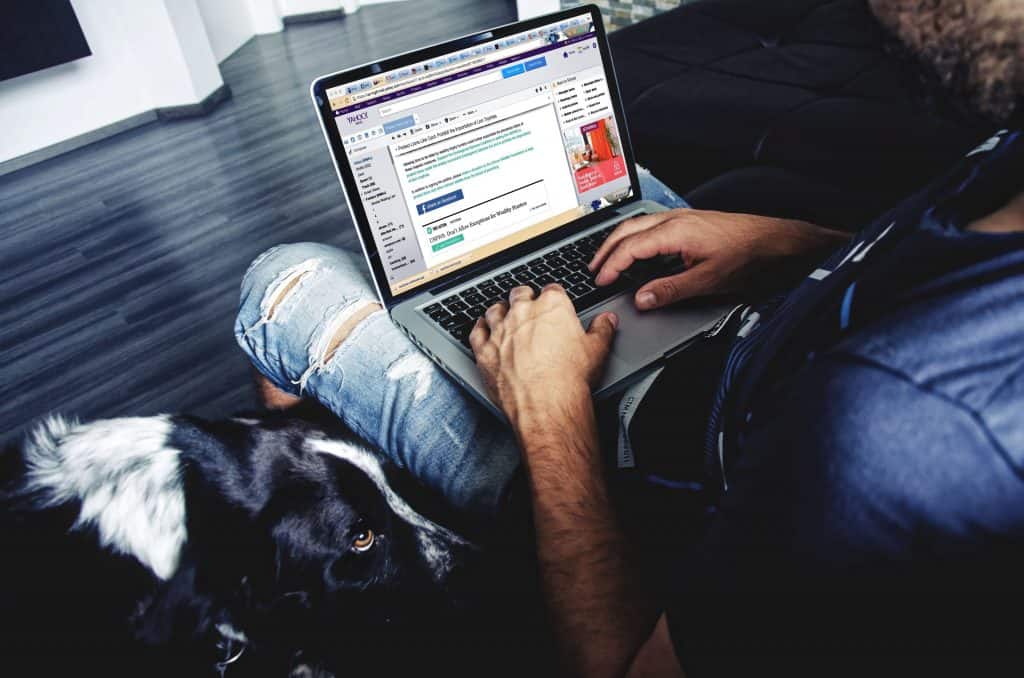 All good and exciting things, right? Of course!
But before you sign up and pay for your membership, let's go through a few drawbacks of ConvertKit.
7 Drawbacks of ConvertKit
1. They Have Limited A/B Testing Functionality
A/B testing, also known as bucket testing or split testing, is a crucial part of every marketer's job. It plays an integral role in the success of online businesses.
A/B testing is when you take two different versions of the same thing and test them out among your audience.
For example, you might duplicate an email but change the subject line. In this case, you're A/B testing the subject line to see if one triggers a better response among the recipients.
As another example, you can send out the same message on different days or at different times within the day to determine the best time to send emails to your audience.
A/B testing is an effective way to identify which strategies improve your performance and which methods produce the best results for your campaigns.
Unfortunately, ConvertKit has very limited functions for this, where you can only split test two variations of subject lines.
This is obviously useful, but apart from that, you can't test your delivery time, email body content, and other important functions like automation.
So, if you're looking for more advanced features for A/B testing, this may come as a downside for you.
2. They Lack Options for Form Customization
ConvertKit recognizes the need for different types of forms and allows you to build entire landing pages.
They offer simple designs that aren't much on graphics and images — a plus for people who want the benefits of email marketing but aren't big on the design aspect.
However, one of the drawbacks of ConvertKit for marketers that want more freedom and room for creativity in their forms and landing pages is that the tool is unable to offer such functionalities.
Aside from the option to change colors, there's not much you can modify — not even the color and size of fonts. If you want to customize your forms or create new templates, you will need to add in your own CSS or dig in the HTML.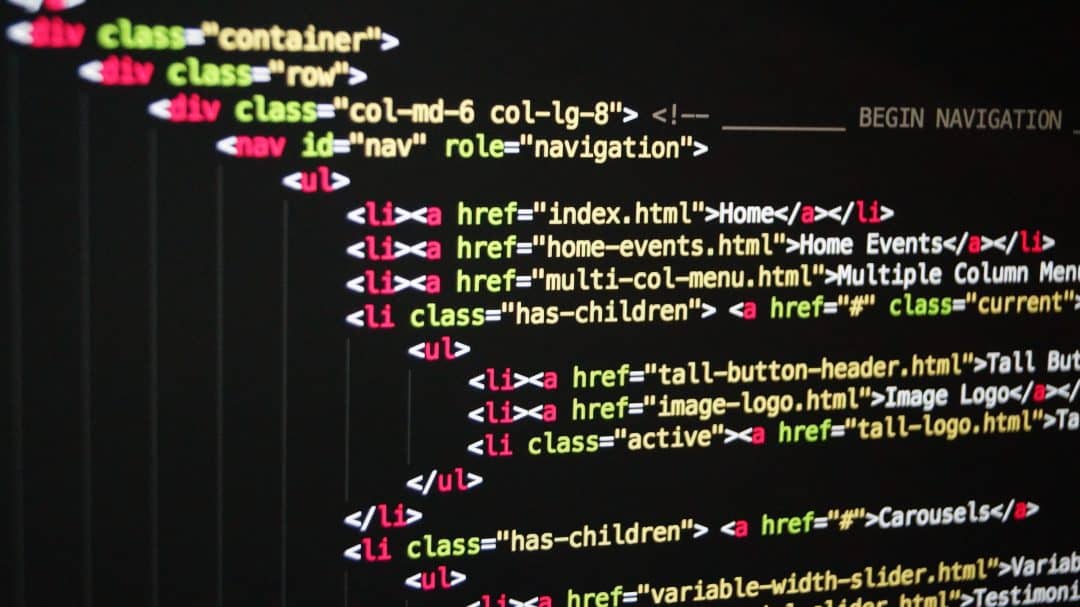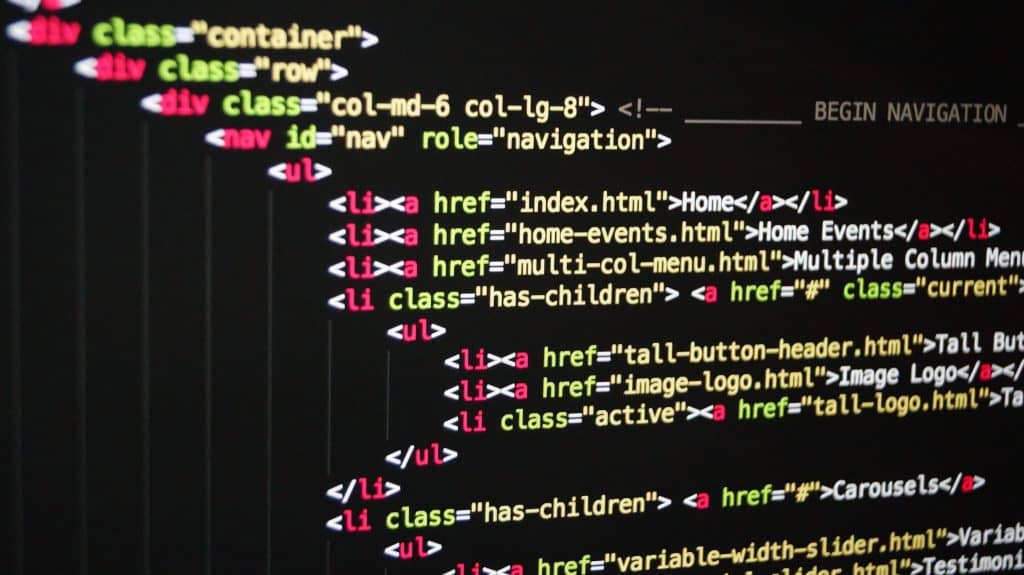 3. They Have Very Few Email Template Options
Templates are important because they make your email tasks easier to complete with just a few clicks.
These are ready-to-use designs that you can conveniently choose from so you get to focus on what's really important – the content of your email that will help grow your online business.
If your business is big on sending out email newsletters, then ConvertKit may come as a bit of a disappointment for you, as they have yet to offer an advanced email builder.
For now, they only have five available templates that make little to no difference on the front end.
They do, however, provide you with different variables that you can add to your templates if you want to make them more attractive.
But if you really want to customize the look and feel of your email design, you will need some knowledge of HTML and CSS to make this work.
Another option is to hire someone to build this for you. In any case, both of these options may not be ideal solutions for some businesses.
Also, ConvertKit still lacks the feature of test email for autoresponders. You can only send test emails to yourself for broadcast but won't be able to do so for autoresponders.
>> Insightly Drawbacks: How to Choose the Perfect Alternative
4. They Lack Customization Functions for Cold Subscribers
There are a lot of reasons why it's important for businesses to keep their email list clean.
From increasing your email deliverability to reducing bounce rate, and from lowering your sending costs to increasing data accuracy, it's necessary to filter out cold subscribers on a regular basis.
ConvertKit automatically tags cold subscribers as those who haven't opened or clicked your email in the past 90 days and have been subscribed for at least 30 days for ease of use.
They also recently added an automation rule wherein you can remove anyone who has clicked a link from the cold subscribers' list.
However, you have limited to no ability to define who you consider cold subscribers. For now, there's still no option to modify — in this case, increase or decrease — your terms on inactive days and subscription days.
5. Their Tracking and Reporting is Limited
ConvertKit prides itself on staying true to its overall minimalism and ease-of-use approach for the tool.
At a glance, the tracking and reporting dashboard shows your subscriber acquisition over 30 days. It also enables you to filter based on various time frames.
They offer the basics like open rates, click-through rates, and unsubscribes.
However, at the same time, this is another one of the drawbacks of ConvertKit. There's very little reporting available for sequences and autoresponders.
For example, at present, they are unable to provide data on the bounce rate. This is very important because such data measures how effective your marketing materials are.
Particularly for email marketing, the bounce rate helps you determine the percentage of email addresses in your subscribers' list that didn't receive your message because it was returned by the recipient's mail server.
If you want to go in-depth into the analytics and numbers of your email marketing campaigns to help you identify best practices and consider the next steps, ConvertKit may not be the right tool for you.
6. They Don't Really Offer Advanced Features
Marketing leads are essential to businesses. And having a good lead scoring model helps you get that sale.
It's an important process that lets you score your leads based on their professional information and their engagement with your brand online.
Essentially, it allows you to prioritize leads, respond to them appropriately, and convert them into customers.
Unfortunately, ConvertKit has yet to add this feature for their subscribers' ease of use. This means you won't be able to categorize your prospects accordingly — to highlight the promising leads, nurture the medium-committed ones, and ditch the rest.
7. You Might Not Be Getting the Most Bang for Your Buck
Let's be honest: Cost is one of the biggest concerns when selecting a marketing tool. And for those who are on a budget, ConvertKit may not be your most viable option.
Yes, it does follow the same tiered pricing model as most email services do wherein the price goes up with the more subscribers you have. However, there are more advanced tools that come in at a cheaper price.
For ConvertKit, fees start off at $29 per month for up to 1,000 subscribers. It goes up to $49 per month if you have 3,000 subscribers.
Then it further increases to $79 monthly for 5,000 subscribers. If you have even more subscribers, you're asked to calculate your own monthly rate.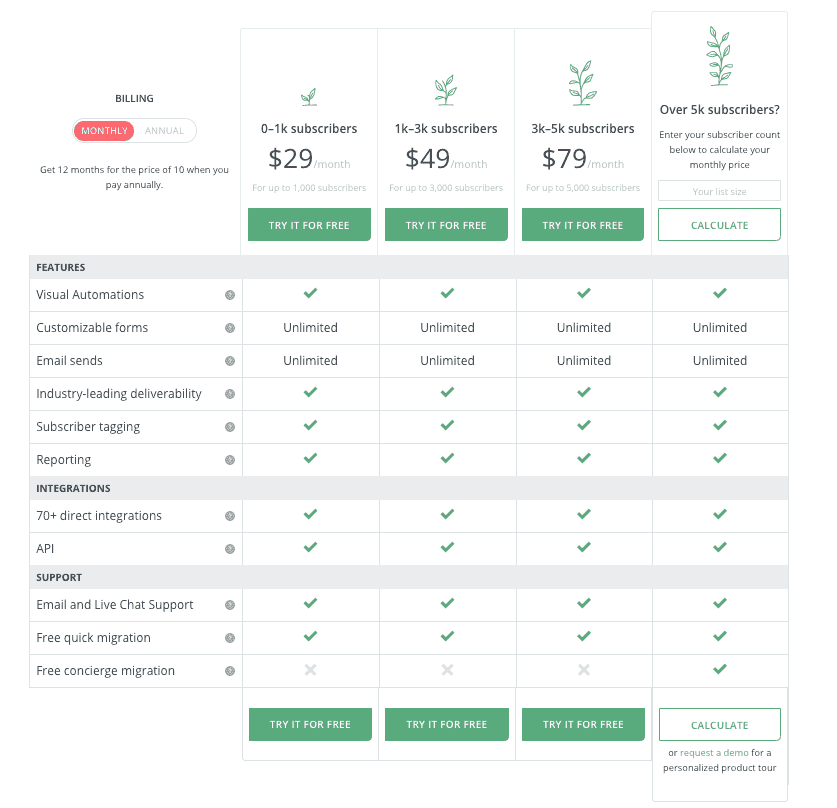 Plus, while there's a free trial, there's no free subscription plan.
What Are Your Options? How We Correct the Drawbacks of ConvertKit
Note that the answer to this question depends on what kind of business you have and what goals and KPIs you've set.
There's no perfect email marketing tool out there. But if some of your red flags were raised after learning about the drawbacks of ConvertKit and you've decided to look for an alternative, here are just a few things that EngageBay can offer.
Use EngageBay's simple drag and drop interface to create a template that suits your business needs

1. You Have Better A/B Testing Options
With our Growth package, you'll be able to enjoy all the split testing features needed for your email broadcasts and landing pages.
You can explore which process suits your marketing objectives or which method is ideal for your campaigns.
With our wider options for A/B testing, you're sure to find the strategy that will grow and scale your business all while getting your investment's worth.
2. You Can Customize Your Forms and Email Templates
You can choose from any of our pre-configured and beautifully-designed form styles, customize them, or create your own — it's all up to you.
Conveniently add elements to your web forms with the drag-and-drop function for ease of use and easily change the font colors, backgrounds, and text labels as needed.
You even have the option to confirm the form submission by emailing your customers and asking them to click the link in your email.
Even with the free plan, you can take advantage of our advanced powerful email marketing features.
Choose from a wide array of templates or custom-make your own depending on your business needs.
We can help you segment and target your subscriber list, add some personal touches to your emails, or design them even better with rich text formatting.
3. You Can Easily Track and Optimize Your Campaigns
EngageBay gives you a stress-free option to track your campaigns' performance.
With the sophisticated metrics and multitude of data points, you can realign and reposition your content to help improve your overall business.
Engagebay provides an easy option to track your campaign performance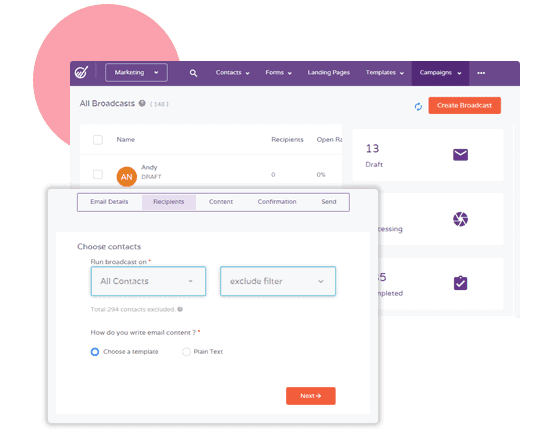 Starting from the free plan, you already get a robust reporting dashboard that churns out data to optimize your strategies.
With the pro plan, you get custom reports that give information on proposal analytics, web analytics, and other important metrics.
4. You Maximize Advanced Features
As a one-stop-shop for your marketing, sales, support, and CRM needs, we understand the need to stay up-to-date with what's new in the industry, so we offer you're the most advanced features needed to scale your business.
We include landing pages, lead grabbers, email broadcasts, and autoresponders even from the free plan.
Going up the tier, you get to use email tracking, tag management, lead scoring, web pop-ups, and more for your ease of use. All these help make sure that your growing company engages with web visitors and turns them into happy customers.
Watch video below:
[su_youtube url="https://www.youtube.com/watch?v=x7itApfaTWU"]
Email Broadcasts with EngageBay
5. You Get a More Affordable and Flexible Alternative
In a nutshell: We're more affordable. You get more contacts and branded emails.
Regardless of your payment scheme, you get access to the entire package with all features, plus unlimited contacts and 50,000 branded emails, for less than $50 per month.
Note that this is for the all-in-one suite. If your business only needs just one of the solution streams, you can also get these individually at a reasonable price.
You can also change your plan as you see fit. Whether you upgrade, downgrade, or cancel your subscription altogether, you're free to do so at no charge.
We can even work with you to craft a customized package for your ease of use that will help meet your specific needs and grow your business.
It's a lot to take in, and you'll probably need time to really consider these drawbacks of ConvertKit and weigh your options.
That's why you should try out EngageBay for yourself. Sign up for free and get ready to join our ship of over 12,000 highly satisfied clients.
>> The Drawbacks of Pipedrive: Choosing the Right Alternative