B2C businesses continually strive to grow their audiences, generate new leads, create engaging products and services, and retain customers. Marketing is a key part of the strategy, but so many campaign processes take up valuable time.
This is where B2C marketing automation comes in. Software tools can simplify these processes, moving a campaign forward without as much manual effort.
This guide will explain B2C marketing automation in detail. We'll share examples of B2C marketing automation, talk about the top tools for it, and show you how it's different from B2B marketing.
What Is B2C Marketing Automation?
B2C marketing centers on elevating the customer experience to keep audiences receptive and coming back for more. A B2C campaign also focuses on social media marketing, SEO, content marketing, and email marketing.
Automation tools and software simplify the menial tasks required to execute a marketing campaign. Here are some jobs B2C marketing automation software can take care of.
Personalizing emails
Email personalization tool Zembula reports that more than 50 percent of consumers will use a different service if they don't receive personalized emails. You can rely on automation for personal touches throughout an email, like subject lines and email templates.
Scoring leads
Finding qualified leads needn't be a struggle with B2C marketing automation tools. The software will review customer data and extrapolate the most valuable leads. You can then forward this info to your sales and marketing teams so they can begin converting the lead.
Scheduling emails, social media content, and blog content
Consistent communication is critical to driving leads through the sales funnel and engaging your customers.
However, you only have so much time, and juggling the responsibilities of posting on social media and your blog with emailing your audience is a big ask of anyone.
This is where automation software shines. Create workflows to automate when your posts and content go live, whether it's the middle of the night or afternoon.
Pruning your email list
Leads and customers can stop reading your emails without unsubscribing, change email addresses, or get a new email address and forget all about the old one. You must go through your contacts if you've determined that your bounce rate is high and your open rate is low.
This is another task that takes up hours. An automation workflow can determine which leads and customers are the lead engaged according to the parameters you set, then remove them from your email list.
Email campaigns
Delivering a high-value user experience begins the moment a lead subscribes to your email list. Automation enables you to send the necessary emails based on triggers, such as a lead's behavior or lack of action.
These time-sensitive emails will arrive in the lead's inbox at precisely the right time to keep them engaged and moving through the funnel.
Read also: Cracking The Marketing Automation Process [101 Guide]
B2B vs B2C Marketing Automation – How Are the Business Processes Different?
Marketing automation helps businesses increase their revenue, make business processes more efficient, build their brand, and increase their customers. That's the case for B2B and B2C companies, but these companies don't use automation tools the same way.
Let's explore the differences in this section.
Focus
B2C automation is heavily focused on personalization, whereas B2B automation workflows aren't. The content that goes out to audiences is educational to increase event awareness and attendance and free trials.
Specificity
A B2C automation campaign focuses on specific audience subsets derived from lead scoring and research. B2C businesses strive to develop professional relationships with those leads to win their loyalty and service.
B2B businesses that use automation do so with a broader approach in mind. Mass appeal is preferable over personalized communications.
Read also: How To Build The Perfect B2B Marketing Automation Strategy
Software features
Since B2B and B2C marketing automation measures differ, so too will the preferred features in an automation workflow.
For example, a B2C business will focus more features for customer retention, including retargeting, reputation management, and campaign management.
B2B companies will want lead scoring from their automation tools and plenty of integrations to enmesh with their existing workflow.
Read also: Mastering The Interview: Essential Marketing Automation Questions And How To Answer Them
Data volume
B2C businesses generate far more data than B2B, as the former targets a larger, broader audience per campaign.
B2C businesses will focus on data such as preferred product types, purchase history, and demographics like gender, marital status, industry, and age.
Communication methods
Automation simplifies communication through channels and streamlines omnichannel marketing.
B2B campaigns primarily use email, whereas B2C marketing campaigns will add retargeting, social media, push notifications, email, and SMS marketing to the list.
Read also: A Short and Sweet Guide to Content Marketing Automation
B2C Marketing Automation Examples
Now that you grasp the basics of B2C marketing automation, let's explore some examples to show yow how automation works.
Welcome Emails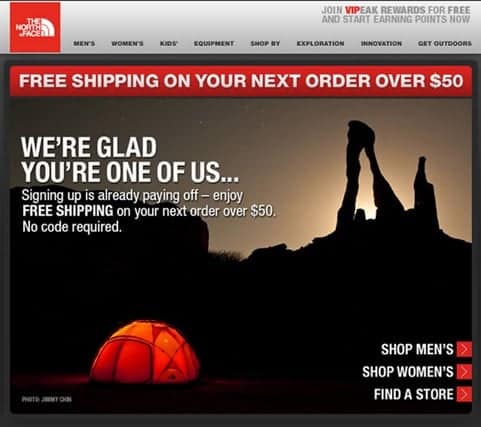 Welcome emails are the first message a lead receives after subscribing to an email list. They should be short, sweet, and to the point. More so, a welcome email should be action-driven to inspire the lead to take the next step deeper into the sales funnel.
The North Face's welcome email shown above does a good job of that. The copy makes the user feel special for subscribing by calling them "one of us," making it seem like the new customer belongs to an exclusive group.
Then the copy becomes benefits-focused, describing how the new subscriber gets $50 off their next order without a special code. This should inspire them to begin shopping immediately, as should the links to men's and women's apparel.
Read also: The Top 12 Omnichannel Marketing Automation Platforms For 2024
Product Launches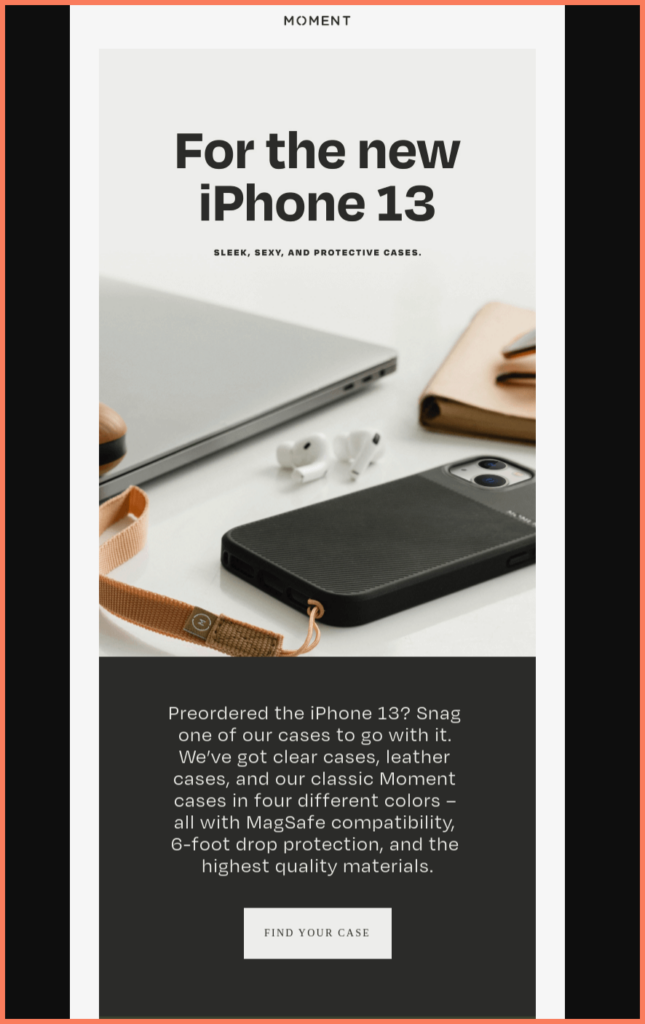 iPhone launches are big business, but why should Apple make all the money hand over fist? Phone case retailer Moment jumped on the launch of the Apple 13 by announcing phone cases for the upcoming phone.
The email copy is simple and straightforward, describing the selection of cases available for the new smartphone. The contrasting CTA button under the paragraph makes it easy to shop for a new case.
This example is overall simple but incredibly effective.
Read also: Marketing Automation Landscape: A Guide To Scaling Your Business
Feedback Emails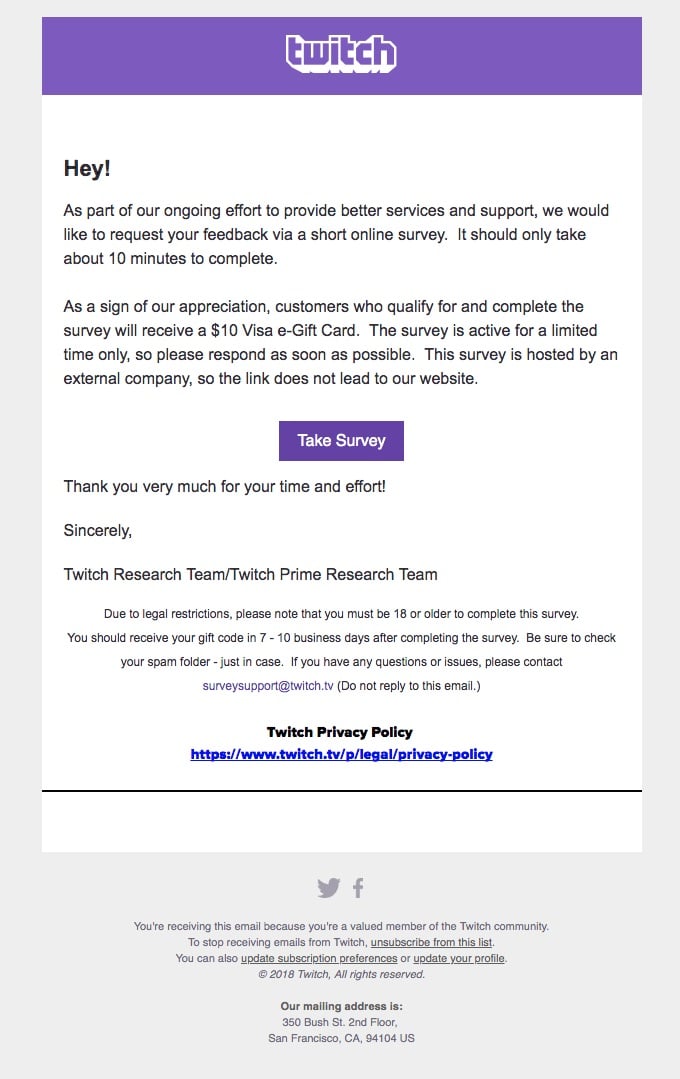 Feedback makes yours a better business, but how do you obtain it? Issuing a survey and collecting audience responses puts your finger on the pulse of your B2C audience, and automation workflows can help you do it.
The above example from the streaming service Twitch shows how it's done. It starts with an emphatic "Hey!" in bold to catch the eye, then launches into why Twitch is asking users to do a survey (to improve its service further).
The CTA button takes users to the survey and stands out, so it's easy to find. It was also a wise touch to include the privacy policy in this survey email so users could read up to ensure their information isn't being used in a way they're uncomfortable with.
Read also: Paving A New Path: How To Become A Marketing Automation Specialist
Anniversary or Birthday Emails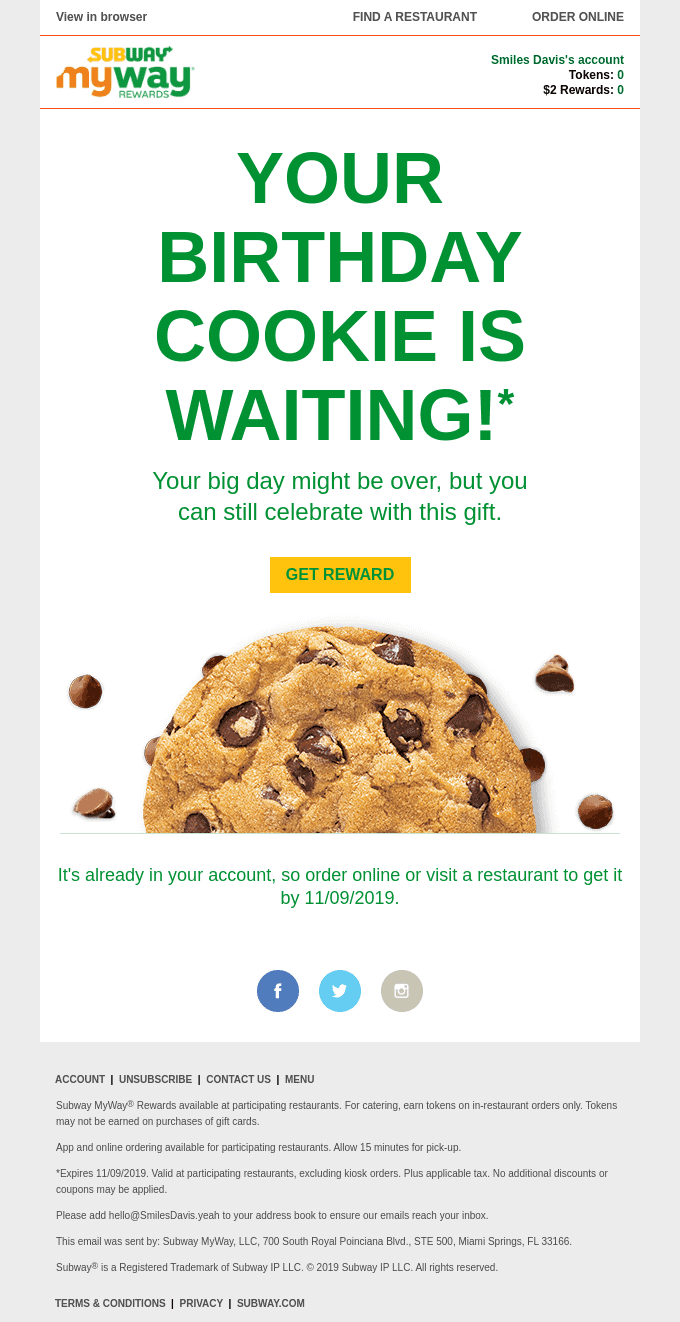 Birthdays are a great opportunity to reach out to long-term customers and leads and wish them well on their special day.
You could keep it simple by proclaiming "Happy Birthday" and leaving it at that, but many businesses take it a step further by including a discount code or freebie, such as Subway did.
Automating birthday emails makes it easy to stay on top of your vast audience's various special days. You can also send these emails for other special occasions, such as your company anniversary or certain holidays.
Read also: The Beginner's Marketing Automation Checklist [101]
8 Awesome B2C Marketing Automation Platforms
Are you ready to take control of your customer journey with marketing automation? Here are the top tools you'll need.
1. HubSpot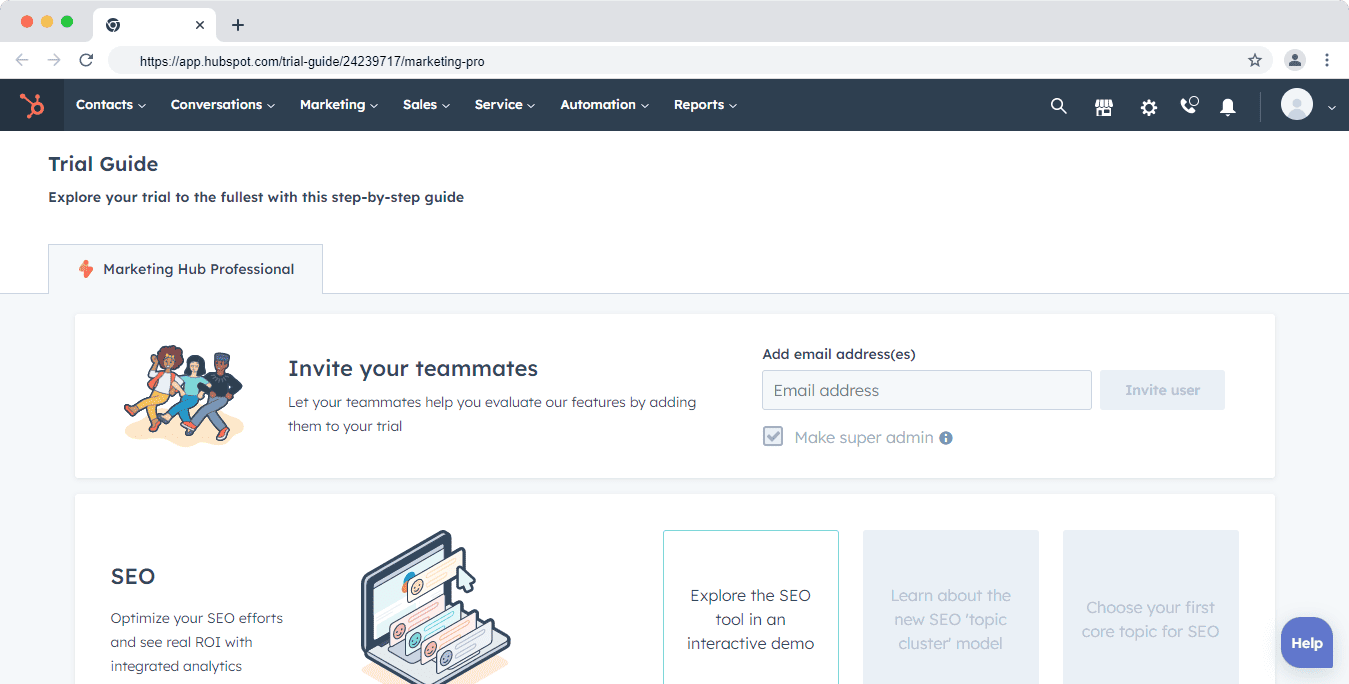 Sales and marketing software HubSpot is an award-winning tool that offers bot builders and automation workflows to reduce your manual effort during marketing campaigns. You can automate form-building, email sending, product marketing, notifications, and more using omnichannel measures.
The visual workflows are appealing and simple to use, reducing the learning curve.
Features
Automating B2C marketing tasks within HubSpot starts with these features.
Simple workflows: Whether you want to automate lead scoring or email marketing, HubSpot's visual automation workflow builder makes it possible. You can automate only parts of your campaign or the whole shebang.
Bot builders: Save even more time when building your automation workflows by using HubSpot's built-in bot builders. They'll take care of the heavy lifting.
Multichannel campaigns: Automation within HubSpot extends beyond email marketing and includes automation for in-product marketing and SMS campaigns.
Email trigger automation: Create extensive email marketing campaigns that are completely automated with email triggers. You determine what happens next based on how a lead or customer interacts with your latest email.
Drip campaign automation: Move leads through the sales funnel more efficiently and retain customers using an automated drip campaign within HubSpot. You can even use this tool to build code-free emails.
Lead automation: From lead scoring to segmentation, notifications, and follow-ups, your company can manage your leads within HubSpot.
Pros and Cons
Let's review the benefits of using HubSpot for B2C marketing automation.
HubSpot is one of the best-known marketing software solutions.
The marketing automation services within its software are robust.
The visual automation workflow builder is designed for ease of use.
Consider these downsides before selecting HubSpot.
Its plans are very expensive.
Some users have called it overcomplicated and hard to use.
Plans
Free tools within HubSpot's Marketing Hub include commerce, operations, service, and sales tools. You can also use its CMS without paying.
The Starter plan includes features like in-app chat and email support, HubSpot-supported payments in the US, landing pages, live chat, forms, and email marketing.
Upgrading to the Professional plan unlocks features like custom reporting, omnichannel marketing automation, and campaign reporting.
HubSpot's Marketing Hub products start at $800 per month for the Professional plan and $3,600 per month for the Enterprise plan.
Read also: 17 Cool Free Marketing Automation Platforms Reviewed
2. EngageBay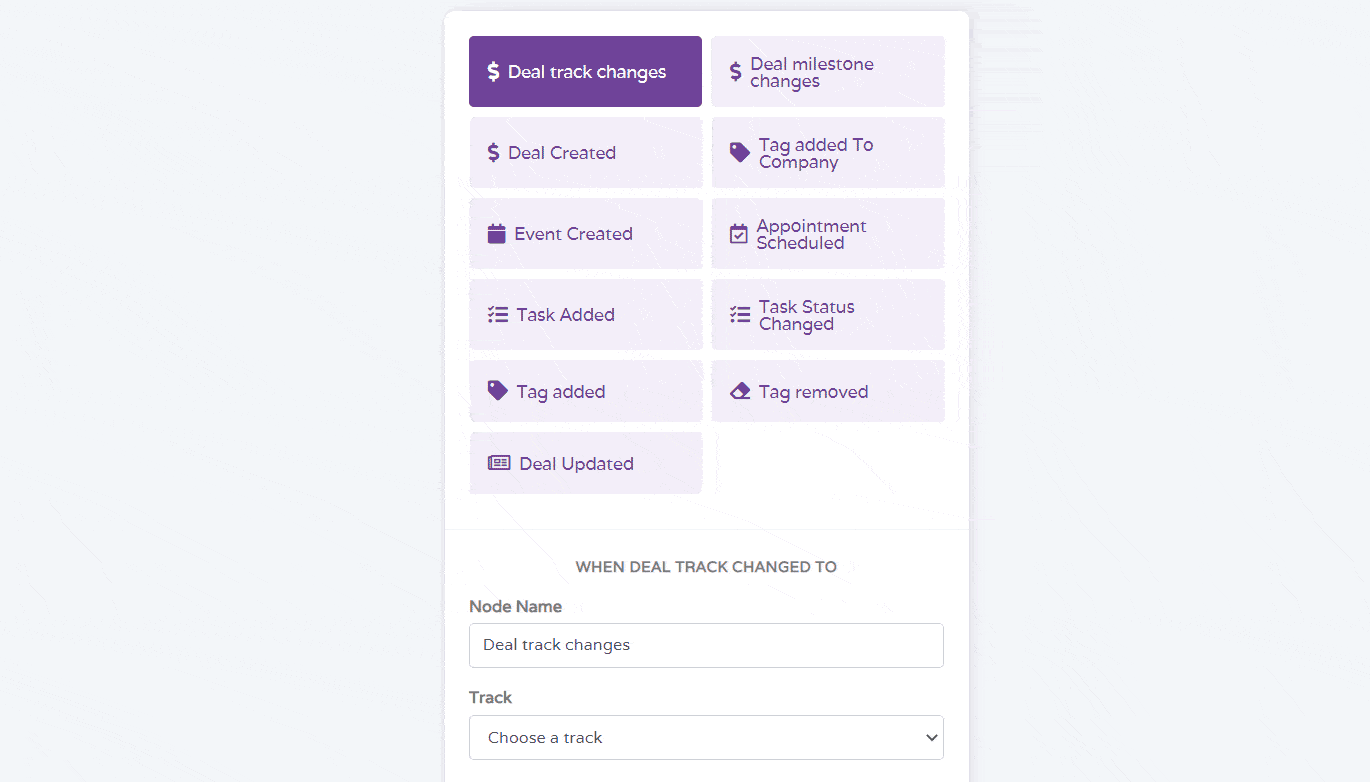 The service, sales, and marketing tool EngageBay has some of the most robust and easy-to-use marketing automation workflows. Better yet, automating tasks like welcome emails, lead scoring, and more is free.
EngageBay's marketing automation services include autoresponders, SMS automation, lead scoring, task creation, landing pages, forms, email sequences, and web analytics. You can also count on EngageBay to build pop-ups and web forms.
Features
EngageBay's all-in-one marketing, sales, and service software provides comprehensive solutions across all business areas. The following marketing automation features for startups, SMBs, and large businesses are a cut above the rest.
Free automation: That's right, you can automate your everyday marketing tasks for free within EngageBay. This isn't a part of a free trial. Rather, automation features (and many others within EngageBay's software) are free forever.
Drag-and-drop automation workflow builder: Creating automated workflows within EngageBay couldn't be any simpler. The code-free drag-and-drop builder helps you make complex workflows in minutes.
Automated emails: Automate your email campaigns within EngageBay. You can send many types of automated emails, including bulk emails, email broadcasts, and email sequences. Whatever type of message suits your campaign, you can use EngageBay to automate and send it.
Automated lead scoring: Entrust your lead scoring to EngageBay. Automated lead scoring makes it easy to find your most qualified potential customers. EngageBay offers lead scoring by source and country. You can even use predictive scoring to accurately guess who might be likely to convert.
Email personalization automation: With personalization such a substantial factor in lead conversion and customer retention, you'll appreciate how you can personalize your emails within EngageBay. You can even customize the design, selecting from an unlimited number of professional templates.
Pros and Cons
Is EngageBay the right B2C marketing automation software for you? Let's explore its myriad benefits.
EngageBay is an inexpensive software designed for businesses on a budget.
The full-bodied automation tools will help you build winning campaigns.
The drag-and-drop automation workflow builder has a very small learning curve, so you can begin automating tasks within the same day you install EngageBay.
Plans
The Marketing Hub's Free plan includes services like custom fields, autoresponders, email templates, lead grabbers, sequences, and email broadcasts for 250 contacts.
You can increase your contacts to 500 under the Basic plan, which adds features such as lead scoring. The Growth plan includes 3,000 contacts and is packed features, like marketing automation, email broadcast split-testing, and site messages.
The well-rounded Pro plan boasts 30,000 contacts, custom reporting, and advanced marketing automation.
Pricing for the Basic Marketing Bay plan starts at $11.95 per user per month with annual billing. For advanced features, try the Growth plan for $45.99 per user per month or the Pro plan for $73.59 per user per month.
3. Keap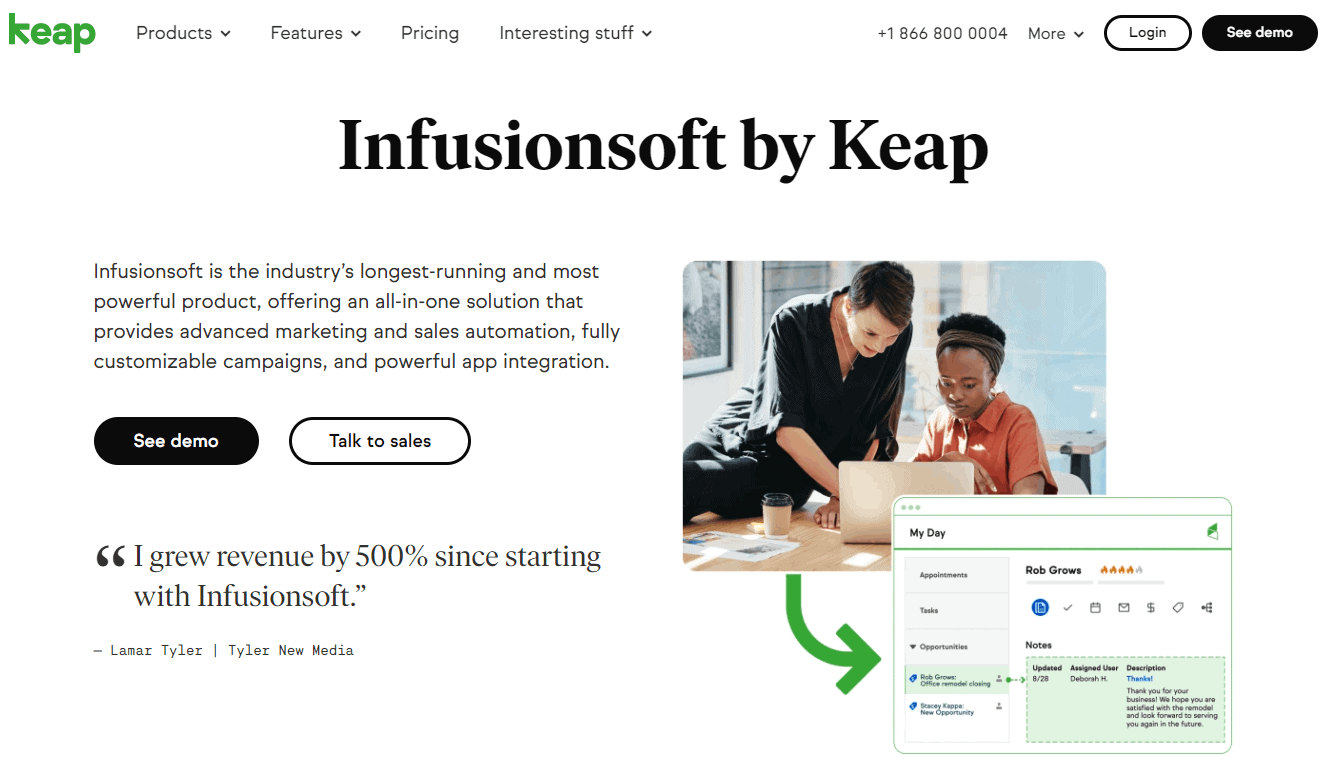 The small business CRM software, Keap, once known as Infusionsoft, automates sales and marketing. You can use the service to build custom automation workflows or select from prebuilt templates to save even more time.
Keap can automate appointment reminders, consultations, invoice reminders, and other tasks.
Features
Keap's small business automation software includes the following features.
Automated lead capture: Keap's automated lead capture tool will track leads who booked appointments or found you in other ways.
Pre-built automation templates: Keap has pre-built automation templates you can select from to get your campaign going. Use these workflows for invoice reminders, free consultation requests, lead follow-ups, and more.
Custom automations: You can also create your own automation workflows from scratch, selecting the parameters to suit your campaign.
Pros and Cons
Before determining if you should consider Keap for your B2C marketing automation needs, review these pros and cons, starting with the advantages.
Keap allows for total automation workflow customization.
This service is designed for small businesses but fits larger companies.
The automation tools extend beyond marketing.
These downsides must not be glossed over:
The costs are not commensurate with Keap's claim of being small business-friendly.
It's not an easy software for beginners to learn to use.
Plans
The Keap Pro plan starts you with two users and 1,500 contacts. It includes features like marketing and sales automation, email marketing, automated lead follow-ups and captures, and appointments.
The Max plan for three users and 2,500 contacts boasts extra features, such as lead source attribution, lead scoring, and advanced reporting.
The Pro plan costs $159 for 1,500 contacts with annual billing, and the Max plan is $229 per month for 2,500 contacts with annual billing.
4. Marketo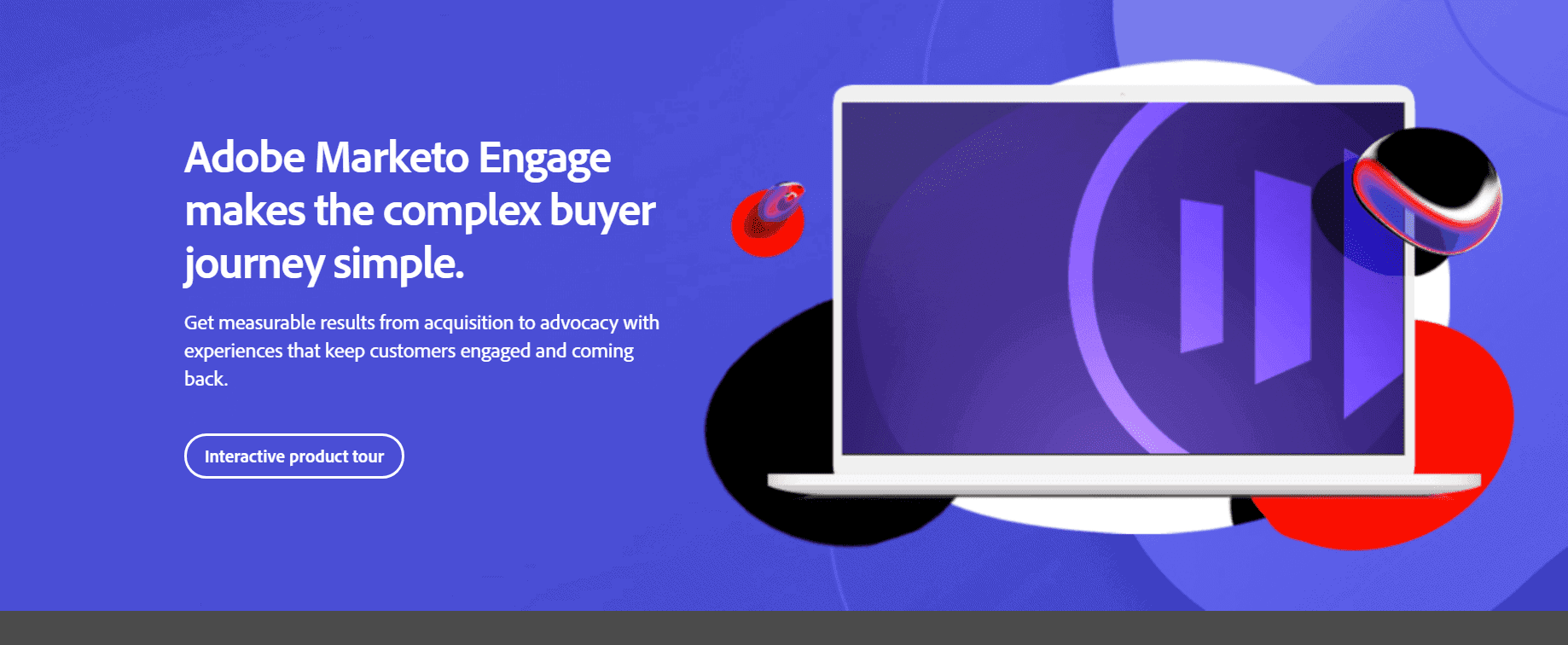 Marketo is Adobe's marketing automation software. It uses AI to divide segments and recommend steps for building your audience. You can also use Marketo for nurturing leads and customers, personalizing communications, and deriving audience behavior data.
Features
This Adobe-owned software has plenty of features for marketers, including (but not limited to) the following.
B2C-enabled: Marketo is designed for B2C (and B2B) businesses seeking time savings and other automation benefits.
AI-ready: Marketo's AI-enabled automation can segment your audience and predict how they may grow.
Personalization: Incorporate triggered content, behavioral data, and active listening to personalize your correspondence with your audience segments.
Multichannel marketing: Your campaigns will reliably reach your audience through custom-triggered multichannel marketing.
Pros and Cons
Before considering Marketo for your B2C business, review these advantages and disadvantages. We'll begin with the pros.
Marketo is an Adobe Experience Cloud software with the backing of one of the biggest names in technology.
The AI tools will help you reach your audience more effectively.
Here are some issues with this software:
Users have complained about the poor customer service.
The user interface could be easier to work with.
Plans
Select from four plans: Growth with segmentation and core marketing, Select with marketing automation, Prime with AI personalization and analytics, and Ultimate with all features of Marketo.
The pricing is customized for each customer, so you have to contact the team for a quote based on your needs.
5. Act-On
The B2C and B2B automation tool Act-On focuses on a customer's lifecycle from beginning to end.
You can rely on Act-On for lead generation, omnichannel marketing, aligning the sales and marketing teams, scoring leads, and analytics. Act-On integrates with many common marketing tools.
Features
The following features of Act-On make it a suitable choice for automating marketing tasks.
Multichannel marketing automation: Connect with your audience on their favorite platforms using Act-On automation.
Automated content creation: Act-On and OpenAI make it possible to create content like social media posts, copy, blog outlines, and emails.
Predictive lead scoring: AI-driven predictive lead scoring uses machine learning to guess which leads will convert more accurately.
AI audience segmentation: Use behavioral data to segment your audience with AI Audience Insights, a time-saving, smart feature within Act-On.
Pros and Cons
Don't make a snap judgment on Act-On yet. Let's review its pros first.
Act-On uses smart AI tools to find leads, write content, and segment your audience.
Its software can help marketers grow their business, introduce more immersive brand experiences, and better engage.
Act-On serves many industries, including insurance, SaaS, manufacturing, financial advisors, credit unions, and banks.
Consider these downsides in your decision-making:
Act-On is a smaller software than the other options on this list.
It's been called complex software by users.
Plans
The Professional plan is your gateway to "complete marketing automation," while the Enterprise plan builds on that with two user accounts, account-based marketing, a Data Studio for reporting, and more advanced support.
The Professional plan starts at $900 per month with 2,500 contacts, while the Enterprise plan has custom pricing.
6. Salesforce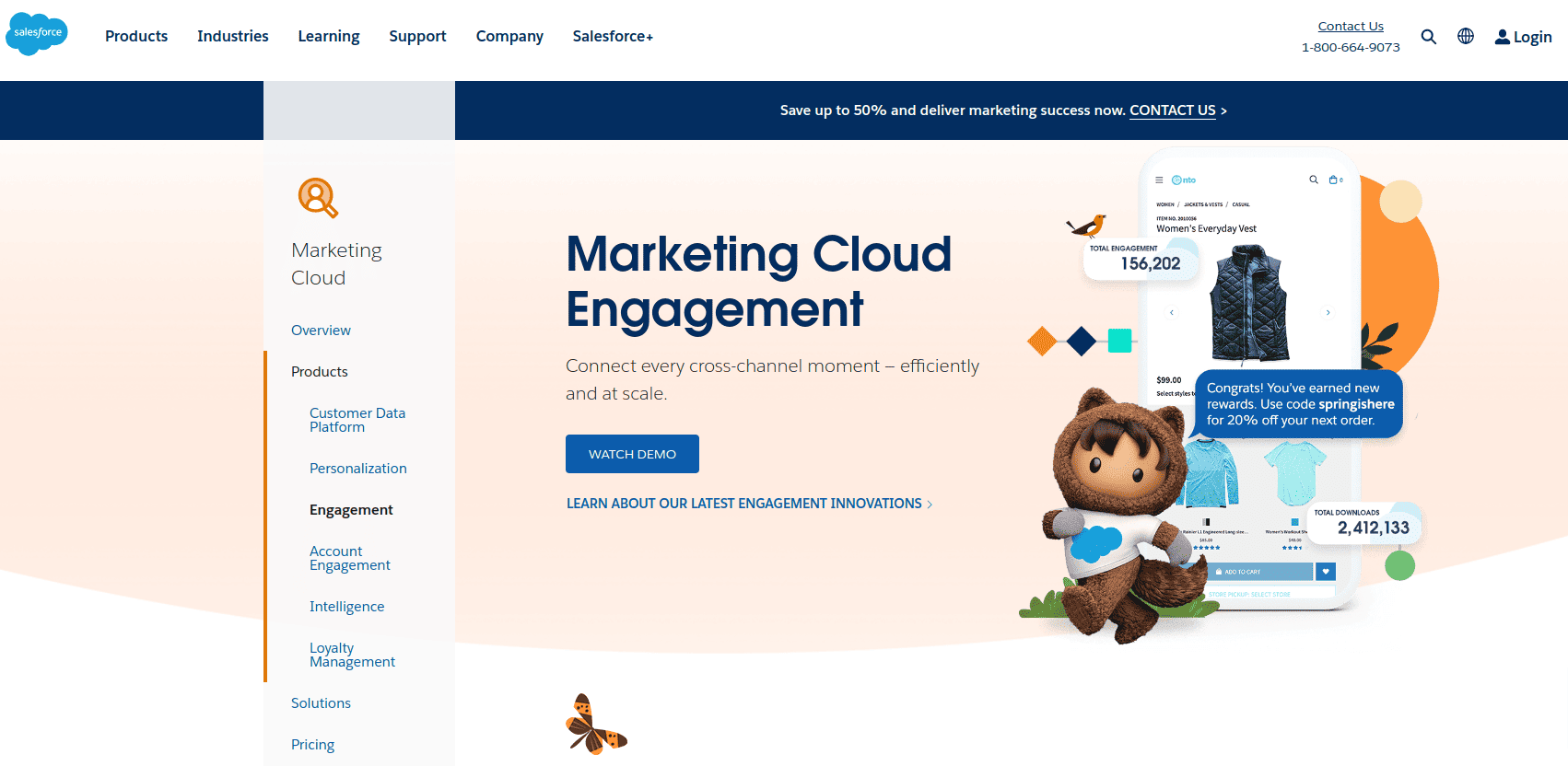 Personalizing your content will be hands-off with Salesforce, as its AI-driven automation software allows you to personalize content to increase engagement. You can also build campaigns within Salesforce and use its data cloud.
Salesforce has loyalty management tools, account-based marketing, and omnichannel intelligence to take your campaigns further.
Features
The all-inclusive Salesforce platform includes the following marketing automation features for B2C companies.
Personalization: Incorporate personalized elements into your marketing campaigns effortlessly with automation from Salesforce.
AI-driven: Salesforce combines the power of AI and automation to strip back time spent on manual tasks. Predictive analytics and attribution are also AI-powered to provide more informative insights.
Content management: Streamline all your content on one system, then filter, tag, and edit it as needed.
Mobile messaging automation: Reach necessary segments and send timely messages using automated mobile marketing from Salesforce.
Email marketing automation: Personalize your emails with dynamic content so your messages connect with your lead and audience segments.
Omnichannel marketing analytics: Use automation workflows based on triggered events like SMS sends, survey sends, and event or webinar registrations.
Pros and Cons
Are you undecided about Salesforce? Here are some positives of this marketing software:
Salesforce uses AI to incorporate personalization and glean top-notch insights from your marketing campaigns.
You can train Salesforce's AI to work better for you.
Think carefully about the following problems with Salesforce:
Many users have reported that it's slow and clunky.
Others have said doing repetitive tasks takes more time than it should.
Plans
The Salesforce Marketing Cloud Account Engagement plan includes campaign insights and reporting, lead scoring, and lead nurturing. You can't use content creation and email marketing unless you upgrade to the Marketing Cloud Engagement Plan.
The encompassing Marketing Cloud Personalization plan offers email and web personalization, content and product recommendations, A/B testing, segmentation, reporting, and rule-based decision-making.
The Salesforce Marketing Cloud begins at $400 a month with annual billing if you select the Basic plan. You'll spend $1,250 a month on the Pro plan and $3,750 per month on the Corporate plan.
7. ActiveCampaign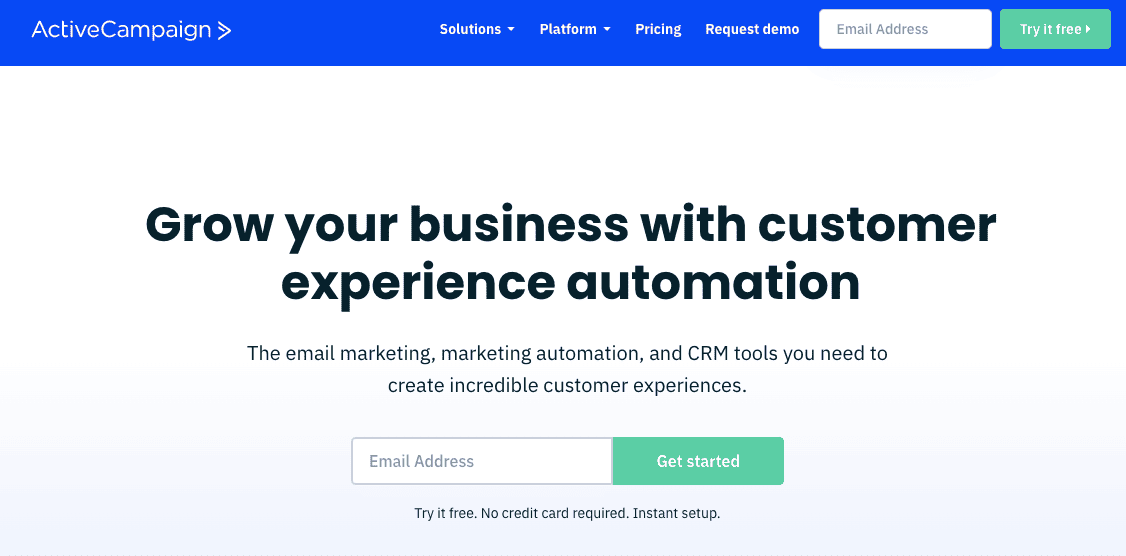 Build marketing automation workflows in ActiveCampaign in merely a few clicks. You can rely on these workflows for seeking engaged contacts, automating email campaigns, and more. ActiveCampaign also has email campaign management and CRM within its software.
It's easy to build workflows, as you can simply drag and drop them into place.
Features
Here are some of the key features.
Automated emails: You don't have to manually follow up with leads or customers when ActiveCampaign can do it for you. Automate all elements of your email campaign, then sit back and watch your workflow take care of business.
Automated engagement scoring: ActiveCampaign tracks which of your contacts are the most engaged based on their behavior and recommends them to you so you can connect and close the deal.
Reminders: Keep customers moving through the sales funnel with automated reminder triggers.
Segmentation: ActiveCampaign will segment your audience based on the custom automation workflow you build.
Automation mapping: Better understand your average customer lifecycle with ActiveCampaign's automation map, which provides an overhead view of all customer actions.
Pros and Cons
ActiveCampaign has these advantages:
You can bundle sales CRM and marketing automation features for cost-effective software.
The range of automations is smart and sure to drive campaign results.
You can learn more about your leads and customers with ActiveCampaign.
However, this software isn't perfect. Here are some downsides:
Users have reported low-quality customer service.
The software loads very slowly.
Plans
The Plus plan for small businesses and teams includes landing pages, marketing automation, and email marketing. You can start using features like AI-led predictive sending, split automations, and site messaging with the Professional plan.
The Custom plan incorporates custom objects, custom reporting, and unlimited email testing.
ActiveCampaign's marketing services start at $49 per month for the Plus plan with annual billing. You can also choose from the Professional plan for $149 a month or the Enterprise plan with custom pricing.
7. Constant Contact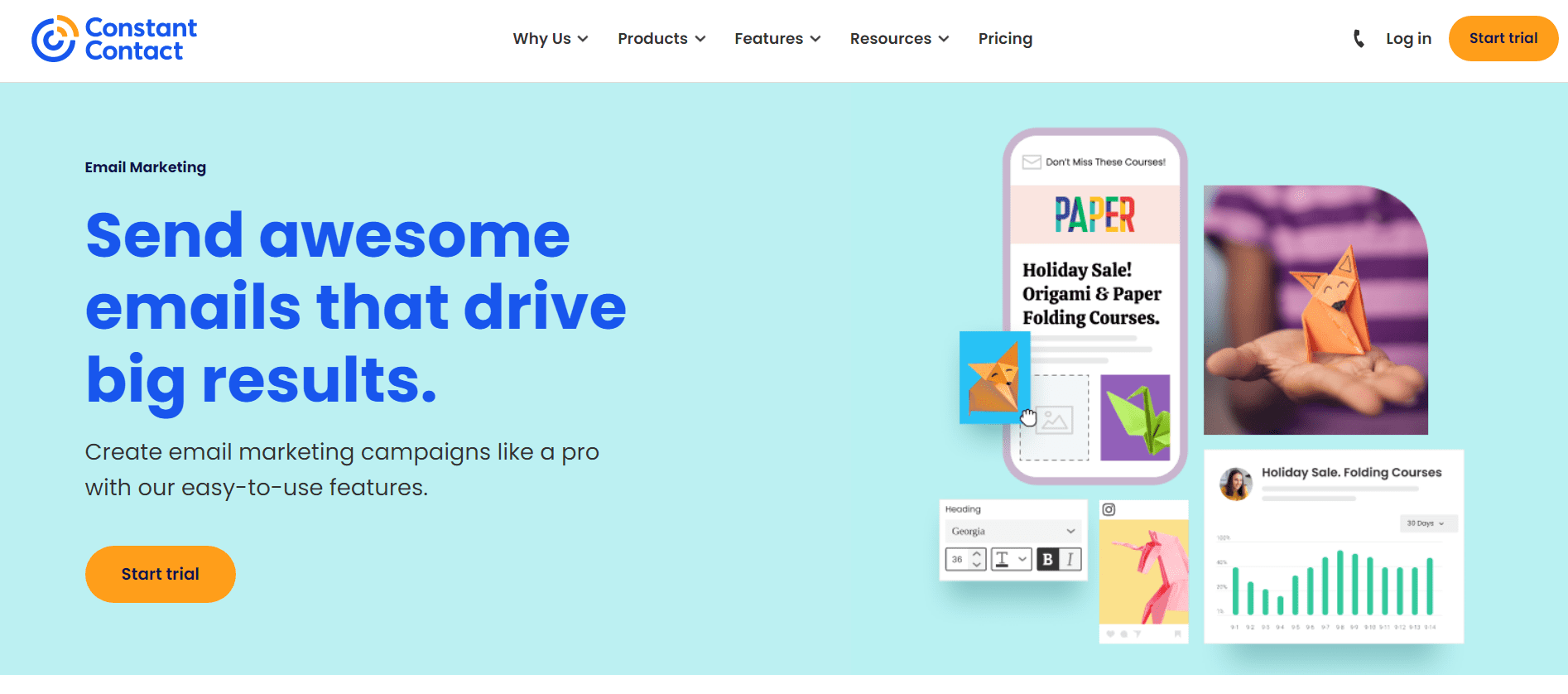 Automate your email and social media campaigns using Constant Contact. Send all types of emails within this tool, from welcome emails to follow-ups, order confirmations, and more. Customize the messaging paths for better lead nurturing and automate the various routes.
Constant Contact will build lists or sign-up forms, send anniversary and birthday messages, and resend emails automatically.
Features
You can be a complete beginner or a seasoned veteran, and Constant Contact has marketing features for you. Let's look more closely at how you can automate your marketing with this software.
AI content: Don't struggle to come up with creative content when Constant Contact's AI can do it for you. You'll have social media posts and emails ready to send.
AI email subject line: Gone are the days when you spent hours grasping for the right subject line. Constant Contact uses AI to generate as many subject lines as you need.
Email marketing automation: Send the right emails when your audience is most engaged for more campaign success.
Pros and Cons
Read this pros and cons list before your B2C business decides on Constant Contact.
First, the benefits of this software:
Constant Contact has a robust roster of marketing services besides automation.
Its AI automation features are smart and predictive to help your campaigns.
Constant Contact's automation tools favor the creative side of marketing.
And now, these downsides:
The features are quite limiting with some plans.
The customer service could be better.
Plans
The Lite plan offers more of what you need to begin your marketing journey, including AI content recommendations, some automation, and drag-and-drop emails. The Standard plan has more advanced AI content recommendations, pre-built automation templates, and contact segmentation.
If you choose the Premium plan, you can use custom automation templates, the most advanced AI content recommendations, and dynamic email content.
The Lite plan is $12 per month, the Standard plan is $35 per month, and the Premium plan is $80 per month. Pricing increases by contacts.
Read also: Why Companies Need B2B Marketing Automation Today
Truly Easy B2C Marketing Automation Starts with EngageBay
B2C marketing automation shaves tasks off your to-do list so your marketing team can focus on building bigger and more expansive campaigns to close deals and convert more leads.
EngageBay's marketing automation tool is free to start with, so it's ideal for B2C startups and small businesses without huge capital. The drag-and-drop builder has no learning curve, so you can begin building simple automation workflows today.
Try EngageBay free.
FAQs
Do you still have lingering questions about using marketing automation software for your B2C business? Don't miss these FAQs.
How Do I Select the Right B2C Marketing Automation Software?
The B2C marketing automation solutions we reviewed are great options, but you only need one. These factors will make it easier to narrow your options:
Price according to your budget
Company reputation
Included features
Ease of use
Reviews and testimonials
Customer service
Use free trials and demos so you can sample the software yourself. Ask another employee within your company to do the same, then compare notes. Did either of you struggle with the same things, or did you have different issues?
Marketing automation software might have a learning curve, especially if you've never automated your B2C business. However, a learning curve still allows you to pick up the basics within a few hours.
If you're struggling by the end of your trial, you shouldn't buy that software.
How Long Should It Take Before I See Results from Marketing Automation?
Marketing automation workflows work immediately, but how long it will take your campaigns to benefit from automation varies. Your latest campaign should perform markedly better than your last, and the next campaign better still.