One of the significant challenges of running a B2B business is to shorten the sales cycle. Enter B2B marketing automation – a process designed to streamline your workflows and automate repetitive tasks to save time and money.
Effective marketing automation not only enriches your sales funnel but also enhances the efficiency of individual processes. It automates various tasks such as generating leads, lead nurturing, email marketing, etc., giving your employees more time to focus on qualified leads ready to buy.
B2B marketing automation is not limited to only shortening sales cycles but offers various other advantages.
This article will discuss why you should consider using a marketing automation platform and different marketing automation strategies businesses use, along with a few examples.
We will also look at the best B2B marketing automation platforms, so you can pick the one suited to your business needs.
What Is B2B Marketing Automation?
B2B marketing automation is the process of streamlining marketing tasks through workflows and triggers to boost team productivity. The main purpose of marketing automation software is to effectively capture, evaluate, and nurture leads and accounts, ensuring they are matched with the most suitable sales team member(s).
Another important objective is ongoing engagement through sales and/or marketing efforts to facilitate the success of closing deals.
How Can B2B Companies Benefit From Marketing Automation?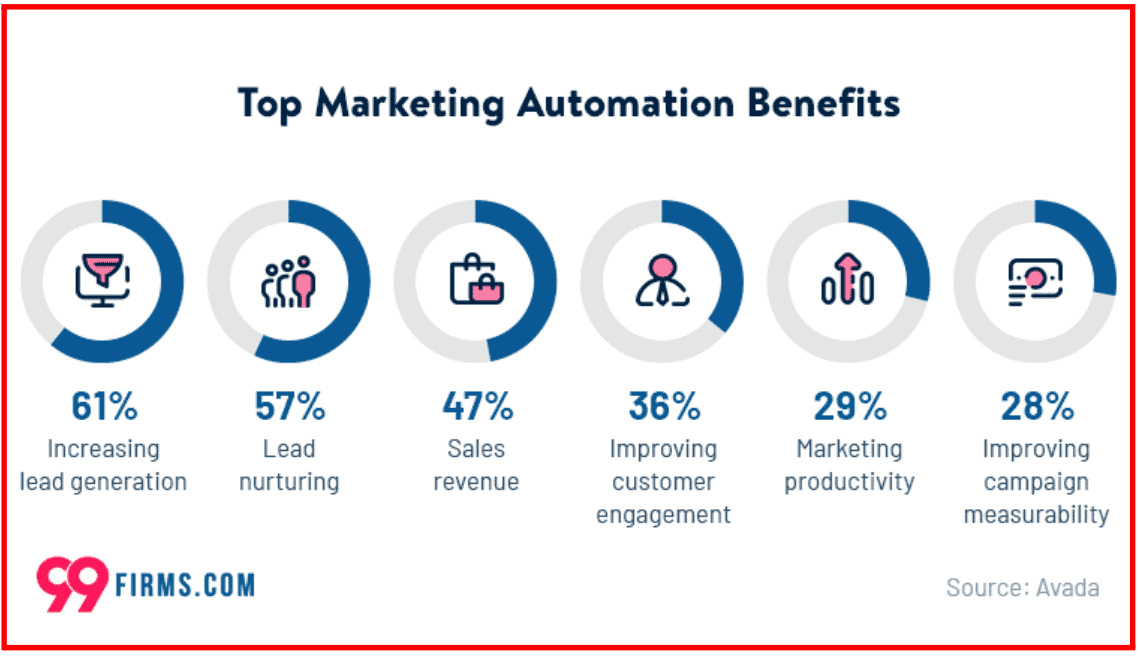 A Sales Fusion survey revealed that brands using marketing automation tools experienced a 14.5% increase in sales productivity, with a rise in lead generation and a reduction in marketing overhead costs.
This is why 63% of B2B marketers will increase their marketing automation budget this year. The marketing automation industry is growing, and it is estimated that the global marketing automation market size will reach USD 8.42 billion by 2027.
But the survey found that quality automation and creating personalized content using marketing automation tools as the most significant challenges.
Let's learn how to realize the full potential of your marketing automation software and boost your revenue.
Read also: 7 Powerful eCommerce Marketing Automation Strategies + Tools
5 B2B Marketing Automation Strategies That Work
Let us start by looking at some of the most common yet effective B2B marketing strategies, along with a few examples.
#1. Lead Scoring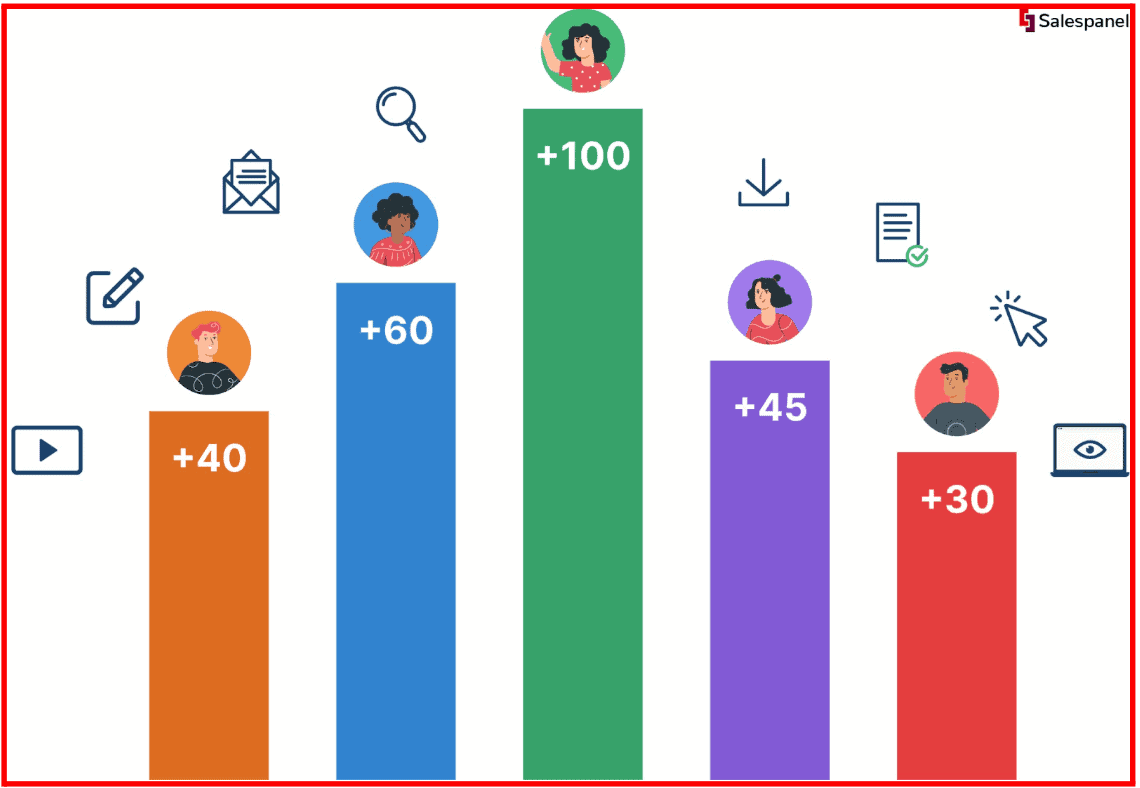 Lead scoring is the process of assigning values to prospects based on certain attributes or characteristics. The score can also depend on the level of interest shown by the prospect in your product or service or the actions taken by them on your website.
This data-driven approach allows you to focus your efforts on nurturing leads that are more likely to become paying customers. For instance, an IT service provider can assign higher scores to leads who have downloaded a whitepaper or attended a webinar, indicating a higher level of interest.
You can easily automate the process of leading scoring in your marketing automation software. Once a prospect is added to the contact database, the marketing automation platform automatically assigns scores and qualifies your leads.
You just need to define your lead scoring model in the marketing platform.
Read also: Marketing Automation For Manufacturing: Beginner's Guide
#2. Trigger Email Marketing
Trigger marketing is a type of B2B marketing automation strategy that entails sending out emails or messages based on actions taken by users.
A common example of trigger marketing is welcome or onboarding emails. These emails are sent whenever someone signs up or subscribes to a brand.
Now, the average open rate for welcome emails is 50%, and it has 33% more engagement with the brand than the rest of the email messages. Yet only 57.7% of companies send welcome emails to their new users.
With trigger marketing automation, you can set up your site in a way that whenever a lead or prospect signs up, they are automatically sent a welcome email. EngageBay has a wide range of welcome email templates for B2B businesses.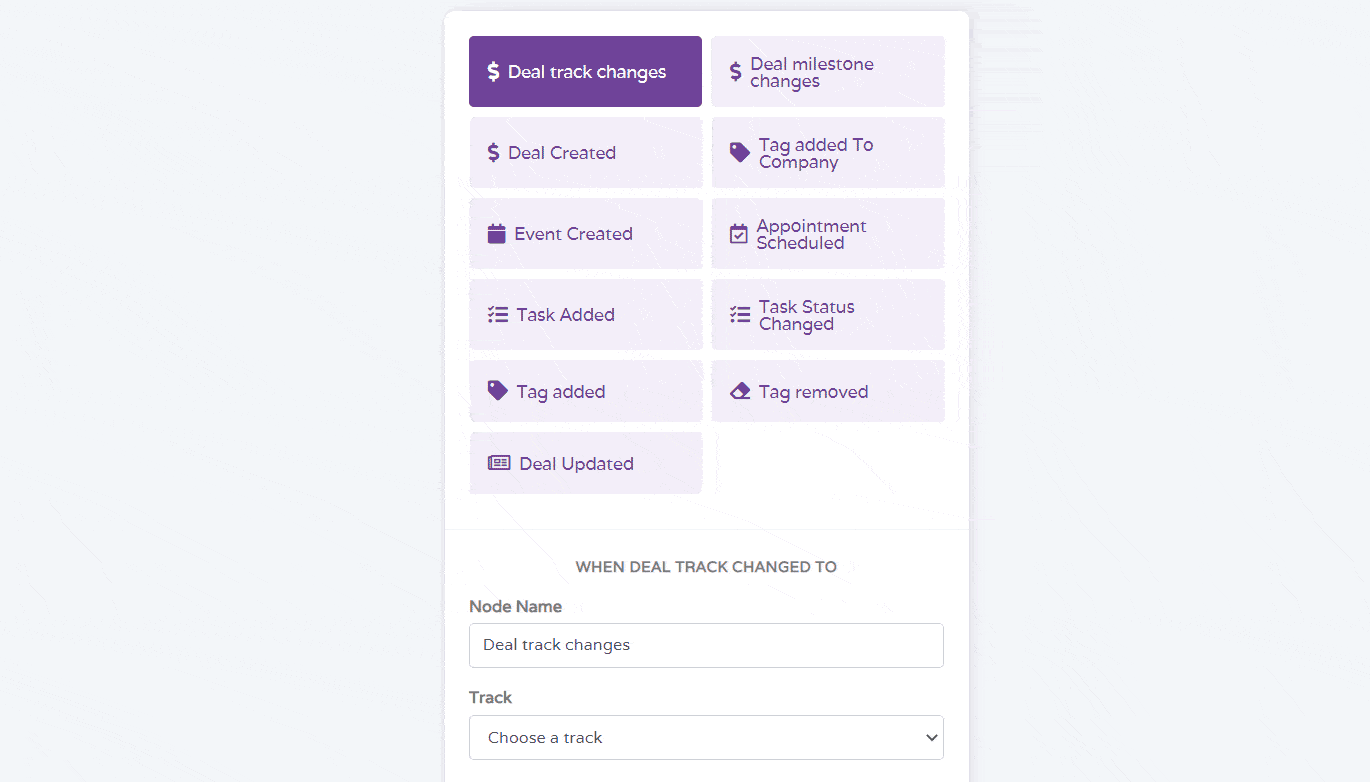 Another example would be – when a lead downloads a whitepaper from your website, you can set up an automated email series to deliver relevant follow-up content. This strategy nurtures leads, keeps your brand top-of-mind, and guides prospects through the sales funnel.
Read also: Marketing Automation Use Cases & Examples From Top Brands
#3. Customer Onboarding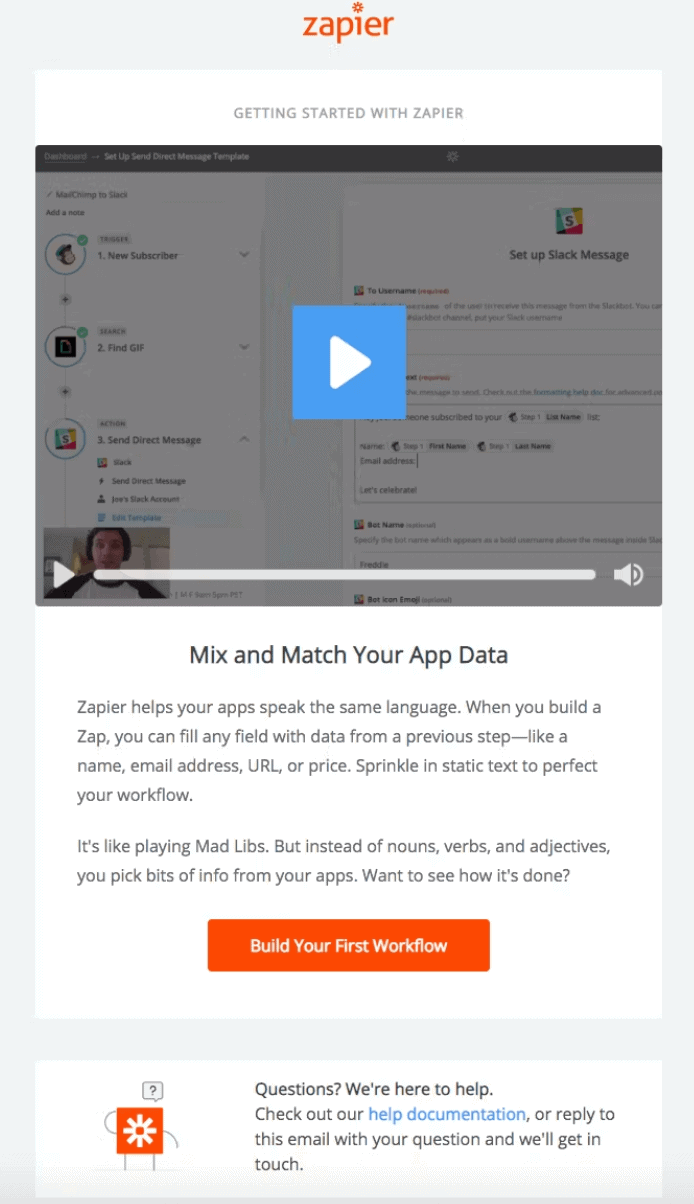 Customer onboarding involves making new clients familiar with your products and services. Using marketing automation, a B2B company can send a series of welcome emails, along with video tutorials, to guide new customers through the setup and configuration process.
In the above example, Zapier helps onboard its customers by providing them with a video tutorial along with a brief description of how to use the platform. There is also a link that directs users to the help documentation webpage, where they can resolve their queries.
Read also: A B2C Marketing Automation Guide To Reach Buyers With Less Effort
#4. Upselling

Another B2B marketing automation strategy that companies use to retain existing customers is upselling and cross-selling. By tracking customer behavior, purchase history, and engagement patterns, you can trigger automated campaigns to promote complementary products or premium upgrades.
In the example here, Slack, a popular instant messaging and business communications platform, uses automation to send personalized recommendations to customers. It allows users to upgrade to a paid plan to send and receive more than 10,000 messages and access their conversation history anytime.
Read also: Account-Based Marketing vs Marketing Automation: A Guide
#5. Lead Nurturing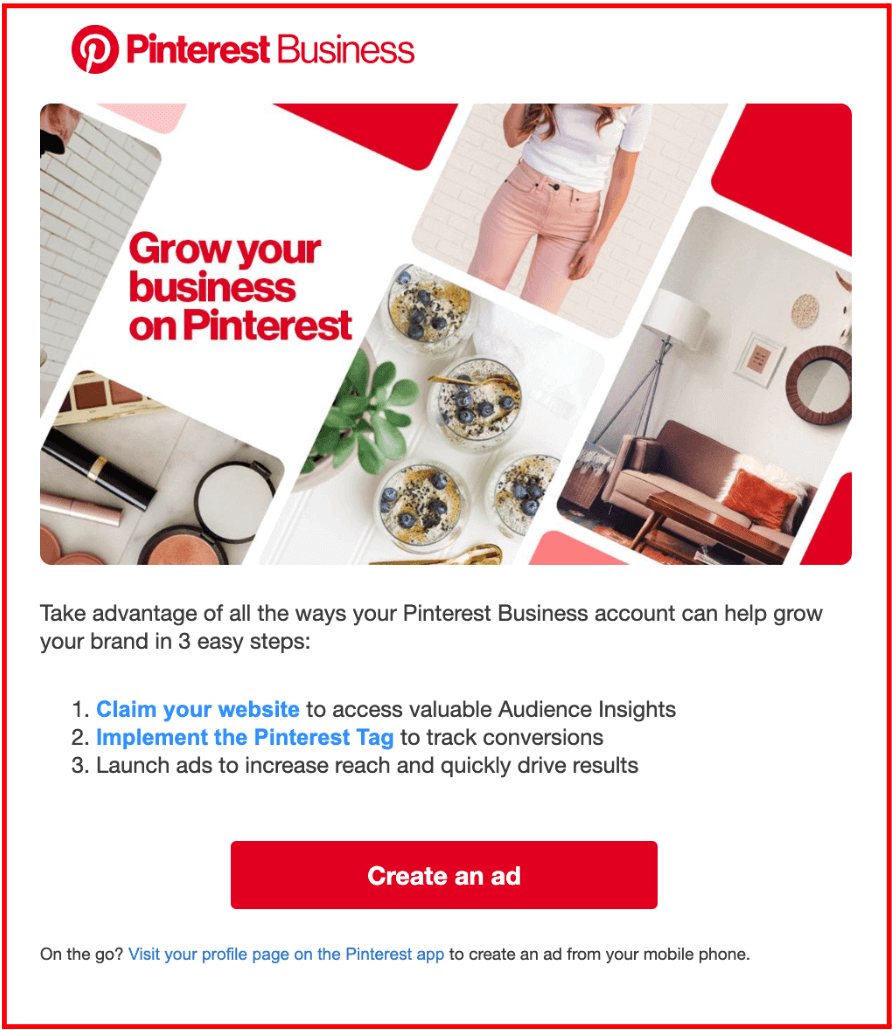 Lead nurturing is the process of developing relationships with potential customers. Once you have identified the right leads, it is time to persuade them to convert into customers by convincing them why your brand is the best choice.
For instance, a B2B company can set up an automated lead nurturing campaign that sends a series of educational emails to prospects, sharing valuable industry insights, case studies, and success stories.
In the above example, Pinterest, an online image-sharing and social media platform, is educating its audience on how to use Pinterest the right way. It shares three different tools on the Pinterest Business account that can help their brand grow.
Read also: Mastering The Interview: Essential Marketing Automation Questions And How To Answer Them
#6. Behavior-based Segmentation
Segmenting your audience based on their engagement and other activities on your site allows you to send targeted and relevant emails. By analyzing data on how leads interact with your website, emails, and content, you can automate campaigns that cater to their specific needs and preferences, increasing engagement and conversions.
For instance, a SaaS company can segment its audience based on the pages they visit on your website. This will allow you to send targeted content and offers based on their interests.
Let's say XYZ corporation that deals in office supplies to businesses of all sizes. It segments its audience into two categories – frequent buyers and occasional buyers. Now, for regular buyers, the company can send them special offers or promotions, such as discounted package offers, to encourage them to continue buying from the brand.
Read also: SaaS Marketing Automation Explained (+ Top 5 Tools to Consider)
5 Outstanding B2B Marketing Automation Examples
Here, we will look at some of the real B2B marketing automation examples you can get inspired and implement in your organization.
#1. Customer.io increased its sale by 4.2% through concierge onboarding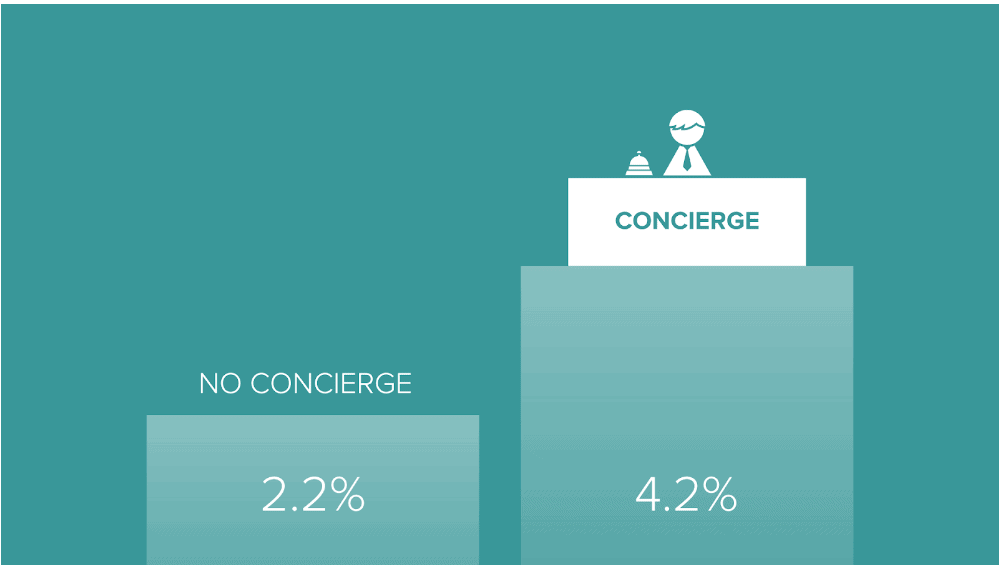 Customer.io is an automated messaging platform that helps companies send data-driven messages and emails across multiple platforms. It used the concept of concierge onboarding to attract customers and onboard them quickly.
For those who don't know, concierge onboarding is a simple practice of offering leads and customers the ultimate personal service to minimize the time users take to get familiarized with your product or service.
Under the practice of concierge onboarding, Customer.io tried to contact its customers using various communication tools. These included automated emails, scheduled phone calls, and automated text messages.
Reports were automatically generated for the success rate of each communication tool to evaluate how to get in touch with prospects and shorten the sales cycle.
The result? 4.2% of the people who had received the offer of concierge onboarding converted to a paid account.
You can read the full case study here.
Read also: Success Stories: 10 B2B Marketing Automation Examples
#2. PandaDoc started using chatbots to generate and convert leads
Automated chatbots are great tools for customer service; they are equally beneficial in marketing efforts as they can help make campaigns more personalized and help educate leads in their buying journey.
In this example, PandaDoc, a document automation, and e-signing service, deployed chatbots on their website to generate leads. Their main goal was to convert website traffic into demos.
The result? After two years of using and testing workflows and link content, they saw that their chatbot leads actually made it to the top five generating and converting lead sources.
Using chatbots requires a lot of planning and testing to start getting effective results. Have your copywriters or email marketers write a solid script for your chatbot.
Read also: Marketing Automation 101 For The Beginner [With Examples]
#3. Business Ninjas cut marketing costs by 82% using a CRM
Business Ninjas, a Manchester-based digital marketing service provider, helps businesses unlock the power of LinkedIn and use it to drive marketing and sales.
Customers were flooding in, and manually tracking everything wasn't helping them. Thus they needed a marketing solution to help manage their huge contact database.

Business Ninja wanted an affordable, all-in-one CRM solution to unify all their teams and achieve a 360-degree view of their customers.
With EngageBay, the company could use A/B testing, account-based marketing, social media management, conversational inboxes, and more.
EngageBay's CRM offered all these and more in a unified platform, and they could scale down marketing and operational costs without affecting revenue.
Read the whole case study here.
#4. Evans Manufacturing saw a 3x increase in email open rates and a 23% increase in revenue
Founded in 1994, Evans Manufacturing deals in offering personalized promotional products (also called branded goodies) to businesses across various industries.
Evans Manufacturing was facing intense competition, and they needed to switch to relation-based selling to grow their market.
That's when they decided to implement a marketing automation tool. They created a well-tailored sales cycle where they would send out automated, well-defined email follow-ups and saw a 3x increase in their open rates.
Before using marketing automation tools, email campaigns at Evans Manufacturing had low open rates and could not even track click-through rates (CTR).
These targeted email sending allowed them to speed up their sales process and easily track their progress.
Read it here.
#5. IT company increased leads by 59%, generates $1.5 million with marketing automation implementation
CentricsIT is an IT company that provides several solutions for the enterprise data center – from technology support to IT staffing to hardware. They were struggling to manage their leads and generate higher ROI effectively.
But their Manager of Marketing Communications, Mandy Hauck, who had expertise in email marketing, knew she could integrate marketing automation with email marketing to generate leads.
Before implementing a marketing automation platform, they didn't have a refined email method.
They used to simply blast holiday emails to their contact database. But after implementing the automation tool, they focused on four areas – CRM integration, lead scoring, triggered email campaigns, and advanced reporting.
The result? Lead generation increased by 59%, and the company witnessed revenue growth of over $1.5 million.
Read also: Cracking The Marketing Automation Process [101 Guide]
Best B2B Marketing Automation Platforms
To maximize ROI, a B2B business must choose the right marketing platform.
There are tons of options available in the market. You need to consider factors like budget, functionalities, ease of use, customer support, and available integrations to decide.
Here, we review the five popular B2B marketing platforms based on their functionality, affordability, and other factors.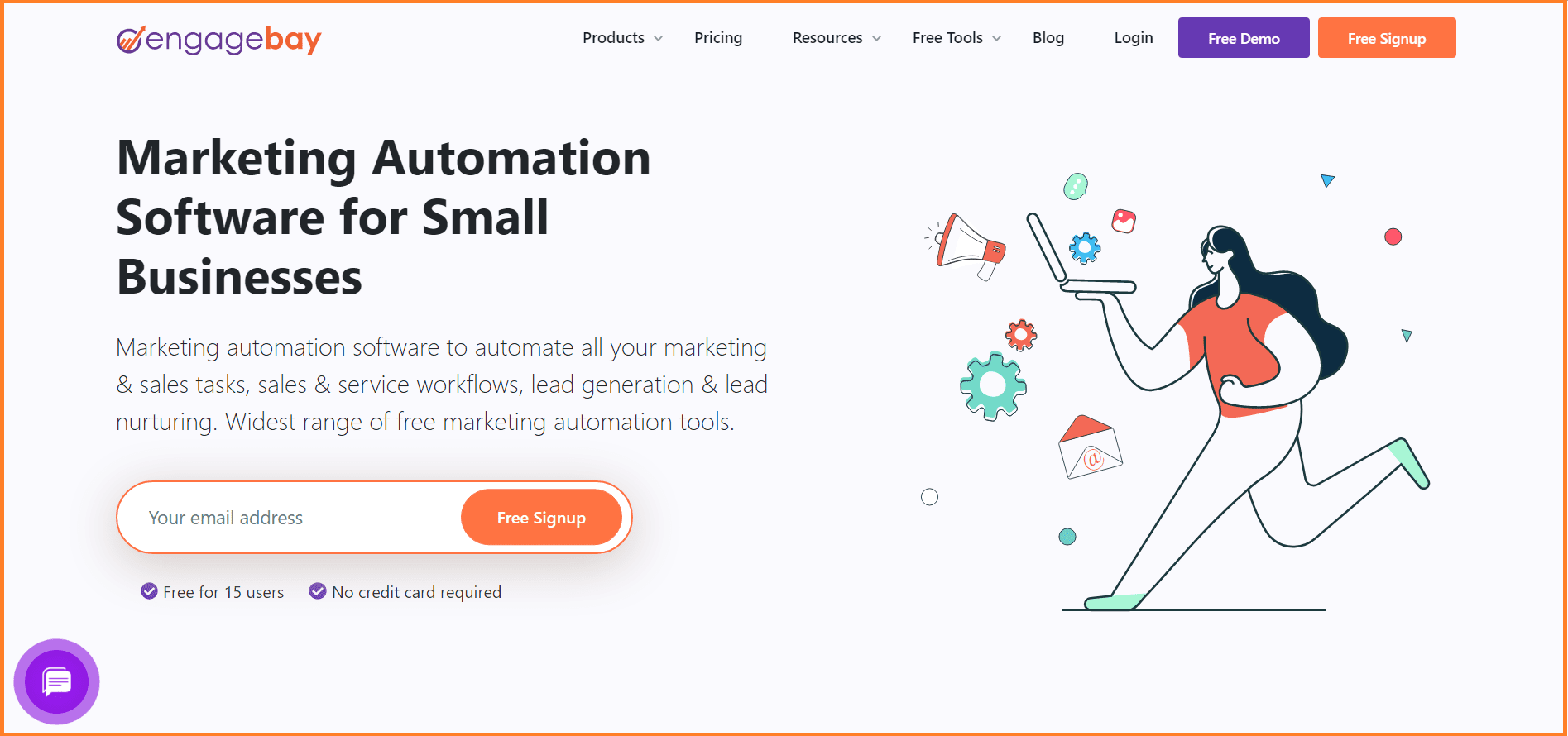 EngageBay is an affordable, all-in-one platform that offers solutions for all aspects of your business. This B2B automation platform provides various marketing automation tools that connect easily with your sales and customer service software.
Key Features
Pros

EngageBay is easy to use and has highly responsive customer service, making it the go-to platform for small and medium-scale businesses.
Cons

Users found the mailing list effective. However, they expect to create more mailing lists without the need to buy a more expensive pricing plan. Further, deactivating accounts that have been inactive for a week makes it difficult for companies that don't use the platform regularly.
Pricing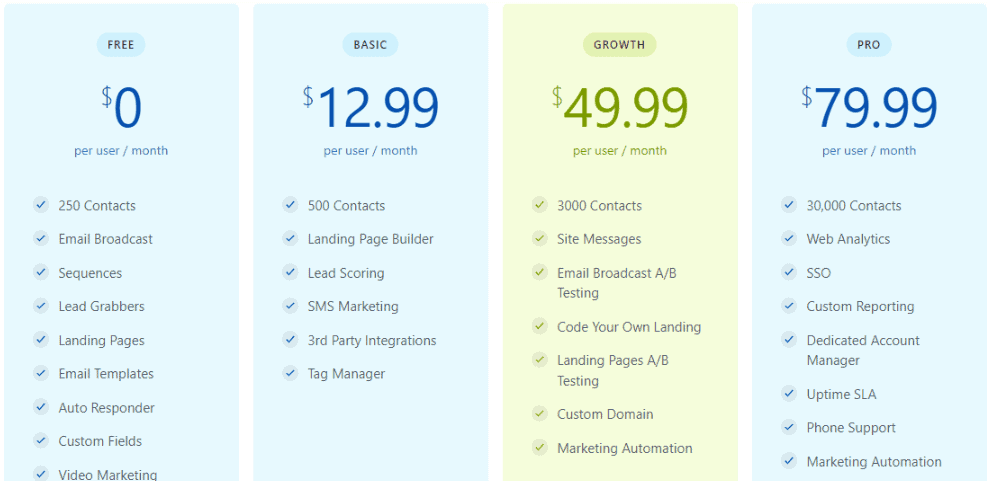 EngageBay's 'Marketing Bay' offers four pricing plans: Free, Basic, Growth, and Pro.
The Free Plan provides up to 250 contacts along with tools, such as email broadcasting, sequencing, built-in landing page and email templates, autoresponders, video marketing, and live chat.

Under the Basic Plan, you can get up to 500 contacts, landing page builder, SMS marketing, tag management, and third-party integrations for $12.99 per user per month.
The Growth Plan costs $49.99 per user per month and boasts additional functionalities like site messages, A/B testing, custom domains, and marketing automation.
With the Pro Plan, you can avail of web analytics, SSO, custom reporting, a dedicated account manager, and phone support for $79.99 per user per month.
Read also: 14 Best Marketing Automation Tools For Small Businesses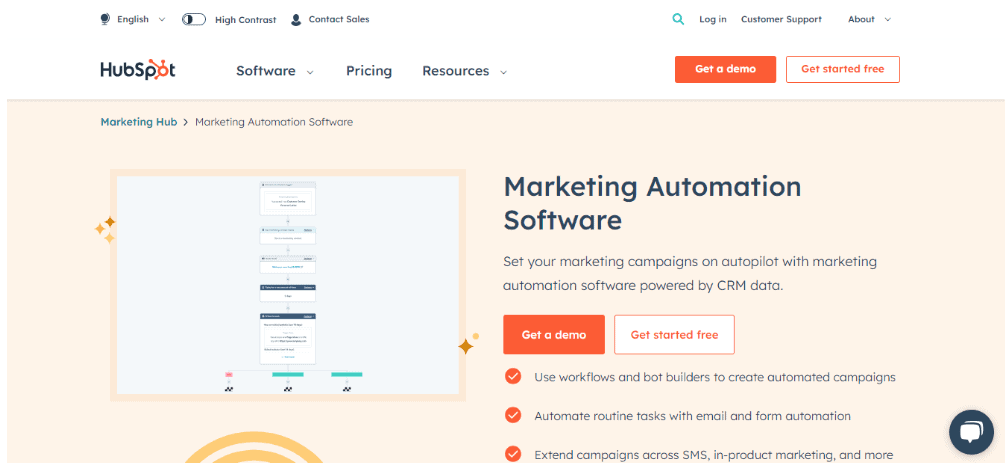 HubSpot is one of the most popular marketing automation platforms that boasts a comprehensive range of features. However, it can be on the expensive side, and thus, it's best suited for large enterprises.
Using its marketing automation software, you can put your marketing campaigns on autopilot powered with data from its CRM platform.
Key Features
Pros

HubSpot is popular among marketers owing to its all-in-one functionality and seamless integration.
Cons
HubSpot's pricing model may deter new and small companies from using the platform.
Pricing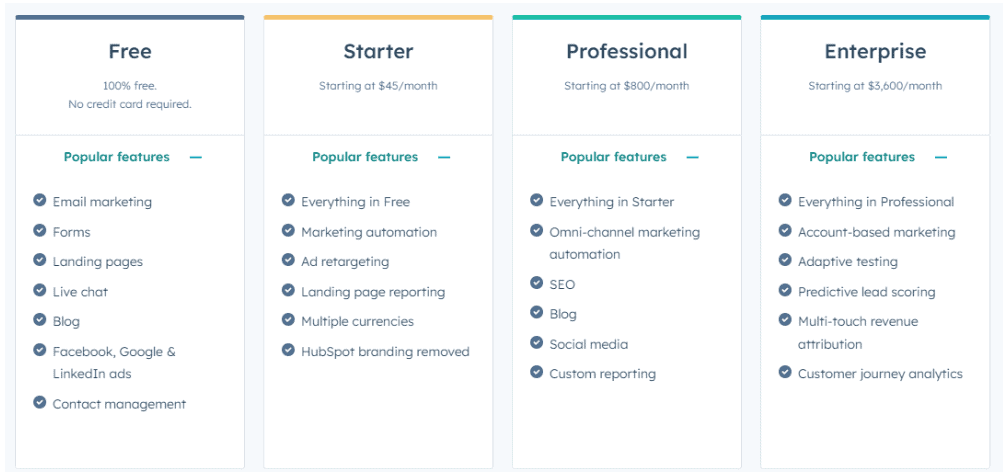 HubSpot has four pricing plans: Free, Starter, Professional, and Enterprise.
The Free Plan comes with tools such as email marketing, built-in web forms, landing page templates, live chat, and contact management.
The Starter Plan costs $45 per month and includes additional tools like ad targeting, landing page reporting, and marketing automation.
Under the Professional Plan, you can avail of omnichannel marketing automation, custom reporting, social media management, and blog analytics for $800 per month.
For those looking for advanced functionalities, choose the Enterprise Plan. Starting at $3600 per month, it includes account-based marketing, adaptive testing, multi-touch revenue attribution, and customer journey analytics as key features.
Read also: 9 Top HubSpot Competitors That Cost a Lot Less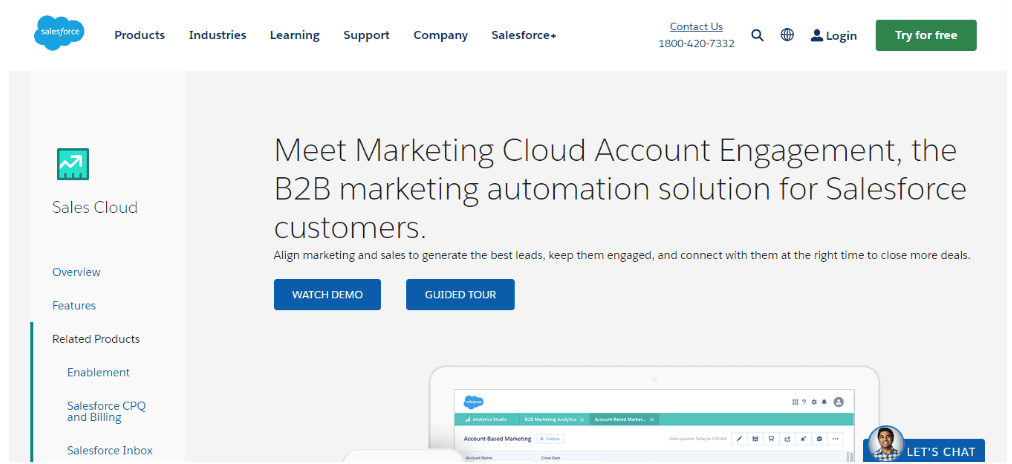 Salesforce's B2B marketing automation platform, Marketing Cloud Account Engagement, helps align your sales and marketing team together by providing a wide range of AI-powered tools that help you create and manage your marketing campaigns from a single platform. Additionally, Salesforce CPQ consulting offers specialized guidance to further enhance and streamline your quote-to-cash processes within this integrated ecosystem.
Key Features
Pros

Salesforce's marketing automation boasts an easy-to-use interface as well as pre-designed email templates that can be customized to send targeted content to prospects, driving conversions.
Cons

The reporting and analytics feature needs improvement since it can be difficult to navigate for first-time users.
Pricing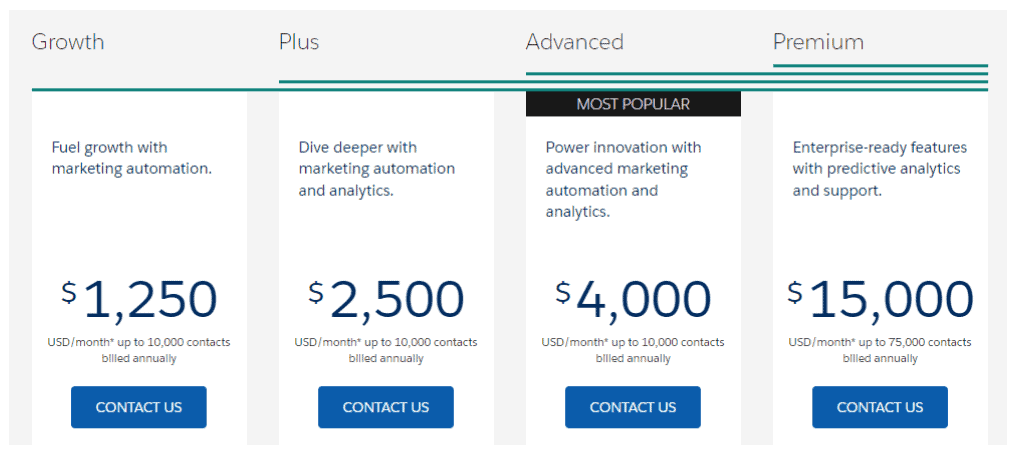 Salesforce boasts four pricing plans: Growth, Plus, Advanced, and Premium.
The Growth Plan costs $1250 per month and includes tools such as lead qualification and management, email marketing, and ROI reporting.
Under the Plus Plan, you can get additional tools like lead nurturing, engagement programs, advanced dynamic content, and advanced analytics and reporting for $2500 per month.
With the Advanced Plan, there are advanced features such as AI-powered marketing and sales, multi-touch attribution models, and custom object integration for $4000 per month.
The Premium Plan costs $15,000 per month and comes with user management, custom user roles and permissions, account identification, and lead scoring as key tools.
Read also: Is Salesforce a CRM? A Simple, In-Depth Guide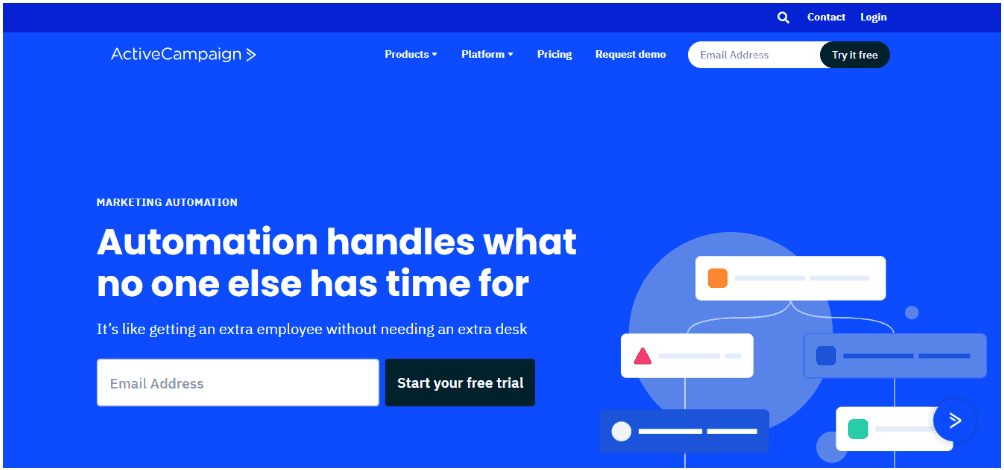 If you are looking for a B2B marketing automation platform that helps you create visually appealing yet effective email marketing campaigns, look no further than ActiveCampaign. Its wide range of tools and integrations make it the go-to marketing automation platform for all kinds of businesses.
Key Features
Pros

A user-friendly interface and ease of integration make ActiveCampaign a popular marketing automation platform.
Cons

At times, the reports are complex and difficult to understand.
Pricing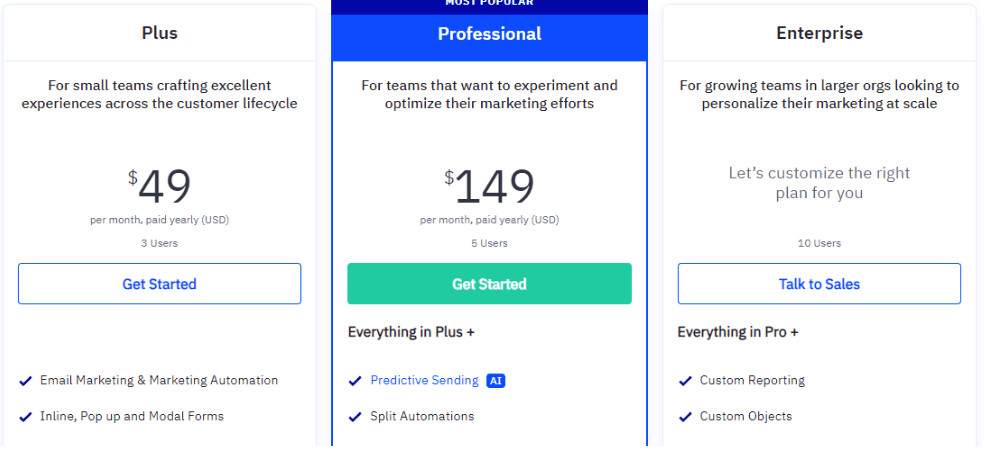 ActiveCampaign has three pricing plans: Plus, Professional, and Enterprise.
The Plus Plan starts from $49 per month. Some of its important features include email marketing and automation, built-in pop-up forms, site, and event tracking, pre-built landing pages, and AI-powered lead content generation.
With the Professional Plan, you can get more tools like predictive sending, split automation, attribution reporting, conversions, and site messaging, for $149 per month.
Under the Enterprise Plan, you can access tools like custom reporting, SSO, uptime SLA, a custom mail server domain, and unlimited email testing. Users can contact their sales team directly to avail of this plan.
Read also: 11 of the Best ActiveCampaign Alternatives (Features, Pricing)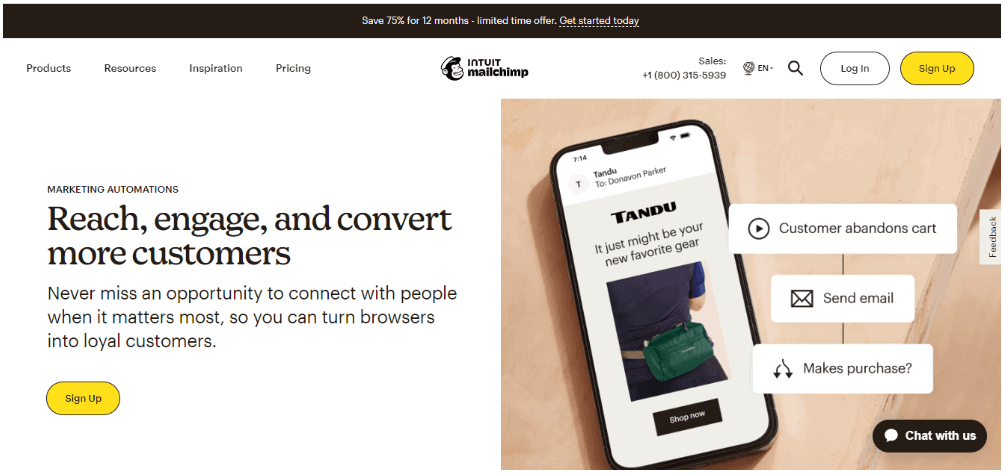 Mailchimp is another all-in-one email marketing and automation platform well-known among marketers. With Mailchimp, you can not only build effective email campaigns but also create customized journeys to increase conversions.
Key Features
Pros

One of the reasons marketers prefer Mailchimp is its highly intuitive interface, which makes it easy to create and schedule marketing campaigns.
Cons

At times, the automation process can be hard to understand and use. It might not be suitable for non-profit organizations that do not need complex workflows.
Pricing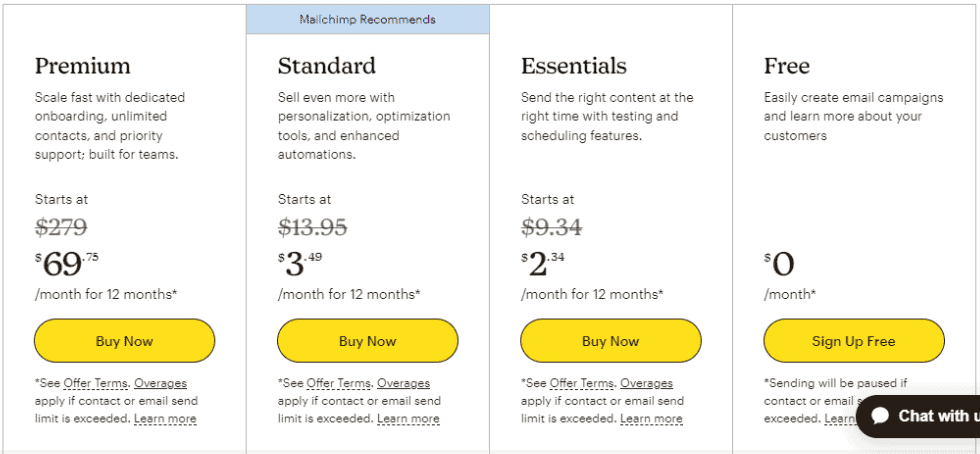 This B2B marketing automation software offers four pricing plans: Free, Essentials, Standard, and Premium.
The Free Plan is ideal for startups and first-time users. It has email customer support, reporting and analytics, pre-built email templates, form and landing pages, and a creative assistant.
The Essentials Plan starts from $2.34 per month. Its key tools include 24/7 email and chat support, over 300+ integrations, personalized onboarding, role-based access, and A/B testing.
With the Standard Plan, you can get email scheduling, automated customer journeys, custom-coded templates, send time optimization, and predictive segmentation, for $3.49 per month.
The Premium Plan starts from $69.75 per month and has advanced functionalities such as content optimizer, dynamic content, and phone and priority support.
Read also: How Does Mailchimp's Pricing Compare To Its Competitors?
Wrap Up
B2B marketing automation does not have to be complex. With the right tools, you can use marketing automation to scale your business to new heights.
78% of marketers revealed that marketing automation helped increase revenue.
Although choosing and implementing the right marketing automation platform can take time, its benefits far outweigh the costs. You not only save time and money but also boost team productivity since they can now focus more on improving customer experience, thereby increasing revenue.
If you are looking for an affordable B2B marketing platform, look no further than EngageBay. It's free for up to 14 users. Contact us to get a demo.