Change is the only constant.
In the digital era we live in, change happens every second.
The marketing world, influenced by the advancement of technology, is constantly evolving with newer strategies to reach customers every day.
Behavior marketing, or rather behavioral "targeting," is one approach that has strengthened the essence of marketing in recent times.
In a world where marketing is met with cut-throat competition, staying relevant and responsive to your audience's needs and wants is key to achieving your goals.
Behavior targeting helps marketers stay relevant to the cause and to the customer, which in turn helps both parties to benefit from the process.
Let us take a closer look at this approach and why it is the future of marketing. The core points we will be covering in this blog are:
The nuts and bolts of behavioral targeting

Behavioral segmentation and how it works

Proven behavioral targeting examples
Let's get started!
The Nuts and Bolts of Behavioral Targeting
Marketing is no longer dead reckoning based on how much traffic a site receives or what a typical consumer interest "might be."
Gone are the days of personalized email targeting based on an extensive speculative demographic client profile and hoping the message is targeted enough.
An accurate needle-like focus is needed to micro-target consumers and deliver precisely what they need.
Behavioral marketing does that by hyper-targeting consumers based on their behavior and individual engagement.
Behavioral targeting entails gathering data such as customer behavior and actions, how the average customer reacts on your site, for instance, and based on these inputs segmenting the client profile to match their interests, objectives, and needs to create a personalized marketing approach.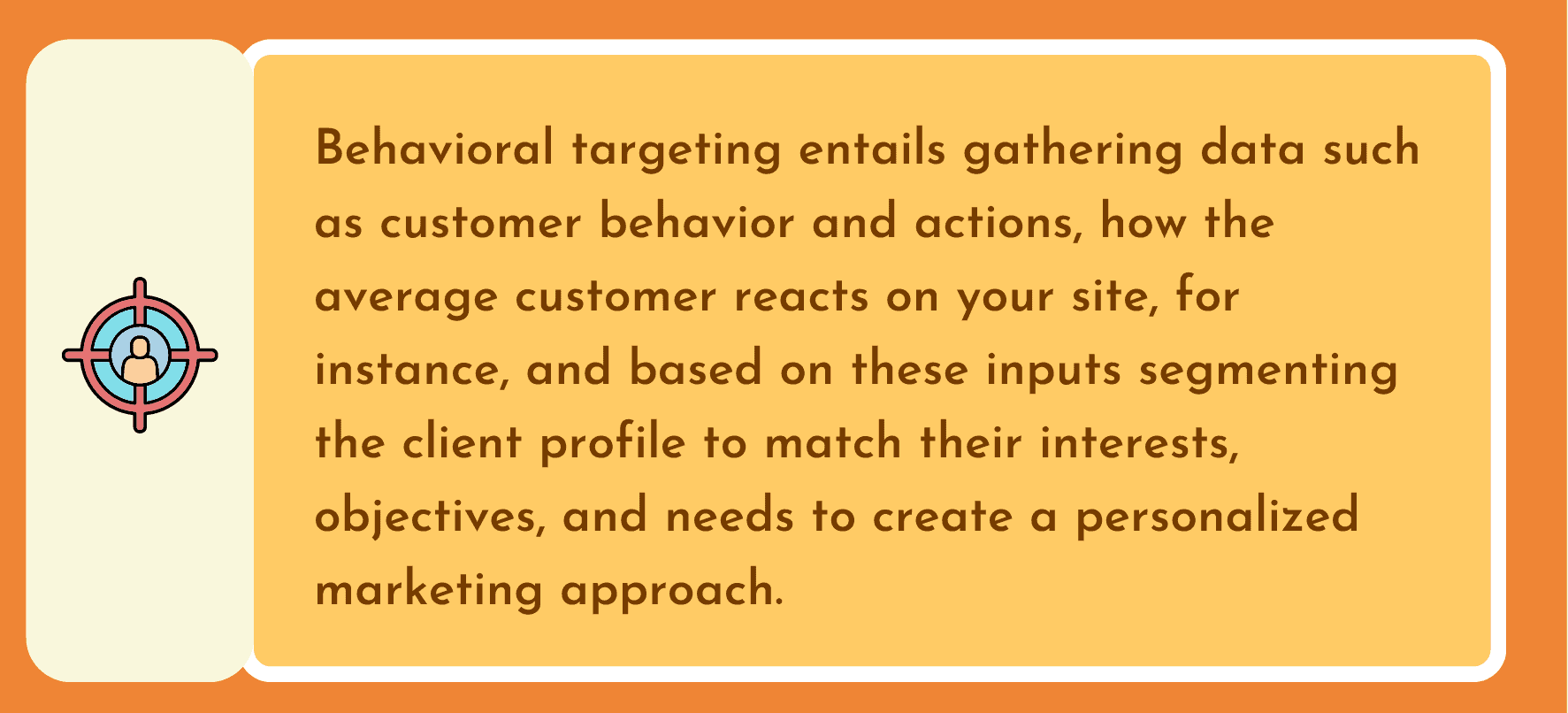 By developing a highly targeted marketing approach based on real-time consumer behavior, you are ensuring higher engagement, greater conversions, and ultimately elevated customer satisfaction.
To understand this model better, let us dive deeper.
Read also: What Is Audience Segmentation & What Is Its Impact on Marketing
Why behavior marketing?
Behavioral marketing is a highly-personalized targeting curated based on the customer's activity. This approach initiates a way for marketers to connect with prospects who are most likely to make a purchase or engage with your posts.
This is great for both parties; for marketers, personalized marketing is most effective in targeting suitable consumer profiles, and for consumers, they get exactly what they need — when they need it.
An in-depth study of consumer behavior helps marketers figure out how best to present a product. Marketers can fill the void and help consumers make informed decisions by understanding how a consumer typically reacts to a product.
93% of companies with a personalized and targeted marketing approach witness steady revenue growth.
Although the end goal of marketing may vary from business to business, the common ground for every company is to increase engagement and boost conversions.
Individualized and targeted content conveyed at the right moment to the right client will increase the chance of the customer taking the action they need to benefit both parties.
Such personalized content also creates an elevated customer experience as you convey precisely what they wish to hear.
87% of customers have said that it is essential for them to buy from a brand that "understands their real self," according to Accenture.
Thus, curated content wins the hearts of consumers and helps salespeople close deals better.
Benefits of behavioral targeting
Here are four reasons why behavioral targeting is different from conventional targeting:
Informed decision

: The personalized, targeted content helps consumers, based on your recommendations, conduct their research and make an informed decision while purchasing a product.

Credibility

: Consumers these days are difficult to charm. They rely on authenticity and proven information rather than fancy marketing gimmicks. Behavioral marketing enables marketers to present their best face and influence the consumer positively towards a decision.

Easy to foresee the future

: By studying the behavior and engagement pattern of consumers, marketers will have data to help them predict customers' purchasing patterns.

Peek into the consumer's mind:

Behavioral study gives marketers a look into the consumer's mind. This gives companies an understanding of how to reach them and what type of influences would lead to conversions.
To get started, let us understand how behavioral segmentation work.
Read also: 10 Epic Banner Ad Examples: Stupendously Creative!
Behavioral Segmentation and How It Works
Effective marketing generally works by segmenting the target audience into different typologies. These typologies may vary from demographic to age, gender-based, or other influencing factors such as interest.
While this might work while marketing to a generic audience, targeting requires a much more focused approach.
With behavior segmentation, a marketer further divides the audience into different leagues based on how they engage with your business or how they choose to behave with your marketing efforts.
A typical behavior analysis should disclose:
What is the consumer's thought process when they interact with your business?

What are the factors influencing a customer toward making decisions about a product?

What behaviors do customers exhibit while researching a product?

How do consumers feel about your competitors' products?

How many interactions lead to a successful conversion?
The above points are just to give you a picture, although many more factors are taken into consideration during a behavior analysis.
Read also: CRM in Ecommerce — The Perfect Partners for Personalization
The four kinds of behavioral segmentation
Based on a deep consumer behavior analysis, each consumer profile is segmented into four major types, categorized by different behavioral patterns and approaches. These are:
Purchase-usage behavior

Occasion-timing based behavior

Segmentation based on benefits sought

Customer loyalty based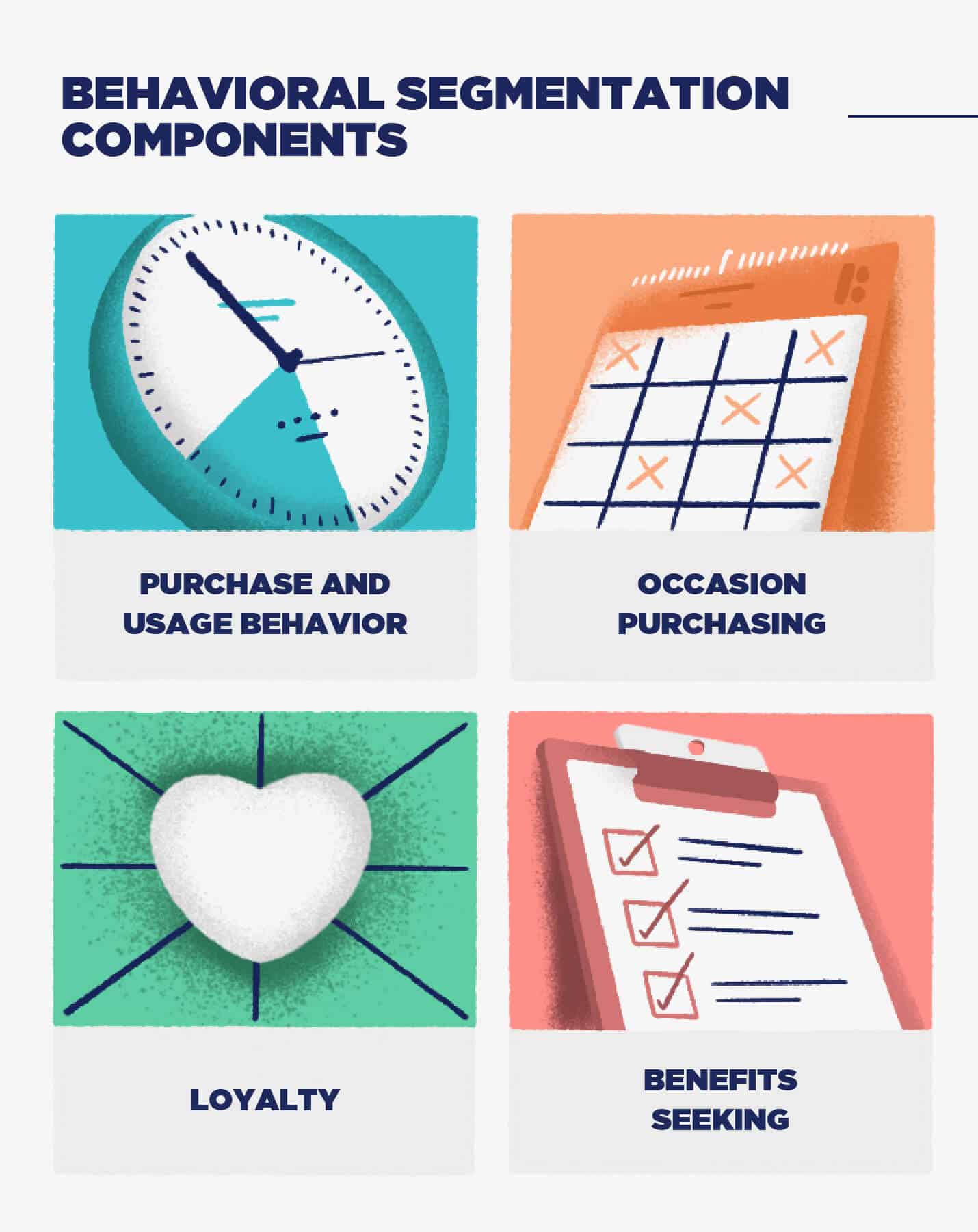 Let us take a closer look into what these segmentations are and how they work.
Purchase-usage behavior
Segmentation based on purchase behavior is one of the commonly used approaches to behavioral targeting. This approach provides an analysis of the initial buying stage of the customer journey.
Valuable insight, including data on your role in purchasing, the influencing factor that might trigger a purchase, and what hurdles they might be facing, form the basis of a typical purchase usage behavior.
An excellent example of this form of segmentation is dividing consumers on how they react or don't react to a particular product.
Some consumers might be in the research phase of their buying journey and compare prices to see which brand offers the "best price."
Knowing the influential factors is key to purchase-based targeted marketing.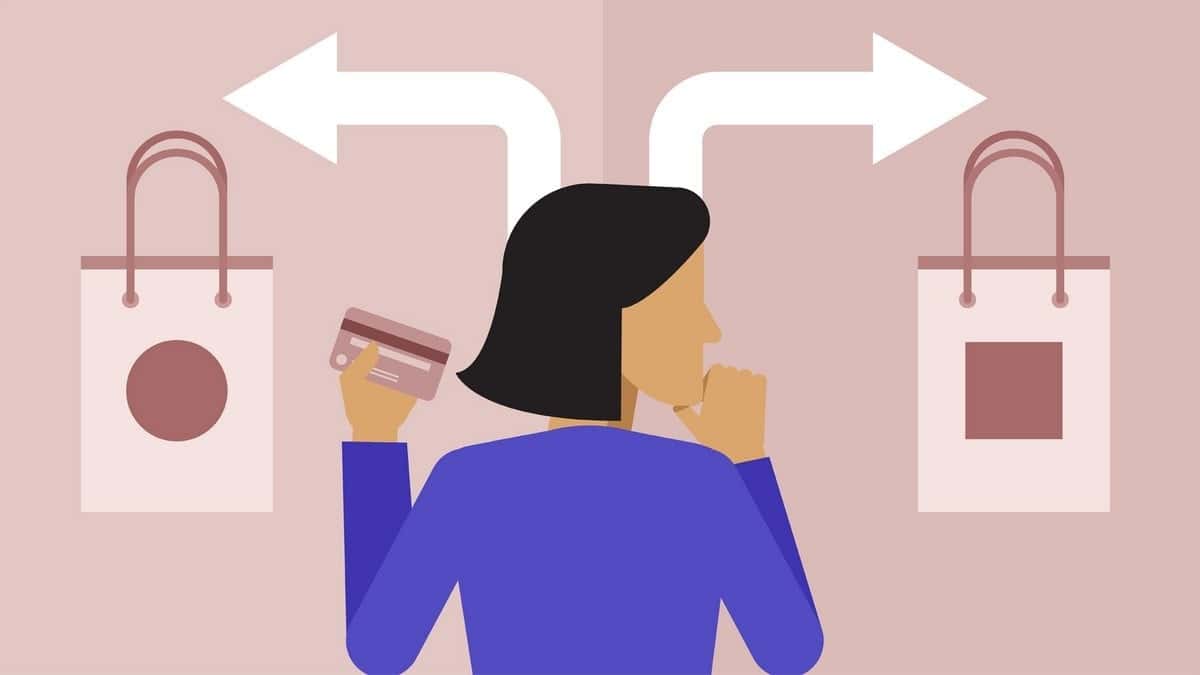 Occasion-timing based behavior
Occasion or timing-based segmentation is the categorization based on customer behavior during an occasion such as holidays or life events such as weddings.
Timing-based purchasing behaviors can be a weekly or daily analysis based on a customer's daily routine. An example of time-based purchasing is the happy hour of drinks offered by pubs or morning coffee and breakfast promotions by eateries. These purchases are made during a particular time window.
This form of segmentation helps marketers establish a pattern of buying and target customers based on the period or occasion.
For instance, if customers purchased more during an annual clearance sale event compared to the rest of the year, this gives insight for marketers to focus on this yearly campaign and promote it more and better.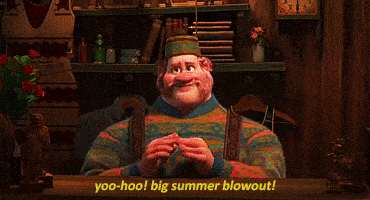 Segmentation based on benefits sought
Benefits sought segmentation essentially splits customers based on the value they seek to gain from a product or service.
Take face creams, for example. What pushes a consumer to make the purchasing decision might be the cosmetic benefits of the product, such as softer skin. Some might seek to make the purchase for its medicinal properties, such as the treatment of dry skin or acne.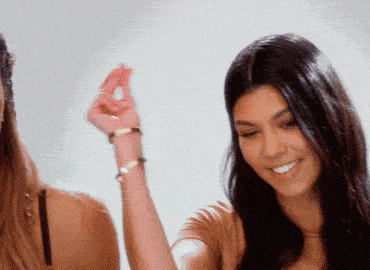 Dividing the consumer profile based on the benefits they gain from a product helps marketers funnel the product characteristics that customers seek. This helps fine-tune your marketing efforts across different channels.
In addition, this will give marketers valuable insights such as which feature or service is well received, how to improve the quality of products, what makes their products unique and better than competitors, and more.
Customer loyalty-based segmentation
Customer loyalty-based segmentation leverages a consumer's loyalty to a brand, which is measured based on the number of purchases, customer loyalty reward programs, or the level of engagement a consumer has with a brand.
This segmentation approach helps marketers focus on loyal customers who repeatedly choose a brand and understand their behavior patterns to fine-tune the marketing efforts. The inputs gained during this process can help polish campaigns, improve the brand's position, re-target and align end goals with the customer's vision.
Important customer feedback is also gained during this process.
A notable example of customer loyalty-based segmentation is the rewards program credit card companies offer. The more you use the card, the higher the reward, giving credit companies insights into their most loyal customers' purchasing patterns.
Read also: Why Database Marketing is the Future of Personalization
Proven Behavioral Targeting Examples (and Why They Were Successful)
Behavioral targeting, when used appropriately, can produce remarkable results. What once might have been a dead end can be metamorphosed into loyal and happy customers.
Here are a few proven real-life examples of behavioral targeting to strengthen our point:
Olay: Benefits sought based on targeting
Using a combination of artificial intelligence and customer profiling, the popular American brand Olay created a specialized Skin Advisor. What this tool essentially does is collect information based on a quick survey. Based on the inputs, the advisor displays the actual age of the customer's skin and produces skin product recommendations accordingly.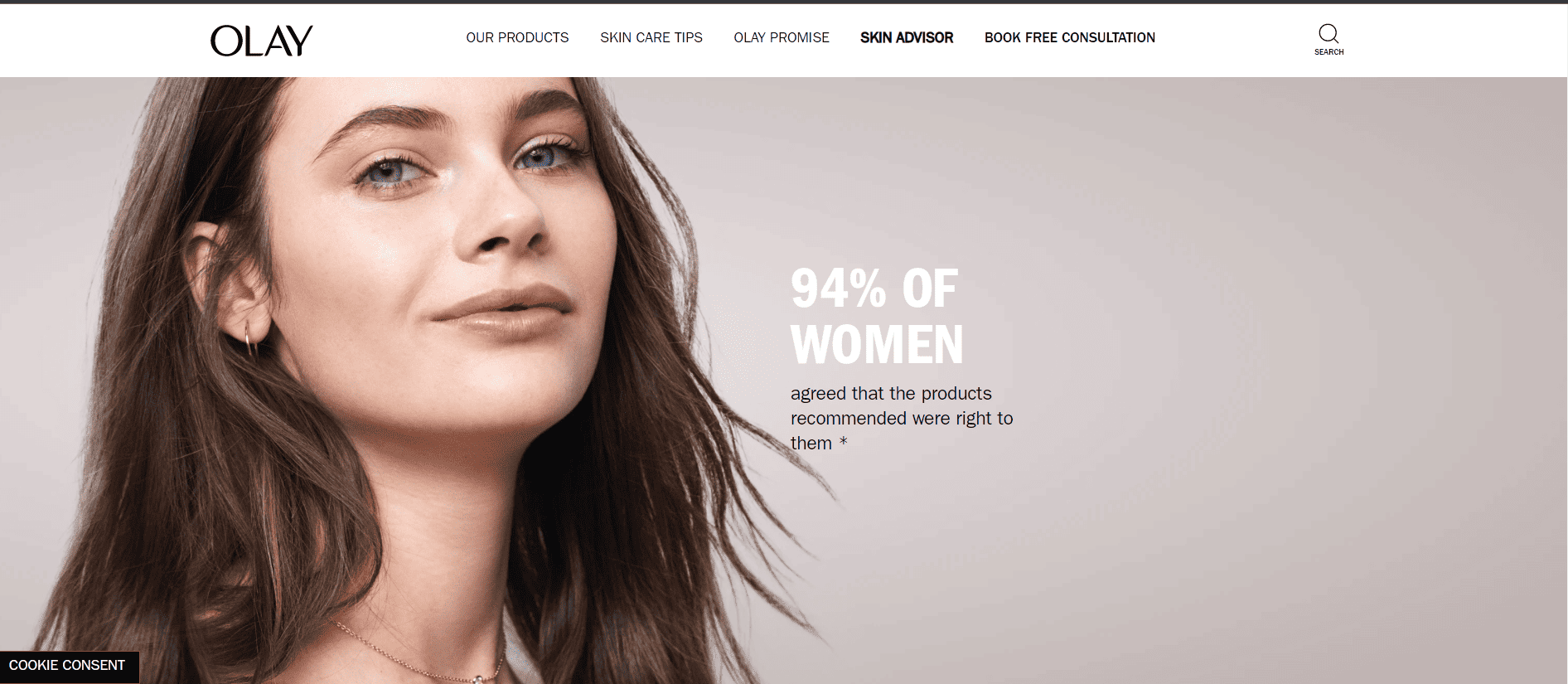 Why this worked:
What Olay did was brilliant.
By introducing a free skin advisor, they could gain valuable insight and work towards improving their products while simultaneously delivering the exact product to the specific client in need.
This is a perfect example of how benefit-sought segmentation worked for a well-known brand.
Read also: A Comprehensive Guide To eCommerce Email Segmentation
PatPat: Occasion-based targeting
Black Friday sales are a popular promotional event many companies use to make significant revenue.
Patpat used this annual sales event to promote its products on Facebook ads.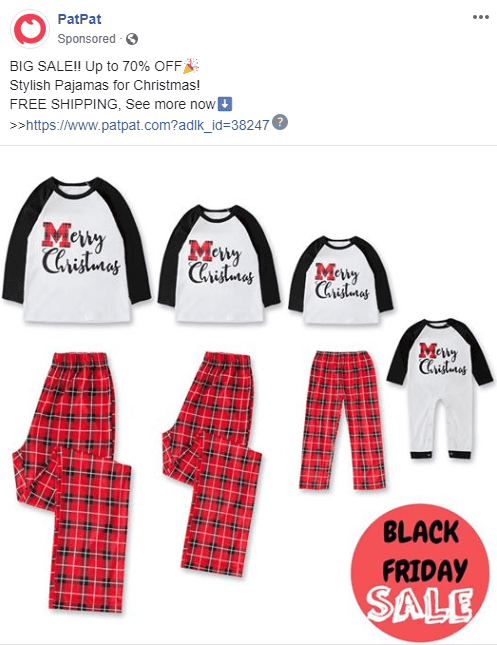 Why this worked:
Consumers explicitly looking to make purchases during the black Friday sale will more likely purchase from Patpat inspired by their Facebook ads.
The timing and placement of ads during the back Friday time window proved beneficial for his company in terms of boosted sales.
Read also: 7 Secret Dealership Marketing Tactics By The Top Guys
Virgin Atlantic Flying Club: Loyalty-based targeting
Virgin Atlantic introduced a new customer loyalty initiative called the flying club, where customers earn tier points based on how much they use their service.
These tiers are divided by different benefits for the most loyal customers. A comprehensive benefits overview provides customers with the details of each level, thus motivating customers to fly more to reap the benefits.

Why this worked:
This program provided a fantastic hook for Virgin Atlantic and its customers.
More customers started flying to benefit from the reward, while Virgin Atlantic boosted sales and gained insight into customer behavior to further expand its reward system.
Read also: How to Get Started in Freelance Digital Marketing [Guide]
Amazon: Purchase-based targeting
Based on a customer's purchase history and wish lists, Amazon produces recommendations that can be really useful to customers.
You might have noticed the "you may also like" or "frequently bought together" portions of the Amazon app or website. This sort of targeting ensures the right product reaches the right customer faster.

Buy it with: A suggestive recommendation based on other customers' purchases while buying the same item.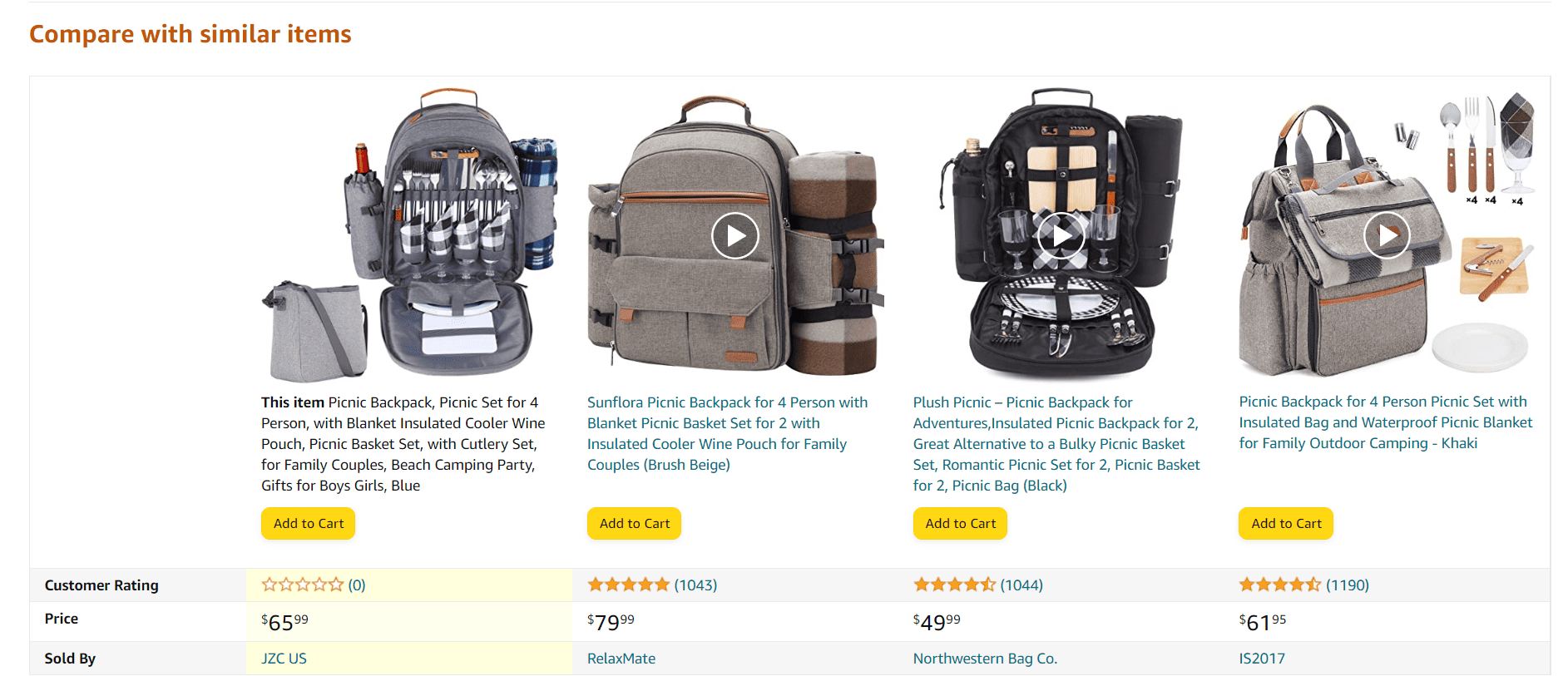 Compare with similar items: A comparative recommendation based on what other customers bought in the same category.
Why this worked:
By gaining insight into the consumer's behavior on their website or app, amazon has fine-tuned targeting products to deliver them precisely to the customers in need. This form of focused Targeting has boosted sales and customer satisfaction along with an elevated shopping experience for amazon customers.
Read also: Customer Intelligence (CI) — The Missing Support Puzzle Piece
Wrap Up
Behavioral targeting marketing can be priceless for companies when used correctly.
It offers the most valuable data required for marketing: insights into what customers really want. By understanding your customer, you as a marketer can develop innovative and powerful methods to reach them across different marketing channels. Analyzing your customers' behaviors can help you deliver exactly what they need.
It is a win-win situation for all.
Remember:
"Good marketing makes the company look smart. Great marketing makes the customer feel smart."

– Joe Chernov.
Always.
Marketers need the necessary tools to analyze their customers' behavior and craft campaigns based on these metrics.
One such powerful tool is EngageBay. With EngageBay, you can track web visitors, capture lead information, segment audiences, automate campaigns, and do so much more.
Try EngageBay and see how just one tool can transform your marketing.
Our product experts can help you get started, for free. Sign up or request a free demo today!