Selling is a tough gig. You're on your feet all day, dealing with rejection and trying to convince people to buy things they think they don't need. We get it — it's hard work! But that doesn't mean you should have to go through it alone.
That's why we've created 10 of the best sales memes to make you feel better about your work and yourself! We know it's hard out there, but we also know that it's worth it.
So grab a cup of coffee or tea, sit back, and scroll down for some much-needed laughter (and motivation)!
1. Introducing: The Newbie Salesman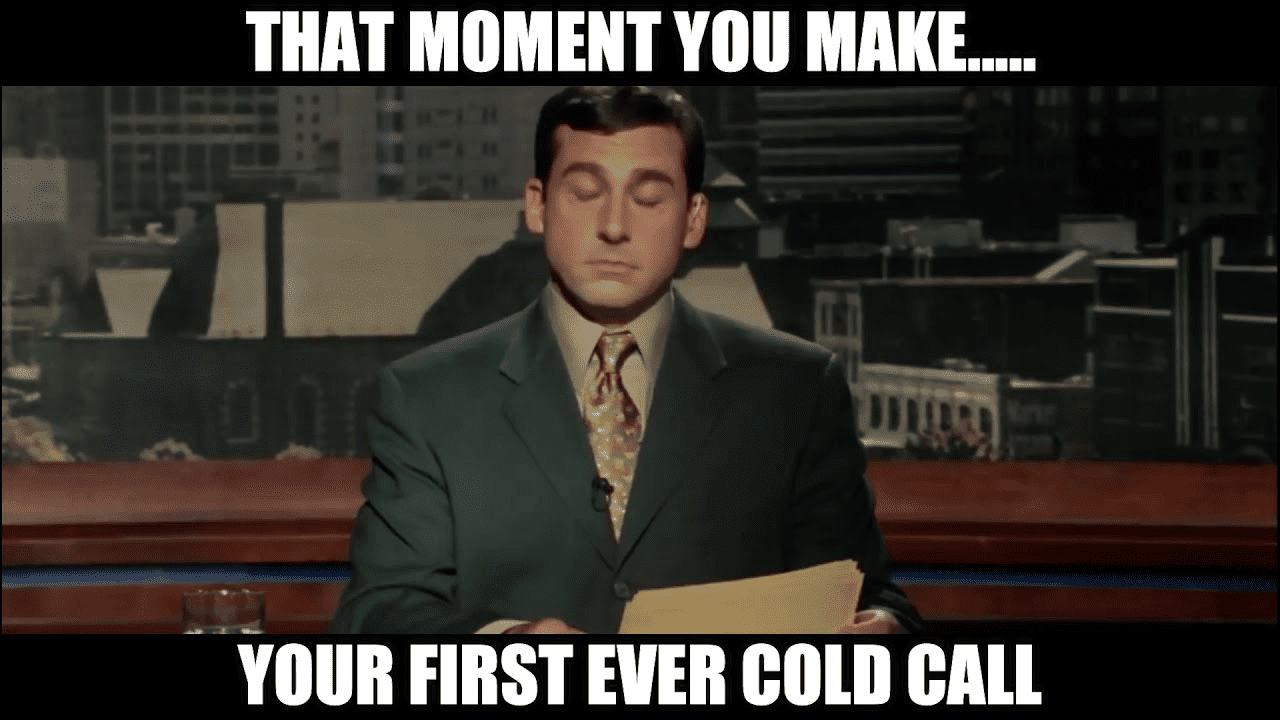 Michael Scott's first cold calling experience in the series 'The Office' was, by all accounts, a disaster.
He started off by saying, "I'm Michael Scott. I work in an office. Yesterday I ate a bug."
Cold calling can be a nerve-wracking experience.
You're not sure what to expect, and you have no idea how it will go. You could have the most amazing conversation or an absolutely disastrous one — there's no way of knowing until you try.
And that's kind of like dating: You never know what's going to happen. All you can do is try.
Read also: Emojis in Social Media Marketing: Some Useful Tips
2. Make an Elevator Pitch and Keep Your Eyes Peeled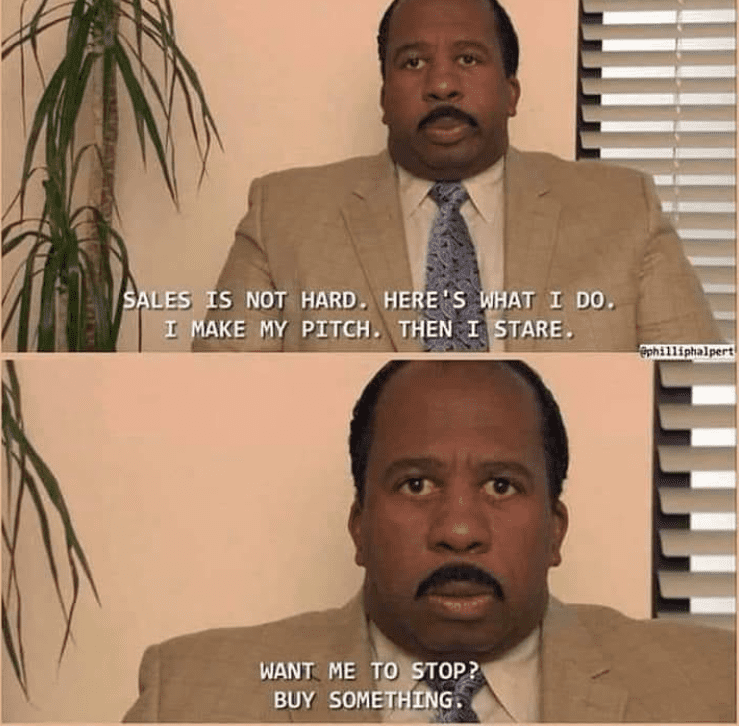 The series 'The Office' has our hearts. Stanley Hudson, the great Dunder Mifflin Paper seller often has to stare at the prospect after he is done talking. The same goes for sales. You pitch them, and they listen and nod, but when it comes down to the buying phase, they just say no.
This is where you take a pause and stare at your prospects — in true Stanley Hudson fashion — until they buy your product.
What else could be done?
Disclaimer: Use this at your own risk. We are not responsible for what happens next!
Read also: 10 Funny Customer Success Memes That Every CSM Could Relate To
3. Stress + Sales = Merry Christmas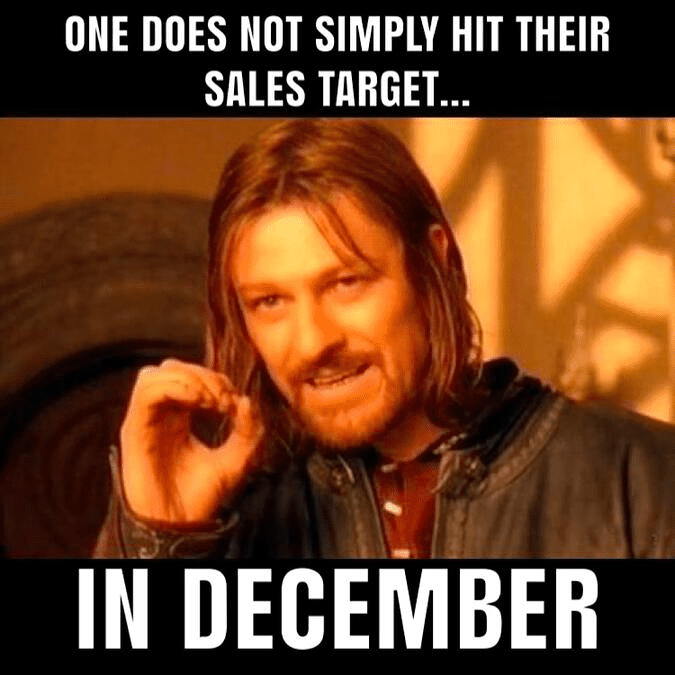 "One does not simply walk into Mordor."
This phrase has become synonymous with Sean Bean thanks to the Game of Thrones. It's also become a popular meme—one that is used to point out the difficulty of achieving seemingly simple tasks.
The same can be said for hitting your sales target on December 31st: it's not easy.
We get it—we've all been there. You have all sorts of distractions: family obligations, parties, Christmas music, and whatnot.
That's why: memes!
Read also: 10 Advertising Emojis To 10X Your Conversion Rates
4. Ready or Not, Here They Come …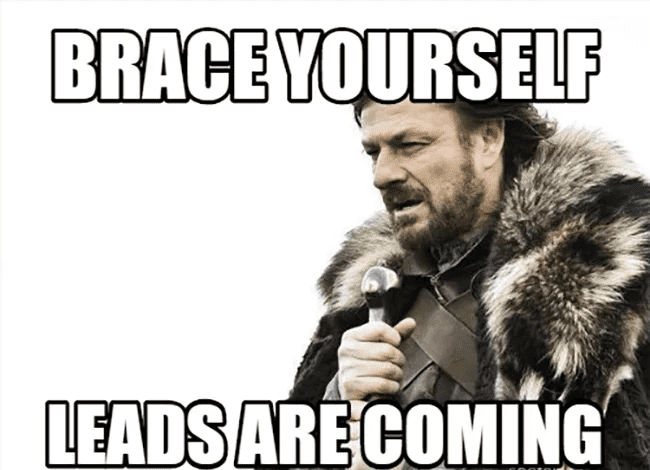 Spoiler alert: Please skip this one if you haven't watched Game of Thrones yet!
The dialogue "Brace yourself" is the most memorable quote from the Game of Thrones. Lord Eddard Stark said this to his wife Catelyn Stark and his son Robb Stark before he was beheaded by King Joffrey Baratheon in front of his brother and sisters.
Thankfully, sales is not that hard!
But it can be a challenge to convert leads and hit the revenue goals, especially when some discount campaign leads to a major upsurge in lead generation.
What can you do but brace yourself? 😄
Read also: Are You Using These 12 Branding Emojis in Your Campaign?
5.

I

C

an't

C

onvince

Y

ou

M

ore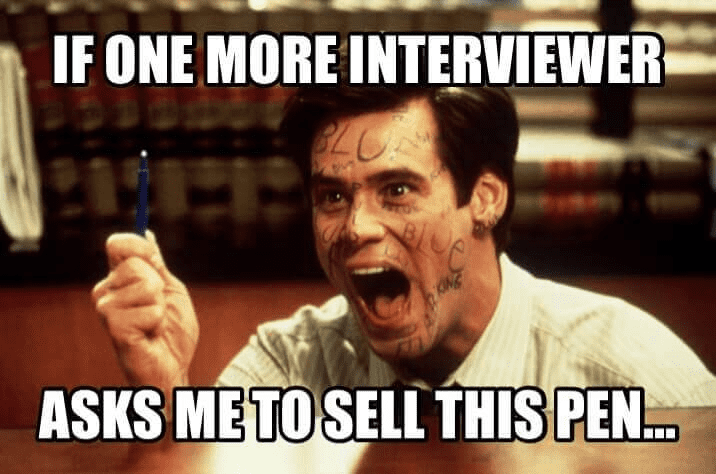 In the movie 'Liar Liar', Fletcher tries to convince himself that the pen is blue, but he can't do it. He keeps saying, "No, no, no," and he's frustrated because he feels like he should be able to convince himself of something so simple as the color of a pen.
When your interviewer asks you to sell a pen, it's not easy. You're supposed to be a professional and have all the answers, but instead, you're stuck in this situation where you have to convince someone that they need an object that they don't … need.
It's the most difficult task ever!
We feel you, salespeople 🙁
Read also: Feeling Down? 16 Motivational Memes to Crack You Up!
6. The 'No Money' Buyer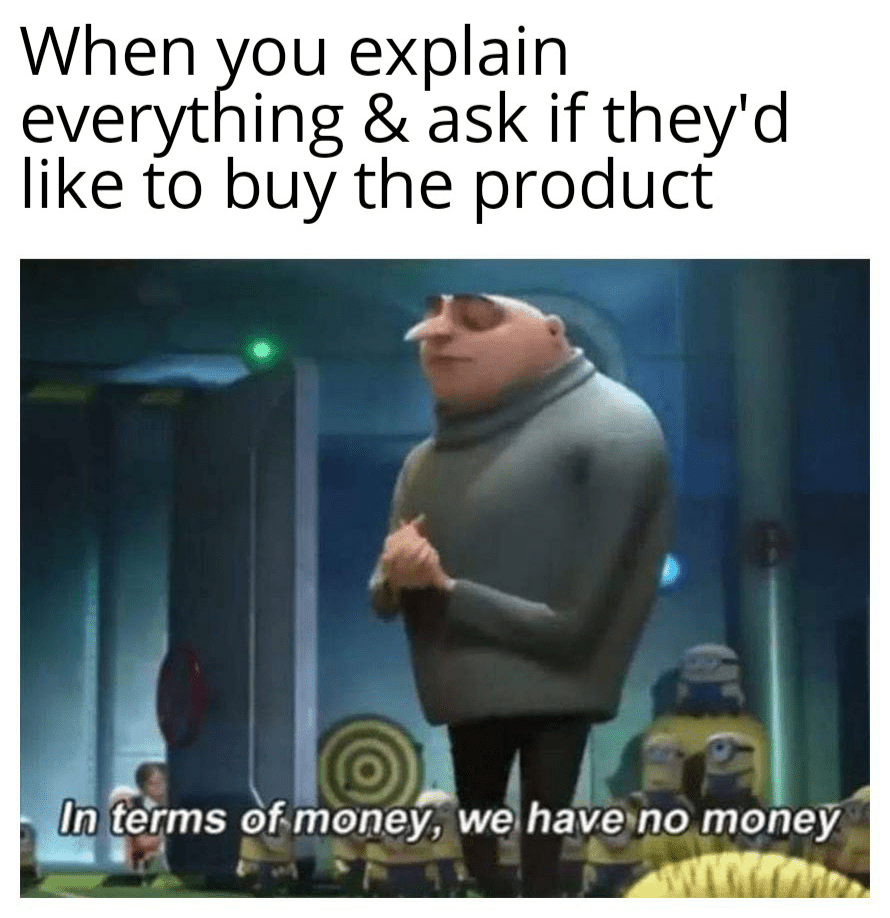 This particular meme is from the movie Despicable Me, where Gru says, "In terms of money, we have no money." He means that they don't have any at the moment, but he still has a plan for getting some.
It's pretty bothersome when you put all your efforts into making the best sales pitch, and your customers come up with questions like:
"Can you at least give them a free trial?"
"Is there a way to offer those features for free?"
The 'no money' buyer is one of the most difficult people you can have.
They want all the benefits that come with the paid plans, but they don't want to spend a penny.
What can sales agents do? Well, move on to the next prospect 🤷‍♂️
Read also: 11 Email Memes For Marketers
7. I'll Prove You With a Demo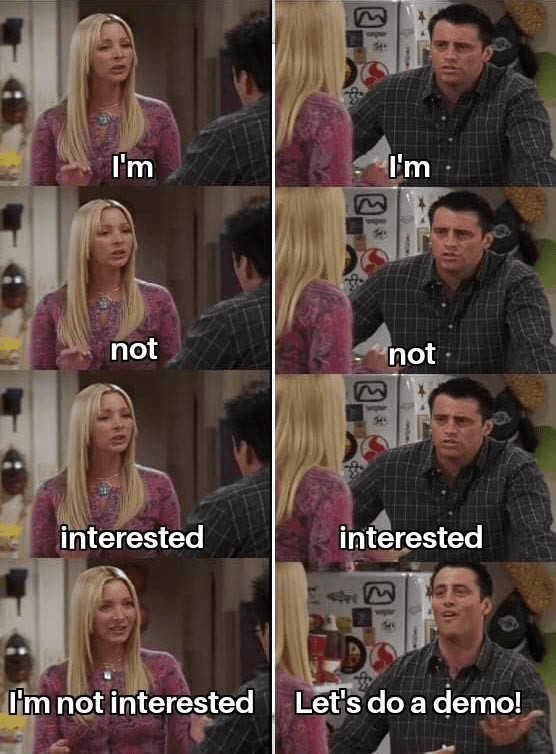 Salespeople don't give up, do we?
The customer can spell it out … "I'm not interested" … but we keep going back to the same old, same old.
This sales meme is quite popular on social media now, and it's easy to see why. Phoebe and Joey made the French learning (!) scene unforgettable, and Phoebe's frustration is relatable as heck.
To sales guys though, Joey is more relatable 😂
Read also: Customer Service Emojis – Add a Dash of Personalization
8.

I

A

m

S

till

W

orthy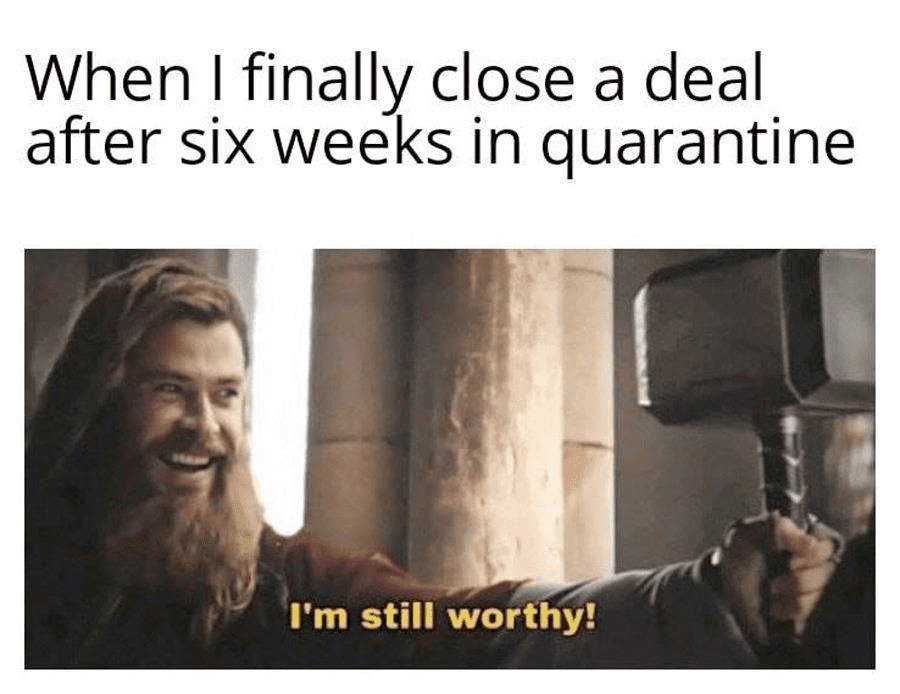 In this scene from "Avengers: Endgame," we see Thor standing up to his enemies and saying, "I am still worthy." He does not let them break him or make him believe that he is worthless—he knows that he is worthy of love and respect.
It's a nightmare many salespeople have faced: being stuck at home during the pandemic.
You can't go outside or even leave your house. You're stuck inside, trying to figure out how to spend all of this time alone.
And then the phone rings: it's a customer on the other end, asking if they can buy your product!
They want it—they want your product!
It's like winning the lottery: you're finally going to get paid for all the hard work you've been doing all week long (and most of last month).
It's an incredible feeling!
Read also: Business Emojis – Are They Professionalism Killers?
9. I'll Keep Trying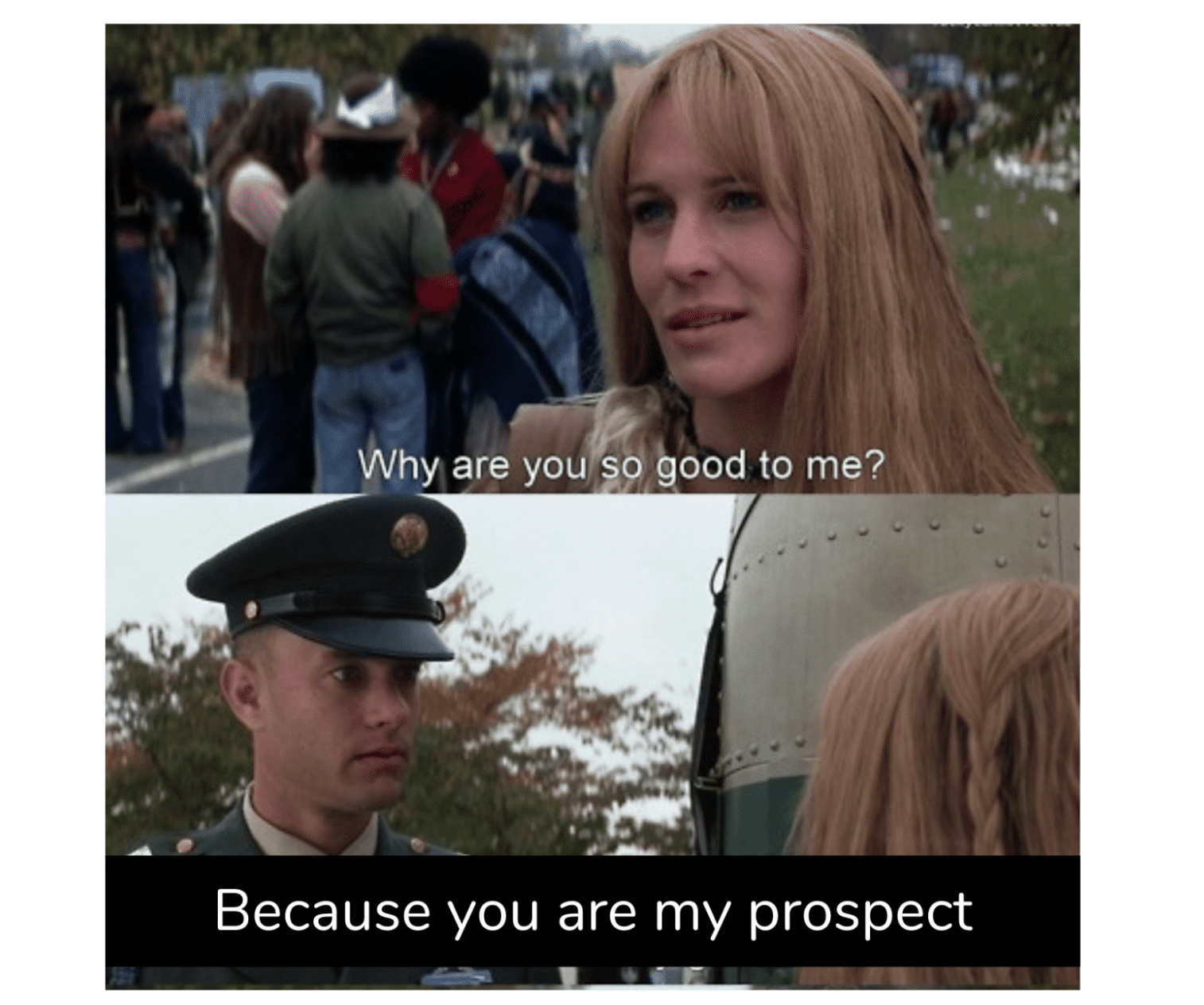 The most amazing scene in the movie Forrest Gump is when Gump's girlfriend asks him why he is so good to her, and he replies, "because you're my girlfriend."
Gump knows she is not interested in him romantically, but he continues treating her as if she were.
The same goes for sales.
Our sales reps are trained not to give up on the prospect unless they explicitly tell us not to call them anymore.
They keep being nice to the prospects even though the prospects have not made any purchase, and nor have they committed to making any. They may not buy, either. But they might just.
Like the ever-innocent Forrest Gump, the best sales reps wait patiently for prospects to come back and help them clear every silly and small doubt about the product, the service, the brand, the after-sales support, the pricing, the refund policies, the whatnot!
Because, well, they are prospects 😄
👉Find inspiration in the unexpected. See our collection of motivational memes here and spark your drive.
10. Still Waiting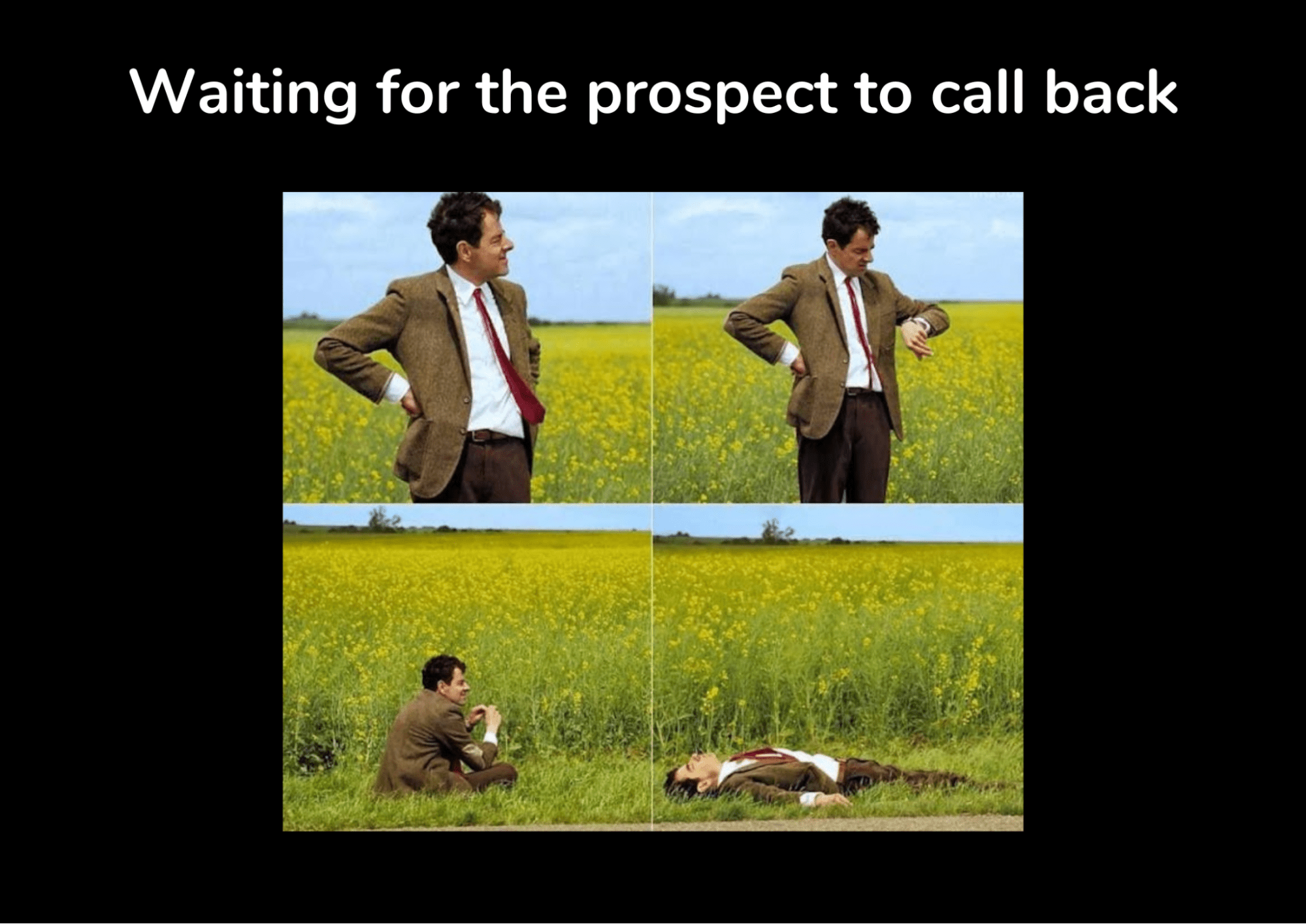 In the Mr. Bean series, Mr. Bean is on a road trip in France and ends up in a small village under attack by German soldiers.
The next morning, he wakes up in what appears to be a quaint little village under attack from German soldiers.
Mr. Bean waits so long for someone to give him a lift that he finally gets one—only to realize that the driver has no intention of stopping at his destination.
How relatable could this meme be?
It's been days, weeks, months.
You've been waiting for a call back from the prospect for what feels like forever, and still nothing.
It's frustrating, and it can make you feel like you wasted your time.
But like Mr. Bean, the salespeople will eventually get a lift. One can only hope it takes us to the right destination 😅
👉Discover the funniest marketing memes that will brighten your day in our entertaining article! 🎉
Wrap Up
Selling is not easy, but it's possible with hard work. And no matter how dry it can get, remember to have fun.
We hope these 20 sales memes will help you do just that!
Which meme did you find the most relatable? Let us know in the comments.
Also, if you share this piece on social media, be nice and tag us 🙂
👉Ready to create a winning sales page? Uncover the best examples in our extensive guide for inspiration! 🏆