In the age of nuclear families where both parents are working, being able to employ a reliable nanny or a full-time care provider sounds way too ambitious. However, the world is never short of people who wish to make a change by offering exactly what we require now.
If you are a budding entrepreneur in the childcare business or wish to open a daycare center soon, this article will certainly help you reach your goals.
Starting a daycare center is not a piece of cake, especially if you are relatively new in this field. Before putting out the word, you must invest your time in deep research and smart planning. Unlike most businesses, this line of work has its share of risks and uncertainties.
When someone leaves their child with you for a few hours, they're anxious.
As the owner of a childcare center, you are duty-bound to make parents feel assured of their child's wellbeing.
This article will give insights into some tried and tested childcare marketing ideas. Our goal here is to guide you to work towards building goodwill and trust for your daycare center. Easier said than done, we know. But read along.
1. Focus on the Appeal and Utility of Your Website
In this online tech era, it is not only foolish but borderline dangerous not to have a digital address for your business. Why? Because being online is the easiest way to be found!
A website is an owned media channel. The owner has the liberty to publish all kinds of information on it. You can talk about every aspect of your daycare center through dedicated pages.
Creating an online presence is not a mammoth task. You can always start by posting pictures and videos of your childcare center, and talking about the list of amenities you've equipped it with.
Additionally, you can also mention the unique services and special requests that you and your team cater to time and again, making your childcare center stand out from the crowd.
Work on the utility of your website by making it super easy to use. Improve the UI/UX and keep all important pages just one click from the home page. With good user engagement, your website can begin to rank in search engines and become a lead-generation machine.
Read also: Breaking the Rules: The Art of Guerrilla Marketing and Why It Works
2. Craft a Lovely Story About Your Childcare Center
Humans like to perceive most things subjectively and not objectively. That is why we love a good story. Every website has a dedicated 'About Us' section or page with different monikers to appear unique. You can use yours to tell your story — why did you start your daycare center, and why does it mean something to you?
For example, EngageBay was founded by techies who couldn't find an affordable marketing toolkit, so they decided to build one. Here's that story.
Furthermore, you can mention the names of the people who believed in your vision and helped to get the ball rolling. This approach can establish a sense of familiarity and likability between the parties, even before they have met in person.
Read also: Stunning Content: 10 Top Free and Paid Social Media Video Creator Apps
3. Build a Nice Google Business Profile
Although the term sounds a bit exasperating, it is not that way. Google Business Profile is an easy tool that helps you manage the online presence of your daycare center effectively.
Here's a list of things you can do with a Google Business Profile:
Control the way your website appears in Google and its other products
Update information such as a physical address, phone number, and operational hours
Appear on Google Maps
Showcase customer reviews
Showcase the interior and exterior of the property through pictures
Respond to new inquiries
Gain insight into website footfall
Read also: Get Positive Online Reviews For Your Business, Consistently!
4. Invite & Excite People by Hosting Events
'Hosting an event' is one of the most effective outbound marketing techniques that bear fruits in the long run. You can choose the inauguration day to invite people who dwell around you.
They could be people who share the same commercial space as you are, they could be friends of your friends and business partners, or they could be your neighbors. The more, the merrier.
This style of daycare marketing encourages you to focus on the awareness prospect rather than getting direct leads. The people present at the event will spread the word amongst their friends and acquaintances, eventually reaching people who need your service.
👉Ready to elevate your personal brand? Uncover the top bio ideas in our comprehensive guide! 🎉
5. Make The Most of Every Communication Channel
To be a good salesperson, you must be a good communicator first. Communication channels could be online as well as offline. It is essential to promote your business both ways.
Online
Social media: Through social media platforms, you can promote the events happening inside your daycare center. You can also respond to inquiries that come your way through the direct messaging system.
Form page on your company website: You can always request the visitors on your website to fill up the form and mention their queries in detail. This will allow you to answer their doubts and exhibit transparency.
Content marketing: Content marketing is a slow and steady process to direct the right audience toward your website. Posting blogs and informative articles on subjects related to child care will help you garner a lot of visitors to your website.
Email marketing: Email marketing is a clear and precise way to communicate with your existing and potential customers. You fill them up with updates and events taking place inside the center. The right amount of sharing will encourage people to associate goodwill and reliability with your brand name.
Read also: Experiential Marketing Ideas for 'Next Level' Brand Campaigns
Offline
Welcome and interact: Usher in anyone who arrives at your doorstep and tries to strike up a casual conversation. Word-of-mouth marketing is another tried and tested marketing strategy that helps you get leads in the long run.
Brand Merchandise: Design an exclusive line of promotional products for your daycare center. Decide on graphics and text that are visually pleasing and convey the ethos of your childcare business.
Read also: Creative Event Marketing Ideas to Get People Excited
6. Ace Social Media Marketing With Helpful Content for Parents
Make a name for yourself by leveraging the power of social media networks. Even though you have to create a business page and start with occasional posting to get the ball rolling, social media marketing is not restricted to these two aspects. It is much more than that.
Seasoned digital marketers will suggest you come up with a list of goals that you wish to accomplish, followed by an elaborate strategy to achieve the same.
Here are some things to keep in mind while brainstorming for a social media strategy.
Know your buyer persona: Decide on the kind of people who fall under the category of potential customers. Focus on their need of the hour and how it can be fulfilled. When you are running a daycare center, you are most likely to target parents with toddlers and pre-teens. Try to understand their mindset and thoughts that can stop them from enrolling their kid in your daycare center.
Brand name: What is the first thing you would want the parents to think about when they hear about your center? The message you want to convey to your audience tells a lot about how far you are willing to go to gain their trust.
Content strategy: Although social media interactions are mostly organic, you'll need a well-planned content strategy to be able to have a consistent voice. A structured content strategy will also help you gauge important metrics such as the number of visitors and other demographics.
Timed activity: If you want to increase brand awareness, you have to post regularly and engage consistently with your audience. Keep updating the profile with relevant videos, stories, posts, and pictures.
Inbound marketing: Create educational childcare content for new and would-be parents. Focus on adding value by posting useful and interesting content on your page (Facebook/LinkedIn/Instagram). This practice itself will promote your business organically.
Read also: Creating The Perfect Social Media Handle For Your Business
7. Carve a Path Through Referrals
Referral marketing advocates acquiring customers through word of mouth. In this case, the parents of a kid who is already part of your daycare center might pass on a good word about it to the parents of another kid they might know.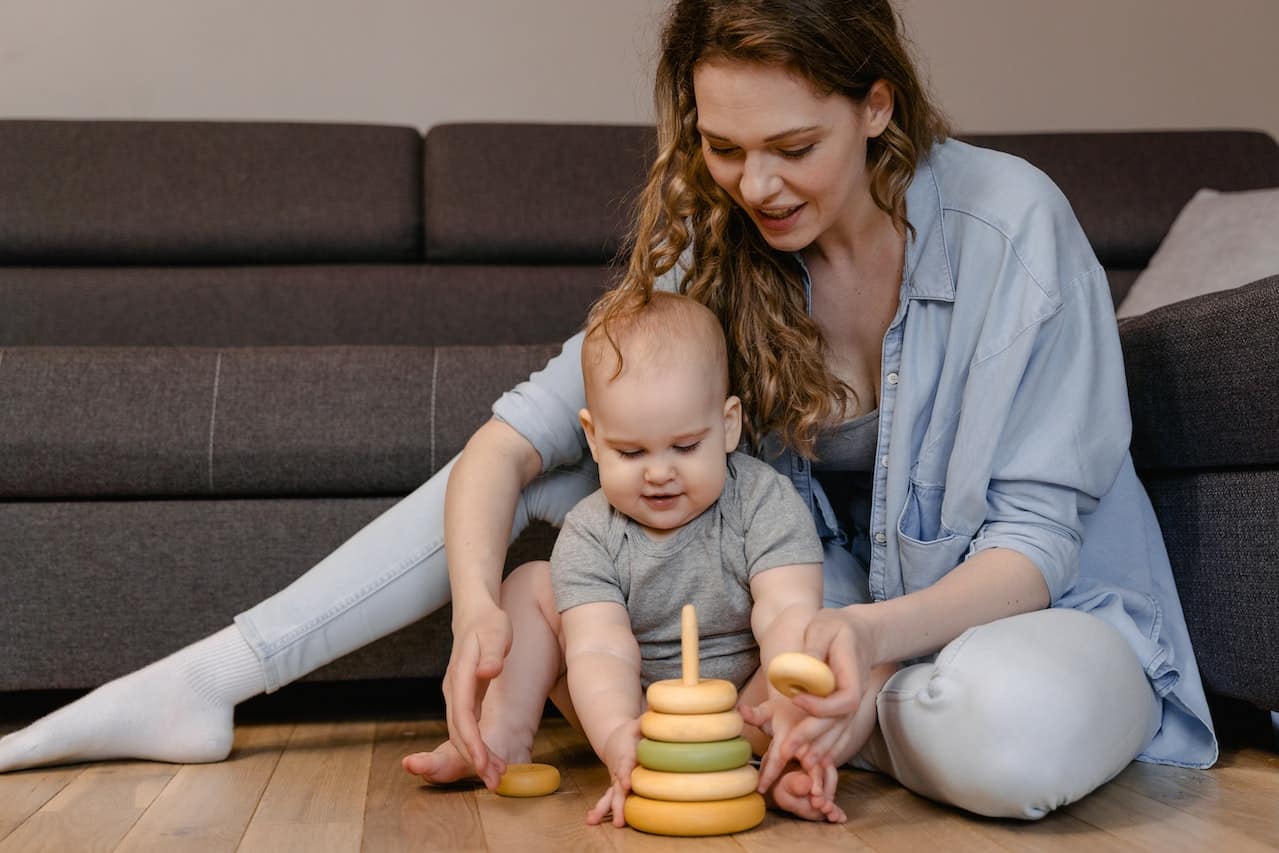 Referral marketing is inexpensive and powerful. Ask your present clients to refer your daycare center to other parents who are on the lookout for the same. Offer them incentives for doing so, such as a discount on the next month's fee, or a box of treats for their child.
Read also: 14 Creative Social Media Contest and Giveaways Ideas That Work
8. Share Your Knowledge of Child Development
It is important to educate your target audience about the work you do and its impact on them. You can do it through various channels.
From weekly blog posts to organizing weekend meet-ups for parents, share the knowledge you have about raising children and how the time spent at the daycare center helps their overall development.
Read also: 15 Gym Marketing Ideas to Pump Up Your Client Base
9. Indulge In Offline Networking Whenever Possible
Leave no stone unturned while promoting your brand. Offline networking is one of the many marketing strategies that continue to yield positive results even in the internet age.
Here are some of the many benefits of offline networking.
Anything physically tangible stays afloat for a long time. It is important to give your clients something that is tangible. It could be a brochure or a business card. Old-schoolers love to hold on to such things and rely on them while looking for a bespoke service.
In-person interactions are considered to be more authentic. Offline marketing allows you to connect with potential clients without the internet and electronic gadgets. A good conversation always helps to create a lasting impression on a person's mind. Your body language and the level of confidence that you showcase for your business ensure a more trusted and reliable image for your brand
Offline marketing leads to the word-of-mouth phenomenon. When you ensure a positive and memorable experience for your customers, it is possible that they will tell others about your service. Also, people are more likely to trust the products or services recommended by their friends.
Read also: The Lead Generation Process — How Does It Work?
10. Spend On Paid Marketing in the Initial Days
In the early days of your business, you will find it difficult to rank on top of the SERPs. This is because Search Engine Optimization is a gradual and slow process. It takes a few months to see satisfactory results. Experienced digital marketing professionals will ask you to up your SEO game and invest in paid marketing tactics at the same time.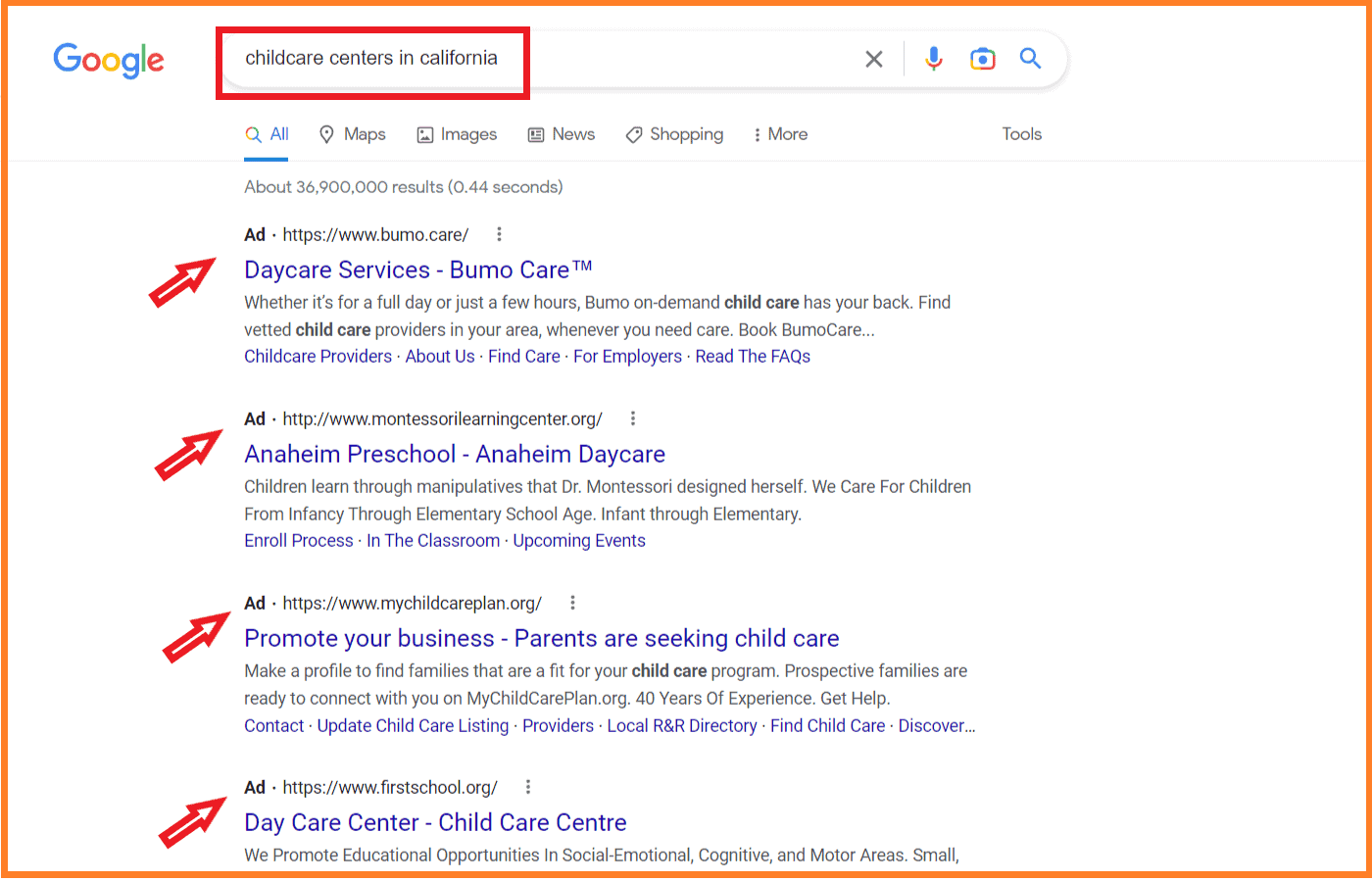 Amateurs in childcare marketing should consider investing in sponsored ads, and other forms of advertising that will target the areas where you get the most daycare requests.
Facebook ads are also a great way to increase brand visibility. They're cost-effective and can help you reach more people near your location. You can start a Facebook ad campaign for your daycare center and target families based on their demographics. These ads will showcase information about your center and help you attract new members.
11. Organize Monthly Contests to Attract More Parents
Organizing contests can help your daycare business get the attention it needs. Fun rewards will lure young parents into participating and spreading the word about your contests.
If you have a dedicated Facebook page for your daycare center, interesting contest ideas can help you increase your brand presence online.
12. Blog About Your Experiences With Children
As a childcare business owner, you'll have a new story to share every day. After all, children are always unpredictable!
Share your experiences with children and show the world the human side of your business. This'll help you build trust with new parents, and nothing can be more important than trust in this business.
13. Be Consistent With Your Email Newsletter
Email newsletters are an indispensable part of marketing. Although it's easy to start, many give up, and many more do it inconsistently.
It's important to be consistent with your newsletter, even if you're not getting any 'ROI' from it. This is a brand image-building exercise, so have faith and keep at it. If you're not serious and committed with your newsletter, you'll get many unsubscribes.
Most young parents do not wish to miss anything about their kids. The more they know, the better they feel. Add every little update to your newsletter, and stick to one sending frequency.
Here's a nice article by Constant Contact with tips for childcare marketing newsletters.
Read also: 14 Inspiring Newsletter Sign-Up Examples From Top Brands
14. Respond to Online Reviews (With Grace)
Today, many of us resort to online reviews before zeroing in on a brand for a particular product or service. It proves the fact that online reviews are essential.
You, as an owner of a business, must respond to all kinds of reviews that have been posted online.
If it is a positive review, thank them for their kindness. If it is a negative review, apologize and take ownership. You can talk about the preventive actions you intend to undertake to avoid disappointments in the future.
But either way, always respond to online reviews. It helps build trust and position your childcare center as responsible and active.
Here's how it looks when you, as the owner of a daycare center, respond to a review on Google: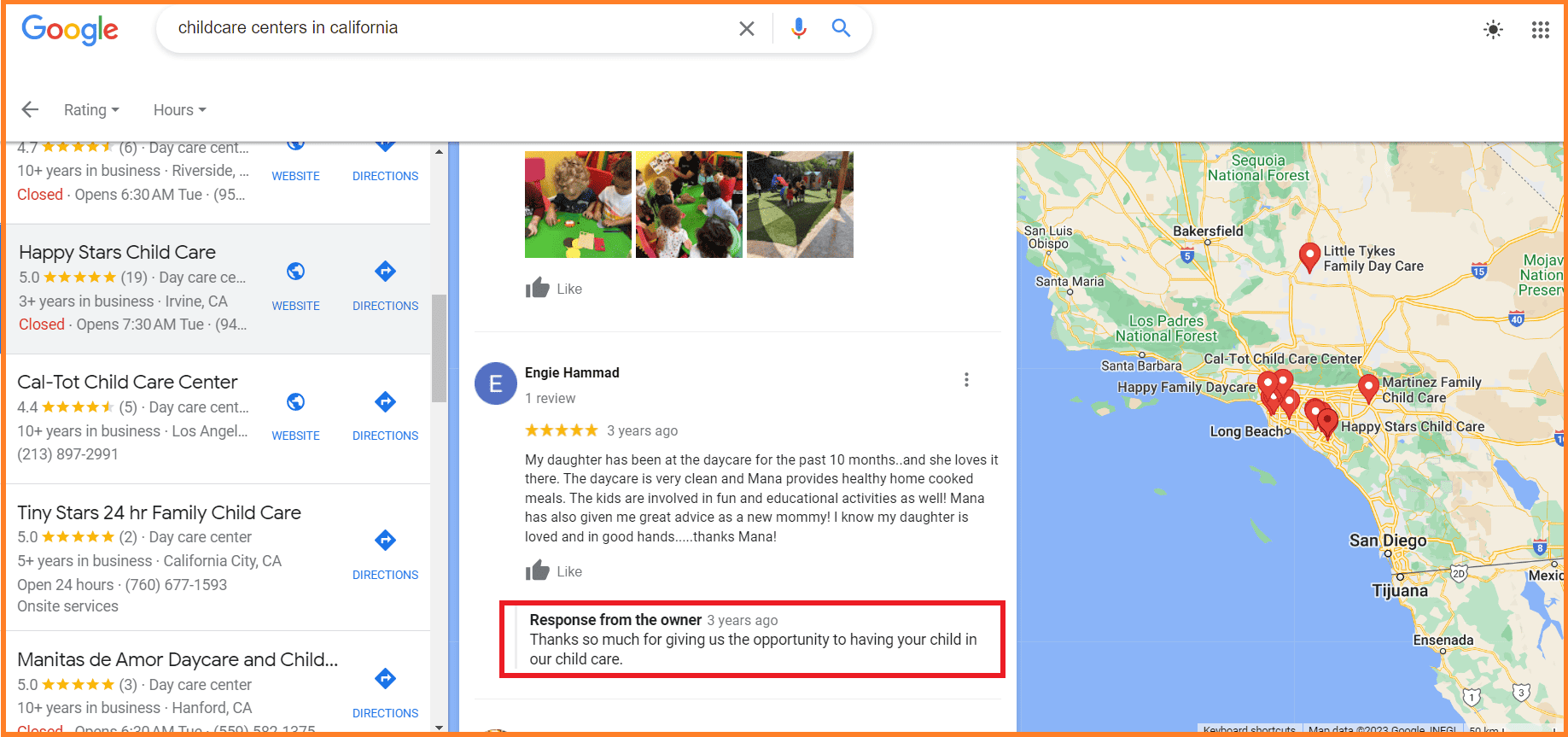 15. Try Your Hand at YouTube Ads
YouTube receives more than 30 million visitors per day. This is primarily why the number of small and medium-sized businesses advertising on YouTube has doubled over the past few years.
Here's why you should opt for YouTube ads.
Heavy traffic: Billions and billions of videos are watched every day. It promises more traffic than any other platform. You can reach an audience by advertising your content on other people's videos.
Increased visibility: In today's era, people are more inclined towards video content compared to other forms of content available on the internet. You can leverage this by creating childcare videos that redirect your viewers toward the daycare center's website.
High conversion rates: Videos can tap into one's emotional angle more than any other form of content. They convert our messages from static text to dynamic visual content. Videos are entertaining and engaging and, thus, have the power to increase your conversion rate by 80%.
16. Engage Your Audience Through Infographics
We, humans, love visual storytelling. To ensure that your blog stands out, you must incorporate some exciting forms of visual media, such as infographics and short videos, in your blog posts.
Build valuable and beautiful infographics — people love to get interesting information from a visually appealing content format.
17. Pin Up Flyers on Bulletin Boards of Parks …
Another way to promote your business offline is to spread flyers and brochures in areas where your target audience is expected to reside.
You can put up flyers and business cards on notice boards of residential complexes and nearby parks that children frequent with their parents.
18. Target Neighborhoods With Direct Mail Marketing
Direct mail marketing is difficult but super affordable. You can choose to be clear and precise while describing your business and state the benefits in a structured way.
Try getting the addresses of young parents for better reach and engagement.
19. Organize Open House Events for the Parents
Organize bi-weekly open houses for the parents. This will allow all sets of parents to bond with each other and talk about the common problems they face while raising a kid.
Such meet-ups can help develop a sense of community and belongingness amongst parents of all the children in your center. As they build a rapport with each other, the potential for word-of-mouth improves.
Read also: 12 Customer Service Tips for Phenomenal Success
Wrap Up
So, there you have it. If you run a childcare center, marketing it is not easy but isn't an uphill battle either.
Be smart with your strategies and focus on consistency. Make use of email newsletters, direct mail, offline events, flyers, blog posts, and other options. Whatever you do, be super honest and give more importance to building trust than immediate registrations.
For a marketing suite that costs as little as your everyday coffee, try EngageBay.