A CRM is a perfect tool to grow your business, but not all CRM solutions have the same functionality when you compare one against the other.
For instance, you might have thought Nimble was the ideal CRM software for your small business, but since you've begun using it, you've started having second thoughts. Maybe Nimble isn't all it's cracked up to be, but what could you use instead?
Fortunately, there is no shortage of great alternatives to consider!
Here is a list of all the top Nimble alternatives:
EngageBay
HubSpot CRM
Salesforce
Zoho CRM
Pipedrive
Insightly
Microsoft Dynamics 365
Freshsales
Bitrix24
Copper
Agile CRM
Capsule
Streak CRM for Gmail
Less Annoying CRM
Vtiger
Keap
Zendesk Sell
Nutshell
Close
If you're ready to dump Nimble and try a different CRM solution, this guide is for you. We'll compare 19 fantastic Nimble alternatives, reviewing features and pricing, so you can make a smart choice for your small business.
What Is Nimble?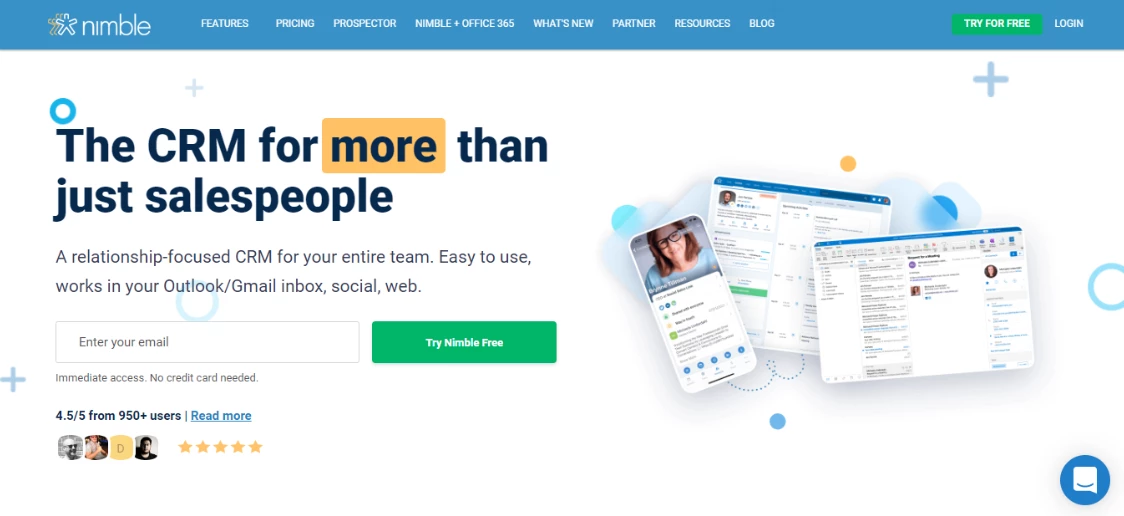 Before we get into that, let's take a closer look at Nimble.
Nimble is a CRM designed for salespeople, marketers, service teams, and other members of your company staff. The software integrates with all the tools you use already, from social media to your Gmail or Outlook inbox.
Nimble Features
As a CRM, Nimble offers a lot of features, but it stops short of going as in-depth as the CRM solutions we'll look at ahead. Let's review the features included with a subscription to Nimble.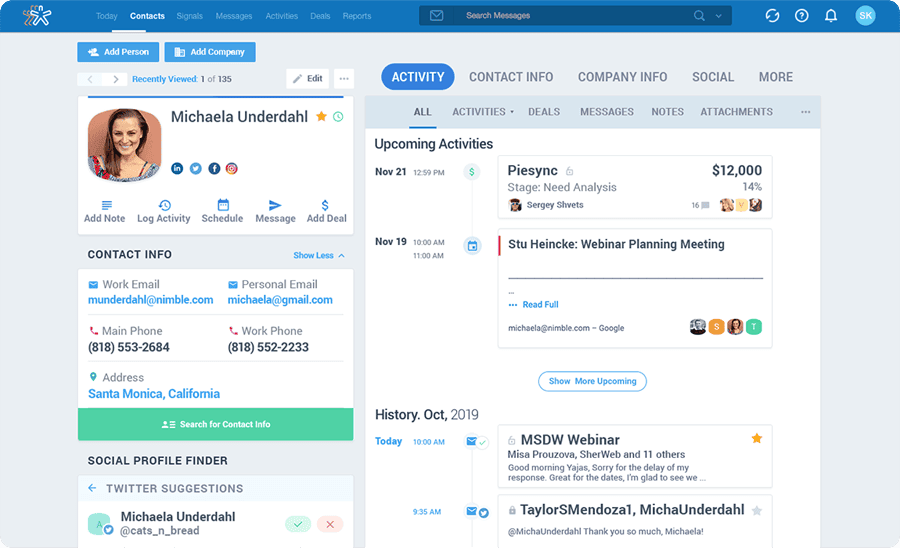 Contact Management
Contain your contacts within Nimble. You can combine contacts from various sources, including calendar appointments, inboxes, communications, and social media connections.
The CRM provides an overview of all past communications with a customer in a 360-degree view. You can change the information for any contact in the system, from adding social handles to including notes and updating deal statuses in real-time.
You can also use Nimble to make lists with segmented leads for sending tailored emails and other communications. Nimble offers email templates for making your messages more appealing.
Nimble even incorporates AI to update contact information based on the wealth of data available so you can save some time.
Activity Tracking
What is your sales team up to today, and how close are they to achieving their goals? With Nimble's activity tracking feature, you can answer that question. The dashboard pulls together all the information you seek, including ongoing calls, events, and tasks.
Workflow Automation
Creating workflows in Nimble is easy, and automating them is even easier. You create the triggers that inspire the next action and let Nimble take care of the rest.
Lead Qualifications
Who are your most qualified leads? You don't have to guess when you can use a CRM. Nimble offers a Kanban board for managing leads and determining who among them is the most qualified.
Custom Pipelines
Build out your pipeline using Nimble. You can create and customize several pipelines through custom currencies, groups, fields, and tags.
Revenue Forecasting and Reporting
Nimble takes all your most pertinent data and puts it into actionable reports. The Advanced Deal reporting indicates who your biggest sellers are. You can also create revenue projections to forecast your company's earnings.
Nimble Pricing
Nimble only has one pricing plan, which makes it easy to choose. The plan is Nimble Business, which costs $29.90 per user per month when billed monthly and $24.90 per user per month when billed annually.
You gain access to all Nimble features, including integrations with Microsoft 365 and Google Workspace. The plan offers plenty of customer support, from one-on-one consultations to weekly Q&A sessions, free onboarding, a comprehensive support center, and email and online support.
You can also use all Nimble pipeline management features, including team permissions, sales reports and forecasts, deal pipeline management, and custom deal dashboard reports.
The marketing features include:
Call logging
Task reminders
Stay-in-touch reminders
Activity tracking
Email tracking
Email templates
Group messages
Lead qualification workflows
You can also use these relationship management tools within Nimble:
Saved search segments
Custom fields
Email message syncing
Contact records
Calendar syncing
Contact management
Unified message inbox
Workflow automation
Nimble – Pros & Cons
Nimble has its advantages, or it wouldn't have a customer base, but it's not a perfect CRM solution either. Let's break down what works and what doesn't with this pros and cons list.
Pros
Includes all the contact management and 360-degree customer views you would expect
Has email templates for sending personalized correspondence
Can help you segment and qualify leads
Automates tasks to save time
Very affordable pricing
Cons
Feels sparse compared to more robust CRM options
Only offers one pricing plan
Despite not being geared toward sales, the features for salespeople outweigh everything else
Users have called it slow
Read also: The 14 Best CRM Automation Software
The Top Nimble Alternatives That Will Inspire You to Make the Switch
If you're ready to give Nimble the boot, check out this list of nearly 19 alternatives!
1. EngageBay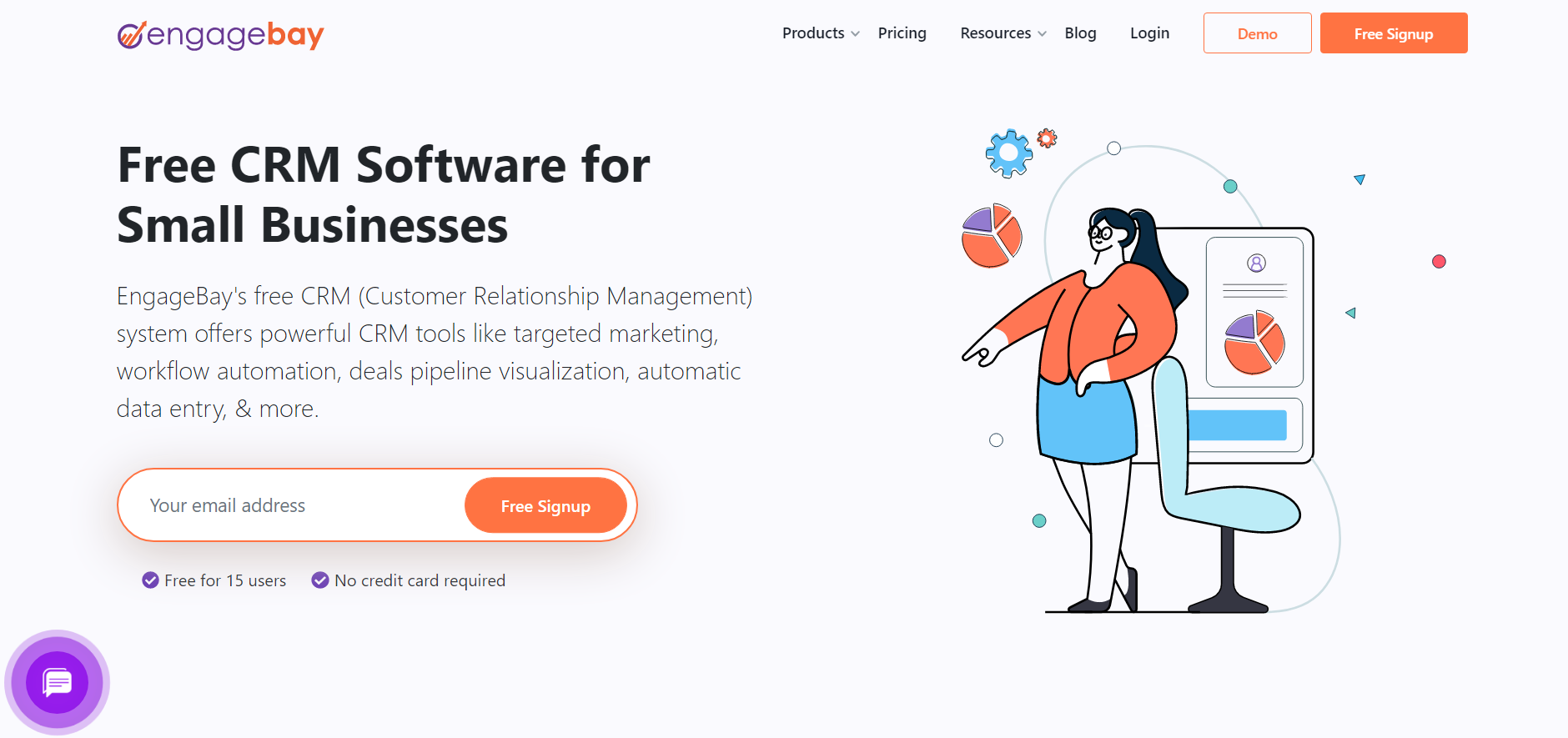 Removing Nimble from your suite of tools is easier when you can replace it with EngageBay. This all-in-one sales, marketing, and service solution has more robust features than Nimble and offers a free CRM.
The only thing better than Nimble's low-cost CRM is one that's totally free!
Although it's designed for small businesses and startups, EngageBay scales as your business grows, so it's ready to expand to new heights as you become an SMB.
Advantages
Free CRM
Low-cost plans if you want to add features
Excellent customer support
No hidden fees
Free migration and onboarding
Fuller CRM than Nimble
EngageBay Pricing

EngageBay has flexible pricing. You can shop for services in the Marketing Bay, Service Bay, or CRM & Sales Bay. If you want it all, you can select the All-in-One pricing model.
From there, you must choose your plan. Here are your options with pricing on the biennial plan:
Free for $0 per user per month
Basic for $12.74 per user per month
Growth for $42.49 per user per month
Pro for $84.99 per user per month
The Free plan starts you out with 250 contacts a month, while you can expand that to unlimited contacts if you choose the Pro plan. That plan also includes custom reporting, marketing automation, proposal analytics, and web analytics.
Read also: The Top 13 EngageBay Alternatives of 2023 [With Pricing]
2. HubSpot CRM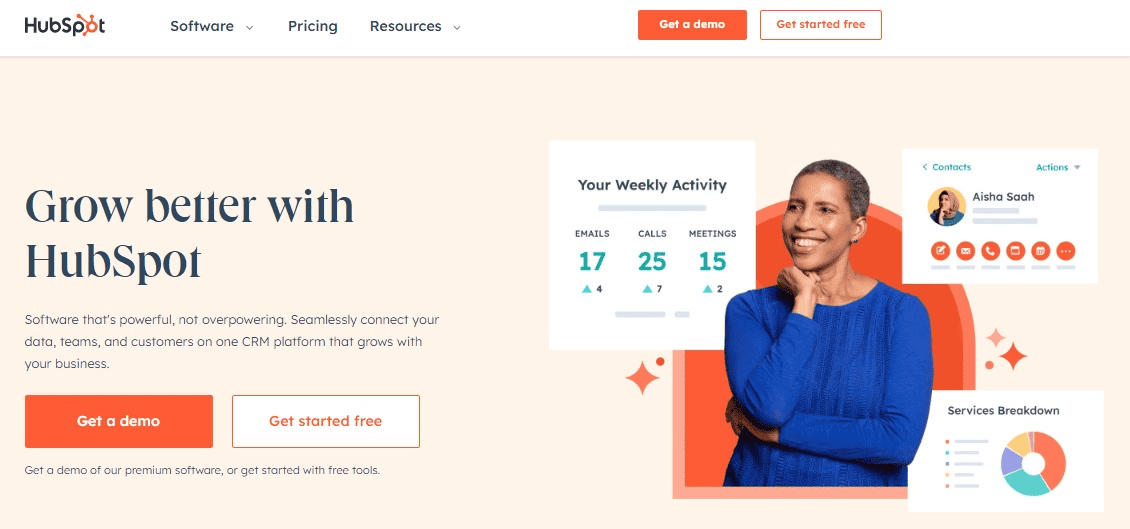 As one of the most renowned CRM, sales, and marketing solutions, HubSpot is among the most obvious alternatives to Nimble. Although its pricing is notoriously high, you don't have to pay a cent to get started with its CRM.
HubSpot CRM is designed for salespeople, marketers, and other small teams looking to take their businesses to the next level.
Advantages
Pipeline management for understanding where leads and customers (and thus revenue) come from
Automatic customer interaction tracking
One place for your lead interactions
Absolutely free CRM
HubSpot CRM Pricing

Just to reiterate one more time, HubSpot's CRM is free to start. However, if your small business finds that it's outgrown the free CRM, you can always pay, selecting from one of two plans.
Professional starting at $1,600 a month with annual billing
Enterprise starting at $5,000 a month
With either pricing plan, you can use the free CRM features. These paid plans make sense once your small business exceeds 2,000 marketing contacts. The Enterprise plan supports 10,000 marketing contacts.
Read also: What is HubSpot? Definition, Features, Pricing, Who it's Best for
3. Salesforce

Salesforce is a customer-centric company with an assortment of cloud products. Considering you want a Nimble alternatives, we'll discuss Salesforce's Customer 360 tool, which combines CRM with the power of AI and data analytics to generate customer insights.
Einstein GPT is Salesforce's AI component. With Einstein GPT, you can create code, produce content targeted to specific audience segments, and list out sales tasks; you name it, this tool can do it!
Advantages
Simplifies processes and saves time with AI
Syncs with the Salesforce Data Cloud for optimal data storage and retrieval
Features a small business-catered CRM
Serves a variety of industries
Salesforce Pricing
If Salesforce sounds like the CRM solution for you instead of Nimble, here are the pricing plans.
Essentials for $25 per user per month
Professional for $75 per user per month
Enterprise for $150 per user per month
Unlimited for $300 per user per month
Read also: Top 9 Salesforce Competitors And Alternatives [Tables]
4. Zoho CRM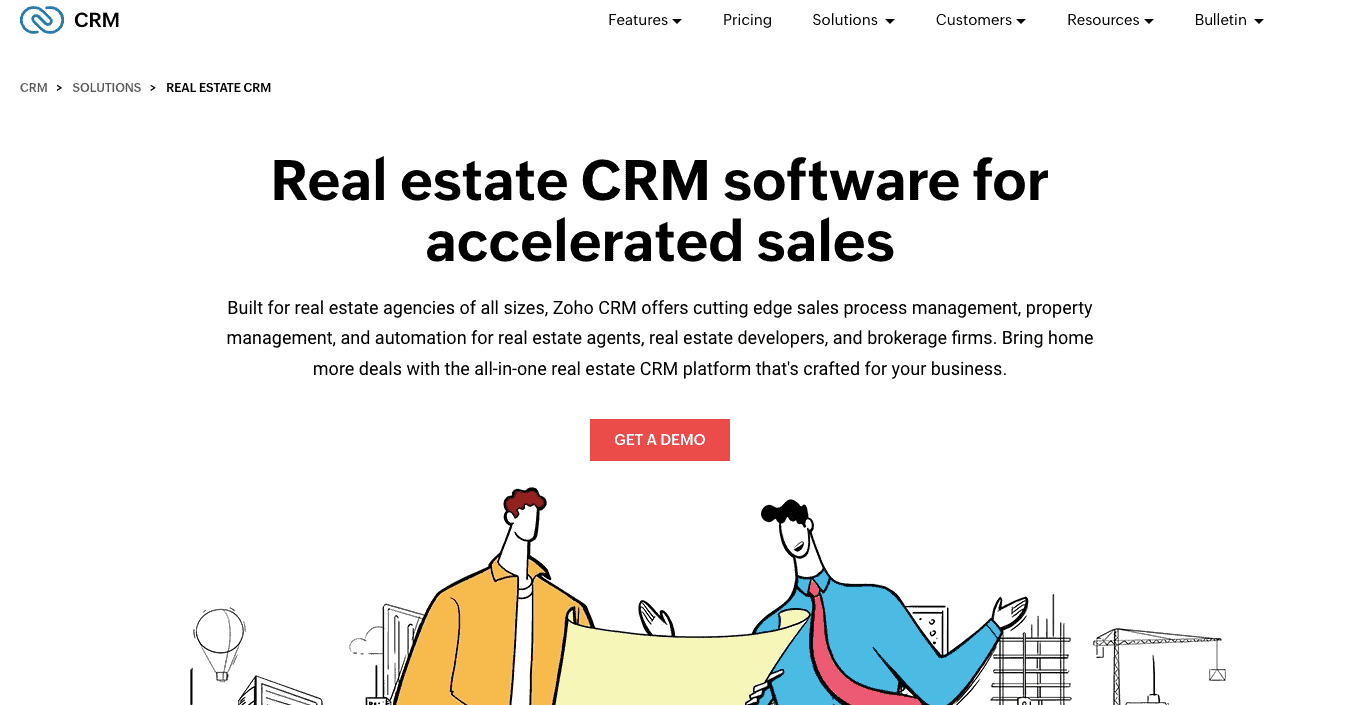 Another popular name among all the best Nimble alternatives is Zoho CRM. Within this suite of products and tools is everything you need to leverage software to grow your small business.
For instance, you can automate tasks to save time (doesn't it always feel like 24 hours aren't enough?), harness the powers of social media and email marketing, use predictive sales, and read helpful insights through analytics.
Advantages
Highly comprehensive CRM platform
Used by more than 250,000 companies, including Purolite, Suzuki, and Bose
Offers a mobile CRM app for customer data on the go
Features small business-centric solutions
Zoho CRM Pricing
Is Zoho CRM the right choice for your startup? Let's explore its four pricing plans to answer that question. All costs are for annual billing.
Standard for $14 per user per month
Professional for $24 per user per month
Enterprise for $40 per user per month
Ultimate for $52 per user per month
Zoho offers free trials for any of its paid plans.
Read also: Zoho Alternatives: 15 CRM Solutions For Smart Sales Teams
5. Pipedrive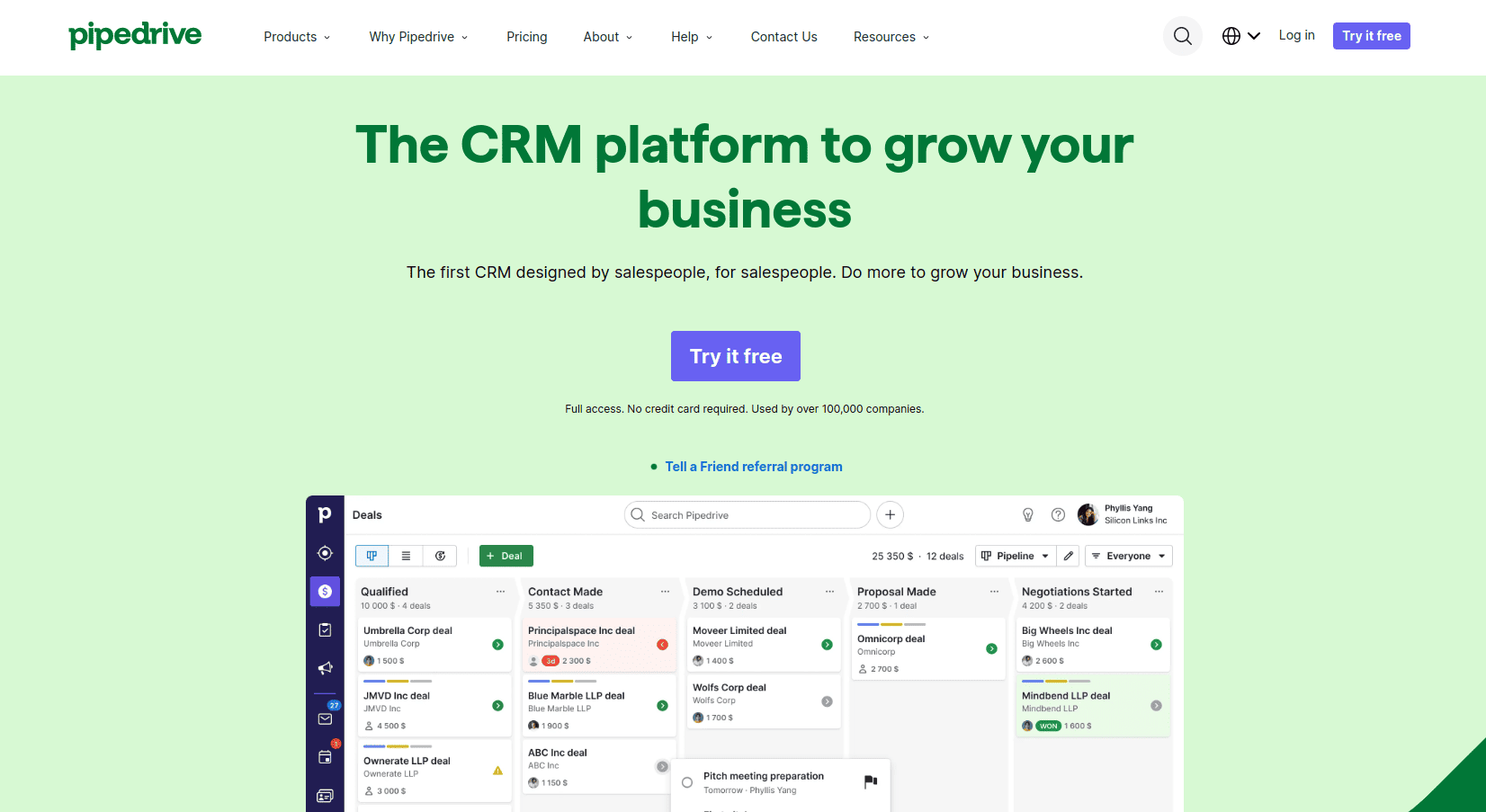 Understand your pipeline and how it grows with Pipedrive. The pipeline insights provided to you with this tool, combined with its excellent CRM, make it a top competitor to Nimble and could be why you decide to make the switch.
You can begin using Pipeline in only three steps. First, build your funnel using Pipeline's templates or customizing your own. Next, review your pipeline for growth, then add automation workflows to encourage customers through the pipeline more expeditiously.
Advantages
Integrates with more than 250 tools, from Facebook Messenger to Zapier, Google Meet, PandaDoc, QuickBooks, DocuSign, and many more
Offers lead management for scoring and qualifying leads so your sales team can go after the most lucrative leads
Features automation for all sorts of tasks, from lead prospecting to communications
Provides data through reporting tools, CRM analysis, and dashboards
Pipedrive Pricing
Before deciding if Pipedrive is the CRM for you, check out these four pricing plans. All costs are for annual billing.
Essential for $14.90 per user per month
Advanced for $24.90 per user per month
Professional for $49.90 per user per month
Enterprise for $99 per user per month
Pipedrive gives you the option to try before you buy with free trials!
Read also: 13 Perfect Pipedrive Alternatives That Can Do More
6. Insightly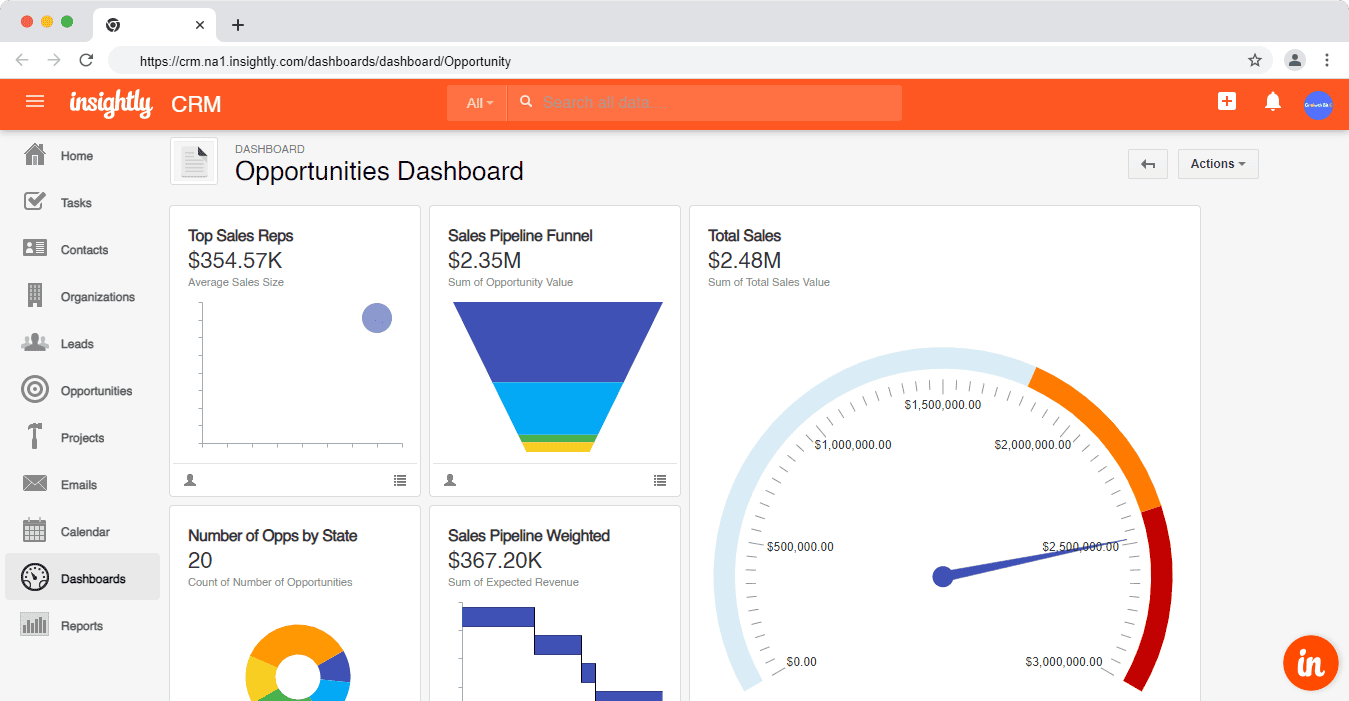 Next on our list is Insightly, another smart CRM to consider if Nimble has given you pause. This scalable CRM is simple to integrate into your workflow. Insightly's CRM features a cloud, a visual sales pipeline, lead management, automation, opportunity management, and lots more.
Insightly's CRM can help whether you want to focus more on the relationship side of business, maximize workplace productivity, complete more projects, or boost sales.
Advantages
Scalable solution so your business is ready for growth
Free mobile app to take your CRM insights with you
Automation to free up salespeople and marketer's schedules
Permissions feature to limit access to only those you want in the CRM
Insightly Pricing

Insightly prices its CRM separately from its sales and marketing services. You can select from three plans, so let's take a look. All pricing is with annual billing.
Plus for $29 per user per month
Professional for $49 per user per month
Enterprise for $99 per user per month
You can access features like the mobile app, custom sales processes, task management, custom reports, and email templates with the affordable Plus plan, but you'll find everything under the Insightly umbrella with the Enterprise plan.
Read also: 12 Incredible Insightly Alternatives for Small Businesses
7. Microsoft Dynamics 365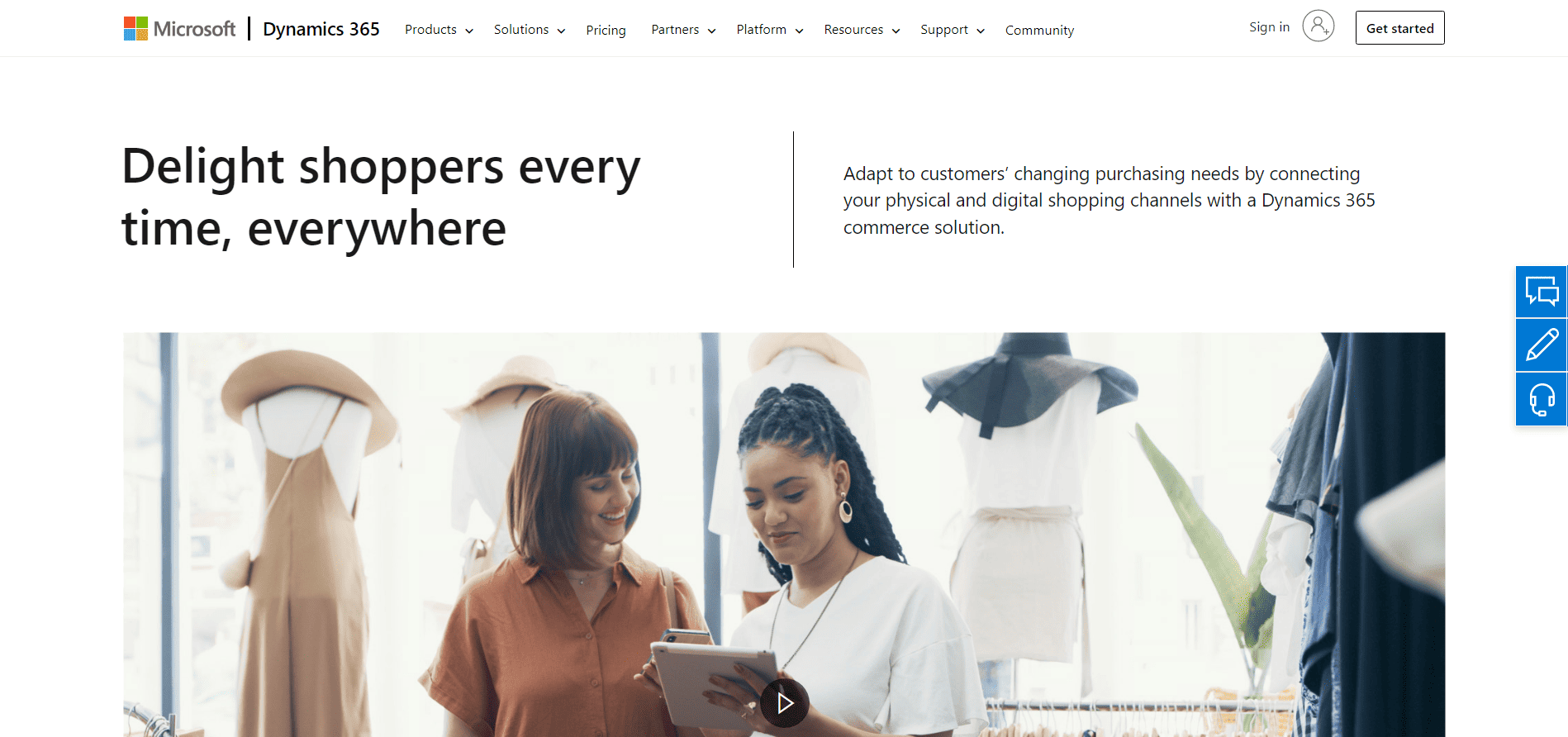 How many Microsoft products do you use in your day-to-day business operations? Why not add one more?
Microsoft Dynamics 365 is a sophisticated CRM that includes intelligent business applications to improve customer satisfaction and longevity.
Advantages
Customer data is accessible on LinkedIn, Azure, and the rest of Microsoft 365, among other tools
All data goes into the Microsoft Cloud, so you can retrieve it anytime, anywhere
Move more leads through the pipeline with this efficient CRM
Personalize experiences to tailor them to customers and drive loyalty
Microsoft Dynamics 365 Pricing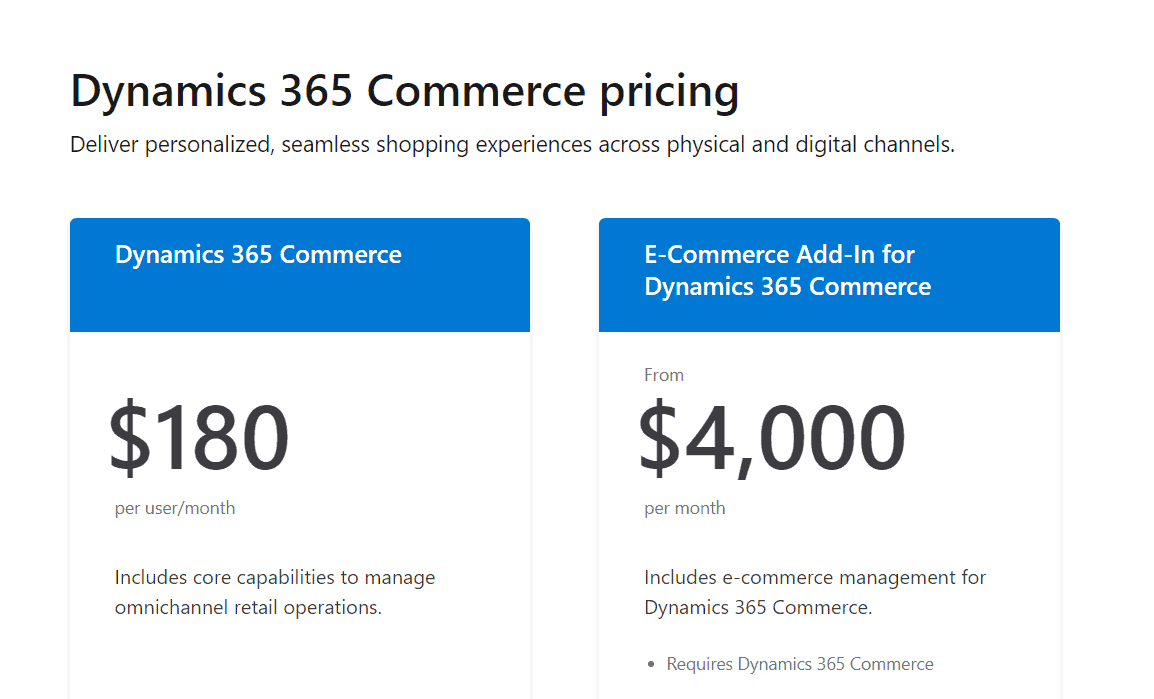 Small and medium businesses can choose from the following Microsoft Dynamics 365 pricing plans:
Business Central Essentials starting at $70 per user per month
Business Central Premium starting at $100 per user per month
Customer Service Professional at $20 to $50 per user per month
Sales Professional at $20 to $65 per user per month
Read also: Pardot Pricing, Features, Reviews, and Affordable Alternatives
8. Freshsales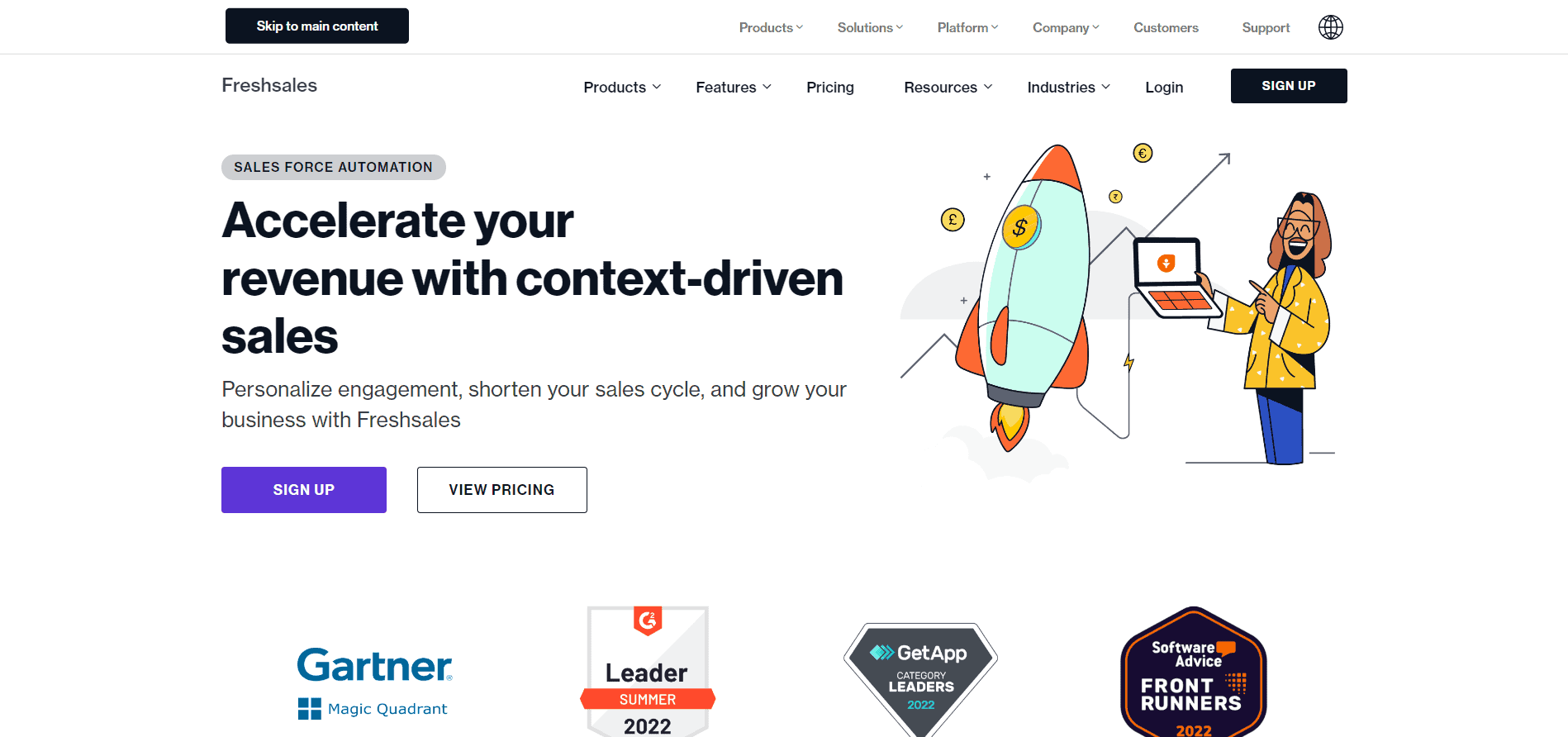 One of the top alternatives to Nimble in the CRM industry is Freshsales. This CRM received a slew of awards in 2022 from Software Advice, GetApp, and Gartner.
Like Salesforce has an AI assistant, so does Freshsales. It's known as Freddy. With Freddy, you can receive recommendations for your next business strategy, score contacts, and review insights that could change how you handle ongoing deals.
Advantages
Creates social profiles for each contact within the CRM
Uses AI features to help take your small business to new heights
Automate tasks to save time
Affordable pricing plans and no hidden fees
Freshsales Pricing
If you're interested in trying Freshsales, you can select from three pricing plans. The following costs are for annual billing.
Growth is free for three users, then $15 per user per month for additional users
Pro for $39 per user per month
Enterprise for $69 per user per month
Are you on the fence? Freshsales offers a 21-day free trial, which is quite generous.
Read also: 15 Freshworks Alternatives for Great Customer Support
9. Bitrix24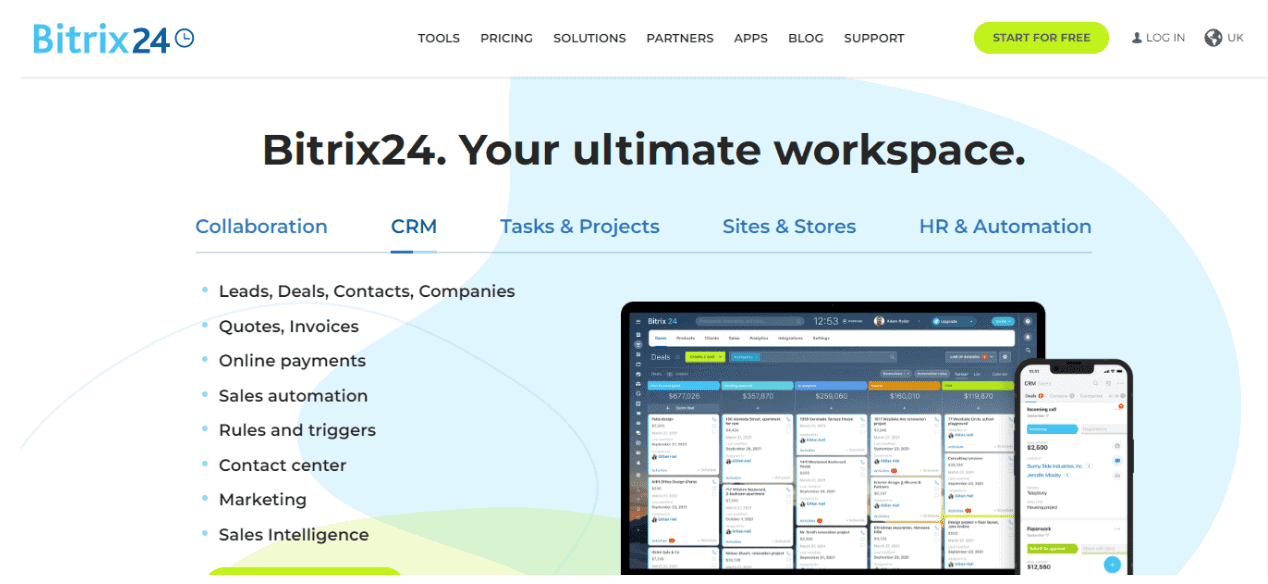 Bitrix24 offers a free plan with all the CRM features you need, so that's one very good reason to consider this among the Nimble alternatives, especially if your small business is on a shoestring budget.
Bitrix24 CRM includes features like sales intelligence, a contact center, triggers and rules, sales automation, quotes, and invoices. It's certainly a more full-bodied CRM than Nimble.
Advantages
A free plan is available if you're especially strapped for cash as a startup founder
Automation tools to cut out extraneous tasks
One-stop CRM with lead management, omnichannel marketing, team management, and more
One workspace for all your contact information
Bitrix24 Pricing
If you select annual billing for any of Bitrix24's plans, you'll pay the following:
Free for $0 per month for unlimited users
Basic for $49 per month for five users
Standard for $99 per month for 50 users
Professional for $199 per month for 100 users
The Free plan might sound like the best of the bunch, but do know that you get basic versions of all the features. You'll have to use a paid plan for the most features and the fullest versions of each.
Read also: Bitrix24 Alternatives For Customer Engagement and Sales
10. Copper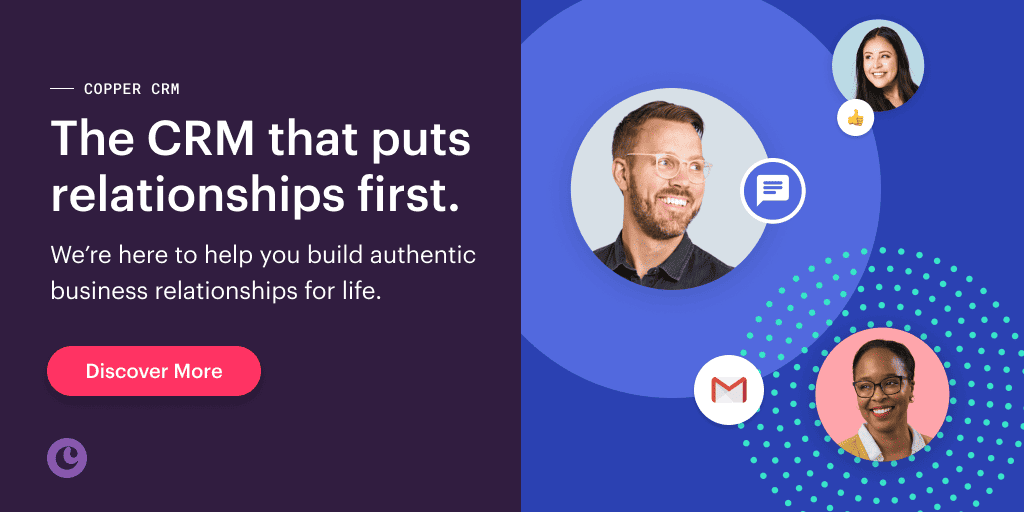 Copper CRM can help your business grow no matter its stage. Through automation, contact management, deal tracking, and rich, in-depth reports, this CRM will set you up with what you need to succeed.
Copper customers include consulting, technology, corporate development, and real estate businesses.
Advantages
Its CRM integrates with Google Workspace
Affordable pricing
A mobile app means you never have to miss deals and opportunities as they arise
Integrates with tools you use every day, like LinkedIn, Gmail, Google Drive, Mailchimp, Google Sheets, Dropbox, PandaDoc, and Zapier
Copper Pricing
If you think Copper could be the right CRM for your startup, the next big decision is picking among its pricing plans. The following pricing is for an annual billing plan.
Basic for $23 per user per month
Professional for $59 per user per month
Business for $99 per user per month
The Basic plan limits you to 2,500 contacts, while it's 15,000 contacts for the Professional plan and unlimited contacts for the Business plan.
Read also: Copper CRM Pricing & Comparison With Top Small Business Software
11. Agile CRM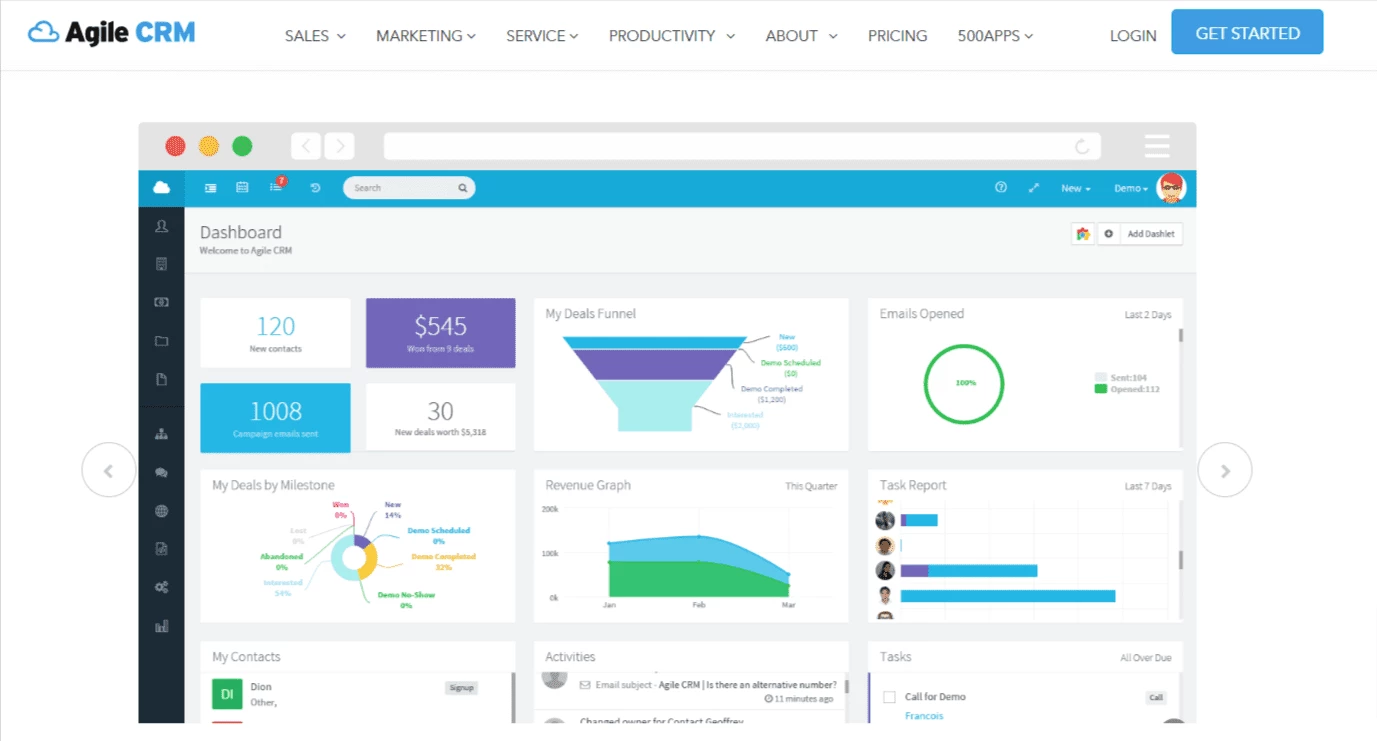 Your small business might not yet be close to Fortune 500 territory, but you can sell like one when using Agile CRM. This full CRM includes solutions for customer service, marketers, and salespeople.
The CRM provides 360-degree contact views, email marketing, calendar, lead scoring, email tracking, and more on one dashboard.
Advantages
Has an inbox sales CRM with third-party email access, email integration, email history access, and mobile functionality
Lets you share customer data in real-time
The mobile app lets you take all your CRM-related tasks with you
Integrates with social media platforms, support software, email services, and telephony services
Agile CRM Pricing
Subscribing to Agile CRM means selecting among four affordable pricing plans. Let's take a closer look.
Free for $0 a month for up to 10 users
Starter for $8.99 a month
Regular for $29.99 a month
Enterprise for $47.99 a month
The Free plan offers 1,000 contacts. Once you surpass that amount, the Starter plan supports 10,000 contacts, and the Regular plan up to 50,000 contacts. The Enterprise plan throws out the contact limits.
Read also: Say Goodbye to Agile CRM: 11 Alternatives to Consider
12. Capsule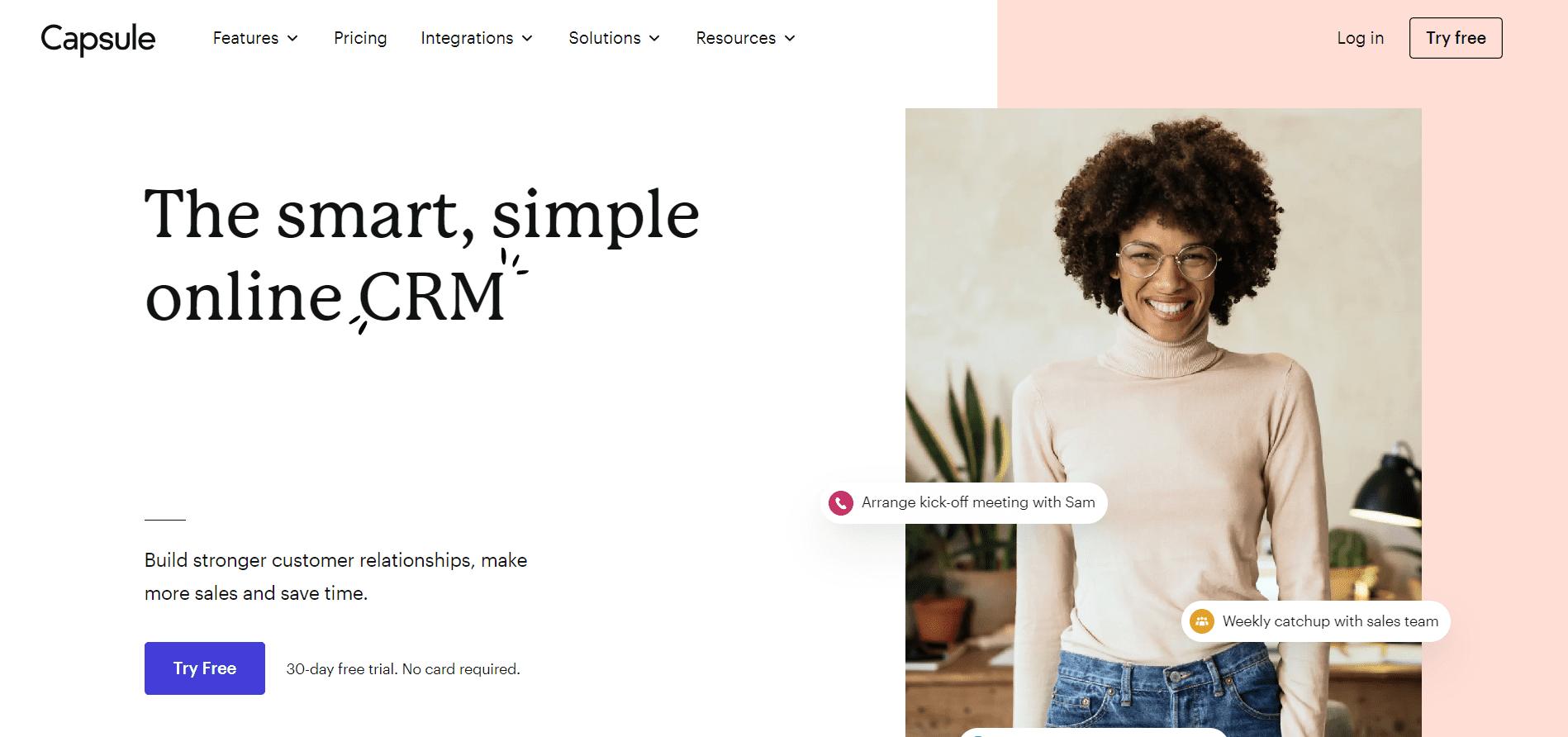 Capsule is a simple, teams-based CRM solution with more of what your small business needs, especially if you're dissatisfied with Nimble. You can create a sales pipeline, manage your contacts, use email marketing tools, and review sales analytics.
You can rely on Capsule to strengthen business relationships, close more deals, and save time, just like a good CRM should!
Advantages
Automates sales and marketing tasks for more expediency around the office
Features an AI content assistant to help you write emails
Charges you by the month, and you can cancel anytime
Has a free mobile app
Capsule Pricing
Capsule offers a two-week free trial to determine how its CRM services slot into your business. You can then pay by the month, choosing from three plans:
Professional for $15 per user per month
Teams for $30 per user per month
Enterprise for $45 per user per month
Read also: 11 Fantastic Capsule CRM Alternatives To Try Today
13. Streak CRM for Gmail

Does your small business use Gmail? Doesn't it make sense to choose a CRM solution that integrates effortlessly with Gmail? It sure does, and that's Streak CRM.
If a CRM integration with Gmail is all you're looking for, Streak makes more sense among all these alternatives to Nimble.
Advantages
Custom pipeline for sales
Import or export contact information and other relevant data straight into (or out of) Gmail
Free mobile app that lets you send contacts from your phone, log calls, and track tasks and information
Free plan available
Streak CRM for Gmail Pricing
Now comes the hardest part, choosing among Streak's five pricing plans! Here is more information on the pricing for each plan if you opt for annual billing.
Free for $0 per user per month
Solo for $15 per user per month
Pro for $49 per user per month
Pro+ for $69 per user per month
Enterprise for $129 per user per month
The Free plan limits you to only 500 contacts and very basic CRM features. If you want an advanced CRM and unlimited contacts, that's available beginning with the Pro plan.
However, Streak CRM says the Pro+ plan is the most popular. It includes automation workflows, advanced reporting, shared pipelines, and plenty more.
Read also: The Best Free CRM Apps, By Category (with User Reviews)
14. Less Annoying CRM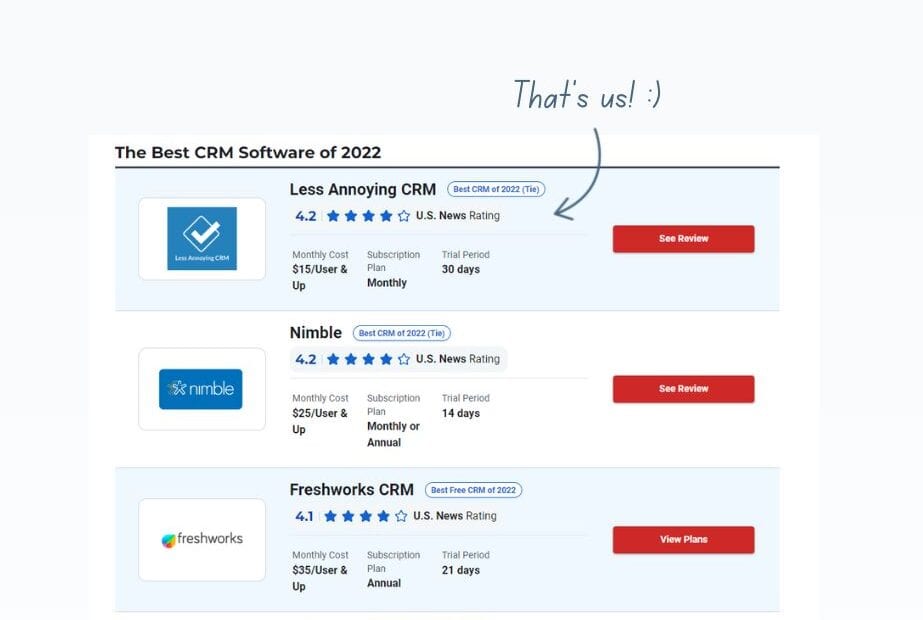 If Nimble has gotten on your nerves, try Less Annoying CRM.
The U.S. News & World Report called it its top CRM for four years, from 2020 to 2023.
The service promises no upcharges, affordable pricing, and a small business-oriented CRM. You can use features within the CRM such as pipelines, lead management, tasks, calendar, and contact management.
Advantages
Designed for small businesses
Customize elements of the CRM, like custom fields and more
Free mobile app, as your customer pipeline never sleeps!
One pricing plan to choose from
Less Annoying CRM Pricing
Yes, you read that right. Less Annoying CRM only offers one pricing plan, costing $15 per user per month. The plan is available for 30 days risk-free, so why not give it a try?
You can use every Less Annoying CRM feature and take advantage of free upgrades.
Read also: 12 Best Cloud-Based CRM Software for Small Business
15. Vtiger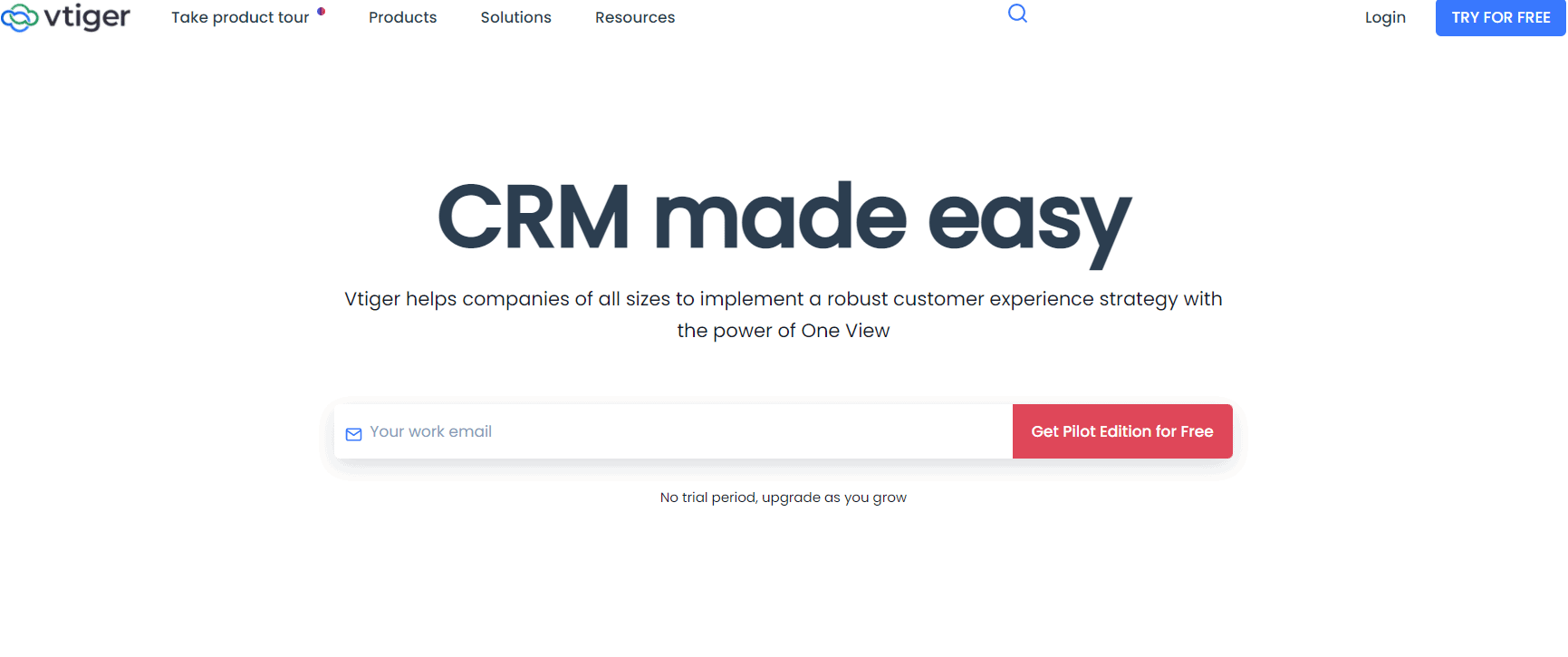 With Vtiger and its all-in-one CRM toolkit, you can gain enhanced views into your leads and customers to better understand and sell to them. The platform is designed for support, sales, and marketing teams to work together.
Vtiger even integrates with over 500 apps and tools you've reliably made a part of your regular workflow.
Advantages
Simple CRM implementation, so you can get Vtiger up and running faster
Scalable so you can continue using Vtiger even as your business grows
Offers the Vtiger Application Platform, aka VTAP for administrators and developers
Rated very well on Trustpilot, Capterra, and Gartner
Vtiger Pricing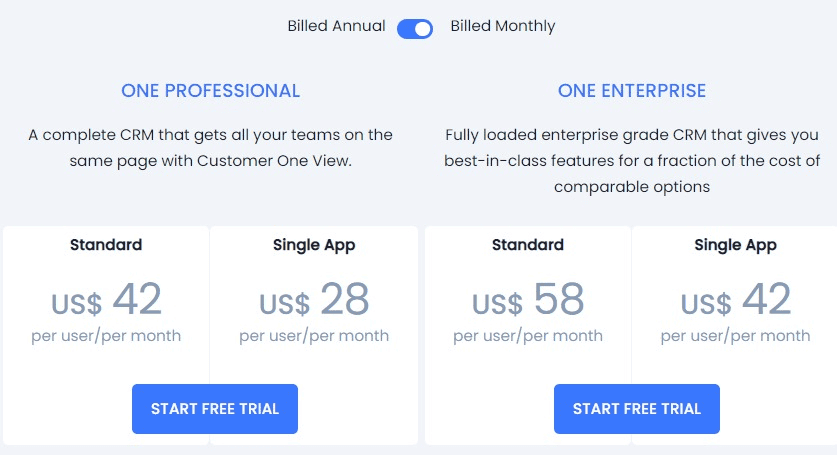 Vtiger offers two pricing plans.
One Professional for $30 per user per month for standard users when billed annually
One Enterprise for $42 per user per month for standard users
Read also: 24 Vtiger Alternatives: Boost Your Business Growth
16. Keap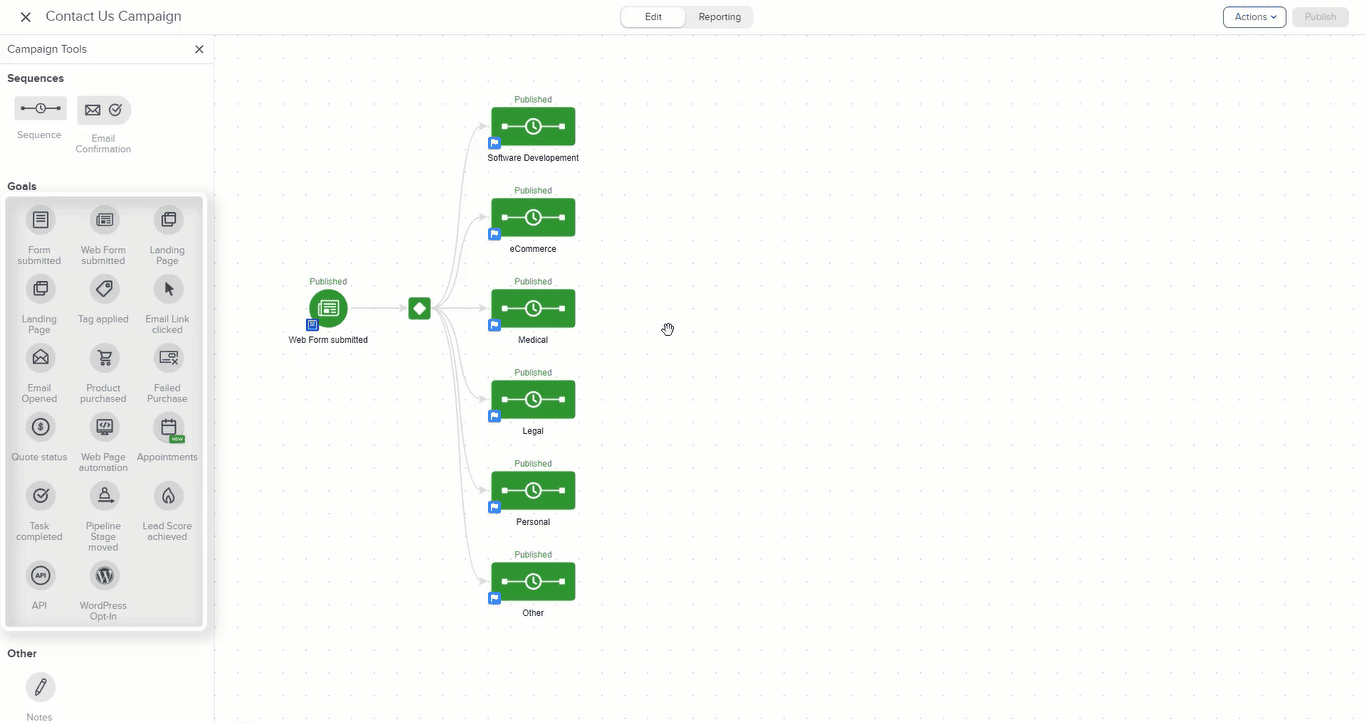 The service once known as Infusionsoft is now Keap. The name might be different, but the high-level CRM is the same. The sofware can help you grow with its small business CRM, which includes automation, marketing, and sales tools.
How about automating your lead capture? That's one feature of many that Keap's CRM has to offer! You can also personalize your follow-ups.
Advantages
Free migration so you can get set up fast and easily
Convert more leads when they enter your sales funnel
Switch between the desktop and mobile app and see data anytime
Integrate with QuickBooks, PayPal, Gmail, and plenty more
Keap Pricing
Do you think Keap is the right choice instead of Nimble? Here are the pricing plans to choose from.
Pro for $149 per month with annual billing
Max for $199 per month with annual billing
Read also: 11 of the Best Keap Alternatives (Features, Pricing)
17. Zendesk Sell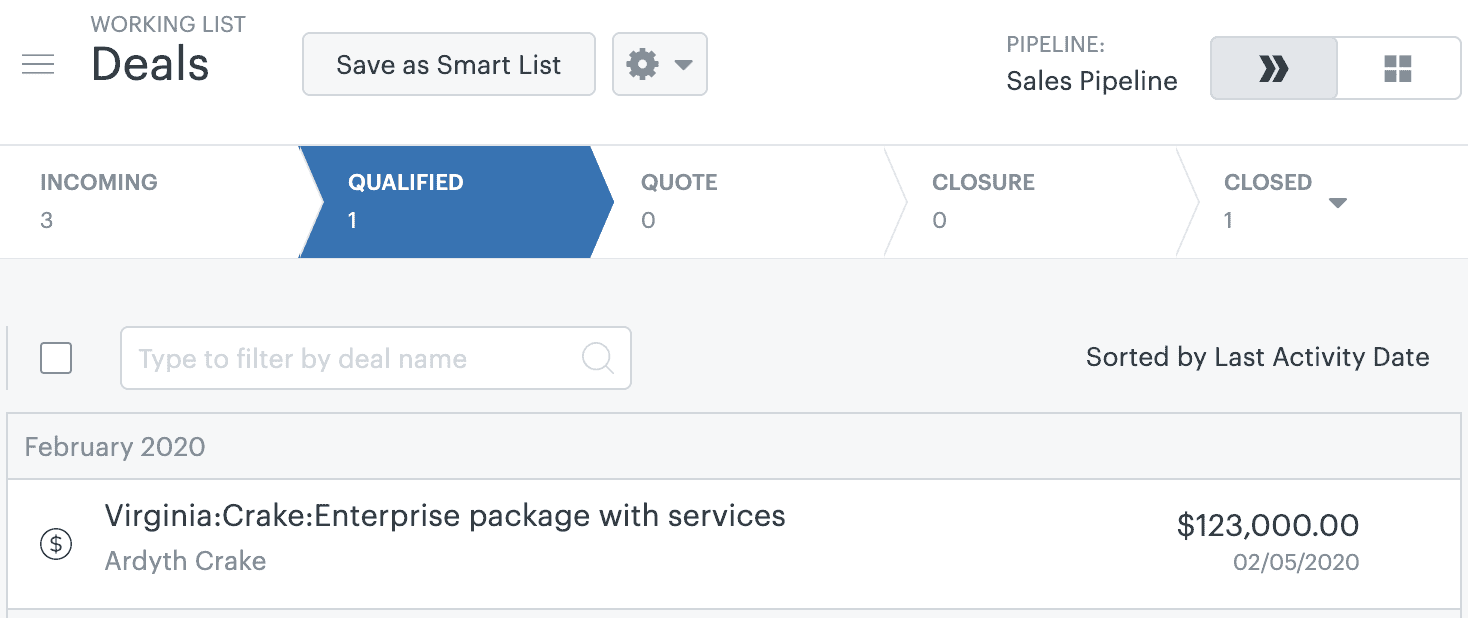 If you feel like using Nimble is too hard, dump it in exchange for Zendesk Sell. This sales-based CRM promises to enhance revenue growth, make your sales team work more productively, improve customer experiences, and help you learn more about your pipeline and customers.
Even better, you can achieve these business goals with an all-in-one, reliable CRM platform!
Advantages
Easy to set up and get started
No hidden fees
Results-driven, customizable pipeline
Free mobile app to always have your insights close by
Zendesk Sell Pricing
Zendesk Sell has three pricing plans to choose from. These costs are what you'd pay with annual billing.
Team for $19 per user per month
Growth for $49 per user per month
Professional for $99 per user per month
You can sample any Zendesk Sell plan as part of a free trial. The Team plan starts you off with two customizable sales pipelines, and you can add up to 20 if you select the Professional plan.
Other features available under these plans are calendar integration, email integration and tracking, document storage, offline mobile access, call recording and tracking, integrations with public apps, and pre-built sales dashboards.
Read also: Zendesk Alternatives – 14 Great CRM Software for SMBs
18. Nutshell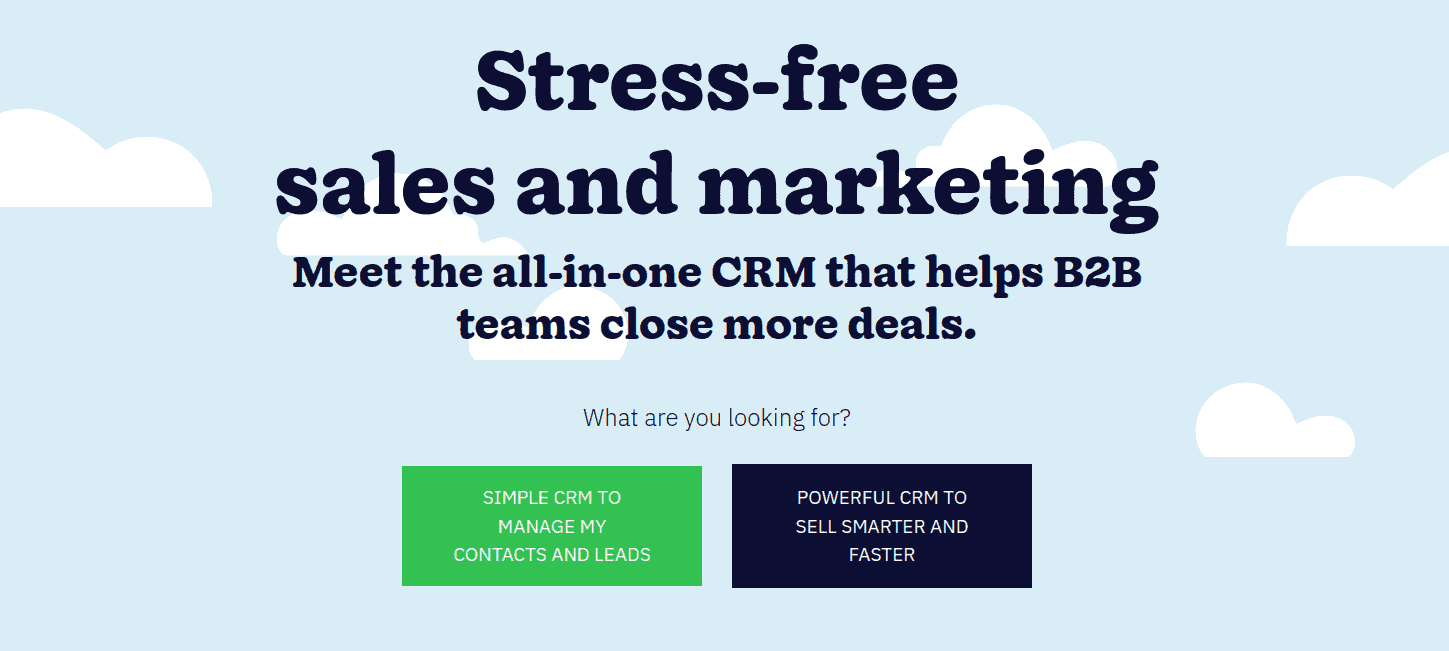 Nutshell created its CRM as a stress-free alternative to other companies out there, such as Nimble. This B2B solution offers features such as contact management, automation, pipeline management, email sequences, and detailed analytics.
You'll gain a stronger understanding of how leads enter your small business pipeline and what the average lead's progress looks like!
Advantages
Designed for SMBs
Offers sales and marketing tools within the CRM so your whole company can use them
Integrates with big names like Outlook, Mailchimp, Wufoo, Intercom, QuickBooks, RingCentral, and PandaDoc
Scalable pricing that grows as your business does
Nutshell Pricing
Nutshell only offers two pricing plans, and they're available on a sliding scale. As your small business accumulates more contacts, the cost of using Nutshell will continue to increase.
If you have 2,500 contacts and pay annually, here's what the pricing looks like:
Nutshell for $16 per user per month
Nutshell Pro for $42 per user per month
Nutshell's services support up to 60,000 contacts, at which point, your small business wouldn't be so small anymore! You can also try Nutshell for free.
Read also: How Much Does CRM Cost? Pricing for 18 Best CRM Software
19. Close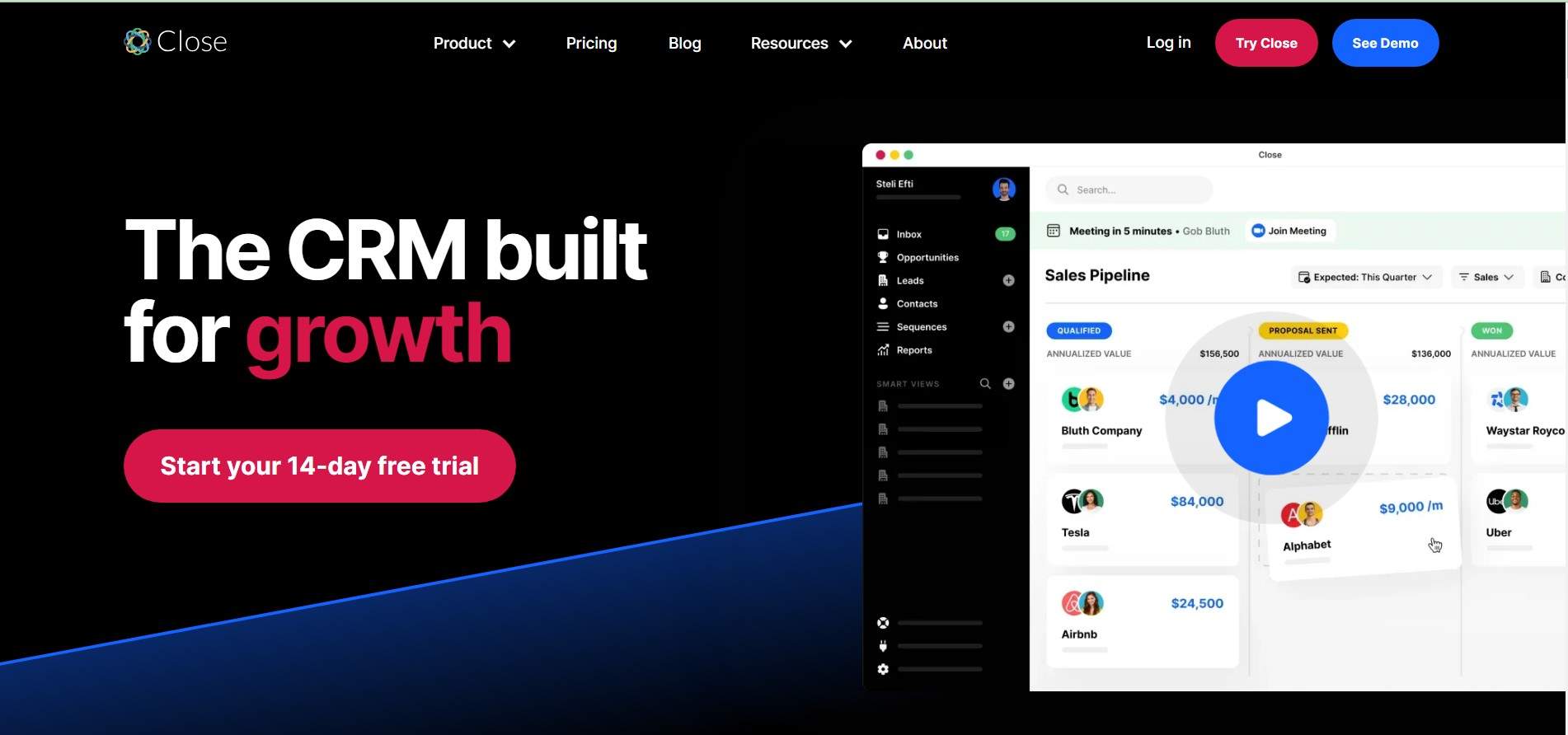 The last Nimble alternative we'll look at is Close, a high-speed CRM designed to elevate your startup's productivity. Featuring calendar and email syncing, calling and SMS, smart automation, and custom reporting, Close goes above and beyond in a way Nimble doesn't.
You can review a demo and use a free trial so you're confident in your purchase.
Advantages
Included SMS and VoIP works with automated features, including Predictive Dialer and Power Dialer to make phone communications more efficient
Leaderboards will motivate your sales team to work harder
SMS, email, and call automation through Sequences
Integrations with more than 100 tools, including Gmail, Zapier, Calendly, Zoom, Fivetran, and plenty more
Close Pricing
As you contemplate whether Close is the right CRM solution, take a look at its pricing. All costs are for annual billing.
Startup for $99 per user per month for three users
Professional for $299 per user per month for three users
Enterprise for $699 per user per month for five users
Read also: What are CRM Systems? (Benefits and Challenges)
Conclusion
If you're currently displeased with Nimble as your CRM and are itching to make a change, you should! You have so many alternatives there's no reason to keep using a software solution that's not meeting your small business needs.
While each of the 19 alternatives we looked at today can easily replace Nimble, we recommend EngageBay the most. It's got startup-friendly prices and a full CRM, and you can access it for free!