Companies offering products or professional services these days have enough departments already, why is there a need for one more – Customer Success?
You have got a marketing team and a good bunch of sales reps, but is that all your business needs to reach its success potential?
The answer is no.
When everyone in the business world is doing the same thing, you need to go the extra mile to make your business stand out and enjoy the desired outcome of your efforts. So, what else can you do to bridge that gap? The answer is customer success. Customer success is an emerging opportunity for your business to foster growth marketing and expansion opportunities.
Did you know that 86% of buyers with all rights reserved will pay more for a product or service if they have better customer experience and account management? The bottom line is customer success. Let's talk more about the concept of customer success. This article will discuss customer success, the operating model, best practices involved therein, and everything else you need to know about it in detail.
What is Customer Success?
As the name suggests, customer success is a business method that ensures that your customers achieve the highest level of satisfaction based on customer experience and the support customers receive while using your core products or professional services. This is possibly the most important function after customer acquisition and should be an integral part of your growth strategy. This is applicable to both technology companies and otherwise.
A customer is a decisive force behind any brand's achievements or failures. Customer intelligence cannot be ignored. You are only as good as your customers think you are.
All businesses depend on their customers for regular income flow, thus, business owners should understand that you either diligently manage your customers as your assets or you eventually get customers to stop using your product and move over to your rival brands. The latter is certainly not the desired outcome of your hard work in building the business.
Just winning a client is not enough. In the sales process, repeat sales matter! You want to make sure that your client remembers you the next time a product or service is needed.
That will only happen with a dedicated customer success team in place with well-defined account management responsibilities. Customer success can be your growth architect leading to awesome sales acceleration.
Customer success or CS is a long-term plan which is methodically structured and strategically directed towards maximizing the satisfaction your customers derive from your products or professional services and directly enhancing customer experience by using best practices.
The role customer success plays in the long-term is critical for better customer relationships, business growth as your happy customers turn into your brand's biggest supports and advocates. A well-implemented customer success strategy reduces churn rates and improves revenue growth.
Companies hire customer success teams and customer success managers and many also implement customer success software whose job is to rigorously work towards keeping the customers satisfied. i.e., your core products and professional services meet and eventually, exceed your customer's expectations.
The customer success team primarily uses its time on understanding a customer's problem with the brand and why do they want to leave. The bottom line of the customer success team led by the customer success manager or an account manager (or any other relevant job title) should be to drive customer satisfaction and keep them using your product.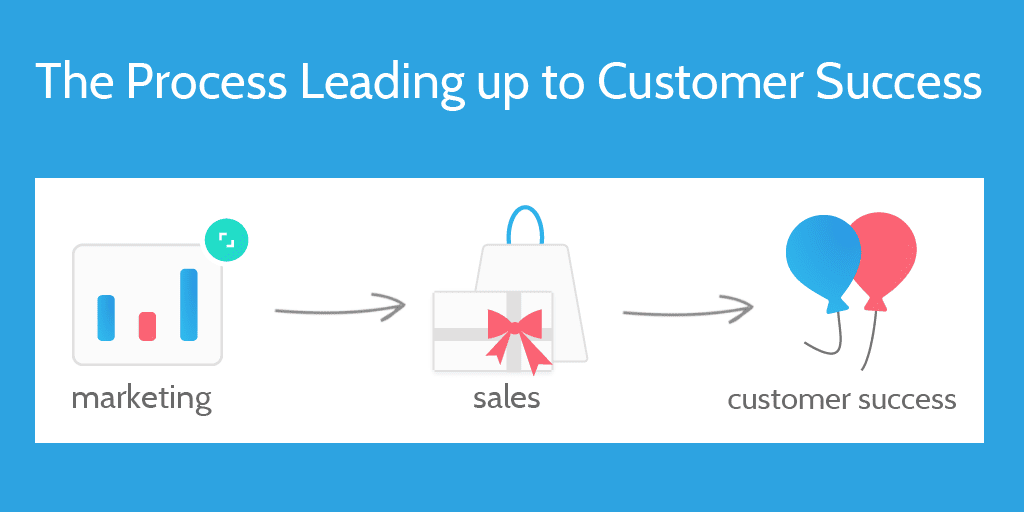 Image Courtesy: process.st
Customer satisfaction measures how happy the customers are with your products, services, and capabilities.
A customer journey is the complete sum of experience that the customer goes through from pre sales to after-sales while interacting with your brand and its services. Every touchpoint has the potential of changing your customer's mind. The human interaction capabilities of your organization are put through a good test here.
For example, if you are the owner of a new general store in the market. Customers visit your store and buy products from you. In the first few months, your business had been running normally. However, you are now noticing a steady decline in your marketing sales and revenue generation.
You notice that your clients are not visiting your store again. This situation makes you worry about your business's sustainability, growth, and expansion opportunity. The only way to move ahead in such a situation would be to first map out how satisfied your customers are, so you hand out your feedback forms and surveys to your existing clients.
In this process, you realize that a lack of proper stocks could be to blame. Looking at your competitors, you realize that each store has 2-3 months' worth of supply kept in advance and is more preferred by your customer segment.
You also find out that your store isn't publicized well. Since there are shops that have been around longer and functioned smoothly, your clients pick them over you.
So, you decide to send out brochures and get yourself advertised in the local newspaper.
You have just added 2 more touchpoints in your customer journey. Every time someone reads your brochure or the newspaper box, they find out about you. You are reaching out to more people now.
Now that you have improved all the loopholes you found out about, your store can match your customer's expectations, and when that happens, your customer base will be satisfied with you, and they will become recurring buyers.
An important point to remember here is that customer success is not applicable to the technology industry alone, in fact, it is relevant to all kinds of businesses.
This is what your customer success team led by a customer success manager helps you do. However, customer success is not to be confused with customer support.
Difference Between Customer Success and Customer Support
Today a company's success entirely depends on its relationship with its customer base. How your clients view your company is of the utmost importance to your growth strategy. Both the customer success as well as the customer support departments are important for meeting the desired outcome of the business objectives.
Often these terms are used interchangeably; however, there is more than what meets the eye. Let us spot the differences between customer support and customer success evident from their very definition.
Customer support is a front-line service provided by most businesses, which aims to solve problems a consumer may have while using your product. This usage data can be very helpful while resolving customer issues.
This department also acts on feedback, queries, struggles, and challenges to support customers while using the product.
Customer success is a proactive process done in partnership with customer support so that the customers achieve more value through their purchase. A solid customer success strategy involves building a relationship with your customers, understanding customer success KPIs, and helping your customers achieve and surpass their expectation levels with efficient account management.
Both customer success and customer support work hand in hand to help the business reach new levels, but here are some underlying differences between the two.

Image Courtesy: Hippo Video
Reactive versus Proactive
Customer support is reactive in approach, i.e. helping the customers when they reach out to you with some issues they have with your offerings. You give them a solution.
In contrast, customer success is proactive in nature i.e. creating resources that help the user solve/ prevent product-related problems. If we use this method of customer success, reactive support can be minimalized because the consumer would be helped much before a problem even surfaces in their minds.
Transactional versus Relationship-oriented
Customer support is like an exchange because it starts when the customer reaches out to you, and then, you help them with their challenges.
On the other hand, customer success is relationship-oriented. Here, the focus is on building tools that help the user evolve and grow. It does not have an endpoint. In fact, customer success organization is rather an ongoing process to help build and strengthen a company-customer relationship.
KPIs and Performance Metrics
Customer support metrics help you analyze and increase a company's speed and quality at which the customers receive help. The customer support metrics are not concerned with the events before or after the support interactions, i.e. did it help increase the marketing sales of the company.
Its focus is on delivering a speedy solution. Customer support metrics include CSAT, NPS, and customer hold time.
However, customer success looks at the bigger picture. The agenda of a customer success strategy is to generate a positive impact through those interactions and customer usage data to make your relationships with your customer base better.
Customer success organization focuses on improved customer retention rates, higher LTVs, increased upsell rates, customer health, cross-sell rates, revenue, and repeat sales. We shall look at some metrics on how to measure customer success later in this article.
Recruiting
Customer support has become fundamental in how most companies operate within the technology industry and outside of it. There is a well-defined customer help desk, and there is a module, a script, and often a pre-defined bunch of problems they deal with.
Since, a lot is well-defined in customer support, hiring the right people isn't tough.
Customer success, on the other hand, has been newly introduced to the market. Businesses have a problem in establishing their workflow.
Working over such goals is usually experimental. We still do not have the depth of knowledge to provide us with a definitive outlook to hire and train your customer success team and/or your customer success managers.
Return On Investment
Customer support is a definite service required by any business that aims to make life easy for their customers. When customer support doesn't exist, there is no place a customer can ask for help.
It leads to a lack of customer satisfaction, referrals, customer retention rates, and LTV (Lifetime Value) of customers.
Customer success can be quantified through product usage and adoption, velocity and volume of referrals, brand reputation, and increase in revenue irrespective of marketing sales efforts. Usually, if your brand is able to upsell and cross-sell or drive positive customer experience, your customer success team is working alright for now.
Disciplined Approach versus Experimental Approach
Customer support is a more disciplined approach as we know the methods and practices that will lead to an effective and efficient support group.
However, a good customer success strategy does have more space for experimentation; it comes off as a trial and error method. Customer success requires companies to explore avenues until they achieve an optimal plan of action.
Financial responsibility
Customer support is cost-centered, focusing on operational efficiency. They strive to justify the cost of your product by helping your consumers handle it better.
If the customer base feels like your product is too complicated despite having spoken with your helpline reps, then it's not a good customer support program.
Customer success is revenue-centered, focusing on growth opportunities. The idea behind a customer success strategy is to grow the relationship between the customer and the company so that it opens up future growth opportunities.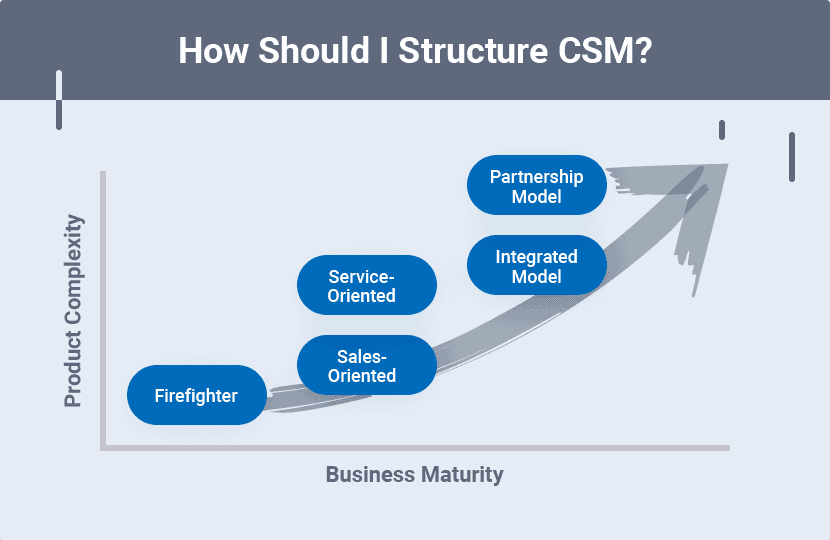 Image Courtesy: Custify
Ownership
Customer support groups are owned by a single team. This is a separate department in the organization under the supervision of a support executive.
Customer success depends on the cross-team efforts of service, sales process, product, as well as your support team. Customer success requires all these teams to work hand in hand towards the company's growth and expansion.
Work to be done
Your customer support should know about your products, services, and your business processes, and they should act as a technical and informative base for customers.
However, the customer success team has a varied role to play. The customer success team led by the customer success manager takes care of upsells, customer experience, the company's growth, and product adoption.
Perspective
Customer support is a short-term perspective, it focuses on solving the immediate challenge that the customer is facing.
For example, you are a travel agent and your customer has booked air tickets via your website. However, they are unable to locate the PNR no. for the booking.
Now when the customer calls you, you immediately respond with the PNR. Hence, the approach is short-term and solves the problem instantly.
However, customer success is long-term and detail-oriented. Using a customer success strategy, you would try to plan software integration for generating emails so that mistakes such as missed PNR can be omitted. Hence, thinking about long-term solutions for business to grow is the desired outcome of your customer success strategy.
Alert Business About What
Customer support's job is to alert the business about the problems and challenges faced by the customer, whereas customer success's job is to alert the business about opportunities and look for better growth strategies.
A customer success team's agenda is to turn drawbacks into successful innovative stories and boost customer experience.
Organization
Customer support is a department necessary for all brands regardless of the field of work. Telecommunication, transport, travel, hotel, infrastructure: All industries require customer support.
The customer success department is usually needed in growth-stage companies, professional service, and SaaS companies.
Both customer service and customer success departments help marketers develop, retain, and grow customer relationships, which in turn leads to increased revenue and success for the company.
While both the customer support and the customer success departments work individually with clearly defined long-term goals and objectives for the company as well as customer's benefit, they can also work together in harmony to help the company and customer grow closer.
The customer success team could use the inputs customer support has over what is troubling the masses.
When all employees are one the same page with respect to the customer's individual needs and challenges, they will align solutions and strategies to optimize the customer experience and improve customer relationships.
As one of many case studies, if your support team repeatedly gets complaints about a particular concern from the customer, they can inform the customer success team and the customer success manager or the chief customer officer. Both the customer support and customer success teams can then work in harmony with other departments to resolve the issue.
If both the customer success and the customer support teams want to coordinate with each other, this is how the communication will flow:
A customer service team's responsibility is to inform the success team about the problems faced by the customers and the solution they offer, more so if the problem is ongoing or recurring.
A customer success team can then incorporate this information into their strategy moving forward. The customer success team will prevent the issue from occurring in the future or at least minimize its impact on the business.
It is also a responsibility for the customer success team to inform the customer support team about their recent developments over unaddressed topics. So, when a customer reaches out with a query, the customer support team already has a solution, thanks to the valuable inputs shared by the customer success team. This will directly lead to a boost in customer retention rates, reduce churn threats, and increase total revenue.
Why do businesses need Customer Success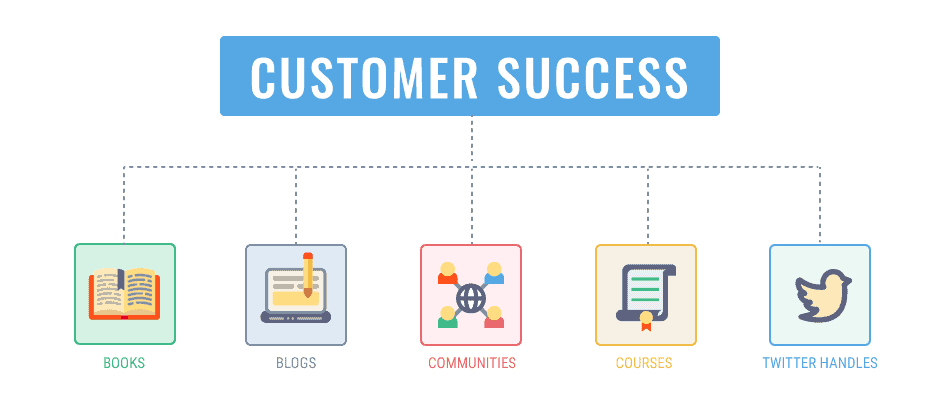 Image Courtesy: CustomerSuccessBox
There are various reasons why a modern-age business needs a customer success team, both for short-term as well as for long-term benefits. They are as follows:
1. Brings Brand Success
The more satisfied a customer is with you, the more success your company will have in the market!
When that happens, a customer naturally has no reasons to bounce to another provider, and they will find it much easier to just recall you every time they need something you deal with.
2. Brings Departments Together
When a customer makes their first call or sends the first email, they are greeted by the customer care department. However, what happens during and after the mail or the call will determine your success.
The idea is to deliver satisfaction with every service, therefore, each team is responsible for helping the customer achieve their desired objectives.
A customer-focused organization will now try to plan inter-departmental meetings, instead of impersonal introduction emails to bridge the gap between the journey stages. The organization will work together closely to make sure the customer is taken care of. Welcome to department customer success.
3. Facilitating New Ideas
An organization committed to providing satisfaction will encourage new ideas. While the customer success and the customer service teams are working on the front line, the other teams are working and collaborating diligently to optimize these customer-facing processes too.
When everyone heads out with just one vision: Make Things Better; there will be fresh useful thoughts.
4. Influences Every Department's KPIs
Customer success gives a company a unified goal: Help the customer be happier with your services.
This customer success goal is then shared by all the other departments working within the company.
Marketers work closely with customers to capture customer success stories and develop upsell/cross-sell strategies. Product teams work to solve the issues listed by the customers. Sales-team works with the customer success team to optimize all customer relationship management that can be done during the process. This marketing sales product alignment is extremely crucial.
When all the departments are working for customer benefit, the satisfaction of the customer increases manifold.
5. Guaranteed Executive Focus and Commitment
Not just the account managers and the leaders, even the executives need to shift their models to more customer-centric approaches.
Executives need to understand the impact of happy customers on the business and recurring revenue flow.
A company that envisions more success would naturally become more customer-centric down to its every inch. This would push your executives harder and bring more out of their talents
6. Long-term Benefit
Customer acquisition is just the primary step in the customer journey. A data-driven strategy that focuses on customer experience and satisfaction, during, and even after a purchase, makes loyal customers and reduces churn threats.
The customer makes repeated purchases and omits rival brands.
These customers advocate the brand and by word of mouth, recommend it to their family members, friends, and colleagues. This, in turn, has given your company free brand ambassadors.
It is important for businesses to understand that a robust customer success strategy will ultimately translate into brand success and should always be a top initiative. While you may have multiple goals to focus on, customer success, with all its add-ons should be a top priority for your business to not just survive, but also thrive.
How Does Customer Success Management Happen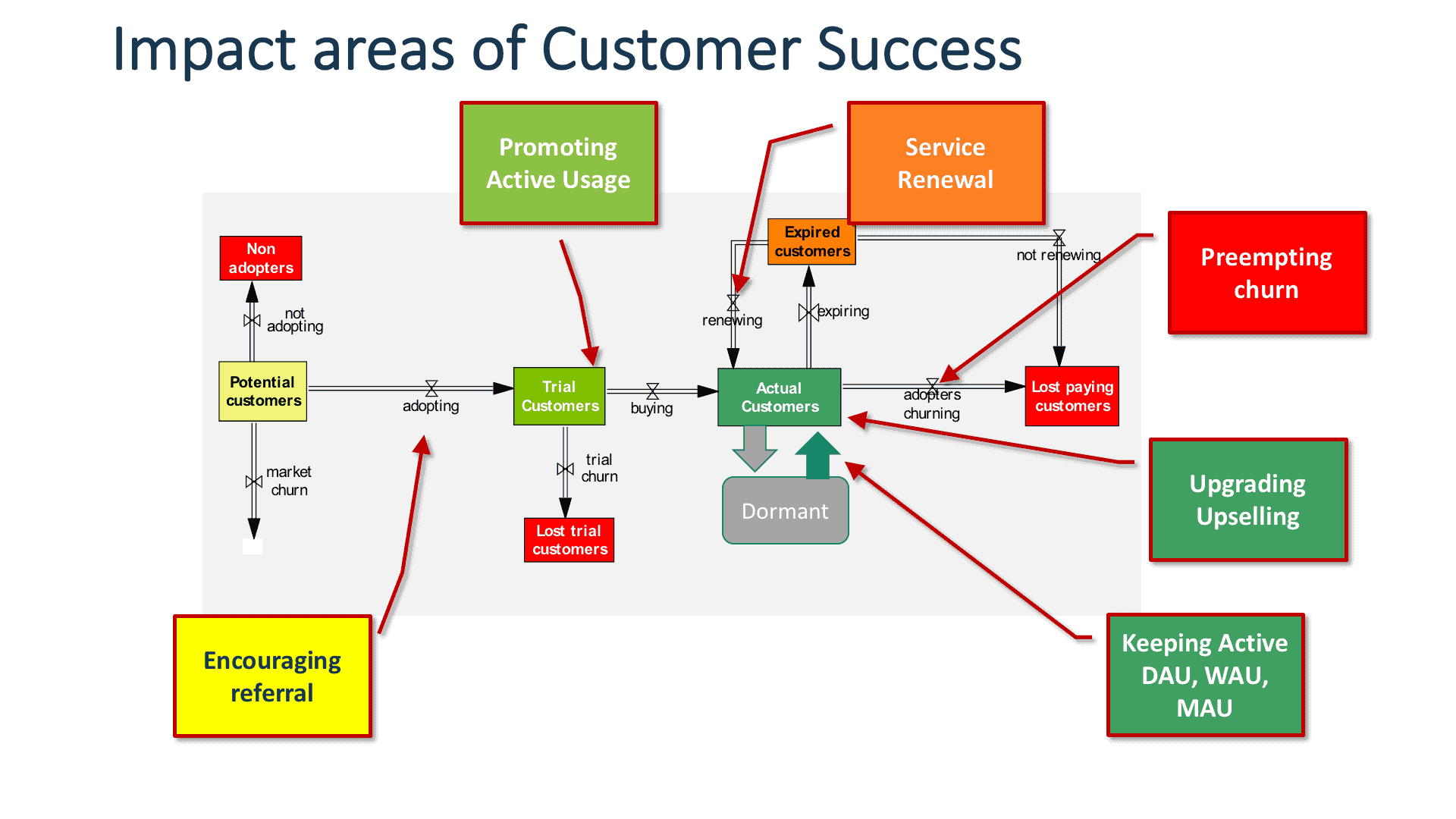 Image Courtesy: WittiGonia
To ensure that your customers attain their desired goals, businesses need to regularly push themselves towards customer-centric goals. Hence, customer success management can be defined as the process of pushing customers towards their intended outcomes. Ideally, this is carried out with the help of a powerful customer success platform.
There are 8 elements involved in Customer Success Management.
1. Segmentation
Segregating customers based on how much they pay the brand (ARR, LTV, ACV) has been done for a long time and seems logical to many, however, there is a gap. The experience that the customer segments have with a company is regardless of the revenue they bring in for the company.
It may be the case that certain high-ticket clients demand lesser maintenance yet certain low-ticket clients might end up buying more if a better treatment is ensured.
This brings in the concept of "appropriate experience". Very much as the name suggests, every customer deserves an experience that is personally appropriate for them.
Understanding a customer's appropriate experience tells us the type and the level of coverage they want, thus, providing them what they need.
2. Orchestration
Orchestration requires properly managing expectations. How would that be done? By laying out joint accountabilities, plans for future expansion, and advocacy.
While you want to leave no stones unturned for your business, you also want to make sure that it doesn't suffer the gap of the "wrong audience". You want to communicate with your consumers what they should expect from the product.
Build joint accountability for the relationship, wherein you as well as the customer know what to demand.
Once the customer has built trust in your brand, ask them for a review and let them know how this would help you too. Chances are if your services were good, a customer would gladly want to see you expand ambitiously.
So, with their reviews, you move towards expansion, outreach, betterment, and advocacy. That's part of the magic of customer success solutions.
3. Intervention
To maximize Customer Success Management, you should intervene in your customer's life in appropriate amounts to move from one customer success solution landmark to another.
Intervention is on a time basis (sending emails after a certain number of days or have a quarterly business review) based on data (what is the customer doing to move to the next success landmark) and triggers.
4. Measurement
Two things must be measured for Customer Success Management i.e., how are the customers doing? And what is the company we doing? The second should depend on the first.
Yes, your net revenue and customer retention will help you understand how are you doing, but if the approach has deflected from keeping the consumer at its core, the revenue won't be sustained.
5. Expansion
Traditional account management failed because marketers got too busy with increasing sales and forgot how the customers were feeling.
The numbers are still important, however, if the company stays at the center of marketing strategies, expansion, and renewal of sales get tough.
You want to ensure that your old customers buy your new products too. Upsells and cross-sells are only possible when customers achieve their desired goals.
6. Communication
A major part of Customer Success Management needs is communicating with the customers. It is guiding the user on how to take the next logical step. These are success milestones.
Not just that, it would also have consistency with communication. You need to ask your consumers whether they have issues even without them asking you first.
You should ask them for their point of view about suggestions or changes. It not only helps you stay in touch with them but also gives you a scope for improvement since the users review the product best.
7. Instrumentation
Companies jump to use Customer Success Management software without identifying the problem or challenge their brand is facing. This will lead to optimizing other elements of the business rather than the ones essential.
You should, thus, first, understand the issues that need to be fixed and then act accordingly. Instrumentation is the map of your customer journey and whatever data it has provided you so far.
8. Operationalization
Now that you have done most of the work, only one thing more remains to be done!
Operationalization is taking in the data from instrumentation and working on it. At this stage, a bunch of software and the right Customer Success Management tools can be used to make the process smoother.
Why do you need tools for Customer Success Management activities?
Customer success tools reduce churn rates i.e., the rate at which customers unsubscribe from your product. Customer retention requires experts to predict churn and stop it too. You need reports and efficient strategies that help you avoid churn and have your customers using your product consistently.
Customer success solutions better your products because customer success teams get valuable feedback from the customer. This customer data helps them inform product and development teams to make proactive enhancements and additions. You need a storage facility for this data, also some intuitive software to give deeper insights.
Happy costumes generate more revenue. To keep everyone happy, you need customer success management tools that can automatically handle a large number of people at the same time and directly boost your growth rates.
How to Measure Customer Success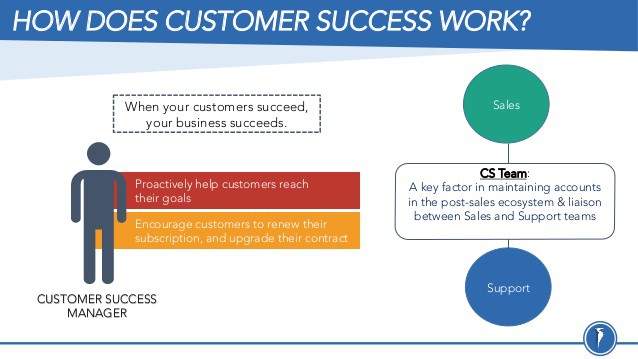 Image Courtesy: Slide Share
Much like any other thing in your organization, the extent of your customer success manager's success too can be gauged.
For this very purpose, you will have to define customer success KPIs and identify customer success resources.
Following are the most-effective ways of measuring your Customer Success Management:
1. Net Promoter Score
We are starting with perhaps the most upfront and easiest of all ways to determine customer satisfaction. You simply ask your customers how likely are they to refer your product to their friends on a scale of 1 to 10.
Needless to say, people would only recommend a brand if they are happy with it. If the majority of your customers chose a number equal to or above 6, you're good!
This is widely available as a customer success management product (software) as well.
2. Customer Health Score:
The main principle logic working behind this metric is that your customer should be successful with the help of your product. So, if they are not doing so well in their business using your product, which means your product isn't at its awesomest!
This is particularly a helpful metric for SaaS companies, that deals in software and tools for professional growth. However, this should not be confused with the customer effort score, which is an entirely different subject.
3. Renewal Rate
If a customer is happy with your brand, there is no reason why they would like to switch. So, every time their subscription with you needs to be renewed, they should renew it.
However, if you find out the number of renewals has been on a decline or is drastically lower than your conversion rate, it means people who once converted did not find your product helpful enough for repeat purchase.
4. Customer Churn Rate
To measure your churn rate for a given time period, you first note down the number of customers you had at the beginning, and the number you had left at the end. The difference is the number of people who left you in that period of time, and that is also your customer churn.
Customer churn can help you evaluate your customer success strategy on a more periodic basis, plus, if you had undertaken certain experimental steps, you would be able to gauge how they were received by users.
While measuring your churn, please do not include the new customers you may have acquired during that span, the idea here is to measure how many of your users remained with you during the period.
5. Customer Retention Cost
The most sure-shot way of measuring whether your customer success endeavors are worth the work.
The ideal situation would be that your customer success team gets your more revenue than it consumes, however, there are salaries, software prices, marketing sales costs, advertisement costs, and so on. You would need to deduct these costs from the repeal sales to determine how successful is your customer success department.
6. Customer feedback
This has a qualitative as well as a quantitative side to it. For this method, you only have to read the feedback you have been receiving from different customers. With time, you may receive more but to help every customer become happy, you will have to pay attention to all of them.
If most reviews you receive are complaints or requests for cancellation, there is something wrong with your product.
However, a part of Customer Success Management is also an increment in how much customers speak to you about whether or not they have been able to achieve their desired objectives. So, there may be more feedbacks coming in simply because the customers want to engage or tell you how great the product is. The quality and quantity aspects are both important for this metric.
7. Monthly Recurring Revenue
As the name suggests, this is the amount you make in a month and hopefully are able to regenerate every month.
This is also your revenue threshold. Your sales reps should push for a minimum recurrence of this much revenue.
However, comparing over a period of a few months, if your MRR has shown an upward trajectory, you have clearly been able to sell more. Not just sell more, you have been able to retain customers and sustain them. Both of these happen only when your product has made your customer satisfied.
MRR = Total number of customers x average revenue per customer
Here the customers we are referring to are the ones who purchase from you actively on a per month basis. This will be a great metric for companies that work on a monthly subscription model
8. Customer Satisfaction Score
The ultimate gauge of customer success and how satisfied a customer feels with your products is the Customer Satisfaction Score or the CSAT. Not so different from your Net Promoter Score, but the main difference being, with CSAT, you are going to ask your customers to rate your services after using your product.
Here, you are not asking them "How likely are you to recommend us? " but you are asking them "Would you like to choose us the next time you need the same product?"
You ask them a simple yes or no question, and let's say every person you asked, said "yes", then your CSAT is 100%. However, that is too ideal.
In reality, a CSAT over 70% is brilliant. So, if you have, let's say, a thousand odd people, at least 700 should want to choose you for their next purchase.
9. Customer Lifetime Value
CLV is an indicator of how much revenue can an average consumer bring to your company during their association with you.
If your CLV increases over a period of time, it clearly suggests that your consumers are happy with you.
Mathematical formulae to calculate CLV
CLV = Average purchase order's worth x number of visits every month x number of months your average customer stays with your company
If you find your Customer Lifetime Value decreasing, it could be so because your prices are too much or perhaps, your services have fallen behind. Both of these require you to reconsider your customer success strategies.
10. First Contact Resolution Rate
People these days neither have enough time nor enough patience to wait for a solution; they want help right away.
So, the first call your customer makes is the call he wants his problem solved in. The next call should ideally be just a follow-up to check if things are running smooth, however, if you keep on dodging their solution achievement to more calls, you would eventually lose their interest.
Thus, it makes a huge difference if you are able to solve the crisis in the very first interaction, which is also called the "First Contact Resolution".
If your customer success solution plan is working out fine, you would achieve a higher first contact resolution rate. With more customers happy, there will be lesser problems, to begin with. The problems that do arise will be solved instantaneously since a good customer success team would have anticipated the problems much in advance, perhaps, they would even have a solution ready. So, going beyond the first call wouldn't happen in most cases.
Does My Business Need Customer Success
Whether you need a customer success department purely depends on the nature of your business and your priority towards the customer lifecycle.
If you deal with a lot of customers on a daily basis and your brand runs on relationship management, then you and your account managers should make use of Customer Relationship Management software such as EngageBay and other customer success software to nurture your clients more. This will be a helpful technology decision.
EngageBay is an all-in-one customer success software, which comes with effortlessly smooth customer support features like help desk and live chat. We also take care of your sales and marketing throughout the customer lifecycle to ensure the best customer success for your brand.
To know more, click here.
If you are into a business where you need your customers to return more often, you would need effective customer success management and efficient customer success solutions.
If you are interested in driving retention and total revenue growth, you need good management.
There are some industries, which depend on it more than others. These industries are customer-centric, for instance – hotels, schools, marketing agencies, software companies. Wherever the opinion of a customer triumphs, you need something that keeps them happy. And that is what makes customer success so important