Is your company using customer relationship management (CRM) software?
According to SuperOffice, "CRM software is now the biggest software market in the world."
They go on to say that once 2025 rolls around, CRM software should bring in $80+ billion for its users.
Whether it's cloud-based, mobile-based, or CRM for small business, if your company wants sales and growth, you can't afford to skip this software.
Are you not convinced by one stat?
Perhaps you're a small business owner on a very tight budget. Anything you funnel money into, be it new hardware, software, and the like must be worthwhile.
In this article, we will explain all the ways CRM can make your small business or startup more profitable.
By the time you're done reading, you should be ready to invest in this software for your company.
What Is CRM (Customer Relationship Management)?
Let's make clear what CRM software is with a definition.
As we touched on in the intro, CRM is short for customer relationship management.
This software is a tool for maximizing your customer interactions.
You can rely on CRM for lead conversion and customer retention alike.
Here are some features of comprehensive CRM software:
Contact management
Lead management
Tracking interactions
Workflow automation and other automation
Pipeline progress
Analytics
If you're exploring your CRM options, EngageBay is a comprehensive solution to consider.
You never have to pay to use EngageBay's CRM, making it ideal for small businesses on a budget.
Here's a YouTube video explaining how to add personal emails using EngageBay's CRM.
How Can CRM Help B2B Marketing?
Although CRM can seem primarily sales-based, this software can also aide you in B2B marketing. Here's how.
Linking Sales and Marketing Teams
The responsibilities of your sales team and marketers often overlap.
To prevent too many members of your team from trying to sell to the same lead at once, you can sync your marketers and salespeople through CRM.
When both teams work in tandem, your company will get more done.
Customer queries can be addressed quickly, targeted emails sent, and communications logged.
This can all lead to more sales!
Automation Saves Time
We all only have 24 hours in a day, but you wish could work with twice, even thrice the number of hours.
The automation features within your CRM can take care of certain time-consuming tasks and responsibilities so you don't have to.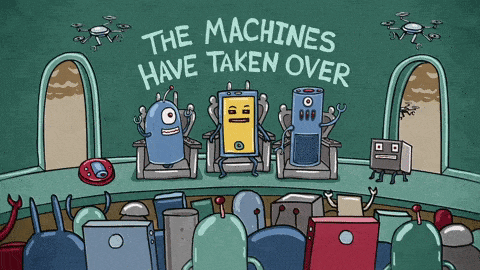 You'll feel like you have a much more open calendar.
By scheduling automated workflows, you can ensure that certain triggers occur only as reactions to specific behaviors.
Recovers More Potential Lost Leads
We all get busy and forget to follow up sometimes.
This is basic human error, but the lead you're missing out on could have become a fruitful customer.
Now you'll never know.
With CRM, you can better manage your influx of leads as well as who–if anyone–has interacted with them before you.
This makes it harder for leads to be skipped over.
Even though you won't convert every last lead, you have more chances for conversions than ever before!
How CRM Makes Your B2B Company More Profitable
We're just getting started.
Here's more information on how to maximize your B2B company's earnings potential with CRM.
Finding the Right Customers
Every small business wants customers, but they have to be the right ones.
These are prospects who are already semi-interested in your products and services. They're thus more likely to buy.
You may have dedicated lead gen processes at your workplace.
Perhaps you score leads to strict criteria.
You may even create buyer personas to organize your customers by their needs and pain points.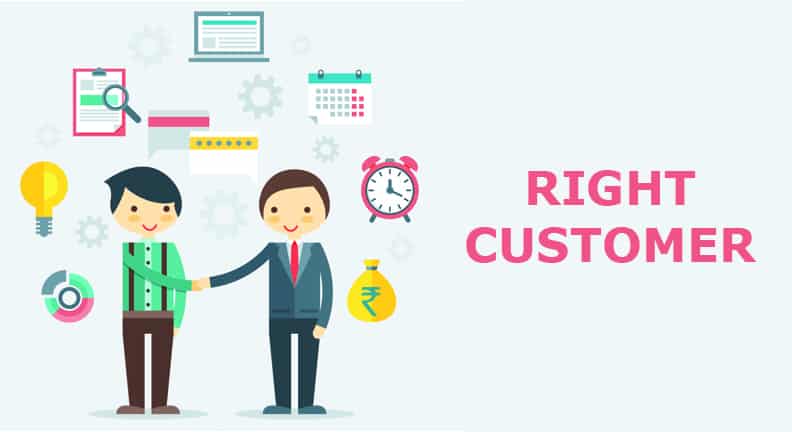 These are all great methods for finding the right customers, but don't stop there.
Did you know CRM can aide in lead gen, too?
Not just basic lead gen, but tracking prospective buyers. Most CRM software comes with a slew of features for lead nurturing.
For instance, if you have a stubborn lead who's stuck in the pipeline, you can use this software for automation.
You're still injecting the human touch into your marketing efforts, of course, but you're not wasting precious time chasing after disinterested leads.
You can also quickly assess which ones are the right leads and set aside those who aren't.
After all, as a small business owner, your time is incredibly scarce and valuable.
Chances are, you're already stretched too thin as it is, trying to do every last thing your company requires.
You know you can't give up on lead gen, but sometimes potential prospects get overlooked because you're just so busy.
Not only can you reengage with old leads with CRM then, but you'll also be generating plenty of new ones.
Using this software, you can automate emails that are highly-targeted and then send them to leads. You can also design targeted landing pages that include opt-in forms and notification triggers.
All these efforts culminate in highly-qualified leads who are ready to do business with you.
Building More Sustainable Relationships
Now that you've got some qualified leads in your pipeline, it's time to engage with them.
As we mentioned in the last section, CRM software can be of great help here.
After all, it's in the name, right? CRM does stand for customer relationship management software.
By going back and listening to a lead call after it's wrapped up, there's a lot you can learn.
Were there areas where the lead expressed reluctance that you completely missed before?
Are there more ways you can clearly explain your products or services?
How can you strive to eliminate or alleviate reluctance, worry, or doubt?
With CRM, it's possible to begin to answer those questions and more.
We do just want to say that while technology is a beautiful thing when it comes to building relationships, nothing beats that human element.
If your emails come across as too stiff and robotic, your leads are going to know it.
They need a real human on the other end of their communication, be that a phone call or an email.
Make sure you're still involved in these exchanges.
Your lead may be one of many, but at this stage, they need to feel like an individual.
Don't lose sight of that goal amid all this handy technology.
Reducing the Cost of Sales
Are you trying to save money at your company?
That's almost a rhetorical question. Every business, from small startups to mid-sized companies, wants to save a buck. By deploying CRM software, you can.
Here are some ways you can cut down on costs around the office with CRM:
Say goodbye to pricey reporting software: There's no need to keep paying for overpriced reporting software. CRM tools can often produce reports for you, giving you clear-cut analytics on your latest campaign. This also saves time, which is helpful. No one has to work late hours at the office putting together these reports when CRM can do it for you.
Templates save dough: Every company needs templates, be those for online advertisements or emails. These templates can be so expensive, though! With CRM software, you often get a variety of templates that come built into the tech.
Time = money: By clearly laying out all the tasks that are being accomplished around the office with CRM, there's less risk of employee overlap. Your sales and marketing team won't accidentally start on the same project, wasting valuable time and money.
Only necessary phone calls, please: When you use automation, there's often less need to jump on the phone or manually send emails. While your sales team will still need to call prospects, these will only be necessary calls. That's less money on a company phone bill. Those savings can add up over time.
Increasing Employee Productivity
Each day, your employees come into work focused and ready to prove themselves.
As part of a small business, it's all hands on deck.
However, distractions loom in just about every office environment.
There's social media, watercooler talk, and an influx of personal emails.
Even if they're not distracted, your employees get tired.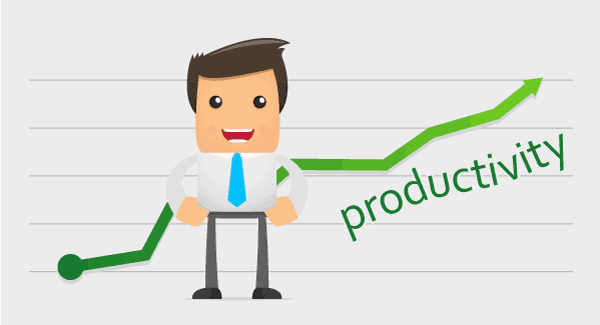 Thus, in both instances, productivity suffers.
Productivity, of course, is not just about reducing distractions and staying focused.
If an employee is tasked with a tedious job, or if two members of the company are accidentally doing the same job, this also hurts productivity.
There's surely a better way to spend one's workday, right?
Absolutely! CRM software can really turn your office's productivity around.
Automation can go a long way towards reducing employee exhaustion and even burnout.
While your employees will still need to put time and effort into the automated emails and landing pages, they get to take a less hands-on approach.
For instance, with CRM templates, you can pick a pre-made landing page design rather than create one from scratch.
That alone saves hours of time.
Being able to automatically schedule when your emails go out means your employees will spend fewer hours mindlessly sitting at the computer waiting to hit the send button.
It's even possible for some CRM software to do sales automation.
The software then acts as a partner to each member of your sales team. CRM can take care of some tasks while the salesperson does another.
At the end of the day, your sales team has more time to speak with and convert customers while the software does the rest.
EngageBay's free CRM solution helps you organize all your email contacts, track deals and the sales pipeline to grow your sales.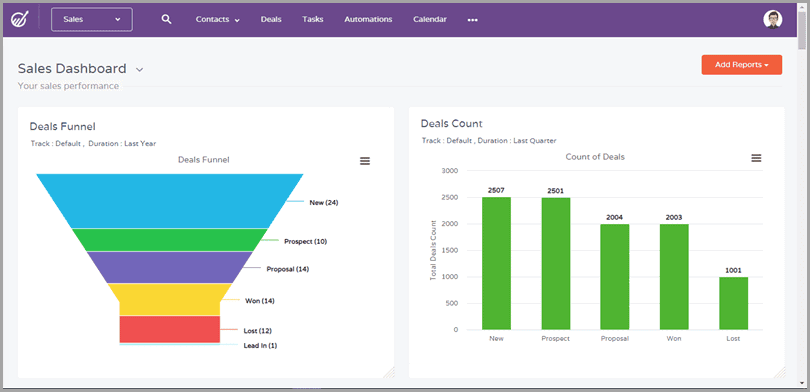 Offering Better Customer Service
No matter how exemplary a company's products or services are, if their customer service is lacking, so too will their success.
Customer service means promptly answering phone calls and responding to emails, replying to social media inquiries, and addressing any mistakes immediately.
You're pretty slammed as a small business owner.
You want to get back to every customer who calls or emails, but frankly, you just don't have time.
This is where you'd want to use CRM software.
There are several areas where CRM can improve your company's customer service.
The first is through automation. As we've mentioned, you can schedule emails to go out at just the right times.
Your sales team, when using CRM, should find it easier to complete tasks as well.
You can also use CRM for startups to create a comprehensive training program for all onboarding employees.
By teaching these new employees the pillars of your customer service, they can continue to improve the company reputation.
Finally, you might use CRM chatbots.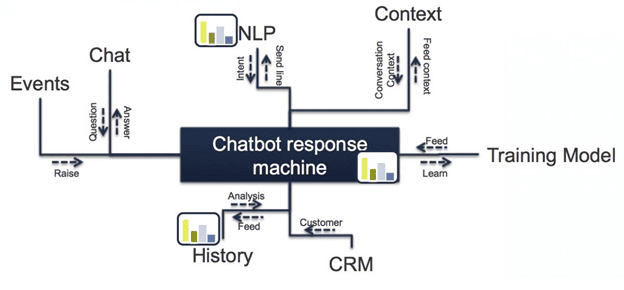 Image courtesy of Capgemini
Chances are, you've come across these bots on several sites.
They're chat widgets that greet you when you visit, asking if you need help.
If a lead or customer has questions about your site, it's the chatbot's job to answer them.
Chatbots have come a long way. According to Chatbots Life, over a single year, customers will put in 265 billion queries and requests.
To answer these, companies across the country will drop $1.3 trillion in resources.
It is possible to cut down on these expenses. Chatbots Life says that by deploying chatbots for your company, you can drop customer request costs by 30 percent.
That's quite significant.
Like most CRM tech, having a chatbot doesn't mean you don't need dedicated representatives on-call to answer questions. Instead, chatbots can be used to fill in the gaps.
If a customer reaches out after hours or on weekends, they can at least get a response. Maybe it's a satisfying answer to their question.
Perhaps the chatbot tells the customer to call or email during the next working day. Either way, the customer isn't left hanging.
Improving Customer Retention
That brings us to our next point: customer retention.
Customer satisfaction and retention go hand-in-hand.
Simply put, if a customer isn't satisfied with the services you provide them, they are going to look elsewhere.
You do your best to keep your customers happy, but sometimes you feel it isn't enough.
It's a good thing CRM software can be used for—you guessed it—improving customer retention.
How? Here are several methods you might try:
Re-engaging with missed leads: Leads may drop off the pipeline for any reason. Sometimes they're not interested in your products/services. Other times they can't afford them. By keeping a contacts list of these leads via CRM, you can double back to them. A reengagement campaign could have better results than the first time around.
Customer behavior data: The insights you can gather into your customer behaviors and interactions is invaluable. CRM provides these firsthand glimpses. This info is constantly updated so your data is always current. You can even use notifications and alerts so if your customer opts in (or out), engages with you, or buys something, you know right away. That means it's time to plan your follow-up approach!
All your data on one dashboard: No customer likes to be ignored. With the right software, you can keep your customer data organized on one centralized dashboard. This way, all your relevant data is right in front of you. Nothing gets missed, no one gets ignored, and your customers are happy.
Better personalization: Our last point on how CRM can improve customer retention is through personalization. If you're not tailoring every last communication and offer to your customer's unique needs, then you're seriously missing out. Marketing resource RR Donnelly says most consumers expect personalized offers. In fact, a majority of them (79 percent) will respond to your offer only if it's personalized.
In this instance, personalizing doesn't mean just putting the person's name in an email.
You need to recall and reflect on the previous interactions and conversations you'd had with this customer.
Here's a chart that shows what we mean.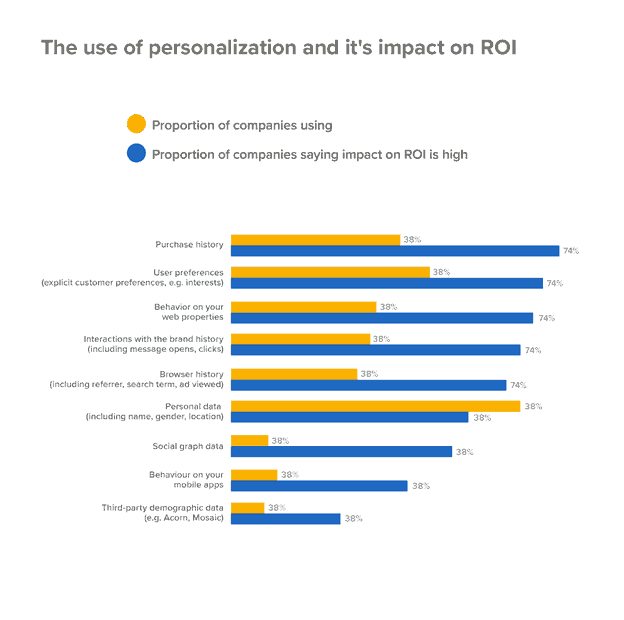 Image courtesy of SuperOffice
You may be doing these things for your small business already.
In that case, great! CRM can still make your working life immeasurably easier.
If you aren't implementing any of the above customer retention methods, it's time to start.
Conclusion
While CRM software can be a serious investment for a small business or startup, it's one that will be an incredible asset for years to come.
Whether you want to focus on filtering prospective leads, nurturing customers, increasing productivity, or boosting customer satisfaction and retention, you can use CRM to achieve your goals.
If you're looking for an inexpensive CRM software, why not use EngageBay?
Our all-in-one marketing suite was designed specifically to be more affordable than similar software. Those who sign up for our service get to use our CRM for free.
Take a look at our latest article: