You spend time and money crafting an email campaign, thinking you've hit the jackpot, only to record low open rates, low click-throughs, and little conversion, if any.
What is it?
To improve your eCommerce email campaigns, you need to know how subscribers interact with your emails. This is where eCommerce email heatmap analysis comes in.
In this blog post, you'll understand:
What is eCommerce email heatmap analysis

How to improve CTR in emails with heatmap analysis

Factors to consider when buying a heatmap analytics software
What Is eCommerce Email Heatmap Analysis?
Heatmaps are visual identifiers that give you a snapshot of how people interact with your website, eCommerce store, or eCommerce emails. When you conduct an eCommerce email heatmaps analysis, you get detailed insight into the performance of your email marketing campaign, such as:
The most clicked links

The least clicked links

CTAs with the most clicks

The number (in percentage) of email subscribers that clicked on each link

Other email elements that subscribers interacted with the most
Sadly, many eCommerce business owners spend their budgets running email campaigns that don't see great results.
You can set yourself apart from that rat race and know the hot spots in your email campaigns and the least favorite spots so you can optimize your eCommerce emails for more conversion with heatmaps.
Types of Heatmaps and What They Do Best
Heatmaps are broadly categorized into two; colored and colorless. For a colored heatmap, the data visualizations are of different gradients, with warmer colors representing higher values (most-clicked spots) and darker colors representing lower values (least-clicked spots).
On the other hand, colorless heatmaps use elements such as shapes, sizes, or textures to represent data.
Here is a detailed breakdown of colored and colorless heatmaps.
| | | |
| --- | --- | --- |
| Criteria | Colored heatmaps | Colorless heatmaps |
| Accuracy and precision | Lower precision compared to colorless heatmaps | More precise and accurate |
| Ease of use | Easier to use and understand (because its data is represented in dense and less dense colors) | They are more difficult to understand |
| Representation | Click, scroll, and mouse tracking heatmaps | Shape, size, and texture |
| Visual appeal | Click, scroll, and mouse-tracking heatmaps are visually appealing because of the use of colors (of different gradients) to represent the data | Because they involve shapes and elements, they are less visually appealing to the eyes |
| Best use case | Color-coded heatmaps are primarily employed in cases of less complex data | Colorless heatmaps are used in cases with more complex data, and the need for precision is higher |
Colored heatmaps are more popular for email marketing and eCommerce because they are easier to use and understand. So, in this blog post, we will focus on colored heatmaps—scroll maps, click maps, and mouse-tracking heatmaps.
Scroll maps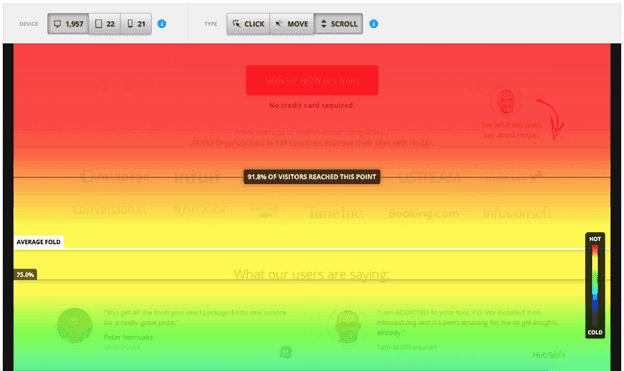 This is a type of colored heatmap that shows how far users interact with your emails based on how far they scroll down. Areas with the hottest color (red) are the parts of the eCommerce email with more views, and areas with cooler colors represent the areas least reached.
For instance, in the image above, the area represented by red is where customers engage most. This means there will be higher click-throughs if you place links in the upper part of the email.
Click maps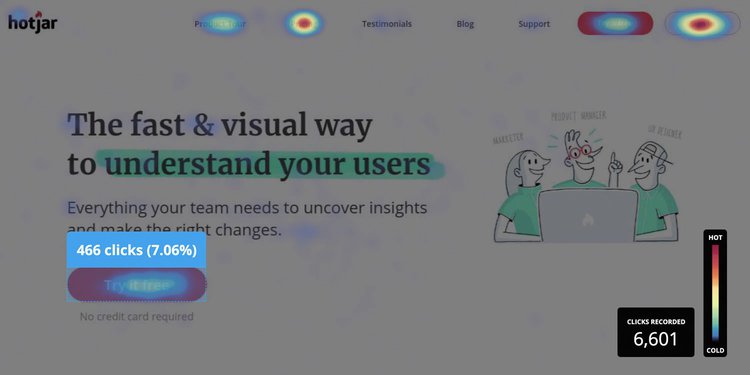 The click heatmap shows what part of the email users click on.
With click maps, you identify user activity on your emails through their clicks. By identifying the areas with the most clicks, you can optimize them for greater conversions.
Mouse-tracking heatmaps (a.k.a hover maps)
The mouse tracking heatmap shows the user's mouse movement on your emails. Although it can be effective, it is not always reliable because the direction of the mouse does not imply that the eyes of the users interacted with that particular spot on the page.
Read also: 12 eCommerce Analytics Tools for Pro-Level Tracking
How To Improve Your eCommerce Email Click-through Rates With Heatmap Analysis
After integrating heatmaps into your eCommerce email marketing strategy, it is time to optimize your emails for better conversion based on insights from the heatmaps. Here are some ways to do that.
1. Identify email hot spots and optimize the layout
eCommerce email heatmap analysis can show you the hottest spots (with the most clicks) in your emails, so you can improve your marketing.
For instance, if you notice that buttons or links at the top of your eCommerce emails get more clicks, placing your email CTAs at such points would be best for your email engagement rates.
2. Fix broken links and pain points in your email campaign
An easy trick to find out if there are broken links or annoying bugs in your email is by identifying rage clicks (repeated clicks on a specific email area within a short duration) from your heatmap data.
The rage click is caused by users' frustrations when navigating such difficult points in your email.
For instance, you may observe that there is a spot with high rage clicks. This could stem from users repeatedly trying to click on such spots, and they are either unclickable or the links are broken.
Identifying such pain points are crucial to optimizing conversion rates. Left unresolved, this leads to a loss of sales or causes users to close your email, leading to an increased bounce rate.
3. Streamline your checkout process
As per Baymard Institute research, checkout process optimization can improve the conversion rate by 36%. With scroll or click heatmaps, for instance, you can see the point customers begin to disengage or leave in your check-out process.
It may be that your checkout process is too long or complex. Additionally, they may be getting distracted by other elements of your email, such as menu icons, display information, banners, or email discount codes.
By analyzing the clicks and scrolls on your heatmap data, you can tell what prevents customers from finishing or even beginning the checkout process.
Whichever the case, a checkout process optimization is key to more conversions.
4. A/B test elements of your eCommerce email
The top goal for eCommerce email marketing is to drive sales. With user data from heatmaps, you can tell what elements of your emails, like product images or CTAs, have the most clicks and those with the least clicks.
You can even tell if your eCommerce customers don't get to the point of viewing your product images or your CTAs.
So, use A/B tests to determine which placement leads to the best click-throughs based on user behavior and optimize future emails with such data. Epiphany, a marketing agency, used this strategy to increase mobile conversion rates by 63%.
5. Check your email message
On average, people scroll through emails—heatmaps further prove this point. Therefore you'll want to optimize your email content, be concise, use images, and segment sections clearly.
Additionally, it's best to keep the most important info in your message at the points that gets the most attention.
Read also: Master the Art of eCommerce Analytics with These 16 KPIs
Top Heatmap Analytics Software To Consider
Here are the best tools to solve this problem.
1. Hotjar
Hotjar is a popular heatmap tool that checks users' interaction with your emails and eCommerce store. It offers a wide range of features that covers the framework of click heatmaps, scroll maps, and form analytics.
With Hotjar, you can view session recordings of users' interactions, conduct A/B tests, and observe customer interaction in real-time. Hotjar has no free plan, and the paid plan starts at $32/month, billed annually.
2. Lucky Orange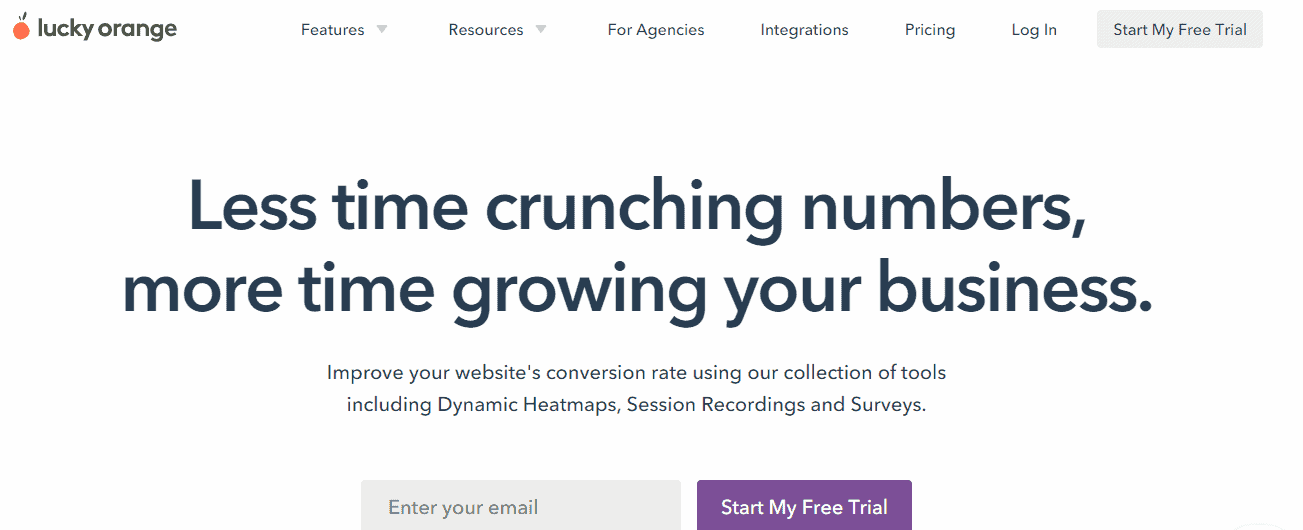 This dynamic heatmap tool allows you to study clicks around scrolls, forms, and menus. It allows you to see which parts of a page drive conversions and which get in people's way.
Additionally, you can share heatmap data with your teammates using the download button. You can also see how far down the page your users scroll to so you can optimize the content layout. Lucky Orange pricing plan starts at $32/month, billed annually.
3. Crazy Egg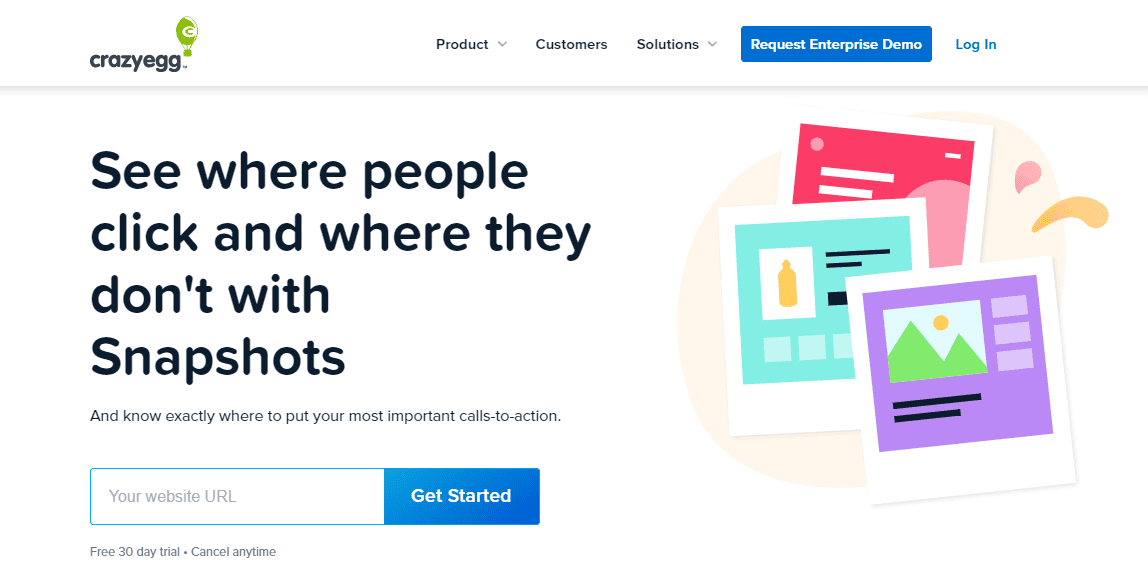 Crazy Egg allows you to take snapshots of your web pages and emails, have a real-time recording of user interactions, and generate visual reports.
Pricing starts at $29/month and comes with a 30-day free trial.
4. Mouseflow
This tool evaluates users' clicks, scroll, attention, movement, geo, and live interactions.
Mouseflow allows users to check where users are clicking, how they are scrolling through the page, how they interact with dynamic menus or elements, and how much time they spend on the various sections of your webpage.
It has a forever-free plan, and the paid plan starts at $31/month, billed annually.
Read also: Predictive Analytics for eCommerce Emails: Beginner's Guide
Top Factors To Pick Your Heatmap Software
There are several heatmap tools, but not all are a good fit for your eCommerce business needs. Before deciding on a heatmap tool for your eCommerce business, here are four factors to consider.
1. Type of heatmap data you need
As mentioned in the earlier part of this article, different heatmaps can be employed for tracking and measuring user engagement. You could implement a click, scroll, or mouse movement heatmap.
It depends on the feature you want to analyze in your email campaign and the insight you want to gain from your users' interactions. For instance, consider a scroll heatmap to analyze how far users scroll down on your email or eCommerce webpage.
2. Features and limitations
Each tool has its unique feature; real-time analytics, mouse-click tracking, session recording, event tracking, snapshots, geo-live analysis, etc.
Additionally, some heatmap tools have limitations like how many page views they track, so be sure to check each tool's features and limitations and make an informed decision. You can find this information by checking review sites like Capterra and G2.
3. Ease of use and integration with other tools
Learning something new comes with challenges; you wouldn't want to compound that by selecting a tool with a steep learning curve.
Also, heatmap tools don't work effectively in a silo. You've got to choose a tool that easily integrates with other tools like Google Analytics, A/B test tools, and other marketing automation tools for better results.
4. Pricing
You don't have to break the bank to implement heatmaps into your eCommerce marketing optimization strategy.
Here are a few questions to ask to arrive at a cost-effective tool.
Are monthly payments allowed, or are all payments billed annually?

Do they allow you to roll over unused points?

Is a free trial available?

Do they charge based on page views?

What is their refund policy?
After analyzing these factors, it's time to decide on a heatmap tool. Keep in mind that you can always change tools in the near future.
So, while it's good to be detailed and rigorous in your research before deciding on an eCommerce email heatmap analysis tool, it is not a one-time event.
Read also: Master Customer Data: A Guide For Customer Insights
Conclusion
eCommerce email heatmap analysis is an excellent data-driven way to improve your eCommerce email conversion and clickthrough rates by:
Identifying email hot spots and optimizing the layout

Fixing broken links and pain points in email campaigns

Streamlining checkout process

A/B testing elements of your eCommerce email and optimizing email content
With EngageBay's email marketing software, you can test the effectiveness of your email campaigns with our automated A/B test tool and automate your entire eCommerce email marketing process.
Want more result-driven eCommerce marketing strategies? Check this out.