Every business need successful promotional campaigns to increase brand awareness and boost leads. But no matter how great your marketing campaigns are, you can disrupt the buying process and harm your brand reputation if your transactional emails are not well-optimized.
From a well-detailed order confirmation email to an attractive welcome email, eCommerce transactional emails can drive engagement and boost revenue, regardless of the stage of the buyer in the conversion funnel. So, we've created this in-depth resource to help you optimize your eCommerce transactional emails for improved customer satisfaction.
Here's what we cover in this article:
Transactional email types and examples
General transactional email optimization tips
eCommerce transactional email optimization mistakes to avoid
What Are Transactional Emails?
A transactional email is a personalized email sent to a recipient based on their account activity or commercial transactions. They are usually automated emails triggered when a user takes a specific action on your site. So, the user cannot unsubscribe from these emails as long as they continue to engage and interact with your brand products or services.
Transactional emails vs marketing emails
What's the difference between transactional and marketing emails?
Transactional emails are one-to-one emails containing specific information about commercial transactions or account activity. These emails are triggered by specific actions and are unique to the recipient. Also, they rarely contain promotional offers, as the primary purpose of the emails is to notify your customers about a specific change or update.
Marketing emails, on the other hand, are usually promotional or informational and are sent to a large group of recipients.
The primary aim of these emails is to attract and nurture leads by providing helpful content, attractive offers, and product updates.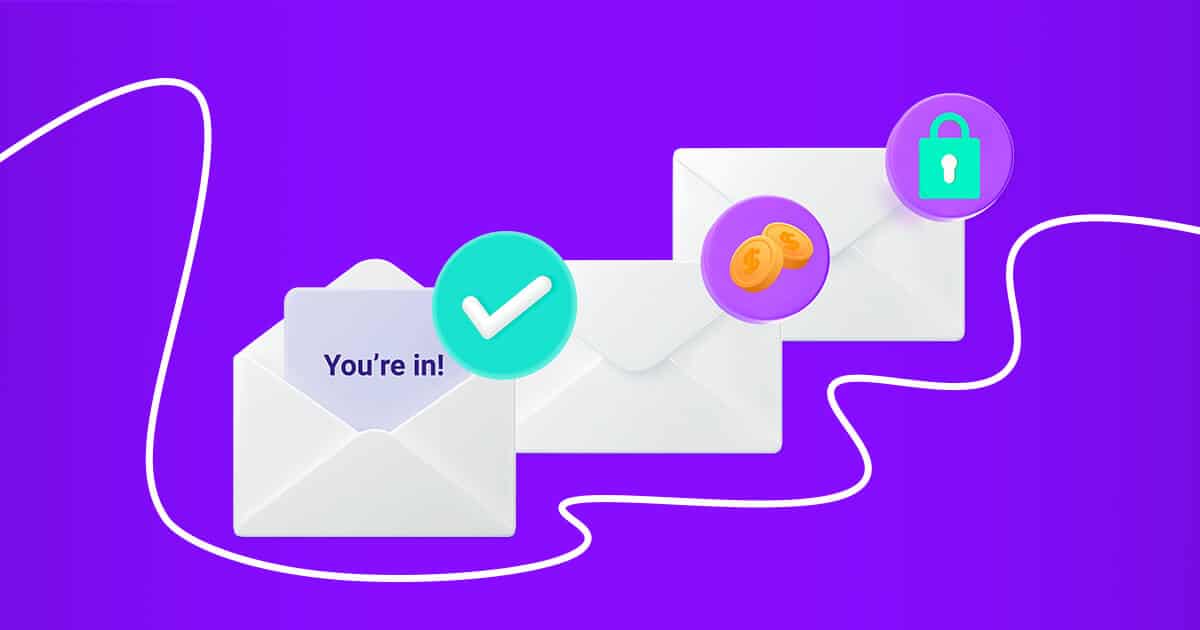 What are eCommerce transactional emails?
eCommerce transactional emails are essential inclusions that influence your customers' buying decisions while guiding them through the stages of the buyer's journey. If you own an eCommerce store, here are a few use cases where transactional emails can be applied:
A new user who knows nothing about your brand registers a new account. You'd need to send a welcome email that contains your value proposition and brand overview
You can also send confirmatory emails about completed tasks like orders, account verification, etc.
When a user forgets a password and tries to do a reset, a password reset email will be triggered and sent immediately
Other emails for notifications and alerts are sent based on customer account status, account deactivation or suspensions, expired subscriptions or trials, etc.
What Are the Major Types of eCommerce Transactional Emails?
All eCommerce transactional emails fall under six major categories. They are:
Welcome emails
Cart abandonment emails
Order confirmation emails
Shipping information
Customer feedback emails
Technical emails
These emails vary based on the user's action and stage in the conversion funnel. So, while a new visitor will receive a welcome email, a returning customer may receive an order confirmation or shipping update email.
Let's explore these email categories:
1. Welcome emails
This is the first official email a user receives upon creating an account or subscribing to an email list. At this stage, your visitors barely know your brand, so it's a great opportunity to present a positive impression at first contact.
While the welcome email provides a platform to promote a few products or services, you may lose your potential customers at this stage if the email is not well-optimized.
Usually, brands prefer welcome series over a single welcome email because you can gradually build trust and promote your offer without trying to force everything into one email.
Nonetheless, here's an example of a welcome email from Canva:

How did Canva optimize its welcome email?
It has a simple and clear value proposition
The features and benefits are clearly defined
The two CTA buttons have a single goal
How to optimize your welcome emails
Add social proof
Offer discounts or special offers on recommended products
Offer helpful guides or resources to help customers get started
2. Cart abandonment emails
Cart abandonment emails are sent to customers who added items to their online shopping carts but didn't proceed to checkout. According to Baymard Institute's report, the average cart abandonment rate is 70%. This implies that only three out of ten customers who fill online shopping carts will proceed to complete the transaction.
However, studies from Sales Cycle reveal that cart abandonment emails have a 39% open rate and 23% click-through rate. So, improving your cart abandonment emails will increase your chances of winning your customers back, as you aim to reduce frictions and obstacles that held them back.
Paro keeps things simple in its cart abandonment email: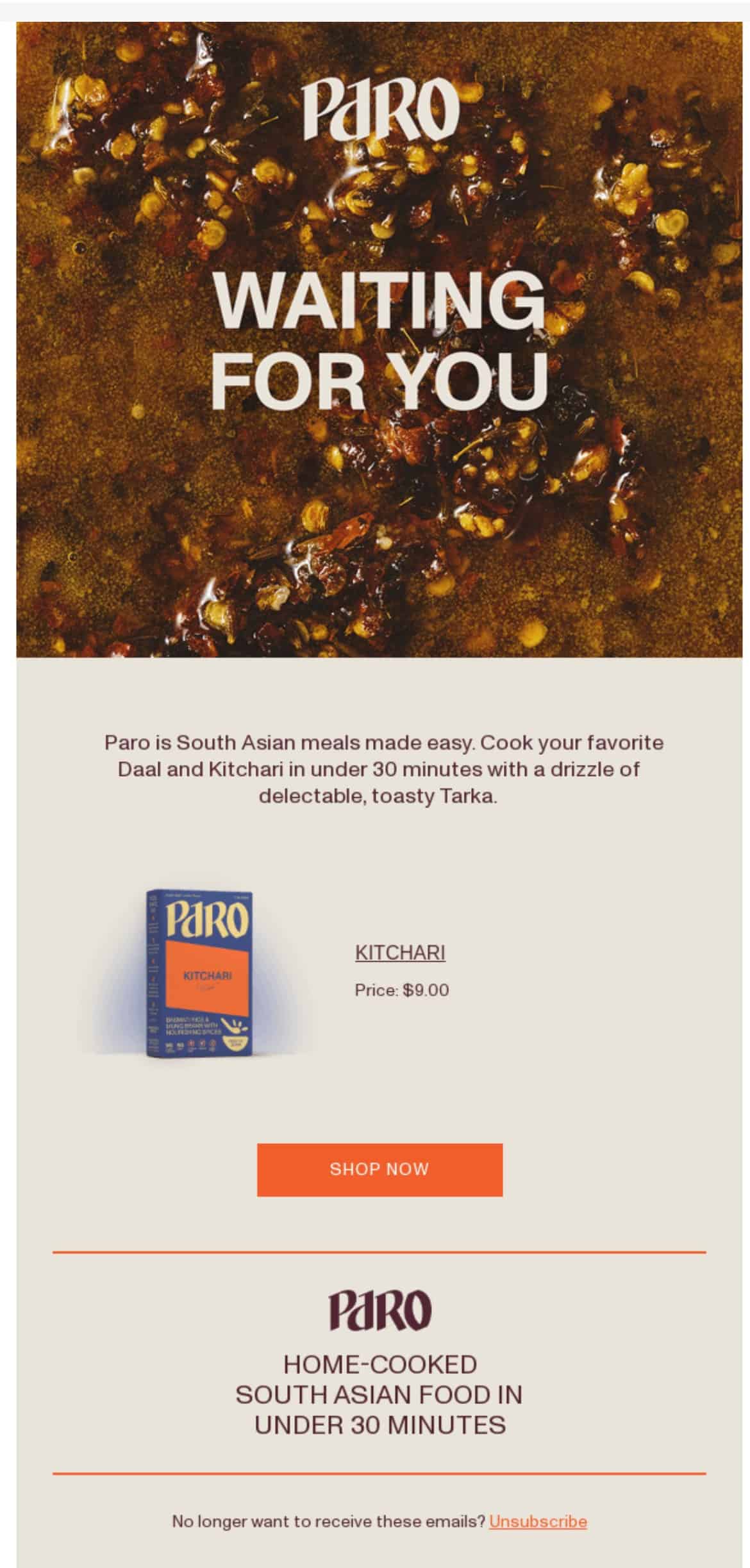 How did Paro optimize its cart abandonment email?
A simple header and hero image
Product description and price
Primary CTA that takes customers back to the checkout
How to optimize your cart abandonment emails
Include the product(s) and reiterate the benefits to remind your customers of their intended purchase
Add discounts or special offers to incentivize customers to return to checkout
Include social proof to boost your brand trust
Read also: eCommerce Email A/B Testing Basics For Beginners
3. Order confirmation emails
Order confirmation emails are sent immediately after a customer completes a transaction. It confirms the order and provides other essential details like tax information, product price and quantity, order ID and tracking code, date, etc. These details are crucial for legal purposes and accurate record-keeping.
Ideally, an order confirmation email should contain three major parts
Confirmation of the order
Details of the order
Other actions to take
The next action can vary from shipment tracking to requesting a refund (or exchange), purchasing other related products, or speaking with customer service. You need to include every necessary detail to keep your customers updated.
Moreover, adding links to helpful guides or resources will be beneficial to help customers understand how to use the products.
Here's a great example from Roark:
How did Roark optimize its order confirmation email?
The email confirms the order and is personalized for the recipient
It contains a detailed review of products ordered, alongside the shipping details
It leaves a primary CTA that allows the customer to track the status of the order
How to optimize your order confirmation emails
Keep it simple but well-detailed to let customers double-check their orders
Include a few upsells or cross-sells – if possible
Add a customer support line to facilitate communication if there's an issue or challenge
4. Shipping information
After confirming the order, your customers will expect an email containing the order status and shipping information – this is necessary for products that need to be delivered from one location to another. This enhances your brand trust and leaves your customers assured that the packages will arrive at the specified date. Usually, the shipping update emails contain the following:
Order status
Estimated arrival time
Order number
Shipping address
Product details
These details help you keep open lines of communication with your buyers and can further improve your customer experience.
Here's an example from Onyx Coffee Lab:

How did Onyx Coffee Lab optimize its shipping update email?
A clear headline that shows the intent of the email
It includes the product and shipping details
It also leaves a CTA to let customers track their order statuses
How to optimize your shipping information emails
Keep your email simple but well-detailed to clear any doubt or confusion
As much as possible, avoid adding promotional offers
Include a customer support contact to help customers communicate their challenges
Read also: eCommerce Email Platform Integration: Top Tools To Try
5. Customer feedback emails
The buying process doesn't end when the customer orders or receives the product. You may not know the real value of your product unless you get feedback from end users.
Customer feedback emails are emails usually sent a few days (or weeks) after the customer has received the product.
These emails help you gather reviews that show how customers are using your product. They also help you identify and fix loopholes to improve customer satisfaction. You can either ask for a detailed product review or use an online survey form, star ratings, poll, etc.
Notion includes a survey to collect feedback from customers: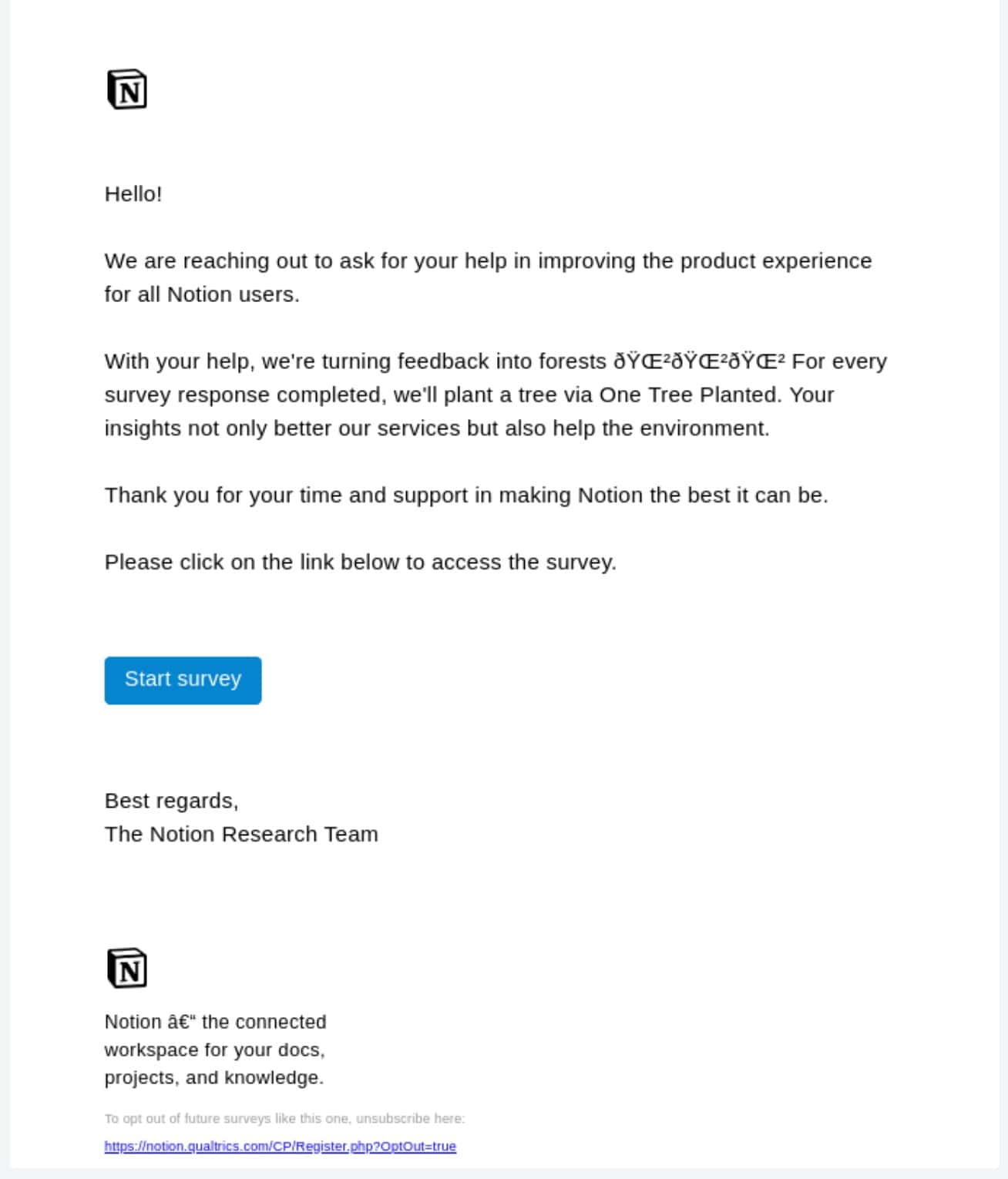 How did Notion optimize its customer feedback email?
It's a simple email with a single intent
They included an offer to motivate customers to fill out the form
A primary CTA that takes customers to the survey form
How to optimize your customer feedback emails
Make the review process simple and only add necessary questions
Add an offer to encourage users to leave a review
Include the time commitment to let users know long the process will take
6. Technical emails
Technical emails are not directly related to any stage in the buying journey. However, they contain essential details about account status, ticket resolution, password reset, two-factor authentication, and other account alerts.
These emails are short and straightforward and usually don't contain promotional content. They also contain step-by-step guides to help customers understand the email and quickly resolve account issues.
Here's a password reset email example from GoDaddy: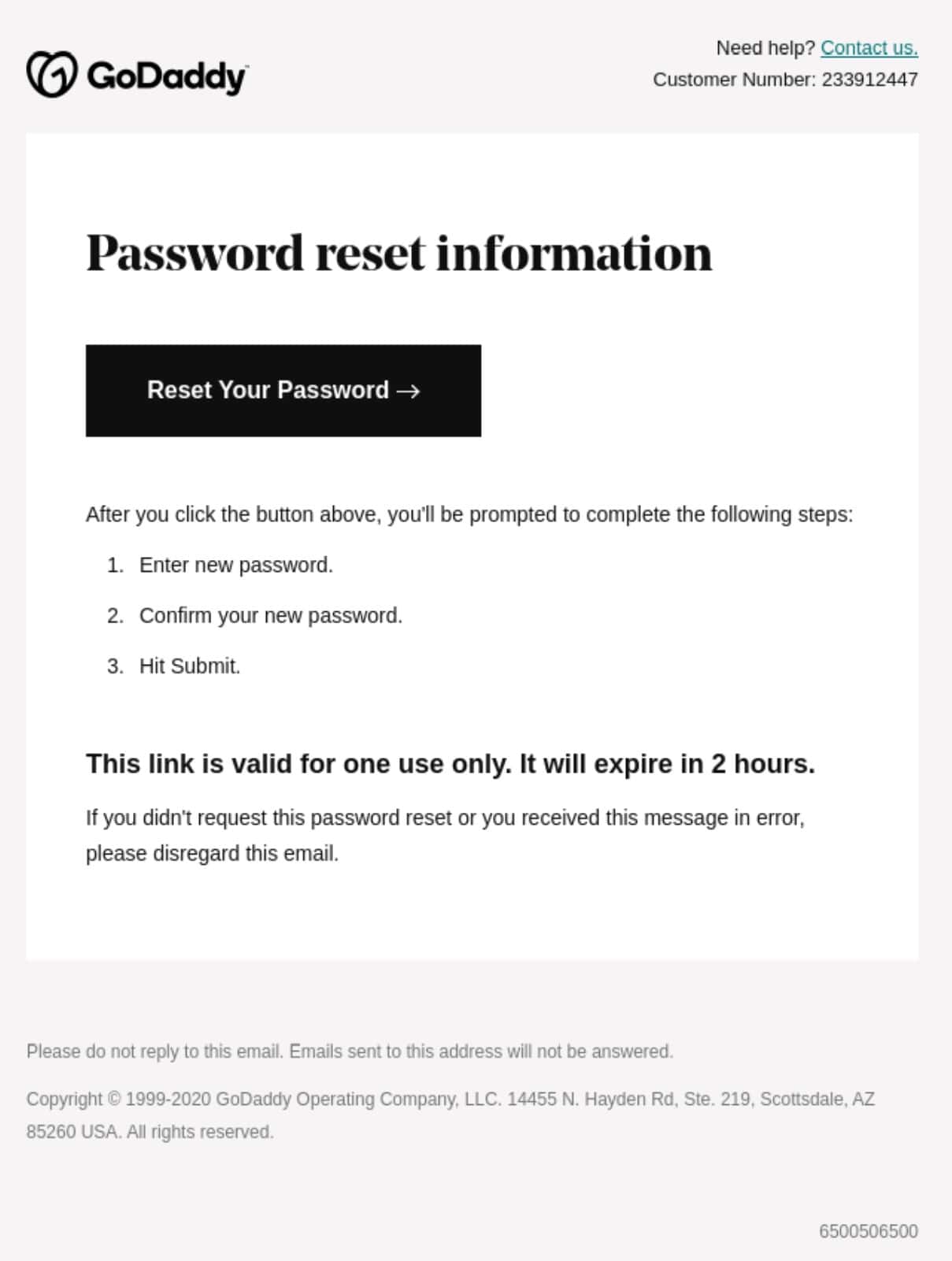 How did GoDaddy optimize its password reset email?
It includes a CTA that takes you to the password reset page
It also includes clear steps to follow
The link expires after two hours
How to optimize your technical emails
Avoid promotional offers, as the emails contain sensitive information
Make it clear and simple
Add steps the user should follow
Include helpful resources, guides, or FAQs to clear doubts and confusion
Read also: eCommerce Email Marketing UTM Parameters [101]
General Tips for Optimizing Your eCommerce Transactional Emails
Although we've highlighted several pointers for optimizing different categories of transactional emails, there are a few other general practices that can help you enhance your email quality, regardless of the type or nature of the email.
These transaction email optimization tips include:
1. Use short subject lines and pre-headers
While marketing emails may embrace a high level of creativity with subject lines and pre-headers, eCommerce transactional emails are more specific, concise, and straightforward. They're not over complicated, rather they contain helpful information clear enough to make the recipient open the email and take action.

Since the subject line can only accommodate limited characters, you can add extra details in the pre-header. This will give your readers a glimpse of the email's content.
2. Personalize your emails
In eCommerce, transactional emails are highly personalized emails because they are targeted to a single user based on predefined triggers. Studies by McKinsey revealed that 76% of customers get frustrated when companies don't deliver personalized interactions.
So, sending specific emails to a target user will enhance customer satisfaction and experience. Some of these personalized details include name, product purchased, order id, shipping location, etc.
Read also: Email Sequence Personalization For Better Sales
3. Use a separate email for marketing and promotion
Using a single address for transactional and marketing emails can lead to email management and deliverability issues. Transactional emails are time sensitive and contain critical data, so having a dedicated email will keep your database clean and free from interferences that may come from marketing emails.
Oftentimes, your marketing emails may get spam complaints from customers. So, keeping both emails together means your order confirmation or shipping updates may end up where your customer may not easily access them. This can lead to frustration, thus decreasing your brand reputation. You can use a separate domain or IP address to run these emails on different platforms.
4. Avoid using "no-reply" email addresses
A no-reply email – usually seen as noreply@example.com – is an email address set up only for sending emails. It blocks two-way communication with recipients, so they cannot reply to your emails.
While this may be useful in curbing spam, it can create poor customer experiences, as there's no clear way to reach you. And customers with feedback or pressing questions will have to go through the stress of finding alternative contact options.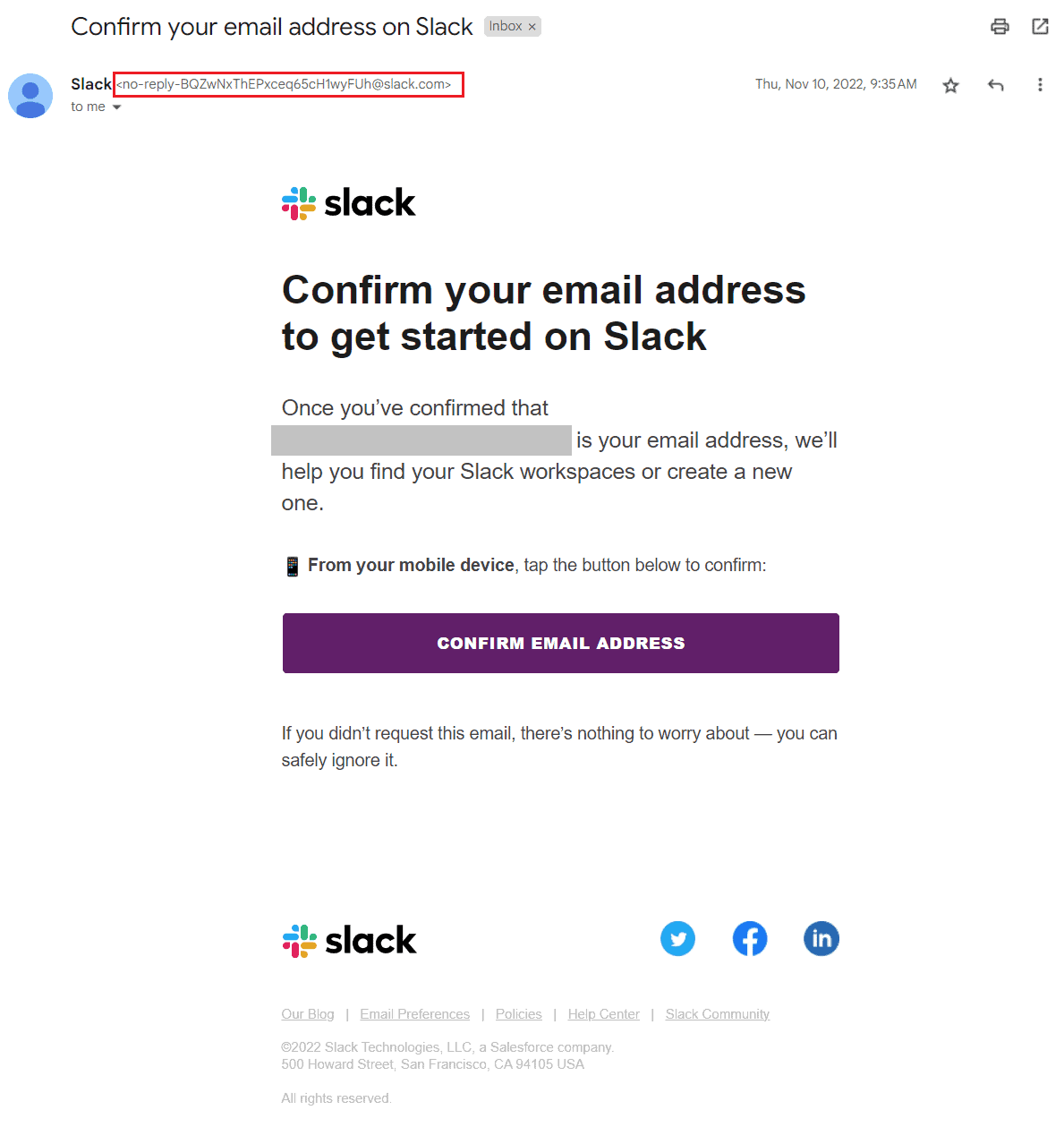 A quick fix to this is to use a real email address, e.g., info@example.com, contact@example.com, etc. Alternatively, you can add a "contact us" link if you must use the no-reply email. And as you receive more requests, you can create a help center or use FAQ pages to provide answers to less complex issues.
Additionally, your email address should be readable and recognizable. Using unreadable or cryptic addresses can send your emails to the spam folder.
Read also: Advanced Segmentation Strategies for eCommerce Emails
5. Include links to your social media channels
Reports from GetResponse show emails that included social sharing buttons had an average click-through rate (CTR) 158% higher than emails that didn't include social sharing.
Adding links to your social media channels can increase your online presence and drive more customer engagement. You cannot describe all your product benefits in a single email, so directing your customers to an active social media channel will help them access more information about your brand values and product offerings.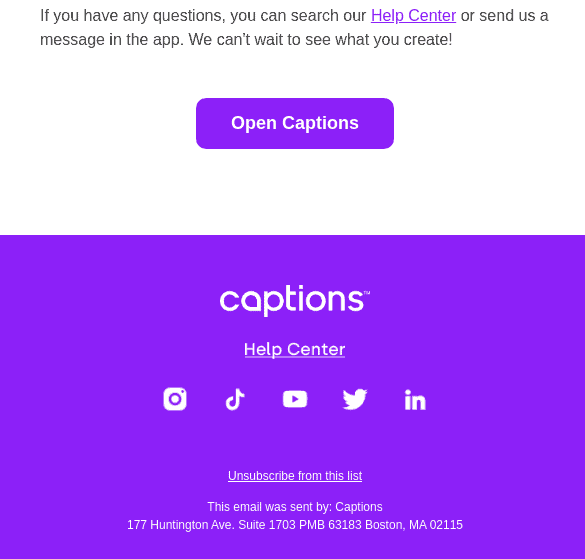 Increased brand interaction and engagement will help you build stronger and lasting customer relationships.
6. Use a clear call to action (CTA)
Adding a clear call to action makes things easy for your recipients, as it provides specific steps for them to follow while they read your emails. Clear CTAs also reduce confusion and save users the stress of looking for what to do with the emails you send.
Even if you're using one or multiple CTAs in a single email, making them clear will help your audience make the right decisions. Your CTA may contain actions like downloading an eBook, signing up for an event, following your social media handles, purchasing a product, or joining a waitlist.
7. Use responsive email templates
A 2020 report by Litmus shows 43% of your email opens are on mobile while 19% occur on desktop. Emails optimized for a single device type will record less reach since users use several devices to open their emails. From the study, a majority of your customers are likely using mobile, but further reports from Super Office reveal that one in five email campaigns was not optimized for mobile devices.
So, choosing a responsive email template or design will ensure your emails fit screens of all sizes, from small mobile devices to larger screens. It also increases your open and click-through rate since more users can see and read your emails.
Moreover, it is necessary to include a plain text version of your email to enhance accessibility. This will enable users with varying needs to access your emails. These users may have low-bandwidth networks or use accessibility features like screen readers and language translators. Even more, some other users may want to have a printed copy of the email, so it's essential to have all these factors in place.
Read also: 9 Automatic Emails You Should Have For Your E-commerce Store
8. Follow data protection laws
Unlike marketing emails, eCommerce transactional emails are highly personalized and not promotional. They contain sensitive details like receipts, shipping notices, verification codes, and so on, thus complying with data protection laws will help safeguard your customers' privacy and protect their information.
Data protection and anti-spam laws differ based on the country or region you operate in. Understanding laws like GDPR (EU), CCPR (California), CASL (Canada), and CAN-SPAM (US) and meeting their requirements will help you create great transactional emails without violating your customers' rights.
Here are a few tips to help you comply with these laws:
Avoid using deceptive subject lines and messages
Use accurate sender information and a valid physical address
Avoid buying email lists
Add an option to help your customers manage their preferences
9. Authenticate your emails
When spammers and phishers mimic your brand or pretend to be you, they send false signals that can make your recipient's email provider drive your email to spam or junk folder. Email authentication improves your sending reputation and deliverability by showing email providers the legitimacy and security of your emails.
The three main authentication methods include SPF, DKIM, and DMARC.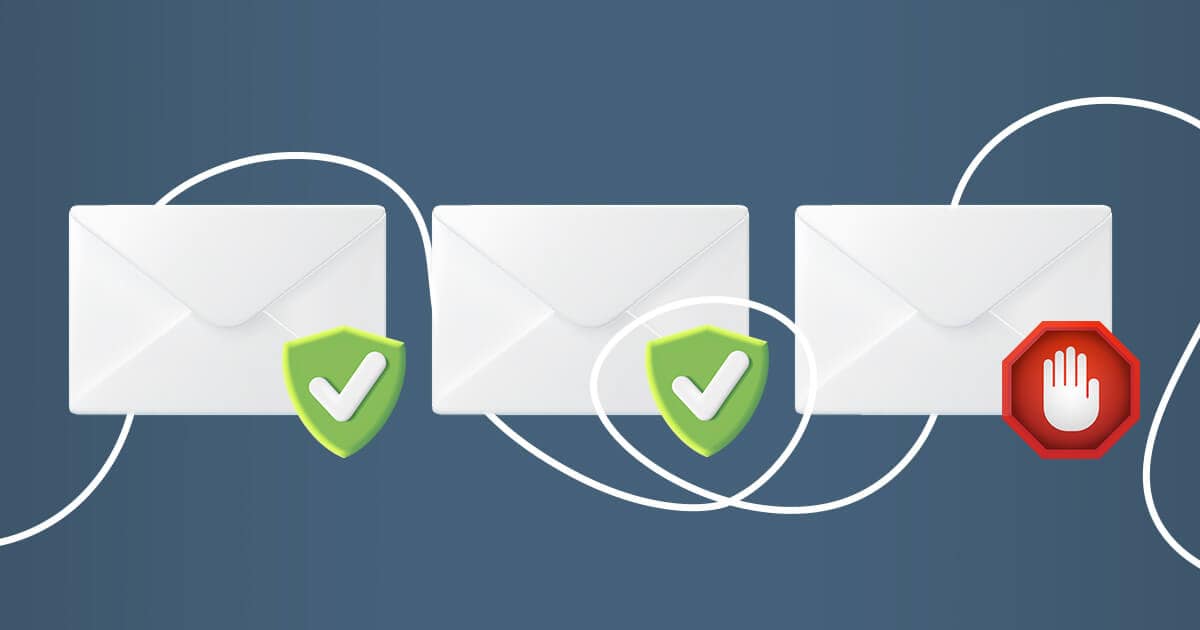 10. Use a reliable email service provider (ESP)
Your email service provider (ESP) can either create a poor or great customer experience, regardless of your email marketing strategies. Usually, an email provider supports robust tools and features that can help you craft and send your transactional emails.
Moreover, a reliable ESP grants you access to real-time insights and reports about your email performance. It can also improve your deliverability, ensuring your email gets to more readers.
If you're not happy with your regular email service provider, you can try email software like ActiveCampaign, Klaviyo, or EngageBay. These email marketing platforms offer a wide variety of features that aren't usually available in regular email service providers.
Read also: 2023 Guide to Email Marketing for eCommerce
3 Common Mistakes to Avoid While Creating Transactional Emails
While executing your transactional email strategies, some mistakes can hurt your brand reputation, reduce engagement, or decrease revenue. These mistakes include:
1. Overpromoting your products
Transactional emails have a higher open rate compared to marketing emails. It presents a great opportunity to upsell or cross-sell your products for increased sales. However, that's not the primary goal of transactional email.
When promotional offers override your main content, it draws your recipients away from the real intent of the email – this can harm your customer relationship. Even more, you may be violating a few laws. So, limiting promotional content in your emails helps you stay compliant.
2. Sending untimely or inappropriate emails
How would you feel if you tried to reset your password and the verification code came in 25 minutes late or you completed your order, only to receive more promotional emails and the shipping information appeared five days later?
Late or inappropriate emails are frustrating and can hurt your brand reputation. Using a reliable email service provider (ESP) can improve your deliverability, enabling you to send timely and appropriate emails.
3. Omitting options to manage notifications
Your customers have varying preferences and while some may like to follow every brand update, others may only want selected notifications. Not allowing people to manage their preferences is like locking all your contacts in a box and forcing them to read your emails. This can drive your emails to the spam or junk folder because customers want to keep their inboxes clear of clutter.

Frequently Asked Questions
Can I include promotional offers in my transactional emails?
Yes, you can recommend a few complimentary products/services to help your customers access the items they need. However, it shouldn't draw the customer away from the primary intent of the message. Sometimes, it's best to stick to the purpose of the email without adding any other information – this is essential for sensitive emails like password reset emails.
Why are transactional emails important?
Transactional emails have a high engagement rate, so a solid transactional email marketing strategy will help you build stronger relationships with your customers. Since they're highly personalized, they can increase your brand trust and reputation, giving your visitors improved customer experiences.
Do transactional emails require an unsubscribe link?
No, they don't.In eCommerce and other industries, transactional emails are triggered by customer actions, so adding an unsubscribe link is unnecessary. It's like giving your customers the option to not receive the emails they requested. You can, however, include an option to let them update their preferences and choose how they want to receive your emails.
Are transactional emails excluded from the CAN-SPAM Act?
Yes, transactional emails are excluded from most provisions of the CAN-Spam Act. This is because the primary purpose is transactional not commercial (or promotional). According to the FTC, emails that comply with the requirements of CAN-SPAM must contain commercial content as its primary intent.
Read also: Predictive Analytics for eCommerce Emails: Beginner's Guide
Final Thoughts
Understanding your brand values and goals can help you create well-optimized eCommerce transactional emails to build lasting relationships with your customers. Whether it's an order confirmation, password reset, or welcome email, there's a great opportunity to drive engagement and boost revenue.
Although your email service provider may provide helpful features to facilitate your processes, it will only be as great as your plan of action.
So, as you follow the strategies shared earlier, you can craft a functioning email blueprint tailored to meet your business needs. Check out a few transactional email templates by EngageBay to help you get started.