In the fast-paced world of marketing and sales, managing a never-ending influx of emails is a common challenge faced by professionals like you. Undoubtedly, email remains the dominant mode of communication, especially in the sales industry.
While many marketers dedicate their efforts to crafting captivating subject lines and compelling email bodies, they often underestimate the potential of email signatures as a powerful marketing tool.
Unbeknownst to some, a well-designed and thoughtfully crafted email signature can be a clever means of promoting your company effortlessly. It can serve as the final piece of the sales puzzle, making a lasting impression on recipients and boosting engagement.
Beyond its functional purpose, an email signature contributes to building credibility, showcasing professionalism, and leaving a positive brand image in the minds of clients and prospects.
According to data from HubSpot, a salesperson spends 21% of their working day just writing emails. An average person receives hundreds of emails per day, so if salespeople want to create an impression, they really have to stand out.
Furthermore, when you create email signatures that are strategically designed, they can function as an effective branding strategy, allowing for deeper personalization.
With the right elements in place, such as your company logo, relevant contact information, and even links to your social media profiles or latest content, you can create email signatures that reinforce your brand identity and connect recipients to your broader online presence.
If you're unsure where to begin or feel overwhelmed by the idea of creating an effective email signature, fear not. This blog post serves as a comprehensive guide to getting started with email signature marketing.
It will walk you through the essential steps to create your own new and captivating email signature, all at no cost. Empowering you with the necessary tools, this guide ensures that you leverage this often overlooked marketing asset to its full potential.
To make things even easier, we've included a collection of impressive email signature examples and templates that you can draw inspiration from and replicate for your own use.
These examples showcase the diversity of design possibilities, ensuring that you find the style that aligns perfectly with your brand's personality and message.
By investing some time and creativity into crafting your email signature, you can transform a mundane element of communication into a compelling marketing asset.
Maximize your impact on recipients and leave a lasting impression that resonates far beyond the confines of an email.
Take the first step in revolutionizing your email marketing strategy by creating a captivating and personalized email signature.
Don't let this powerful marketing opportunity pass you by. Begin your journey into email signature marketing today and watch as your emails become more than just a message but a brand-building, engagement-boosting masterpiece. 62% of marketers and business owners use their email signatures to promote their brands. (Soocial)
What Is an Email Signature?
An email signature is the final piece of your email content. An email signature should have all your contact information as well as your business logo.
Professional email signatures generally include the following elements:
Your full name, including your surname
The name of the company you work for
Your job title
Your other contact information, like an email address and a phone number
A link to your company's website
Social media profiles (as applicable)
A disclaimer, such as a privacy policy
Let's look at the elements included in an email signature in more detail.
Name
You do introduce yourself in the email, but it's important to add your name when you're signing off, as well.
It looks professional and clean and humanizes your business, as well.
Company Name
When you write a sales email, you're selling on behalf of the company. It's important that there isn't any ambiguity regarding the business you represent. A professional email signature will include the name of the company because it builds brand awareness.
Job Title
Your job title should also appear in your free email signature. If you're a salesperson or a marketer, make sure the reader knows it.
Contact Information
After that, you want to add your contact information which includes your phone number to your email signature. You can add your email address as a hyperlink, but it can be a bit redundant.
However, if you use Microsoft Outlook as your email provider, then recipients don't know your email address.
By including your email address in the email signature, the lead or customer can click that and write you back quickly.
If you use EngageBay for your email marketing, you can personalize emails for plenty of aspects and automatically add the correct reply-to email address
Company Website
Don't forget to link to your company website in your email signatures. We'll talk more about this later, but this is one key way to earn effortless traffic to your website.
Social Media Links
The same applies to social media channels. If your company has a presence across several social media platforms, include buttons for each of them in your email signature.
Double-check all the links in your email signature work before you send your emails to customers and leads.
Disclaimer
The above email signature examples should also include disclaimers.
These may cover regulatory or regional legal requirements, employer's liability, negligent misstatements, computer virus transmission liability, breach of confidentiality, and more.
Why Are Email Signatures Important for Successful Email Marketing?
Now that you know a little more about email signature examples, you may wonder how they can further your email marketing goals.
There are many ways this happens, and we'll explain them all now.
Web Traffic
In the last section, we touched on one simple way good business email signatures can boost your email marketing success: by giving your site free traffic.
Imagine this scenario. You're reaching out to a lead or customer for the first time via email. The recipient opens your message.
They even scroll through all the way to the bottom.
They liked your email, but they're not sure if they're interested yet. Before they decide whether to respond to the email or send it to the trash, they'll do some research on you.
This often starts by looking up your company.
Instead of them having to search for your company, your website link is right there in front of them mentioned in your email signature template.
It can also be prefixed with a call to action such as 'Visit Us'. They can click it and learn about you right away.
This scenario is a win-win. You get more traffic to your site and the lead gets the information they want.
There's no paying for ads with this method, which makes it especially useful for small businesses or startups on a budget.
Of course, for this to work, you have to send emails often. If you only reach out to two or five people a day, the traffic numbers won't measure up to much.
Social Traffic
Another means of using a signature for successful email marketing? By generating social traffic.
By including social sharing buttons in the online signature as well, your readers will click them. If you add a call to action button such as 'Follow Us', you'll increase traffic to your social media pages and improve social impressions, as well.
This can benefit you in several ways. For starters, you build your social media audience, earning more followers.
These new followers will then hopefully engage with the content you post, such as blog content.
By clicking the blog links and other links in your email signature, they'll get redirected to your site.
Not only do you earn more traffic then, but you could get more opt-ins as well. That leads to more potential customers.
Content Marketing
Did you write an exemplary piece of content that you want the world to know about? Try slipping a link to it in your email signature.
This link should not overwrite the links to your website or social media feeds in your email signature.
Instead, you want to give the content its own fresh link. Write a CTA (call to action) to draw attention to your content.
Then sit back and watch as the page views for the article climb thanks to your simple promotional effort via your email signature.
Brand Awareness & Credibility
Has your company done something cool lately? Maybe you had a great user rating or received an award. Perhaps you have a glowing testimonial you want to showcase.
Try adding some (not all) of these accolades to your email signature.
The above are all forms of social proof. If you want to convert leads to customers, social proof is one awesome way you can do so.
When your leads read your email and see you come highly recommended, that increases their trust in you.
By fostering that trust through engagement and nurturing, you can convert them to customers.
Lead Generation and Conversion
Speaking of conversions, email signatures, in general, can help drive sales conversions.
You can also generate more leads with simple email signatures. If you've written a new blog post or you want to promote an ebook, you can include the download link in your email signature.
By providing a call to action, you encourage the recipient to take the action you want. This also includes asking the reader to download a list or resource, connect on social media, or even opt into a newsletter.
You then have the contact details of the lead and can get to work on beginning the conversion process.
Read also: How to Define a Successful Cold Email Strategy?
How to Make a Professional Email Signature
The above benefits speak for themselves. Now that you're well aware you need a professional email signature, how do you go about making one?
There are a number of email signature generator software out there, but our suggestion is to craft one of your own.
Here are a few other steps to keep in mind when creating an email signature.
Don't Exceed Four Lines
You may have a handful of elements to include in your professional email signature, but extending it beyond four lines is a bit much.
Also, the length of each email signature line is important. You don't want to give your recipients too many choices and overwhelm them.
Use an Image
Your email signatures are as much visual as text-based. You can add a picture of yourself to help your professional email signature stand out.
The other advantage of using your face is that you can foster a sense of trust with your would-be customers. They see your face and know they're communicating with a real person, not some bot.
That can go a long way towards getting you a response to your email.
Read also: Email Marketing Vs Marketing Automation: A Marketer's Guide
Add a Logo
All email signatures need a good logo. Make sure to include your company's logo in your professional email signature. It humanizes a company, personalizes the email, and helps with brand recognition.
Not only does this add some much-needed color to all those lines of text, but it injects some professionalism to your email signature as well. An email signature generator will give you the option to upload a logo of your choosing.
Don't Forget Mobile Optimization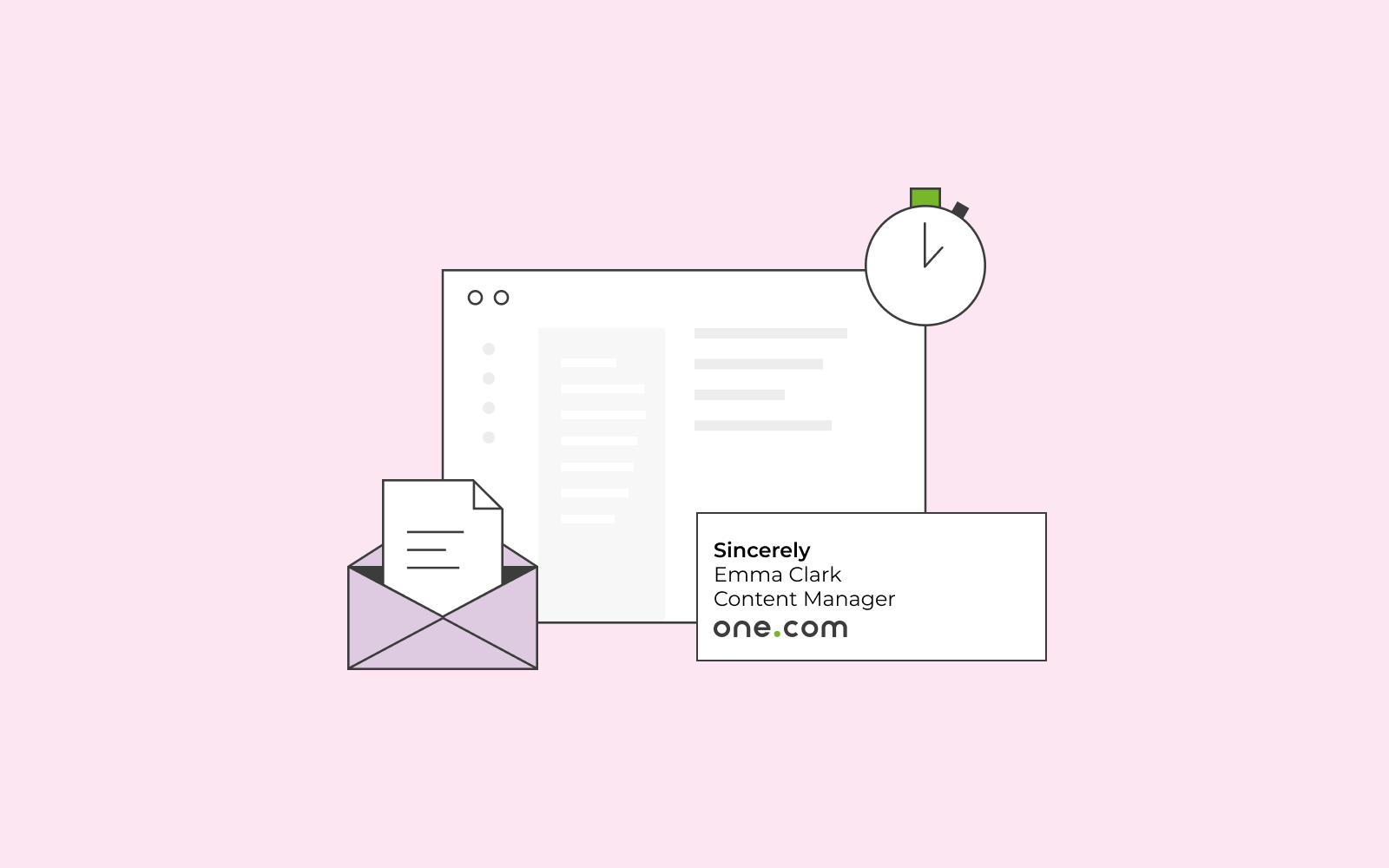 You need a proper email signature that looks good for phone users, tablet users, and laptop users.
That means ensuring you optimize your email signatures. If a user with a phone reads your email, the email signature shouldn't look pinched or cut-off.
As you know, most people who read emails will do so on their phones. Therefore, mobile optimization of your email signature is a must.
Read also: 15 Introduction Email Templates that Work Like a Charm
Sample Email Signatures
We've talked a lot about what good email signatures should and shouldn't include, but what does it all look like when it's put together?
Here are some great examples of email signatures.
Event Promotions Signature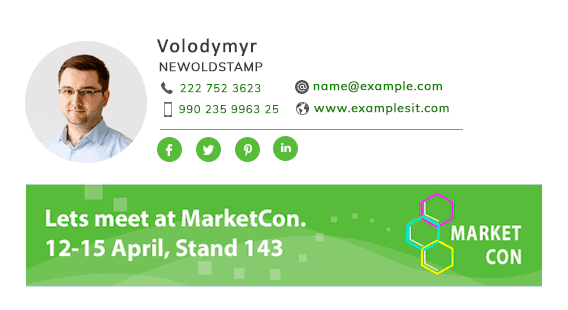 Image courtesy of NEWOLDSTAMP
The only issue with this email signature is that it lacks the person's full name. Otherwise, it's pretty much perfect, except for the fact that it's a template and doesn't have real contact information.
This email signature is colorful, with that bright green scheme seen throughout, even in some text. The social sharing buttons are green as well, an interesting choice.
You can see this Volodymyr because he included a clear image of himself in the email signature. There's also a nice CTA at the bottom, the "Let's meet at MarketCon" graphic.
Since this event lasts just three days, obviously, once MarketCon ends, we're sure Volodymyr would change the email signature to something else.
Still, if you're trying to promote a limited-time event, try using this email signature as a template.
👉Boost your email marketing success with the ultimate trigger email strategies – dive into our in-depth guide today! 🌟
Awards Signature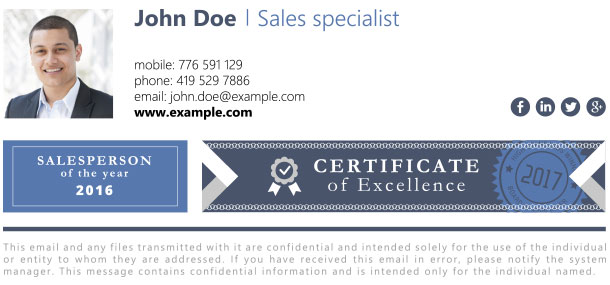 Image courtesy of Mail-signatures.com
We like the simple but effective colors as well.
You can also see a disclaimer in use here in this email signature. This one protects John Doe and his company from confidentiality issues. If you want a clean, professional signature you can use this as a template.
Simple but Clean Design Email Signature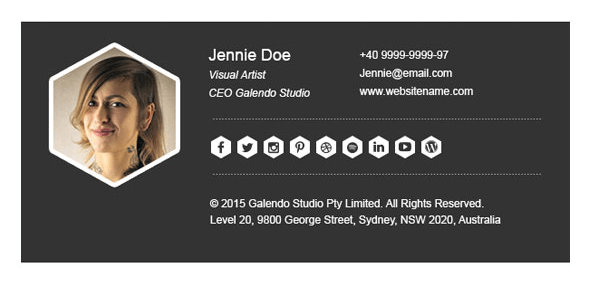 Image courtesy of Envato Tuts+
You don't always need white background for your email signature. This one might be a template, but it sure looks clean, right?
The grayish/black background doesn't hurt to look at, nor does the white text. That's important since you don't want to give your readers a headache as they navigate your email signature.
Instead, the background color looks clean and stark.
There are three lines of text, and the way they're divided makes great use of space. We also like the image in that it has a hexagon frame.
Circles are much more common, so again, this email signature template stands out for the right reasons.
Off-the-Wall Signature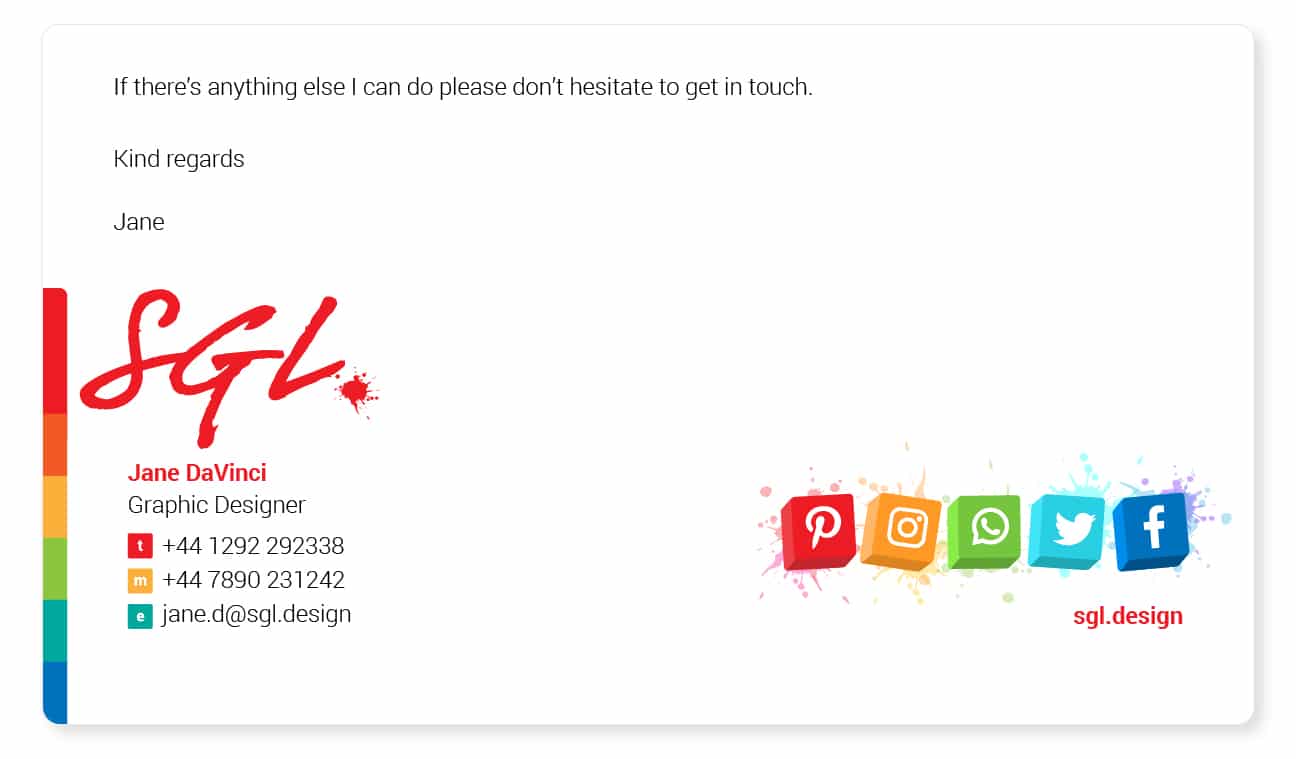 We decided to end on a unique note. The above example of an email signature is creative and colorful.
This email signature reflects the person's profession. You can see that she has given her own unique twist to it. The social sharing buttons are unconventional but eye-catching.
For a graphic designer, this email signature certainly leaves an impression.
Read also: 14 Best Email Marketing Growth Hacks to Boost Your Business
Conclusion
An effective email signature is a versatile tool that can significantly benefit your business in numerous ways.
Beyond its functional purpose of providing contact information, a well-crafted email signature has the power to drive tangible results, elevating your marketing efforts to new heights.
One of the primary advantages of a compelling email signature is its ability to generate leads. By strategically including a call-to-action or a link to your latest lead magnet, you can entice recipients to explore your offerings further and, in turn, capture valuable leads.
Whether it's inviting them to download an e-book, sign up for a webinar, or subscribe to your newsletter, a well-placed call-to-action in your email signature can prove remarkably effective in expanding your customer base.
Additionally, an email signature serves as a prime opportunity to promote your content. By featuring links to your blog posts, articles, or recent updates, you can drive traffic to your website and increase engagement with your content.
This not only enhances your brand's visibility but also positions you as an industry authority, establishing trust with your audience and encouraging repeat visits to your website.
Furthermore, an eye-catching email signature can be a compelling conversion tool. By incorporating testimonials or awards, you can showcase social proof, reassuring potential customers about the value of your products or services.
Building trust through your email signature can be a decisive factor in converting prospects into loyal customers.
Beyond its role in direct conversion, an engaging email signature can also boost site traffic. By including links to your website, social media platforms, or upcoming events, you create multiple touchpoints for recipients to interact with your brand online.
This increased web traffic can lead to more inquiries, purchases, and overall brand awareness.
Creating a professional email signature need not be a daunting task. You have the option of using free email signature generator software, which streamlines the process and ensures a polished result.
Alternatively, with the tips and examples shared in this article, you can embark on a do-it-yourself journey to craft an email signature that aligns perfectly with your brand's identity and values.
Ultimately, an unforgettable email signature is the simplest yet highly impactful way to establish a meaningful connection with your customers.
It serves as a microcosm of your brand, leaving a lasting impression that lingers long after the email is read. With the right blend of creativity and strategic elements, your email signature becomes a silent yet powerful brand ambassador, representing your business and inviting customers to engage further.
So, seize this opportunity to optimize your email communication and elevate your marketing endeavors.
Invest in a captivating email signature that not only provides essential contact information but also unlocks a world of possibilities, driving leads, content promotion, conversions, and increased site traffic.
Make every email a chance to make a lasting impression and propel your business to new heights.
If you want to design a clean, professional, and mobile-friendly email template to go with the signature, sign up for EngageBay today!