The CRM market is by no means a niche industry anymore. The marketplace offers a ton of customer relationship management (CRM) systems that can be used by businesses to manage their customer or client relationships better.
A CRM system is not one-size-fits-all – a few of them are optimized to work best with small businesses, while others can be customized for enterprise needs.
Implementing a CRM system is not a straightforward business, though – while you can often navigate the features easily, CRM pricing often trips up a lot of people.
There can also be various hidden costs involved.
This blog post can serve as an introductory guide to CRM pricing – different models, what to look for, and how to find one that's economical and affordable.
What's the Actual Cost of a CRM Solution?
The actual cost of a CRM solution depends on factors like the number of users, the number of contacts or subscribers, and the level of functionality that is required. Some CRM solutions like HubSpot and EngageBay have a free plan to try out the basic features, and the starting cost can be as little as $14.99 per user per month.
However, the cost for a customized CRM solution with advanced features can go up to $5,000 per user per month, and that's why it's important to understand exactly what you're signing up for.
There are many benefits to implementing a CRM system, but pricing does prove to be a major roadblock.
Should you pay upfront or a monthly fee? Does it make sense to pay for a full package or buy limited services as and when you need them?
Budgeting for CRM buying can be tricky.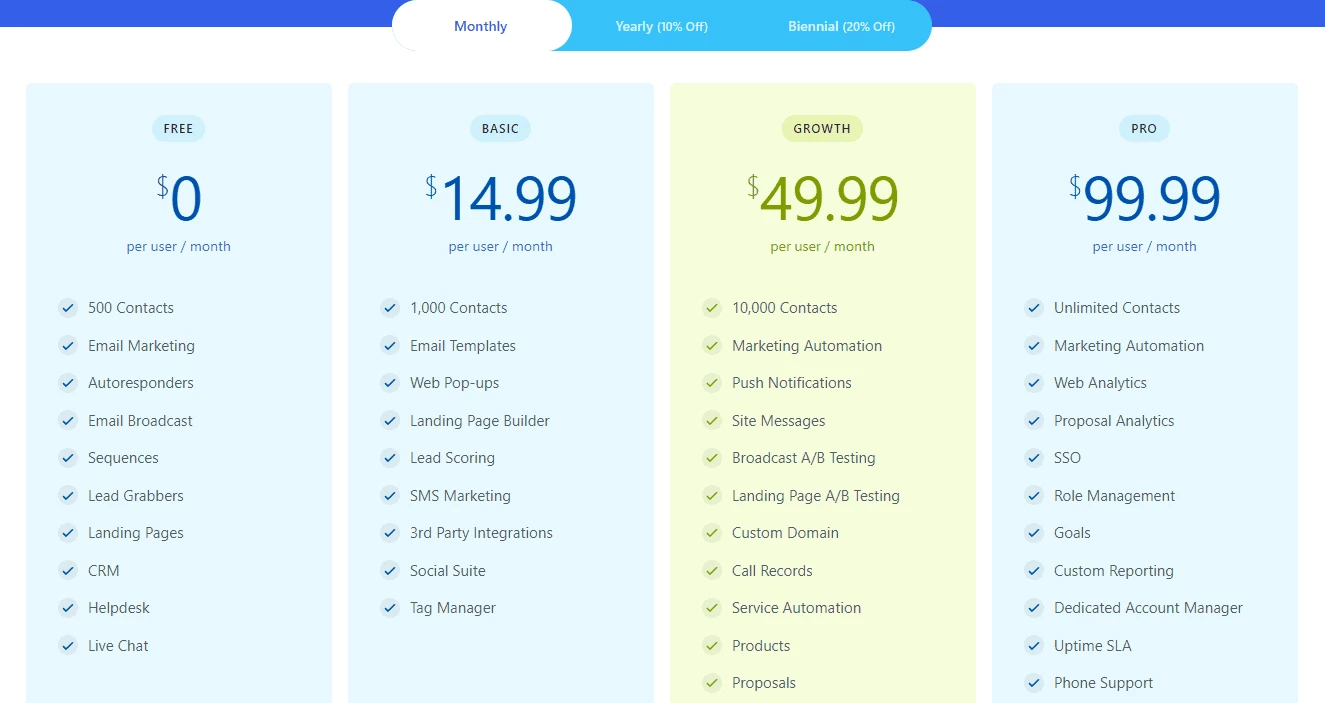 Unfortunately, there's no definite price point that can be called the standard. The cost of a CRM tool is influenced by a lot of factors including, but not limited to:

Number of users




Features and functionality




Type of customization options

Integrations

Additional reporting capabilities

Dashboard complexities

Level of training required, etc.
Hidden costs
The actual cost of CRM implementation is very rarely as straightforward as shown on the pricing page. Most of the time, it's exclusive of onboarding and support costs.
This is why hidden costs must also be factored into your CRM budget.
Implementation costs
Implementation and training costs can vary. A few cost-effective CRM vendors only charge a minimal fee when it comes to customizing and configuring your software.
Other large-scale CRM systems like Salesforce and HubSpot can charge a lot because of the level of customization required.
Add-on costs
Most CRM solutions offer additional features that are not included in the standard package you first see. You'll need to pay extra for these features or buy a pricier plan to access them.
While it's not compulsory to purchase these features, a lot of CRM functionality is limited by the lack of such add-ons.
It can be a frustrating endeavor, so it's always best to get clarity on all this before committing.


Different types of pricing models
Most CRM pricing is calculated on a subscription-based model, i.e., companies pay a certain fixed price per month or year for using the software-as-a-service (SaaS). Some CRM tools have a flat pricing model and some have sliding scale plans.

While CRM vendors are quite transparent about the price of their products, additional costs relating to customization, implementation, and advanced features are often not shown on website pages.
These hidden costs can add up fast and what was projected to cost a few hundred dollars can end up in the thousands.
Let's clear the fog about different pricing models. There are roughly three types of pricing models found in the CRM marketplace.
Per-user pricing



This is the most common pricing model. Per-user pricing calculates the cost of the product based on the number of users that will register to use it.
So, if a CRM package costs $12 per user per month, and 10 people will use it, the total cost would come to $120 per month.
Flat fee pricing
This pricing model charges at a predetermined amount per month or year, irrespective of the features or functionality provided.
The caveat here is that the flat fee might seem economical but it only applies for up to a certain number of users.
For example, a CRM provider can charge $30 per month for up to 10 users; if you have more than 10 users, you'll have to shift to a higher-priced plan.
Free subscription pricing
Some CRM vendors offer a free forever plan (such as EngageBay) for users to get started and try all the basic features. This plan includes a cap on the number of users. If you want advanced functionality, you'll have to buy a paid plan.
The idea behind this pricing model, also called 'freemium', is that as your business grows, the CRM system can grow along with you. You can pay for more features as and when you feel the need.

Read also: What are CRM Systems? A Definitive Guide (Benefits, Challenges)
The Best CRM Tools In the Market
Objectively speaking, there's no such thing as the best CRM system. With a little bit of digging, you'll see that some users are unhappy even with the top-ranked CRM software.
So, to keep things simple, we've divided CRM systems by business size in this blog post.
CRM Tools for Small Business
Small businesses generally don't require advanced functionality. Their needs are limited to a few CRM features, and often the number of users does not exceed 10.
For this business size, it's best to opt for CRM solutions that prioritize the following features:
Email marketing automation

Customer service helpdesk

Contact management

Lead management

Autoresponders

Live Chat
The following CRM systems are built to serve small businesses.
EngageBay CRM
EngageBay offers a free plan where you can try a lot of basic features.
You can use the free plan forever, with up to 15 users for one business.
| | | | |
| --- | --- | --- | --- |
| Plans | Monthly CRM cost (per user) | Annual CRM cost (per user/mo) | Biennial CRM cost (per user/mo) |
| Free | $0 | $0 | $0 |
| Basic | $14.99 | $13.49 | $11.99 |
| Growth | $49.99 | $44.99 | $39.99 |
| Pro | $99.99 | $89.99 | $79.99 |
Nutshell CRM
Unlike EngageBay, Nutshell doesn't have a free plan; however, it does have a trial period of 14 days.
| | | |
| --- | --- | --- |
| Plans | Monthly CRM cost (per user) | Annual CRM cost (per user/mo) |
| Nutshell | $19 | $16 |
| Nutshell Pro | $49 | $42 |
Copper CRM
Copper CRM works best for companies that use G Suite products.
This CRM software system integrates seamlessly with existing Google services such as Gmail, Google Sheets, Calendar, etc.
| | | |
| --- | --- | --- |
| Plans | Monthly CRM cost (per user) | Annual CRM cost (per user/mo) |
| Basic | $29 | $25 |
| Professional | $69 | $59 |
| Business | $129 | $119 |
Read also: Copper CRM Pricing & Comparison With Top Small Business Software
CRM Software for Medium-Sized Businesses
Mid-size businesses generally are in the process of scaling and growing. These companies opt for CRM systems that can adapt to their evolving business needs. Mid-market CRM systems prioritize features such as:
Inbox integration

Data visualization and reports

Sales forecasting

Project management

Advanced lead segmentation
Here are the best CRM tools for mid-sized businesses.
HubSpot CRM
HubSpot is a popular choice for many when it comes to CRM systems.
They have different pricing models based on which CRM bundle you opt for – there's Marketing, Sales, Customer Service, etc., – but the pricing below is for the standard package. More pricing details here.
| | | |
| --- | --- | --- |
| Plans | Monthly CRM cost (per user) | Annual CRM cost (per user/mo) |
| Starter | $50 | $45 |
| Professional | $1,780 | $1,600 |
| Enterprise | $5,000 | Custom |
Read also: HubSpot Pricing and Comparison with Affordable Alternatives
Zendesk CRM
Zendesk offers CRM suites geared toward building your sales pipeline and managing customer service requests.
They have a pretty straightforward pricing structure – there's no monthly billing, you pay annually, and it costs this much per user (agent) per month:
| | |
| --- | --- |
| Plans | CRM Cost (per user/mo) |
| Suite Team | $49 |
| Suite Growth | $79 |
| Suite Professional | $99 |
Note: Zendesk also has enterprise CRM solutions starting at $150 per user per month, billed annually.
CRM for Enterprise Businesses
Larger companies with an established client base and more users require systems that are flexible and customizable.
These enterprise CRM solutions offer advanced functionality, including:
Personalized communication and campaigns

Automated workflows

Activity management

Advanced lead scoring

Advanced reporting and data visualization tools

Single sign-on

Dynamic forms and landing pages

Automated data entry
Here are the best enterprise-grade CRM solutions.
Read also: Zendesk Alternatives – 10 Best CRMs for Small Businesses
Salesforce CRM
Salesforce is a popular choice for growing sales teams. It integrates seamlessly with a company's existing tools to offer a comprehensive platform that makes it easy to forecast sales, visualize deal pipelines, and communicate with new leads.
Like Zendesk, Salesforce also does not have a monthly billing option. You pay annually, and for the package you need. The pricing here is for the Service suite only.
| | |
| --- | --- |
| Plans | CRM Cost (per user/mo) |
| Essentials | $25 |
| Professional | $75 |
| Enterprise | $150 |
| Unlimited | $300 |
If you're going for the Enterprise or Unlimited plan, you can buy add-ons, like these:

Read also: Is Salesforce a CRM? A Simple, In-Depth Guide
Microsoft Dynamics 365
Microsoft Dynamics 365 is another excellent enterprise-level CRM software that focuses on customer service, marketing, and sales, along with the ability to customize the platform through its proprietary .NET-based framework.
Dynamics offers both cloud and on-premise CRM solutions depending on business needs. The pricing structure is a bit complicated, with separate pricing for marketing, sales, and customer support.
Let's take a look.
| | |
| --- | --- |
| Plans | CRM Cost (per user/mo) |
| Marketing | $1,500 (starting price) |
| Sales Enterprise | $95 (starting pricing) |
| Customer Service Enterprise | $95 (Starting price) |
SAP
SAP is the go-to CRM for many enterprises, and SAP calls itself a 'customer experience and CRM solution'. SAP integrated commerce, marketing, and service data and CX for a truly integrated CRM platform.
All their plans are custom-priced, and you need to contact them to get a quote.
Freshworks CRM is functional and intuitive: it offers several advanced features for enterprise teams without the steep learning curve.
Honorable Mentions: 10 Note-Worthy CRM Software for Small and Medium Businesses
Here are 10 great CRM software we recommend you take a look at:
CRM system
Starting price
For small to medium businesses

Zoho

$14/month

Nimble

$19/month

Less Annoying CRM

$15/month

Copper

$23/month

SugarCRM

$49/month (Sell)

Capsule

$18/month

For medium businesses

Insightly

$29/month

Keap

$129/month

ActiveCampaign

$29/month

Pipedrive

$9.90/month
Why Use a CRM Tool?
A CRM software is a system that manages, tracks, and consolidates all pertinent customer information onto a common dashboard.
This customer data management system makes it easy for companies to view contacts, segment contacts lists, create personalized marketing campaigns or customer support emails, and build custom workflows to manage multiple tasks.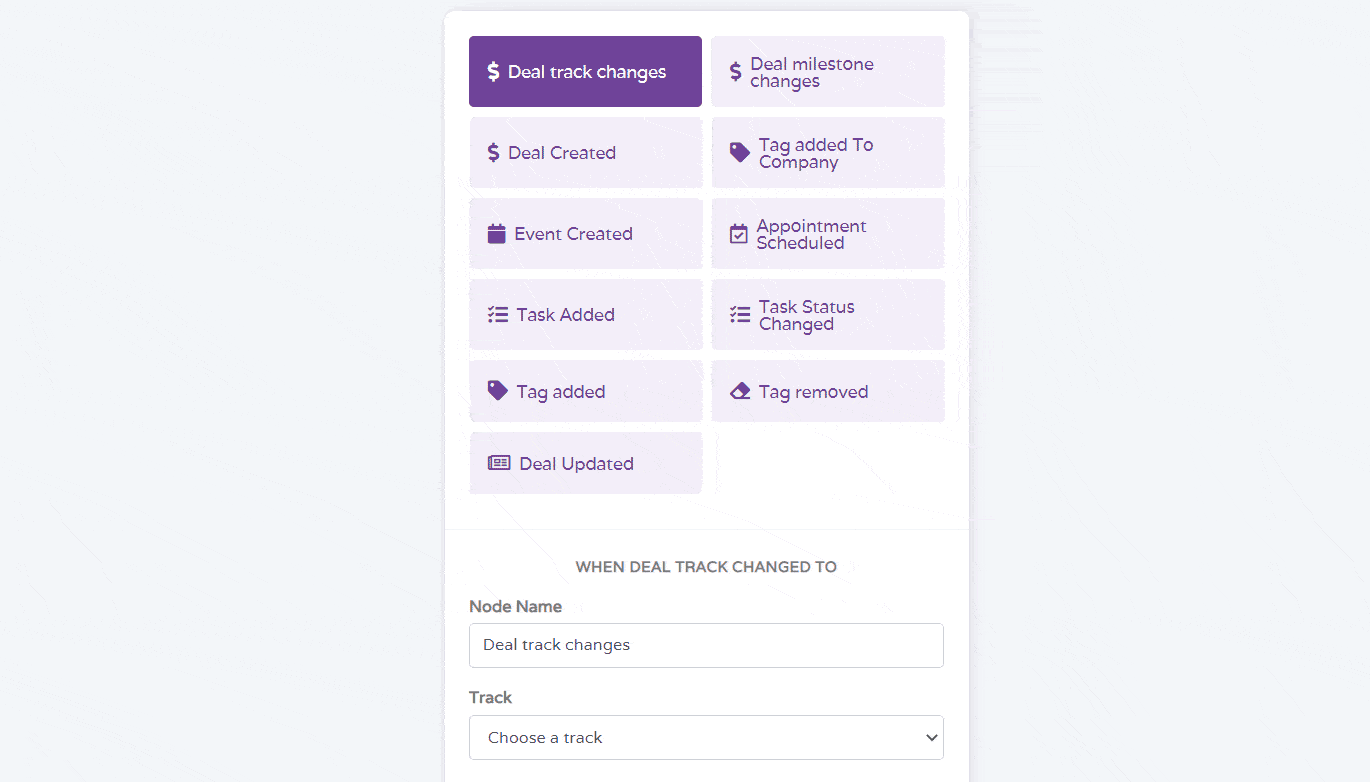 Generally, a CRM system can work as an organizational tool for departments such as sales, marketing, and customer service.
An ideal CRM solution will simplify and even automate many major tasks for running and growing a business.
These include:
Contact management

List management

Email marketing

SMS marketing

Social media tracking

Reporting & analytics

Customer communication



File storage & sharing
Autoresponses to common queries
Read also: The Best CRM Tools for Small Business Owners
How To Find a CRM Solution That Suits Your Business Needs
A CRM system is not only an investment of your money, it's also an investment of your time. This is why it's so important to find a CRM that fits your business requirements.
Now, there are a lot of sandbox environments that you can choose from, but to make your life easy, keep the following pointers in mind.
Define your business goals
Before you step into the marketplace and get jumped on by the sheer number of choices, make a checklist of how the ideal CRM software will help your business.
Do you want it to keep track of your lead generation and customer communication? Do you want to use it primarily as a sales tool or a marketing tool? Or do you want to streamline your customer service operations and do nothing else with the CRM solution?
This will help you jumpstart your process of selecting a CRM software.
Make a list of essential features you'll need
What makes a CRM system so attractive is that it has so many features that work across departments.
It's easy to get overwhelmed in the beginning – so it's important to know which essential features you'll need to get your business in order.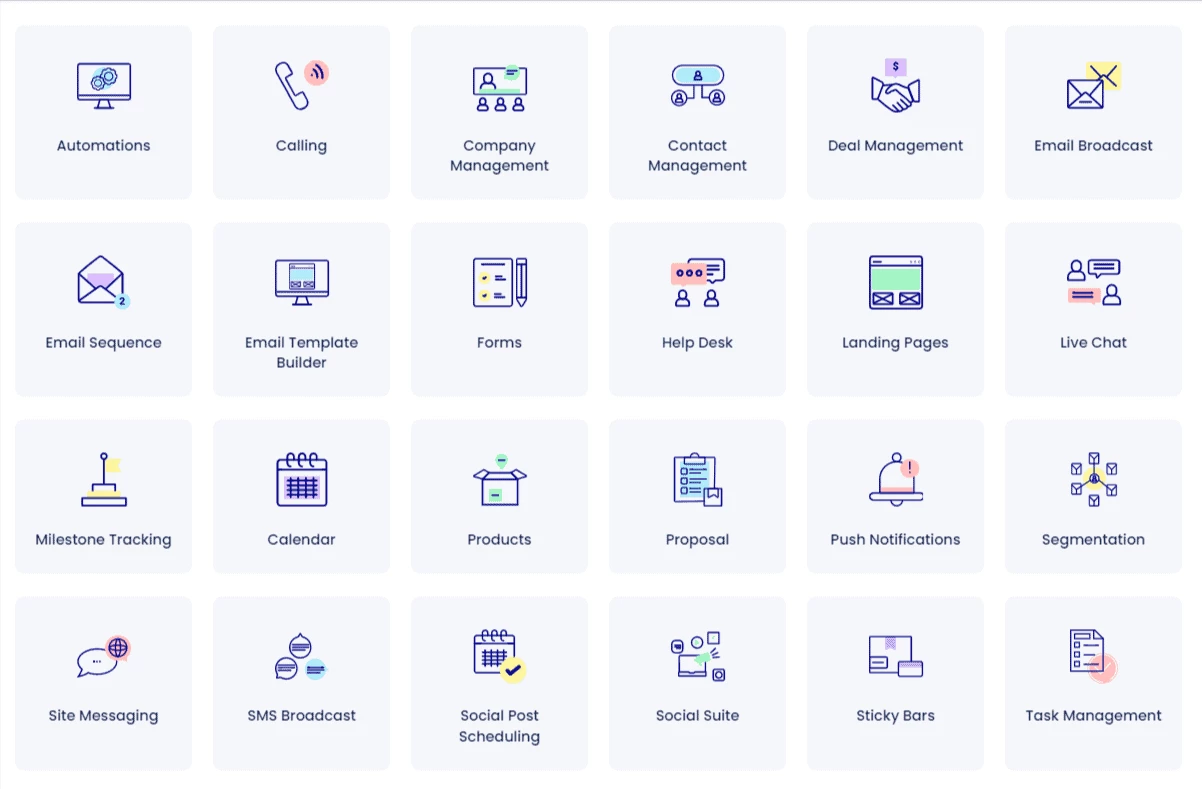 You can always upgrade to a different CRM or another package within the same CRM solution as your business grows, but we recommend that you don't waste time or money on features that aren't in your short-term business goals.
Try demos and free trials
Most CRM vendors offer free trial versions of their software before asking you to sign-up.
The free trial generally includes access to features that are important for any business: SMS marketing, email marketing, customer support chats, phone call tools, helpdesk, autoresponses, canned responses, etc.
Before you commit to a CRM system, play around with a few of the best options to figure out what kind of setup suits your business needs best.
Prioritize user experience
A CRM system often acts like the business' second brain. The software you use must be intuitive and easy to navigate; otherwise, it's going to end up making things harder for everybody.
A lot of users ignore the user experience when they first invest in a CRM system. Getting tons of features for your money is good but those features won't be of any advantage if the software itself has a steep learning curve.
Read also: What Nobody Tells You About CRM ROI: A Thought-Provoking Guide
How To Get the Most Out Of Your CRM Software

The last step of implementing a CRM system is knowing how to make it work for you. Keep these tips in mind to get the most ROI out of your CRM software.
Make it cross-functional
One of the biggest mistakes that businesses do is building a CRM system that suits only one department. If you focus too much on sales, you run the risk of losing valuable insights and data from marketing and customer service, and vice versa.
The best way is to build a system that aligns your marketing, sales, and customer service teams on a shared dashboard.
By integrating tools that benefit all teams, you will also be able to build a more cohesive audience profile, since data across departments supplement it.
Automate recurring tasks
Setting up the initial automation triggers can be time-consuming but it pays dividends every time you log a new lead or follow up with an old one.
Tasks such as scheduling calls, attaching labels, sending emails, etc., can be automated to streamline operations.
Update data regularly
Stale data eats up a lot of space and offers nothing in return.
You have to keep updating customer profiles to maintain data hygiene.
Not only does it ensure that your customer communication is always relevant, but it also maintains consistency in lead nurturing.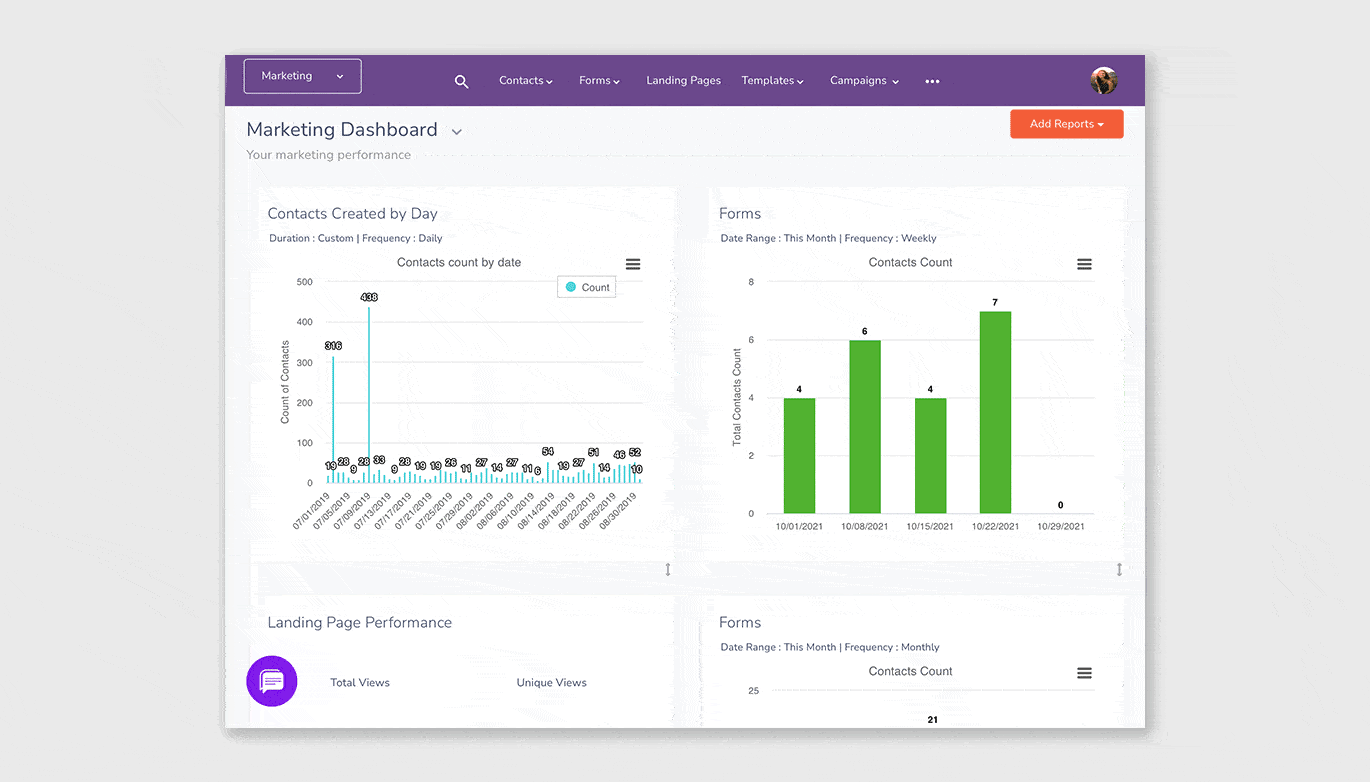 Wrap Up
The actual cost of CRM varies wildly based on your industry and specific business needs. It might seem like finding the right CRM is expensive, but the cost of implementing the wrong one is even greater.
By most accounts, lack of user adoption in the early stages is what causes CRM systems to fail in business.
Companies that successfully onboard their agents may also find the user experience tedious and clunky. It's important that when you budget for a CRM system, you also take into account the implementation and training costs – which aren't as upfront.
We recommend that you try out as many demos of CRMs as you can before you make a purchase. A few of them (like EngageBay) also offer free forever plans with options to upgrade as your company grows.