One of the significant challenges of a growing business is how to manage the increasing number of appointments, contacts, and leads.
Unstructured data can lead to a number of obstacles: lost leads, lack of productivity & efficiency, poor time management, and unstable client relationships.
If your company is struggling with fragmented customer data and lack of organization, you should consider switching to a CRM software.
The key CRM functionalities can help your business manage client relationships, improve sales processes, and offer personalized services to customers.
But what exactly is CRM? How can it help your business drive sales and growth? What are the essential features a CRM software must have?
In today's blog post, we will answer all these questions and offer a few pointers to help you determine the right software for your business.
What is CRM Software?
CRM stands for Customer Relationship Management and refers to tools, processes, and strategies used by businesses to acquire leads, nurture them, and retain customers. Customer relationship management is more of a process — keeping track of all contacts, their interactions, etc.
In its simplest form, a CRM software helps manage leads and existing customers effectively. It does this by keeping track of all customer touchpoint interactions, recording the data, and organizing it.  A CRM (software) collects data from multiple channels and analyzes customer interactions throughout the customer lifecycle.
Every business needs CRM, whether it's a small business looking for a simple solution to manage their customer data or large enterprises looking to increase customer satisfaction and retention.
The right CRM system functions as a single point of contact across teams. It gives every department access to view customer data that is relevant to them. CRM software are often cloud-based.
With on-premises CRM, companies acquire a license for the product beforehand and utilize local servers and IT resources. Generally, in-house CRMs come with limited functionalities that only solve a particular problem like customer queries or contact management.
However, cloud-based or SaaS (software-as-a-service) CRM stores all data on the software provider's servers. Here, the responsibility for updates, security, and smooth operation is taken up by the vendor.
Moreover, you get access to your database anywhere — all you need is a monthly (or yearly) subscription and a decent internet connection.
4 Fantastic Benefits of Using CRM For Your Business
According to a study by Forrester, CRM software can deliver an ROI of about 245%!
CRM can help marketers and business owners deliver personalized customer experiences. These experiences are the cornerstone of building lasting customer relationships. 80% of potential customers prefer to opt for businesses that offer personalized experiences.
Since a CRM system unifies all aspects of customer management, it's important that businesses invest in this solution.
Let's discuss some of the major benefits of using a CRM.
EngageBay offers a free CRM & sales management software to manage your Sales & Marketing, with advanced automation and 50+ features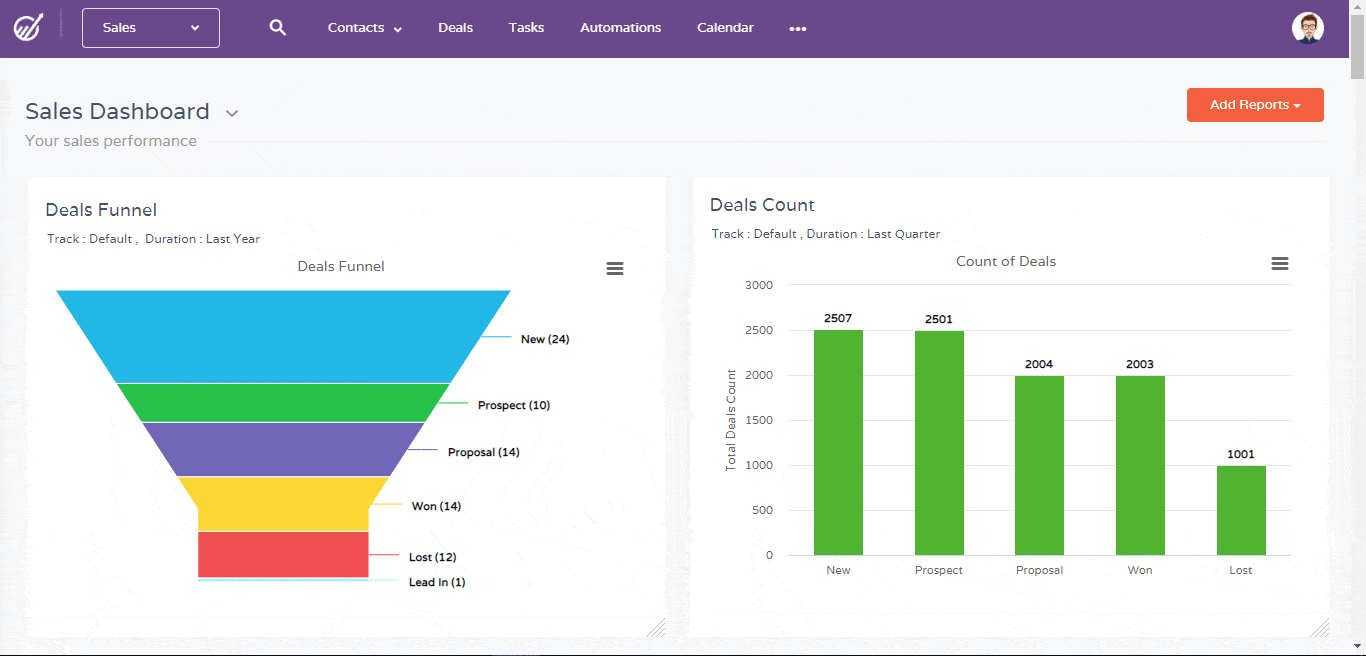 1. Customer Service
This is a no-brainer. To serve your customers better, you need to understand your customers thoroughly, and a CRM software can do this for you.
To keep your customers happy, you need to know if there are problems and address them promptly. Using a CRM is indispensable in this regard, helping you collect data on customer satisfaction while also offering them quick support.
2. Personalization
Personalization is another great CRM functionality. A CRM software captures data and collects vital information like birthdays, demographics, income, location, and age. You can use this to send highly personalized greeting emails and optimized content.
You can also send out offers and discounts to the right customers at the right time, closing more deals and boosting your revenue.
3. Prioritization
Your sales team deals with hundreds of contacts daily. Out of those hundreds, only a small percentage will be converted to customers. A CRM system can help you pinpoint promising leads and focus your marketing efforts on them.
You can also get a good sense of who your most engaged customers are, and prioritize their needs and requirements. This way, you can offer them products and services tailored to their unique interests.
4. Automation
A CRM software functions as a time management tool. It will also boost your efficiency by automating workflows and processes. This will standardize the process and enhance coordination.
CRM Functionality: The Top 3 CRM Features
Now, let's look at the key CRM functions that can help a small business:
Marketing automation
Sales automation
Customer support automation
#1. Marketing Automation
This is a key CRM functionality that is crucial for growing your business.
A CRM software can be of great help here as it can automate most tasks of your marketing campaign.
Here's why you need this CRM functionality:
Automate all your marketing & sales tasks, lead generation & nurturing, and customer support processes.
Automate Marketing Campaigns
A great CRM software helps businesses and companies design, launch, and track marketing campaigns with ease.
Also, marketing automation lends a hand to some of the basic requirements of any business. These can include lead capture, customer segmentation, campaign and ROI analysis, and upselling.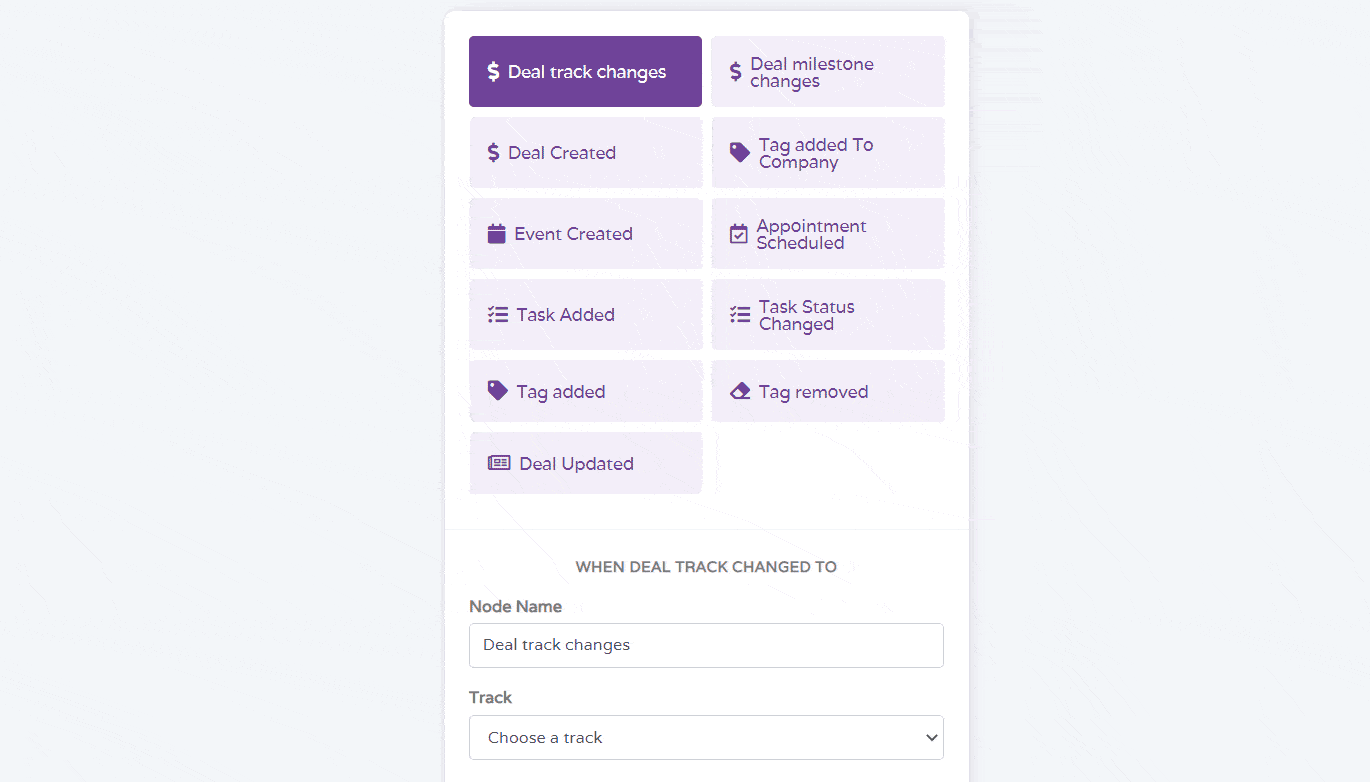 Automate Multichannel Marketing
Multichannel marketing automation is a basic CRM feature. Newsletters, email marketing, and SMS broadcasts come under the umbrella of multichannel marketing.
A CRM helps optimize setting up and launching these campaigns, reducing the burden on the teams.
Ultimately, this will result in better outreach and increased profits.
Automate Marketing Funnels
Marketing funnel automation goes hand-in-hand with sales force automation.
With a CRM software, you can improve lead acquisition, prioritize leads, and assign them to the right sales rep. You can tag cold and unresponsive leads and work on a different marketing approach to convert them.
Automate the Customer Journey
Marketing automation also improves customer interaction and helps you collect data across various customer journey touchpoints while delivering a seamless customer experience. By organizing customer data, you can get a picture of the customer's wants and needs, as well as their expectations of your business.
With this CRM feature, you can take your customer engagement to the next level, thus improving customer relations and transforming them into loyal brand advocates.
#2. Sales Automation
According to a study, sales reps spend only 34% of their time doing actual sales. The rest of their time is taken up by administrative tasks.
To supercharge your sales processes, it's important that your teams have enough time to focus on acquiring and converting leads.
The basic functionality of CRM sales automation can help businesses do just this.
How's that? Let's find out.
Sales automation can accelerate business growth and improve your team's productivity.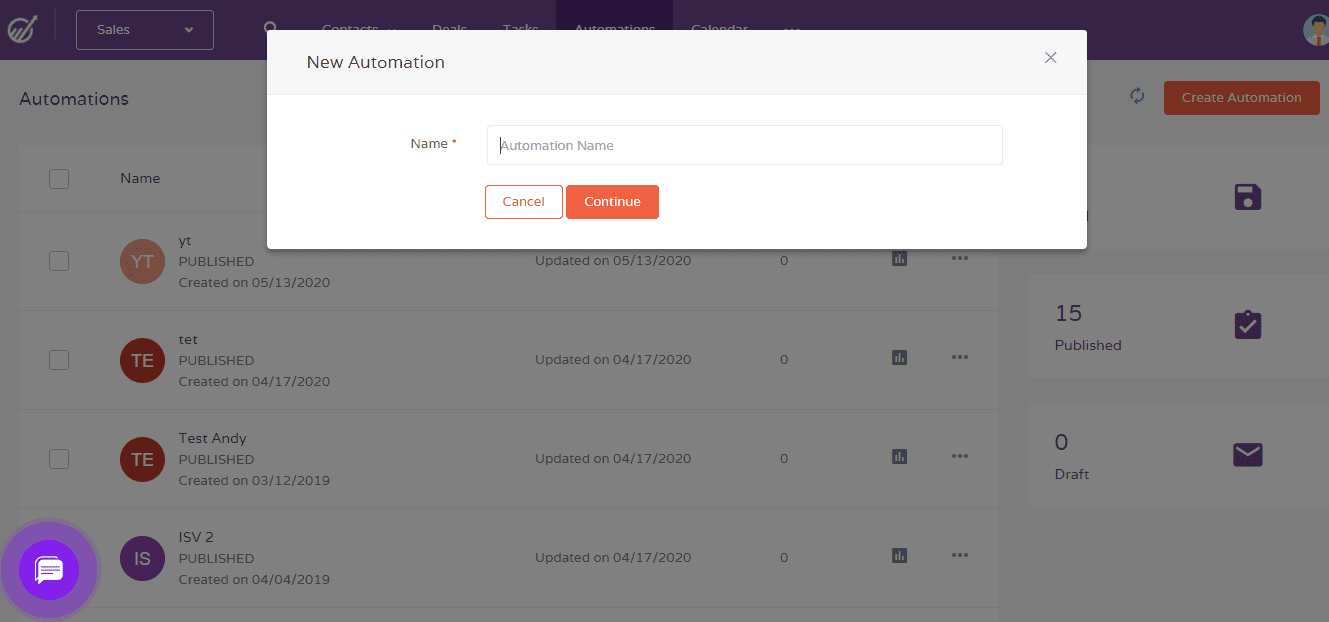 Sales Reporting
Many CRM software have advanced algorithms and artificial intelligence (AI) to forecast sales figures accurately. You can then tweak your approach and close more deals.
Out of all the features of CRM, having a sales reporting dashboard is important because it structures all your data. A CRM software offers reports and metrics for each product, service, and even sales reps, so you can make informed decisions and improve performance.
Managing Tasks and Activities
Task management automates tedious and repetitive tasks so you don't have to remember every last detail. These can include setting up reminders and scheduling appointments.
With activity management, you can set up alerts for anything you need to be notified about. You can set notifications and get alerts when someone signs up for a newsletter or when a task is completed.
Managing Contacts
Contact management is one of the most important CRM features because it acts as a common touchpoint for your team. A CRM system is a centralized database for every client interaction. You can store contact information such as name, email, phone number, etc.
With the CRM functionality of automation, sales teams can automatically update their leads, add contacts, manage pipelines, and update information.
Managing Opportunities
A CRM software ensures that your leads don't fall through the cracks. With visual deal pipelines, win probabilities, and predictive lead scoring, you can easily keep track of each lead until the deal is closed.
This makes CRM software the most efficient sales management tool around.
#3. Customer Support Automation
Customer support is one of the most challenging aspects of a business. These days, customer service is synonymous with brand image and has taken center stage as products and services become increasingly complex. Customer support is different from sales and marketing — in this case, customer retention is the goal, not customer acquisition.
Today's world is more competitive than ever, which means consumers are free to choose products that satisfy them, both by customer experience and product quality.
This makes customer support automation a key CRM functionality for every business.
EngageBay is a customer service software for ticket routing, customer service automation, Live Chat, support macros, and so much more.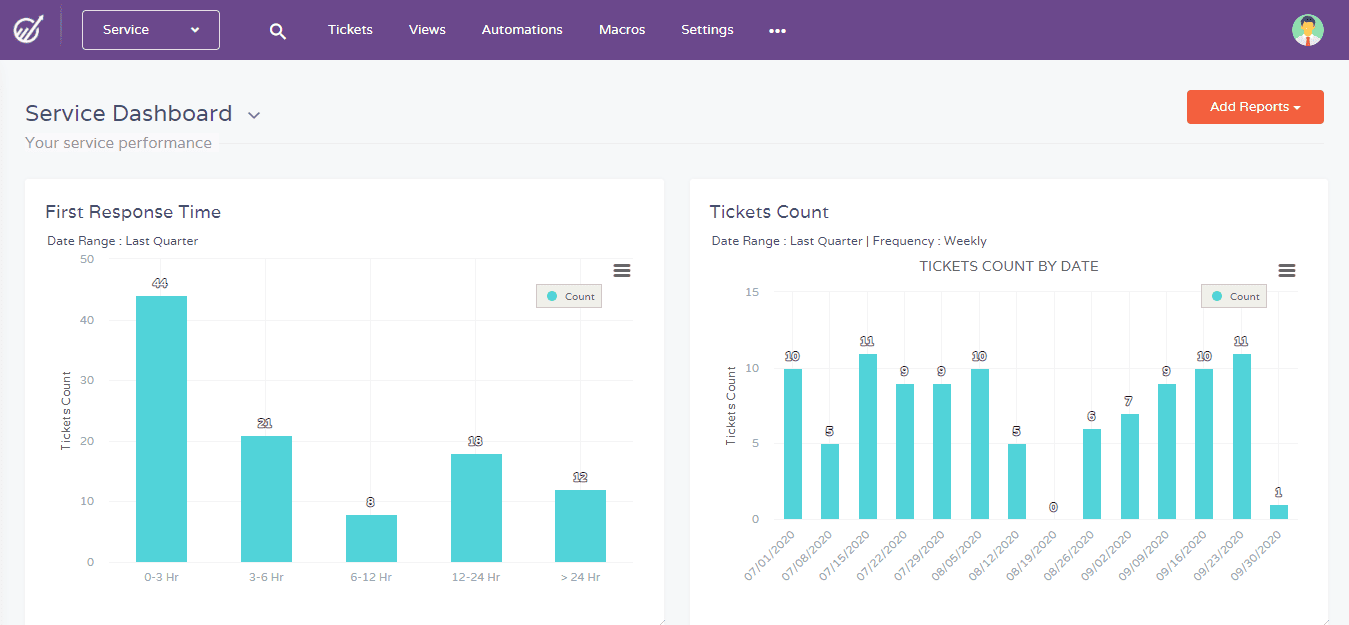 Optimize Response Time
A CRM automation software can help provide a more personalized customer experience.
Automation and service tools like canned responses, customer tickets, prioritization, and ticket assignment help businesses provide a quick, seamless customer experience.
This, in turn, helps companies distinguish their brand from their competitors.
Improve  Customer Relationships
This CRM functionality helps businesses manage their interaction history with customers, track conversations, quickly sort customer queries, and resolve product issues fast. It also facilitates after-sales support and follow-ups, thus enhancing the customer support experience.
Track Multiple Support Requests
If you offer customer support through multiple communication channels, your CRM software can help you keep track of all requests.
This CRM functionality helps you view the status of each request, the channel of origin, and other details. This enables customer support reps to access accurate, up-to-date, and essential information promptly to deliver the best possible customer experience.
Conclusion
In a nutshell, customer relationship management (CRM) is all about bettering the business-client communication process.
Before choosing a CRM software, familiarize yourself with the key CRM functionalities, and figure out what your team needs.
Understanding which CRM features you require can help you simplify the process of choosing a CRM.
A great CRM software can automate and simplify the golden trifecta of any business — marketing, sales, and customer service.
If you are looking for an affordable CRM automation software with all the key CRM features integrated into one platform, check out EngageBay.
EngageBay is an all-in-one marketing, sales, and customer service platform designed for small and medium businesses.
It can be used as an email marketing platform, a project management tool, and even as a social media handler. What's more, all the three key CRM functionalities we've detailed in this blog are entirely free to use with EngageBay.