Have you ever missed appointments because you forgot about them? 
Have you ever scratched your head feeling perplexed because you don't know if your marketing efforts are paying off? 
Did your team ever feel overwhelmed due to the constant bombardment of customer queries?
Do you feel like customers are looking elsewhere for the services you are offering?
If so, you need a CRM software to organize your business. 
But what is CRM? What does a CRM software offer your business? What essential CRM functions must your software have to take your business to the next level?
This post will address these questions and more. 
What is a CRM software?
Before we look at the benefits of CRM, let's check out its definition. CRM stands for 'Customer Relationship Management' and refers to tools, processes, and strategies used by businesses to acquire leads, nurture them, and retain customers. 
In its simplest form, a CRM software helps manage leads and existing customers effectively. It helps collect data from multiple channels and analyze customer interactions throughout the customer lifecycle. 
Every business needs a CRM software, whether it's a small business looking for a simple solution to manage their customer data or large enterprises looking to increase customer satisfaction and retention.
If there's one thing you need to take away from this article, it's this: A CRM software converts leads into happy customers, and customers into loyal brand advocates. 
This in turn directly influences your sales figures!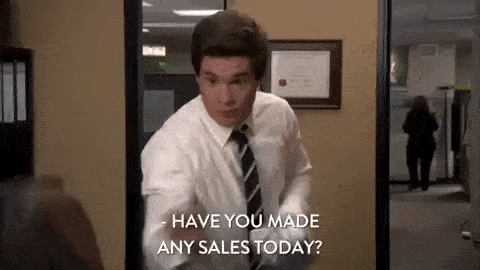 CRM can either be in-house or cloud-based. With in-house CRM, companies acquire a license for the product beforehand and utilize local servers and IT resources to function properly. Responsibility for the implementation, maintenance, and security of the software fall in the company's hands and not the vendor. 
However, cloud-based or SaaS (software-as-a-service) CRM stores all data on the software provider's servers. Here, the responsibility for updates, security, and smooth operation is taken up by the vendor. 
Moreover, you get access to your database anywhere — all you need is a monthly (or yearly) subscription and a great internet connection. 
Four fantastic benefits of using a CRM for your business
According to a study by Forrester, a CRM software delivers an ROI of about 245%!
This clearly shows why your company needs to implement CRM into its marketing and sales process.
In fact, it is considered to be one of the most important tools to procure and retain customers. 
Let's discuss some of the major benefits of using a CRM software. 
EngageBay CRM offers a free sales management software to manage online Sales & Marketing, with advanced automation and 50+ features.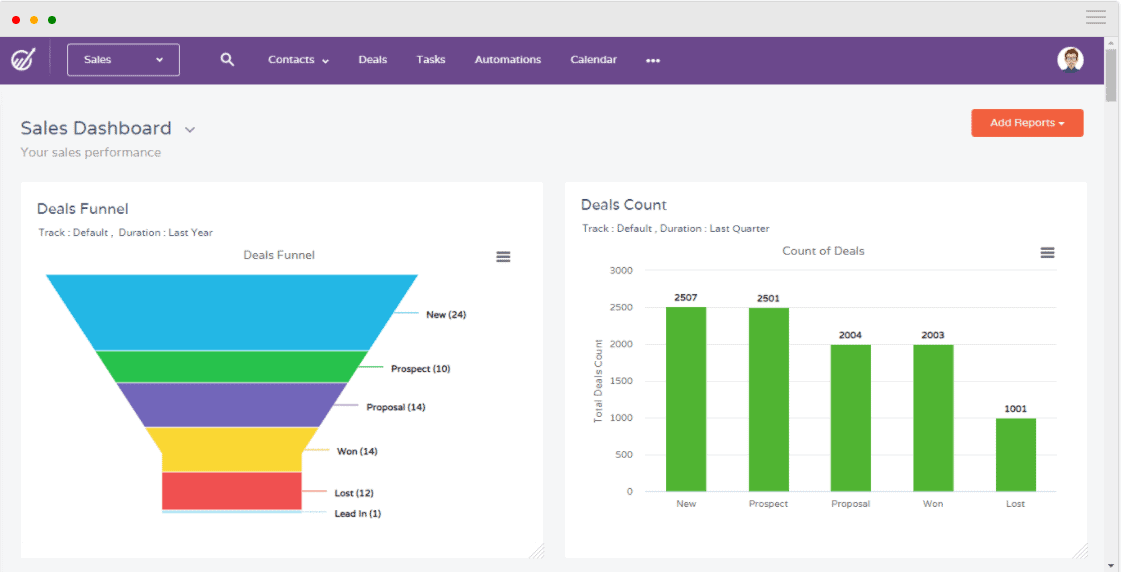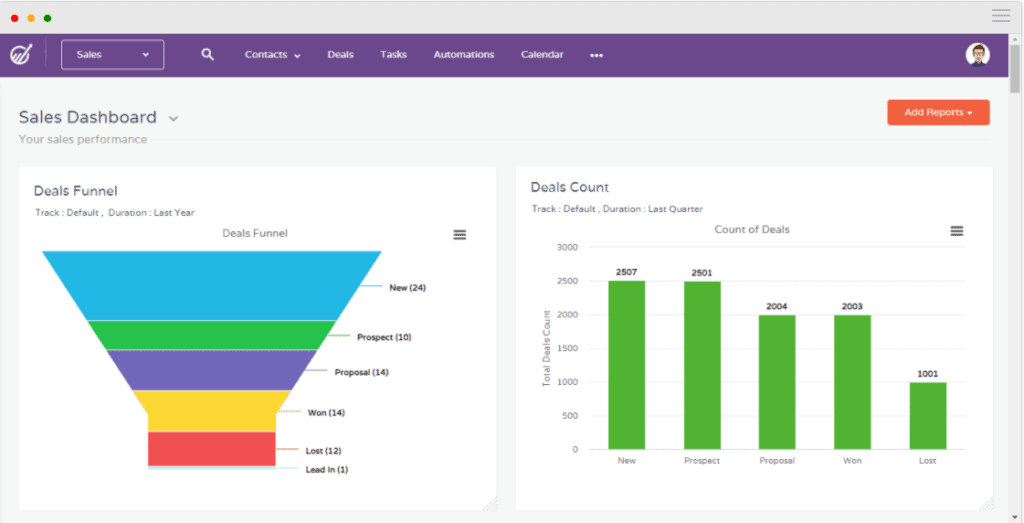 Customer Service
This is a no-brainer. To serve your customers better, you need to understand your customers thoroughly, and a CRM software can do this for you. 
To keep your customers happy, you need to know if there are problems and fix them promptly. A CRM software is indispensable in this regard, helping you collect data on customer satisfaction while also offering them support. 
Personalization
Personalization is another great CRM functionality. A CRM software captures data and collects vital information like birthdays, demographics, income, location, and age. You can use this to send highly personalized greeting emails and optimized content. 
You can even send out offers and deals to the right customers at the right time, closing more deals and boosting profits. 
Prioritization
A CRM software will let you recognize promising leads so that your sales team can concentrate their efforts on them.
Also, being in constant contact with your leads can help you understand their needs better. This way, you can offer them products and services tailored for their unique interests.
Automation
You can streamline workflows across marketing, sales, and customer support using a CRM software. This will standardize the process and enhance coordination. 
CRM Functionality: The Top 3 CRM Features
Now that we know why we need a CRM software, let's look at the key functions of CRM: 
Marketing automation

Sales automation

Customer support automation
#1. Marketing Automation
Most companies invest a lot of money and resources to market their products and services. 
A CRM software can be of great help here as it can automate most tasks of your marketing campaign.
Here's why you need the marketing automation CRM functionality:
Marketing automation software to automate all your marketing & sales tasks, sales & service workflows, lead generation & lead nurturing. Widest range of free marketing automation tools.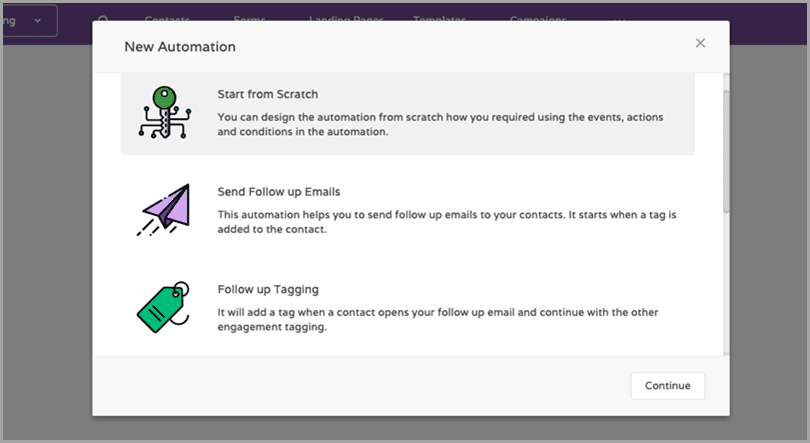 Automating Marketing Campaigns
A great CRM software helps businesses and companies design, launch, and track marketing campaigns with ease. 
Also, marketing automation lends a hand to some of the basic requirements of any business. These can include lead capture, customer segmentation, campaign and ROI analysis, and upselling. 
Automating Multichannel Marketing
Multichannel marketing automation is a basic CRM functionality. Newsletters, email marketing, and SMS broadcasts come under the umbrella of multichannel marketing. 
Here, a CRM software helps optimize setting up and launching these campaigns, reducing the burden on the teams. 
Ultimately, this will result in better outreach and increased profits.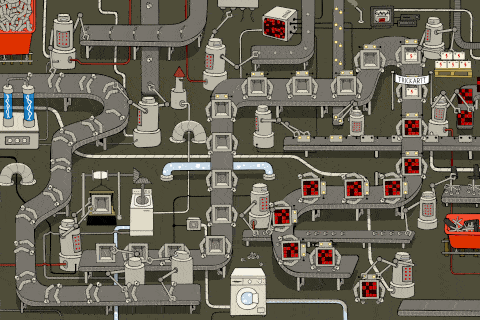 Automating Marketing Funnels
Marketing funnel automation goes hand-in-hand with sales force automation. 
With a CRM software, you can improve lead acquisition, prioritize them, and assign them to the right sales rep. Cold and unresponsive leads can be sent back to the marketing team for a different approach.
Automating the Customer Journey
Marketing automation also improves customer interaction and helps you collect data across various customer journey touchpoints while delivering a seamless customer experience. 
With this CRM functionality, you can take your customer engagement to the next level, thus improving customer relations and transforming them into loyal brand advocates. 
#2. Sales Automation
What's a business without sales? 
In this competitive world, businesses can leverage sales force automation to get an edge over their competitors. Whether it's selling products or services, businesses need a sound strategy to drive up sales.
The CRM functionality of sales automation can help businesses do just this. 
How's that? Let's find out. 
Sales automation can accelerate business growth and improve your team's productivity.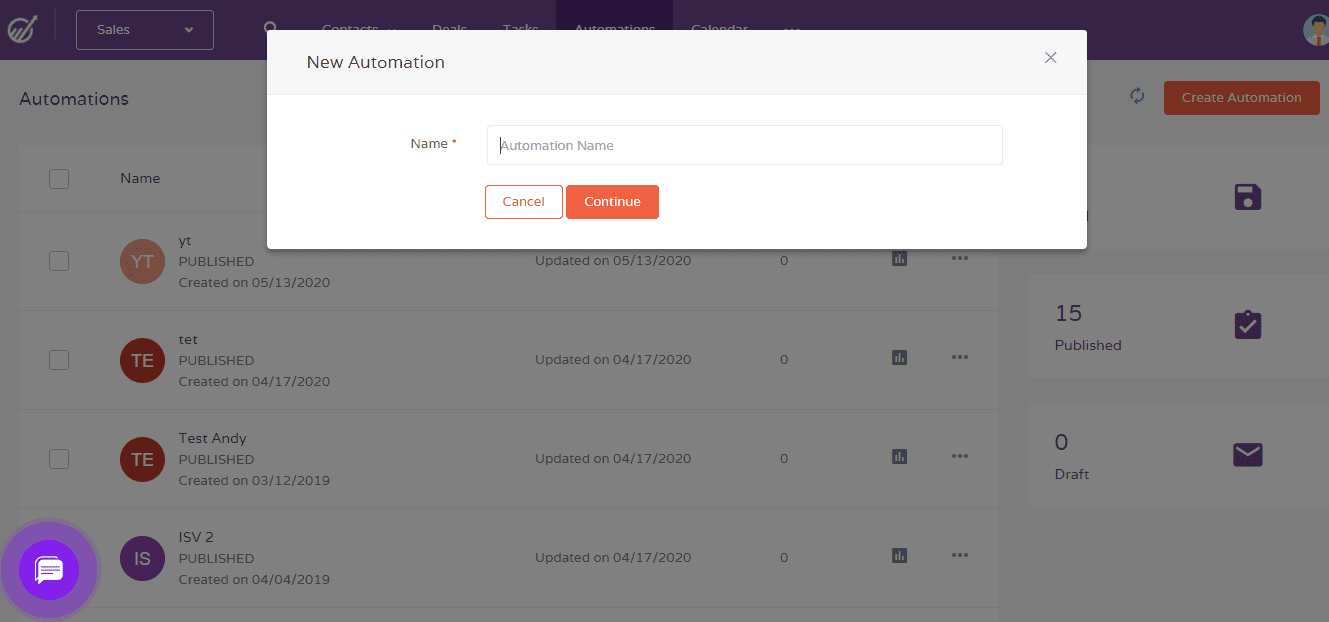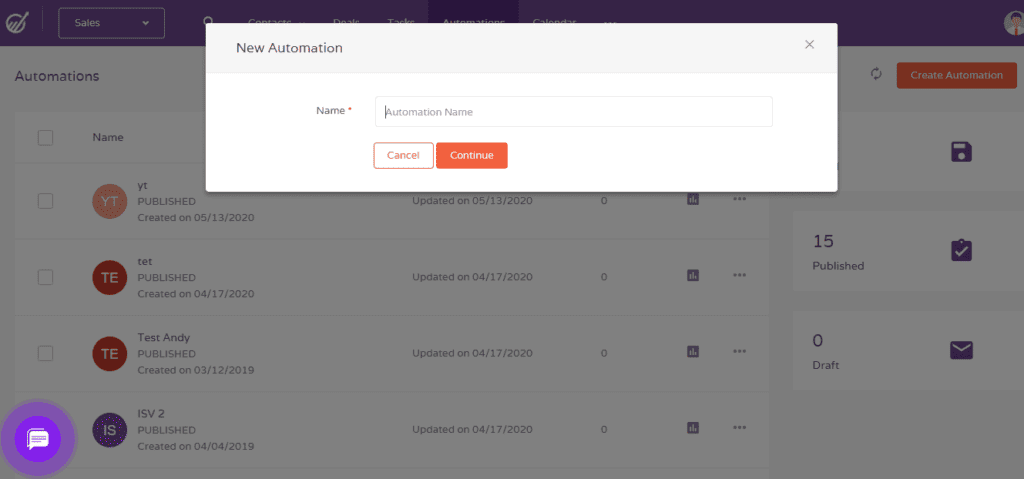 Sales Reporting
Many CRM software have advanced algorithms and artificial intelligence (AI) to forecast sales figures accurately. You can then tweak your approach and close more deals. 
A CRM software also offers reports and metrics for each product, service, and even sales reps, so you can make informed decisions and improve performance. 
Managing Tasks and Activities
Task management automates tedious and repetitive tasks so you don't have to remember every last detail. These can include setting up reminders and scheduling appointments.
With activity management, you can set up alerts for anything you need to be notified about. By setting up notifications, you get alerts when someone signs up for a newsletter or when a task is completed. 
Managing Contacts
Storing information about every contact is crucial to any business's success. 
With the CRM functionality of sales automation sales teams can manage their leads, contacts, pipelines, and many other tasks. This can help you understand your customers and dramatically improve customer engagement and retention. 
Managing Opportunities
A CRM software ensures that your leads don't fall through the cracks. With visual deal pipelines, win probabilities, and predictive lead scoring, you can easily keep track of each lead until the deal is closed. 
This makes CRM software the most efficient sales management tool around.
#3. Customer Support Automation
Customer support is one of the most challenging aspects of a business. These days, customer service is synonymous with brand image and has taken center stage as products and services become increasingly complex. 
Today's world is more competitive than ever, which means consumers are free to choose products that satisfy them, both by customer experience and product quality. 
This makes customer support automation a key CRM functionality for every business.
Customer service software for ticket routing, customer service automation, ticketing automation, Service Bay, Live Chat, support macros, and so much more.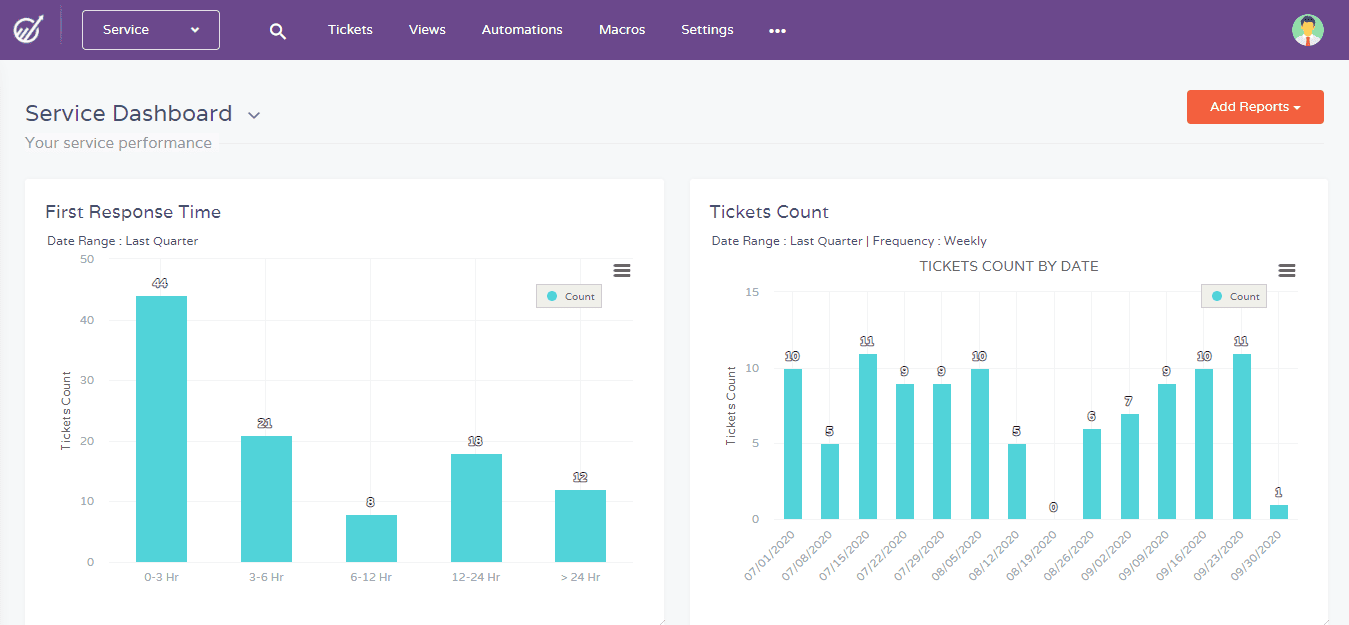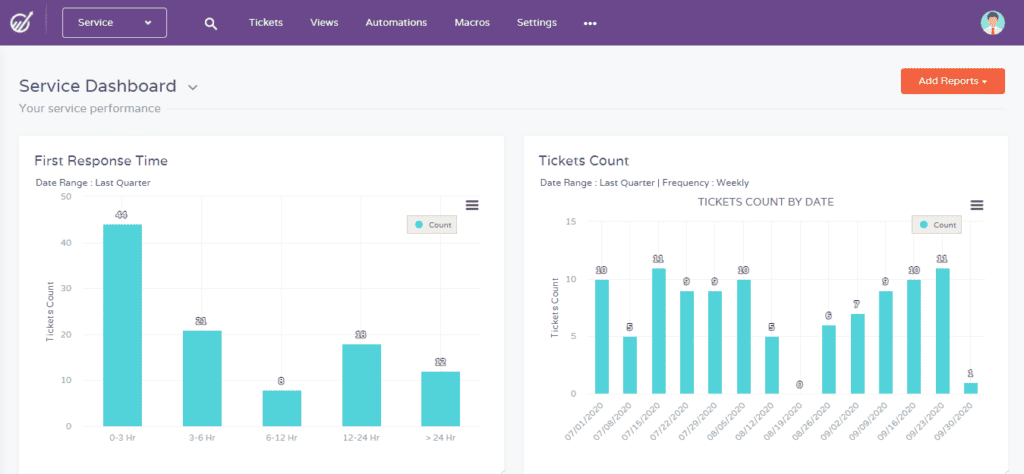 Personalizing Customer Experiences
A CRM automation software can help provide a more personalized customer experience. 
Automation and service tools like canned responses, customer tickets, prioritization, and ticket assignment help businesses provide a quick, seamless customer experience. 
This, in turn, helps companies distinguish their brand from their competitors. 
Improving Customer Relationships
This CRM functionality helps businesses manage their interaction history with customers, track cases, support customer queries, and resolve product issues. It also facilitates after-sales support and follow-ups, thus enhancing the customer support experience. 
Managing Contacts
A CRM software provides a centralized, consolidated database with all the information about each customer. This enables customer support reps to access accurate, up-to-date, and essential information promptly to deliver the best possible customer experience. 
Summing up
In a nutshell, CRM software helps you close more deals in less time. Before choosing a CRM software, familiarize yourself with the key CRM functionalities, and figure out what your team needs. 
A great CRM software can automate and simplify the golden trifecta of any business — marketing, sales, and customer service. 
If you are looking for an affordable CRM automation software with all the key functionalities integrated into one platform, check out EngageBay.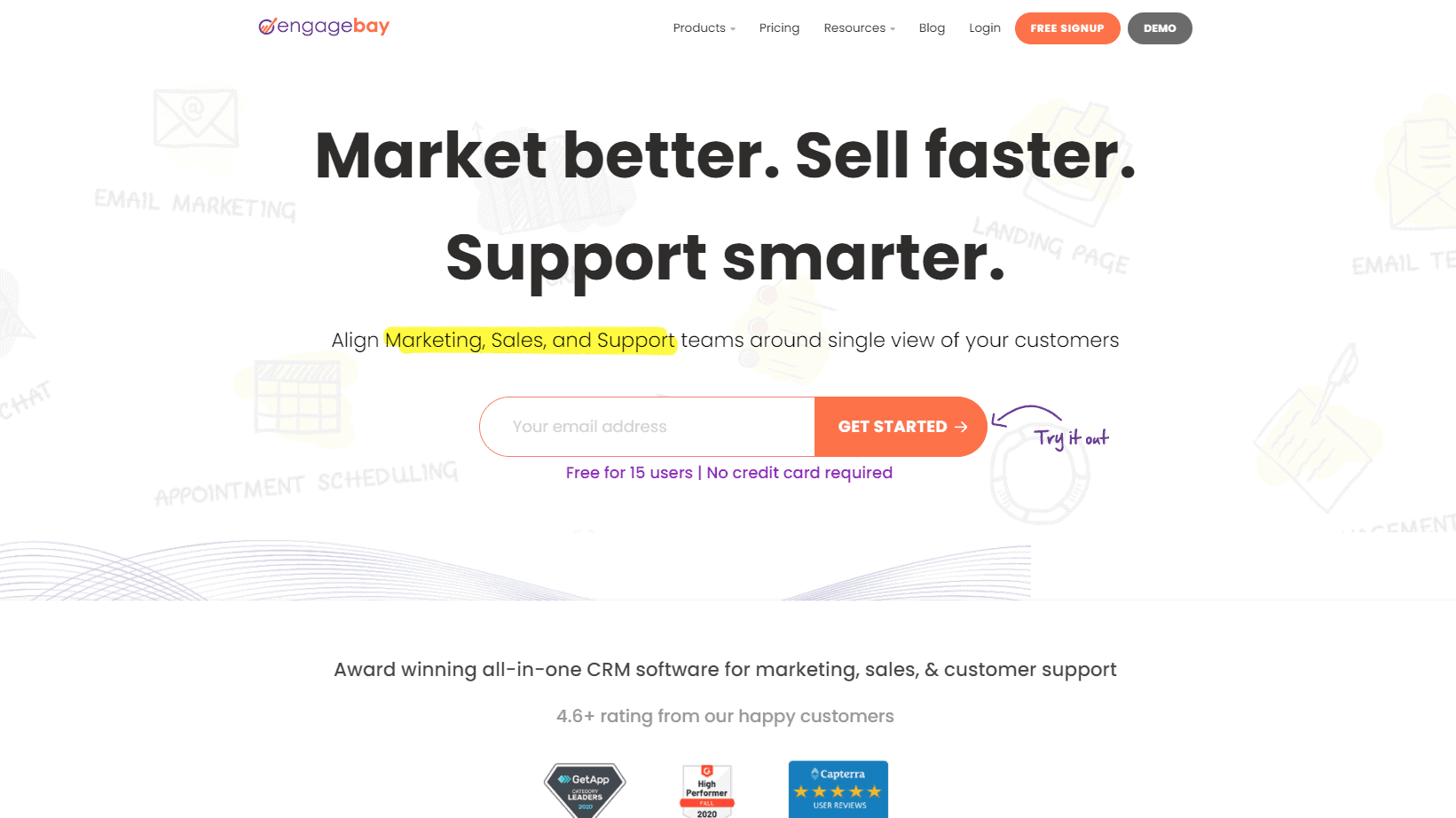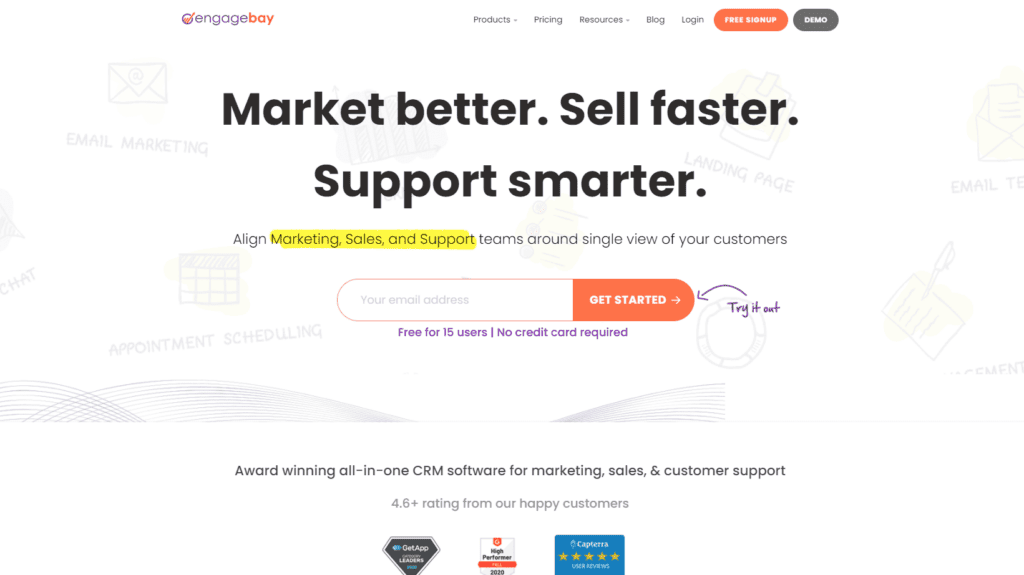 EngageBay is an all-in-one marketing, sales, and service platform designed for small and medium businesses. What's more, all the three key CRM functionalities we detailed in this blog are entirely free to use with EngageBay. 
Watch the video below for a comprehensive demo of EngageBay's software and its features: