When it comes to customer relationship management (CRM) software, there are a lot of options in the market.
I went through hundreds of user reviews for dozens of CRM tools, and one theme emerged prominently — people want an easy-to-use CRM solution more than anything else.
It's not about the best feature set, the highest value for money, or the most advanced functionalities that CRM users seem to seek.
It's simply the simpleness, the ease with which a CRM tool can be set up and used.
So, why do business owners, marketing managers, sales teams, and customer support agents all prefer an easy-to-use CRM tool?
Here are four reasons:
You'll save time and money.
You'll get more done.
You'll be more organized.
You'll have happier customers.
In this blog post, I've shared details of the 10 easiest-to-use CRM tools I could find. I went through plenty of user reviews on Capterra, G2, SoftwareAdvice, TrustRadius, and other software review platforms, and used some CRM tools myself.
Here's my take.
Top 10 Easy To Use CRM Tools
While this list is not in any descending or ascending order of rank, it's a fairly decent compilation of CRM tools that are rated easiest to use.
I spoke to CRM industry experts and went through hundreds of reviews before coming up with this list.
If you have any other suggestions, let us know what CRM tools you've found easiest to use and why.
#1. Pipedrive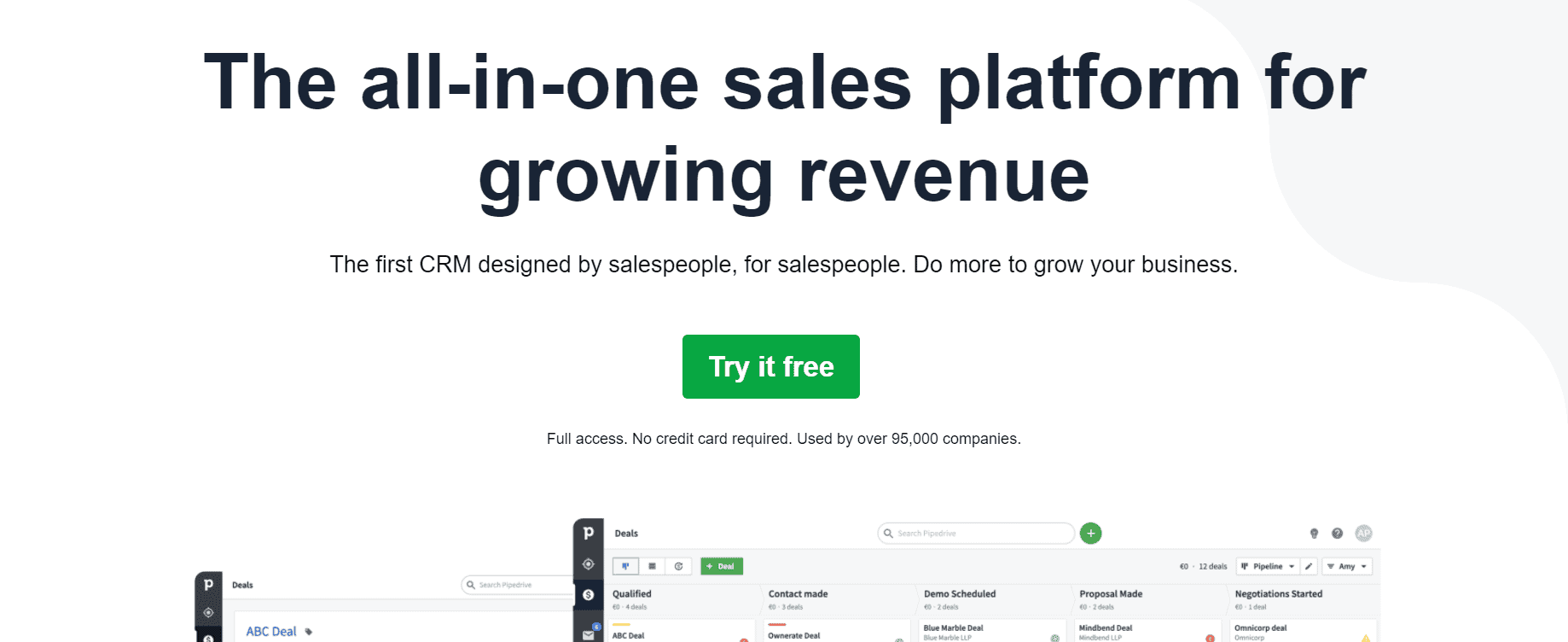 Pipedrive is an easy-to-use sales CRM software that offers great flexibility and is specifically tailored for salespeople. Pipedrive is a low-cost CRM solution built for medium-sized businesses.
Pipedrive has served over 100,000 businesses since its inception. The package includes all the tools that a sales team needs to handle cumbersome sales processes.
Right from the lead nurturing to gathering and beyond that, Pipedrive's visual pipeline management performs each of these tasks with ease.
Features
Smart in-platform tips: Pipedrive

has a sales assistant that drives recommendations, delivers performance tips, and suggests the changes to increase efficiency.

The best thing is that the sales assistant does not cause any distractions. It will be available only in the relevant situations and when the AI system feels the need to assist the sales team.
Workflow automation: You don't need any coding knowledge to set up workflow automation. You can create automated workflows for emailing the leads, list building, and adding leads to the sales pipeline. This workflow automation builder has a drag-and-drop interface that makes it even easier to build workflow automation.
Smart contact data: One of the USPs of Pipedrive is its ability to gather customer data from various touchpoints by using the contact's email address.
Reporting feature: Pipedrive offers custom reports for the sales team as well as the marketing team. It offers detailed reporting on various metrics and lets you create reports for deal tracking, reporting, and revenue forecasting.
Ease of Use
Pipedrive has also been rated 4.6 out of 5 on Capterra for its ease of use.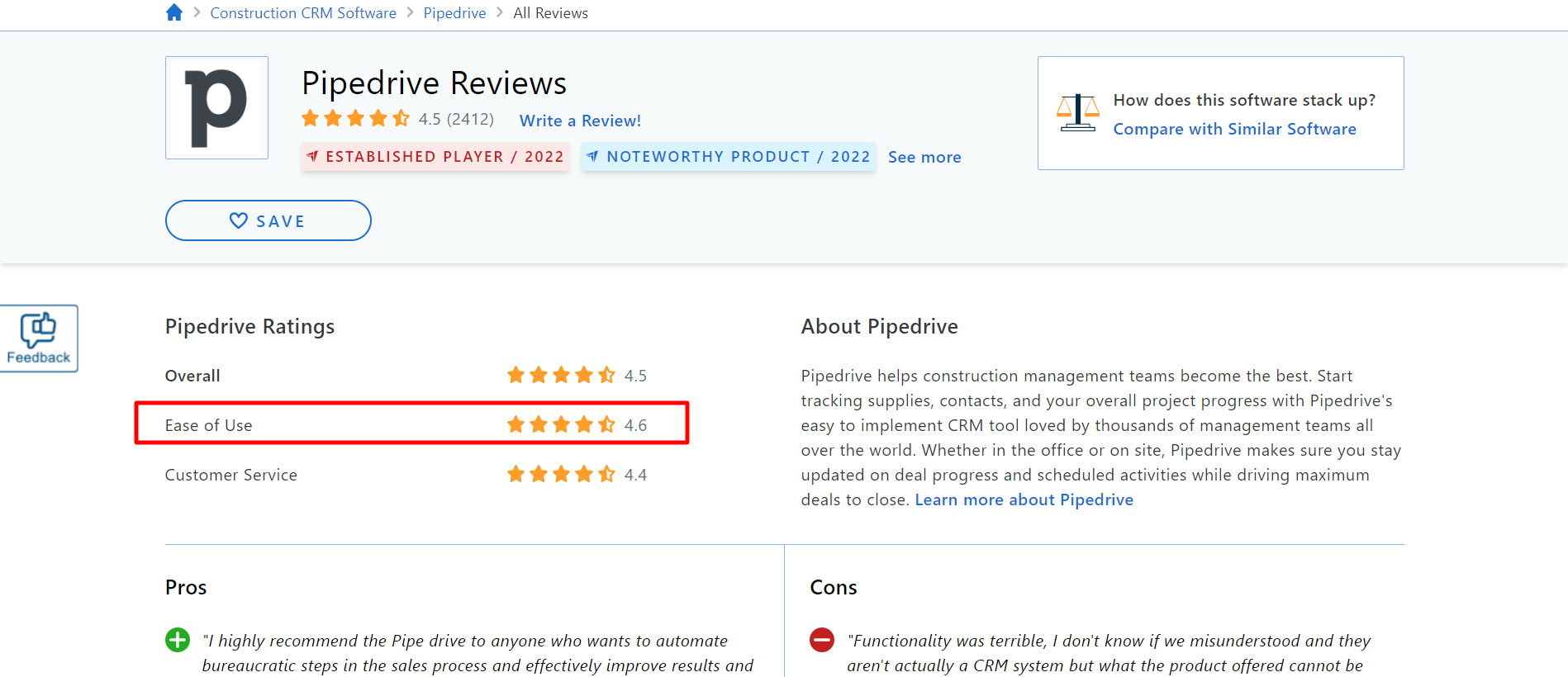 Pipedrive has a simple and clean UI with all the features on the left. It has a search box at the top and an expandable menu on each of the navigable pages, so that you can add the deals and activities.
The dashboard also brings your sales data to life and removes the hassle of using boring spreadsheets.
You can also share the Pipedrive dashboard with anyone, even if they're not Pipedrive users. The only concern in Pipedrive's UI is that it sometimes lags. However, it also depends on your internet speed.
Pricing
Pipedrive offer four pricing options:
Essential: $12.50 per user/month (annual) or $15 per user/month

Advanced: $24.90 per user/month (annual) or $29 per user/month

Professional: $49.90 per user/month (annual) or $59.90 per user/month

Enterprise: $99 per user/month (annual) or $119 per user/month.
User Reviews of Pipedrive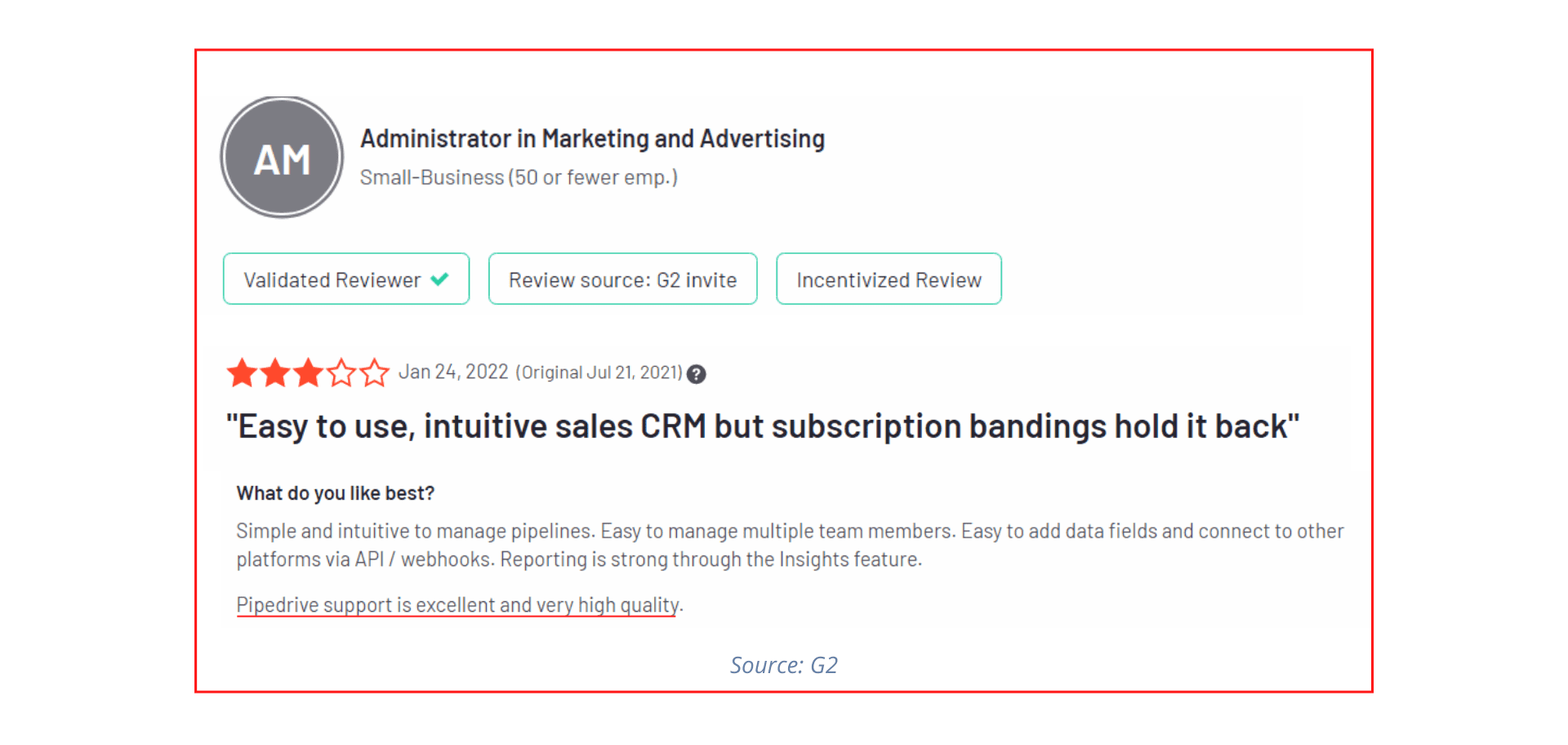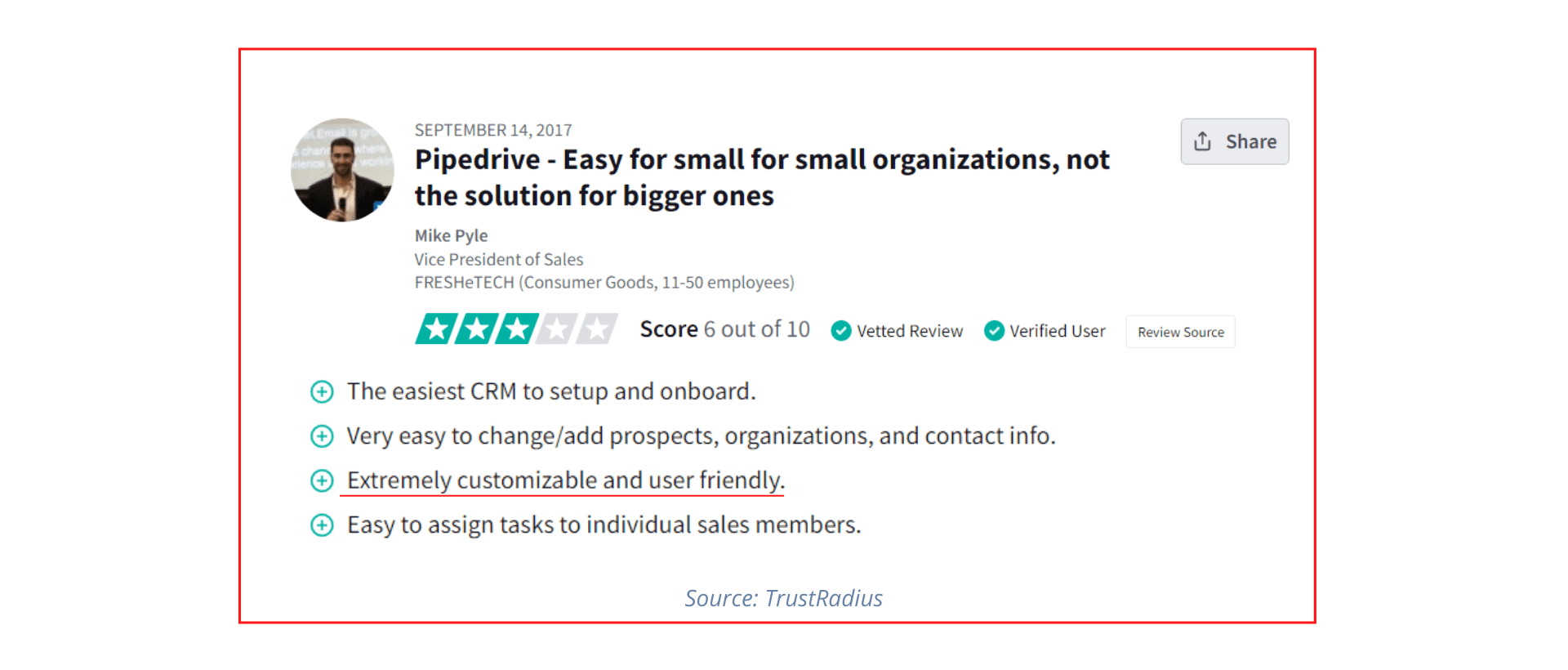 #2. HubSpot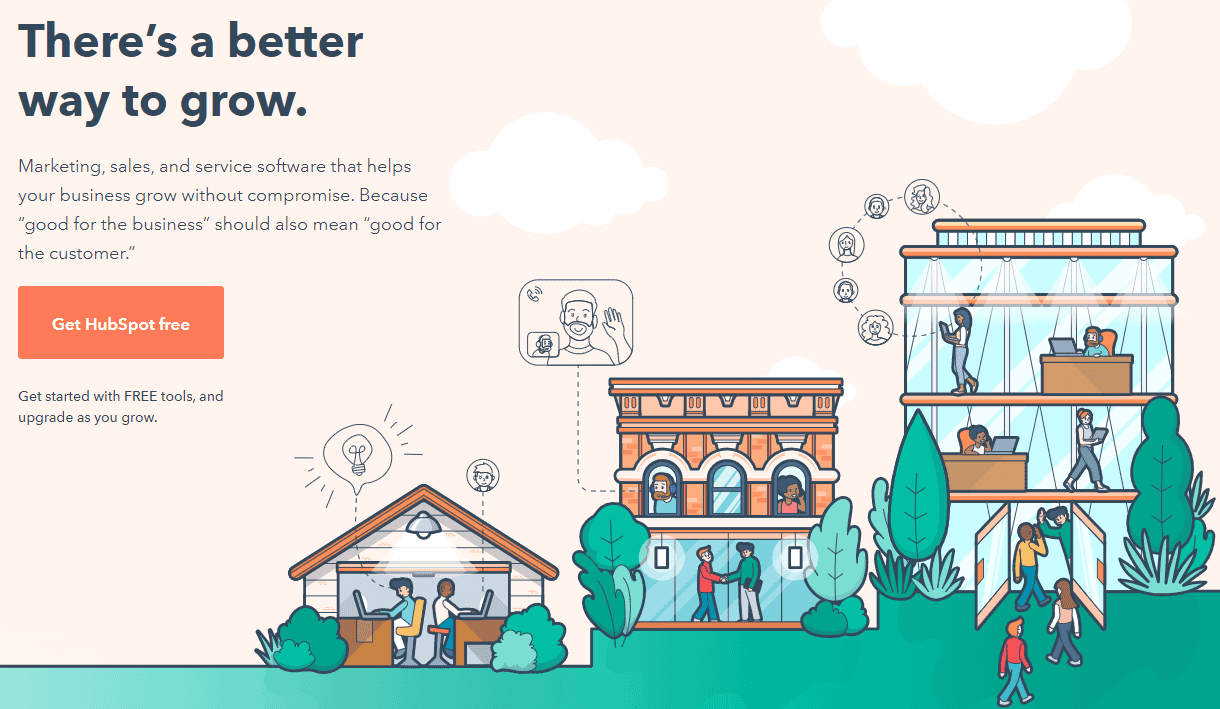 HubSpot is a leader in the CRM industry and is mostly suitable for large businesses and enterprises. HubSpot's Sales and Marketing hubs offer unprecedented insights into your audience behavior.
What makes HubSpot a good choice is its simple and easy tabs navigation and the ability to assign roles to different users. You can provide limited access to certain roles or people and gain full access as an admin.
Overall, most users say HubSpot is super simple and easy to understand and use. The pain point with HubSpot is its pricing, but the ease of use is one of its best attributes.
Features
Tons of free tools:

Besides the CRM, HubSpot has hundreds of free tools that can be useful for digital marketers and bloggers. These include blog header templates, an invoice template generator, and email signature templates.

Sales automation:

You can create personalized email sequences and schedule emails. You can also create a list of follow-up tasks so you never lose a lead to mismanagement.

Document management:

Teams can collaborate easily and share documents in real-time using Gmail and Outlook, and get insights into customer engagement.

Scalable solutions: HubSpot

offers handy and scalable solutions that cover tools in various categories like operations, content, customer service, sales, and marketing. As you grow, your tools will become more scalable in real-time, depending on the scalability of your business.
Looking for any HubSpot competitors? Our detailed analysis introduces nine strong alternatives. Check it out now!
Ease Of Use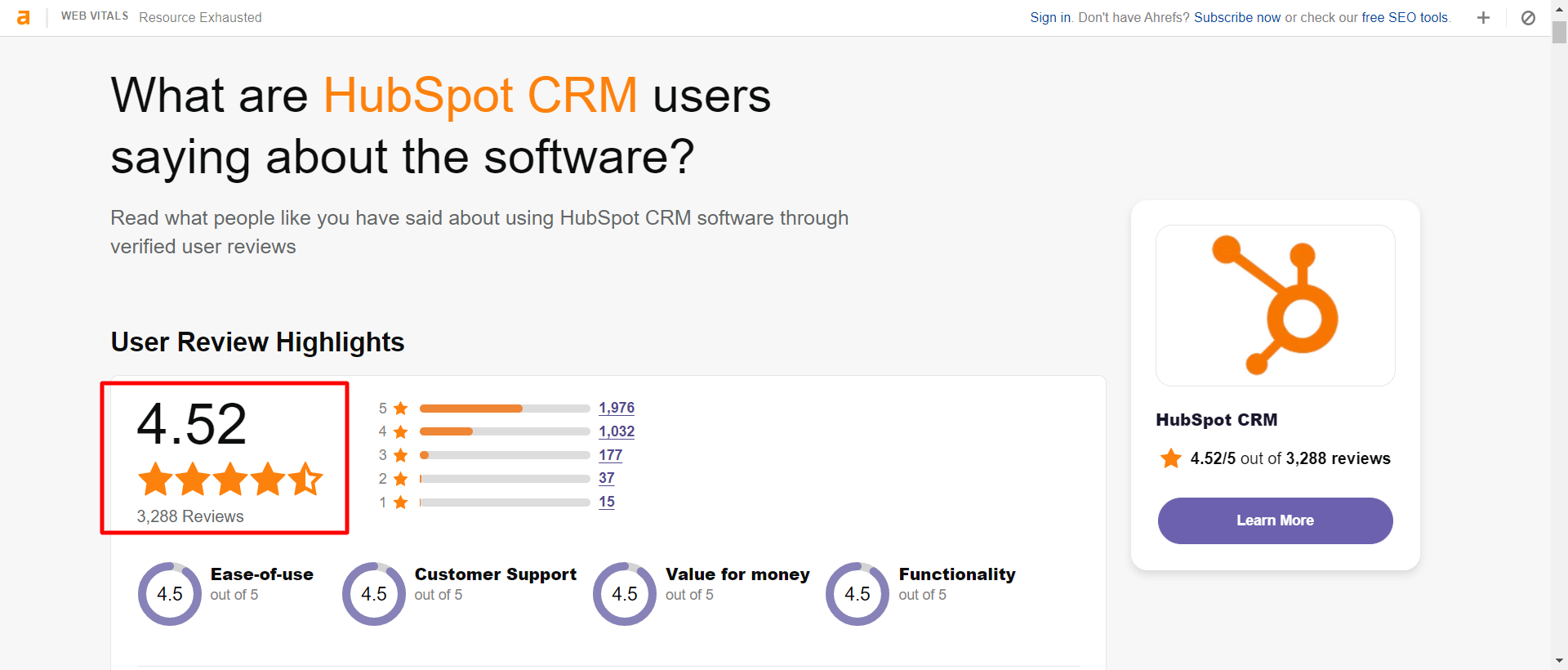 Despite being so feature-rich, HubSpot is among the easiest CRM solutions you can use.
Since the free plan does not come with dedicated customer support, it is important to create a balance between the features and ease of use. HubSpot understands this well.
Besides the dashboard, HubSpot makes the creation of content and other marketing assets fairly easy. Whether it's landing pages, email templates, forms, or anything else, HubSpot's drag-and-drop builder helps keep things simple.
Pricing
HubSpot has various free tools in its arsenal. As your business grows, you'll have to upgrade to a paid plan.
However, HubSpot's pricing is far higher than most CRM tools. Also, when you explore the plans, you'll have a hard time understanding the pricing tiers.
HubSpot's marketing, sales, and support hubs start at $45 per user per month, each. In sales and support, you'll pay more for more users, and in marketing, you'll pay more for more contacts/subscribers.
User Reviews of HubSpot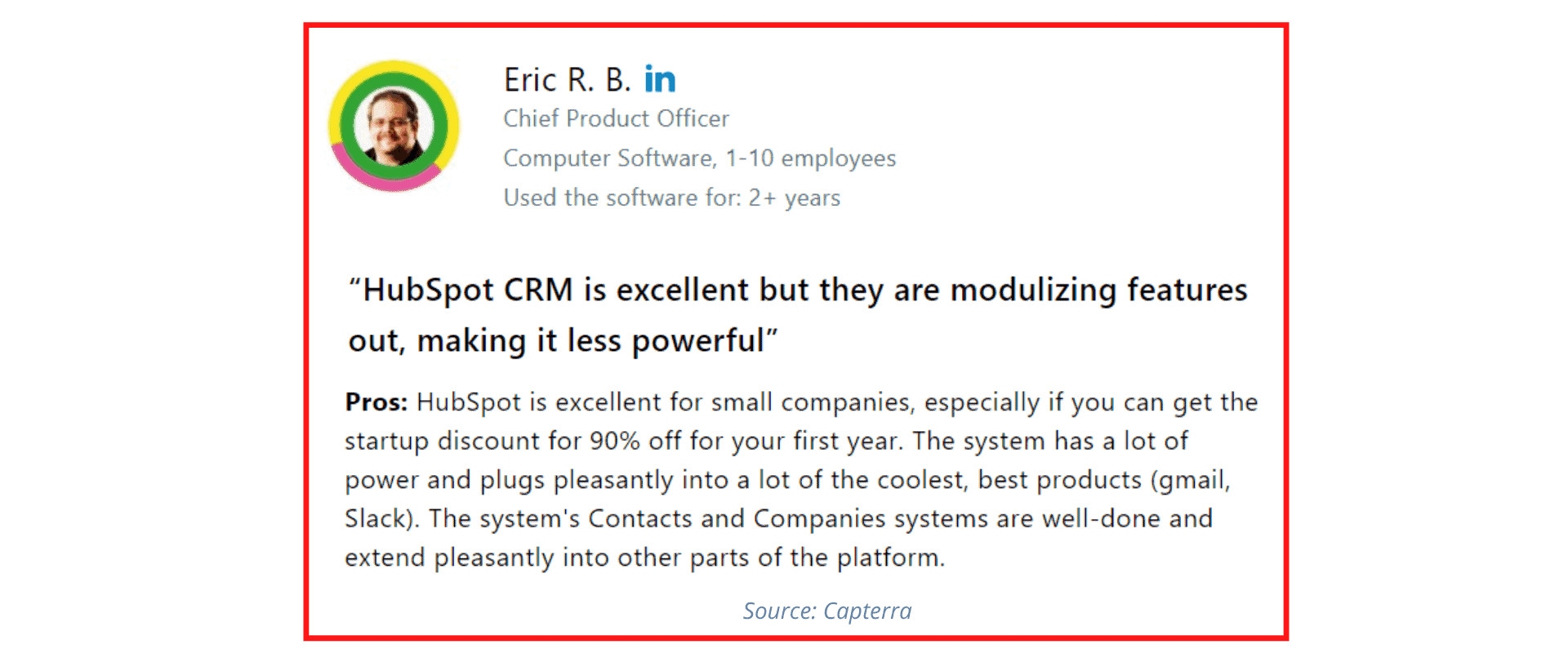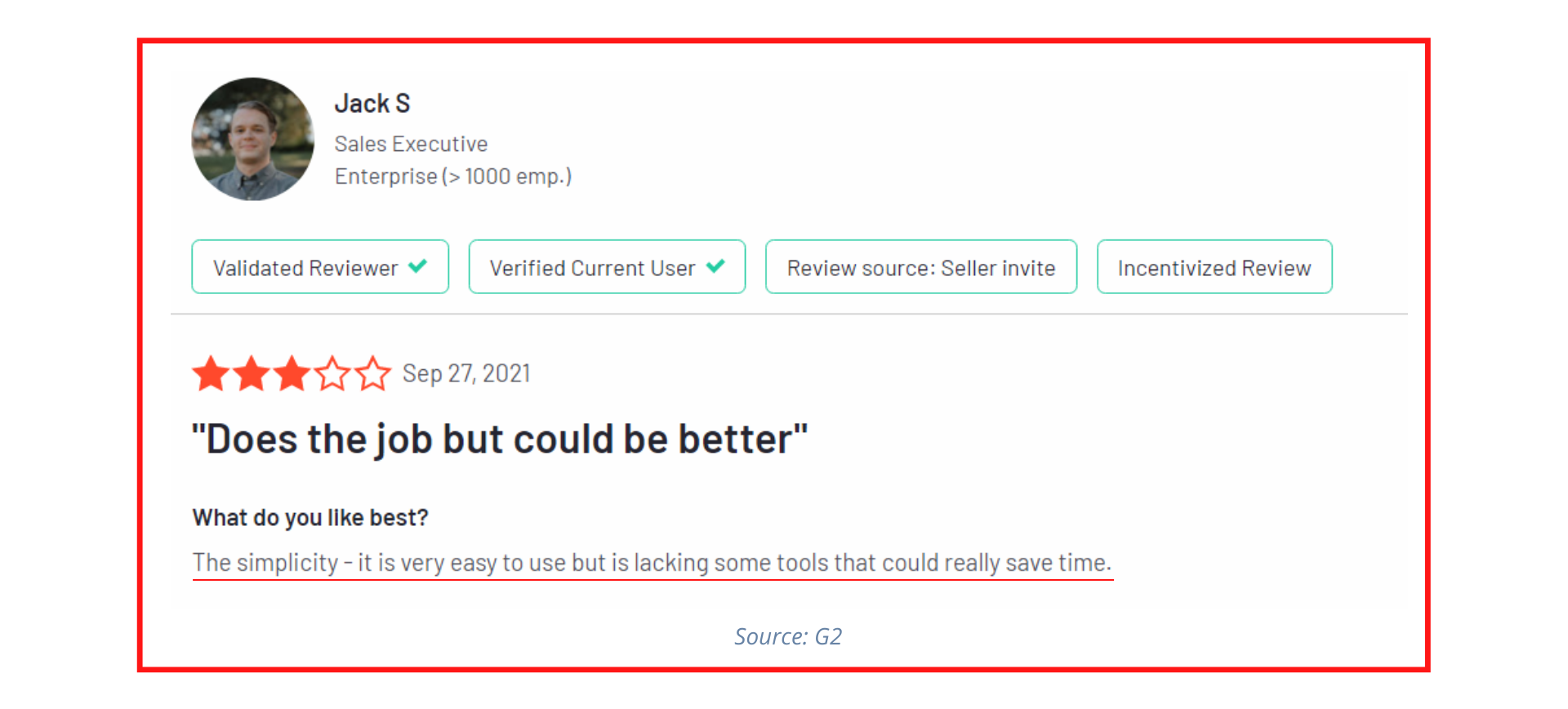 #3. EngageBay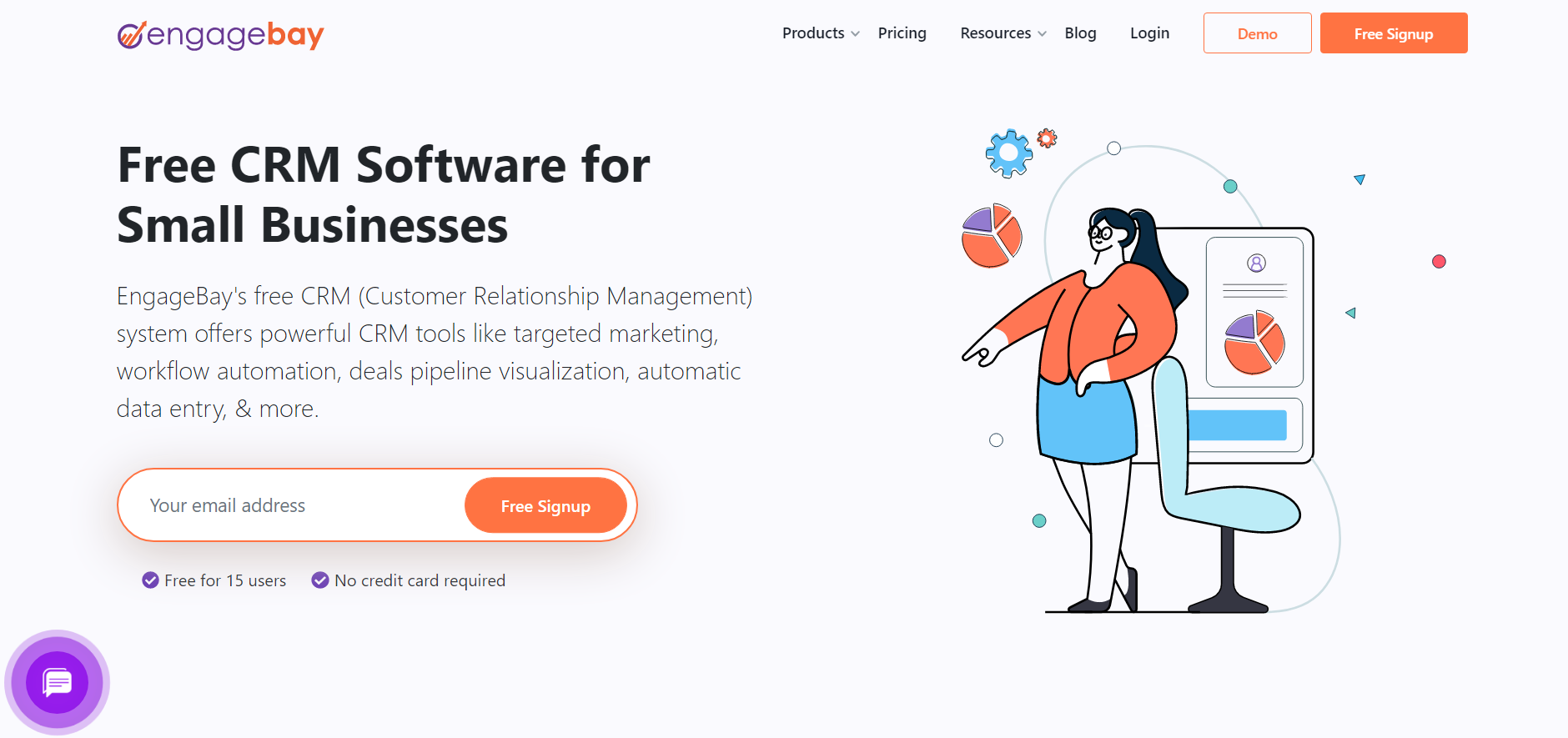 Not all CRM solutions cater to three departments – sales, marketing, and customer support. EngageBay is a single-stop CRM solution that addresses all the three business needs without making the platform sluggish or difficult to navigate, or even charging separately for them.
EngageBay's easy-to-use interface is recommended by top marketing influencers like Neil Patel, Jeff Bullas, and Shane Barker.
EngageBay is also fast emerging as a favorite tool of small business owners and solopreneurs for its super responsive customer support, simple user interface, and incredible pricing.
Features
Marketing Bay: G

ives a holistic view of your customer journey.

Be it social media posts, building a high-converting landing page, or setting up email campaigns, EngageBay's marketing tool covers it all.
Lead generation: EngageBay's free CRM comes integrated with a powerful and easy-to-use pipeline and

sales management

feature. With the lead management feature, you can be alerted about email opens and other actions taken by your subscribers.

Visual deal pipeline: Another

feature that makes EngageBay the right choice for small businesses is its visual deals pipeline.

EngageBay uses color-coding to rate the health of your deals, all of which can be seen in a single dashboard.
Integrations: To make it even easier, EngageBay offers a wide variety of native and

third-party integrations

. EngageBay integrates with popular tools like Zapier, Mailgun, Mailchimp, DocuSign, WooCommerce, LinkedIn, and Outlook.
Ease of Use
EngageBay is rated 4.6 out of 5 in G2.

It has also earned various awards from software review platforms.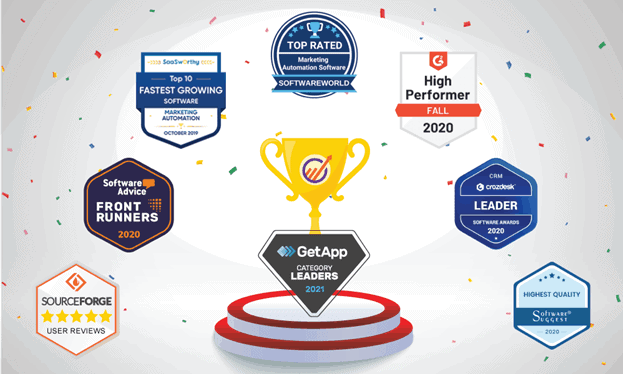 EngageBay's onboarding is free and has very positive reviews.
The setup is a breeze and needs only two steps to get started. As soon as you log in, you get a simple dashboard that lets you see all your customer interactions, marketing campaigns, and deals.
Once set up, you can easily switch between different Marketing, Sales, and Service features from a single dashboard, and there's no lag or multiple logins. The names of all features are also super simple and intuitive, so you know exactly what you're looking at.
Pricing
EngageBay offers a free CRM for up to 500 contacts. You can subscribe to the paid plans once you have made up your mind.
The pricing plans are slightly different for the All-in-One tool, but Marketing and Sales CRM come at very similar pricing. The Service Bay (Live Chat and Helpdesk) is always free.
Basic plan costs $12.99/user/month

Growth plan costs $29.99/user/month

Pro plan costs $59.99/user/month.
EngageBay offers 10% off on annual plans and 20% off on biennial plans. If you have a lot of employees/users, you can talk to EngageBay's sales team and get an even better discount.
User Reviews of EngageBay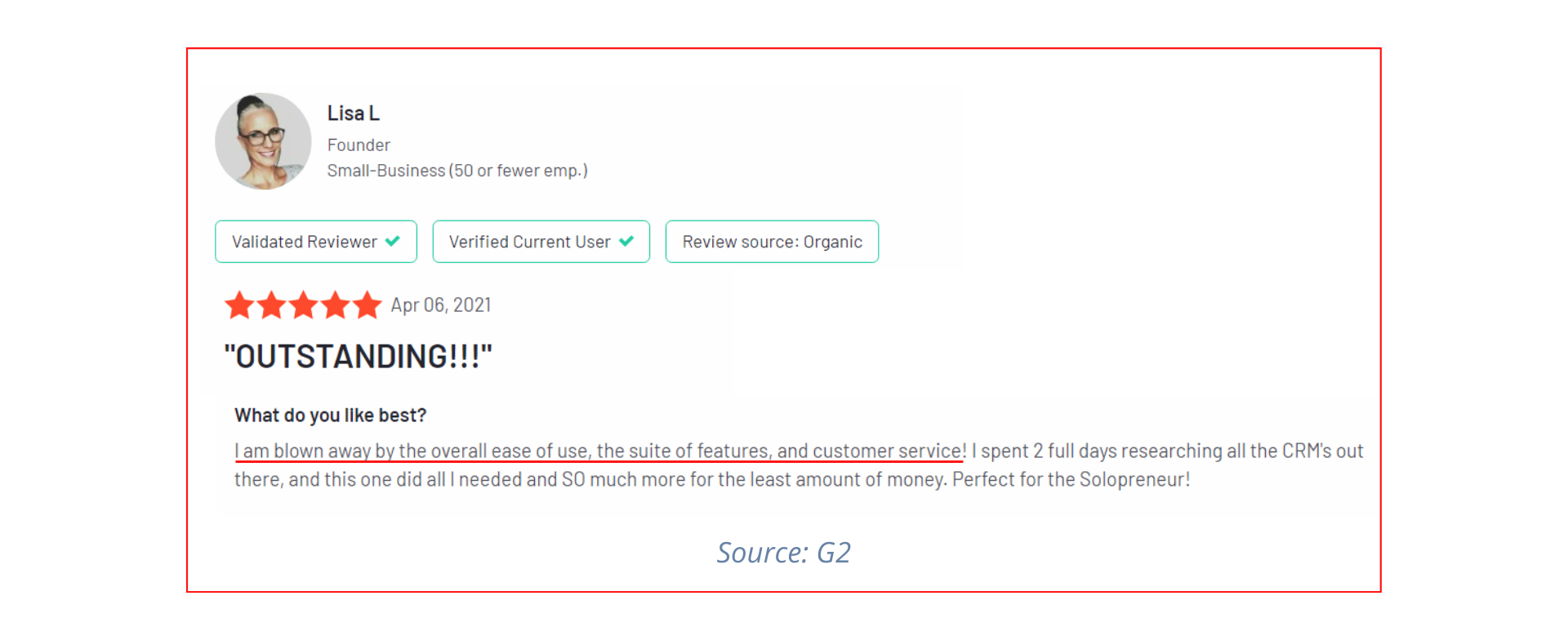 Read also: 9 Amazing Marketing Automation CRM Software [Comparison Table]
#4. Insightly CRM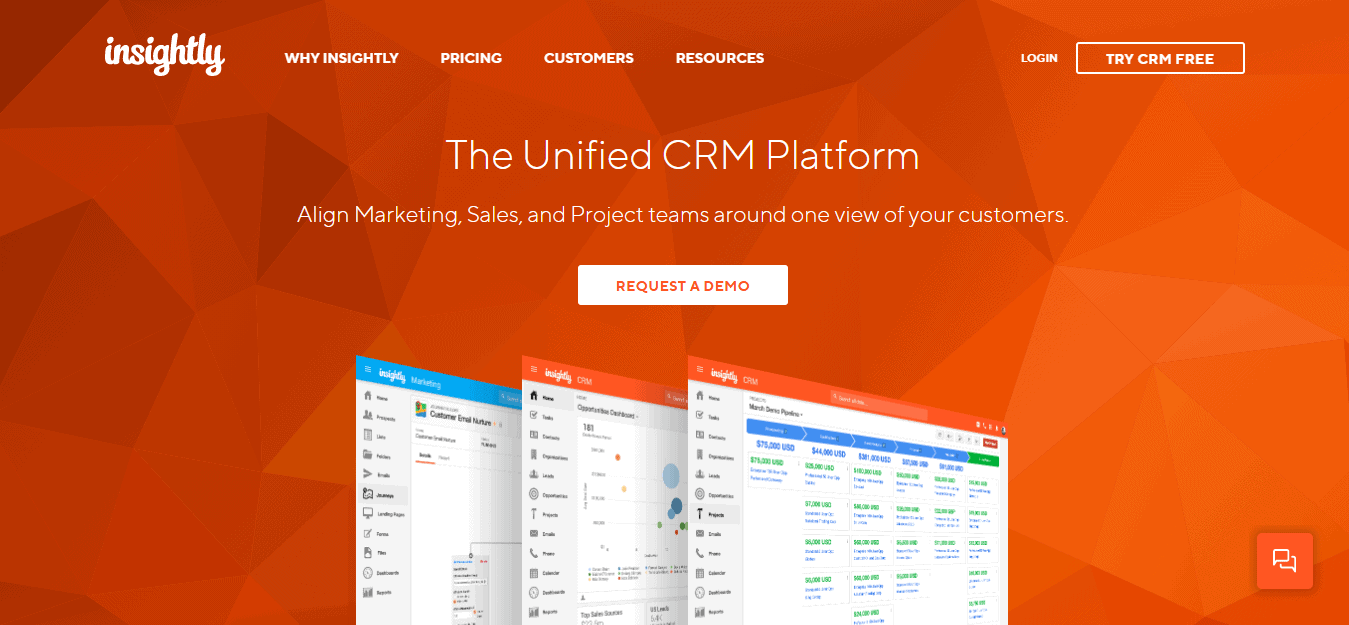 Insightly is a CRM integrated with project management tools designed to improve the workflow and communication between a business and its customers. It comes with a plethora of marketing and sales tools that are ideal for managing deals and pre-sales tasks.
Insightly helps improve the lead management efficiency and more.
Features
Lead routing:

The simple interface makes lead management a breeze. It has a smart routing technology that passes on the leads to the most suitable team member at the right time.

Custom dashboard:

Insightly improves sales management with custom dashboards. This helps sales managers and business owners understand where they stand in terms of their revenue as compared to their goals.

Mobile app:

What most CRM solutions lack is a dedicated mobile app. With the Insightly mobile app, you can access customer data from anywhere on-the-go, including leads, deals, opportunities, tasks, and calendars. You can also record audio using the mobile app's mic.

Integrations:

You get to integrate with over 250 apps using Insightly.
Ease of Use

Insightly dashboard is pretty simple. Since the tool is purely cloud-based, all the users are on the same page. There is a small learning curve with this tool but it won't take you long to get acquainted.
The best thing is that the tabs and menu bars are easy to spot and well-labeled.
Pricing
Insightly offers three pricing plans subscribed annually and a free plan for up to 2 users.
But, the free plan is limited to only a few useful features. Hence, it is always good to start with a paid plan. There is no monthly subscription option with Insightly. For annual subscriptions, the pricing goes like this:
Plus plan costs $29/user/month

Professional plan costs $49/user/month

Advanced plan costs $99/user/month.
User Reviews of Insightly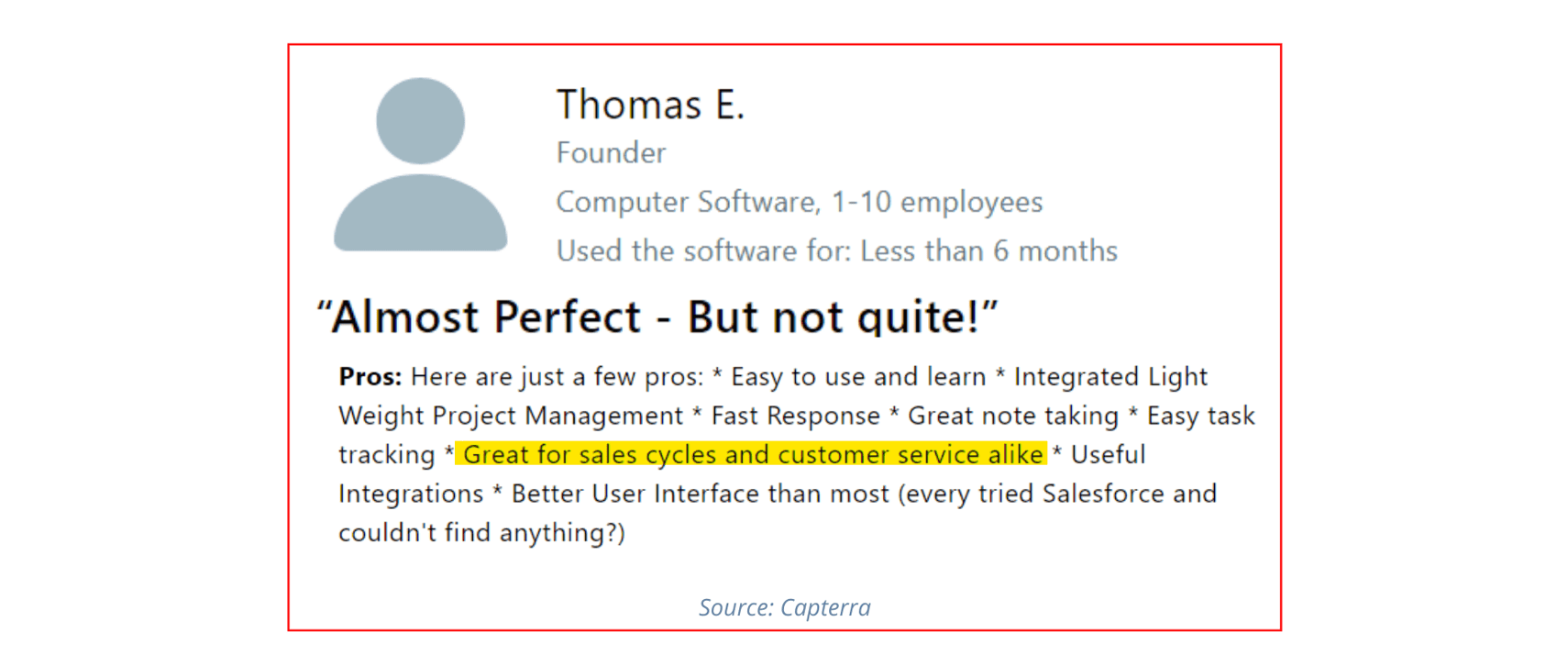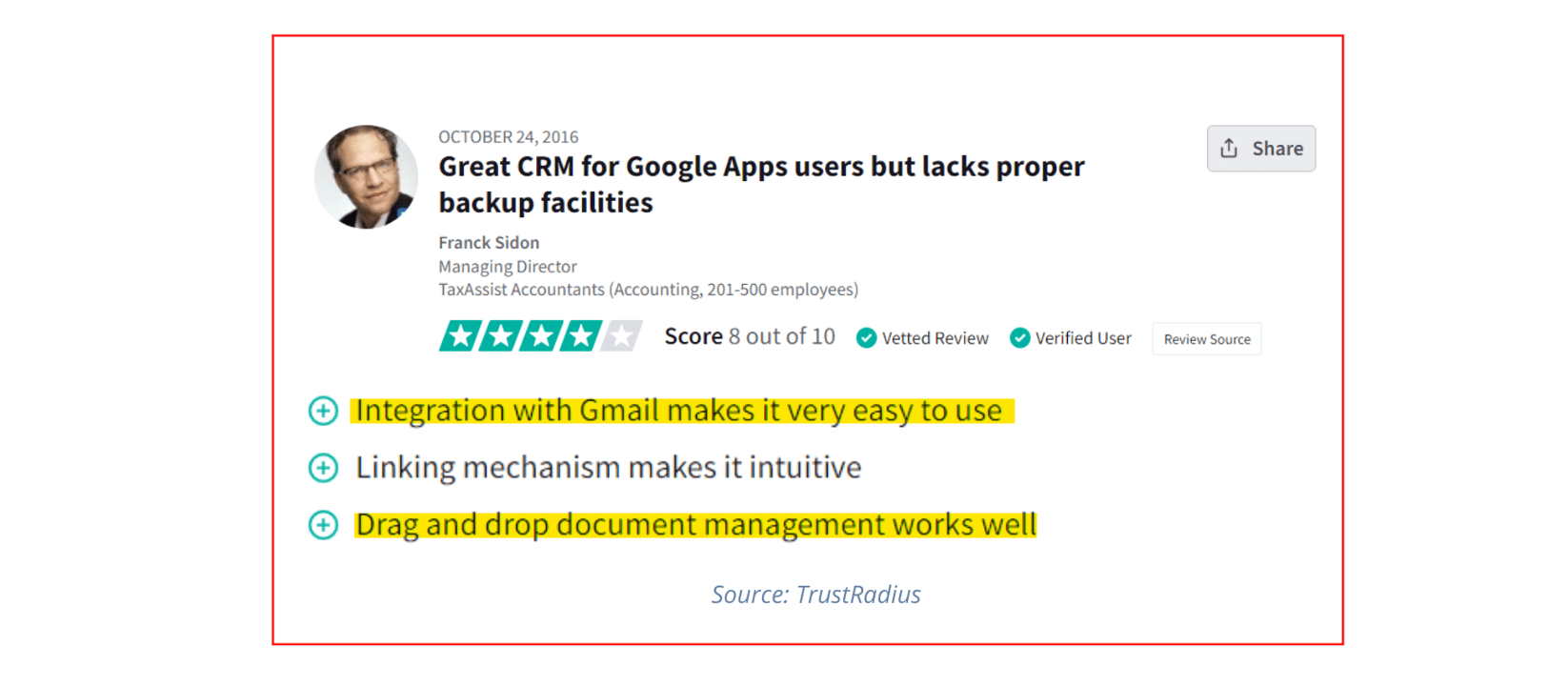 #5. Keap

Keap (formerly Infusionsoft) is yet another top CRM tool for small businesses that is a breeze to set up. It integrates with over 2,500 software programs for different use cases.
However, the CRM solution largely focuses on eCommerce businesses that are looking for various CRM features in one place.
Features
Sales & marketing automation: Keap has a robust automation builder that uses the "when/then" trigger to create automation. You can set up the automation in less than three minutes by using 'situation' triggers.
Easy reporting & analytics: Keap has a custom reporting feature where you can include the metrics that matter the most. With its advanced reporting, you can track business performance and trace your areas of improvement.
Lead scoring: Like other CRM platforms, Keap uses a tag-based lead scoring system. Depending on the deals in the sales pipeline, the CRM assigns scores to leads to indicate their value in the pipeline.
Vast integration: Keap integrates with over 2,500 software tools. No other tool connects with as many third-party apps as this one. You can integrate it with various tools for different business needs, like email marketing, lead generation, social media marketing, and others.
Ease of Use

Keap is designed keeping the non-techies in mind. You can set up and start with the dashboard in less than 20 minutes. The onboarding has a customer manager guide you through the entire setup and usability.
When you are starting with a new feature in the dashboard, you will have a video tutorial for setting it up. Also, the tool comes with pre-made templates to save your time while adding a new pipeline or using a new feature.
Pricing
Keap offers a 14-day free trial with the basic features. After the free trial, you can choose between two pricing plans:
Pro plan, starting at $169/month for 2 users and 1,500 contacts.

Max plan, starting at $249/month for 3 users and 2,500 contacts.
On an annual subscription, you can save up to 20%.
User Reviews of Keap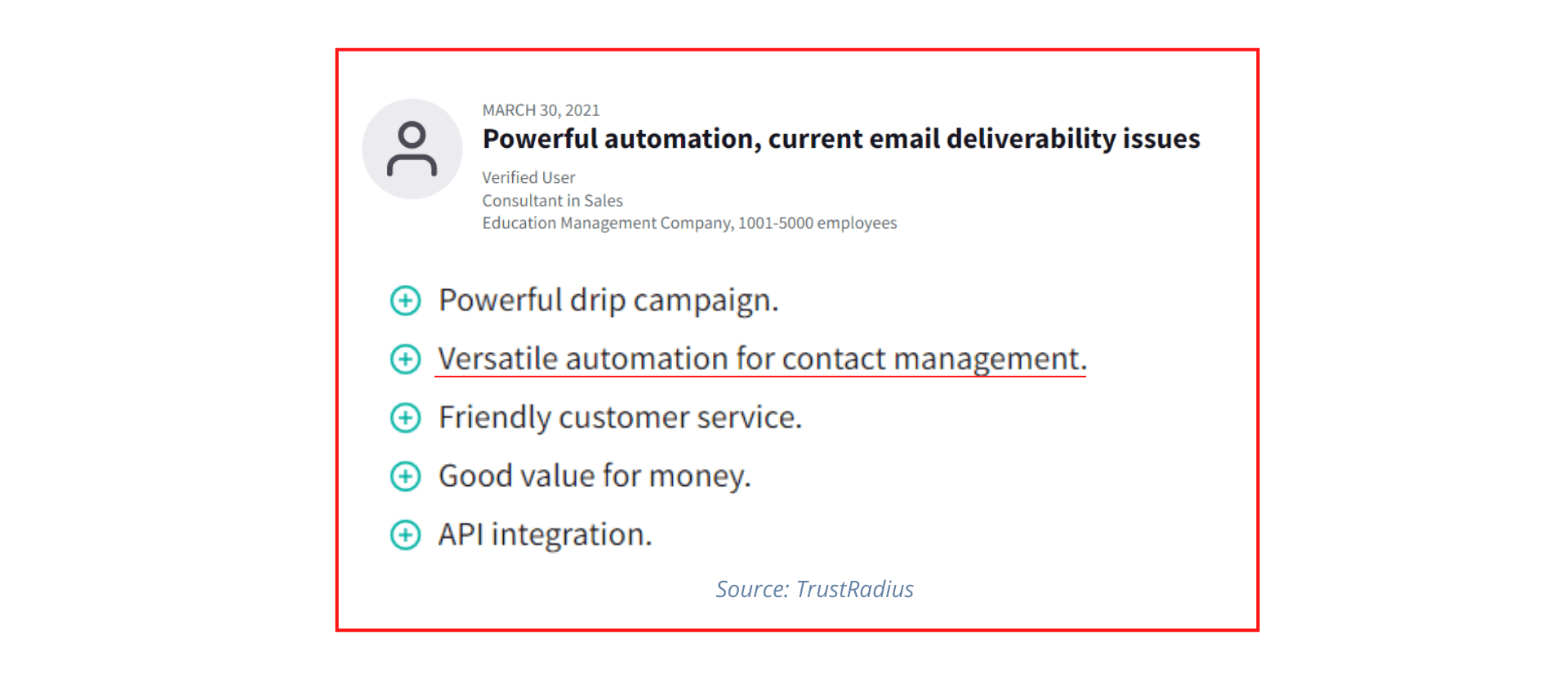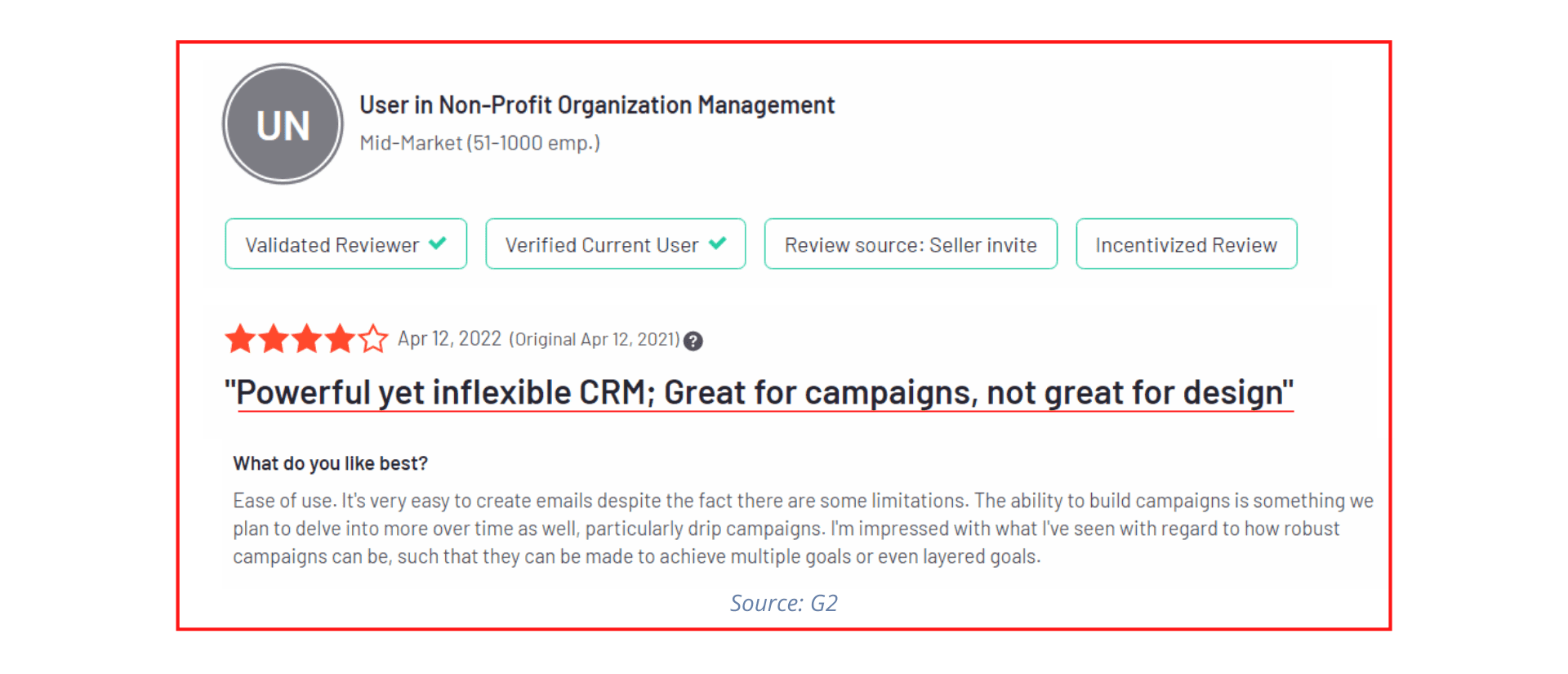 Read also: 9 Best CRM Tools for Architecture Firms
#6. Zoho CRM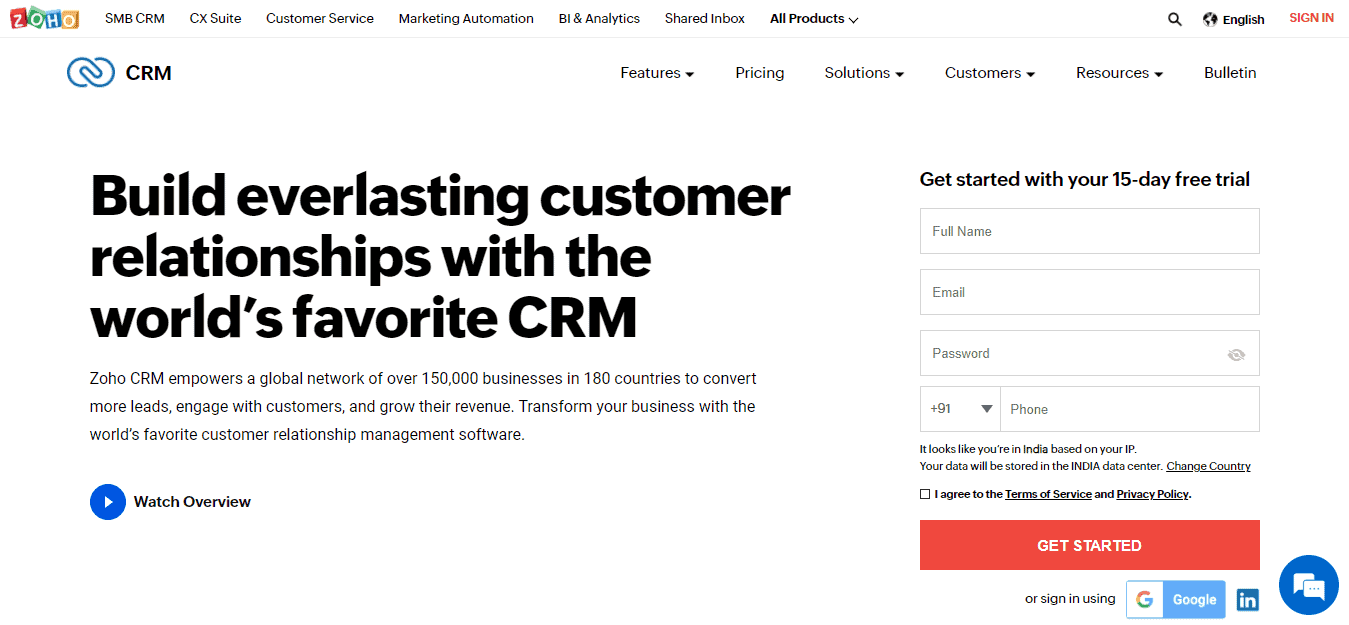 Zoho CRM is one of the top-rated CRM solutions for small and medium-sized businesses of all stripes.
Starting in 2005, Zoho CRM has emerged as a market leader in the CRM industry, serving over 250,000 businesses around the globe.
Zoho does offer superb features and an easy-to-use interface. In general, Zoho has focused more on small and medium businesses rather than large organizations.
From easier contact management to sales forecasting and workflow automation, Zoho CRM offers everything a business might need.
Features
Sales Automation: Zoho lets you automate your sales tasks by setting up simple rules for triggers. It's easy to set up and effective in reducing the time it takes to perform most sales tasks.
Team collaboration: This CRM tool makes team collaboration easy thanks to a holistic view of the document library. Admins can manage tasks, restrict the access team members have, and schedule meetings from the dashboard directly.
Easy sales pipeline management: The sales pipeline tool comes with various features like contact management, lead management, deal management, and account management. Zoho CRM uses a 360-degree dashboard to help you keep track of the pending deals, progressing leads, contact import and export, and lead scoring.
Mobile app: One

of the major USPs of Zoho CRM is its intuitive mobile app. It lets you find the prospects that are close to your location.

You get all the real-time progress for your sales, marketing, and customer support team. The mobile app also stores the customer data and keeps digital copies of your documents.
Ease of Use
Zoho CRM is rated 4.0 out of 5 stars by G2 users.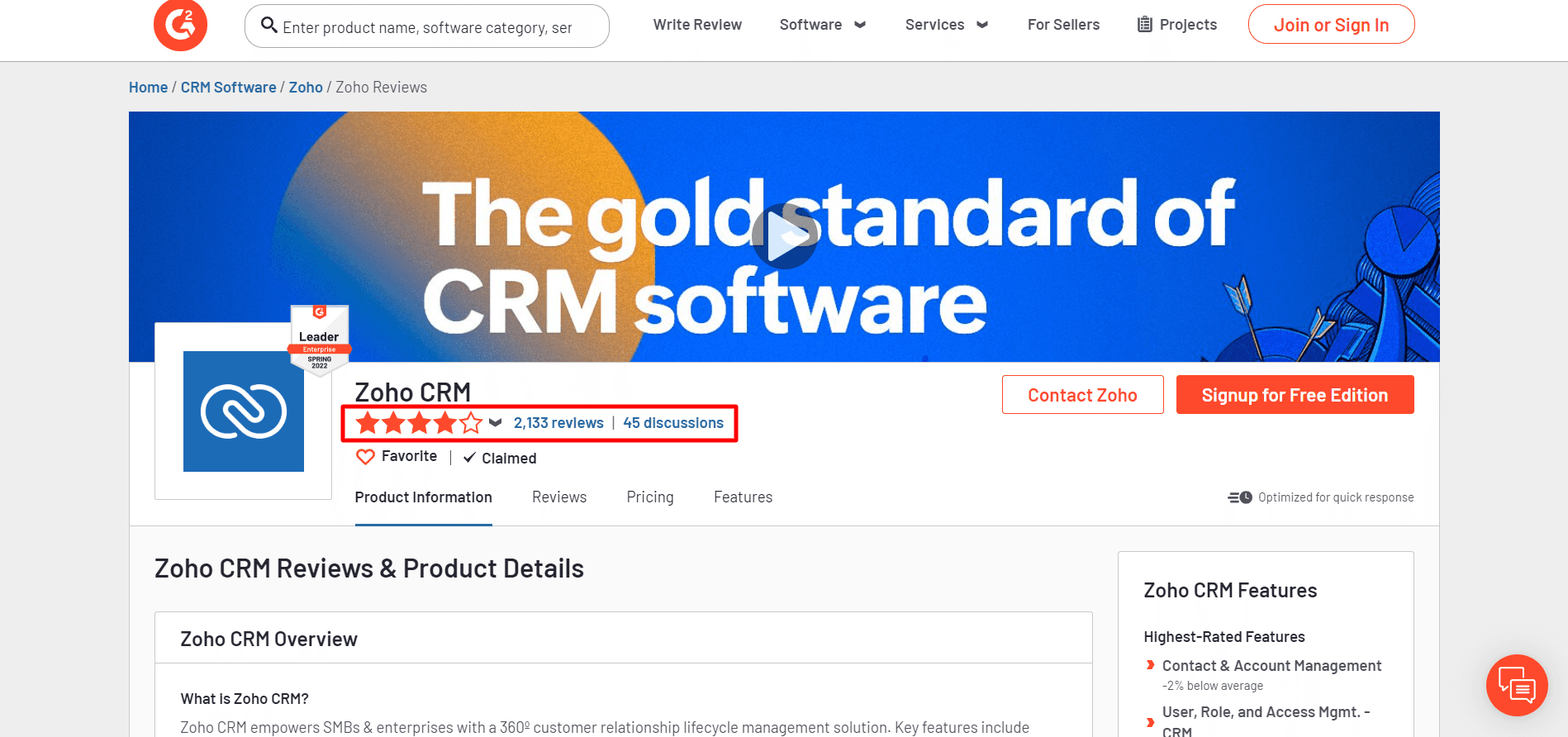 Zoho CRM makes the setup and onboarding simple right from the time you log in.
Though there are various tutorials and guides for onboarding, I doubt if you'd even need them.
After the setup, Zoho CRM welcomes you with an easy-to-understand user interface. The default dashboard shows you all the tasks that you have marked for the day, your open deals, and the total sales in the month.
Pricing
Zoho CRM has flexible pricing plans. It offers four pricing options and a free plan. The free plan is limited to only 3 users and is available for 30 days.
The pricing options are affordable for small businesses.
Zoho Standard costs $12/per month

Zoho Professional plan costs $20/month

Zoho Enterprise plan costs $35/month

Zoho Ultimate costs $45/month.
However, when you subscribe to the yearly pricing plan, you can save up to 20%.
User Reviews of Zoho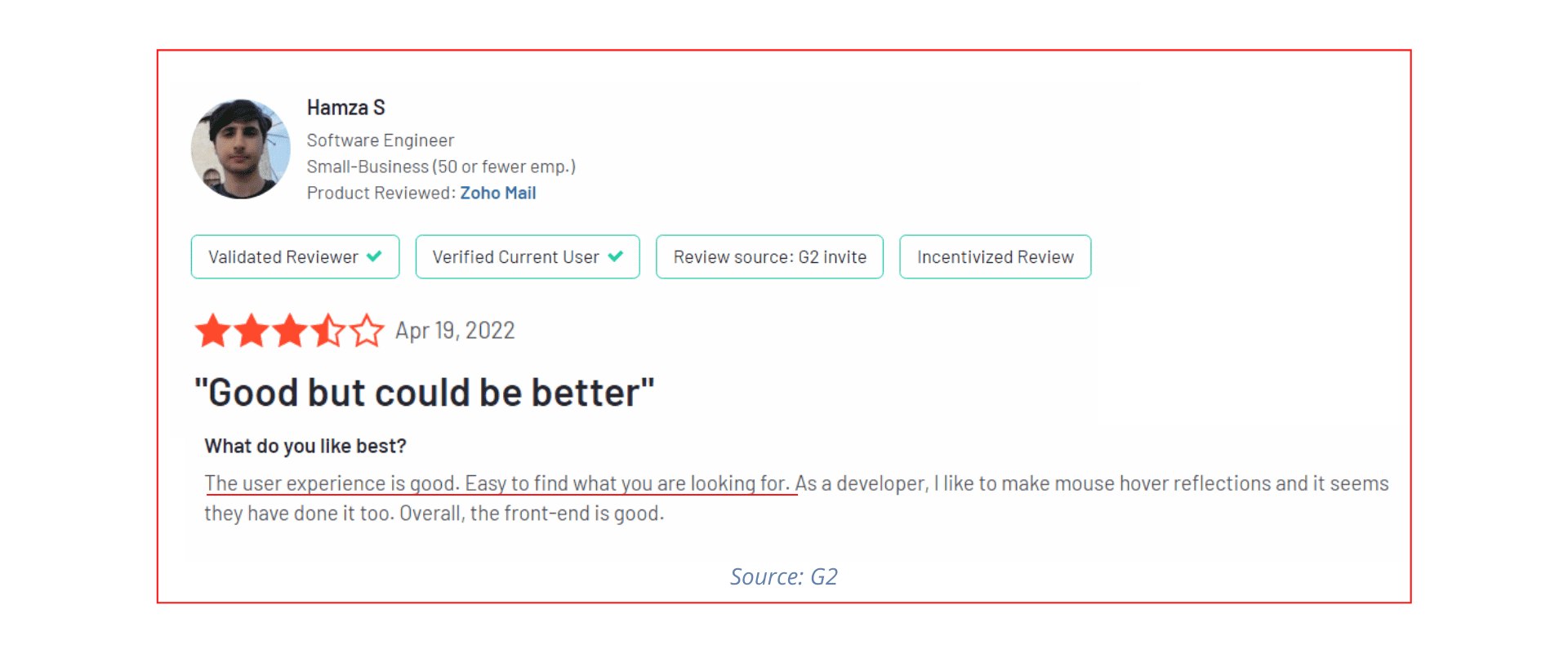 #7. Capsule CRM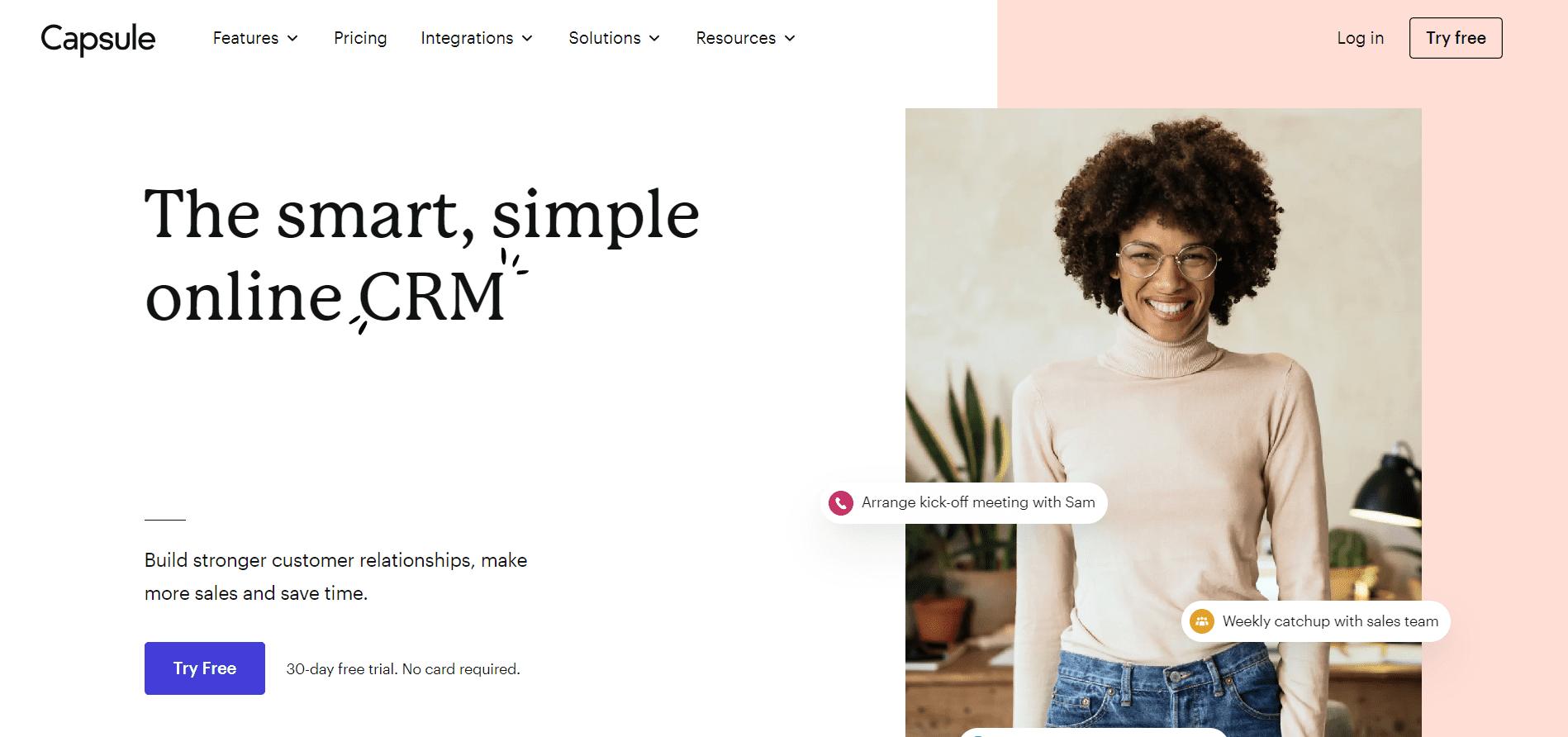 If you are searching for a CRM solution that comes with basic functionalities and is easy to use, Capsule CRM is a great option. Capsule CRM is perfect for small to midsize businesses that need basic functionality in a cloud-based CRM system.
Capsule CRM isn't going to blow you away with any advanced features, but it is focused on small B2B businesses that need a no-brainer dashboard.
Features
Contact building: Capsule CRM

can easily import the contacts from your CSV spreadsheet and create new fields for them.

Once the contacts are migrated to the CRM software, you can easily see all the details in one place. You can also add all the tasks you need to perform for the specific contacts onto their dashboard pages.
Cases: To make task management easier, Capsule CRM has a central repository for everything; files, deals, notes, contacts, etc. In this central repository, you can make changes to tasks and deals and your team can see them in real-time.
Quick reporting: The quick and easy-to-read reports make Capsule CRM a delight to use. However, the reporting is available only with the paid versions. Capsule CRM's reports show your won and lost deals, sales forecasts, trends, and opportunities.
Ease of Use
Capsule CRM has been rated as 8.7 out of 10 stars in TrustRadius with 37 reviews.

Capsule CRM has a clean dashboard and this is where it excels over other CRM tools.
You can learn about each of the dashboard features by simply clicking on the icons. Dialing up a phone number is as easy as it is on your smartphone.
Overall, Capsule CRM's dashboard does comes with a slight learning curve, but you won't find it hard to navigate at all.
Pricing
Though Capsule CRM has a free version, it is limited to 2 users, 50 MB of storage, and 250 contacts. The free plan can be a good starting place for solopreneurs who have few contacts but need to organize and manage them well.
The paid plan starts at $18/user/month.
Looking for a more flexible solution to Capsule CRM? Our article on the best Capsule CRM alternatives will help you find the perfect fit.
User Reviews of Capsule CRM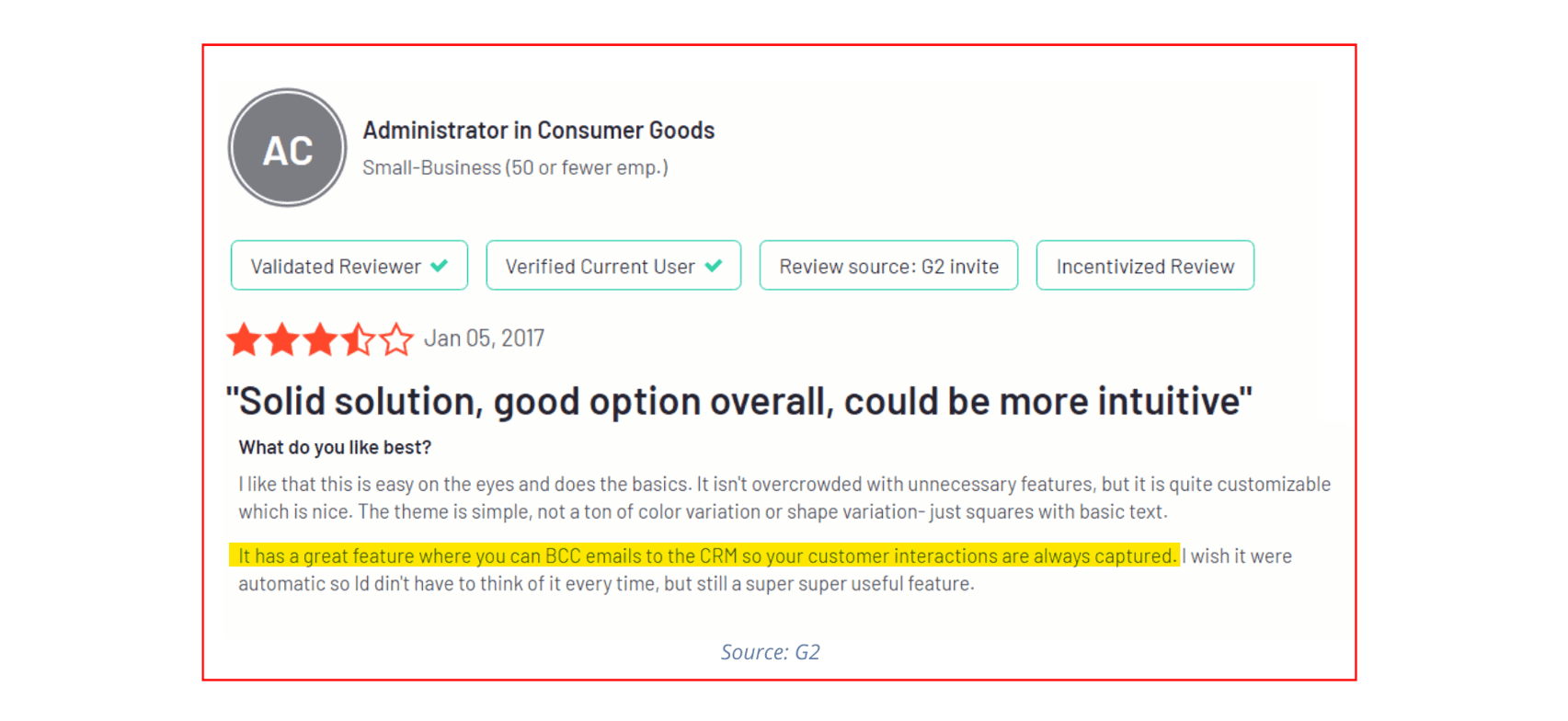 #8. Salesflare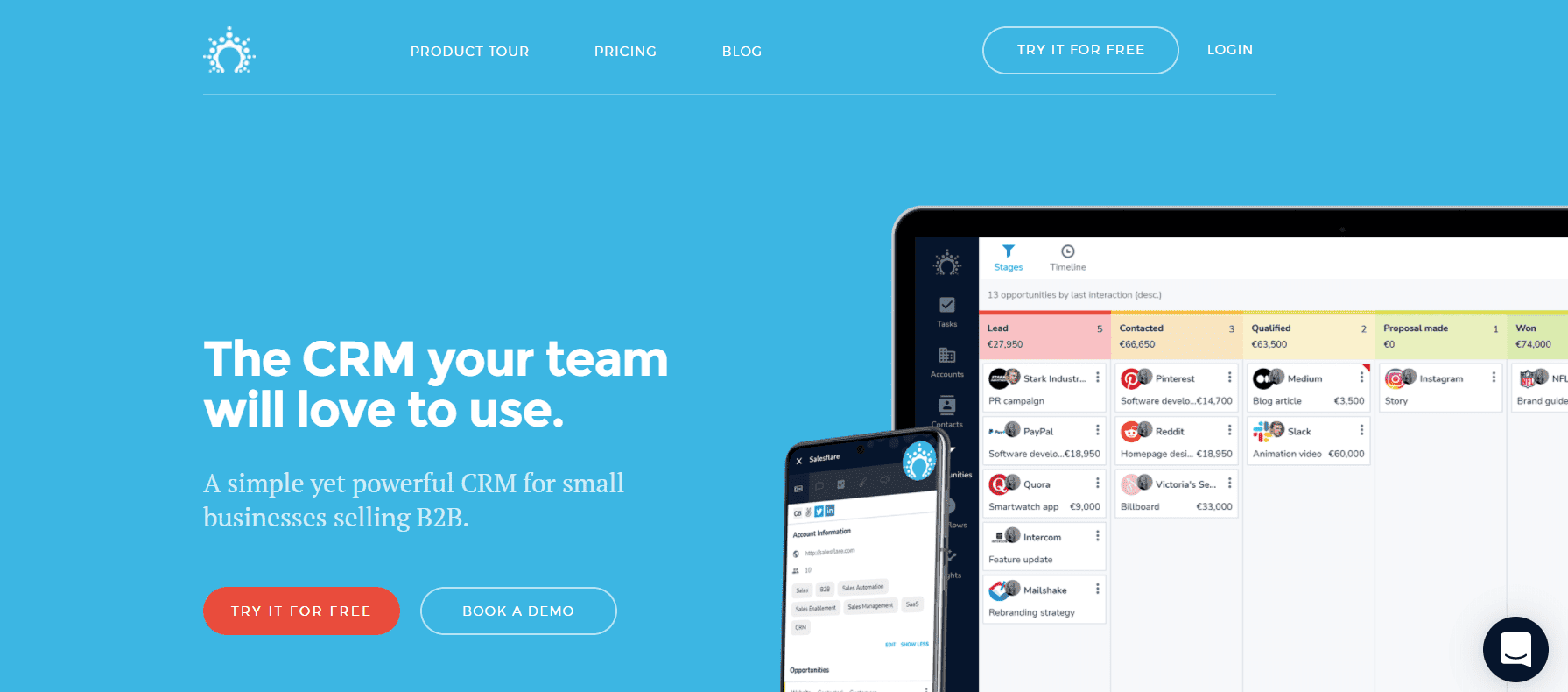 If you are looking for a modern design with an easy-to-navigate CRM system, you should consider Salesflare. Launched in 2014, Salesflare focuses on mid-sized businesses and small businesses.
Salesflare is slightly different from other CRM solutions in its approach — it is using artificial intelligence to collect data from a wide range of sources.
Features
Sales pipeline management: The visual sales pipeline is one of its best features. When the sales prospects are on the move, the AI running in the background keeps track of all the progress. Salesflare tracks and prioritizes the sales opportunities based on their progress in the funnel.
Easier collaboration: A holistic view for all team members, keeping everyone in the loop. Anyone from the marketing, sales, and service team can collaborate easily and reduce overall inefficiencies. Makes it easy also to pick up a chat from wherever it ended last.
Integrations: Salesflare offers a wide range of integrations across various categories including accounting, contact management, customer support software, email marketing, social media marketing, and others.
Customer data management: Salesflare makes smart use of tagging for contact management. For instance, there are tags like social media influencer, business competitor, advertiser, and so on. This makes it much easier to personalize your messaging for your customers.
Ease of Use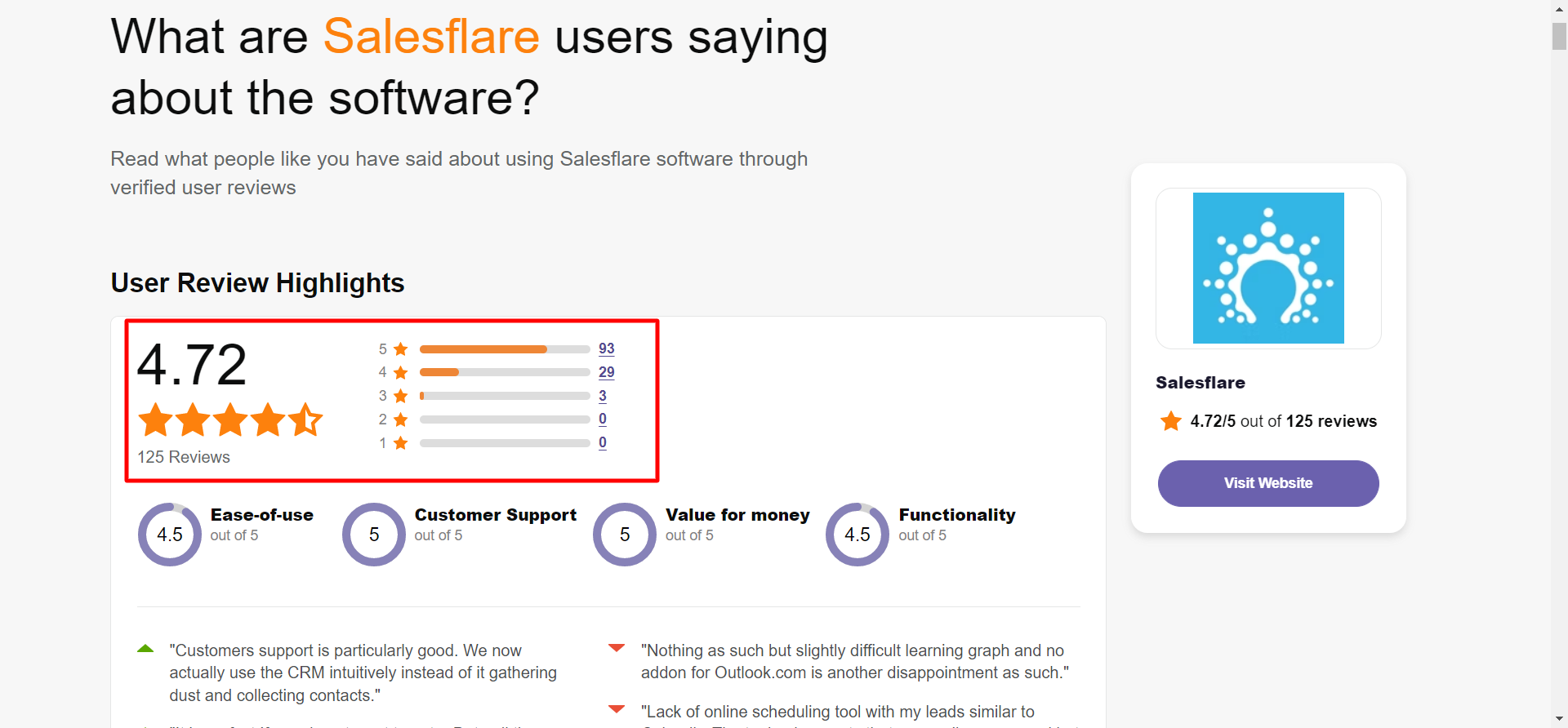 Salesflare is easier to set up than most of the CRM solutions that I have listed above. The user interface is intuitive and the sales pipeline is super easy to set up.
Even after a plethora of features like management tools, automation resources, and built-in customizations, the whole system is very well organized and simple enough to navigate without help.
Pricing
Though Salesflare has no free plan, you can try it free for 14 days. It has three pricing plans:
Growth plan costs $35/user/month

The Pro plan costs $55/user/month

Enterprise plan costs $99/user/month (billed annually)
User Reviews of Salesflare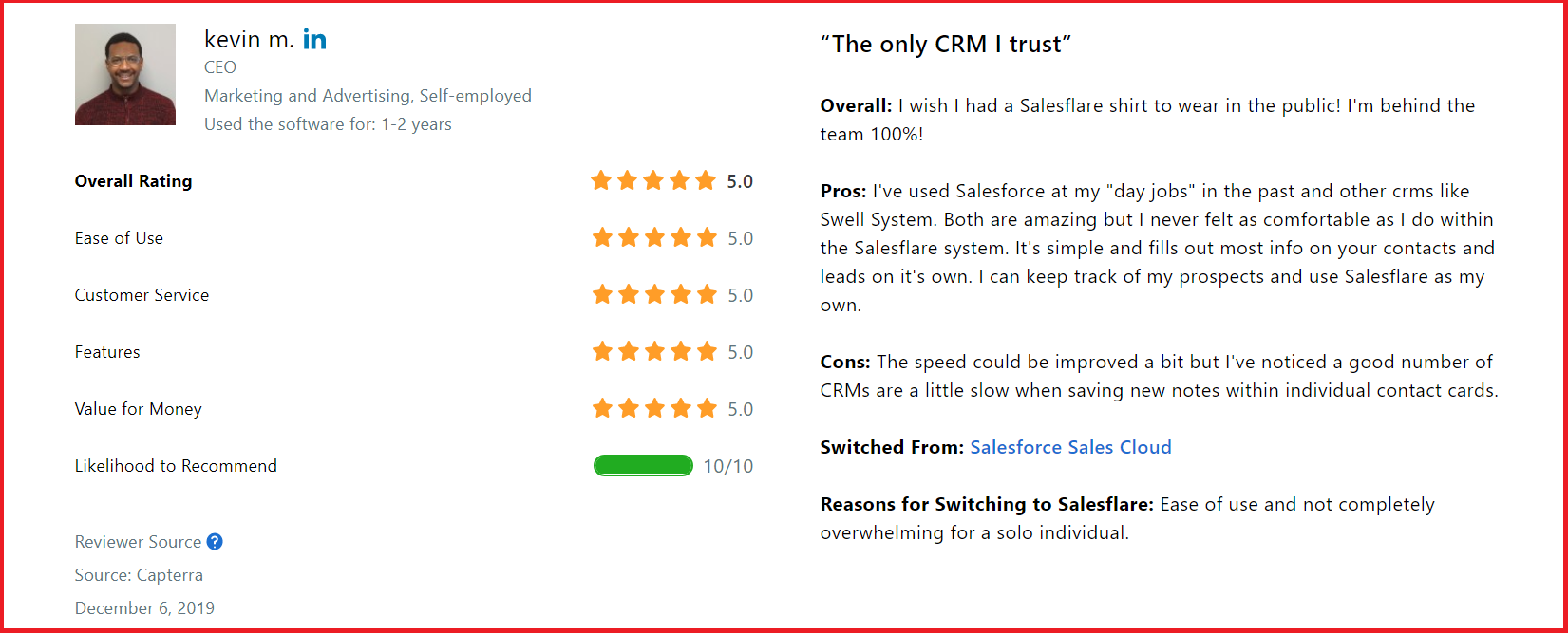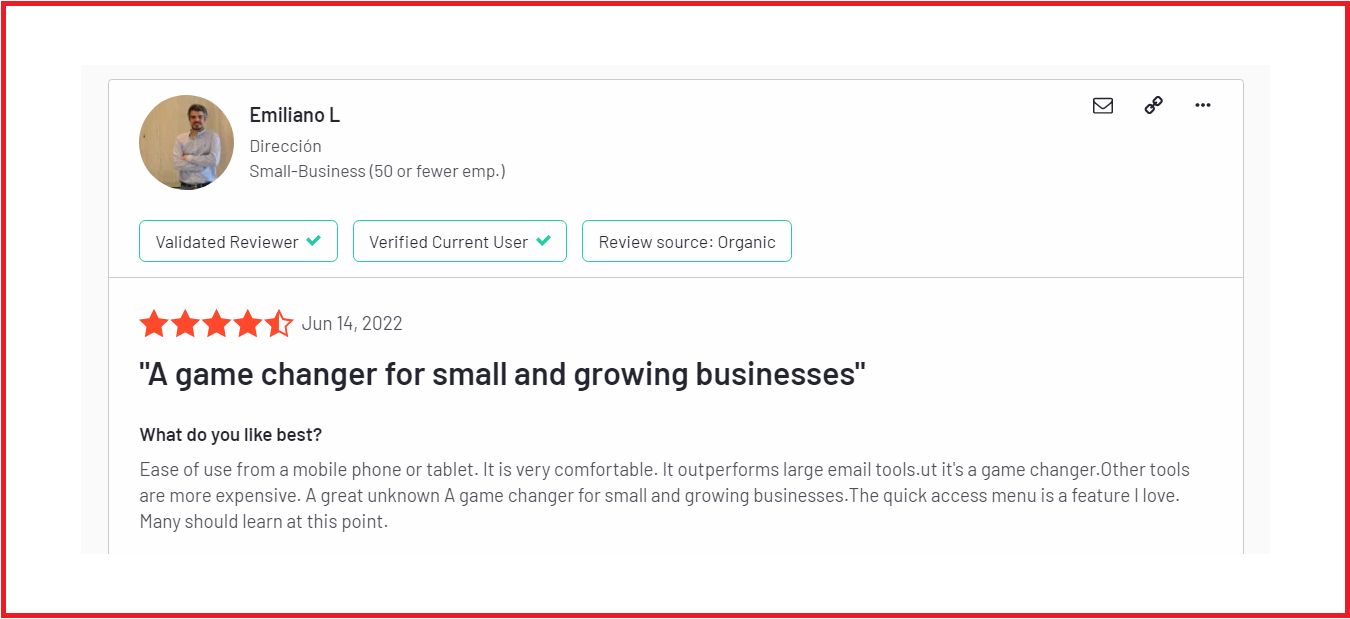 The Best CRM tools for Small Business Owners
#9. SharpSpring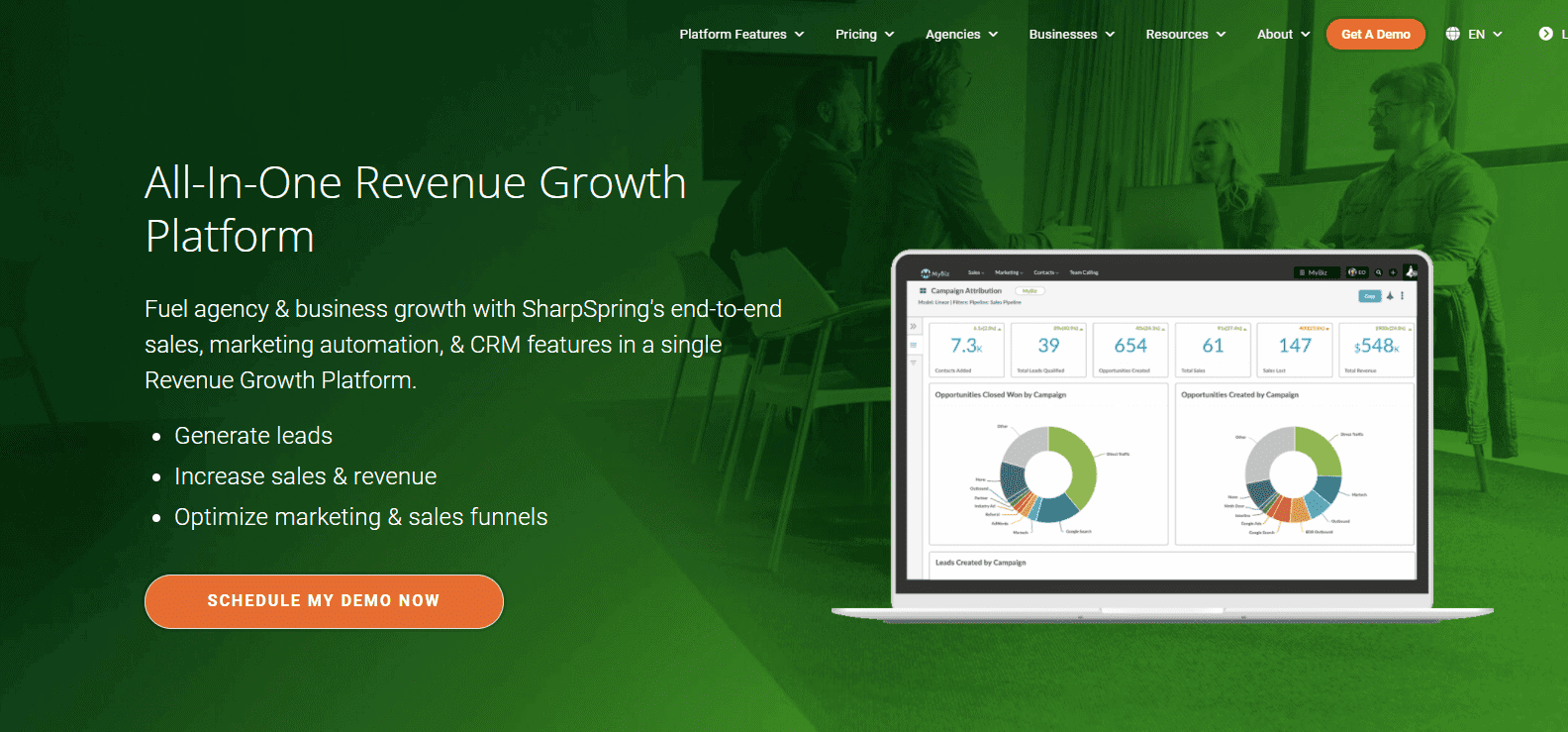 SharpSpring is a full suite of marketing automation tools built for agencies and medium-sized businesses. Founded in 2012, SharpSpring helps a business increase lead generation, especially that of marketing qualified leads.
Features
Email marketing automation:

It uses a drag-and-drop email builder and offers many email templates to help you create custom emails. You can also create emails for specific subscribers based on their actions.

Landing page builder:

The drag-and-drop landing page builder works well and the attractive landing page templates are easily customized.

Reliable analytics tool:

SharpSpring offers detailed analytics and reporting so you can identify business areas where you need improvement. It has reporting for emails, campaigns, social media marketing, and customer behavior.
Ease of Use

SharpSpring's dashboard can be slightly sluggish in the beginning but you get access to every feature in one place. It is like a workstation for marketers to do their job more efficiently.
Whether you want to track the lifeline of a lead or create a powerful sales pipeline, SharpSpring makes it look easy. You can set up automation without having to understand much about how it works.
Pricing
SharpSpring offers a free demo before you start with the paid subscription. However, SharpSpring is pricey and I would not recommend it unless you have a big budget.
The pricing depends on the number of contacts you have:
$449/month for 1,000 contacts

$999/month for 10,000 contacts

$1,449/month for 20,000
You also have options to choose from a 3-month or 1-year plan that can save up to 20%.
User Reviews of SharpSpring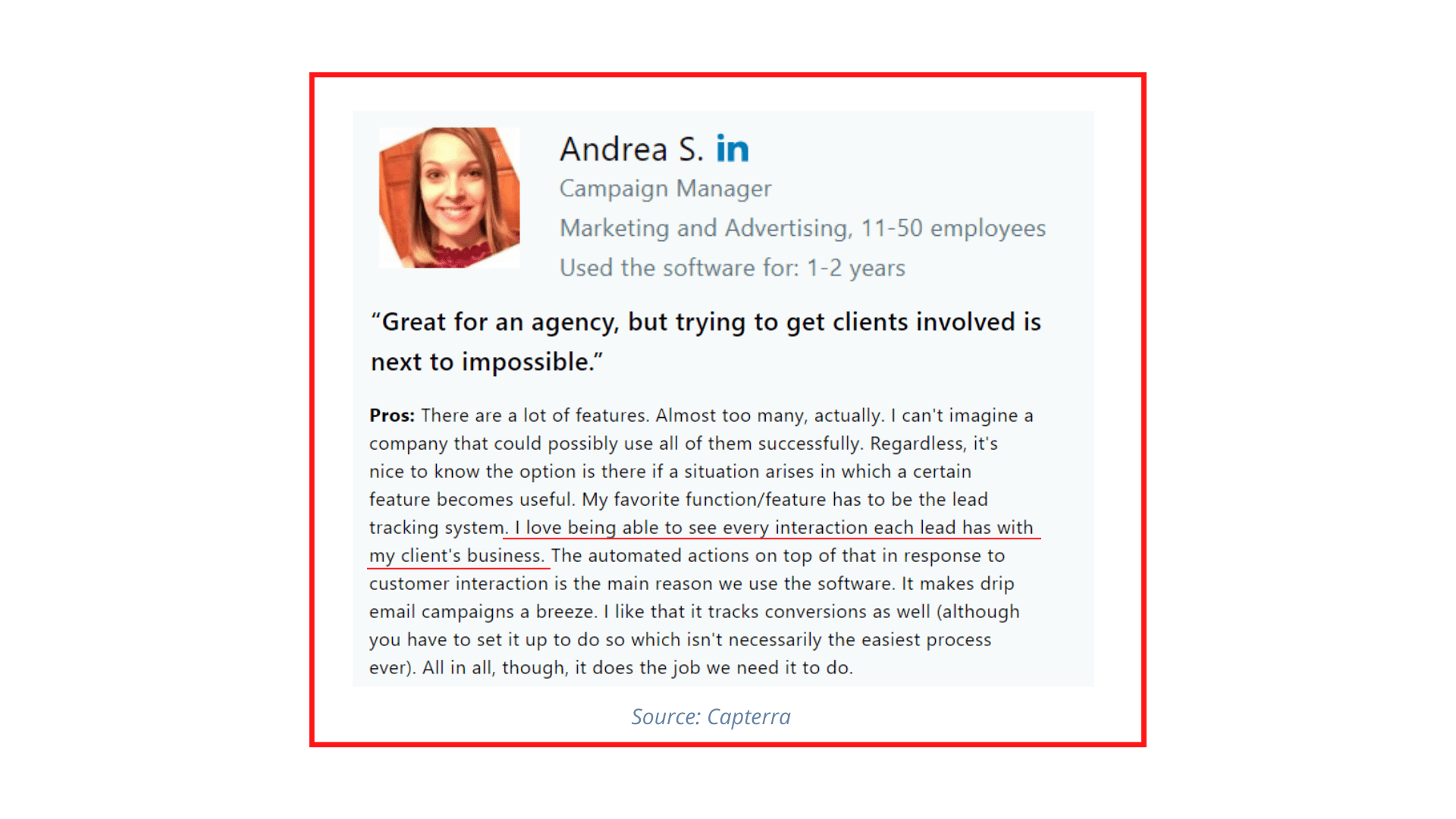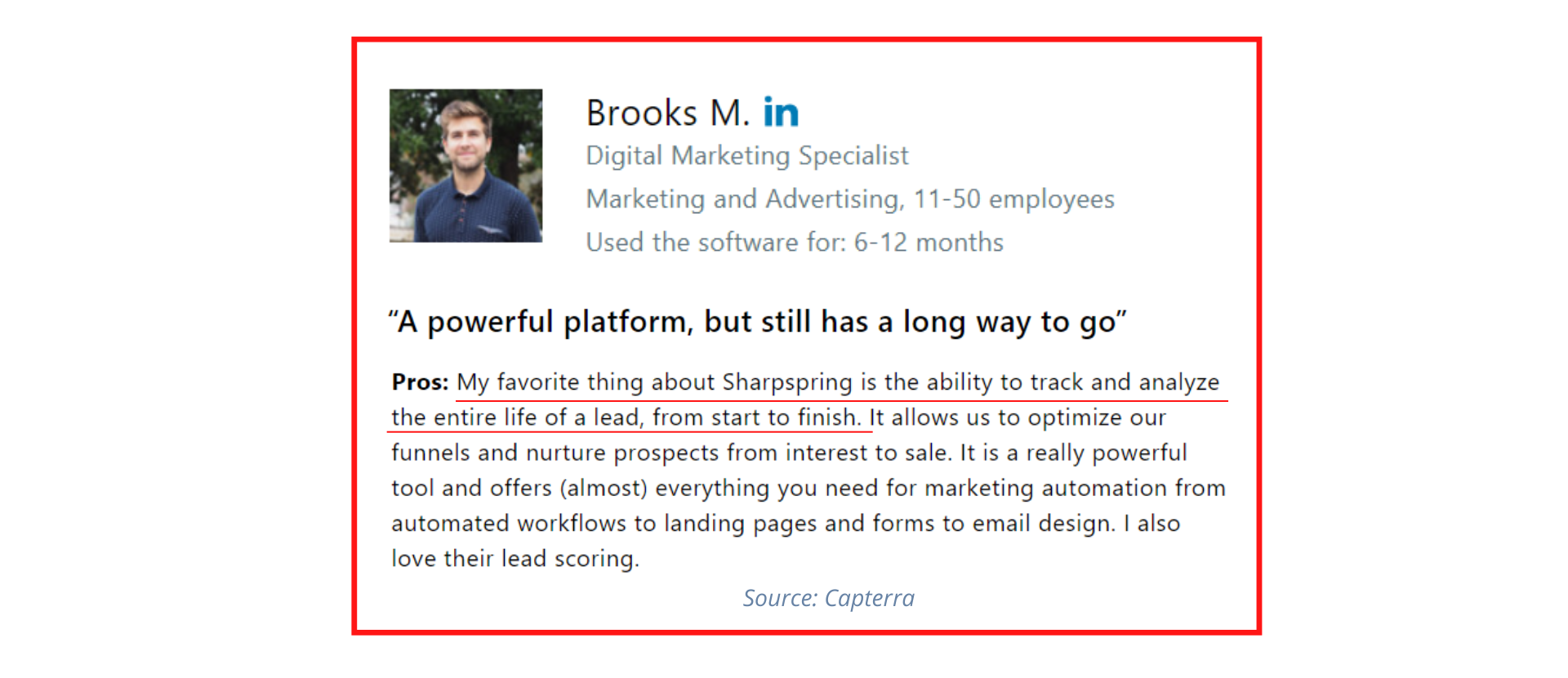 #10. Freshsales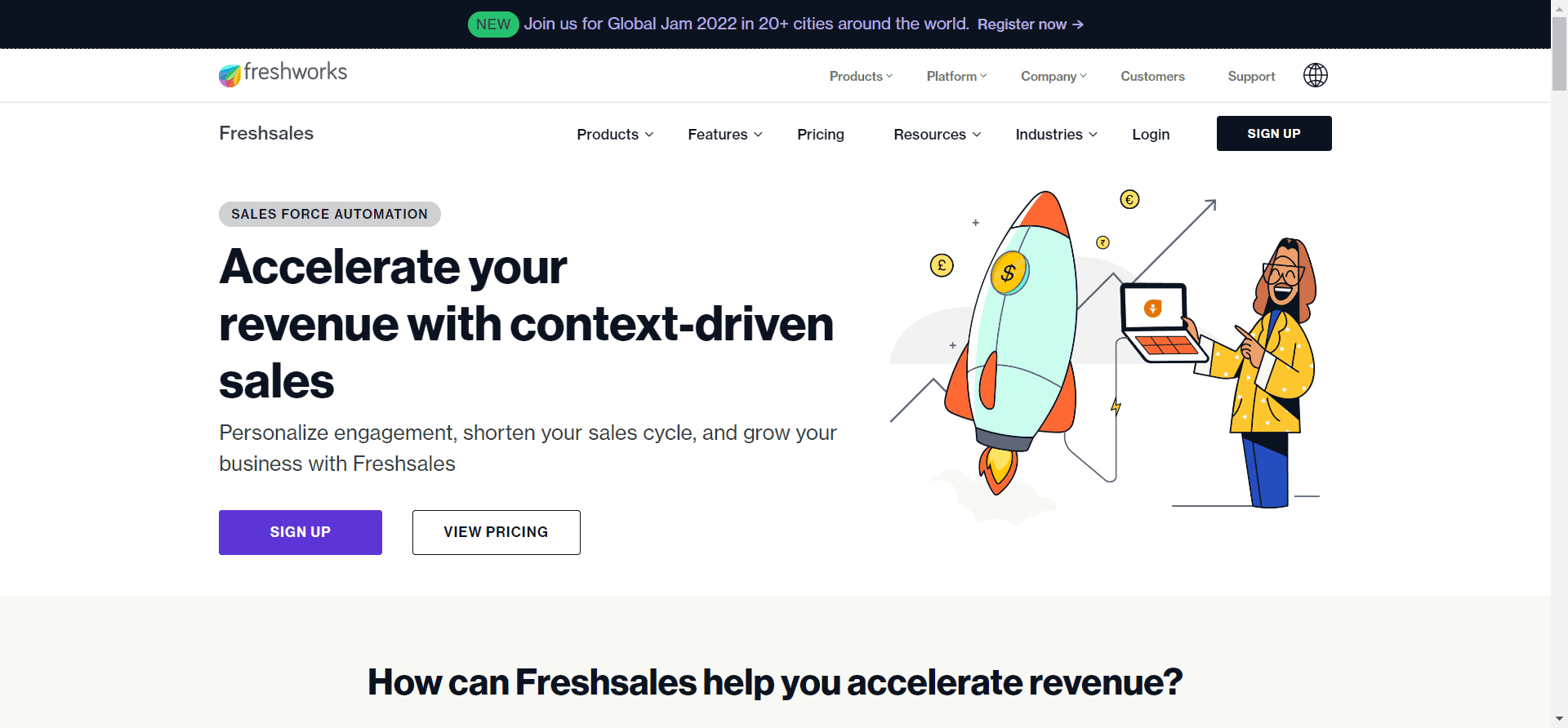 Freshsales (previously known as Freshworks CRM) is built for salespeople to gather valuable data and nurture customer relationships.
This CRM solution is AI-powered and makes sales forecasting and predictive analysis quite easy.
Features
Freddy AI:

Freshsales has an 'AI assistant' called Freddy AI to help businesses predict their sales, schedule meetings, close deals at the right time, and guide leads through the pipeline.

Seamless communication:

Freshsales leverages the email integration feature to track email communications and a chat feature to gather leads from the website visitors. Whether you are using Zoom for meetings or WhatsApp for business, you can do it all from one place.

Mobile application: Freshsales

has a dedicated mobile application for Android as well as for iOS users. Using the mobile app, you can close deals, manage your contacts, and grab new sales opportunities.

Integrations:

Freshsales offers third-party integrations as well as API integrations with popular tools like Mailchimp, HubSpot, PandaDoc, DocuSign, Trello, Xero, QuickBooks, and Outlook.
Ease of Use

I wouldn't rate Freshsales the easiest to use but once you get familiar with the software, you can speed things up.
The software has nice pop-ups that guide you through the entire process of how to set up and use this CRM system.
Pricing
Freshsales has a free plan that comes with features like contact management, account management, data import and export, and a mobile app.
If you need more advanced features, there are three pricing plans:
Growth plan costs $15/user/month

Pro plan costs $39/user/month.

Enterprise plan costs $69/user/month
User Reviews of Freshsales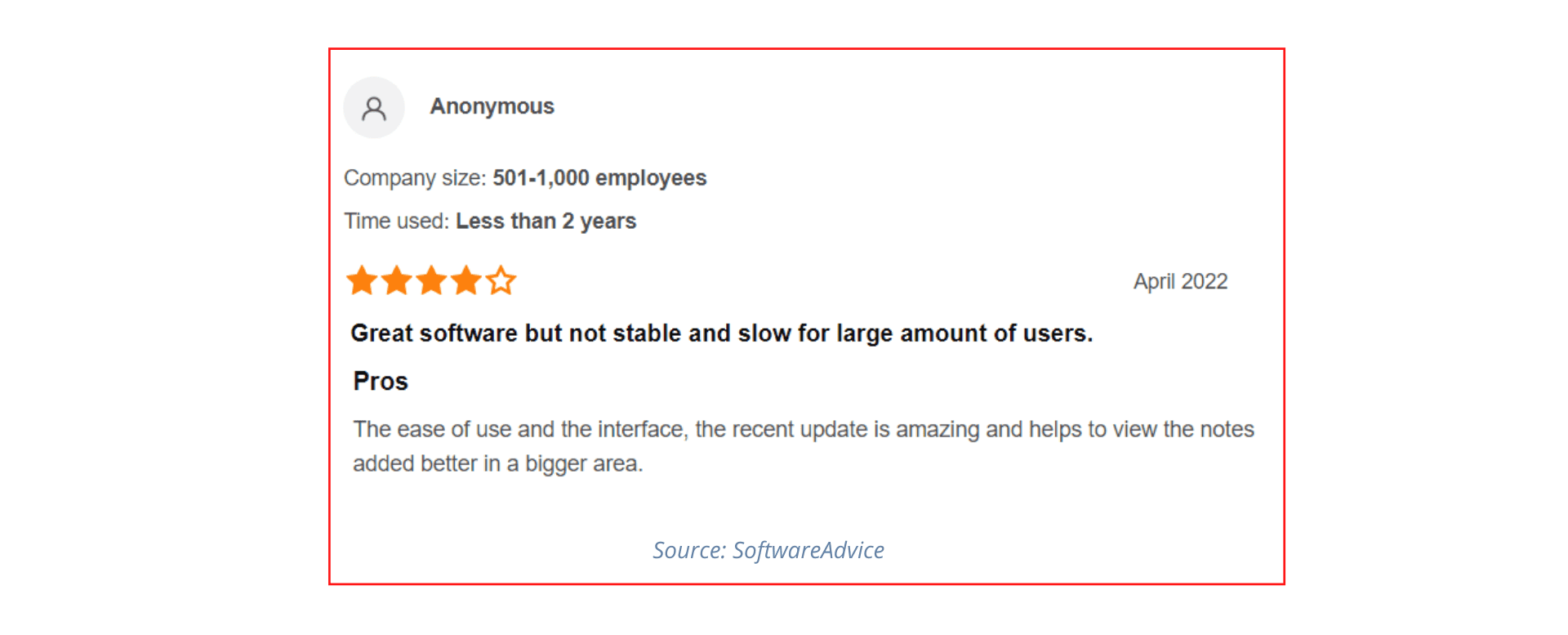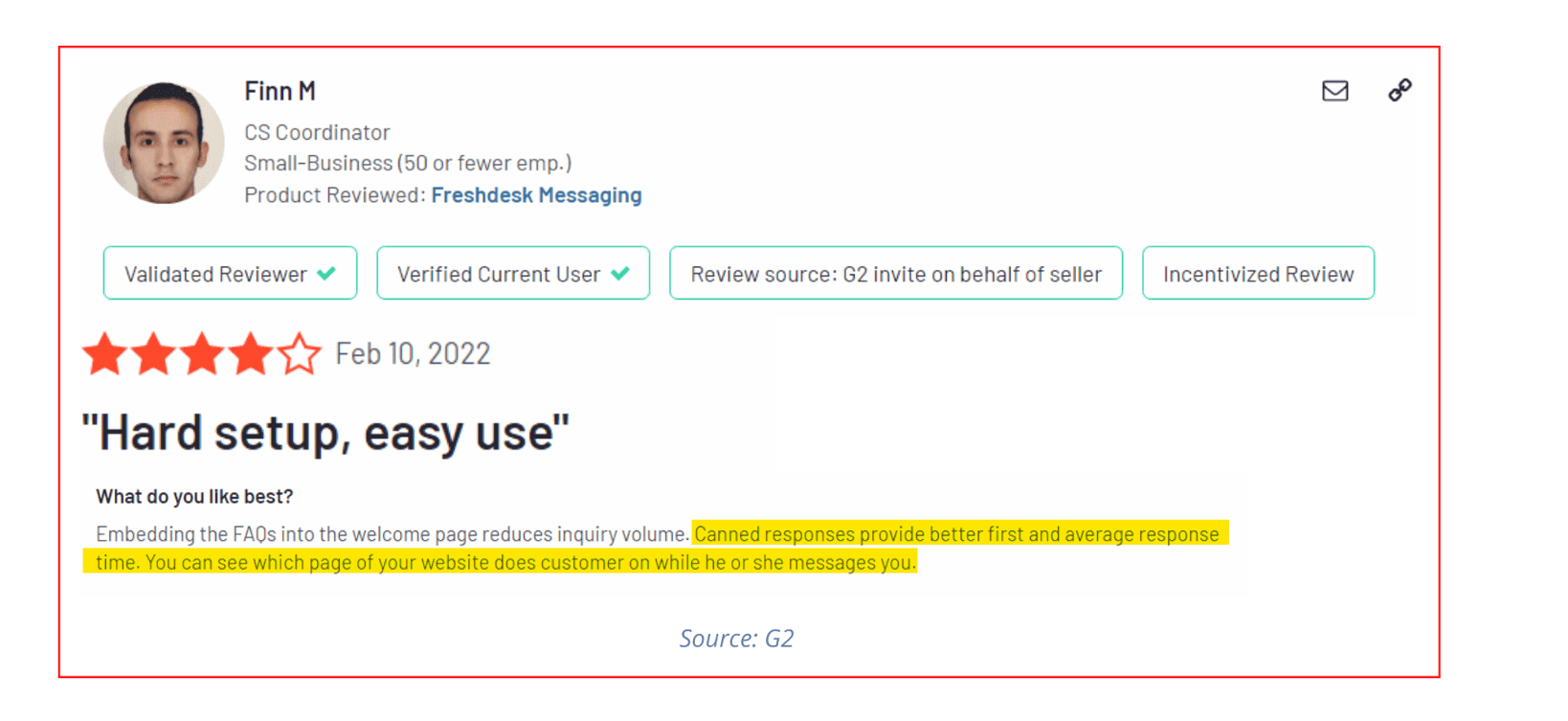 Conclusion
With plenty of options in the market already, choosing the right CRM solution can be an uphill task for business owners and sales managers.
Zoho CRM, EngageBay, and Pipedrive are my top favorites as the easiest-to-use CRM tools.
EngageBay offers the best value for money of them all, while Zoho has more advanced features and Pipedrive is best for a focus on sales CRM automation.
If you want to get started with EngageBay, you can sign up for free.
👉Ready to skyrocket your travel agency's growth? Uncover the top CRM software solutions in our detailed guide! 🚀