When searching for customer support software for your business, Zendesk is bound to come up frequently.
With over a decade-long existence in the market, Zendesk has many strengths on its side—stability, great support, and robust features.
Zendesk offers a comprehensive set of tools such as a help center, workflows & automation, collaboration tools, live chat, knowledge base, multichannel support, and call center management.
This plethora of features makes Zendesk a great product for most organizations, but it also adds to the software's complexity, making it a poor choice for businesses that may never need all of its features.
Zendesk's expensive pricing is another major drawback.
The basic plan starts at $49 per agent (billed annually), which is at least 50% higher than comparative plans in some similar CRM tools.
Considering these limitations, it makes sense to find Zendesk alternatives that align with your needs and budget.
How We Selected These Alternatives to Zendesk
We compiled our list of Zendesk alternatives by looking at:
Price:

What's the highest and lowest price options? Do they offer a free trial or free forever plans?

Features:

Do they provide ticketing management, automated routing, multichannel customer support, and more?

G2 customer ratings:

Are their ratings over 7.0 for ease of use, quality of support, and ease of setup?

The product's best-fit users:

Will this product suit small businesses, medium-sized businesses, enterprise, or SaaS brands?



With our selection criteria out of the way, here are the top 14 Zendesk alternatives we'll discuss:
EngageBay

Help Scout

Freshdesk

Zoho Desk

HubSpot Service Hub

Intercom

Salesforce Service Cloud

GrooveHQ

Front

Kustomer

Kayako
ServiceNow
TeamSupport
Gladly
Let's dive in.
Top 14 Zendesk Alternatives
We're not ranking these CRM tools in the following order, but we're starting with EngageBay because it is the most affordable Zendesk alternative for small business owners.
#1. EngageBay
EngageBay is one of the best Zendesk alternatives that helps SMBs to automate their marketing, streamline their sales processes, and deliver excellent customer support.
While EngageBay's Marketing Bay is popular, its products that are comparable to Zendesk are the CRM & Sales Bay and the Service Bay. You can get a combination of all these bays in the All-in-One Suite.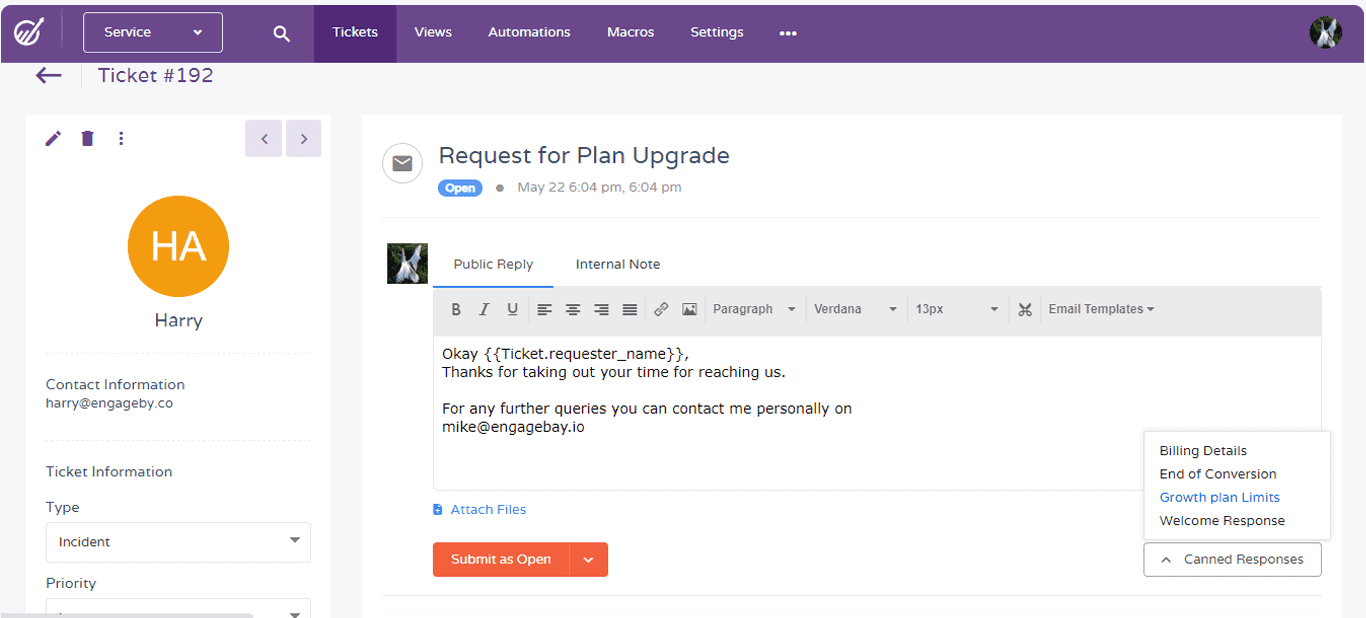 Notable Features
Some of EngageBay's notable features include:

Email, social media, and live chat support

Call scripts, recording, and reports

Automation and workflows

Customer 360 Degree View

Ticketing Management

Autoresponders
EngageBay Pricing
EngageBay offers one of the most budget-friendly pricing in the market. Users can choose between monthly billing, yearly (10% off), or biennial (20% off).

Here's what EngageBay costs:
Free plan

: $0 for over 20 features

All-in-One Suite

: $14.99 for Basic, $49.99 for Growth, and $99.99/month for Pro, all billed monthly per user.

Sales Bay

: $12.99 for Basic, $29.99 for Growth, and $59.99 for Pro, all billed monthly per user.

Service Bay:

Free Help Desk & Live Chat
Pros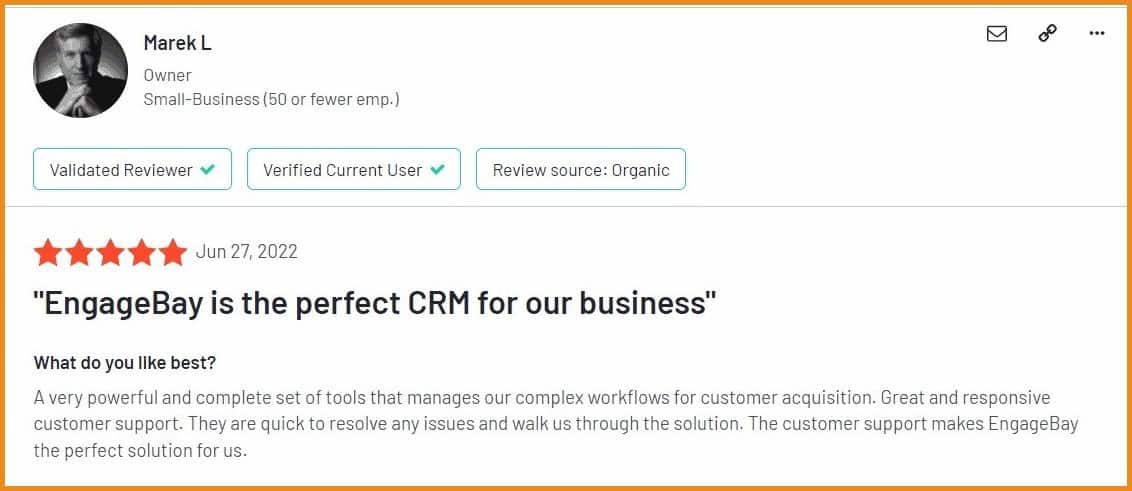 EngageBay offers a free plan and significantly lower pricing than Zendesk. For instance, pricing for the All-in-One Suite starts from $14.99, while Zendesk Suite's pricing starts at $49 and it's billed annually.

EngageBay has excellent features for SMBs and growing businesses like email sequences, social suite, multi-currency support, timezone-based delivery, etc.

You can get sales and customer service, and marketing features on one integrated platform.

According to customer reviews, EngageBay offers excellent customer support.
Cons

A common drawback of EngageBay is thin documentation. With this delay, users may have difficulties using features to their fullest potential. This also means that users often don't know of new feature releases.

There's limited resending functionality. For instance, the email address bar in the conversational mailbox doesn't autofill a contact's address when you're replying to a message.
Who's EngageBay Ideal For?
Startups and SMBs that need affordable CRM and customer service capabilities.
EngageBay G2 Rating
Ease of Use: 9.2/10 stars

Quality of Support: 9.5/10 stars

Ease of Setup: 9.1/10 stars
Learn More About EngageBay Free CRM Software
#2. Help Scout
Help Scout is a help desk software that provides a complete customer support platform for businesses.
It allows you to manage your customer conversations, collect satisfaction ratings from customers, and set up workflows for excellent customer support.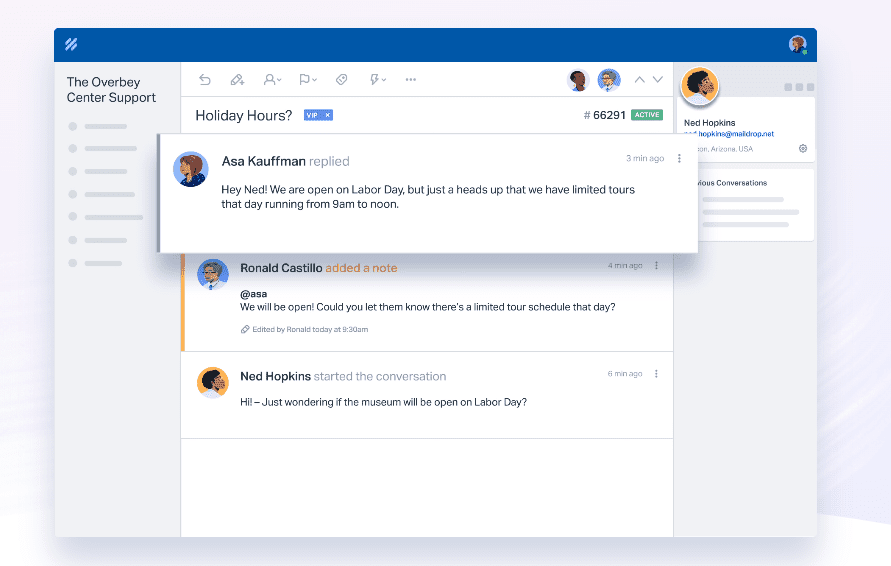 Notable Features
Shared inboxes for email support

Live chat software

Customer data management

Workflows

Knowledge base software

Reporting and analytics
Help Scout Pricing
Standard

: starts at $25 per user per month, billed monthly

Plus

: $40 per user per month billed monthly

Company

: $60 per user per month, billed annually.
Pros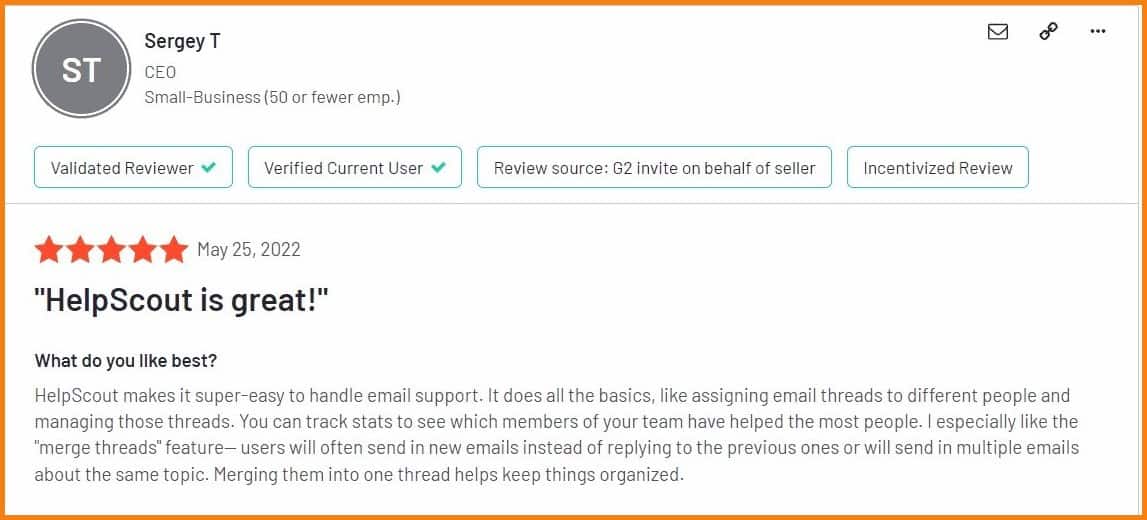 Unlike Zendesk, Help Scout is user-friendly and easy to set up.

Help Scout offers critical support features like Saved Replies, Merge Threads, Conversation Tagging & Assignment, and Real-time Collision Detection.

You can easily integrate over 80 software for eCommerce, Analytics, Marketing, and more.
Cons

According to users, Help Scout has poor spam filters that prevent spam emails from being automatically sent to the right folder.

It's not suitable for companies looking for integrated software that supports customer service and sales.
Who's Help Scout Ideal For?
Growing teams looking for a customer support alternative with similar Zendesk functionalities.
Help Scout G2 Rating
Ease of Use: 9.2/10 stars

Quality of Support: 9.0/10 stars

Ease of Setup: 9.2/10 stars



10 Competitors That Give Zendesk A Run For Its Money
#3. Freshdesk
Freshdesk allows you to automate agent workflows, prioritize inquiries based on severity, and reach customers in virtually every channel, such as email, phone, social media, live chat, and other instant messaging apps.
Freshdesk's primary products include a Support Desk and an Omnichannel Suite that combines Freshdesk Support Desk, FreshChat, and Freshdesk Contact Center.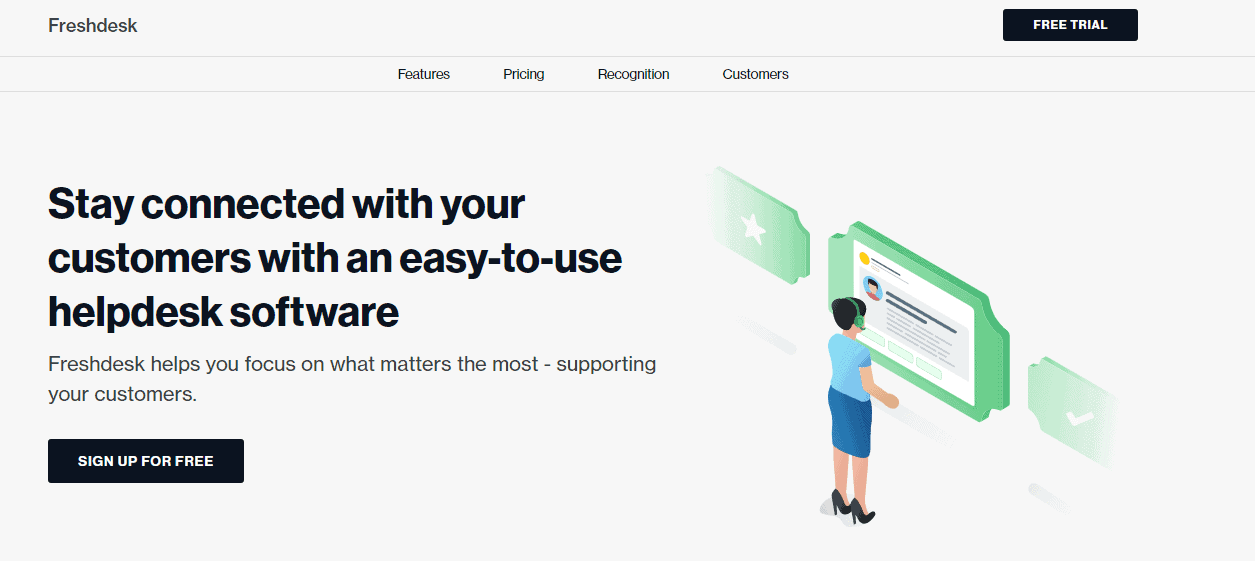 Notable Features
Ticket routing system

Omnichannel analytics

Advanced call management

Multilingual knowledge base

Customer satisfaction score (CSAT) survey & reports

Multichannel support (Email, Phone, WhatsApp, Website, Social Media, and Chat)

Agent collision detection (shows when multiple agents are viewing or replying to a single inquiry)
Freshdesk Pricing
Freshdesk Support Desk

: Offers a free plan (Sprout) that allows for up to 10 agents. Paid plans start from $18/per agent per month, $59/per agent per month, and $95/per agent per month, all billed monthly.

Omnichannel Suite

: $35/per agent per month for Growth, $71/per agent per month for Pro, and $119/per agent per month for Enterprise.
Pros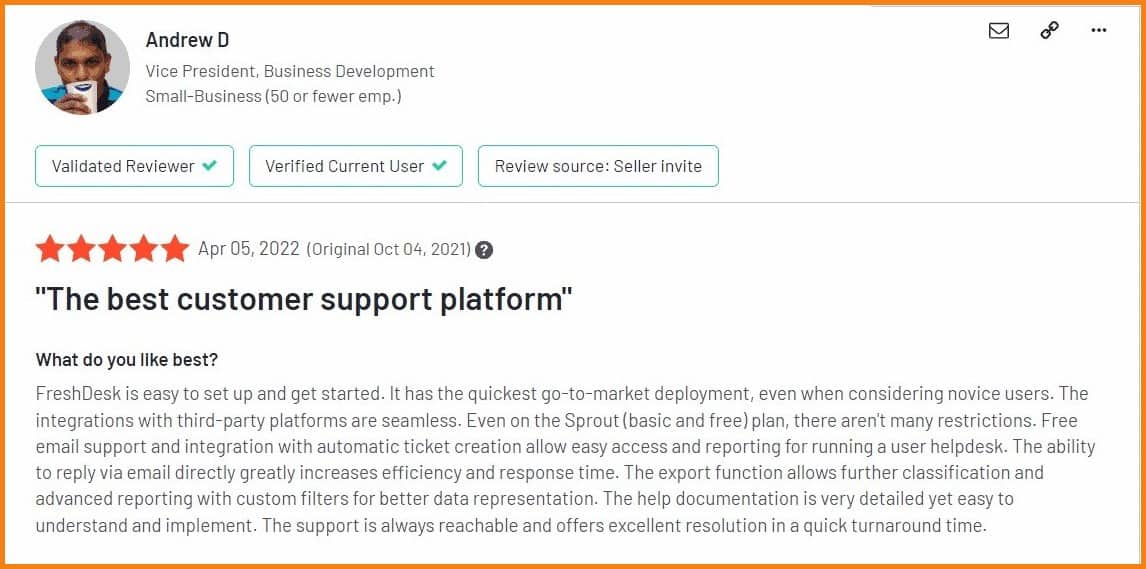 One advantage of Freshdesk is the availability of detailed documentation to ensure ease of product use.

Freshdesk provides some of the most comprehensive features to manage customer support across every ‌channel.

Freshdesk provides regular feature updates. This ensures users have access to the latest features in the industry.
Cons

According to reviews, Freshdesk has limited analytics capabilities compared to Zendesk.

It lacks adequate dashboard customization options.
Who's Freshdesk Ideal For?
Mid-sized to large organizations and teams.
Freshdesk G2 Rating
Ease of Use: 8.8/10 stars

Quality of Support: 8.8/10 stars

Ease of Setup: 8.5/10 stars
Read also: Finding the Perfect Fit: A Guide to Freshdesk Alternatives for Your Support Needs
#4. Zoho Desk
If you're looking for an affordable, feature-rich alternative to Zendesk, Zoho Desk ticks the right boxes. For a fraction of Zendesk's pricing, you'll get comparable features like call logging, assignment management, alerts & escalation, and automation.
What's more? Zoho Desk offers a free plan that allows you to start with limited features for as long as you wish.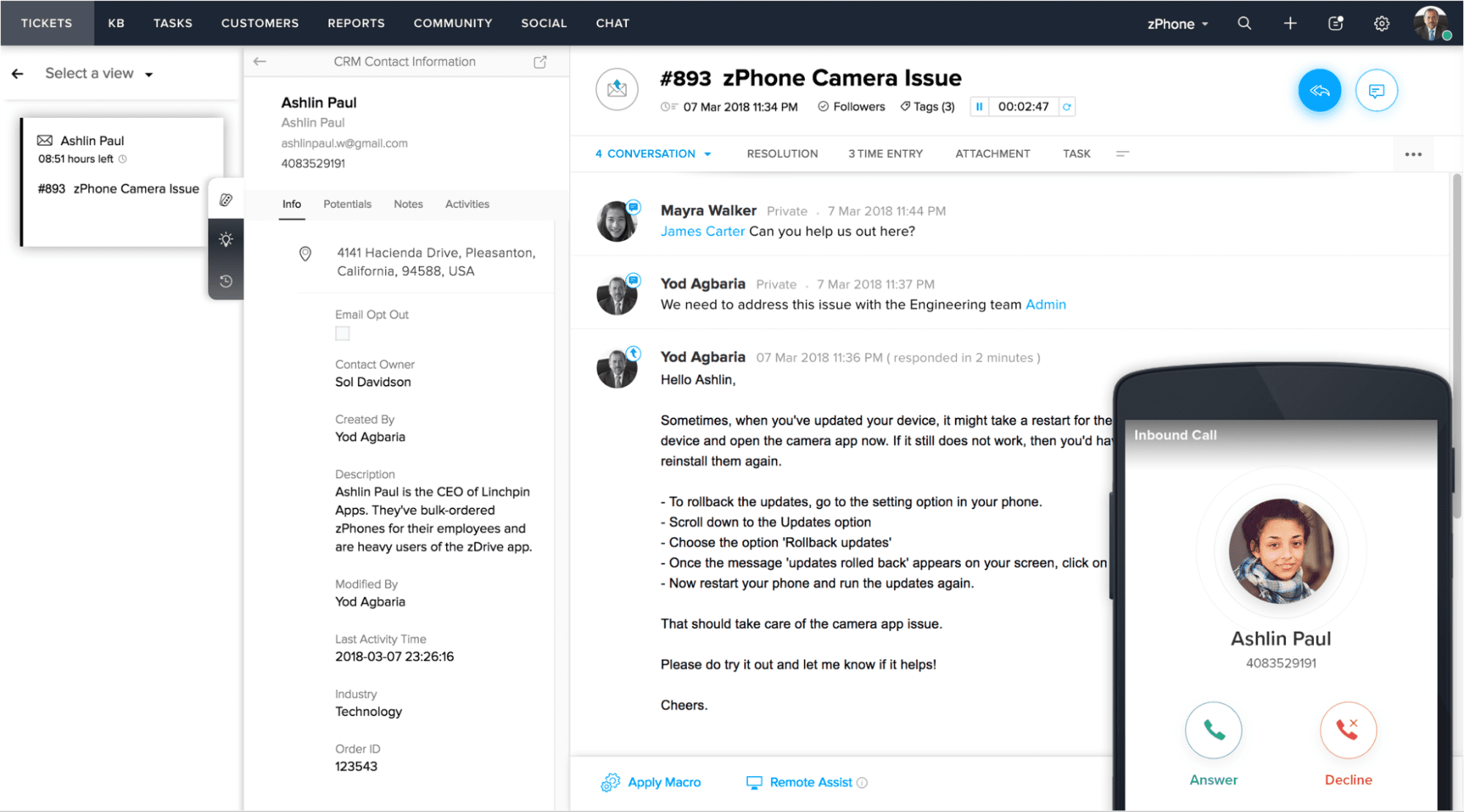 Notable Features
Sentiment analysis

Automated routing

Call center management

Workflow and automation management

Service level agreement (SLA) management

Multichannel support (phone, email, live chat, and social media)

Self-service system (knowledge base, multi-brand help center, and community management)
Zoho Desk Pricing
Free plan: Allows for up to 3 agents

Standard: $18/per agent/per month, billed monthly

Professional: $30/per agent/per month, billed monthly

Enterprise: $45/per agent/per month, billed monthly
Pros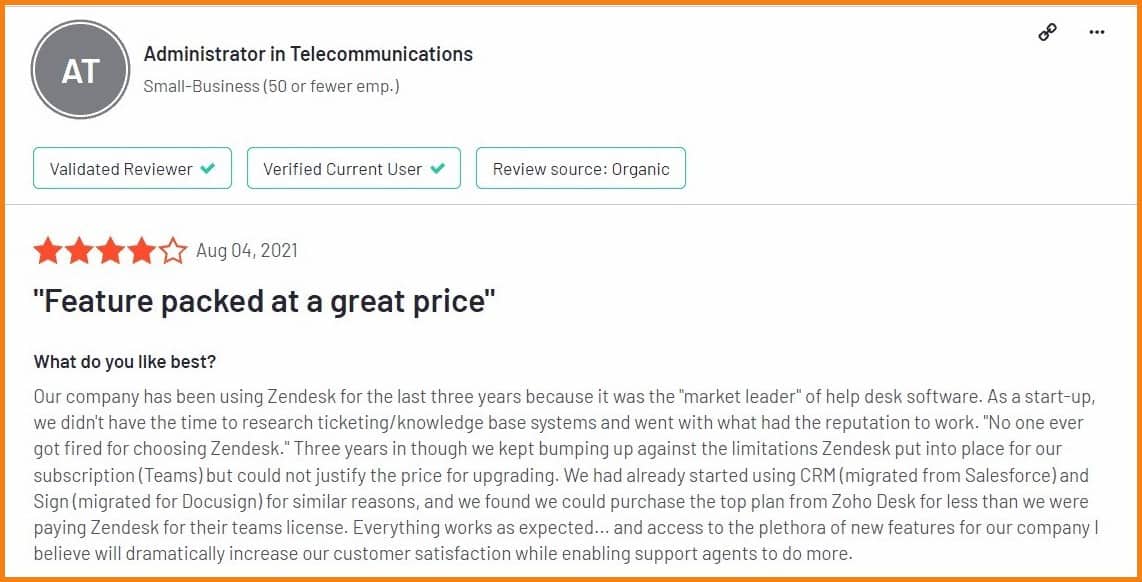 Zoho Desk offers a free plan and more affordable pricing that's nearly 3x less than the cost of Zendesk's Suite's lowest plan.

You'll find comprehensive features to manage end-to-end customer support activities.

Desk has advanced analytics & reporting capabilities that

allow you to generate custom reports easily, measure specific aspects of your customer support processes, and configure data-sharing rules.
Cons

Zoho Desk has limited customization options in its customer surveys and ticket features, according to many customer feedback.

It takes a bit of a learning curve to understand how to find some features within the software.
Who's Zoho Desk Ideal For?
Businesses that handle a large volume of frequent customer interactions.
Zoho Desk G2 Rating
Ease of Use: 8.5/10 stars

Quality of Support: 8.2/10 stars

Ease of Setup: 8.2/10 stars



Zoho Alternatives: CRM Solutions You Can't Avoid
#5. HubSpot Service Hub
HubSpot Service Hub is a Zendesk alternative that allows you to connect all customer service data, handle requests from multiple channels, and get a unified view of each customer interaction.
If you want to go beyond the help desk functionality to sales-related tools similar to Zendesk Sell, you can use HubSpot's Sales Hub along with the Service Hub.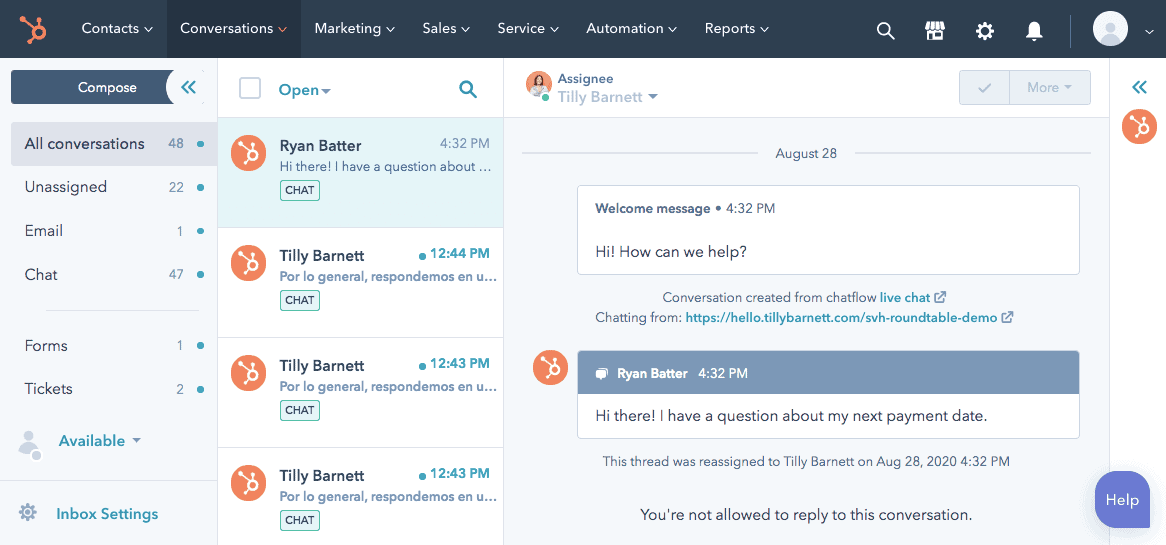 Notable Features
Knowledge base & playbooks

Voice over Internet Protocol (VoIP) calling

Help desk automation

Customer feedback surveys

Mobile inboxes

Conversation routing

Inbound calling system (For managing & tracking inbound calls made to a mobile device).
HubSpot Service Hub Pricing
Free Service tools

: $0 for tools such as email scheduling, ticketing, live chat, shared inboxes, and basic bots.

Service Hub

: Starter plan begins at $50 for 2 users monthly and the Professional plan is $500 for 5 users per month, both billed monthly. The Enterprise plan starts at $1200 for 10 users per month, billed annually.
Pros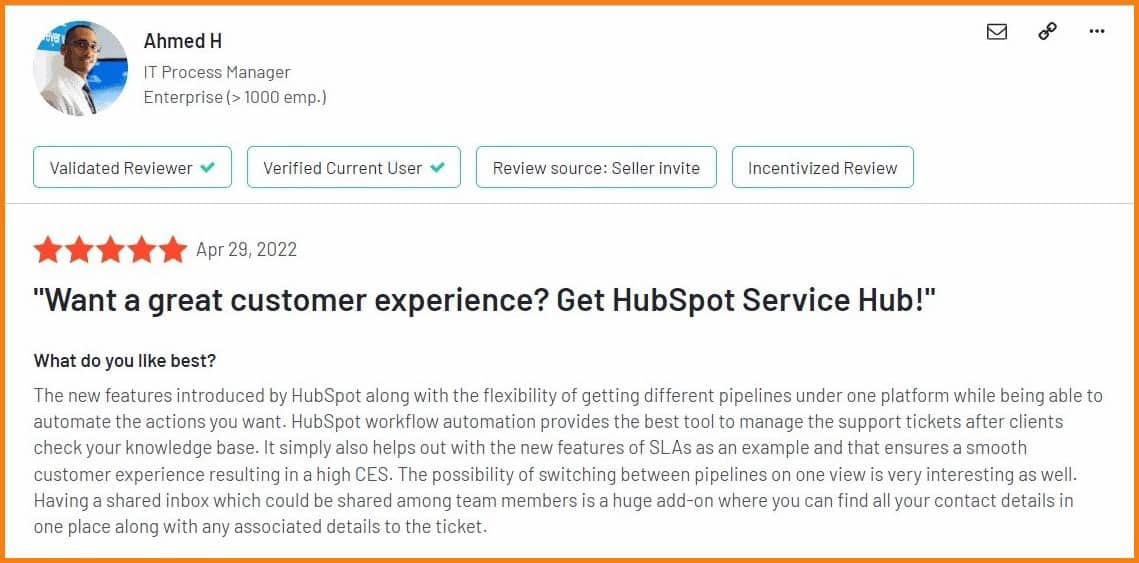 HubSpot Service Hub offers an impressive list of features ranging from email tracking to advanced functionalities like sandboxes, forecasting, ticket pipelines, and conversation intelligence (AI).

HubSpot Service Hub gets you a 360-degree customer view of the entire customer journey.

Users have access to the latest features in the market thanks to HubSpot's regular feature updates.
Cons

There are limited customization options in the feedback surveys and knowledge base. This increases the risk of shipping generic designs rather than unique creations that align with the needs of each brand.

Poor collaboration features in the ticketing interface increase the chances of duplicate responses when multiple agents simultaneously work on the same ticket

.

The expensive pricing and the high one-off implementation cost make HubSpot Service Hub a poor choice for SMBs on a limited budget

.
Interested in HubSpot competitors? Understand the pros, cons, and pricing of each in this detailed guide.
Who's HubSpot Service Hub Ideal for?
Mid-sized to larger teams with a substantial budget for customer support.
HubSpot Service Hub G2 Rating
Ease of Use: 8.6/10 stars

Quality of Support: 8.9/10 stars

Ease of Setup: 8.2/10 stars
What is HubSpot? Definition, Features, Pricing, Who it's Best for
#6. Intercom
Intercom is another Zendesk alternative that offers competitive features.
This help desk software boasts of an all-in-one messenger that delivers 68% faster response time, self-service automation, and a multichannel functionality that helps you reach your customers wherever they are.
Intercom also provides features for sales and marketing activities, which are two areas not fully developed on Zendesk.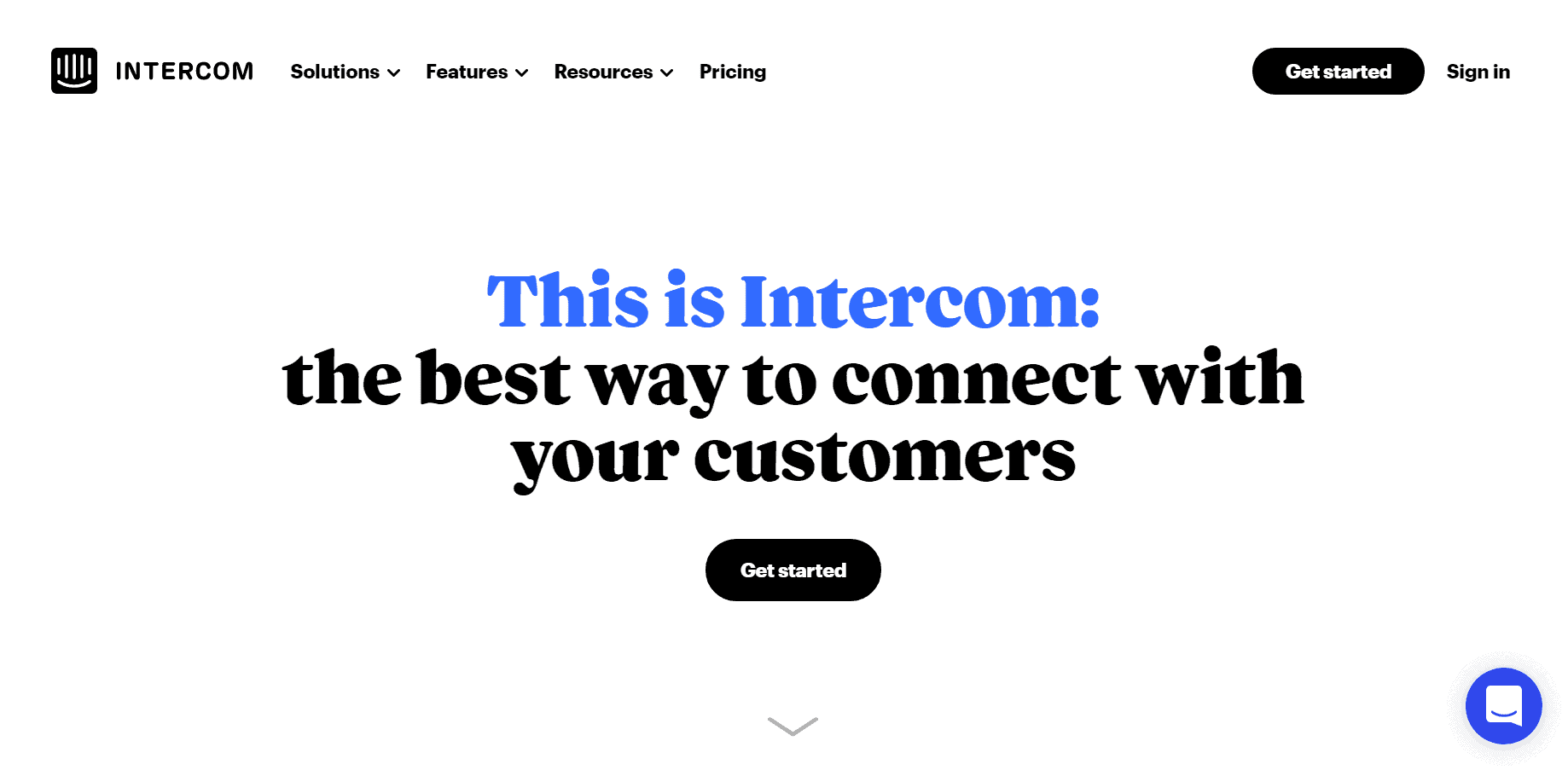 Notable Features
Automatic triaging

Conversational bots

Customer data platform

Built-in and custom reporting

Team performance monitoring

Targeted messaging and product tours

Omnichannel inbox for app, website, phone, email, and social media support.
Intercom Pricing
Starter for Small Businesses: Starts at $74 per month, billed annually.

Pricing information for Intercom Support, Intercom Engage, and Intercom Convert is available on request.
Pros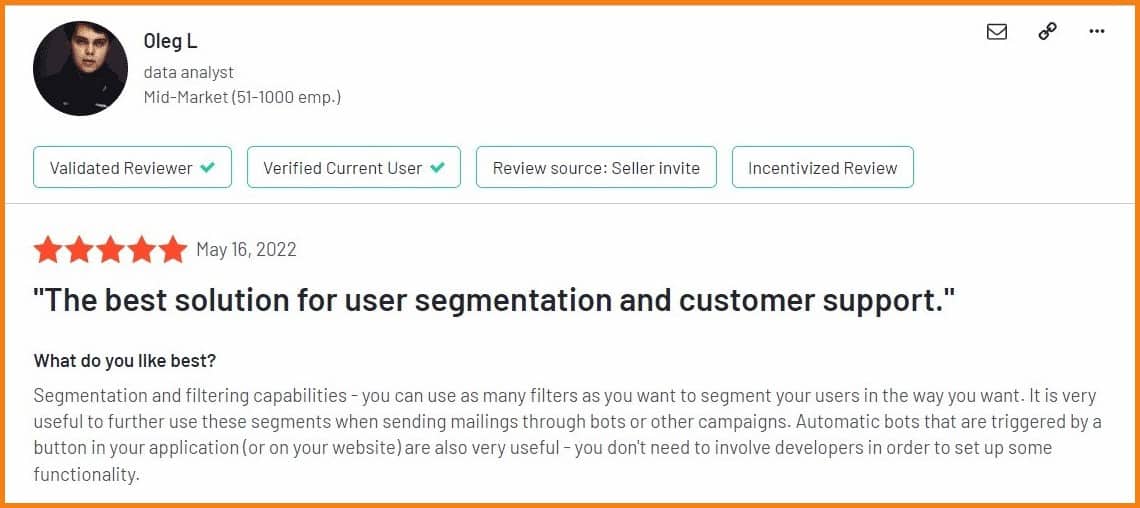 Intercom has advanced custom filtering functionality that allows for extensive user segmentation.

Their advanced workflows feature allows you to set up automated workflows for handling complex issues.

Intercom integrates with over 300 third-party tools like social media apps, analytics tools, CRM software, and marketing automation tools.
Cons
Intercom has a non-transparent and complex pricing structure that requires you to reach out to a representative to get a quote for first-time subscriptions and every subsequent upgrade.

Compared to Zendesk, Intercom's pricing can be quite expensive for small businesses in the long run. For example, getting one feature you need may

require upgrading

to a higher plan that costs 5x as much as your current plan.

According to many users, Intercom has serious data reporting limitations in key areas such as email and user statistics. Rather than a single dashboard to view metrics on a grand scale, users have to click on each customer profile or email to view individual performance.
Who's Intercom Ideal for?
Companies looking for a Zendesk alternative for larger teams.
Intercom G2 Rating
Ease of Use: 8.9/10 stars

Quality of Support: 8.6/10 stars

Ease of Setup: 8.4/10 stars
Read also: 13 Robust Intercom Alternatives To Transform Your Customer Experience
#7. Salesforce Service Cloud
Salesforce Service Cloud is a powerhouse that provides businesses with extensive features to connect every channel, personalize each experience, and deliver great customer support.
One of the biggest strengths of Salesforce's Service Cloud is the availability of robust features such as cross-sell and upsell capabilities you'll scarcely find in other customer support software.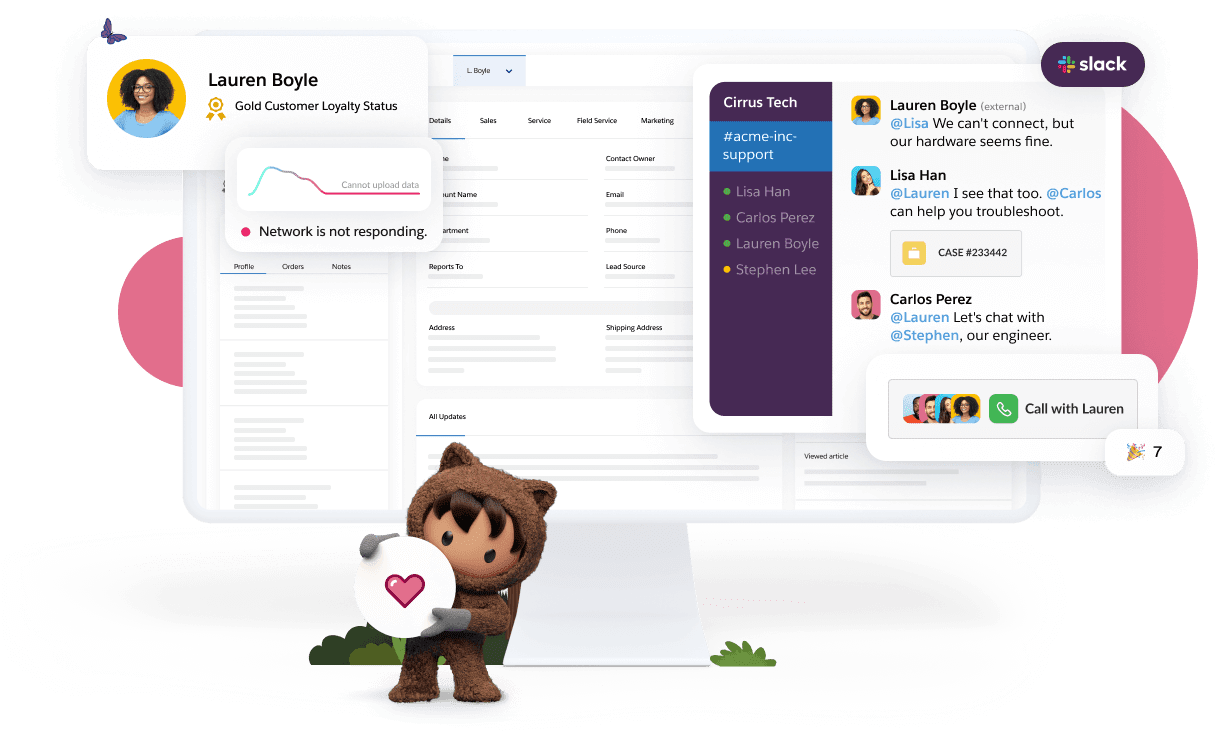 Notable Features
Case Management

Self-Service Portals

Omni-channel Routing

Computer Telephony Integration (CTI)

Customizable Reports and Dashboards

AI-powered Contextual Product Recommendation

Multi-channel support (Phone, email, web chat, web form, in-app, social media, and messaging apps).
Salesforce Service Cloud Pricing
Essentials: $25/user/month, billed annually

Professional: $75/user/month, billed annually

Enterprise: $150/user/month, billed annually

Unlimited: $300/user/month, billed annually
Pros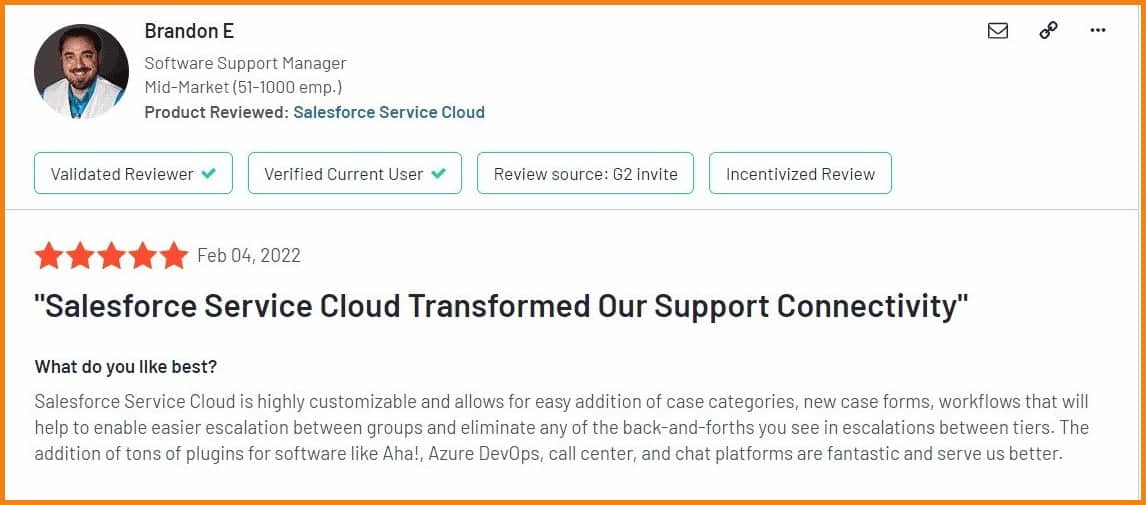 Salesforce Service Cloud offers a great deal of customization in page layouts, profiles, and workflows to fit your specific needs.

Its Web Services API allows you to integrate with third-party systems easily.

Salesforce Service Cloud offers a mobile app that makes it easy to collaborate with your team on the go.
Cons

A huge drawback to using Salesforce Service Cloud is the expensive pricing.

To get critical features like Web Services API for integrations or even 24/7 support from Salesforce reps, you'll need to subscribe to higher paid plans such as enterprise and unlimited. Also,

add-ons like Appointment Assistant cost $50, which is 2x the cost of the Service Cloud Essentials plan.

Salesforce Service Hub has a steep learning curve because of the many features it offers.

Several users have also complained of bugs in the software.
Who's Salesforce Service Cloud Ideal for?
Large to enterprise-scale organizations
Salesforce Service Cloud G2 Rating
Ease of Use: 8.0/10 stars

Quality of Support: 8.0/10 stars

Ease of Setup: 7.4/10 stars
Top 9 Salesforce Competitors And Alternatives [Tables]
#8. GrooveHQ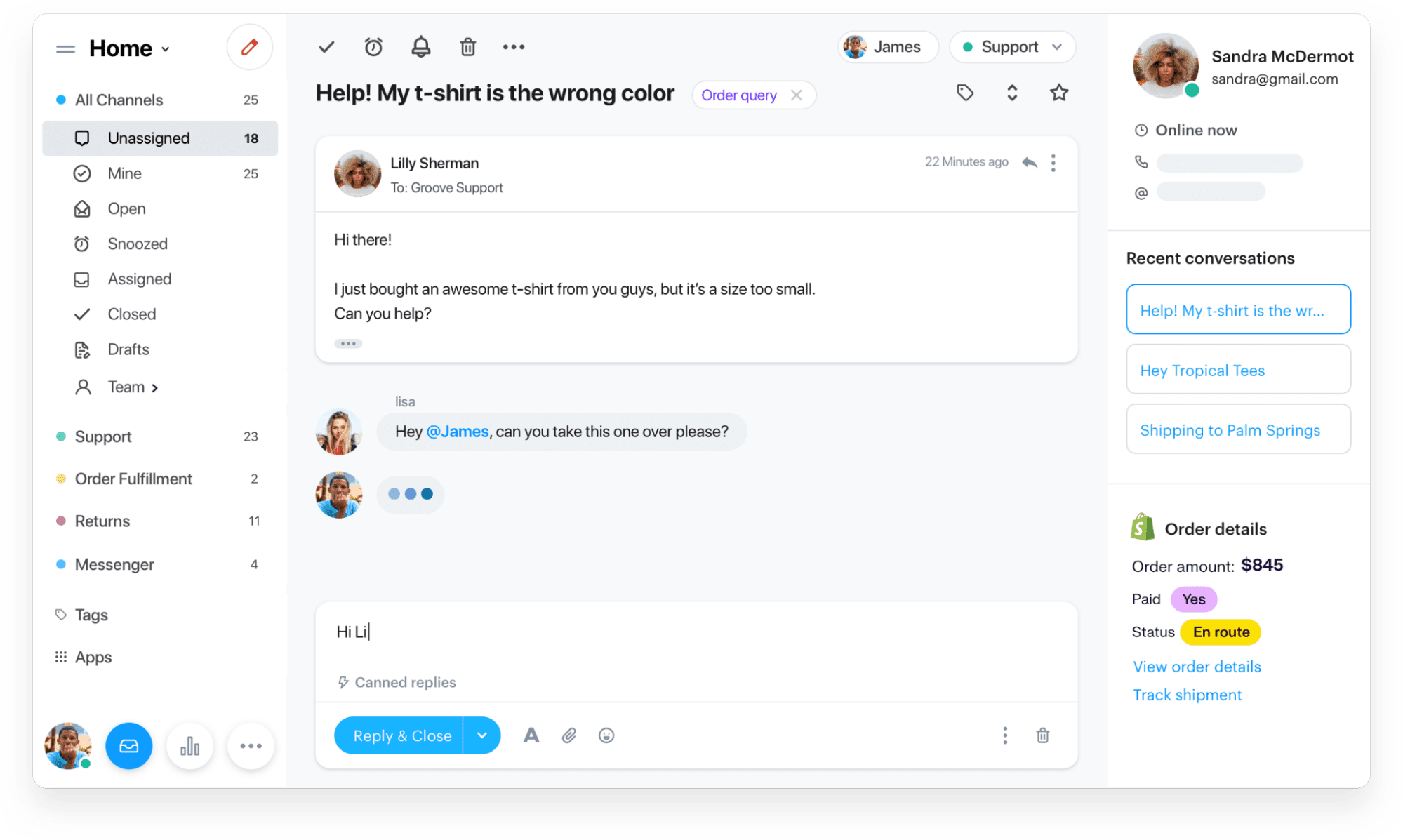 GrooveHQ is a Zendesk alternative that stands out with its simplistic interface and a handful of features for delivering exceptional customer support.
GrooveHQ has a shared inbox that allows you to organize everything in one place, have collaboration tools, and a knowledge base to reduce support volume.
Notable Features
Centralized dashboards and reporting

Conversation assignment

Rules and automations

Satisfaction surveys

Collision detection

Knowledge base

Mobile apps
GrooveHQ Pricing
Basic: $60/350 conversations/month

Pro: $300/2,000 conversations/month

Advanced: $750/5,000 conversations/month

Enterprise: You'll have to request pricing
Pros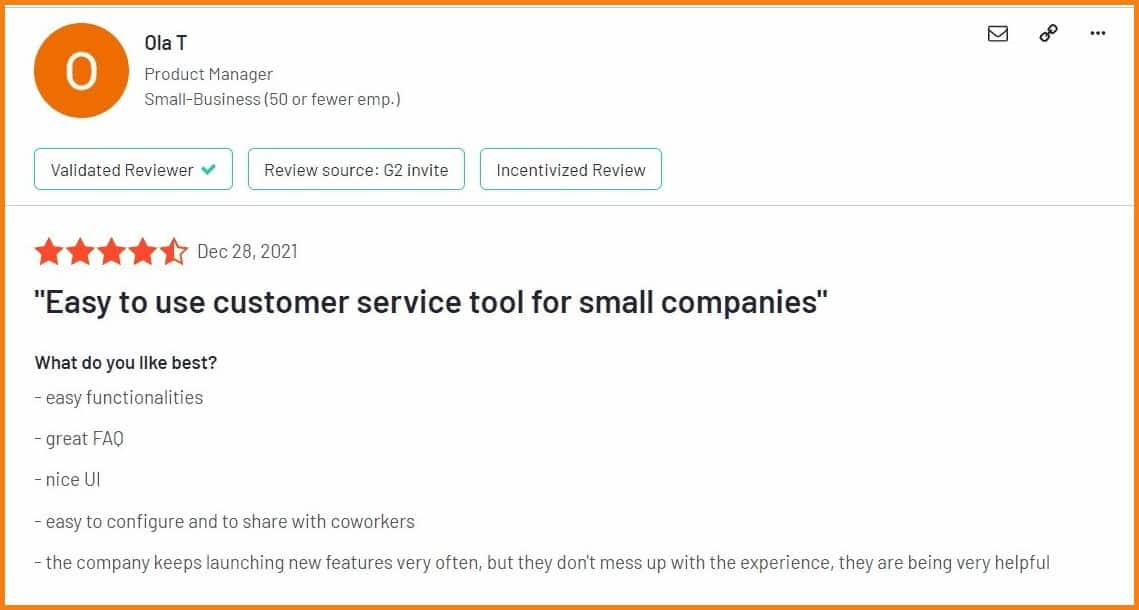 The biggest advantage to GrooveHQ is its clean, minimalistic user interface. According to users, this makes it incredibly easy to set up and use.

Another selling point for GrooveHQ is its set of support-specific features. This ensures that the platform isn't bloated with irrelevant features and users get the best value for money.

The Knowledge Base comes with very helpful features such as customizable SEO settings, open graph, custom scripts, and IP restrictions.
Cons

While Groove's simplistic nature is a win for most users, it's a drawback for many users seeking a robust CRM that offers powerful features like email marketing, bulk ticket handling, and chatbots.

Most existing features have limited functionality. For example, a reviewer mentioned the lack of filter capabilities in the search feature.
Who's GrooveHQ Ideal for?
Small businesses that need a simple alternative to Zendesk.
GrooveHQ G2 Rating
Ease of Use: 9.0/10 stars

Quality of Support: 8.5/10 stars

Ease of Setup: 9.3/10 stars
10 Sales Productivity Tools That You'd Want To Buy Today
#9. Front
Just like GrooveHQ, Front is a simpler alternative to Zendesk.
It's built for speed, combining an email-like interface and powerful automation to deliver fast, personalized customer support. It also provides team performance insights to help agents constantly improve.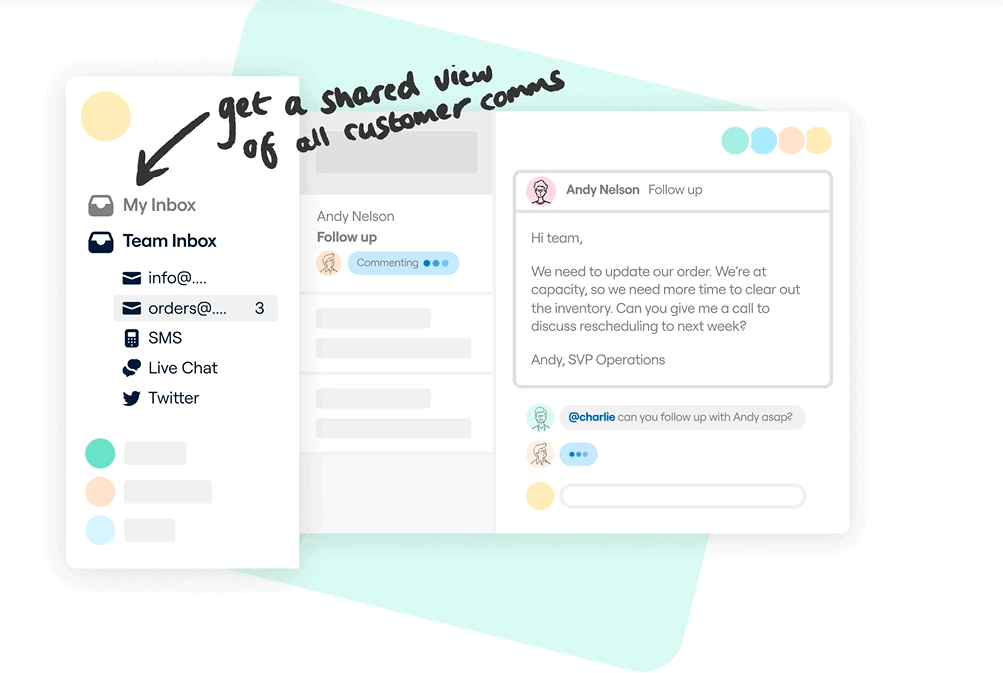 Notable Features
Multi-channel Messaging (Email, social media, chat)

Custom integrations via plugins

User and team management

Company-wide analytics

Shared inbox
Front Pricing
Starter: $19 per person, per month, billed annually

Growth: $49 per person, per month, billed annually

Scale: $99 per person, per month, billed annually
Pros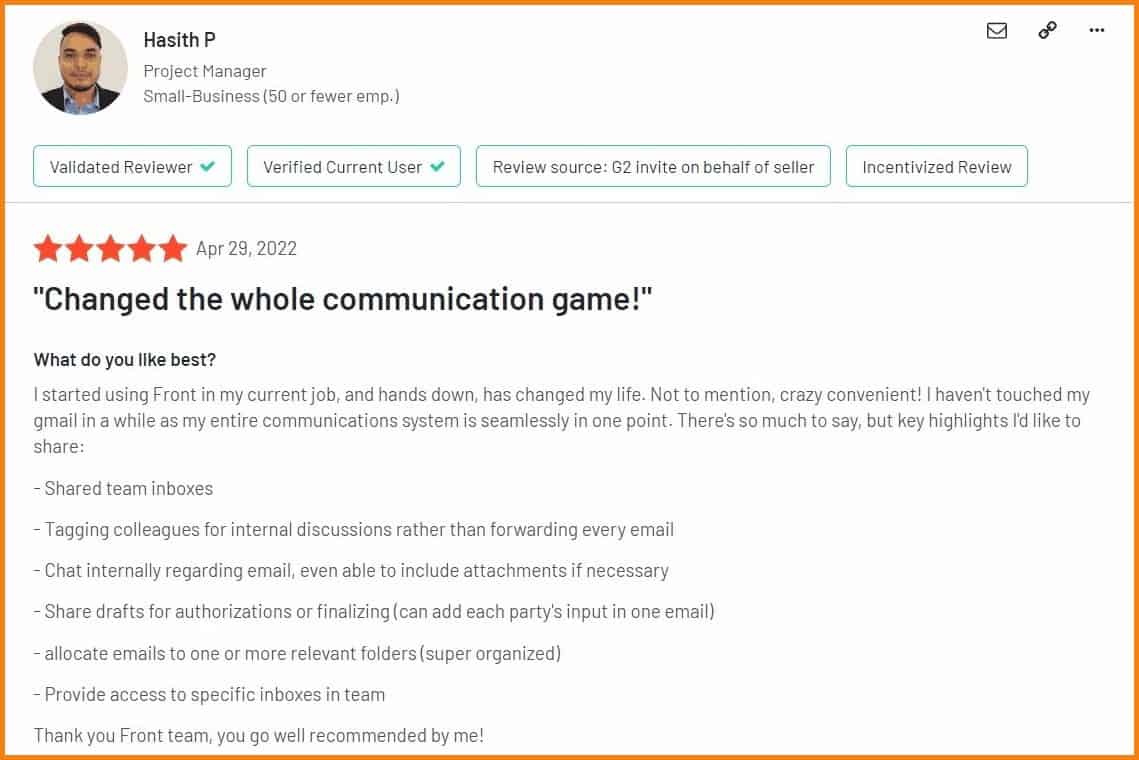 The team collaboration features are advanced. For instance, you can @mention a teammate in an email conversation, share email drafts, and add comments without alerting the customer.

Another feature users love is the ability to snooze conversations that don't require immediate attention.

The shared inbox feature allows you to assign emails to teammates and create custom rules to identify important conversations. This ensures high-priority emails don't slip through the cracks.
Cons

According to many users, there's no option to mute Front messages—meaning, users still receive notifications during off hours.

Another common drawback to this software is the limited search feature that makes it difficult to find past conversations and items.
Who's Front Ideal for?
Growing teams that need a simple help desk for personalized support.
Front G2 Rating
Ease of Use: 9.2/10 stars

Quality of Support: 9.2/10 stars

Ease of Setup: 8.7/10 stars
12 Customer Service Tips for Phenomenal Success
#10. Kustomer
Kustomer is a Zendesk alternative that has CRM capabilities in its help desk software.
Kustomer's CRM for Customer Service product focuses on helping you automate your business processes and deliver great support at every step of the customer journey.
Unlike most help desk software, Kustomer tilts toward self-service options instead of advanced features for direct contact.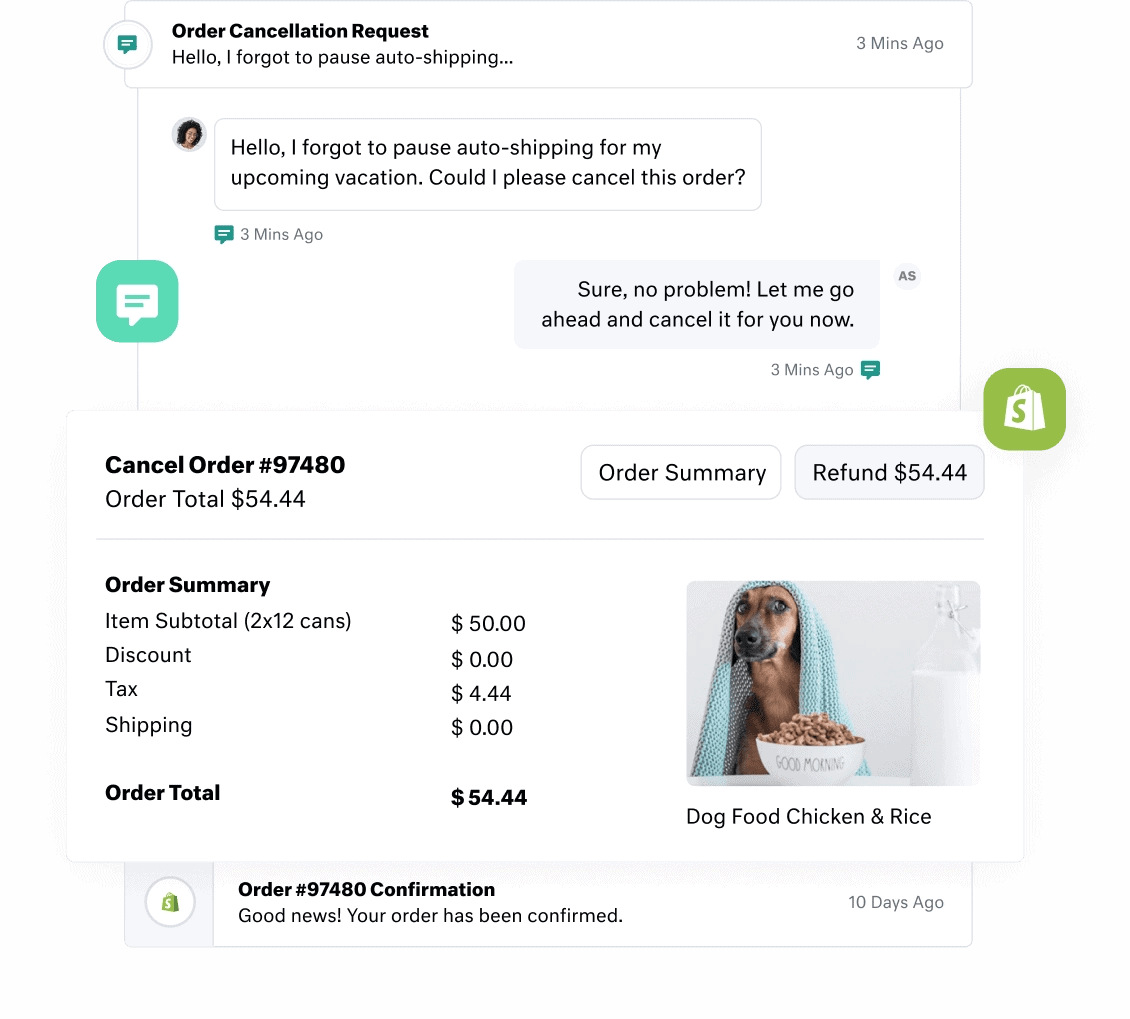 Notable Features
Omnichannel support (Email, chat, text messaging, voice, and social media)

Self-service System (Knowledge base, chatbots, and proactive messaging)

Custom reporting & analytics

Workflows and automations

Agent productivity capabilities

Sentiment analysis
Kustomer Pricing
Enterprise: $89 per month/per user billed annually

Ultimate; $139 per month/per user billed annually
Pros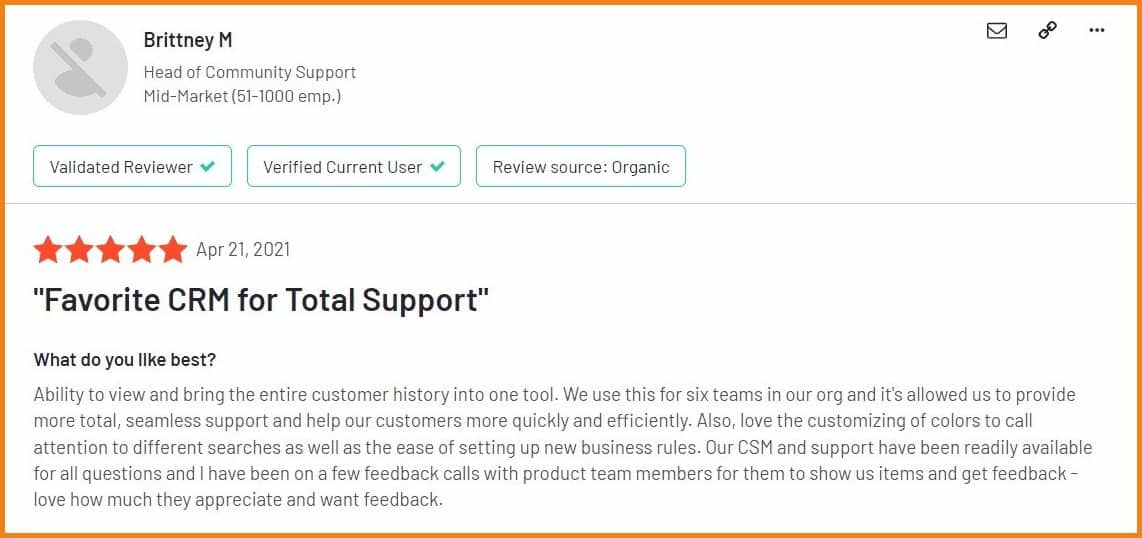 Kustomer stands out with its ability to provide data on a customer throughout their lifecycle. This allows you to get insights for delivering personalized customer experiences.

User reviews suggest the Kustomer team provides excellent support. You can get fast and helpful responses to resolve your issues.
Cons

Most Kustomer users have complained about frequent crashes and glitches. This opens up the possibility of experiencing disruptions in your services if these crashes happen for an extended time during work hours.

Kustomer's plans are pricey for SMBs with limited resources.

It may not be ideal for customer-focused organizations that prioritize direct customer interactions.
Who's Kustomer Ideal for?
Mid-sized and large businesses that need CRM capabilities in a help desk.
Kustomer G2 Rating
Ease of Use: 8.8/10 stars

Quality of Support: 8.9/10 stars

Ease of Setup: 8.3/10 stars
The Ultimate Guide To Developing Customer Service Skills
#11. Kayako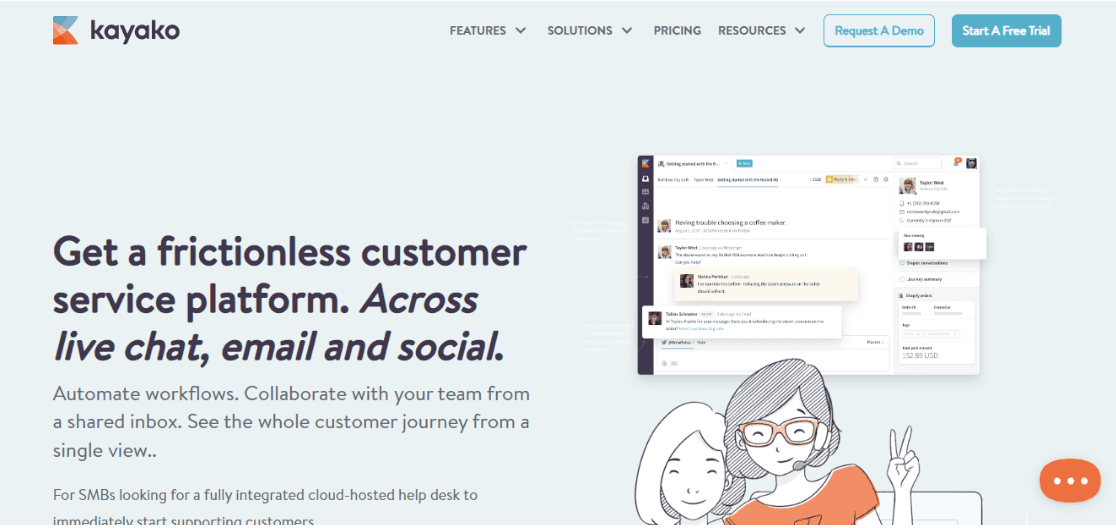 Kayako has most of the core features you'd hope to find in a help desk software. You can collaborate with your team using the shared inbox, manage and respond to conversations from any channel directly from the dashboard, and offer 24/7 support using the live chat functionality.
Notable Features
Self-Service Portal

SingleView–view all your customers' interactions in one place

Collaborator–bring in the help of external expertise to resolve customer service issues

Social Customer Service
Kayako Pricing
All the features are on a single plan. Pricing is based on the number of agents. An agent is any user in your business that can communicate with customers. For the specific pricing, you have to request a demo first.
Pros

Kayako is among the most popular customer support software owing to its efficient ticketing system, easy-to-create knowledge base, built-in templates for automated replies, and easy ticket routing process.
Cons

Despite its advantages, Kayako makes it difficult for users to generate customized reports, create signatures, and is slow to notify agents about the status of tickets.
Who's Kayako Ideal for?
It's ideal for high-growth companies.
Kayako G2 Rating
Ease of Use: 8.4/10 stars

Quality of Support: 8.1/10 stars

Ease of Setup: 8.0/10 stars
6 Ways AI is Changing Self Customer Service For Good
#12. ServiceNow
ServiceNow is one of the most complete platforms in this list. Its customer service management platform is built on its Now operating system. It offers key features such as omnichannel and case management.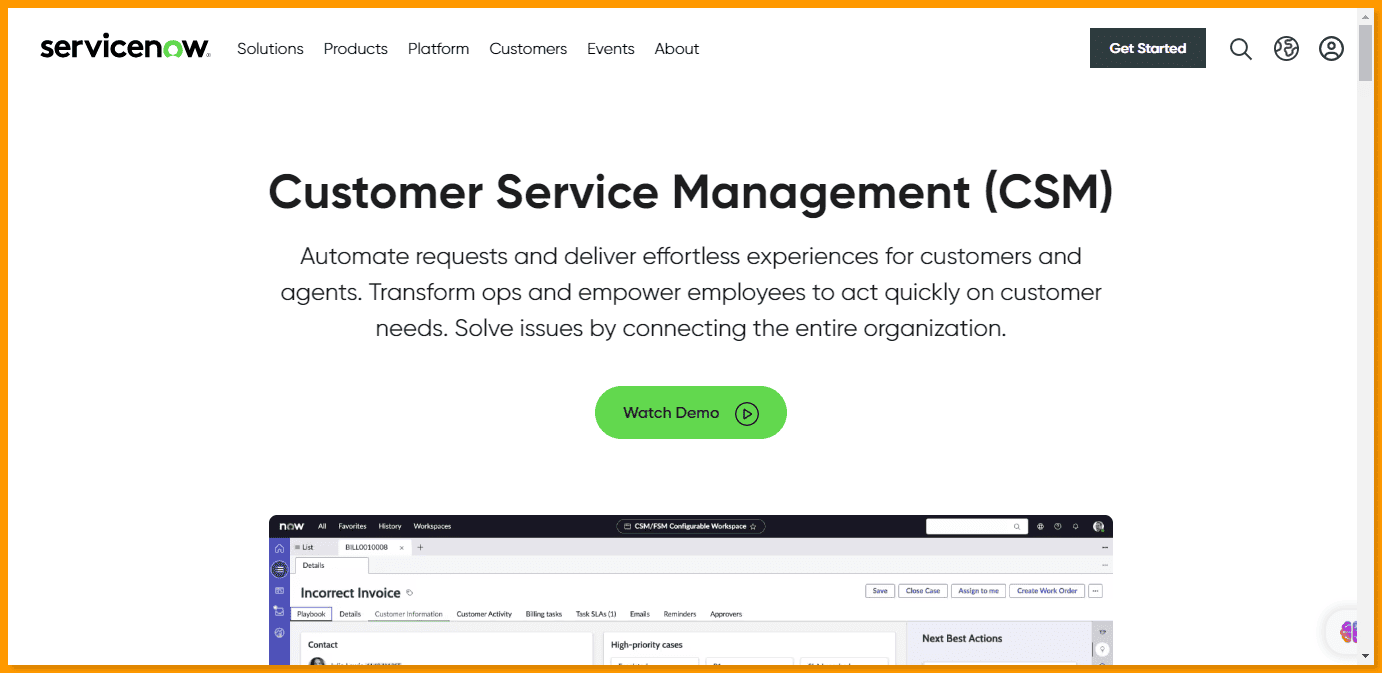 Notable Features
Agent Workspace

Self-Service

Engagement Messenger

Advanced work assignment

Task Intelligence

Virtual Agent
ServiceNow Pricing
ServiceNow has three pricing plans – Standard, Professional, and Enterprise. For specific pricing, you have to request a quote.
Pros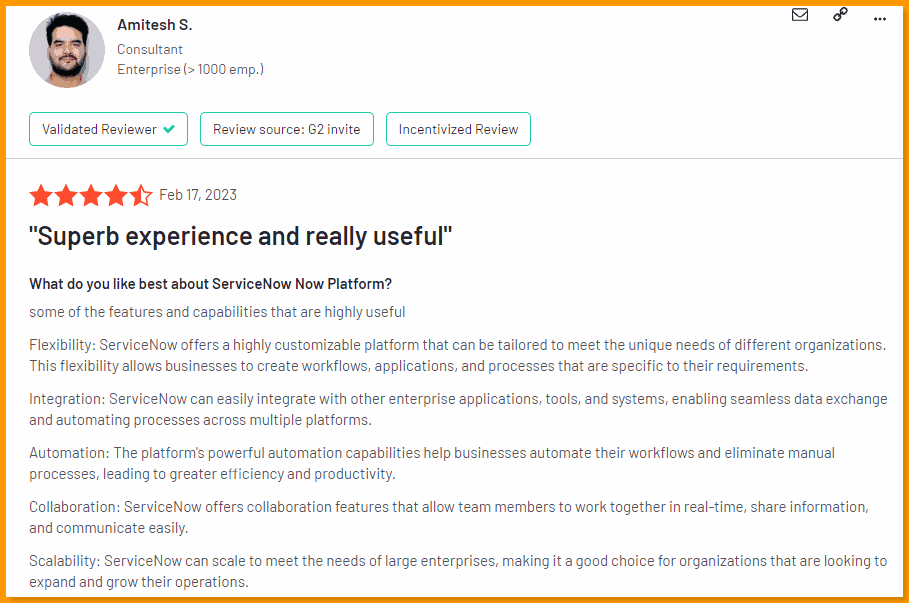 ServiceNow offers a great deal of collaboration features, and it's scalable. It also has a performance analytics solution that gives you detailed reports to track your team's performance.
Cons
Although you have to request pricing info, based on most users, ServiceNow seems pretty expensive. The platform is also hard to navigate.
Who's ServiceNow Ideal for?
It's ideal for enterprise companies
ServiceNow Customer Service Management Platform G2 Rating
Ease of Use: 8.1/10 stars

Quality of Support: 8.2/10 stars

Ease of Setup: 7.5/10 stars
16 Customer Service Tools for Great Retention Rates
#13. TeamSupport
TeamSupport is also one of the complete Zendesk alternatives in the market. Although it's a bit pricey and geared towards B2B and enterprise companies, it offers core features that any business would find useful.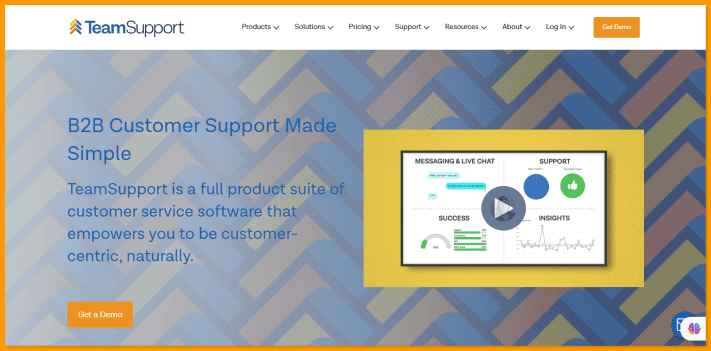 Notable Features
Customer Self Service

Omnichannel support

Product database

Ticket management

Customer management for B2B
TeamSupport Pricing
For the complete support features, TeamSupport has three pricing plans:
Essential Support – $49/agent/month
This plan has essential features such as ticket management, basic reporting, and ticket automation.
Enterprise Support – $69/agent/month
This plan offers additional features for complex support needs. It includes custom reporting, asset management, sandbox, and workflow management features.
Complete Customer Support Suite – $119/agent/month
This plan has advanced reporting features and unlimited integrations.
Pros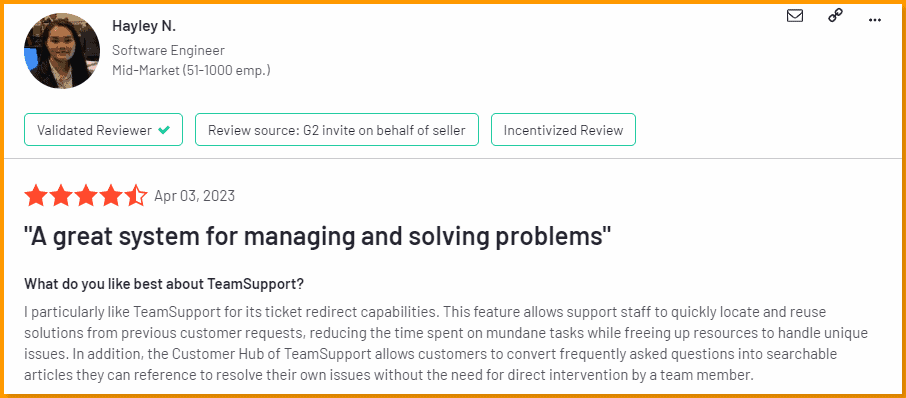 TeamSupport has one of the best ticketing software. The comprehensive analytics help you track your team's performance, and customers can resolve their issues directly from searchable help documents.
Cons

The biggest downside of TeamSupport, according to most users, is its user interface and the day-to-day workaround with its features, such as searching for tickets linked to a specific topic.
Who's TeamSupport Ideal for?
It's ideal for B2B and high-growth companies.
TeamSupport G2 Rating
Ease of Use: 8.8/10 stars

Quality of Support: 8.9/10 stars

Ease of Setup: 8.5/10 stars
9 Customer Management Strategies to Boost Loyalty
#14. Gladly
Gladly offers all core customer support features such as chat, knowledge base, email support, social media support, and task management. Its features are geared toward helping you move from a ticket-based support system to a customer-based one.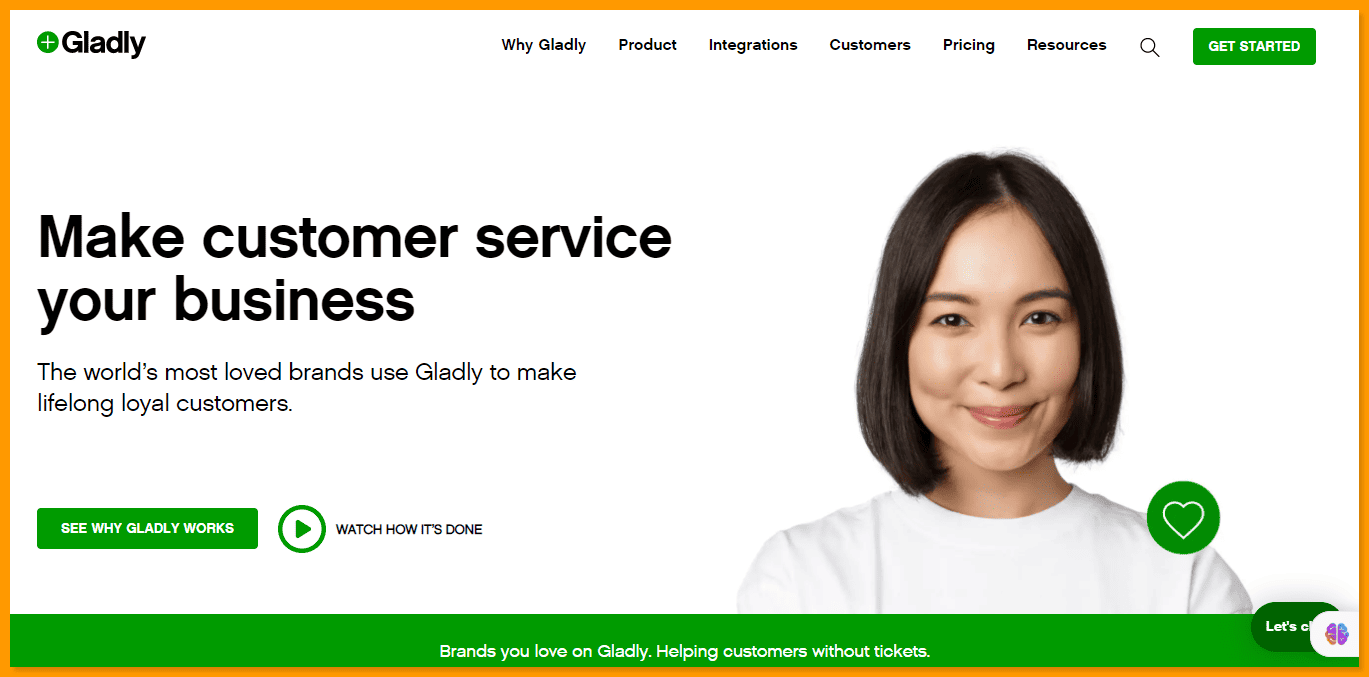 Notable Features
Conversation timeline

People match

Payments

Workforce management

Task management
Gladly Pricing
Gladly only has two pricing plans:
Hero – $150/support hero/month

Super Hero –$180/support hero/month
The plans include all the features. But the Super Hero plan adds custom reporting, increased API capacity, and offers premium support.
Pros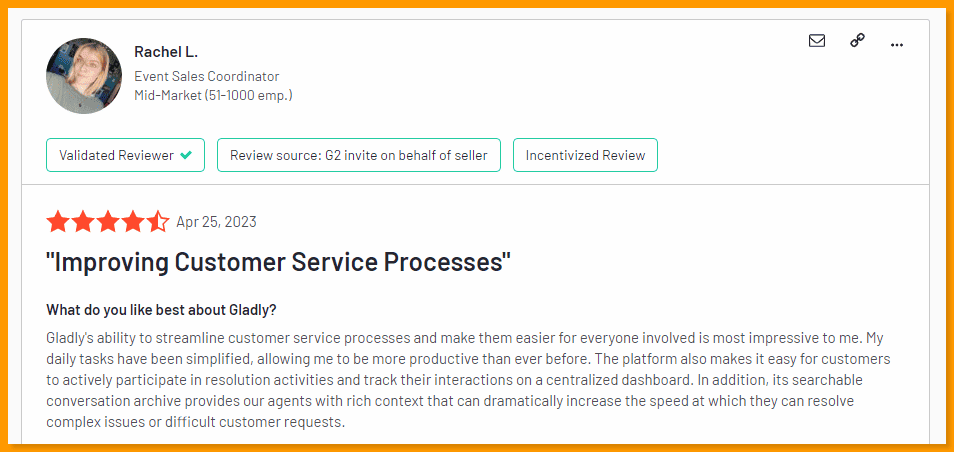 Gladly is easier to use and makes it easy to communicate with customers no matter the channel they are on. It improves customer experience and the customer support of most businesses.
Cons

Although it's powerful and easy to use, it's expensive. With the steep pricing, you'd expect to get advanced reporting, but you must pay separately.
Who's Gladly Ideal for?
It's ideal for consumer brands that serve customers with immediate support.
Gladly G2 Rating
Ease of Use: 9.5/10 stars

Quality of Support: 9.4/10 stars

Ease of Setup: 9.3/10 stars
How To Choose The Best Zendesk Alternative For Your Business
While you've narrowed down your options with this list of Zendesk alternatives, there are key factors to consider before making a final choice.
Below are specific points to keep in mind:
Cost
How much can you afford to spend on customer support software?
You'll need to budget for the initial subscription, implementation costs, training fees, and add-ons. This step can help you avoid investing in pricey software you can't sustain.
If you have a limited budget, it makes sense to go for software that has little to no miscellaneous costs beyond the monthly subscriptions and a few add-ons.
Functionality
Your needs play an important role in the software you choose. Make a list of your must-have features that'll help you achieve your business goals and another list of nice-to-haves.
The ideal software should provide your non-negotiable features and the ability to scale as your business grows.
Ease of Use
What are the skill level and roles of the people who'll use the help desk?
If the software is too complex, chances are your team may not use it to its fullest potential and may miss insights that could cost you a great deal of revenue.
7 Best Call Center CRM Software Tested and Reviewed
Wrap Up
While we've listed some Zendesk alternatives suitable for growing teams and large brands, some of them may not be suitable for a small business owner.
If you're a small business owner looking for an affordable Zendesk alternative that has powerful CRM features, EngageBay is a brilliant choice. You'll get automation, a ticketing system, a free help desk & live chat, and all other features you need to provide excellent support.
Sign up for free today and get access to a wide range of customer support tools for growing your business.