Growth is not only a goal but also a vital measure of success for any company.
However, as a small business, the path to achieving substantial growth can be daunting and uncertain. In a vast and competitive marketplace, it often feels like your company is operating in obscurity, with limited recognition and awareness among potential customers.
The truth is, building a brand and making a lasting impact can seem like an insurmountable challenge. How do you differentiate yourself from a sea of competitors? Where do you even begin to establish your presence and gain the attention you deserve?
Consider this: Even industry giants like Google and Apple were once obscure entities, grappling with the same predicament. They, too, faced the daunting task of making their mark on the world.
But through dedication, perseverance, and strategic efforts, these companies transformed from unknown startups to the household names they are today.
What sets these successful brands apart is their astute understanding of the importance of brand awareness. They recognized that building brand awareness is the cornerstone of any growth strategy.
By formulating and implementing a comprehensive brand awareness strategy, they were able to navigate the path to prominence and establish themselves as industry leaders.
Now, it's your turn. To unlock the growth potential of your small business, it's crucial to develop a robust brand awareness strategy.
This brand awareness strategy will encompass various elements, including targeted marketing campaigns, engaging content creation, compelling storytelling, and consistent brand messaging across multiple channels.
By carefully crafting your brand's image and strategically communicating it to your target audience, you can begin to build the recognition and trust necessary to propel your business forward.
Remember, your journey towards growth starts with how you build brand awareness. Let us help you unlock your company's true potential by developing a tailored brand awareness strategy designed to elevate your business and capture the attention of your target market.
Together, we can pave the way to a future where your small business stands out, thrives, and achieves the success it deserves.
What Is Brand Awareness?
As we discussed in the intro, brand awareness is just that. It's the effort of pushing your company to the forefront of people's minds through marketing, design, and customer service.
Perhaps you don't quite become a household name (at least not yet), but most people are at least aware of your existence.
It's a goal every small business aspires to, and one you want to achieve.
What Are the Benefits of Brand Awareness?
The more you see or hear about a brand, the more likely you're to visit its store or inquire about its service.
Brand awareness can have multiple effects on your business performance, and all for good!
Let us look at some of the advantages of building brand awareness.
Ongoing Brand Awareness Helps Build Customer Loyalty
Acquiring new customers is a costly affair. Retaining existing customers and luring them to repeat buying is crucial for the long-term sustainability of the business.
This is why brand loyalty is essential, as it helps create a sense of security for business.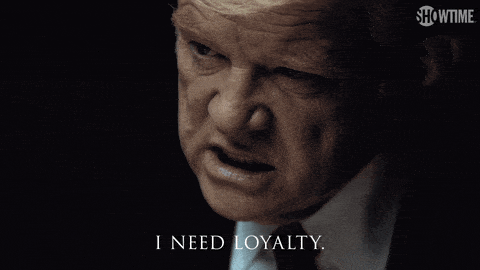 Once a customer buys from you, you find different ways to delight your customers and keep them engaged.
Using tools like newsletters, satisfaction surveys, and promotions help you stay in touch with them while building your brand awareness.
Brand Awareness Helps Makes Marketing Easy
One of the long-effects of brand awareness is that it can help replace generic terms with branded words.
For instance, how we use the term 'Xerox,' but in reality, it is a brand name that creates machines for photocopies.
When the brand name starts gaining popularity, consumers don't often differentiate between brands.
Brand Awareness Builds Brand Equity
Brand equity describes a brand's value, which is determined by customers' overall experience and perception of the brand.
Brand awareness is the foundation of brand equity.
The number of positive experiences that you build for your customer will help increase your brand value.
Read also: Understanding the 4 Key Steps to Brand Development: A Brief Guide
How to Establish Brand Awareness
Brand awareness is a long term effort and not something that happens overnight.
It is an ongoing process that requires more than paying customers.
To create a lasting impact on your audience's mind, you need to build a solid brand awareness foundation.
Here are a few ways to do it.
Create a Brand Identity
Let me ask you a simple question.
When you try to make a new friend, you pay attention to their likes and dislikes, habits, and much more.
Such is the case with your brands too.
To leave an impact, you need to define your company in terms that are more than just about your products.
There are companies that are well-known for their customer service rather than their product.
Socialize With Your Audience
Most often, brands only tend to interact with people when trying to make a sale or get support.
But if you truly want to build brand awareness, you can benefit from being on social media platforms.
Creating a presence online gives you the opportunity to interact with your audience by asking them questions, retweeting or sharing content, and commenting on posts.
Post on social media frequently.
It will help your audiences connect with your brand and build a rapport, leaving a lasting impression.
Tell a Brand Story
Rightfully said, storytelling is an art. If you want to attract real customers, tell a story.
People like to hear a story, and if they are able to relate to it, they are more likely to talk about the brand. While trying to build a brand image, you also build brand awareness.
The story could be about the founders or how your business had its first product idea.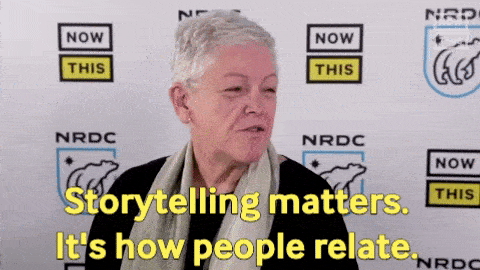 In fact, many businesses even have a story behind their brand name.
For instance, everyone knows how Steve Jobs started the company Apple from his garage.
It shows their determination and hard work, which can really connect with your audience. x
Make it Shareable
Be it your brand story, content, or product pages – make sure that it is easily shareable.
When a friend or family member shares your post or recommend your product or service, people will trust your brand.
They will search for your social media, product, and service to know more about your company.
When you make it easy to share stuff, consumers can help build brand awareness.
In other words, how you build brand awareness is all about how you interact with your audience.
Read also: 9 Types Of Branding And What They Really Mean
How Can You Measure Brand Awareness?
Brand awareness exposure doesn't happen overnight. By following the tricks and pointers we're about to share in this next section, you should see growth in fits and spurts.
The best way to track how you're progressing?
We recommend using analytics software.
From brand mentions on social media to website traffic and searches for your company name or product, these should all increase as your brand awareness campaign succeeds.
Read also: 8 Of The Most Clever Brand Extension Examples
Brand Awareness Tips, Tricks, and Pointers
1. Make an Infographic or Two
Let's start with a nice inbound marketing tip.
Infographics are shareable, appealing graphics that compress several points of information into one easy-to-reference image.
Any company's blog worth its salt has probably posted an infographic to support a stat a time or two. We do it all the time here on this blog.
Here's a brand awareness example in case you want to see one.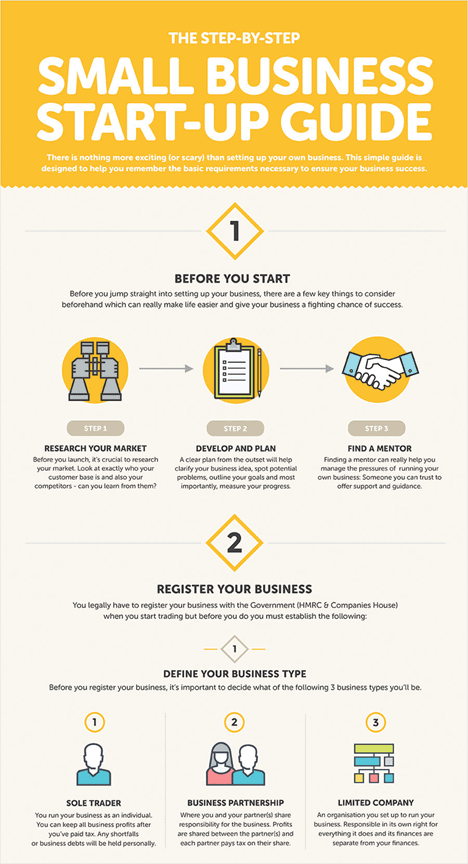 Image courtesy of Visme
While the above one doesn't do it, a lot of companies put their name at the bottom of the infographic as the source.
This says, "yes, this is my infographic." While you can and should share an infographic on as many sites as relevant, when other companies do that with your infographic, it's free publicity for you.
The readers of this other company's blog will see you made the infographic and maybe check you out to see what other nuggets of information you have to offer.
For even better protection, you could add a notice with a copyright symbol for your infographic. At LegalZoom, you can read how to use the copyright symbol.
According to 2018 data from HubSpot, infographics are insanely shareable.
In fact, compared to most content, the sharing rate of infographics is three times higher.
Making an infographic isn't as hard as it may seem.
There are plenty of free sites that let you design your own graphics.
Then it's just a matter of organizing your images so they're clear, punchy, and easily skimmable.
You'll want to write your copy clearly and easily digestibly as well.
Once you put it all together, your infographic is then ready to be seen by the world.
2. Post on Social Media Often
To increase your brand awareness marketing, persistence will be key.
You may not see the quantifiable results you were hoping for initially, but that doesn't mean you should give up.
This is especially true when it comes to the fast-moving world of social media.
At first, your Tweets, Facebook posts, and Instagram images might get drowned out by other posts.
This is especially true on sites like Facebook where the algorithm no longer favors businesses.
Still, you have to keep plugging away.
Whether you do it yourself or you use automated social media posting like that offered at EngageBay, you must post on social media regularly.
Maybe it's not daily, but at least a few times a week. This is true even if you're not getting tons of traffic to your social pages.
The traffic will come, but it can take time. Abandoning your social media pages because they're not netting you instant results is shooting your small business in the foot.
Today, every consumer expects a company to have a variety of social media profiles.
These must all be active. Finding a company's Facebook page and then seeing they last posted in 2017 leaves a bad taste in the mouth of consumers.
They will turn to the competition who post more often.
While it can be admittedly tricky to gain your momentum on social media, begin cross-promoting on your website and blog.
In email newsletters, link to your social pages.
Encourage your leads and customers to follow you. With time, those social media subscriber numbers will begin creeping up.
EngageBay offers email and newsletter templates to easily create and share templates among your whole marketing team.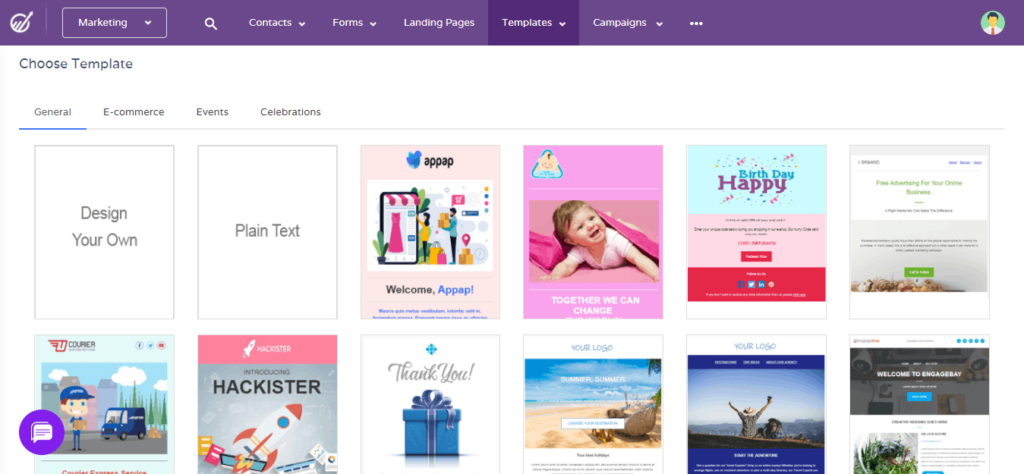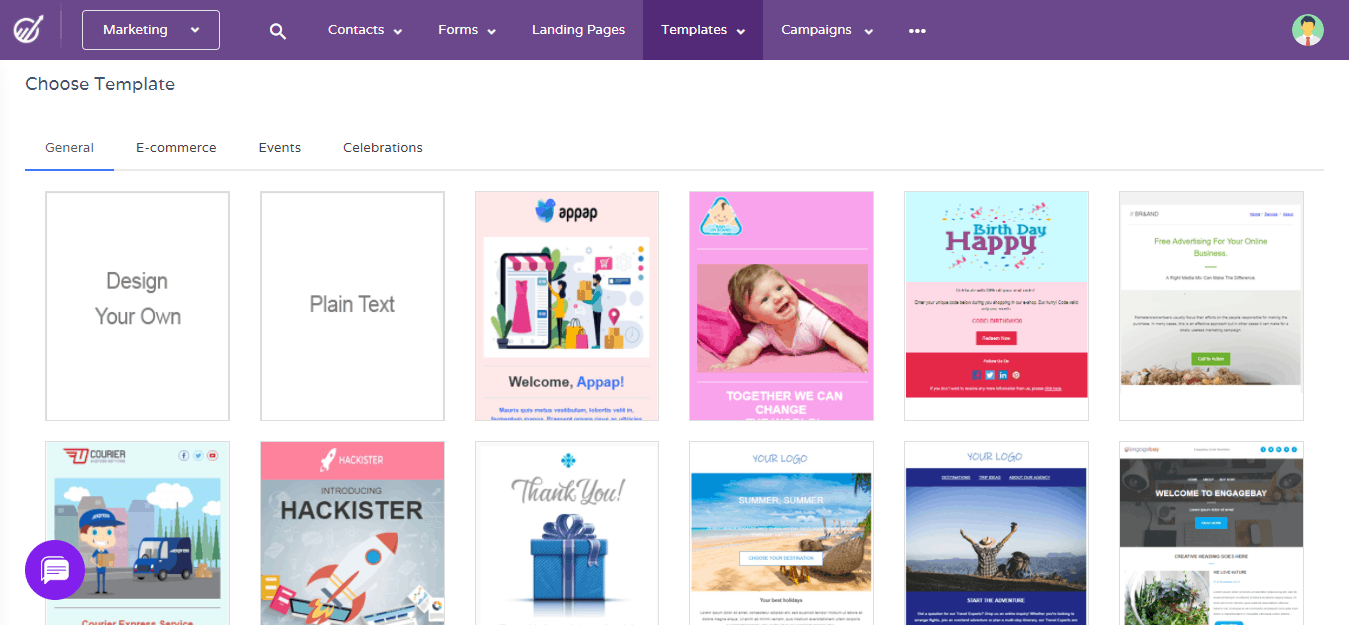 Another thing you can do to help further your company on social media is to respond to comments and message queries as soon as possible.
It doesn't have to be instantaneous, but consumers expect fast results on social media.
Make sure you keep up with those expectations.
3. Share a Variety of Content, Even If It's From Your Competitors
Do you know what the worst kind of social media business pages is?
Well, besides the inactive or dead ones?
Those pages where all the company shares are reposts of their blog content.
Scrolling through, it's an endless parade of links back to their site. It looks spammy.
Don't get us wrong.
It's absolutely imperative you share your blog content after you write it (more on your blog shortly). Social media is a great place to do that.
However, for a lively account that doesn't look like it's been taken over by bots, you need to post more than just links back to your site.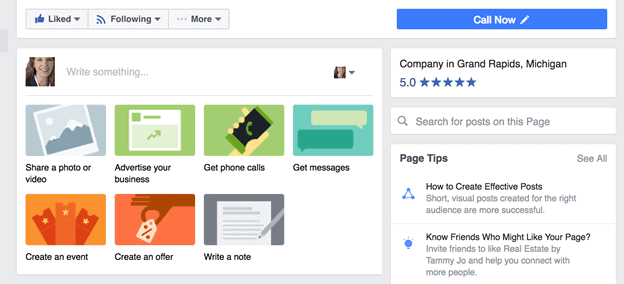 Image courtesy of Agorapulse
When you see something of interest you think your audience would appreciate it, post it!
Yes, sometimes this means sharing the content of your competitors.
This may seem counterintuitive to you at first.
After all, aren't you giving them free publicity?
In a way, you are. All you can do is hope this will someday result in free publicity for you as well.
Trust us when we say it's better for you in the long-run to share content from a variety of sources on your social media pages.
Don't believe us?
Change up your content-posting strategy and then check your analytics for the month.
Rich, varied content should outperform your current strategy of linking to your blog posts over and over again.
4. Create a Content Calendar and Stick with It
In the last tip, we talked a lot about sharing your blog content.
Hopefully, you have blog content to share.
If not, that's one of the first things you have to change if you want to increase your company's brand recognition.
Just like a dead or abandoned social media account isn't acceptable in the eyes of consumers, the same is true of a dead blog.
When customers find your blog and see it hasn't been updated in months, this comes across as careless to them.
If you can't take the time to update your blog, then how can you solve the customer's problems?
Don't be surprised if you lose these people to the competition.
Whether you post twice weekly, once a week, or every two weeks (no more seldom than that, though), you need an editorial calendar.
This is where you slot in which posts go where. You should also plan your posts ahead of time so you're not winging it every week.
That gets stressful fast, making you more likely to burn out and stop updating the blog.
You should certainly share your weekly blog posts on social media.
Link them in your email newsletters as relevant as well.
Encourage your audience to spread the article around.
What kind of blog content should you write?
Here are six types of posts to inspire you:
Entertainment Posts
We recommend you use entertainment posts sparingly.
They're good for off-weeks when you have no other ideas. If you know readership will be low for a week because it's a holiday, throw out an entertainment post as well.
These are supposed to be more funny than informative.
They have their place, but they should not be a pillar of your editorial calendar.
Media Posts
Oppositely, media posts are something you do want to write often.
These posts are rife with videos, original images, and infographics.
The media augments the copy, providing a comprehensive article that makes your company look authoritative.
These articles are also very shareable.
Cheat Sheet Posts
Another type of very shareable article are cheat sheet posts.
List posts would fall under this category.
These articles aren't often super detailed, but they're easy to read. That appeals to busy customers.
Personal Spotlight Posts
Who in your company is doing exemplary work?
You can highlight them and their achievements in a personal spotlight post.
While you won't write these kinds of articles maybe more than once or twice a year, they're good to have.
Personal spotlight posts satiate your audience's natural curiosity for a behind-the-scenes glimpse into your small business.
Instructional Posts
While cheat sheet posts may not go into a lot of detail, that's not true of an instructional post.
These tell you everything you need to know about doing a certain task, including items you might need and steps to follow.
Newsjacking Posts
A marketing buzzword that's catching steam is "newsjacking."
This simply means taking a recent news item and making it applicable to your company.
It's not easy, but if done right, it can get you a lot of traffic.
Do keep in mind that this traffic boost is very short-term since the life of a news story is often short.
If you need yet another content idea, you can always try…
Read also: Content Marketing Funnels: Unlock Your Brand's Potential
5. Write Expert Roundups
Sometimes the best way to get your own name out there is to put other people's names out first. Writing an expert roundup will do just that.
What is an expert roundup?
It's somewhat self-explanatory.
You pick a topic, like marketers who are changing the face of B2B marketing.
Then you'd do some research, find 20 or 30 such marketers, and write a small blurb about each of them.
You'd also attach the social profiles for each marketer and include a headshot.
That's just one example of an expert roundup.
You might want to slot these posts into your editorial calendar at least quarterly.
One perk of writing an expert roundup is it's quite easy.
You'll spend more time researching which people to include than anything else.
The biggest benefit is how you can increase your small business brand presence.
You may be wondering how, especially if you're writing about other people and not yourself?
It all has to do with outreach.
Once the article is published, you can reach out to every marketer on your list via email.
In the email, you'll want to include a link to the article and ask if the marketer wouldn't mind sharing it with their audience.
If the marketer does agree to share the article, then great!
That benefits you. For every marketer that shares, your company could be introduced to 20 or 30 new audiences at best.
Even if only a few marketers agree to share your expert roundup, that's still plenty of fresh, free exposure for your small business.
6. Always Test Your Headlines Before Publishing/Sending
In marketing, your first impression isn't a handshake.
It's the headlines of your emails, blog posts, and even landing pages.
If these headlines aren't phenomenal, then you'll fail to make a good first impression.
That often means a lead will go elsewhere.
How do you ensure you can make the best possible first impression?
By testing your headlines.
When data site Priceonomics tested out their headlines, they came to a common conclusion: the tested headlines performed better.
Here's a chart of their experience.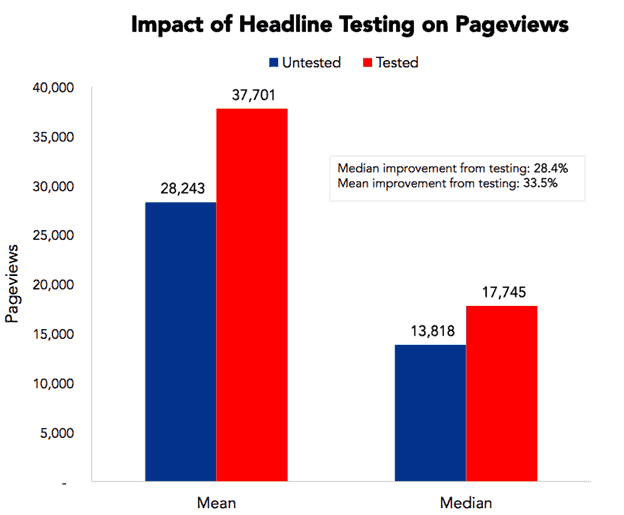 Priceonomics says that, compared to untested headlines, articles that underwent A/B testing had more page views, roughly 34 percent more.
This is not unusual. If you're not already A/B testing your headlines, you need to start like yesterday.
One great way to do this is to write as many relevant headlines as you can for a blog post, email, or landing page. This may be 10 or it may be dozens.
Then, pass the list of potential headlines among important decision-makers in your company.
Let them narrow it down to a handful of good ones. A/B test each headline. The one that performs best is your headline to use.
This may sound like a lot of work, but it's worth it.
While you may not always see a 34-percent spike in page views, your page views will increase nonetheless.
Build appealing landing page and easily monitor how it is performing – number of visitors and conversion rate.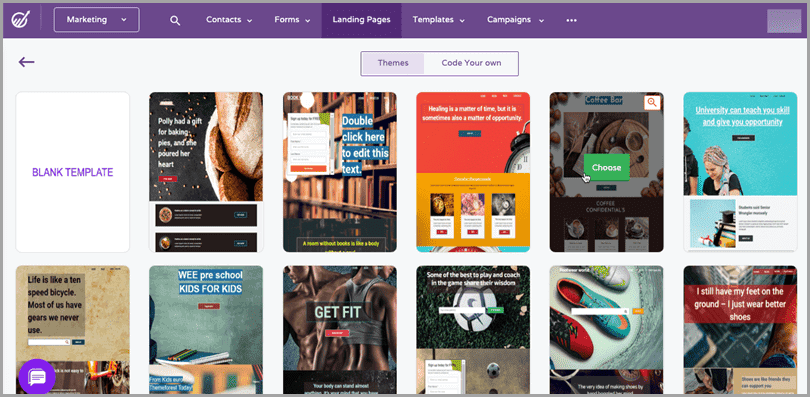 7. Use Targeted Social Advertising
The above methods have all been relatively free until now.
You'd have to pay for email automation for outreach, social media software, and A/B testing if you don't have those services. Otherwise, our other tips haven't cost a cent.
Now let's get into a paid method: targeted social advertising.
This is a lucrative area for sure. Hootsuite says that, by this year, companies will drop $17.34 billion on social media advertising.
Whether it's well-placed ads on Instagram or a Facebook newsfeed, targeted social advertising can help you get your name out.
These days, all the big social media platforms have their own advertising systems.
You decide how much you're going to pay, what kind of ad you want, and even who sees it.
It's a completely controlled environment that puts a lot of the power in your hands.
Before you can succeed in targeted social advertising, you need to have first created customer personas.
Some people call these avatars. With these personas, you're organizing your audience into buckets based on certain criteria.
What's the customer's gender?
Where are they located?
What is their job and how much money do they make a year?
Why do they need your product/service (pain points)?
You can then use this data to determine who would be most receptive to your advertising.
Next, you have to figure out which social platform most of your audience is using.
If it's several, you'll have to buy ads on each platform.
Now comes the step you have to put arguably the most effort into the ads themselves.
Like we mentioned, most social media platforms let you create your ads from the ground up, giving you plenty of customization options.
Make sure the ad is as appealing as possible, both visually and in terms of copy.
A/B test several versions of the ad to pick the best one.
Don't forget to track your analytics to see how well the ad performed once it goes live!
8. Partake in Influencer Marketing
Influencers are important people. They have a large audience of followers who listen to their suggestions.
If an influencer says to try a product, then most of their audience will.
If that product happens to be yours, then you've got it made in the shade.
That's why you should consider influencer marketing on your road to getting more brand awareness.
What exactly is influencer marketing?
Good question!
This is when you set up an arrangement with an important figure to get your products/services out to a bigger audience.
How do you even find an influencer to work with?
Well, first we recommend you do some homework.
Make a list of influencers whose work gels with yours.
Jot down their contact information, too, as you're going to need it.
Now you want to craft a great pitch to get them to work with you.
Some influencers just need an inspiring story to agree to share your products/services among their audience.
Others will require payment if you want to work with them.
It all depends on who the influencer is and how big their reach is.
As a small business or startup, you may have to budget for influencer marketing, but it can be a worthwhile venture.
9. Write and Accept Guest Posts
Above, we discussed the concept of expert roundup.
If you want to create content in a similar vein, then try writing and accepting guest posts.
As the name tells you, guest posts are slotted into your editorial calendar but are written by someone else.
Guest posts are two-sided free exposure. When you post someone else's content on your blog, you give your audience a new company to look into.
It's then generally agreed upon that the other company will let you write for them.
This introduces you to many new leads and potential customers from the other company's audience.
If you often get stumped on what to include in your editorial calendar, guest posts are great.
They buy you more time between your own articles.
That said, you may be doubly busy with content as you craft great guest posts to go on other company's sites.
To begin a guest post arrangement, find several marketers or entrepreneurs whose sites you enjoy.
Write them a pitch email, showing some of your past work and imploring you two enter a guest post-deal.
Make sure you outline what the benefits of the arrangement will be.
If you're lucky, the other party will be as interested in working with you as you are working with them.
If not, keep trying until someone agrees.
10. Make Interactive, Shareable Content
Everyone knows Buzzfeed.
While they are a reputable news site, just as many people use the site to kill time with their addictive quizzes.
According to quiz company Outgrow, when people begin a Buzzfeed quiz, almost all of them (96 percent) will see it through to the end.
That may be for a few reasons.
Perhaps the user wants to prove their intelligence (if it's a knowledge quiz) or they're curious about what result they'll get (you know the standard Buzzfeed "what animal are you?" or "will you be single for Valentine's Day?" fare).
Regardless, it seems that interactive content like quizzes really do appeal to most people today.
If you can make a quiz that goes even semi-viral, you could find that more consumers become aware of your company.
You may not reach Buzzfeed fame overnight, but you'll get some name recognition.
There are plenty of free resources out there to begin making your own quizzes, so what's stopping you?
Read also: Here's What Micromarketing Means, and How It Can Help
Conclusion
Every company, regardless of its size, strives for increased brand awareness as a key driver of sales growth.
While it's the small startups and businesses that often hunger for greater exposure, the path to achieving it may initially seem insurmountable.
But take heart! The truth is, achieving significant brand exposure is not an unattainable feat. With the tips and pointers provided above, you can embark on a journey to spread the word about your company more successfully than ever before.
By implementing a well-crafted brand awareness strategy, you can overcome the challenges of obscurity and make meaningful connections with your target audience.
Remember to leverage the power of digital marketing channels, create engaging and valuable content, and maintain a consistent brand identity across all touchpoints.
These efforts, when combined with an understanding of your audience's needs and desires, will position your brand in front of the right people at the right time.
Additionally, embrace the power of storytelling to captivate your audience and forge deeper connections. Share your unique brand narrative, your mission, and the value you bring to customers' lives.
By effectively communicating your brand's story, you can elicit emotional responses and foster loyalty among your customers.
Moreover, don't overlook the power of partnerships and collaborations. Seek opportunities to team up with complementary businesses or influencers in your industry.
By leveraging their reach and credibility, you can tap into their existing audience and expand your own brand's visibility.
Remember, building brand awareness is an ongoing journey that requires persistence and adaptability. Stay open to learning, analyze the results of your efforts, and refine your strategies accordingly.
Celebrate your successes along the way, but also embrace the lessons learned from any setbacks.
So, let this be the turning point for your company. Embrace the possibilities and seize the opportunity to elevate your brand awareness to new heights.
With dedication, perseverance, and the tips provided, you can confidently navigate the path to greater exposure and ensure that your company's story is heard by the audiences that matter most.