Intercom is a customer service platform backed by AI designed to save teams more money and time. It's received nods from Capterra, TrustRadius, and other major names in aggregate reviews, but does that make Intercom a solution a startup like yours should use?
You can't answer that question without first investigating the cost of this service. After all, many small businesses have a shoestring budget and need low-cost or no-cost solutions.
This guide will provide a complete profile of Intercom, including its services, the industries it serves, and–most importantly–its pricing.
We'll also include reviews from real users to help you decide whether to proceed with Intercom or try a competitor.
Intercom Pricing: Peeling Back the Curtain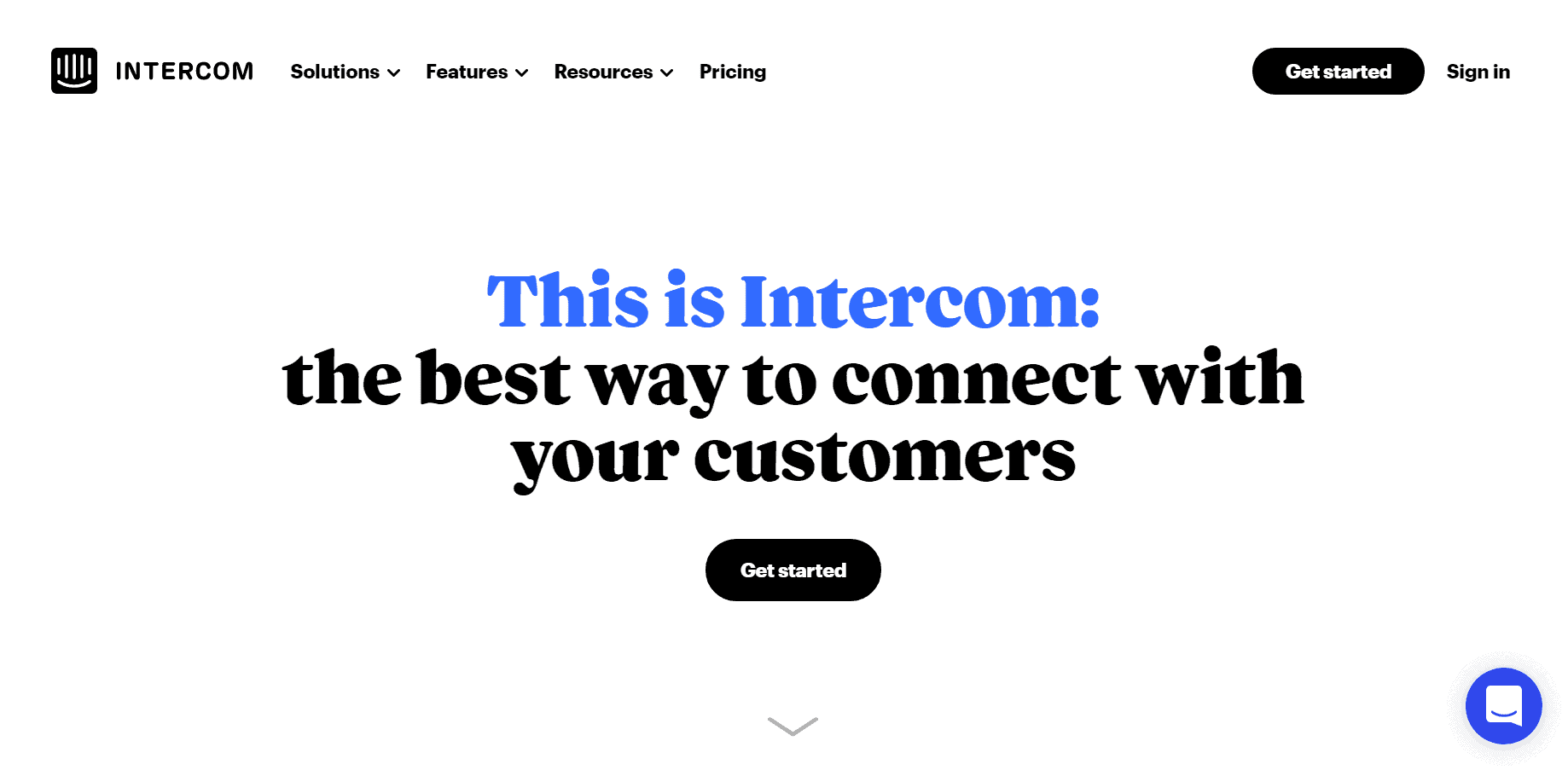 We won't make you wait any longer. Here is the pricing information for Intercom.
Starter Plan
The Starter plan is the least expensive of the three, beginning at $74 a month. Intercom states that this plan is designed for small teams with an existent support platform they wish to supercharge.
The Starter plan includes chat and email support and training webinars. You can also use these permission and security features:
Manual conversation restrictions
Activity logs
Basic permissions
Google SSO
Two-factor authentication
Communicate using push notifications, website messages, posts, outbound emails, and in-app chat. You also gain access to help center features like article reporting, a custom help center domain, and unlimited collections.
The Starter plan includes these automation features:
Lead qualification bot
Article suggestions
Bot targeting and bot rules
Conversation routing bot
Basic workflows
Finn, Intercom's AI service
You can also use the following conversation management features with the Starter plan:
Saved replies
Conversation tag rules
Assign or snooze conversations
Office hours
Custom inbox views
Single Inbox
Under the Starter plan, Intercom works with these integrations: GitHub, HubSpot, Mailchimp, and Pipedrive.
Pro Plan
The Pro plan is Intercom's most recommended (by them) and offers custom pricing.
According to Intercom, it prices its custom plans by three criteria. The first is how many seats are required, aka how many users or teammates use the service.
The second criterion is the number of people your service reaches. If you've sent an outbound message to a lead or customer in the last 30 days, that counts as one person you've reached.
The third factor is resolutions. Fin will help your small business generate more high-value outcomes, which are resolutions. Thus, you pay for each one.
The Pro plan includes everything in the Starter plan and these features:
Salesforce, Instagram, Facebook, and Zendesk Support integration
Teams dashboard
Conversation topics
Unbranded Messenger
Private help center
Multilingual help center
Round-robin assignments
Team macros
Inbound chat rules
Priority rules
Assignment rules
Advanced visual builder for workflows
Premium Plan
The third pricing plan under the Intercom umbrella is the Premium plan. This also follows Intercom's custom pricing model, using the same criteria outlined above to determine the cost of monthly subscription.
The Premium plan should cost more than the Pro plan because it includes exclusive features, such as:
Salesforce Sandbox support
Real-time monitoring
Custom reports
Customized Launcher logo
Workload management
SLA rules
Teammate inactivity
Team reply time
Team-level office hours
Turn off attachments or gifs
You can try the Starter plan for free and request a Pro and Premium demo. You can also contact Intercom about pricing specifics for either of those plans before committing.
Add-Ons
Besides its base pricing plans, Intercom also has add-ons to make it an even more efficient tool. The Pro and Premium plans feature the most add-ons, but the Starter plan has a few.
Here is an overview of the add-ons Intercom offers:
Multibrand Messenger
HIPAA support
Third-party identity manager/SSO
Custom role permissions
Role-based conversation restrictions
Custom API rate
Static audience targeting
Dynamic audience targeting
Custom email templates
Product tours
Surveys
Posts
Banner messages
In-app chat
WhatsApp integration
Full Intercom Review: Features, Integrations, and More
Now that you have a complete picture of Intercom's costs, let's take a deep dive into its features and integrations so you can decide if this service is worth the money.
Customer Data
Intercom is a customer data platform that syncs between your tech stack for an instant, easy team communications.
You can glean conversation data, including customer urgency or attributes, to determine which leads and customers to prioritize first.
Behavioral data indicates what a customer might do next, while company data shows information such as spending, location, and business type.
Custom data includes parameters you set for data that matters to your small business.
Intercom also enables users to target audience segments according to criteria like action or inaction and uncover contexts such as call or chat records to serve recurring customers and warm leads better.
Customizable Messenger
One of Intercom's starring features is its Messenger. Build this from the ground up, selecting the content, layout, and style according to your brand and customer preferences. Better yet, you needn't have to understand coding to configure Messenger as you like it.
Once you've created your ideal Messenger, integrate it into your website or product to enhance engagement.
According to Intercom, using its messaging increases engagement by three to four times more than email. You can also expect a 68-percent first-time response rate.
Knowledge Base
Intercom's help center is designed to bridge the gap between customer service working hours and customer needs. Your audience can access your rich, diversified knowledge base to find tips and answers to their burning questions.
You can incorporate the knowledge base into your chat, in-product messages, mobile app, or website, including multilingual articles.
Inbox
Intercom's team Inbox unifies your channels to bring your team together. The Inbox syncs with Slack, Stripe, Salesforce, Jira, and more, so you can see Intercom customer data and interactions on one dashboard.
Customize and configure the Inbox, and utilize features such as routing automation, workload management, SLAs, help content, macros, and ticketing.
Automation
Intercom's AI tool, Fin, is the backbone of the service's automation. Fin is powered by OpenAI technology and is adept at answering questions and addressing concerns. You can provide Custom Answers to Fin, which the AI will use when appropriate.
You can also create custom automation workflows according to desired rules, conditions, triggers, and bots without prior coding knowledge. This omnichannel feature is also multilingual, with support for 43 languages.
Mobile App
Take Messenger with you when you download the free Intercom app. Send business messages to your audience, use a Resolution Bot, redirect your audience to articles, and generate custom carousel screens within the app.
The Intercom app is available for Cordova, Reactive Native, Android, and iOS devices.
Integrations
Intercom works with more than 1,000 apps. Besides those mentioned earlier, here are some others:
Salesforce
Marketo
NetSuite
Box
Workday
ServiceNow
Snowflake
HubSpot
Zoom
Adobe Admin
Amazon SES
ClickUp
Read also: 13 Robust Intercom Alternatives To Transform Your CX
Who Is Intercom Best For?
Is Intercom the right service for your startup?
More than 25,000 businesses rely on Intercom, and they come in all shapes and sizes, from Angi to Frame.io, Outschool, Coda, Rugs.com, Code for America, Vend, and H&R Block.
Small businesses can benefit from using Intercom, especially its Starter plan, designed for tinier teams. SMBs and larger companies will have the capital and demand for a more encompassing plan like the Pro or Premium plans.
An all-in-one service like EngageBay will suit small businesses and companies feeling doubtful over Intercom's vague pricing beyond the Starter plan.
EngageBay is a service-based tool like Intercom with features for sales teams and marketers. Its free CRM will help you organize and optimize your contacts, storing relevant data to streamline and strengthen communications from your sales and marketing departments.
You can also use sales and marketing automation to win back hours of your day, which adds up to more time saved over weeks and months.
Read also: Top 11 Sales Tools For Effective Lead Generation
Comparing Intercom Pricing Against Its Competitors
Is Intercom the most cost-effective tool of its kind on the market? We've put together this table so you can quickly compare its prices against other viable alternatives.
| | |
| --- | --- |
| Software | Pricing |
| Intercom | $74 a month for the Starter plan, custom pricing for the Pro and Premium plans |
| EngageBay | All-in-One plan pricing: Free for $0, Basic for $12.74 per user per month, Growth for $42.49 per user per month, and Pro for $84.99 per user per month with annual billing |
| Help Scout | Standard for $20 per user per month, Plus for $40 per user per month, and Pro for $65 per user per month with annual billing |
| Zendesk | Suite Team for $49 per user per month, Suite Growth for $79 per user per month, and Suite Professional for $99 per user per month with annual billing |
| Freshdesk | Free for $0 for 10 agents, Growth for $15 per user per month, Pro for $49 per user per month, and Enterprise for $79 per user per month with monthly billing |
| HubSpot Service Hub | Professional for $450 a month and Enterprise for $1,200 a month with annual billing |
Read also: 50+ Call Center Software Explained (All Use Cases)
Verified User Reviews – Is Intercom Right for You?
If you're still on the fence about whether Intercom will solve your business needs, we've compiled a collection of eye-opening reviews of the service. These reviews are a mix of positive and negative to cement the benefits and downsides of this software.

One G2 user had this to say about using Intercom:
"The best thing I like about using Intercom is that you can have an automated chatbot to free the company from repetitive questions from our customers and to help businesses communicate with them in real-time. It is also designed to support not just chats but also emails, so it helps the company maximize the team's efficiency. It is easy to use and a great communication platform."
A Capterra user highlighted these upsides of Intercom:
"In a few words, using Intercom is such a wholesome experience with zero to non competitor in the market who can compete with his top notch features and constant improvements. There is always something new in the works to make it even more useful."
However, they also mentioned these issues:
"The overall quality of the SaaS is very good, but the price you have to pay for everyone of the features is a bit too much compared to what is offered from the competition, don't get me wrong, being at the top of the list comes with a hefty price tag."
A five-star review from G2 lauded Intercom this way:
"The intercom is simple to operate. The tool is straightforward for new users because it contains essential information and is quick to navigate. I can make a comparison between the intercom and another email application that we use. It dramatically aids customer service by giving excellent client satisfaction through its quick features and user-friendly layout, such as the valuable and entertaining bot."
A G2 user who rated Intercom five stars shared their thoughts: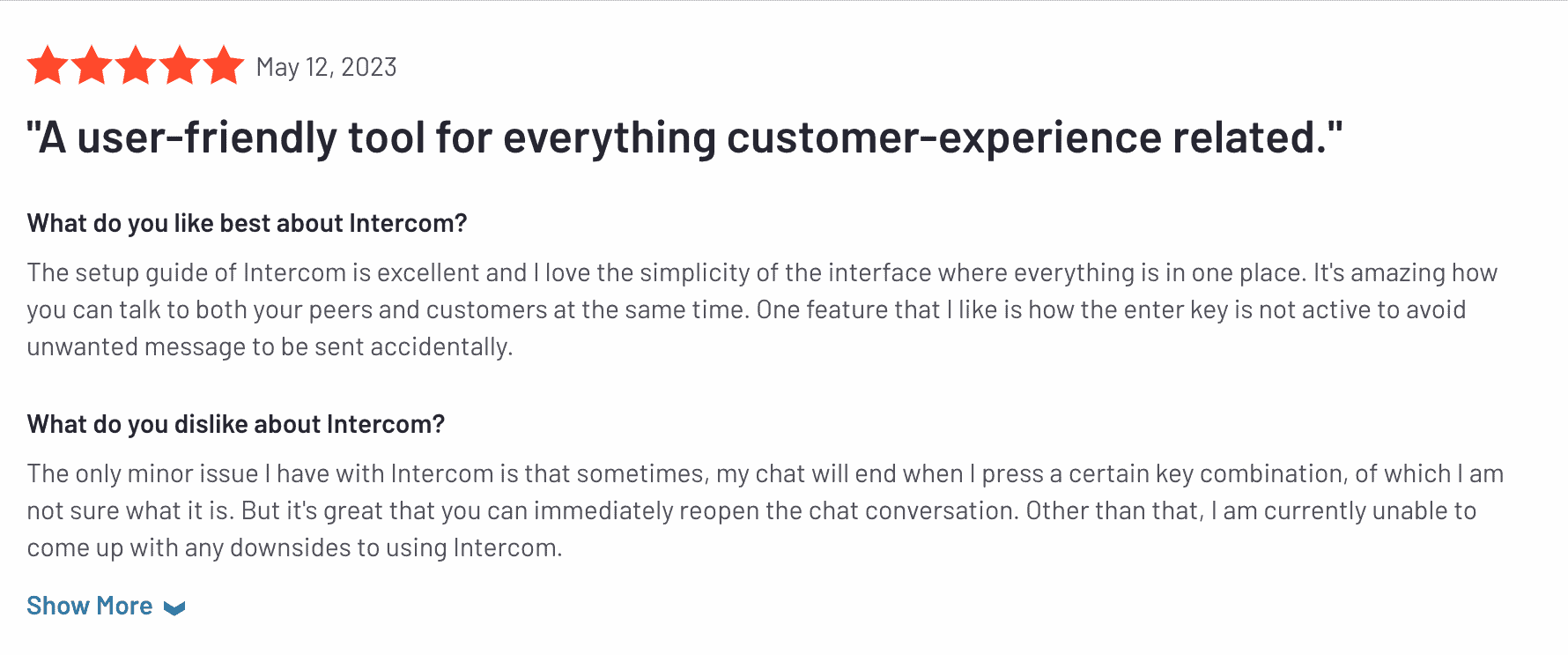 Another unhappy Intercom user added their words:
"Their pricing, sales and support is built up to scam you. They lock you in with 12 month contracts, not possible to cancel. Then we didn't need the plan we had and we just wanted to downgrade to the basic starter plan that they promote on their website, but Intercom sales told us, that to downgrade to Starter, they would delete our account and all data and we need to create a new account. Like WTF???

They force you to include features even if you don't need them, telling that it's not possible without those, but in the invoice you have rows for those features. They told us that we don't have to pay for users, only need to pay users that use certain specific features. When the invoice arrived, they charged for all the users. And the list goes on and on…"
Read also: 12 Best Customer Lifecycle Marketing Software
Conclusion
Intercom is a customer service platform with automation, AI, a knowledge base, custom messaging, and a wealth of integrations to make its use simple. Its pricing plans are customized except for the basic plan, which can give some businesses pause.
Users have had much to say about Intercom, but the reviews are admittedly mixed. Those who have taken umbrage with the tool report many problems, including impossible-to-cancel contracts.
There's no need to continue deliberating. EngageBay is an all-in-one marketing, sales, and service solution that keeps its pricing transparent. With a free CRM and a forever-free plan, it's more cost-effective than Intercom!