Intercom is a popular customer support software, but it has some issues. Users complain of gated features that shouldn't be gated, subscription management practices that can be better, and support (ironically) that needs much improving.
If you've come across any of these issues and you're looking for a better alternative to Intercom for your business's customer support needs, this is a swell place to end your research.
This guide will detail 13 Intercom alternatives that offer the same features, from customer support tickets and live chat to email automation and more. Here's the list:
Zendesk
Freshdesk
EngageBay
Help Scout
HubSpot Service Hub
Front
Zoho Desk
Tidio
LiveAgent
Drift
LiveChat
ClickDesk
Olark
But first, let's start with an overview of Intercom.
What Is Intercom?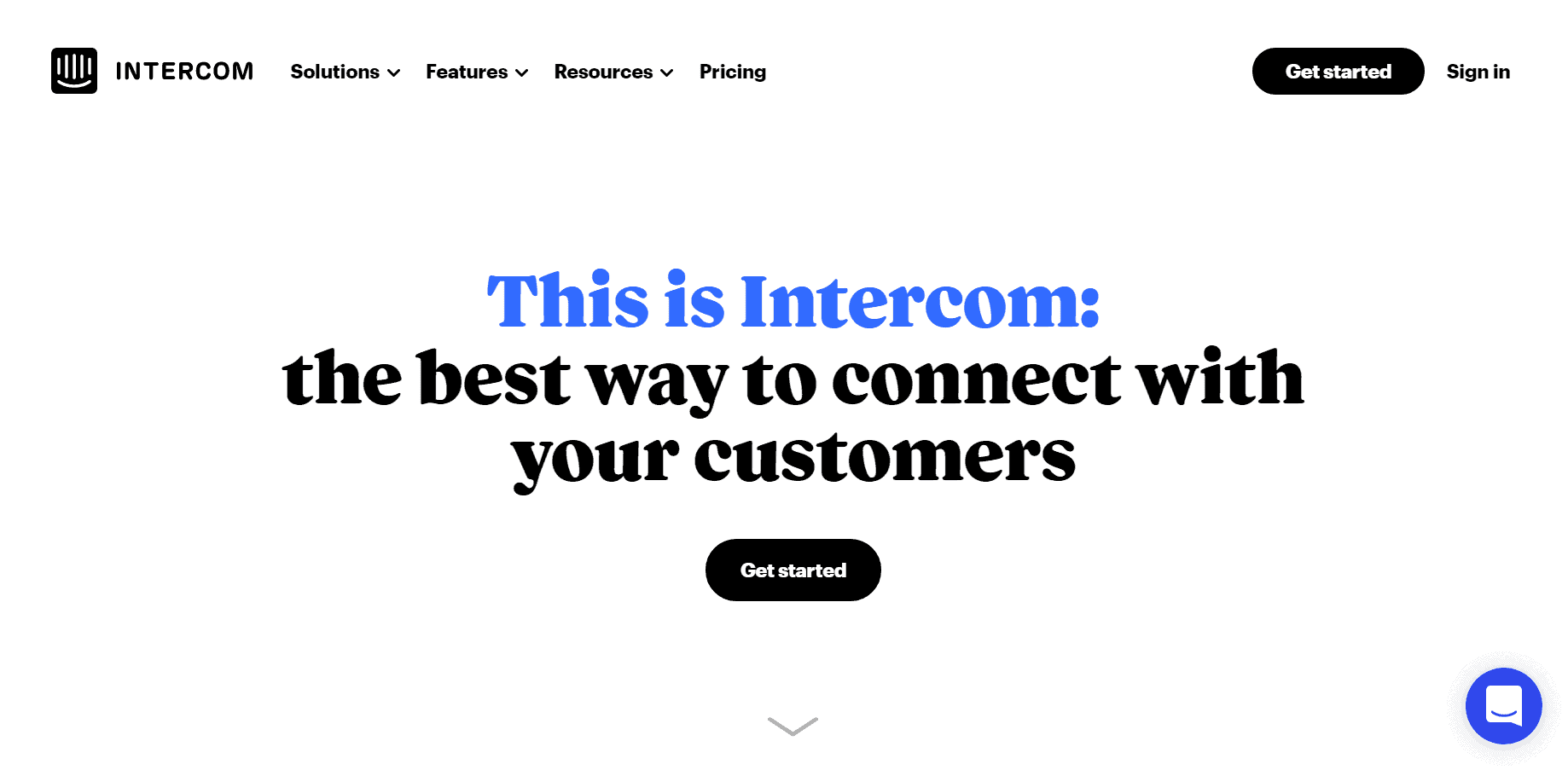 Intercom is a customer service platform that's now offering Fin, an AI chatbot designed to reduce the rate of support questions for your customer support teams. Intercom can help you boost engagement, elevate support speed, and increase conversions.
More than 25,000 businesses rely on Intercom, including Amazon, Culture Amp, Code for America, Meta, Contentful, Inter, Atlassian, Living Space, Guru, and Udemy.
Intercom Features and Pricing
Let's review key features to help you better understand what Intercom brings to the table. This section will also explore Intercom pricing.
Features
Knowledge base: You know the saying, knowledge is power. One of Intercom's strongest points is its knowledge base. You can contribute tailored articles to the knowledge base to provide information to your audience without them having to call or email to get it. This frees up your support team for more pressing matters.
AI: Fin is Intercom's AI bot that promises to resolve half your support questions. Its advanced language algorithms allow Fin to step in and answer questions for your customers sufficiently and accurately. Fin has support for several languages.
Shared inbox: Teamwork gets it done, which is why Intercom offers a shared inbox for your sales, marketing, and service teams. Configure this fast-loading inbox to work for your company's needs.
Automation: The automation workflows within Intercom use rules, triggers, and conditions for a fully customizable tool. You needn't understand complex code to use the automation feature.
Messenger: Another starring feature of Intercom's platform is Messenger, a fully custom, branded solution that can convert leads, improve loyalty and engagement among current customers, and deepen long-term customer bonds.
Data platform: Intercom's data platform unifies behavioral, company, and conversational data. You can even customize datasets to measure the KPIs your business relies on.
Pricing
Intercom prices its services with three plans to choose from. Here's a breakdown.
The Starter plan begins at $74 a month and includes basic features like saved replies, titles and ticket IDs, behavioral and company data, a basic help center, shared inbox, email and chat channels, Messenger, and Fin AI.
The Pro plan has custom pricing. This plan is designed for businesses that want to scale up with "personalized support," as Intercom puts it. The plan includes robust features like Salesforce integration, a multilingual help center, Messenger phone deflection, automation workflows, chatbot workflows, assignment macros and rules, ticketing, Fin AI, and a Teams inbox.
The Premium plan is the most expensive, but it uses custom pricing. This plan unlocks access to the Salesforce sandbox, third-party SSO and identity management, team-level workflows, custom real-time reporting, workload management, role-based permissions, SLA rules, and Fin AI.
The custom prices are calculated by the number of people reached (through outbound emails), the number of users, and how many resolutions Fin solves. A resolution is a high-value outcome. You can sample the Starter plan with a free trial or try a demo of the Pro or Premium plans.
Read also: Top 11 Sales Tools For Effective Lead Generation
Intercom Pros and Cons
Before you make up your mind on Intercom, don't miss these pros and cons.
Pros
Designed to save time through automated features and Fin AI
Straightforward and easy to use
Strong email and chat features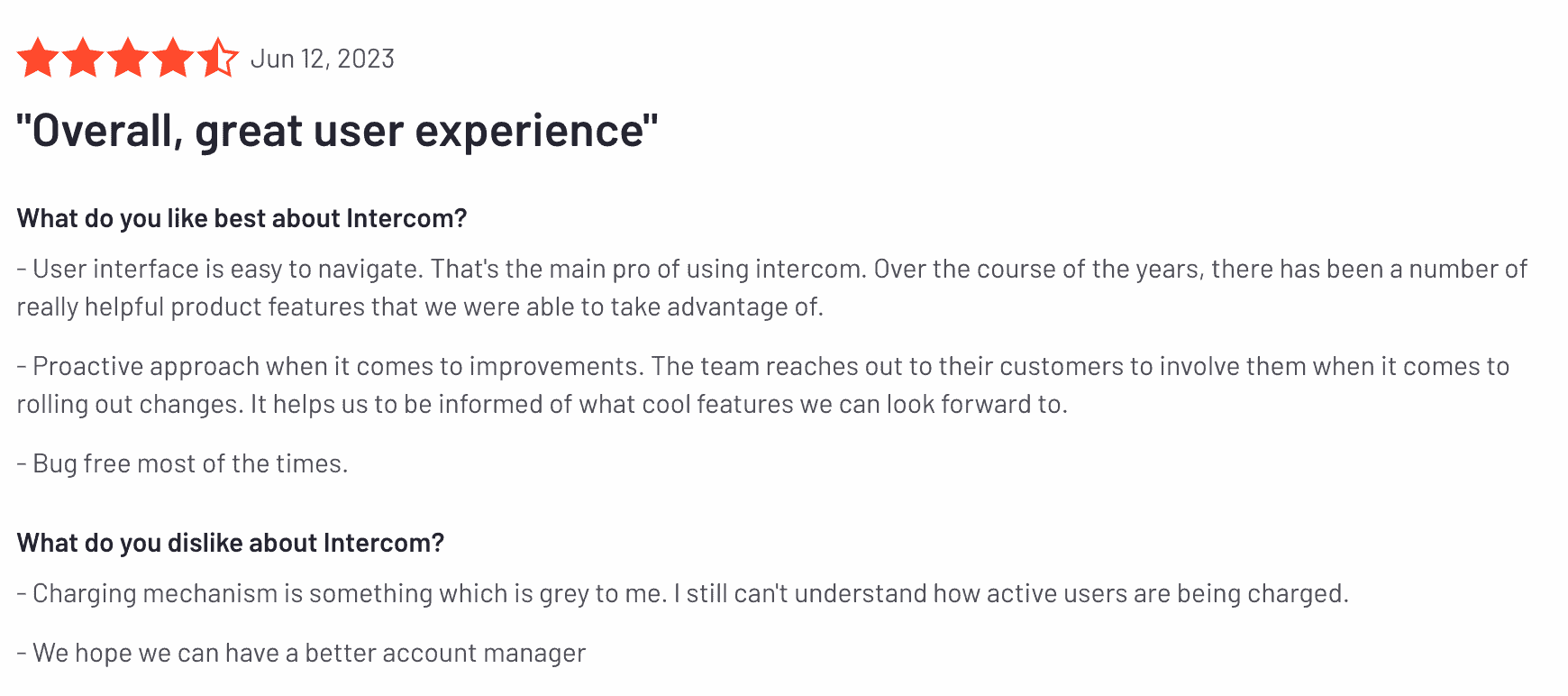 Cons
Custom pricing means it's hard to budget what you'll be paying
Users have complained about the subscription management, calling it "awful"
Not the best customer support

The 13 Best Intercom Alternatives
How do you feel about proceeding with Intercom? If you'd rather weigh your options first, we have 13 Intercom competitors that might suit you better.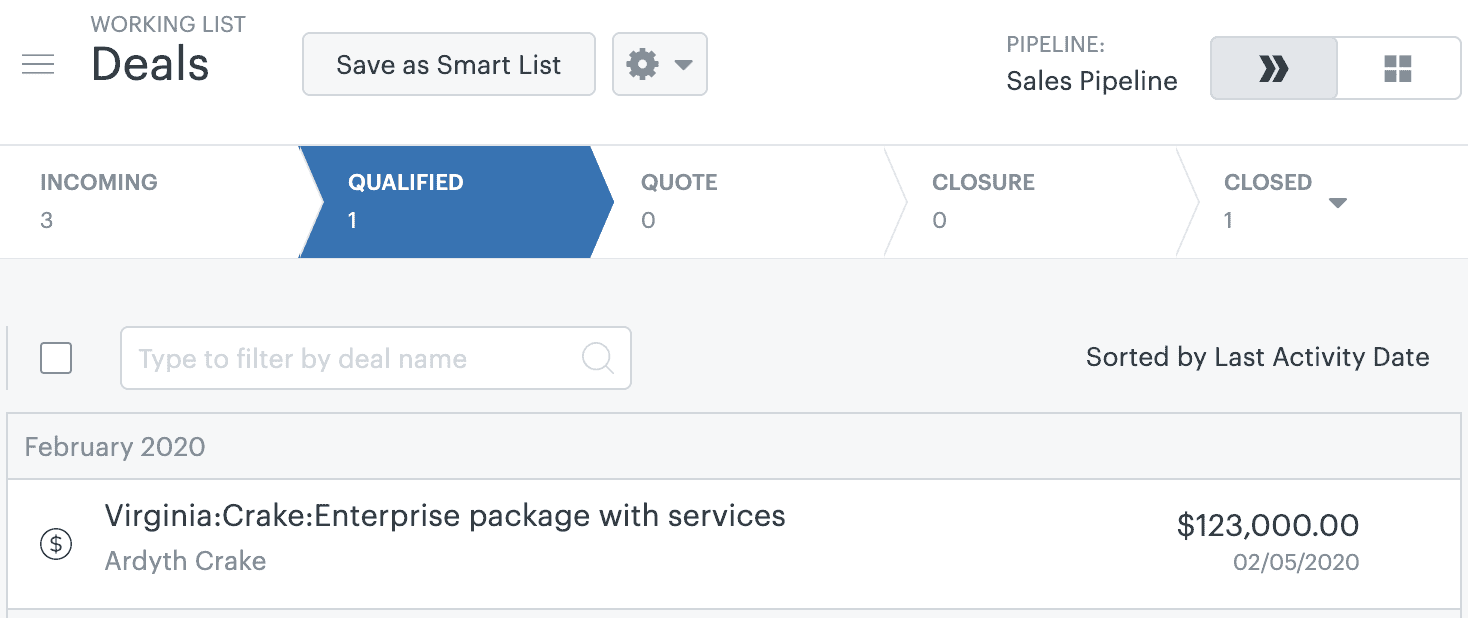 The first alternative to Intercom on our list is Zendesk, a sales CRM and customer service software that promises ease of use and more efficiency among your teams (by at least 20%). Its solutions are built for all kinds of companies, from small businesses to large enterprises.
Features
Here's a review of the best features in the Zendesk Service suite.
Messaging: You won't mind discontinuing Intercom's Messenger feature if you have an alternative. Zendesk messaging offers omnichannel support and personalization.
AI: Zendesk harnesses the power of AI to solve requests, respond to customers, answer questions, and gauge customer intent.
Mobile app: Sales never stop, and neither do you. Zendesk's mobile app allows you to track ongoing sales and close deals. It's free to download and begin using.
Integrations: Zendesk integrates with many popular business tools, including Shopify, Mailchimp, Jira, Trello, Assembled, Stella Connect, and Narvar Connect and Care.
Pricing
The Zendesk Suite pricing is as follows.
Suite Team costs $49 per user per month and includes features such as standard bots, social and voice messaging, email messaging, 1,000+ integrations, prebuilt analytics, custom business roles, standard bots, and digital onboarding.
Suite Growth is $79 per user per month with all the features in Suite Team and SLA, multilingual support, and a self-service customer portal.
Suite Professional costs $99 per user per month and includes everything above, plus Advanced AI add-ons, Sunshine Conversations, data location options, integrated community forums, skills-based routing, and live and custom analytics.
If you want everything in the Zendesk Suite, choose the Suite Enterprise plan with custom pricing. The exclusive features are custom agent roles, content blocks, AI Content Cues, and a sandbox.
Pros and Cons
The advantages of Zendesk include the following:
Offers features in the same vein as Intercom
Prices its services separately, so you only pay for what you want
Uses AI to bolster service features
Here are some downsides:
Read also: 10 Competitors That Give Zendesk A Run For Its Money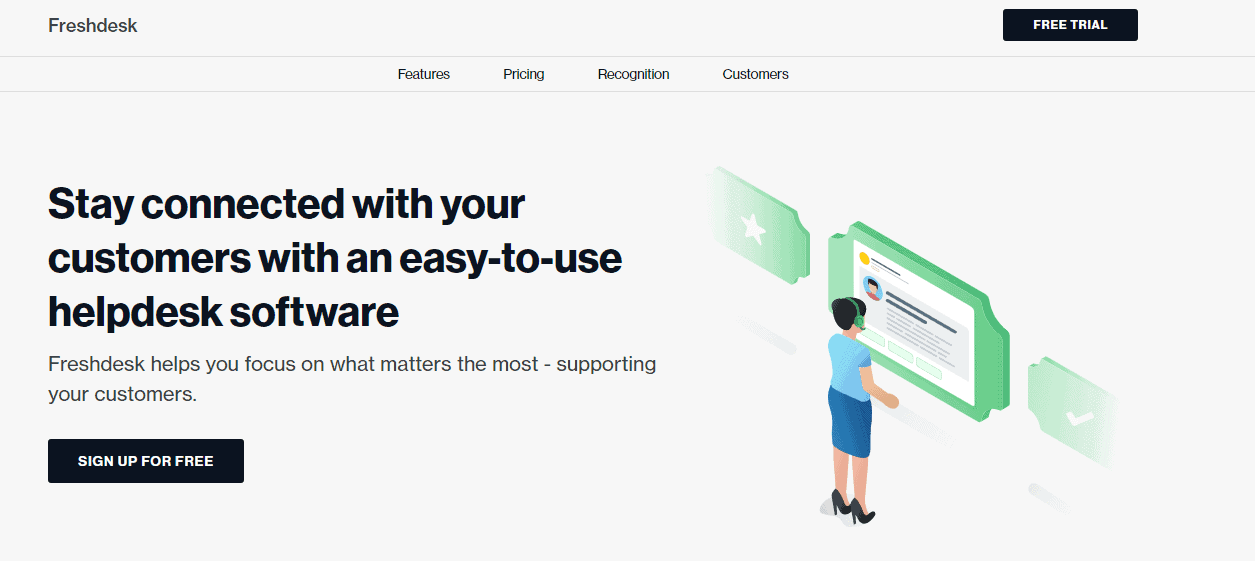 Freshdesk is a Freshworks product that mirrors many of Intercom's features and offers more. You can try Freshdesk for free.
Features
Here's a quick list of the key features Freshdesk offers.
Team inbox: When support tickets and customer communications come through, it all goes into one centralized inbox. Agent collision detection ensures only one team member works on tickets from one customer at a time.
Multi-channel support: Reach your audience using their preferred means of communication, from email to phone, chat, social media, and more.
Automation: Time-triggered automation keeps the sales team moving as a time-lapsed countdown begins between events.
Freddy AI: Freddy is Freshworks' AI that can answer questions when your support, sales, and marketing teams can't or are otherwise too busy.
Custom reports: Ask Freshdesk to produce custom reports that include metrics of your choosing.
Integrations: Freshdesk integrates with Google Analytics, Jira, Nimble, Harvest, QuickBooks, Xero, Infusionsoft, Mailchimp, Dropbox, and many more
Pricing
Freshdesk has four pricing plans.
The Free plan costs $0 per month for up to 10 users. You can access 24/7 email support, team collaborations, a knowledge base, and integrated ticketing.
The Growth plan for $15 per user per month with annual billing adds features like automation, collision detection, integrations, in-depth helpdesk reports, custom email servers, and custom ticket views.
Get everything above plus the Pro features for $49 per user per month when billed annually. You can add 5,000 Collaborators and use custom roles, reports, and objects.
The Enterprise plan is $79 per user per month and offers the most from Freshdesk. You can use every feature above and add unlimited products, work with bots, and rely on Freddy for audit logs, workflows, and auto-triages.
Pros and Cons
Freshdesk is beneficial in these ways:
Offers a free plan
Has many useful integrations
Generates custom reports
However, it also has some issues:
Users have complained about poor customer support
Read also: Finding the Perfect Fit: A Guide to Freshdesk Alternatives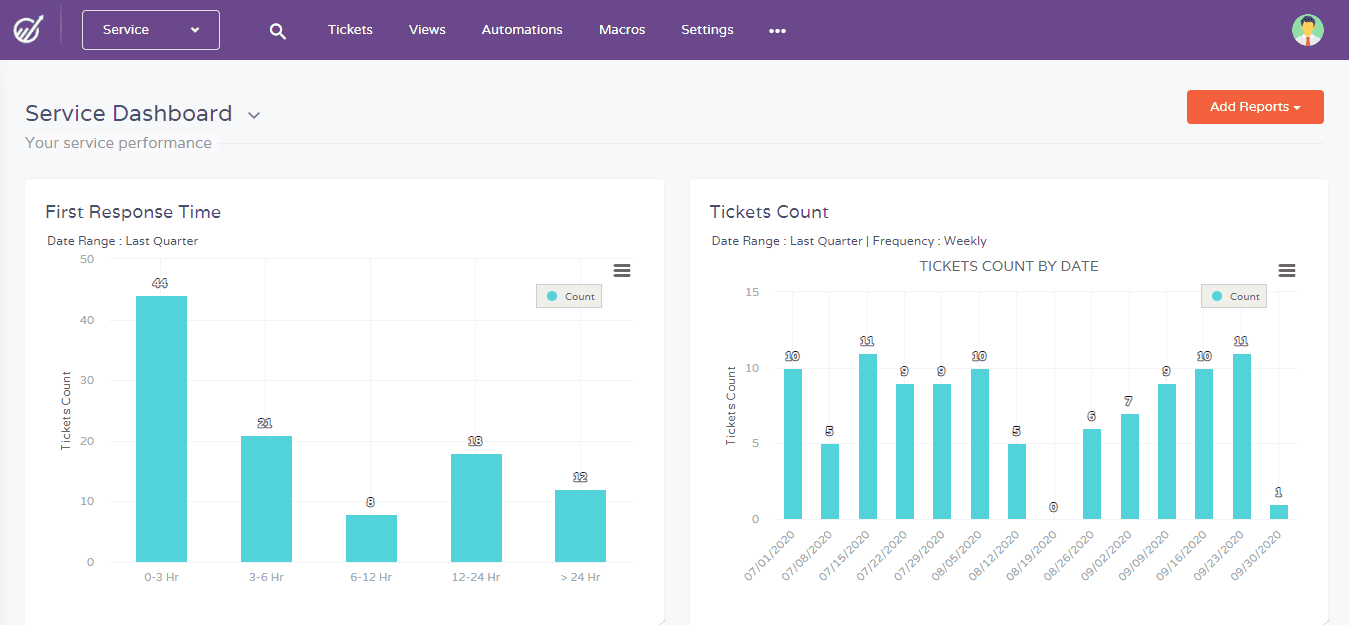 The all-in-one marketing, sales CRM, and customer service solution EngageBay is a strong Intercom competitor. It's designed for startups and small businesses, so it has a free plan (forever) and very affordable pricing for the wide range of features.
Features
EngageBay's rich feature set puts it head and shoulders above most budget CRM tools. Here's an overview of what's available if you switch from Intercom to EngageBay.
Automation: Whether your day is full of marketing and/or sales tasks, EngageBay has easy-to-use, customizable workflows that you can generate to suit your workflow. You'll enjoy greater time savings.
Contact management: The rich, informative 360-degree customer views EngageBay offers will provide deeper, more innovative insights into your audience than ever before. You can glean information about them that will inform sales and marketing decisions.
CRM: EngageBay's free CRM for small businesses includes easy-to-use sales pipelines, meeting scheduling, task assignments, form and pop-up builders, engagement tools, sales reporting, lead scoring, and telephony.
Helpdesk: You won't mind quitting Intercom when you have access to a top-notch helpdesk software like EngageBay. The metrics and holistic reporting help you take data and drive business decisions forward.
Project management: Keep the sales team chugging along with project management within EngageBay. The whole sales team will know what to work on and when so they get more done.
Integrations: EngageBay offers many integration options in its library, including Shopify, Zapier, Xero, Mailgun, SendGrid, Stripe, QuickBooks, RingCentral, and plenty more.
Pricing
EngageBay's ServiceBay is free. Select the All-in-One plan to use more of EngageBay's great features. It has four pricing options. Here are the costs if you select annual billing.
Free for $0 per user per month, includes 250 contacts, email broadcasting, lead grabbers, email marketing, CRM, landing pages, live chat, helpdesk, and sequences.
The Basic plan is startup-friendly at $12.74 per user per month. This plan adds 500 contacts, lead scoring, SMS marketing, email templates, website pop-ups, and a social suite.
For $42.49 a month, the Growth plan offers 5,000 contacts, marketing automation, site messages, A/B testing, custom domains, push notifications, and service automation.
The Pro plan is only $84.99 per user per month and offers all EngageBay features, such as unlimited contacts, custom reporting, marketing automation, SSO, role management, and phone support.
Pros and Cons
EngageBay is an optimal service tool for your small business for these reasons:
Free plan and other low-cost services
No hidden fees
Designed for startups and small businesses
An all-in-one solution for marketers, service teams, and salespeople
Integrated CRM

Read also: The Top 13 EngageBay Alternatives of 2023 [With Pricing]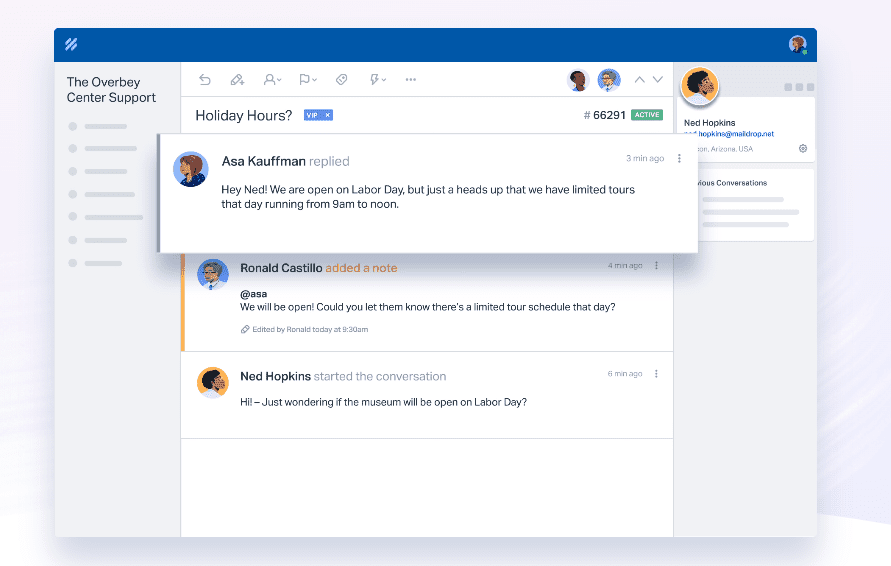 Help Scout is among the best Intercom alternatives, offering a live chat tool, help center, and shared inbox, with packages customized for SaaS, media, logistics, education, healthcare, and manufacturing industries, among others.
Features
Let's go deeper into Help Scout's features.
Workflows: Automate tasks with Help Scout using an easy-to-understand building blocks style. You can make workflows as simple or complex as required.
Shared inbox: Link teams together with Help Scout's shared inbox, which is designed to increase productivity and ensure fewer missed leads. You can also save replies and add private notes.
Knowledge base: Let your customers help themselves with a rich knowledge base full of detailed information. You can use Help Scout to put together videos, tables, hyperlinks, images, and text so the articles are readable.
Docs: Docs is a tool within Help Scout for fleshing out your help center. You can update existing help articles, publish new ones, and share them.
Live chat: Bolster customer support with live chat. If you don't want to bombard your audience with chat requests, you can set the chat to ask if customers want to connect or to allow them self-service.
Messages: The Messages feature is akin to what Intercom offers. You can use Messages to promote new services and deals, update your customers on company changes, and provide support, such as onboarding.
Integrations: Help Scout has an extensive range of integrations, including Salesforce, Jira, HubSpot, Mailchimp, Slack, Webhooks, Olark, and more.
Pricing
Help Scout keeps its pricing simple with three plans available. Here is an overview of each with annual pricing.
Standard costs $20 a month and includes two mailboxes, 25 users, live and email chat, in-app messages, custom reports, automation workflows, and more than 50 integrations.
For $40 per user per month, the Plus plan adds five mailboxes, no user count, custom fields, advanced permissions, teams, and advanced API.
The Pro plan for $65 per user per month includes everything above and 25 mailboxes, 10 users, tiered discounts, enterprise security, concierge onboarding, and a dedicated account manager.
Pros and Cons
Here are the upsides of considering a subscription to Help Scout:
Docs make it easier to build a help center
Affordable pricing
Suitable for small teams
Keep these downsides in mind:
Users have complained about the integration services
Read also: 25+ Brilliant Small Business Tools for the Internet Champion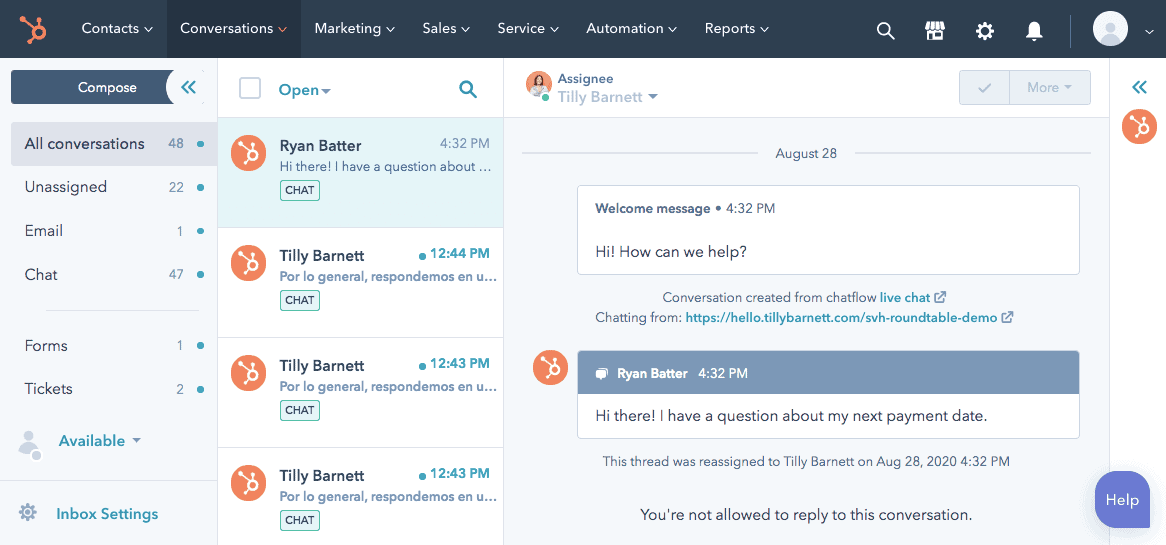 You may have heard of HubSpot for marketing, but HubSpot also has excellent customer support tools to replace your Intercom subscription. Like EngageBay, HubSpot divides its services into easy-to-use Hubs. We'll focus on the HubSpot Service Hub, the brand's customer service software. HubSpot created this toolkit to increase team productivity and foster stronger customer relationships.
Features
So what's included in the HubSpot Service Hub? Let's take a look.
Helpdesk automation: Helpdesks are a must, but they can take a lot of time and effort to put together. The Service Hub facilitates a speedier, more efficient helpdesk with automation services.
Knowledge base: HubSpot will help you create a knowledge base that will rely less on your customer service team.
Customer portal: The customer portal provides more details and insights into your leads and customers so your sales and marketing teams can decide how to pursue matters best.
Customer feedback: How well does your audience like your products or services? You'll know with customer feedback. You can use this information to improve your products and services.
CRM: HubSpot doesn't offer many services for free, but its CRM is one of the select few. You can use all these features within the CRM.
Pricing
HubSpot Service Hub is available across four pricing plans that scale as your small business does. The pricing is as follows:
Free for $0 per user per month, Starter for $45 per month, Professional for $450 per month, and Enterprise for $1,200 per month.
Pros and Cons
HubSpot is beneficial for these reasons:
Wide range of features
Offers a free CRM
Provides insights for better customer service
But it's not perfect and has these issues to consider:
Can get very expensive
Annual contracts compulsory, no opt-out
Expensive migration and onboarding
Read also: What is HubSpot? Definition, Features, Pricing, Who it's Best for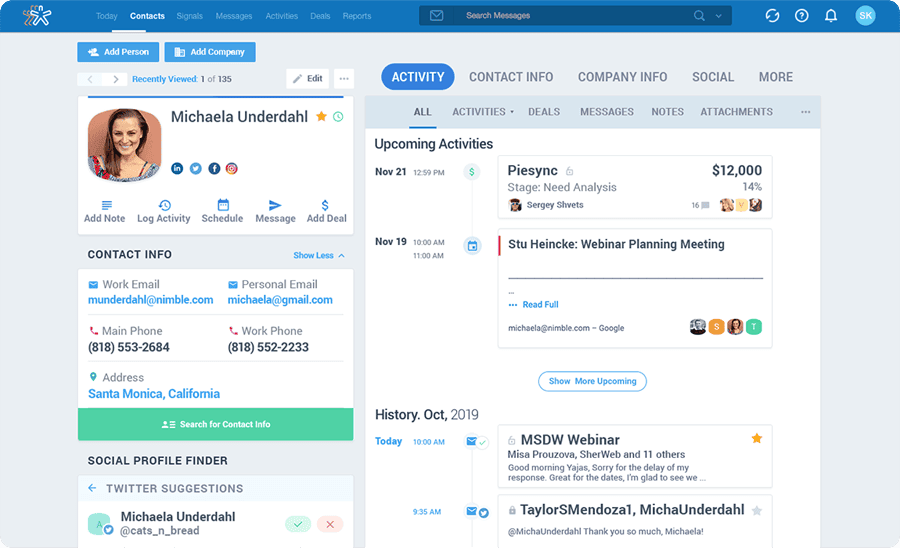 The customer operations platform Front is a strong contender when considering Intercom alternatives. More than 8,000 companies choose Front, including Carvana, Branch, Shopify, ClickUp, and Culture Amp.
Features
What kinds of features does Front have? Here's a list.
Shared inbox: Teams can seamlessly communicate and track who's handling which leads or customers with Front's shared inbox.
Live chat: When your customers have questions, you should always have answers. Front's live chat platform allows your service reps to assist customers and increase their satisfaction.
Automated workflows: Your sales, marketing, and service teams will have more time for respective tasks with automated workflows you can create within the software.
Integrations: Front integrates with software like Asana, ClickUp, Google Business Messages, Cordless, Dialpad, Gainsight, Drift, and lots more.
Pricing
Small businesses can consider Front's Starter plan. It costs $19 per user per month with annual billing and limits you to 10 users. This plan includes many integrations, one-click meetings, calendaring, team collaborations, customer messages, and omnichannel messaging.
The Growth plan costs $59 per user per month and offers detailed analytics and reporting, nearly 100 integrations, a collaborative inbox, omnichannel communications, and guided rule templates.
For $99 per user per month, the Scale plan has everything in the Growth plan and flexible rule options, account-based analytics, enterprise-grade security, and onboarding.
Your company can also try the Premier plan for $229 per user per month. You can use all the features listed above and extra success services, video conferencing support, and custom build hours with an API advisory.
Pros and Cons
Front is a good option for these reasons:
Easy-to-use automation workflows
Comparatively good pricing
Renowned for email management
Keep these downsides in mind:
Users have complained about slow or poor support
Read also: 24 Customer Service Tools for Great Retention Rates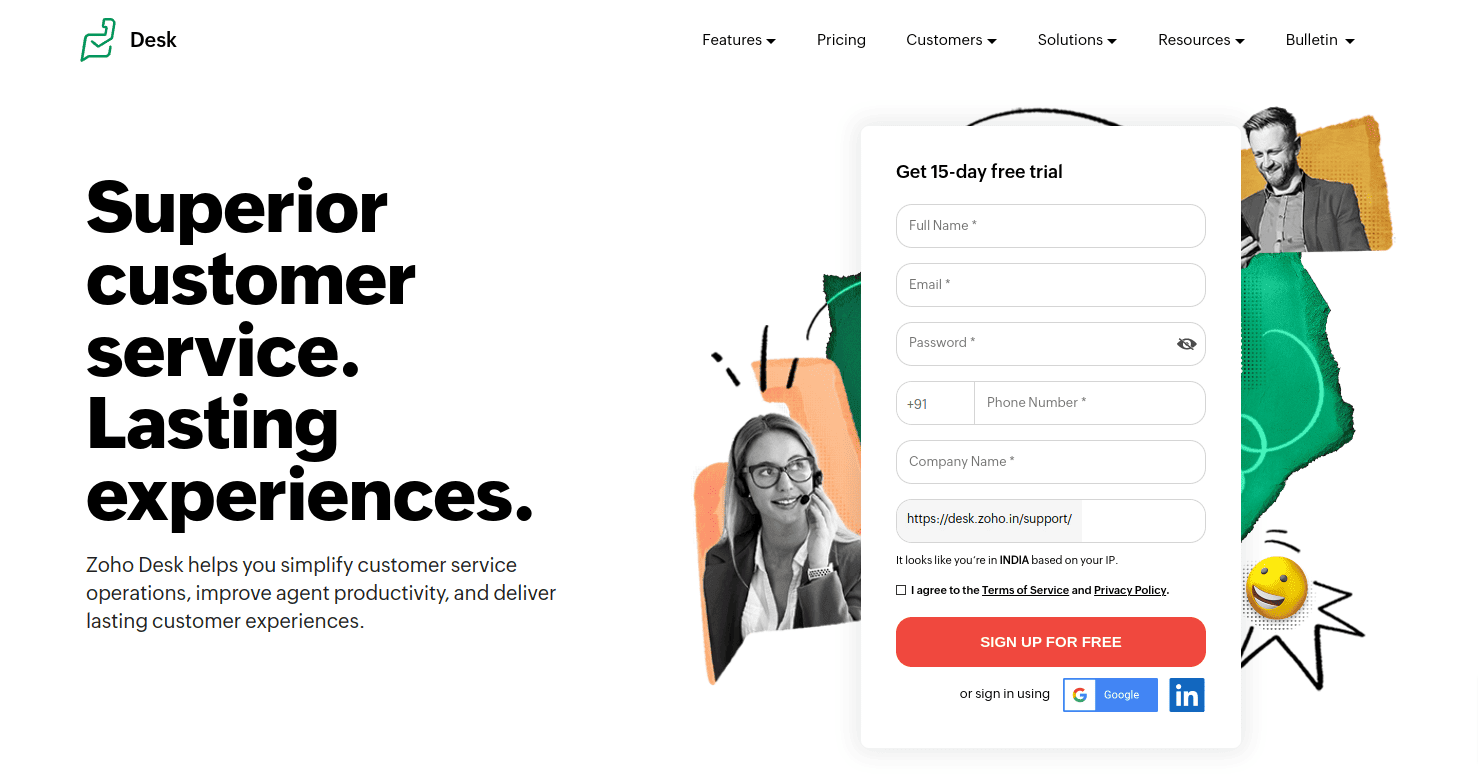 Zoho Desk is a customer service product from the popular company Zoho, which offers CRM, sales, and marketing tools. Zoho is used by many, including big brands like Zomato, McAffee, Mahindra, Daimler, and more than 100,000 other companies.
Features
Zoho Desk has features like:
Ticket management: You can go where your tickets do, whether that's across departments, brands, channels, or products.
Zia: Zia is Zoho's AI tool. You can generate sentiment analyses, auto-tag tickets, receive notifications, or track Zia stats on the dashboard.
Process automation: Automate helpdesk tasks like ticket assignments, workflows, escalations, and layouts within Zoho Desk.
Productivity: Your teams will work more steadfastly with tools like a response editor, Work Modes, and Zoho CRM at their fingertips.
Integrations: Zoho Desk is ready to use with G Suite, Twilio, Slack, Ring Central, Trello, Salesforce, Zapier, HubSpot, Asana, and others.
Pricing
Try a Zoho Desk two-week trial before committing to any paid plan (the pricing is for annual billing).
The Standard plan is $14 per user per month and includes five email channels, ticket history, five automation macros, and custom email templates.
For $23 per user per month, the Professional plan adds features like 150 custom fields, 10 email channels, telephony, customer-based SLAs, and ticket templates.
The Enterprise plan is $40 per user per month and offers 230 custom fields, 100 email channels, live chat, guided conversations, artificial intelligence, and scheduled reports.
Pros and Cons
Here are some of the advantages of Zoho Desk:
Free trials available
Access to Zoho's AI tool, Zia
Affordable pricing
However, Zoho Desk has these challenges:
Poor support is a frequent complaint among users
Read also: Zoho Alternatives: 15 CRM Solutions For Smart Sales Teams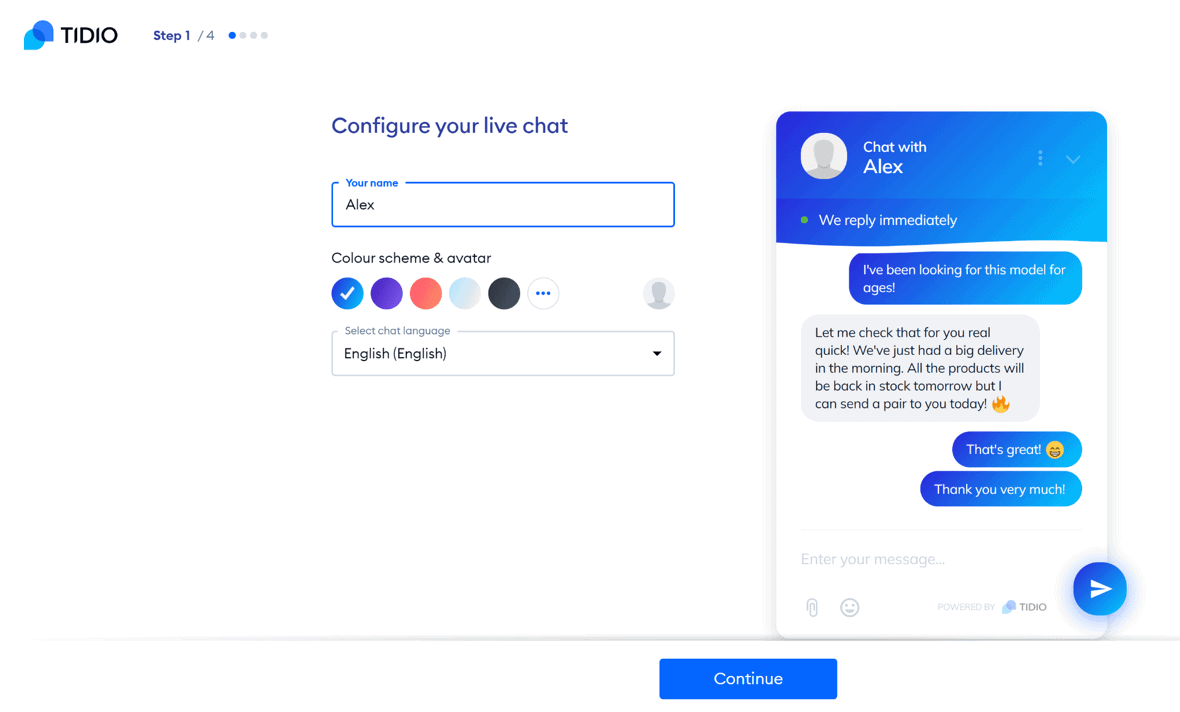 Tidio is an Intercom competitor specializing in customer service built for small to medium-sized businesses. It has features designed to foster growth and customer satisfaction.
Features
Here is an overview of Tidio's feature set.
Live chat: Tidio promises to reduce your average response time to three minutes or less using its live chat. This can convert 3x the customers.
Helpdesk: Tidio's helpdesk uses the power of automation to make it more efficient. Omnichannel task assignment, fast ticketing, and automated helpdesk responses should help service teams.
AI chatbot: You can always let AI step in if your service team is tight on time. Twilio says these bots can automate more than 70% of customer questions.
Integrations: Tidio integrates with the tools that drive business, including Squarespace, WordPress, Shopify, Magento, Wix, Shopware, BigCommerce, PrestaShop, and more.
Pricing
Tidio has a similar pricing structure to Intercom, with four plans available plus an add-on.
Free for $0 per user per month (for three users) has all the basics like 100 chatbot triggers, 50 live chat conversations, basic analytics, and email integration.
The Communicator plan costs $19 per user per month, but you can bundle it with chatbots (or pay $19 a month for this add-on separately).
For $29 per user per month, the Starter plan adds 500 chatbot triggers, 100 live chat conversations, email support, and more.
The Tidio+ plan for $329 per month opens access to unlimited live chat conversations and chatbot triggers, and every feature under the Tidio umbrella.
Pros and Cons
Let's examine the pros and cons of Tidio as an alternative to Intercom, beginning with the pros:
Free plan available
Huge integrations library
The Communicator and Starter plans are fairly priced
Here are the cons:
The Tidio+ plan is very expensive, perhaps too much for small businesses
Read also: 12 Customer Service Tips for Phenomenal Success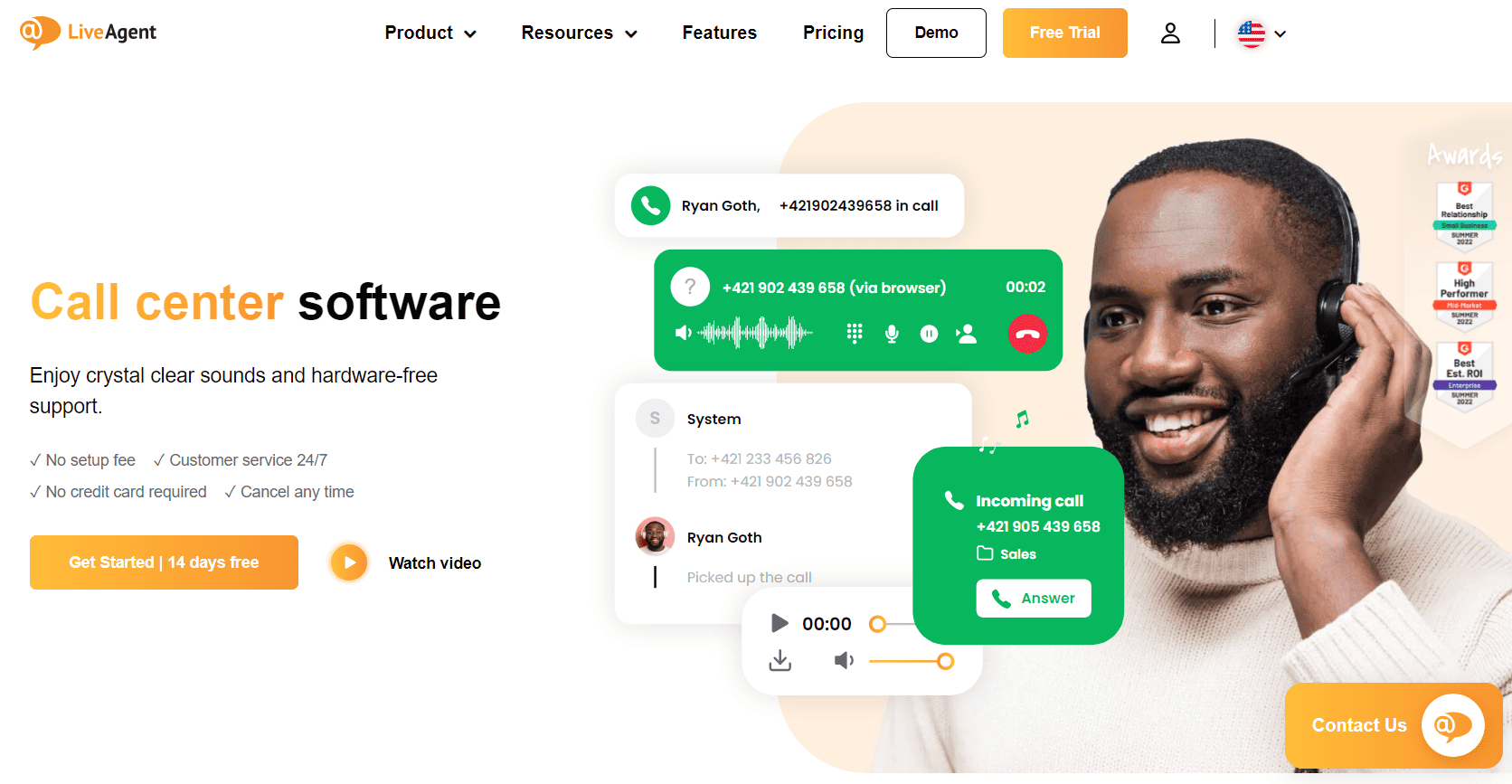 Another popular alternative to Intercom is LiveAgent. This software is designed for a simple setup, as you don't need a credit card to get started, and their website mentions how you can cancel anytime if you change your mind.
Features
So what does LiveAgent offer? Here's more information.
Live chat: Try one month of LiveAgent's chat free. You can answer chats in real time and customize your chat window.
Helpdesk: Use LiveAgent's ticketing system to bring team communication to one place and create your own in-software call center through the helpdesk.
Knowledge base: Make FAQs and repositories to post on a hosted knowledge base. You can customize your knowledge base to reflect your brand better.
Integrations: You can expect lots of integrations with LiveAgent, including Verve, Purple Stone, TrackingTime, InvoiceBerry, and Everhour.
Pricing
LiveAgent has separate pricing for enterprises and small businesses. We'll focus on the startup pricing plans. Here they are with annual billing.
Small Business costs $9 per user per month and includes three incoming and outgoing email accounts, two live chat buttons, 50 event rules, one knowledge base, and 10 departments.
Upgrade to the Medium Business plan for $29 per user per month to add 10 outgoing and incoming emails, five chat buttons, 150 event rules, and 20 departments.
The Large Business plan includes everything above and 40 outgoing and incoming email accounts, 20 chat buttons, 500 event rules, and 50 departments for $49 per user per month.
Enterprise for $69 per user per month increases the limit to 100 outgoing and incoming email accounts, 50 chat buttons, 1,000 event rules, and 100 departments.
Pros and Cons
How does LiveAgent stack up? Let's investigate its upsides first:
Small business-specific pricing
Handy helpdesk
Easy to use
Here are some flaws with this software:
Users have called it buggy
Customer support is poor
Read also: 9 Best Call Center CRM Software Tested and Reviewed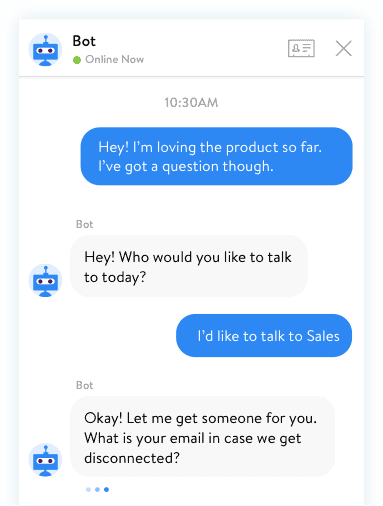 The next Intercom alternative we'll look at is Drift, which promises a more robust pipeline and better personalization. The software is designed for businesses in technology, professional services, manufacturing, and finance.
Features
Here's more information on Drift's features.
AI: Drift offers an AI component, as many of the service software solutions on this list have. This one can answer customer queries and schedule meetings to save your team valuable time.
Alerts: The real-time alerts in Drift help sales teams stay on top of tasks and communicate with a lead and guide them through the sales funnel.
Live chat: Customers can leave a ticket that goes to a serviceperson in Drift, or they can communicate through chat.
Dashboard: Drift's real-time dashboard allows you to track team performance, conversational data, and availability to increase profitability.
Integrations: Drift integrates with tools such as Marketo, Salesloft, Databox, Salesforce, Drip, Google Meet, HubSpot, Google Workspace, Microsoft Dynamics, and others.
Pricing
Drift offers three pricing plans.
The lowest cost is the Premium plan for $2,500 a month with annual billing. This small business plan includes key features such as real-time notifications, meetings, chat, conversational landing pages, and meetings.
The Advanced plan has custom pricing. It adds flex routing, audiences, and A/B testing.
The Enterprise plan also has custom pricing. It's the most encompassing, with every feature above, plus workspaces, custom RBAC, and AI-powered chatbots.
Pros and Cons
Drift has these advantages:
Real-time alerts to keep the sales funnel moving
A multifunctional AI feature
Plenty of integrations
The software also faces issues, such as:
Very expensive pricing for small businesses
Read also: Finding the Perfect Fit: A Guide to Freshdesk Alternatives for Your Support Needs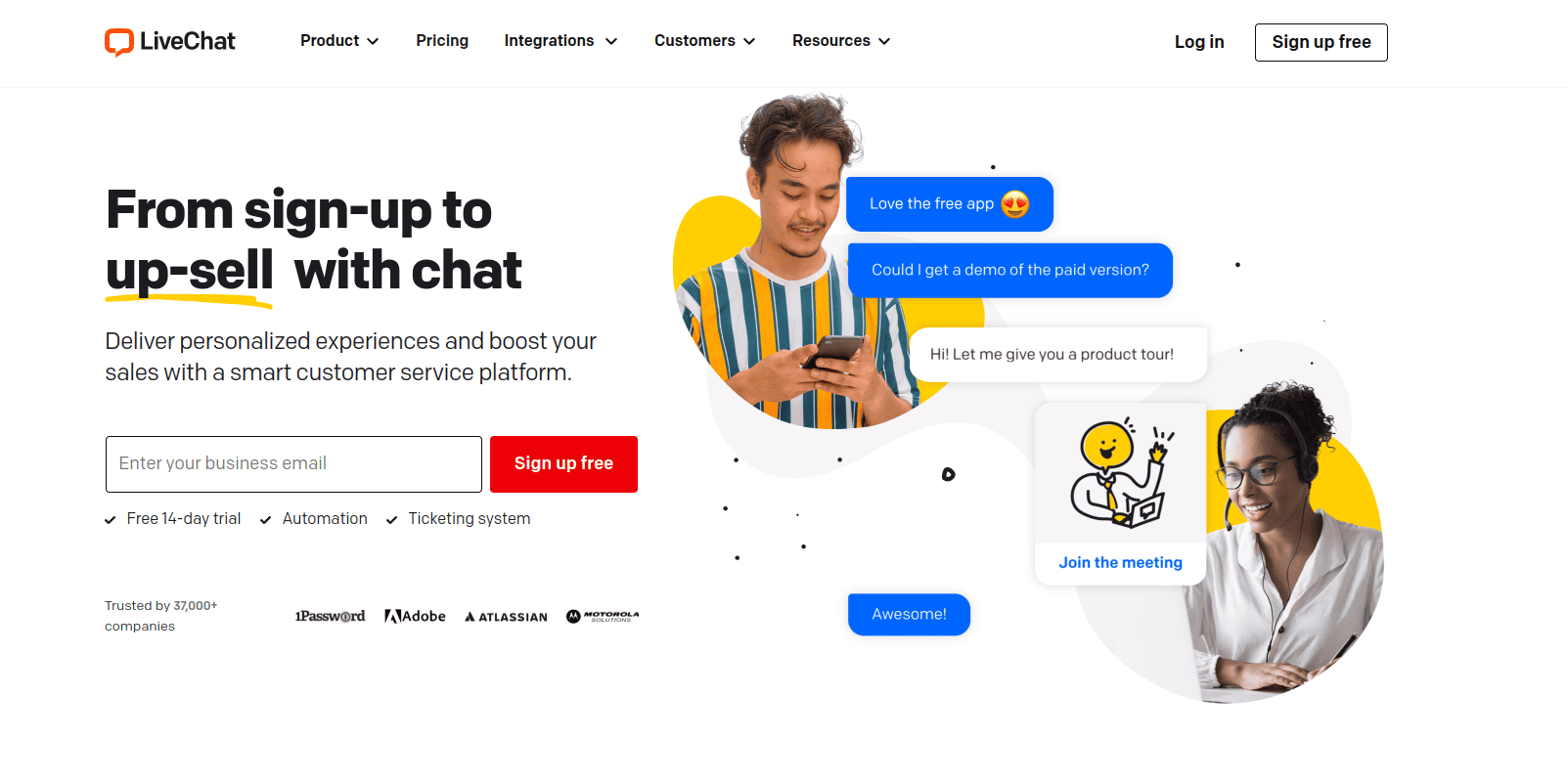 LiveChat is a customer service platform designed to increase sales and improve customer relationships. Over 37,000 companies use it, including major brands like PayPal, Adobe, Mercedes-Benz, McDonald's, and Unilever.
Features
Let's unpack the features LiveChat offers.
Chat tools: Chat how you want within LiveChat, as this customer service tool offers inactivity messages, file sharing, chat tags, canned responses, chat transfers, rich messages, and chat ratings.
Messaging channels: Take an omnichannel approach to communications with LiveChat-supported messaging through email, a chat widget, SMS, Facebook, Instagram for Business, and more.
Customization: From the agent profiles to accessibility rules, LiveChat allows users to customize the service how they like it.
Customer engagement: Send targeted messages, implement chat buttons, create routing rules, and review chat transcripts to improve customer interactions.
Integrations: LiveChat integrates with more than 200 tools, including Zoom, WhatsApp, Google Business Messages, Mailchimp, HelpDesk, HubSpot, Salesforce, and Google Analytics.
Pricing
LiveChat offers four pricing plans to select from depending on your team size. Here are the costs with annual billing.
Starter for $20 per user per month includes customizable widgets, data security, and a 60-day chat history.
If yours is a full-time support team, upgrade to the Team plan for $41 per user per month. You now gain access to agent groups, multiple brandings, and more widget customization.
The Business plan for $59 per user per month bulks up your customer service department with a work scheduler and staffing predictions, while the Enterprise plan with custom pricing adds more security features like SSOs and HIPAA compliance.
Pros and Cons
Let's go over the benefits of LiveChat:
Many customization features
Plenty of tools at your disposal
Affordable pricing to start
We'd be remiss not to mention these downsides:
Users have complained it's hard to use
Weak spam detection
Read also: 50+ Call Center Software Explained (All Use Cases)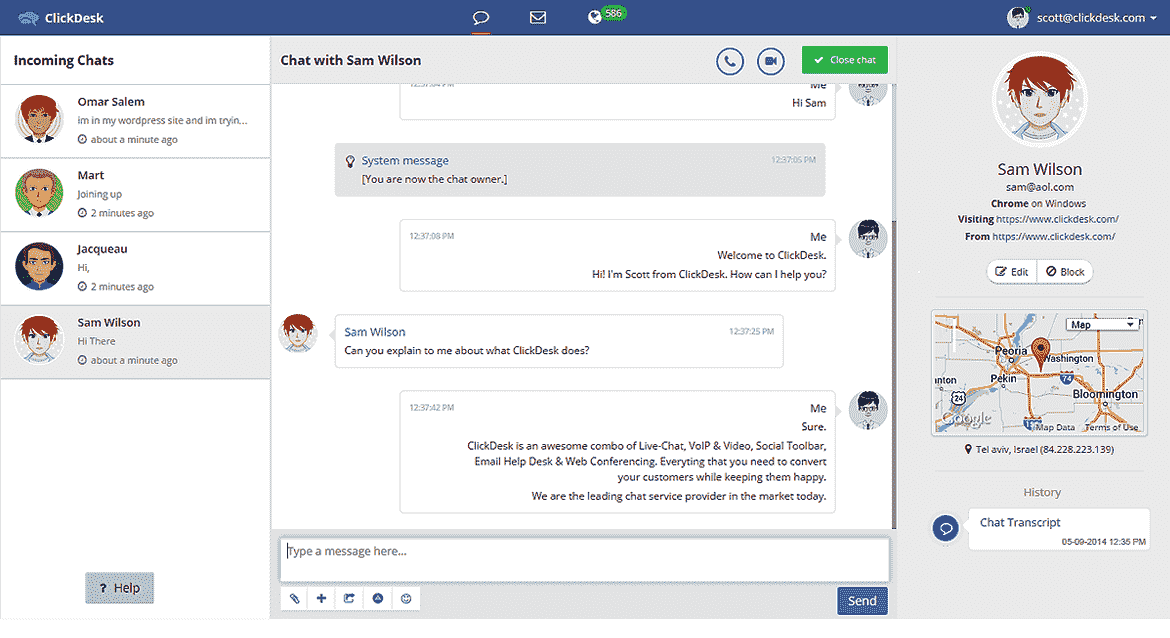 The customer support software ClickDesk is another alternative to Intercom. Since its launch in 2011, more than 180,000 businesses have tried this software, which is liked for its ease of use and fast speeds.
Features
Here are more features included with a subscription to ClickDesk.
Live chat: Users don't have to wait when they have questions. Your customer service reps can use the chat function to connect with them instantly.
Helpdesk: The chat and helpdesk features integrate within ClickDesk to ensure no issue goes too long unsolved.
Video chat: Customers can put a face to the name when your reps go live on video to address customer queries.
Mobile app: Track tickets and manage concerns on the go using ClickDesk's free mobile app.
Integrations: ClickDesk integrates with everyday business tools like WordPress, Shopify, Wix, Google Apps, Weebly, Magento, Unbounce, and Mailchimp.
Pricing
ClickDesk has four scalable pricing plans, so let's take a closer look.
The Free plan costs $0 per user per month for up to 10 users. You can customize some settings, use the chat widget and auto-calling, work with 25 tickets, and launch 30 chats.
If you want more, the Lite plan for $14.99 per month adds chat groups and transfers, customizable widgets, and unlimited chat.
The Pro plan for $24.99 a month includes history and reports, post-chat surveys, video chats, API and CRM integration, and chat conferencing.
ClickDesk's Enterprise plan is $39.99 a month and expands more on features. You'll have access to a dedicated account manager, analytics, unlimited domains, and a custom CSS for widgets.
Pros and Cons
ClickDesk is beneficial in the following ways:
Two-year plans are available
Affordable pricing
Video chat is a strong feature
The software also has some glaring issues:
Users have reported it's hard to get out of contracts
Read also: 6 Ways AI is Changing Self Customer Service For Good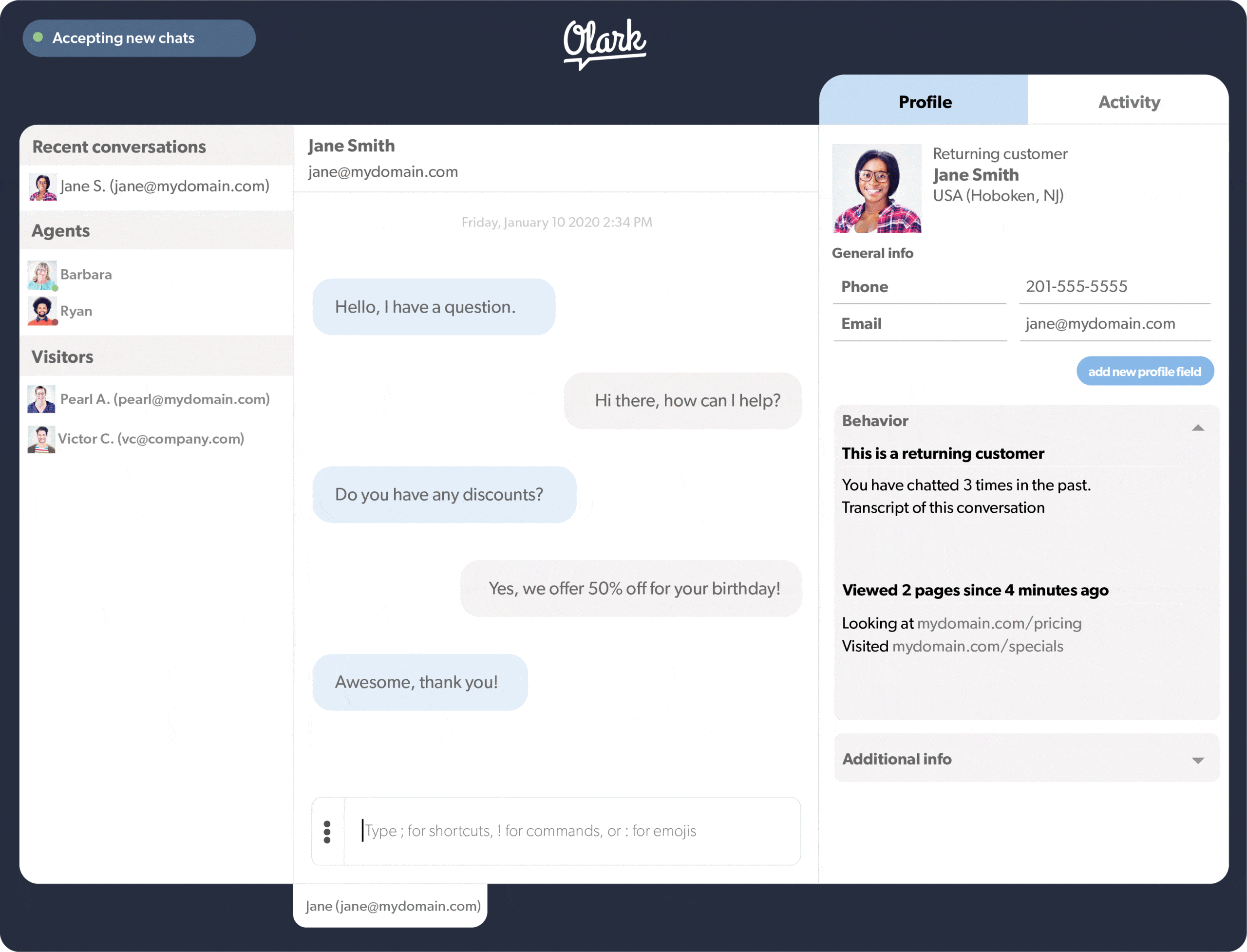 The customer support software Olark has worked with Landmark Properties (increasing its close rate), the University of Montana (reducing its support needs), and cosmetics brand Lush (boosting its sales). You can see why it makes for a superb alternative to Intercom, if you're serious about switching software.
Features
So what can Olark do? Here's an overview.
Chatbots: Olark's CoPilot chatbots are custom-built for each business to increase lead generation, convert leads, and track data to your CRM.
Live chat: The chat feature passes WCAG 2.1 AA and ADA standards to expand accessibility.
Automation: Automate the chat within Olark by selecting specific criteria for the software to determine who to chat with.
Customization: Make your chat box feel more like your own by selecting the language, avatar, headline, and colors.
Integrations: You can integrate Olark with WordPress, Salesforce, HubSpot, Zendesk, Front, Slack, SugarCRM, Mailchimp, Nutshell, Google Analytics, and many more.
Pricing
Olark's standard pricing plan starts at $29 per user per month and includes targeted chat, agent groups, real-time reporting, custom chat boxes, unlimited chat history, data security, and more.
The Olark Pro plan with custom pricing adds more integrations, Olark API, advanced compliance, a personal account manager, software training, and CoPilot automation.
Pros and Cons
Here are some pros of Olark's customer service software:
Affordable pricing for the standard service
Customization options to spruce up chat
Compliant chat
Olark has some downsides, such as:
Users have complained the software is sparse yet buggy
Read also: Customer Service Strategy: 9 Lessons from Digital Disruptors
Conclusion
Intercom is a customer service tool that offers live chat, AI, custom messages, a helpdesk, and a knowledge base. It's a strong tool for unifying your marketing, sales, and service teams, but it does have some issues.
No software is perfect, but the Intercom alternatives we looked at in this blog post prove that you don't have to continue using Intercom if you're not happy with it.
Try Zoho Desk or Freshdesk if your needs are enterprise-level, with hundreds of users. And if your business needs are small, from 10-99 users, you'll be quite happy with a more affordable solution like EngageBay.
Whichever customer support solution you like best, make sure you try for free and get a good product demo before you make a commitment.