Being organized is a skill that everyone must know.
With looming deadlines and multiple meetings, keeping a tab of your work can be difficult.
That's why you need a host of digital organization tools that can help you optimize and streamline your daily workload.
It helps you keep up with your projects, meetings, appointments, store documents, and more.
Let's look at the top 10 organization tools that you can consider using. In addition, you will find how using an organizational tool can impact your business.
Why Do You Need Organization Tools In Your Company?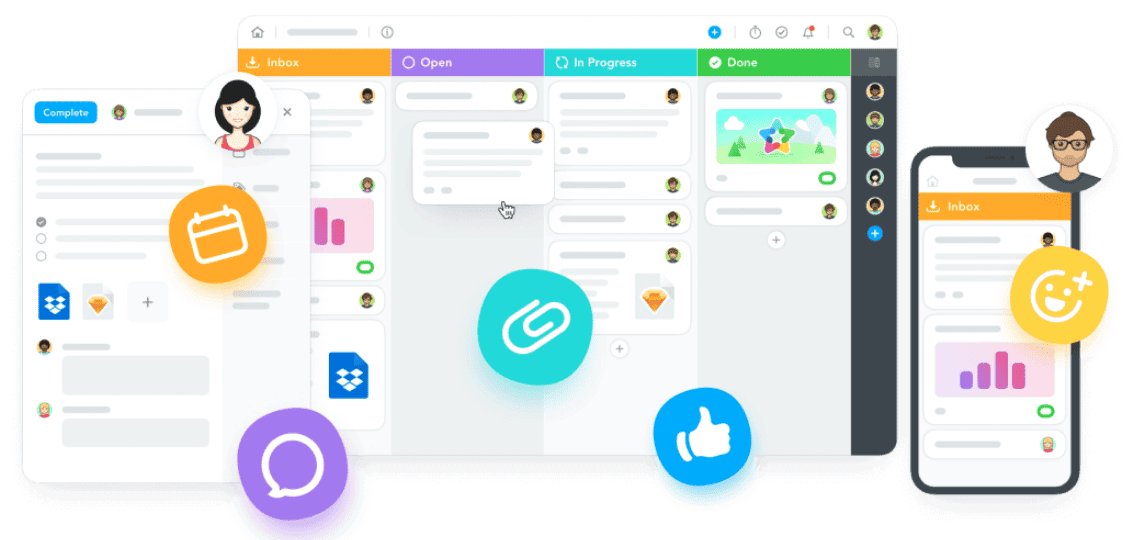 Here are some of the reasons why every business, whether small or big, needs an organizational tool in its operational system.
#1. Helps Collaborate In Real-Time
An organizational tool provides a platform whereby all your employees can collaborate and share files in real-time.
Not only that, but they can even leave notes and present them to other employees for review and input.
#2. Aids Your Memory
As humans, our memory is limited.
Besides, with an increasing workload, it has become even more difficult to keep track of deadlines and other pending tasks.
But using an online organization tool can ease your burden by creating a record of important dates, projects, appointments, and events.
This will help you juggle multiple tasks successfully and boost productivity.
#3. Increases Productivity
Since an online organization tool takes care of your appointments and deadlines, it eases the burden from your shoulders.
You no longer have to take notes manually or call up your team members to ask them about the status of their work.
As a result, you can better focus on your tasks, helping you improve your performance.
#4. Helps Save Time
Organizational tools help you understand your tasks and find the resources you need to complete them.
This allows you to reduce the time taken to finish a project and switch between tasks.
#5. Reduces the Scope of Mistakes
Since online organization tools clearly state the work assigned to each team member and the resources required to accomplish them, it reduces the probability of miscommunication, unclear instructions, and deadlines.
Hence, it limits the scope of mistakes and increases accountability.
Read also: 13 Free Marketing Tools To Create Awesome, Engaging B2C Content
How to Choose the Right Organizational Tools?
The best online organization tool comes equipped with a vast set of functionalities that helps you manage your work by allocating tasks to other team members, tracking their progress, collaborating in real-time, organizing your notes, and setting reminders.
While CRM, or customer relationship management, system does all of the functions above, most do not function as a note-taking tool. Besides, you might want more advanced functionalities that can aid your system.
In such cases, adopting an organizational tool that can easily integrate with your existing CRM can really help your business grow.
Besides, choosing the right organizational tools for your company depends on a number of factors – the company's budget, your team's requirements, and current systems.
Best Online Organization Tools to Boost Productivity
Now, let's evaluate the key features of top organizational tools and compare their pros and cons.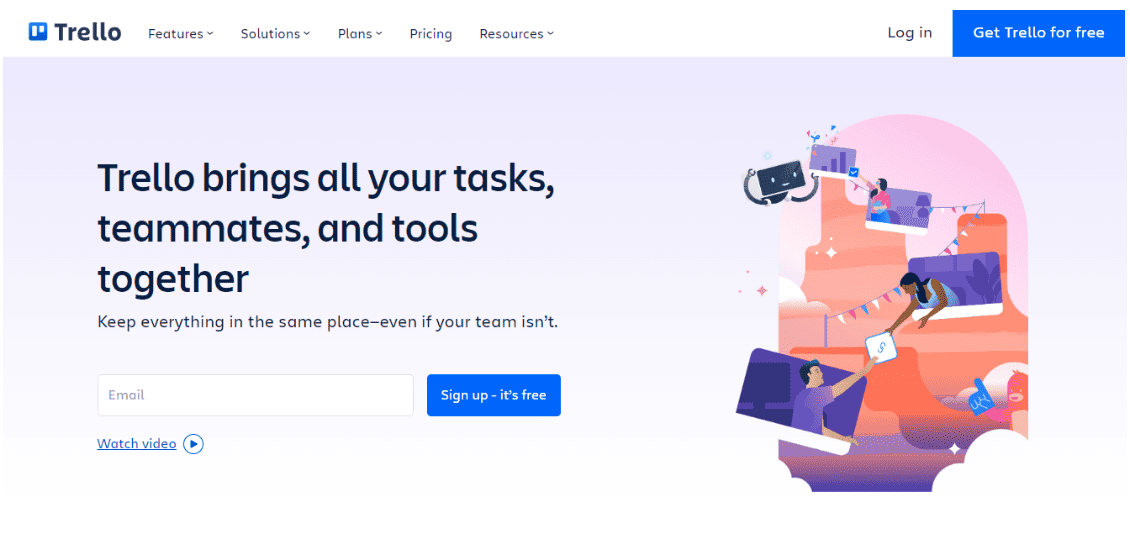 Trello is an online organization platform that helps teams manage all types of projects and workflows and track the progress of their tasks.
Features
Views:

Helps you view your tasks and projects from all possible angles, including Board, Timeline, Dashboard, Calendar, Map, and Workspace.

Workflow Automation:

Helps you create and assign tasks, create due dates, and update their status.

Power-Ups:

Provides integrations with multiple tools such as Google Drive, Slack, Board Wiki, Jira, Microsoft Teams, and so on.

Built-in Templates:

Provides a wide range of in-built templates based on the industry your business is based in. These include design, education, engineering, marketing, sales, remote work, and so on.
Pricing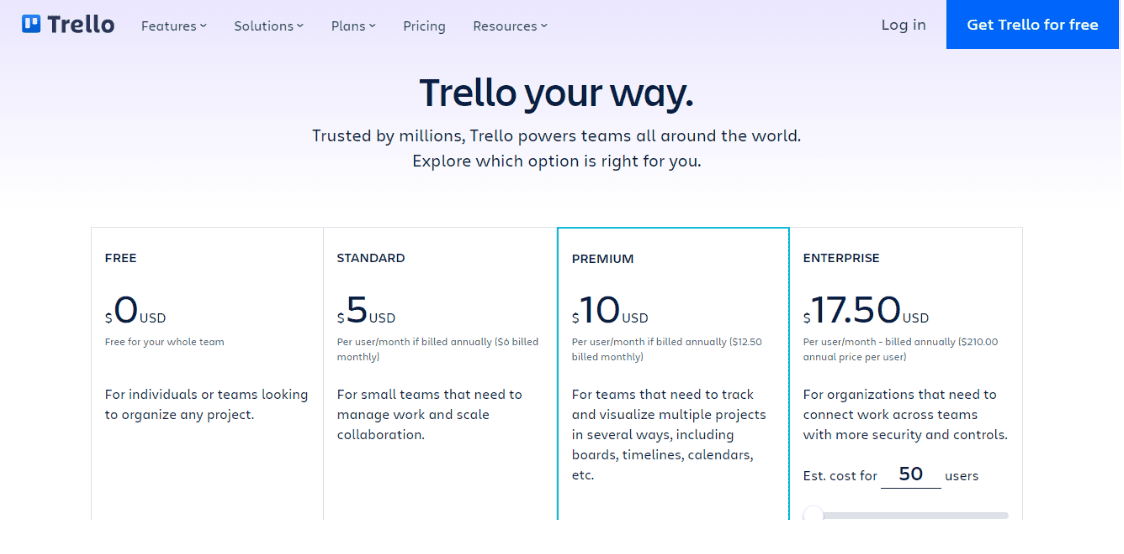 Trello offers four pricing models, Free, Standard, Premium, and Enterprise.
The Free Plan is ideal for individuals and small teams working on single projects. Its key features include unlimited cards, up to 10 boards, unlimited activity logs, and iOS and Android mobile app access.
Under the Standard Plan, you can avail of advanced checklists, field customization, saved searches, and unlimited storage for $5 per user per month.
For teams that need to manage multiple projects, the Premium Plan works best. It starts at $10 per user per month and boasts advanced admin and security features, priority support, simple data export, and unlimited Workspace command runs as some of its tools.
If your business is seeking to make the organization process more secure, the Enterprise Plan works best. It is priced at $17.50 per user per month and comes with unlimited workspaces, organization-wide permissions, multi-board guests, and free SSO.
Pros

One of the best features of Trello is that it helps employees track the number of hours they have worked, important events, upcoming deadlines, and even how to accomplish their tasks.
Cons

Since Trello provides only limited storage, it compels teams to rely on other tools to complete their tasks.
Read also: 7 Proven Ways to Defeat Silo Mentality at the Workplace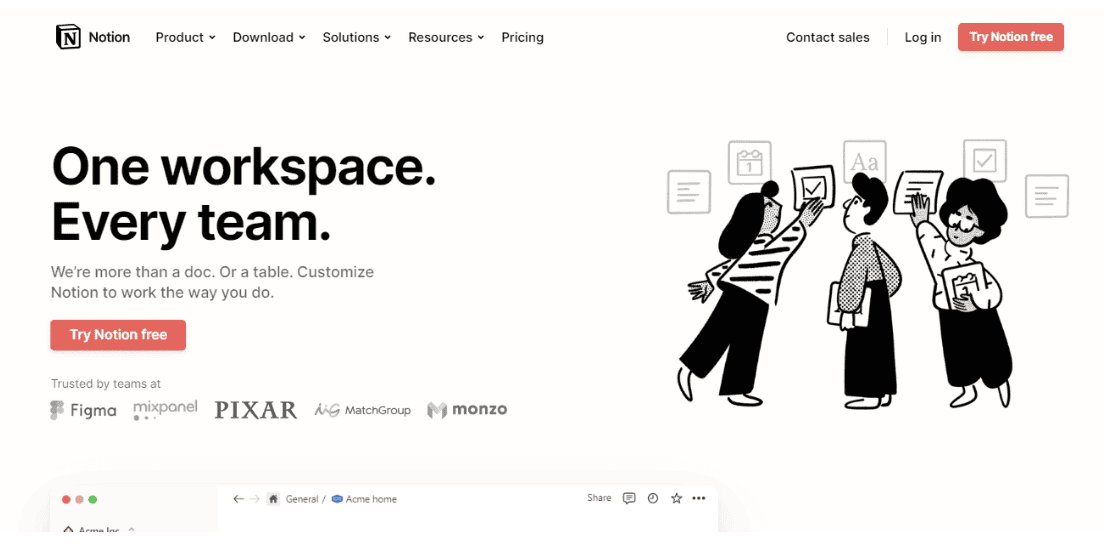 Notion is one of the most well-known online organizational tools currently.
Be it a college student or a large organization, Notion works for everyone.
Features
Real-time Collaboration:

Notion allows you to share projects, files, and documents with your team members, helping you collate ideas in real-time.

Meeting Notes:

Helps you organize your timetable and collate notes side-by-side. This saves time as you don't need to transition between tabs.

Product Roadmap:

Helps you customize your dashboard as per needs. All you need to do is drag and drop the features you need to create your dashboard.

Global System of Creators: With a tool like Notion, you can not only create a customized platform but also benefit from a community of creators and share unique templates, integrations, and ideas.
Pricing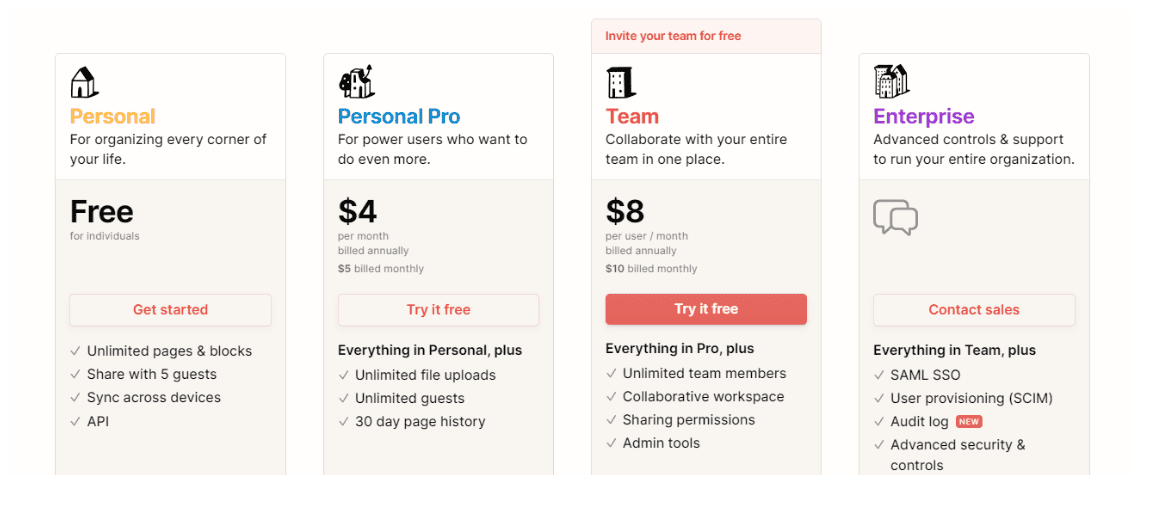 Notion has four kinds of plans, Personal, Personal Pro, Team, and Enterprise.
The Personal Plan is ideal for individuals or those working on a single project. It is free of cost and offers features such as unlimited pages and blocks, syncing across devices, real-time collaboration, and link sharing.
Under Personal Pro, you can avail of unlimited file uploads, 30-day page history access, over 50+ starter templates, and bulk export. The plan starts at $4 per month.
With the Teams Plan, you can get a collaborative workspace, unlimited team member access, advanced permissions, and priority support for $8 per month.
For large companies, the Enterprise Plan works best. Some of its key features include custom contract and invoicing, a dedicated customer support manager, an audit log, SSO, and bulk PDF export. To avail of this plan, companies can contact Notion directly.
Pros

One of the key advantages of Notion is that it provides a great degree of flexibility in terms of taking notes. Moreover, users can also track their to-do lists with the Kanban board function.
Cons

At times, first-time users can find it difficult to understand and become familiar with Notion's tools.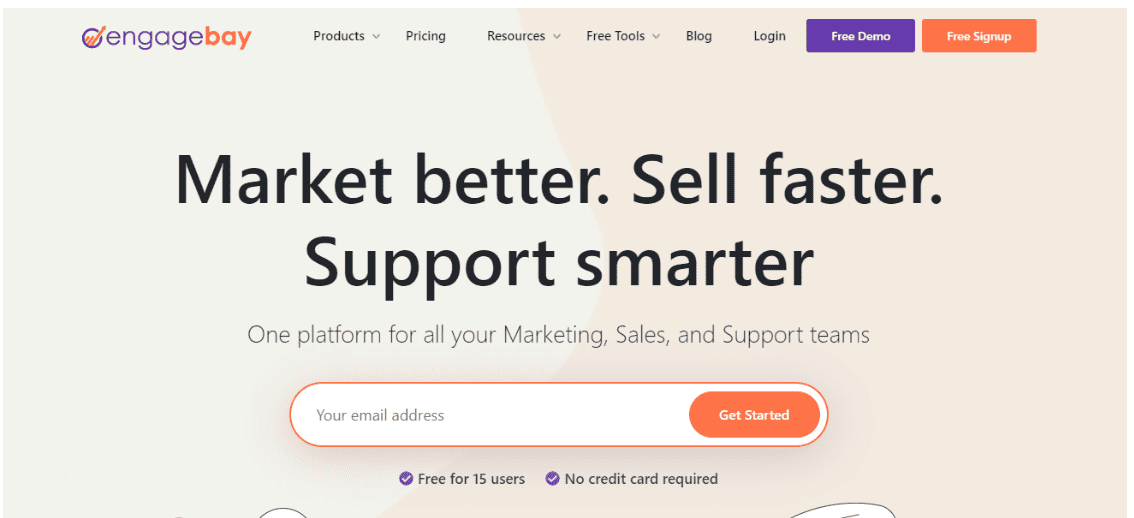 EngageBay is an all-in-one sales, marketing, and customer support platform that is ideal for small teams.
What sets it apart is its scheduling software that helps you organize your events and workflows.
Here's what Martine, who struggled to find a good organization tool, has to say about EngageBay CRM and how it helped him scale his business.
Features
Custom Appointment Management:

Helps you create and view your calendars the way you want to. You can also add, remove, or update the status of your appointment on the calendar itself.

Time Zone Adaptive:

Displays appointments and meetings according to the timezone in which your client is located.

Individual Team Member Calendars:

Helps you add individual team members and set their own timetables.

Automated Emails:

Sends automated follow-ups and reminders regarding meetings, appointments, and deadlines.
Pricing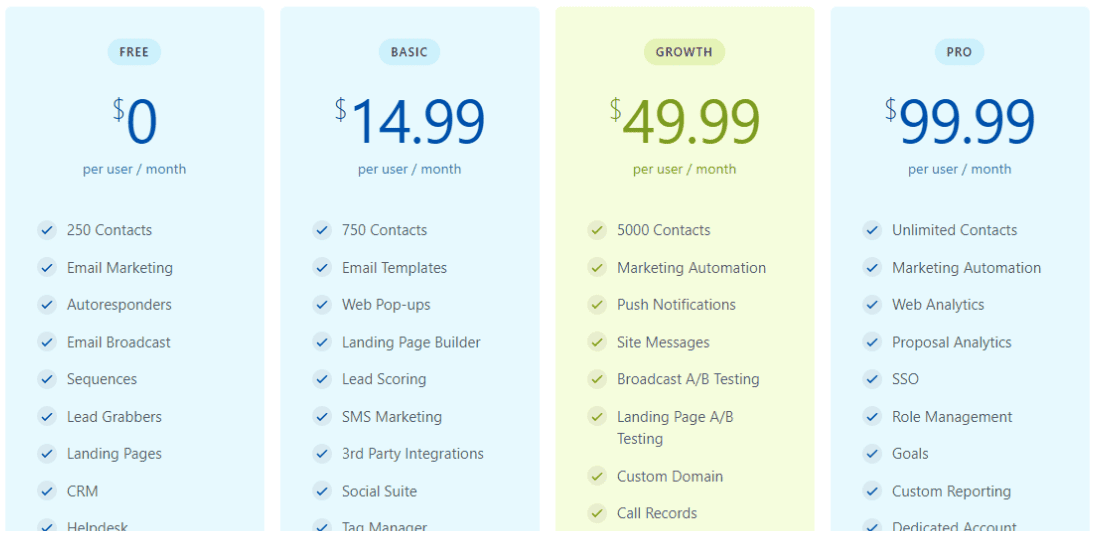 With EngageBay, you choose from four plans, Free, Basic, Growth, and Pro.
Under the Free Plan, you can avail of up to 250 contacts, email marketing, autoresponders, email broadcasting, landing page templates, and CRM.
The Basic Plan starts at $14.99 per user per month and provides up to 750 contacts, built-in email templates, lead scoring, SMS marketing, social suite, and tag management.
With the Growth Plan, users can get additional tools such as marketing automation, A/B testing, call records, custom domain, site messaging, and up to 5000 contacts for $49.99 per user per month.
For growing enterprises, the Pro Plan works best. It costs $99.99 per user per month and boasts advanced tools like web analytics, proposal analytics, SSO, unlimited contacts, custom reporting, and dedicated account management.
Pros

EngageBay is the ideal solution for small and medium-scale companies since it has a user-friendly interface and is easy to set up.
Cons
A drawback of EngageBay is the lack of some functionalities on mobile devices. If your primary use of the app will be on mobile, this would not be the best option.
Read also: 10 Free Marketing Tools Every Freelancer Will Love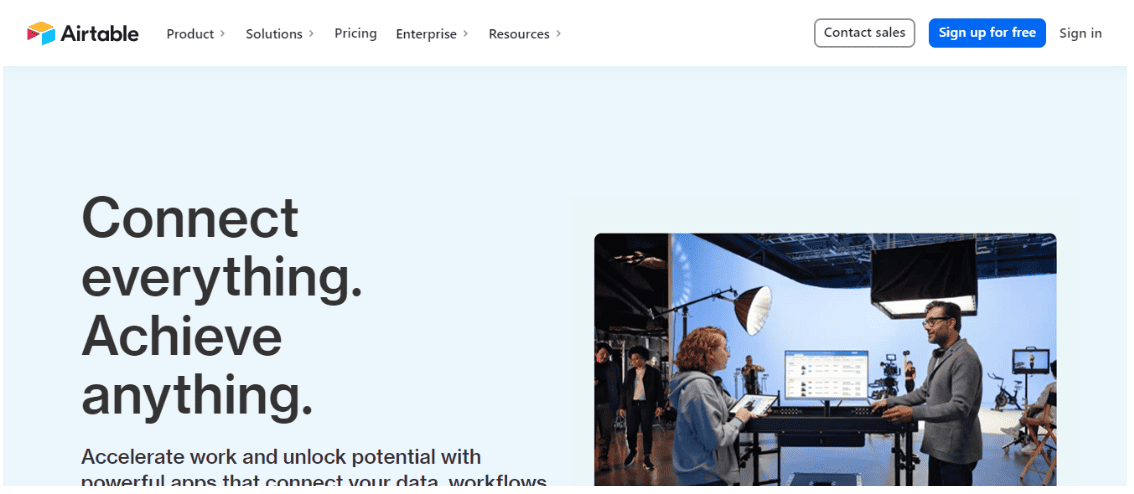 If you are looking for an online organization tool that does not require a lot of time to set up, Airtable is your answer.
Features
Interface Designer:

Helps you create customized user interfaces without code. It can be customized for the entire team or individual team members with a simple drag-and-drop tool.

Automations:

Allows you to create a multi-sequence workflow through the trigger and action logic and expand your functionality using Javascript.

Reporting:

Provides out-of-box extensions to visualize data using graphs, tables, and other metrics suited to your company's needs.

Sync: Helps you extract data from multiple sources within Airtable as well as other platforms such as Jira, Box, Google Calendar, and Salesforce.
Pricing

Airtable has the following plan categories, Free, Plus, Pro, and Enterprise.
The Free Plan is designed for individuals and small teams. It can be used by up to 5 creators and comes with unlimited bases, 1,200 records per base, and up to 2 GB of attachments per base.
Under the Plus Plan, you can avail of more tools, such as 5,000 records per base, 5 GB of attachments per base, custom branded forms, and three sync integrations, for $10 per seat per month.
The Pro Plan is Airtable's most popular plan and starts at $20 per seat per month. Here, you can avail of 50,000 records per base, Gantt and timeline views, field and table editing permissions, and ten extensions per base as some of its key features.
If you are looking for a customized, secure, and scalable online organization tool, the Enterprise Plan works best. It provides unlimited workspaces per organization, 250,000 records per base, SSO, 1,000 GB attachments per base, and unlimited extensions. To purchase the plan, you can contact Airtable's sales team directly.
Pros

Airtable is a highly customizable platform helping users create a dashboard that best suits their needs.
Cons

Despite its ease of use, customers have found it difficult to understand Airtable's more advanced features, including automation.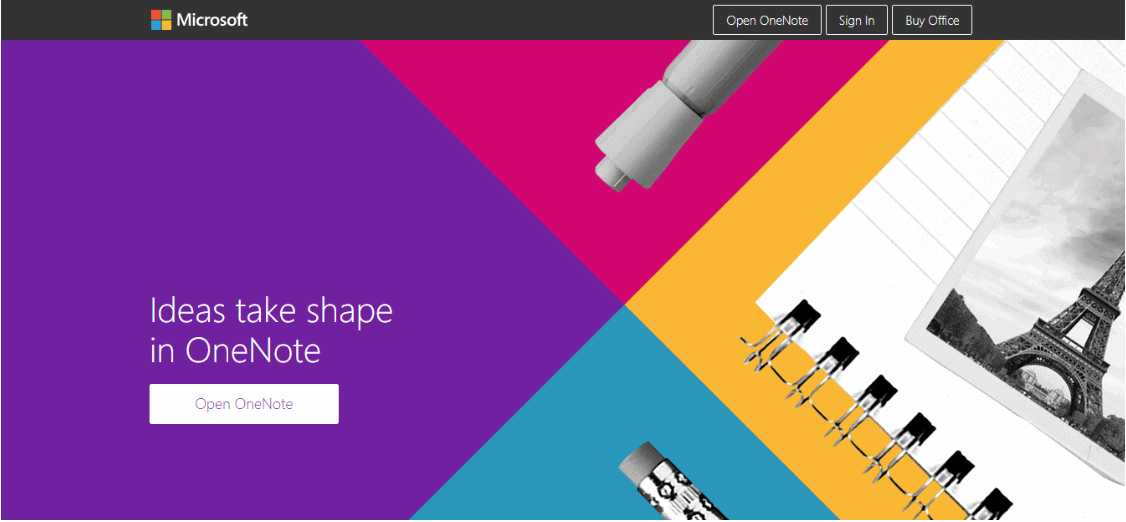 If you are a Microsoft Office user searching for an online organization tool that is well-integrated, look no further than Microsoft OneNote.
Features
Access From Anywhere:

Be it online or offline, Microsoft OneNote allows you to access your notes from anywhere. You can also edit or add notes on your laptop and mobile devices.

Note Typing:

This helps you write notes and then type them out later.

Office Integration:

You can shape your notes better by accessing spreadsheets from Excel or presentations from PowerPoint.

Class Notebook:

The feature allows you to organize lessons and distribute assignments to students from a central content library.
Pros

One of the benefits of Microsoft OneNote is that you can accumulate your notes on the platform, organize them on another online organization tool, and share them with your team.
Cons

The disadvantage of OneNote is that you cannot autosave the changes in offline mode.
Read also: 25+ Brilliant Small Business Tools for the Internet Champion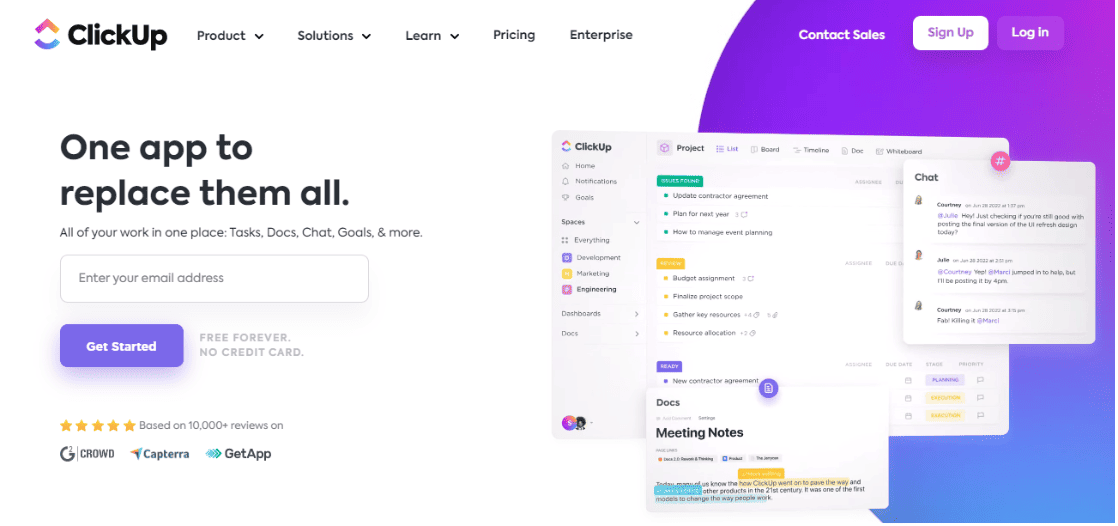 ClickUp is an online organization tool that helps you organize all your tasks, documents, chats, and notes in one place.
Features
Whiteboards:

Helps you collaborate in real-time with your teammates and visualize your ideas.

Tasks:

Allows you to divide a large project into smaller and customizable tasks.

Goals:

Helps you set targets and track the progress of your work against them.

Dashboards:

Enables you to visualize progress using real-time reporting metrics.
Pricing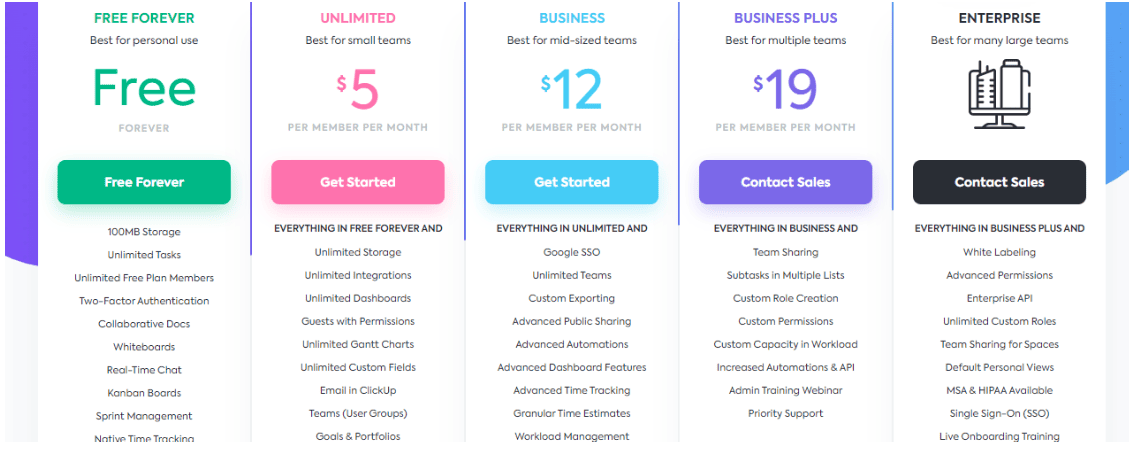 ClickUp offers five categories of plans, Free, Unlimited, Business, Business Plus, and Enterprise.
Under the Free Plan, you can avail of up to 100MB storage, unlimited tasks, collaborative docs, whiteboards, and Kanban boards.
With the Unlimited Plan, there is unlimited storage, unlimited integrations, agile reporting, and resource management, all for $5 per user per month.
The Business Plan starts at $12 per user per month and boasts Google SSO, unlimited teams, custom reporting, advanced time tracking, and advanced automation as some of its key features.
With Business Plus, you can get additional tools, such as priority support, custom permissions, admin tracking webinar, custom role creation, and team sharing, for $19 per user per month.
The Enterprise Plan is for large teams. It comes with white labeling, unlimited custom roles, enterprise API, live onboarding training, SSO, a dedicated success manager, and so on. To buy this plan, you can contact ClickUp's sales team directly.
Pros

ClickUp is useful for teams working on multiple projects since it helps you access tasks and search for them quickly.
Cons
At times, the boards on ClickUp can take time to load, particularly when filters are applied.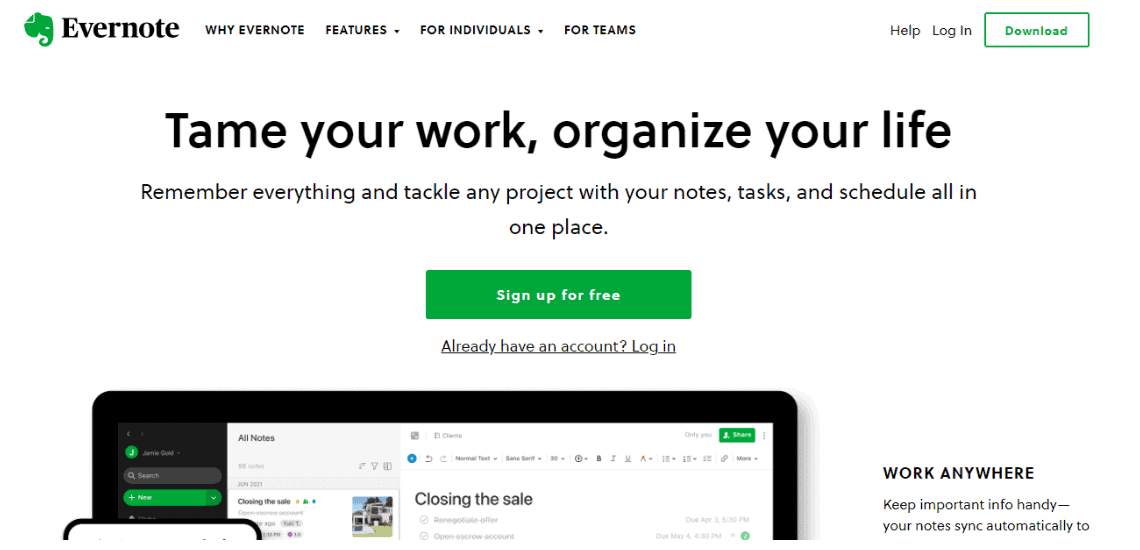 If you are looking for an online organization tool that allows you to add audio and visual elements to your notes, then there is no better option than Evernote.
Features
Google Calendar Integration:

Evernote's integration with Google Calendar allows you to import important dates and meetings on the Evernote dashboard automatically.

Search:

It enables you to search instantly for the information you need, including text in images and audio files.

Save:

This tool allows you to save web pages, articles, and PDFs on the platform.

Integration:

Evernote is integrated with all important platforms, including Slack, Google Drive, and Microsoft Teams.
Pricing
Evernote provides three plans, Free, Personal, and Professional.
With the Free Plan, you can sync your notes up to 2 devices, up to 60 MB monthly uploads, clip web pages, and attach documents.
Under the Personal Plan, you can sync unlimited devices, get a 200 MB note size, customize your home dashboard, and manage all your tasks in one place. It costs $3.55 per month.
The Professional Plan starts at $4.53 per month and provides access to all widgets, connects both personal and workplace Google Calendar accounts, and creates and assigns tasks to others.
Pros

Evernote is beneficial because it helps users easily access and modify their notes.
Cons

At times, the notes become slow to load when images and media files are added.
Read also: 16 Customer Service Tools for Great Retention Rates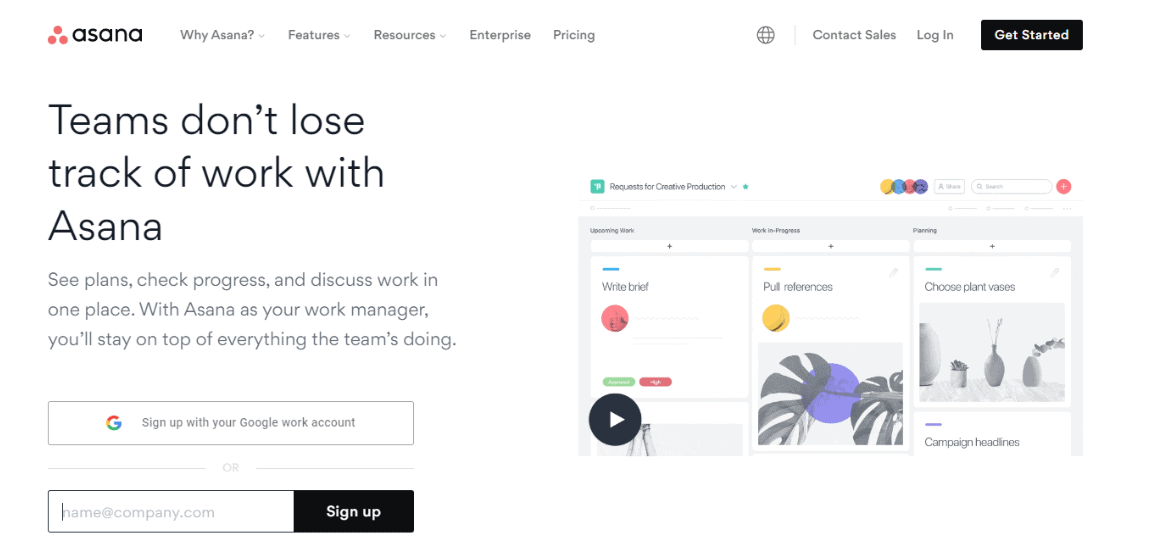 Asana is an online organization tool that is suitable for those using G Suite.
Features
Workflow Builder:

Helps create automated processes to assign tasks to your team members.

Reporting:

Allows you to track the progress of your projects using relevant metrics.

Goals:

This enables you to set goals and track their progress in one place.

Forms:

Helps you create, submit, and manage work requests and tickets on a single platform.
Pricing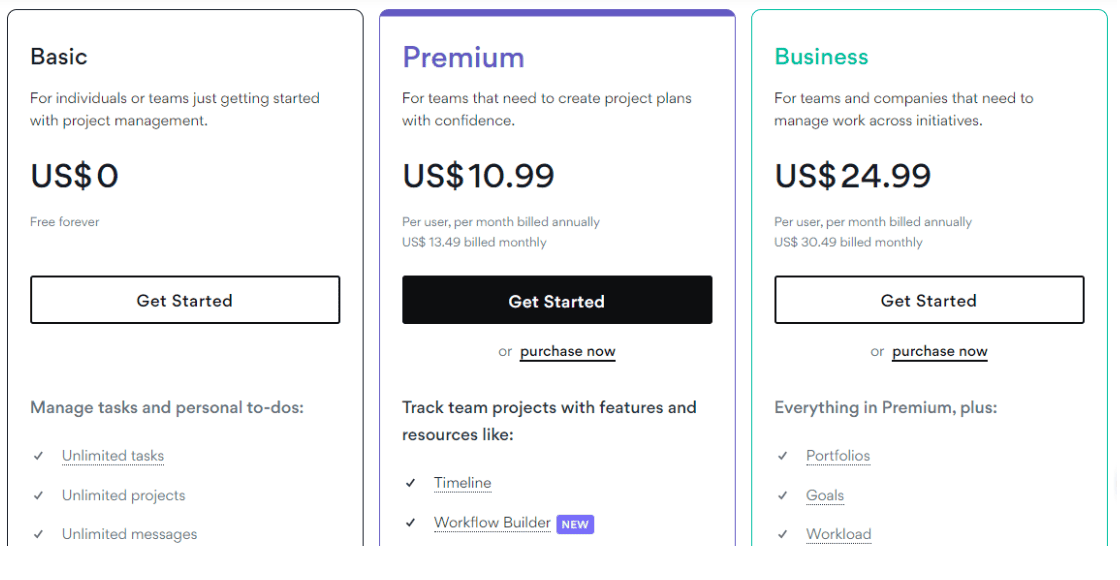 Asana allows you to choose from three plan categories, Basic, Premium, and Business.
The Basic Plan is free of cost. It boasts features such as unlimited tasks, unlimited projects, unlimited file storage, and collaboration with up to 15 people.
The Premium Plan is ideal for large teams. It costs $10.99 per user per month and comes with a timeline, workflow builder, unlimited dashboards, advanced search, custom fields, and so on.
Under the Business Plan, you can avail of additional tools such as portfolios, workload, custom rules builder, and form building at $24.99 per user per month.
Pros

Using Asana, you can easily collaborate with team members, create team projects, and boast numerous integrations.
Cons

One of the disadvantages of Asana is that its plans are more expensive than other digital organization tools.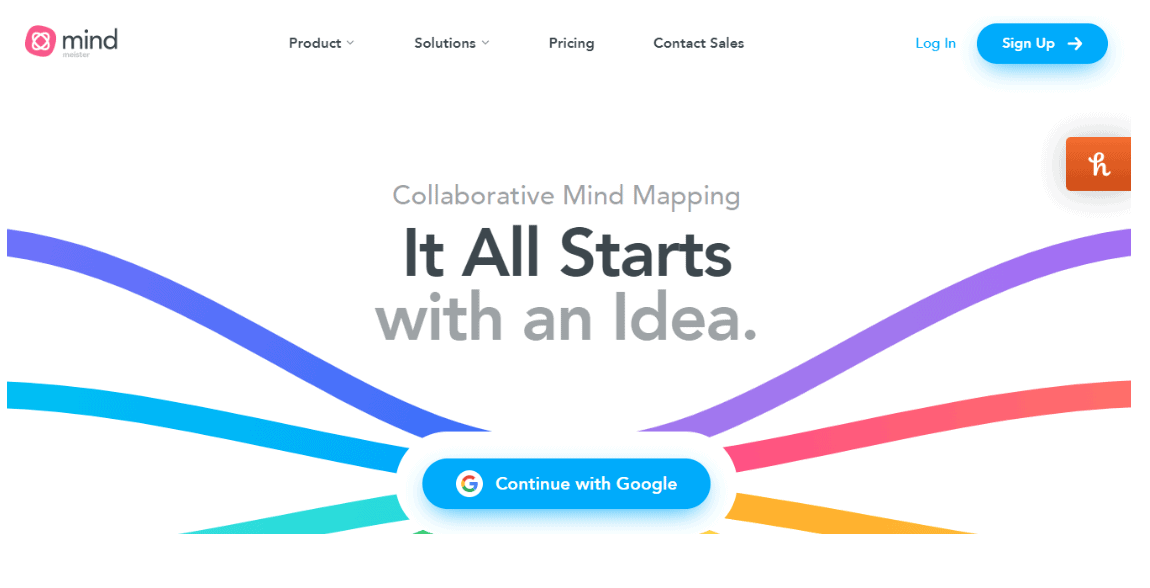 MindMeister is another online organization tool that is useful for those who use GSuite.
Features
Mixed Map Layouts:

It helps you organize your work in different forms on a single dashboard together.

Attachments:

Allows you to extract files from GSuite apps and attach them to your notes.

Focus Mode:

This enables you to remove irrelevant content and focus only on your work or project.

Embedded Media:

Allows you to embed videos, images, web links, and GIFs, to your notes.
Pricing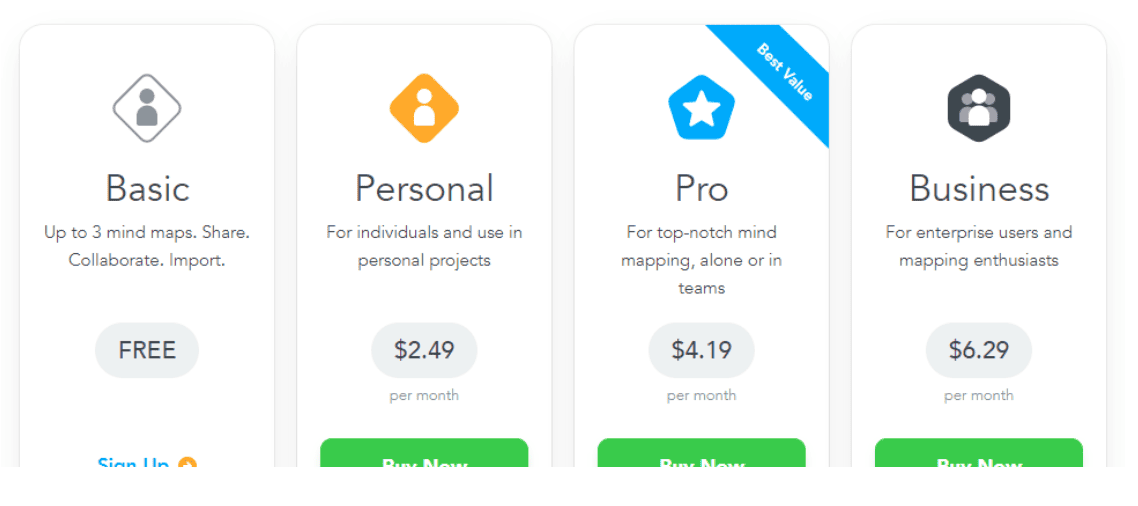 MindMeister has four types of plans, Basic, Personal, Pro, and Business.
The Basic Plan is MindMeister's forever-free plan. It comes with real-time collaboration, email support, up to 3 mind maps, and multiple team members.
The Personal Plan costs $2.49 per month and includes additional tools such as PDF export, image export, admin account, and unlimited mind maps.
With the Pro Plan, you can avail of Word export, PowerPoint export, and SSO for Google Workspace at $4.19 per month.
The Business Plan starts at $6.29 per month and boasts priority email and phone support, custom team domain, and compliance exports and backups.
Pros
MindMeister's user-friendly interface helps teams create complex workflows easily and increase efficiency.
Cons

A major drawback of MindMeister is the lack of design elements and a track changes tool.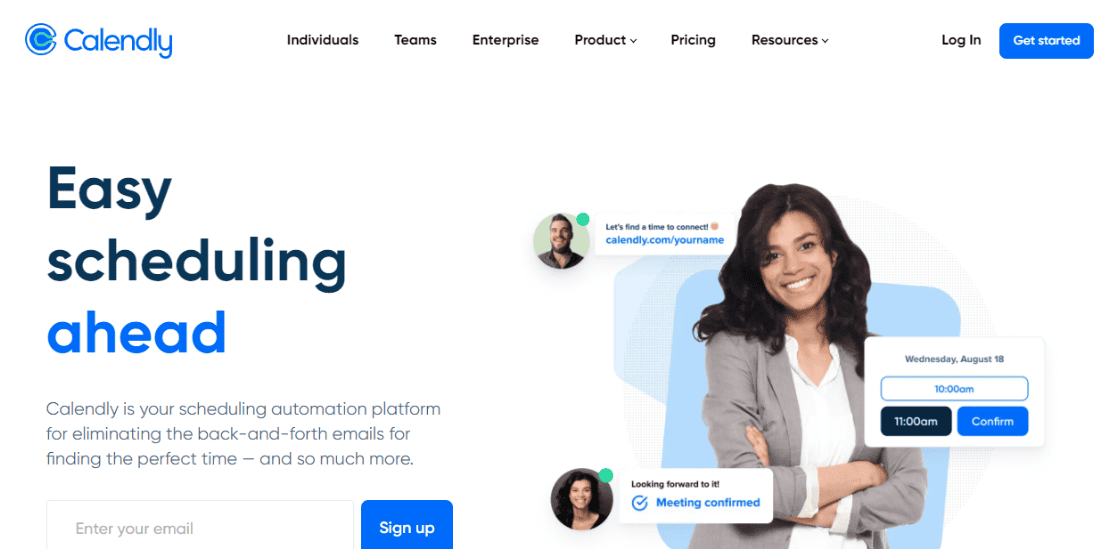 For those looking for an affordable online organization tool, Calendly is your best bet.
Features
Analytics:

Helps you understand activity trends and provides insights on setting team goals.

Meeting Polls:

Allows you to create polls and share them with team members to determine what time suits them best for meetings.

Embeds:

This enables you to add Calendly to your website to streamline scheduling and avoid transitioning between tabs.

Routing Forms:

They allow you to gather additional information before determining whether someone can schedule an appointment with you.
Pricing

Calendly has five plan categories, Basic, Essentials, Professional, Teams, and Enterprise.
The Basic Plan is a forever-free plan and provides a single calendar connection per person, unlimited meeting polls, GSuite integration, and so on.
The Essentials Plan costs $10 per user per month and boasts key tools such as unlimited active event types, group events, automated email notifications, and so on,
With the Professional Plan, you can get customized email notifications and reminders, automated workflows, analytics and insights, and invitee redirecting at $15 per user per month.
Under the Teams Plan, users can get SMS notifications, cancellation policy updates, and branding to booking pages for $20 per user per month.
The Enterprise Plan is for large teams and comes with integrations to HubSpot, Slack, and Salesforce, color customization, activity log, SSO, and automated group provisioning. To avail of this plan, companies can contact Calendly's sales team directly.
Pros

Calendly is known for its user-friendly interface and ease of setup, making it the go-to appointment scheduling platform.
Cons

At times, the URL of existing Calendly blocks still remains despite changes to the title of the meetings.
Read also: 7 Powerful eCommerce Marketing Automation Strategies + Tools
Wrap Up
If you want to stay ahead of your competitors, adopting the latest technology is the need of the hour.
Implementing organization tools will help you reduce manual work and increase efficiency, thereby improving overall productivity at work.
One of the best affordable and robust organization tools is EngageBay as it functions like an all-in-one CRM platform, which reduces the need to buy any other applications for streamlining daily administrative tasks.
It's free for up to 15 users, and you can sign up for a free demo here.
👉Supercharge your marketing strategy with our top 10 FREE marketing tools – explore the best options now! 💥