Running a real estate business in today's world is probably one of the more lucrative and sought-after professions.
If you're a realtor, showing open houses, finding the perfect home for your clients, and closing deals are likely to be an important part of your day-to-day life.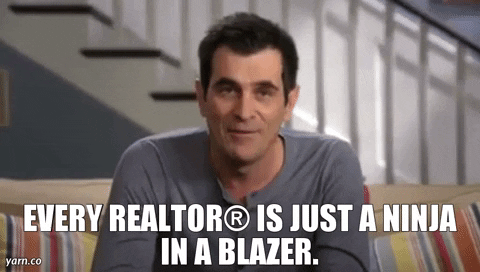 But, that's simply not enough to grow your real estate business in this day and age. Real estate marketing strategies require you to put on a different hat — and that's where a Customer Relationship Management (CRM) comes in for realtors.
After all, customers are the ones driving your business!
According to a survey by Fit Small Business, in March 2022, the average time for a house on the market was just 38 days!
So, it's obvious that you have to be efficient and act fast if you want to get the best deals for all parties involved when compared to previous years. And a real estate CRM would help you do just that!
Without further ado, let's take a deep dive and break down all the crucial information you'd need to implement a CRM for your real estate company.
Real Estate CRM 101: A Definition
So, first things first. The good news is that it's not rocket science 😅
What exactly is a CRM in real estate?
CRM stands for Customer Relationship Management and it is basically the system you use to manage your customers. It's the software you use to keep track of your customers, leads, contact information and tasks that need to be completed. A good CRM can provide insights and automation so you can provide the best experience for your clients.
Let's see how this would work with a real-life example. Let's say you have one long-term client from California who has already closed deals on multiple properties with your real estate company in the past.
They now have a new property that they would like to sell, with a selling price of $600,000. But, the only catch is that they would like the sale to be completed within three weeks or earlier.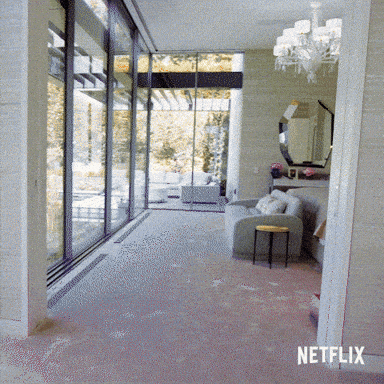 Now, without a good CRM software in place for your real estate company, it could take you quite a bit of time and manpower to pore over your excel sheets to find suitable buyers for the property! Sure, it's an old-school way, but it is also extremely slow!
Real-Life Example of a CRM Function
But a CRM for real estate can make this task a piece of cake.
Your CRM database would already have monitored all the interactions and tracked the behaviors of the potential buyers.
Your real estate CRM system would also have buyer personas that help you identify and classify the perfect leads for different properties. It is already integrated and stored in one place, as in the image below.
Your agent can also view potential buyers' income and credit scores. Now, for this particular property worth $600,000, your agent can apply filters and target the right leads.
For this example property in California, your agent can identify leads based on filters like:
An annual income of $200,000 and above
Interested in buying a property in California
A good credit score

Your agent can now find all leads who are looking to buy a property at this range and send them emails to reach out to all of them simultaneously and schedule viewings. A good CRM software will also have email templates that you can personalize and send out in bulk!
However, there are times when your prospect's annual income doesn't match up with the value of the property. After all, it's entirely up to the discretion of your buyers.
With a good CRM software, your real estate companies can nurture the right leads efficiently. And it saves your agent's precious time as well! This is just one common function that the right CRM software can do for your company.
Some other CRM functions can be found in the chart below.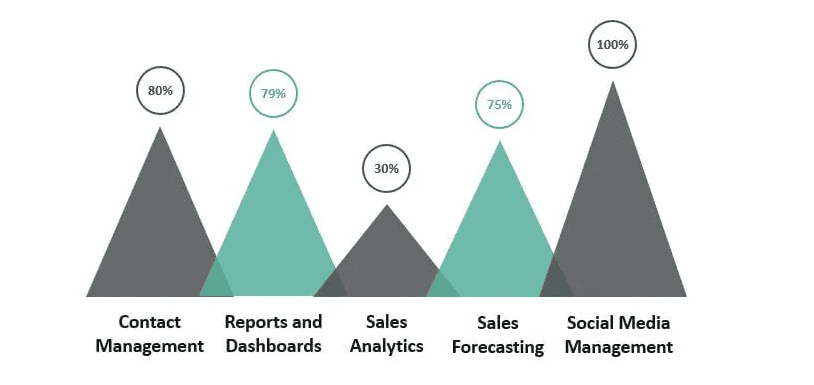 There are several other benefits to using a CRM solution.
Read More: Real Estate CRM — Everything You Need to Know
Benefits of Using a CRM Tool in Your Real Estate Business
According to real estate market reports, for every dollar invested in a CRM solution, there is a return of a whopping $8.71!
That's an 8x return on every single dollar you invest in a suitable CRM solution for your company! It's a no-brainer.
Not only that, a recent survey found that over 60% of realtors earning more than $100,000 per year used CRM solutions in their real estate companies!
These are some benefits in numbers. But, a CRM also helps your employees be more productive, connect with your clients on time, and also helps you save time!
Let's take a deeper look at these benefits.
1. It makes nurturing leads much, much easier
This is one of the biggest advantages of a working CRM system for your real estate company.
Especially if you are a fast-growing company, you may have several leads for each property. This can turn out to be very troublesome if you're unsure of how to manage these leads.
Your agents and marketing team will have a 360-degree view of all your clients and prospective clients. Your agents will also have data on lead qualification and lead scoring.
This will help your agents take informed, quick actions based on real-time data and customer pain points.
2. One-stop database for all your customer data
Another important advantage of having a CRM solution for your real estate business is the convenience of all your customer data being stored safely in one place.
As your company grows, each agent is probably interacting with hundreds of clients every week! All this can get impossible to keep track of without a centralized database that is updated in real-time for all your agents.
You can also have customer segmentation based on any number of relevant factors, which will help your agents match the demands of your customers. No matter where each prospect may be on the sales funnel, you can identify and provide the right nurturing to close maximum deals.
Read also: 14 Real Estate Lead Generation Tips That Will Have Your Phone Ringing
3. Efficient collection and categorization of property details
Many of your prospects would make use of real estate websites like Zillow or Realtor.com to look at properties they would be interested in.
With a CRM system in place, the software would allow you seamlessly collect data on properties from all websites and have them in one place!
Your prospects and agents would no longer have to sift through multiple websites and can just access the same information with the click of a few buttons! It greatly reduces manual data entry effort.
This would improve your agent's efficiency, but will also guarantee customer satisfaction.
4. Integration of real estate marketing campaigns
This is one of the most crucial functions of your CRM solution!
All CRM solutions would allow you to integrate your marketing campaigns with your CRM database. Whether you're planning a well-targeted real estate Email campaign or a real estate social media marketing campaign, a CRM software will help you track various KPIs in real time across multiple positions.
Here are some important functions you can accomplish by integrating your real estate marketing campaign with your CRM database:
Allows agents to follow up with prospects at the right time and through the right medium
Allows agents to identify the properties in need of more marketing
Monitor the success of various marketing campaigns and make changes to the strategy based on data
Allows agents and marketers to personalize Email and other marketing campaigns
Generate accurate sales forecasting based on real-time data
Understand the pain points for each prospect, thereby increasing customer retention
Read also: 12 Best Real Estate CRMs for Investors and Agents in 2023 (Free & Paid)
5. Real-time tracking of communication with prospects
CRM is now a necessity if you want to maximize customer satisfaction.
Recent research by academics has shown that 74% of companies that employ a CRM solution reported higher customer satisfaction levels.
Here are some of the ways you can leverage your CRM to improve client satisfaction:
Automatically update every interaction with the client on the database
Allow prospects to get in touch with your agency through various channels
Allow marketers and agents to create personalized communication with prospects
Ensure that each client is up-to-date with information at each stage of the sales funnel
Respond to client queries quickly and efficiently
Faster address and resolution of client complaints
Use actionable data insights from your system to further improve customer support/communication
Read also: 8 Beautiful Real Estate Landing Page Examples
Must-Have CRM Features for Realtors
Not all CRM solutions offer the same features or plug-ins.
So, what features would be a must-have for your real estate company's CRM? We're glad you asked.
1. Front-end website or an IDX integration
Depending on the size of your company and your allocated budget, we recommend getting a front-end website functionality or an IDX Integration functionality for your real estate CRM.
Typically, CRMs that offer a front-end website function would cost you a little bit more.
What this does is map out and save the kind of properties each visitor to your website is looking at. Based on their previous searches, you can send them similar properties directly to their email inbox! This will help you convert more website visitors into prospective buyers.
If your marketing budget is on the lower side at the moment, have no worries! IDX Integration is the answer to your prayers.
IDX is an acronym for Internet Data Exchange, which will give you the same function as a front-end website at a lower cost.
With IDX, you can connect your existing website to your CRM database using a plug-in. This will allow you to track and save data the same way as a front-end website.
Read also: 15 Easy Steps to Start Real Estate Email Marketing Like a Pro
2. Strong content management system integration
One of the best strategies for long-term marketing is creating and publishing great content and blogs on your website.
This helps you build credibility as an expert in your field. Ideally, you should be able to integrate almost all popular content management systems (CMS) like WordPress with your CRM database.
But, the cost and functions offered by each CRM integration would be different, and you have to choose one that is best suited to your needs and budget.
Some of the benefits of integrating your CMS with your CRM are:
Get data regarding website visits directly on your CRM dashboard
Generate reports and analysis of visitor data
Data on website performance to improve marketing strategies
So, realtors, make sure you're playing the long game to maximize your ROI on CRM for years to come.
Read also: The Complete Real Estate Marketing Automation Guide (With Steps, Ideas, Examples)
3. Contract management system
Every realtor worth their salt knows that when a deal is closed, it's important to have the contracts ready to be signed at the earliest! And, messing up this aspect is a quick way to reduce customer trust and shows you in an unprofessional light.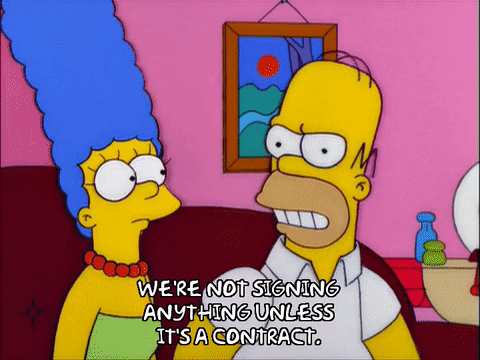 The good news is that you can integrate contract management into your CRM system, and streamline this process.
Here are some of the ways contract management integration can help you:
Maintain a larger database of pre-approved contract templates
Create and manage a list of clauses and terms that apply to different customer segments
Track changes to contracts in real-time
Integrate broker commission as a part of each contract, without which the contract cannot be complete
Automated emails are sent to agents/stakeholders if there are unintentional changes to the contract
Create a standardized workflow for processing contracts
Read more: Real Estate Marketing Automation — A Guide For Real Estate Agents
Two Kinds of Real Estate CRMs You Can Use
Now, two main types of CRM solutions are available. Let's take a closer look to determine what CRM would be most suited to your needs.
Cloud-based CRM
Ever since its introduction in 1999, cloud-based CRM has taken the world by storm.
A cloud-based CRM simply means that the CRM can be accessed from anywhere using an internet connection. The program and the data on it are all stored in the servers of the service provider rather than storing it locally.
You could choose a cloud-based CRM for your real estate marketing if you:
Don't want to invest upfront in servers and maintenance costs
Need to use your CRM outside on the go, outside the office
Are comfortable reaching out to the vendor for support
Don't need autonomy over system repairs and upgrades
On-premise CRM
Now, an on-premise CRM is pretty self-explanatory.
It's a CRM solution that is built and hosted by the company. An on-premise CRM will help you eliminate any middlemen, and put the control solely in your hands.
This is usually the preferred CRM by big players in industries like banking, where large amounts of sensitive data is processed daily.
An on-premise CRM may not be right for you if you are a small or mid-size company.
An on-premise CRM is right for your company if you:
Have a large number of users
Require complete control over your sensitive customer data and need to avoid data theft
Will not need to use the CRM on the go, outside the office
Have a budget for upfront costs and maintenance over several years
Read also: The Types of CRM Systems – A Comprehensive Guide
Wrap-Up: Are You CRM-Ready at Your Real Estate Firm?
A good rule of thumb is that if you have over 100 customers, your company is likely to benefit a great deal from implementing a successful CRM solution. And real estate is no exception to this rule!
Having a CRM solution in place is a win-win for all stakeholders — the company, your employees, and your clients.
Another word of advice before we take your leave. Whatever CRM solution you end up choosing, remember to test out various features and functionalities. This will help you make the most of any CRM software in the long run.
We hope you are able to manage your customer relations with ease using these tips. If you'd like to try the world's most affordable all-in-one CRM solution, try EngageBay.