A successful real estate agent needs fresh leads like humans need oxygen.
And, without attracting quality leads through digital and offline marketing, it's almost impossible to scale up a real estate business.
If you're a real estate agent who's a little overwhelmed by the sheer number of options and 'how-to' marketing articles, we're here to simplify lead generation for realtors.
In this article, you'll learn 15 real estate lead generation ideas that have stood the test of time.
With these stellar ideas, you'll be ringing the sales bell a lot more, much like the hit show Selling Sunset.
So, let's dive right into it!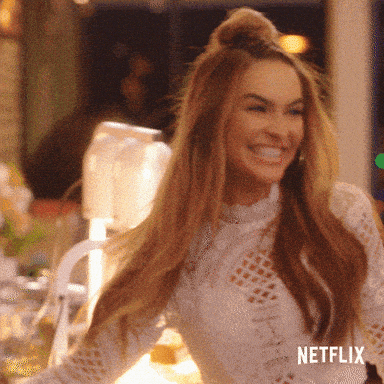 14 Lead Generation Tips That Will Have Your Phone Ringing in No Time
Here are the best strategies to generate leads in the real estate business.
1. Optimize your SEO for local leads
Optimizing your Google My Business profile and incorporating local SEO keywords is the first timeless lead generation idea and the most basic one as well.
According to the Moz SEO Ranking Factors Survey, a good Google My Business profile was the single biggest factor for a higher-ranking real estate website!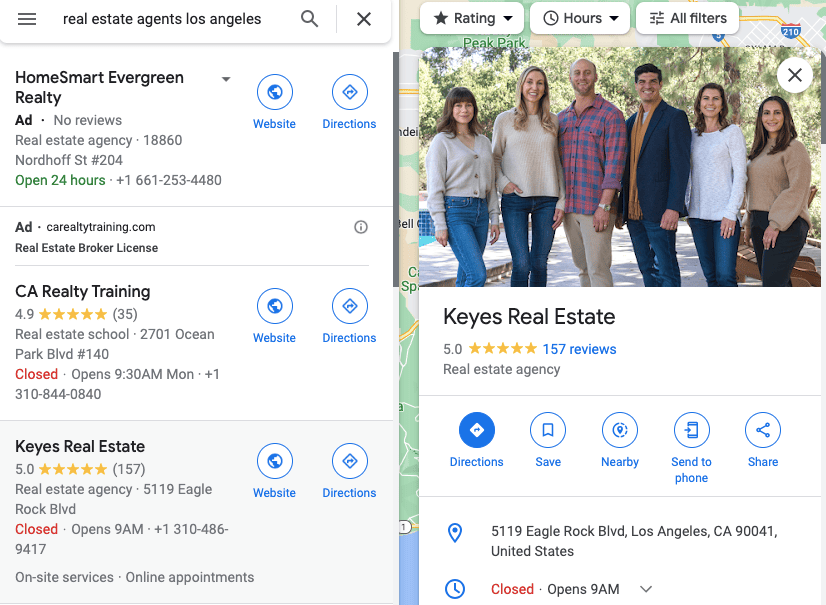 So, make sure you've claimed your Google My Business profile. Keep it updated with the latest professional pictures, contact details and addresses.
But this is not all. For your marketing efforts to really come to fruition, you will also need to optimize your website and Google My Business account for local SEO keywords.
For example, if you work out of Los Angeles, you can incorporate local search keywords and nearby localities for maximum leads.
This means that whenever someone searches Google with keywords like 'real estate agent los angeles' or 'los angeles best realtor' or 'realtor near me', your website and listing will show up on the first page.
In fact, the searches that include the keyword 'near me' have gone up by around 900% since 2017-18, according to a report by Inman. With local SEO optimization, you'll never miss out on these leads again!
Read more: The Most Amazing and Actionable SEO Quotes
2. Optimize your landing pages for conversions
Take a look at this example 👇
What exactly is a real estate landing page?
A real estate landing page is a stand-alone page, where visitors will first 'land' when they visit your real estate website. A landing page usually has a clear goal and a prominent call-to-action (CTA) button.
Your prospects can reach your landing page by clicking on your link from an email, from a Facebook or Instagram ad, or just a simple google search.
The example above from Flyhome Realtors is a great example of a good-looking and effective real estate landing page.
Read also: 12 Best Real Estate CRMs for Investors and Agents in 2023 (Free & Paid)
How do real estate landing pages maximize lead conversions?
Here are the best real estate landing page practices to maximize lead conversions:
A clear, catchy headline that highlights your value
A prominent call-to-action (CTA) button
Social Proof, awards won, client testimonials, etc
Avoid unnecessary and loud graphics
Add stunning, up-to-date photographs of properties
Do not include too many form fields
Read more: Real Estate Landing Pages and Everything You Need to Know
3. Segment and score leads with marketing automation software
A good Customer Relationship Management (CRM) software can be your best friend, especially when your CRM is integrated with marketing automation.
You can use your CRM software to score and segment your leads. To put it very simply, lead scoring is just the process of assigning a certain value or score to your contact list based on their interactions with your real estate business.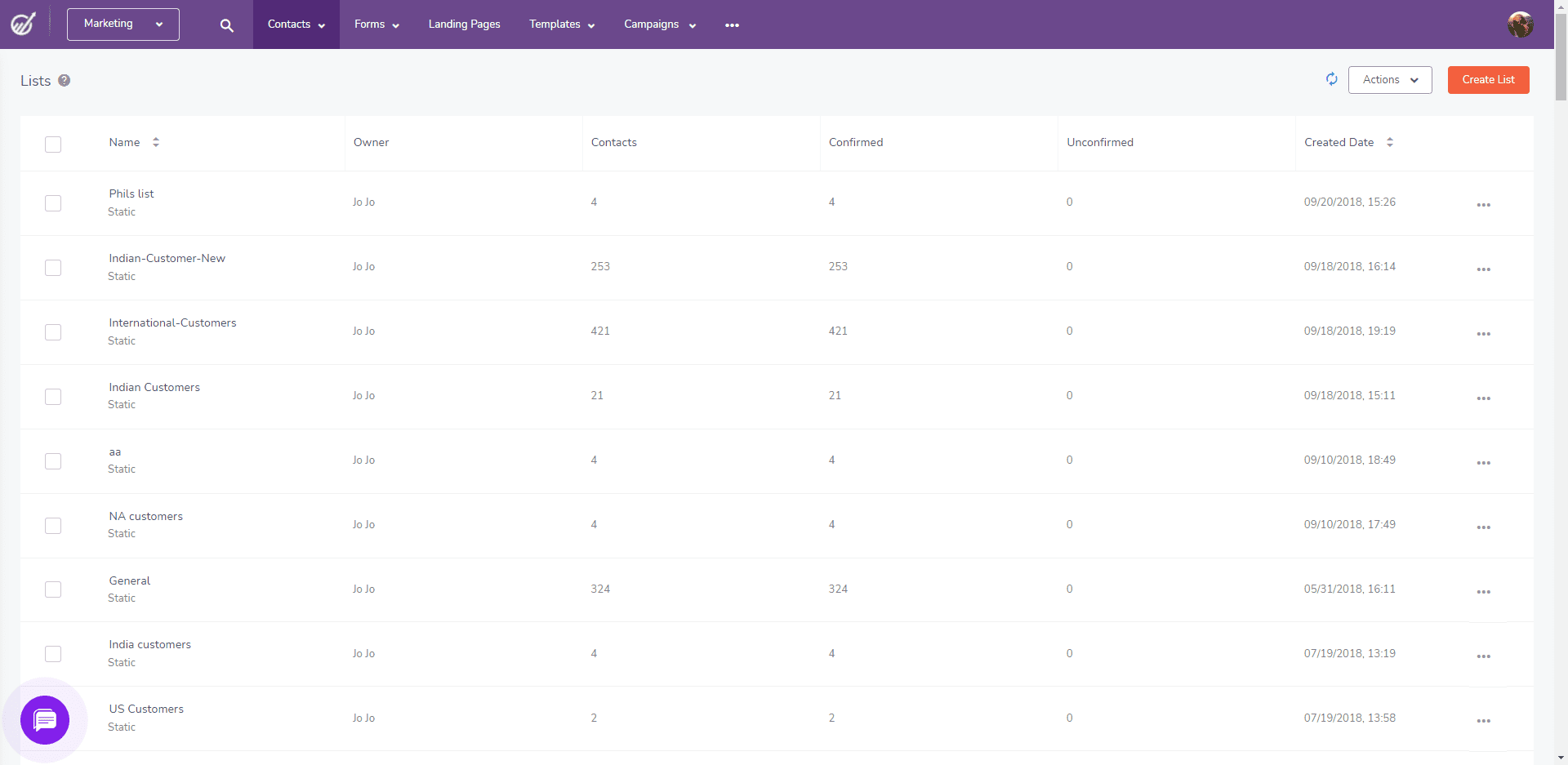 Let's see how lead scoring would help. Let's say you have a prime property for sale and you want to close the deal as soon as possible. Two of your clients — Mr X and Mr A — are your top leads for this week.
Using your CRM to score these leads, you find out that Mr X has recently unsubscribed from all your newsletters and email updates.
On the other hand, Mr A has recently filled out a form expressing interest in a property in the same area! Your predictive lead scoring has assigned a higher value to Mr A.
This makes it easier for you to reach out to Mr A to discuss the property you have for sale. It becomes a piece of cake with automated lead scoring and saves you a lot of time.
Read also: Real Estate Marketing Automation — A Guide For Real Estate Agents
4. Create virtual home visits for busy prospects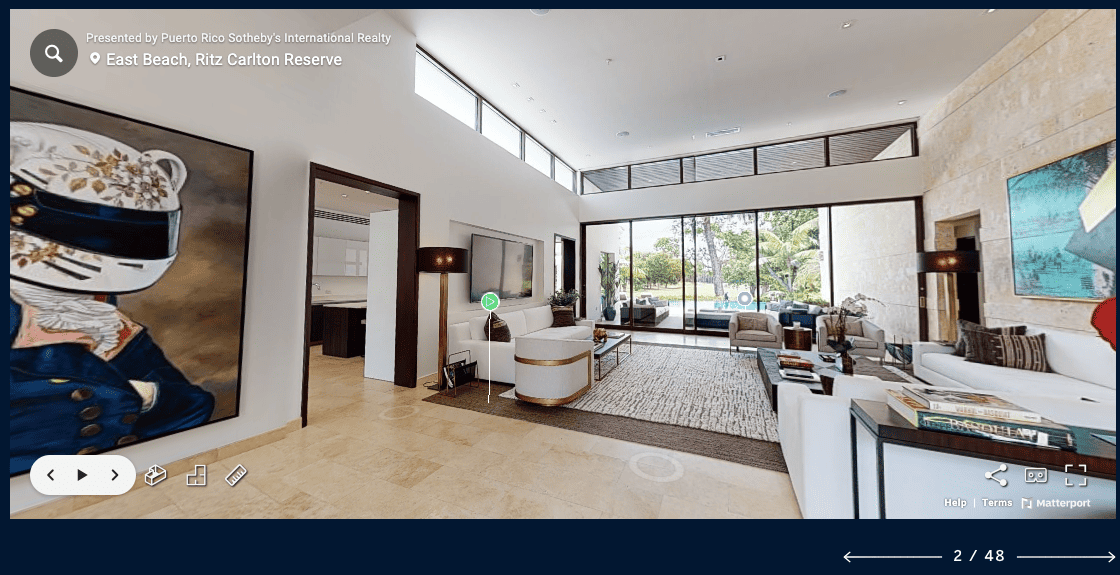 If you are not already staging virtual home visits, you better get in the game real soon.
A recent study by Matterport found that a whopping 80% of buyers would switch to a real estate agent who offers virtual home walkthroughs or 3D virtual home visits. Not only that, more than 50% of buyers would actually purchase a property sight unseen if they have a virtual walkthrough!
This number is too big to ignore for any small or medium-sized real estate agency. Here are some other benefits for realtors hosting virtual walk-throughs:
Realtors, buyers, and sellers all save more time
Agents can also communicate in real-time with clients online
You can target more long-distance buyers
Prospects can take the tour at their convenience 24/7
Sellers are not pressured to keep their homes spotless at all times
You can use virtual reality software like Lumion or Kuula to upload images and videos of the property to create a virtual tour of your property.
See also: Real Estate Landing Pages — 8 Beautiful Examples
5. Capture more leads using a lead magnet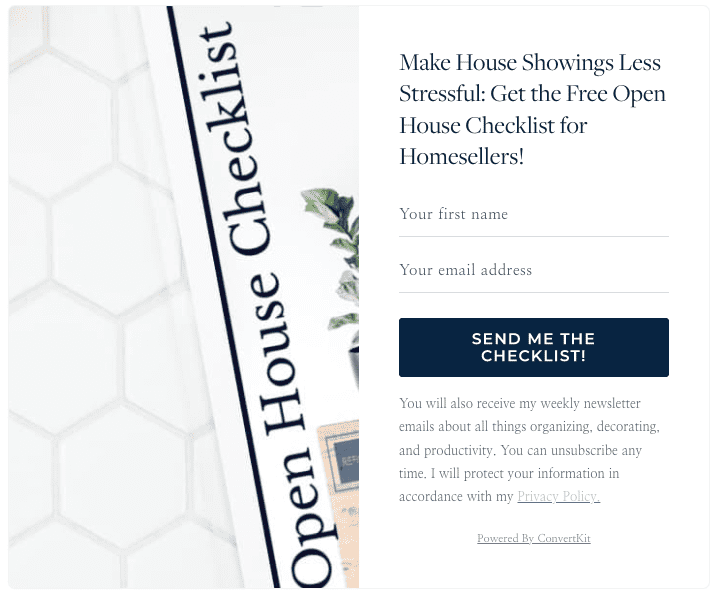 What is a lead magnet in real estate?
To put it very simply, a real estate lead magnet is a freebie that is offered in exchange for a prospect's email address.
This freebie should be something that offers value to your prospects so that they are willing to give you their email ID. This could be a checklist like the example above. It could also be an e-book, a link to a webinar, or even an email newsletter.
Master the art of sales lead management with our expert guide – explore best practices and strategies now!
What are the elements of a great real estate lead magnet?
A high-value freebie that appeals to your client base
A captivating and clear headline
One or two form fields (like name and email ID)
A clear call to action button
A clear image of the freebie
A close button
Read also: The Ultimate Guide to Creating Lead Magnets, and Why You Need Them
6. Host a real estate webinar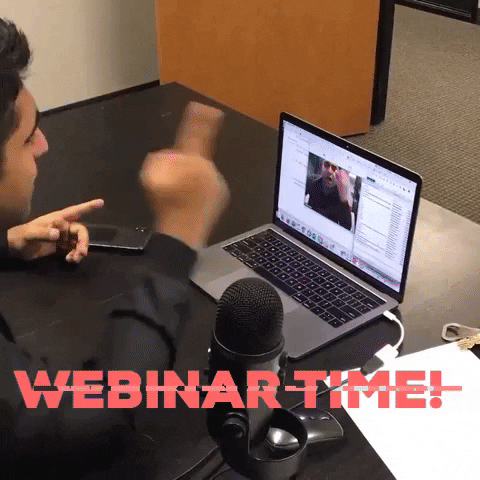 Whether you love them or hate them, webinars are here to stay, especially after 2020.
Hosting a webinar on real estate-related topics is a sure way to gather new leads. When people sign up for the webinar, they will give you their email ID, which means a new lead for you.
Apart from that, it also helps establish you as an expert in real estate in the minds of your prospects.
Read also: What Is a Webinar and How to Use It for Lead Generation
7. Create interesting, helpful content for your blogs
Content is said to be the king in marketing, and real estate is no exception to this.
Your real estate blogs and articles not only add value to your customers, but they also help you stay present in your prospects' minds as an expert in real estate. The blog from HousingWire below is a great example.

Here are some more benefits of content creation for your real estate website:
More visibility in Google search results
It's cost-effective
Your blogs can generate leads for up to a year
Clients are more likely to share a helpful blog on their social media channel
Struggling with crafting the perfect real estate email? Our blog post offers 20 ready-to-send real estate email marketing templates to boost your marketing efforts. Send some emails now!
Read also: Authority Content Hacks to Give You Instant Expert Status
8. Optimize social media pages and post regularly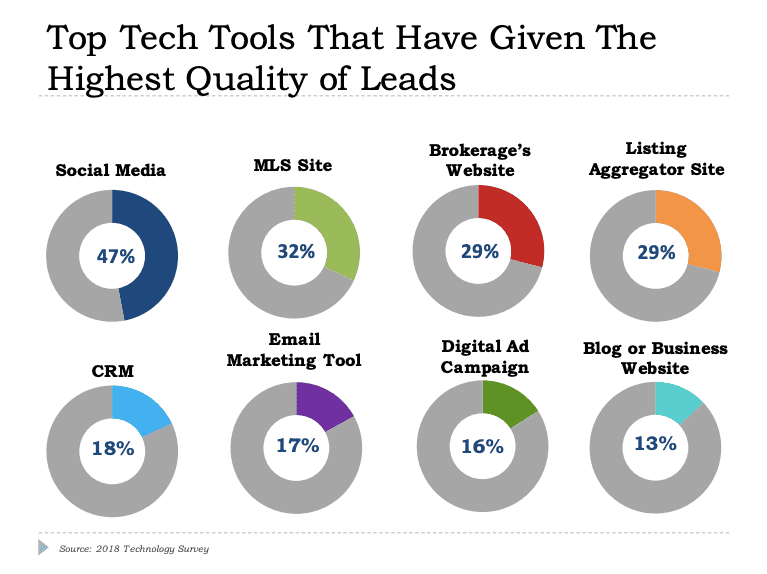 As you can see from this report from the National Association of Realtors, social media remains the top source for generating high-quality leads in the real estate industry.
The top social media channel for realtors is Facebook, with a 97% share of social media leads in the real estate industry! There are also channels like Instagram (39%), and Linkedln (59%) that you cannot miss out on.
First, ensure that all your social media channels are up-to-date with pictures and other important information. Once your pages are ready to go, here are some excellent social media content marketing ideas to get you started:
Post content that highlights your USPs and company values
Clarify common misconceptions about home buying or selling
Respond to both positive and negative comments in a polite and professional manner
Share videos of some prime properties
Share customer success stories in an interesting way
Give your thoughts on the latest industry and market news
Post behind-the-scenes videos of your company
Feature a realtor of the month and highlight their bio
Share inspiring client and employee stories
Pay for targeted Facebook or Instagram ads
Read also: 8 Best Email Marketing Software for Real Estate
9. Join online homeowner groups from your area on social media
This is a no-brainer and costs you absolutely nothing!
Find those local homeowner groups for the areas that you service. This will be a great way to stay connected with the issues and problems faced by the local community, and you just might be able to help!
Posting relevant and helpful content on these groups would also ensure that you are viewed as an expert. But remember not to be too pushy and post unnecessary or promotional material on these groups.
Read also: Real Estate Marketing Automation: A Guide For Real Estate Agents
10. Host contests and giveaways on social media
Another great way to engage with both prospects and long-term clients on social media is to host contests or giveaways.
How might these social media giveaways and contests work for the real estate industry?
Well, let's give you an example. Let's say you want to target buyers who have already purchased one home and are looking for their second home.
In this case, you can host a contest where you ask your prospects to write about their biggest challenges while buying their first home. The person with the most likes gets a gift card for $500.
Get as creative as possible with the contest as well as the gift you will offer to the winners. The more unique and engaging your idea is, the more clients are likely to participate.
Read also: 9 Real Estate Landing Pages Sure to Inspire and Convert (+ Expert Tips)
11. Look out for old, expired listings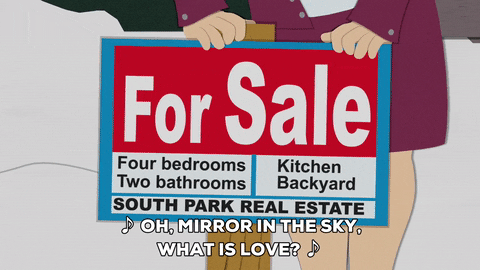 We have all seen those expired listings! This means that a property has been on the real estate market for some time, but it wasn't sold. This is a key area that realtors need to target to generate leads.
One of the best sources for realtors to find expired leads is going through a multiple listing service (MLS). You can simply filter the listings by their expiry date and location on most MLS services.
Once this is done, this list can be manually or automatically imported into your CRM software.
With your CRM software, you will be able to score these leads based on their interactions, if any.
You can reach out to these expired listings through email or a call. But remember to first build a natural rapport, as they are likely to be contacted by other realtors in your area.
Read also: 15 Easy Steps to Start Real Estate Email Marketing Like a Pro
12. Target old FSBO offers without being pushy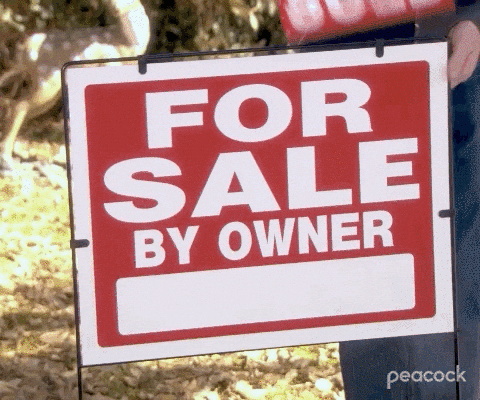 Sometimes, you may find FSBO deals that are just perfect for some of your clients. You can also look up expired FSBO listings using MLS.
This is yet another probable source of quality leads. Most FSBO listings already feature the owner's email and contact details directly.
According to a report by MailChimp, the average open rate for emails in the real estate industry is 19%! On the other hand, a report by BloomTown shows that only 5-10% of prospects would even pick up a cold call from a realtor!
So, for best results, you need to use a multi-channel approach to reaching out to FSBO listings in your area — one that includes emails, SMS, and cold calling.
While reaching out to prospects with an FSBO listing, keep these tips in mind:
Don't be aggressive with your sales pitch
Briefly explain what your real estate company does differently
Don't spend more than 2 minutes on a cold call
It's ideal to send an email first before calling the prospect directly
Read also: Real Estate Email Marketing Templates [Ready to Send]
13. Feature video walk-throughs and client testimonials
Another strategy for warming up leads is to employ real estate video marketing in your strategy.
If you're not convinced, let the numbers do the talking. A study by QuickSprout found that real estate listings that feature a video got 403% more inquiries!
So, featuring videos on your website is a great idea to warm up leads. Here are some kinds of videos you can consider featuring:
Virtual Walkthroughs of listings
Client testimonial videos
Useful tips for sellers and buyers
Host a live Q&A session on YouTube or Instagram Live
Interview videos
Read also: The Complete Real Estate Marketing Automation Guide (With Steps, Ideas, Examples)
14. Contact clients on their birthdays and other events
Now, in real estate more than in any other industry, client referrals are extremely important for you to find new leads.
So, it is equally important to periodically reach out to your existing clients. This shouldn't be a sales pitch or a new listing. Try reaching out with a friendly email or call on your clients' birthdays, anniversaries, or other milestones.
This will make sure that you continue to build a rapport with these clients and will keep you fresh in their minds.
And when one of their friends or family is looking for a trusted realtor, your name might just be first on their minds.
Read also: What is a CRM in Real Estate? Cheat Sheet for Realtors
Ready to Generate and Nurture Free Real Estate Leads?
As you can see, it is equally important that you nurture every lead in the right way at the right time.
Moderation is key.
Which of these strategies have you already tried? Let us know your results after trying out these strategies. We'd love to hear from you.
And if you're looking for an all-in-one marketing automation and CRM solution, look no further than EngageBay. More than 46,500 small business owners are using it already to boost their sales and manage a dozen aspects of their business.
Give it a try.
👉Empower your sales team with the best lead management practices – learn more in our expert guide! 💪