A successful business is one that can plan and forecast accurately.
The ability to predict demand and supply of goods and services with a high level of accuracy is crucial for businesses to plan their operations, budget, staffing requirements, etc.
The wrong sales forecast can result in lost revenue or missed opportunities when there isn't enough inventory or resources to meet the needs of customers. On the other hand, a sales forecast that is overly optimistic can cause issues too.
In this blog post, we will explore six sales forecasting tools that every business should try: HubSpot, EngageBay, ActiveCampaign, Keap, Pipedrive, and Anaplan.
Of course, no sales team would need all of these, but it helps to know them well so you can decide what sales forecast tool can work best for your sales organization.
1. EngageBay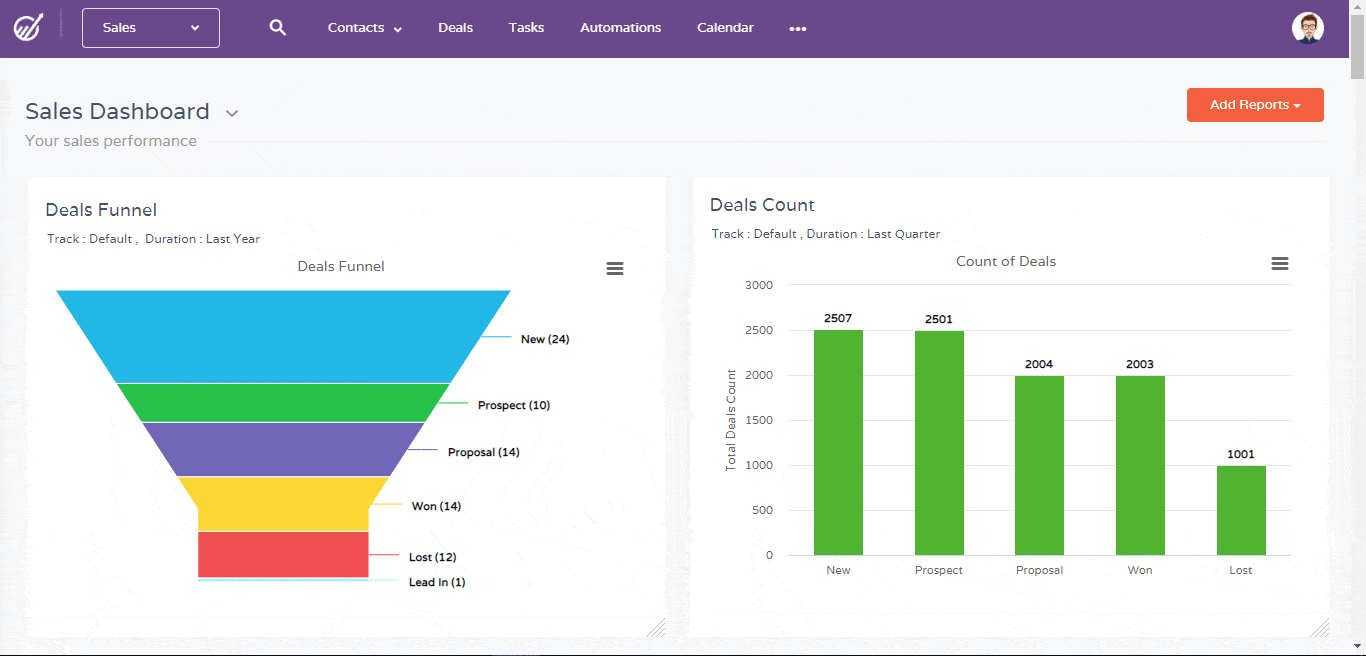 Starting our list of sales forecasting tools is EngageBay, an all-in-one sales, marketing, and customer support software for small businesses and startups.
The super-affordable plans and often free features make EngageBay a great option for any organization's sales forecast needs.
Features
EngageBay has four products: the All-in-One Suite, the Marketing Bay, the CRM & Sales Bay, and the Service Bay.
The CRM & Sales Bay is packed with awesome features for accurate sales forecasting. Here's an overview.
Holistic customer profiles: EngageBay's holistic customer view provides rich insight into your audience. This can reveal valuable upsell and cross-sell opportunities.
Deal pipelines: If your current software can only produce one deal pipeline at a time, wait until you use EngageBay. You can run as many deal pipelines as you have active, be that three, 10, or a dozen. You can even categorize the active pipelines by parameters such as geographies, or any preset filters of your choice.
Sales automation: EngageBay's suite of smart sales engagement tools allows you to convert more leads and increase your using the power of automation.
Account-based marketing: With account-based marketing in EngageBay, you can review metrics such as document read rate, email open rate, and many more KPIs your business relies on to make crucial business decisions.
Sales gamification: If your sales were sagging last month or last quarter, perhaps your sales team needs a boost. Sales gamification creates a sense of friendly competition among your sales reps so they all strive to do their best.
Custom reporting: In addition to EngageBay's account-based marketing, the custom reports offer more flexibility to set your own new KPIs, and on a very detailed, precise level. The reports are updated in real-time.
Pricing
EngageBay offers four pricing plans for the CRM & Sales Bay. The Free plan is $0 per month per user forever. That plan includes features like email marketing, tasks, deals, 360-degree customer views, and contact management.
For only $12.99 per month per user, the Basic plan adds third-party integrations, predictive lead scoring, and multiple deal tracking.
The Growth plan is $24.99 per month per user and includes proposals, products, sales automation, and the sales leaderboard. All the features we mentioned above are also offered in this plan.
If you want all the advanced sales forecast features from EngageBay, the Pro plan costs $49.99 per month per user. You gain access to goals, call scripts, proposal analytics, and customized reports, in addition to every other feature in the CRM & Sales Bay.
2. HubSpot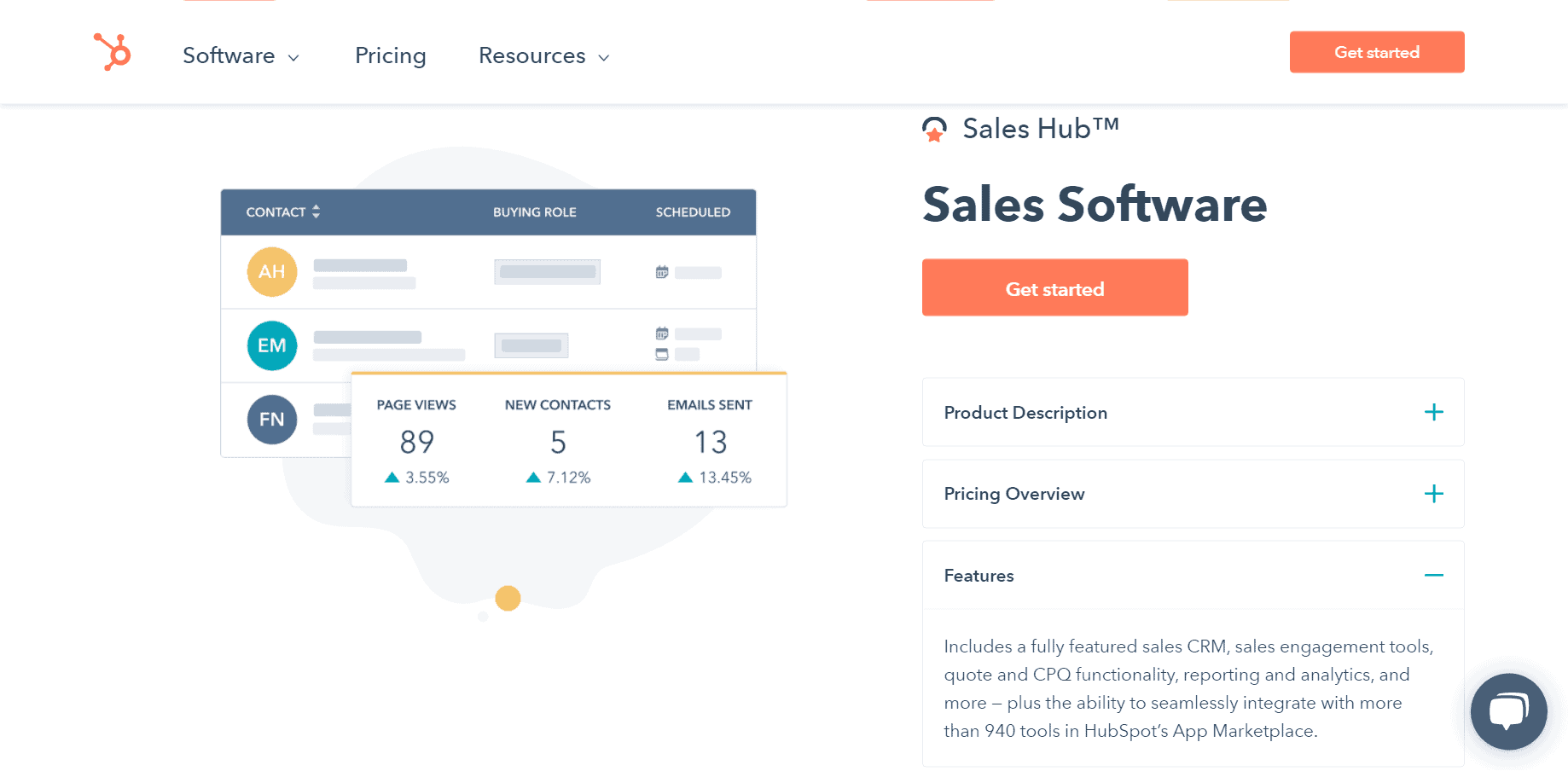 A well-established service, marketing, and sales solution, HubSpot even has an Operations Hub for encompassing solutions designed to serve all sorts of industries.
Features
The Sales Hub is where we'll focus our attention, so here are some features from HubSpot that can further your sales forecast.
Conversation Intelligence: Every sales call has a point, or at least, it should. HubSpot's Conversation Intelligence feature uses automation to pull valuable details from all your recorded sales calls.
Sales automation: From sales emails to follow-ups and other menial tasks that keep a busy, HubSpot can help with automation. This frees up a sales rep's schedule to close more deals and bring in higher .
Sales management playbook: HubSpot's sales management playbook equips your sales reps to do their best. Included are positioning guides, call scripts, competitive battle cards, and plenty more that can make salespeople high converting machines!
Sales reporting and Keep progress moving linearly by tracking your financial successes with detailed : and in HubSpot. All aspects of your company's will be dissected here.
Pricing
HubSpot's Sales Hub is available at three price points. The Starter plan costs $50 per month per user. You can use such features as task queues, basic automation, conversation routing, and goal-setting.
The Professional plan costs $500 per month per user. Here you gain access to accurate forecasting, custom reports, deal stages, lead rotation automation, teams, projected sales, and sales analytics, and all the features we mentioned above.
For $1,200 per month per user, the Enterprise plan includes even more detailed sales analytics, playbooks, Conversation Intelligence, and predictive lead scoring.
Read more: HubSpot Pricing and Comparison with Other Alternatives
3. Pipedrive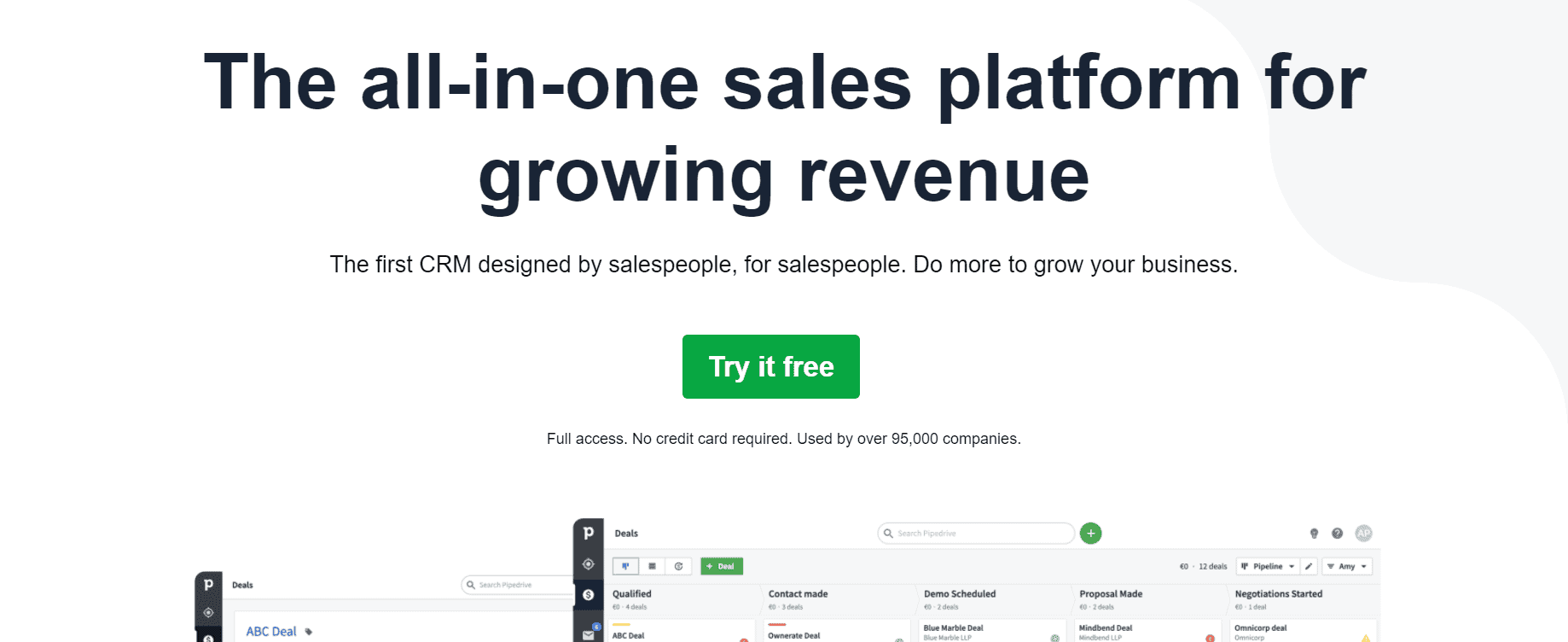 Midway through our list is Pipedrive, a sales forecasting tool that is branded as a 'platform for growing revenue'.
In other words, it's right up the alley of any sales organization.
Features
Primarily a sales intelligence product, Pipedrive has many sales tools that can help your business further its ROI goals.
Let's take a closer look at some of these features.
Automation: When your sales team is unencumbered by paperwork, they're freer to work on the tasks that really matter, such as lead scoring, lead engagement, and conversions. Pipedrive can help make that happen.
Contact history: Every interaction you have with a lead or customer gets logged by Pipedrive. The software can also review your sales team's history of emails and calls.
Deal management: Grow more leads and review your deals with Pipedrive's deal management features such as web forms, a custom chatbot, and real-time pipeline updates.
Pipedrive produces custom reports of your : with the metrics your business cares most about. You can compare your goals to your to see what's working for you and where you fell flat.
Pricing
Pipedrive has four pricing plans. The Essential plan starts at $18 per month per user. You get pipeline management, calendar management, and lead management tools.
For $33 per month per user, the Advanced plan allows you to grow your business with features such as triggered automations and advanced pipeline and lead management.
The Professional plan costs $59 per month per user and adds enhanced custom reports, accurate sales forecast, and future revenue projections.
For everything Pipedrive has to offer, you need the Enterprise plan for $119 per month per user. This plan includes all the features above, plus no limits on how much you use these features.
Read more: Pipedrive Alternatives to Supercharge Your Sales Teams
4. Keap

The sales forecasting tool formerly known as InfusionSoft is now Keap, and it still has all the great features that marketers and salespeople have loved it for.
Features
From automation to strengthening your sales pipeline, let's take a closer look at what makes Keap a great sales analytics tool.
Multiple pipelines: Your sales team juggles many open deals at once, and you need a that can keep up. Like EngageBay, Keap allows users to create several pipelines at the same time.
Pipeline Keap will hyper-focus on your : to produce about its progress. You can glean more information on the pipeline with features designed for , , average time spent per pipeline stage, average deal duration, and deal conversions by stage.
Sales automation: Your sales team will enjoy more time when Keap's automation takes care of sending emails and follow-ups, capturing new leads, nurturing leads, and reminding customers of appointments.
Pricing
As a customer of Keap, you can choose from three plans.
The Lite plan is $56 for the first three months, then $79 per month. The Lite plan includes basic automation, including automated text messaging. You can also use lead capturing and the integrated CRM software.
The Pro plan is $119 for the first three months, then $169 per month. Under the Pro plan, you can use all the features we mentioned above, plus pipeline analytics, sales reporting, sales pipelines, and advanced automations.
The Max plan includes everything Keap has to offer for $140 per month for the first three months, then $199 per month. Additional, advanced features in this plan include engagement analytics, recurring upsells, one-click cross-sells and upsells, lead scoring, and sales funnels.
All of Keap's plans offer only 500 contacts and access for one user — you have to pay extra for any more subscribers and account users.
Read more: Keap (Infusionsoft) Alternatives — The Top 5 CRM Options to Try
5. ActiveCampaign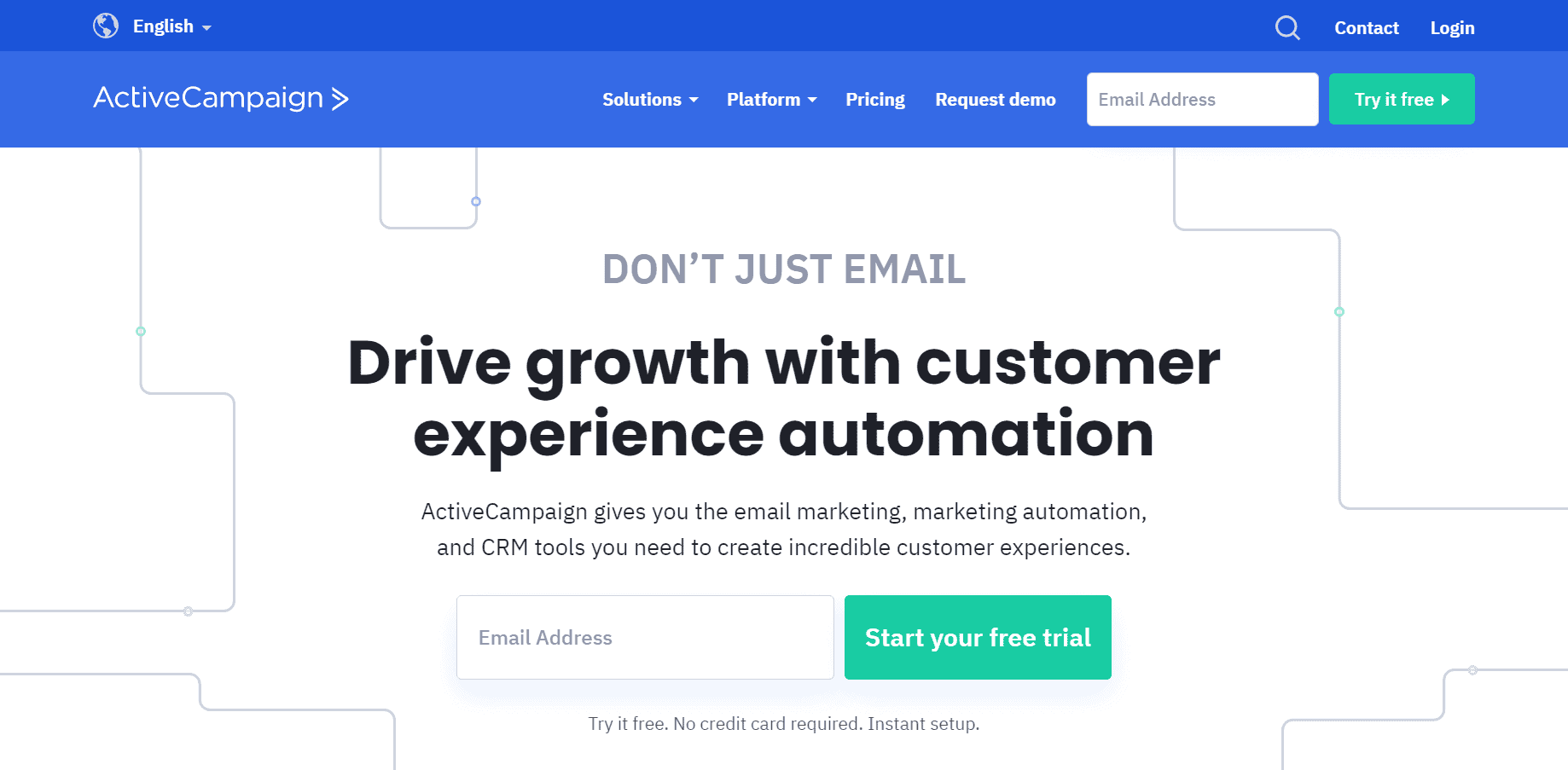 The customer experience automation platform ActiveCampaign is another viable sales forecasting software option your business should consider.
Its solutions are tailored towards both B2C and B2B companies.
Features
Although ActiveCampaign is a favorite tool of marketers, its bevy of sales tools is worth a mention too.
Here is the list:
Sales engagement automation: With ActiveCampaign's sales engagement automation, you can automate a lot of the for faster results and higher !
Win probability: What if your business could gauge whether a deal was worthwhile before you even tried? You can pinpoint the win probability with ActiveCampaign.
Customer views: ActiveCampaign can curate customer data across apps and within its own to put together detailed and actionable insight about your audience and their motivations.
Mobile app: The Deals CRM mobile app for iOS allows you to update and track deals, call sales leads, manage current tasks, make new tasks, and update a lead's contact information all from your smartphone.
Pricing
ActiveCampaign prices its plans by how many contacts you have. At 1,000 contacts, the Lite plan costs $29 a month, the Plus plan is $49, the Professional plan is $149, and the Enterprise plan is $258 per month.
The Lite plan offers email autoresponders and sales emails. By upgrading to the Plus plan, you can use the Deals CRM app, lead scoring, a customizable sales pipeline, multiple pipelines, and sales automation.
The Professional plan adds split automations, conversion reporting, win probability, and sales engagement automation. The Enterprise plan includes everything mentioned here and is also the only way to create custom sales reports.
6. Anaplan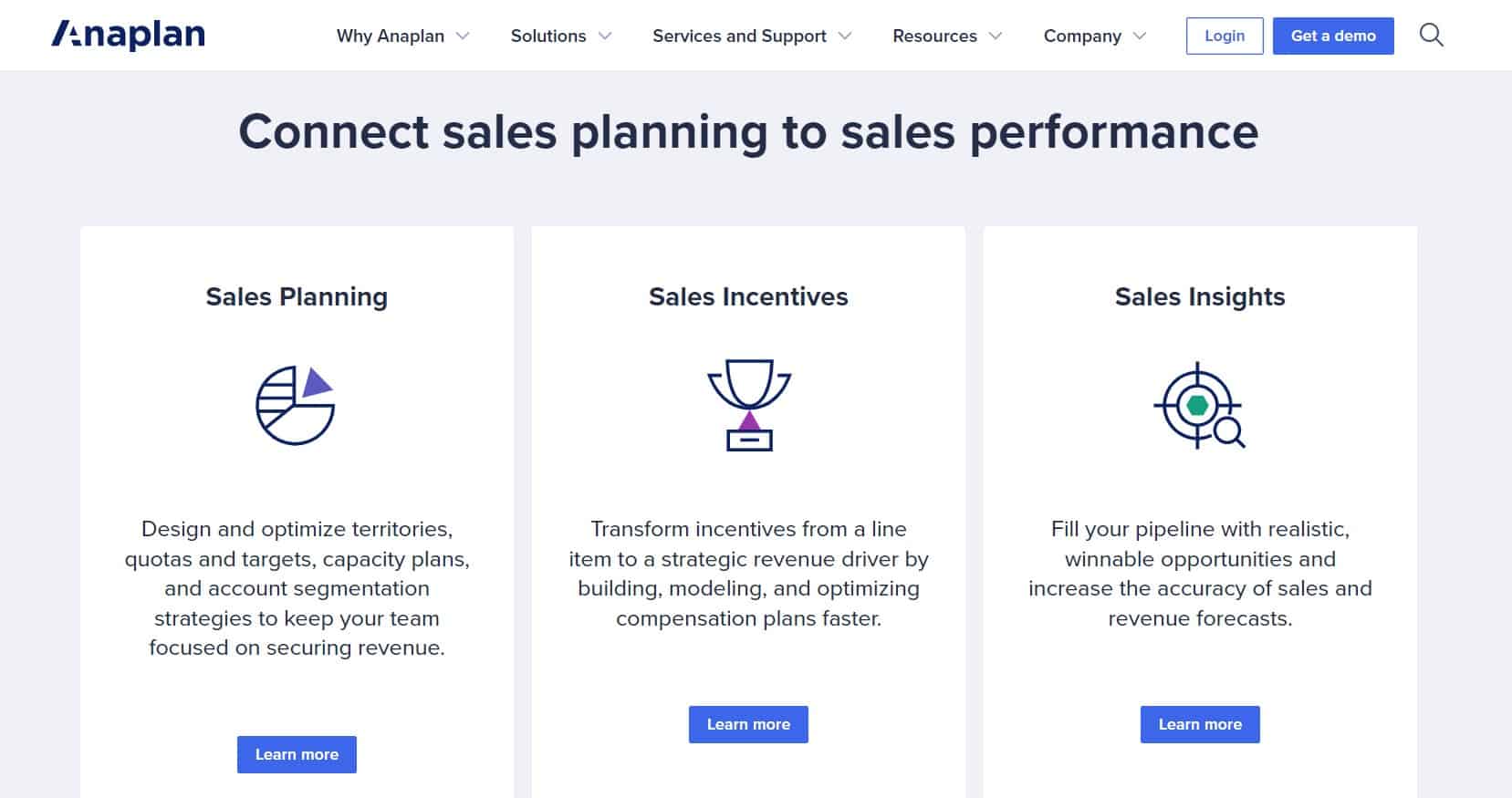 The last sales forecasting software on our list is Anaplan, a planning software product. This solution encompasses sales projection, human resources, and supply chain tools.
Features
Here's a list of the sales forecasting features Anaplan offers.
Whether you want to split your sales goals into capacity plans, targets, quotas, or territories, Anaplan makes it easy to take a divide-and-conquer approach to sales that will pad your company's bottom line. :
Sales incentives: Anaplan offers sales incentives in its software much as EngageBay does. Your sales reps will stay motivated!
Sales insights: What's on the horizon in your ? This software will suggest valuable opportunities and generate an .
Pricing
Anaplan has three pricing plans: the Basic, Professional, and Enterprise plans.
However, Anaplan has not revealed pricing details publicly, so you'll have to contact their sales team to get a pricing quote customized for your business.
Read more: Sales Forecasting — Comprehensive Guide For Small Business Owners
Conclusion
If you're looking to create a sales forecast for your organization, it's important that you have the right tools. These six different sales forecasting tools are some of the most popular in use today.
They can help businesses plan their sales revenue with accuracy, and by removing a lot of menial, manual work, they can also improve profit margins.
If one or more of these sales tools sound like they would be helpful for your team, let us know in the comments below.
If you'd like to know more about how EngageBay can help your team with sales forecasting, just sign up for free and we'll get back to you.
👉Boost your sales productivity with the best features of these 12 essential sales database tools!