CRM software helps manage customer interactions. It allows healthcare industry users to streamline all the communication with their patients.
This blog post will detail five of the best healthcare CRM systems: EngageBay, HubSpot, Salesforce, Keap, and Pipedrive.
HubSpot is designed for companies to scale their marketing efforts by integrating website and social media marketing tools. 
Healthcare companies can drive traffic with targeted campaigns thanks to the intelligent features in HubSpot.
Users can also segment their audience by email, organic search keywords, and social media engagement.
EngageBay is an all-in-one marketing software with free integrated CRM. 
It offers hundreds of features like lead generation campaigns, website visitor tracking with on-site engagement analytics, targeted email automation workflows (which can be triggered by the lead's online behavior), and more.
Also, multiple divisions within a medical institution can access and update patient data thanks to electronic health records stored securely on cloud.
But before we get into the pricing and features of these leading healthcare CRM solutions, let's look at why every institution in the healthcare industry needs CRM.
Why You Need a Healthcare CRM Software
All healthcare facilities need a CRM solution.
The right CRM for the healthcare industry will package several key features, such as:
Integration of all the health facility's electronic records.

Health assistant tools, including the CDSS (Clinical Decision Support System).

Security, access restrictions, and encryption to protect sensitive medical records.

Medication and appointment reminders, automation, and patient intake management.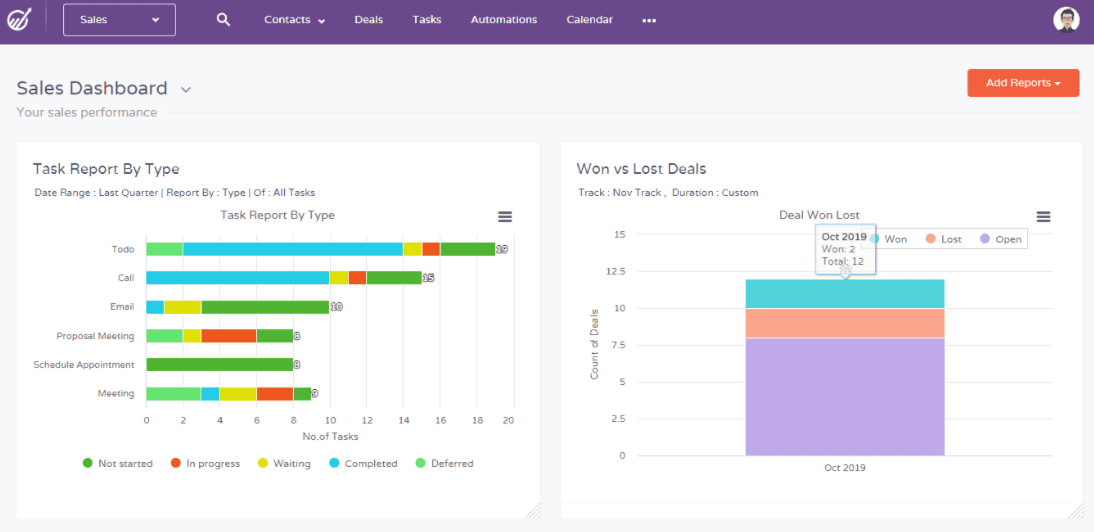 A healthcare CRM offers fantastic benefits. 
You can improve healthcare quality by reducing errors that arise due to miscommunication, manual records, and patient inexperience. 
It also enhances decision-making, offers robust medical and financial analysis, and streamlines customer relationship management in medical institutions. 
Research shows that because CRM software can help integrate and streamline sales and marketing processes, the adoption of CRM software is on a tremendous rise in the healthcare industry.
How Healthcare CRM Improves Customer Relationships
Healthcare, like any other sector, deals with customers on a daily basis.
A medical institution's relationship with its customers will directly impact its reputation. 
This is how CRM for medical practice can be of help:
Offers Personalization
With a healthcare CRM solution, you can segment your customers based on various factors, including medical history, demographics, visit history, income, and more.
This allows you to offer personalized messages on bills, emails, and even during post-visit communications.
Understand Customers Better
To offer exceptional customer service, you need to understand your patients better before you do anything else. 
Healthcare CRM systems can help you do this, as they collect data from various touchpoints, track all interactions, and constantly update them.
With this information, you can use the tools the software offers to enhance your customer service. 
Enhances Population Health
A hospital doesn't just work behind closed walls. It has a greater responsibility to the community.
CRM software for healthcare has tools like email broadcasts, autoresponders, and push notifications to automatically send out the necessary information to patients, helping them to stay healthy.
This can also reduce readmission fines. 
Enhances Results
Healthcare CRM solutions offer analytics and reports to help hospitals measure the returns on marketing initiatives and sales campaigns.
This helps the leading brands stay on top of competitors. 
Helps Achieve Goals
A healthcare CRM system helps in proactively improving the well-being of the community you serve.
It offers various ways to attract customers, market your products and services better, improve customer relationships, and serve the greater good. 
The Five Best Healthcare CRM Software
To help you save time, we've handpicked the five best healthcare CRM software: EngageBay, HubSpot, Salesforce, Keap, and Pipedrive. 
Let's dig in.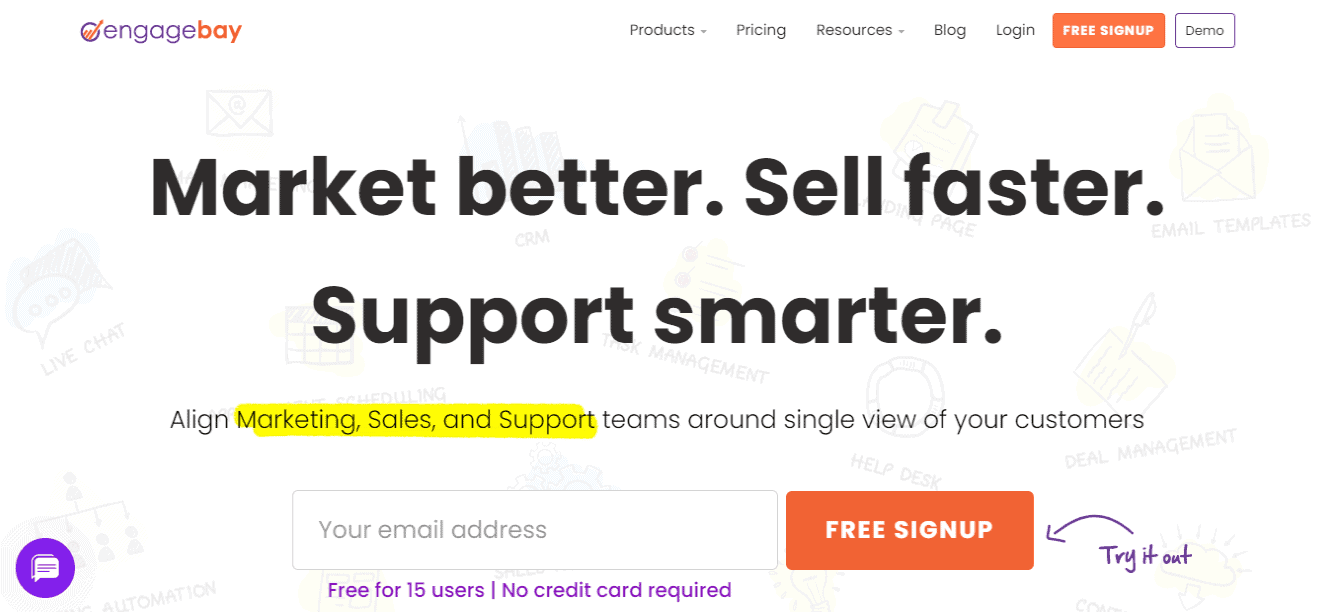 Our first pick is EngageBay.
EngageBay is an all-in-one marketing, sales, and customer service software that can help healthcare institutions grow their revenues. It helps you capture leads smartly, nurture them, and quickly convert them to happy customers.
With free onboarding sessions, migration services, and a plethora of integrations, you can integrate your existing healthcare system and transfer data to EngageBay seamlessly. 
EngageBay's neatly organized bays, intuitive and easy-to-use interface, and 24/7 support offer a breezy experience.
But underneath the minimal setup, there are powerful features and tools to boost growth. 
EngageBay Features
EngageBay's segmentation lets you group your leads and patients into lists based on demographics, transaction history, lead scores, medical conditions, more.
You can even use custom rules to segregate your data. 
With email broadcasts and email sequences, you can send out timely and personalized content about healthcare, vital information, and more.
You can also use autoresponders to automatically send out medical reminders, appointments, birthday wishes, and diagnostics. 
You can A/B test each element in your landing page for maximum conversion, including headers, CTAs, and links. 
With the 360-degree customer view, you can have a holistic view of your patients, helping you diagnose and offer treatment plans quickly and effectively. 
EngageBay Pricing
EngageBay offers four pricing plans.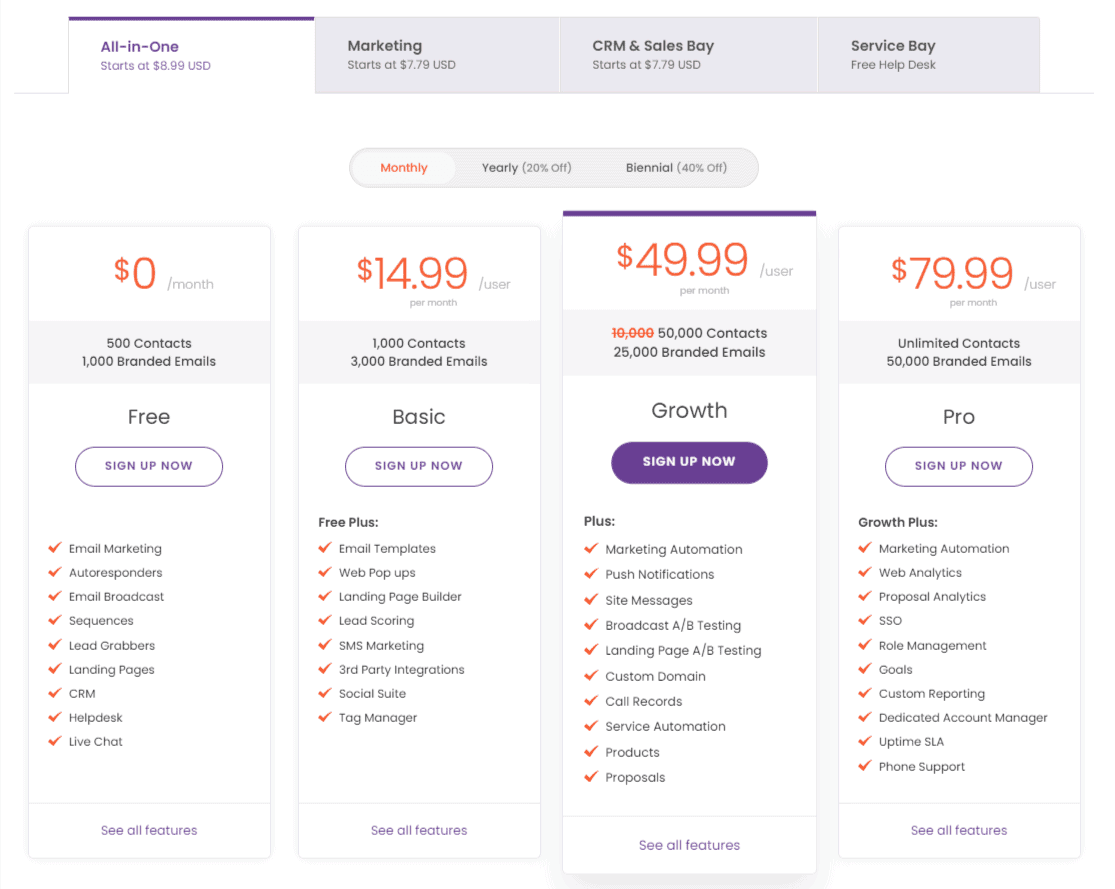 Free All-in-One Suite

: This plan is

free forever and offers predictive lead scoring, web popups, email template builder, social suite, Live Chat, 500 MB of storage, and much more. You also get 500 contacts and 1,000 branded emails. 
All-in-One Basic Suite

: This plan starts at

$14.99 per month and includes canned responses, 1 GB of cloud storage, predictive lead scoring, email templates, conversational inbox, SMS marketing, 3,000 branded emails a month, and 1,000 contacts. 
All-in-One Growth Suite

: This plan costs

$49.99 a month and allows 50,000 contacts, with 25,000 branded emails a month. It also adds A/B testing of landing pages and email broadcasts, push notifications, custom domains for your business, and marketing automation.
All-in-One Pro Suite

: This suite costs

$79.99 a month and adds advanced features like role management, custom reporting, conversational inbox, call scripts, account-based marketing, APIs, team support, and so much more. You also get 50,000 branded emails and unlimited contacts.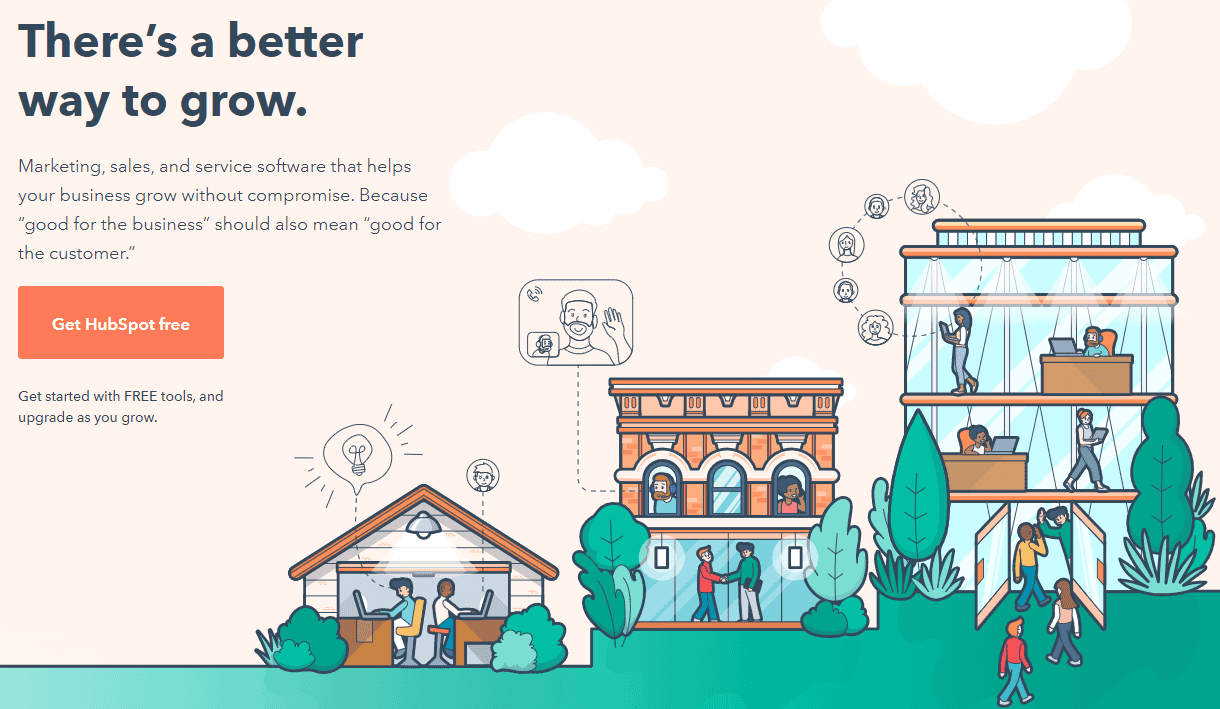 HubSpot is another great healthcare CRM software.
It offers a host of tools to market your products and streamline your customer service. 
HubSpot Features
Like EngageBay, HubSpot offers a 360-degree view of your patients to help you understand them better.
You can quickly issue tickets, prioritize them based on urgency, divert them to the right practitioner or expert, and close them automatically based on the right triggers. 
You also get on-the-go content optimization with HubSpot. With this feature, you can effortlessly write optimized content as it offers live tips, keywords, and ideas. 
HubSpot's landing page builder lets you drag-and-drop elements to quickly create beautiful and functional pages. You can A/B test each element. 
HubSpot Pricing
HubSpot is the most expensive platform on this list. 
Starter Growth Suite

: This plan costs

$50 a month and offers mobile forms, live chat, deal pipelines, email marketing, 25 smart lists, and 10 reporting dashboards.
Professional Growth Suite

: For

$1,343

a month, you get NPS surveys, snippets, calls, salesforce account, company scoring properties, 1,000 smart lists, A/B testing, custom reporting, web analytics, and eSignatures.

Enterprise Growth Suite

: Pricing for this plan starts at a whopping

$4,200

and adds Slack integration, Events API, single sign-on, webhooks, call transcripts, and multi-touch revenue attribution.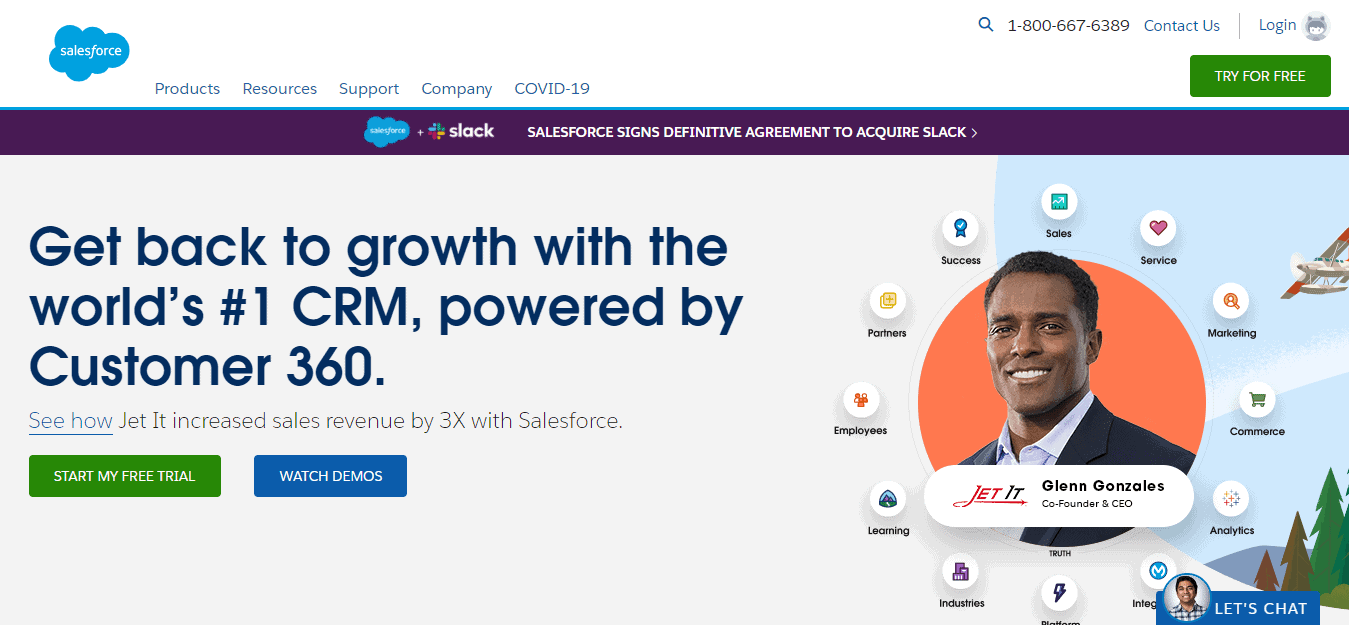 Salesforce is also a top healthcare CRM software.
It offers tools for all the stages of the customer journey, from acquisition to conversion and long-term engagement. 
Salesforce Features
With contact tracing, you can automatically trace all the interactions across your workforce, patients, and more. 
Account and contact management offer a complete view of your customers. 
With lead management, you can track your leads from start to finish across multiple channels — helping you make smarter decisions and close deals quickly.
Salesforce also offers mobile healthcare CRM apps for portability. You can log your calls, track hot leads, and read reports on the go.
Salesforce Pricing
Salesforce offers two plans for its Salesforce health cloud CRM.
Enterprise plan: This healthcare CRM plan costs $300 a month per user and offers contact tracing, clinical and insurance data models, social determinants, referral management, and program management. 
Unlimited plan: This healthcare CRM plan costs $450 per month per user and adds one sandbox, live agent, read-write knowledge, unlimited lightning flow management, unlimited custom applications, opportunity tracking, and so much more.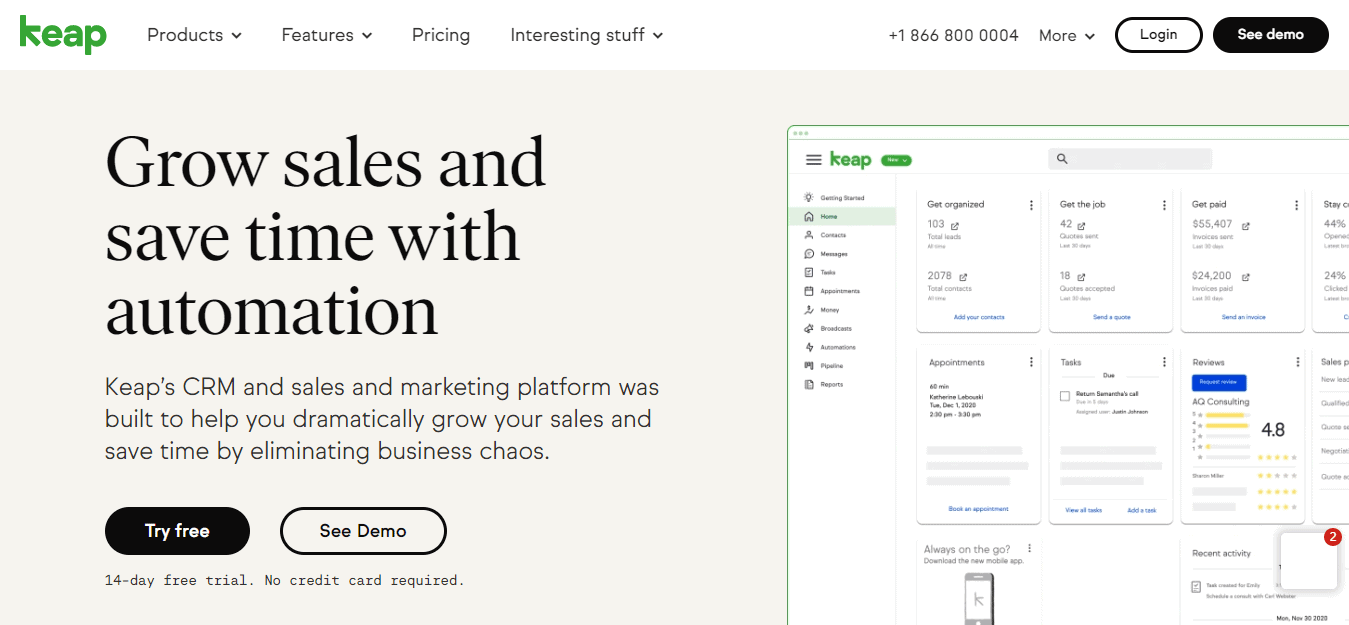 Keap offers a myriad of healthcare CRM tools for hospitals, medical institutions, and other healthcare facilities.
These are some of its features:
Keap Features
You can easily capture potential customers, segment your patients into lists, organize them using tags, send personalized content and timely medical reminders. 
With calendar booking, you can make the process of booking and appointment scheduling easy for doctors, healthcare professionals, medical staff, suppliers, and patients. 
Keap also enables easy integrations with a lot of business applications.  
Keap Pricing
Lite plan: The Lite plan starts at $79 a month and offers 500 contacts, a core CRM dashboard, B2B management, automation tools, quotas, and a mobile app.
Pro plan: The Pro plan starts at $159 per month for 500 contacts and offers A/B testing, landing page builder, subscriptions management, tasks, sales pipeline, forms, and invoices. 
Max plan: The Max plan costs $199 per month for 500 contacts and offers Shopify integration, custom user roles, lead scoring, pipeline automation, and automated text messaging.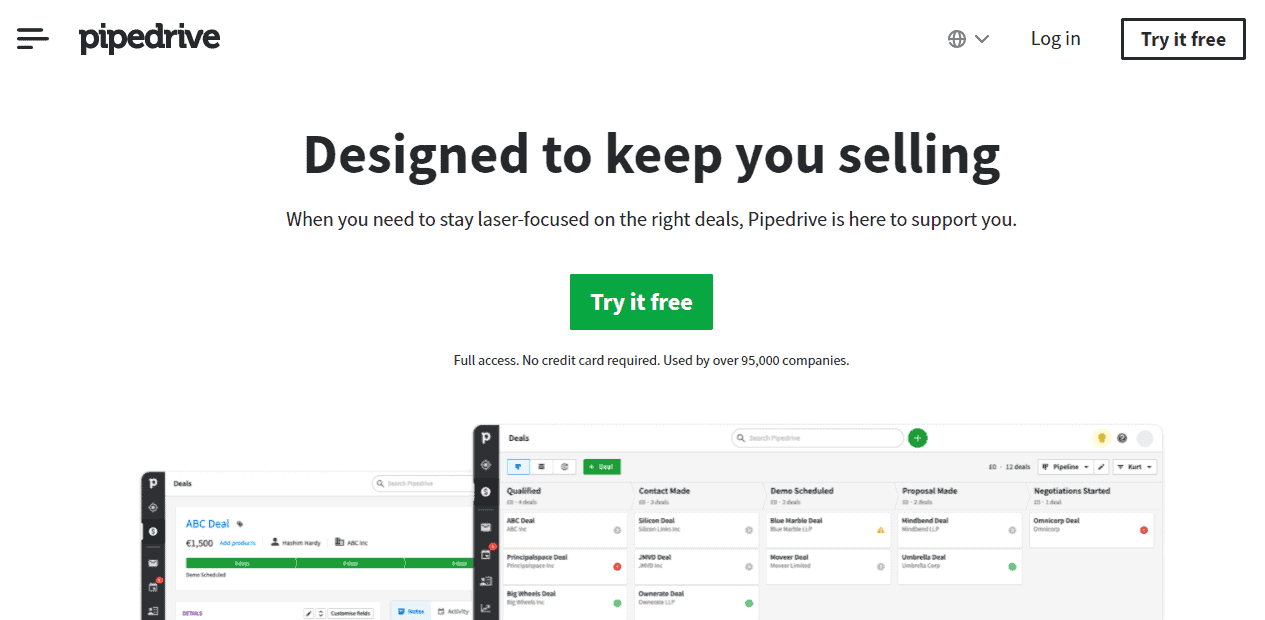 Finally, let's discuss Pipedrive.
It offers a wide range of healthcare CRM features and tools that are extremely useful for the healthcare sector. 
Pipedrive Features
Pipedrive's AI-based sales assistant helps you improve your automation through reports, ideas, performance graphs, notifications, and workflow tips.
You can quickly send out important health broadcasts, launch group emails to patients with specific ailments (like diabetes, heart disease, etc.), design beautiful and responsive email templates with a built-in email builder, and so much more. 
Pipedrive's healthcare CRM actively captures essential details about your patients across various touchpoints and channels, helps you identify hot leads, and offers tools to convert them to paying customers. 
Pipedrive Pricing
Essential Growth plan

: This healthcare CRM plan starts at

$12.50

and offers deal rotting, custom fields, contact management, customizable pipelines, and deal management.

Advanced Growth plan

: This plan costs

$24.90

per month per user and offers 2-way email sync, email open and click tracking, file attachments, sales Docs, and customizable signatures. 

Professional Growth plan

: This popular plan costs

$49.90

per month per user and adds eSignatures, unbranded sending, team management, group emailing, advanced email meeting scheduler, and so much more. 

Enterprise Growth plan

: This advanced healthcare CRM plan costs

$99

per user each month and offers unlimited advanced user permissions, two-factor authentication, apps marketplace, up to 100 workflows, SSO login, and 24/7 chat support. You need at least 10 users ($990) to take up this plan.
Conclusion
If you're in the healthcare industry, we have the right CRM solution for you.
We know that your time is valuable and that you want to spend it on what matters most – caring for patients. 
That's why our team of experts has been working tirelessly to develop EngageBay, an all-in-one CRM system designed specifically with the needs of healthcare professionals in mind.
Today more than ever, your healthcare business needs software tools to succeed in sales, marketing, and customer engagement. 
With EngageBay, you can do just that!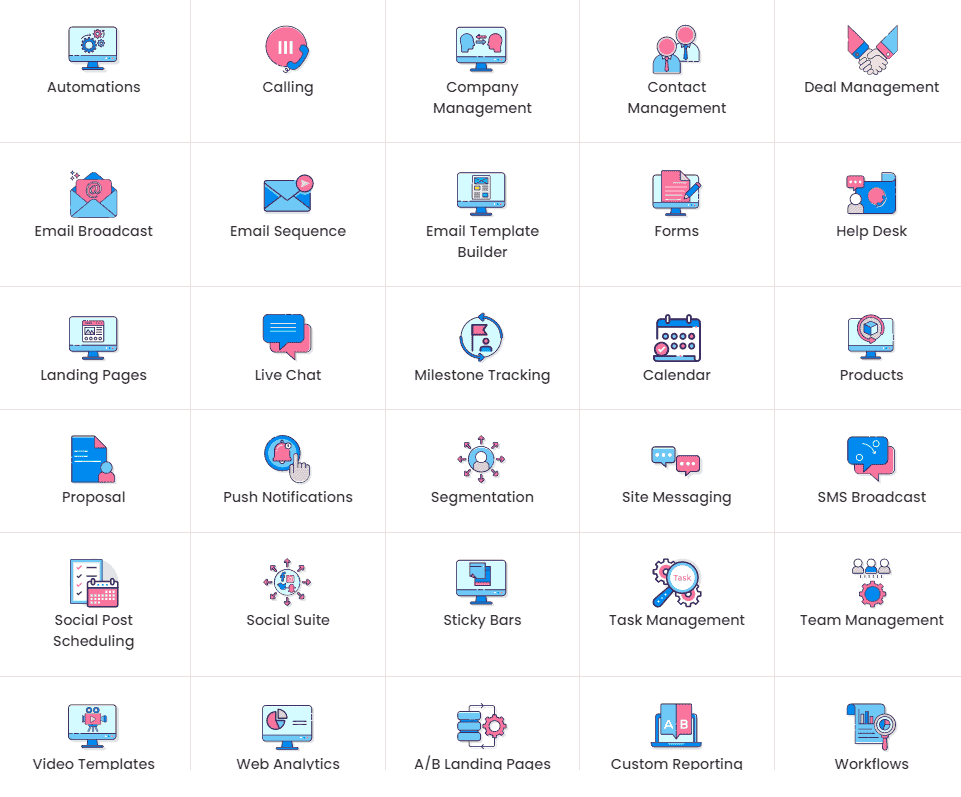 You will be able to track patient data like never before, and manage appointments and inventory more efficiently. You'll forget about Excel 😉
EngageBay's robust features, including real-time analytics, custom reports, and the free integrated CRM make it a great choice for all healthcare industry users. 
In fact, EngageBay's free healthcare CRM package offers key features that you don't get even in the starting paid versions of the other CRM software.
Sign up for a free trial today to learn more about how this CRM system can help your healthcare institution grow its customer base while increasing revenue and reducing costs.
If you want to understand the product first, here's a demo video: