Sales is a complex topic.
It's about understanding the needs of your customer, presenting them with information that will help them make decisions, and being patient until they come around to your point of view.
But it doesn't have to be so hard!
There are sales tools and techniques you can use for success, like automation software to track your sales pipeline and make customer data management easy, and creating upsell opportunities smartly.
In this blog post, we will walk you through five awesome sales tools and six proven sales techniques to make your every day easier.
5 Sales Tools That Your Sales Team Will Love
Our list of effective sales tools to help you save many hours every day includes HubSpot, EngageBay, Calendly, LinkedIn Sales Solutions, and Salesforce.
We chose these sales tools because they're loved by plenty of sales professionals.
EngageBay is an all-in-one sales tool that provides a single platform for all your sales-related activities. Here, you can find CRM software, marketing automation tools, helpdesk, and live chat software, under one roof.
With EngageBay, you need not look anywhere else. It boasts of a range of products, including email marketing and sequencing, contact management, appointment scheduling, web forms, and landing pages.
What's more, it also provides a 360-degree customer view, so that you are aware of your customer's journey at every stage of the sales pipeline.
Some of the other key features EngageBay offers are lead segmentation, task management, web analytics, A/B landing pages, custom reporting, and in-app calling.
Pros
Powerful sales tool that helps companies understand their clients

Quick customer service

Predictive lead scoring for higher conversion rate
Cons
Lack of digital signature feature

UI needs improvement
Pricing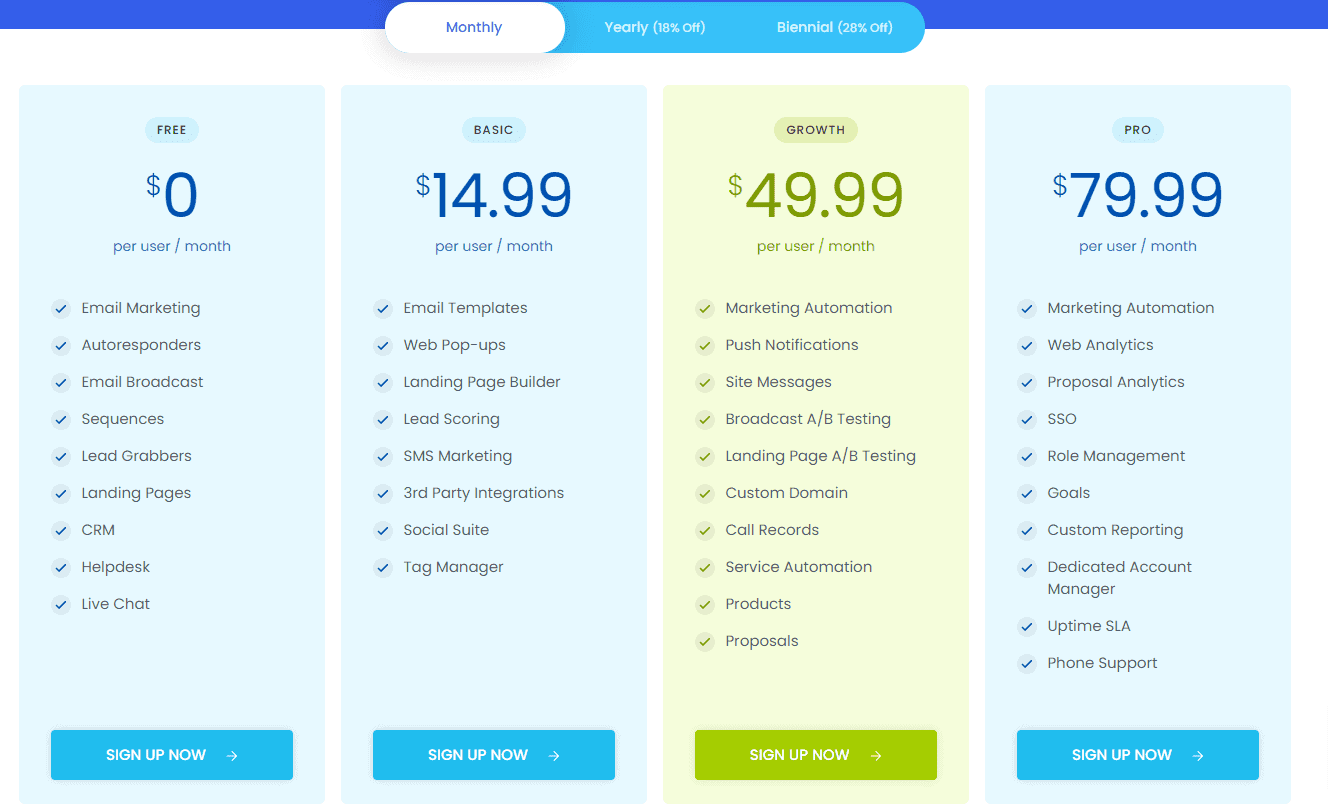 EngageBay offers four types of plans: Free, Basic, Growth, and Pro.
Under the Free Plan, you get tools such as email marketing, autoresponders, landing pages, sales CRM, live chat, and sales sequencing.
With the Basic Plan, you can get all the features of the Free Plan, plus built-in email templates, lead scoring, SMS marketing, tag management, and various third-party integrations. It costs $13.49 per user per month.
If you are looking for features like marketing automation, push notifications, call recording, and A/B Testing, the Growth Plan works best. It starts at $44.99 per user per month.
The Pro Plan includes a dedicated account manager, web analytics, proposal analytics, role management, and custom reporting as some of its key features. This plan begins at $71.99 per user per month.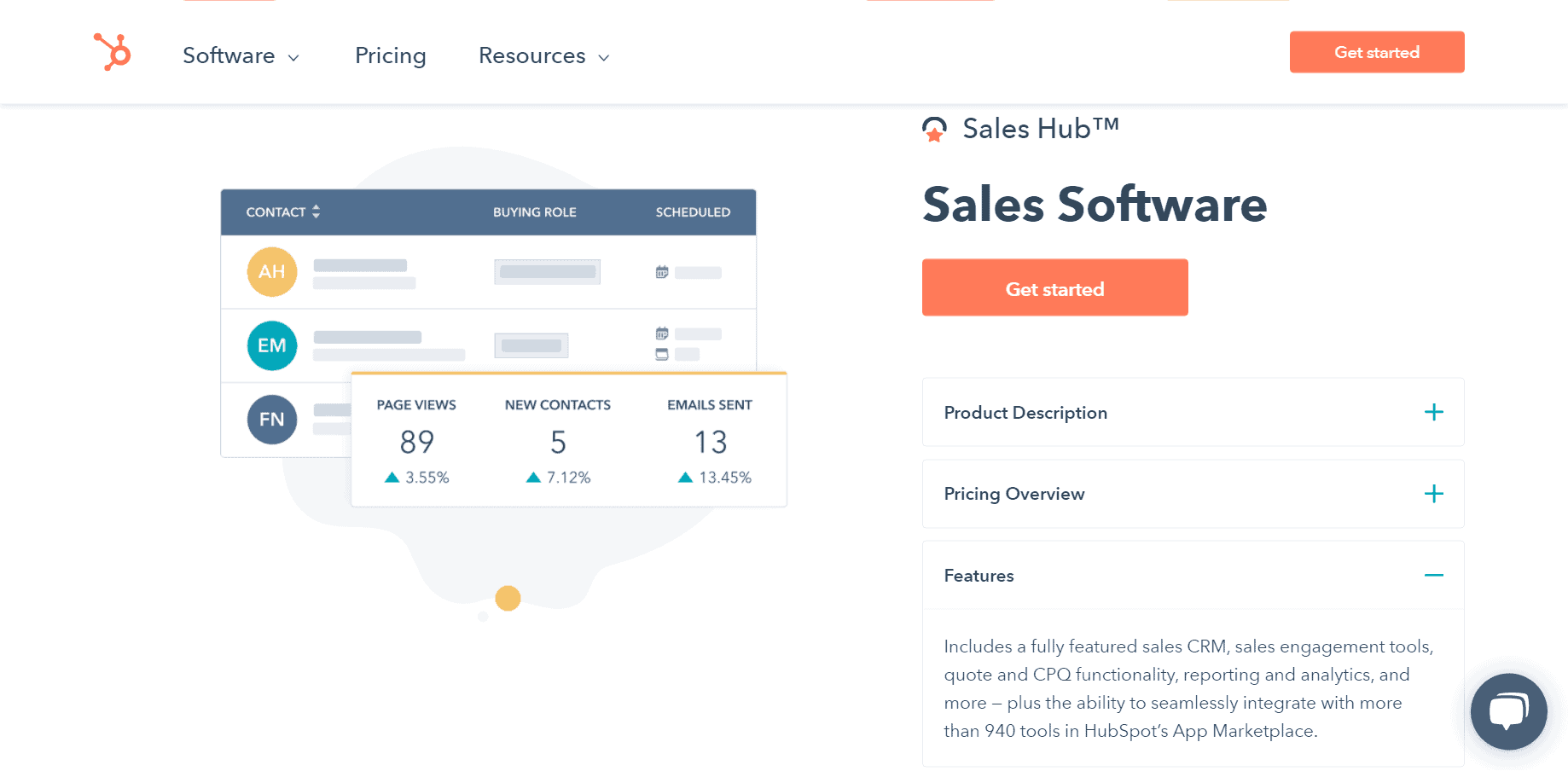 HubSpot's sales tool is another all-in-one powerful platform that can help your sales team close deals faster, improve customer relationships, and manage sales more effectively.
It provides a range of in-built email templates, helping you personalize your content. It also comes with an email tracking feature, so that you know when a lead opens your emails.
You can also share documents directly from G Suite or Outlook to HubSpot, gain AI-powered insights into buyer personas, and schedule meetings that sync with your Google or Office365 calendar.
What's more, HubSpot's sales software can be accessed from anywhere, thanks to its mobile CRM app.
Pros
Easy to use interface

Helps filter and create reports for different departments in the organization
Cons
One contact cannot be associated with more than one dealership

A limited number of bulk email marketing templates
Pricing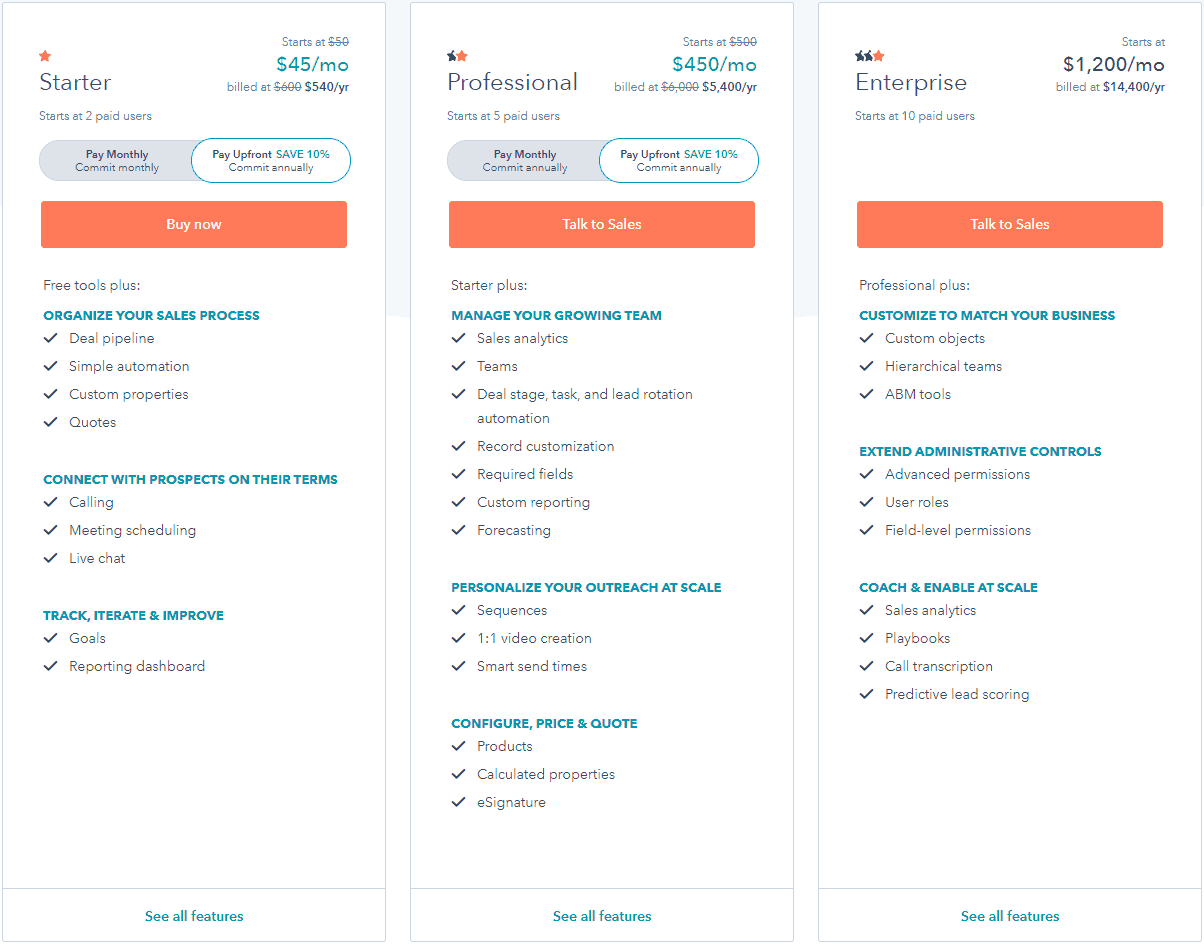 HubSpot has four plan categories: Free, Starter, Professional, and Enterprise.
With the Free Plan, you can access tools like email scheduling, contact management, deal pipeline, and reporting dashboard.
The Starter Plan costs $45 per month. It boasts of features such as 5,000 email templates, unlimited email tracking and notifications, one-on-one technical support, and conversation routing.
Under the Professional Plan, users can get up to 100 shared inboxes, 5,000 documents per account, email sequencing, e-signatures, account overview, and sales analytics. The Professional Plan starts from $450 per month.
For those looking for services like hierarchical teams, predictive lead scoring, single sign-on, and conversation intelligence, the Enterprise Plan is suitable. It costs $1,200 per month.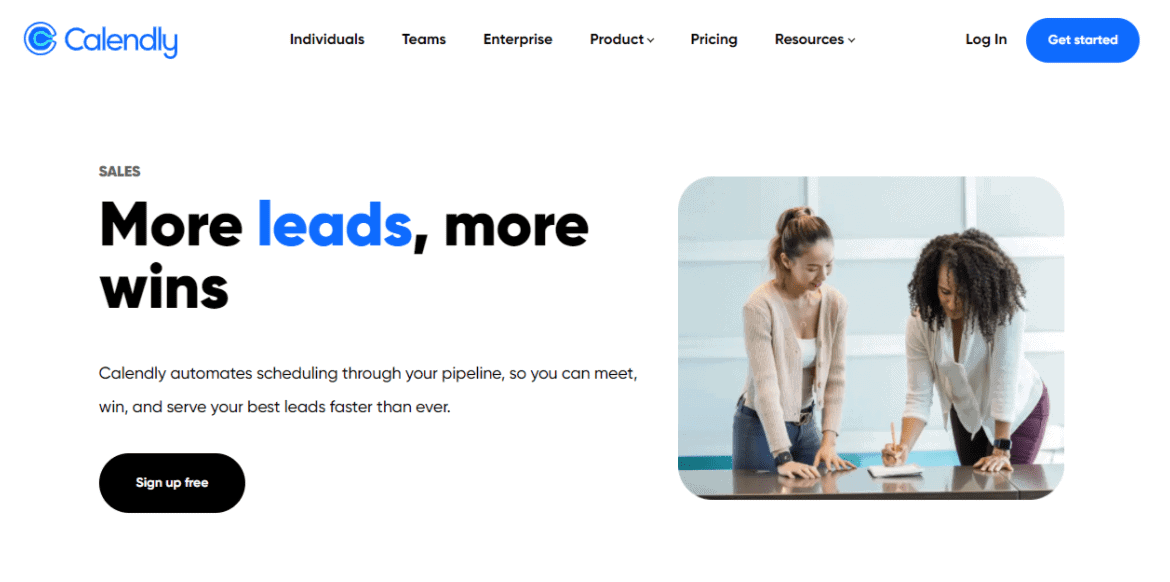 Calendly helps maximize your prospecting efforts and fasten the sales pipeline, enabling you to close more deals in less time.
Using Calendly, you can automate your email marketing campaigns, send automated reminders to prospects to tell them when you would be connecting, and schedule meetings without back and forth emails.
Calendly helps prevent no-shows at meetings and eliminates the chances of double bookings, thereby boosting your sales productivity.
With Calendly, you can get a free Chrome extension and integration with Salesforce.
Pros
Saves time by automatically scheduling meetings

Easy to set up and maintain
Cons
More suited for small and medium-scale businesses

Users cannot see the events created by other employees that they are linked to
Pricing
Calendly has five types of plans: Basic, Essentials, Professional, Teams, and Enterprise.
As the name suggests, the Basic plan is meant for individuals looking for simple functionalities like one-on-one event creation, automated event notifications, and integration with G Suite, Office 365, and iCloud.
The Essentials Plan ($8 per month per user) is for people who require automated scheduling tools. Under the plan, you can get features such as group event creation, automated event reminders and follow-ups, metrics, and reporting.
For small businesses, the Professional Plan works best. Priced at $12 per month, it offers key sale prospecting tools like customized email notifications and reminders, workflow automation, and invitee redirection.
Teams and organizations seeking a more efficient collaboration can opt for the Teams Plan. Under the Teams Plan, you can get unlimited one-off meeting creation, cancellation policy updates, and link addition to confirmation pages. It costs $16 per month.
With the Enterprise Plan, businesses can get advanced security, control, and support. It is ideal for large teams and includes key features like onboarding and implementation and a dedicated Calendly account partner. To avail of this plan, companies can contact Calendly's sales team directly.
Read also: 11 Free Marketing Tools to Create Awesome Content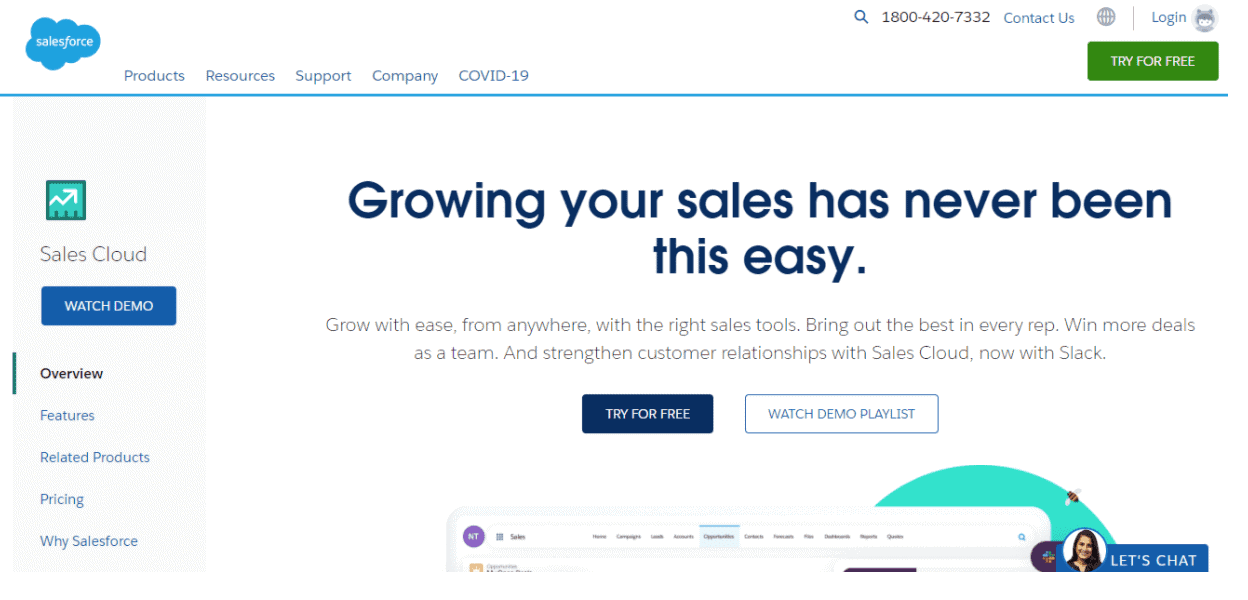 Salesforce's sales tool, called Sales Cloud, is known to close deals faster, helping your business achieve success in little time.
With Salesforce, you can empower your sales team through integrated onboarding and training modules. This sales software helps in better targeting and lead generation using tools like sales forecasting, lead management, and account management.
It also provides a 360-degree view of your team's key performance indicators and the deals they have closed. You can also get an overview of the sales process and dashboards, and real-time pipeline forecasting.
Pros
Provides all relevant customer information in a single platform

Numerous built-in features boost productivity
Cons
Interface can be slow at times

CRM is expensive compared to other sales software
Pricing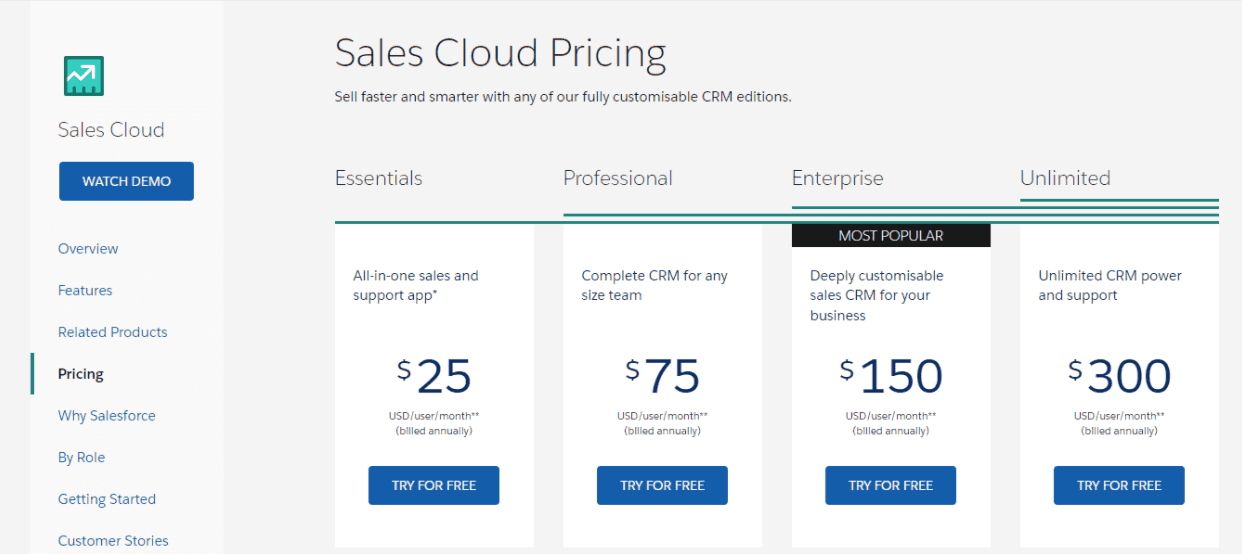 Salesforce provides four categories of plans: Essentials, Professional, Enterprise, and Unlimited.
The Essentials Plan is the most basic one, available for $25 per user per month. Some of its features include account, lead, contact, and opportunity management, Gmail and Outlook integration, and Salesforce mobile app.
With the Professional Plan, you can get all the features of the Essentials Plan plus collaborative forecasting, lead registration, and rule-based lead scoring. The Professional Plan costs $75 per user per month.
Under the Enterprise Plan, you can get the additional benefit of workflow and approval automation. This plan starts from $150 per user per month.
For those looking for unlimited customer service support and configuration, the Unlimited Plan works best. It costs $300 per user per month.
👉Boost your sales success with the ultimate sales analysis techniques – dive into our in-depth guide today! 🚀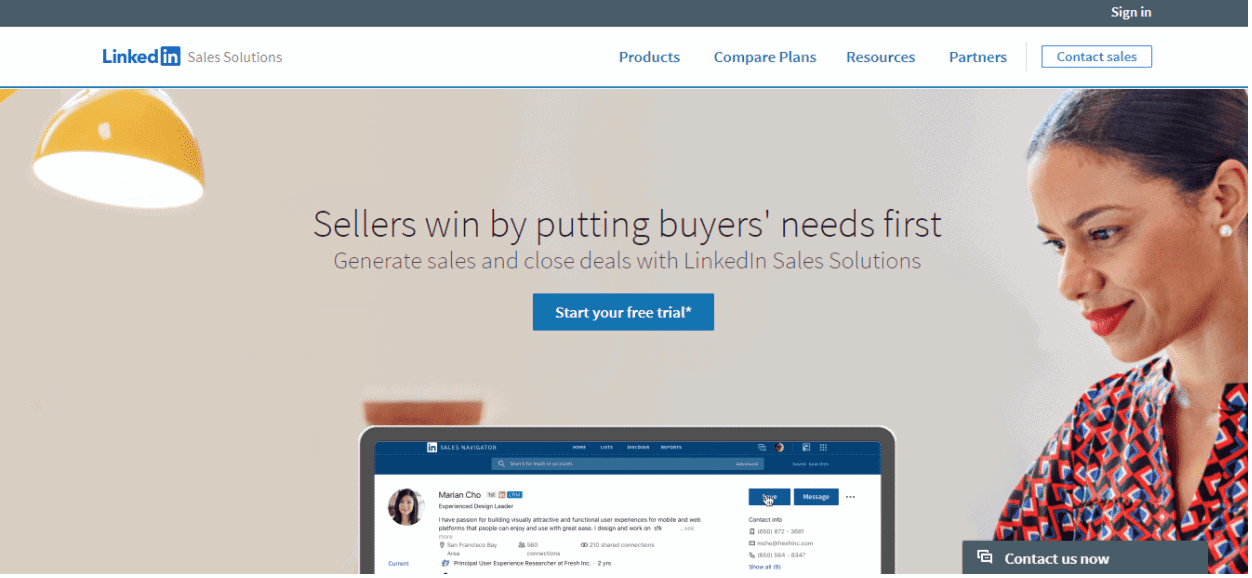 LinkedIn Sales Solutions helps you shorten your sales cycle by finding qualified leads and connecting you with buyers from anywhere in the world.
With this tool, you can save time by shortlisting target accounts and getting notified of new matches in real-time. It also provides insights into customer behavior and converts cold calling into personalized conversations.
LinkedIn Sales Solutions provides two key services: LinkedIn Sales Insights, which helps build better and more improved sales plans, and LinkedIn Sales Navigator, which helps in lead generation.
Pros
A powerful tool for finding new contacts

Helps in lead segmentation to build contact lists for business development
Cons
At times, search results show profiles that are not up to date

Mobile application needs improvement
Pricing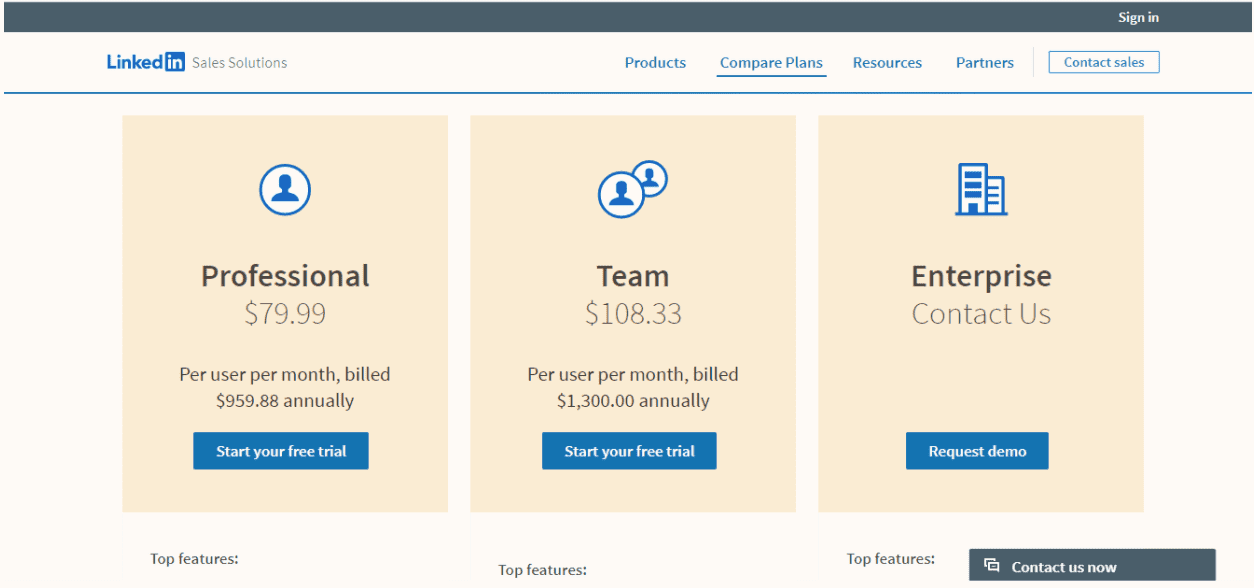 LinkedIn Sales Solutions offers three types of plans: Professional, Team, and Enterprise.
The Professional Plan costs $79.99 per user per month. It accompanies features such as LinkedIn subscription access, unlimited network access, qualified lead generation, and lead tracking.
With the Team Plan, you can get services like engagement with prospects and existing customers, advanced sales outreach, centralized billing, and CRM sync. This plan starts at $108.33 per user per month.
Under the Enterprise Plan, you can get all the features of the Team Plan, plus advanced CRM integrations and enterprise tools such as SSO and employee data integration. To buy this plan, businesses can contact the LinkedIn sales team directly.
Read also: 6 LinkedIn Headline Tips You Can Use In Minutes [+ Examples]
6 Sales Techniques That Will Boost Your Sales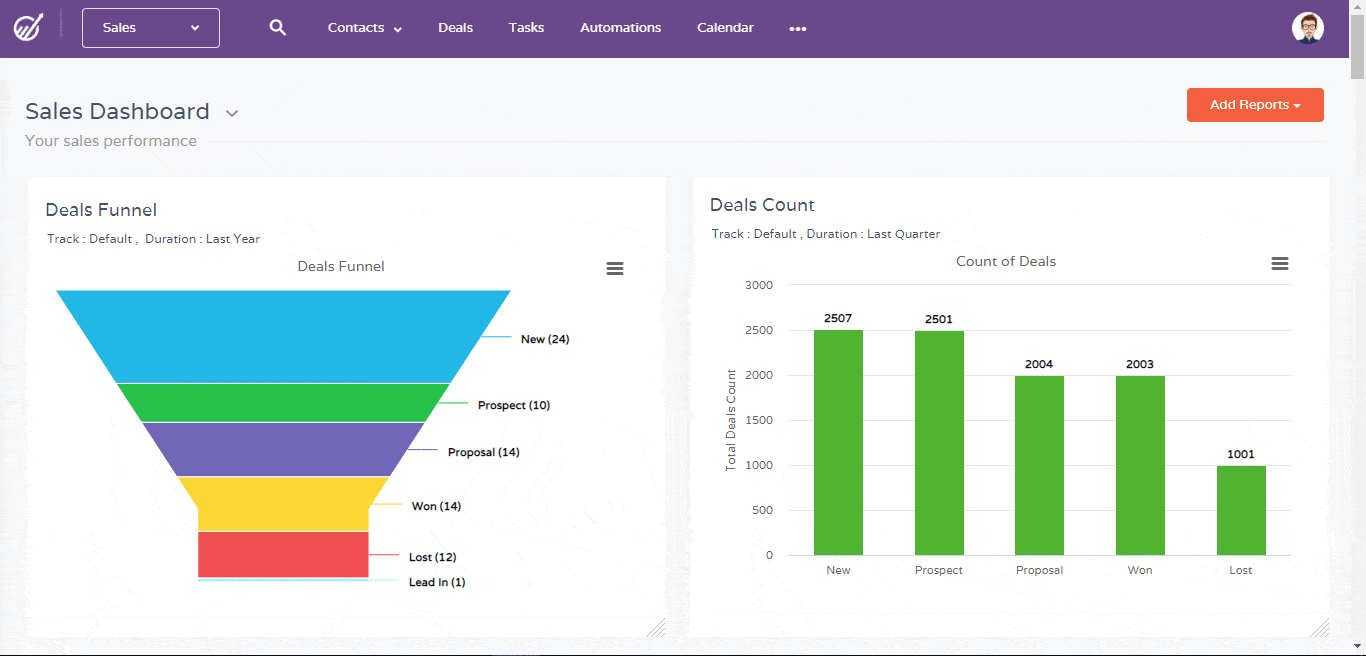 We have looked at some of the best sales tools to improve your sales process.
However, no matter how good a sales tool is, it won't work for your business if not complemented with good sales techniques.
Hence, sales tools and techniques go hand in hand.
Here are some of the must-know sales techniques that will increase your revenue in no time.
#1. Identify the Right Prospects
While identifying leads is not difficult, looking out for the right prospects is what matters.
As a sales rep, it is suggested that you conduct thorough research on target companies and prospects.
Learning about prospects will help you distinguish between bad and good leads and who your intended audience is.
It also gives an insight into buyer persona, helping you prepare on how to converse and market your product.
#2. Understand the Prospect's Challenges
Although identifying good leads is important, sales teams need to identify their customers' challenges.
While talking to a prospective client, it is not enough to just describe your product or service.
You should also ask customers what they want, what they are looking for, and what offers would be best suited to them.
However, before posing the questions, ensure that you explain to the customer why the questions are important.
👉Ever wondered what strategic selling really is? It may not be what you think. Find out more in our detailed article.
#3. Address all Customer Queries to Close Deals
One of the most challenging parts of a sales job is to close deals.
Often, salespeople convince prospective customers at all stages of the sales pipeline but lose them in the end.
To avoid losing leads, you need to ensure that customer demands are met.
To do so, you need to ask them what they want, what products and offers fit them best, and address every query they may have.
It is also important that you first convince consumers that they need your product or service and that your company is the best.
Read also: The Top 10 Sales Intelligence Tools and What They Do Best
#4. Learn all the Common Queries and Objections
Before you talk to a prospective customer, be aware of the common queries and objections that can come your way.
To close more deals, sales reps should prepare in advance for the questions that customers commonly ask.
Listen first, understand what the customer wants, and then address their doubts. The more helpful you are, the more products you can sell.
#5. Create an Opportunity to Upsell
While convincing people to purchase your products, make sure that you are constantly looking for opportunities to upsell.
Upselling is one of the best ways to generate profits. You can do this by being up to date with the latest ideas, products, and challenges your customers might face.
Additionally, you can regularly schedule a call with your new and existing customers to get feedback on your products.
👉Boost your sales performance with effective lead management. Explore our comprehensive guide to get started.
#6. Maintain Great Relationships
The sales journey does not end by closing deals. After you convert your prospects into clients, it is crucial to maintain long-term relationships.
Only then can your customers remain loyal to your company.
Make sure that you keep following up with your customers through calls or emails.
Ask them whether they like the product, what improvements can be made, and what offers they would like. You can also ask what more products they would like to buy.
Conclusion
Both sales tools and techniques go hand in hand, as good sales tools help in the effective implementation of sales techniques.
On the other hand, sales techniques provide significant benefits of sales tools used by businesses.
Equipping your sales teams with the right tools can help boost your business revenue.
If you want to know how EngageBay can help you sell smarter and faster, just sign up for free and we'll get in touch with you 🙂
👉Unlock the full potential of your sales team with these 12 sales database tools and their best features!