Social Selling. This has been a catchphrase creating a buzz among salespeople and marketers alike.
Yet, many may think that social selling is the same as social media marketing. It's not. It's also not the same as social media advertising.
But almost everyone gets one thing right about social selling – it involves using social media to meet sales goals.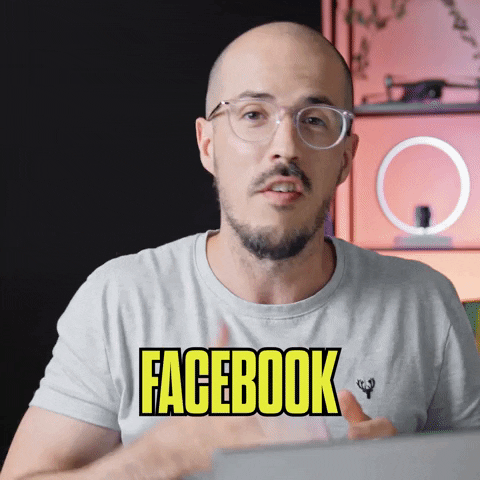 In simple terms, social selling can allow your company to build a rapport with and connect to a network of potential leads over social media channels. What's more, it can enable you to make an educated guess about the level of the potential customer's interest, which can give you an advantage over cold calling.
We'll discuss all this and more to ensure that you are well on your way to becoming a social selling success.
Whether you're a seasoned social seller or just about to embark on a new social selling journey, this article is for you. In this guide blog post, we'll dive deep into:
What social selling means
The benefits of social selling
What is the social selling index
What is a social selling strategy
Examples of social selling
What Does Social Selling Mean?
Social selling is the process of using social media to build relationships and interact with potential customers. It's a new way of doing business that allows companies to reach out to more people in a more personal way.
We can think of social selling as a relationship-building tool in the digital age. One of the end goals of a social strategy done correctly is to convert brand awareness into sales. It means being the first brand that comes to a prospective client's mind when they think of making a purchase.
Social selling goes beyond this too. Whether you are in B2C sales or B2B sales, a good social selling strategy will establish you as a trusted player in the field.
This means that when these companies have a need, you can reach out to them and meet that need in a personalized way.
Here's one of the best definitions of social selling we've found:
"Social selling is about using social media to build a brand that customers and peers alike, grow to trust and respect. From a sales viewpoint, the result may be the opportunity to talk business with a new or existing customer." – Levi Watkins, Global Social Selling Lead at Sage
Social selling is similar to lead nurturing. Both lead nurturing and social selling aim to engage potential buyers in the long term.
Research by Linkedln shows that 78% of social sellers outperform their colleagues who don't use a social media platform for the sales process.
The modern-day consumer has become more tech-savvy and informed. Companies now have to keep up with these shifting markets.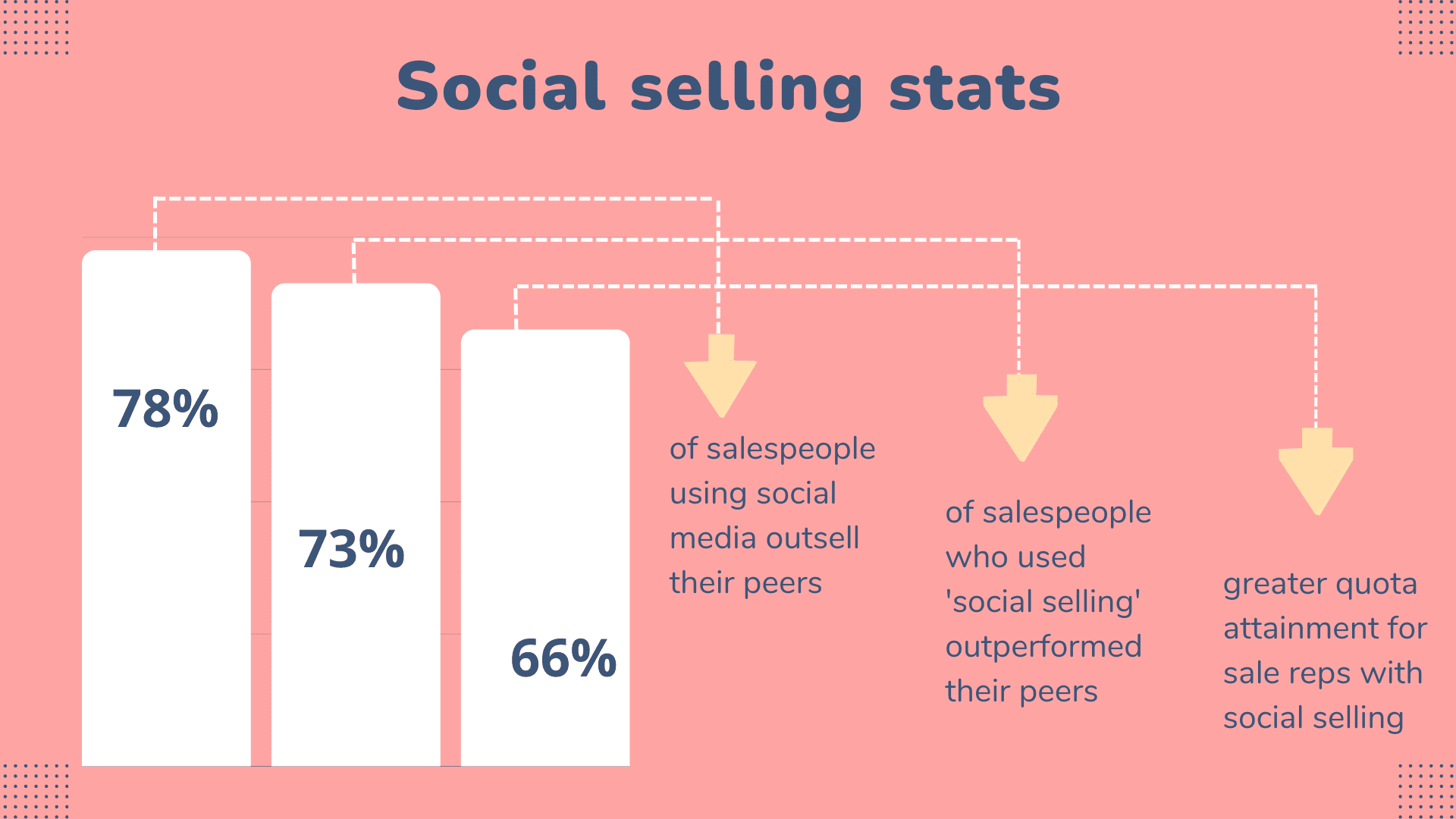 What are the Benefits of Social Selling?
There are many benefits to social selling. We'll talk about some of the benefits, but first, let's let the numbers from LinkedIn talk about why social selling is an important weapon in your arsenal.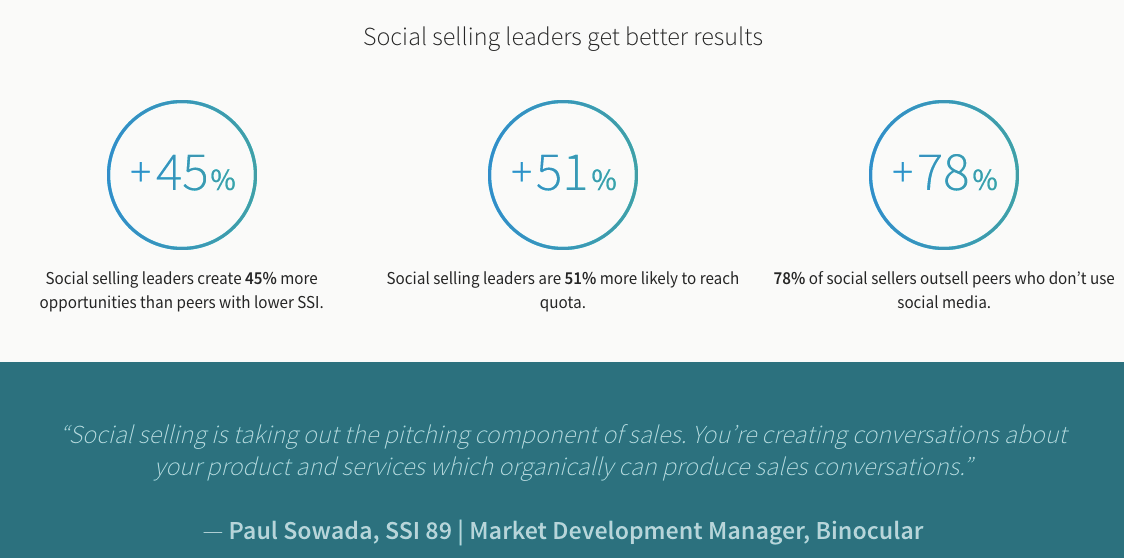 And, if these numbers alone don't convince you, here are five benefits of incorporating social selling into your sales process.
Increased Brand Visibility
Social selling is a sure way to boost brand awareness and brand visibility. For example, when you promote a certain product on your brand pages, it can be shared by your existing customers.
This way, it reaches new potential leads consistently.
In short, the number of potential leads who notice your brand can significantly increase by using social selling strategies and social selling tools.
Even after you make a sale, social selling helps you connect with existing customers and keep them coming back for more.
Winning at sales isn't just about closing deals. It's about managing your leads effectively. Discover how in our comprehensive guide on sales lead management.
Shorter Sales Cycles
A sales cycle is the series of events that occur when the prospect becomes aware of your product to the actual purchase of your product.
The main problem with traditional selling is that relationships with a potential lead may start on the wrong foot, especially with strategies like cold calling.
Social selling is much more subtle and nuanced than that. With social selling, you're likely to have a better estimation of what your potential client needs.
Now, let's imagine a scenario where your social sellers have successfully implemented a social selling strategy. They have been consistently posting valuable information related to your products. And they have been interacting with prospects on a human level. When a prospect wants to purchase a product, they are more likely to think about your brand first.
With social selling strategies, your sales team's ability to differentiate itself from other competitors can greatly reduce sales cycles.
Unlock the secrets of effective sales analysis – explore our comprehensive guide now!
More Decision-Makers See Your Content
This one is especially important for B2B buyers.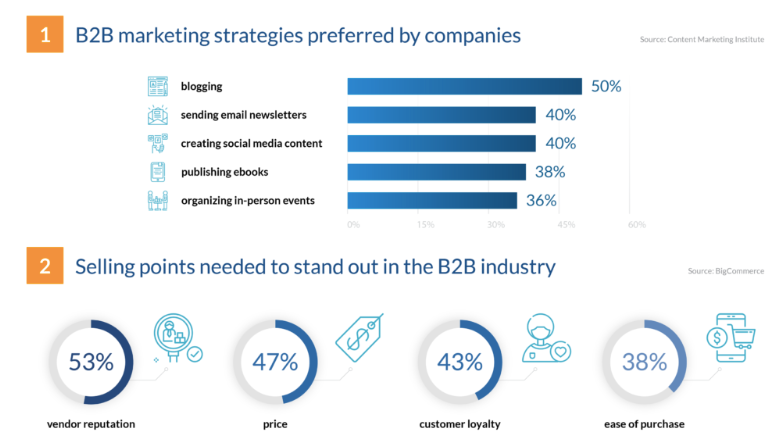 A Forbes study found that 49% of all B2B brands have already adopted social selling as part of their sales and marketing strategy. In addition, 98% of the remaining brands said that they were planning to implement social selling.
For example, let's say you are promoting a social media suite through your LinkedIn profile. As it gets shared by other reputed players in your network, it adds credibility to your content. Over time, you can build on this trust and credibility. This ensures that key decision-makers in the buyer's company are aware of your brand.
In addition, social selling can help boost your vendor reputation and customer loyalty, which will help your sales team stand out in the B2B industry.
Read also: Value-Based Selling: 7 Actionable Tips To Build Your Brand Value
Establishes Your Team as Thought Leaders
Becoming a thought leader is something that every company aspires to. It is no longer just a catchy buzzword, but something that will help your company grow a lot in the long run.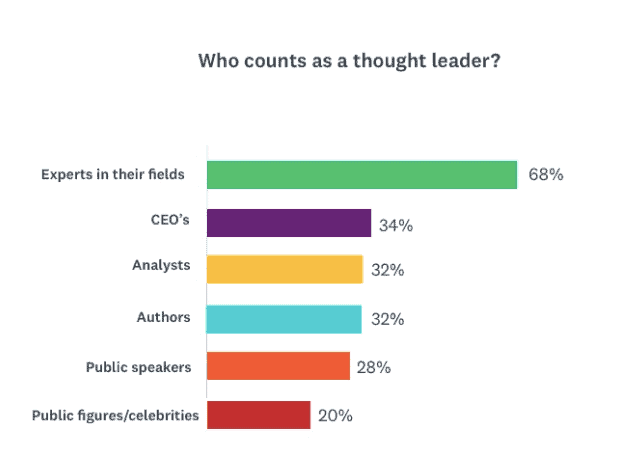 A thought leader is a person or a company that is considered an expert in their field. By creating relevant content and establishing yourself as a thought leader, you can build a trusted relationship with your target audience. Remember that this can often be quite overwhelming.
The journey to becoming a thought leader is a slow and painstaking one. But with the right social selling strategy, it is very much possible in the long run.
Are your sales tactics aligned with strategic selling? Learn what it really is in our insightful guide.
Builds a Better Customer Relationship
Social media has now become a key tool for sales professionals, and this is unlikely to change any time soon, as you can see in the infographic below.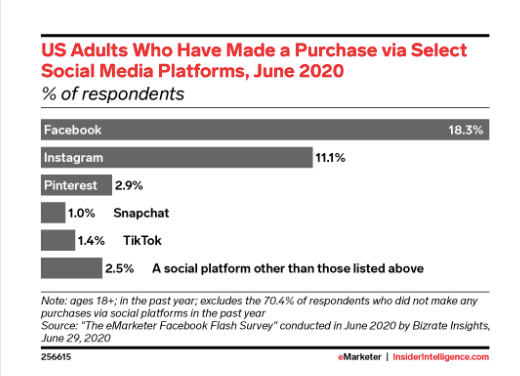 In addition to this, 55% of B2B buyers search for information on social media. So, whether you work in B2B or B2C, social selling is equally important.
Collaborating with other players and influencers in the field fosters team building within the company. And, it also ensures that you have an available pool of potential buyers for your products.
With social selling, you can take a warm and slow-paced approach to reaching prospective clients. This is in contrast to the traditional sales process like cold calling.
Social selling can boost your customer relationships in a big way.
18 Powerful Marketing Strategies to Grow Business Faster
What is the Social Selling Index?
The Social Selling Index (SSI) is a method of assessing how good somebody is at social selling.
Launched in the year 2014 by LinkedIn, it measures different factors to reach a score. These factors include:
Establishing your personal brand
Finding the right people
Engaging with insights
Building relationships
Each factor gives you a score out of 25. If you do well in all these areas, you get a perfect score. LinkedIn being a major social selling platform, it indeed pays to have a good SSI.
For instance, a good SSI score will ensure that your valuable content reaches more prospective clients. A high SSI can also mean that a wider audience is now following you and seeing your content. This will help you become established as a thought leader.
Social Selling Index (SSI) Factors That Count
Let's take a deeper look at each factor that goes into your SSI.
Establishing your personal brand
In this metric, LinkedIn will assess whether your profile is complete and up to date. Do you have a cover picture, enough recommendations, and job history?
LinkedIn also looks at the quality of content you post, along with the engagement metrics for your content.
Finding the right people
With this metric, they are looking for how you use LinkedIn's tools to find the right people and form a connection with them over time.
Remember that this metric is based on the LinkedIn Sales Navigator.
So, it might get tricky for free users to get a good score on this metric.
Engaging with insights
The more you share engaging and popular content, the better this metric score would be. Likes, comments, and shares are monitored to produce this metric.
Ask yourself, how often do I share content? How is the engagement for the content?
Building relationships
Network management is the key here. It gives you a measure of how successful you have been in reaching out to your target audience on the social platform.
What is a Social Selling Strategy?
A successful social selling strategy focuses on creating and sharing quality content over some time.
You are unlikely to get very far as a social seller if you are sending out cold DMs to potential clients.
Rather, social selling is all about playing it warm and consistent. A better social selling strategy would be to regularly post valuable content and occasionally send private messages to warm up the prospect.
Over time, as your follower base grows, social selling gets easier as well.
5 Proven Social Selling Strategy Tips
Here are some effective social selling strategy tips that can take your sales to the next level.
1. Find relevant social channels
The first step is to identify which social network your audience uses the most. Now, in the case of b2b buyers, this could be LinkedIn and Twitter. If you are in the b2c segment, you can consider Facebook or Instagram.
This will ensure that you don't spread yourself too thin on several different social media channels. It can help you focus and channel your efforts into the social channel that will most benefit your company.
No matter which social media platform works best for you, the first step is to build a compelling profile. Ensure that you have a professional display picture and an interesting bio.
2. Engagement and social listening
Once you have set up your profile, you can now begin the process of understanding where your prospects spend their time on social media.
For example, what are the most common hashtags in your industry? How can you incorporate them into your posts?
In addition to questions like this, you also need to make an effort to join groups where others in your industry hang out. Make sure to also follow all the key players in the field, including influencers. These are just a few of the ways to boost engagement.
Social listening is an important component of any social selling strategy. It is something you ignore at your peril.
Social listening is simple – you can find out what your prospects need by looking at the content they post, like, and share. This will help you better understand the needs of your customers.
You can also set up a social listening tool. Using a social selling tool, you can monitor keywords. You will get notified when someone mentions the keyword and that's your chance to step in and engage with your target audience.
3. Create valuable content regularly
This step works in tandem with your content marketing strategy. Not only do you have to post content regularly, you also have to ensure that it offers some value to a potential buyer.
Keep in mind that unlike a blog or a website, most social media content is viewed only for a few hours after you make a post. So, you can schedule posts ahead of time to maintain a consistent engagement across time.
To get some engagement within the first few hours of your posting content, you can create an employee advocacy program. Employee advocacy is nothing but getting your employees to promote the content you have created.
They can share, like, and comment to boost engagement within a shorter frame of time. This will give you leverage within the first few hours of your posting content.
4. Create a list of prospects
If you have followed the above steps with diligence, you now have a social media presence and are sharing regularly sharing quality content.
You can double down on your efforts by curating a list of warm prospects. You can make a list of the prospects who have recently engaged with your content.
In the case of B2B companies, you can identify the key decision-makers at the right level.
For example, if you are a SaaS company looking to sell your products, you need to find companies that have a pain point that you can solve. This is good social selling work.
11 Proven Ways to Build an Email List
5. Following up with prospects
Once you have reached out to prospects, you also have to ensure that you are following up. It is ideal to wait a couple of days at least before your follow-up message.
Ensure that your messages are short and not pushy, as this would likely cause doubts in the minds of your target audience.
In addition to this, you should also monitor key metrics like the SSI to evaluate whether your social selling strategies are working.
You may have to take some time and make certain tweaks to get results. Always remember to be patient and look at the larger picture.
Ace the Sales Process: 9 Simple Strategies Nobody Ever Follows
Examples of Social Selling
Here's a great example of the kind of posts you can create on LinkedIn:
Remember that posts that talk about personal experiences through a humanistic lens can often gain a lot of traction, especially on LinkedIn.
This post would indeed add value to their prospects by offering ideas through the lens of your own experiences. Notice that there is no hard selling of the company's products.
If one of your followers has a similar pain point, they are likely to reach out to you to find solutions.
Top Tips for Social Selling on LinkedIn
LinkedIn is one of the most popular social platforms where you can generate new business for your company. Here are some of the best tips to become a social selling pro on LinkedIn.
1. Build your profile
The first step to selling on LinkedIn is to curate your profile to make it very interesting. At this stage, ensure that you have a great bio and display picture.
Don't be shy and ask your colleagues, friends, and clients to write recommendations for you. This will greatly boost credibility.
Here, also take care that the skills you get endorsed for are relevant to your target audience, and not just future employers.
2. Be proactive in finding prospects
Think of your summary as your chance to make an elevator pitch to a huge number of prospects. This is one of the first things that each prospect will see upon checking your profile.
To succeed at finding prospects, you need to monitor what your target audience is saying online. You will need to monitor what people are saying about your brand and products as well.
If there are any issues faced by your current or possible customers, take immediate steps to find a solution. This could be reaching out to a disgruntled client or even making certain changes within your social marketing strategy and your social selling strategy.
3. Join relevant groups
Much like other social media channels, there are several groups based on shared interests on LinkedIn.
Identify the most popular and active groups within your field and join the conversation. This will help you network with people who have similar interests, identify prospects, and stay relevant. Not only that, this is a great way to show off your expertise and gain the valuable trust of your prospects.
If you need to search for new groups on LinkedIn, just follow the steps below:
Click the "groups" icon on the left menu of your homepage and scroll to the bottom of your existing groups.
Click on the option that says "Search other trusted communities".
4. Learn when to take the conversation offline
This is a crucial yet underestimated skill. Even if you are not a sales rep, your goal is to convert these conversations into real, tangible sales. Social selling doesn't stop once you've made a sale. You have to now turn them into loyal customers of your brand.
Once you have warmed a prospect and there have been several back-and-forth conversations, you can suggest a personal meeting or a call. You can even send out invitations to any events or webinars you could be conducting. This is a smooth way to take the conversation offline.
Even as you painstakingly craft your content marketing strategy, remember to keep your eyes on the ultimate goal of more sales.
Why Content Marketing is the Future of Your Business
Conclusion
In today's world, staying away from social selling is no longer a viable option. So, the quicker you learn social selling, the better.
We will leave you with this very insightful quote from Tim Hugh's book — Social Selling: Techniques to Influence Buyers and Changemakers:
"A successful community is a tribe that will carry your torch for you. If you only carry it yourself, you're just a person."
Isn't that true?
And remember, if you need help with your marketing, sales, or customer relationship management, EngageBay is the most affordable, comprehensive solution. Try it free.