Today, every sales department needs access to a sales intelligence tool if they want concrete results.
Sales intelligence tools give access to a variety of tech solutions that provide data to salespersons and marketers.
These platforms gather data, organize them, and run an analysis to provide insights that help make salespeople important decisions in real-time.
In fact, these tools work by continuously skimming through millions of publicly available web pages, collecting data, and matching it to the profiles available in the company's client database.
Let's look at some of the top sales intelligence tools that can help your sales team find sales triggers and reach out to potential hot leads at just the right time.
10 Best Sales Intelligence Tools You Should Start Using Now
Here are 10 of the best sales intelligence tools to make the most out of your sales team. From Clearbit to HubSpot and Lusha, these sales intelligence platforms crunch up data and derive useful insights. Have at it!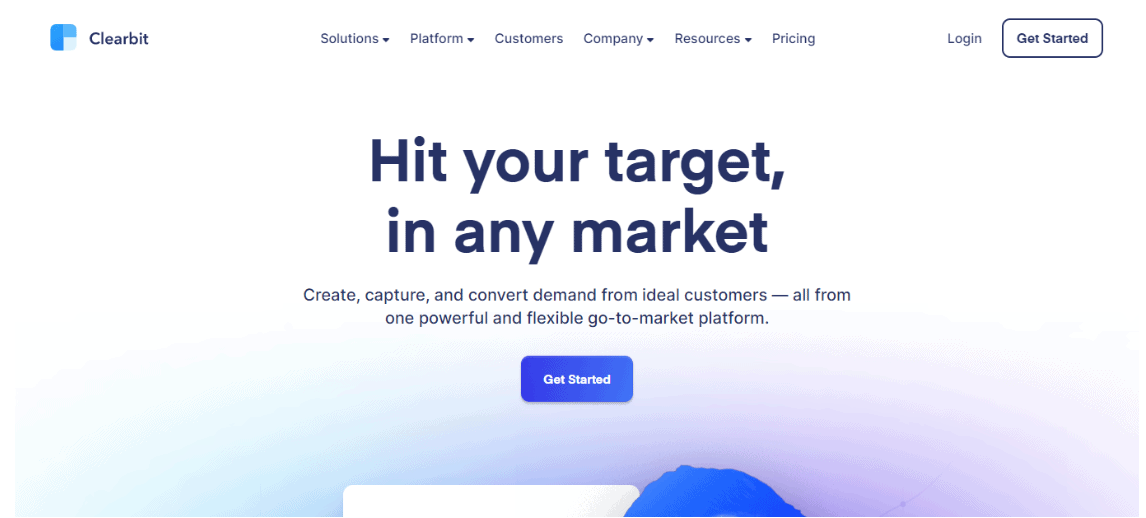 Clearbit is a sales and marketing platform that aims to maximize customer satisfaction by providing you with a 360-degree view of the market.
Thus, it helps resolve any friction in your prospect's journey.
Besides, it helps you identify the highest-value prospects and grow your revenue effectively.
Pricing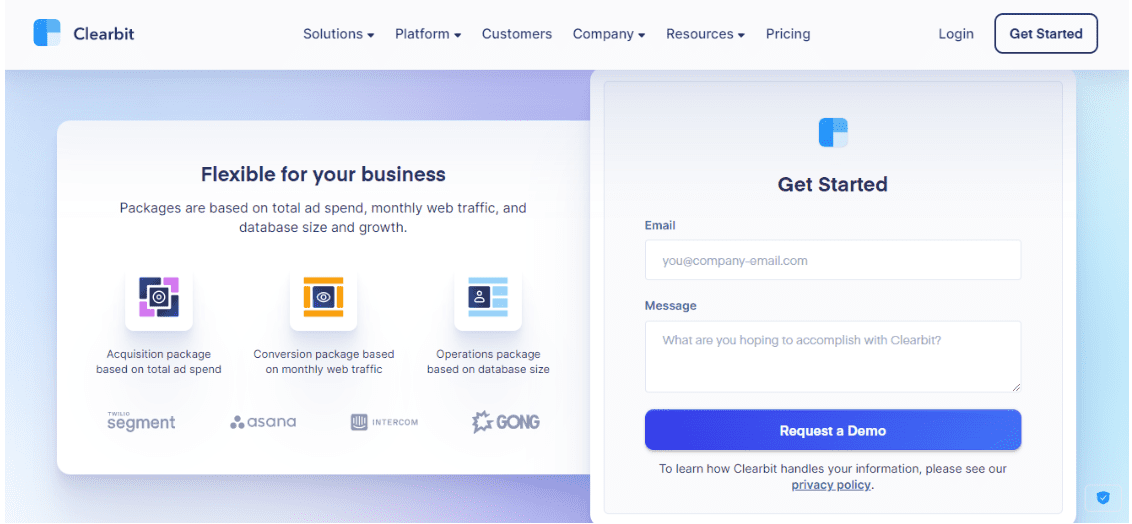 Clearbit offers pricing plans that are tailored to the needs of your business.
Depending upon your company's total ad expenditure, monthly web traffic, and size of the client database, the pricing plans will be provided.
All you need to do is contact Clearbit's sales team to request a quote.
Pros

One of the key advantages of Clearbit is that it is highly intuitive.
It keeps client information up to date, identifies, and generates leads based on the existing database.
Cons

At times, Clearbit's sales team can be slow to respond.
Moreover, some clients have stated that its subscription models do not explain clearly the pricing and features.
In addition, companies have also found it difficult to find prospects that don't have a business email address.
Read also: 15 Sales Prospecting Tools For a Tight Budget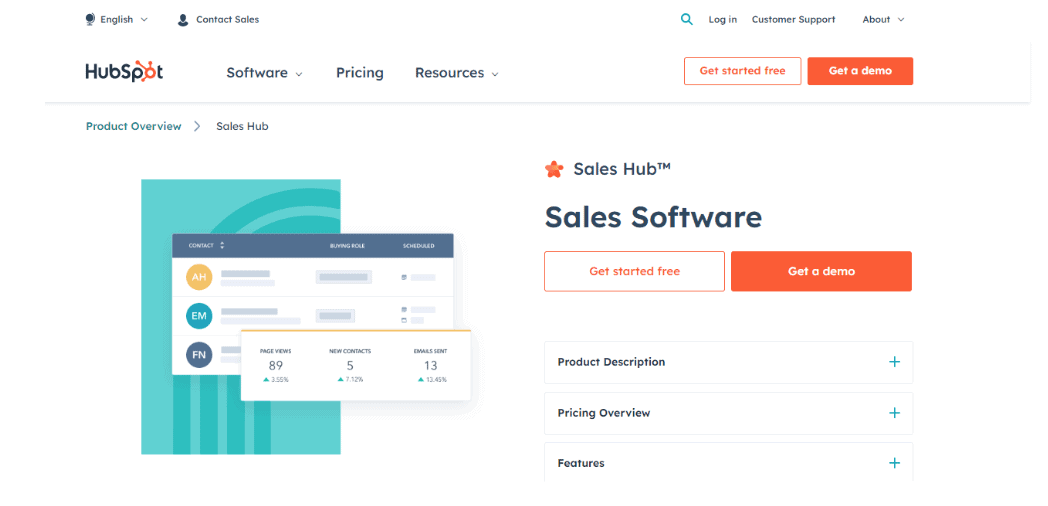 As a sales intelligence tool, HubSpot gives you full visibility into your process and helps with sales forecasts for exceptional results.
Its sales enablement tool and faster onboarding help provide a smooth customer experience, closing deals faster.
Furthermore, it provides a collaborative platform that unites your sales and marketing teams effectively.
Pricing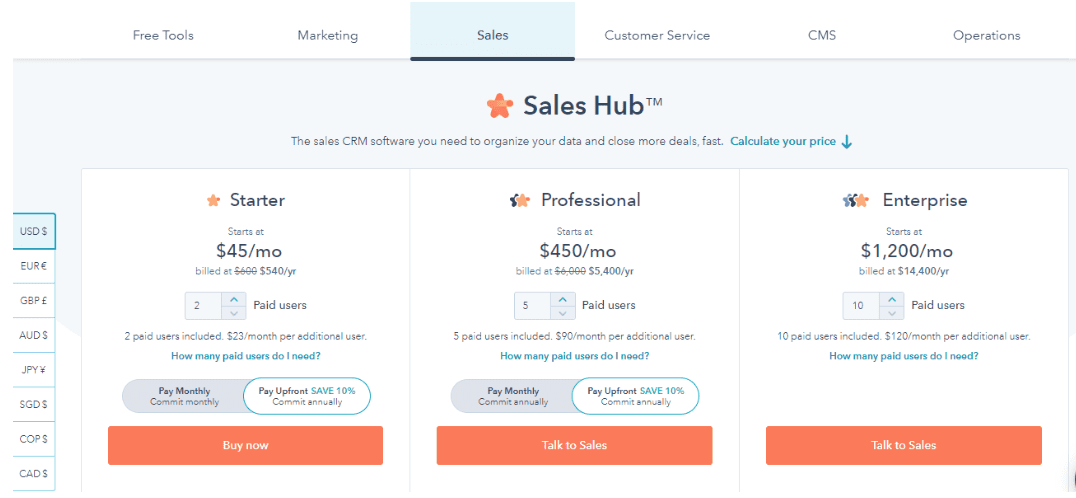 HubSpot's Sales Hub offers three pricing plans, Starter, Professional, and Enterprise. Each plan includes a certain number of paid users. While the Starter Plan, available for $5 per month, includes 2 paid users, the Professional Plan has 5 users ($450 per month). Its most expensive Enterprise Plan starts at $1200 per month for 10 paid users.
With every plan, you can avail yourself of more advanced features.
Pros

One of the major advantages of HubSpot sales intelligence hub is that it provides clear visibility into email clickthrough rates and open rates, helps create automated email sequences with just a few simple clicks, and enables you to keep in touch with clients at all times.
Navigate through the top HubSpot competitors with our expert guide. Learn about each software's pros, cons, and pricing.
Cons

Despite easing the process of contacting leads, HubSpot can make it difficult to keep track of past conversations.
Hence, sales teams need to click on each contact to see if they have all the necessary information on the dashboard.
Read also: What is HubSpot? Features, Pricing, Who it's Best for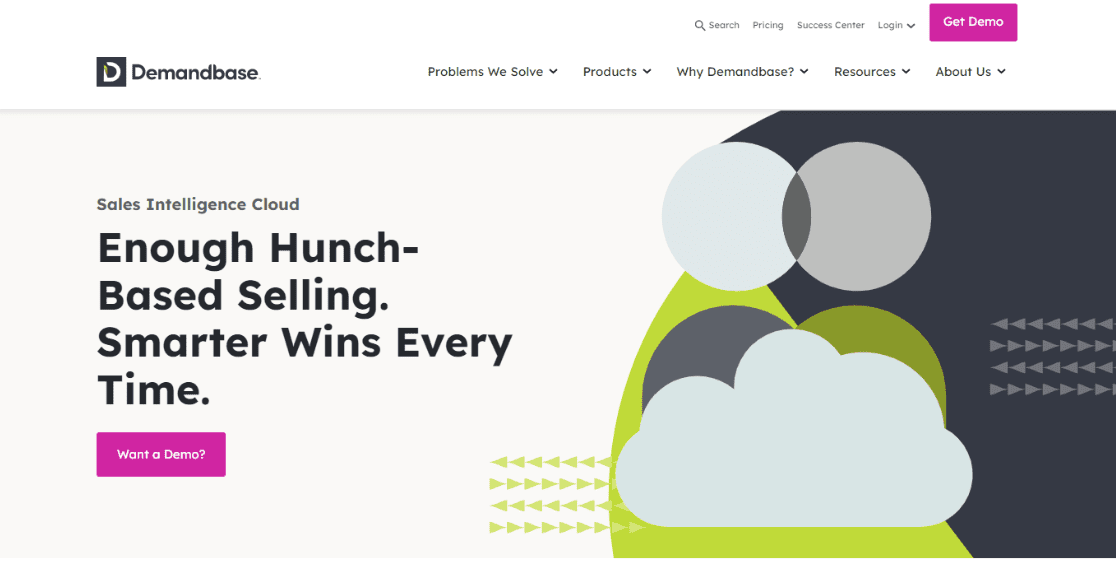 Demandbase, or InsideView, is a sales intelligence cloud platform that helps you identify and generate high-quality leads by tapping into millions of business and contact profiles.
You can segment your leads, sync data, use account intelligence to tap into the right companies, and get real-time alerts on prospects.
Pricing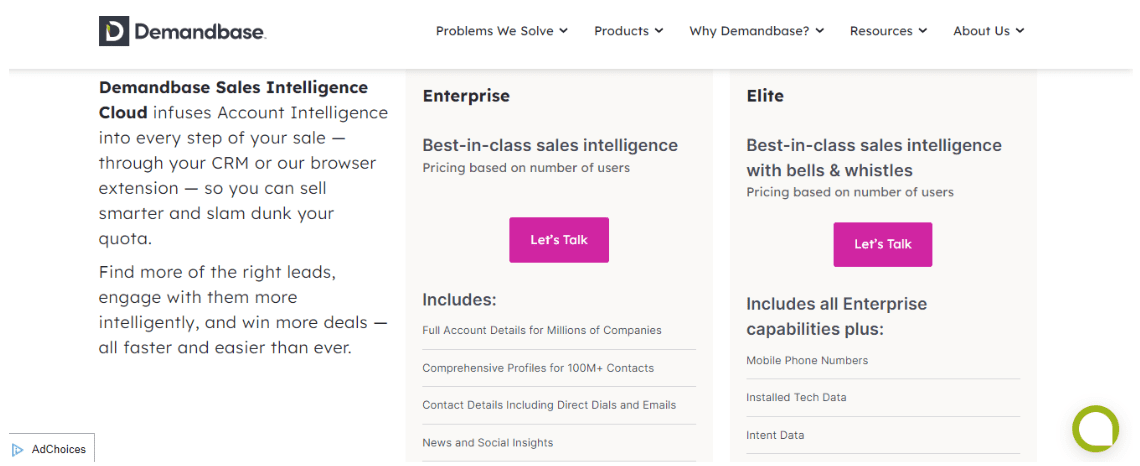 Demandbase has two plans on offer, Enterprise, and Elite.
The pricing for both models is based on the number of users.
To avail of the plans, users can contact Demandbase's sales team directly.
Pros

Users of Demandbase have been satisfied with its quality, owing to its ease of use and the variety of data it collects for the client database.
Cons

A drawback of the Demandbase sales platform is that there can be instances of duplicate entries for the same customer, making it time-consuming to differentiate between outdated information and correct data.
Read also: 10 Free Sales Tools That You Won't Mind Paying For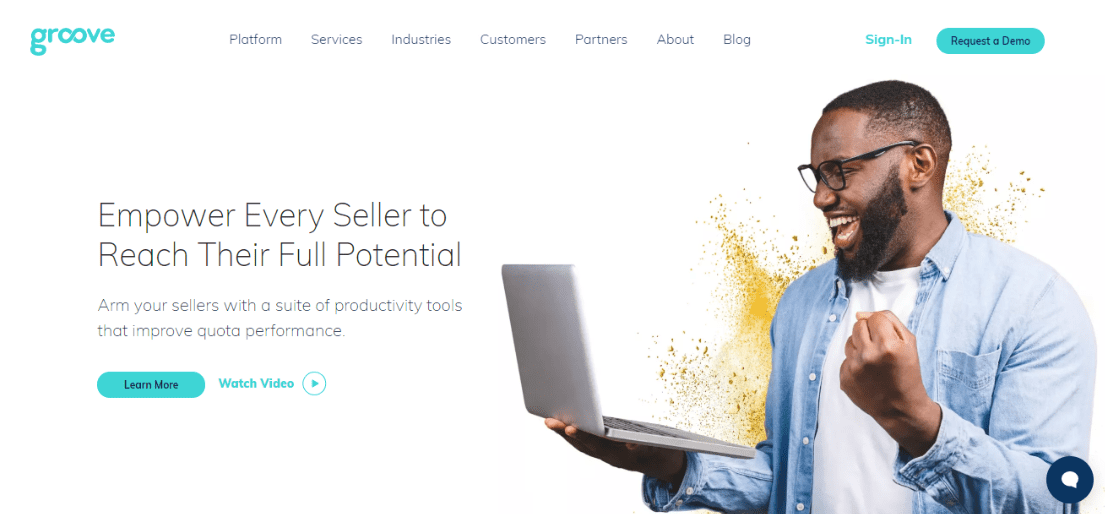 If you are looking for a sales intelligence that not only boosts revenue but also improves the security and scalability of your organization, choose Groove.
Using its integration with Salesforce, Groove helps automate several aspects of your sales process and make better decisions.
You can also sync your activities on the dashboard, communicate with contacts through multiple platforms, analyze past conversations, and accurately forecast revenue.
Pricing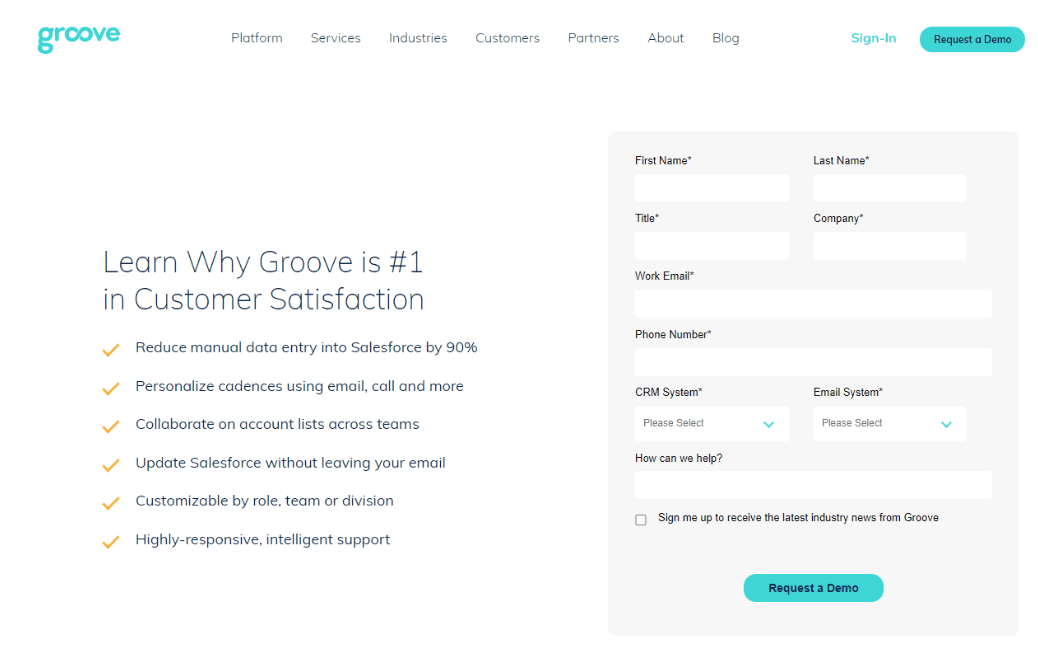 To avail of Groove's services, businesses can get in touch with their sales team by clicking on 'Request a Demo' and entering their details.
Pros

Groove provides real-time data on email open rates and click-through rates, which helps you understand who has interacted with your content and when.
Cons

Too many redundant email notifications are a drawback of Groove.
Moreover, the filtering feature needs improvement.
Read also: 25+ Brilliant Small Business Tools for the Internet Champion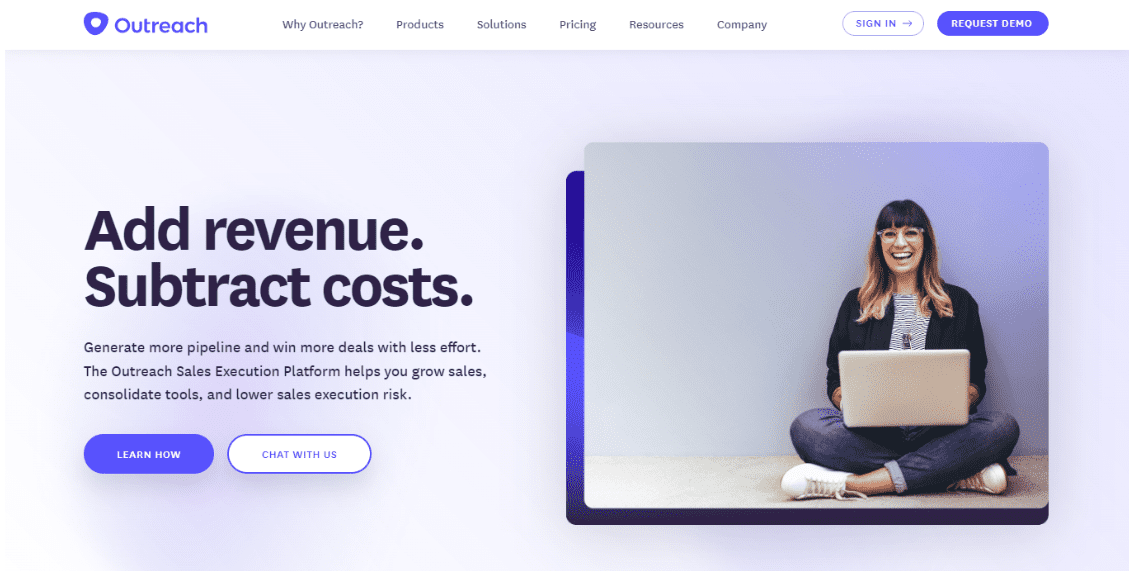 If your primary focus is winning deals faster, Outreach is the best sales intelligence platform for you.
The platform enables you to streamline workflows, gain in-depth insights into customer activity, and generate revenue forecasts accurately.
Over 5,000 global companies, including Zoom, Okta, Databricks, and more use Outreach as their sales outreach platform.
Pricing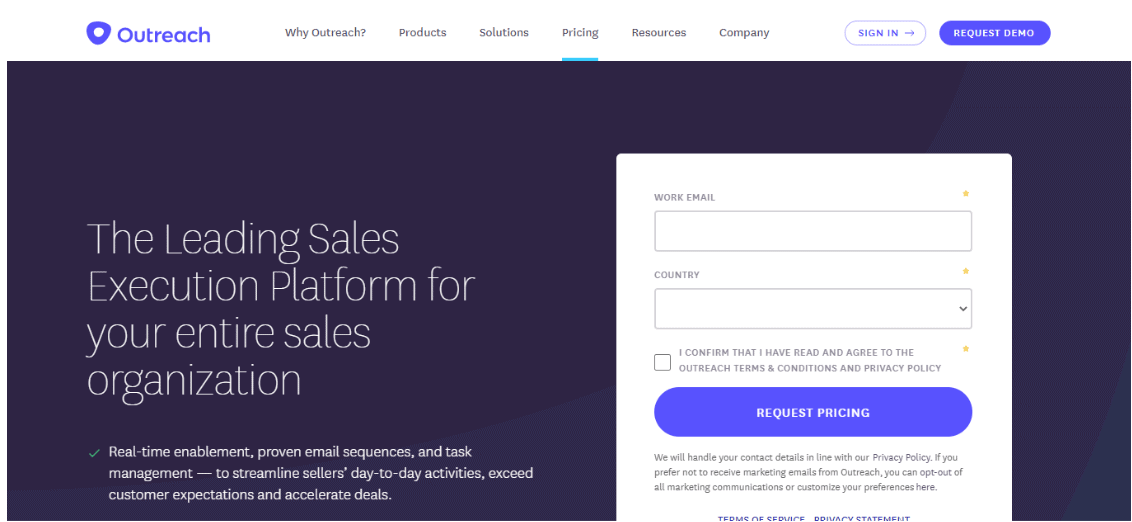 To avail of Outreach's services, businesses can contact its sales team and request a quote.
Pros

Users of Outreach have generally been satisfied since the platform allows them to follow a multi-step approach to prospecting and create highly targeted messages to win more deals.
Cons

Often, customer service at Outreach has been slow and inefficient.
Many companies have reported that their queries were left unanswered, particularly regarding billing.
Read also: 10 Great Organization Tools [And How You Can Use Them]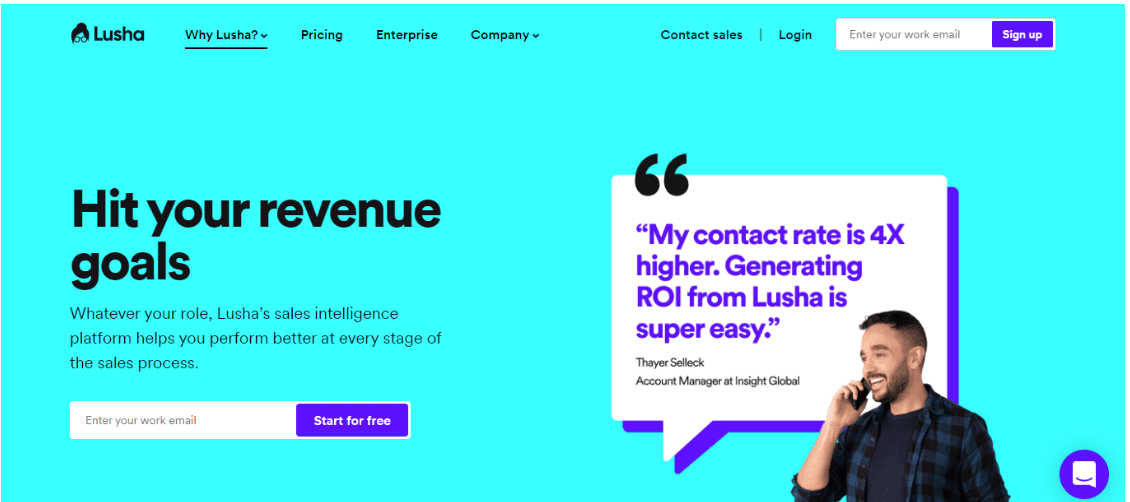 Lusha is a B2B sales intelligence platform that provides you with customized sales tools depending on whether you work as a sales leader, an account executive, or a sales rep.
With Lusha, you can schedule meetings as per the availability of your prospects, capture leads by scanning multiple company websites, keep your client database updated, and score leads according to priority.
Pricing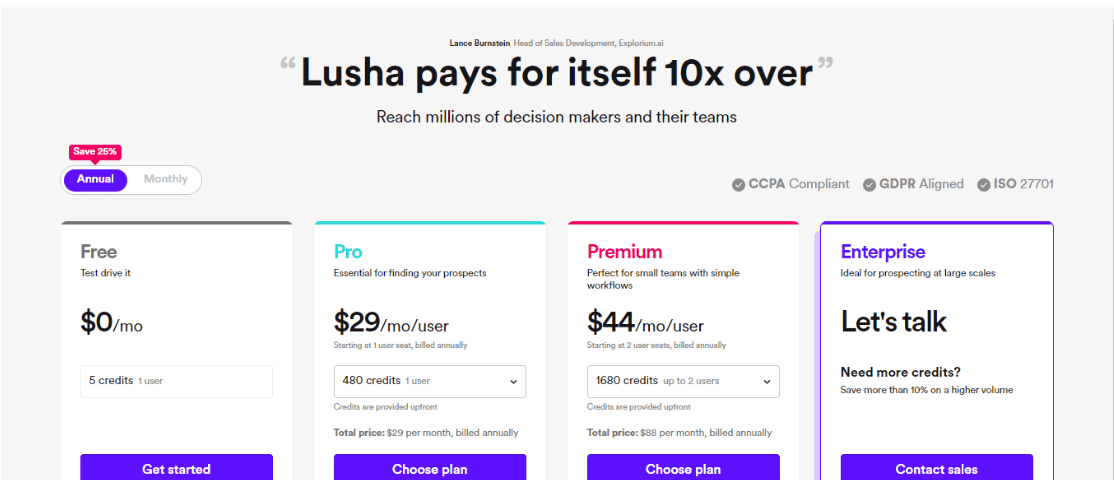 With Lusha, you can avail of four types of plans, Free, Pro, Premium, and Enterprise.
The Free Plan is Lusha's forever-free plan and comes with direct number dialing, basic prospecting, and a free Chrome extension.
Each plan depends upon the size and needs of your organization, or you can choose a customized plan.
Pro: $29 per month per user
Premium: $44 per month per user
Enterprise: custom plan
Pros

Lusha is considered one of the best platforms for sales professionals, as it provides all the information they need to close deals, with a few simple clicks.
Further, it continuously updates customer data, ensuring that all the information in your database is accurate.
Cons

Despite ensuring data accuracy, Lusha users have encountered difficulties with accessing the right information about their employees.
Users have also faced problems with applying filters while prospecting.
Read also: Sales Analysis: Learn To Zoom In & Master the Pipeline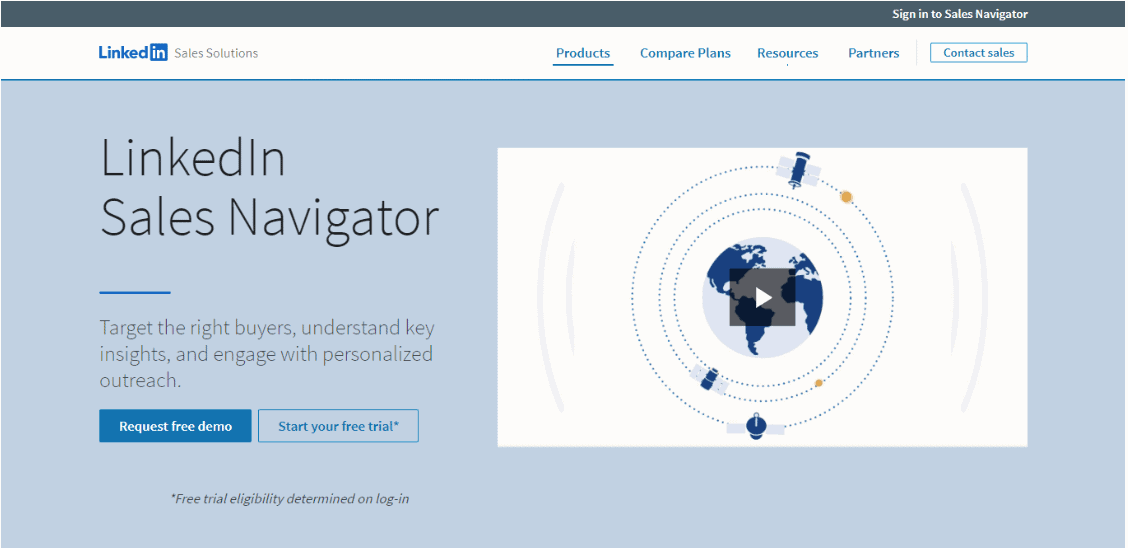 LinkedIn Sales Navigator is a sales intelligence platform that not only does the job of identifying the right leads but also reaches out to people you don't know.
With LinkedIn Sales Navigator, you can find the right people by applying advanced filters, check who's viewed your profile, save contacts directly with CRM interaction, and reach out to over 500 million people thanks to its InMail messaging tool.
Pricing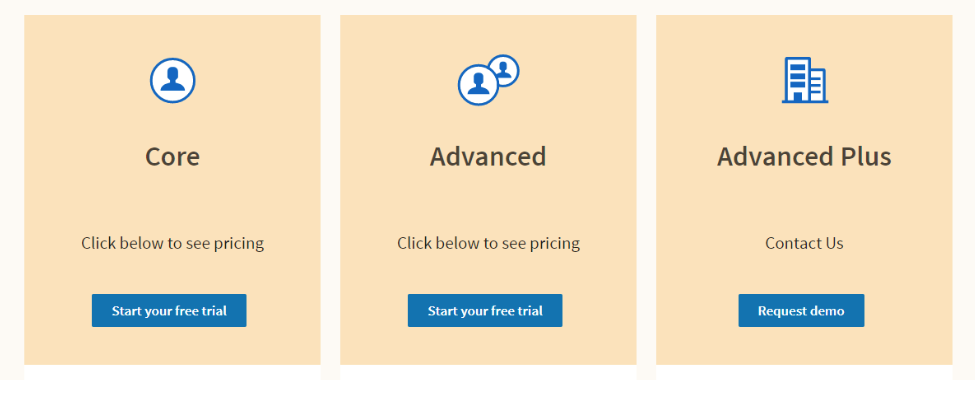 With LinkedIn Sales Navigator, you can choose between three pricing models, Core, Advanced, and Advanced Plus.
All the plans boast of a free trial. To make a purchase, you can contact LinkedIn's sales team for a demo.
Pros

LinkedIn Sales Navigator allows you to search and view profiles anonymously and streamline your search by applying a wide range of filters.
Cons

A major disadvantage of LinkedIn Sales Navigator is that the number of features, particularly the dashboard and reporting, is limited and not very insightful.
Read also: 10 Top Sales Analysis Software for Small Business Owners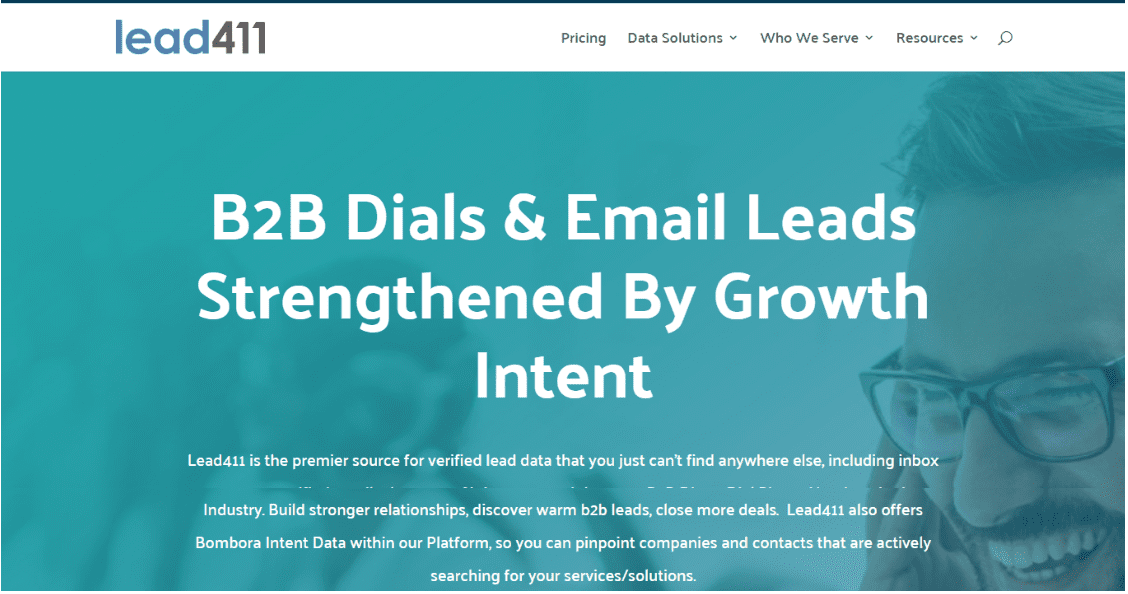 Lead411 is an all-in-one sales and marketing platform that helps B2B companies generate and close deals faster.
This tool helps you identify the right accounts, verify whether your emails were opened by the recipients, determine when to contact your leads, and set up SMS and email sequences.
In fact, you can call your clients directly from your dashboard, which aids in closing deals faster.
Pricing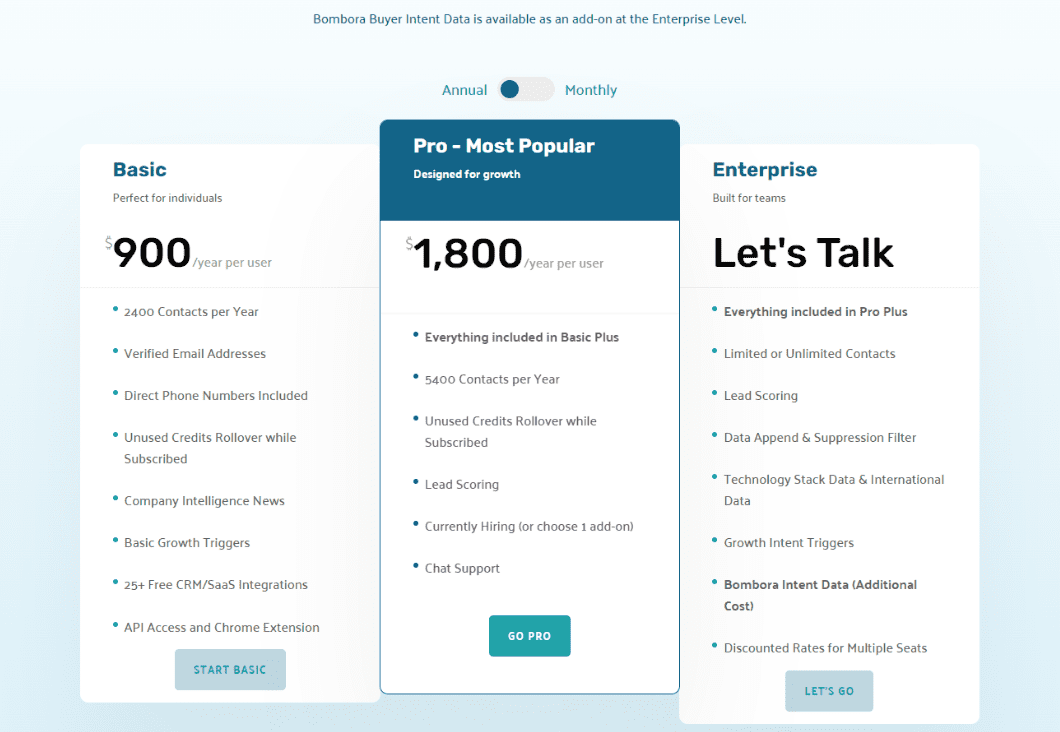 Lead411 provides three pricing categories, Basic, Pro, and Enterprise.
The pricing depends upon the number of contacts provided and can be customized as well.
Basic: $900 per year per user
Pro: $1,800 per year per user
Enterprise: Custom plan
Pros

Lead411's biggest advantage is that it helps companies search for the right leads by providing multiple filters.
This helps them generate a list of ideal customer profiles without spending too much time.
Cons

While Lead411 helps users identify the best leads, at times, the data might either be incorrect or incomplete, which makes it difficult for teams to get in touch with prospects.
Read also: Kind Regards: How to Nail your Email Signature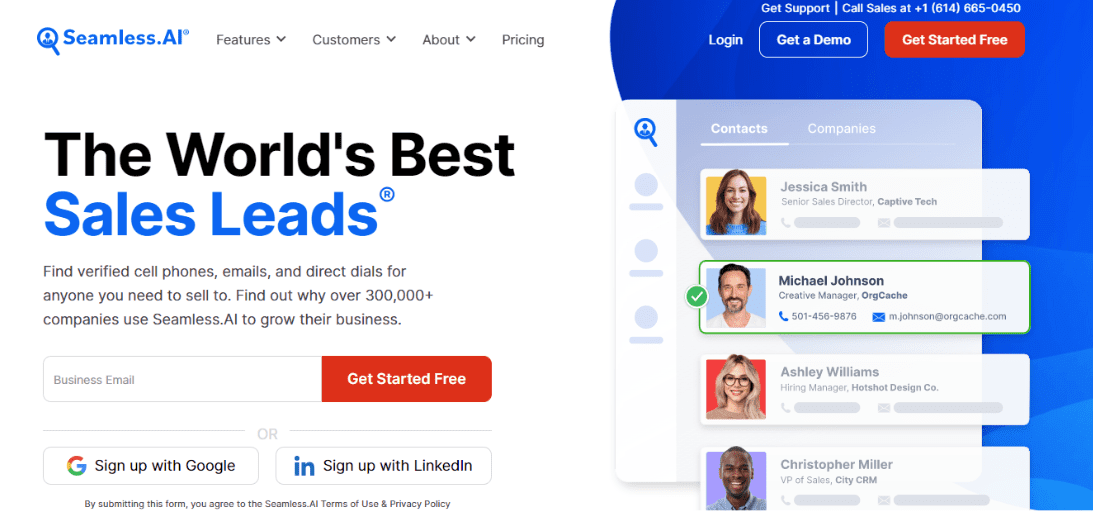 Seamless.ai is a platform that makes the process of lead identification more convenient and also helps you connect with your leads in real-time.
Moreover, the platform helps you tailor and deliver highly personalized messages to leads and create lists of more than 10,000 prospects within minutes.
It automatically updates your database and provides seamless integrations with HubSpot, Salesforce, Outreach, and many more.
Pricing

Seamless.ai has four pricing categories on offer, Free, Basic, Pro, and Enterprise.
While the Basic Plan starts at $147 per month, for the Pro Plan or the Enterprise Plan, companies can contact Seamless.ai's sales team for a quote.
Pros

Seamless.ai is known for its user-friendly interface, making it popular among sales professionals.
Cons

Although Seamless.ai provides real-time data on prospects, it can be inaccurate at times when it comes to contact verification.
Further, users have also found it difficult to search for email addresses from large databases.
Read also: How to Pitch Your SMB Sales Like a Pro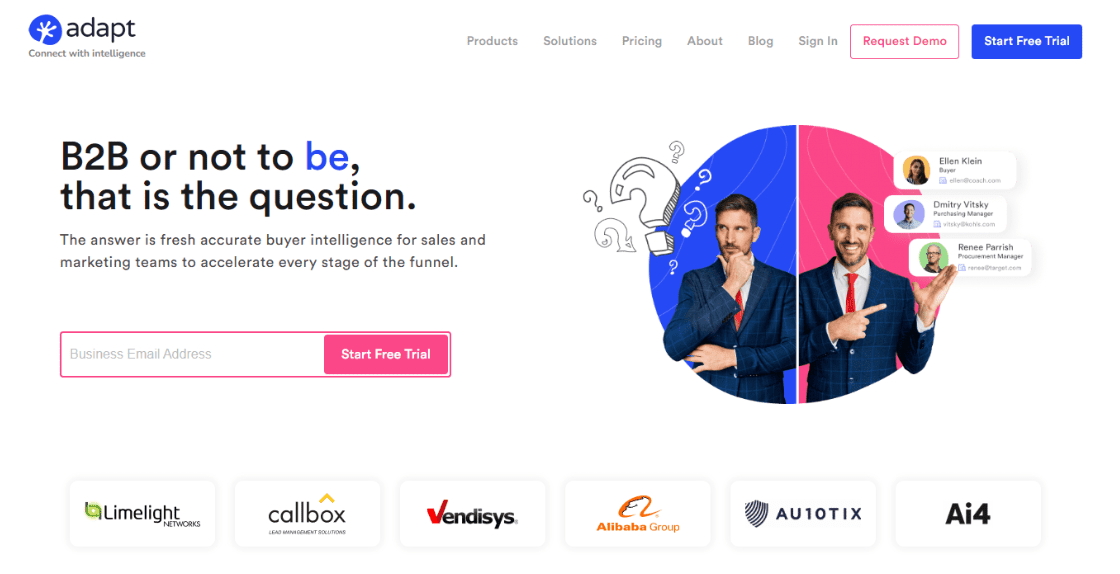 Adapt is another sales intelligence platform that helps B2B companies improve lead generation and accelerates their buyers' journey.
Using Adapt, you can ensure that all the information in your client database is accurate, enrich your profiles using various criteria, and stay connected with them through its omnichannel marketing feature.
Pricing
To avail of Adapt's sales intelligence tool, users can click on 'Pricing' on its website, enter their details and get a quote.
Pros
Adapt is known for its user-friendly interface as well as for making it easy to email leads using its Chrome extension feature.
Cons

Often, the data stored on Adapt's client database is either incorrect or incomplete.
Moreover, companies cannot get a detailed insight into their customers' profiles, due to the limited availability of features.
Read also: Customer Service Strategy: 9 Lessons from Digital Disruptors
Wrap Up
Sales intelligence tools provide valuable insights into the sales and marketing performance of companies.
They help generate high-quality leads that match the needs of the business.
However, when these tools are combined with an all-in-one CRM suite like EngageBay, they can design and implement more effective sales strategies that boost conversion rates and sales.
EngageBay offers a seamless integration process to help companies run their business processes effectively.
Here's Lauraine M, a small business owner, talking about her journey with EngageBay:
Thousands of small businesses use EngageBay to automate their marketing, sales, and customer support processes. Hear from a couple of them: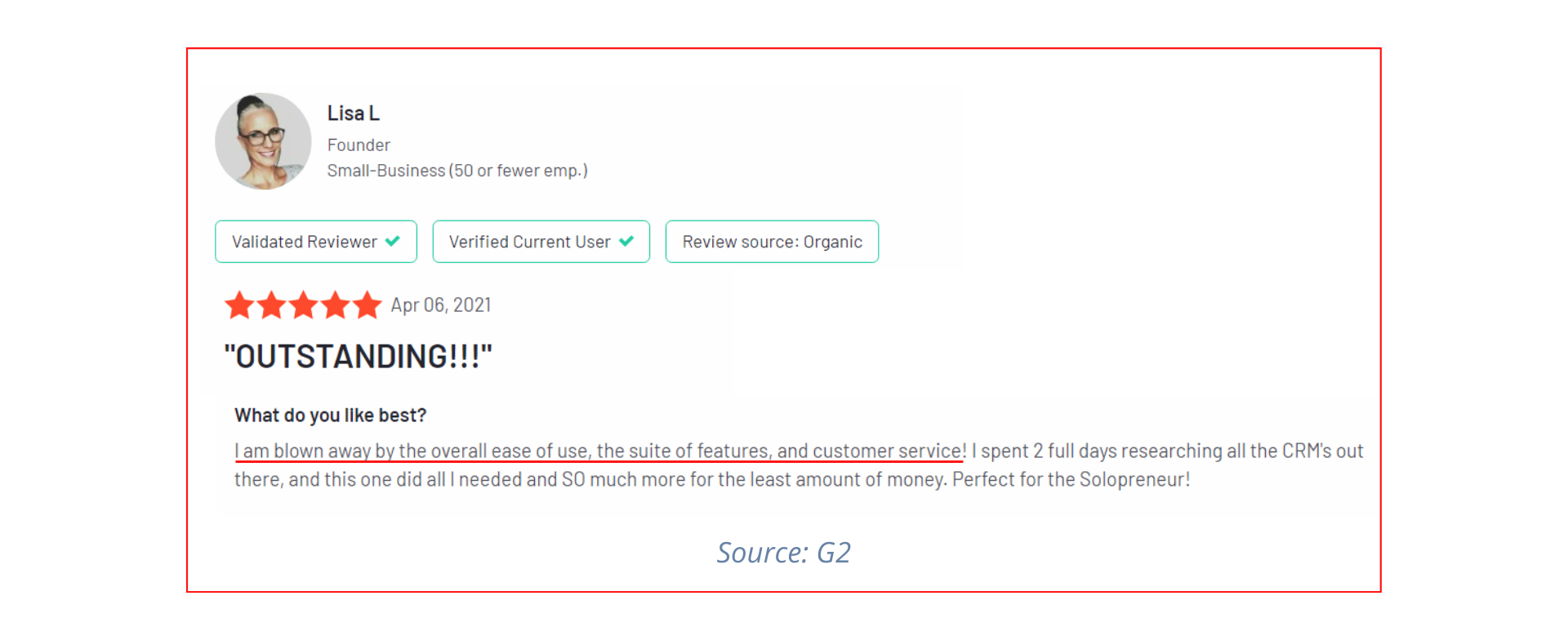 If you need more help in choosing the right sales tool, please feel free to contact us.
Enhance your sales performance with the best features of these 12 must-try sales database tools!