CRM is a type of software that helps companies reduce costs and boost sales by automating their customer relationship management processes.
Banking CRMs can be customized to suit the needs of banks and other financial institutions, and the banking CRM market is expected to grow steadily over the next few years.
Banking CRM helps automate business tasks and make it more efficient for customer care reps to serve customers anywhere in the world.
It reduces the time spent on routine work and has been shown to generate $8 for every $1 spent on it.
Banking CRMs offer centralized data management, streamlined deployment of tasks across departments, easy and effective communication with customers, real-time performance reporting, contacts management, employee management, and more.
In today's blog post, we'll take a look at why banks need a CRM, how it can benefit financial businesses, and the top features a banking CRM should include.
Related blog: Top 5 Banking CRM Software to Consider: EngageBay, HubSpot, and More
The Importance Of CRM In Banking Sector
A banking CRM might seem unnecessary for an industry that is already heavily automated and regulated. But, banking at its core is a customer-focused industry. As with any customer-centric business, the quality of relationships matters to its continued success.
Historically speaking, banks have always relied on relationship managers to build customer loyalty and support. This approach doesn't cut it in today's fast-paced, digital world. The availability of several financial and banking means that customers are now more particular than ever over their choice of banks.
Fintech has enabled a more tailored, information-rich, and direct experience for end-users. Instant deliverability of results also influences customer behavior across industries, especially banking.
Banking CRM software can help banks manage their customer data, build better relationships, and increase revenue. Here are the specific ways in which a CRM benefits banks:
Customer Retention
A Customer-Centric Overview
Efficient Processes
Better Channel Integration
Improved Customer Service
Customer Retention
CRM software can help banks connect with their customers – both existing and potential. A banking CRM software consolidates data in one place, which can be used to optimize and deliver personalized results. Banks can also view updates across departments in real-time. For example, an employee can make a note on a customer's profile about a new credit card, and the concerned department can then follow up.
By proactively engaging with customer's needs, banks can build and retain their customer base efficiently.
Customer-Centric Overview
As we mentioned above, a banking CRM can keep a consolidated system of all customer data.
From opening a new bank account to applying for loans and deposits, banks can keep track of the customer journey on a common dashboard.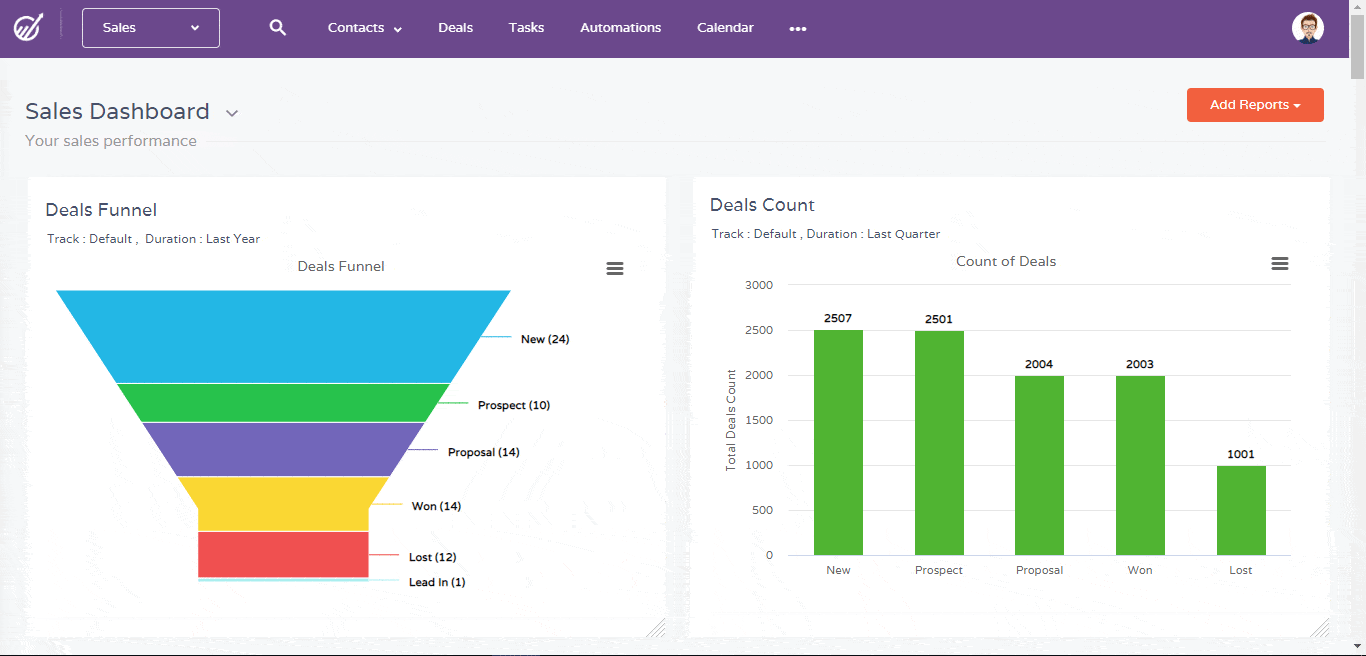 Banks can segment customers, personalize their outreach, and deliver services that cater to their financial goals and requirements. A banking CRM software enables banks to build a customer-centric and needs-based business model.
Efficient Processes
A CRM offers a unified system to view data. Bank employees can get a holistic overview of all past interactions with a customer. For example, a customer calls up the bank to inquire about a personal loan. The employee creates a contact and makes a note. When the customer walks into the bank, the advisor handling them can see the notes from the first call. This helps avoid duplication of data and keeps information up-to-date. Real-time updates also help manage customer processes efficiently.
A good banking CRM will help cross function departments operate without internal roadblocks.
Better Channel Integration
A CRM for online banking can help banks stay on top of digital trends and practices. Multichannel communication is one such digital practice.
All communication channels – phone, SMS, email, website, social media – must be integrated to a system in a way that enables easier customer service. The main challenge faced by many banks is a lack of cohesion. Outdated phone numbers, incorrect email addresses, etc lead customers to a dead-end. All customer interactions within an organization should be simple – not fragmented.
A banking CRM solution, such as EngageBay, can integrate multiple channels onto a single platform and reduce customer leakage.
Improved Customer Service
As we mentioned above, a better integration of multiple channels creates better customer service experiences. A banking CRM helps with that. After all, multichannel communication is about adding value and enriching the customer journey experience.
Better communication outcomes lead to excellent customer service. Good customer service leads to positive referrals and loyalty, which, in turn, drives growth and customer acquisition.
P.S: EngageBay's customer service bay offers contextual information about customers. Banks can, therefore, prioritize and resolve customer problems efficiently.
Related blog: Law Firm CRM: Why Every Lawyer Needs One? The Complete Guide
Top 6 Features Every Banking CRM System Should Have
360-degree customer dashboard
Contact Management
Data Analytics & Reporting
Marketing Capabilities
Sales Management
Workflow Automation
Let's look at the features in detail.
#1. 360⁰ Customer View
Accurate and up-to-date information about a customer's financials is crucial for understanding their goals and requirements. An efficient banking CRM software will allow you to view your customers' data, credit scores, financial history, and interactions. A centralized data repository can enable financial advisors to guide customers effectively if any problems arise.
A centralized dashboard also helps give an overview of the entire customer journey. Without proper organization, it becomes impossible to augment customer data and address pain points.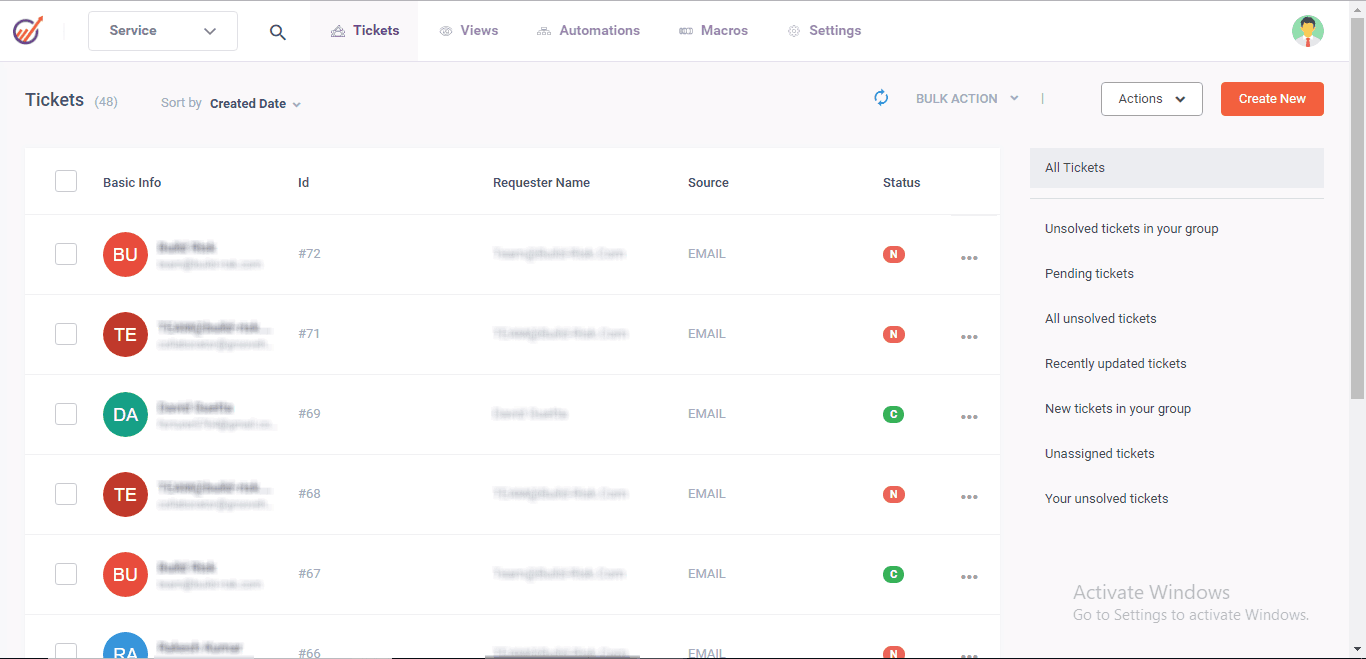 EngageBay's dashboard is a great tool that offers a holistic 360⁰ customer view of every customer profile. Bank employees and sales teams can build campaigns and target customers from multiple data sources. A customer dashboard also helps banks formulate a far-reaching retention strategy that is comprehensive and defined.
#2. Contact Management
No banking CRM would be worth investing in if it didn't offer a well-developed contact management system.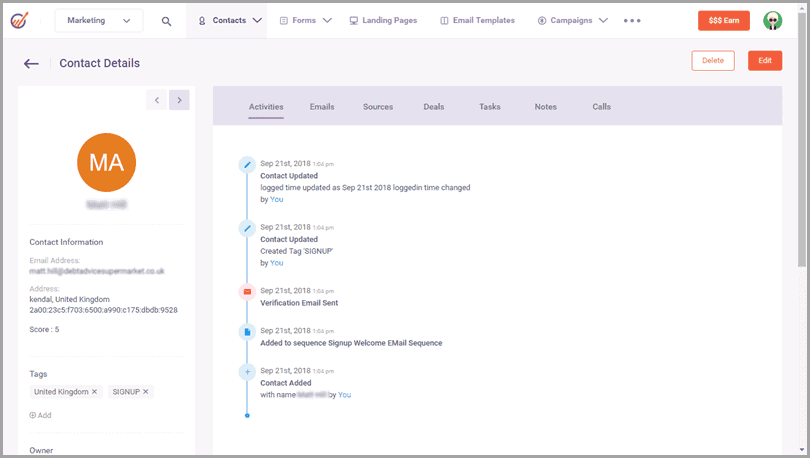 Contact management can help banks keep track of new and existing customers, their interactions with the bank, and their place in the sales journey. An accessible and searchable database can improve internal communications as well as build an external corporate identity.
#3. Data Analytics & Reporting
The use of data analytics and reporting offers a significant advantage: providing an enhanced and accurate service experience.
Employees can use customer's historical data and analyze past interactions as additional detail. These details can help banks navigate personalized customer journeys and improve pain points.
Data analytics and reporting also improve internal processes. There's a cut-down in manual administrative tasks, which empowers banks to focus more on customers.
Read also: 7 Kickass Bank Marketing Ideas You Can Steal
#4. Marketing Capabilities
Let's say your bank is now offering a new service and you believe that a segment of your customers would be interested. A banking CRM can help the bank create and optimize marketing campaigns targeted towards these customers. A marketing dashboard can also enable employees to identify successful trends and replicate those for future marketing efforts.
Data-driven marketing encourages engagement, as well. Employees can track the effectiveness of past campaigns and anticipate customer requirements based on that data.
#5. Sales Management
Even though today's banking sector is highly digitized, customers will still interact with physical salespeople face-to-face. A bank's sales team is going to be on the frontlines of customer interaction which means that the majority of the time, they will record customer data.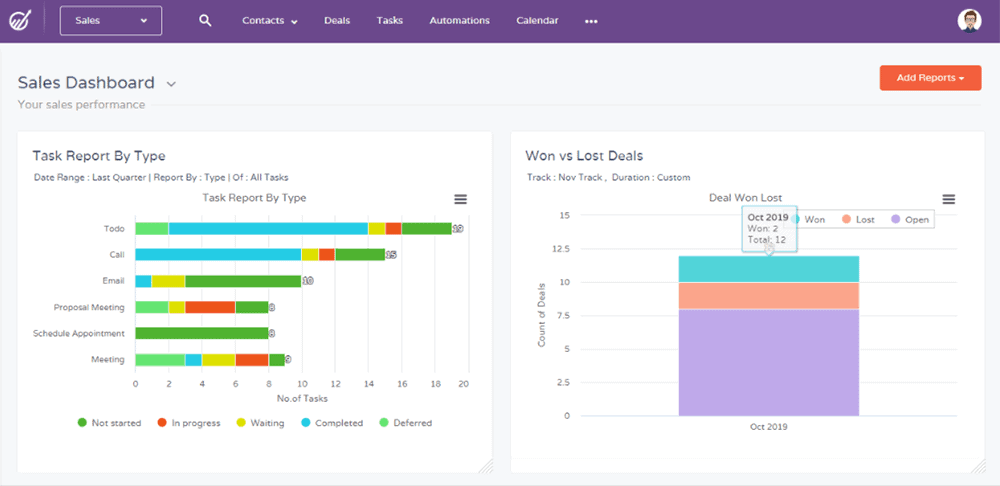 An effective banking CRM will enable sales teams to function across departments. On a performance level, a CRM infrastructure will give sales teams all the tools they require to capture customer data and record interactions.
Optimizing the sales performance can also help banks identify upselling and cross-selling opportunities and close more deals.
#6. Workflow Automation
The customer-business interaction in a bank is fairly straightforward. When it comes to customer onboarding, a lot of steps are routine and mandated.
Banks can automate many common journey points – customers can access bank's services easily, and banks can monitor all updates in real-time.
Workflow automation can also flag changed data such as a customer who has inquired about a loan or who has opened a new account. These prompts allow financial advisors and bank employees to optimize their customer outreach.
Related blog: What Is Restaurant CRM Software & Which One Suits A Small Business?
Conclusion
Banking CRM is a software that tracks customer interactions with the bank, stores and tracks data to help bankers understand their customers better, and generates real-time, custom reports to organize all customer and business information for high efficiency in the workplace.
A CRM serves four main purposes for banks:
Boosts productivity by automating mundane tasks.
Reduces operating costs by creating new efficiencies around repetitive tasks.
Strengthens relationships with customers by offering personalized services.
Improves sales by using analytics to identify the most profitable segments of a large customer base.
There are a lot of CRMs out there, but most of them are not fully integrated.
It defeats the purpose of adopting new technology if you have to use a different software for every major aspect of your business.
Banks, as any other organizations, need a unified solution for all business needs.
That's why we recommend EngageBay, the world's most affordable, unified and powerful all-in-one CRM solution. Even business advice platform QuickSprout recommends EngageBay as one of the best CRM software today.
EngageBay has an integrated dashboard for all your business needs, including contact management, employee management, predictive lead scoring, automated workflows, sales management, landing pages for your website, push notifications, calling, SMS broadcasts and email campaigns — everything a bank needs to grow sales.